European-style places in the Philippines
---
From its charming quiet towns to its Gothic cathedrals, Europe is indeed home to the most beautiful places in the world that it's no wonder the cities of Paris, London, and Rome are part of every Filipino traveler's bucket list.
But traveling halfway across the world doesn't always come easy – even without a pandemic. Flight tickets are expensive, to begin with, and you have to secure a visa on top of planning your itinerary. So while Europe is off the table for now, here are 9 European-style places in the Philippines that will give you major out-of-Asia vibes without breaking the bank. 
---
1. The Old Grove Farmstead, Batangas – resembles Zaanse Schans in the Netherlands
---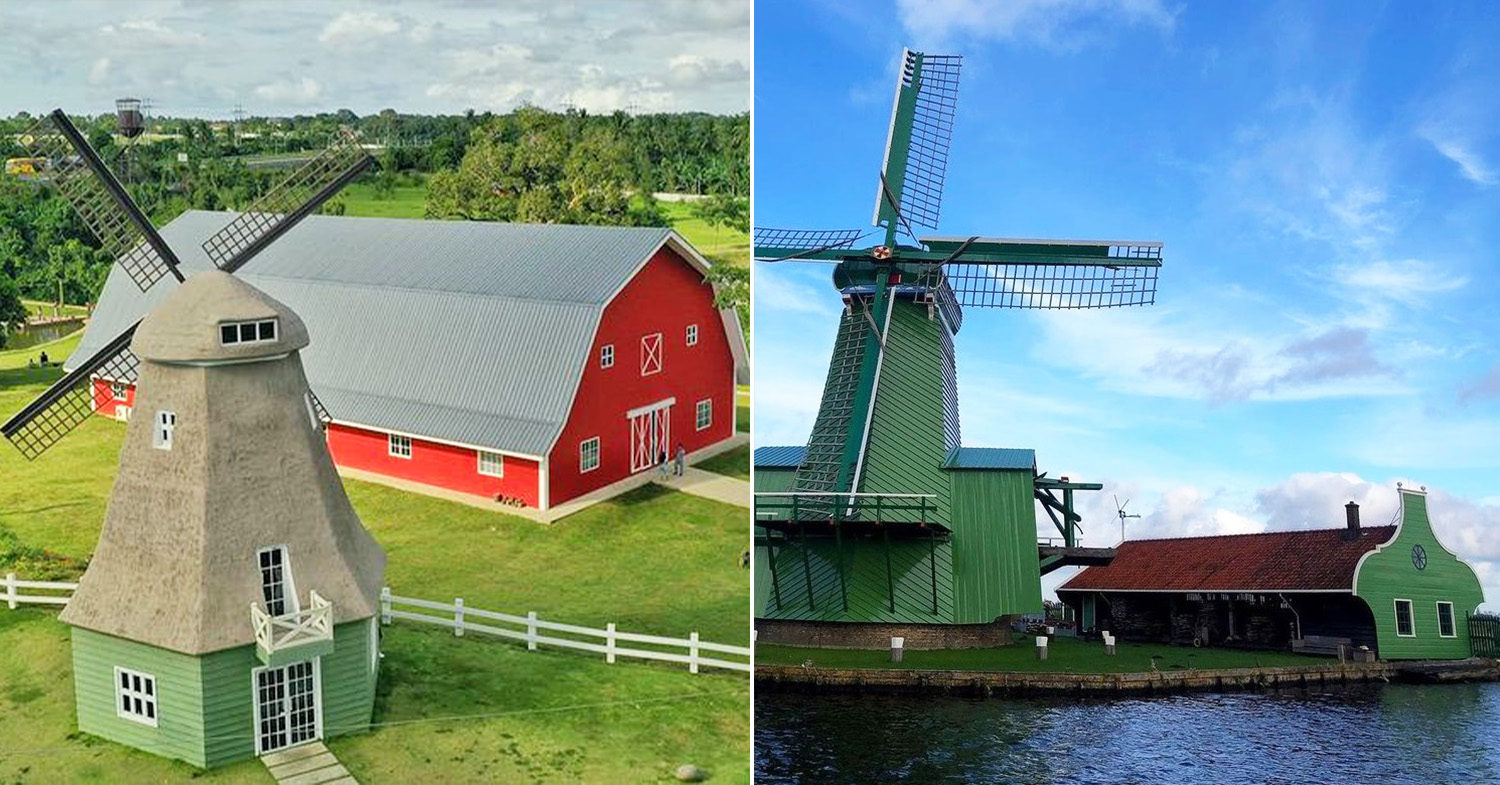 The Old Grove Farmstead (left) and Zaanse Schans (right)
Image adapted from: @sikatsinarj, @justannny
Located in Lipa, Batangas, The Old Grove Farmstead is a little Netherlands in the south. Resembling the typical Dutch countryside neighborhood, Zaanse Schans near Amsterdam, it's a 5-hectare land area with quaint wooden barns, houses, and a windmill.

It's been a popular location for prenuptial photoshoots and celebrations because of its countryside aesthetic. But you can also just tour the farmstead, eat inside its cafe, and feed animals such as lambs, as if you're really in a charming, quiet town in the Netherlands.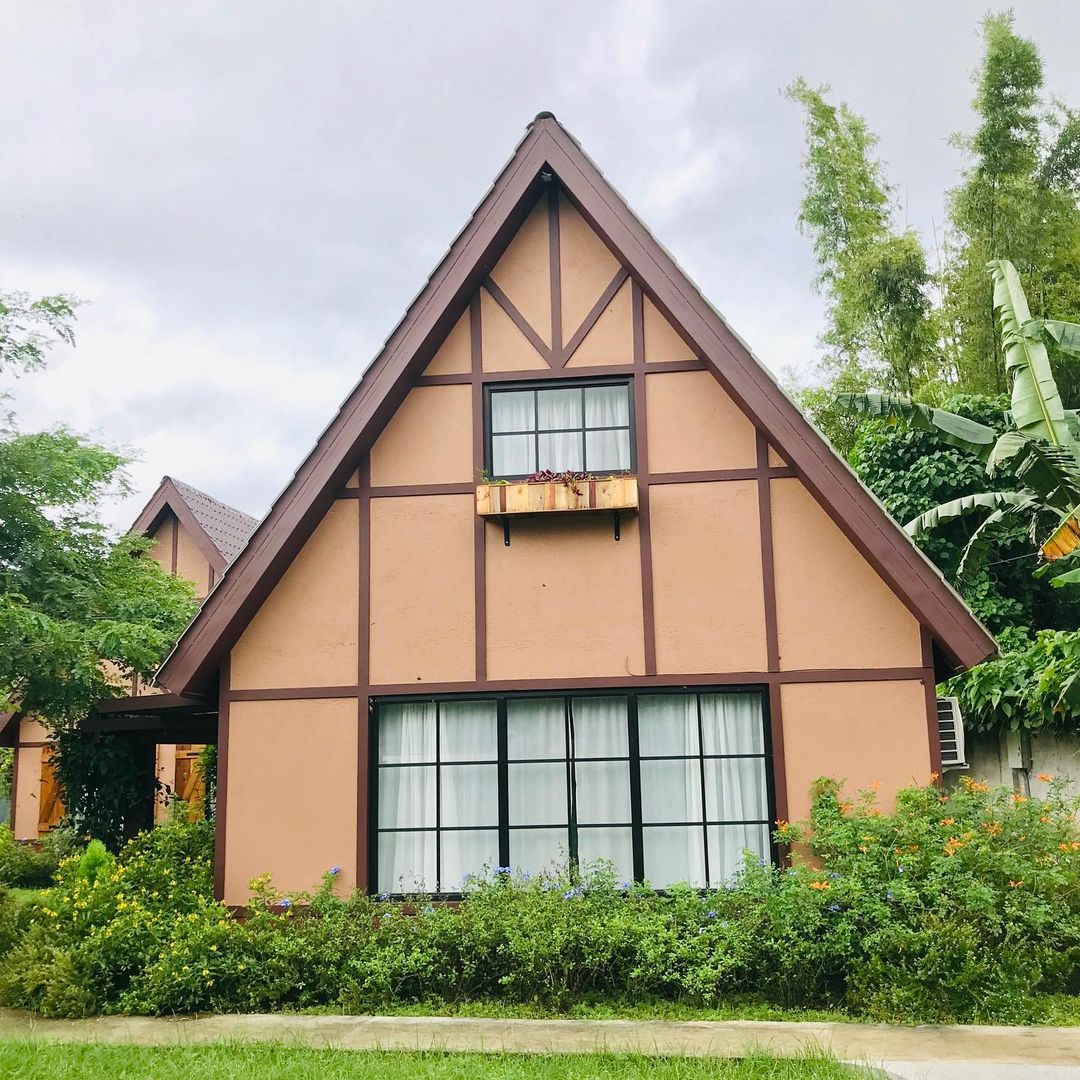 Image credit: @sweetchaofmine
If you're looking for a quick staycation hours away from the metro, you can also check out The Old Grove Village. They offer 2 cottages (P28,000, ~USD582.60 per night), inclusive of meals and pool use, for a maximum of 8 persons.
Old Grove Farmstead Day Tours
Adult: P350 (~USD7.28)
Kid (3-7 y/o): P250 (~USD5.20) | weekdays except holidays
Pet: P100 (~USD2.08)

Packages 
Day Tour & Breakfast
Adult: P600 (~USD12.49)
Kid: P400 (~USD8.32) | weekdays except holidays
Hours: Mon – Fri 8AM-10AM | Sat, Sun, and holidays 7AM-10AM
Day Tour & Lunch/ Dinner
Adult: P800 (~USD16.64)
Kid: P600 (~USD12.48) | plus animal corn feeds, weekdays except holidays
Hours: 12PM-2PM, Lunch | 6PM-8PM, Dinner

Website
---
2. Kaparkan Falls, Abra – resembles the Pamukkale Thermal Pools in Turkey
---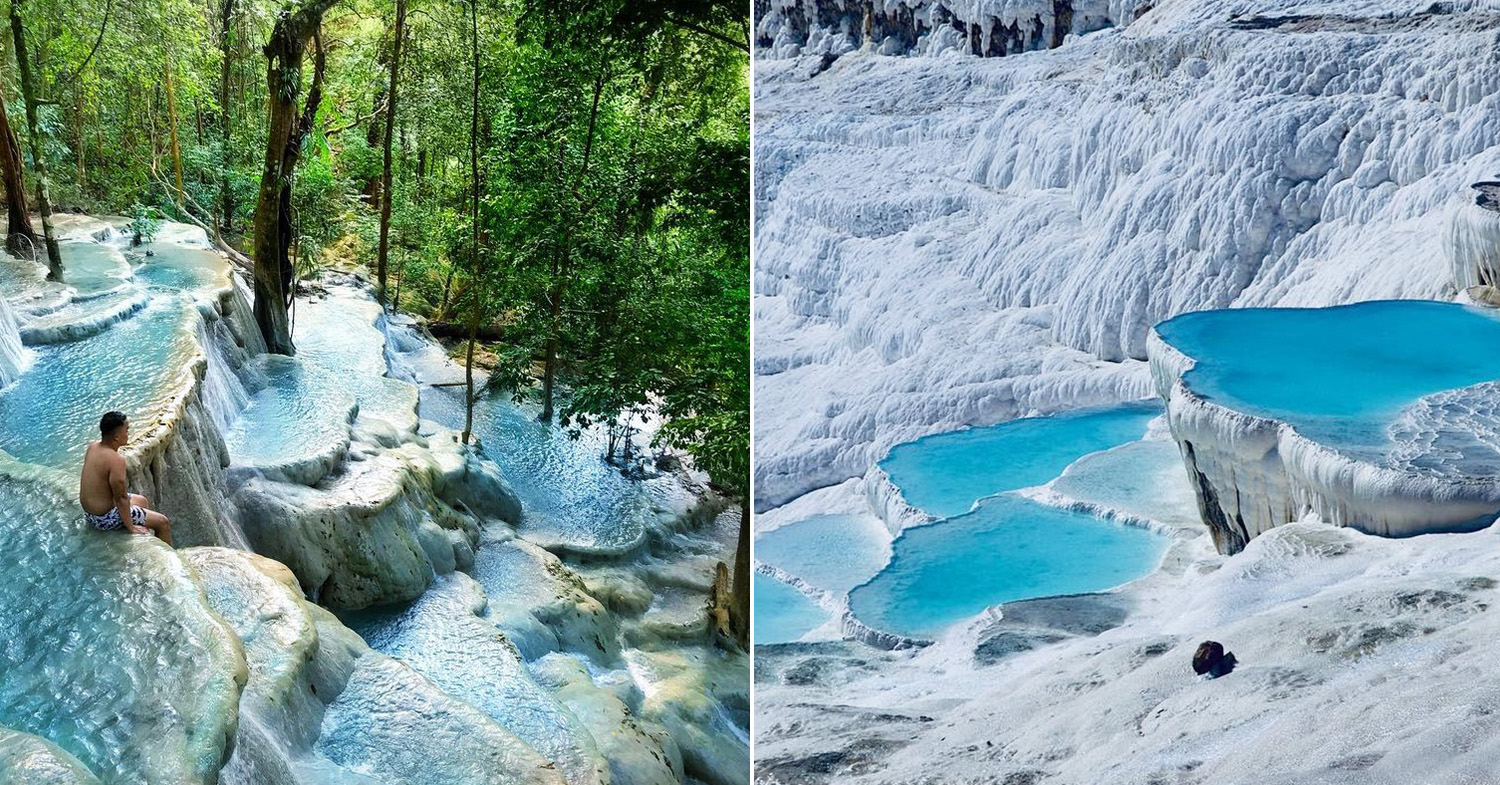 Kaparkan Falls (left) and the Pamukkale Thermal Pools (right)
Image adapted from: @exfloyder.ph, @gccanon_photography
We don't experience snow in the Philippines, but the Kaparkan Falls in the remote town of Tineg, Abra would give you the vibes of a winter escapade. Also known as Mulawin Falls, the majestic falls are characterized by water flowing down limestone terraces that look similar to the travertine terraces in the famous Pamukkale Thermal Pools in Pamukkale, Denizli, Turkey. 
The terraces of the Kaparkan Falls turn emerald and azure during the rainy season, usually from June to August, so it's best to visit the falls during this time. 
Getting to the falls might be quite a hassle though, as the trip from Bangued to Tineg requires a 4-hour jeepney ride on muddy roads. If you visit on your own, you'll have to reserve a slot first with Tineg's tourism department. But if you don't want to worry about organizing your trip, you can check out the jeepney or truck rides (P850, ~USD17.68 per head, round trip) organized by the department and travel agencies such as ABRAmazing tours.

Address: Tineg, 2822 Abra
---
3. Simala Church, Cebu – like the Colosseum in Italy
---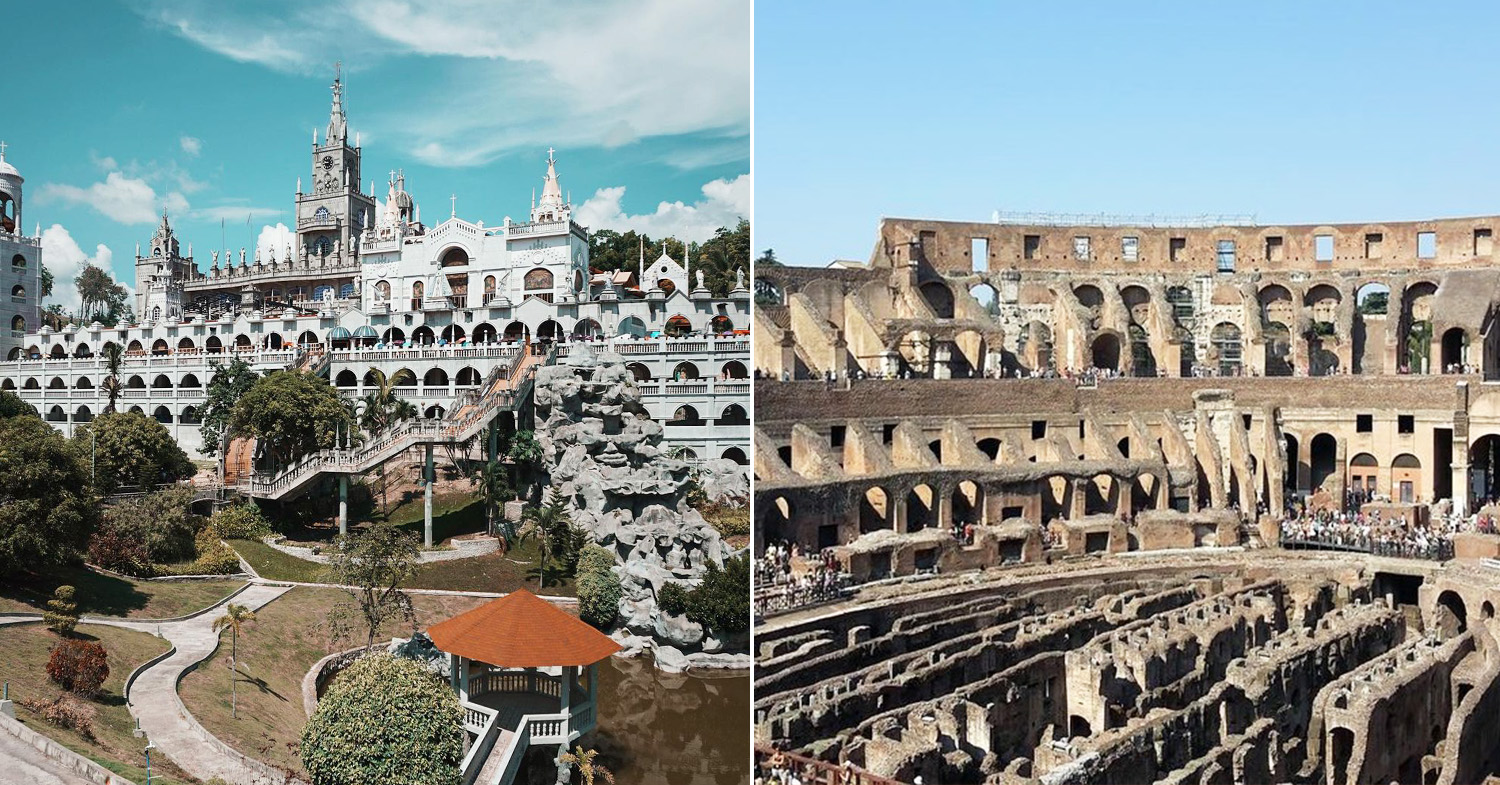 Simala Church (left) and Colosseum (right)
Image adapted from: @milkandflakes, @john_marshall_nicholson 
The Monastery of the Holy Eucharist or Simala Church is situated on Marian Hills in Sibonga, Cebu. It's often compared to European structures, and we can see why – the church is lined with intricate rows of windows that may remind you of the interiors of the Colosseum in Rome, Italy.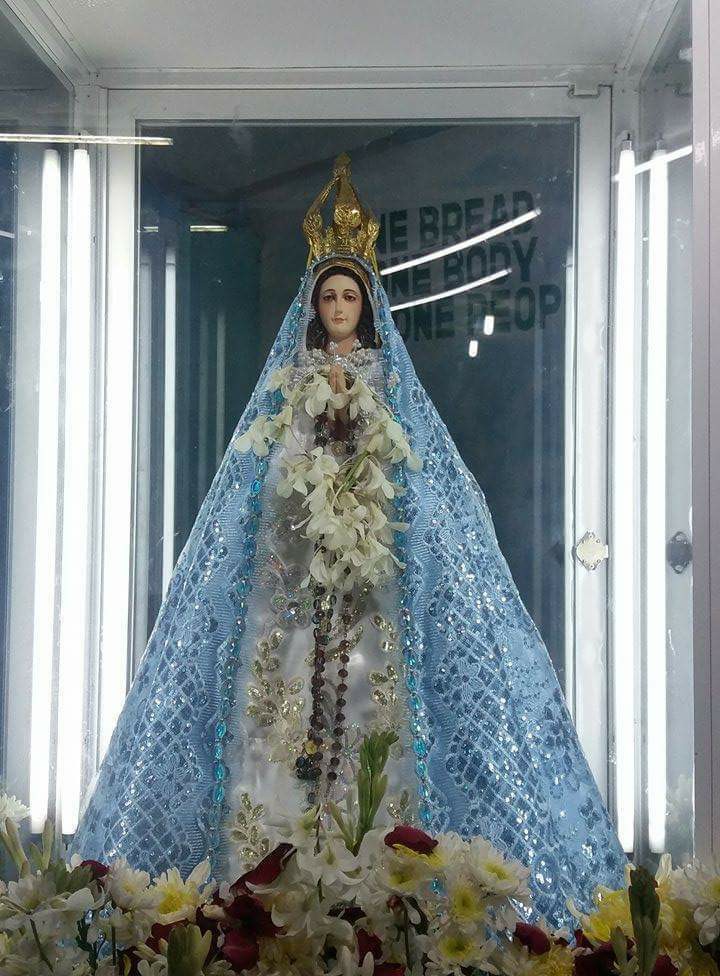 Image credit: Simala-Lindogon Church Sibonga 
The church is where the Birhen sa Simala, a sculpture of the Virgin Mary considered as "miraculous," can be found. It's said that the figure was seen crying on the Virgin Mary's birthday on September 8 in 1998, the year when locals in the town were suffering from dengue. The locals were said to have been cured of dengue because of her tears.
Address: Marian Hills, Brgy, Simala, Sibonga, 6020 Cebu
Opening hours: 8AM-8PM, Daily
Mass schedule: Mon – Fri 12PM | Sat & Sun 12PM-3PM
Website
---
4. Fortune Island, Batangas – resembles the Parthenon in Athens, Greece
---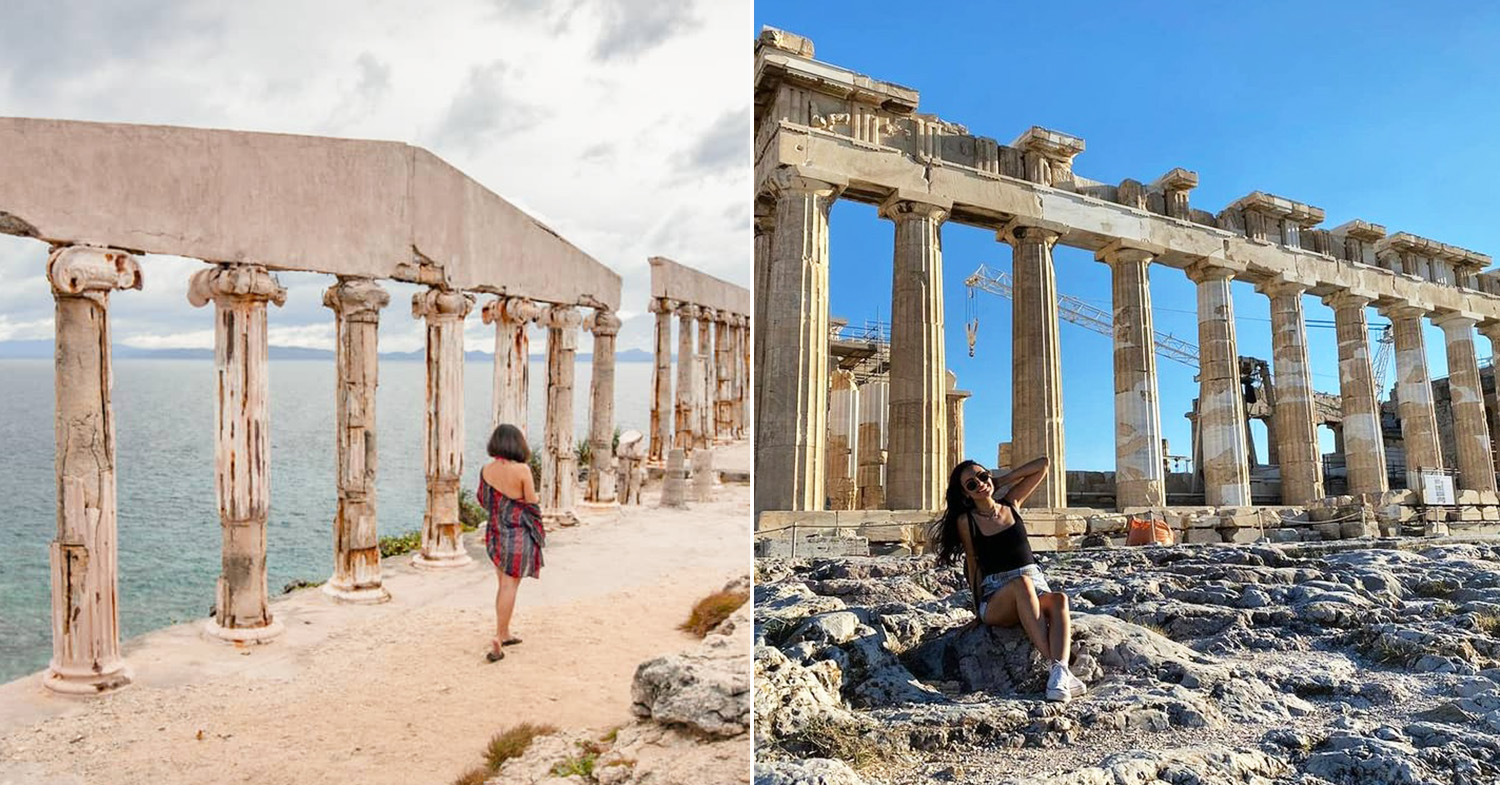 Fortune Island (left) and Parthenon (right)
Image adapted from: @kimbalmaceda, @mariliarborgess
A 27-hectare island off the west coast in Nasugbu, Batangas, the Fortune Island will let you experience the crumbling wonders of Ancient Greece. It was once the site of the exclusive Fortune Island Resort Club, built on a 20-meter stretch of sand, that resembled a Greek acropolis. 
The resort had to cease its operations in 2006 mainly due to a lack of freshwater sources. But today, the site of the exclusive resort is still visited by tourists keen to snap pics with the remains of its replicas of Grecian pillars and statues. 
Getting to the island requires a boat ride, and it's an hour away from Barangay Wawa or Fortune Island Dive Resort. 
Address: Fortune Island, Nasugbu, 4231 Batangas

---
5. Vitalis Villas, Ilocos Sur – looks like Santorini, Greece
---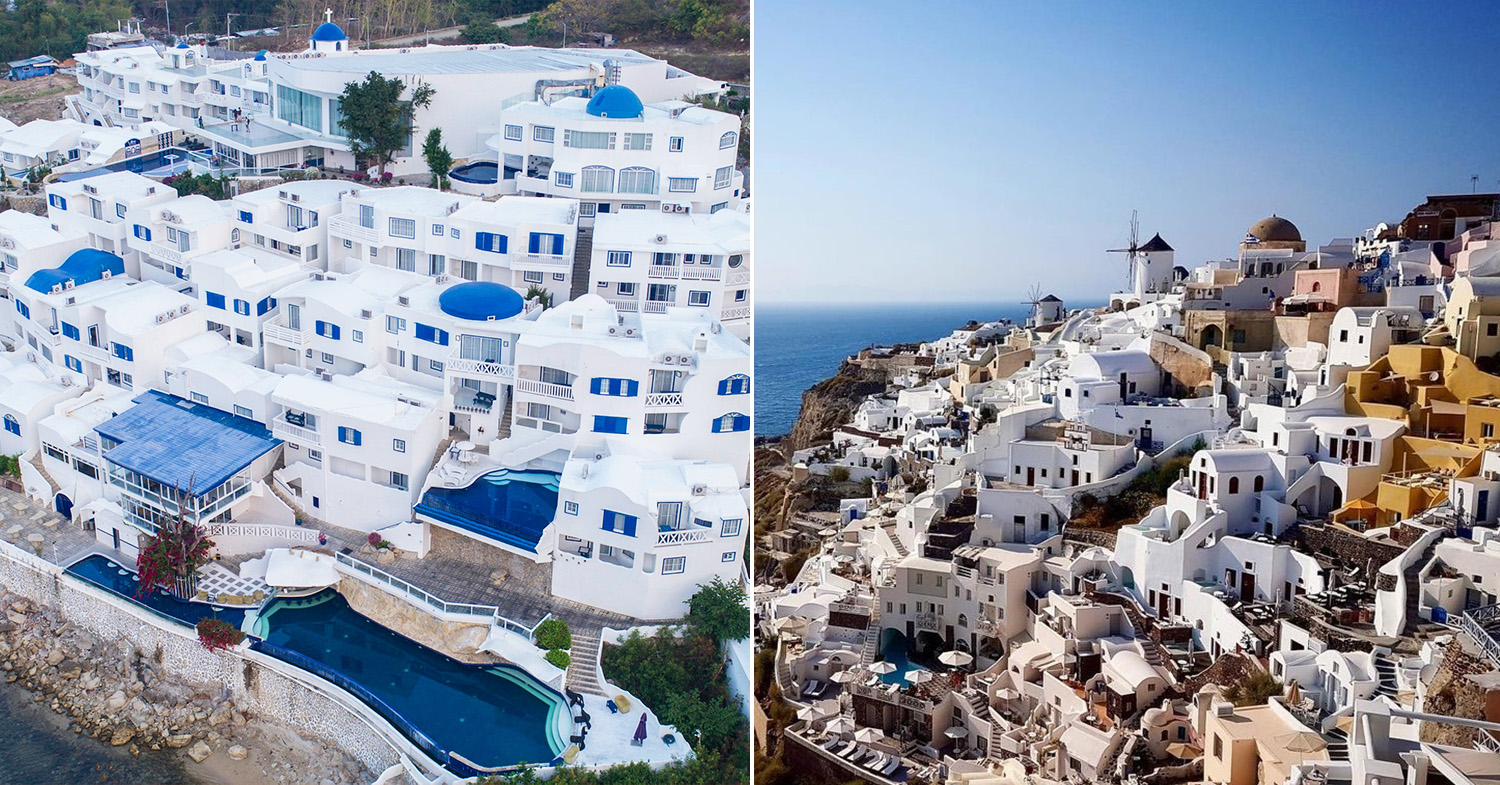 Vitalis Villas (left) and Santorini, Greece (right)
Image adapted from: Vitalis Villas, @chiaracolzi
For a Greek-themed vacation, you can head off to the Vitalis Villas, built on a cliff in Santiago, Ilocos Sur, that resembles the villas perched on the island of Santorini, Greece. Complete with facilities such as shops, bakeries, pools, and gyms, the resort currently offers packages that start at P8,888 (~USD184.83) for two. The basic package includes an overnight stay in a superior room, meals, and free use of facilities and shuttle services. 
But if the type of room you're gonna escape from the grind in is your priority, they have various accommodations you can choose from – pick from their villas, jacuzzi villas, deluxe rooms, and superior rooms. 
Address: Vitalis Villas, Santiago, 2707 Ilocos Sur
Mobile: 0977 8845 527, 0916 5522 794
Website
---
6. Magpupungko Rock Pools, Siargao – resembles Giola Lagoon in Greece
---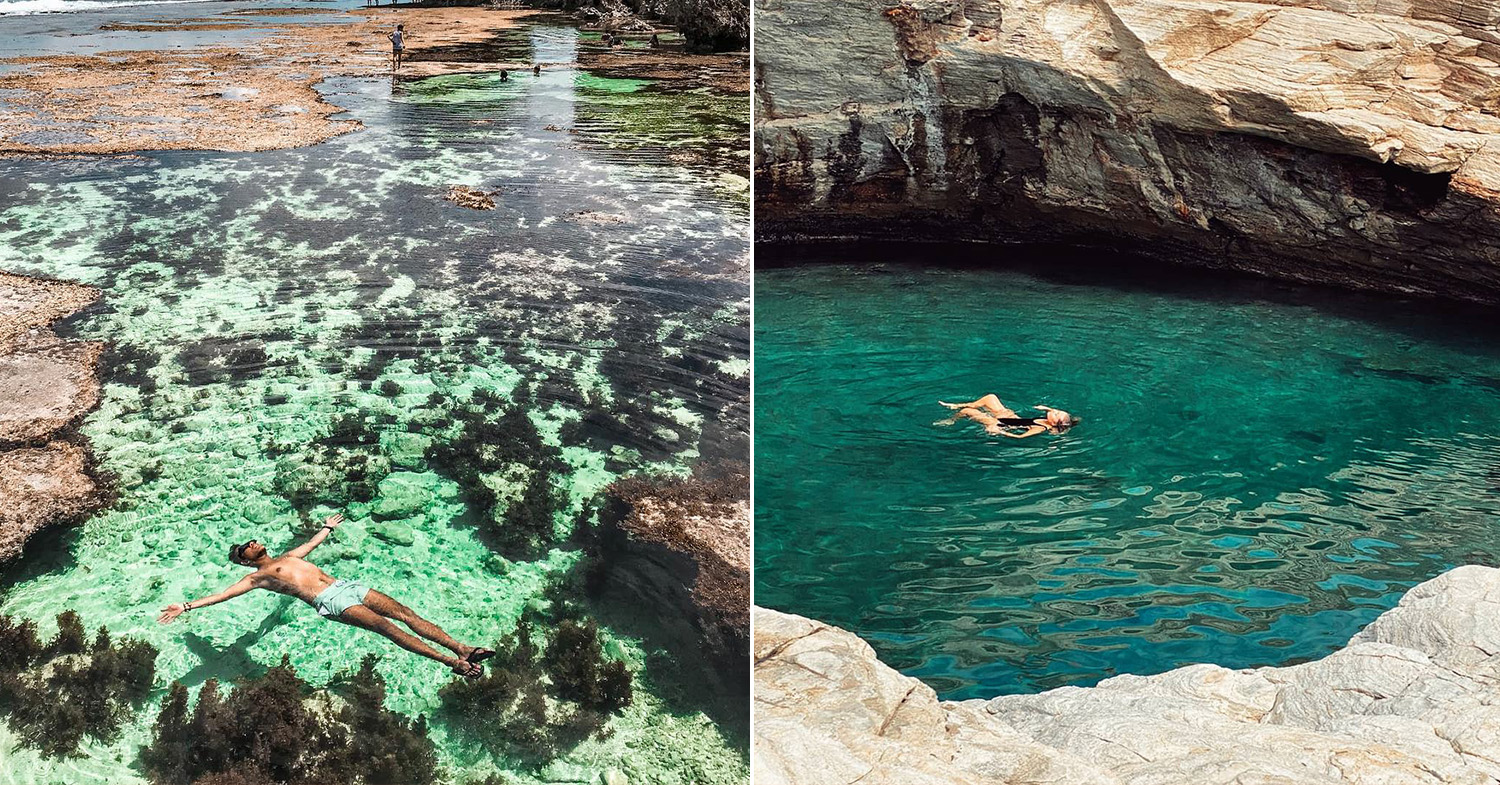 Magpupungko Rock Pools (left) and Giola Lagoon (right)
Image adapted from: @akadenz, @carmenlovestakingpictures
Aside from being a haven for surfers, Siargao also boasts a natural, sea-side pool similar to the natural pools you can find in European countries. Resembling the Giola Lagoon in Thassos, Greece, the Magpupungko Rock Pools are actually made of one single sea-side pool surrounded by rocks, and are a famous spot among tourists for relaxation, swimming, and cliff jumping. 
It's best visited during low tide as the pool is submerged during high tide. You can check a tides chart online before visiting – it monitors the tide times in Port Pilar where the rock pools can be found. 
Entrance fee: P50 (~USD1.04)
Address: Magpupungko Beach, Pilar, 8420 Surigao del Norte


---
7. Sirao Flower Garden, Cebu – our version of Keukenhof in Netherlands
---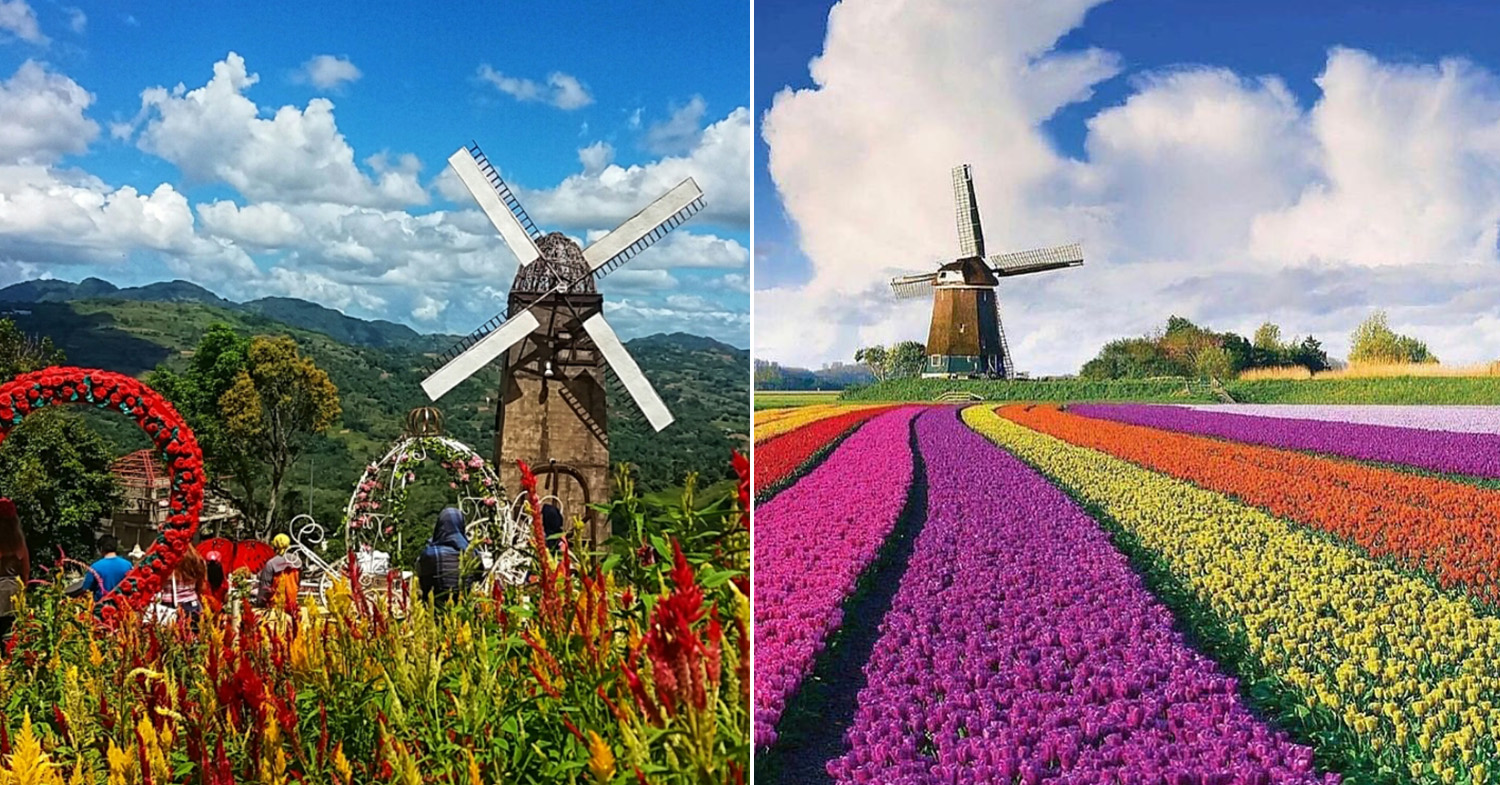 Sirao Garden Little Amsterdam (left) and Keukenhof (right)
Image adapted from: Celeste Durias, @tatiana_martis_cozma
Opened in 2016, the Sirao Garden Little Amsterdam has been popular among locals and tourists because of its Amsterdam garden-like feel. 
The garden's rows of bright celosias, often in the Sto. Niño colors of yellow and red, are planted in neat rows like those of the Keukenhof situated in Lisse, Amsterdam, Netherlands. There are also windmills standing guard over Sirao's rows of flowers too. 
Entrance fee: P100 (~USD2.08)
Address: Busay, 6000 Cebu
Opening hours: 8AM-5PM, Daily
Website
---
8. Venice Grand Canal Mall, Taguig – a mini-version of Venice, Italy
---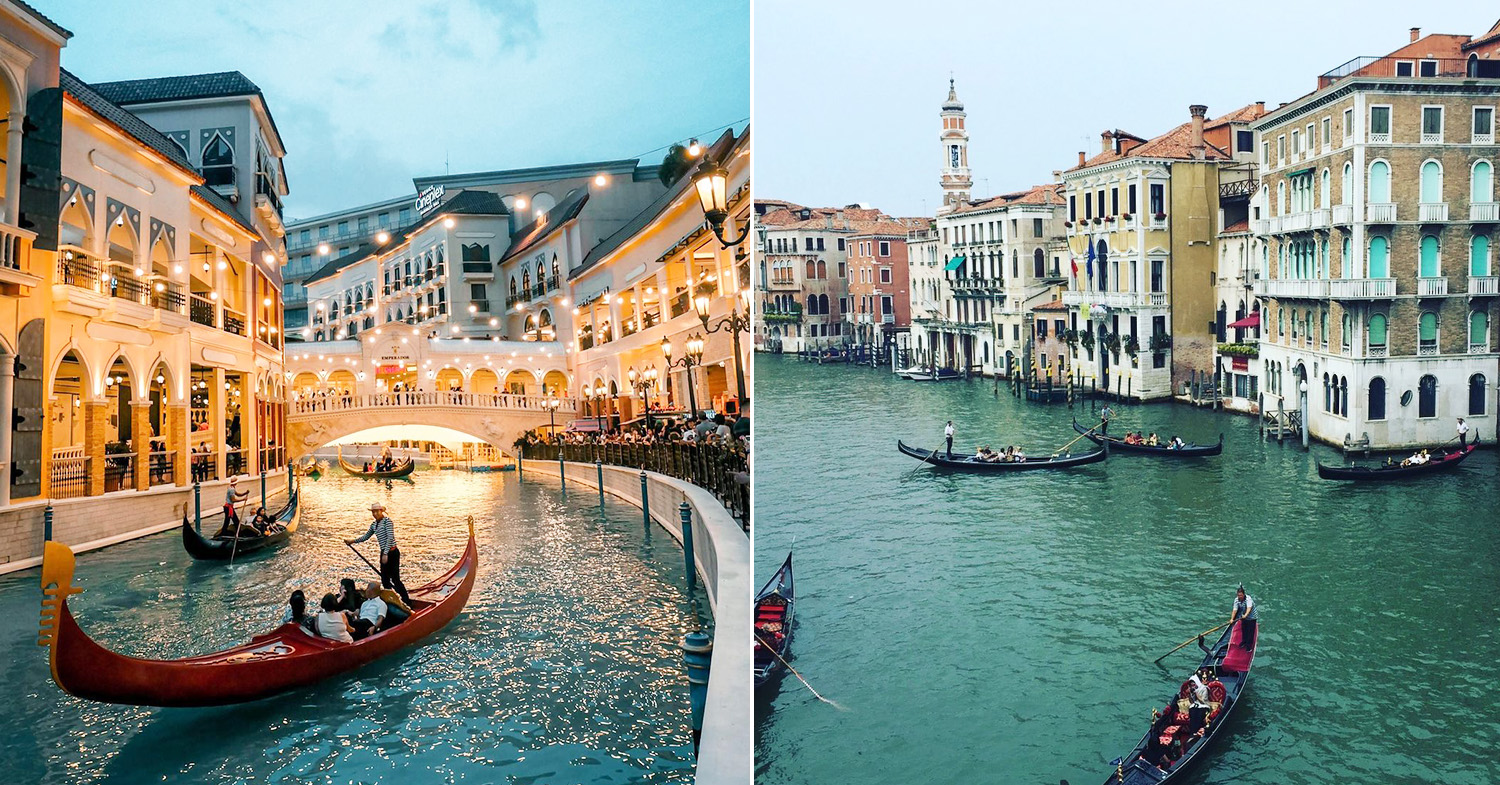 Venice Grand Canal Mall (left) and Venice Grand Canal (right)
Image adapted from: @nephimarvin, @fotokalo
We can experience sights and waters like those in Venice, Italy even while in Metro Manila through a visit to the Venice Grand Canal Mall in Taguig. Located in McKinley Hill, the Venice Grand Canal Mall is the Philippines' little Venice that easily makes it to this list of European-style places in the Philippines, complete with replicas of the Grand Canal, St. Mark's Campanile, Rialto Bridge, and Ponte de Amore Bridge. 
Aside from sightseeing these replicas, you can ride a gondola (P500, ~USD10.40 per head) on the Grand Canal replica situated between two rows of shops built and adorned with the architectural elements of a piazza, or a marketplace in Italy. 
Address: McKinley Hill Garden Villas, Cluster B, Upper McKinley Rd, Taguig
Opening hours: 11AM-11PM, Daily
Website
---
9. Fantasy World, Batangas – a theme park like the Bojnice Castle in Slovakia
---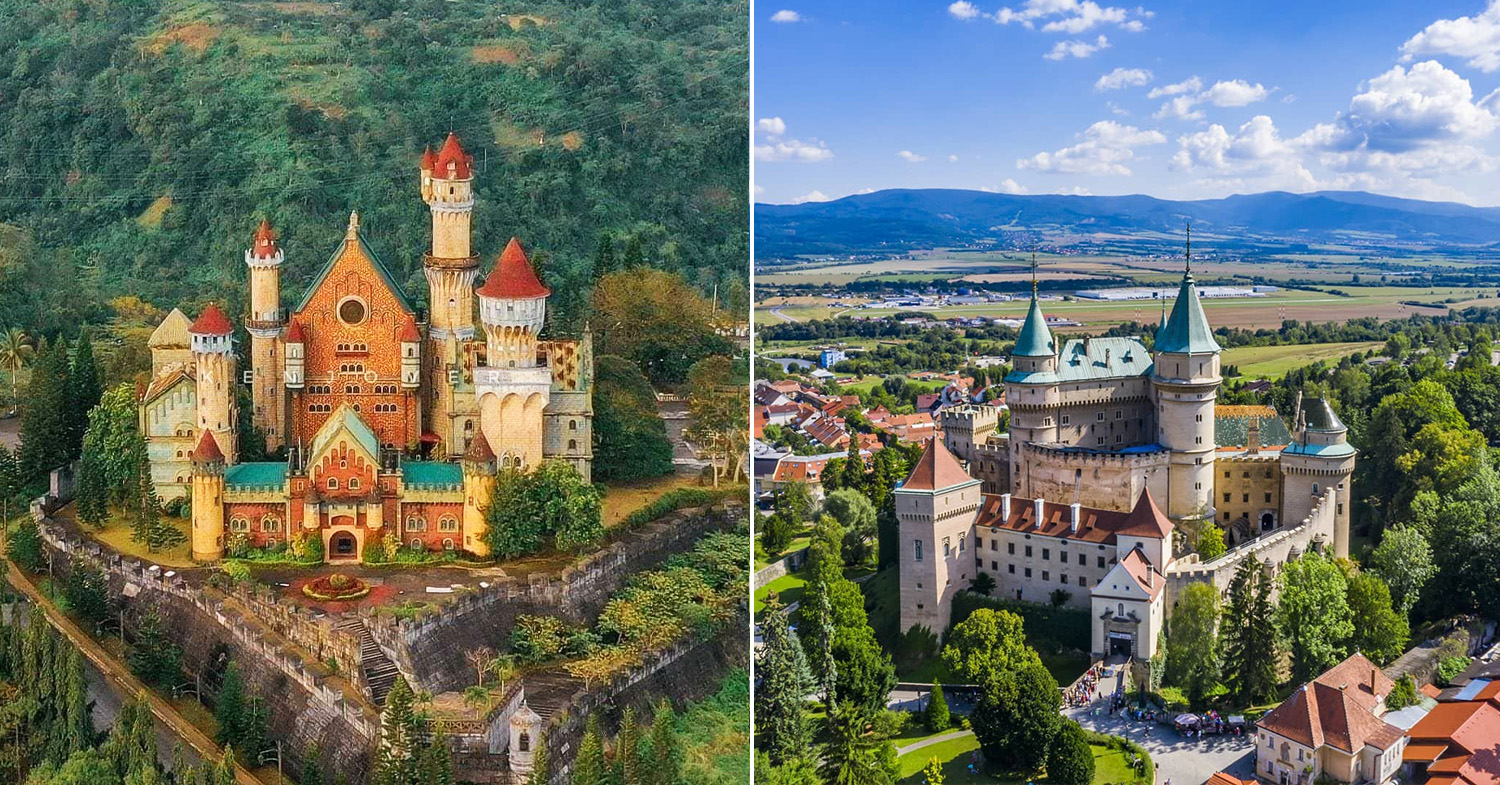 Image adapted from: @leinujarjay, @zoltan.lacko
Overlooking the hills of Lemery, Batangas is the Fantasy World, an abandoned theme park once touted to be the Disneyland of the Philippines. It hasn't been opened since its construction was stopped in the early 2000s, but the park's castle, which resembles a medieval European castle such as the Bojnice in Slovakia, still stands to this day.
While the park is incomplete, you are welcome to take photos (P100, ~USD2.08 per head) of what remains here or use the castle as a background for your next Instagram shot. Videographers can even arrange a shoot with the park's management – for instance, popular films and TV shows have been shot here, such as Lamasan's Got 2 Believe, starring Claudine Barretto and Rico Yan, and GMA 7's Majika, starring Angel Locsin and Dennis Trillo.
Address: Diokno Highway, Mayasang, Lemery, 4209 Batangas
Opening hours: 9AM-6PM, Daily
---
European-style places in the Philippines we can visit
---
From Batangas to Cebu, natural and man-made spots resembling various places in Europe are everywhere in the Philippines. So while the faraway historic castles and gorgeous villas are still out of your reach, satiate your wanderlust, without traveling thousands of miles away, in these European-style places in the Philippines. 
Also check out:
---
Cover image adapted from (clockwise from top left): @sikatsinarj, @exfloyder.ph, @leinujarjay,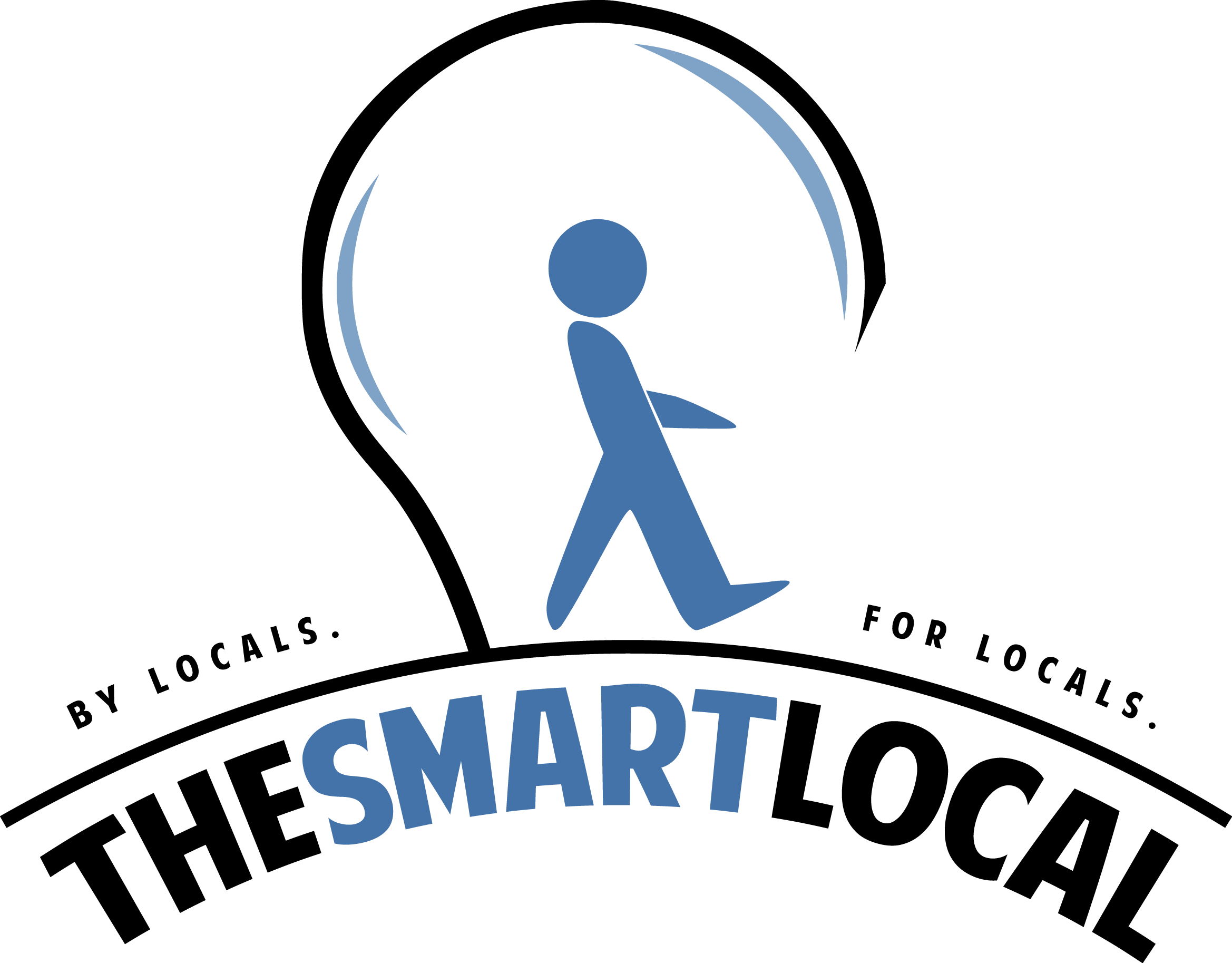 Drop us your email so you won't miss the latest news.