Things to do in Intramuros and eco-friendly ways to tour the city
---
Tucked amidst the bustling city of Manila is the old walled city of Intramuros, showcasing the Philippines' history with its remnants of beautiful colonial architecture and cobbled streets. Once the center of government during the Spanish era, it offers many historical and modern spots to explore to learn more about our identity as Filipinos. 
We crafted a guide of things to do in Intramuros for your next visit, including eco-friendly ways to tour the landmark.
---
– Photo ideas to freshen up your Instagram game –
---
---
1. Take a jumping shot in Baluarte de San Diego with a view of the Manila skyline
---

Image credit: @alpperture
Dating back from the 16th century, the sturdy walls and concentric rings of Baluarte de San Diego were constructed as part of the city's defensive structures. Explore these walls for a good photo opportunity with the surrounding trees and views of the Manila skyline.
Take a good jumping shot, or play with your angles by pretending to touch the buildings in the background for an illusion of closeness. Do walk carefully here as some of the walls may be steep.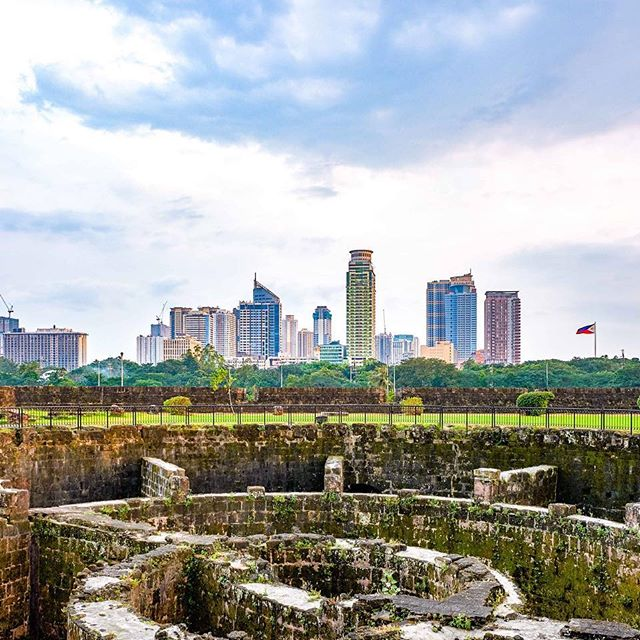 Image credit: @mjv.photos
Admission fee:  P75, ~USD1.54 (adults), P50, ~USD2.03 (students)
Address: Sta. Lucia St., Intramuros, 1002 Metro Manila
Opening hours: Daily, 8AM-5PM (closed for special occasions)
---
2. Snap shots against the contemporary graffiti art of Anda Street
---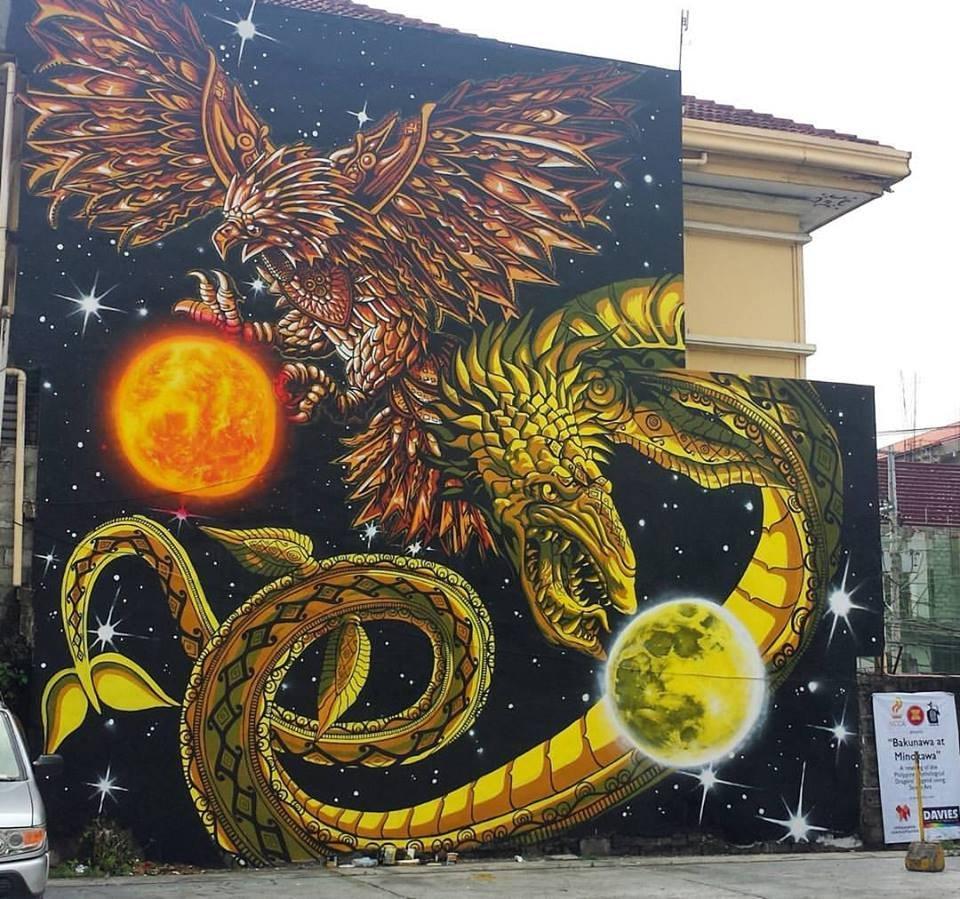 Image credit: @intramuros
Hidden amidst the historic walls of Intramuros's churches and museums, the graffiti walls of Anda Street are a playful contrast to the traditional architecture of the old walled city, created by local artists in Manila's contemporary art scene. 
The walls of Anda Street were initially a part of an empty lot until the late tour guide and cultural worker Carlos Celdran, along with artist Mark Salvatus and art community Pilipinas Street Project, saw the potential of the space in 2007 to bring contemporary art to Intramuros. 
Locals and tourists alike are welcome to pose with the graffiti walls as backdrops of their photos –  perfect to go along with your street style or even wedding shots 
Make sure to take a new photo with the murals every time you drop by, as the walls are repainted with new murals over time, making them an ever-changing canvas. 
Address: Anda St., Intramuros, 1002 Metro Manila 
---
3. Take a glam shot with a kalesa in front of Palacio Del Gobernador
---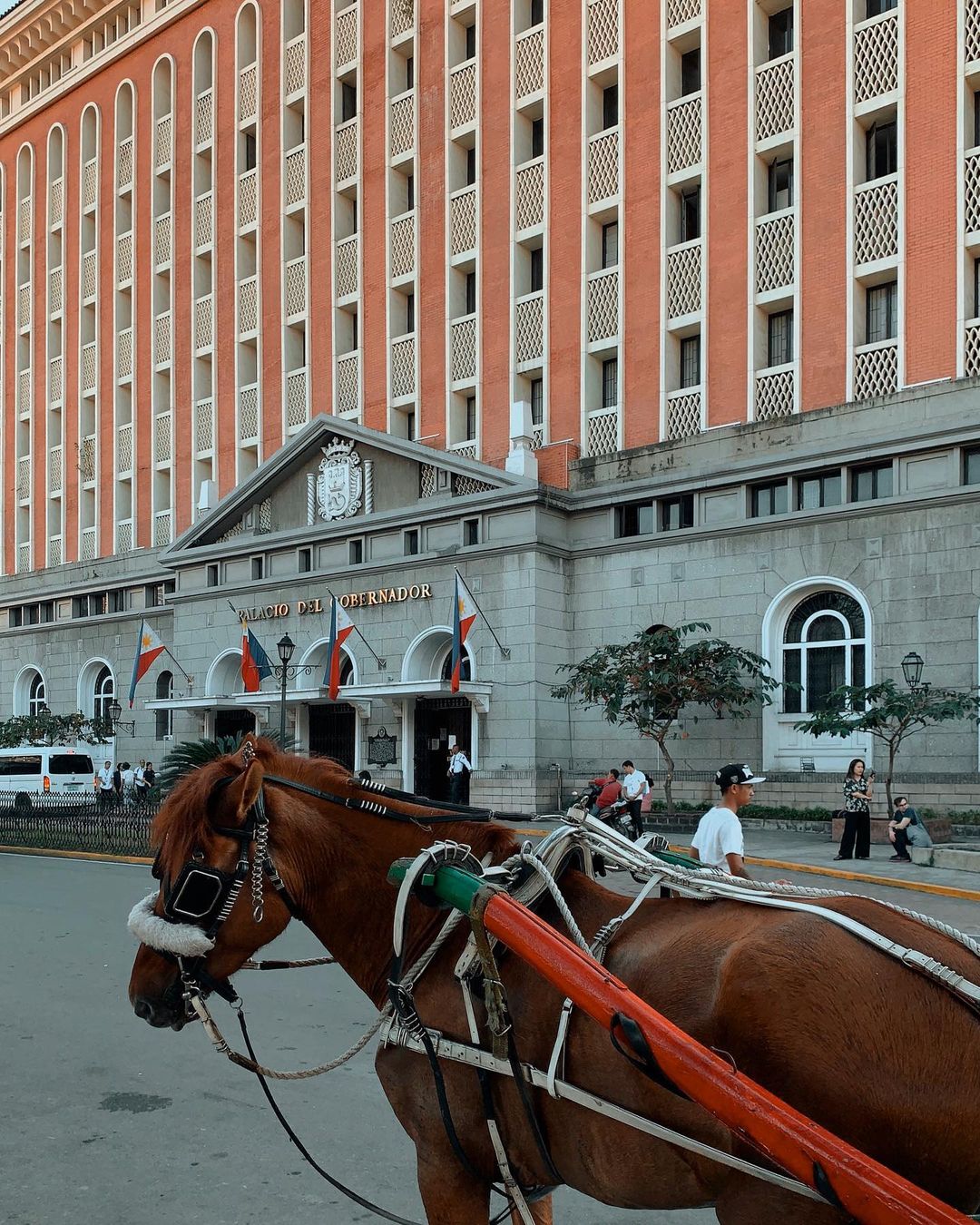 Image credit: @sherealynremigio
Once the state residence of the highest government official in the Philippines – the Governor-General – the Palacio del Gobernador today is an imposing sight to behold with its gray facade and grand rows of windows, housing government offices of the Commission on Elections and Intramuros Administration. 
Its strategic location at the heart of Intramuros makes for a perfect backdrop for a glam shot. Palacio del Gobernador's architecture can also bring out the best of your fashionable outfits. 
To complete your Intramuros-themed photo, a kalesa, or a horse-drawn calash once used as a mode of transportation in our country, is a symbol dating back from our colonial history.
Address: General Luna St., Intramuros, 1002 Metro Manila
---
– Places to go for your culture fix –
---
---
4. Visit the recently opened Museo de Intramuros
---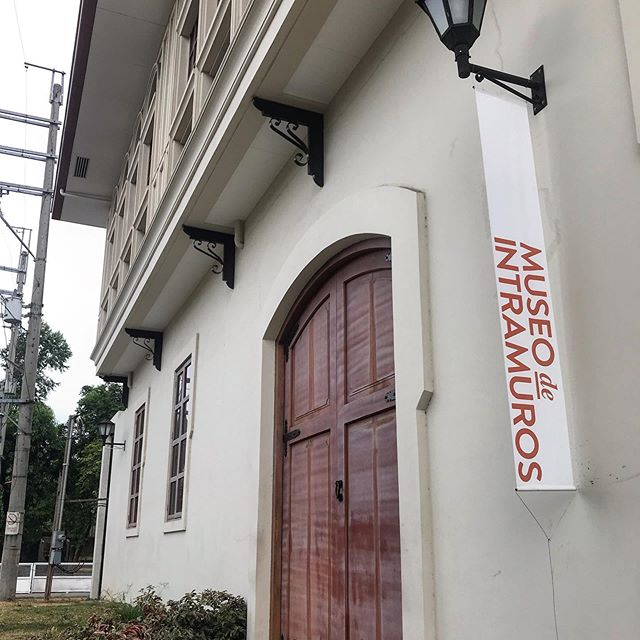 Image credit: @xtiantoong
Museo de Intramuros is one of the newest cultural spaces in the city, opened to the public in May 2019. Putting the spotlight on Intramuros Administration's vast collection of art, it houses religious and colonial art showcasing Filipino religious craftmanship such as statues of saints, large religious paintings, and carved wooden altarpieces. In a separate room, there are old photos and miniatures showcasing the evolution of Intramuros as a city and its churches' original structures.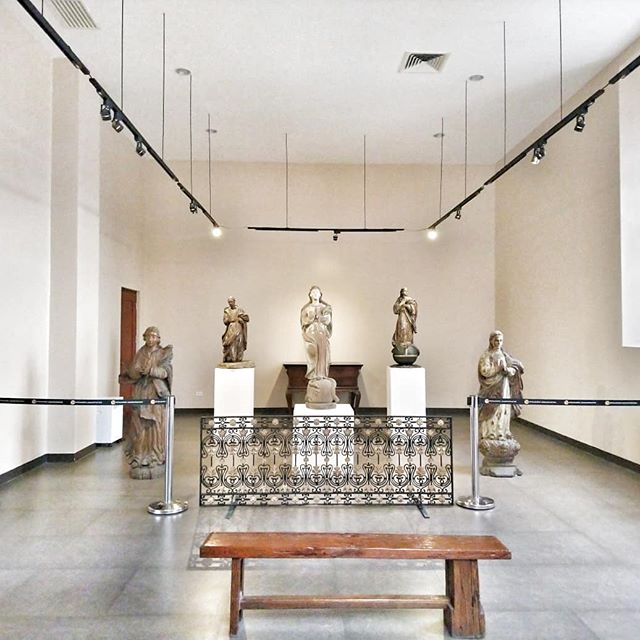 Image credit: @pjaym

You're sure to re-appreciate the complexities of Philippine art when you pay a visit to this museum.  According to the museum's curators, the artworks aim to emphasize how Filipino identity has been influenced by religion and culture throughout history.  
Admission fee: Free (as of writing)
Address: Corner of Arzobispo and Anda Streets, Intramuros, 1002 Metro Manila
Opening hours: Wed – Sun, 9AM-5PM (Currrently closed during GCQ, exhibits viewable online)
Website
---
5. Learn about Spanish influence in the Philippines at Instituto Cervantes de Manila's Casa Azul
---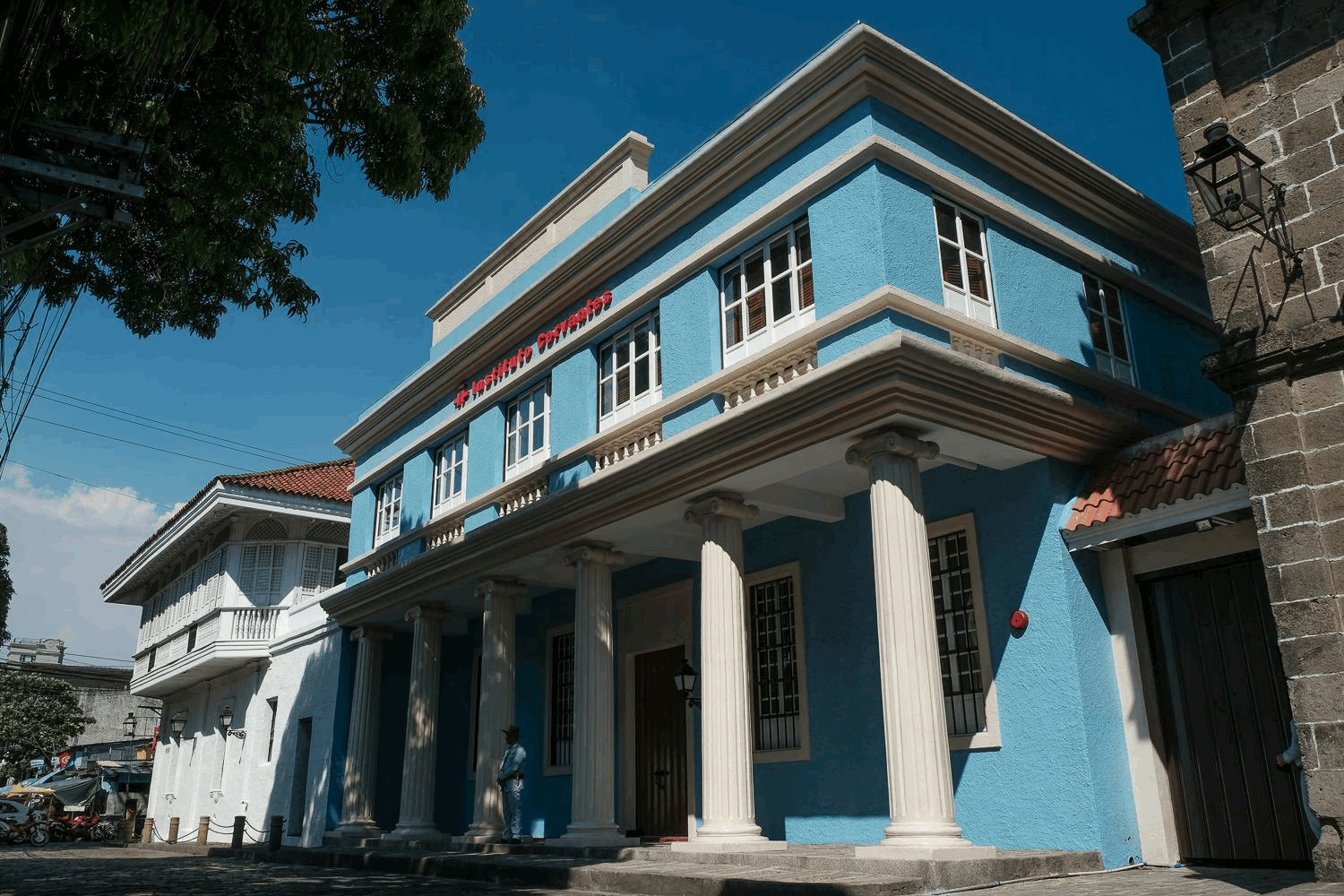 Image credit: Instituto Cervantes de Manila Facebook page
Instituto Cervantes de Manila's Casa Azul, opened in May 2018, is a two-floor replica of a 19th-century Philippine house featuring various facilities to get your history buff happy: a 90-seater auditorium for talks and performances, a 60-square-meter exhibition room, and classrooms for language classes and teacher training.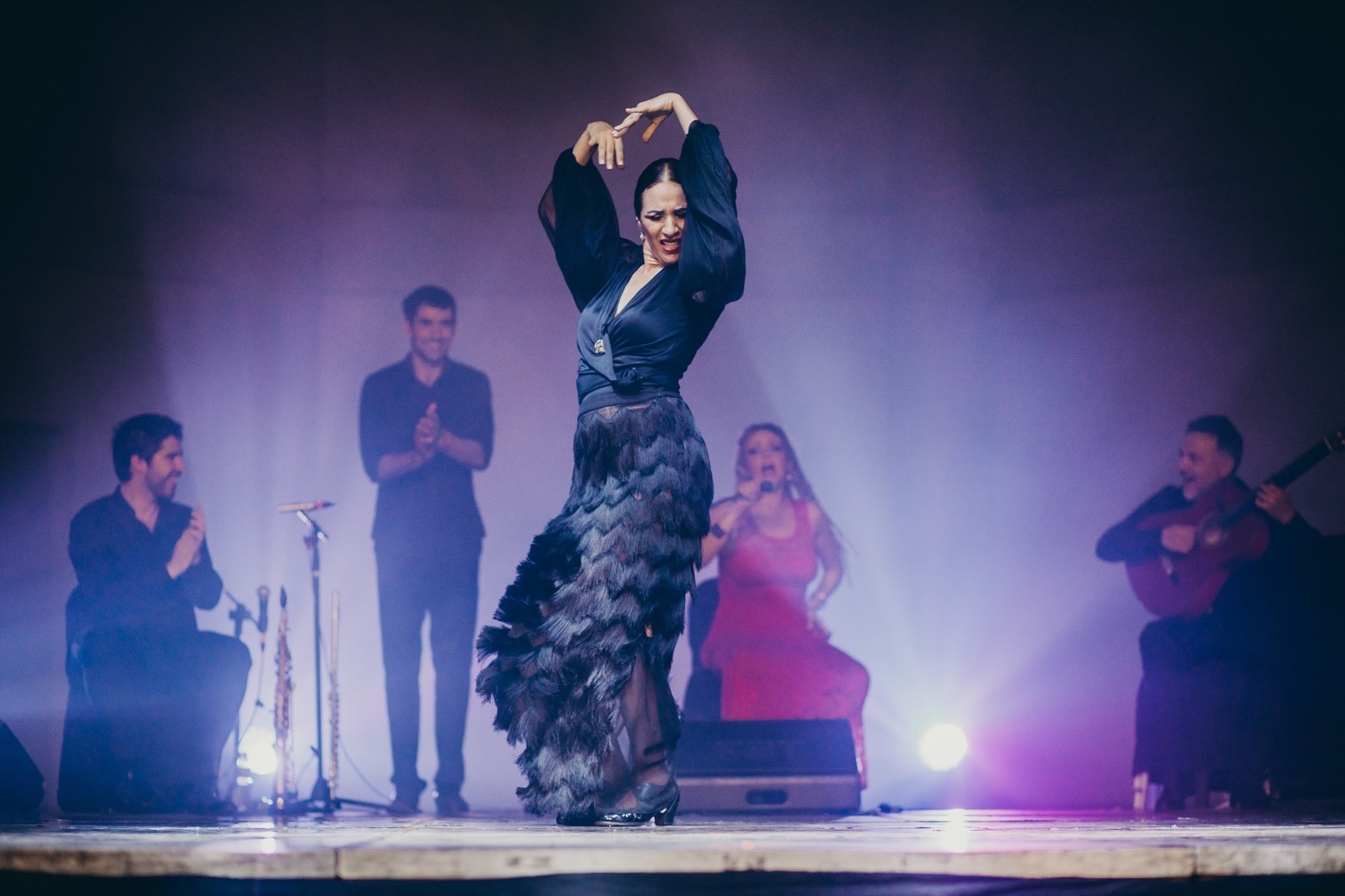 Image credit: Instituto Cervantes de Manila
Its top floors, meanwhile, house the Miguel Hernandez Library which contains over 30,000 reference materials related to Spanish, Latin American, and Filipino culture.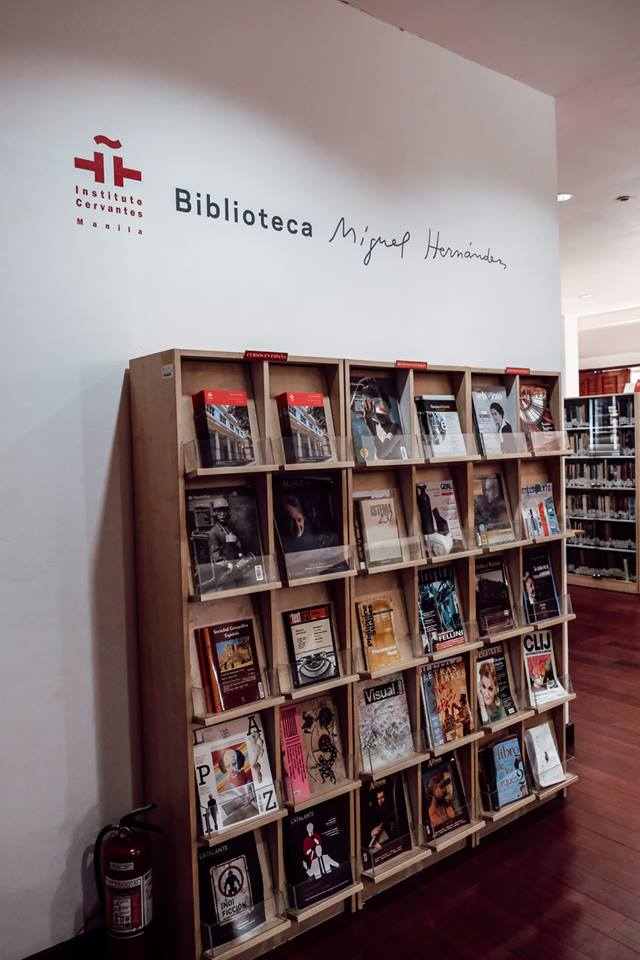 Image credit: Instituto Cervantes de Manila
Instituto Cervantes is a non-profit organization established by the Spanish government in 1991 to promote Spanish language and culture around the world. It has been around the Philippines since 2015, with its first location in Ayala Triangle, Makati, and frequently holds online cultural events, movie screening, and language classes that we can access from home.
Address: Calle Real, Plaza San Luis Complex, General Luna corner Real Street, Intramuros, 1002 Metro Manila
Telephone: (632) 8526-1482
Website | Facebook
---
6. Relive the lives of Filipino Chinese ancestors in Bahay Tsinoy

---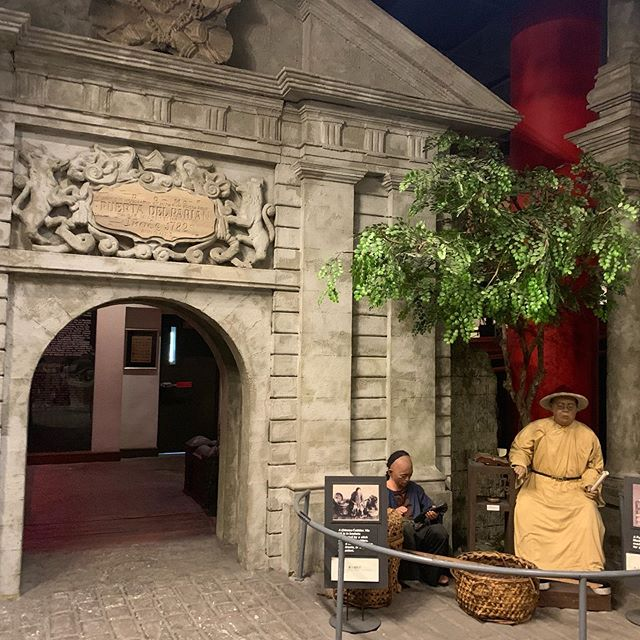 Image credit: @omar.palero
Celebrating its 20th year, Bahay Tsinoy is a long-time fixture in the streets of Intramuros but is a museum that's not often in popular itineraries. The Kaisa-Angelo King Heritage Center in the historical building tells a quick history of the lives of the ethnic Chinese in the Philippines, featuring galleries of rare prints and photographs, dioramas depicting Chinese and Filipino mestizos, artifacts proving the centuries of trade between the Philippines and China, among others. 
While it focuses on Filipino-Chinese heritage, it's an equally important museum worthy of a visit for every local and tourist wanting to deepen their knowledge of Philippine history. After all, the Chinese have always been a part of Filipino culture as the Spanish are, with the oldest Chinatown in the world, as claimed by historians, located in nearby Binondo, Manila. 
Bahay Tsinoy is currently closed during the GCQ period, but offers cultural and historical webinars and titbits of information on its Facebook page.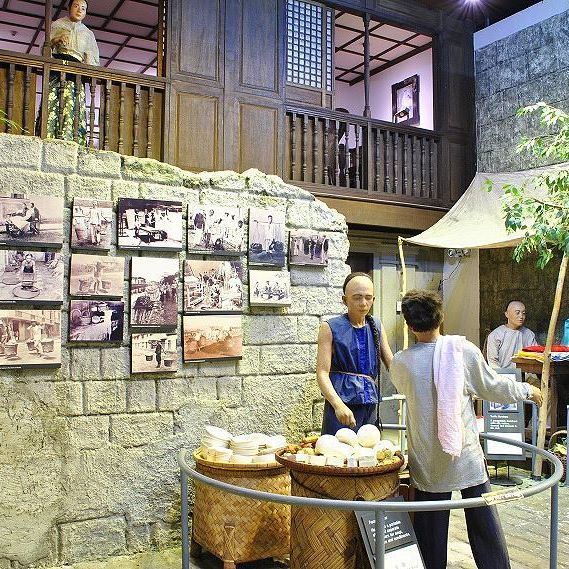 Image credit: @tourismmnl
Admission fee: P100, ~USD2.06 (adults), P60, ~USD1.23 (students)
Address: 32 Anda St. cor. Cabildo St., Intramuros, 1002 Metro Manila
Opening hours: Tue – Sun, 1PM-5PM (Closed during GCQ)
Telephone: (632) 527-6083
Website | Facebook
---
– Eco-friendly ways to get around –
---
---
7. Hop on a Bambike
---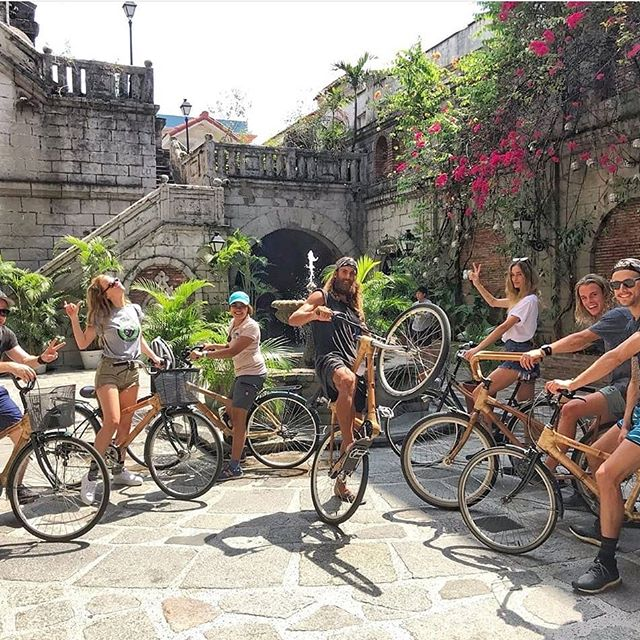 Image credit: @bambikeecotours
When visiting a place as important as Intramuros, you can minimize your carbon footprint by hopping on a Bambike. The bike is not only eco-friendly, but also looks unconventional and hip, made up of bamboo wood and abaca. 
Though Bambike tours are currently on hold during the GCQ, we hope they'll soon be resumed. We recommend the Express Tour (P799, ~USD16.44) that's an hour and a half with 6 stops at Intramuros' various attractions. Book their 5-hour tour package (P2,200, ~USD45.27), which includes food and music, if you want to spend more time getting to know the walled city. 
Designed by Bamb Ecological Technology, the Bambikes are crafted with the environment as well as rural villagers in mind, with its builders being trained and assisted by Gawad Kalinga, a Philippine-based community development organization for the poor. 
Address: Bambike HQ, Plaza San Luis Complex, Real St. cor General Luna St., Intramuros, 1002 Metro Manila
Telephone: (632) 525-8289
Website | Instagram

---
8. Try White Knight's electric chariots
---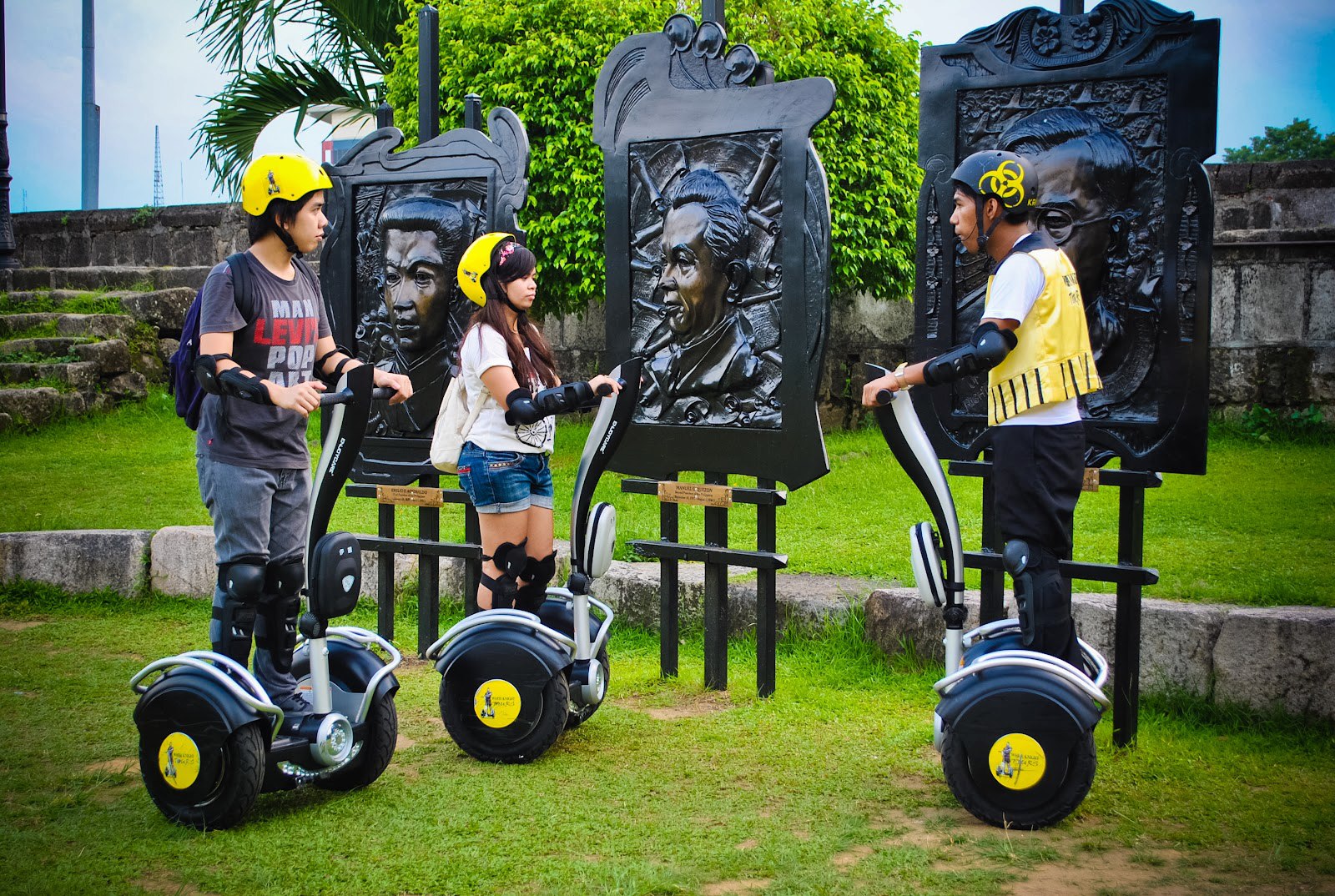 Image credit: White Knight e-Chariot Tours Manila
Launched by White Night Tours at Hotel Intramuros, electric chariots can help you scoot around Intramuros with their 2-wheel automatic balancing equipment that moves according to your body's position – gliding forward when you lean forward and backward if you lean backwards. 
It relies on electricity, so you're helping reduce carbon emissions around Intramuros when you ride the chariot. Their tours include 30-minute tours (USD13) and hour-long tours (USD25). 
There is a height and weight regulation though, as each rider must be above 130cm and 45kg. This does not mean children are not allowed to ride the e-chariot – White Knight Tours does not impose an age limit if you're planning to tour Intramuros with your children. 
Tours are currently on hold during the GCQ, so check back on their social media for updates.
Address: White Knight Hotel Intramuros, Plaza San Luis Complex, General Luna St., Intramuros, 1002 Metro Manila
Telephone: (02) 525-2381, (02) 526-6181, (02) 353-9539
Website | Facebook
---
9. Relax on your tour with an e-tricycle
---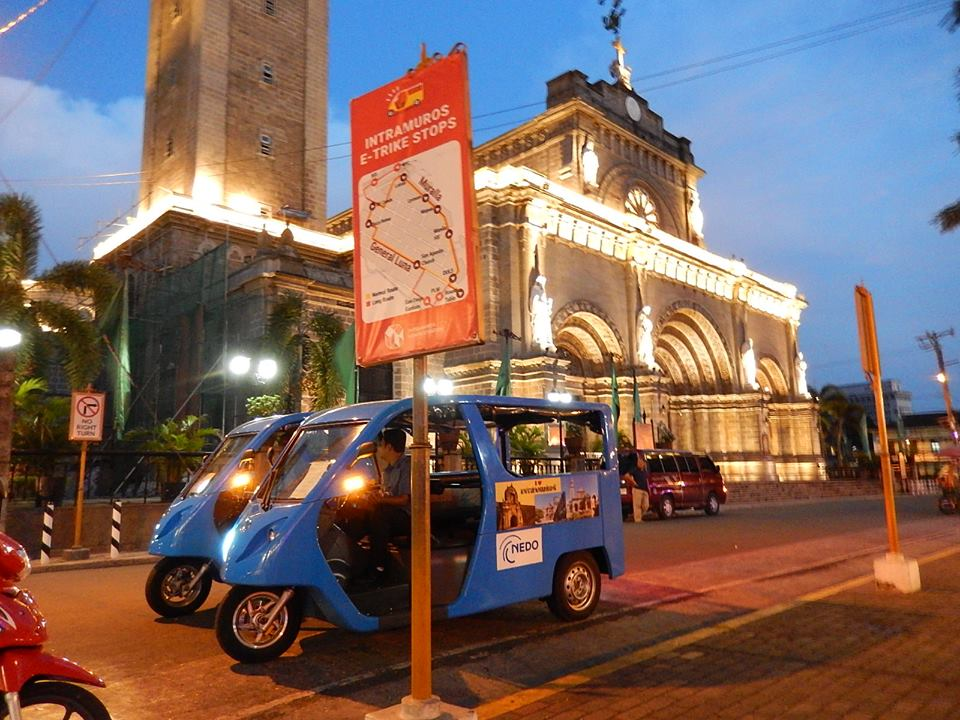 Image credit: Clemenisle
For a relaxing ride through the old-world, scenic delights of Intramuros, you may want to hop on Clemenisle's electric tricycles. The e-tricycles tour you around with its 3-wheel e-tricycle, covering main spots around the city over 25-minute tours. They operate for every 2-5 minute intervals from 7 AM to 7 PM daily with 13 standard stops. 
But if you want to explore the city your way, you can also design your route and schedule. Clemenisle also offers chartered tours for bigger groups at P800 (~USD16.46) per hour. 
Admission fee: P25, ~USD0.51 (adults), P20, ~USD0.41 (students), P17.50, ~USD18 (seniors)
Address: 37F, LKG Tower, 6801 Ayala Avenue, Makati City, 1226 Metro Manila
Telephone: 905 864 1427, 948 986 8137
Website
---
Bonus tip: Journey into the wonders of ethno-astronomy in the National Planetarium
---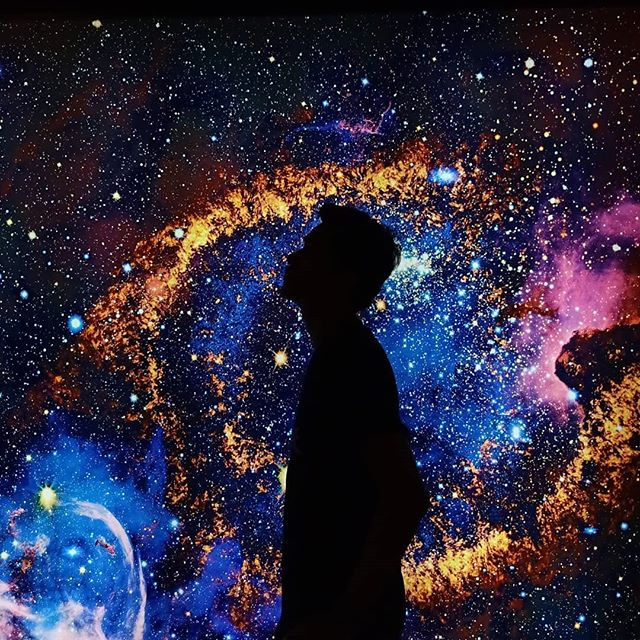 Image credit: @cohlins_molina
If you've had your fill of the old walled city, there's a planetarium just across Intramuros that can offer a contrast to your historic trip. Have your one last stop in the National Planetarium, located at Rizal Park in Ermita, Manila. 
A division of the National Museum of the Philippines exhibiting the wonders of ethno-astronomy, or how astronomy has a role in culture, it shows us how the planets and stars have guided sea navigation, agriculture, fishing, and celebration timings in the Philippines for centuries.  
Photos inside the planetarium are allowed, so you can pose for silhouette selfies with their galactic exhibits. 
Admission fee: P50, ~USD1.03 (regular), P30, ~USD0.62 (students), P40, ~USD0.82 (seniors)
Address: Rizal Park, Padre Burgos Ave., Ermita, Manila
Opening hours: Tue – Sun, 10AM-5PM
Telephone: (632) 527-1215
Website
---
Things to do in Intramuros
---
You'll be happy to find that Intramuros still has something different to offer no matter how many times you've visited it.
There are still a lot of things to do in Intramuros, from taking photos to touring the city on a Bambike that make this historical heart of Manila worth bookmarking for a future visit.
Also check out:
---
Cover image credit (clockwise from top-left): White Knight e-Chariot Tours Manila,  @cohlins_molina, Instituto Cervantes de Manila, and @intramuros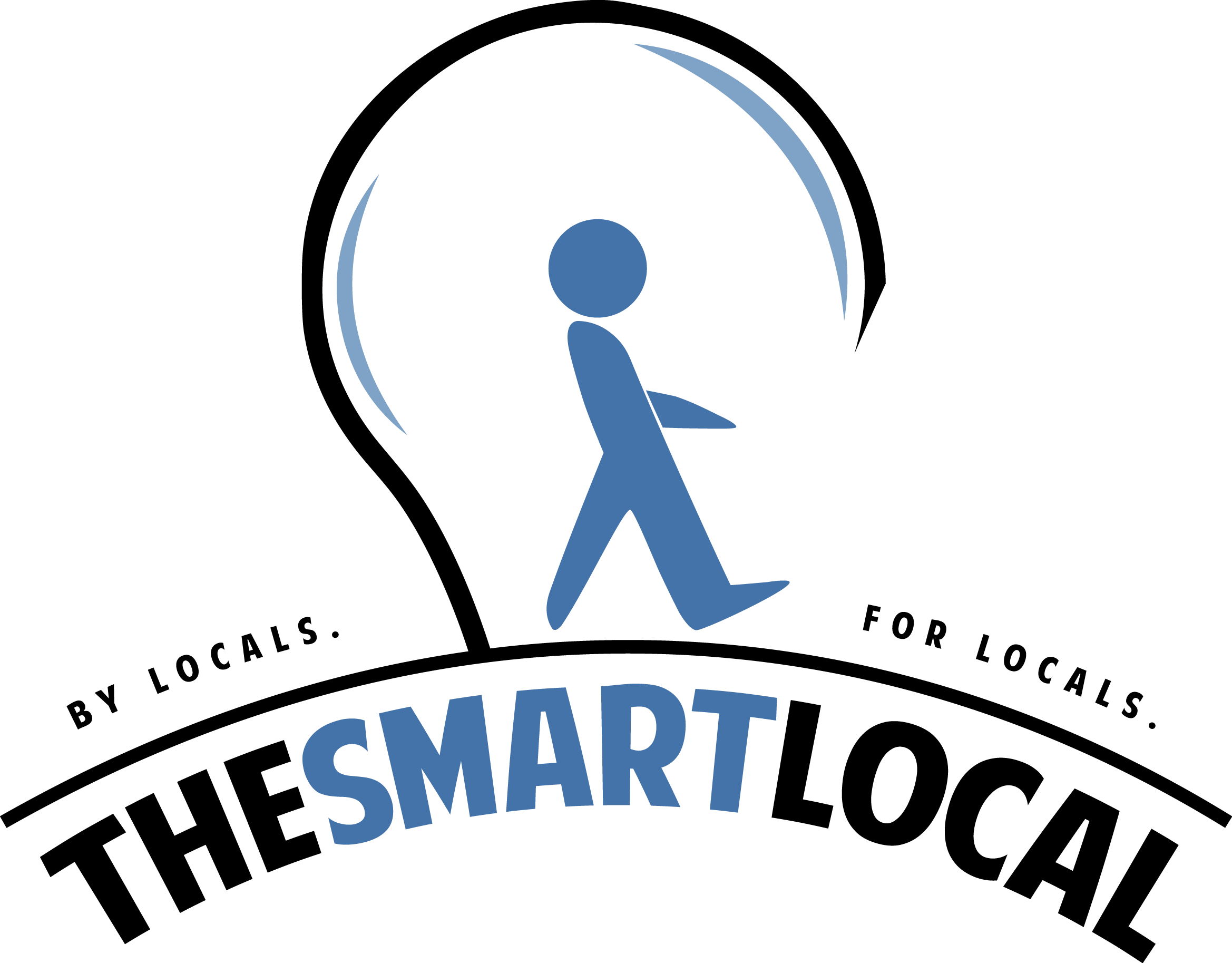 Drop us your email so you won't miss the latest news.