Unique group activities in Metro Manila
---
Weekenders looking for things to do in the vast Metro Manila area can check out our many cafe and activity suggestions for all kinds of interests.
But if you're looking for a break from the usual dining and Instawalking, there are also places that offer ridiculous and fun ways to get your week of stress out of your system.
Here are 14 group activities in metro Manila to destress with, whether it's sports, mystery, or laser tag, with some that're bound to fit your idea of letting loose.
---
1. The Attack Arena – arrow tag your friends, small and large groups welcome
---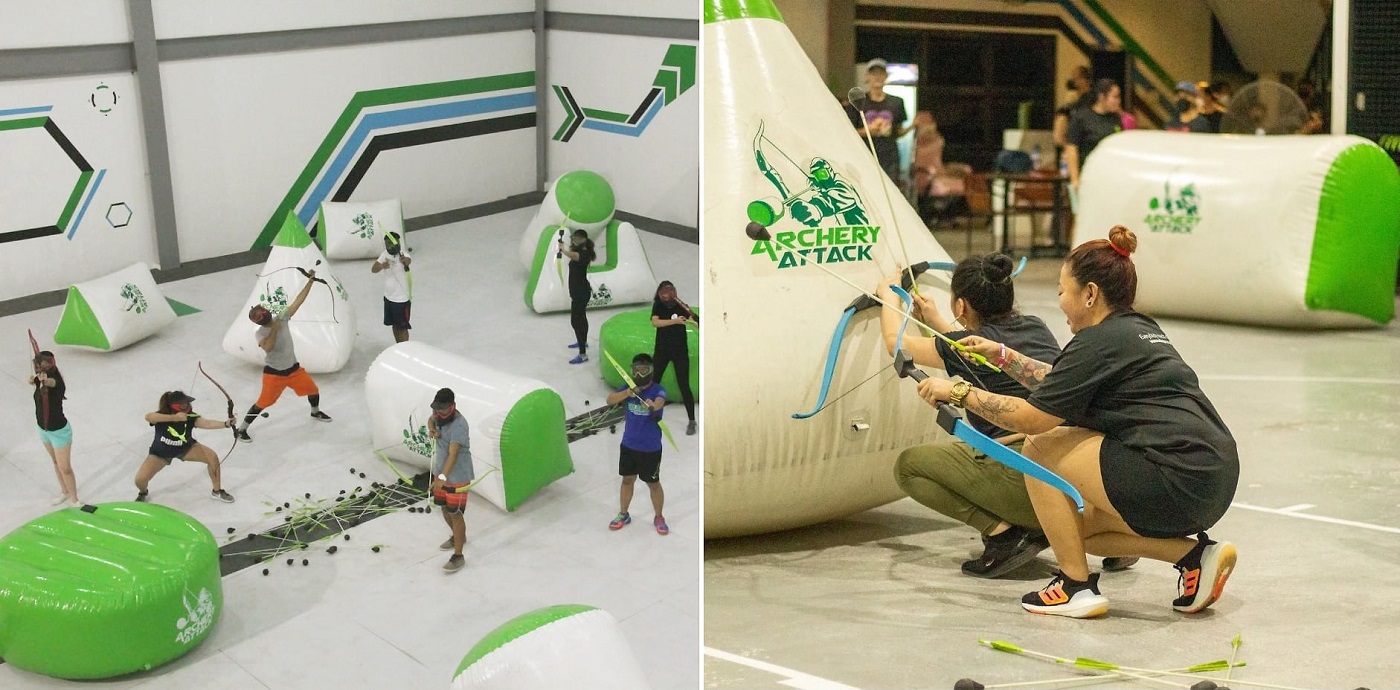 Image adapted from @theattackarena via Instagram
If you've never tried archery, paintball, or dodgeball, why not all three at once? The Attack Arena's unique sport, arrow tag, is an action-packed combo of paintball, archery, and dodgeball where you can play in large teams. Now's your chance to prove how accurate your shooting is, or how agile you are at dodging enemy attacks.
Even if you aren't able to come with a big group, open-group activities can accommodate you and your friends together with other groups. Enquire about exclusive activities where your group doesn't have to share a game with other groups, such as for parties, company events, or school groups. These can be held outdoors or at outdoor locations of your choice – for up to 100 people.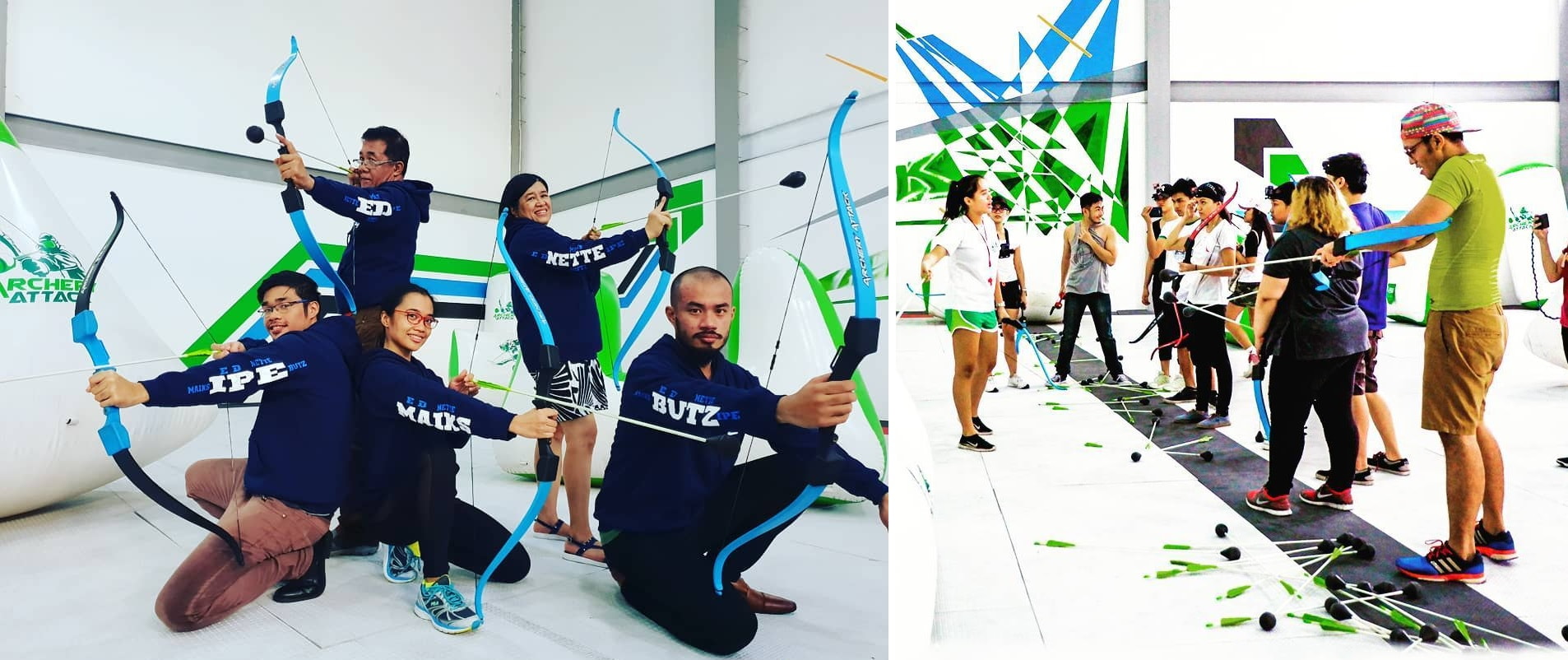 Image adapted from @archeryattackph via Instagram, @gabjornacion via Instagram
All visitors will get 10 minutes of orientation and practice from a host before starting play, and each session lasts an hour. Rates start at P200 (~USD3.66).
Do come in sports-friendly clothes and bring a set of fresh clothes to change into, clean sports shoes, bring your ID, and wear contact lenses if you need them for comfort.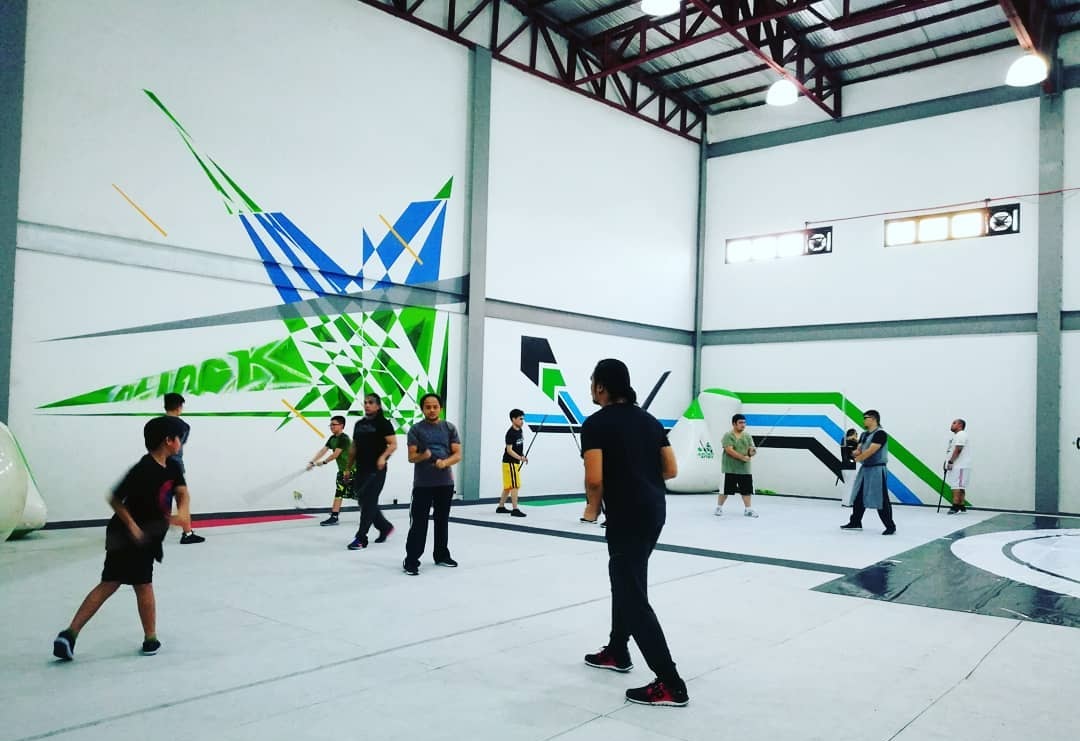 A swordsmanship class.
Image credit: @theattackarena via Instagram
Other activities from dodgeball to swordsmanship to bubble sports where you get into big zorbs and try to topple your friends are also available upon request.
Address: Vertis North, Bagong Pag-asa, Quezon City, Metro Manila
Opening hours: Mon-Fri 11am-9pm | Sat-Sun 11am-10pm
Contact: 0977 846 3537 | website
---
2. Stronghand Shooting Range – newbie-friendly target practice
---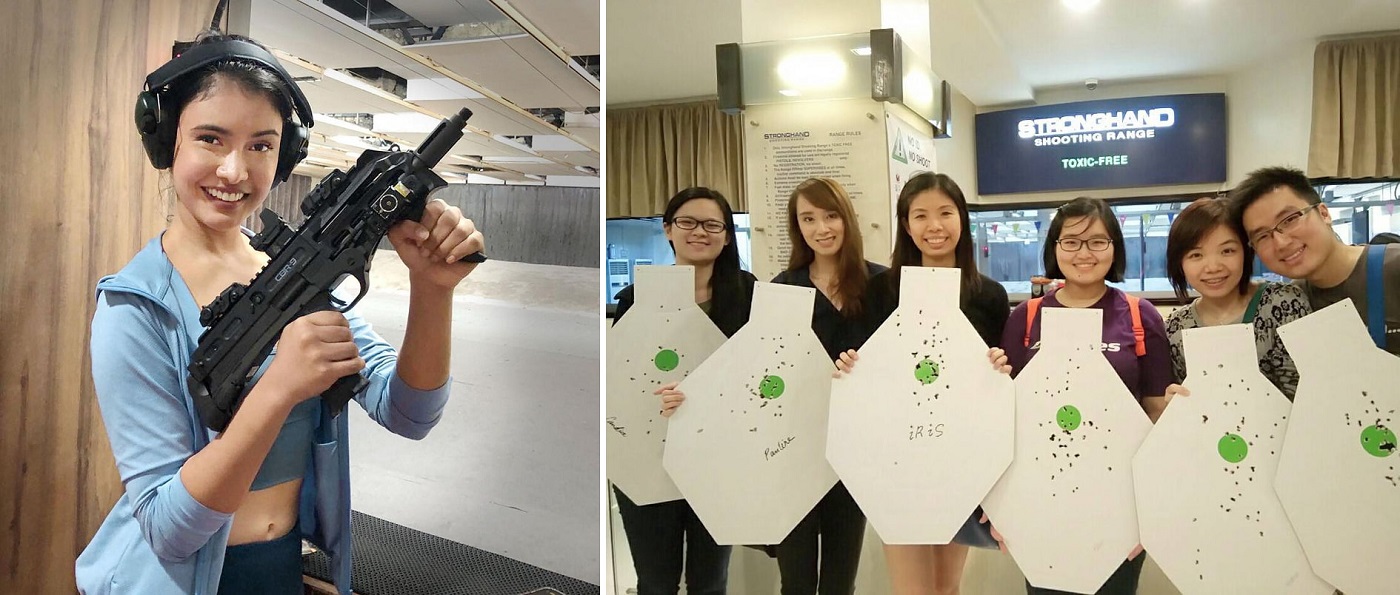 Image adapted from: @stronghand via Instagram
Shooting a gun isn't just a man thing – women are more than welcome to Stronghand's gun range, what it calls Asia's first non-toxic indoor shooting range and gun shop. It's free of gun smoke, air-borne lead, sulfur dioxide, barium oxide, and antimony oxide, keeping it safe and even welcoming for you to bring friends to.
Stronghand is also known for its cleanliness and safe gun-handling training – you can even go for a gun safety seminar (P500, ~USD9.16) or a basic gun-handling course and get a certificate for bragging rights after.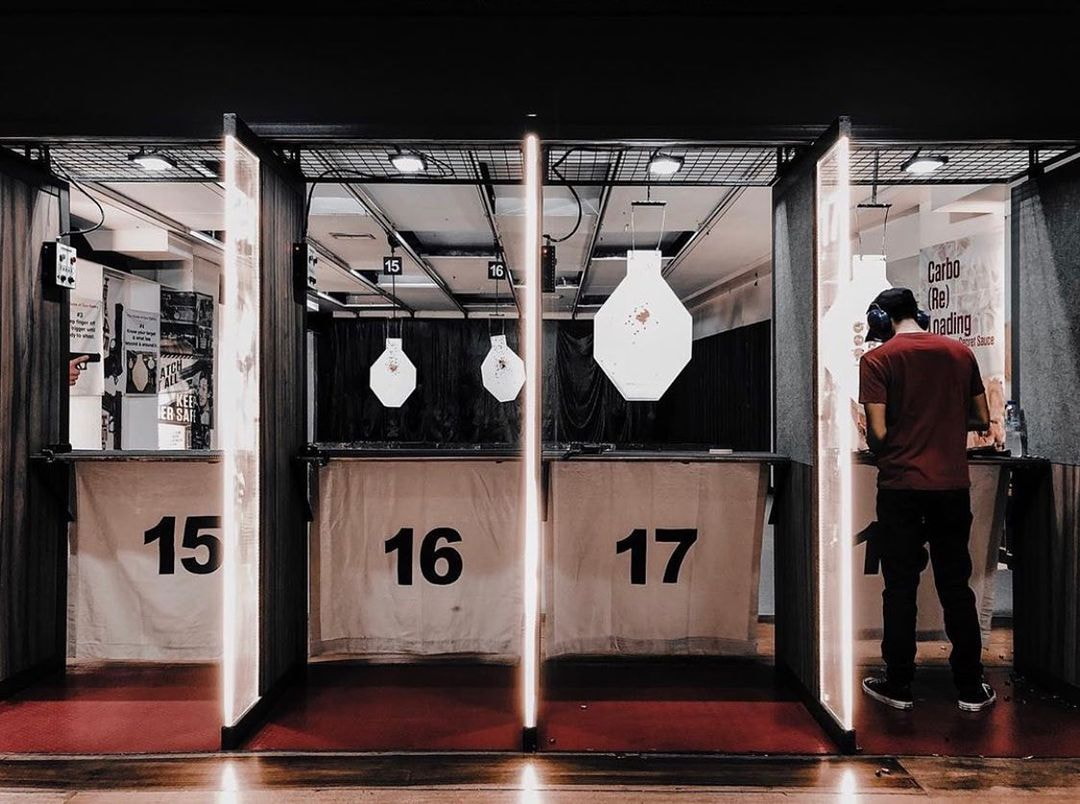 Image credit: @stronghand via Instagram
But for first-timers who just want to see what shooting is all about, you'd be glad to know that reviewers say that this place is beginner-friendly and not intimidating at all. Newbies have to start with the beginners' marksmanship class (P2,750, ~USD50.38) before they can book slots for their own target practice in future or join clubshoot events where you can compete against others.
There's also an aptly named cafe, Kiss Kiss Bang Bang, where you can rest and chill in after your session.
Address: La Défense, 1660 E Rodriguez Sr. Avenue, Quezon City, Metro Manila
Opening hours: Wed-Mon 9.30am-5.30pm (Closed in Tuesdays)
Contact: (02) 8721 7174 | website
---
3. White Knight e-Chariot Tours Manila – tour historical sites with ease
---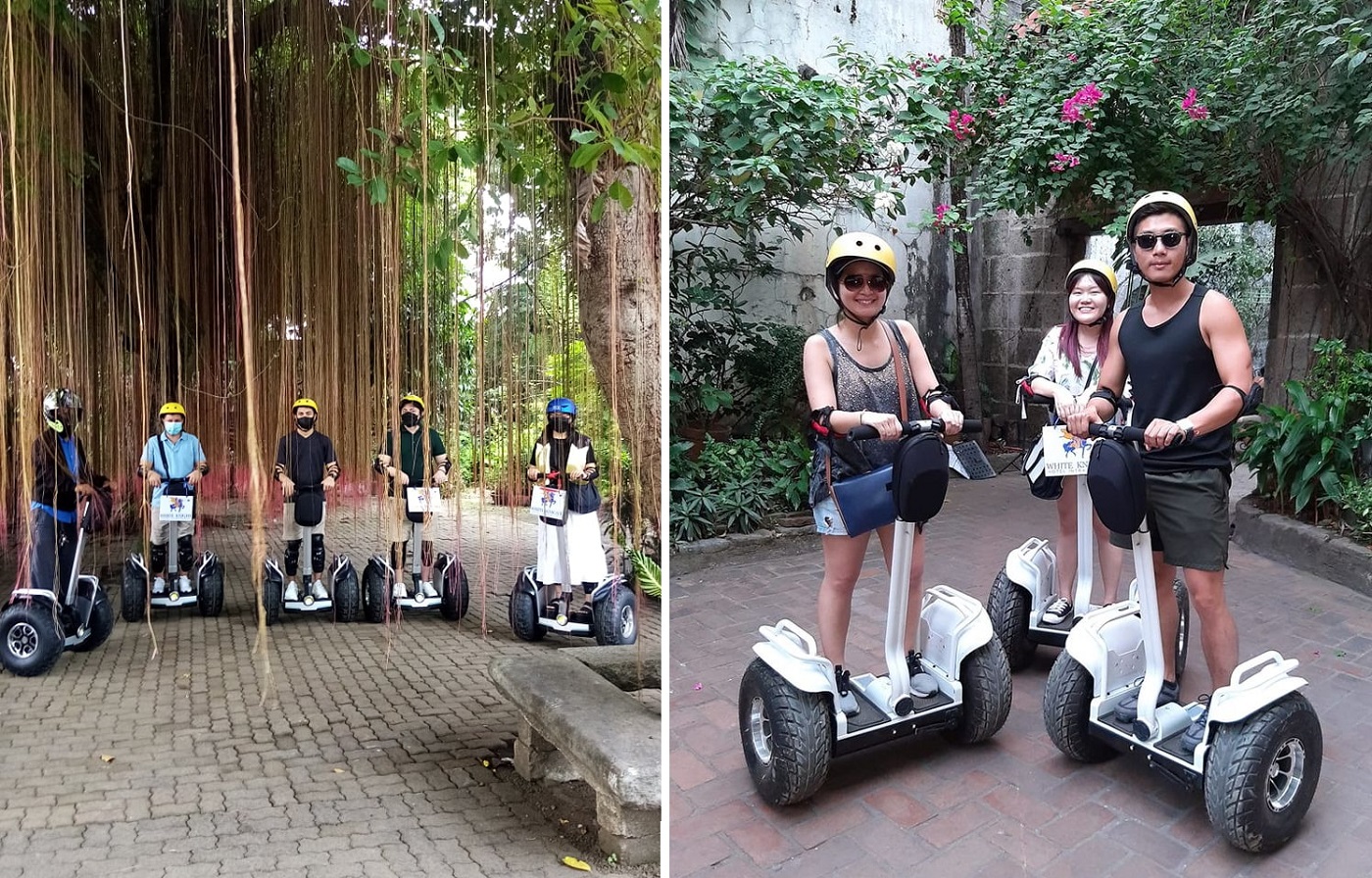 Image adapted from White Knight e-Chariot Tours Manila via Facebook
Back after the pandemic lockdowns, White Knight e-Chariot Tours Manila is a head-turning way to tour one of Manila's historically and culturally richest areas, Intramuros. Like Segway scooters with big wheels that let you stand up, the e-chariots give you the flexibility to wander through narrow paths without wearing you out on a hot day.
Of course, you'll be taken on an informative tour by a guide at the same time – making this ideal if you're new to the city or bringing a friend from abroad around. Rates start at P450 (~USD8.24) for a 30-minute tour and P900 (~USD16.49) for a 1-hour tour, and tours start at White Knight Hotel. Group and corporate bookings are available.
Address: Plaza San Luis Complex, General Luna Street corner Urdaneta Street, Intramuros, Manila, Metro Manila
Opening hours: 8am-6pm, Daily
Contact: (02) 7 1170802 | Facebook 
---
4. Sip and Gogh – paint and drink for sheer enjoyment
---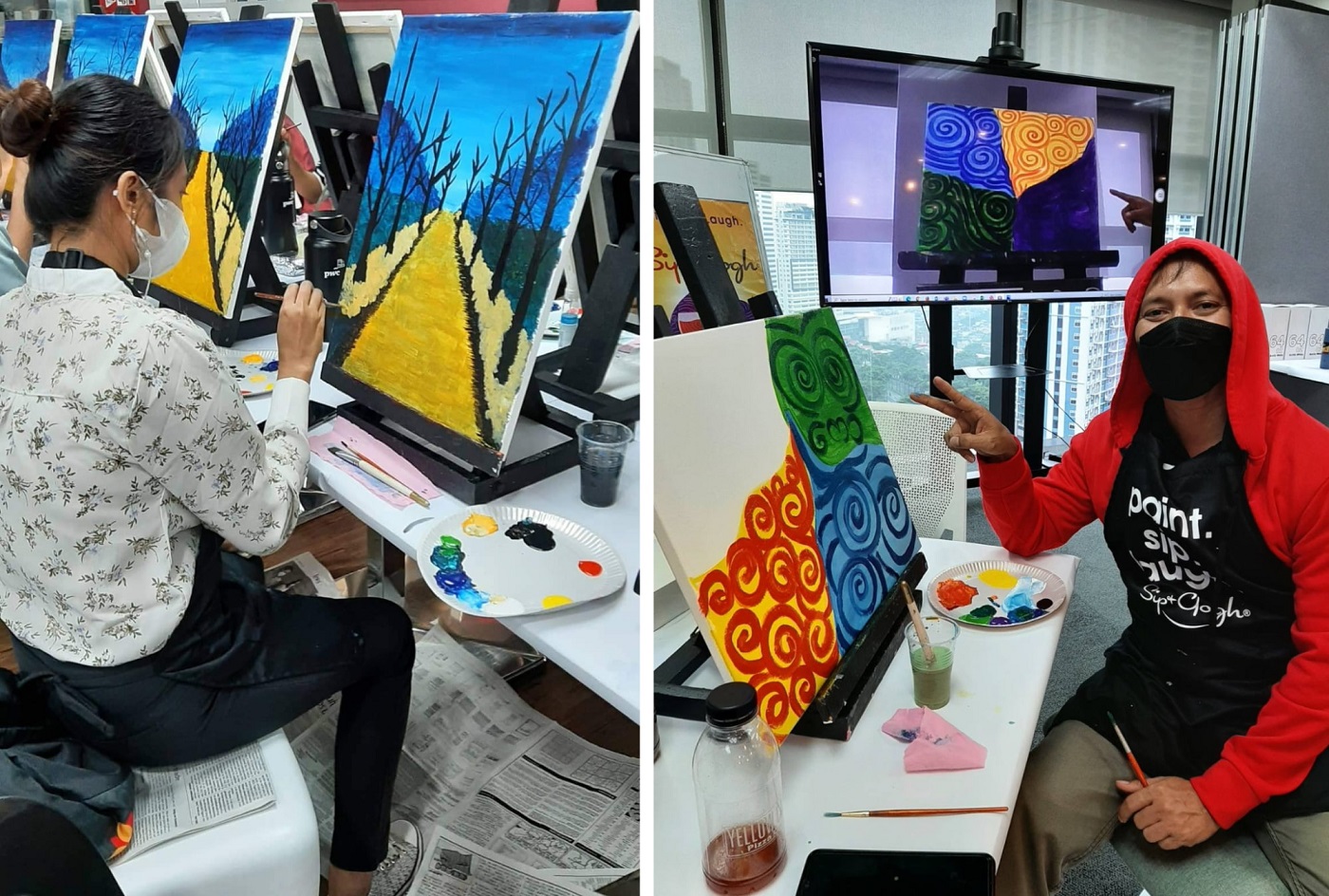 Image adapted from Sip & Gogh Atelier via Facebook
There's no shaming of art amateurs at Sip and Gogh, an art class anyone at any level can join. So bring your friends or significant other, and get snacks but more importantly, drinks while you paint – from frappes to wine.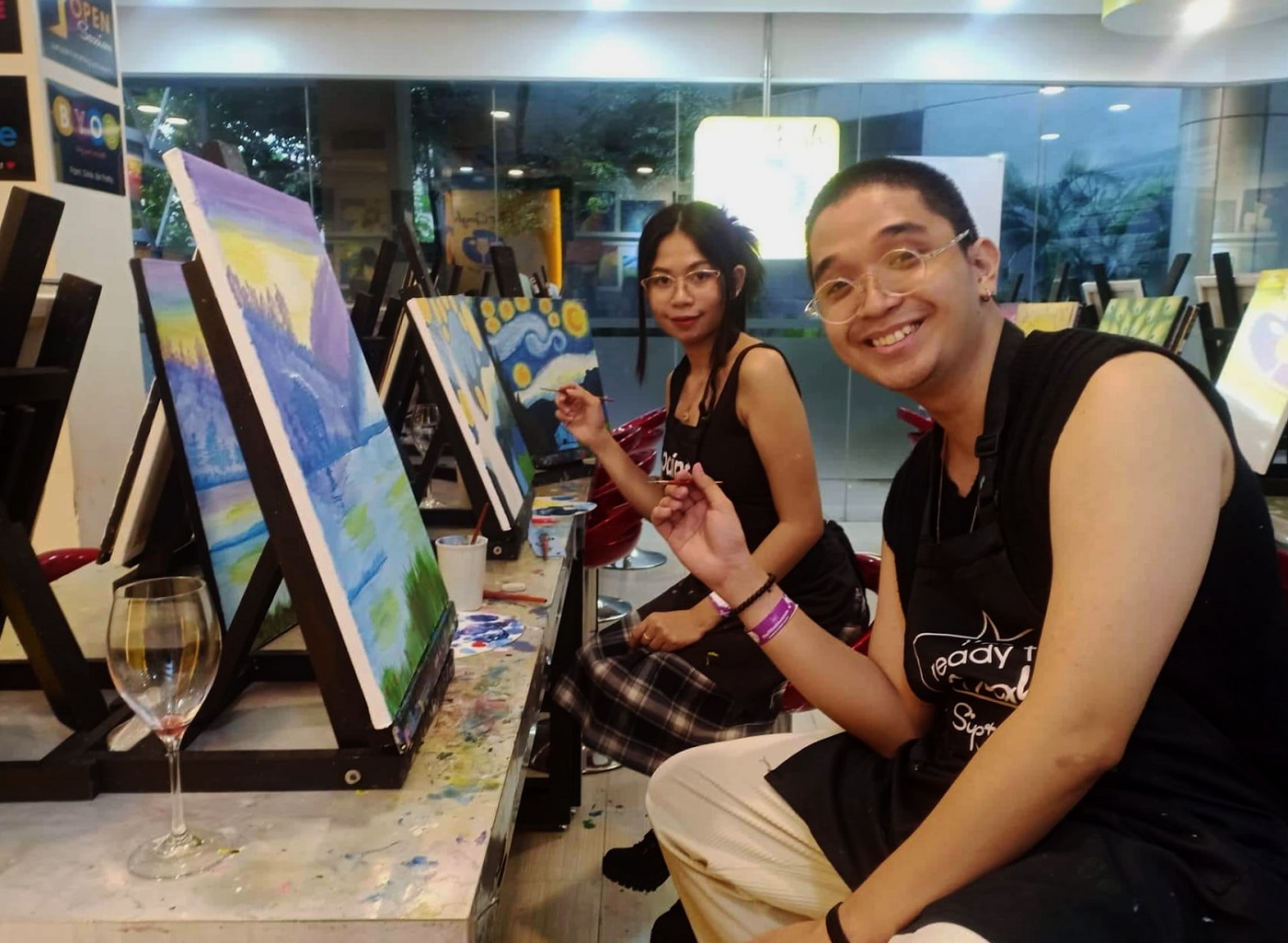 At the Congressional Avenue branch.
Image adapted from: Sip & Gogh Congressional Avenue via Facebook
Book a session online, starting at P1,000 (~USD18.32) for 2 hours, at your preferred branch or call or email in advance. Walk-ins can be accommodated 30 minutes in advance if there is availability. If you prefer a more guided introduction to art, try their acrylic painting workshop which comes with a free workshop kit, paints, canvases, and brushes, and drinks.
Corporate and large-group activities in Metro Manila off-site can also be arranged.
For a list of branches, click here.
---
5. Polecats Manila – newbie-friendly pole classes
---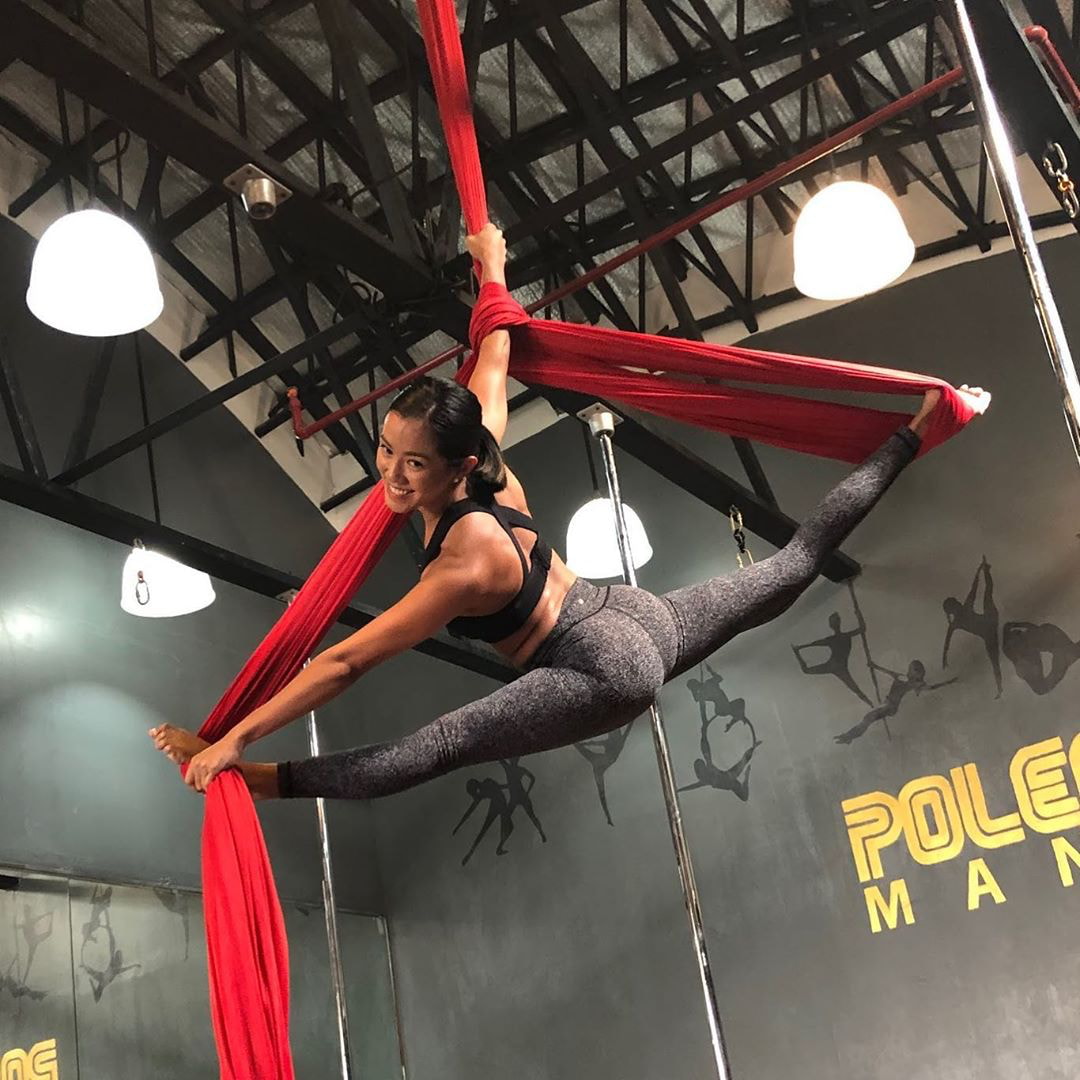 Image credit: @polecatsmanila via Instagram
Photos of pole-dancing feats involving aerial hoops and aerial hammocks make it clear that the art is a chill yet core-challenging workout – and an Instagenic one at that. At Polecats Manila, introductory sessions, aerial hoop sessions, sensual floor classes, and K-pop pole classes are open to first-timers in the studio or online.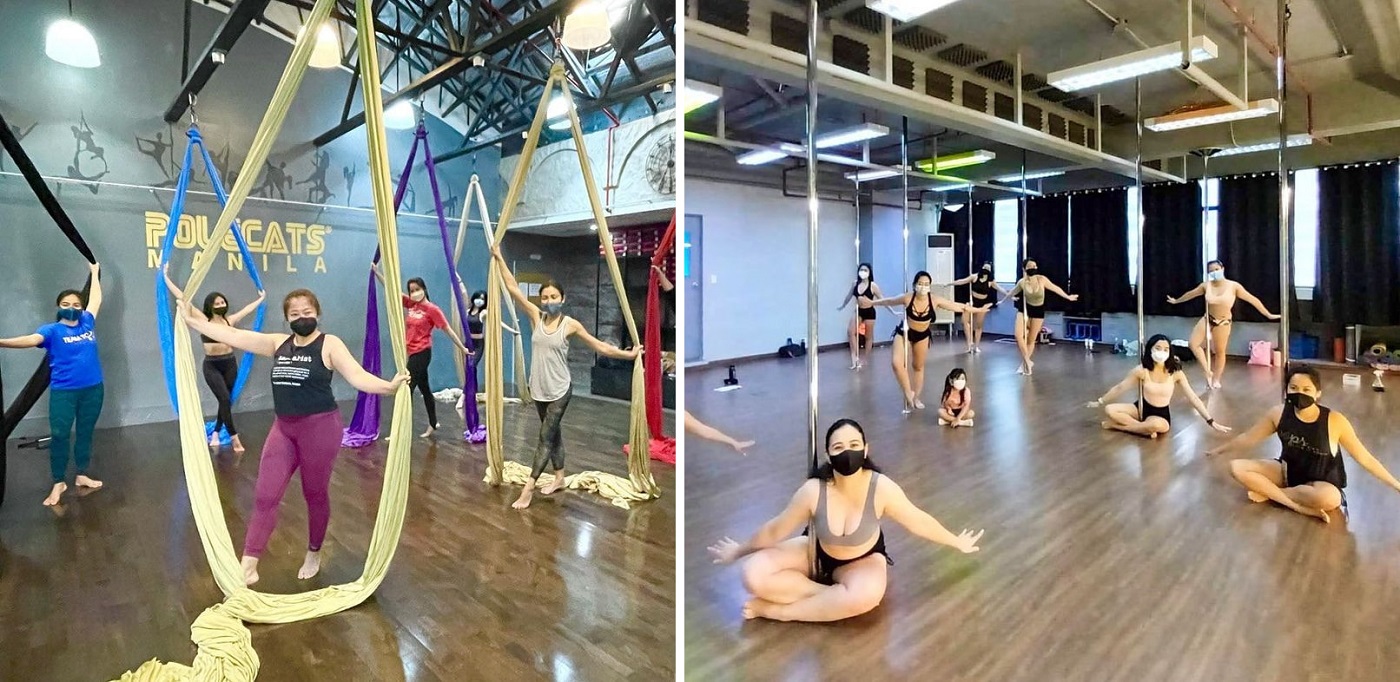 Image adapted from: @polecatsmanila via Instagram
Group classes can be held with strangers or privately for your own group, so ask ahead. You can even arrange to buy and install a pole in your own home.
Address: 22F, Strata 100 Building, Emerald Avenue, Ortigas Center, Pasig, Metro Manila
Opening hours: Depends on class timings
Telephone: 0917 700 7653 | website
---
6. WiiJUMP In Alabang – trampoline park that lets adults be kids
---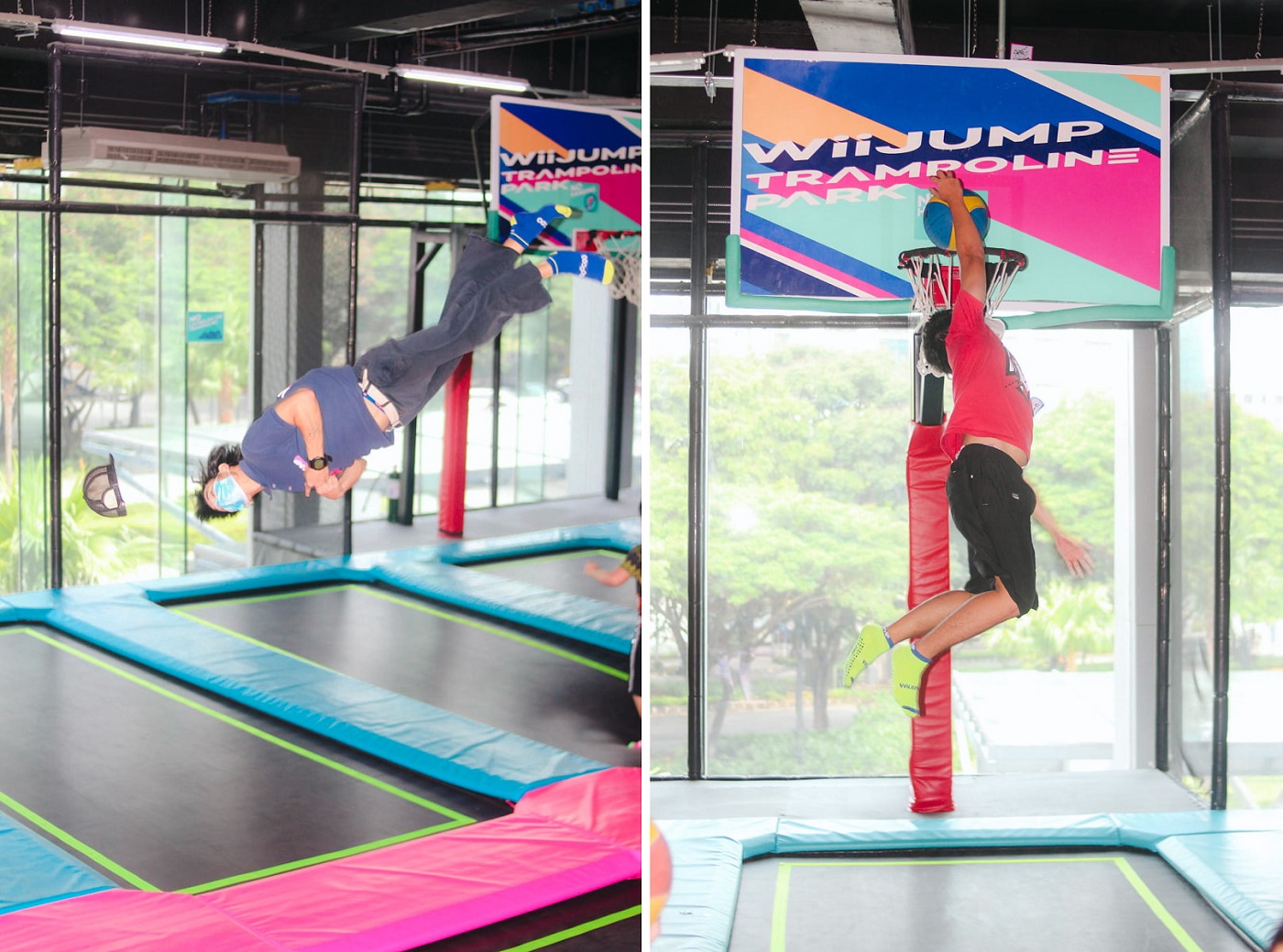 Image adapted from WiiJUMP Philippines via Facebook
Many of us have wanted to climb into bouncy castles in the middle of malls, but they were only meant for children. Happily, WiiJUMP Trampoline Park in Festival Mall, Alabang now lets adults bounce like kids again.
Touted to be the Philippines' biggest trampoline park, WiiJUMP boasts a free jump zone, a V-trampoline where you can bounce side to side, basketball hoops where you can slamdunk while jumping, a foam pit big enough for several adults, climbing walls, and more activities. Hang at their on-site cafe after you're done.
Entry starts at P399 (~USD7.31) per hour on weekday mornings.
Watch our video guide to WiiJUMP here!
Alabang branch
Address: 2nd Floor Expansion Wing, Festival Mall, Alabang, Muntinlupa City, Metro Manila
Opening hours: 10AM-9PM, Daily
BGC branch
Address: 2F, San Marco Wing, Venice Grand Canal, McKinley Hill Drive, Taguig, Metro Manila
Opening hours: Mon-Thu 11am-10pm | Fri-Sun 10am-11pm
Contact: 0969 327 7020 | website
---
7. Breakout Escape Rooms – prove that your barkada's got brains
---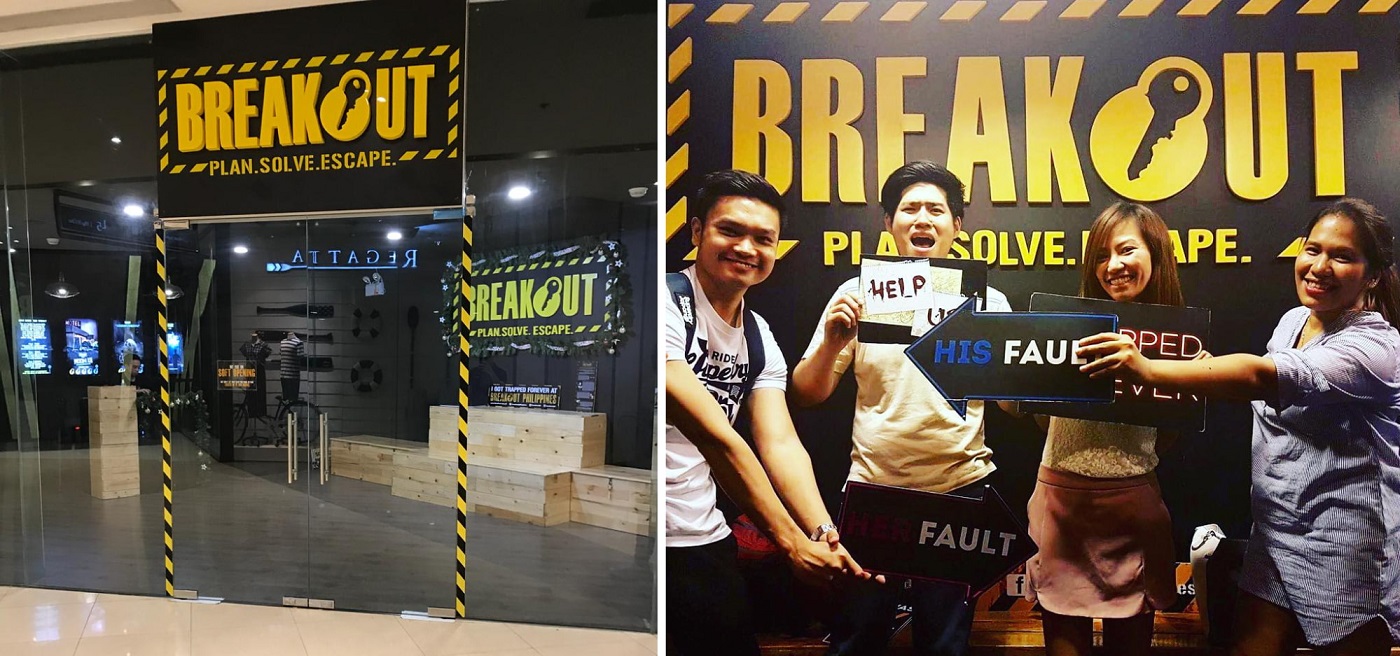 Image adapted from Breakout Shangri-La Plaza via Google Maps, @kenramosromero via Instagram
Escape rooms provide the kind of mind-boggling and heart-pounding anxiety that'll definitely take your mind off anything you're stressed over – or make for a bonding experience with friends.
If you have 45 minutes to spare and a taste for puzzles, head to Breakout Philippines' themed rooms – horror motel-inspired Room 13, creepy The Catacombs, fairytale-like Ever After, and The Space Between which will satisfy fans of outer space.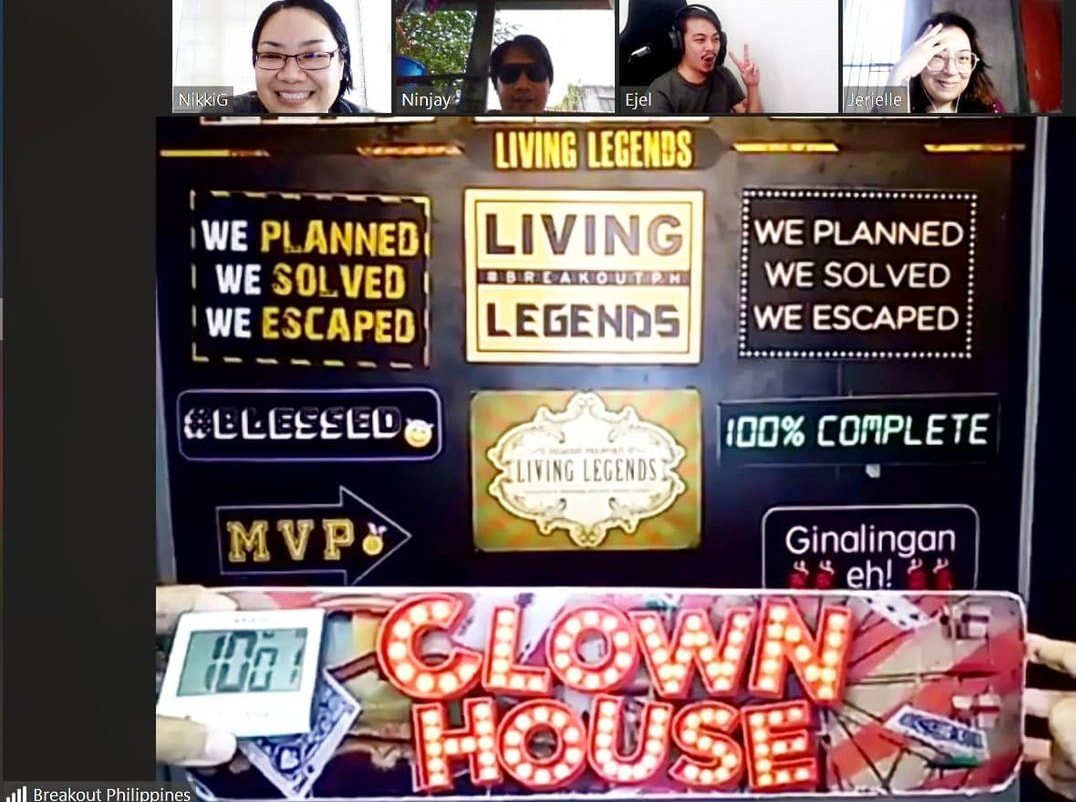 Zoom breakout rooms can be arranged too.
Image credit: @ikkiniram via Instagram
These'll make unique birthday party ideas or group activities in Metro Manila that you'll remember for a long time. Groups of up to 6 players pay P350 (~USD6.41) per person from Mondays to Thursdays, and prices from Friday-Sunday and on public holidays vary from P450 (~USD8.24) per person for groups of 5-6, P550 (~USD10.08) per person for groups of 3-4, and P650 (~USD11.91) per person for groups of 1-2. Book online or enquire for corporate or larger team events.
Do review the house rules – punctuality is key, spoilers and photography are not allowed, and props must be handled carefully. Interestingly, those who succeed in escaping a room on the first attempt get to play another room for 10% off – or completely free if you escape from that one too.
Mandaluyong branch
Address: 5th Floor, EDSA Shangri-La Plaza, EDSA corner Shaw Boulevard, Ortigas Center, Mandaluyong
Opening hours: 10am-9pm, Daily
Alabang branch
Address: 2nd Floor, Commerce Mall, Alabang Town Center, Ayala Alabang, Muntinlupa, Metro Manila
Opening hours: Mon-Fri 11am-9pm | Sat-Sun 1oam-9pm
Contact: 0927 257 1602 | website
---
8. LazerXtreme – immersive outer space-inspired battles
---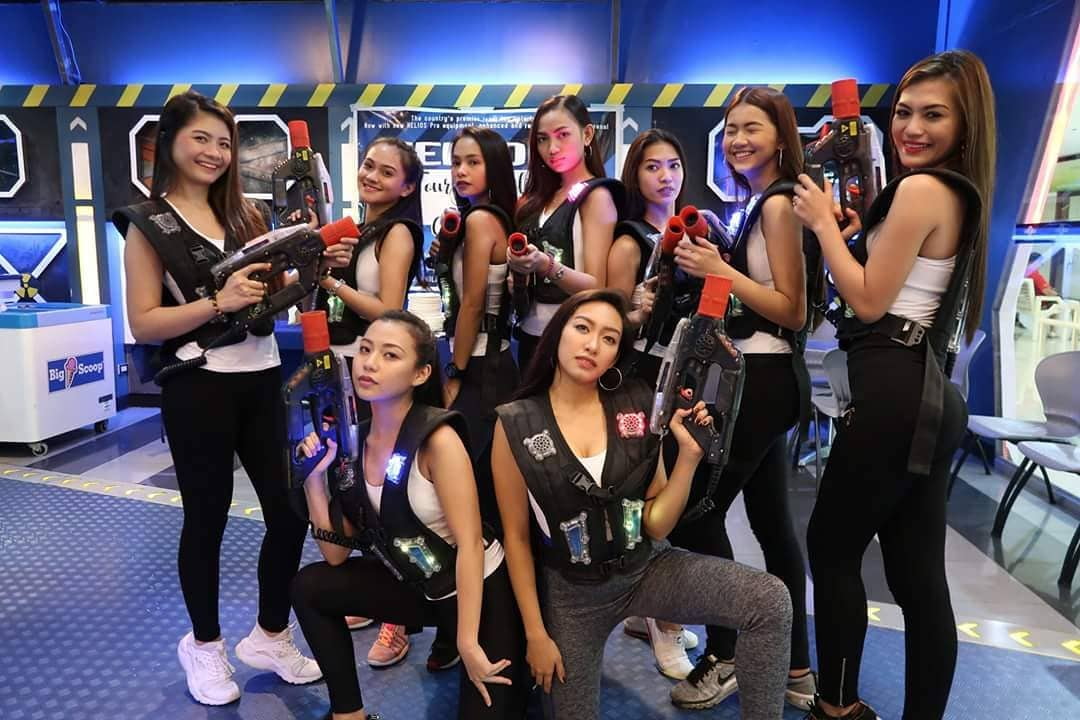 Image credit: @lazerxtrememnl via Instagram
Outer space fans should hit up LazerXtreme Manila in BGC, 300 square meters with four futuristic battle areas called Star Trek, Red Earth, Avatar, and Tron with challenging structures to maneuver around as you tag your enemies. It's a fun way to burn off those calories, even if you just do a 15-minute game, and suits all groups – couples, families with kids, or adults who just wanna have fun. The oldest player was an 80-year-old in good health!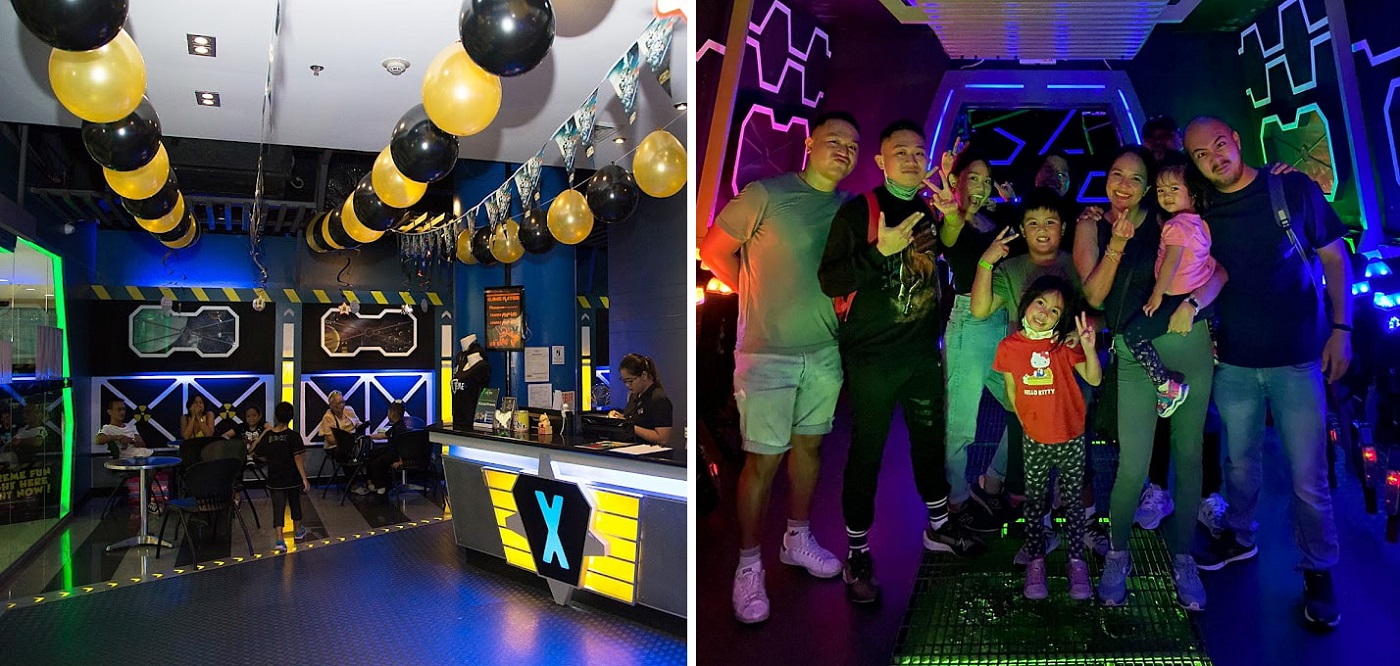 The entrance and dining area (left) and a birthday party (right).
Image adapted from: jet lamosa via Google Maps, LazerXtreme via Facebook
Up to 30 players can join in a game of defending their teammates or going on the offense, in an immersive space-themed arena that boasts lighting and fog effects and cinematic music. You'll be unscathed at the end of your sesh as the guns only deploy mild lasers and no bullets.
At the end of your round, have a pizza and sandwich break at the in-house coffee shop. Rates start at P550 (~USD10.08) for 2 games on Tuesdays to Thursdays and P590 (~USD10.81) on Fridays, Saturdays, Sundays, and holidays. The arena is closed Mondays to Wednesdays.
Address: 4th level, Market! Market!, Bonifacio Global City, Taguig, Metro Manila
Opening hours:  Tue-Thu 10am-9pm | Fri-Sun 10am-10pm
Contact: 0917 609 1619 | website
---
9. Global Gutz Paintball – rough it out at an eco-park
---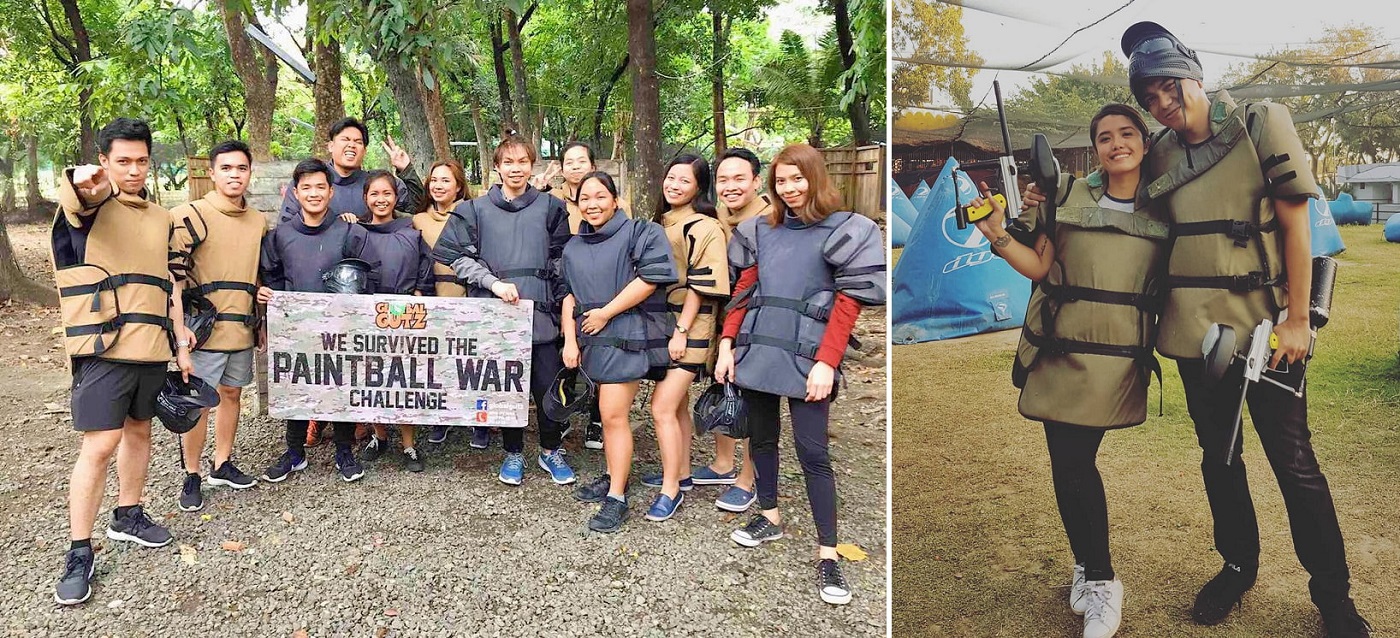 Image adapted from @jooowana via Instagram, @smittensteph via Instagram
Those craving more intense, realistic action should head to Global Gutz Paintball for outdoor paintball – with a wider play area than most of the indoor spots with group activities in Metro Manila above. You'll feel the paint hit you instead of just getting a beep from an indoor laser tag wrist device, so it's a bigger physical challenge.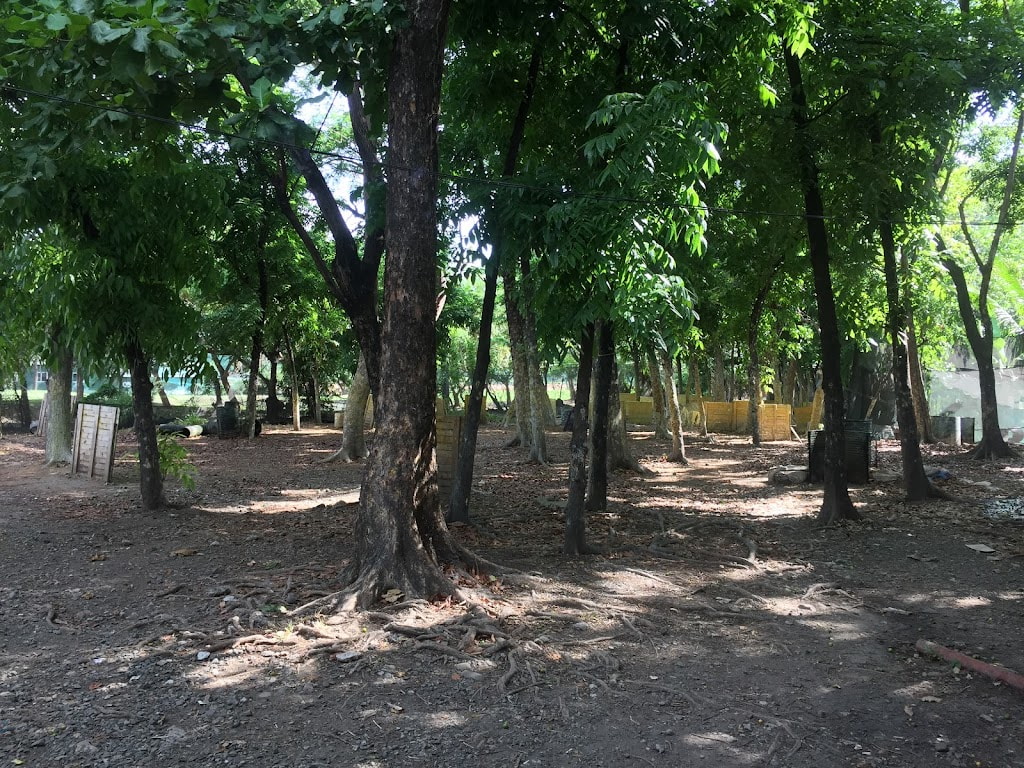 Image credit: A L via Google Maps
The terrain comes with mounds, old vehicles you can hide behind or launch a stealth attack from, pipes, inflatables, and even military-style obstacles.
Families can try the kiddie-friendly version that can be played with 100 bullets per player, full gear rental, and unlimited play time. It's available as part of a party package if your adventure-loving youngster craves a unique celebration.
Address: La Mesa Eco Park, Novaliches, Quezon City, Metro Manila
Opening hours: 9am-6pm, Daily
Contact: 0927 007 0525 | website
---
10. Craft MNL – learn a new craft with your besties
---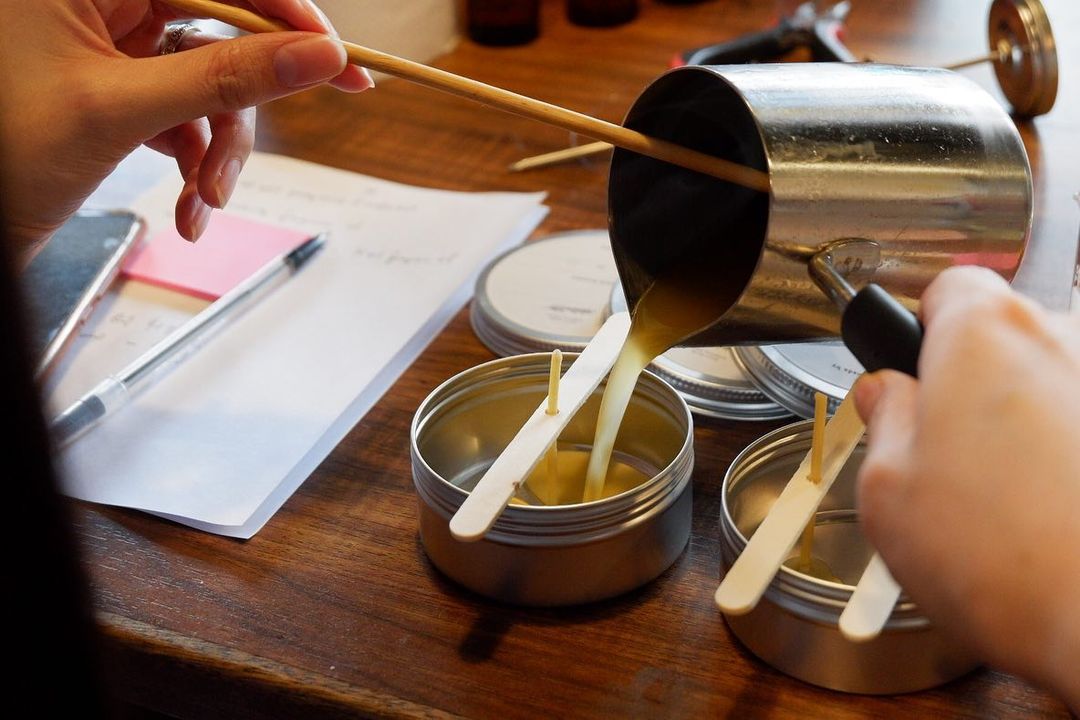 Image credit: @craftmnl via Instagram
If you are self-confessed titas and titos who want to avoid physical activities, take your friend group to a class at Craft MNL.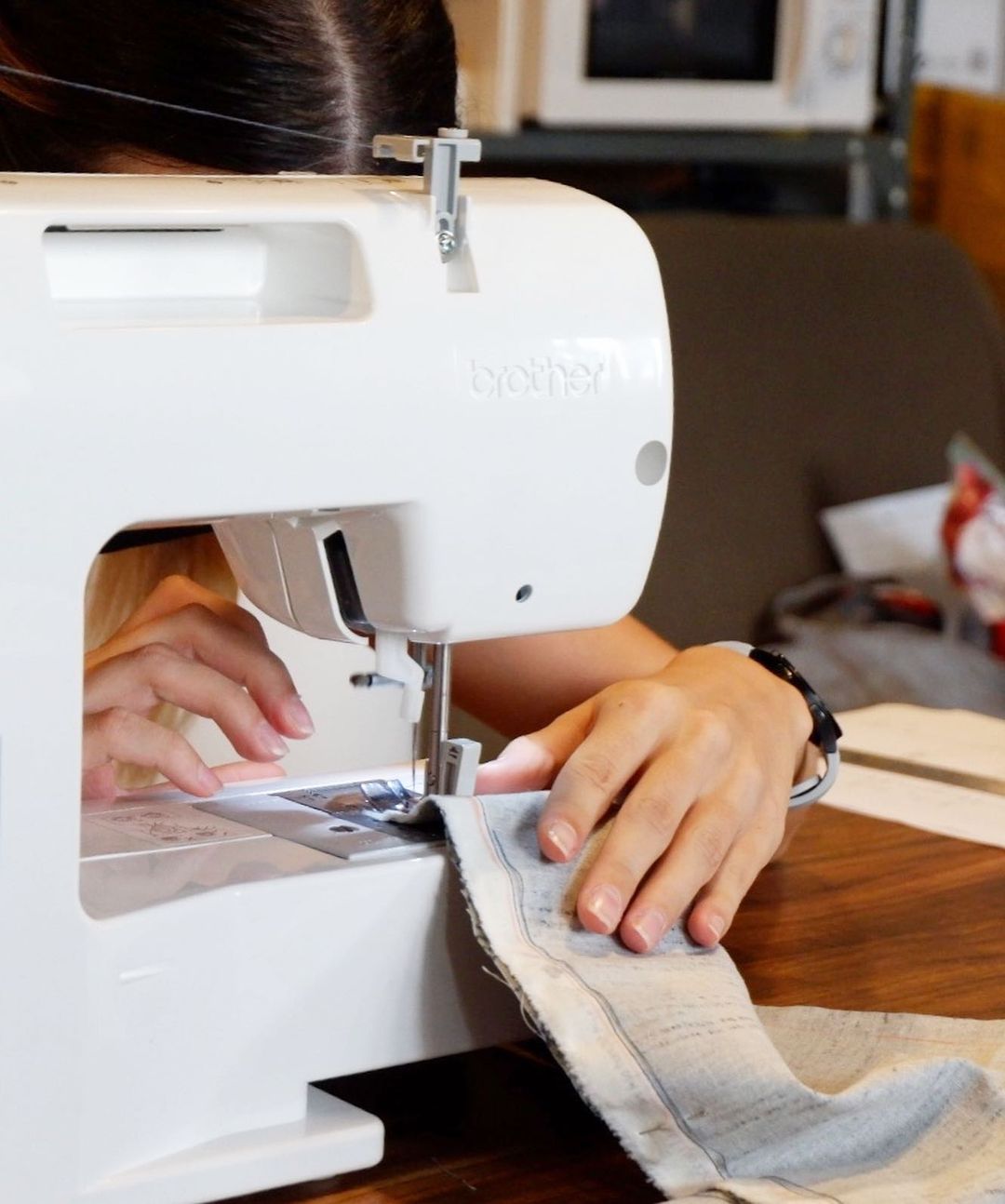 Image credit: @craftmnl via Instagram
The studio offers different arts and crafts workshops (from P850/session, ~USD15.57) including pottery, scented candle making, soap making, and calligraphy. Those who are more into practical skills can also learn sewing and woodworking.
Besides group workshops, Craft MNL also offers private classes – an option to consider if you want to turn one of their workshops into your birthday or team-building activity.
Address: Unit 302, Pasay Road Condominium (Pamana-Languages Building), 926 Antonio Arnaiz Avenue, Makati, Metro Manila
Opening hours: Tue-Sat 1pm-8pm (Closed on Sundays and Mondays)
Contact: 0917 124 4382 | website
---
11. Driftito – challenge each other on a drift kart race
---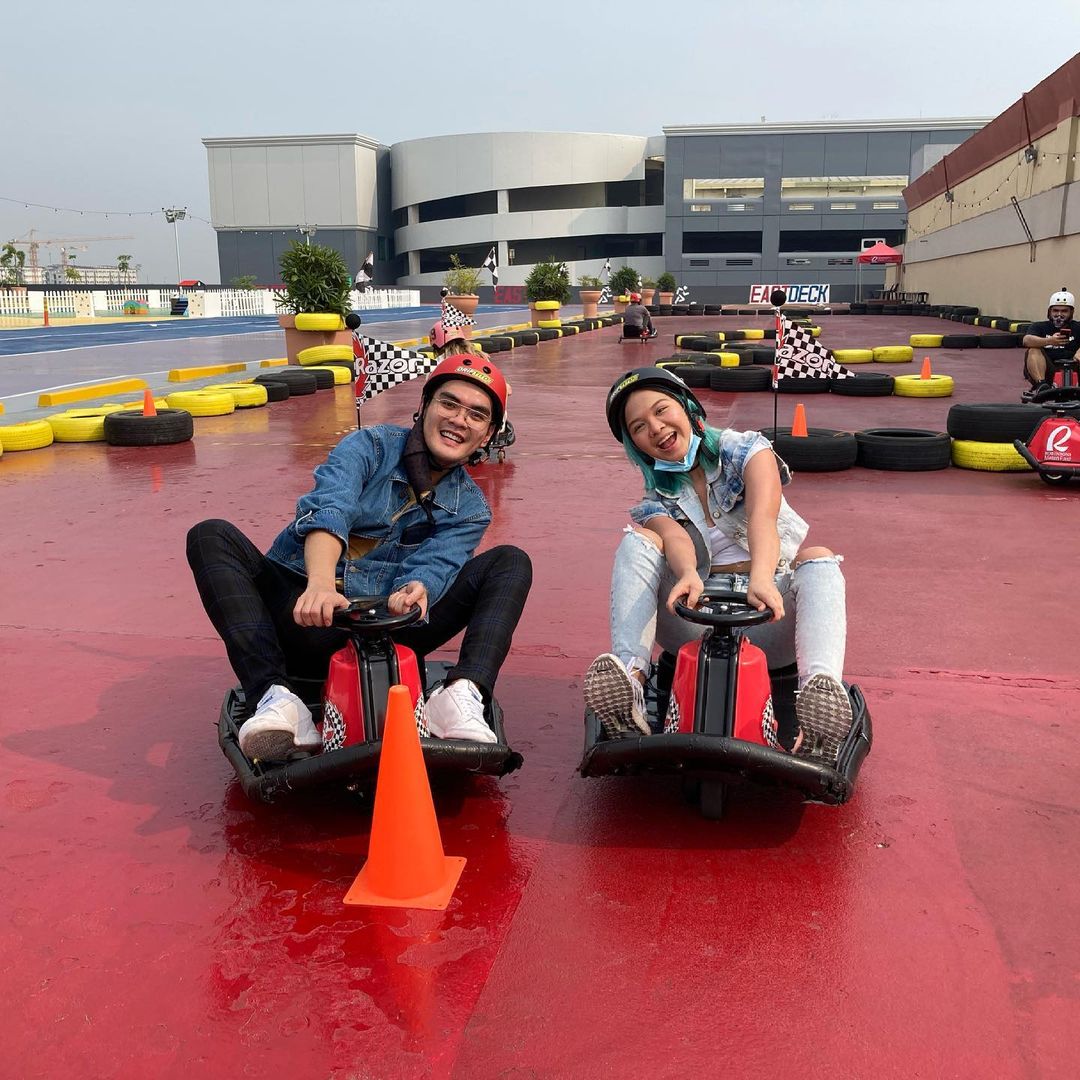 Image credit: @driftito via Instagram
F1 fans who can't drive racing cars can engage in a drift kart race instead. Drift karts are easier to drive than go-karts, and even those who don't know how to ride a motorcycle can operate one.
To try your hand at it, head to Driftito. Besides drift karts, they also have mini-ATVs and mini dirt bikes if you want to look more maangas in front of your friends.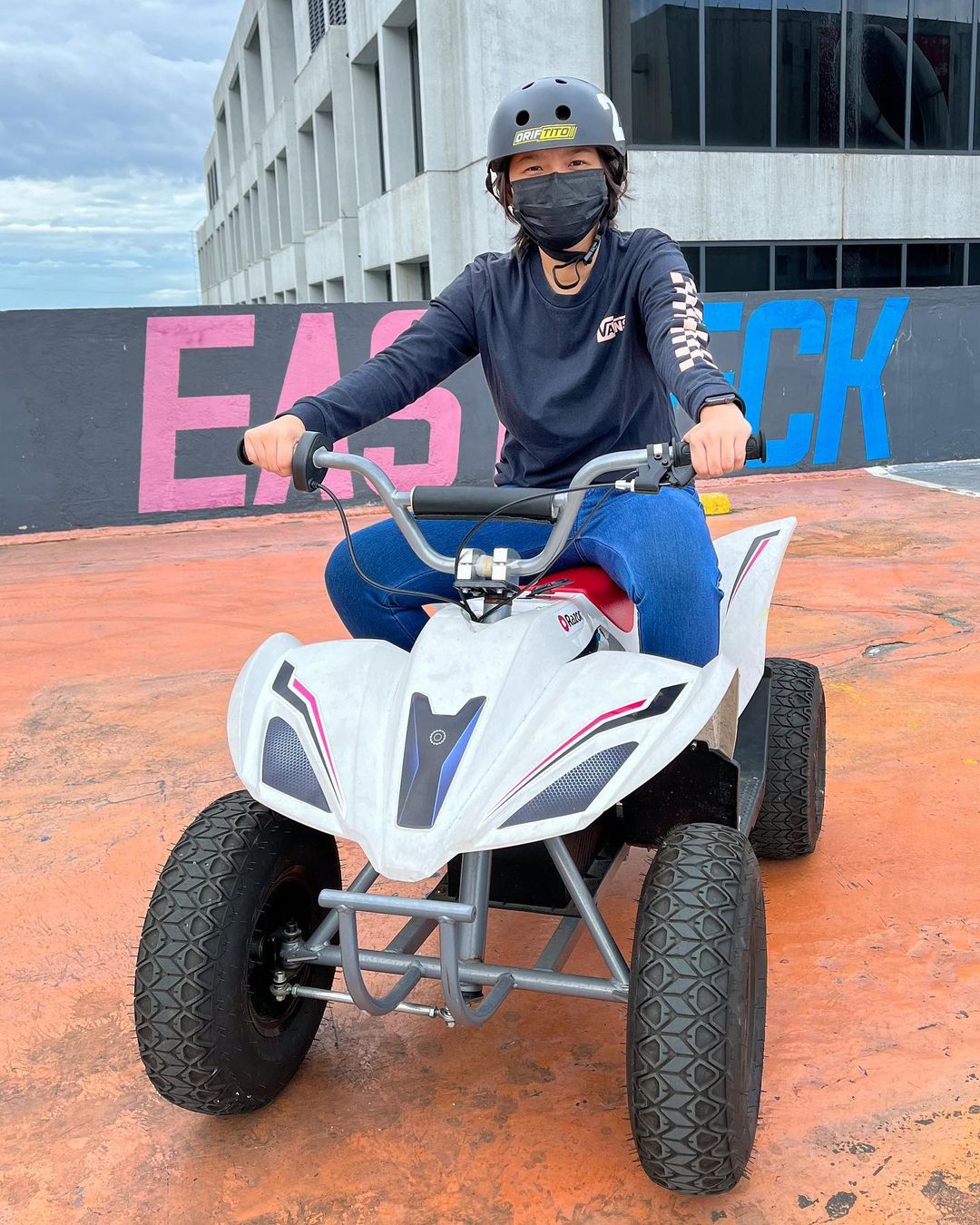 Image credit: @demindrd via Instagram
Drift karting rates start at P200 (~USD3.66) for 10 minutes for adults.
Driftito has several branches across the metro so you can conveniently check out the branch nearest to you. Alternatively, they can take their drift karts to your event with their Mobile Party Package.
For a list of branches, click here.
---
12. Playland Fisher Mall Roller Disco – skate and do the disco at the same time
---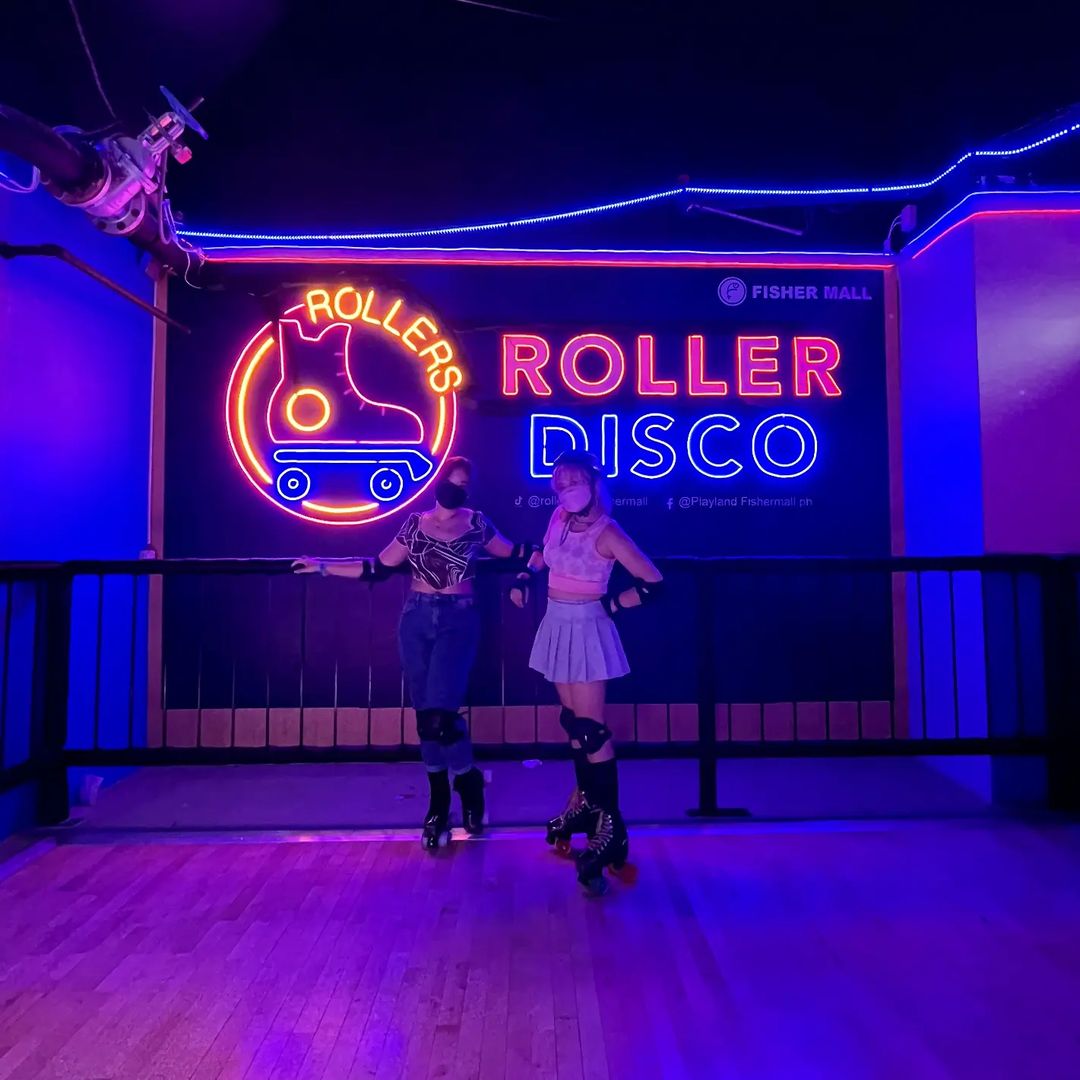 Image credit: @oinkymichelle via Instagram
If you've been wanting to try roller skating but don't have the courage to purchase your own pair of skates, visit Roller Disco at Playland Fisher Mall.
This roller disco takes your skating experience to the next level with a space bursting with neon lights and blasting retro music.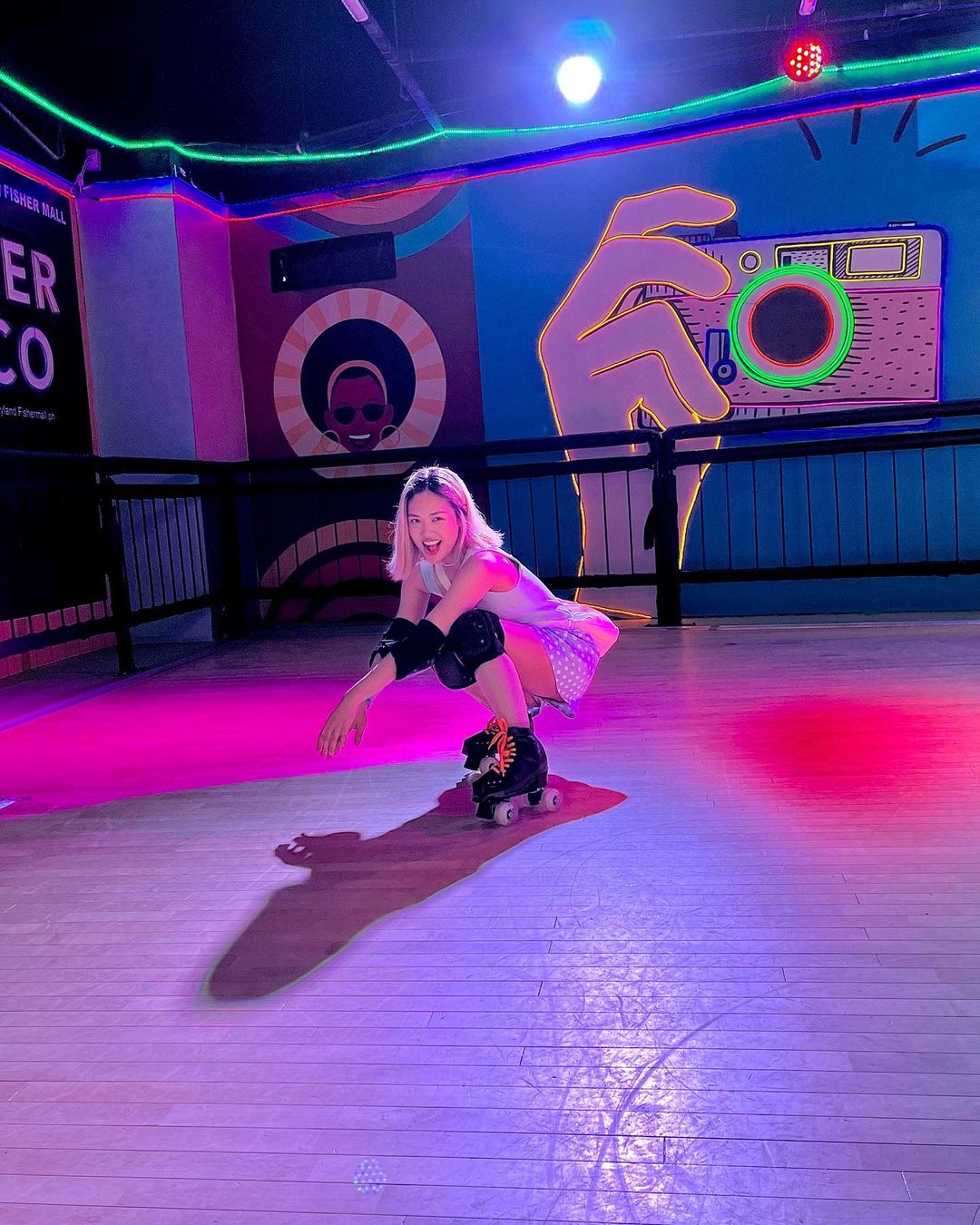 Image credit: @marielllie via Instagram
Starting at P130 (~USD2.38), you can rent roller skates and protective gear, and get 30 minutes of skating time. But if you happen to have your own gear, bring it along with you to get a huge discount on your roller skating session.
To have the skating rink-slash-dance floor to yourself, you can book out the whole space.
Address: Fisher Mall, 325 Quezon Avenue corner Roosevelt Avenue, Sta. Cruz, Quezon City, Metro Manila
Opening hours: Sun-Thu 10am-9pm | Fri-Sat 10am-10pm
Contact: (02) 372 6421| Facebook
---
13. Nightmares Manila – experience Halloween horrors year-round
---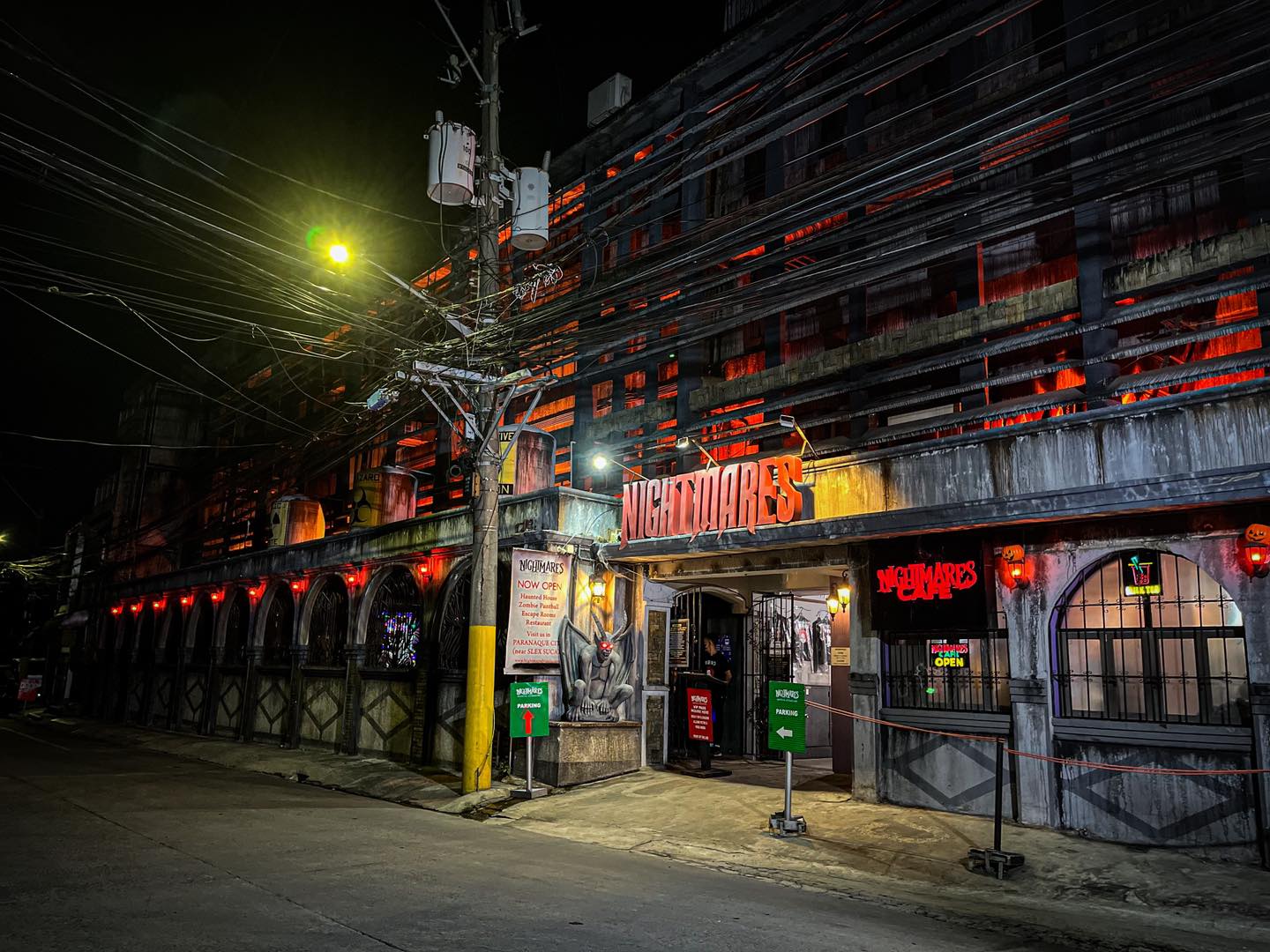 Image credit: Nightmares Manila via Facebook
Nightmares Manila has different horror attractions in one location all year round for friend groups that bond over their love for scary stories.
Their horror houses (from P399/person, ~USD7.31) let you step into a young girl's nightmares or enroll in a Japanese-themed haunted schoolhouse. If you want your horror house experience to be a bit more challenging, they also have escape rooms with various themes (P400/person, ~USD7.33) for groups of 4 to 6 people.

Image credit: @denes_demenes via Instagram
This spooky attraction accepts walk-ins, but let them know ahead of time if you're going in a group of 20 or more to get discounted rates. You can also have the place to yourself for parties and other events. But of course, expect to be joined by the attraction's unearthly creatures.
Address: Dr. A. Santos Avenue corner Rainbow Drive, Goodwill 2 Subdivision, Barangay BF Homes, Parañaque, Metro Manila
Opening hours: Thu-Sun 4pm-12am (Closed on Mondays to Wednesdays)
Contact: 0966 773 0721 | website
---
14. Climb Central – try your hand at indoor rock climbing
---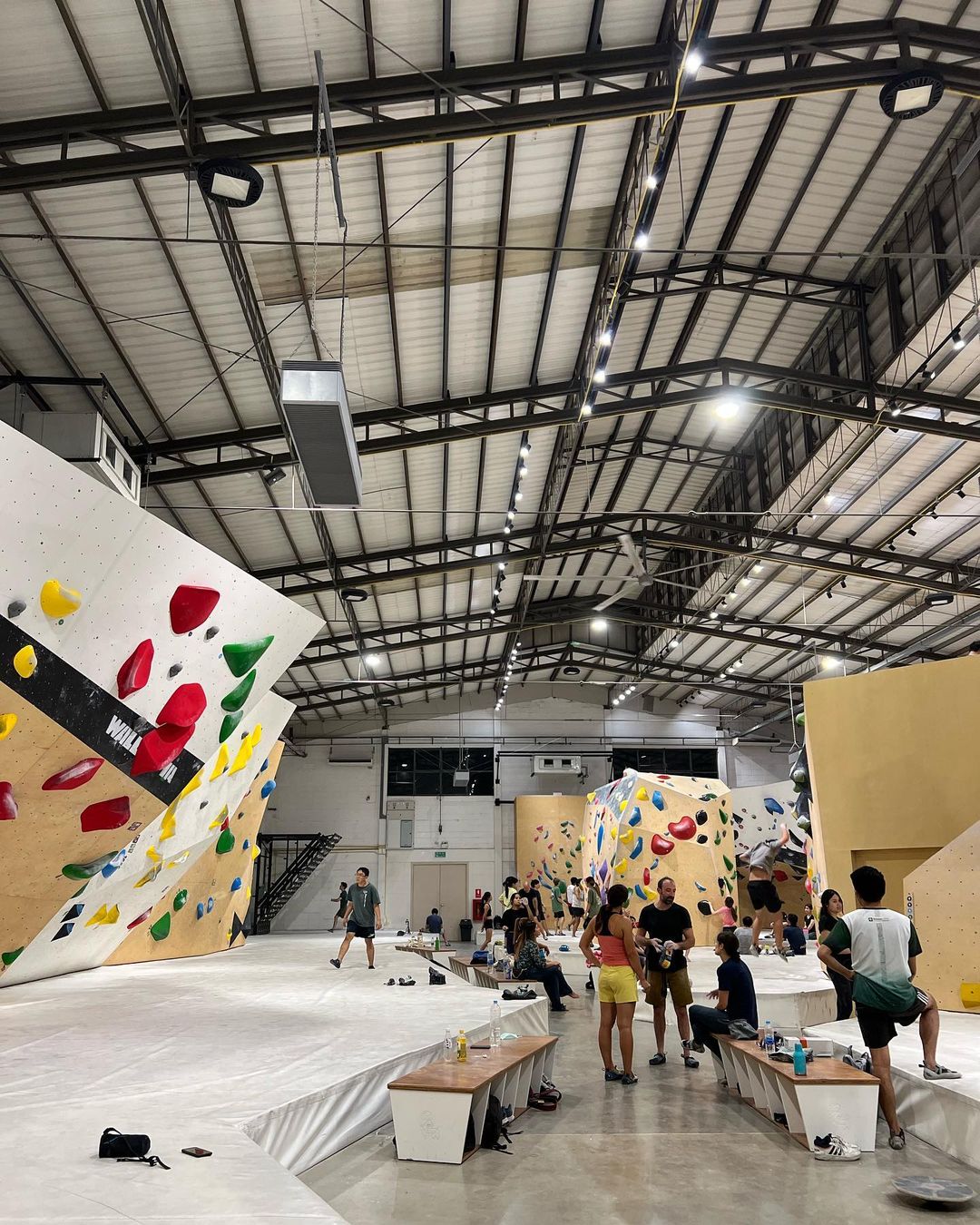 Image credit: @planasmiko via Instagram
Climb Central is a beginner-friendly climbing gym that's also exciting for experienced climbers. The largest air-conditioned climbing gym in the country, it boasts a variety of climbing routes with different levels of difficulty.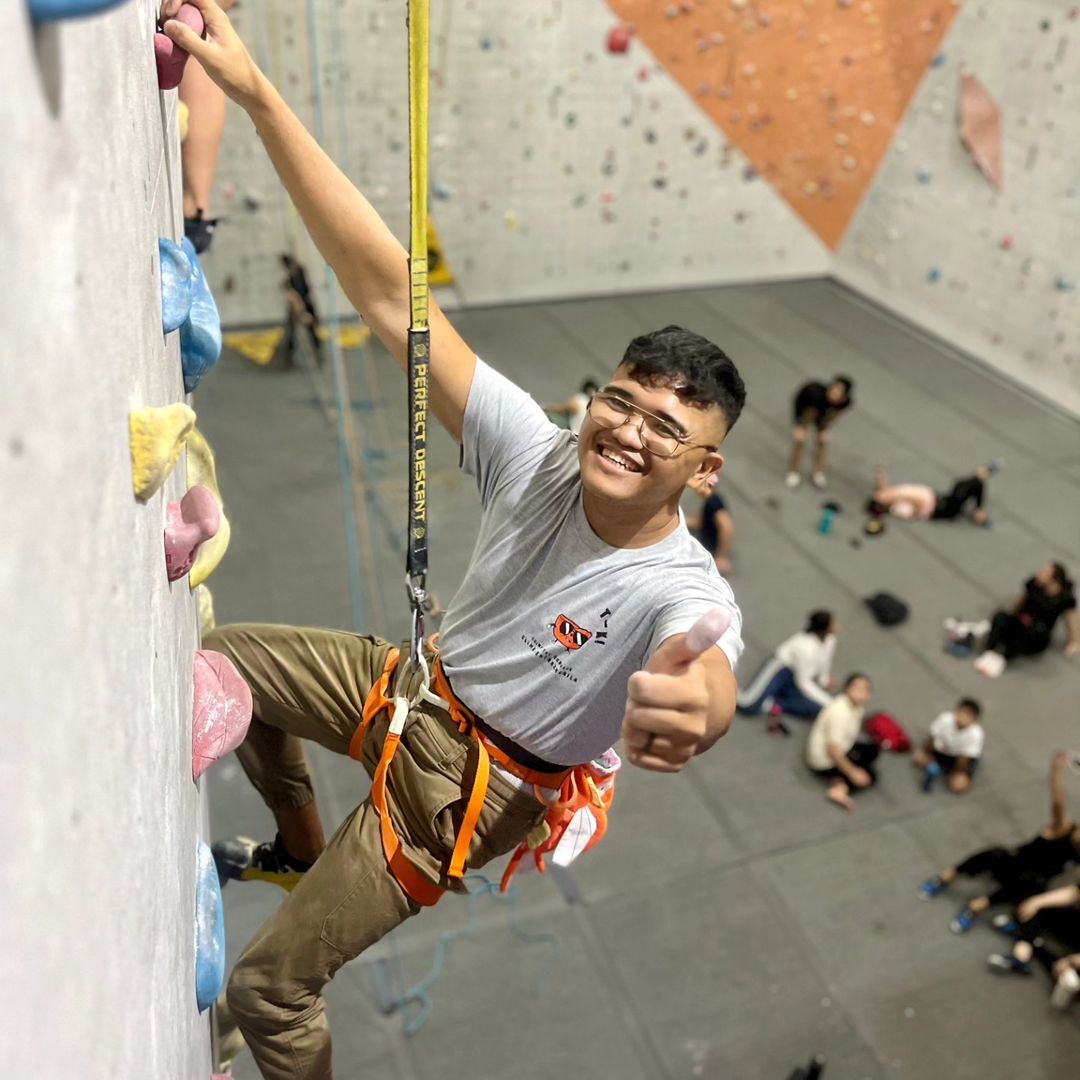 Image credit: @climbcentralmanila via Instagram
A walk-in pass costs P800 (~USD14.66) and is inclusive of a safety harness and climbing shoes. If you happen to fall in love with indoor climbing, you can always return to this climbing gym. Their climbing routes are changed often so you can go back in for a new challenge.
For team-building purposes, Climb Central also offers a package for a minimum of 8 people.
Address: The Portal, Mayflower Street, Greenfield District, Mandaluyong City, Metro Manila
Opening hours: Mon-Fri 1pm-10pm | Sat-Sun 10am-10pm
Contact: (02) 8721 8307 | website
---
Group activities in Metro Manila for all ages
---
Next time you're planning a weekend out with your friends but don't have the time to take a road trip out of the metro, let some steam off with one of these group activities in Metro Manila.
For more artsy activities to do with the squad, read this list of Metro Manila art studios. Or if you're looking for a variety of places to take foreign friends within the metro, check out this ultimate guide for things to do in Metro Manila.
---
Cover image adapted from: @climbcentralmanila via Instagram, @oinkymichelle via Instagram, @driftito via Instagram
This article was updated by Xin Tian Koh in August 2022. Updated by Kim Shelly Tan in July 2023.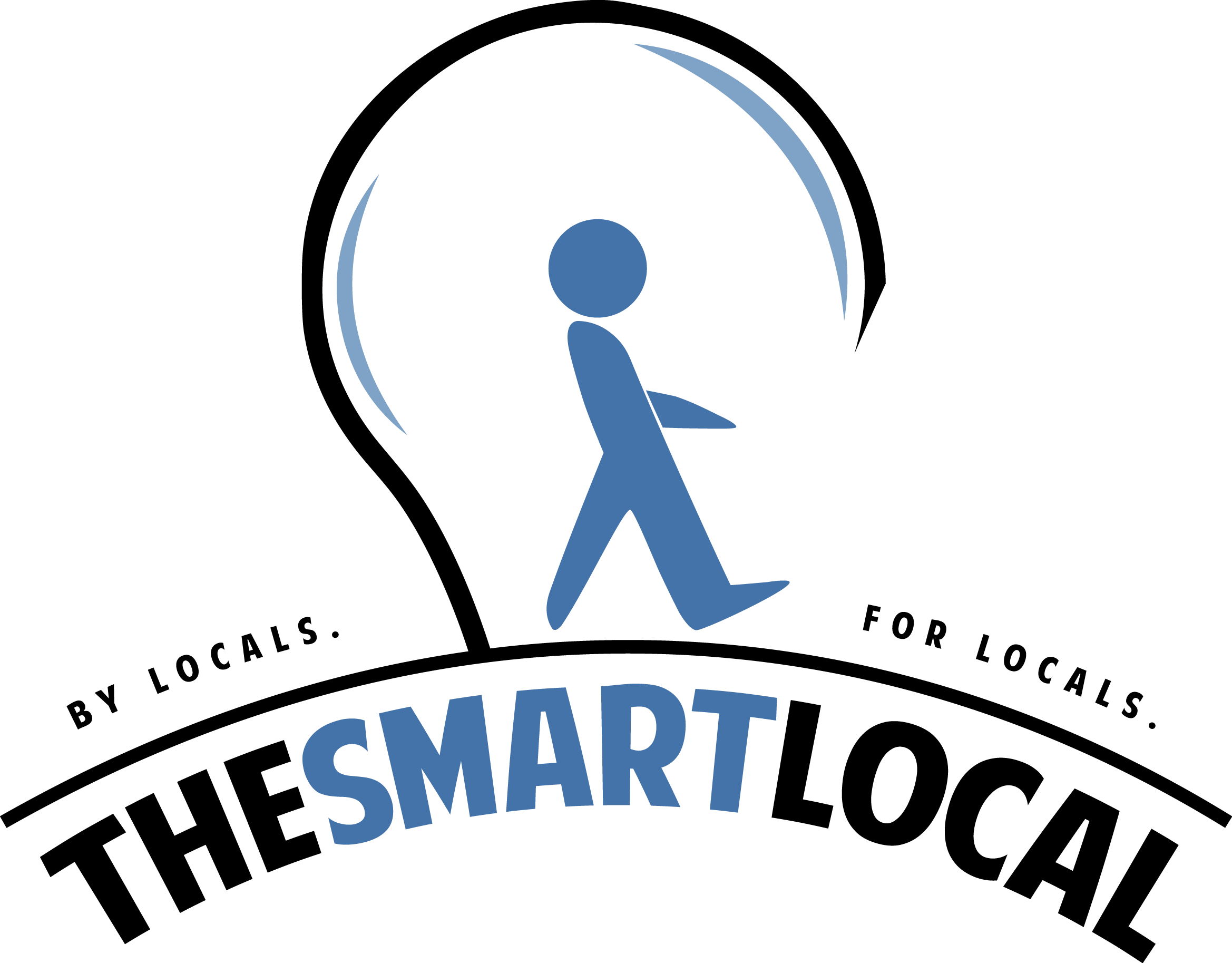 Drop us your email so you won't miss the latest news.