Unique Tagaytay staycation houses and rooms
---
Many a Metro Manila resident has explored Tagaytay's scenic picnic grove, Taal Lake, and Sky Ranch that make a good break from urban city life. However, if you're planning to spend more than a day on vacation there once it's easier to travel again, these 8 unique Tagaytay staycation houses and rooms – from a Hogwarts-themed room to a European log cabin-inspired house – can help you make the most of your trip.
---
1. Harry Potter-themed Airbnb – for your most accessible Hogwarts fantasy
---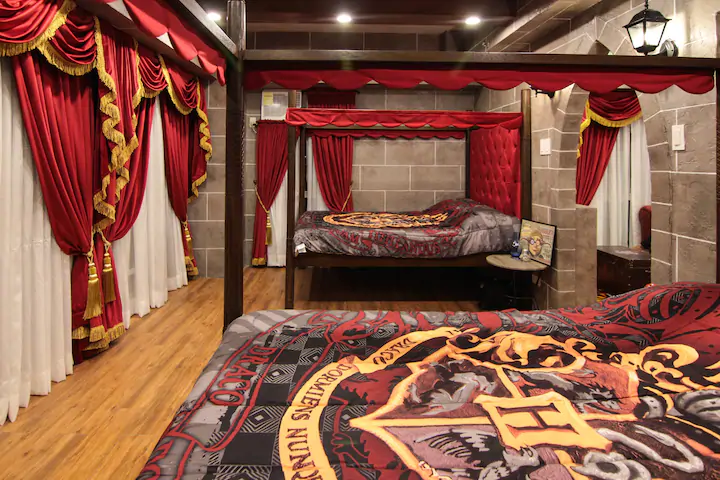 Image credit: Airbnb 
We muggles have always been wizard-wannabes, wondering what it's like to be a student at Hogwarts, so it's no wonder that famous overseas attractions from the Warner Brothers Studio Tours in London to the Universal Studios in Osaka emulate the world of Harry Potter.

But if you haven't had the time or money yet to fly abroad to experience the world of your favorite Harry Potter characters, this Harry Potter-themed Airbnb in Tagaytay is your most accessible option.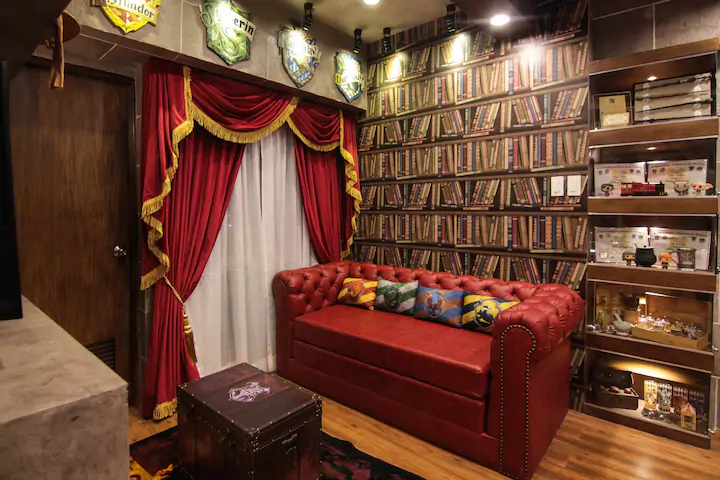 Image credit: Airbnb 
From the bedroom down to the living room, you'll see details that could have easily been in the real Hogwarts. The bedroom features three double beds draped in the Hogwarts emblem and splashed with Gryffindor colors, while the living room easily feels like the Gryffindor house's common room.

Starting at P3,500 (~USD72.23) a night, this 55 sqm Airbnb is definitely not the cheapest too, but for its attention to detail, it's worth checking out with the kids or with your fellow Harry Potter fans. 
The room's smart TV is also loaded with all the Harry Potter movies, FYI – perfect if you want to have a family movie marathon to relive the Hogwarts magic. Guests are able to use the full kitchen, free Wi-Fi, and onsite swimming pool, so you won't have to go far to stay well-fed and entertained.
Mobile: 0977 099 9074
Website
---
2. Carl & Arlyn's Bali Suite – for island vibes
---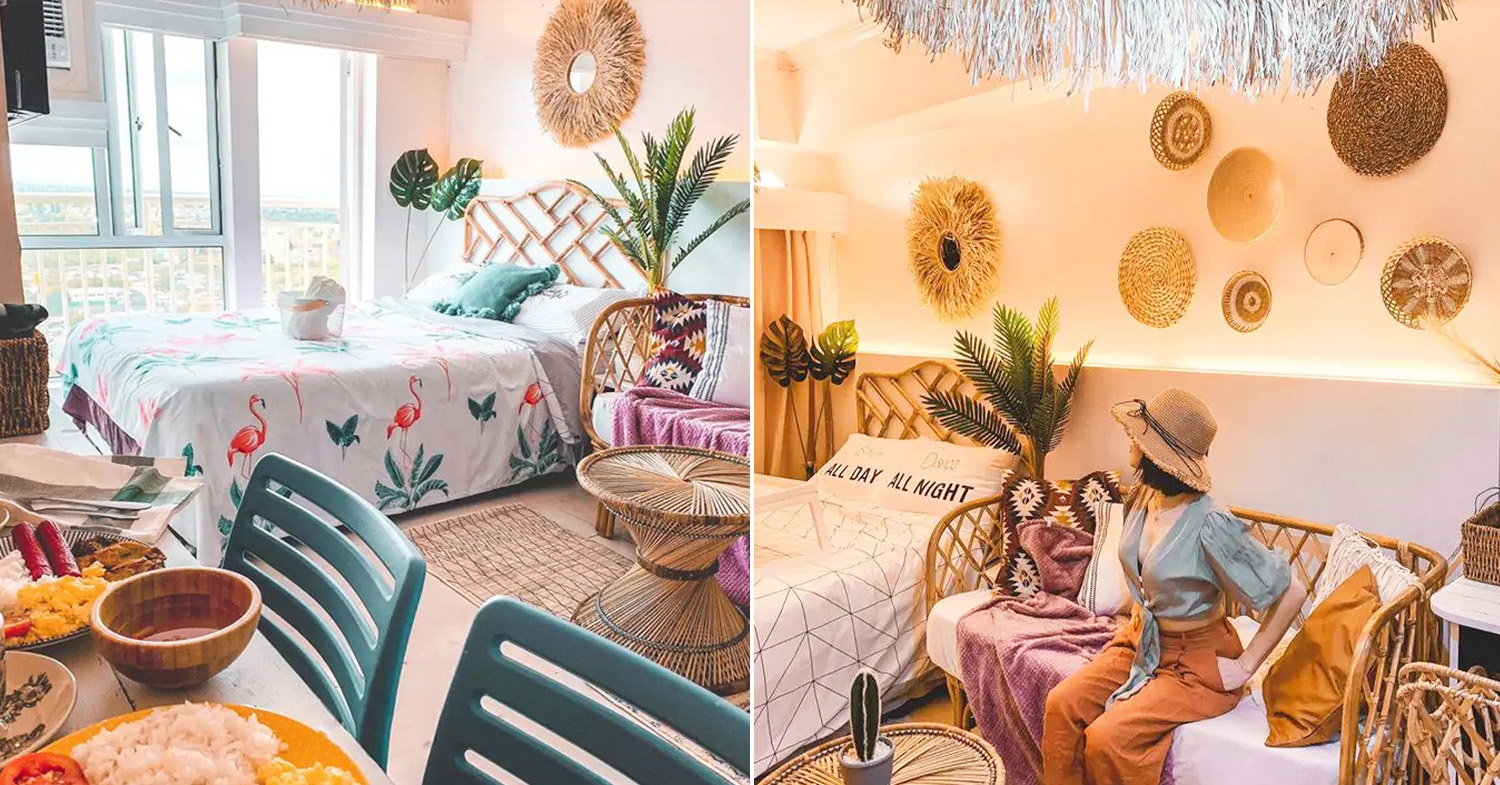 Image adapted from: Airbnb
To experience the vibe and aesthetic of Bali without booking a plane ticket, you can head down to Carl & Arlyn's Bali Suite (P2,407, ~USD50 per night), situated on the 21st floor of Cityland Prime Residences in Tagaytay. It's best for couples or a group of 3, as it's an air-conditioned room with 1 double bed and 1 sofa.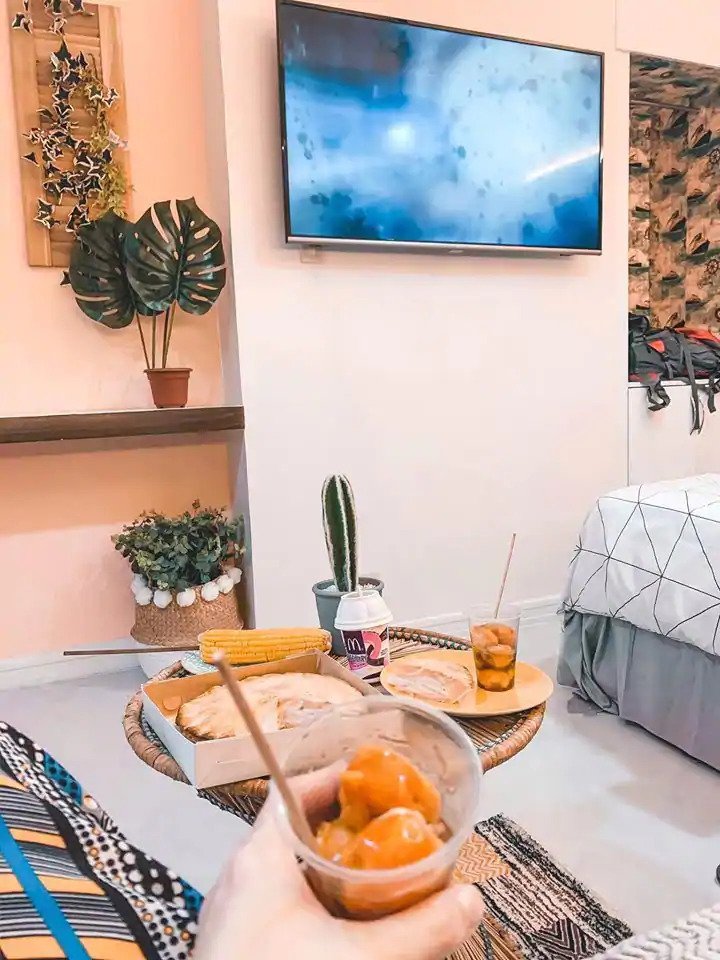 Image credit: Airbnb
The place is equipped with a rice cooker, refrigerator, kettle and a microwave oven, so you won't need to go out to find the nearest restos for every breakfast, lunch, or dinner. And while it's a small space, your entertainment won't be compromised as the unit comes with a 50-inch smart TV with Netflix. 
Address: Tagaytay Prime Residences, Tagaytay, 4120 Cavite
Website
---
3. Cabins by Eco Hotel Tagaytay – eco-friendly rooms
---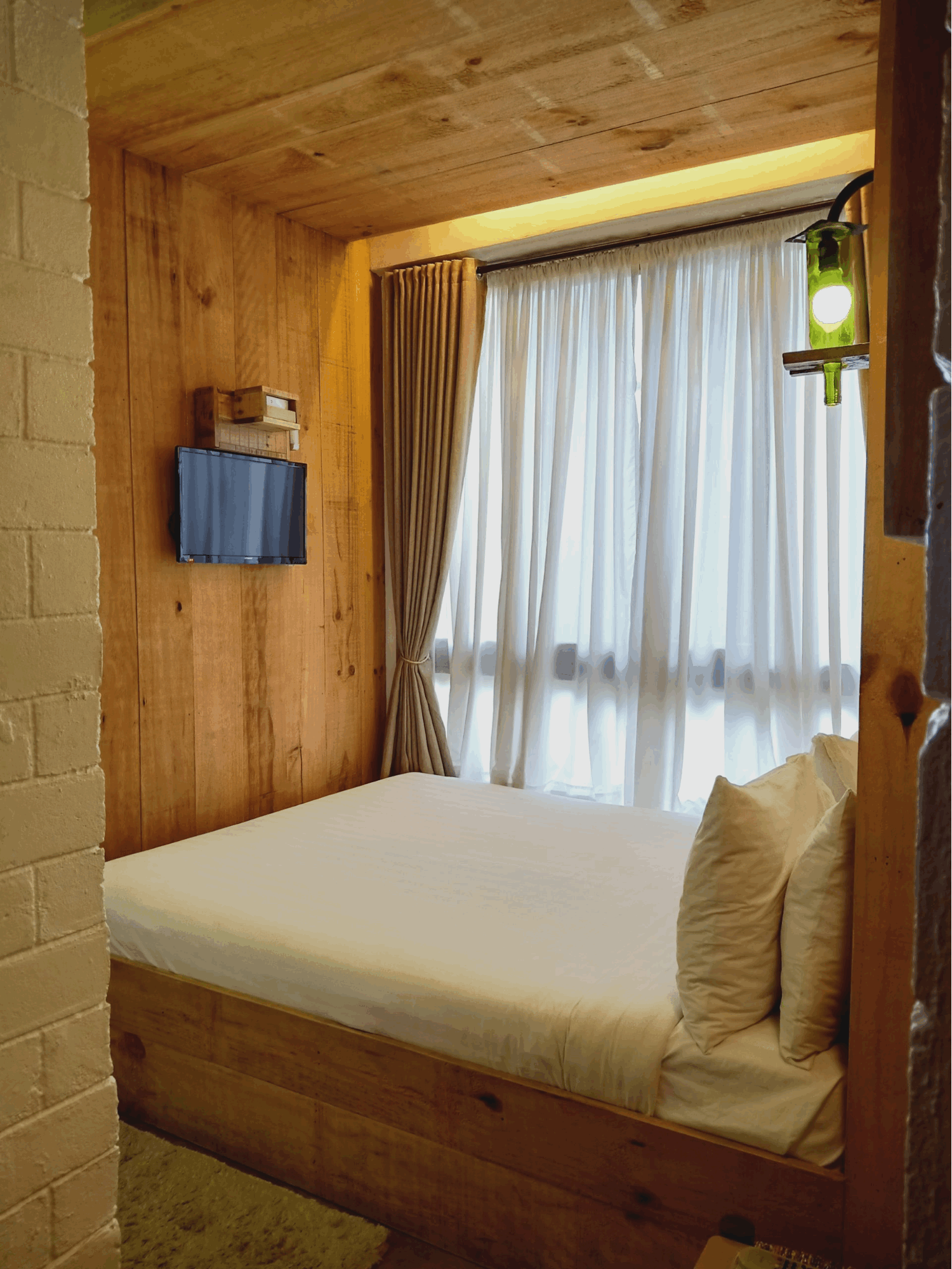 Image credit: Eco Hotels
The Cabins by Eco Hotel in Tagaytay is what every environmental warrior could wish for in a staycation. Every detail of the hotel adheres to eco-friendly standards: the hotel is made up of recyclables such as home-made bricks, sustainable wood for the facade, and pinewood for the beds.
Even the hotel's slippers were crafted with the environment in mind, and are made from water lilies. Plus, the whole building is solar-powered and a rainwater catchment is also installed for cleaning and landscaping purposes.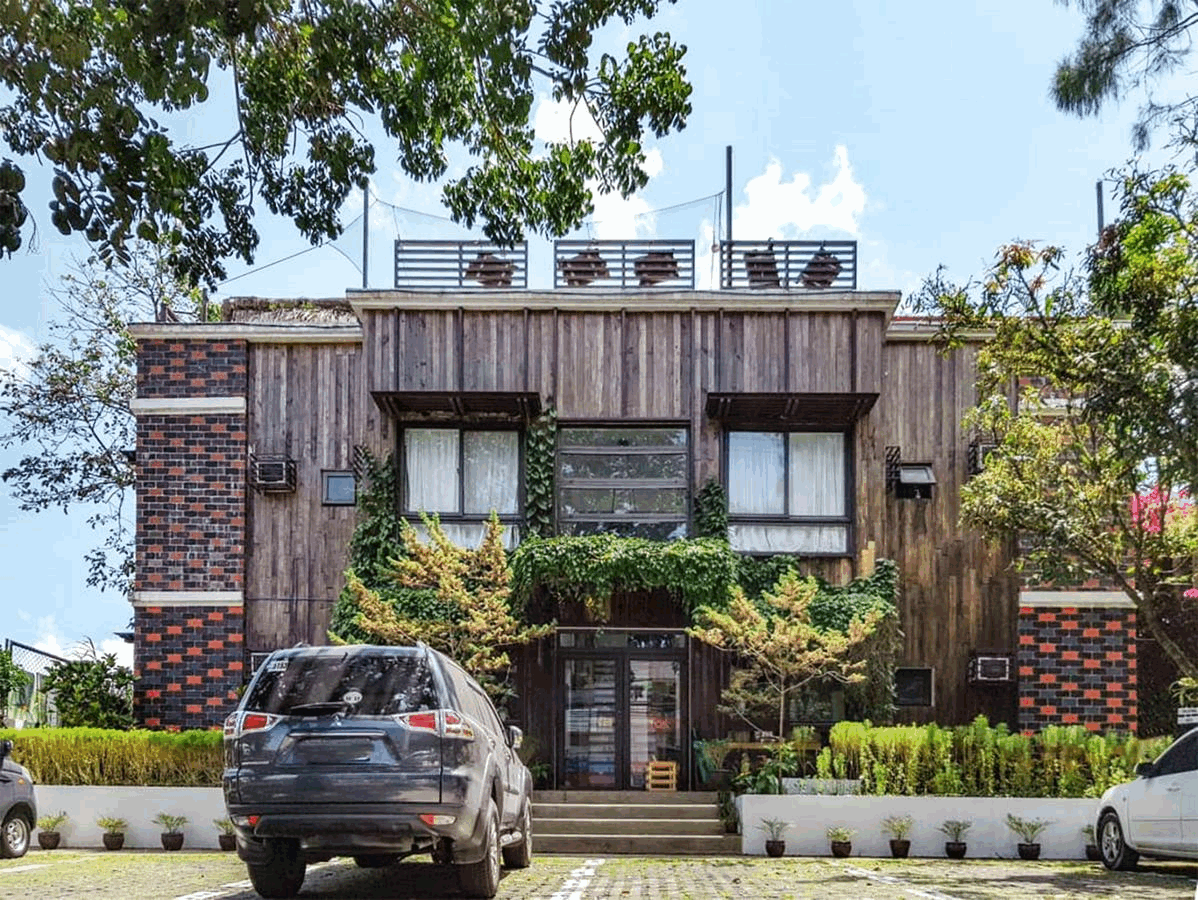 Image credit: Booking 
This doesn't mean the hotel is short on style – each room is designed like a cruise ship cabin, some featuring views of Taal Lake. 
The standard room (starting at P3,899, ~USD80.77) is good for two, featuring a queen-sized bed, flat screen TV, an aircon, as well as a ceiling fan. 
Address: Nasugbu Highway, Silang Junction South, Tagaytay, 4120 Cavite
Telephone: 8881-5318, 8881-5319
Website
---
4. Ian's Tagaytay Vintage Home – artistic paintings and wooden beams
---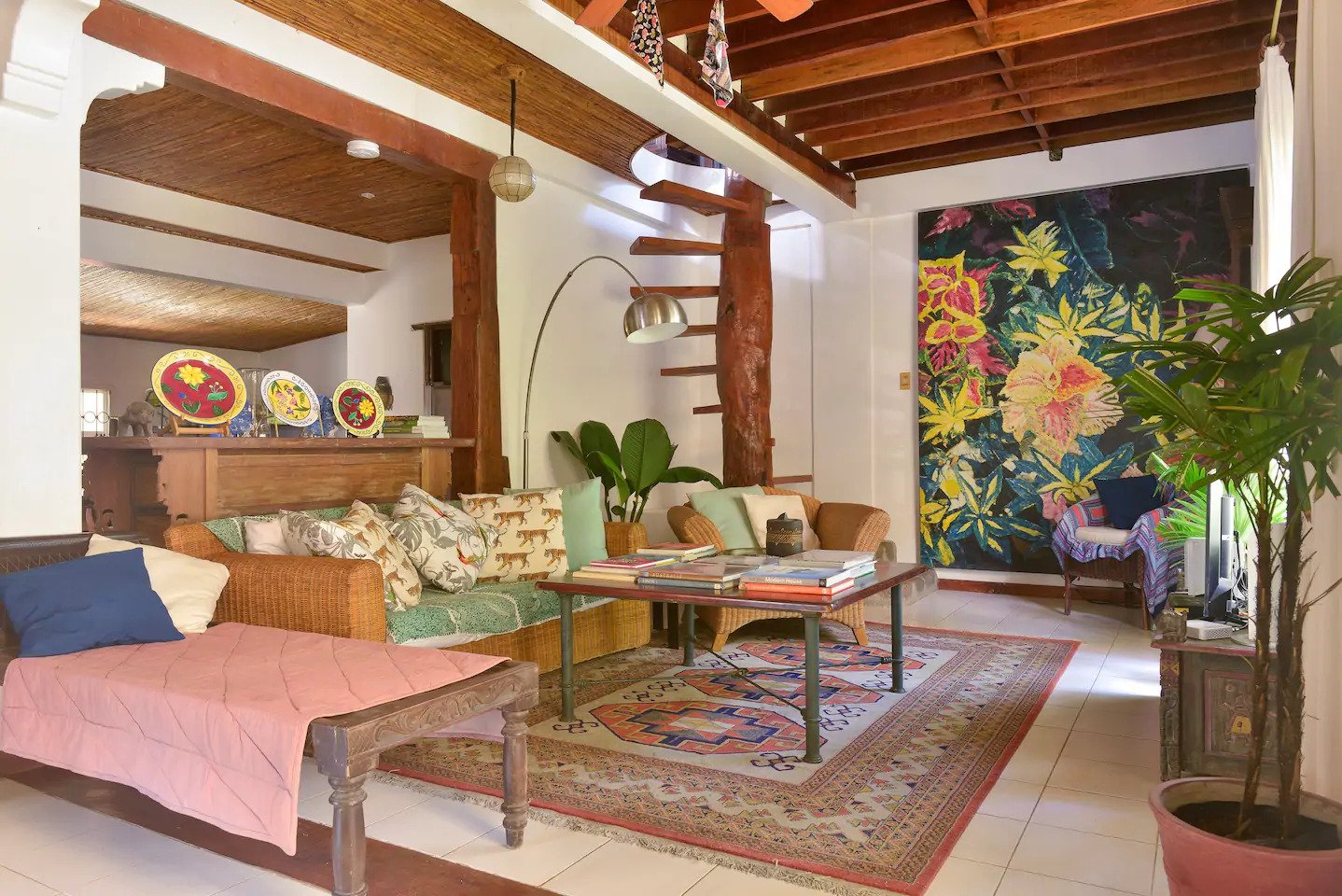 Image credit: Airbnb
Adorned with wooden elements, Ian's Tagaytay Vintage Home (P3,521, ~USD72.93 per night) is a spacious, chic space with paintings and antique decor for old souls. It's a two-storey house you can rent as a whole, perfect for couples, families, and groups of friends.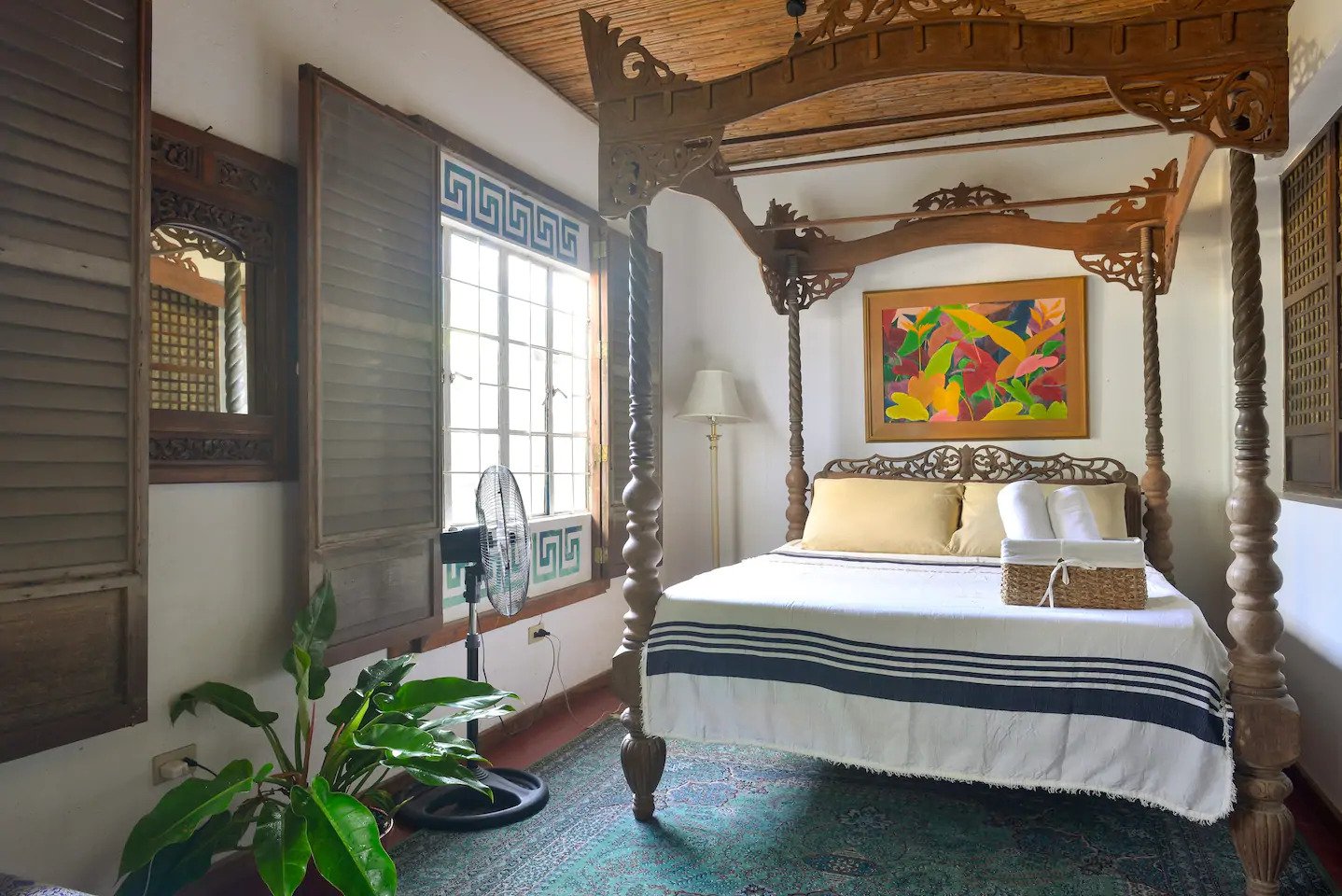 Image credit: Airbnb
It has 3 bedrooms and 2 bathrooms, while the master's bedroom has its own bathroom. You don't need to worry about looking for a nearby restaurant too, as the kitchen is fully equipped with basic kitchen wares such as microwave oven, refrigerator, rice cooker, toaster, and an LPG. 
Aside from its huge amenities, you can also entertain yourself with your favorite series on Netflix through a smart TV that also comes with cable channels. 
Address: Villa Pura, Tagaytay, 4120 Cavite
Website
---
5. Fermil and Patricia's cinema-inspired Airbnb
---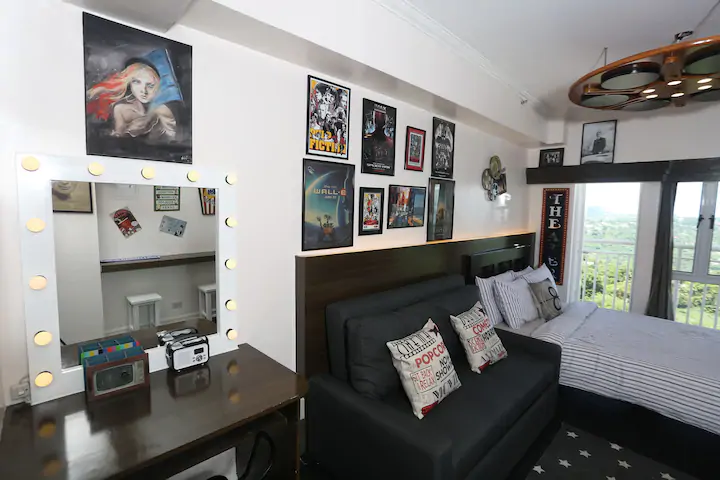 Image credit: Airbnb
Movie buffs won't have to choose between Netflixing and holidaying, thanks to Airbnb hosts Fermil and Patricia's film-themed Airbnb that's furnished with cinematic details. Here, you'll find decorations from the movie reel-shaped lights down to stills of films such as Les Miserables, Pulp Fiction, and Spiderman.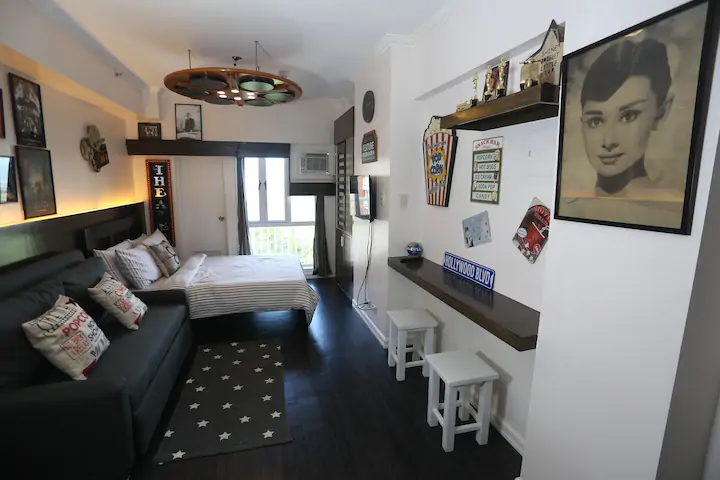 Image credit: Airbnb 
Starting at P1,976 (~USD40.93) per night, this unique room can be enjoyed by a maximum of 2 guests together with a view of the Taal Lake, pool access, and of course, free Netflix. 
For now, only 20 to 60-year-olds and others with special passes from their barangays can stay over for a maximum of 2 nights each, and bring face shields and masks to wear on the condo premises.
---
6. Ian's secluded forest cabin overlooking Taal Lake
---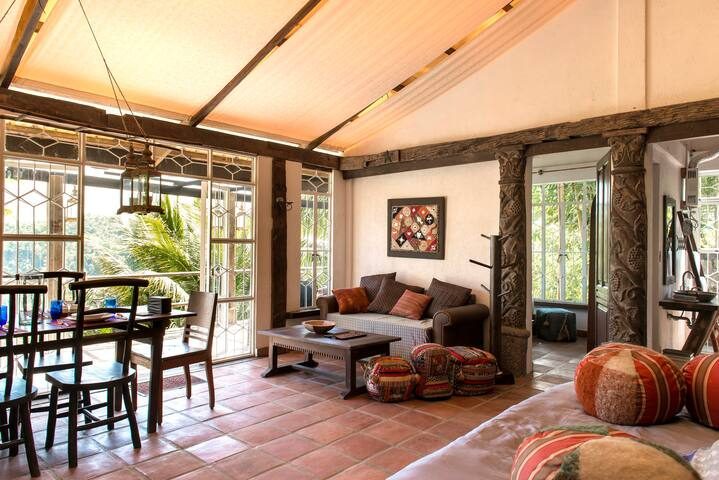 Image credit: Airbnb 
We all fancy the idea of getting away from it all during our vacations, by booking our hotels somewhere in the middle of a mountain or a forest. This secluded forest cabin (starting at P3,940, ~USD81.62) in Tagaytay offers exactly this kind of peace we sometimes crave, as it's located in a secluded area but is still accessible to the city center.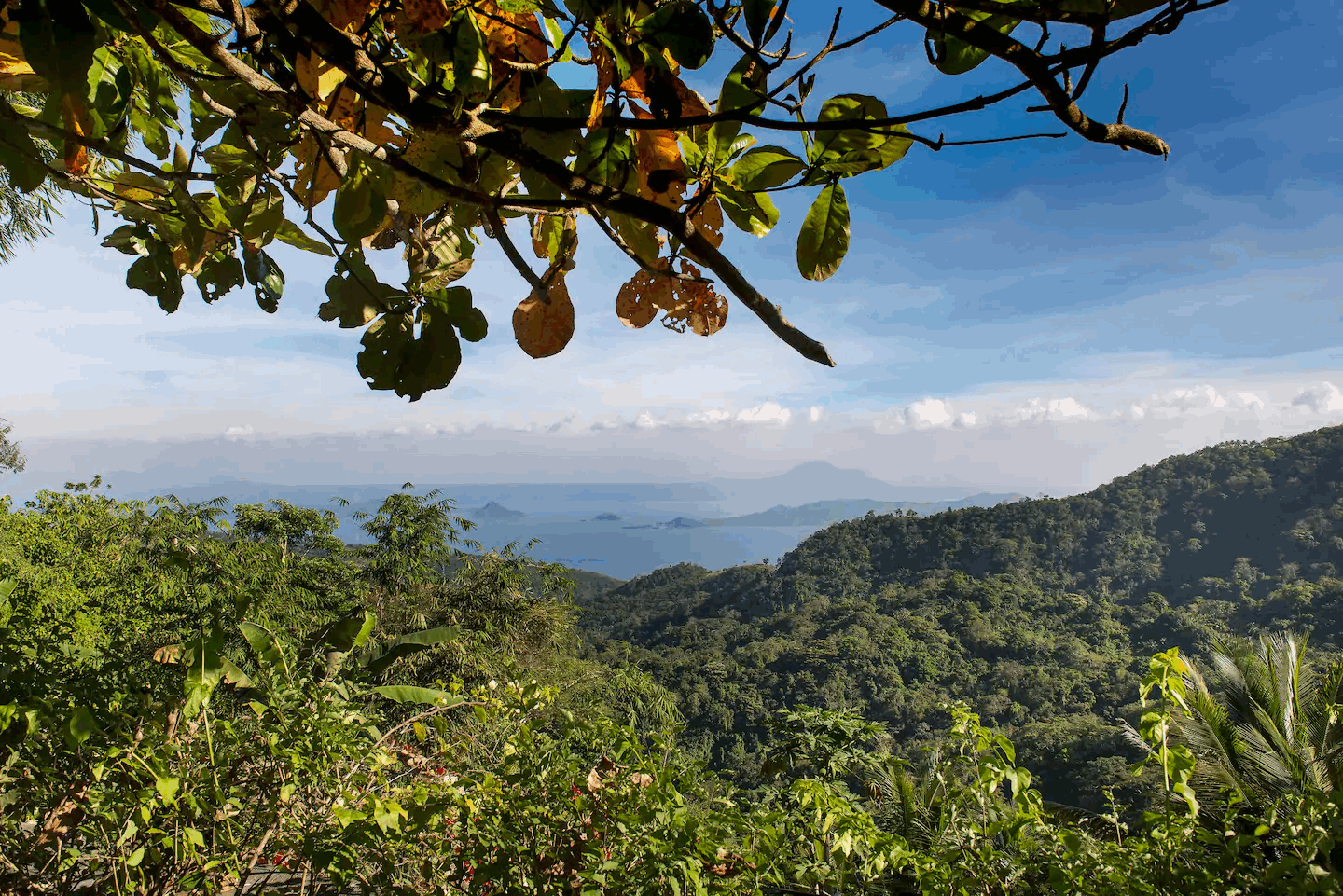 View of the Taal Lake from the house
Image credit: Airbnb
Aside from its unique location and serenity to settle frazzled nerves, it also offers spectacular views of the Taal Lake with natural light filtering in through the windows.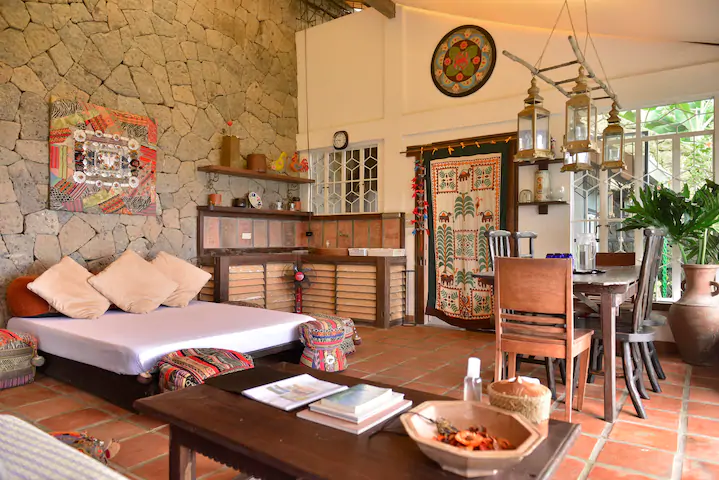 Image credit: Airbnb 
The living area across the balcony is spacious enough that it houses a queen-sized bed and a sofa bed so guests can relax and cuddle while enjoying the outdoor views. The bedroom, meanwhile, has one double bed good for two. 4 guests are currently allowed at any time.
Opt to cook your food here instead – they run a kitchen complete with kitchenware. Bear in mind though that Wi-Fi is not available here, so bring your portable Wi-Fi device if you need to check in online from time to time. You can bring in your beloved pet too, as pets are allowed on request. 
---
7. Hello Kitty-themed apartment at Hello Kitty Tagaytay Staycation

---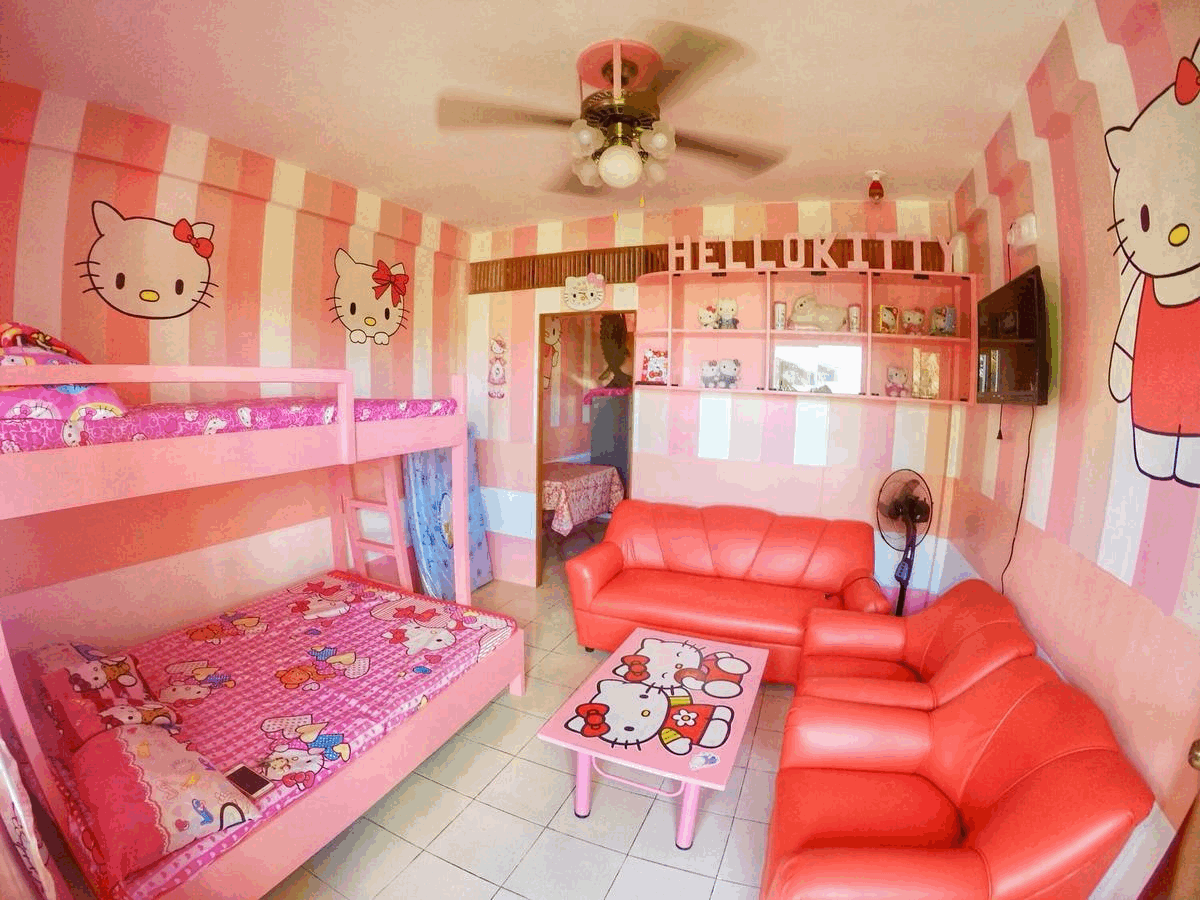 Image credit: Booking 
There's now something for your girl squad to book in Tagaytay for a staycation – this apartment (starting at P5,149, ~USD106.67) is draped in everything Hello Kitty, from the walls down to the bed covers. It has two bedrooms and a living room with two sofa beds, so it can accommodate a maximum of 10 guests. 
Bring along your barbecue tools and food, as this apartment has a BBQ pit ready for you to grill up a storm. 
Address: San Jose, Tagaytay, 4120 Cavite
Website

---
8. Log cabin-themed house at Woodlands Drive for a European staycation
---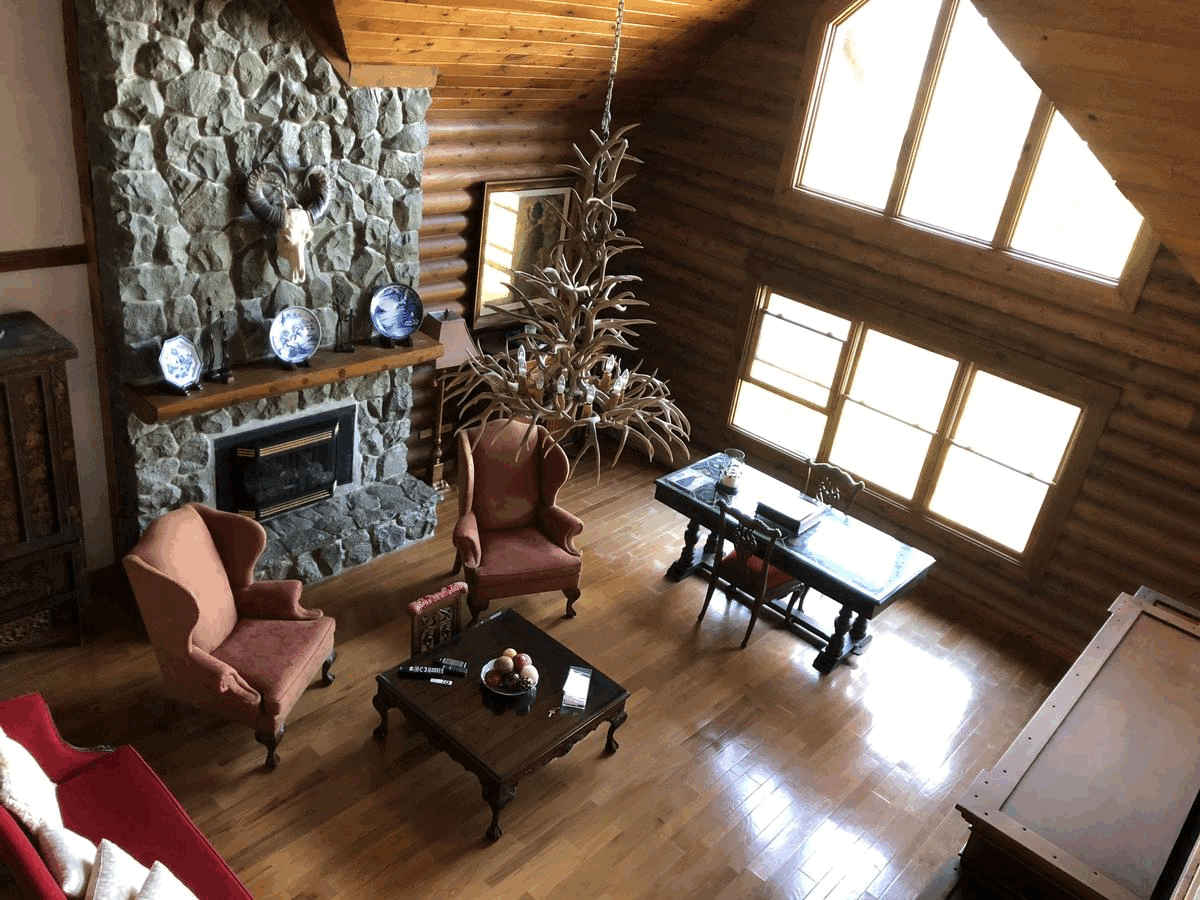 Image credit: Booking 
Norwegian log cabins we see in interior design shows overlooking the breathtaking fjords are something we look forward to checking off in our bucket lists someday. For now, perhaps this log cabin-themed room with high ceilings and an actual fireplace situated at Woodlands Drive should do at present.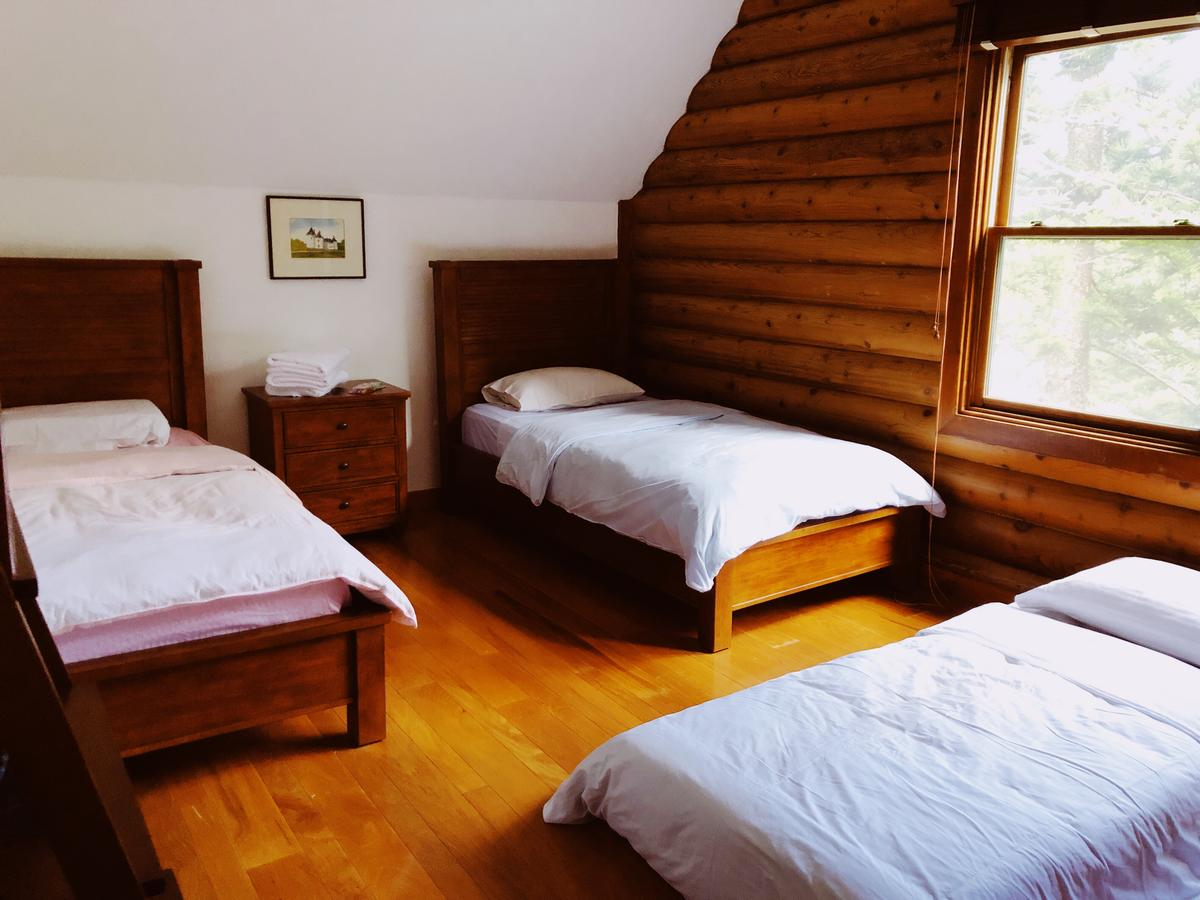 Image credit: Booking 
Renting this log cabin starts at P33,000 (~USD683.68) for a maximum of 7 adults. The cabin includes 3 bedrooms and a living room, all furnished with big and small Scandinavian details. It also houses a bar, a garden, and a terrace overlooking the outdoors for you to get some much-needed quality time together.
Address: 36 Woodlands Drive, Tagaytay, 4120 Cavite
Website
---
Unique Tagaytay staycation houses and rooms
---
These unique staycation houses and rooms indeed prove that you can always come back to Tagaytay for a quick getaway from the city, or to get into vacation mode without leaving the country. 
Do check with the property owner or managers about the maximum occupancy and availability of the rooms in advance, so you can pick the place that fits your group size ahead of time. 
Also check out:
---
Cover image adapted from: Airbnb, Airbnb, Booking, Airbnb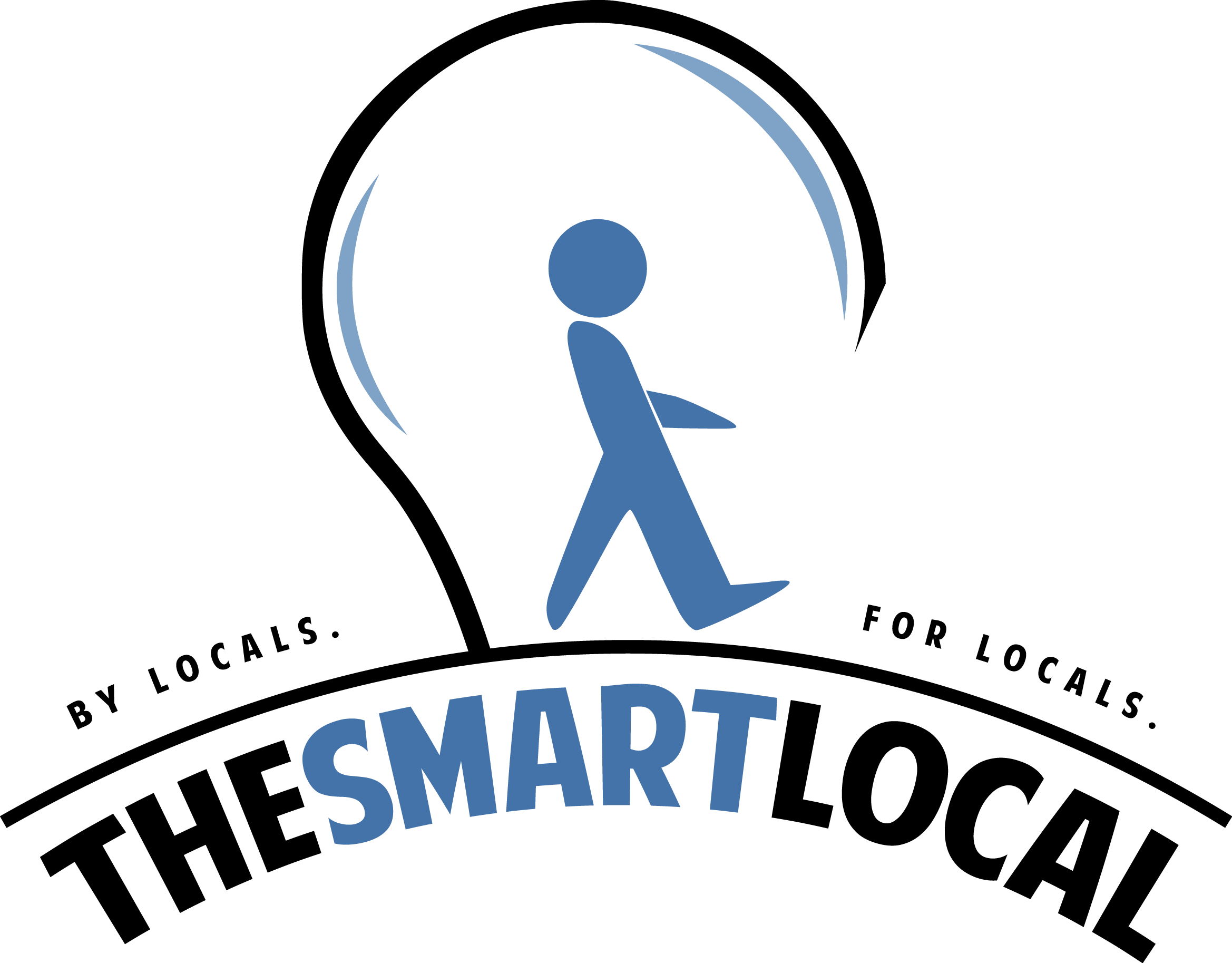 Drop us your email so you won't miss the latest news.