Philippine landmarks then & now
---
Independent since 1898, the Philippines has seen through more than a hundred years as a country. And this history is evident in some key Philippine landmarks that have endured the challenges of the 20th century to remain standing in the present times.
Let's take a look at how much these landmarks have changed through these old and new photos of landmarks in the Philippines.
---
1. Malacañang Palace
---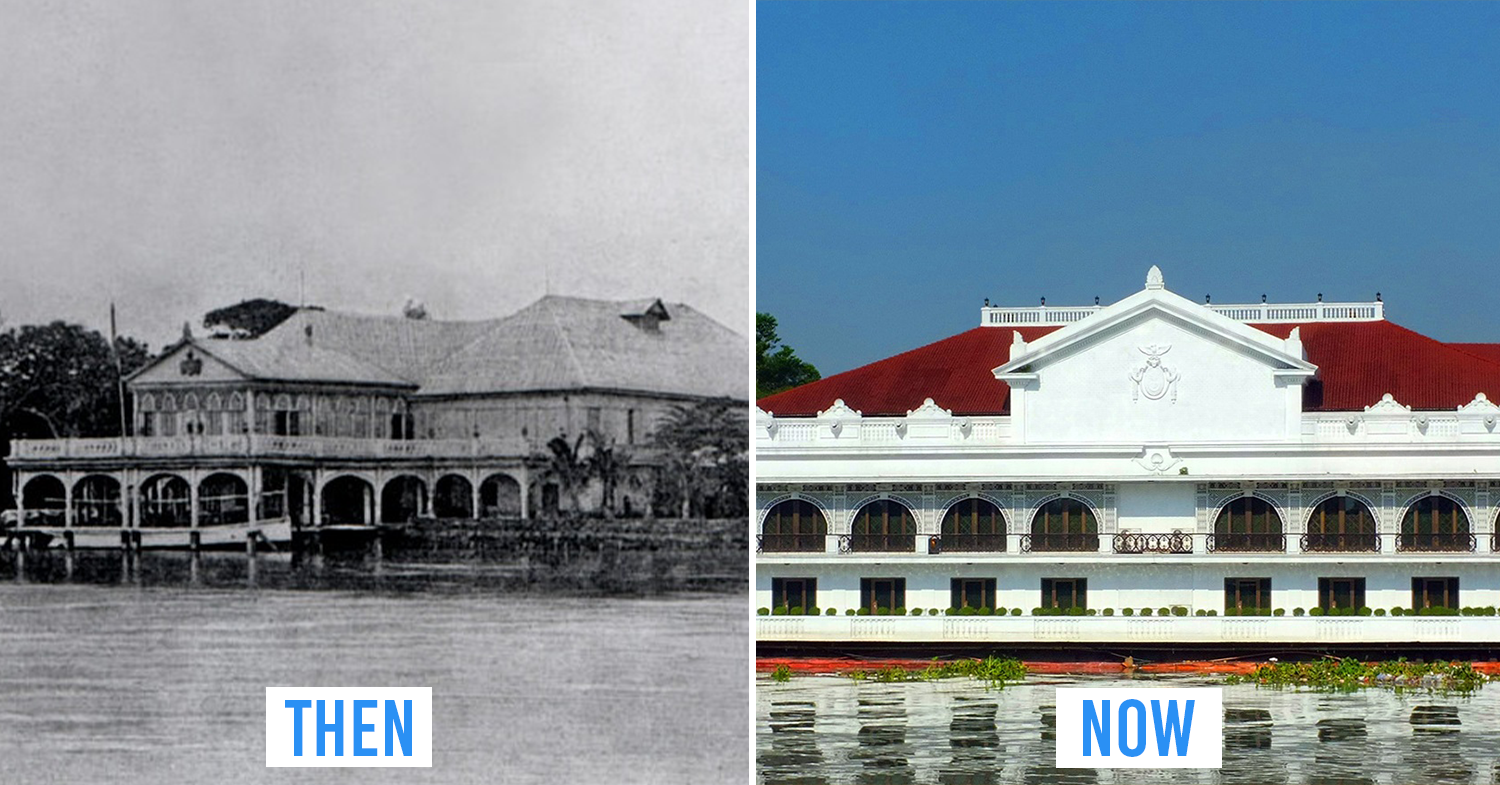 Image adapted from: Wikimedia Commons, Wikipedia 
The official residence of the President of the Philippines, the Malacañang Palace hadn't always been what it is today. It was first built as a country house by a Spanish nobleman, Don Luis Rocha, in 1750. The Malacañang Palace only became a property of the state in 1825, 75 years after it was built, when the Spanish government acquired it to serve as the summer residence of Governor Generals. 
From being a wooden structure, the palace is now a sturdy, historical piece of architecture made of poured concrete, steel girders, and trusses. Major improvements including the construction of the famous Pasig River facade happened during Manuel L. Quezon's presidency.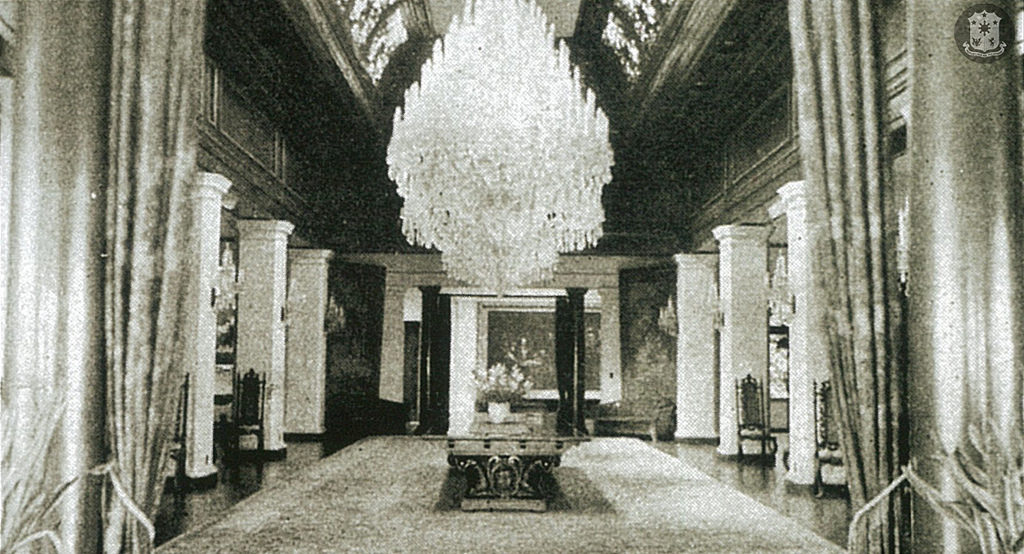 Image credit: Malacañang 
The Reception Hall is one of the historic rooms of Malacañang, built during the American Period in the Philippines.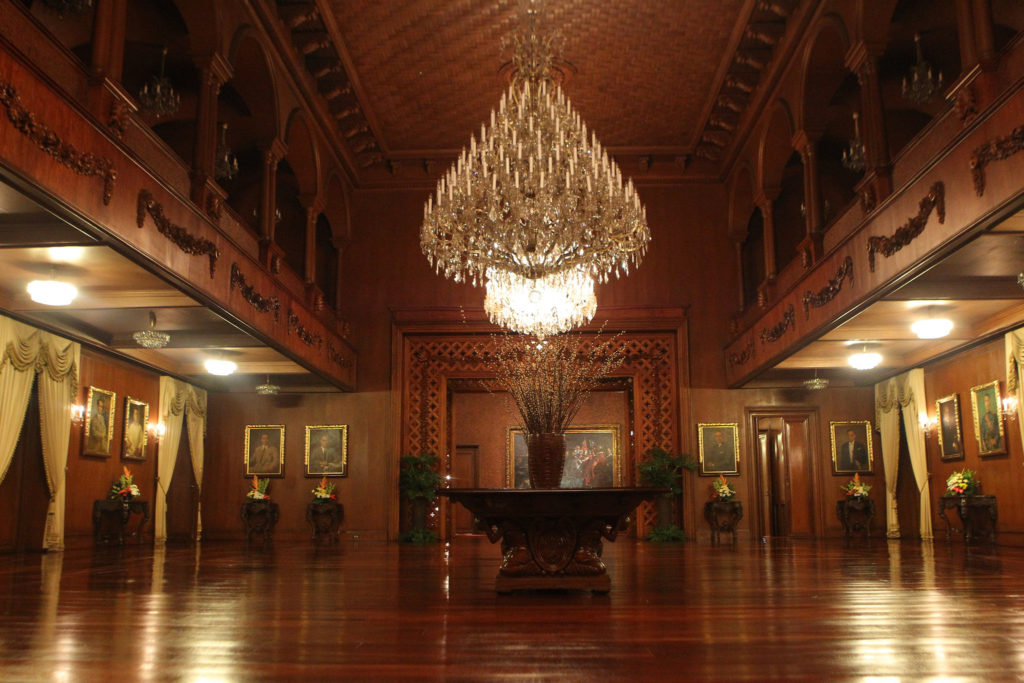 Image credit: Malacañang
It's still remarkable for its grand chandeliers, but today it also features the official portraits of Philippine presidents. 
Address: J.P. Laurel Street, San Miguel, Manila
---
2. Ninoy Aquino International Airport (formerly Manila International Airport)
---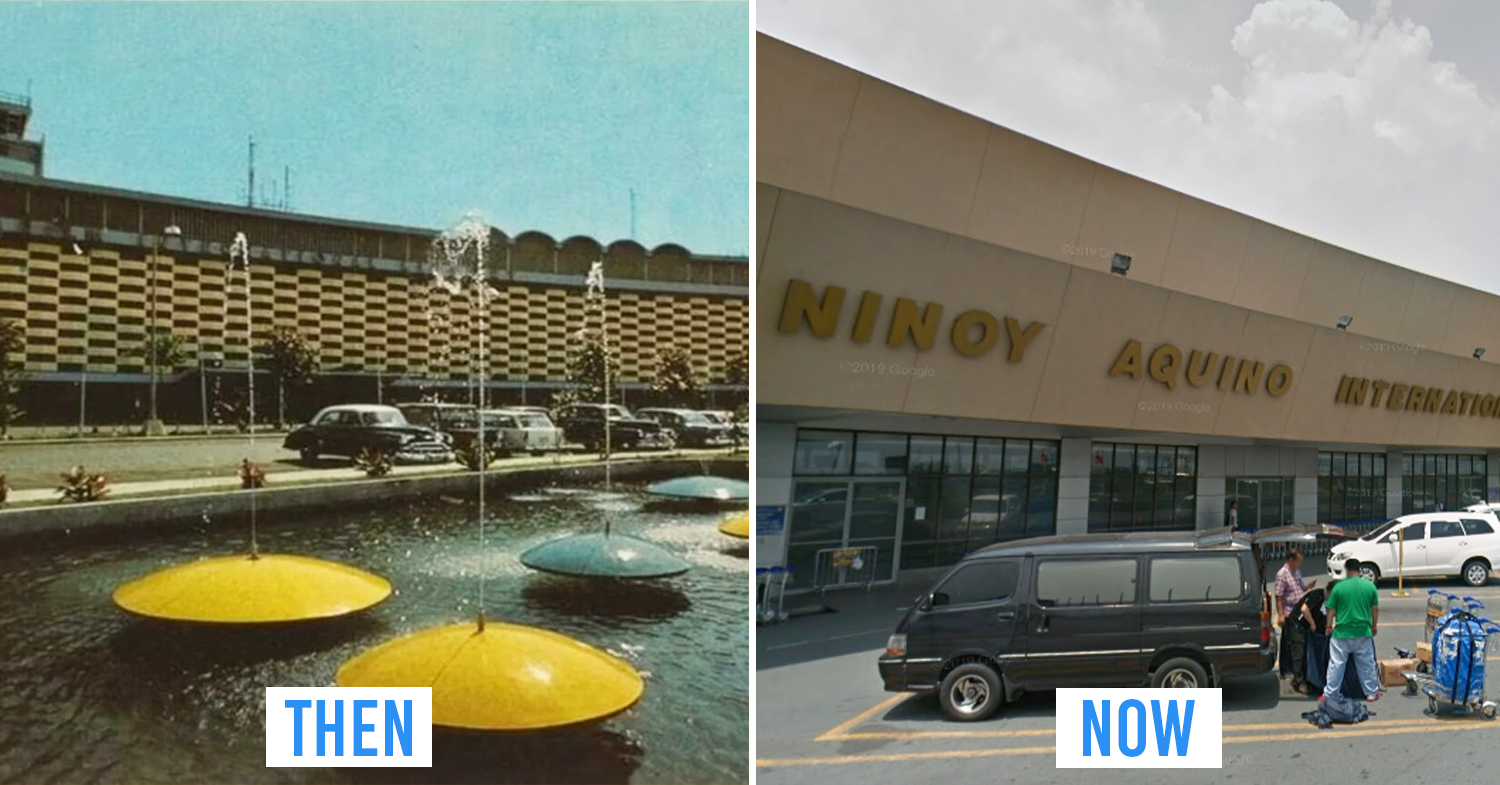 Image adapted from: Discovering the Old Philippines: People, Places, Heroes, Historical Events, Google Maps
The current structure of the Ninoy Aquino International Airport, the main international gateway of the Philippines, can be traced back to 1961, when it opened as the Manila International Airport. Designed by Architect Federico Ilustre, it was then renamed NAIA in 1987 in remembrance of the assassination of former Senator Benigno "Ninoy" Aquino Jr. on its tarmac.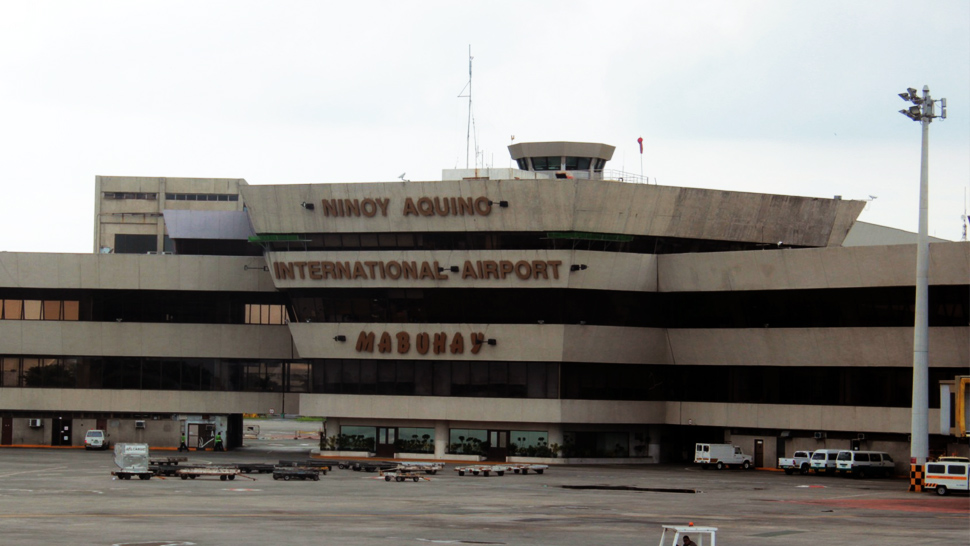 Image credit: Public Domain Pictures 
MIA enjoyed success in the middle of the 20th century as it was often named as one of the best and most profitable airports in Asia. This success was marred by a fire incident in 1972 that destroyed the four-story building and killed six people.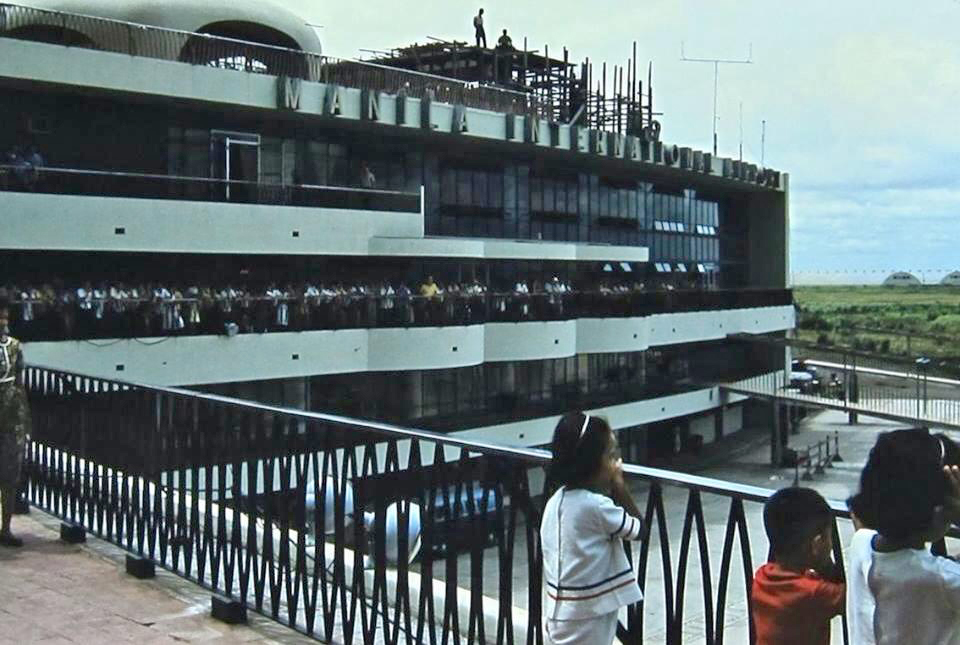 Image credit: Retro Filipino 
It saw its renaissance in 1981 when the Terminal 1 we're familiar with was built to accommodate the country's growing numbers of international passengers. The terminal serves all international flights coming into Manila, and is now interconnected to three other terminals. 
Address: Pasay, Metro Manila
---
3. Fuente Osmeña Circle
---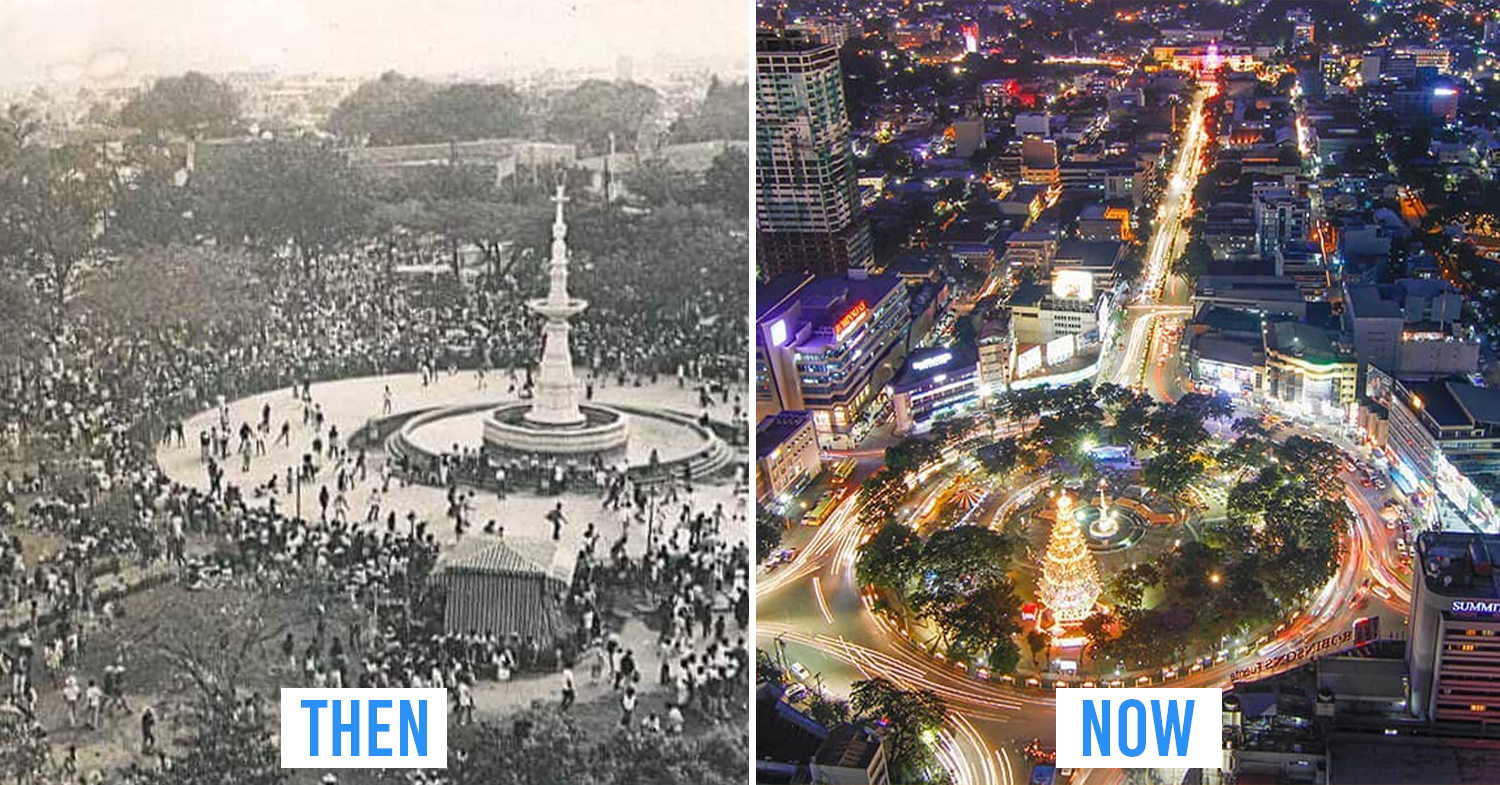 Image adapted from: Sinulog Foundation Inc., Cebu Tourism Office
Inaugurated in 1912, the Fuente Osmeña Circle is a famous rotunda in Cebu. It was named after former Cebuano President Sergio Osmeña.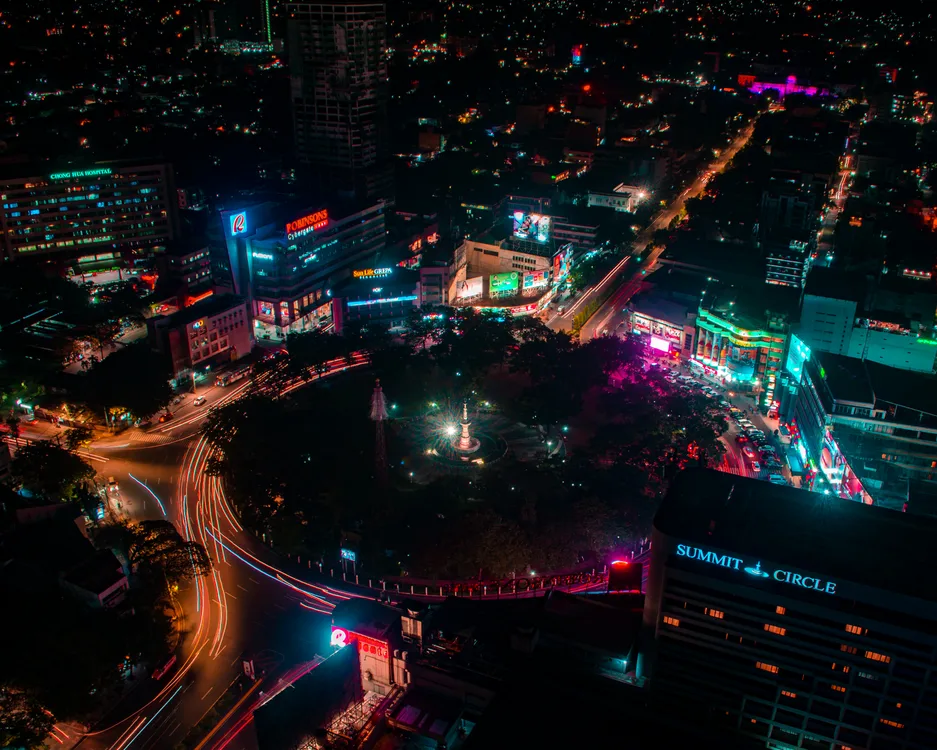 Image credit: Pexels 
Before, the circle, remarkable for its fountain, wasn't surrounded by many buildings. Today, it's surrounded by big establishments in the heart of Cebu such as hotels, malls, restaurants, banks, and fast-food chains.

Address: Cebu City, Cebu
---
4. Escolta 
---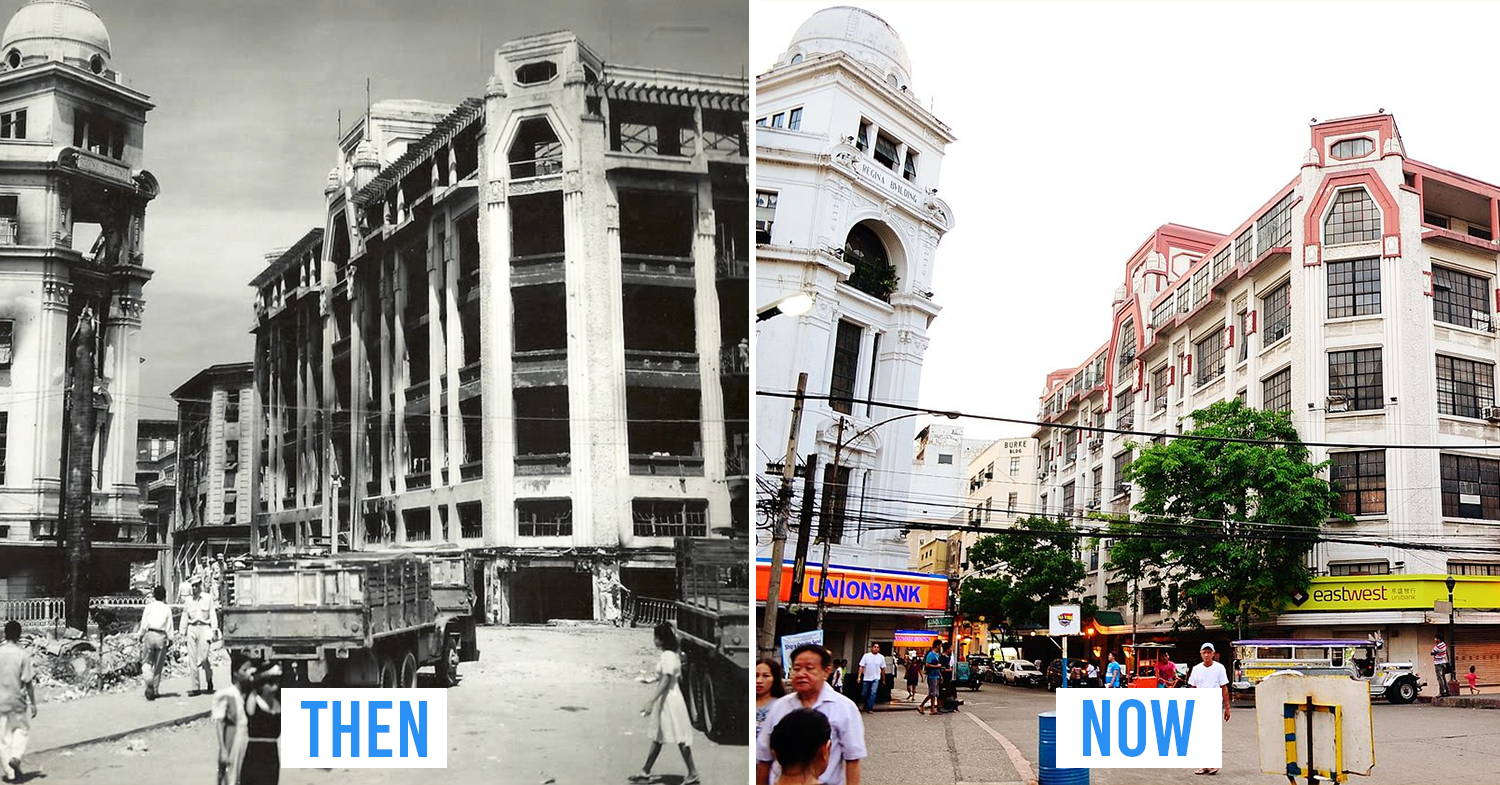 The Regina Building is shown on the left, and the First United Building on the right of this view of Escolta
Image adapted from: Retroscope, Wikimedia Commons
Escolta is a historic street in Manila standing today as a reminder of the city's glamorous cosmopolitan history. It was considered the Fifth Avenue or the Champs-Elysees of the East during its heyday, once the home of the Philippines' largest banks and luxury stores. 
While its glory days are over, some of its most famous buildings still remain, such as the Regina Building and the First United Building that serve as its two symbolic gateways.
Image credit: HUB: Make Lab
The HUB: Make Lab is also situated on the ground floor of the First United Building. Established by Filipino creatives in 2016, it keeps the soul of the historic street alive in its various souvenir stores and artsy coffee shops.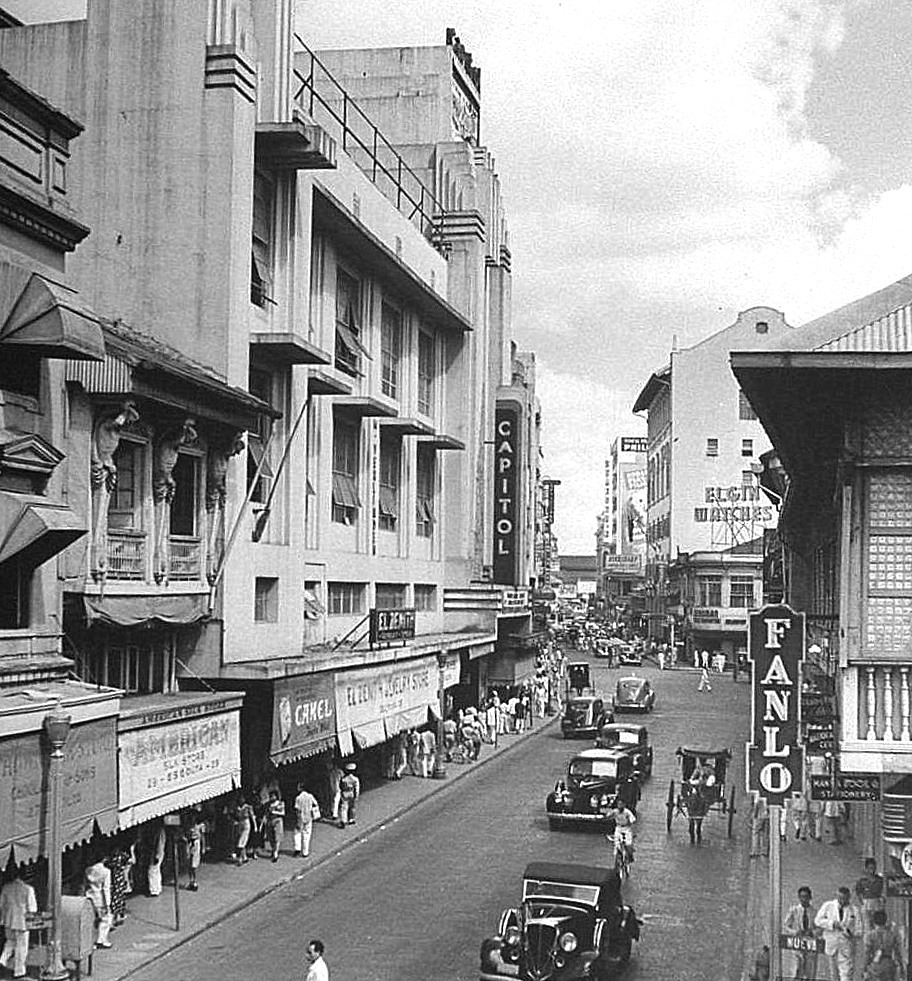 Image credit: Paulo Alcazaren 
But the Capitol Theater, built in 1935 and a fine example of Art Deco architecture, has been demolished in June 2020. As the Philippines has a heritage law (R.A. 10066) meant to protect architectural icons over 50 years old, we hope historical landmarks can be spared this fate and preserved in future.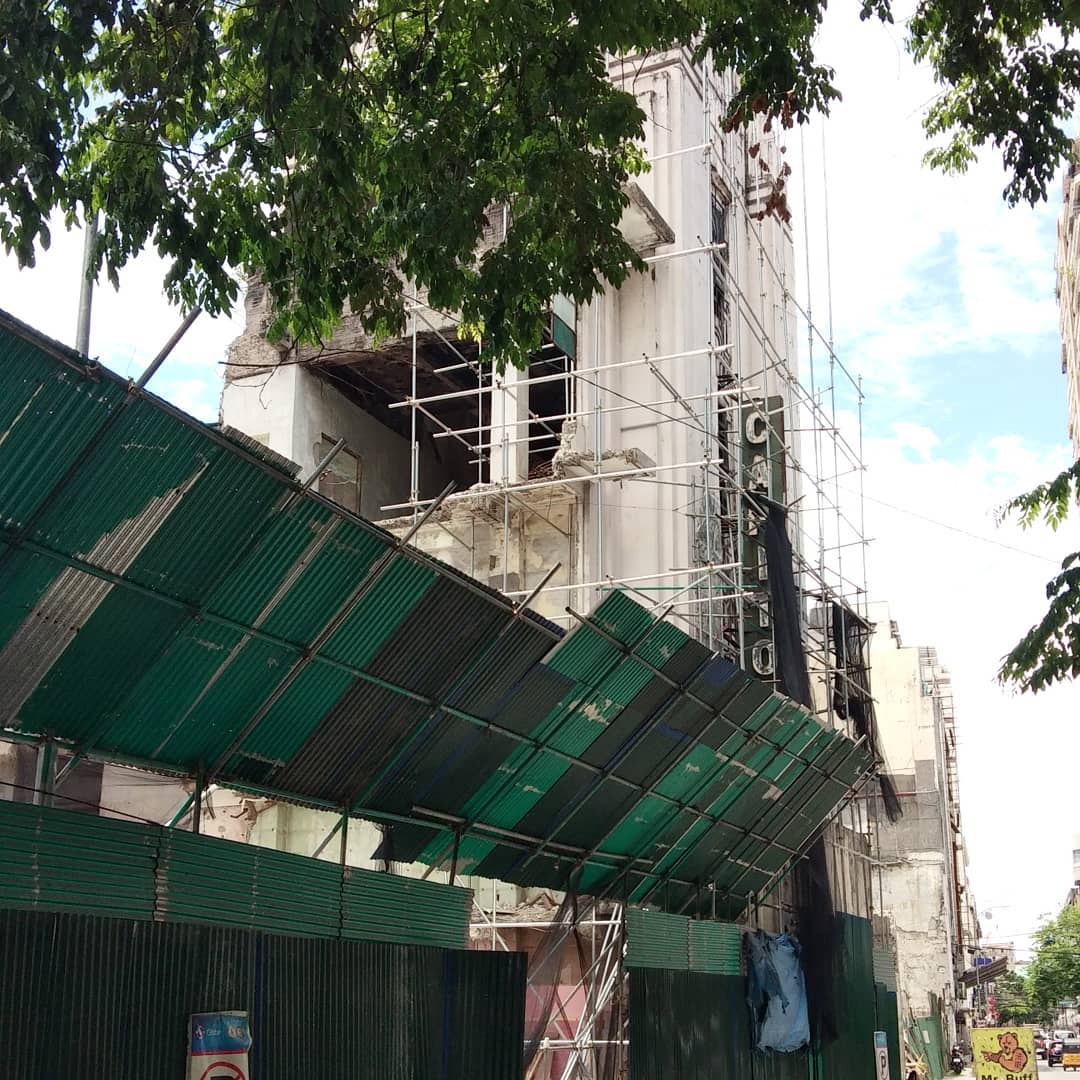 Image credit: Calixto San Geronimo Ochenta 
Address: Escolta Street, Manila
---
5. Basilica Minore del Sto. Niño
---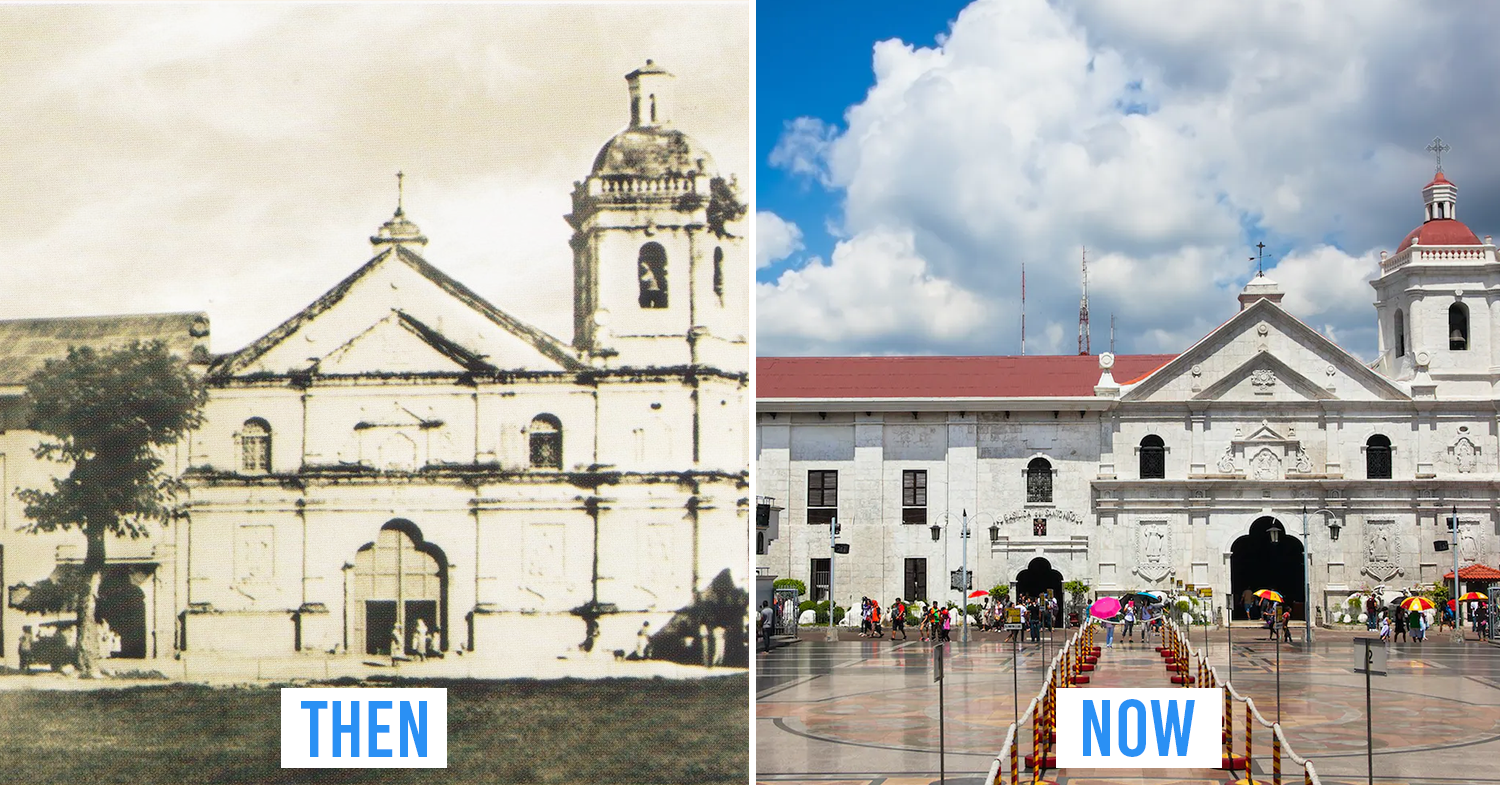 Image adapted from: Basilica Minore del Santo Niño de Cebu, Guide to the Philippines
Basilica Minore del Santo Niño de Cebu was built in 1565 and has gone through three restorations. The current baroque structure we can visit dates all the way back to 1737.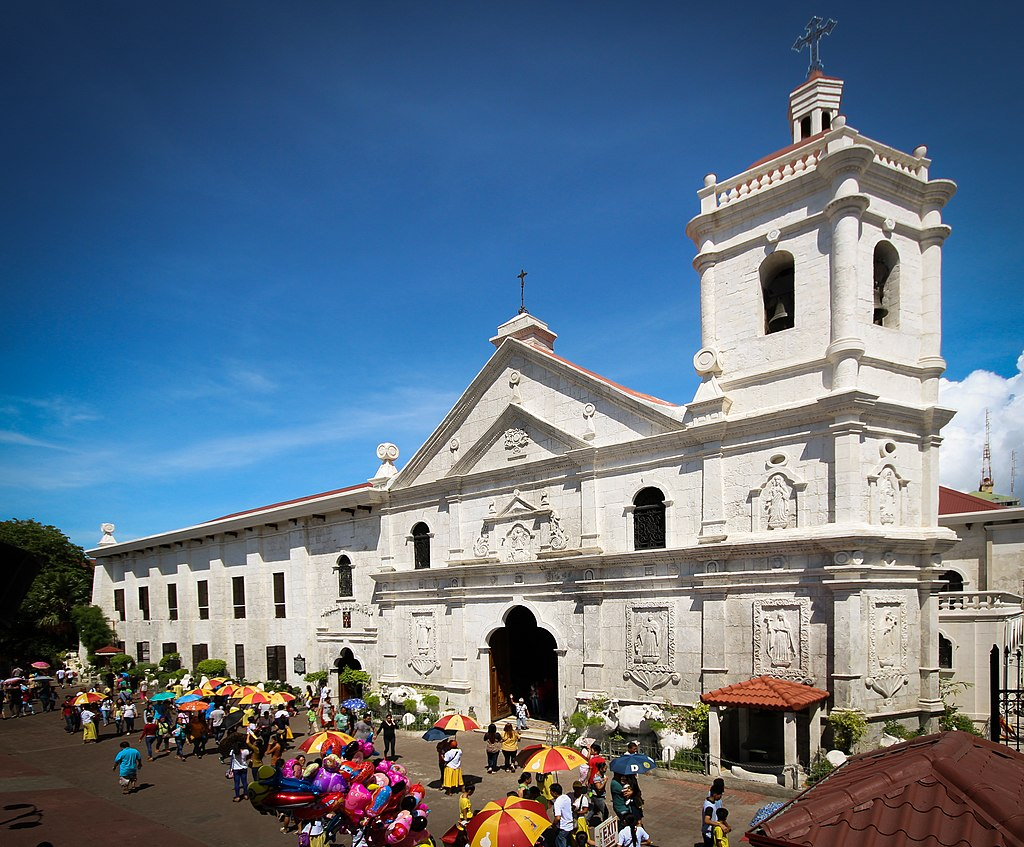 Image credit: Wikimedia Commons 
Aside from its history, the basilica houses the Santo Niño, the country's oldest Catholic icon that Ferdinand Magellan brought to the shores of Cebu in the 1500s. The famous Sinulog festival of the region is held on every 3rd Sunday of January in honor of this figure. 
Address: Osmena Boulevard, Cebu City
---
6. Davao City Hall
---
Image adapted from: Davao City by Battad, Davao City
One of the oldest buildings in Davao, the Davao City Hall has seen the southern city throughout most of the 20th century, first constructed as a Municipal Hall in 1926 by the US government. The present structure was built in 1947 after the original building was destroyed during the war.

Image credit: Wikimedia Commons 
In present times, it's now considered a heritage building, as it's even older than Davao's status as a city by 10 years. 
Address: San Pedro St., Davao City
---
7. Manila City Hall
---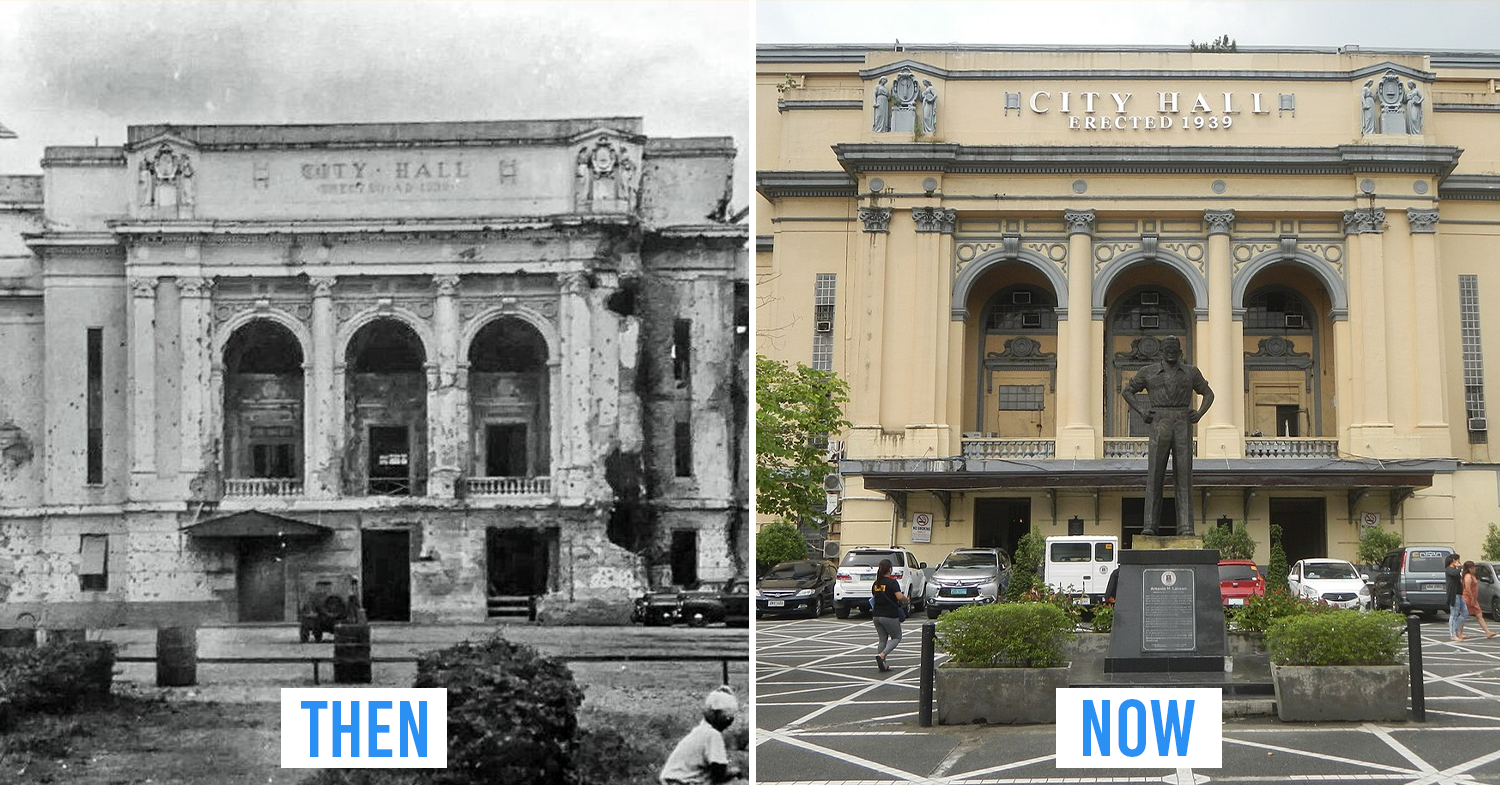 Image adapted from: Pilipinas Restrotalgia, Wikimedia Commons
Standing proud at the heart of Manila, the Manila City Hall has been the city's key symbol, designed by architect Antonio Toledo in 1939.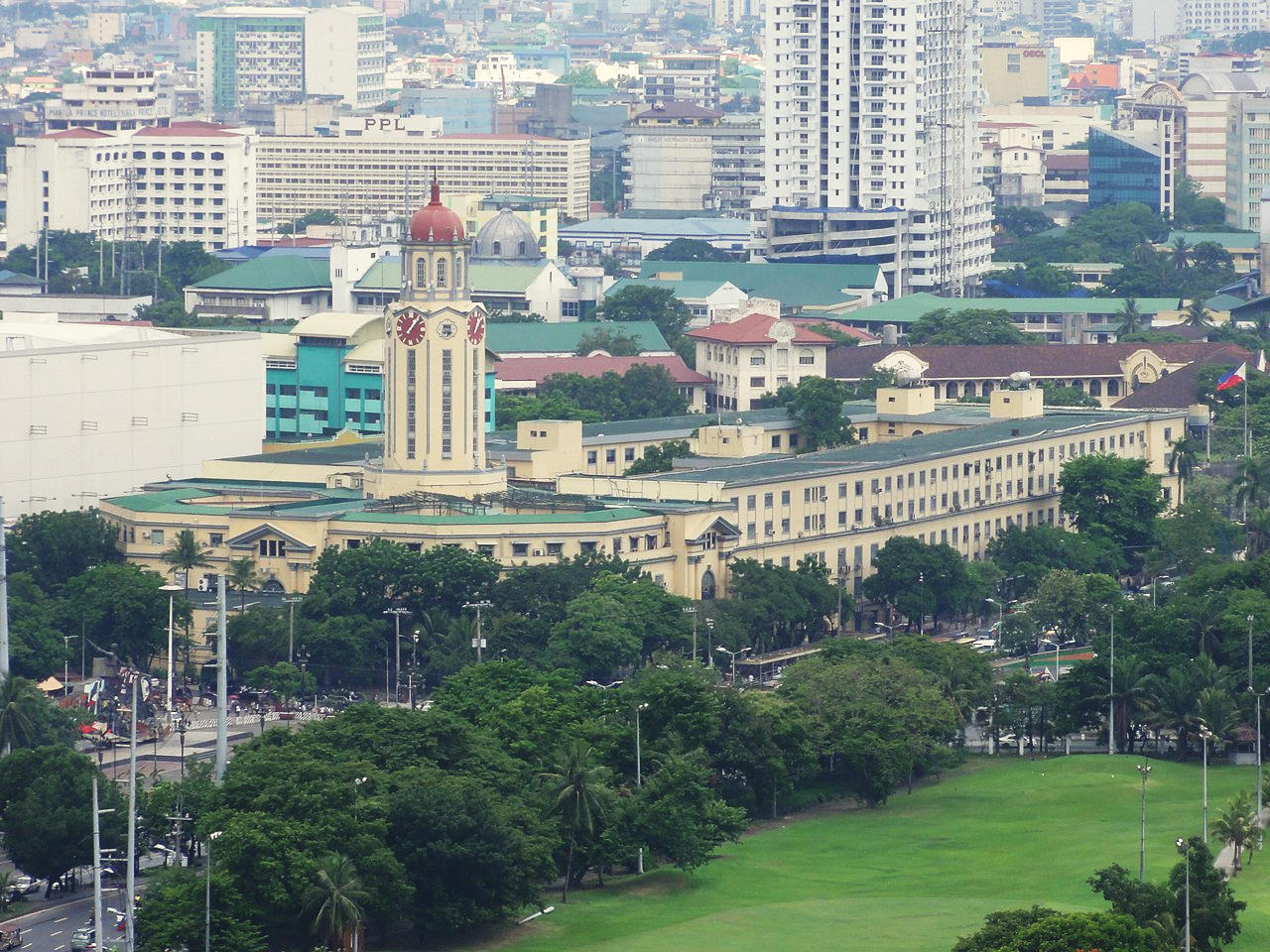 Image adapted from: Wikimedia Commons
Aside from housing the local government, the hall is famous for its clock tower and overall design that resembles a coffin when seen from overhead. Legend has it that it was made to look like a coffin to pay tribute to those who died in the Battle of Manila in 1945.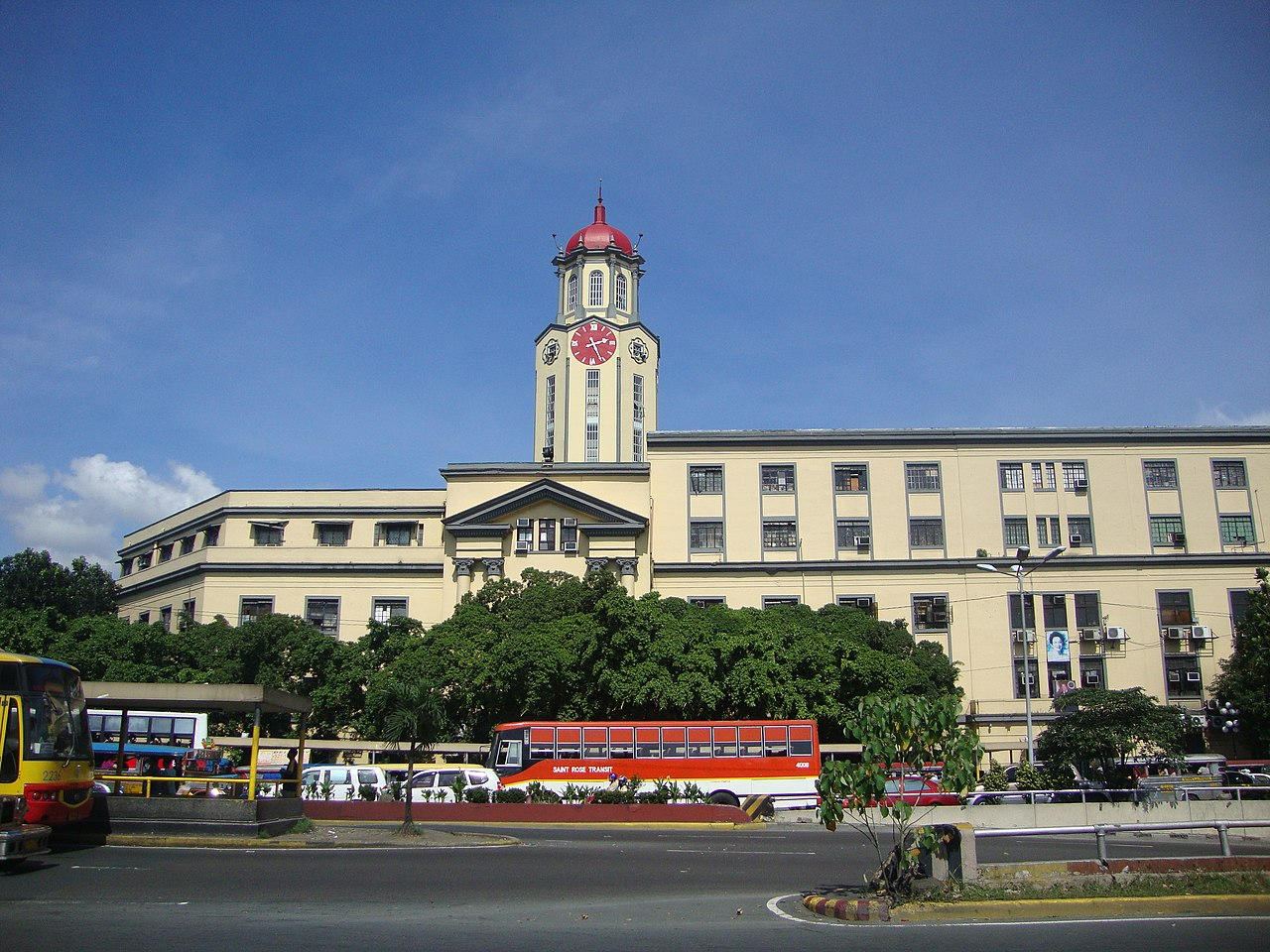 Image credit: Wikimedia Commons 
Address: Padre Burgos Ave., Ermita, Manila
---
8. Boracay
---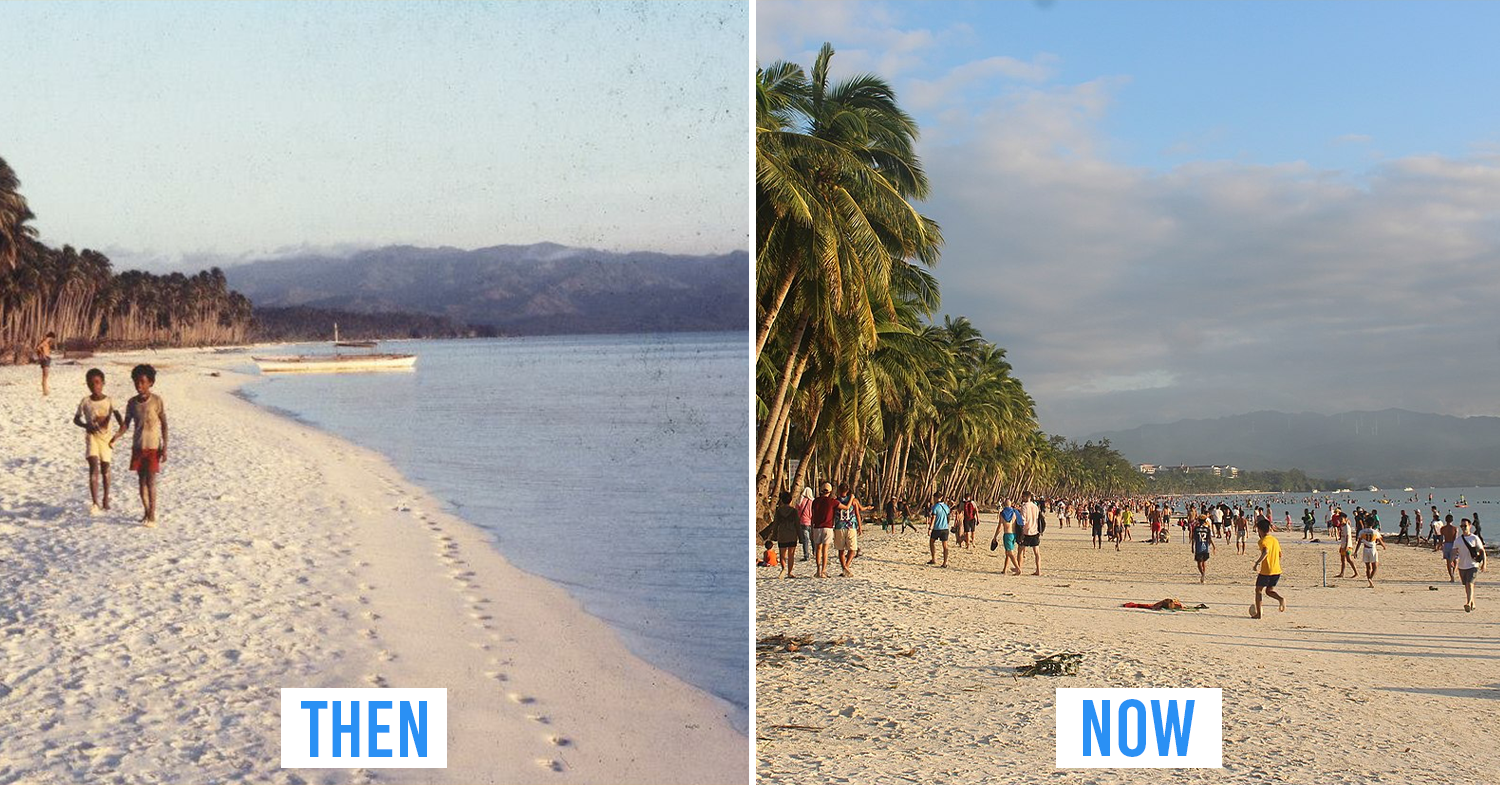 Image adapted from: Boracay Island, Wikimedia Commons 
Boracay is one of the most famous beach resort islands in the Philippines, often lauded for its white sand beaches. The earliest recorded history of the island dates back centuries ago to 1521, when it was only inhabited by indigenous residents of the Ati tribe.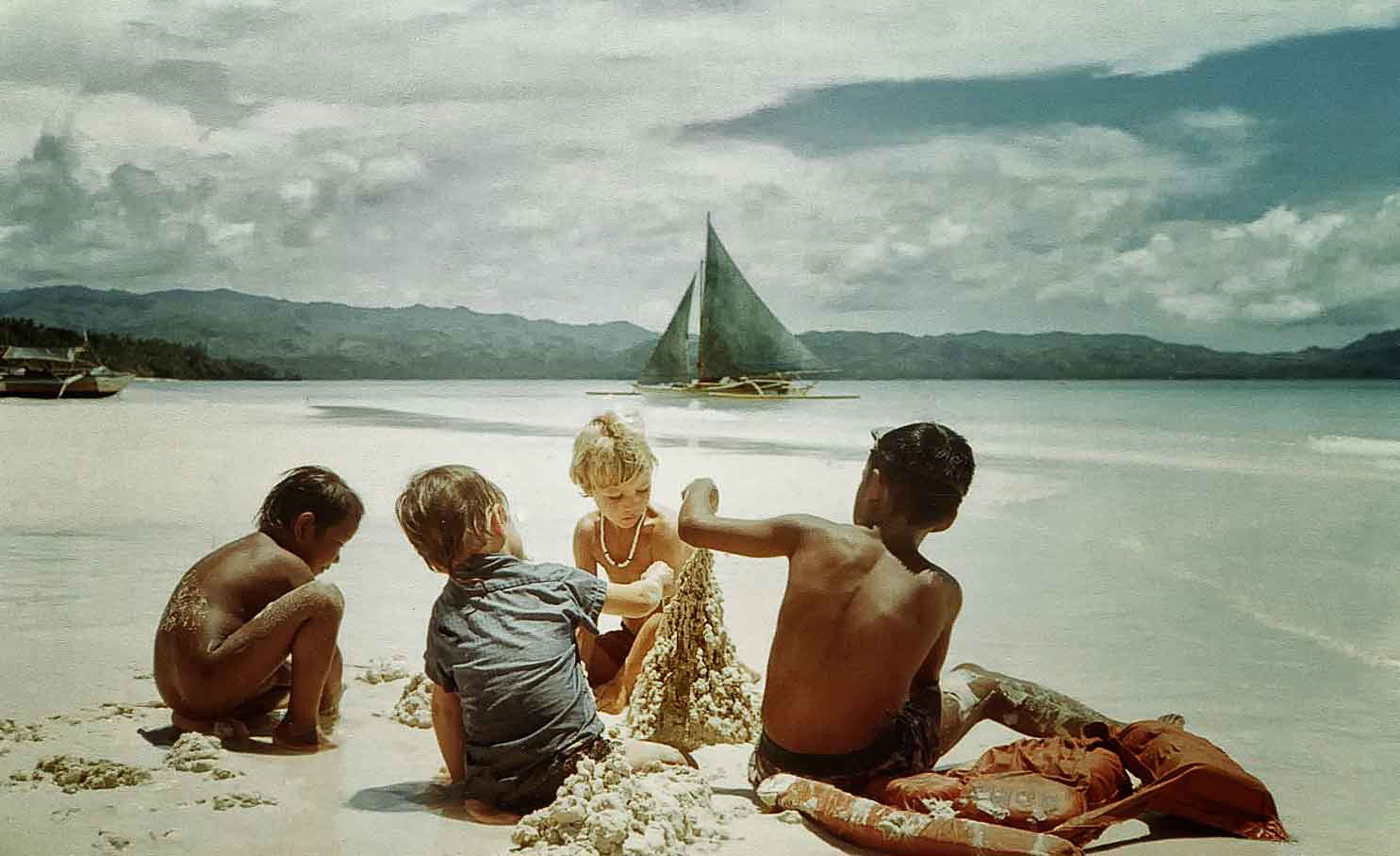 Foreign tourists in Boracay in 1985
Image credit: Wikipedia
Boracay remained a secret even in contemporary times, as it was only in 1978 when it was introduced to the world. German writer Jens Peter called Boracay "paradise on earth," attracting curious travelers from around the world.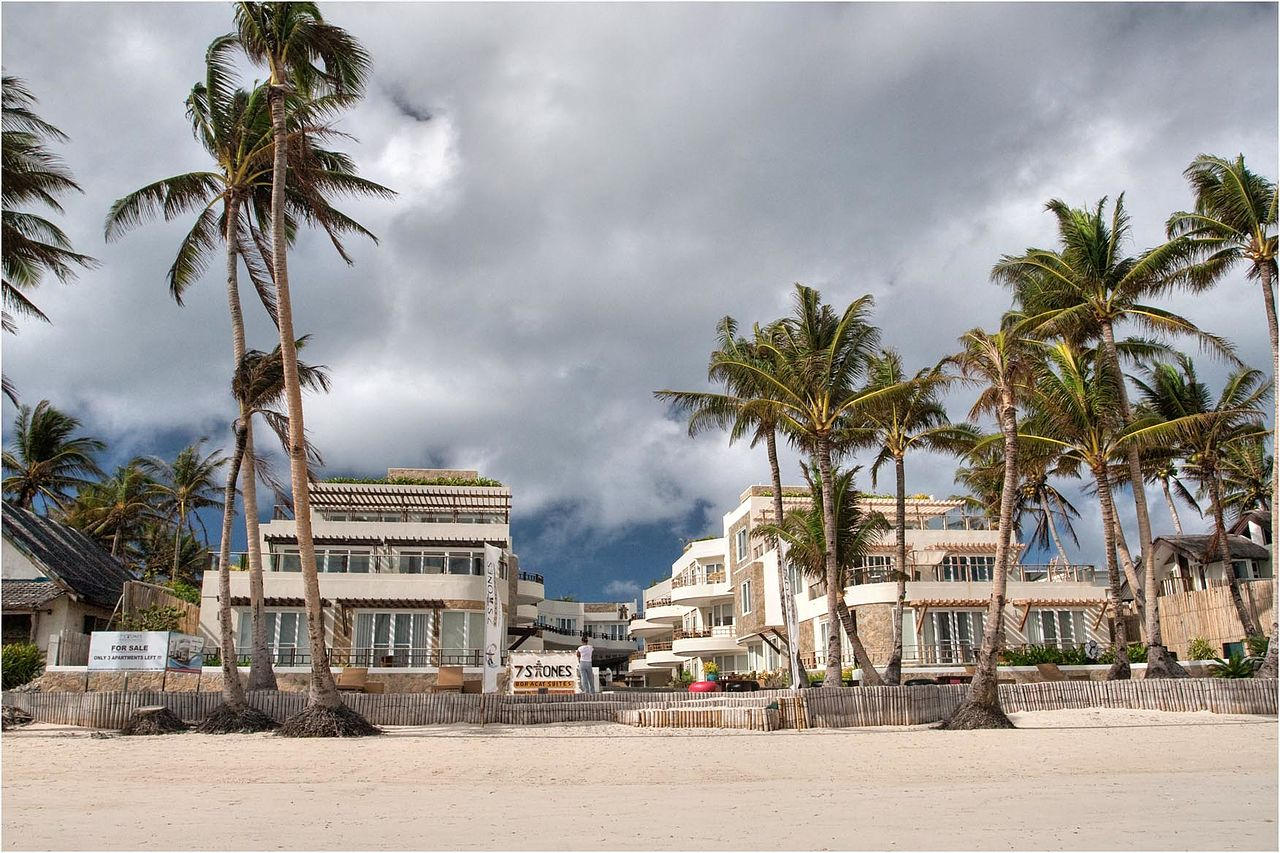 Image credit: Wikimedia Commons 
As it gradually gained popularity, the once quiet remote island began attracting millions of tourists annually and is dotted by various businesses such as hotels, souvenir shops, and restaurants.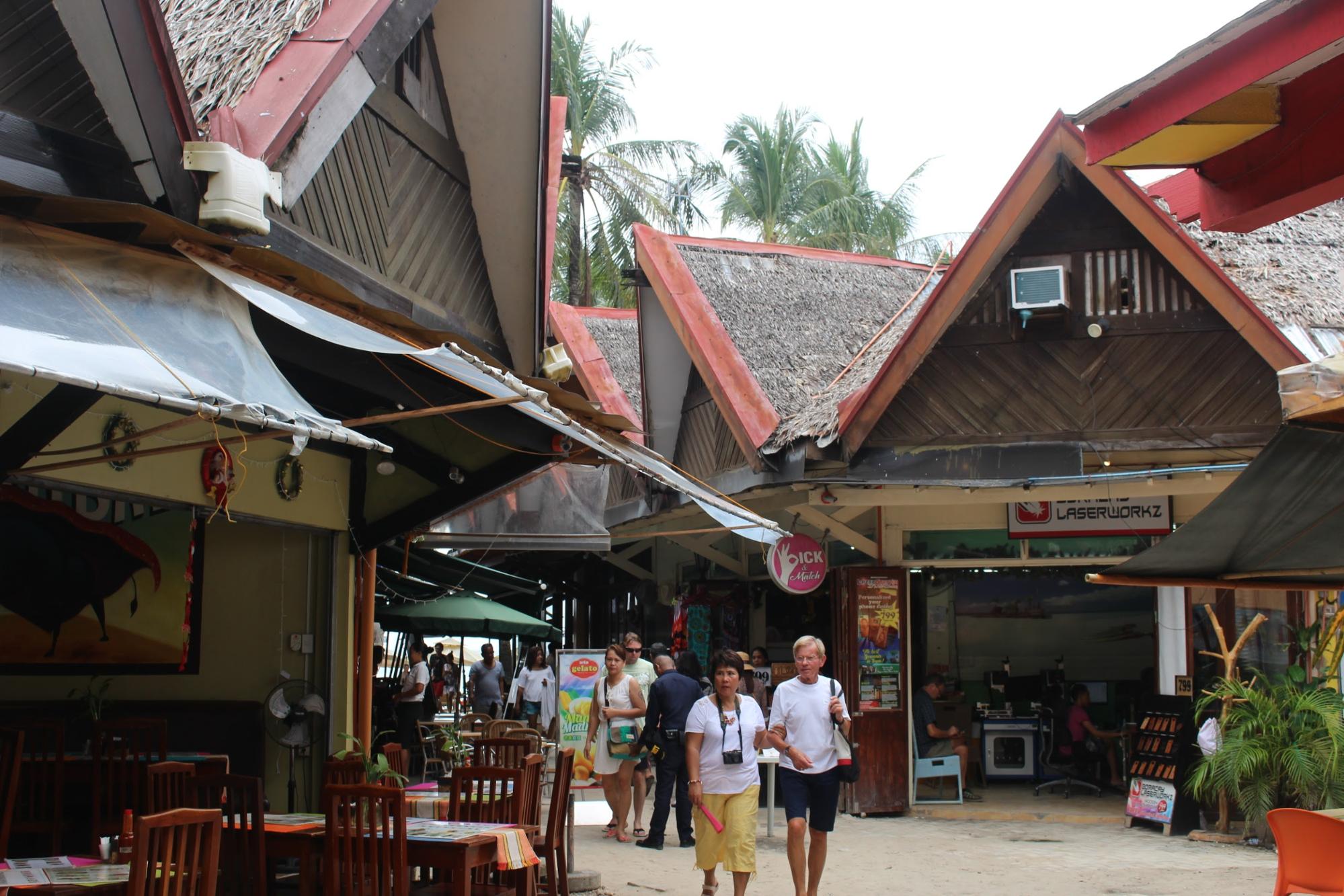 Image credit: Addie Pobre
Address: Aklan, Western Visayas
---
9. Sheikh Makhdum Mosque
---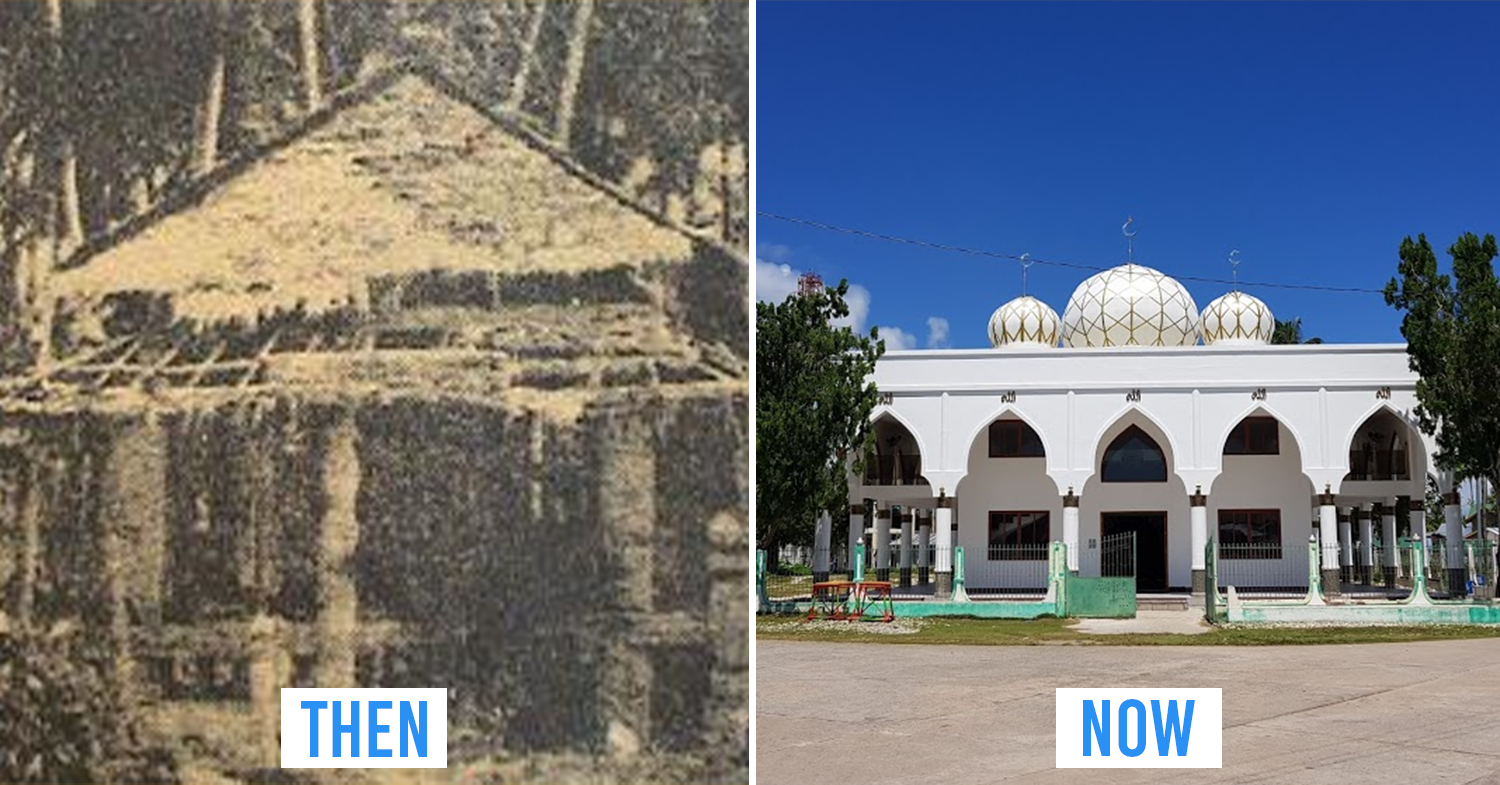 Image adapted from: Wikimapia, edmon canoy
Sheik Makhdum Mosque is the oldest mosque in the Philippines, existing ever since 1380. It was built under the supervision of Arab missionary Sheikh Makhdum who introduced Islam to our shores, and whose remains are buried in the mosque compound.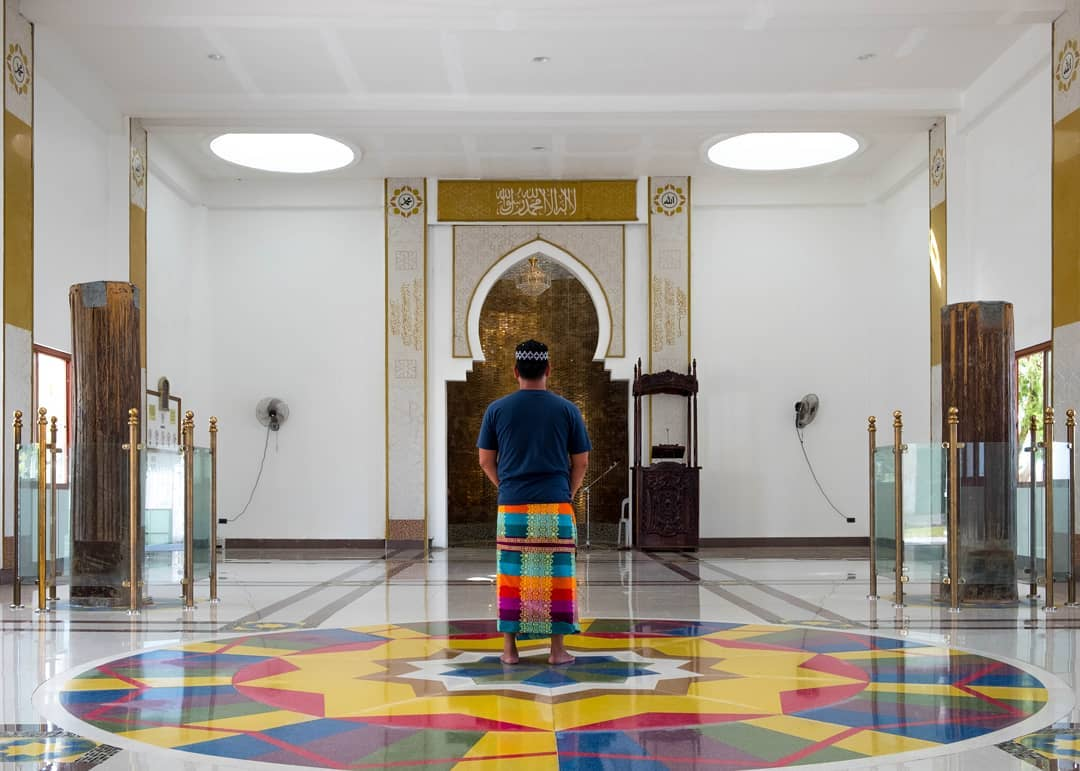 Two of the mosque's four original wooden pillars, pictured on either side of a worshipper.
Image adapted from: @magnus.exurcismus
The original four wooden pillars of the mosque are still preserved even after six hundred years and are displayed inside. 
Address: Simunul, Tawi-Tawi
---
10. Manila Cathedral
---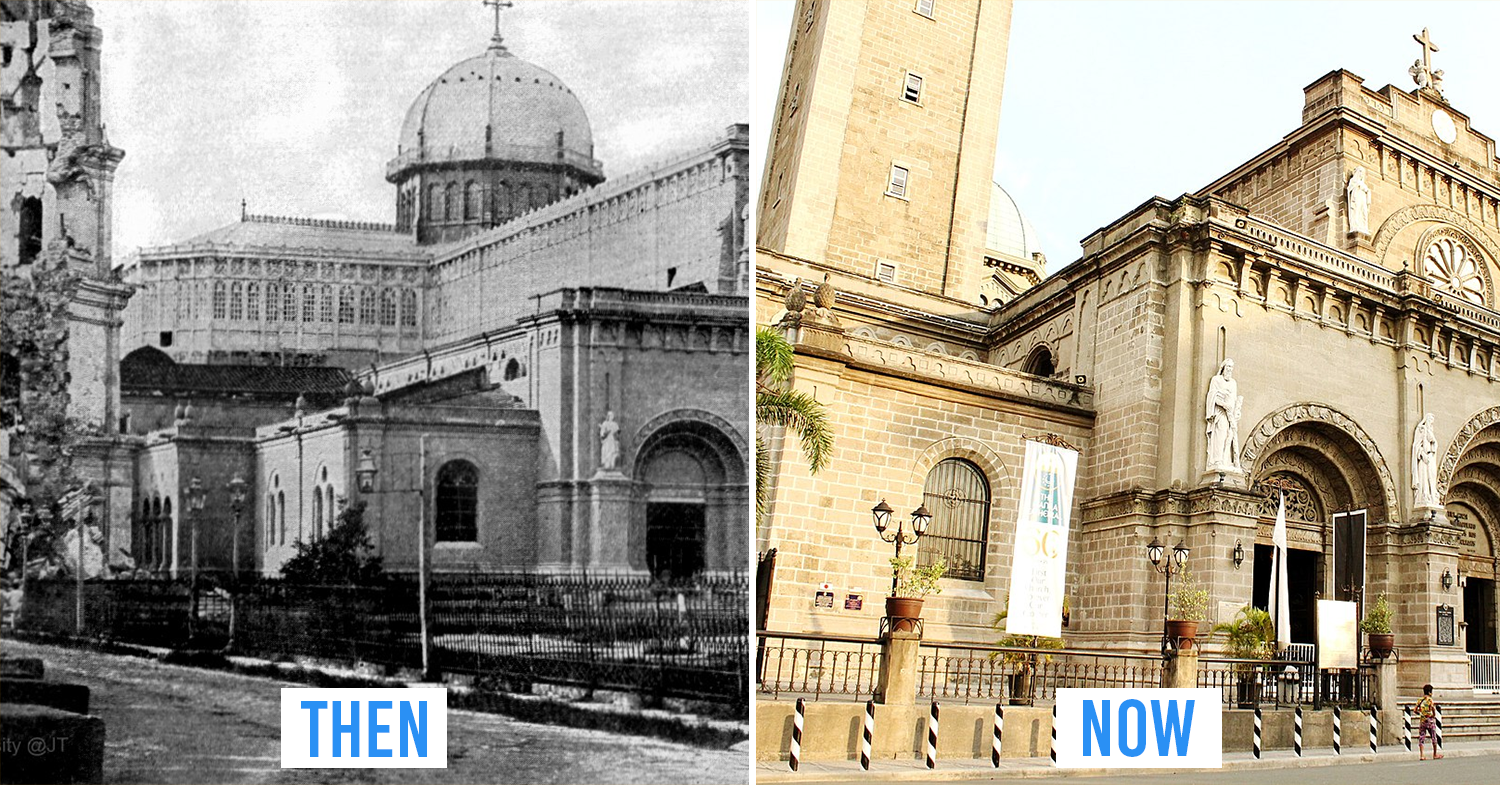 Image adapted from: Cornell University, Wikimedia Commons 
Near the Manila City Hall, the Manila Cathedral is one of the historic city's enduring legacies. Its construction goes as far back as 1571 when Miguel Lopez de Legazpi allocated a piece of land for a church named La Purísima Immaculada Concepción that is now where the Manila Cathedral stands. The original church was only built with nipa, wood, and bamboo. 
The oldest surviving photos of the cathedral show that it resembled the present structure we have now, but was heavily damaged by an earthquake in 1880. It would continue to endure a cycle of rebuilding and destruction until 1945, when it was turned to dust during the war.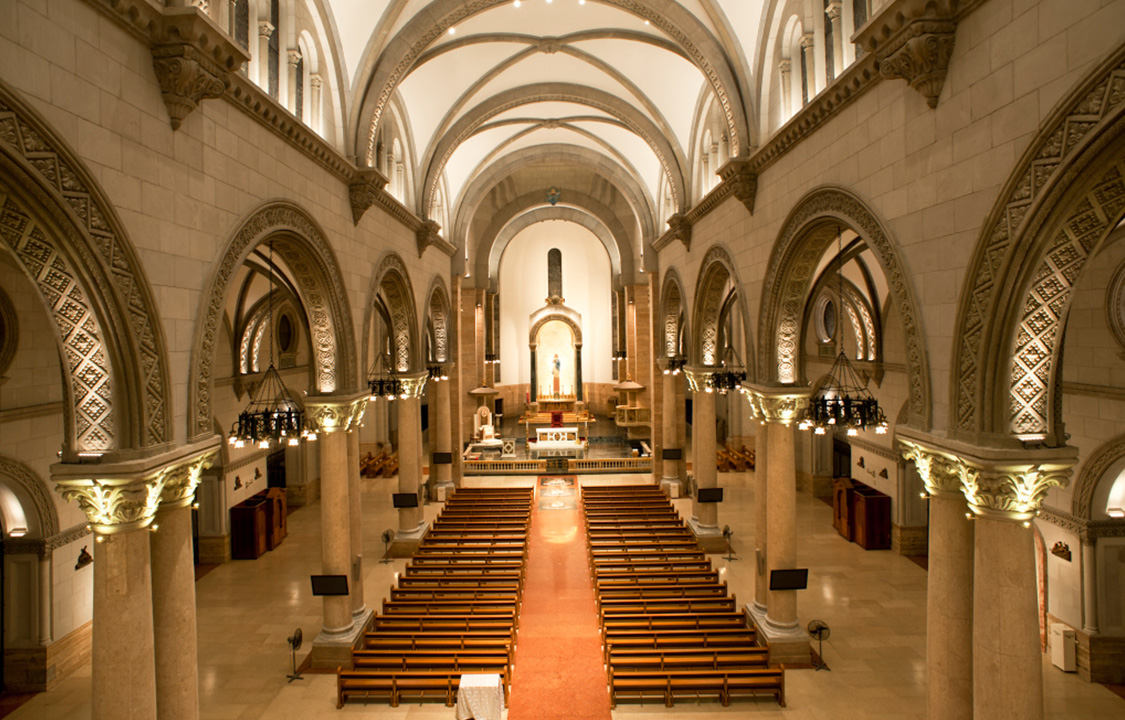 Image credit: Manila Cathedral
After post-war reconstruction, the Manila Cathedral we see today is a Neo-Romanesque structure blended with Renaissance and modern influences and was designed under the supervision of architect Fernando Ocampo.
Image credit: Manila Cathedral 
Address: Beaterio St, Cabildo St, Intramuros, Manila
---
11. Jones Bridge
---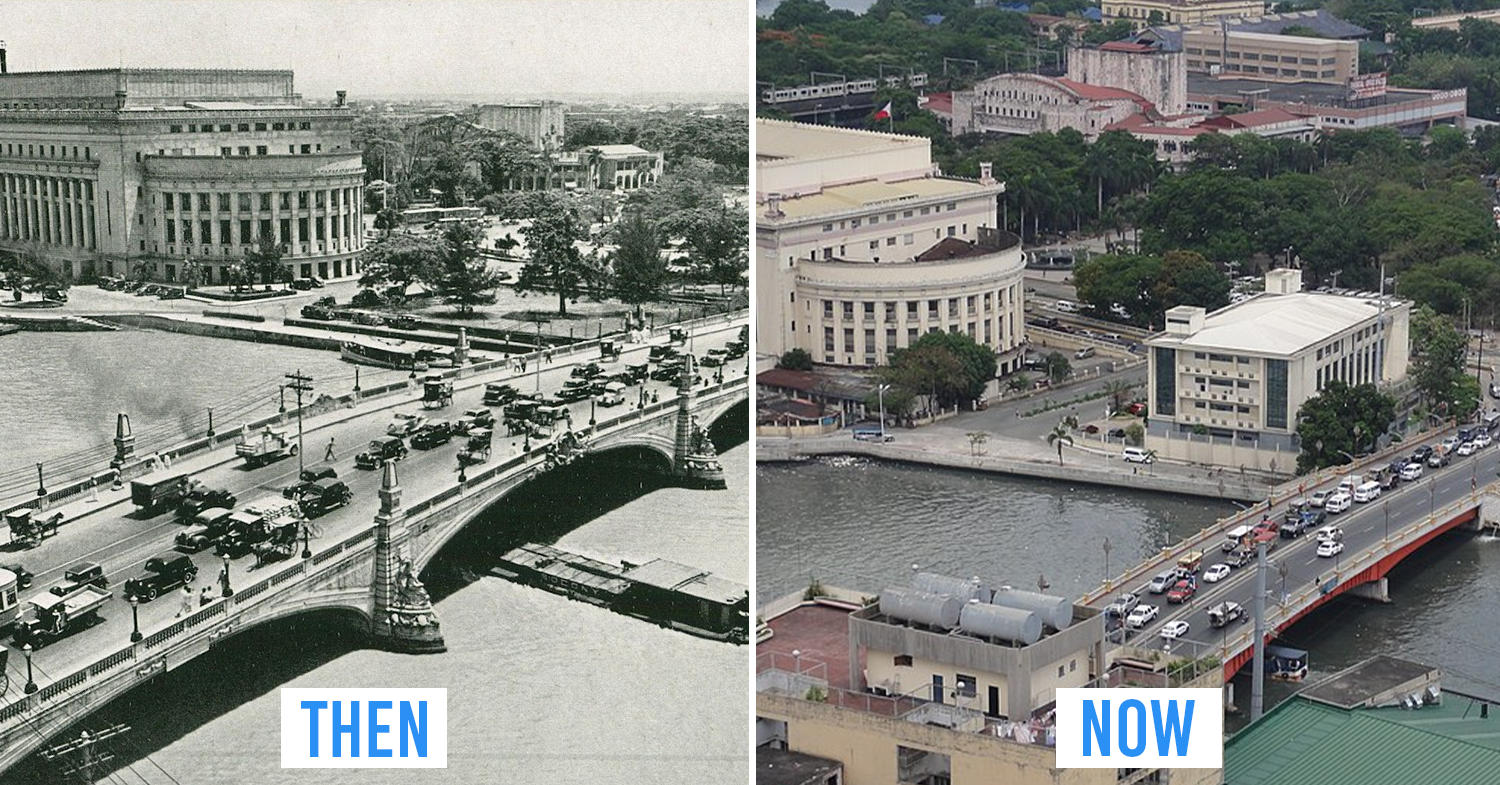 Image adapted from: Wikimedia Commons, Wikimedia Commons 
The Jones Bridge is a famous bridge in Manila, not only for its importance to commuters, but for its fine example of architectural beauty that can rival bridges in Europe. Architect Juan Arellano designed it at the dawn of the 20th century in 1916, after the Bridge of Spain (also known as Puente de España), that once stood parallel to it was damaged by a flood in 1914.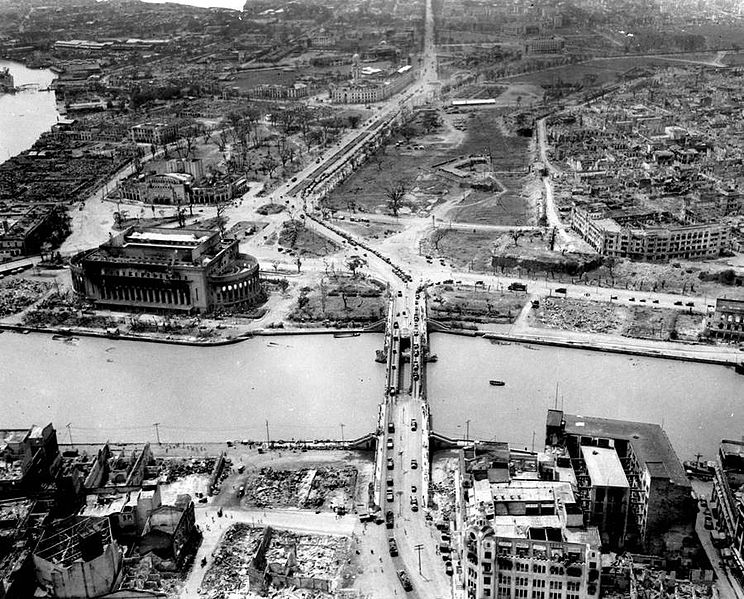 Image credit: Wikimedia Commons 
It was first reconstructed in 1946 after it fell victim to the destruction of World War II.
Image credit: Wikipedia 
For years afterwards, its Parisian beauty was replaced with a plainer design. But in 2019, the bridge returned to a design closer to its original structure when the City Government of Manila rehabilitated it for around P20 million. 
Address: Binondo, Manila
---
12. Smart Araneta Coliseum
---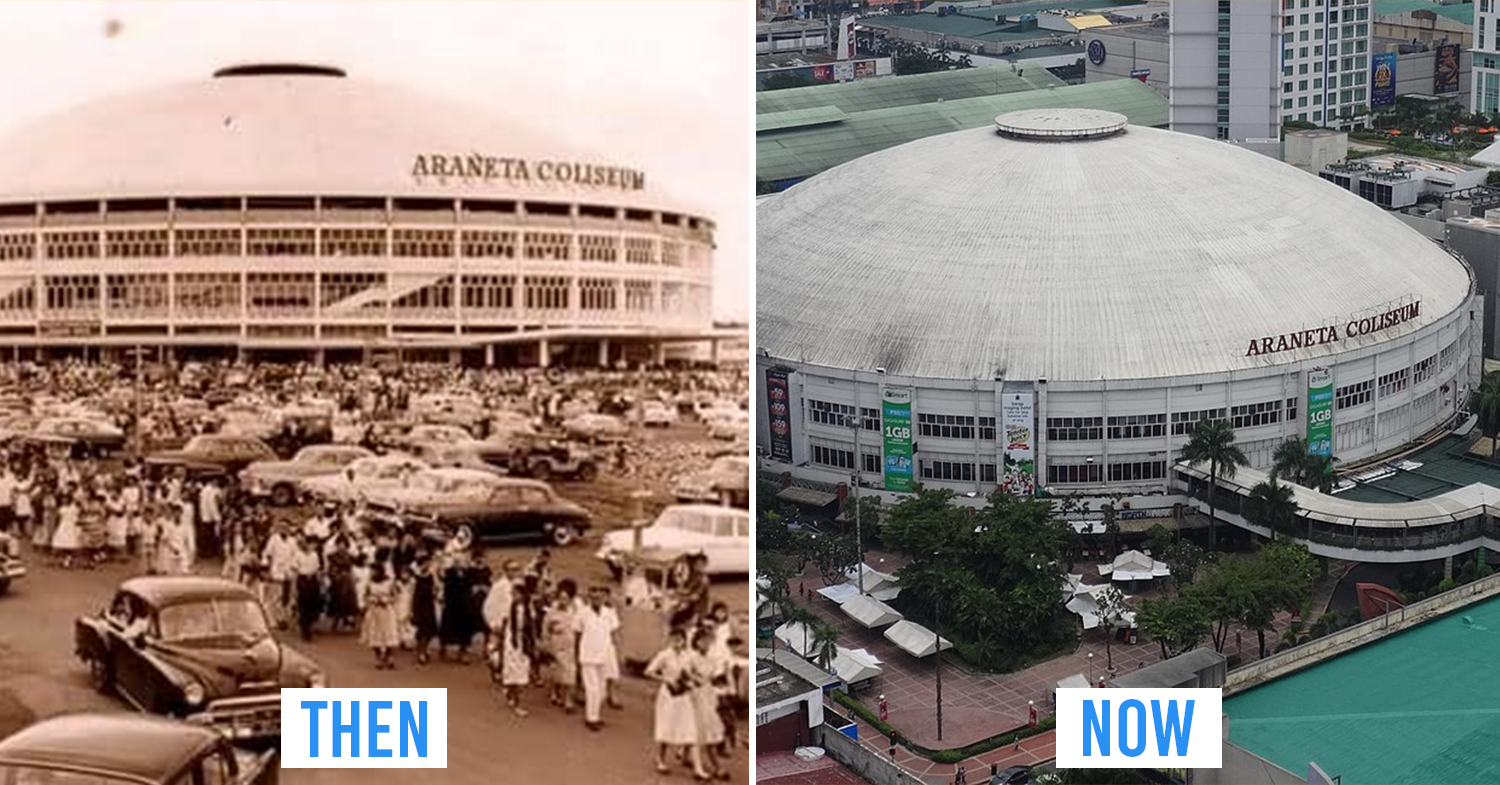 Image adapted from: Batang Pinoy – Ngayon at Noon, Wikipedia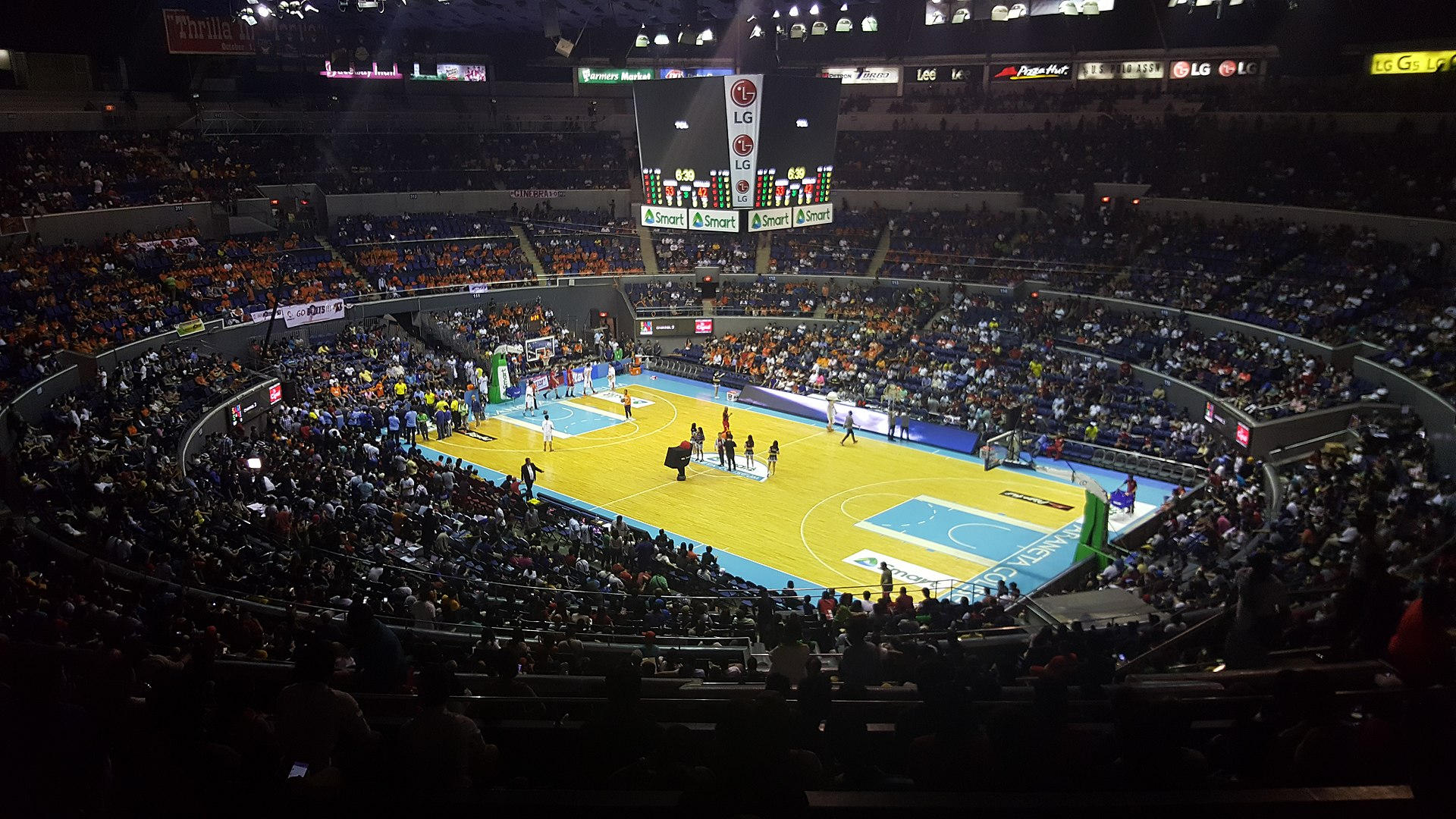 Image credit: Wikimedia Commons
The OG coliseum of event gatherings in the Philippines is the Smart Araneta Coliseum better known as the "The Big Dome". Since its opening in 1960, it's been recognized not only in the country but also internationally, as it was the biggest covered coliseum in the world from around 1960-63 and was also the largest dome in Asia from its opening in 1960 until 2001.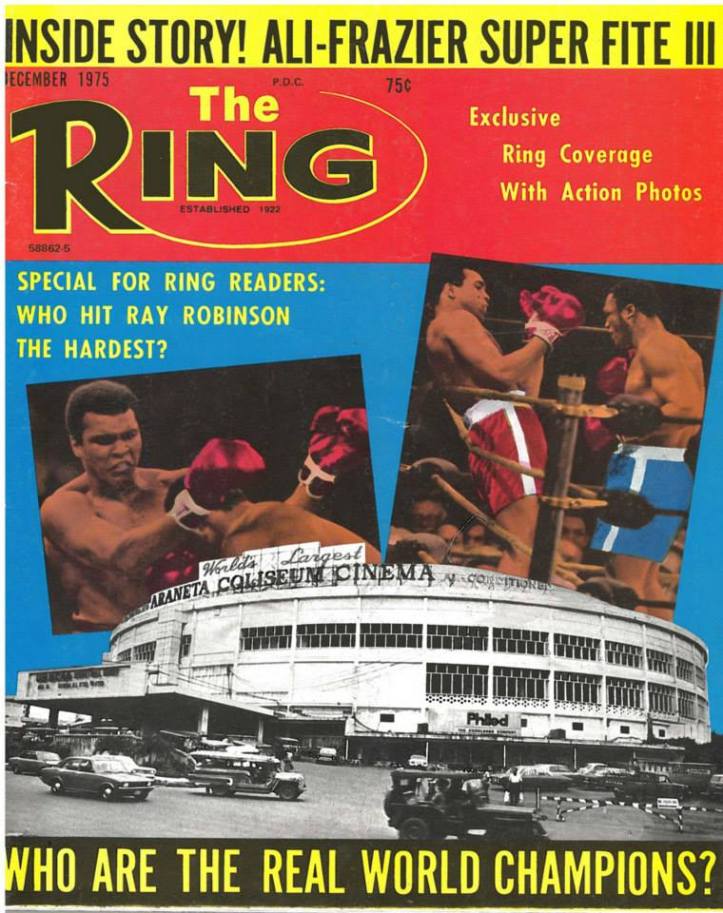 The Thrilla in Manila boxing fight between Muhammad Ali and Joe Frazier was held in the Araneta Coliseum on October 1, 1975
Image credit: The Kevin Pableo
The Smart Araneta Coliseum is the home of basketball associations in the Philippines, serving as the main venue for most national basketball games. But it has also hosted other historic events such as boxing events with legends Gabriel 'Flash' Elorde and Muhammad Ali, concerts with performances from Michael Jackson and Lady Gaga, and religious events led by Pope John Paul II. 
Address: General Roxas Ave, Cubao, Quezon City
---
13. UP Diliman's Oblation Statue
---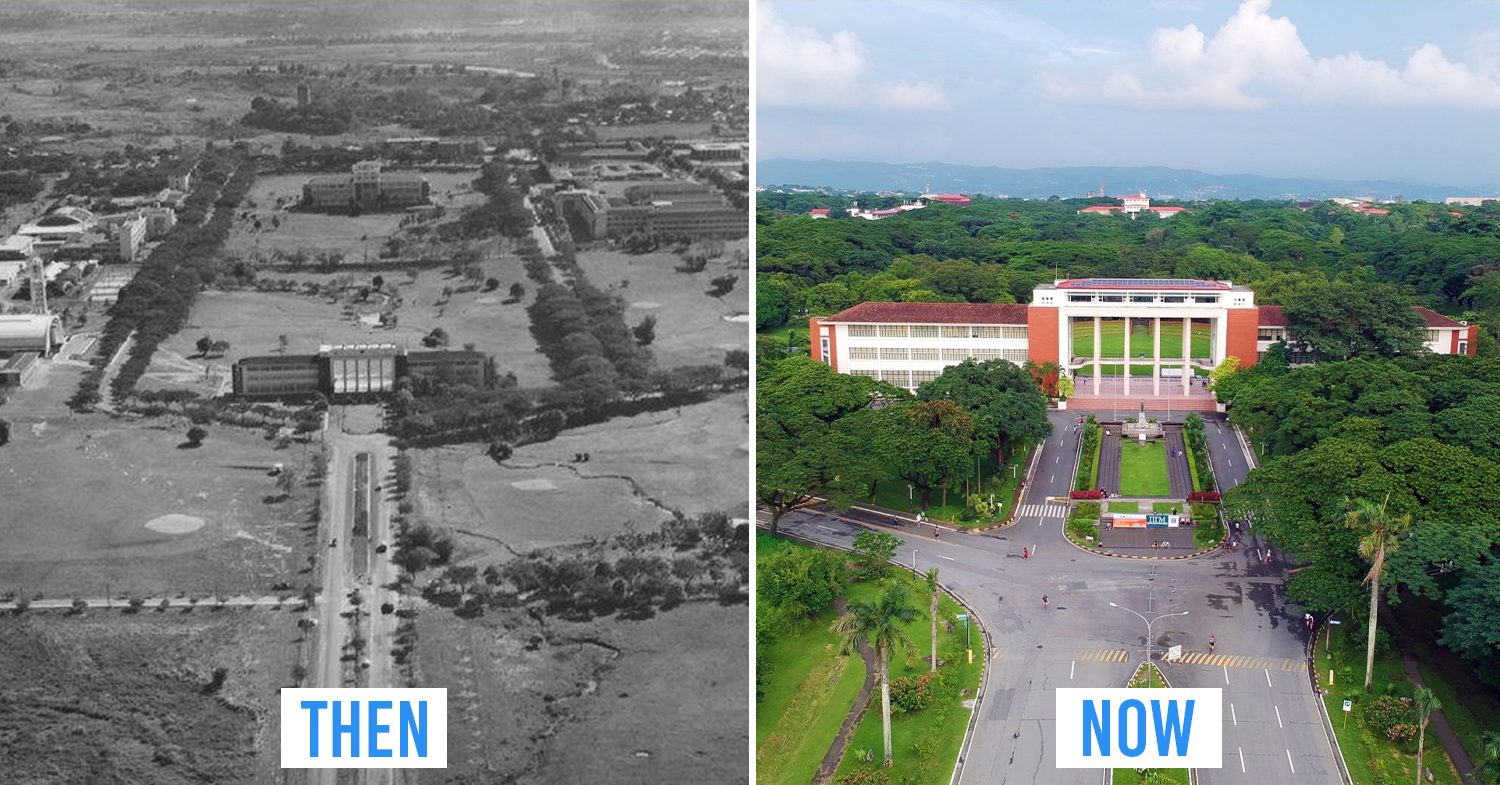 Image adapted from: UP Diliman Office of the Vice Chancellor for Community Affairs, UP Diliman Information Office 
The Oblation, a nude figure of a man with outstretched arms and open hands, is the most recognizable and enduring symbol of the University of the Philippines.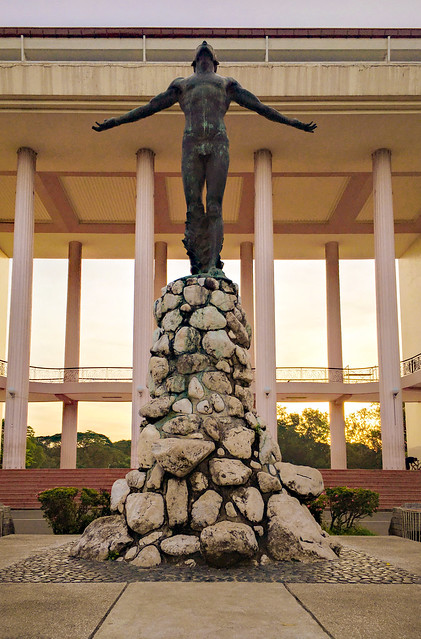 Image credit: Andrew Moore 
National Artist Guillermo Tolentino's masterpiece was made to be a tangible representation of two of Jose Rizal's writings, Mi Ultimo Adios and To the Filipino Youth, but through the years, after it was transferred to its current location at U.P. Diliman in 1949, it has also been used in expressions of dissent, social criticism, public service, nationalism, and patriotism.
Address: Diliman, Quezon City
---
14. Ayala Avenue, Makati
---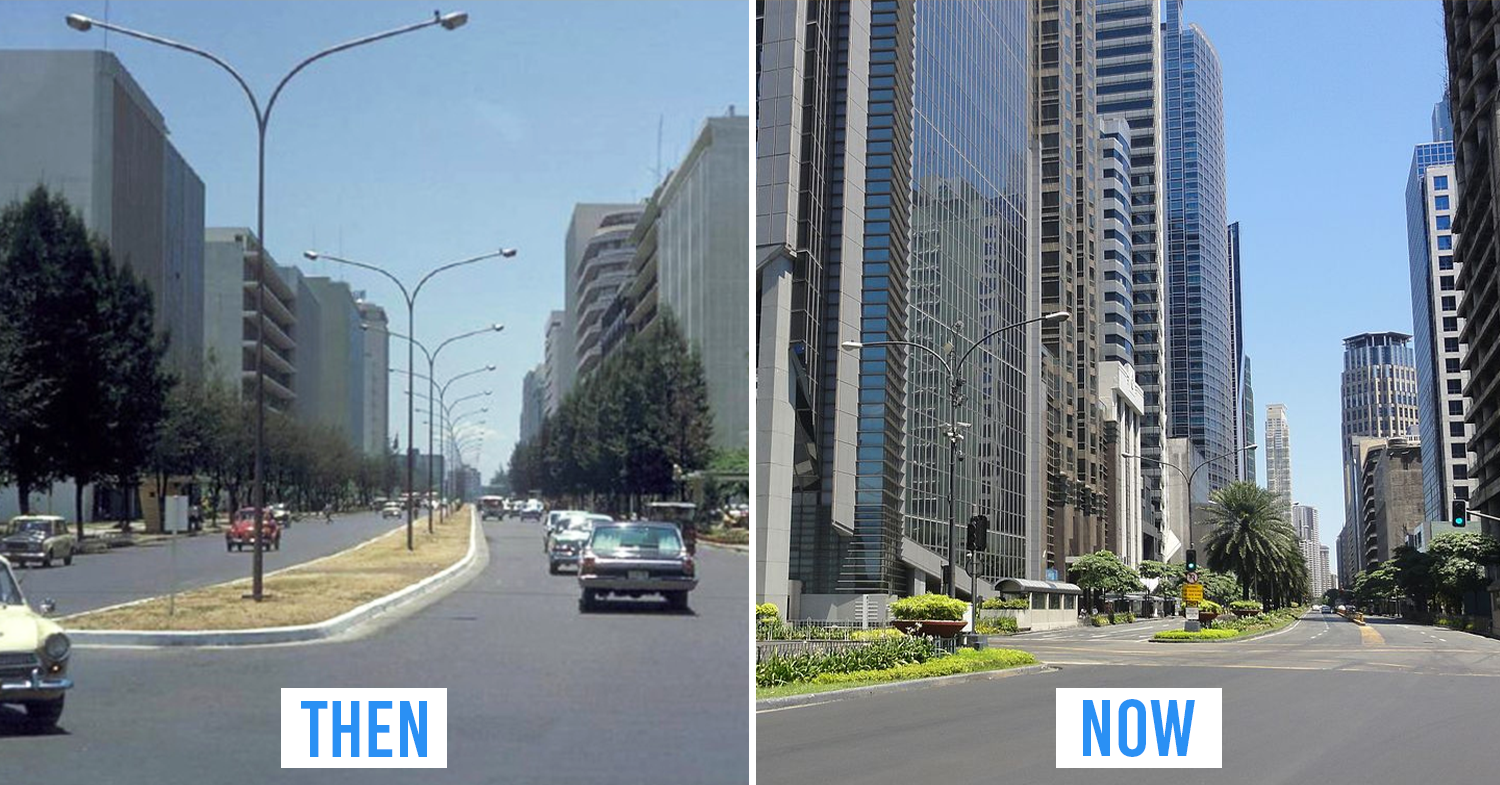 Image adapted from: University of Wisconsin-Milwaukee Libraries, Wikipedia 
Back in the 1960s, the Ayala Avenue was set to be the Wall Street of the Philippines as banks and businesses started setting up on this major street. Even then, it was just dotted with a few buildings such as the brutalist beauty of Makati Stock Exchange and had little traffic, with cars freely driving along. 
Today, it's certainly our financial hub, as some of the tallest financial buildings in the Philippines, such as the 52-storey PBCOM Tower and the 46-storey RCBC Plaza Yuchengco Tower, are also situated along this avenue.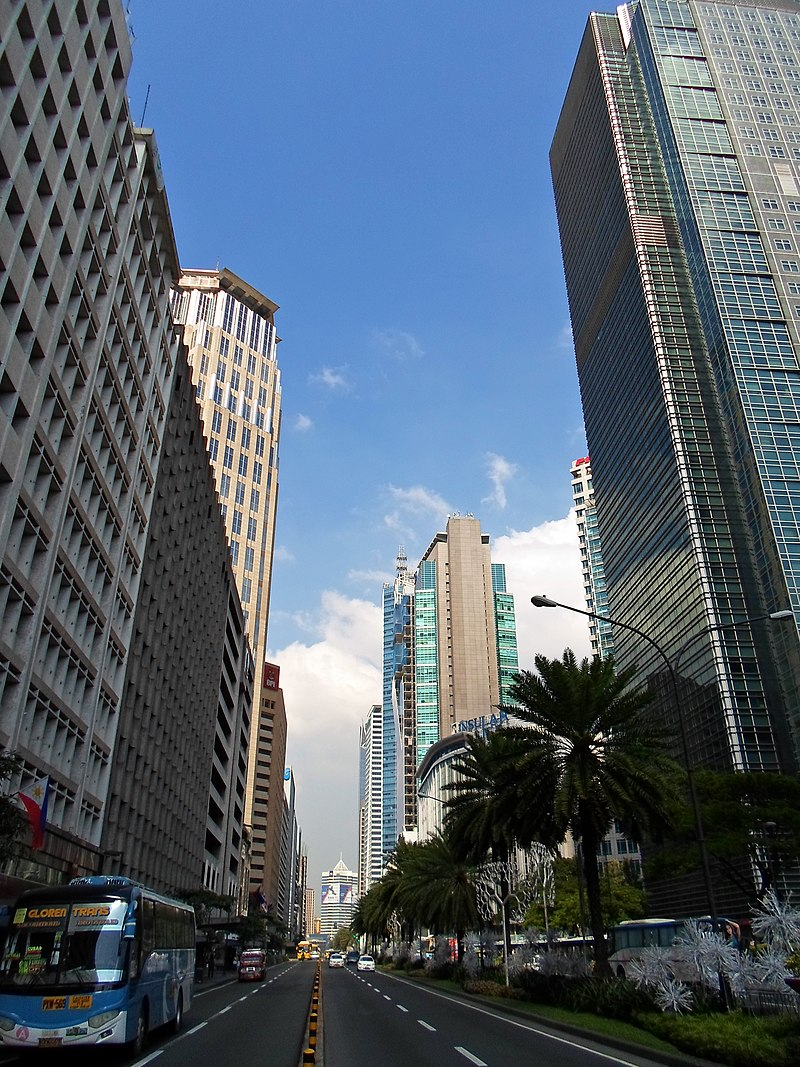 Image credit: Wikimedia Commons 
Address: Makati, Metro Manila
---
15. Makati Stock Exchange Center
---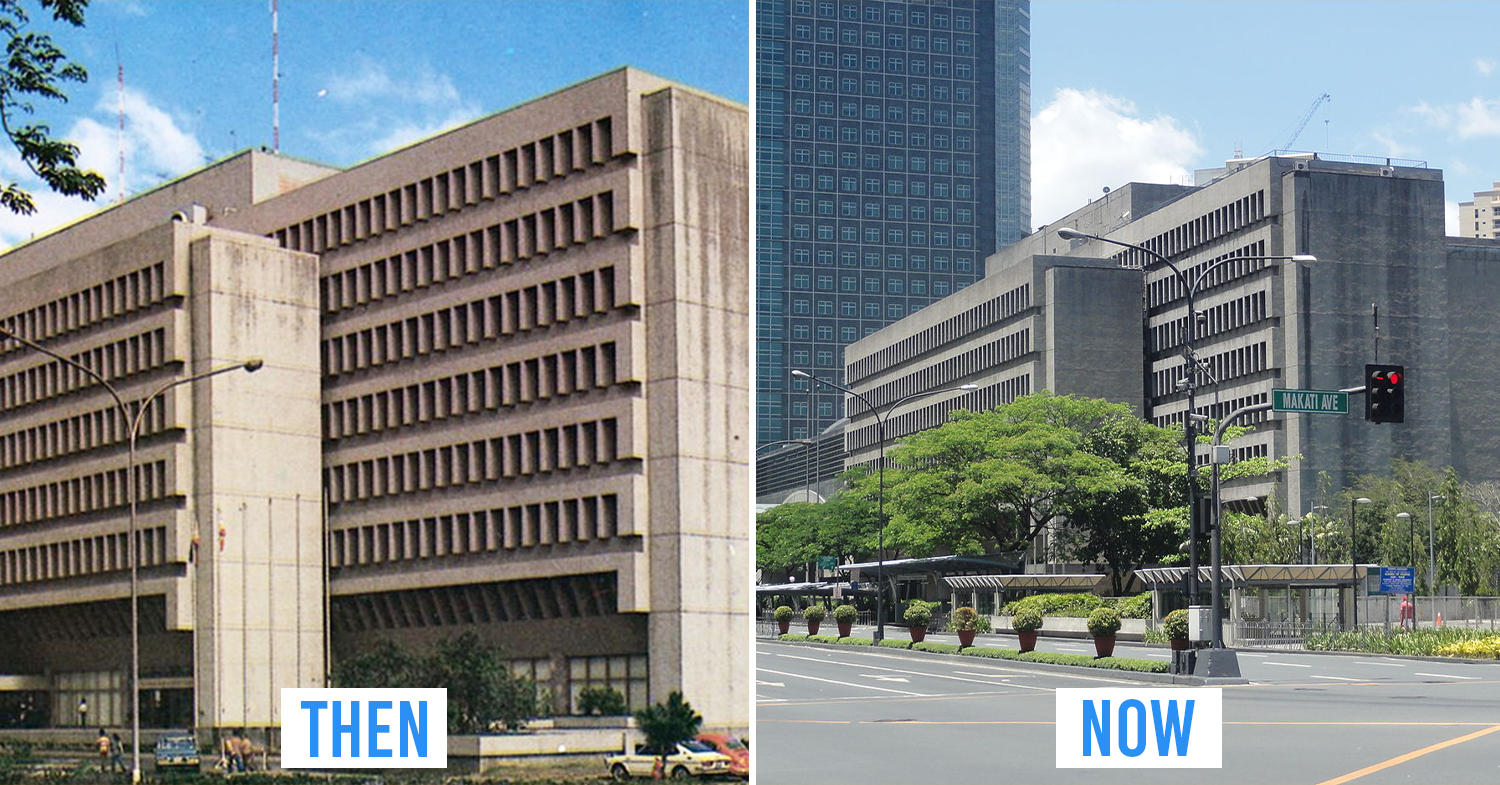 Image adapted from: Retroscope, Wikipedia 
One of the first buildings in Ayala Avenue, the Makati Stock Exchange is the brutalist masterpiece of National Artist Architect Leandro Locsin. It began its trading operations in 1963 as the rival of the Manila Stock Exchange until the two merged as the Philippine Stock Exchange in 1992.

The Philippine Stock Exchange, our country's official headquarters of stock trading, is now located at the Bonifacio Global City, Taguig.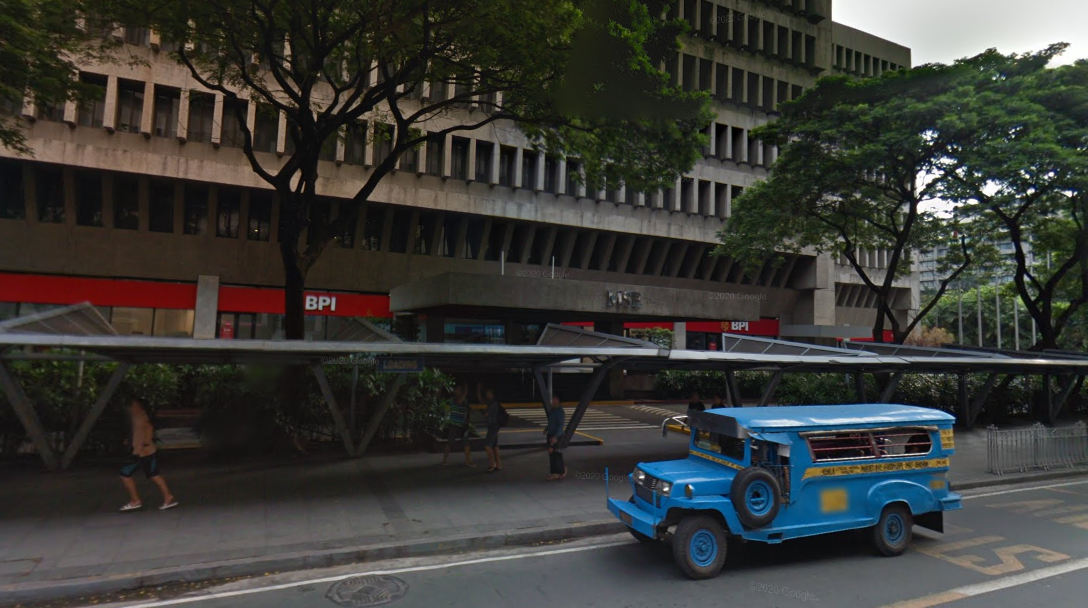 Image credit: Google Maps 
These days, Ayala Land Offices continues to preserve the building's heritage by maintaining its historic facade while renovating its interiors and building services. It now offers various amenities such as executive lounges, function rooms, and office spaces. 
Address: Ayala Avenue, Makati
---
16. Roxas Boulevard
---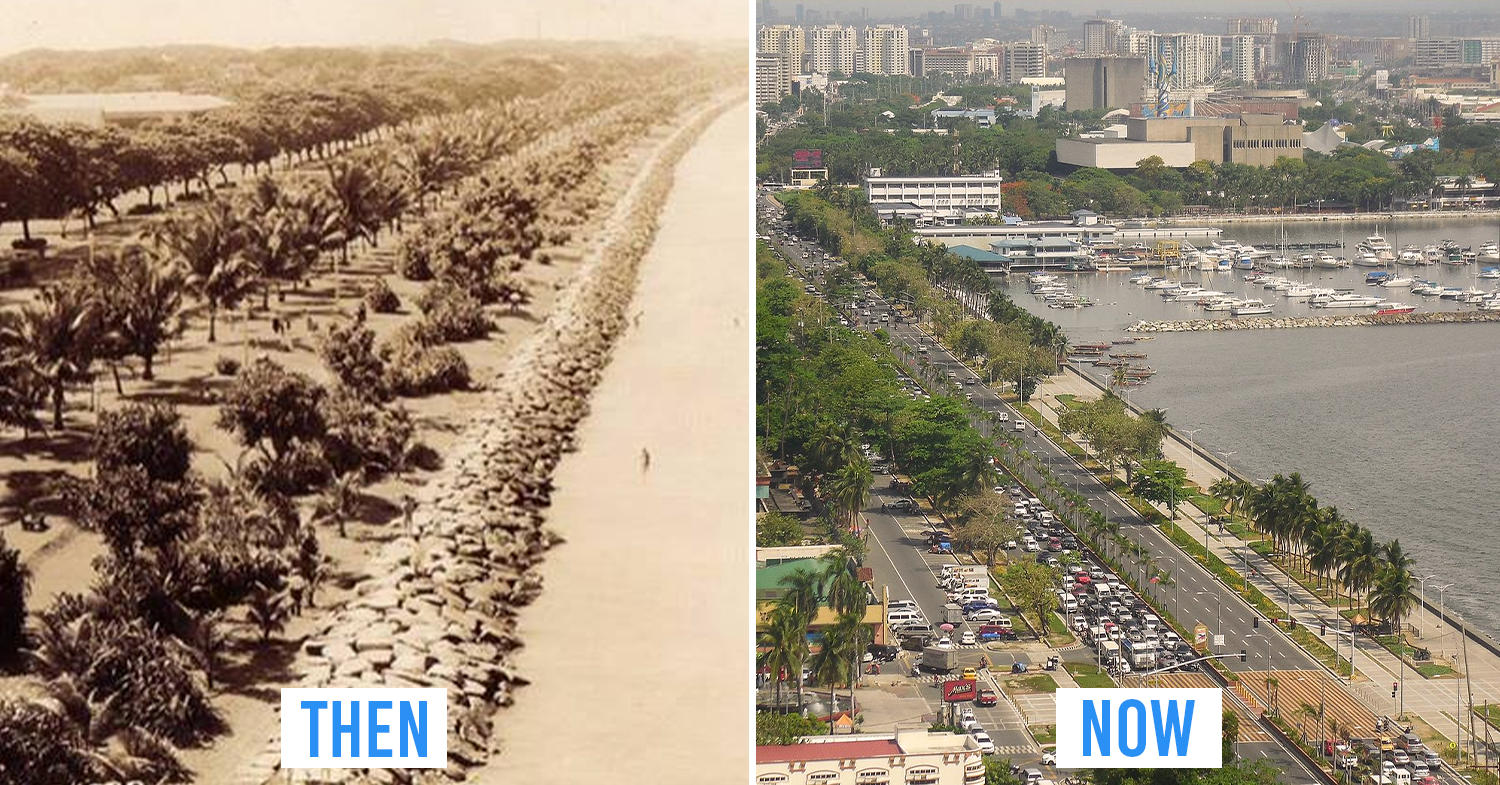 Image adapted from: Retroscope, Wikimedia Commons
The Roxas Boulevard is a historic thoroughfare stretching along the shores of Manila Bay. It traces its origin to the dawn of the 1900s as part of architect Daniel Burnham's beautification plan for Manila.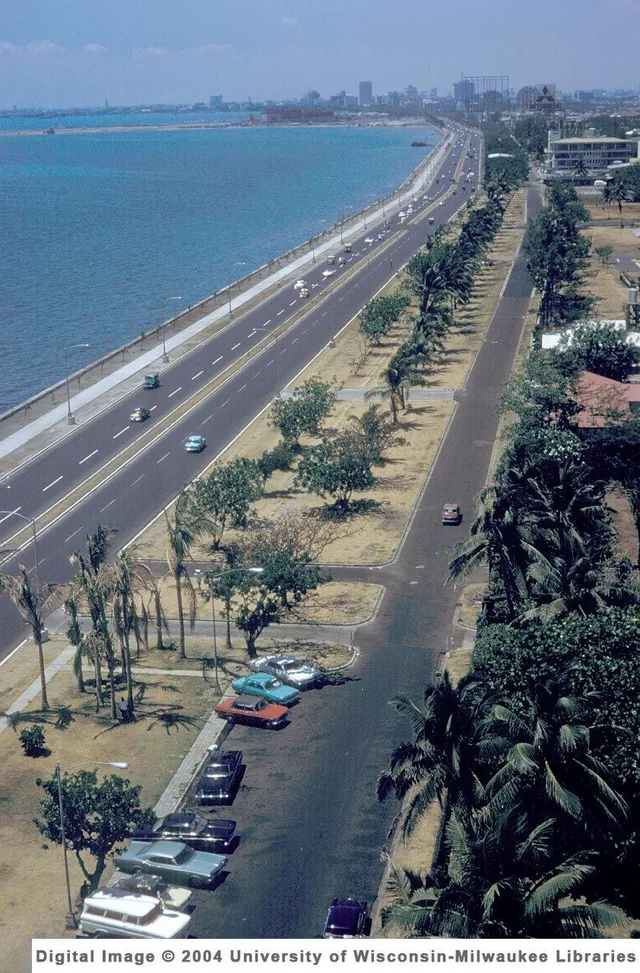 Image credit: University of Wisconsin-Milwaukee Libraries 
Before it became Roxas Boulevard in honor of former President Manuel Roxas in the 1960s, it had gone through two names first – Cavite Boulevard during the time of Burnham and later on as Dewey Boulevard in honor of the US admiral George Dewey.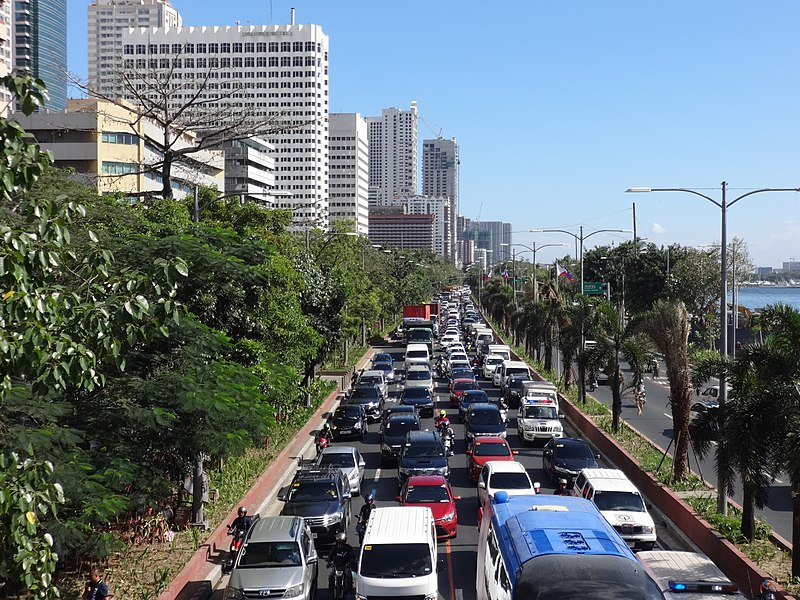 Image credit: Wikipedia 
During its early years, it was the opposite of the bustling metropolitan boulevard we know. It was a serene stretch of trees and water, saved for a few residential homes nearby and sorbetes vendors.
As time passed, the boulevard transformed into a busy thoroughfare lined by important establishments such as government offices, embassies, and Rizal Park.
Address: Roxas Boulevard, Manila
---
17. Manila Hotel
---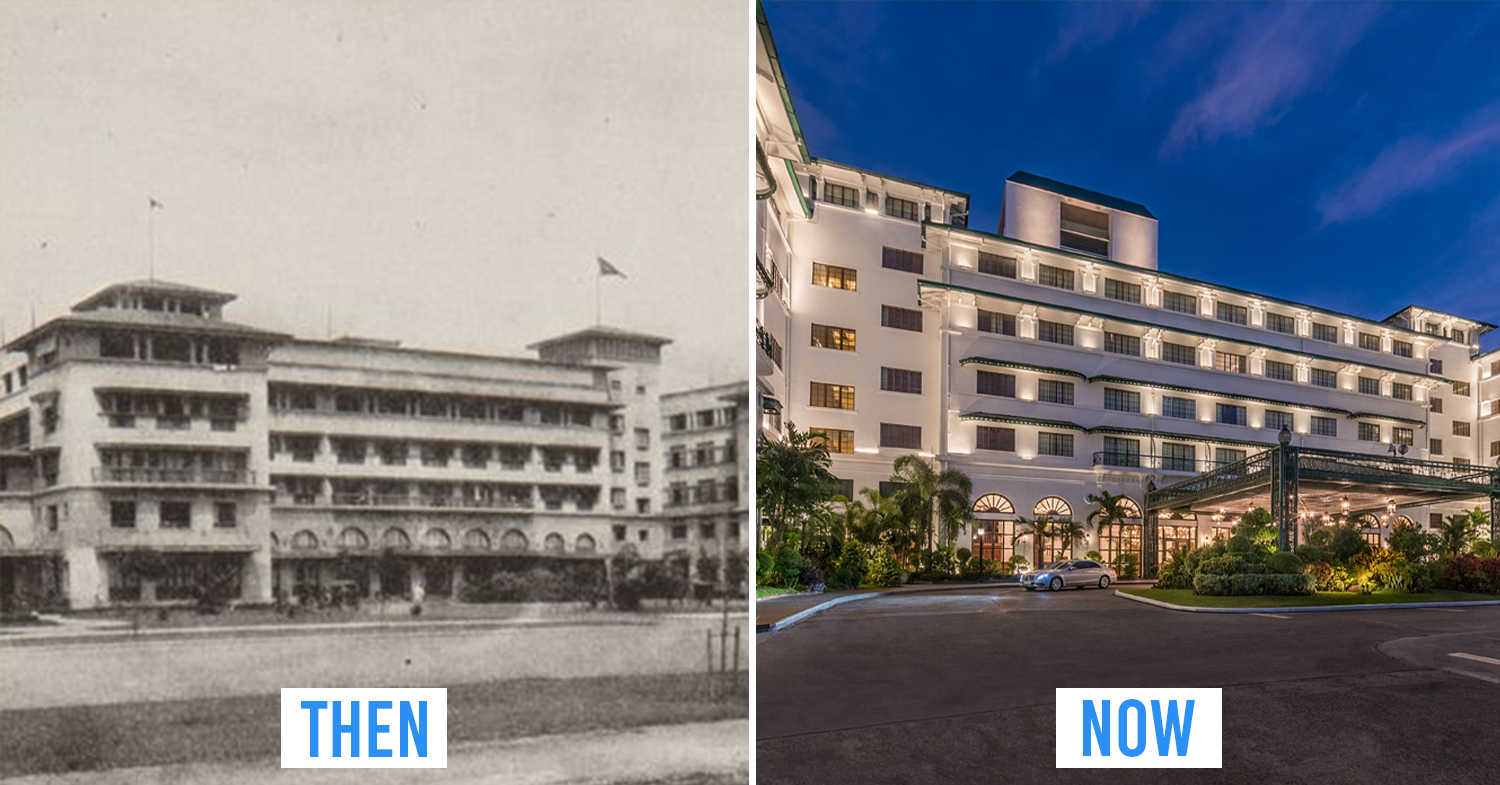 Image adapted from: Newberry, Manila Hotel 
Hailed as the "finest hotel in the Far East" during its opening in 1912, the Manila Hotel lives on till this day. It's situated across Roxas Boulevard, overseeing Manila Bay, the fortress of Corregidor, the walls of Intramuros, and the sprawling Luneta Park.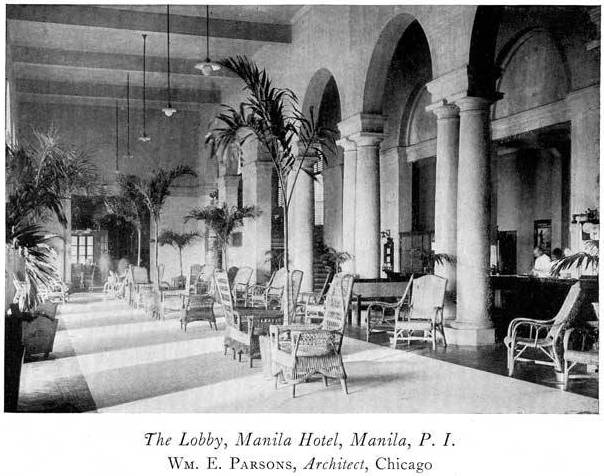 Image credit: Lou Gopal 
Some of its earliest facilities, such as its opulent lobby, remain. The history of the space is obvious in its arches, as they still resemble what the architect William Parsons conceived.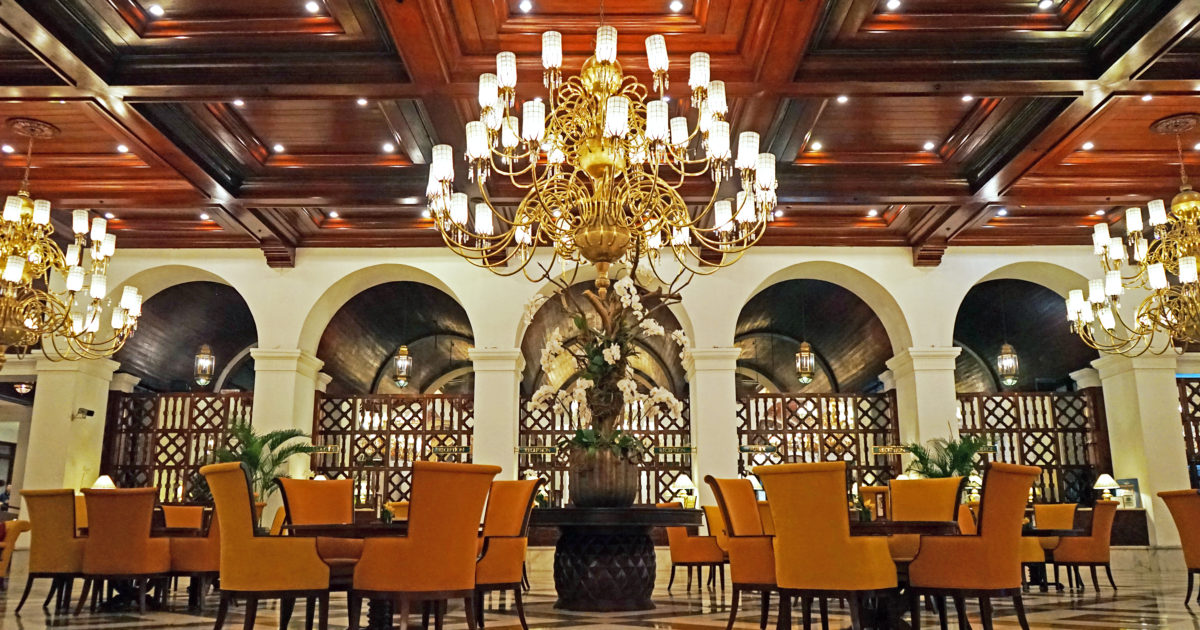 Image credit: Manila Hotel 
Address: One Rizal Park, Manila
---
18. SM North EDSA
---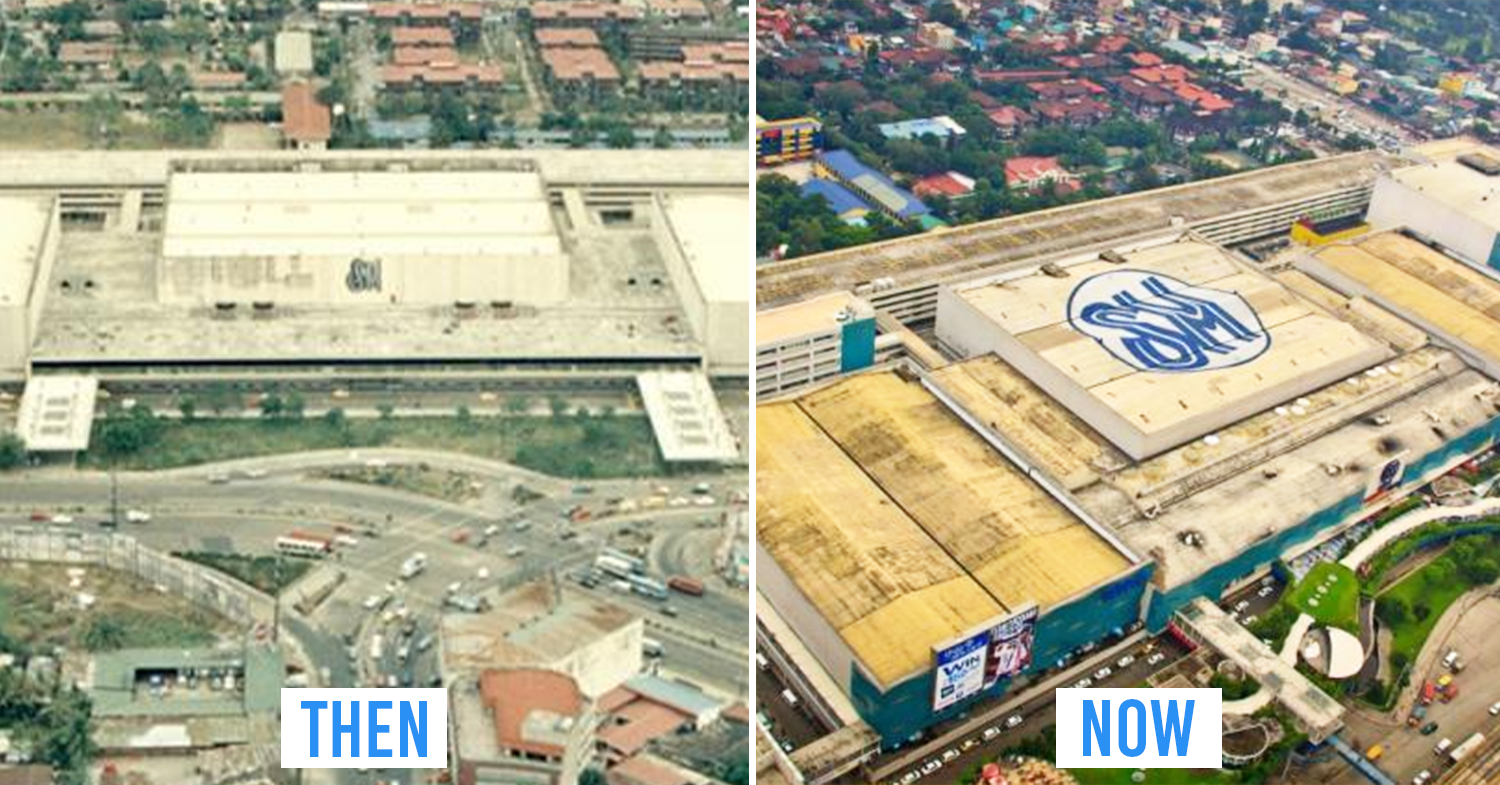 Image adapted from: SM Investments, Wikimapia 
There was once a time where there was only one SM supermall in the Philippines. And this was the SM North EDSA, SM's first mall that opened in 1985.

Since its initial size of 125,000 square meters, it has grown to become one of the biggest malls in the Philippines that draws hundreds of thousands of shoppers per day. 

Image credit: SM Investments 
It has expanded with our mall culture, with its several developments such as the SM Annex in 1989, the Block in 2006, and in more recent times, the Sky Garden in 2009.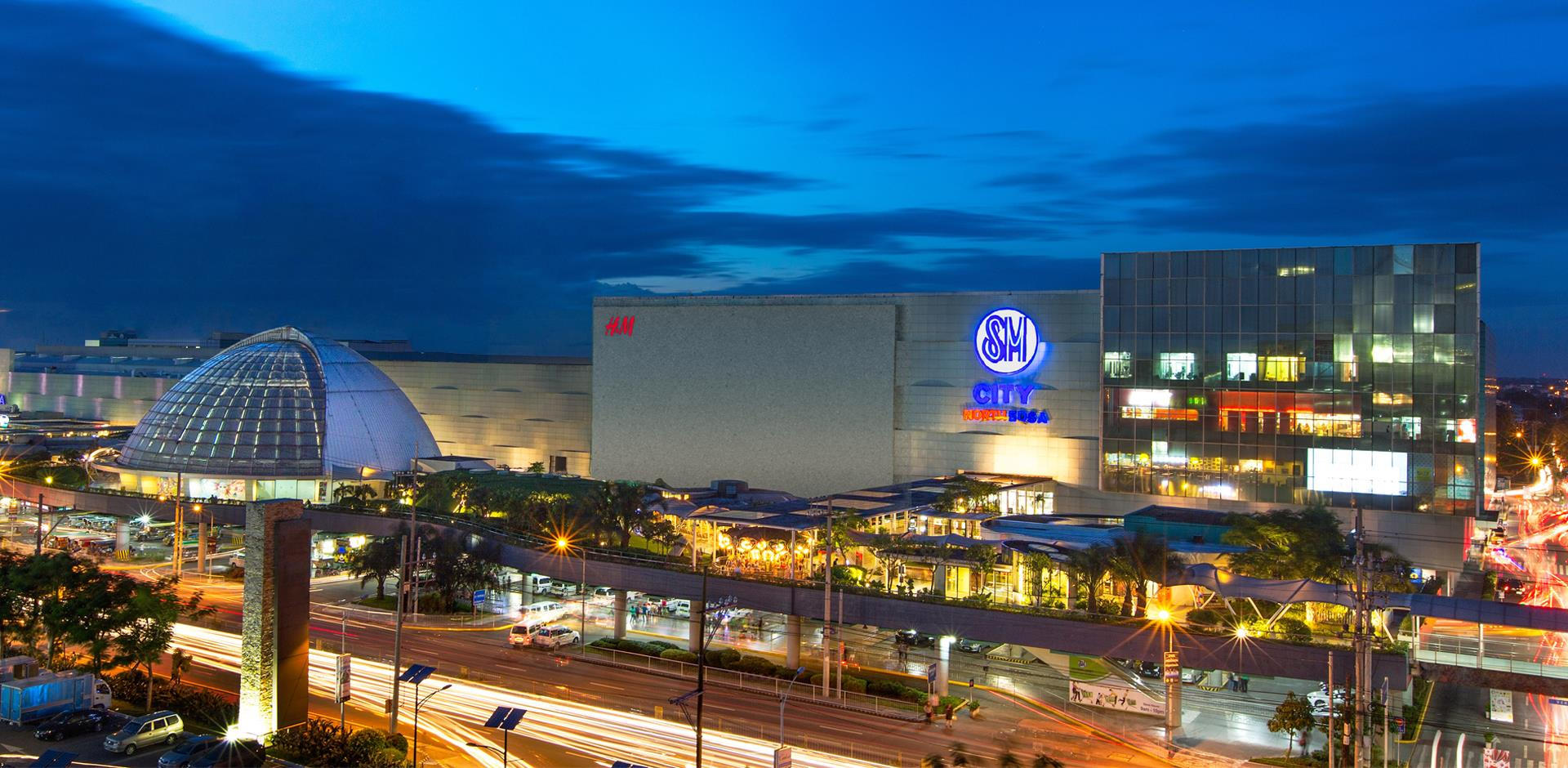 Image credit: SM City North EDSA 
Address: North Avenue cor. EDSA, Quezon City
---
19. Session Road, Baguio
---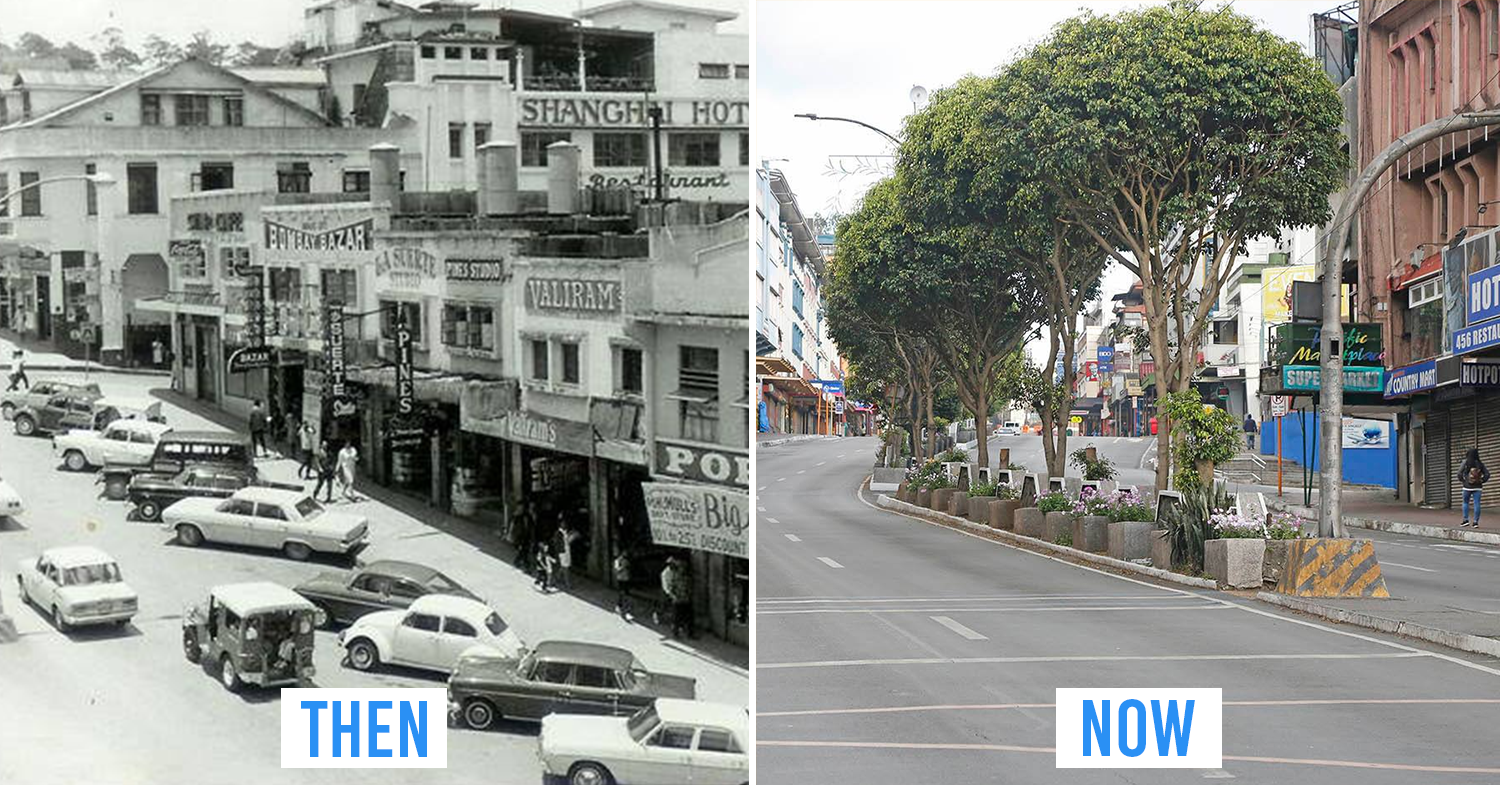 Image adapted from: Retroscope, Baguio Midland Courier
From the Luneta Hill down to the Baguio City Market, Session Road in Baguio is a two-way thoroughfare at the heart of Summer Capital of the Philippines lined with commercial centers.
It traces its origin all the way back to 1904, when it was a dirt road that led to the then Baden-Powell Hall (now known as the Baden Powell Inn) where the First Session of the Second Philippine Commission was held from April to June 1904.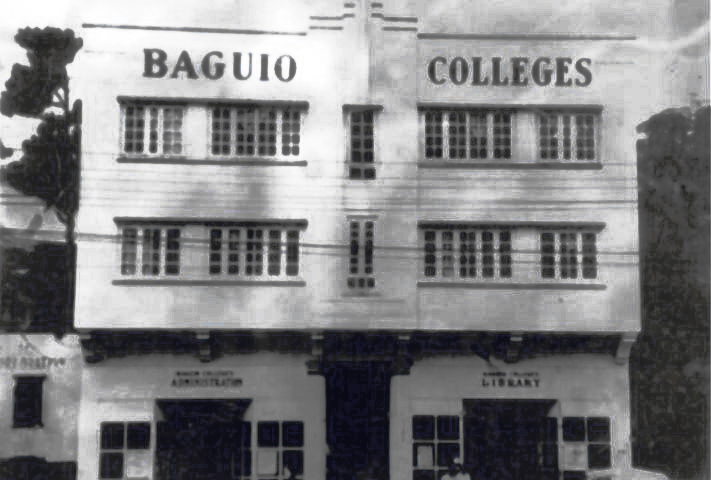 Image credit: Wikimedia Commons
Establishments here come and go, such as the Star Cafe which opened in 1940 but ended its run 74 years later, in 2014. Some remain, albeit with obvious renovations, such as the Antipolo Building that was the site of Baguio Colleges when it opened in 1946. The college is now known as the University of the Cordilleras and the building serves as a rented space for various businesses.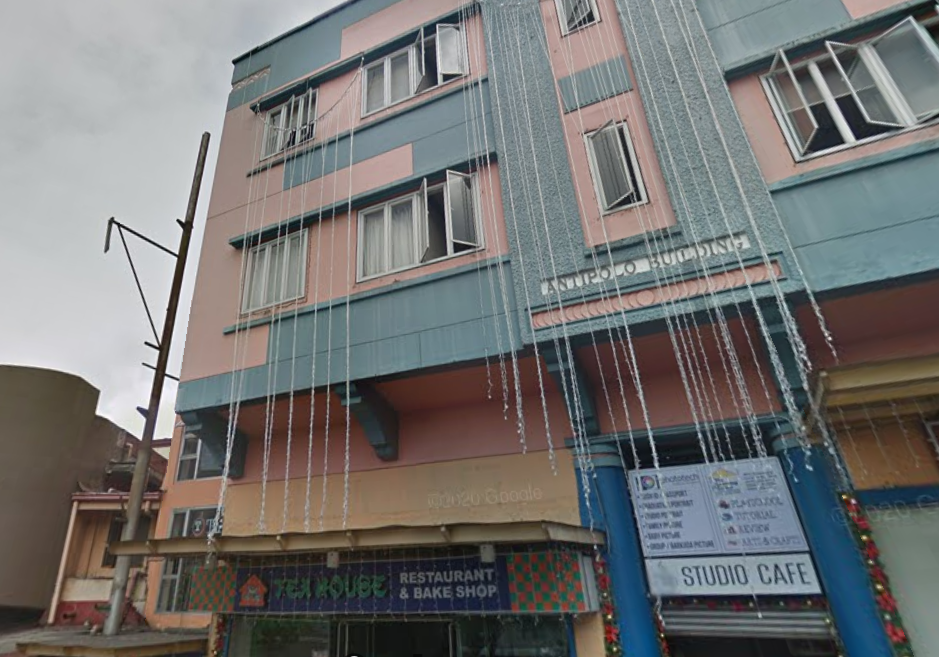 Image credit: Google Maps
Address: Session Road, Baguio City
---
20. Rizal Park
---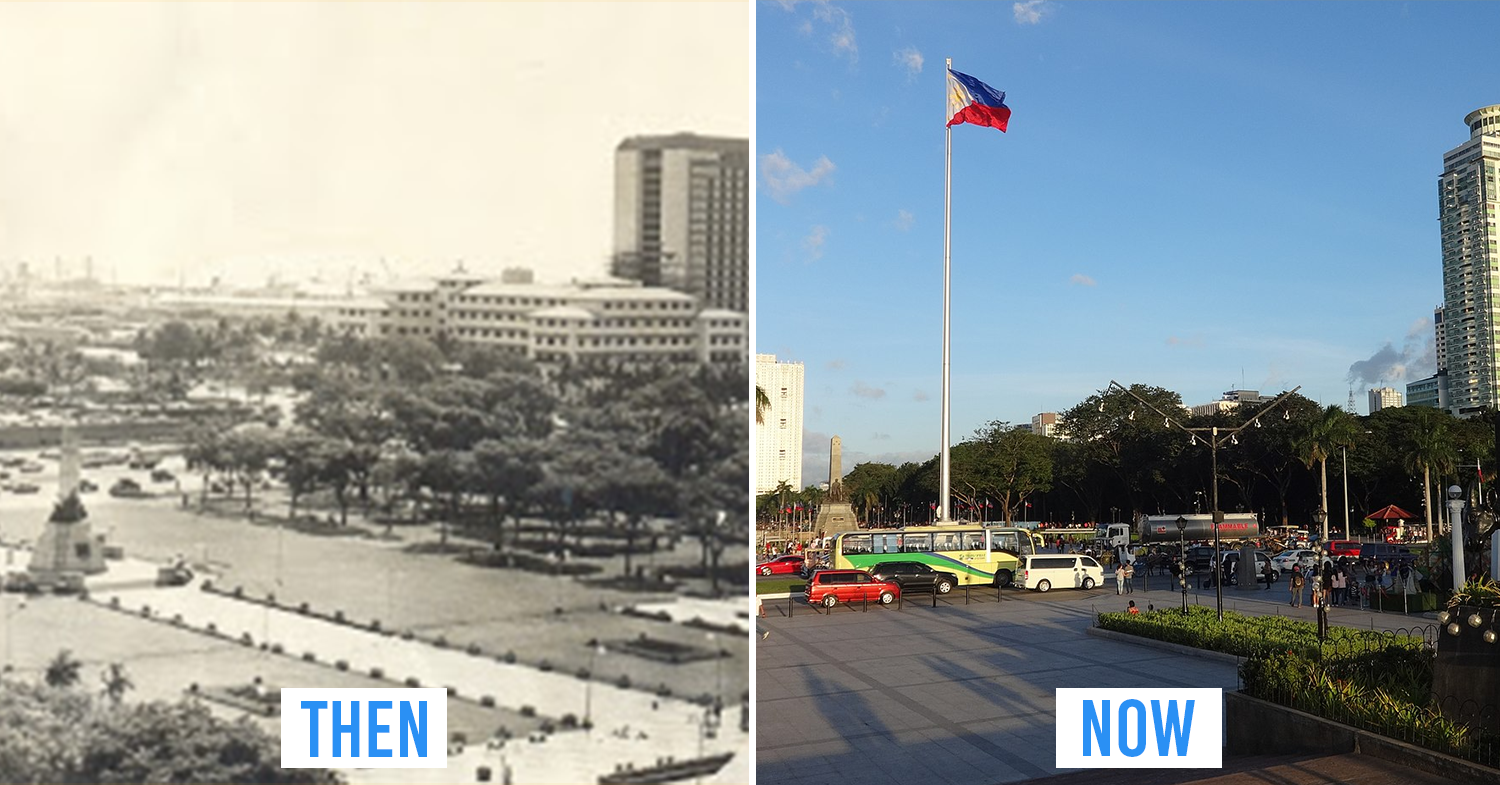 Image adapted from: National Historical Commission of the Philippines, Wikimedia Commons
The Rizal Park is perhaps the de facto symbol of Philippine nationhood, a memorial and tomb built to honor the National Hero Jose P. Rizal. Rizal's figure, carved in bronze in front of an obelisk, stands guard over the city since its inception more than a hundred years ago in 1913.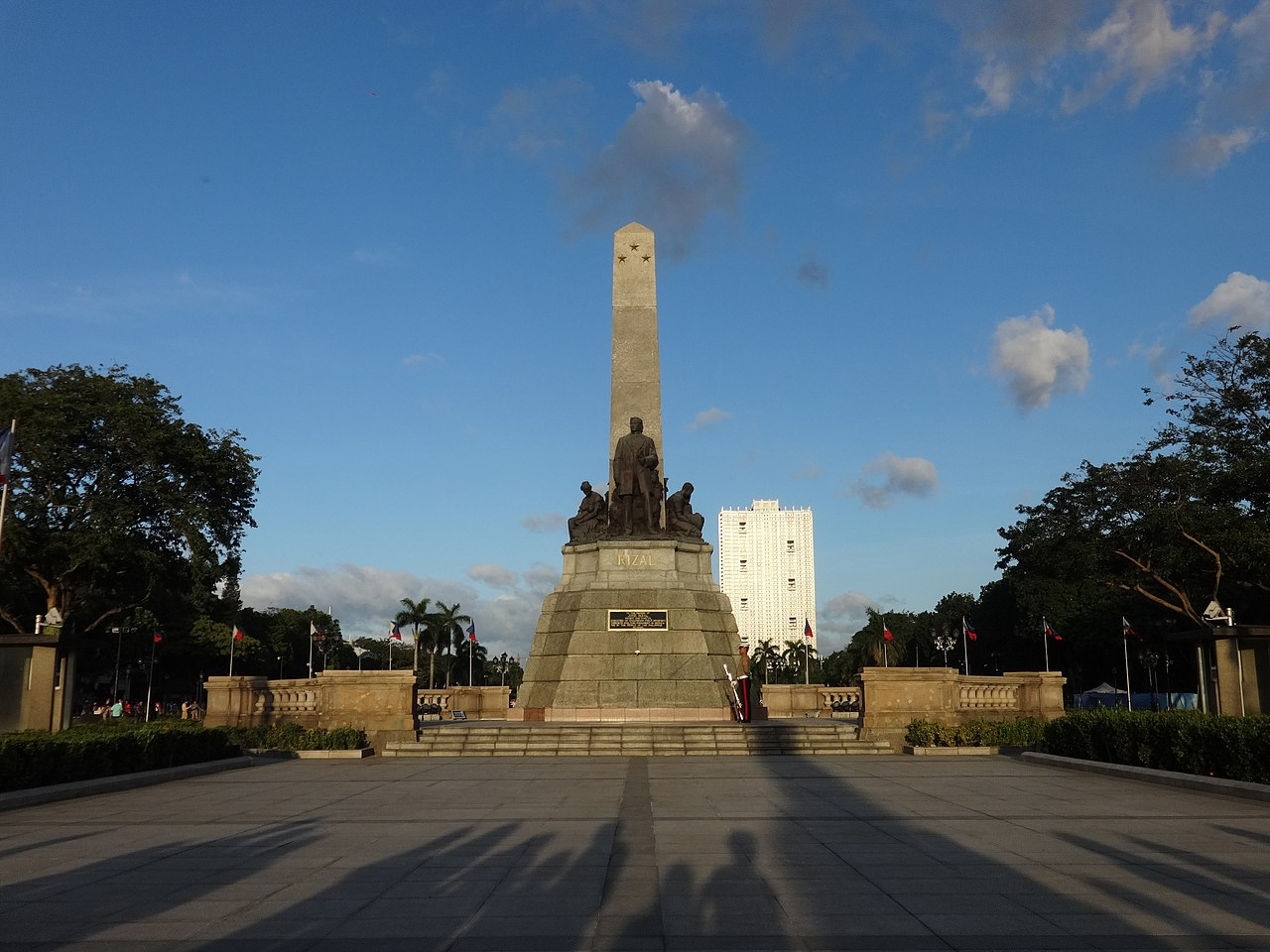 Image credit: Wikimedia Commons 
The park has seen various historical events held in the country such as World Youth Day in 1995. On more casual days, it's a favorite recreation spot among Filipinos looking to unwind. 
Philippine government officials pay respect to the national hero's monument every December 30, or Rizal Day. 
Address: Ermita, Manila
---
Historical Philippine landmarks then and now
---
We hope that these Philippine landmarks that are embedded in our heritage continue to be preserved as well as possible.
More than physical structures, they are fine examples of architectural beauty, tiding through many transformative events of history to emerge today as symbols of our communities and nationhood.
Also check out:
---
Cover image adapted from: Sinulog Foundation Inc., Cebu Tourism Office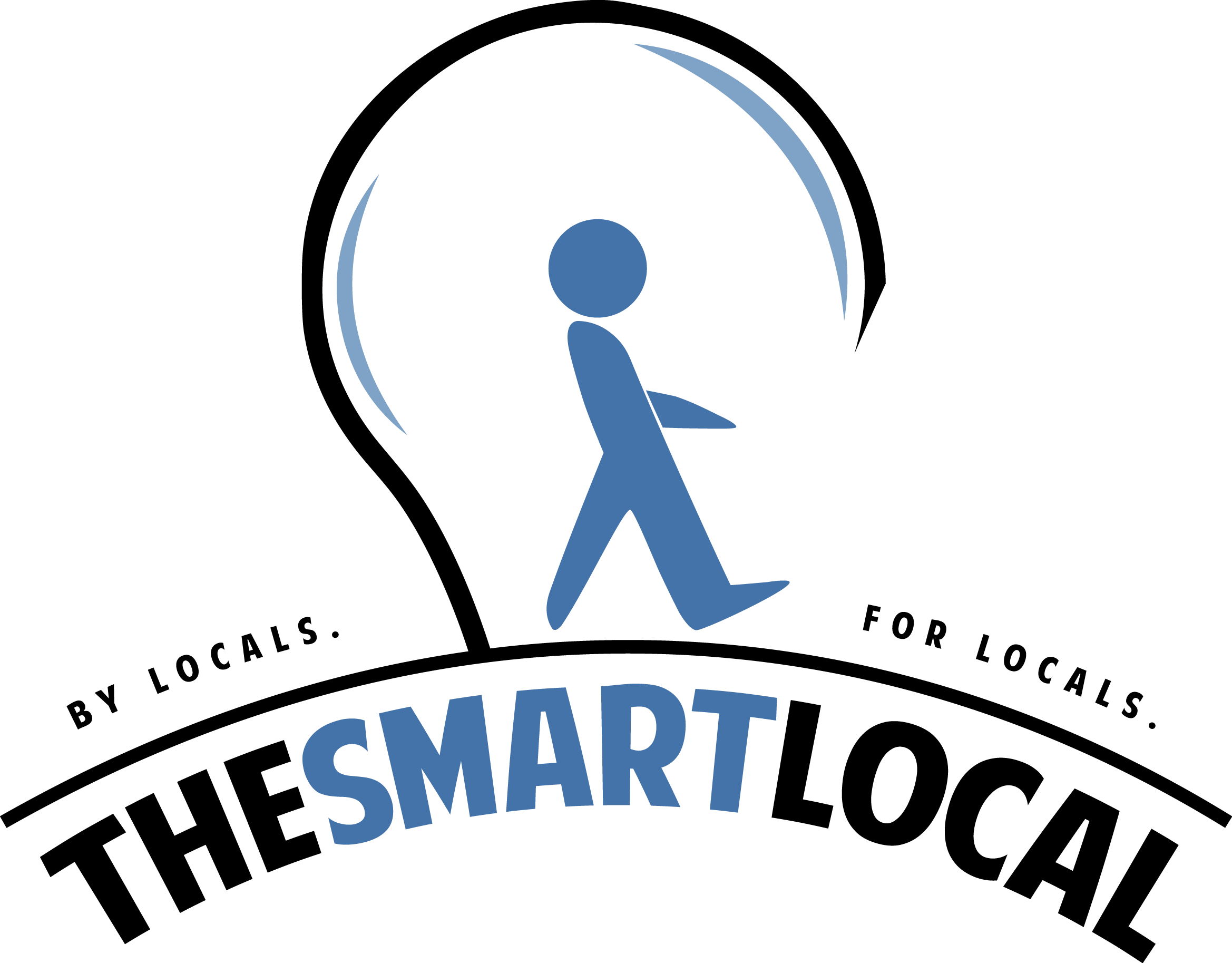 Drop us your email so you won't miss the latest news.