Gastro pubs & bars in Poblacion, Makati
---
The gastro pubs and bars in Poblacion, Makati are famous for social drinking and partying. The crowds in the area are often a mix of Makati's community of expats, celebrities, and young adults who enjoy the nightlife.
If you're looking to drink around Pob, here are some places you could try out for a fun night out:
---
1. Alamat – enjoy Filipino food and craft beer
---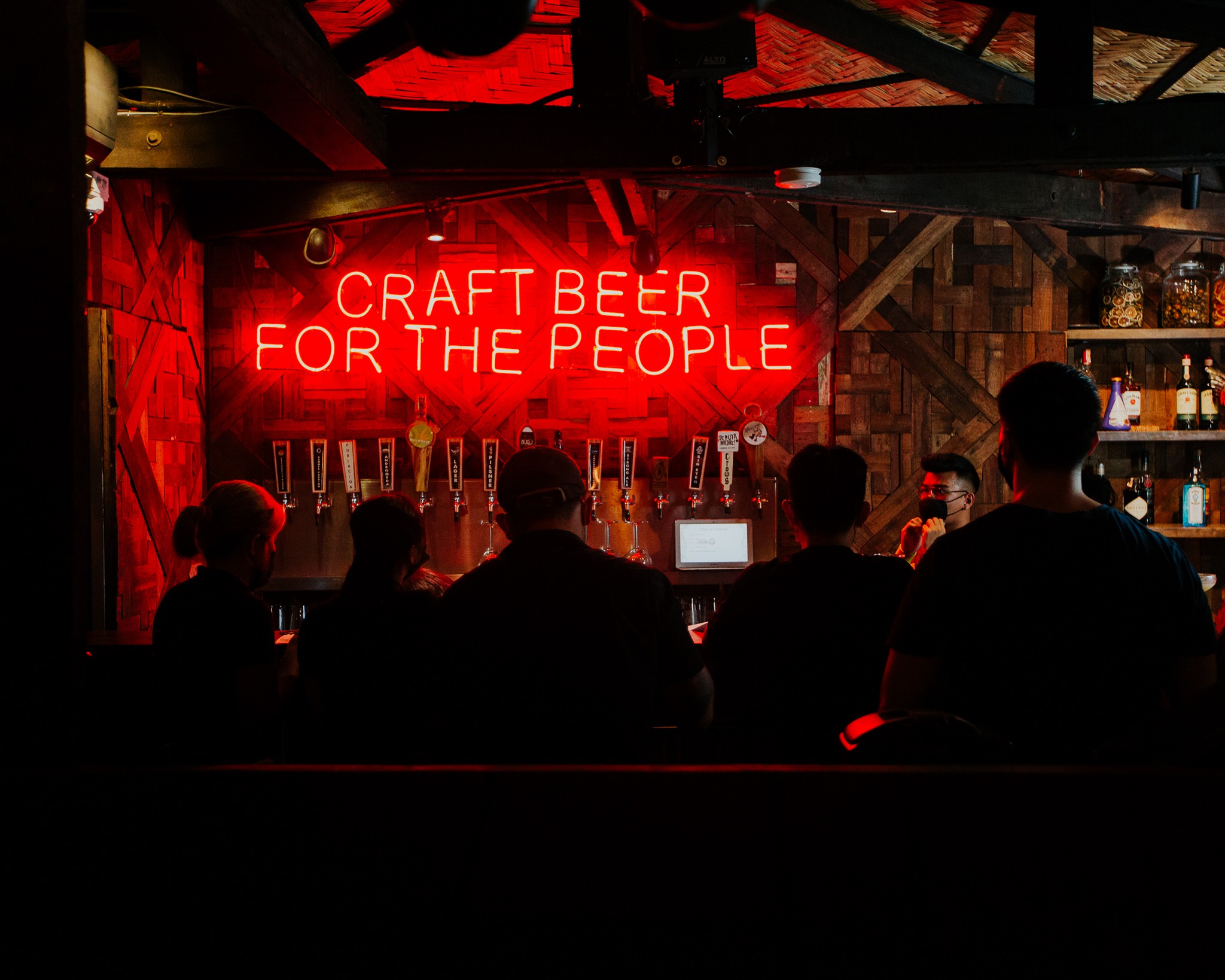 The bar area of Alamat.
Image credit: Alamat Filipino Cuisine
Everything in Alamat, from its interiors to the drinks and food menu, is an homage to Filipino heritage. The bar lights bouncing off the woven nipa ceiling and other wooden furniture are a unique sight. Here, you can get different craft beers straight from the tap, so the flavors stay strong and crisp. You can order fruit-based beers and strong pilsners starting at P250 (~USD4.49).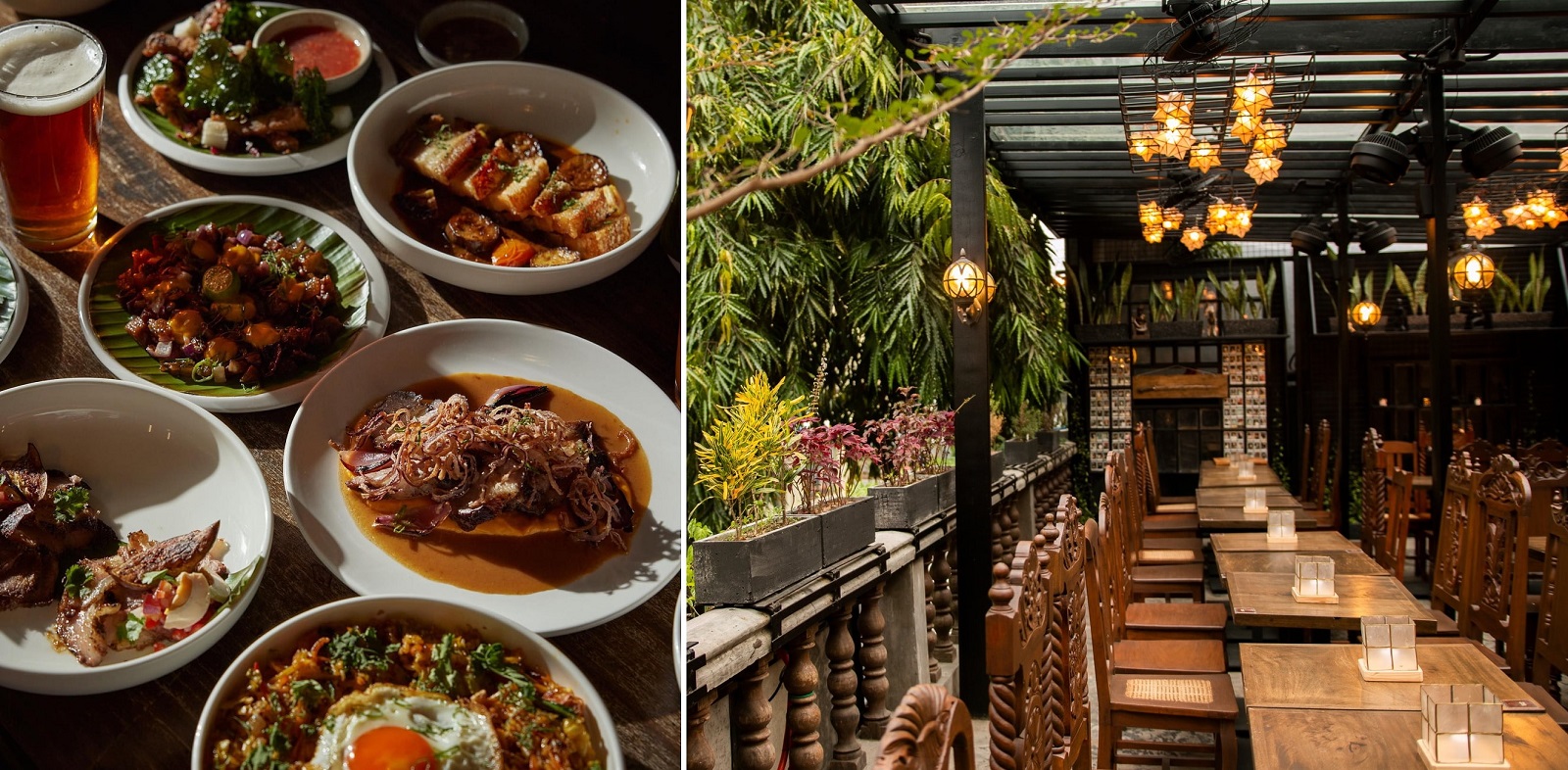 Some of the dishes at Alamat, and the al fresco dining area.
Image adapted from Alamat Filipino Cuisine and Alamat Filipino Cuisine
They also serve elevated versions of classic Filipino dishes, including Kare-Kare (P679, ~USD12.20), slow-braised beef shank in peanut sauce, and Bistek (P550, ~USD9.88), beef belly in citrusy soy and red wine sauce with caramelized onions. You can also try their 10-hour sous vide pork belly BBQ, glazed with banana barbecue sauce.
Address: 2/F, 5666 Don Pedro, Poblacion, Makati
Opening hours: Tue–Sun 11am-11pm (Closed on Mondays)
---
2. H&J Sports Bar and Restaurant – play billiards & watch ball games
---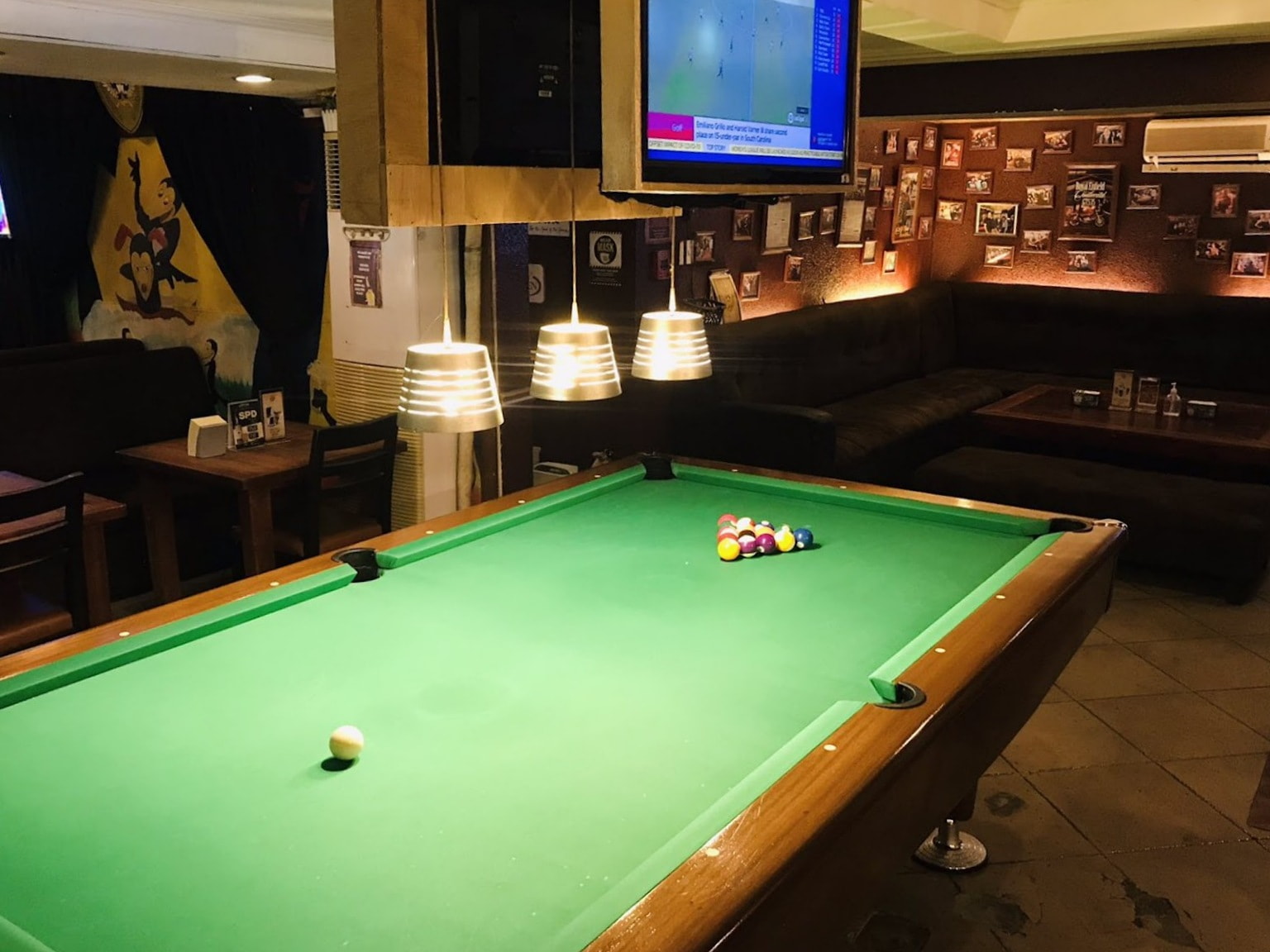 A billiard table in H&J.
Image credit: H&J Sports Bar
Those who love to get into sports discussions over drinks would appreciate H&J Sports Bar and Restaurant. This bar has multiple TV screens playing different sports in every corner, so you can enjoy watching US football, basketball, baseball, and other sports while having a drink with friends or even other friendly patrons of the place.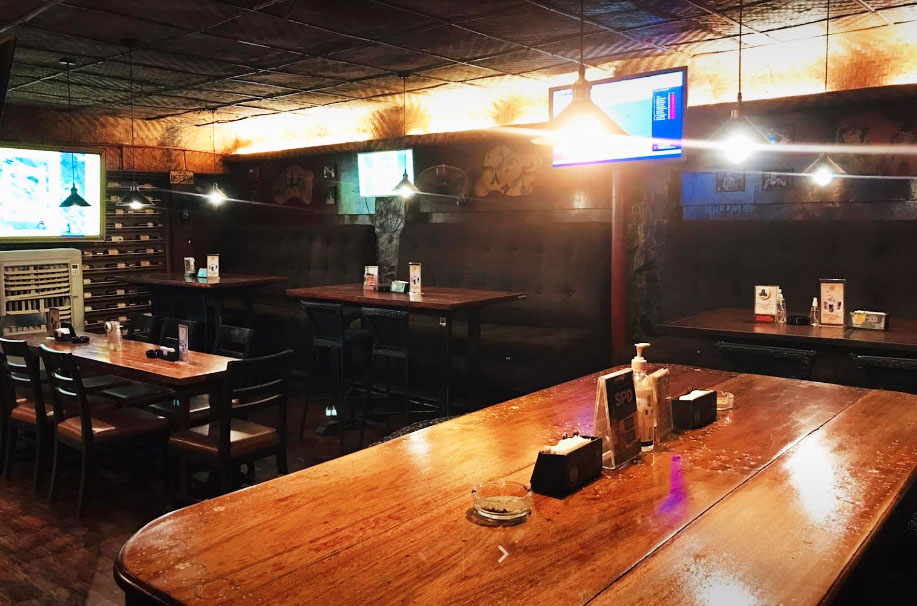 Tables and booths inside the sports bar.
Image credit: H&J Sports Bar and Restaurant
You can also rent one of their billiards tables to play while enjoying your favorite liquor. The place has a decent amount of space, so it doesn't get too cramped even during busy weekend nights. The interior is dimly lit, with cushioned wooden seats, tables, and plenty of sports memorabilia on the walls. If you're into chill drinking nights, this your next go-to place.
Address: 5781 Felipe, Poblacion, Makati
Opening hours: Fri–Sun, 24 hours | Mon–Thu 2pm-4am
---
3. Pura Vida – dance all night at a Costa Rican reggae bar
---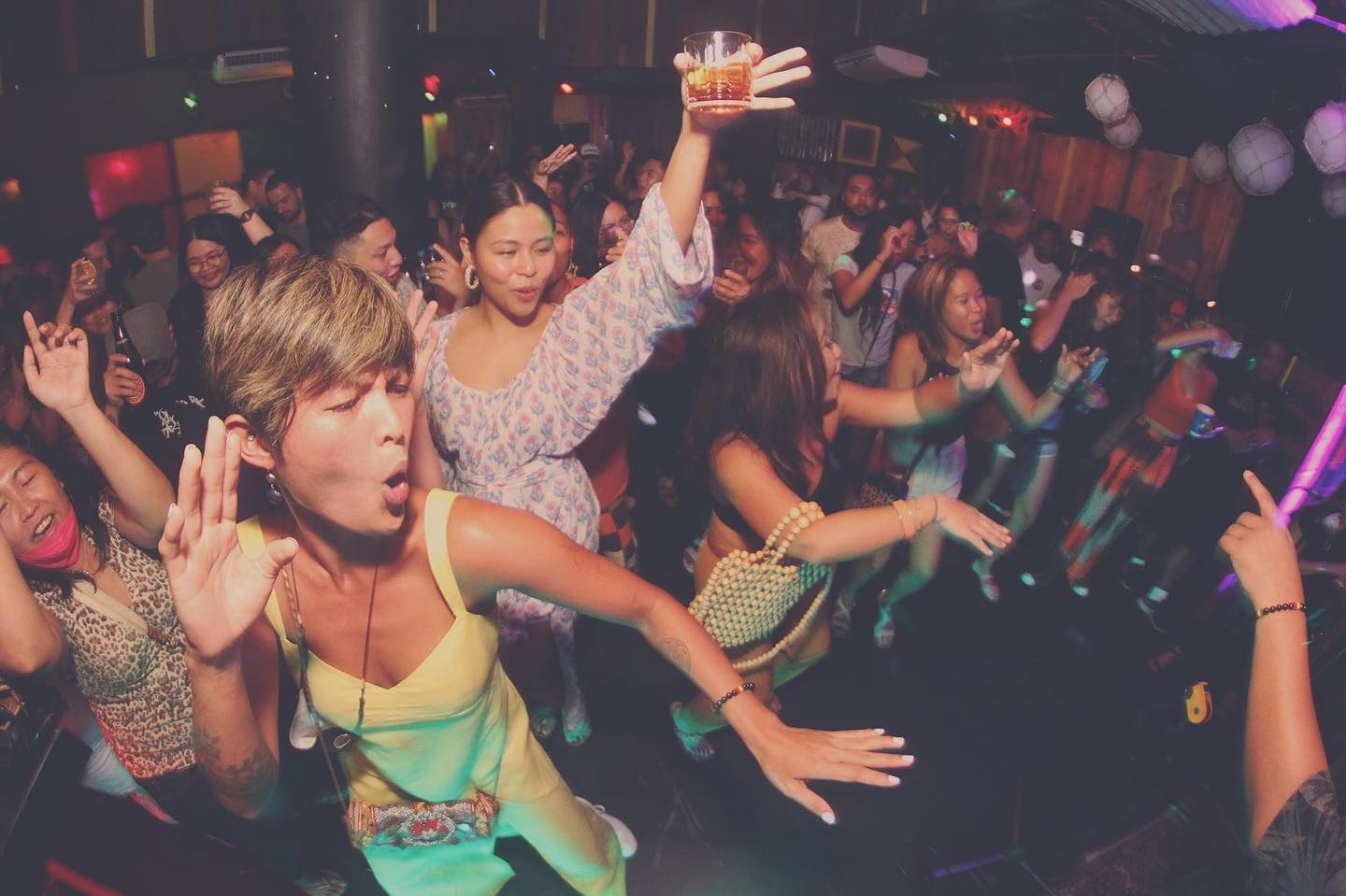 The dance floor in Pura Vida.
Image credit: Pura Vida Manila
Party goers love to frequent Pura Vida for the energy of the entire place— from the reggae dance mixes by seasoned DJs to occasional live bands and the crowd of like-minded people. You'll find the bar on the second floor and go up a stairway lined with reggae posters and images, making it a favorite Instagram-worthy spot among patrons.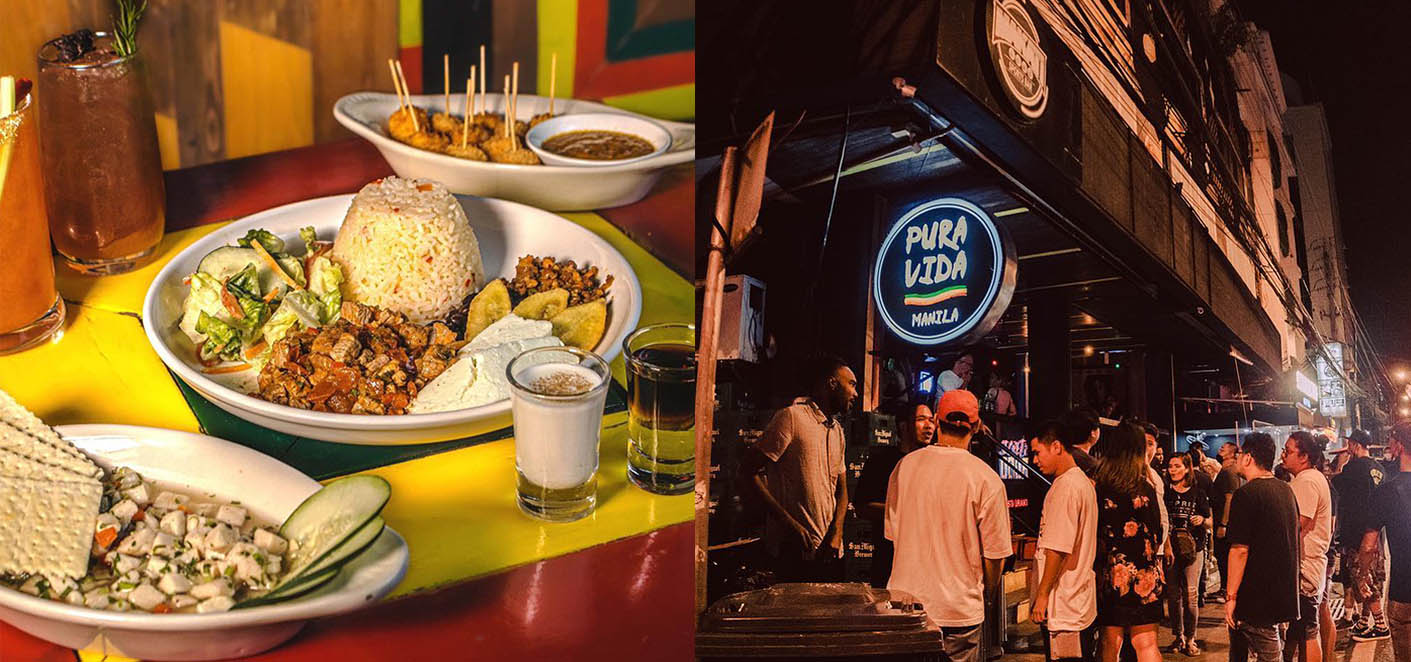 Costa Rican dishes with cocktails and the lower ground of Pura Vida.
Image credit: Pura Vida 
Right in the heart of Pura Vida is their bar, where you can get commercial drinks, Pura Vida's craft beer, tequila shots, and more cocktails. You can also chow down on delectable Costa Rican dishes such as Taco Ticos, a deep-fried corn tortilla filled with tender pulled pork paired with a refreshing Ceviche. This spot is right for you if you want an exciting night of partying.
Address: Don Pedro, Poblacion, Makati
Opening hours: 2pm-2am, Daily
---
4. El Chupacabra – authentic Mexican grub in Makati
---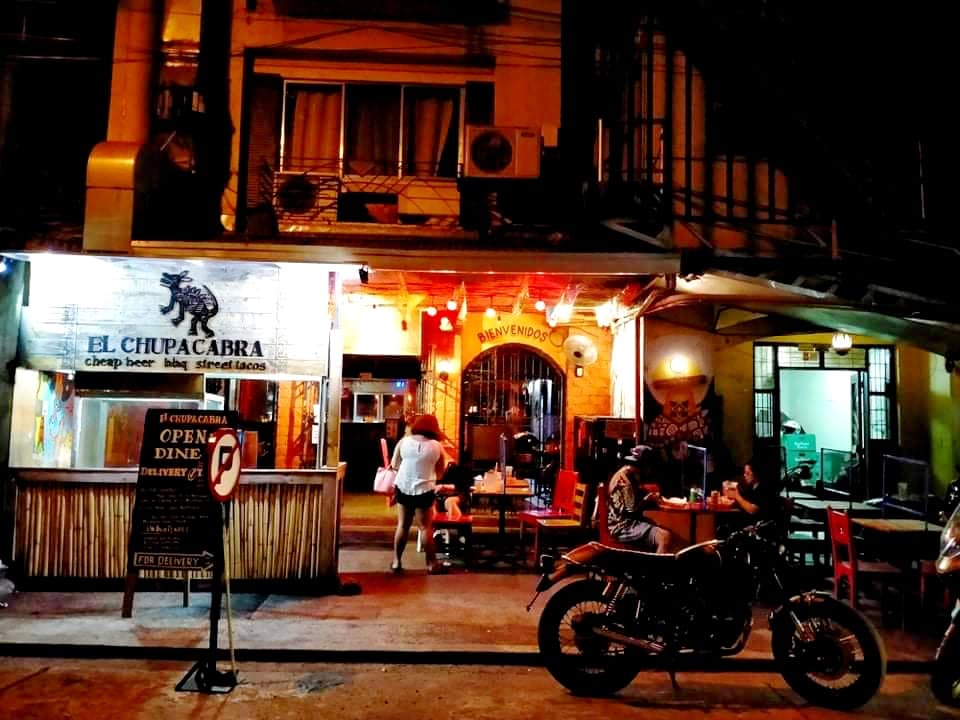 The facade of El Chupacabra.
Image credit: El Chupacabra
El Chupacabra is another Poblacion favorite because they serve authentic Mexican street food. They even have a local taco expert who ensures you're getting the real deal, so don't expect ground beef with cheese on hard shell tacos here.
Instead, you'll have freshly made soft corn tortillas filled with either carne asada (grilled beef), carnitas (pulled pork), lengua (beef tongue), pollo (chicken), pescado (fish), camaron (shrimp), chorizo, barbacoa and tripa (intestines). Combine that with chopped onions, fresh cilantro, and a zingy fresh salsa, and you've got yourself a real Mexican taco right in Makati.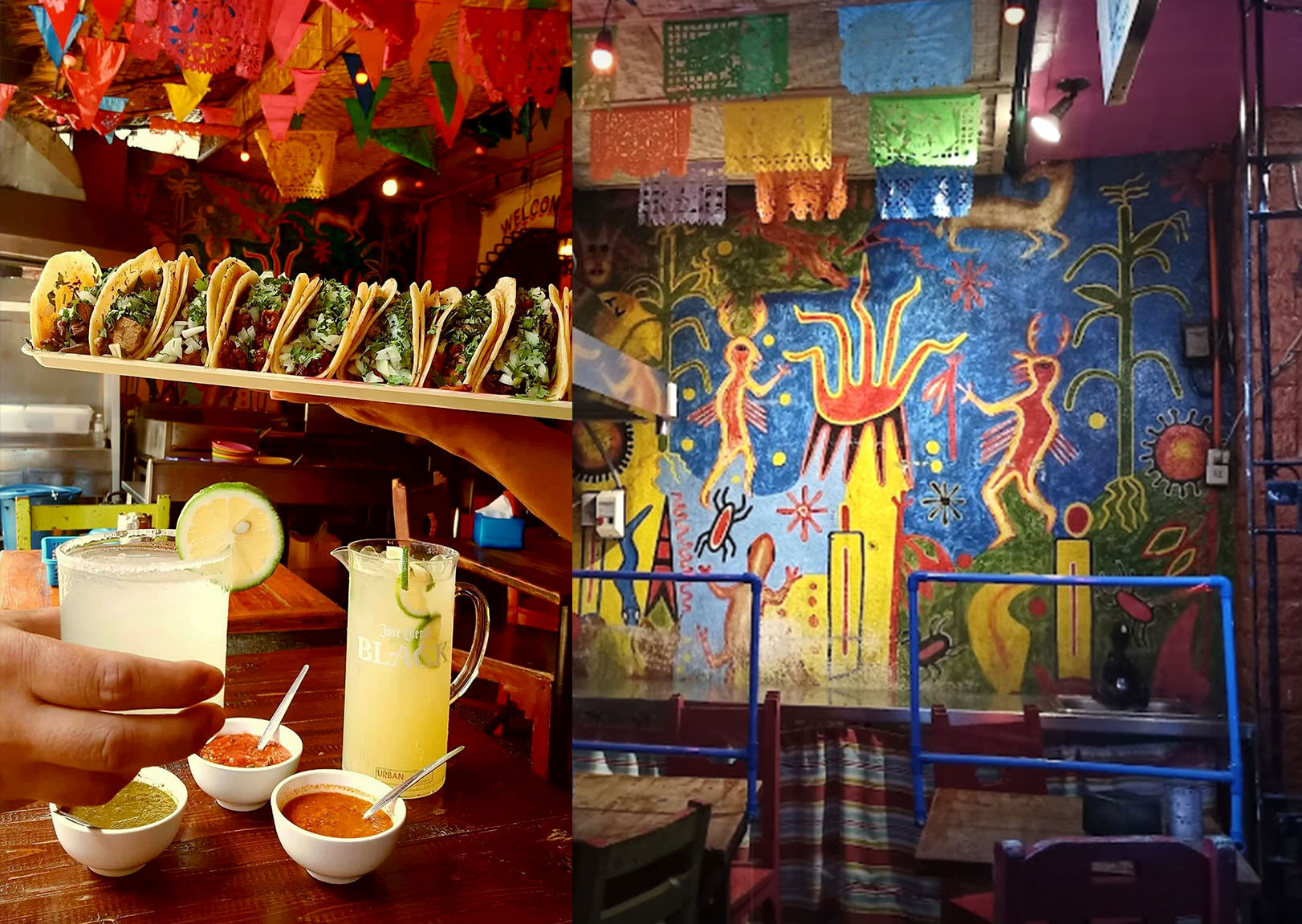 Tacos, margarita, and one of the many murals inside the pub.
Image credit: El Chupacabra and Richard Fransisco
Our personal favorites include the chimichanga (deep-fried burrito) (P230, ~USD4.10) and carne asada taco, which pairs really well with an ice-cold beer, or a couple of tequila shots. El Chupacabra has a dive bar vibe with rustic furniture and Mexican-inspired murals. Visit this spot for authentic Mexican food, reasonably priced drinks, and a laid-back atmosphere.
Address: 5782 Felipe, Poblacion, Makati
Opening hours: 11am-11pm, Daily
---
5. West32 – Korean-American fusion bar
---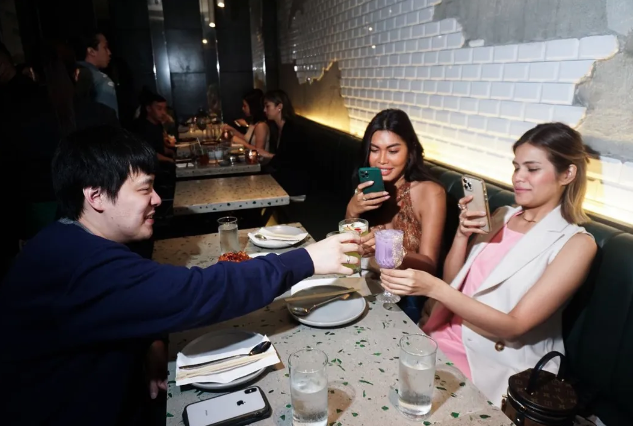 Diners at West32 Poblacion taking pictures of their drinks.
Image credit: @West32poblacion

Pob has plenty of low-key dive bars, but if you're looking for something a bit more modern and posh, West 32 is the place you should visit. It's a new fusion bar and resto that brings a Korean-New Yorker aesthetic and flavors to the Metro. When you walk inside the space, you'll notice the raw concrete finish on the walls combined with incomplete subway tiles, juxtaposed with tables with soju-bottle green specks, which completes the edgy design they're going for.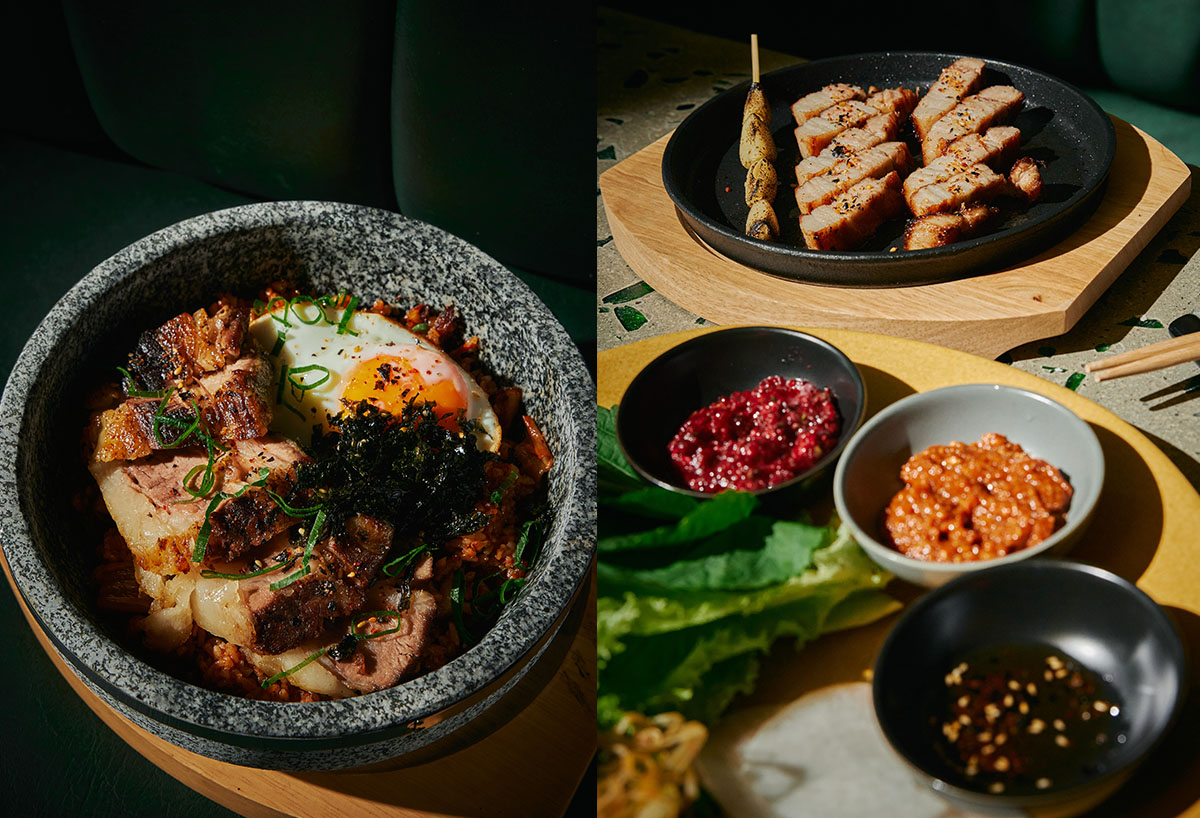 Stone Bowl Beef Bulgogi Bibimbap & West32 Samgyeopsal.
Image credit: West32 Poblacion
Enjoy their wide selection of cocktails starting at P250 (~USD4.50). Then, fill up on K-food staples such as beef bulgogi (P499, ~USD8.98), bibimbap (P669, ~USD12.03), Korean fried chicken (P349, ~USD6.28), and Samgyeopsal (P499, ~USD8.98). If you're looking for a sit-down place where you can enjoy high-quality Korean food and drinks, try out this spot.
Address: 8464 Makati Ave, Poblacion, Makati
Opening hours: Tue–Sun, 5pm-1am (Closed on Mondays)

---
6. Futur:st – dance club and safe space for artists & LGBTQ+ community
---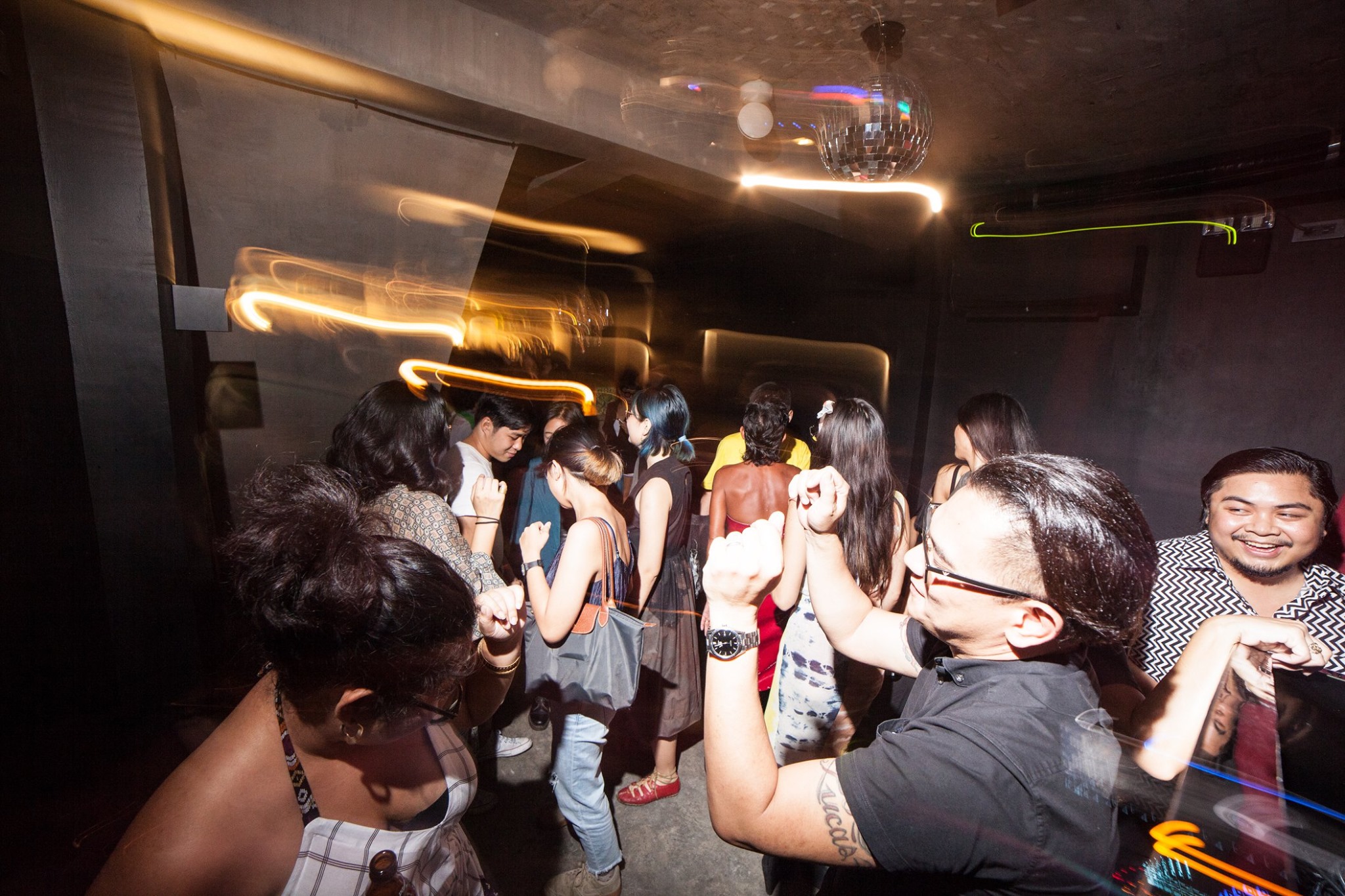 The dance floor inside the Futur:st.
Image credit: Futur:st
The Futur:st (Futurist) was a branch of a well-known queer speakeasy in Cubao called TodayXFuture. Nowadays, it stands alone and keeps the legacy of the artist and queer-friendly space that started in Cubao. It carries the same ambiance, highlighting eccentric artworks that change depending on which artist is on showcase.

A couple of dishes at Futur:st & their facade.
Image credit: Futur:st & @futurist.ph
When you walk into the establishment, you'll notice the DJ booth directly next to the entrance door and a shiny disco ball spinning in the middle of the ceiling on top of a small dance floor. Limited seating on the first and second floors invites people to move around and dance to the DJ's mixes.
For the drinks, aside from your standard pilsners, we recommend trying out the My Shirota (P300, ~USD5.42), a refreshing cocktail made of soju and Yakult, sure to fuel your dance moves and social skills all night long.
Address: 5062 Guerrero, Makati
Opening hours: Mon–Sat, 2pm-2am | Sun 3pm-12pm
---
7. Filling Station – neon-lit US-style diner and bar
---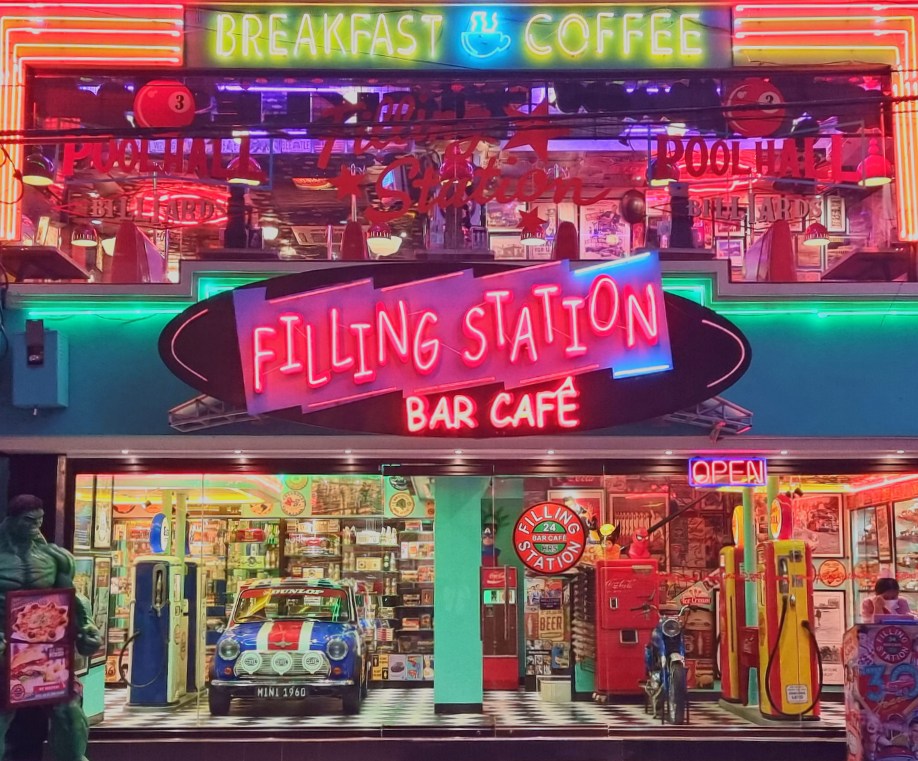 Filling Station in Poblacion, Makati.
Image credit: Filling Station Bar and Cafe
If you ever find yourself walking the main streets of Poblacion, you definitely wouldn't miss the Filling Station. The theme of the diner and bar is straightforward, from the bright neon lights outside to the intentional kitschy 50s-60s US diner memorabilia filling every corner of the place.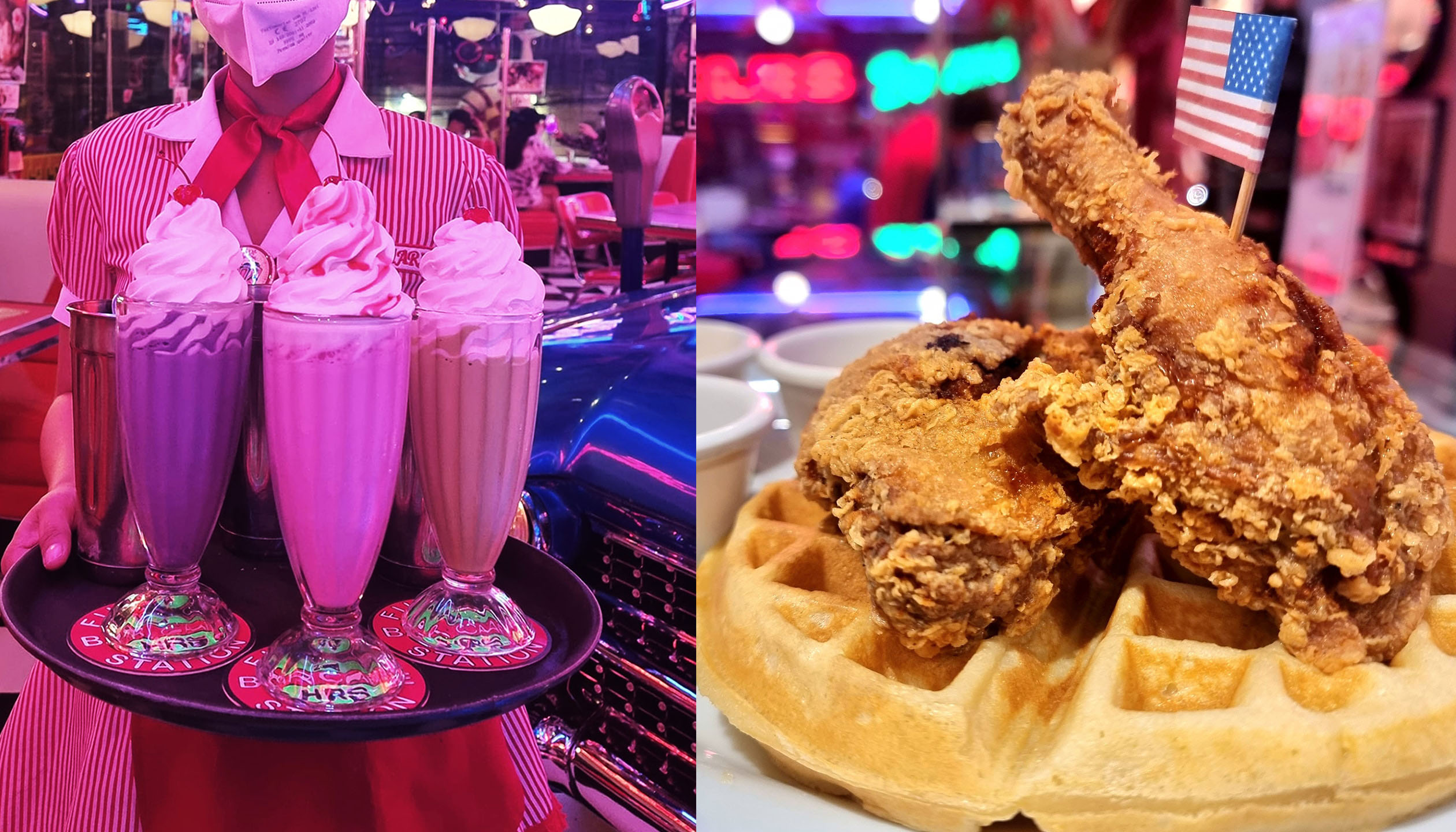 Milkshakes and chicken & waffles.
Image credit: Filling Station bar and cafe
Live your Riverdale or Grease fantasies of hanging out at a diner, complete with the red cushioned booths, jukebox music player, and tall milkshakes (P183, ~USD3.30) with the little cherry on top. You can also munch on diner classics such as loaded potato skins (P230, ~USD), buffalo wings (P438, ~USD4.15), and all-day American breakfast (P438, ~USD7.90) complete with diner-style scrambled eggs, bacon or sausage, hashbrown, and toast.
You can enjoy cocktails that cost round P230 (~USD4.15) per glass and P900 (~USD16.24) for a pitcher. This quirky spot in Pob is a favorite hang-out for those looking to have IG-worthy night-out photos.
Address: 5012 P. Burgos, Poblacion, Makati
Opening hours: 8am-4am, Daily
---
8.Antidote – Rooftop bar with a great view of the Makati skyline
---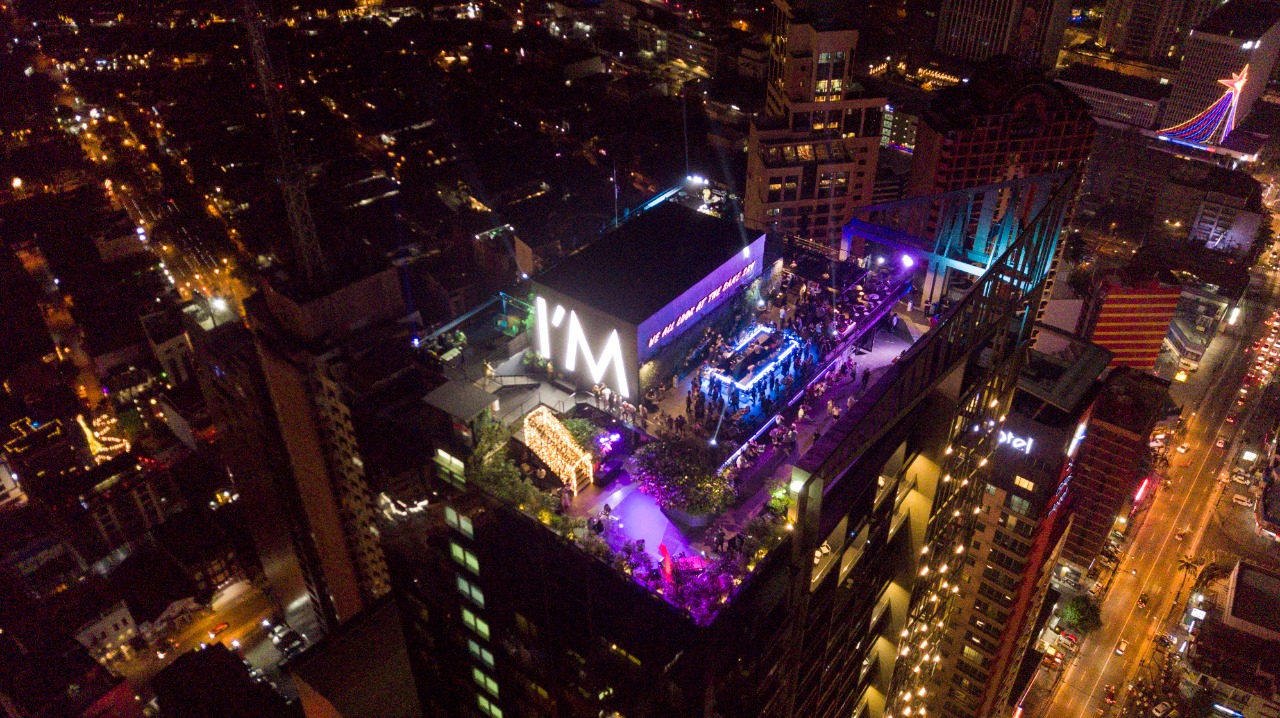 Bird's eye view of Antidote.
Image credit: Antidote
Poblacion is a stone's throw away from the Makati central business district, giving rooftop bars like the Antidote a fantastic city skyline. This gastropub is a favorite spot for date nights because of the romantic ambiance of drinking and dining under the stars. But don't worry if you're single, because this spacious rooftop bar also caters to large groups and even private parties.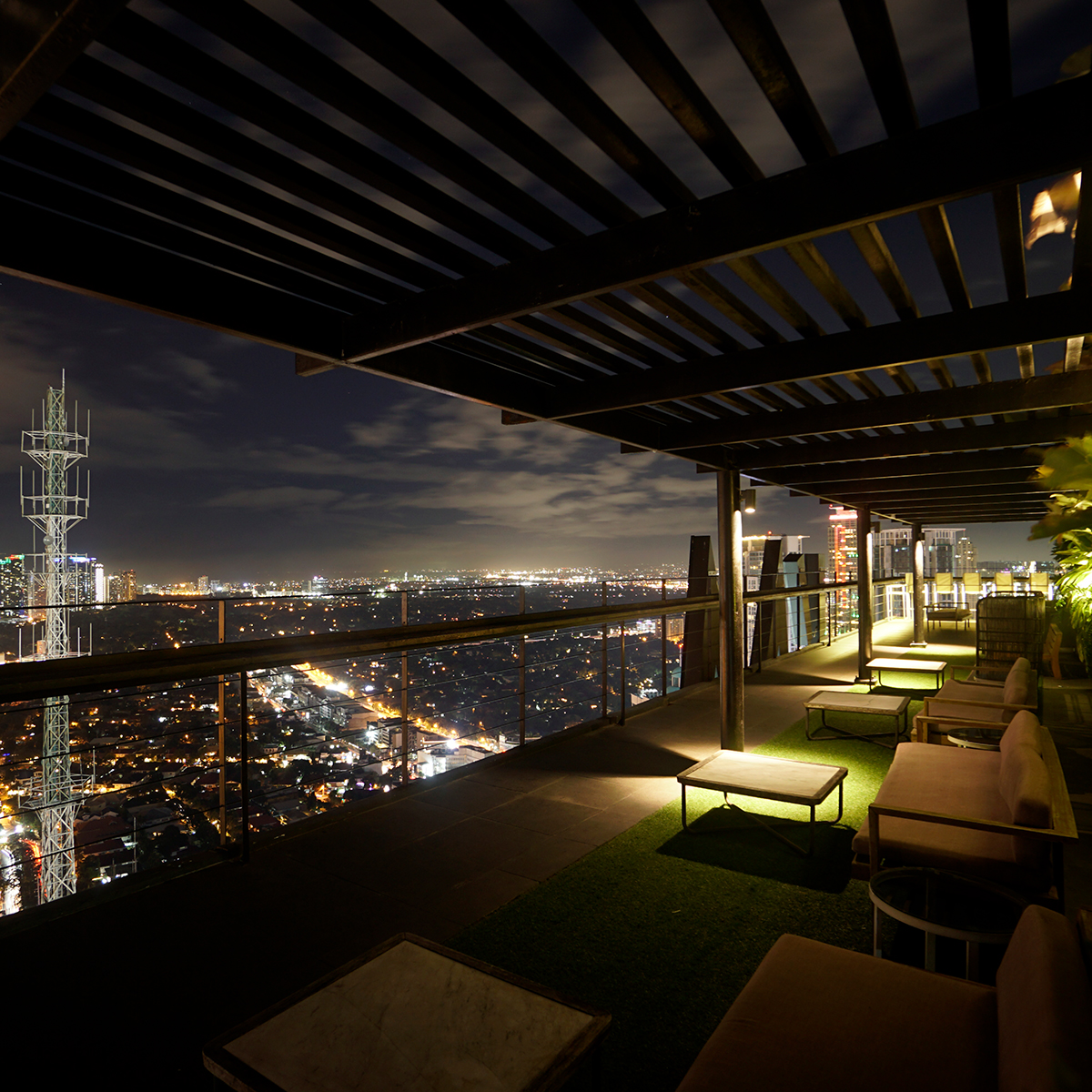 The view at the roof deck.
Image credit: Antidote
Sit back and relax while enjoying the unobstructed view of the night skies with their multitude of drink options, including canned beers such as Hoegaarden (P300, ~USD5.42) and Stella Artois (P400, ~USD7.22); single shot scotch or whiskey is priced around P220 (USD3.97), and different kinds of wine starting at P1150 (~USD20.76) per bottle.
Address: Roofdeck, I'M Hotel, 7862 Ave, Makati
Operating hours: Wed–Sun 3pm-2am (Closed on Mondays and Tuesdays)
---
Where to drink in Poblacion, Makati
---
Metro Manila's drinking and partying scene are so diverse that there are a lot of different spots you could go to depending on what you're looking for.
Establishments, such as the pubs and bars in Poblacion we shared, let you enjoy the nightlife regardless if you want a chill drinking sesh, to dine on good food, or party all night long.
---
Cover image adapted from: Pura Vida Manila, El Chupacabra, and Antidote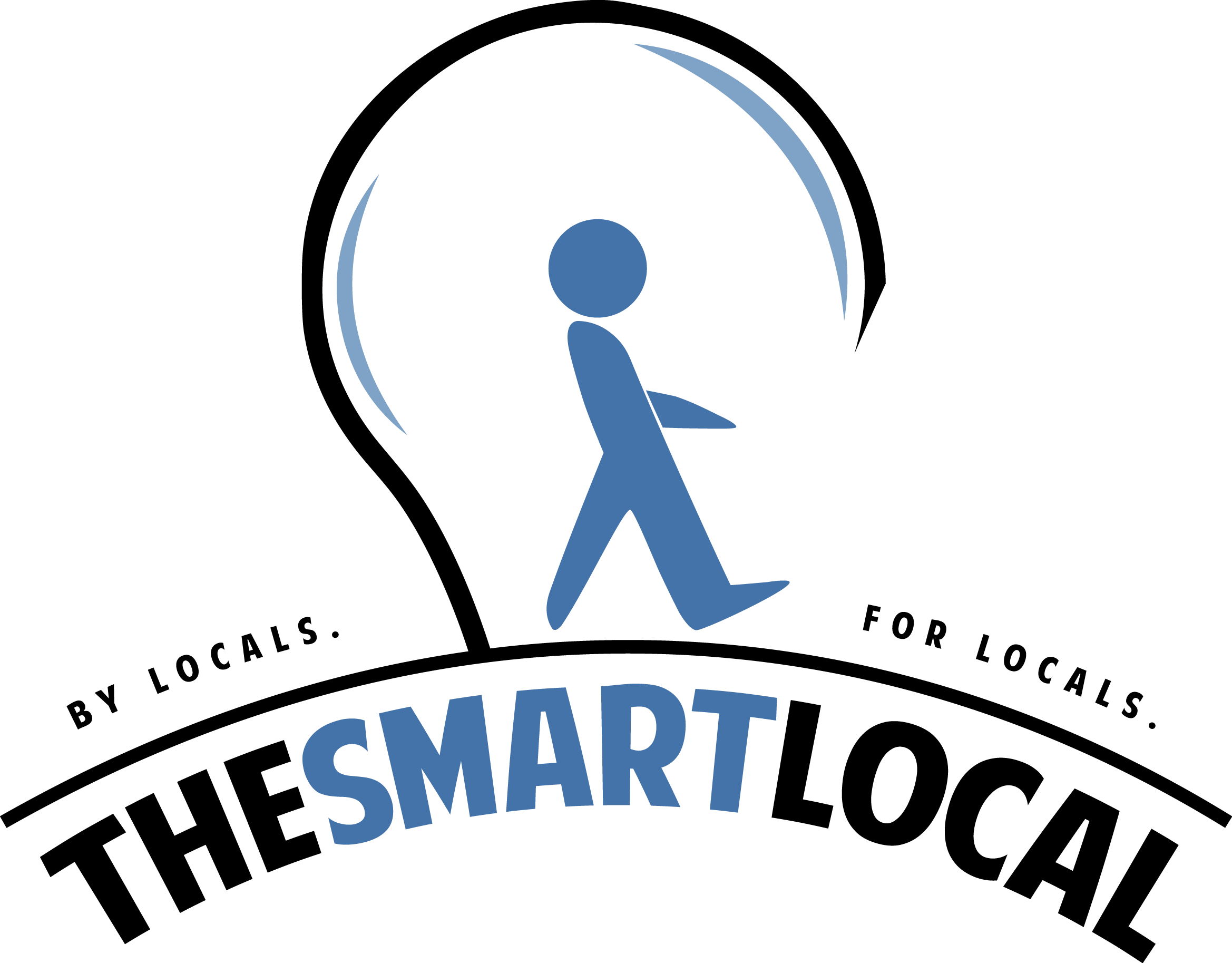 Drop us your email so you won't miss the latest news.