Things to know about Bongbong Marcos
---
It's not a surprise that Ferdinand "Bongbong" Marcos Jr. is the most controversial presidential candidate in the 2022 Philippine elections. After all, he is the son of his namesake, former dictator and president Ferdinand Marcos Sr. Besides this, the presidentiable is involved in disputes of his own.
Despite these, Bongbong Marcos remains one of the top 2 candidates for president. As the country decides whether he should be our country's next leader, here are some Bongbong Marcos facts every Filipino should know, starting with his special diploma from the University of Oxford.
Look out for our upcoming profiles of other 2022 Philippine presidential candidates!
---
1. He has a special diploma in social studies from the University of Oxford
---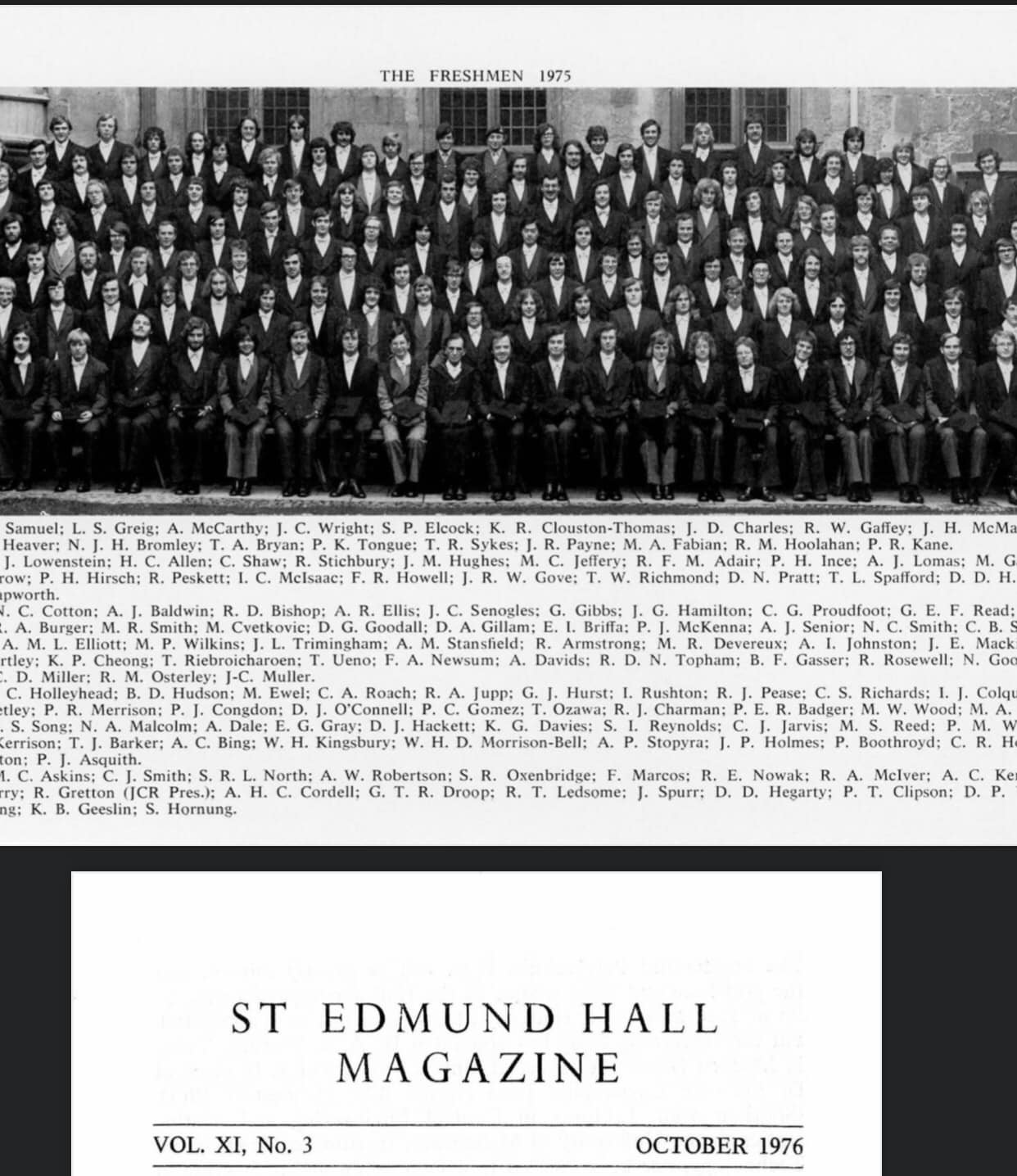 Freshman class picture with Marcos (front row, fifth from left in photo)
Image credit: Kaelo Ren Dee
Bongbong Marcos received a special diploma in social studies from Oxford in 1978, but it is not "superior nor equivalent" to a bachelor's degree, according to the prestigious university.

This is possibly one of the most notable controversies around Bongbong Marcos, following the issues connected to his father's dictatorship.
In 2015, the former senator said that his educational background on the Senate website is accurate. According to the website back then, he graduated with a Bachelor of Arts in Philosophy and Economics education from the University of Oxford in England.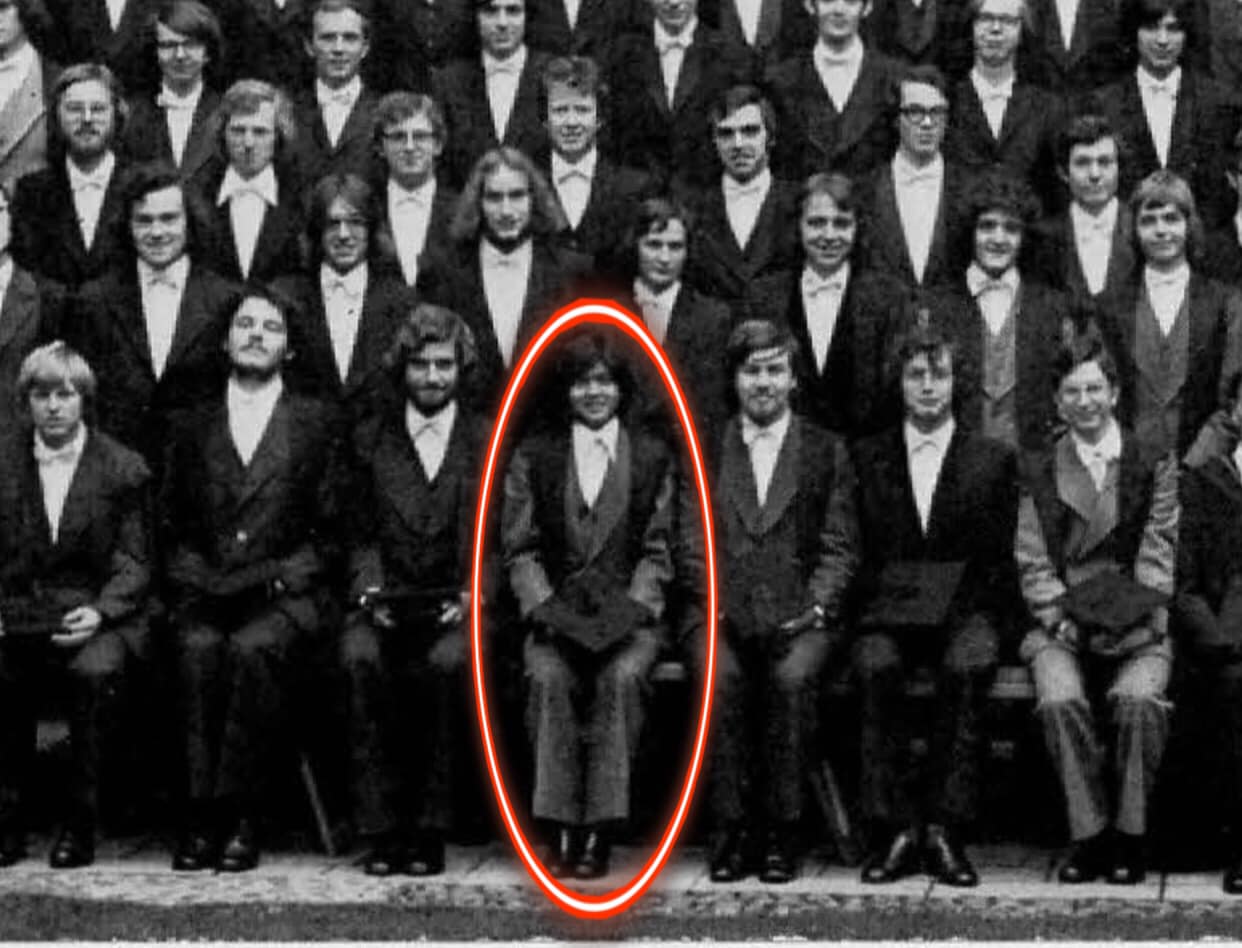 Marcos in his college freshman class photo
Image credit: Kaelo Ren Dee
However, Oxford has repeatedly clarified that he did not finish his bachelor's degree in the university. According to the university, Bongbong Marcos failed his first-ever preliminary exams which he needed to continue studying his degree.
His senate profile also used to imply that he finished his Masters from Wharton School of Business in Pennsylvania. However, he was also unable to complete his course as he was elected vice-governor in his home province of Ilocos Norte.
---
2. He has been in politics for over three decades
---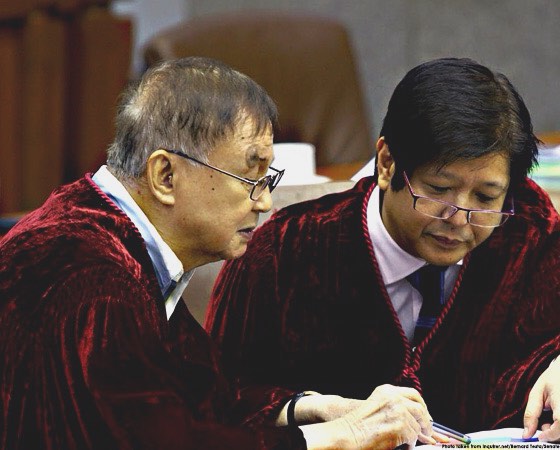 Marcos during his term as senator
Image credit: @bongbongmarcos
Bongbong Marcos has been in politics since he was 23 years old when he became Ilocos Norte's vice governor in 1981. He then became governor in 1983, but his term was cut short when his father was ousted and their family was exiled to the US.
After several years abroad, he returned to his province and became a congressman in 1992. Then, he served three consecutive terms as governor since 1998. In 2010, he became a senator.
In 2016, Bongbong Marcos vied for the vice-presidential seat but lost to current Vice President Leni Robredo. He has since made multiple attempts to claim that he won the 2016 vice-presidential race.
---
3. Many of his family members are in politics
---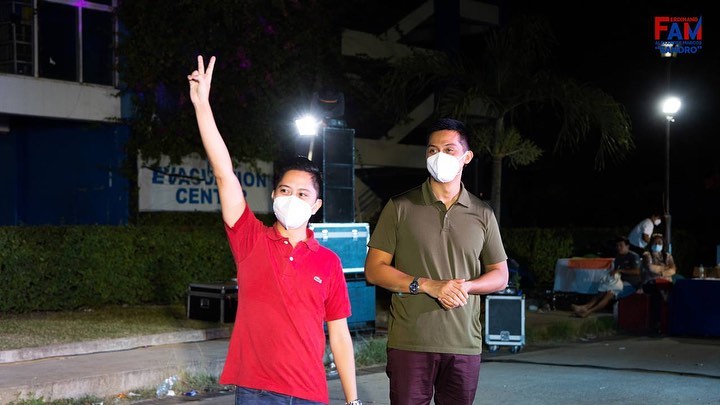 Marcos' son, Sandro with Ilocos Norte governor Matthew Marcos Manotoc
Image credit: @sandromarcos7
The vice-presidential candidate isn't only the son of a former president, but also a relative of other politicians. Many of his family members also have political seats, particularly in their home province Ilocos Norte where they have a stronghold.
Imee Marcos, Bongbong Marcos' older sister, is a senator, while her son Matthew Marcos Manotoc is the governor of their home province. Michael Marcos Keon, Bongbong's cousin, is also the mayor of the Ilocos Norte's capital, Laoag.
Bongbong Marcos' son, Sandro, is also running for congressman in the first district of Ilocos Norte.
---
4. He was found by a Quezon City RTC branch to have evaded his taxes
---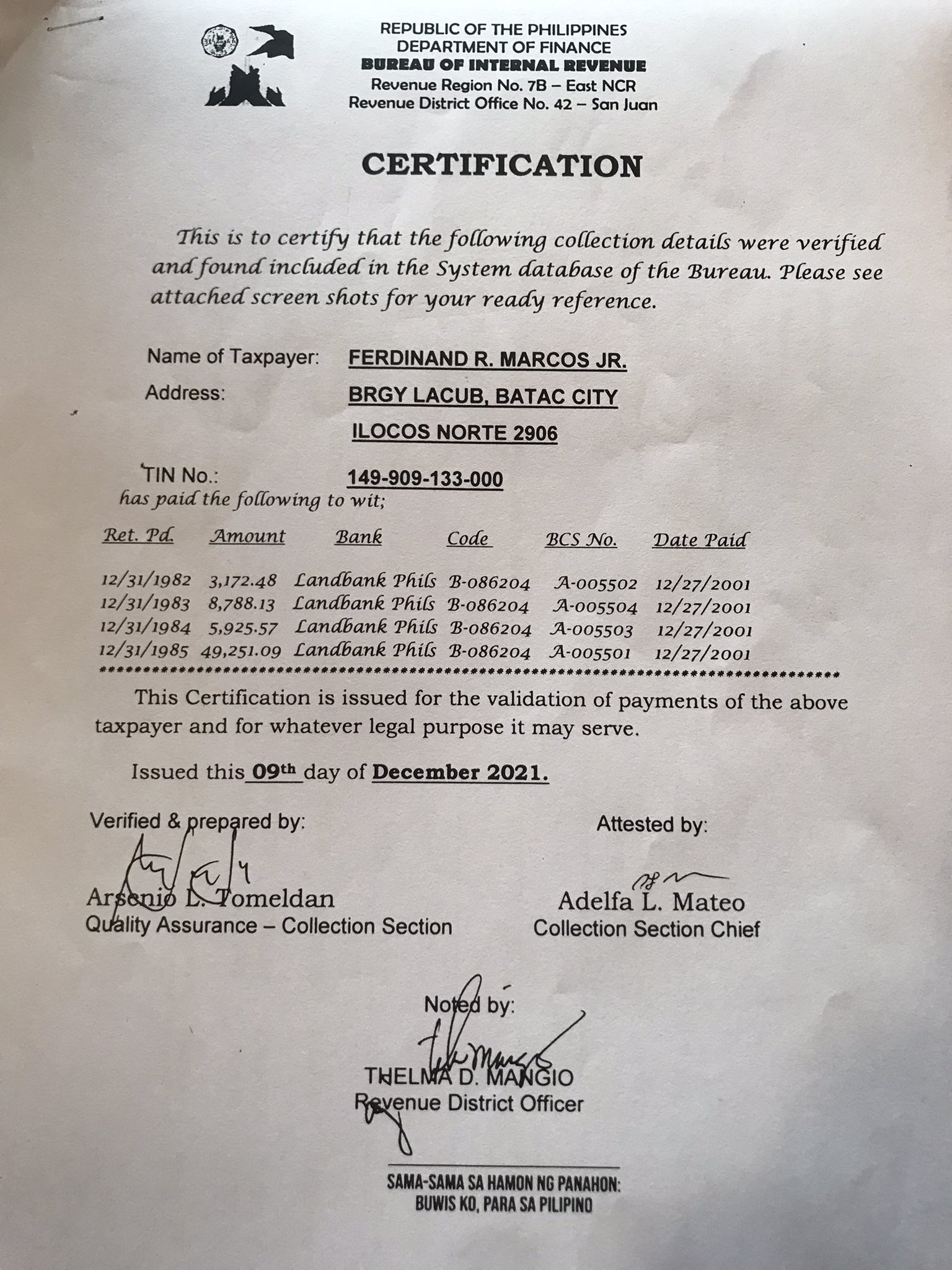 BIR certification from Marcos' camp
Image credit: @cnnphilippines
After Bongbong Marcos' run for presidency was made official, several groups filed disqualification cases against him, some of which cited his failure to pay his taxes as grounds.
The fact-checking news organization Vera Files found that the former senator had not settled his tax deficiencies and penalties in 1997. He also didn't file his income tax returns from 1982 to 1985.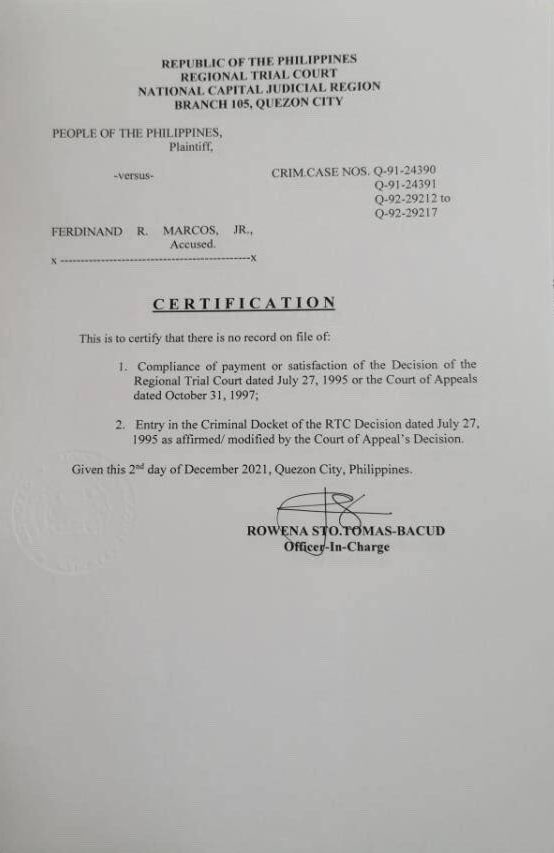 Certification from Quezon City RTC Branch 105
Image credit: @rapplerdotcom
Bongbong Marcos' camp has shown a Bureau of Internal Revenue (BIR) certification showing that he has paid his taxes for 1982 to 1985. However, there are also certifications from the Quezon City Regional Trial Court (RTC) Branch 105 stating that he has settled neither his tax deficiencies nor his fines.
Despite this, Bongbong Marcos was allowed to continue his presidential candidacy.
---
5. He plans to create more jobs when he becomes president
---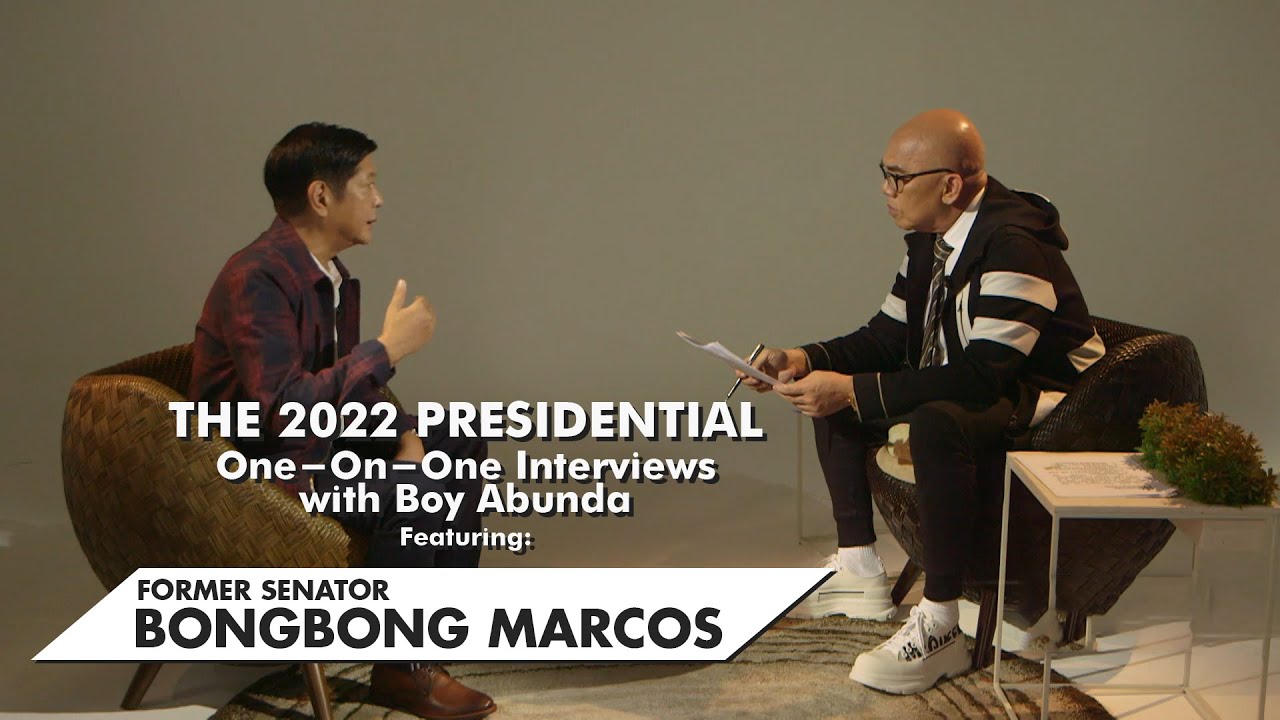 Marcos' interview with Boy Abunda
Image credit: The Boy Abunda Talk Show
In his interview with Boy Abunda on the talk show hosts' YouTube channel, Bongbong Marcos revealed his plan for a Jab to Jobs project to get people vaccinated and back to work.
The politician said he wants to create more jobs by supporting micro, small, and medium enterprises (MSMEs) through lowering their taxes to revive the economy that was heavily impacted by the pandemic.
He also believes that reviving the economy by creating more jobs will encourage OFWs to stay in the country as well as help us pay our country's debt.
---
6. He wants to continue Duterte's war on drugs
---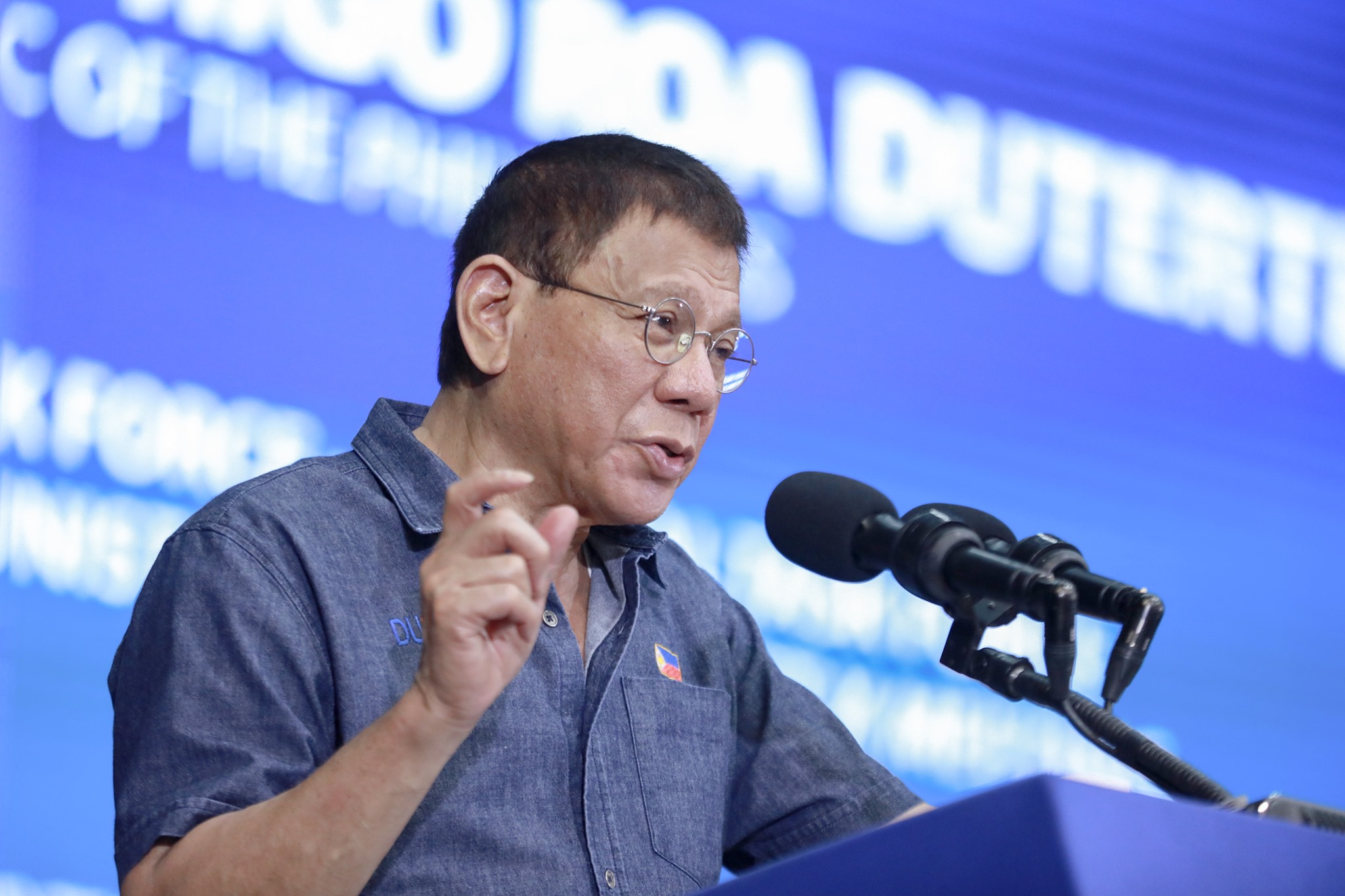 President Rodrigo Duterte
Image credit: Rody Duterte
In the same interview, Bongbong Marcos said he wants to continue President Duterte's war on drugs. However, he offers a different approach.
The former senator wants to focus on the prevention and cure of drug addiction. By prevention, he wants the youth to learn that getting into drugs can ruin their lives as early as grade school. He also plans to treat the country's drug problem as a health issue and rehabilitate drug addicts.
"It becomes a crime when you are involved in the distribution, the sale, of illegal drugs," the presidential candidate explained. He also plans to focus on putting drug lords in jail.
---
7. He wants to bring back the two-party system
---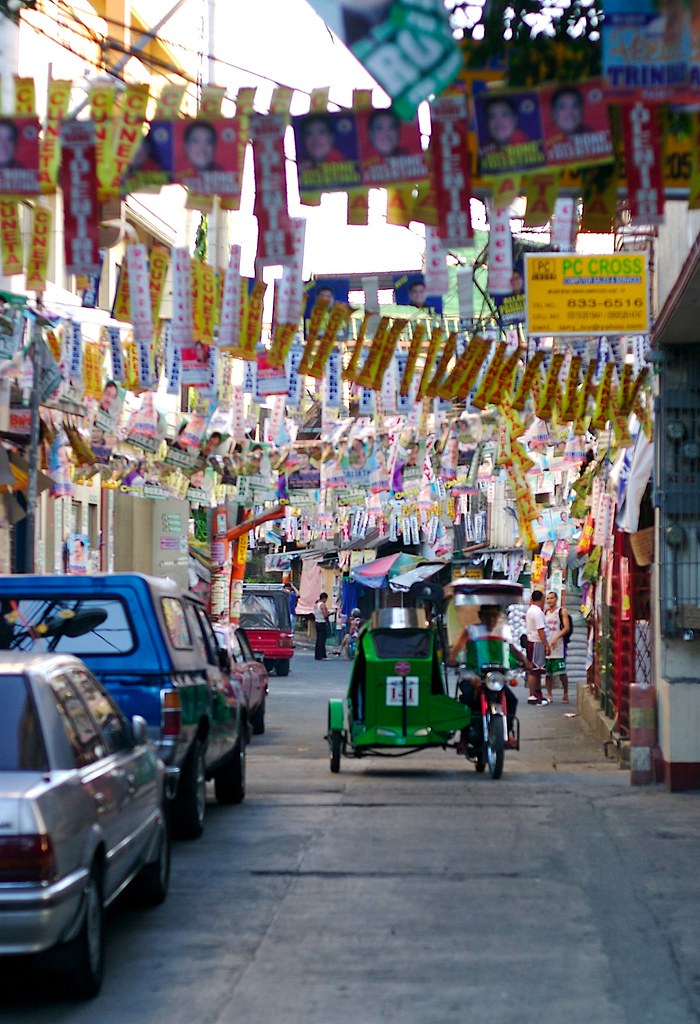 Election posters depicting the Philippines' multiparty system
Image credit: Jeff_Werner
Bongbong Marcos said he doesn't want to amend the current qualifications for presidential candidates which allows people who did not go to school to run. However, he also said that he wants to bring back the two-party system that was last used in the country in the 1960s.
In this system, the two biggest political parties in the country – Liberal and Nacionalista – pick their best members for any political position, but more importantly, their bet for the presidential seat.
According to him, this ensures that the candidates have the skills and political experience.
---
8. He and his running mate Sara Duterte sent P28.6M cash aid to victims of Typhoon Odette
---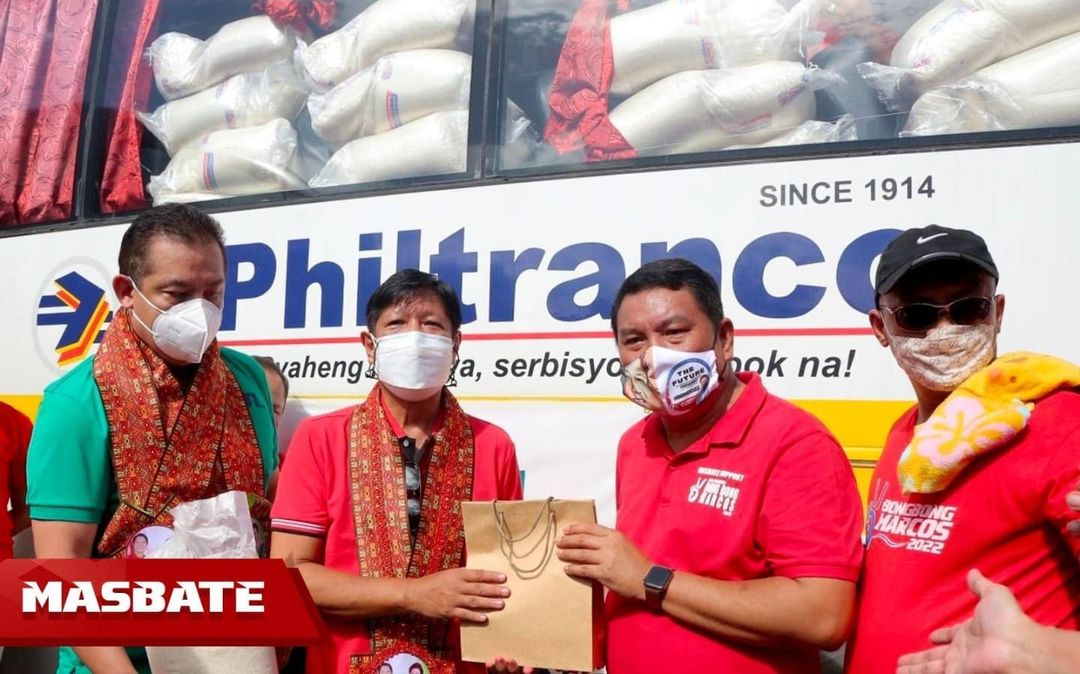 Marcos handing over doantions in Masbate
Image credit: @bongbongmarcos
According to a GMA News article, Bongbong Marcos and his running mate Sara Duterte-Carpio sent P28.6 million in cash to victims of Typhoon Odette in Visayas, particularly 11 provinces in the region.
Besides this cash aid, they also sent P43.3 million worth of relief items and P1 billion worth of construction materials. This reportedly included a solar panel system, bucket water filter systems, and solar flashlights.
As for pandemic response initiatives, the presidentiable sent 13,000 rapid test kits to the first district of Quezon City two weeks before he filed his certificate of candidacy.
---
Promising plans from a controversial candidate
---
Bongbong Marcos' life and political career are laden with controversies, but some of the plans he laid out in his Boy Abunda interview are promising.
It is now up to Filipinos to decide whether the candidate's platform makes him a worthy candidate regardless of his record, as well as his family's past.
Also check out:
---
Cover image adapted from: @bongbongmarcos and Kaelo Ren Dee 
Get more stories like this!
Drop us your email so you won't miss the latest news.