Philippine history documentaries & movies
---
Today marks the 49th anniversary of the declaration of Martial Law by former President Ferdinand Marcos. Under his authoritarian rule, many saw their human rights violated through imprisonment, killings, and tortures amidst the regime's continuous accumulation of power and ill-gotten wealth.
And while the era has almost been half a century ago, many documentaries and movies have fortunately been produced to showcase the current generation the harsh realities most Filipinos had to endure during the military government. To deepen your understanding of what transpired during the Martial Law era, here are Philippine history documentaries & movies to give a watch if you haven't yet seen them.
---
– Documentaries –
---
---
1. The Kingmaker (2019) – focuses on Imelda Marcos
---
Video credit: Dogwoof
Narrating the Marcoses' rise and fall mainly through the eyes of Imelda Marcos, Lauren Greenfield's The Kingmaker centers on how the former first lady was instrumental in enabling the various atrocities and excesses of former President Ferdinand Marcos's authoritarian regime, and how, through her son Bongbong Marcos, her family is claiming back power in the present.
The documentary features interviews, aside from Imelda, that include former Philippine President Benigno Aquino III, Vice President Leni Robredo, as well as torture survivors of the Martial Law era.
---
2. Kagat ng Mosquito Press (2016) – looks into the role of the press
---
Video credit: I-Witness
Under government control during Martial Law, the press could not easily report on issues that might have gone against the administration of the time.
But there were a few independent publishers called the "mosquito press", such as the We Forum and Malaya, that took the risk of shedding light on truths about former President Marcos, such as his such as his fake medals, which were proven as such by the National Historical Commission of the Philippines.
Howie Severino's I-Witness documentary, Kagat ng Mosquito Press, goes back to the role of media during Martial Law by interviewing the family of the late Joe Burgos, the press freedom icon who led the said newspapers and whose articles were considered influential to the rise of the 1986 EDSA Revolution.
---
3. 1081 (2012) – comprehensive docu about Martial Law
---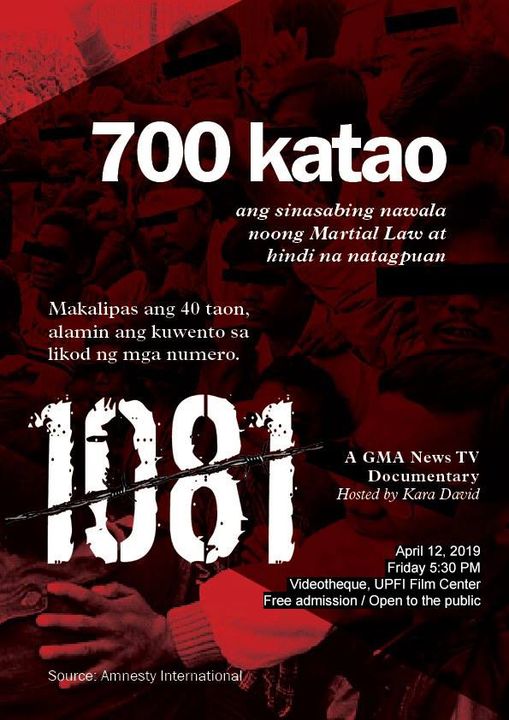 Image credit: UPFI Film Center
Presented by award-winning journalist Kara David, who is herself a martial law era baby, 1081 looks comprehensively into the life during Martial Law, declared through Proclamation No. 1081 in 1972.
The one-hour documentary sheds light on the regime by giving voice to people from many sectors, from political leaders to journalists to human rights victims, as well as military men.
---
– Movies –
---
---
4. Liway (2018) – depicts the story of Commander Liway
---
Video credit: Pelikula Mania Trailers
Zooming in on how the military government has affected families, Kip Oebanda's Liway showcases the horrors of Martial Law through the story of Dakip (Kenken Nuyad), who grew up in a prison camp with his parents. They are Commander Liway (Glaiza de Castro) and Ric (Dominic Roco), both of whom are against the military government.
To protect him from the harsh reality they are in, Liway tells her son tales of a mythical guardian diwata also named Liway, despite the wishes of his father Ric, who desires Dakip to learn about the cruelties of the world as soon as he can. The film is based on true events.
---
5. Citizen Jake (2018) – presents the struggles of a journalist
---
Video credit: Sine Pelikula 
It's not often that real-life journalists are cast in a film to portray their profession, but in Mike De Leon's Citizen Jake, we have real-life journalist Atom Araullo depicting the dilemmas of his character, journalist-turned-professor Jake Herrera, in Citizen Jake, which examines the legacy of dictatorship.
The second son in a political family whose patriarch is a former Marcos crony, Herrera investigates in the film the murder of a student while he confronts the sins of his own family in the process.
---
6. ML (2018) – portrays experiences of those who suffered torture
---
Video credit: Solar Pictures
One of actor Eddie Garcia's last films, director Benedict Mique's ML sees Garcia depicting a retired Philippine Constabulary Metropolitan Command (METROCOM) Colonel who thinks he's still living in the Marcos dictatorship.
Portraying the violent experiences of those who suffered torture during Martial Law, ML stars Tony Labrusca as Carlo, a college student who needs to do research about the military government but ends up under the hands of the retired colonel who tortures him in his basement.
---
7. Respeto (2017) – centers on a kid's aspirations to become a rapper
---
Video credit: Respeto Movie
Featuring some of the country's known hip-hop artists, Alberto Monteras' Respeto centers on the chaotic underground scene of Manila where Hendrix (Abra) turns to music for solace as he aspires to become a rapper.
Along the way, he meets an elderly bookstore owner, Doc (Dido De La Paz), who was a progressive poet during the Martial Law era. After an unexpected turn of events, Doc turns out to be Hendrix's mentor in crafting lyrical verses. 

---
8. Dekada '70 (2002) – tackles youth activism through the Bartolome family
---
Video credit: ABS-CBN Star Cinema 
Among anti-dictatorship groups during Marcos' rule, youths were also at the forefront. Chito S. Roño's Dekada '70 emphasizes how they played a part under the claws of dictatorship through the middle-class Bartolome family, comprising couple Julian Bartolome (Christopher de Leon) and Amanda Bartolome (Vilma Santos) and their five male children.
While the couple each has their own struggles in raising their children, most of their sons look towards their paths to freedom through activism. Piolo Pascual played the role of Jules, the eldest child who joined the NPA. Dekada '70 is based on Lualhati Bautista's novel of the same name.
---
9. Batch '81 (1982) – features college fraternities
---
Video credit: Sine Pelikula
Mike de Leon's Batch '81 paints a picture of the harsh systems of college fraternities, but more than looking into their traditions, it also references the cruelties of Martial Law.
It stars Mark Gil as Sid Lucero, a college student who joins the Alpha Kappa Omega fraternity, which is infamous for its brutal initiation rites. He saw firsthand through his six-month-long initiation how initiates have had to endure various trials of humiliation that dampen their rights, similar to the acts of fascism under the Marcos era.
---
10. Maynila: sa mga Kuko ng Liwanag (1975) – conveys the difficult situation of Manila's working class
---
Video credit: Sine Pelikula 
Considered as one of the greatest films in the world, Lino Brocka's Maynila: sa mga Kuko ng Liwanag presents the difficult realities of Manila's working class during the Marcos era.
In the classic film, Julio Madiaga (Bembol Roco) is a probinsyano who follows his long-lost beloved, Ligaya Paraiso (Hila Koronel), in Manila. But amidst his search for her, Julio has had to go through various odd jobs in the city to get by while Ligaya is also similarly trying to survive as a prostitute.
The film is based on Edgardo Reyes's novel, Sa mga Kuko ng Liwanag.
---
Philippine history documentaries & movies about Martial Law
---
From The Kingmaker to Maynila: sa mga Kuko ng Liwanag, our documentaries and movies depicting life under Martial Law are indeed a must-watch, as they showcase events during one of the darkest chapters of our history that we must not forget.
Let's all remember all those who suffered and acknowledge the pain of their families and loved ones.
Brush up on your Filipino historical and political knowledge:
---
Cover image adapted from (clockwise from top left): IMDb, IMDb, Asian Film Archive, and Respeto Movie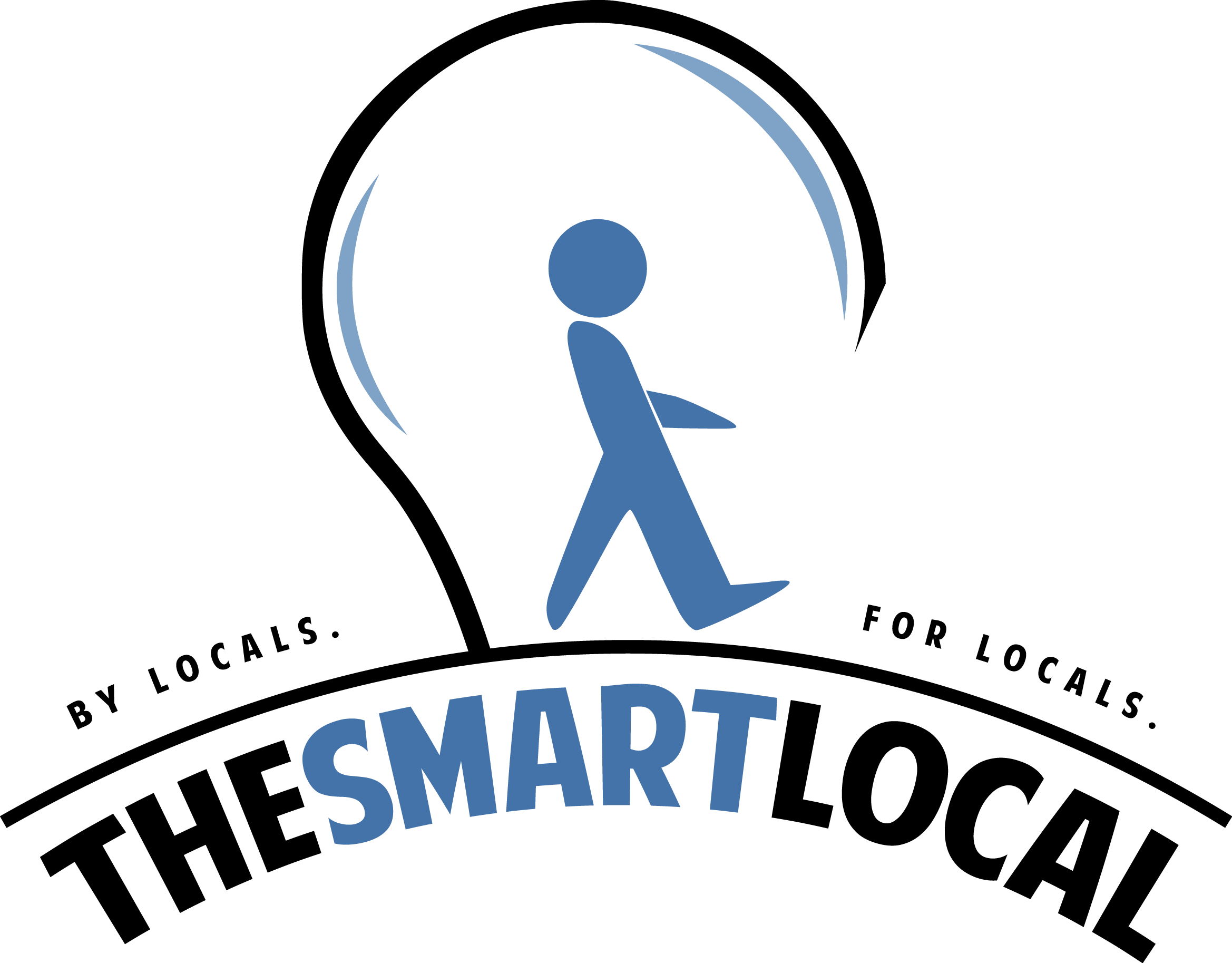 Drop us your email so you won't miss the latest news.