Best air purifiers in the Philippines
---
Keeping our houses clean doesn't stop with using tools that can scrape off visible dirt. Air purifiers are essential household equipment too, as they keep our surroundings extra clean by eliminating invisible particles such as pollen, dust, and viruses. 
However, knowing the best purifier for your space can be tricky. Each purifier comes with various functions that are sometimes hard to understand, given all the jargon and science involved. So below, we've listed down and explained the features of 10 of the best air purifiers in the Philippines for spaces large and small, so you can breathe easy in a space with fresh air.
---
– Air purifiers for larger spaces –
---
---
1. Freshair 3 Filter-Less Home Purifier – cleans spaces up to 279 sqm with NASA-patented tech
---
The Freshair 3 Home Purifier at a bank (left) and a restaurant (right)
Image adapted from: @freshairpurifiers and @freshairpurifiers
Sanitizing the air in huge spaces usually means purchasing bulky air purifiers and forking out cash for filter changes. But if you've been looking for a powerful air purifier that'll do the job, the Freshair 3 Home Purifier (P27,450.00, ~USD537.11) is mighty for its size. 
Cleaning the air of areas up to 279 sq m and up to 2 storeys high, it works in a variety of spaces such as homes, offices, and business establishments. Plus, it's filter-less, saving you money and the hassle of changing filters. 
An explanation of the difference between Freshair's filter technology and regular HEPA filter systems
Video credit: Freshair Purifier Solutions
It neutralizes bacteria, viruses including coronaviruses, heavy pollen particles, dust and dirt, pet dander, and other irritants within three minutes – thanks to its patented RCI photocatalytic oxidation technology. First developed by NASA, this method is now used in purifiers at US Major League Baseball team facilities, World Trade Center Museum, The Pentagon, several hospitals, and restaurants worldwide.
To top it off, the purifier lasts over 20 years, making it a worthwhile investment. Over its lifetime, when the device ever needs a service check, its built-in indicator will alert you for peace of mind.
And with the purifier's easily navigable buttons, you'll get the hang of using it quickly. A remote is also included for when you need to adjust its settings from afar. 
Get the Freshair 3 Home Purifier on Freshair Purification Solutions' shop here.
Freshair Purification Solutions' Facebook | Instagram
---
2. Dyson Pure Cool TP04 – monitors your room's air quality and alerts you when to clean filters
---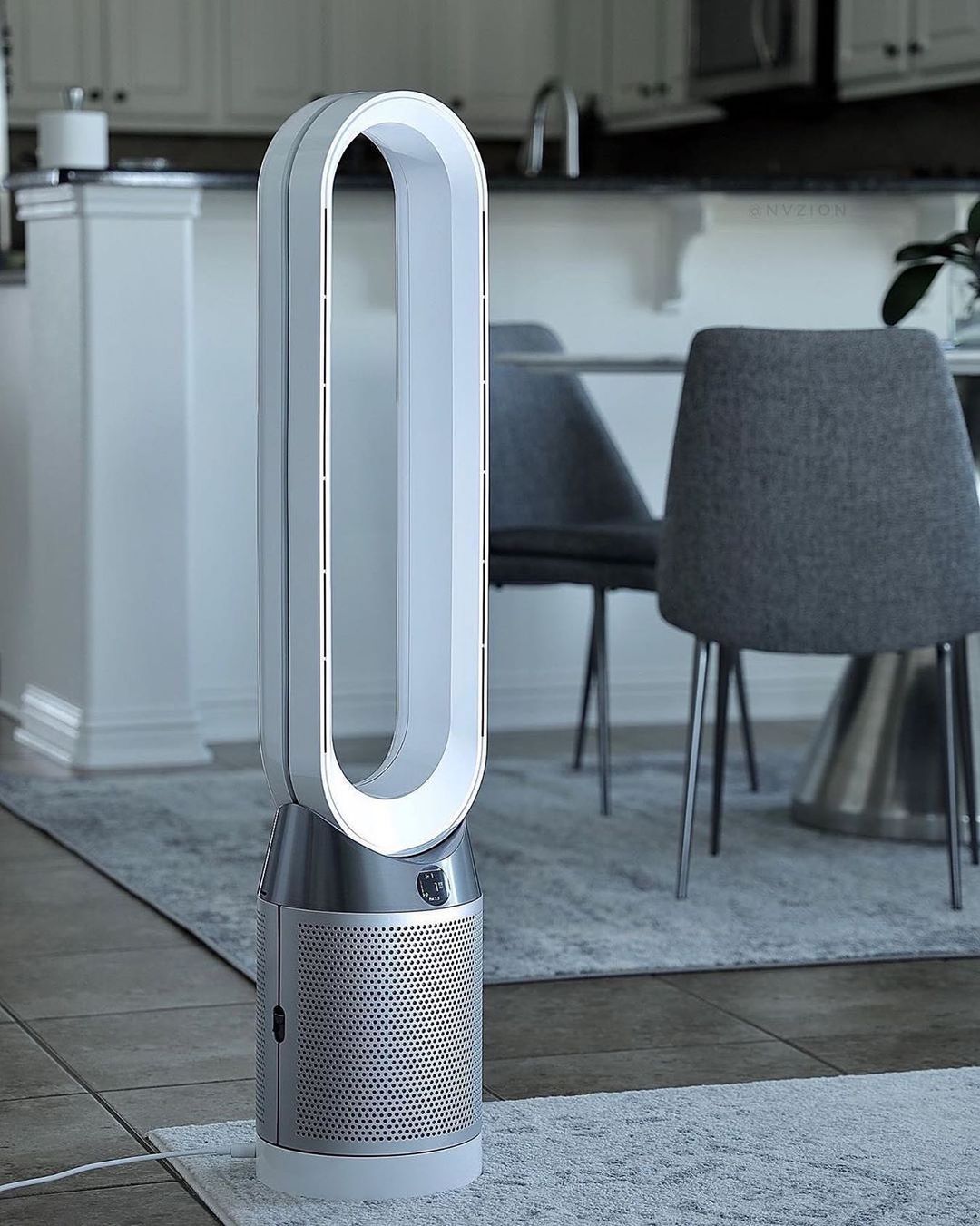 Image credit: @dyson_india 
Dyson Pure Cool TP04 (P29,999, ~USD596.13) is a modern-looking purifier, assembled as an elongated circle instead of the usual boxy shape of common air purifiers. Aside from being aesthetically pleasing, the purifier is also designed this way so it can circulate cleaner air up to 350° in your living room with its HEPA and active carbon filters. 
Maintenance is easy too. You won't need to do the guesswork as to when you should clean the filters, as the purifier has an LCD display that shows how long they have to go before you should clean them. This is in addition to data on your room's Air Quality Index (AQI), and even measurements of Volatile Organic Compounds (VOC) that may cause headaches, fatigue, and lung irritation. 
If you're away from home, you can still monitor and control your house's air quality through the Dyson Link app.  
Get the Pure Cool TP04 here. 
---
3. Imarflex IAP-300 – space-saving wall air filter perfect for bedrooms
---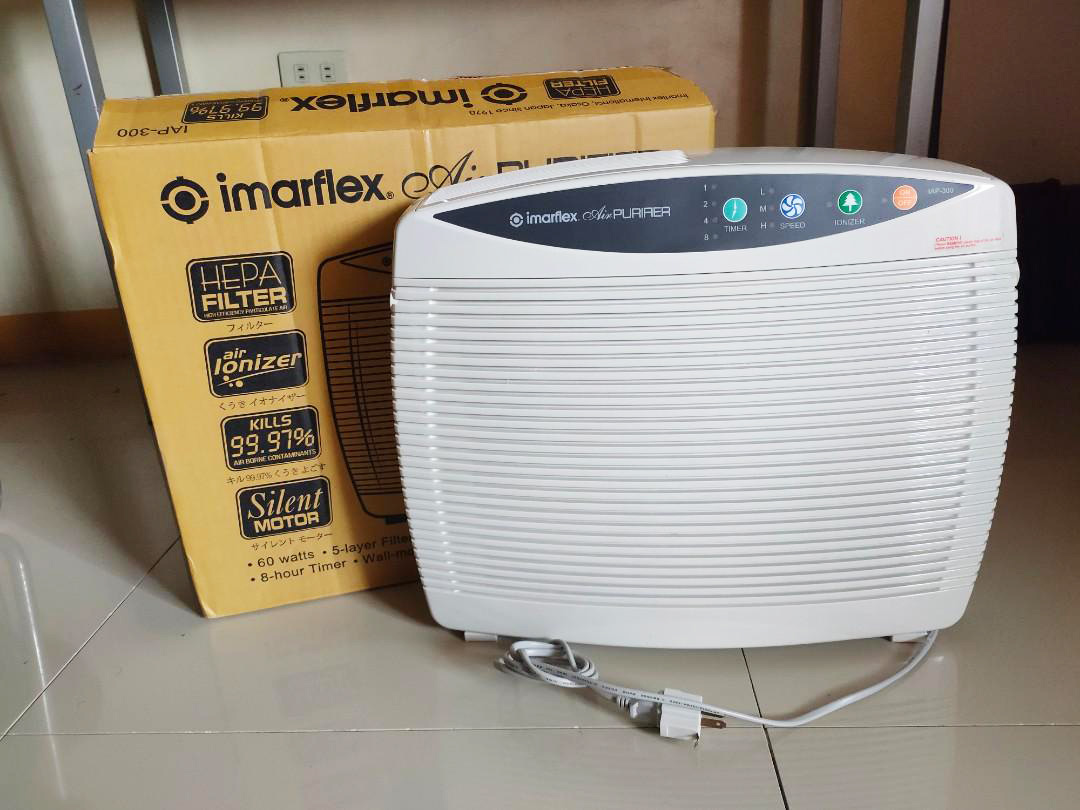 Image credit: Carousell 
Devices such as air purifiers are a home necessity, but we also don't want them to eat up too much of our limited space. Imarflex IAP-300 (P7,500, ~USD148.93), with HEPA, active carbon, and ionizer filters, will do the job of purifying the air in your house while also helping you save space since you can place it on a wall. 
Best for spaces up to 40 sqm, it is also run by a quiet motor that's only around 53dB. Rest assured that you can have a good night's sleep with it around. 
Get the Imarflex IAP-300 here.
---
4. Xiaomi Mi Air Purifier 3H – affordable purifier with smart control
---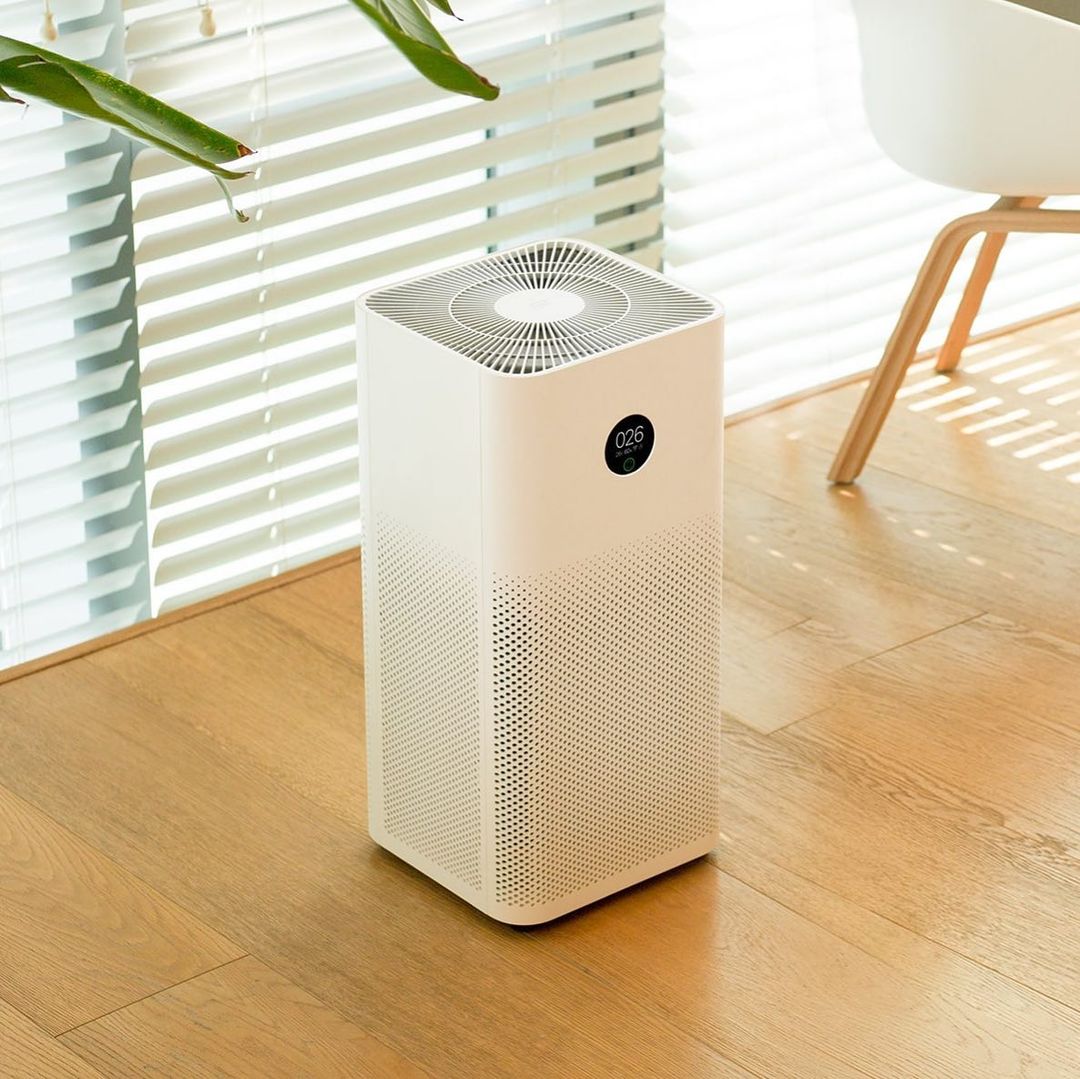 Image credit: @mobilpohotovostcz 
You'd think that purifiers responding to Google Assistant or Alexa should be expensive, but you can have a purifier such as the Xiaomi Mi Air Purifier 3H (P7,399, ~USD146.92) that doesn't sacrifice affordability for smart controls. Wi-Fi-enabled, it can be controlled wherever you go through the Mi Home App that also works with your other Mi smart devices. 
Complementing this feature is a minimalist OLED Touch Display, which you can use to switch the air purifier from sleep mode to high-level mode and refer to for air quality info.
But all these modern features aside, the purifier also does the job of efficiently cleaning the air. It's complete with a HEPA filter that can eliminate particles from pet dander to viruses in 50 to 90 sqm rooms. 
Get the Mi Air Purifier 3H here.
---
5. Electrolux Pure A9 – adapts to changing air quality
---
Image adapted from: Lazada 
We can't always adjust our air purifiers every time the air quality changes, so the Electrolux Pure A9 (P14,996, ~USD297.77) has a PureSense system that adapts to our air quality by automatically adjusting its air purification level. 
When you're not at home, you can also still use the air purifier through the Electrolux Wellbeing mobile app that lets you monitor and control the air quality in your home.
You can place the purifier that can circulate air in a spiral pattern with its AirSurround system in your living room, or any room up to 60 sqm in size. It's perfect for bedrooms as well, as it can run quietly with a maximum noise level of 45dB. And you can be sure that it's efficient with its 5-stage filtration system, from its pre-filter to anti-bacterial to HEPA to activated carbon to ionizer filters. 
Get the Electrolux Pure A9 here. 
---
6. Winix 5500-2 – has a washable filter
---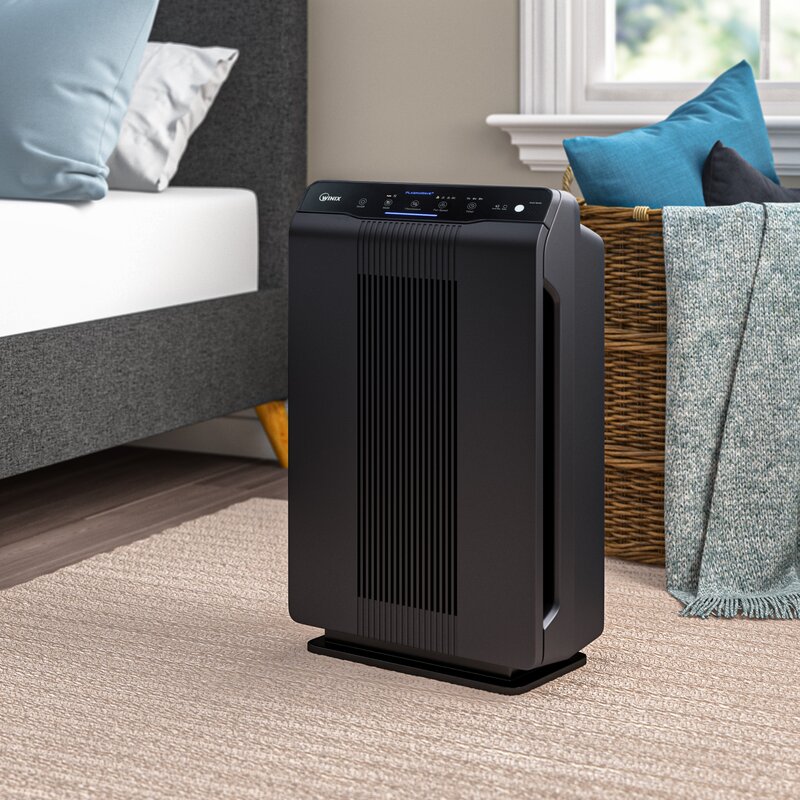 Image credit: Wayfair
Replacing an air purifier every so often can be expensive, so if you want to make the most out of a purchase, buying purifiers with a washable carbon filter such as the Winix 5500-2 (P27,620, ~USD548.43) can be a good idea. Aside from being reusable, washable filters are also easy to clean, as you will only need to remove the dirt using soap and water, unlike permanent filters that require a vacuum cleaner. 
You won't need to mop your floor as often as before when you use this purifier, as it is also equipped with a PlasmaWave system that produces both positive and negative ions that break air pollutants apart. Equipped with a HEPA filter, this purifier is indeed both a practical and efficient machine. 
It runs at around 27.8 dB, the same level as a library's, and you can place it in a bedroom up to 34 sqm in size. 
Get the Winix 5500-2 here. 
---
– Air purifiers for smaller spaces –
---
---
7. Blueair's Blue Pure 411 – easy-to-use, three-filtered purifier
---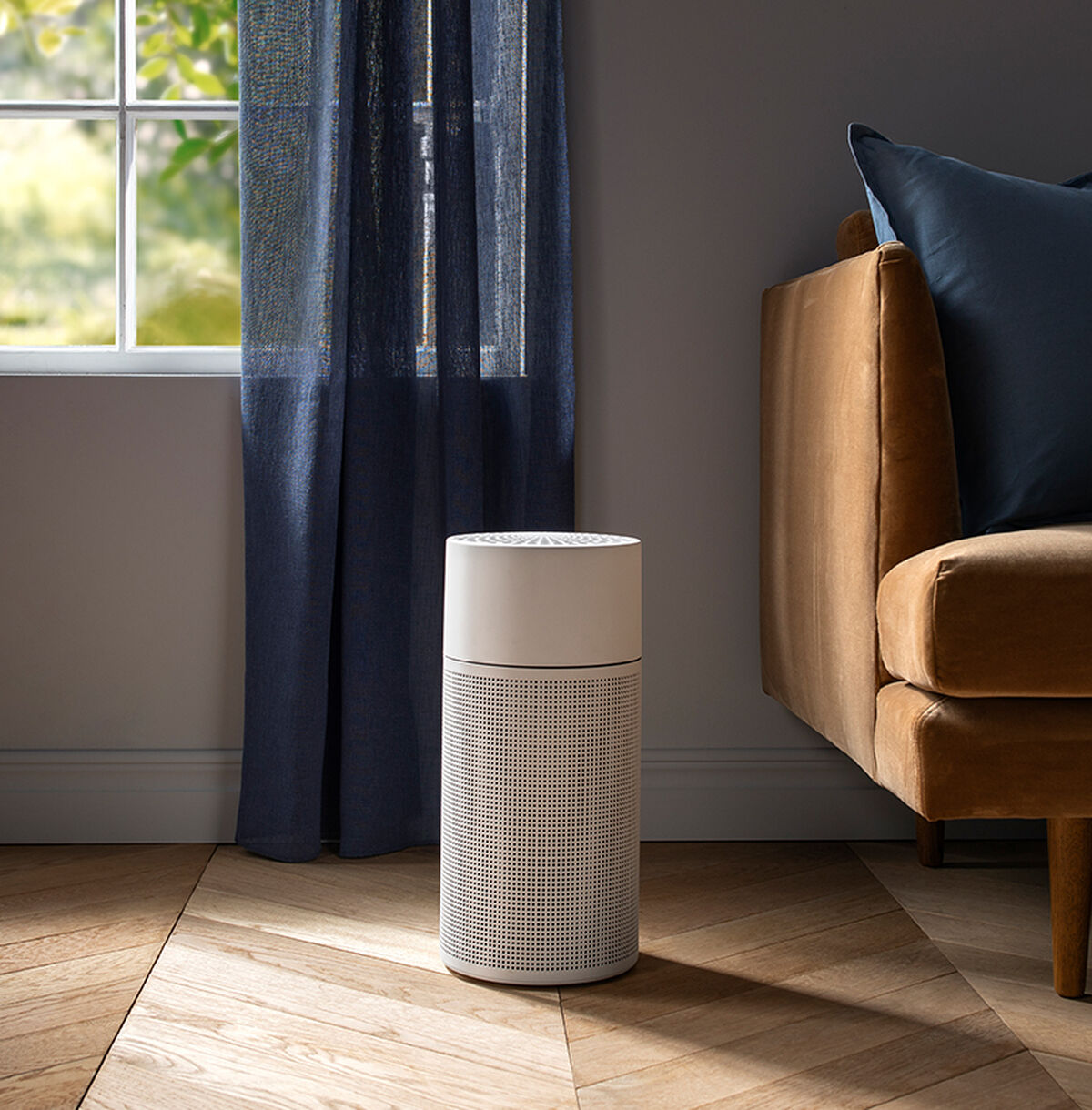 Image credit: Blueair
Blueair Blue Pure 411 (P8,995, ~USD178.75) looks simple, but it can actually do a lot for rooms up to 15 sqm in size. For starters, the air purifier comes equipped with three filters – a pre-filter, a High-Efficiency Particulate Air (HEPA) Silent filter, and a carbon filter – so that particles, from large ones such as pollen to small ones such as viruses, and odors from pets, cooking, and smoking can be eliminated from your space. 
The HEPASilent filter is also actually better than the typical HEPA filters of most air purifiers. Unlike them, the HEPASilent filter uses a thinner filter that produces less energy and noise while removing particles – great for those working from home who need minimal noise distractions. 
On top of these features, using the purifier doesn't have to be complicated too, as it's only assembled with a single button that controls purification speed. Cleaning is easy – just twist the upper casing so you can view the interior. 
Get the Blue Pure 411 here. 
---
8. Blueair Classic 205 – Wi-Fi enabled purifier with remote monitoring app
---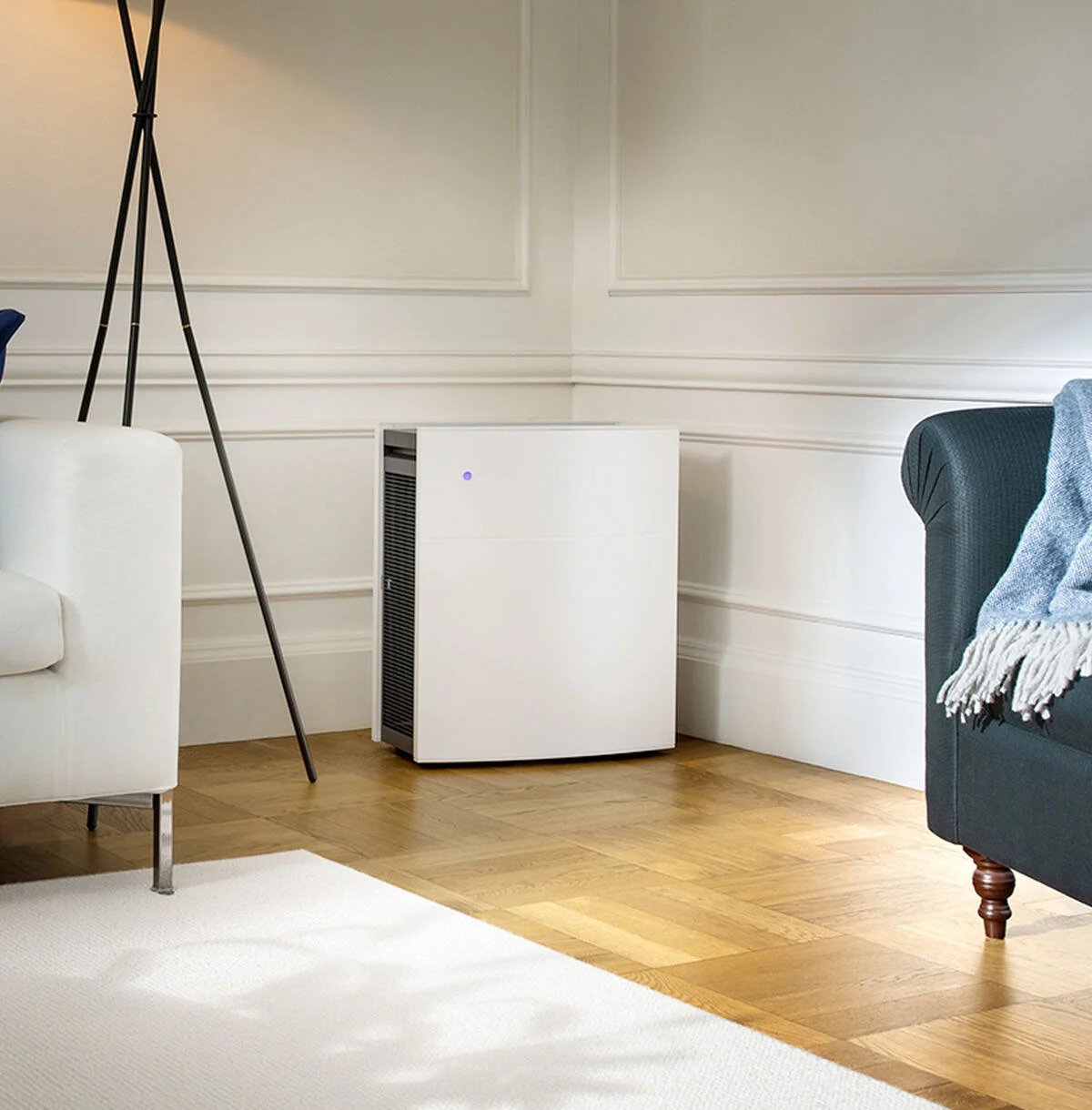 Image credit: Blueair 
Parents who can't be with their kids all the time would want to get their hands on the Blueair Classic 205 (P22,495, ~USD447.22). It can connect to Wi-Fi, so even when you're not at home, you can monitor and control the quality of air your kids are breathing wherever you are through the Blueair Friend app that connects to the air purifier. 
Compatible with rooms around 26 sqm in size, it cleans the air 5 times per hour or every 12 minutes, a rate that ensures consistent air quality, and is also equipped with a quiet HEPASilent filter. These help guard everyone, especially kids at home, from allergy or asthma triggers.
Get the Classic 205 here. 
---
9. Coway AP-1512HH – compact, with an energy-saving shutdown timer
---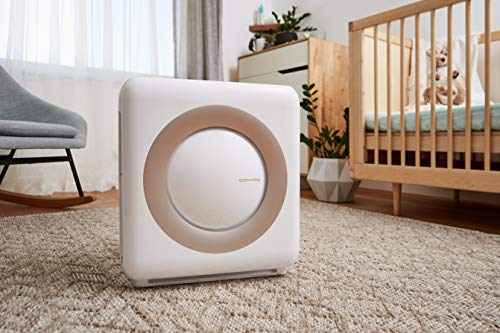 Image credit: Galleon 
Maintaining our houses requires us to juggle multiple tasks at once, not to mention hustling every day in order to pay our electric bills every month. So an appliance that's built with energy-saving features such as the Coway AP-1512HH (P25,029 + P17,901 shipping fee, ~USD853.48) should come in handy. The timer built inside ensures that you won't waste precious energy, as it does the job of turning the purifier off for you after hours of use. 
Aside from this, the purifier is powerful for its size. Suitable for rooms around 34 sqm, it comes with various layers. It has a micro-mesh layer that catches large particles such as animal hair, an active carbon filter that removes gaseous pollutants, a HEPA filter that eliminates particles from pet dander to viruses, and an ionizer that produces ions that add a negative charge to dust so allergy and asthma-inducing particles will just settle on your floor and not be inhaled. 
You can trust the purifier to let you sleep in peace as well, emitting noises – from 24.4 dB to 53.8 dB – that fall in between the sound of rustling leaves and the average lnoise levels at home. 
Get the Coway AP-1512HH here. 
---
10. CRANE EE-5065 – penguin-shaped purifier for kids' rooms
---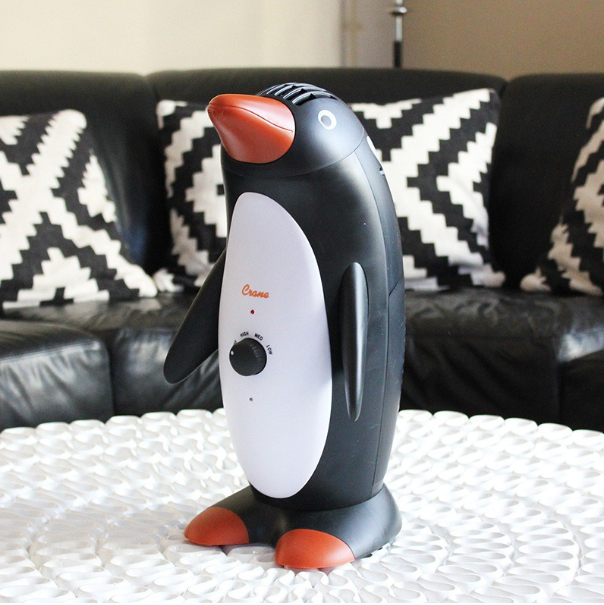 Image credit: Shopee 
Suitable for children's rooms around 14 sqm, the penguin-shaped CRANE EE-5065 has a lot to offer aside from its kid-friendly aesthetic. Its 5-level filtration includes an active carbon filter, HEPA filter, photocatalyst filter with an internal UV light to eliminate and neutralize odors, and a washable particle filter that captures large particles and helps the HEPA filter last longer. 
Wth a single button that has 3 speed settings, it's easy to use as well. Whenever your kid is about to sleep, just set the purifier to a low purification speed so there won't be too much noise. And while it's unique, the cute purifier, at only P5,999 (~USD119.26), will not hurt your wallet. 
Get the CRANE EE-5065 here. 
---
11. Sharp FP-JM30P-B – with antibacterial ions and mosquito catcher
---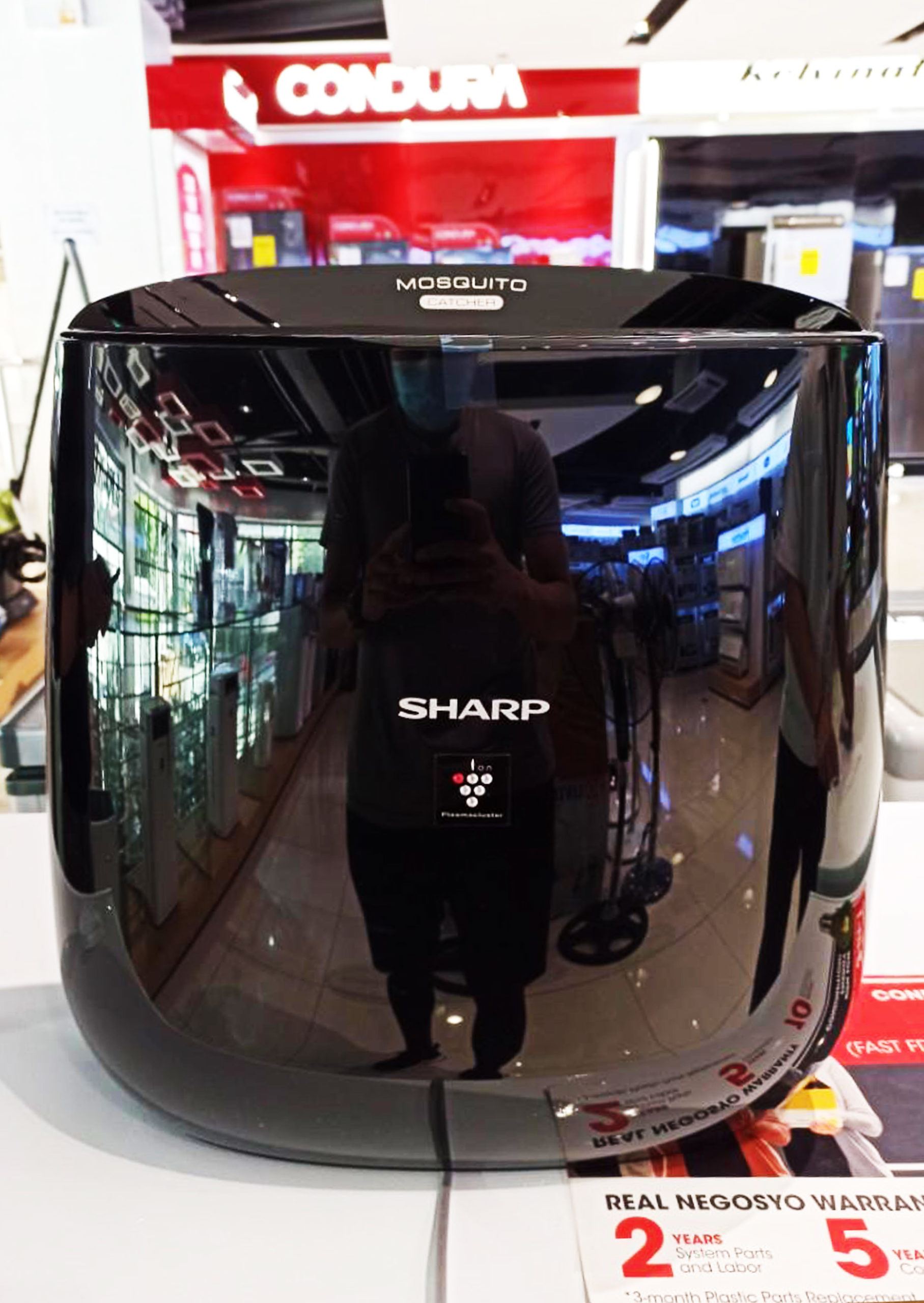 Image adapted from: Carousell 
The Sharp FP-JM30P-B (P9,148, USD181.79) gives you bang for your buck, because aside from producing positive and negative ions that attach themselves to viruses, bacteria, and allergens, it can also capture mosquitoes. Suitable for kids or anyone living in places with a risk of dengue, the purifier attracts mosquitoes first through a UV light, then captures them through its opening's powerful suction airflow. 
Those who are prone to allergies can also rely on the purifier, as it's equipped with a HEPA filter that eliminates various types of particles in rooms up to 23 sqm. 
Get the Sharp FP-JM30P-B here. 
---
Air purifiers in the Philippines to keep your house clean
---
Air purifiers are truly must-haves in maintaining a healthy household. By eliminating allergens, they not only help ward off allergies, but also keep us breathing easy and our overall mood up.  
Also check out:
---
Cover image adapted from: Shopee, Blueair
This article was originally published on 15th January 2021 and updated on 5th October 2021. The article contains partial sponsorship content but all opinions are author's own.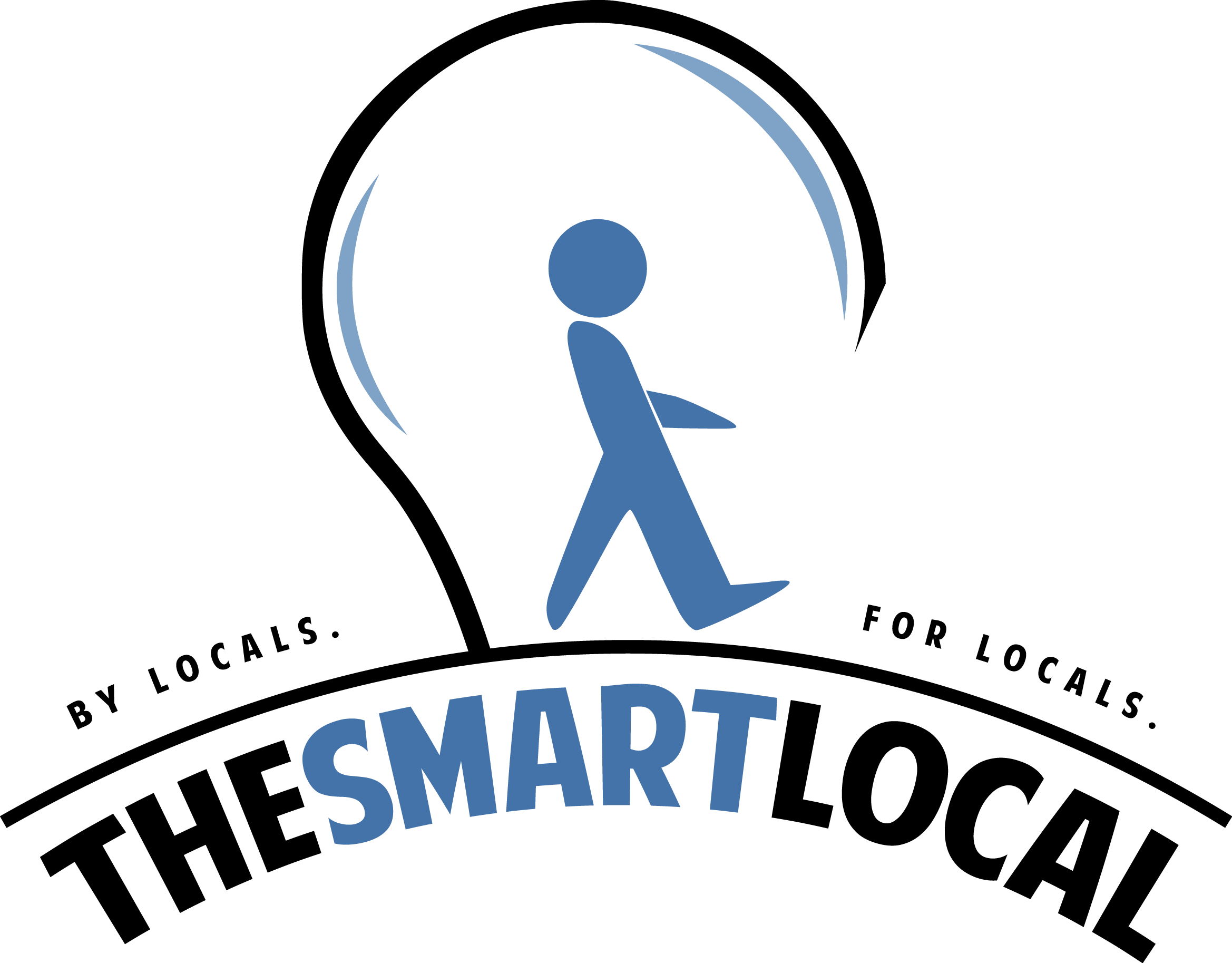 Drop us your email so you won't miss the latest news.