Best refrigerators in the Philippines
---
If there's one appliance that's the center of the kitchen, it has to be the refrigerator. It keeps everything from groceries to vegetables to meat fresh, lowering the production of bacteria in our food through cooling to keep them from getting spoiled.
But as there can be many types of refrigerators now in the market – from a smart refrigerator to a door-in-door refrigerator – it can be hard to nail down what might really fit our kitchen. So here are the 8 best refrigerators in the Philippines so you can choose one that's best for your space, taste, consumption habits, and budget.
---
1. LG GR-A502HLHU – easy door-in-door access for your fave snacks
---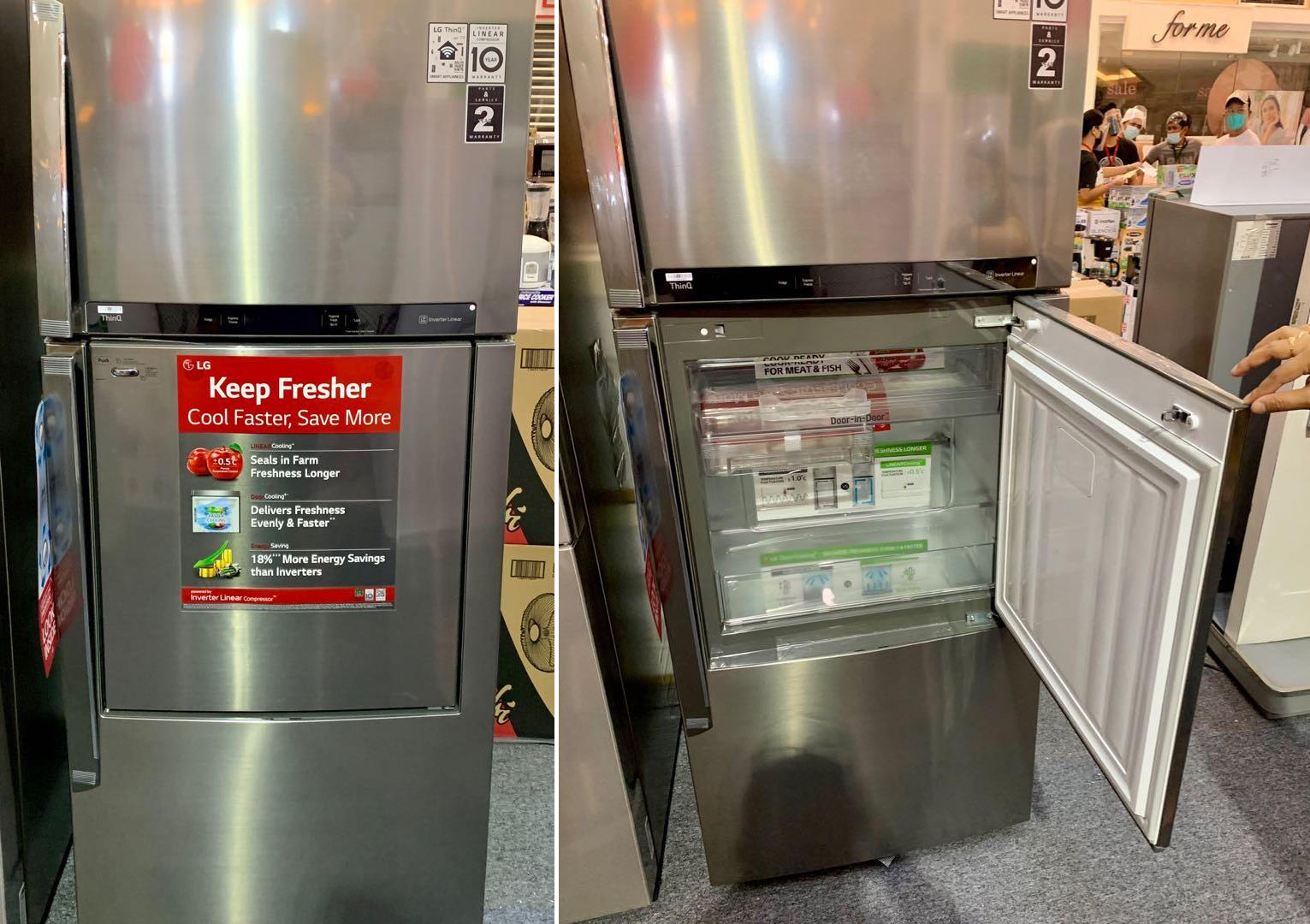 Image credit: King Tan Raymundo
For families with night snackers and light sleepers, the LG GR-A502HLHU provides the best of both worlds. Its low noise output thanks to its quieter inverter technology with fewer noise-emitting friction points won't create a buzz at night.
And with its door-in-door feature boasting a mini-door you can open to grab your favorite midnight snacks, you also won't let too much cold air escape the fridge when you're only getting a condiment or a drink.
We often don't notice how fast veggies can yellow or lose moisture in fridges due to uneven heating. The GR-A502HLHU aims to solve this problem with LinearCooling technology to reduce temperature changes in your fridge, keeping fruits and veggies fresh for up to a week.
Plus, it claims to remove up to 99.99% of 4 common bacteria including E. coli and odors with its deodorizing function – so your food will stay clean.
Capacity: 16.9 cu. ft.
Weight: 87kg
Price: P38,995 (~USD758.88)
Get the LG GR-A502HLHU here. 
---
2. LG GR-Y201SLZB – keeps veggies fresh
---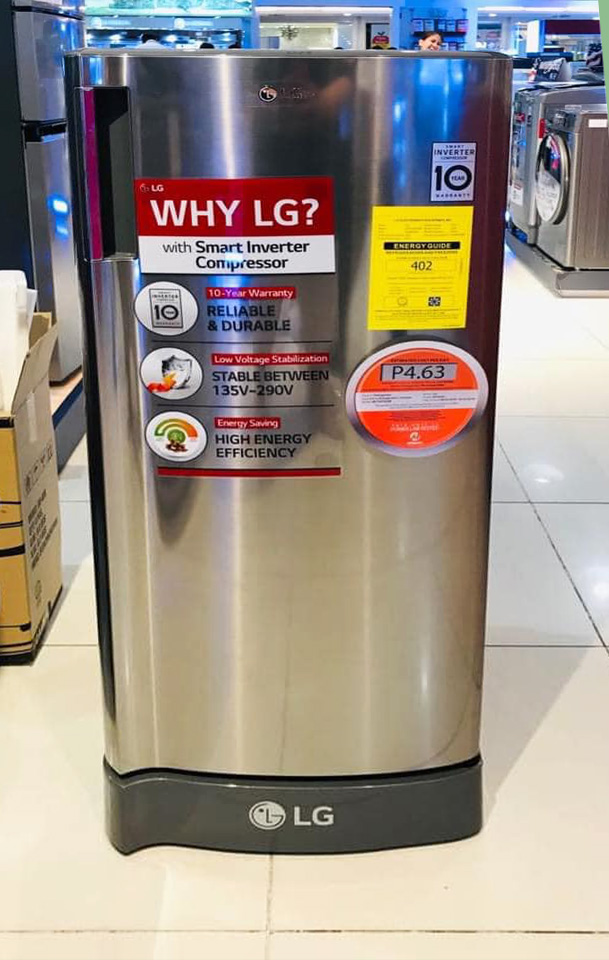 Image credit: Shane Pitacio 
Perfect for folks living alone, the LG GR-Y201SLZB is a single-door refrigerator with a capacity of 6 cu. ft. It's your standard refrigerator that's affordable at P12,995, but does the job of keeping your food as fresh as possible with a large freezer and a feature like Moist Balance Crisper that helps vegetables maintain enough moisture level to keep them from drying. 
The compressor also uses an inverter, to help control energy usage and save you some pesos on your electricity bill.  
Capacity: 6 cu. ft.
Weight: 35kg
Price: P13,995 (~USD272.26)
Get the LG GR-Y201SLZB here.
---
3. Fujidenzo RDD-60S – affordable two-section refrigerator
---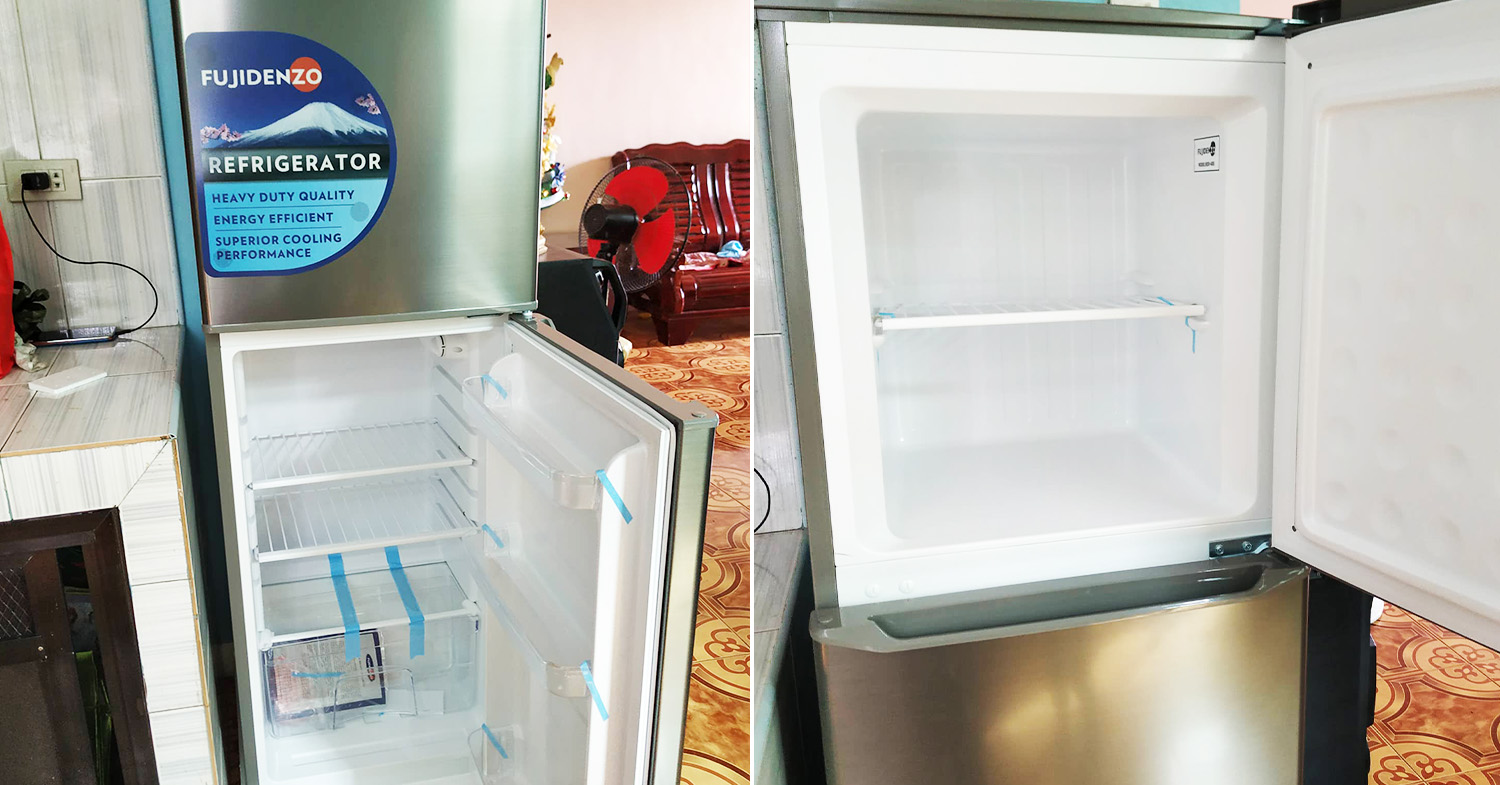 Image adapted from: Lazada 
Fujidenzo RDD-60S is another affordable fridge for a single adult, but this time consisting of two doors that divide the freezer and the refrigerator compartment. 
It has adjustable wire shelves that ensure you can store many items here – whether it's a wide box of pizza or a tall bottle of wine – of varying sizes and dimensions. This is also an energy-saving fridge, running on only 125 watts – on the lower end of normal refrigerator power consumption that's usually from 100 to 250 watts. 
Capacity: 6 cu. ft.
Weight: 44kg
Price: P10,900 (~USD212.05)
Get the Fujidenzo RDD-60S here.
---
4. GE GMV130BAGRSG – mid-priced, two-door refrigerator with automatic defrosting
---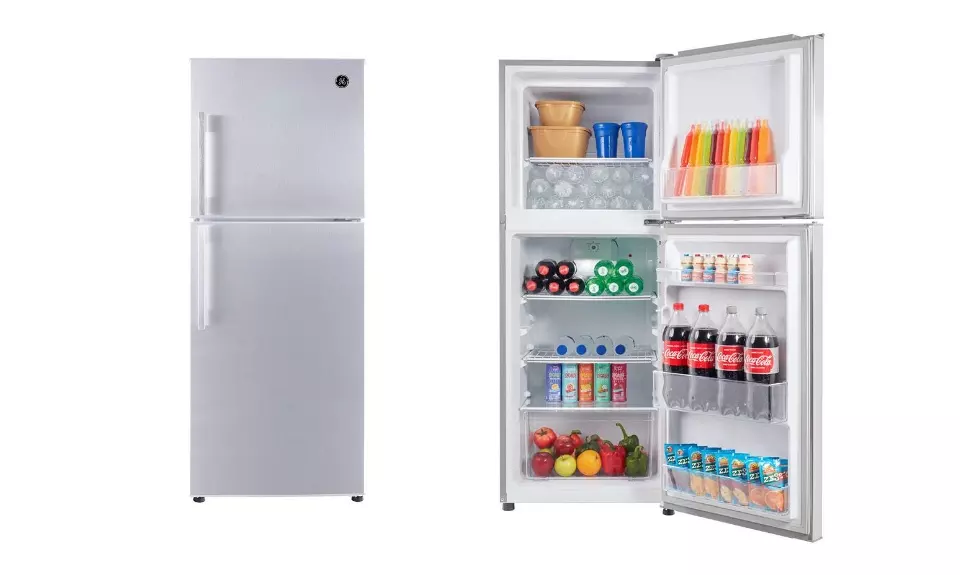 Image credit: Lazada 
Defrosting can be quite a hassle, as you have to remove extra chunks of ice that's accumulated in your fridge. But fortunately, the GE GMV130BAGRSG with a 1-touch defrost system makes defrosting easy with only a touch of a button. As well as saving you time, it also comes with an energy-saving inverter. 
With a capacity of 11.5 cu. ft., it can hold enough food for a small family's needs. Sold at P24,995, it's a mid-priced, standard two-door refrigerator that's worth the bucks considering all its features.  
Capacity: 11.5 cu. ft.
Price: P21,250 (~USD413.40)
Get the GE GMV130BAGRSG here.
---
5. Electrolux EBB3400H-H – bottom-freezer refrigerator
---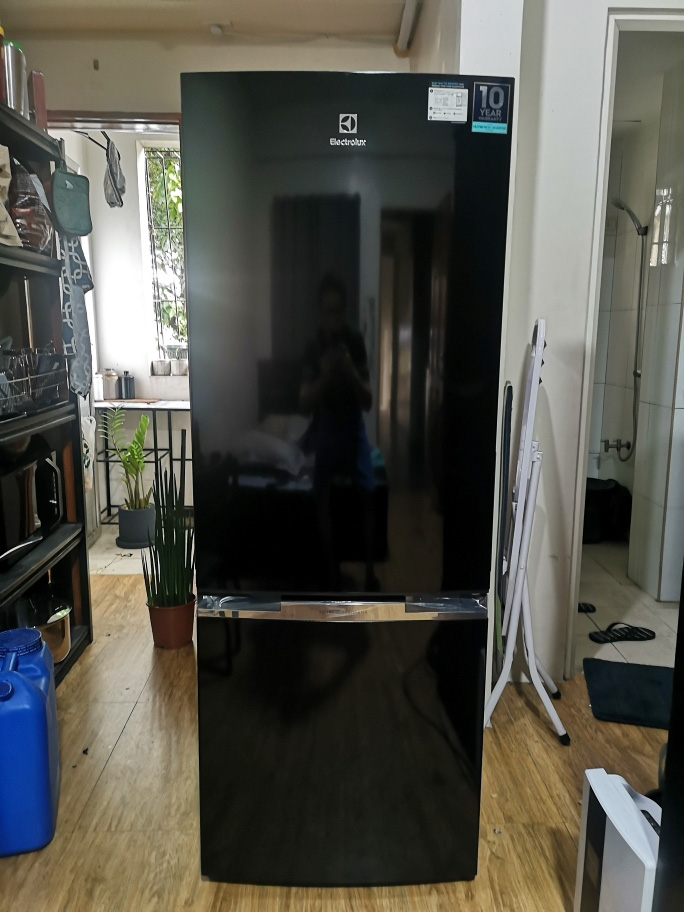 Image credit: Lazada 
Getting huge chunks of frozen meat from a freezer sometimes requires shorter folks to stand on a chair when rummaging through the freezer. The Electrolux EBB3400H-H should come in handy, as it's a bottom-freezer refrigerator where the freezer is closest to the ground, under the refrigerator compartment that's at eye level.
Housed in a glossy black finish, the fridge packs other additional features that you wouldn't see in a typical fridge. Aside from its unique configuration, the fridge features a 360-degree cooling system that circulates air throughout the fridge, so you don't need to worry about the best part of the fridge to place an item as every compartment is cooled evenly. There's also an automatic ice maker built inside that would make preparing drinks during extreme summer months easier. 
It's also an inverter fridge, so you'll have an energy-saving appliance too. 
Capacity: 12 cu. ft.
Weight: 50kg
Price: P37,298 (~USD725.59)
Get the Electrolux EBB3400H-H here.
---
6. Panasonic NR-BP260VD – keeps food and drinks cool for longer
---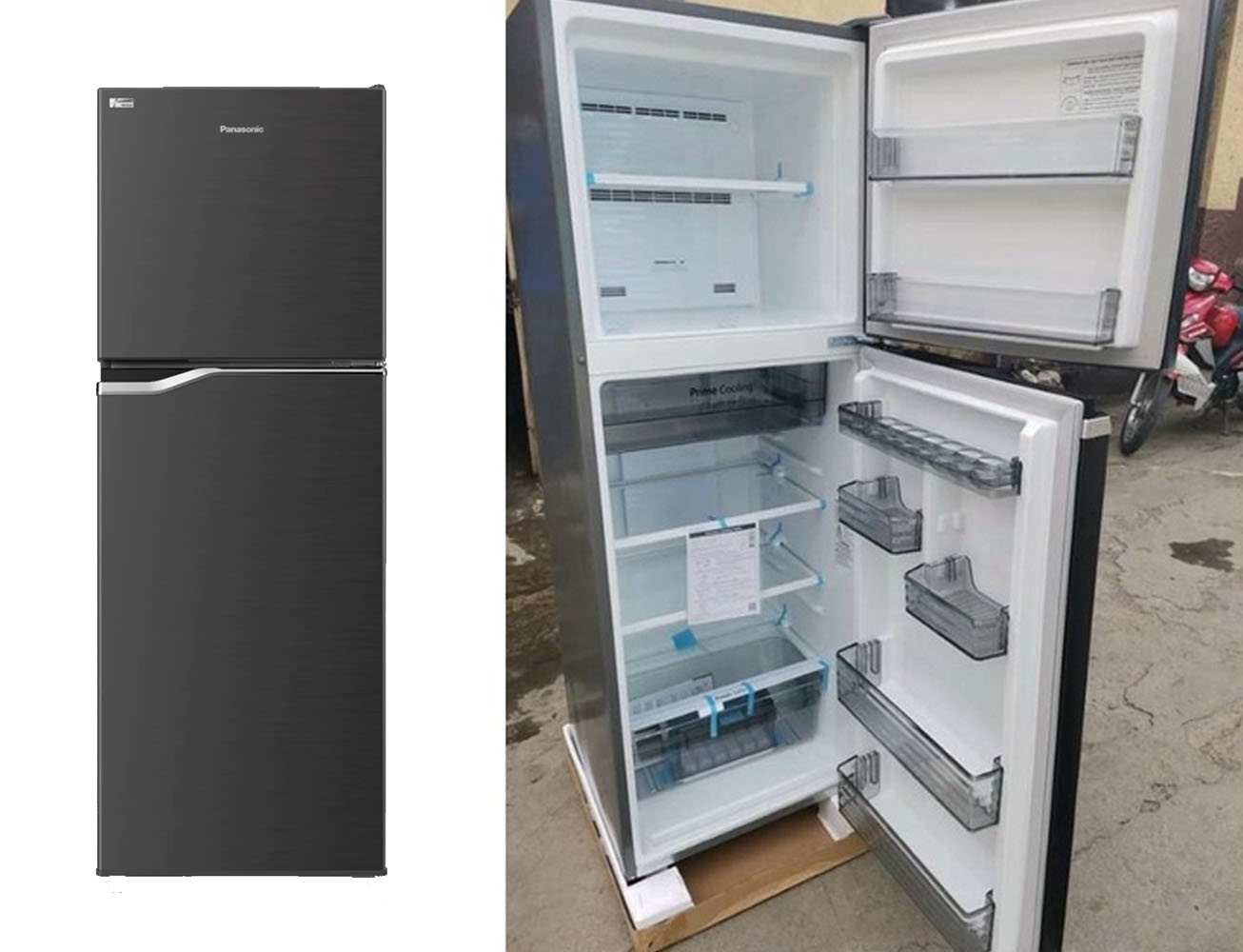 Image credit: Lazada and Shopee
With generous shelving space and in an unusual cool black, the Panasonic NR-BP260VD promises power efficiency by reducing electricity usage at night when fewer people in your fam will open and close the fridge door. This keeps food cooler and saves on unneeded energy wastage.
It keeps items cool at -1°C for longer, with an Ag filter that deactivates 99.9% of bacteria and mold to keep your food healthy for your peace of mind.
Plus, the door pocket shelving units are adjustable, so if your drink bottles could use some rearranging, there're always be space to spare for them.
Capacity: 193 liters (refrigerator), 61 liters (freezer)
Weight: 43kg
Price: P19,997 (~USD389.18)
Get the Panasonic NR-BP260VD here.
---
---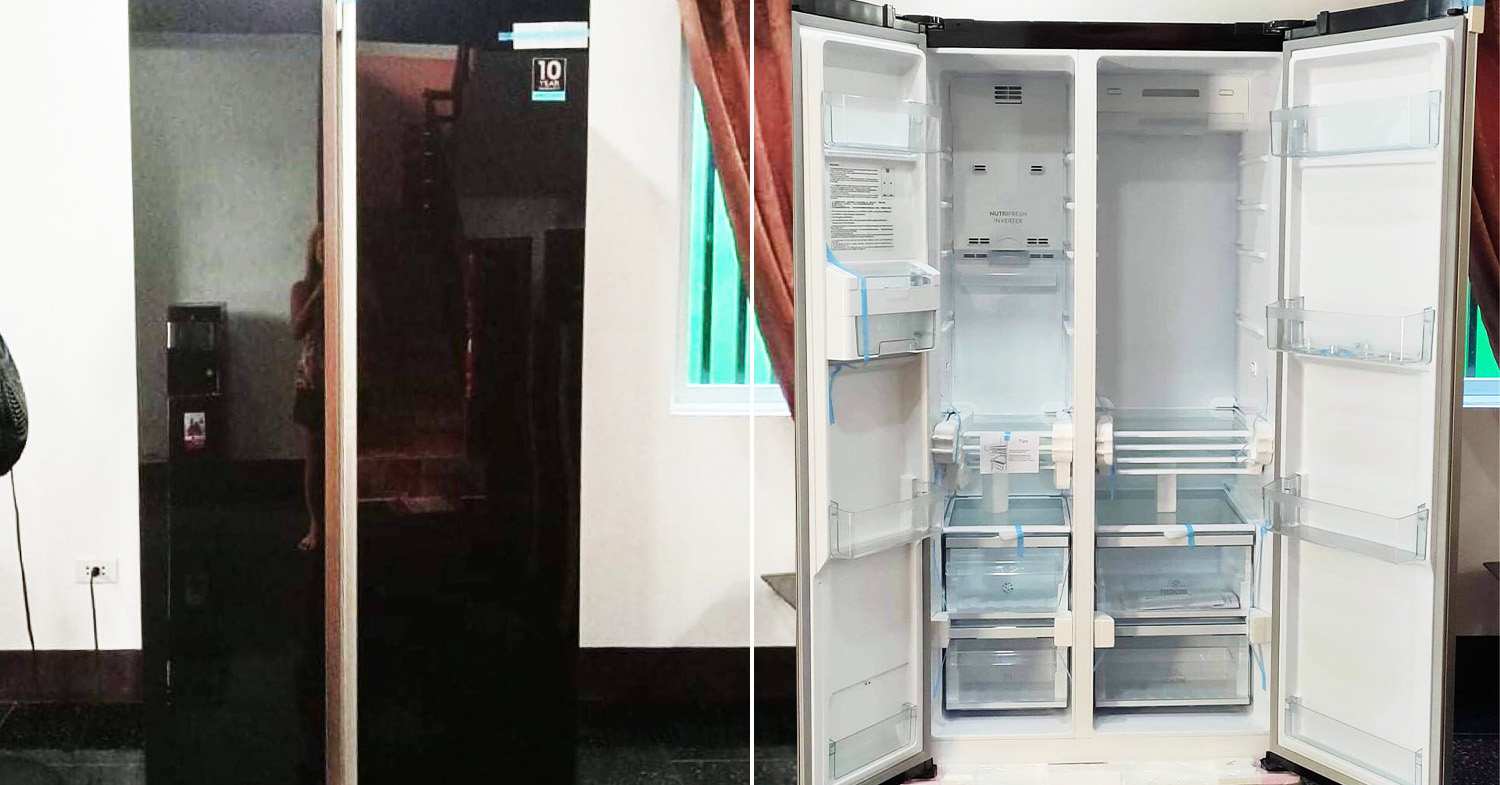 Image adapted from: Lazada 
Like the Panasonic NR-DZ600GKPH, the Electrolux ESE6201BG is good for narrow kitchens as it's a side-by-side refrigerator that won't occupy so much space when opened, given its doors' modest width. This allows minimal coldness to escape, keeping the items left inside unaffected by the slight temperature change. 
Coated in black glass, the attractive fridge also circulates air throughout the fridge, so every item on each shelf receives an equal amount of cooling. So you can store as many grocery items as you like here – given that it has a carrying capacity of 22.5 cu. ft as well – without worrying about which compartment will stay fresh for longer. 
Capacity: 22.5 cu. ft.
Weight: 116kg
Price: P66,098 (~USD1,285.89)
Get the Electrolux ESE6201BG here.
---
8. Samsung Family Hub – side-by-side refrigerator with a touch display
---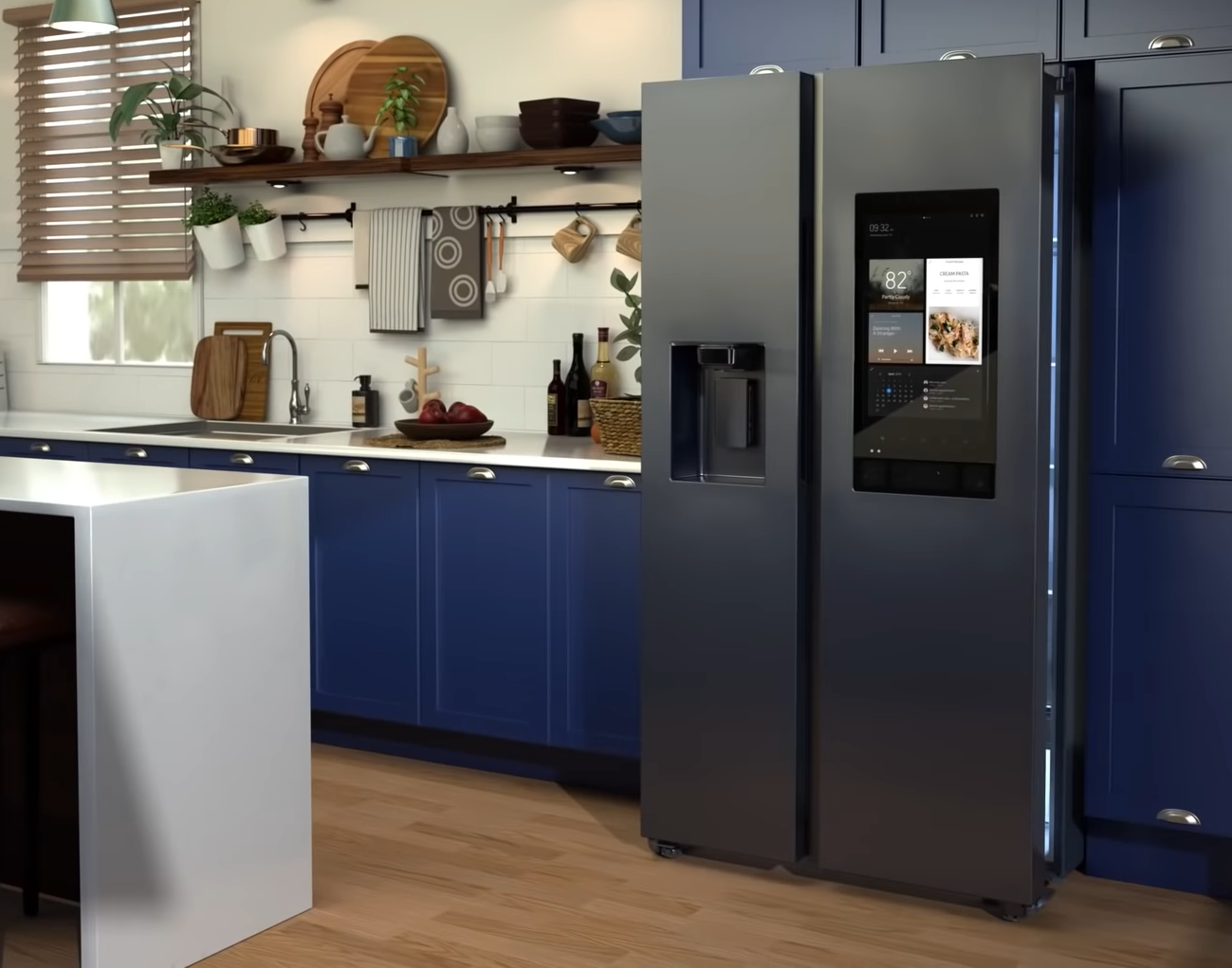 Image adapted from: Samsung India 
Refrigerators have truly evolved through the years – the Samsung Family Hub, a side-by-side refrigerator built with a touch display you can use as a tablet connected to Wi-Fi – would be the stuff of imagination just 10 years ago.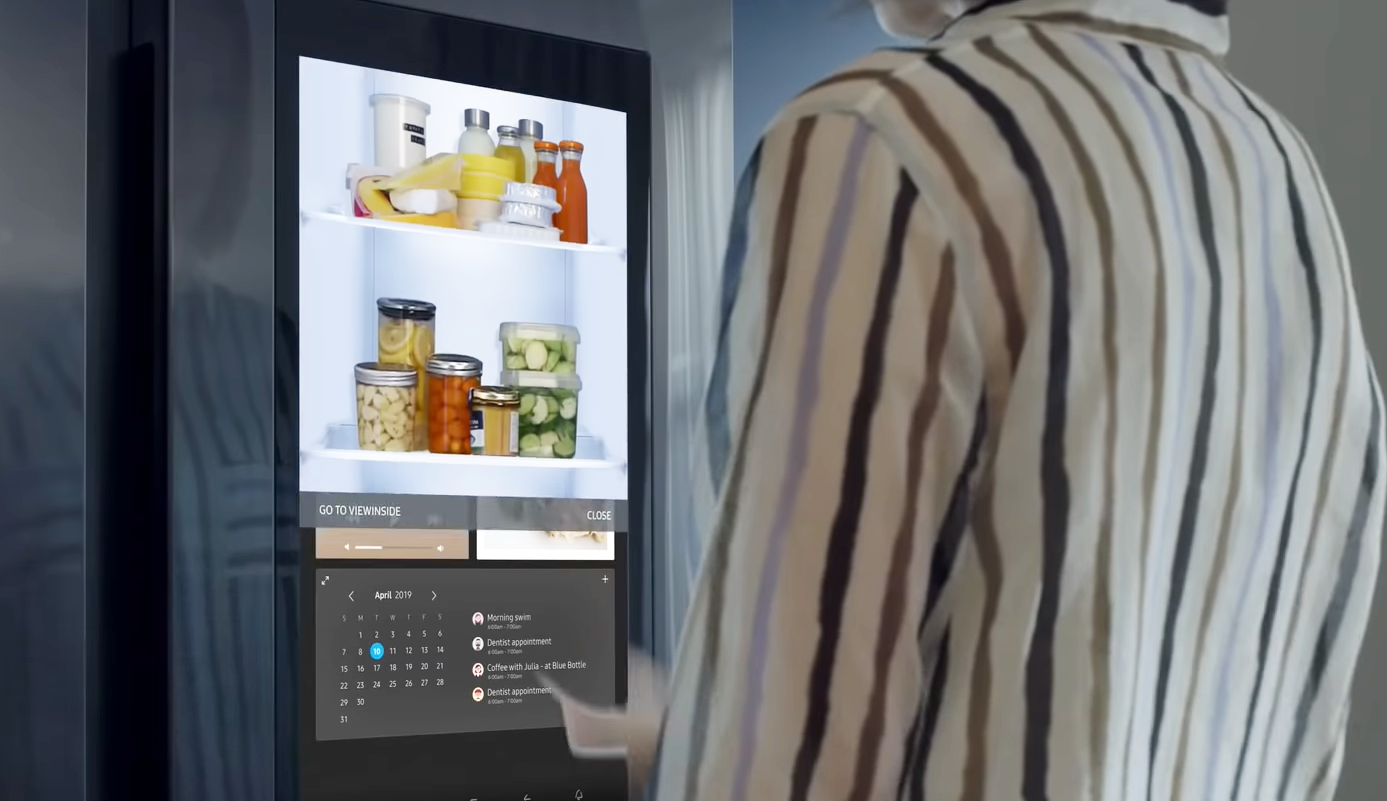 Image adapted from: Samsung India 
It's enabled by the SmartThings App that can help you manage your kitchen by showing you recipes you search for and providing you a meal planner, among other functions. You can connect the app with your Samsung phone as well, so any time you're not at home, you can still view what's inside the fridge on your phone. 
And while it's fancy on the smart features, it's not an electricity guzzler either, thanks to its compressor with an inverter that will help you save energy. 
Capacity: 23.2 cu. ft.
Weight: 116kg
Price: P135,995 (~USD2,826.93)
Get the Samsung Family Hub here. 
---
Refrigerators in the Philippines to keep your food fresh
---
Refrigerators nowadays do not just come with a simple, single icebox. From devices with unique configurations to special features, the variety of options can now make shopping for a new refrigerator confusing. 
But with the help of this guide, you're a few steps away from getting your new mighty refrigerator that will ensure your kitchen runs 24/7, with a fresh stash of food any time of day. 
Also check out:
---
Updated by Xin Tian Koh in February 2022.
Cover image adapted from: @panasonic_india, Shopee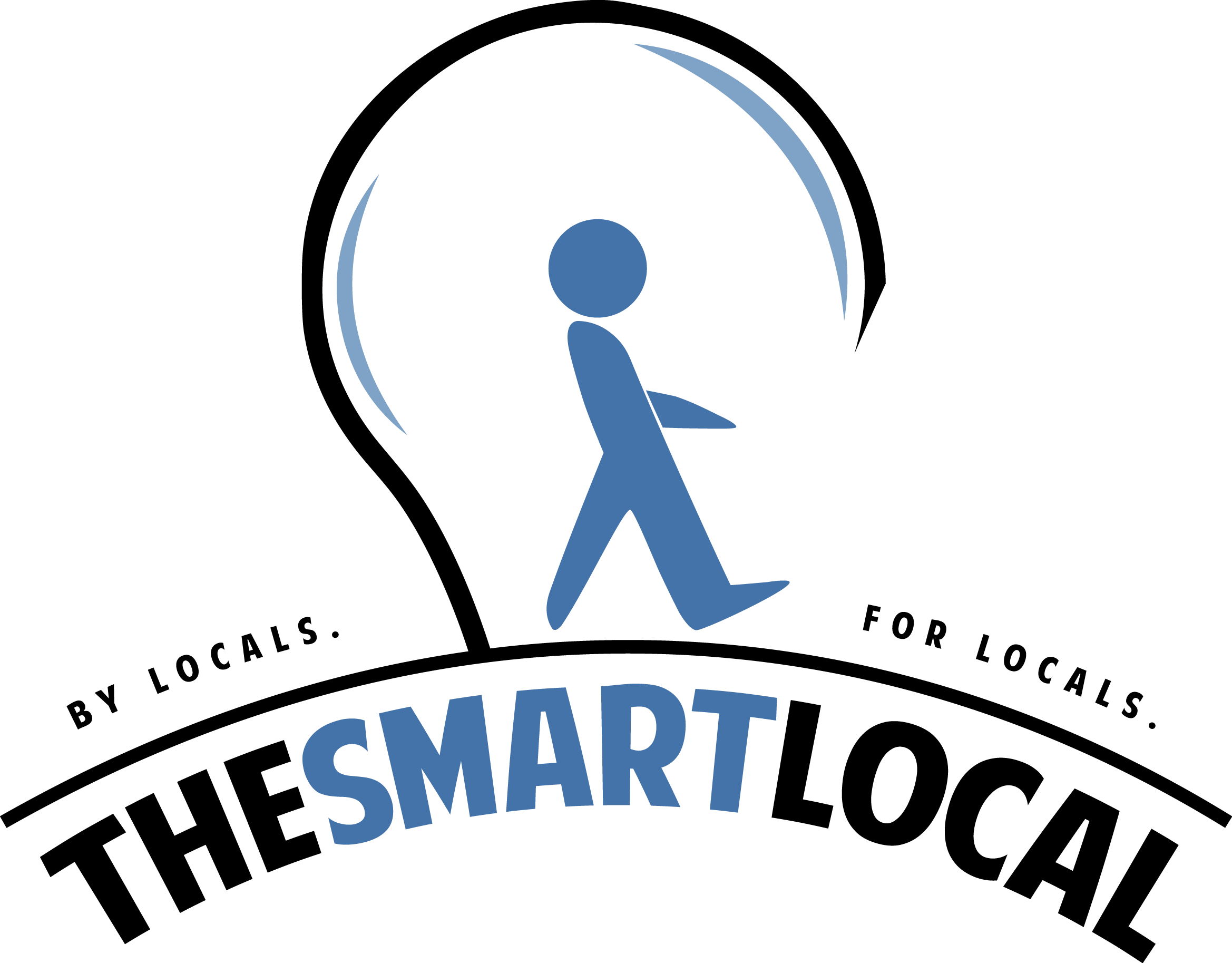 Drop us your email so you won't miss the latest news.