Garden care tips for newbies
---
Beautiful home gardens often give us the impression that they take so much time and effort to set up. But really, garden care isn't hard with the right methods and tools.
To help you create the garden of your dreams, we've come up with 7 newbie-friendly garden care tips for a yard that will impress your guests at any time of the year.
---
1. Prune your trees right before the rainy season
---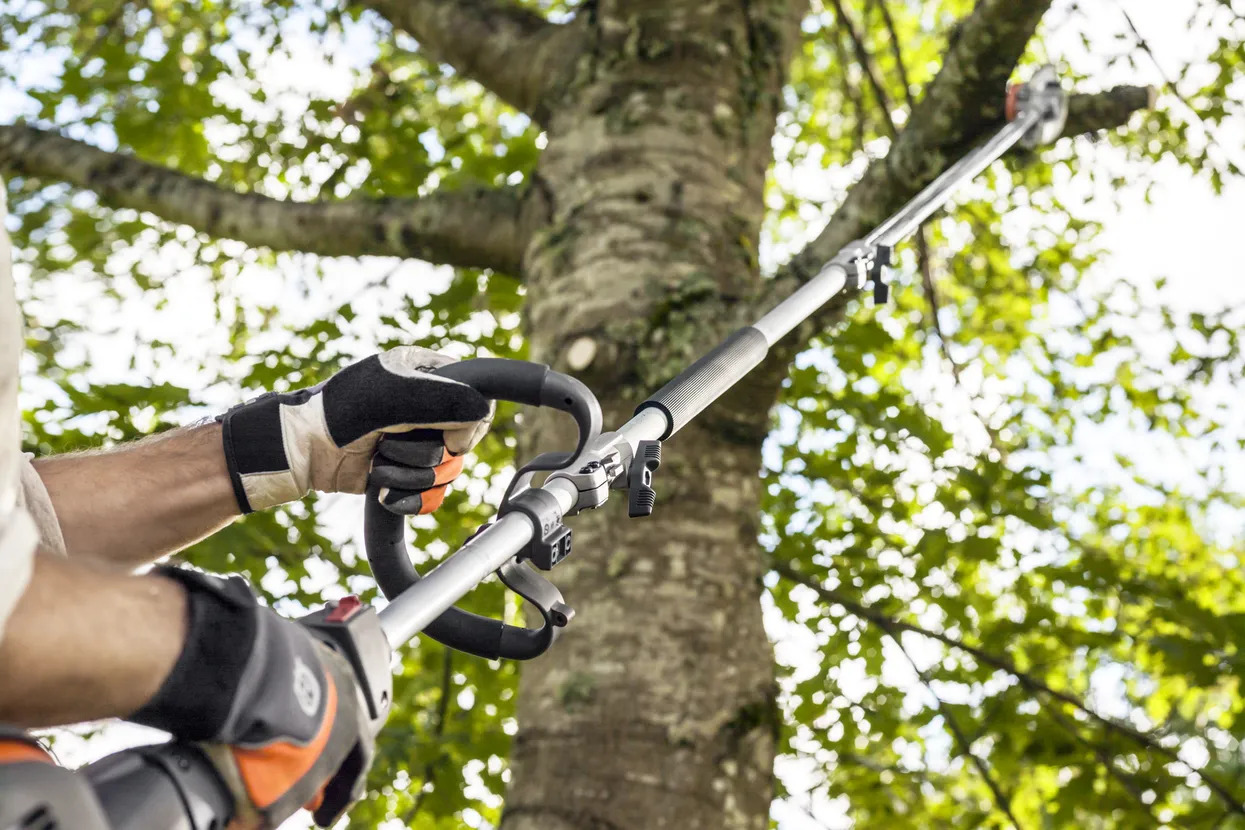 Pole saw.
Image credit: Husqvarna
If you've lived in the Philippines for a while, you know that our typhoons can involve ruthless winds. To protect your house from fallen branches and keep your yard tidy, make sure to prune your trees before the rainy season.
Compared to a chainsaw, which is best left to the pros, a pole saw can be used by newbies for regular tree pruning. These are made to reach higher branches, with adjustable poles, and also have easy-to-understand controls for beginners.
Removing some branches from trees helps them withstand heavy rain and strong winds better as they won't be swaying as much. Pruning also keeps your plants on the ground happy even during the gloomy season since it allows them to get more sunlight.
However, remember that timing is key when it comes to pruning your trees. Don't trim too early during the dry season as it can cause tree-killing bacteria and fungi to get to your trees.
---
2. Spray pesticides at the beginning of summer
---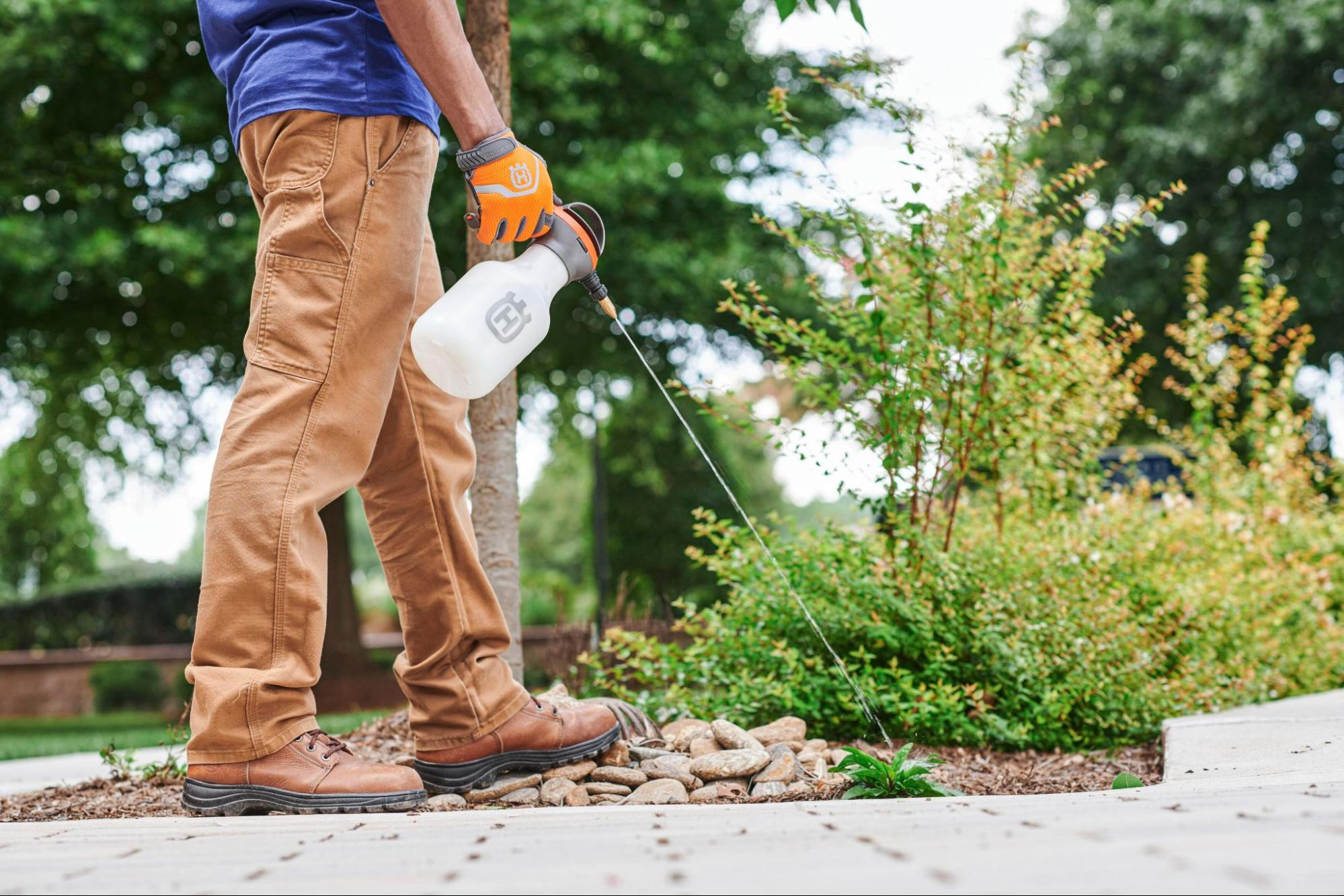 Image credit: Husqvarna
Insects gather in our yards in the summer the same way we flock to the beach. We see more pest damage in plants during this time since insects have longer time and better weather conditions to feed.
Safeguard your plants from damage by doing pest control as soon as the dry season starts. To save on professional pest control costs, you can do it yourself with a sprayer. 
You can get garden-safe insecticide if you're using it in your vegetable garden or just want something more eco-friendly. But whatever insecticide you're using, remember to wear PPE such as gloves, goggles, and boots to avoid contact with chemicals.
---
3. Clear your yard of leaves
---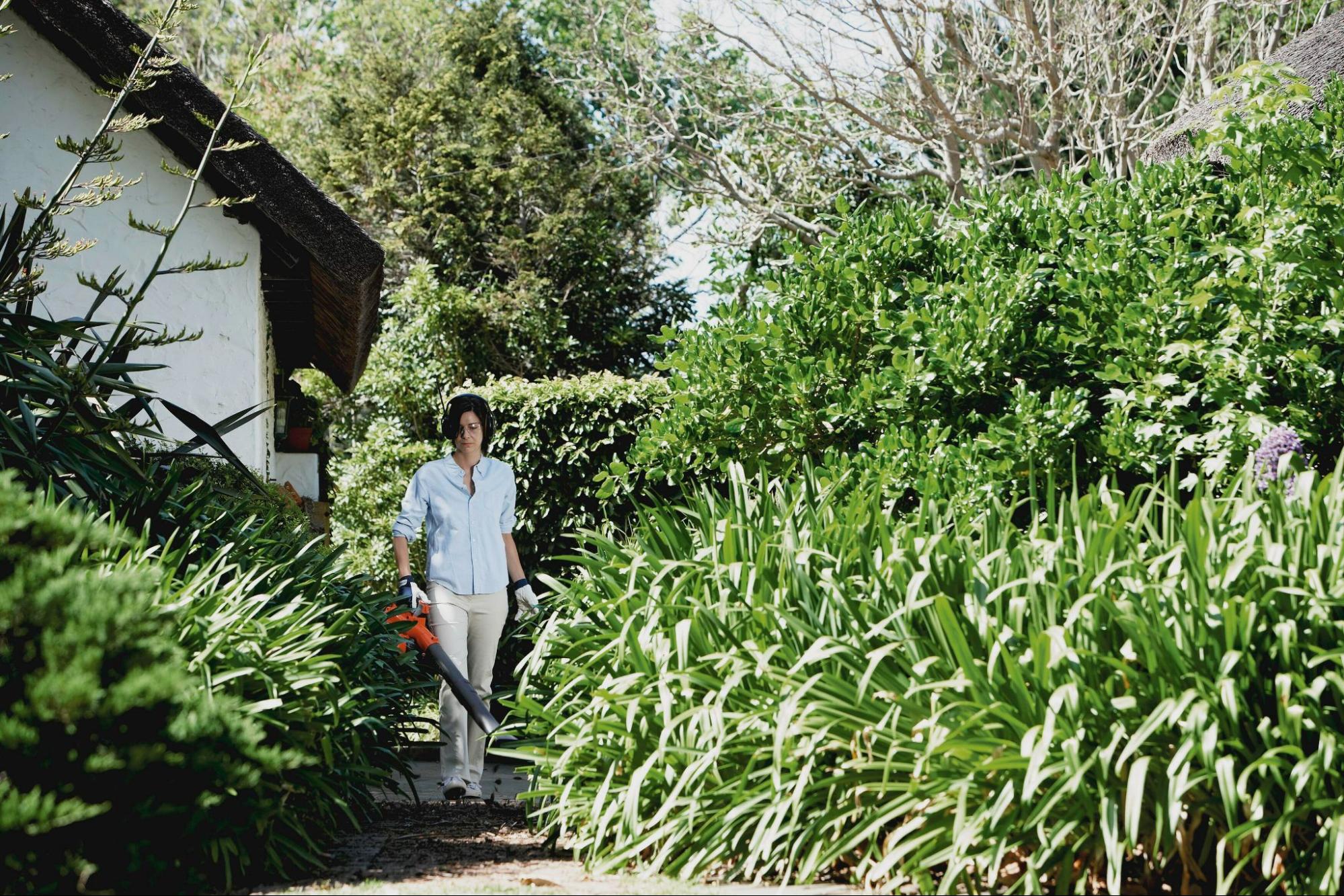 Leaf blower.
Image credit: Husqvarna
There's no fall in the Philippines but that doesn't mean trees don't shed leaves. While the walis is time-tested, it may not be the most efficient tool when you have a huge yard and lots of trees. 
Using a leaf blower will save you so much time clearing your garden of leaves. You'll just need to lay out a tarp and direct the leaves there for an easy clear-out. Then, you can compost the leaves to use as fertilizer for your plants.

You can also use a leaf blower to unclog your gutter of leaves and prevent the spread of mosquitoes, which are a huge no-no when you have guests coming over year-round.
---
4. Trim the grass regularly
---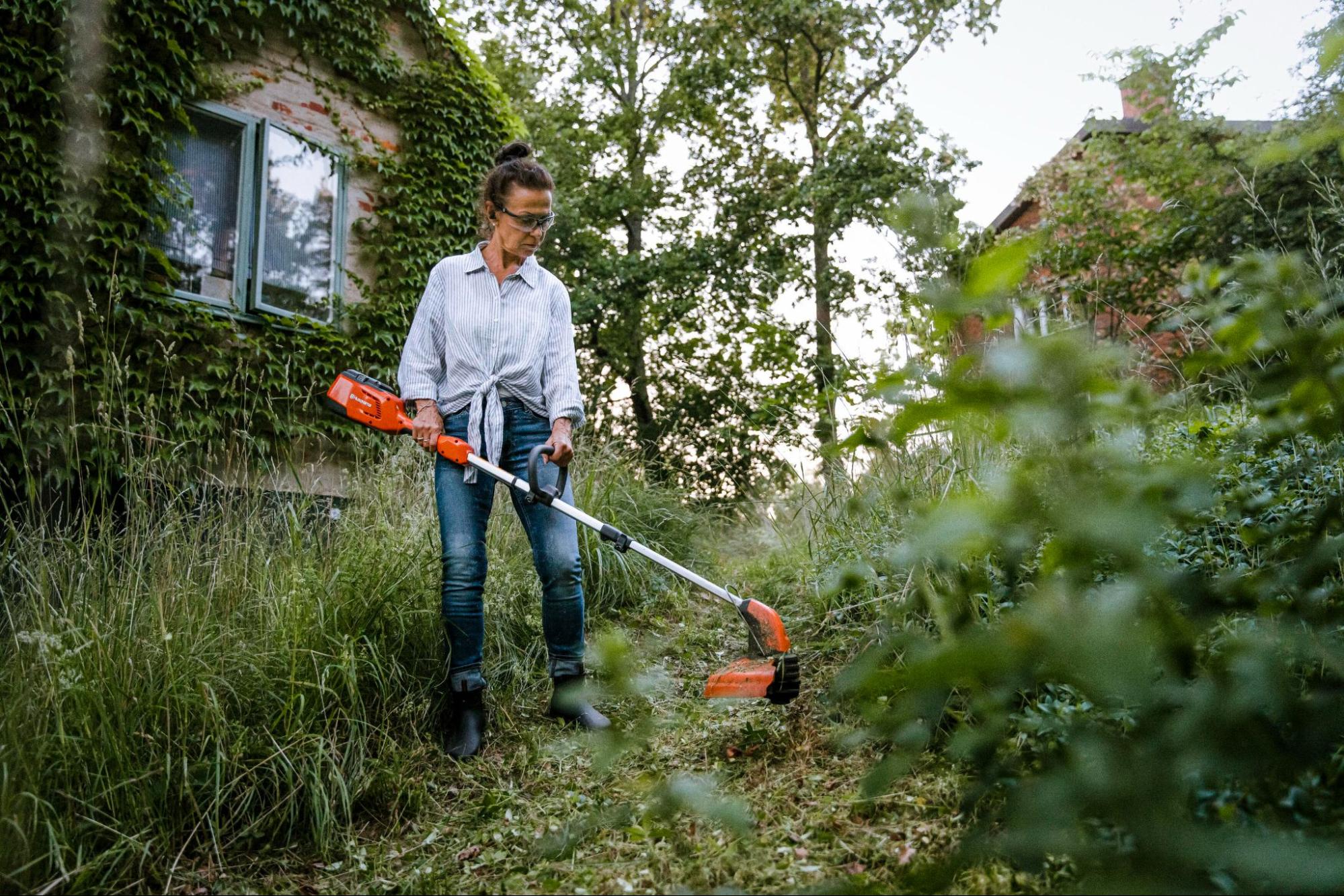 Grass trimmer.
Image credit: Husqvarna
Trimming the grass makes your garden look so much tidier instantly but it can take time to do this by hand with a sickle or karit.
If you have a bigger-sized garden, get a grass trimmer. A battery-operated grass trimmer is especially convenient as you won't have to go out of your way to get gas whenever you have to use it. And with rising gas prices, it'll even save you money in the long run.
A grass trimmer is also a great tool to have when you have to trim the grass around plants and trees or have hedges to maintain.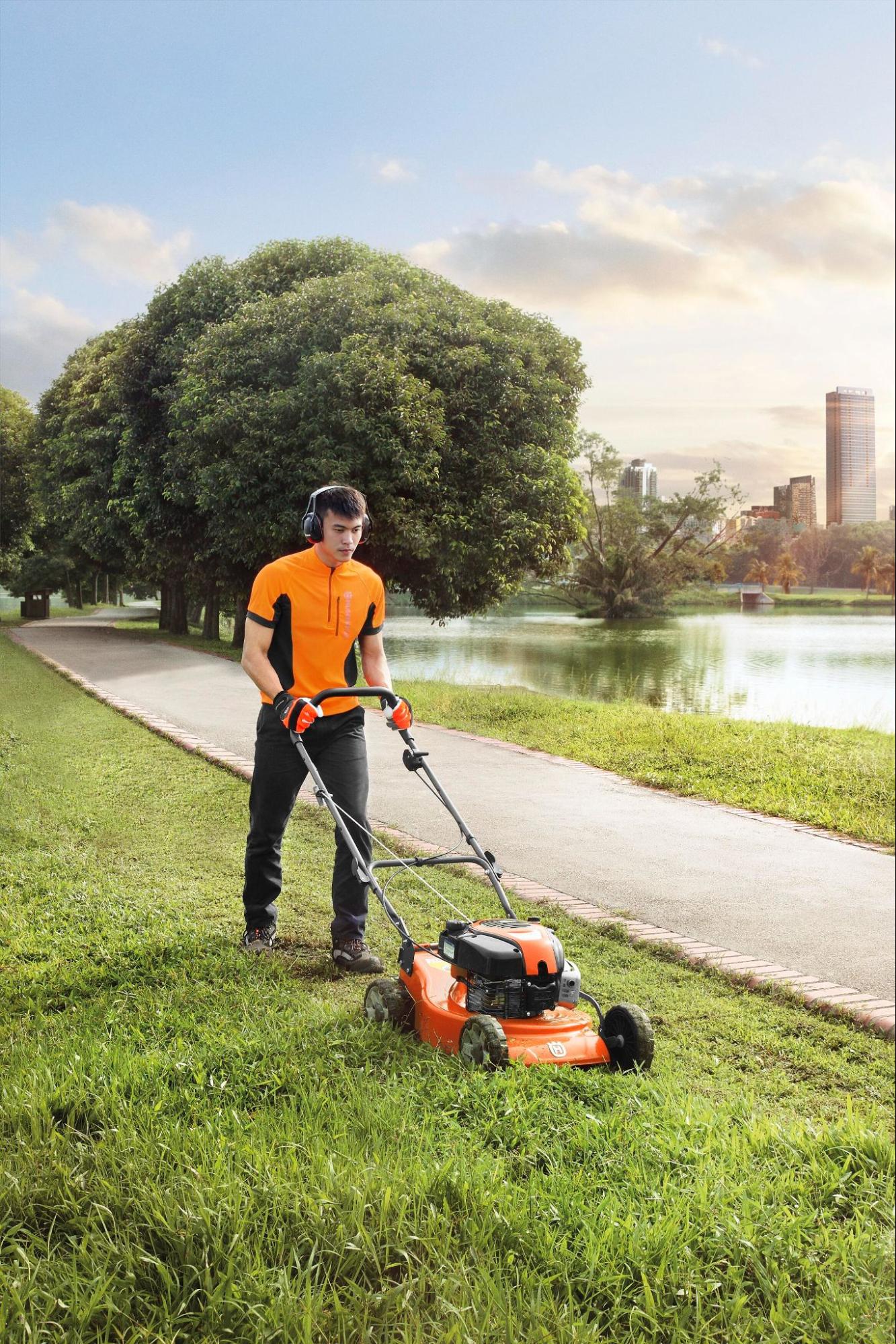 A walk-behind mower.
Image credit: Husqvarna
But if you want to cut grass evenly on a large lawn, you can use a walk-behind mower instead. Some of these even come with a mulch insert, which turns grass into clippings you can use as fertilizer so their nutrients return to the soil.
---
5. Till the soil of your vegetable or flower garden
---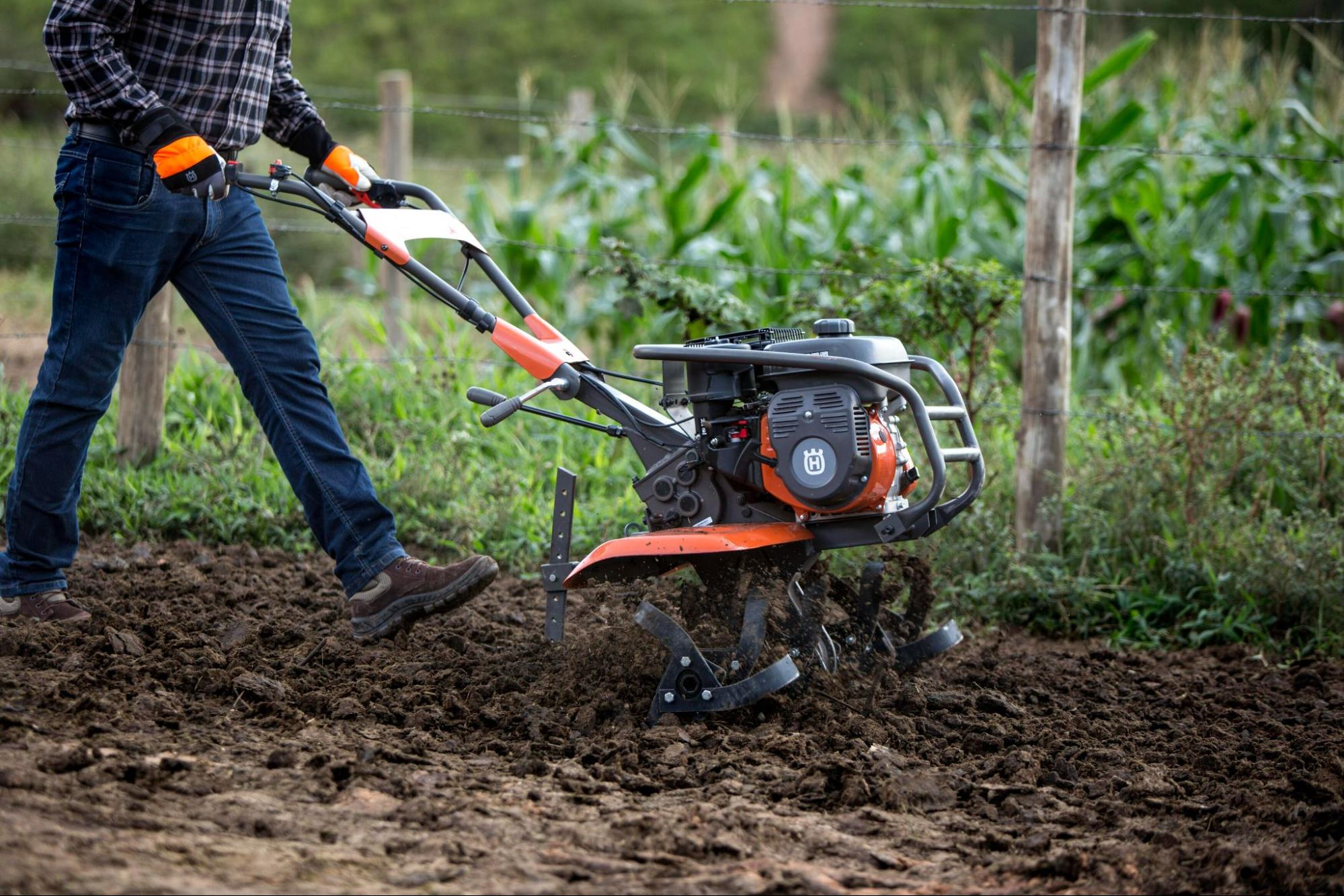 Tiller.
Image credit: Husqvarna
Tilling the soil is the secret to a thriving garden you'll be proud to tour your guests in. It prepares the ground for planting by allowing air and moisture that will help seeds grow.
However, loosening up the soil can take a lot of time, especially when you're planning to make bigger or multiple garden patches for flowers or produce. 
A tiller is a faster alternative to a rake or a hoe and it even saves you from back pain. A newbie-friendly tiller should be easy to start, maneuver, and store.
---
6. Get multi-functional gardening equipment
---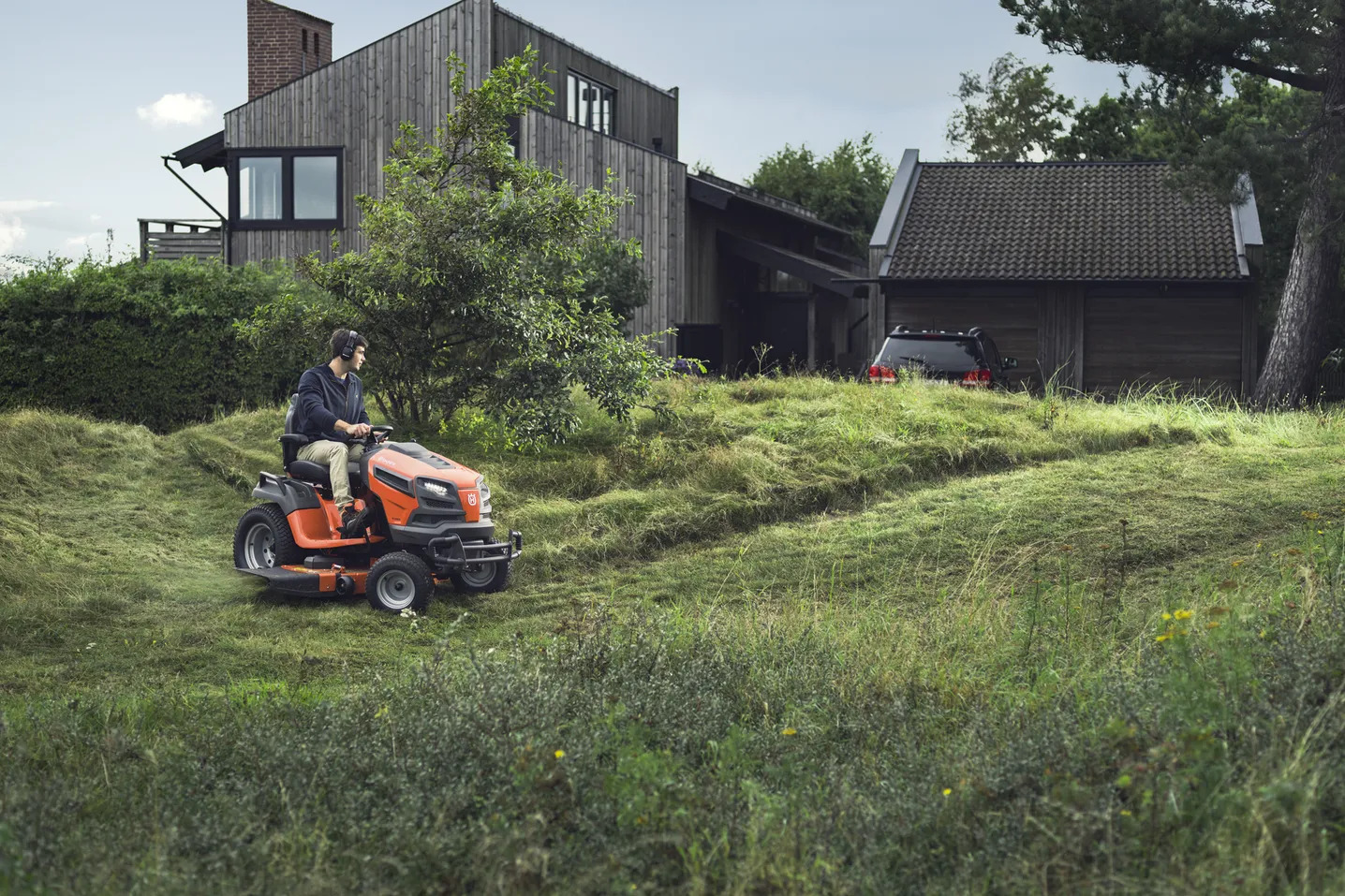 Garden tractor.
Image credit: Husqvarna
Get more things done with one device and save time required to switch tools by using multi-functional gardening equipment.
If you have a big garden to maintain, a garden tractor helps you cut grass in a bigger space in a short amount of time. It can also collect leaves and rake moss, which helps your lawn get enough air, water, and sunlight – all of which boost healthy grass growth.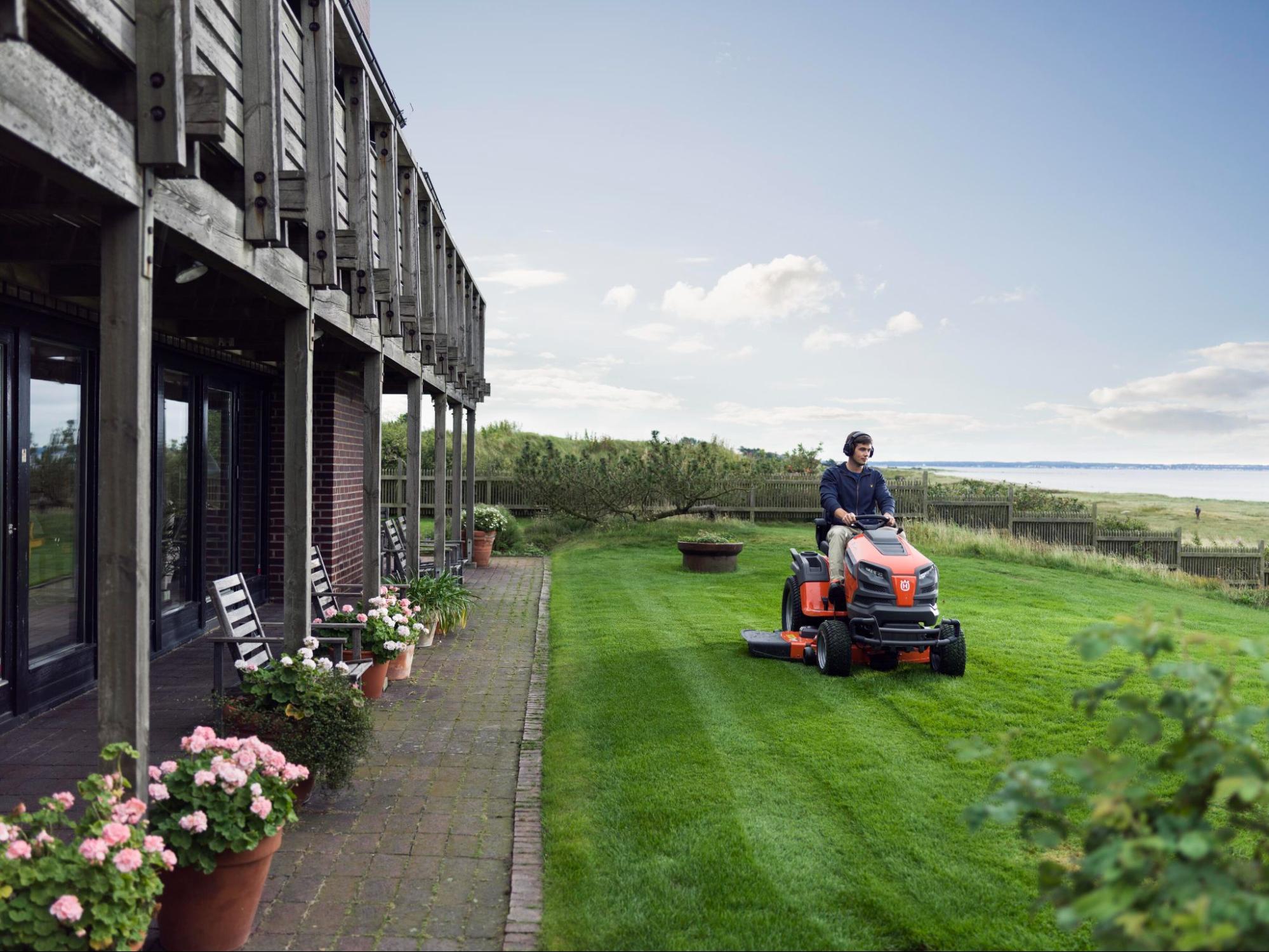 Image credit: Husqvarna
You can even add a trailer attachment to your garden tractor to carry your produce from your garden to your vehicle after a successful harvest.
And don't get intimidated by operating multi-purpose equipment such as this. You can get modern tractors started easily with a flip of a switch. Plus, you'll find everything you need to control it on the dash and its pedals.
---
7. Automate your yard work wherever possible
---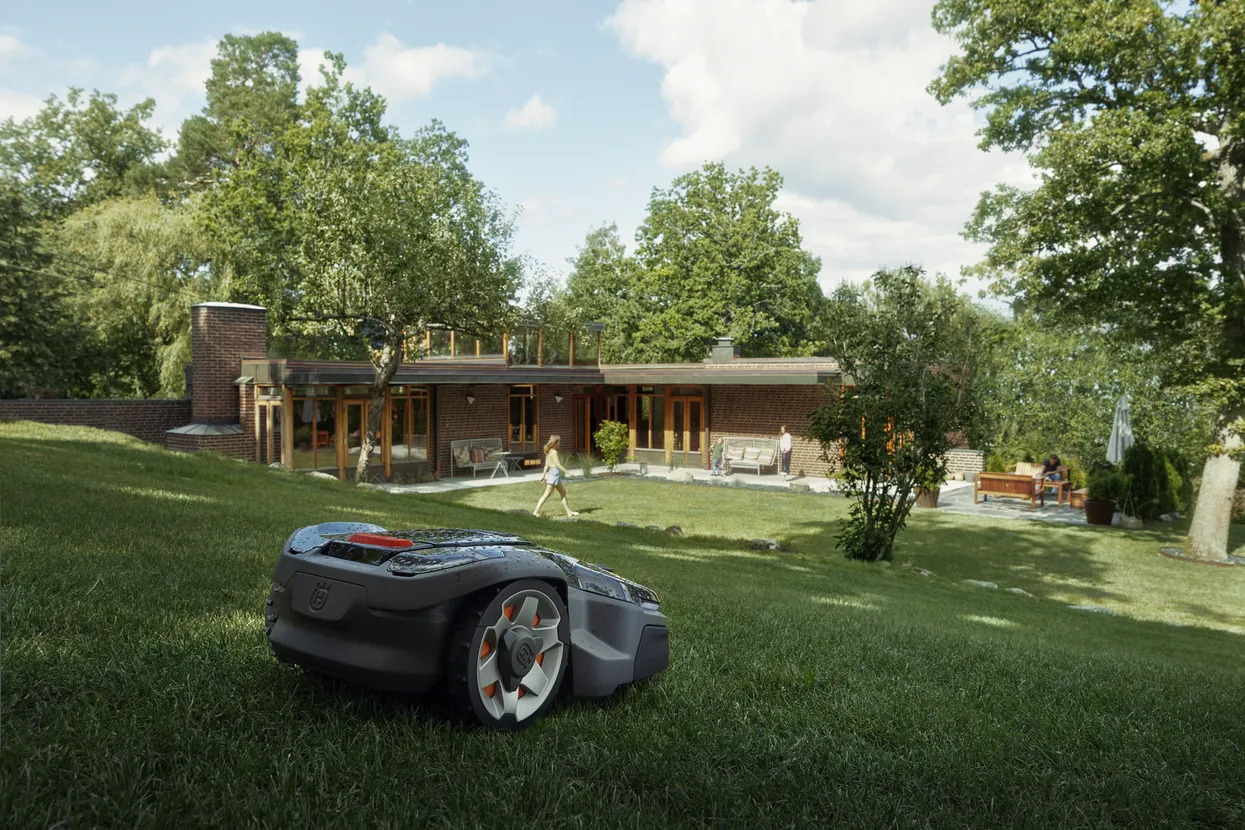 Robotic lawn mower.
Image credit: Husqvarna
If you're wondering if there's a roomba for your lawn, you'll be pleased to know that robotic lawn mowers exist. So if you value your time with family, you can invest in automated garden equipment such as this.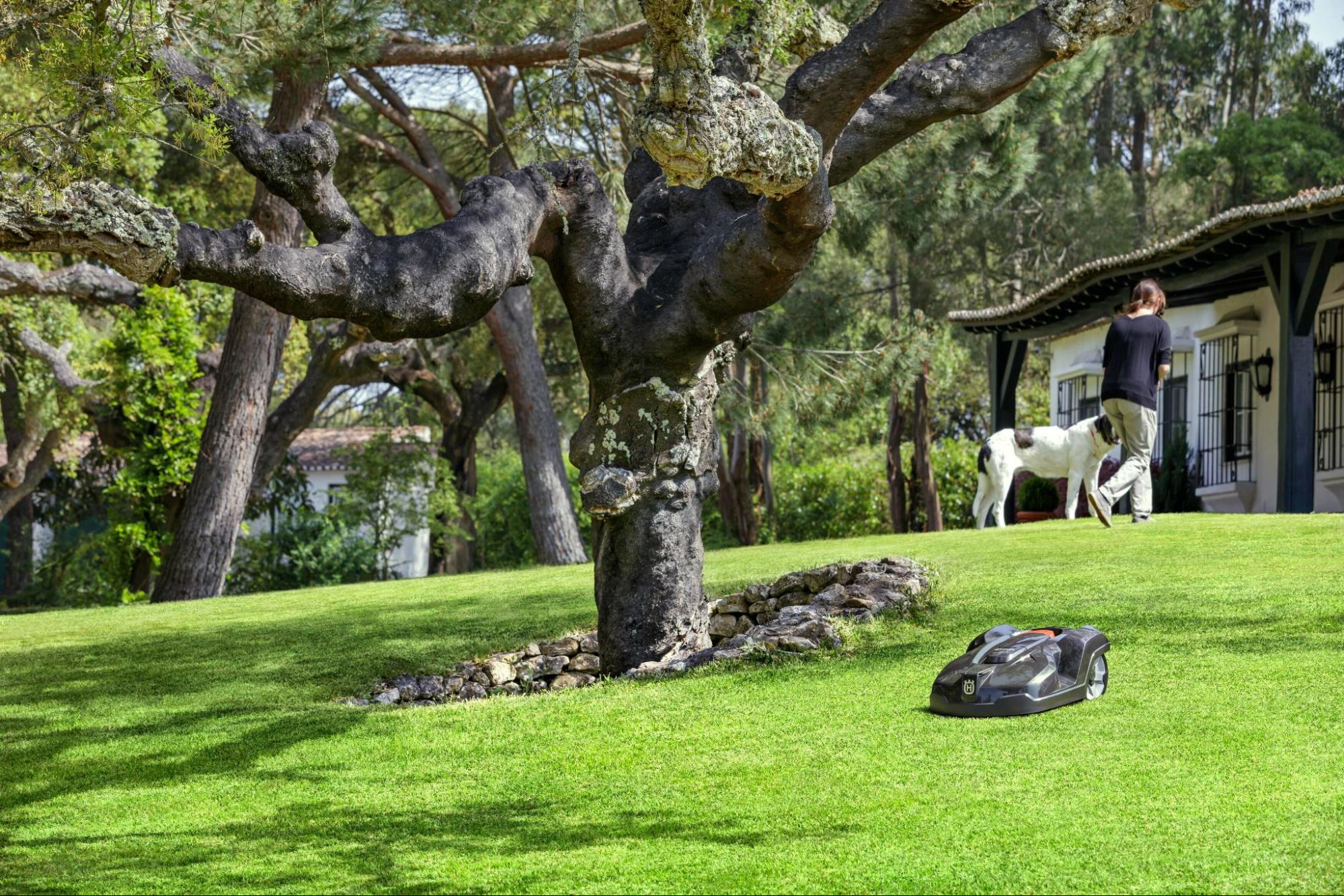 Image credit: Husqvarna
Robotic lawn mowers have a GPS that allows them to map out your garden and cut grass only in the areas you want to mow. It even goes back to its charging station to recharge itself and heads back to finish its job, so you don't have to lift a finger.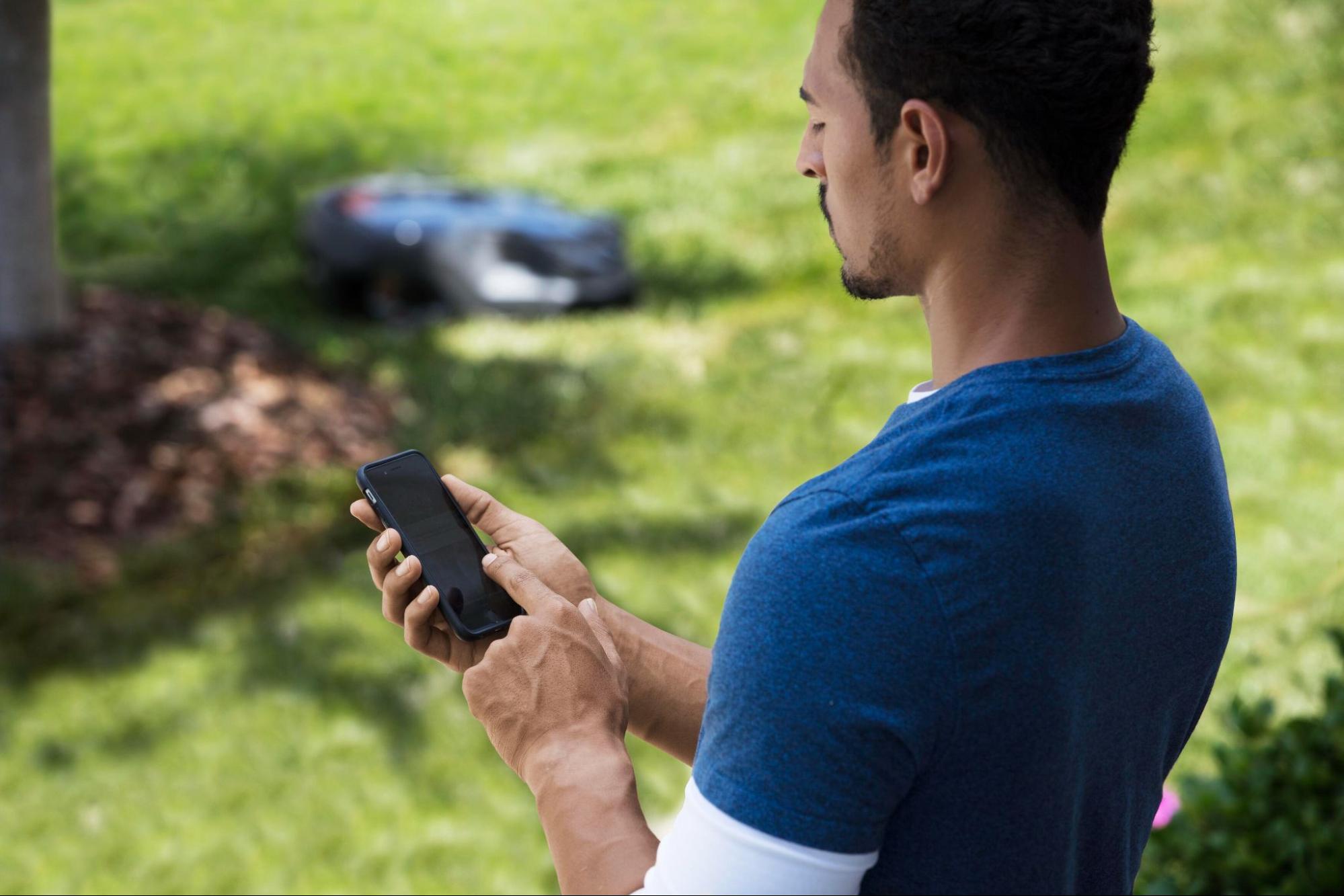 A mobile app lets you control your mower with your phone!
Image credit: Husqvarna
You can even connect your robotic lawn mower to Alexa or Google Home so you can get it running while you prepare for your guests to arrive.
---
Get professional-quality, newbie-friendly garden equipment from Husqvarna
---
High-quality garden equipment doesn't just last you a long time. It also saves time, makes gardening fuss-free, and can even help you get more tasks done with one device.
Husqvarna's garden care equipment is used by pros so you know you're doing it right but, at the same time, is easy to use for newbie gardeners.

Contact: 0998 192 0676 / 0991 297 5436 / 0917 828 4880
Email: [email protected]
Husqvarna's website | Facebook
Also check out:
---
Cover image adapted from: Husqvarna and Husqvarna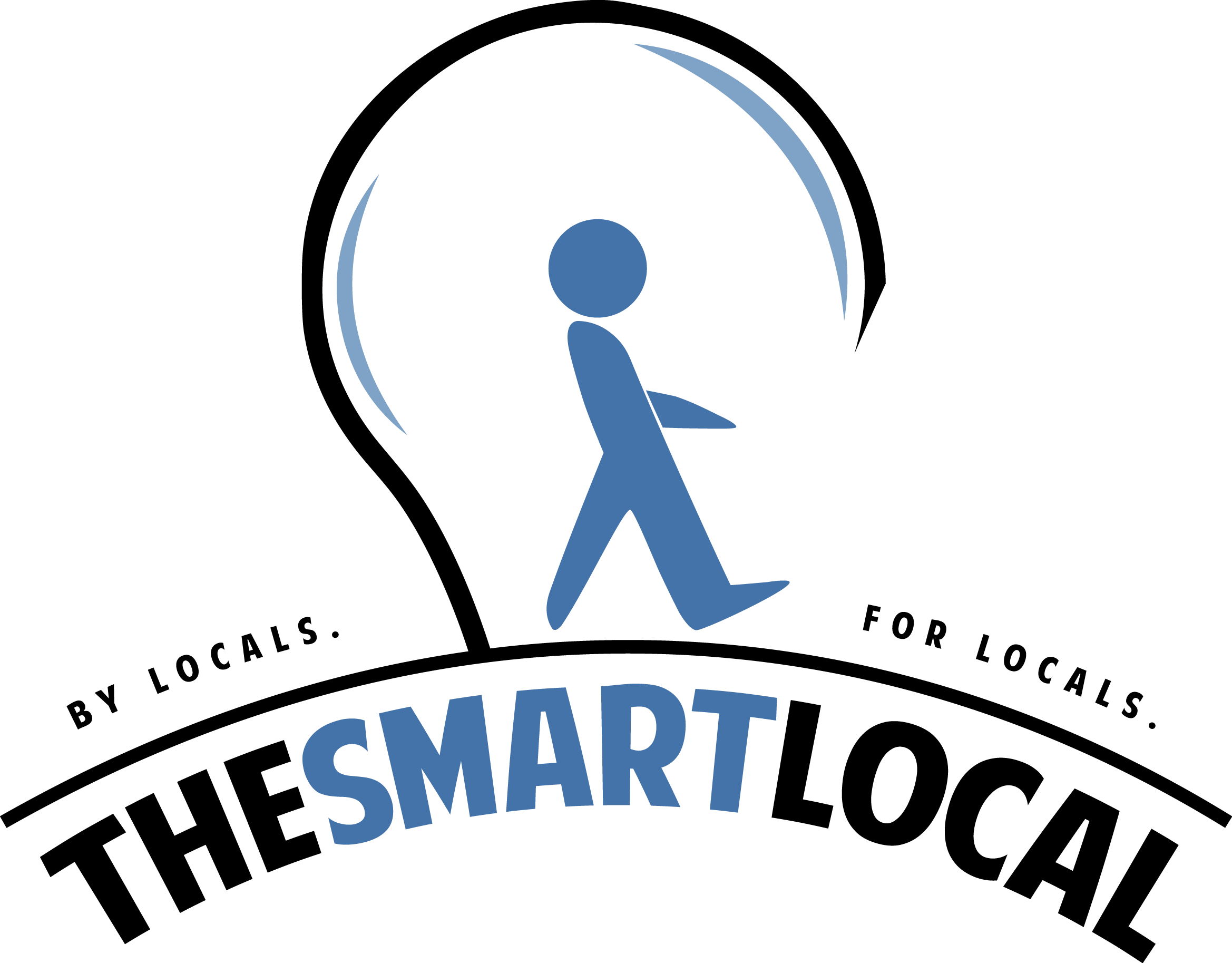 Drop us your email so you won't miss the latest news.