White sand beaches in the Philippines
---
With 7,107 islands across the country, the Philippines is inevitably filled with endless beaches to visit. The white sand beaches of Cebu, Palawan, Bohol, and Boracay are well known not just among locals, but internationally too, as tourists come to visit them year-round.
Aside from those, plenty of other white sand beaches remain unsung. If you're looking for a peaceful summer destination or nature getaway without too much of a crowd, here're some of the country's underrated white sand beaches to hit up.
Note: Do bring along power banks for your phones and cameras, and bags to bring your trash home with you after your visits to protect the natural beauty of our islands and beaches. Also check the local area's guidelines on pre-visit COVID-19 testing during this period.
---
1. Bitaog Beach, Surigao del Norte – near a secret lake
---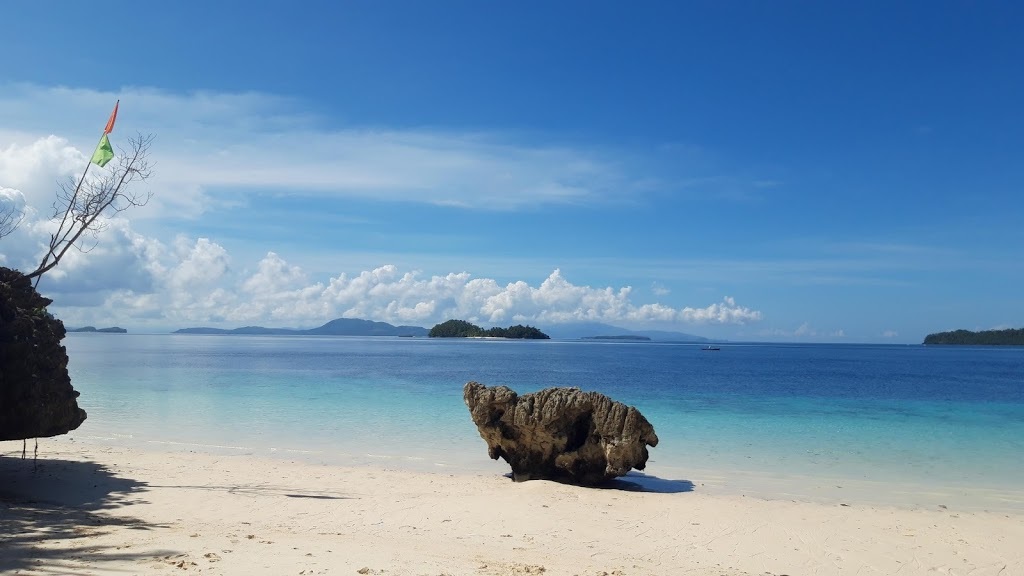 Image credit: Jeff Crisostomo
Just a boat ride away from Siargao, the surfing capital of the Philippines, is Bitaog Beach on the island of Dinagat, filled with crystal clear waters and white sand as fine as that of Palawan's and Boracay's.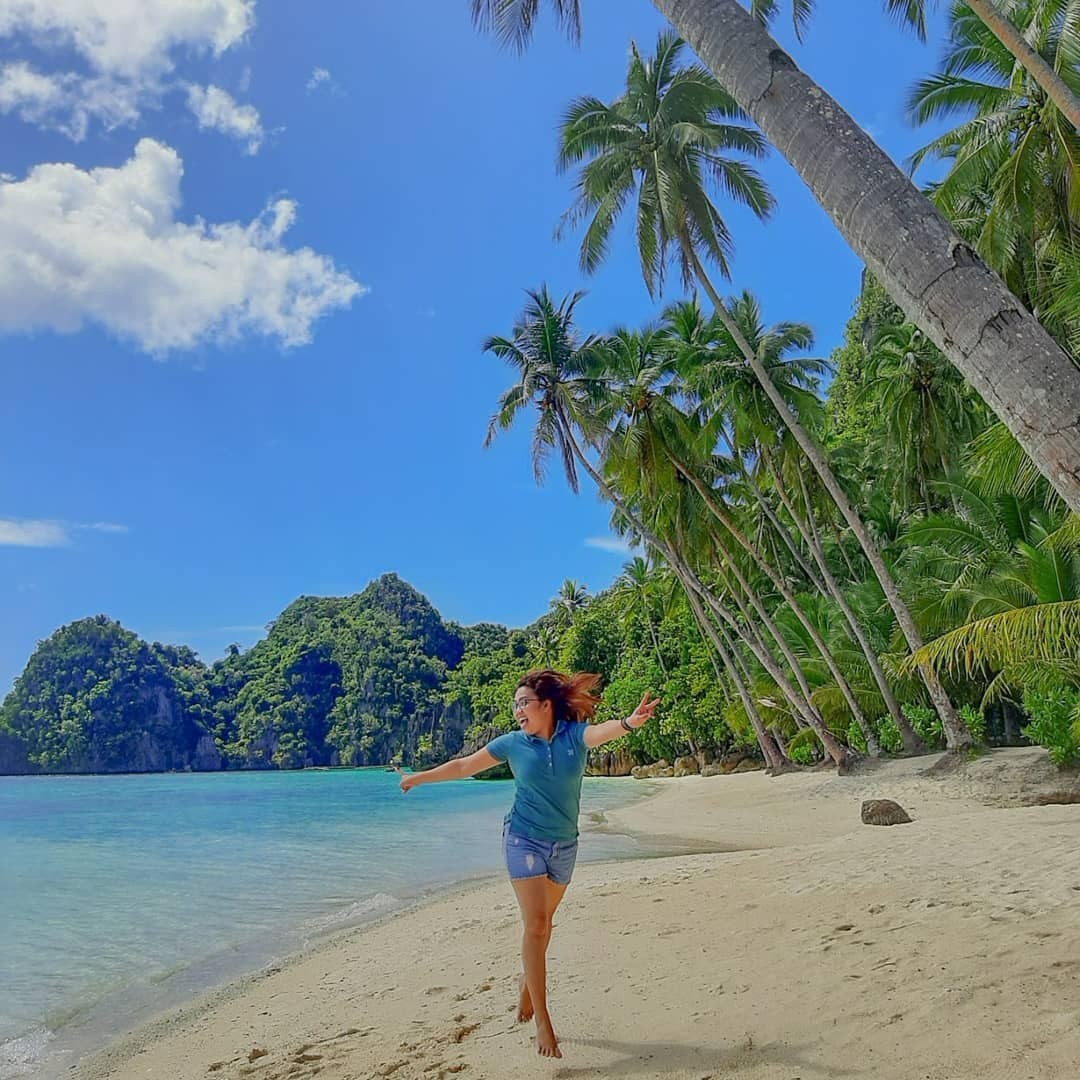 Image credit: @itshazelia
Filled with coconut trees, limestone formations, white sand, and crystal clear waters, this getaway has cottages where you can take breaks from swimming.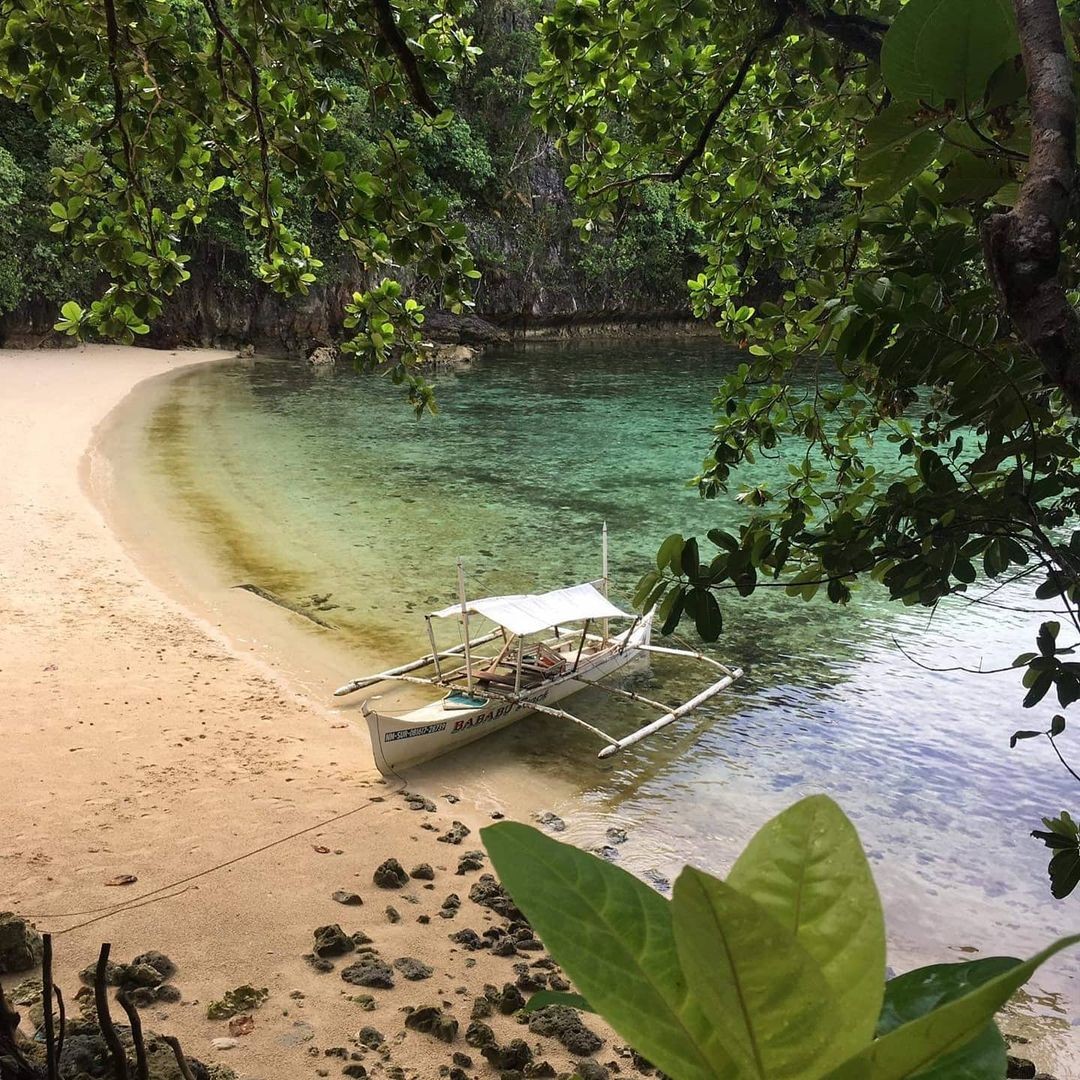 Lake Bababu
Image credit: @xinanash619
While you're here, explore the other attractions around the area, such as Lake Bababu where you can take a dip after a 30-minute hike from the beach over rocky terrain. It sports a 650m-long underwater cave that goes to the sea, only for experienced divers. Along the way, you might spot the caretaker's family here – they are related to the late Peter Langit who discovered this lake after WW2.
How to get there: From Surigao, you can ride a pontoon or bangka to Dinagat Island for P100 (~USD2.09). The trip will be around 90 minutes long but the views of the scenic ocean and occasional islands will be worth it.
Address: Bitaog Beach, Basilisa, Dinagat Islands, Caraga
---
2. White Island, Camiguin – a shape-shifting sandbar
---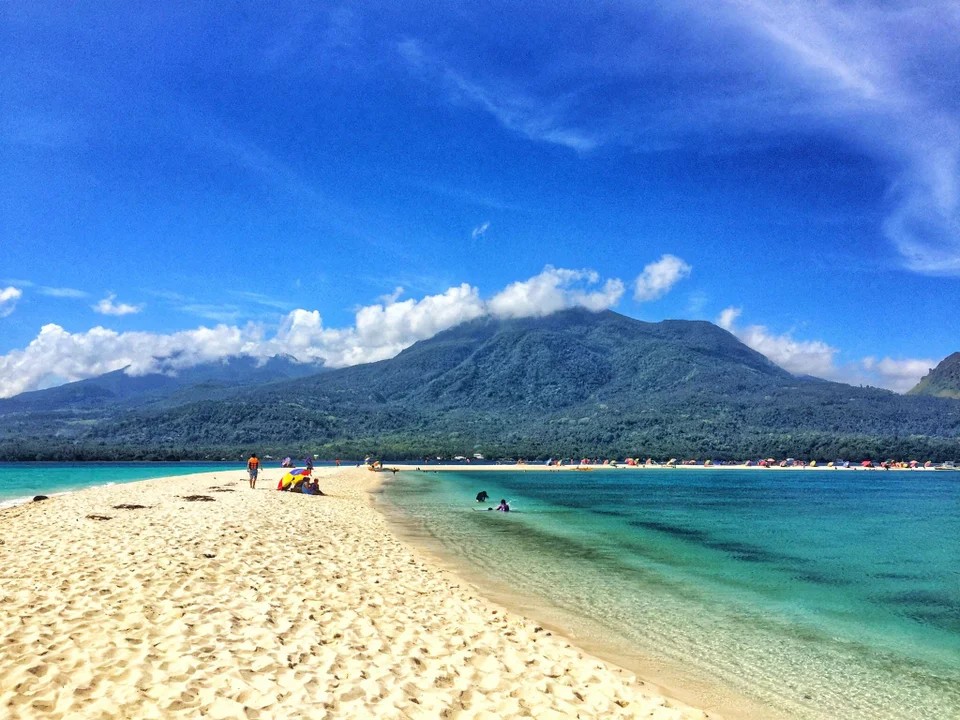 Image credit: u/avranx
Visitors to White Island have noticed how its white sand forms the shape of the letter C or the letter I, depending on the tides. As it's found in Camiguin, it's incidentally become a fun symbol of the province's initial.
In the backdrop of this island is Mount Hibok-hibok, one of the two active volcanoes on this island. It's a sight to behold – when they're not spewing lava and ash, volcanoes are actually quite beautiful.
With such a long stretch of sand, there's space for everyone to set up their own picnics, lay out their beach towels, and take plenty of pictures without getting in each other's way. You'll want to rent an umbrella for P150 (~USD3.13) to protect you from the sun.
Apart from this island, there are plenty of other attractions around Camiguin, such as the Katibawasan, Tuasan, and Binangawan Falls accessible by motorbiking and hiking, natural hot and cold springs, and other volcanoes, mostly inactive.
How to get there: From the White Island Ferry Terminal on Camiguin Island, take a boat that seats 4-6 people for P500, including life vests.
Address: White Island, off Camiguin Island, Northern Mindanao
---
3. Anguib Beach, Cagayan Valley – island-hopping in the country's northern tip
---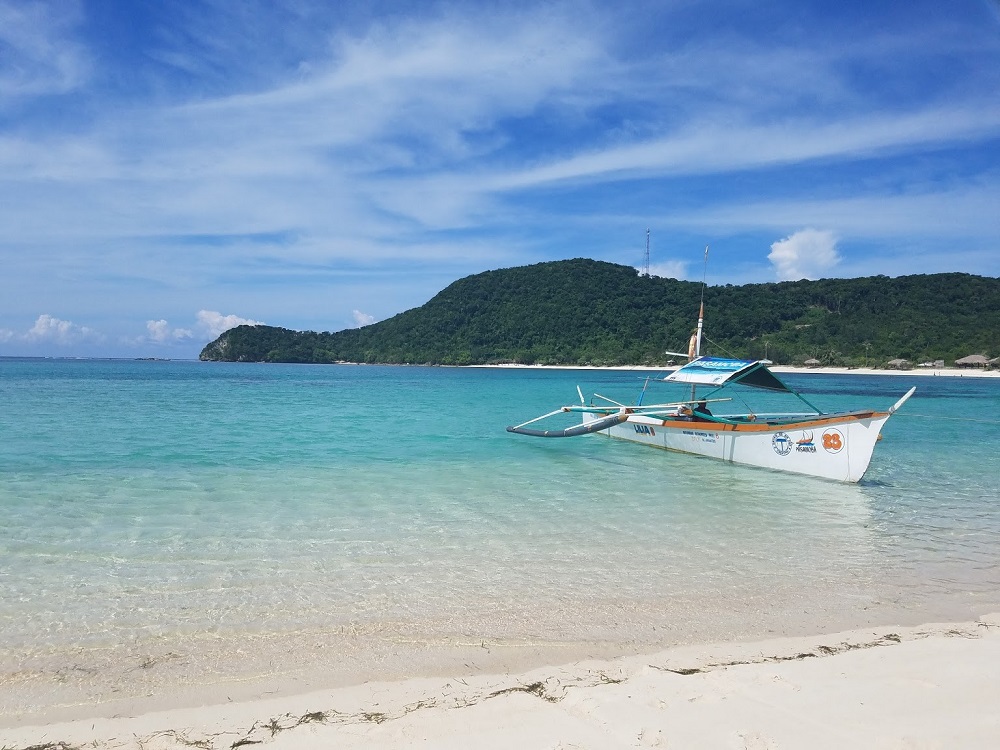 Image credit: Jermaine Villareal
Anguib Beach is also called the "Boracay of the North", because the sand is just as fine and the waters just as clear as Boracay's. On an island with untouched forests perfect for camping or glamping, the beach offers water that isn't too deep and suitable for kids and non-swimmers too.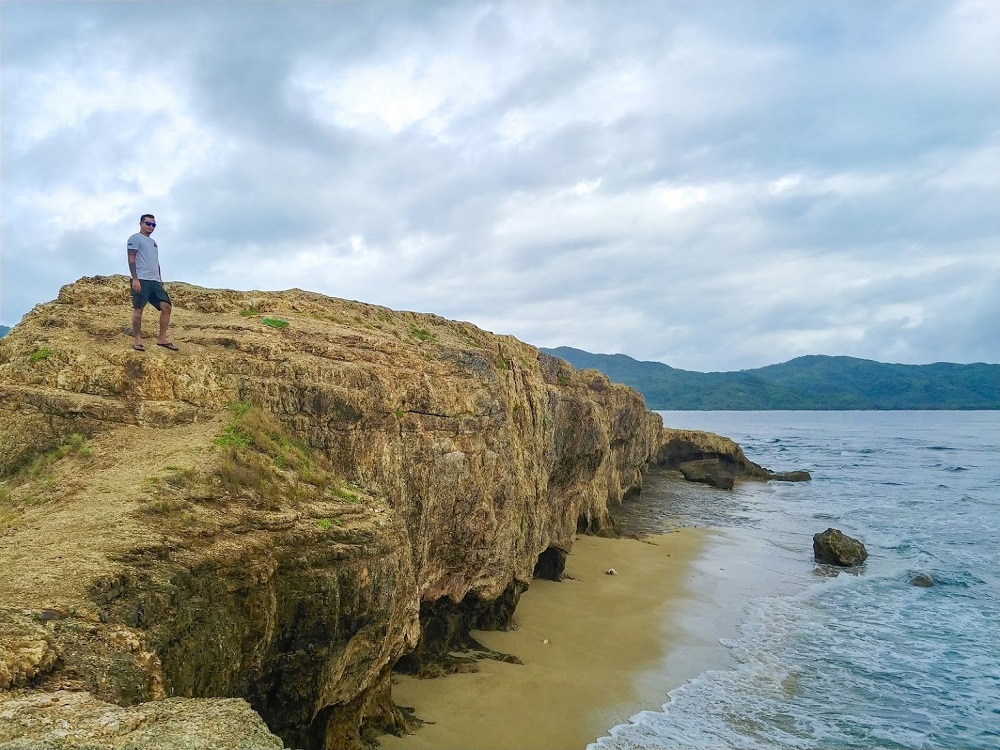 Crocodile Island – shaped like a crocodile, but no crocs have been spotted here
Image credit: Raphael Navarro
You can also choose to go island-hopping, since this area, Santa Ana, is full of other beautiful beaches such as Crocodile Island, Cape Engano, and Mabolbol.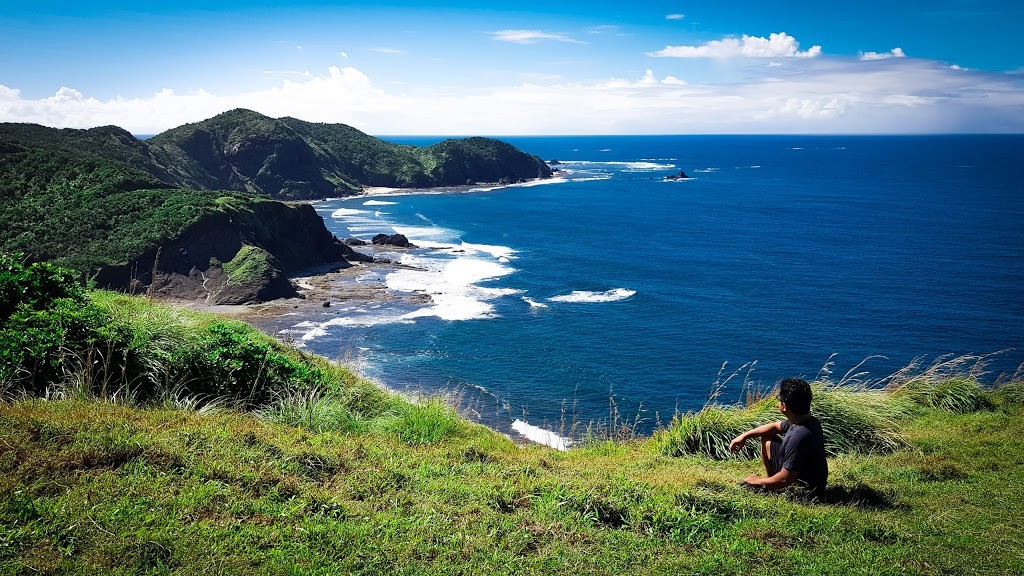 Cape Engano
Image credit: Rumpelstiltskin
Nearby Sta. Ana town offers hotels, and Nangaroman Beach 2km away has budget backpacker hostels where you can spend the night.
How to get there: From Santa Ana town center, hail a tricycle to San Vincente port where you can board a boat to Anguib Beach. This is where you can arrange for island-hopping adventures with the captain, should you like to visit other nearby sights.
Address: Anguib Beach, Santa Ana, Cagayan, Luzon
---
4. Matukad Island, Bicol – picked as a Survivor filming spot
---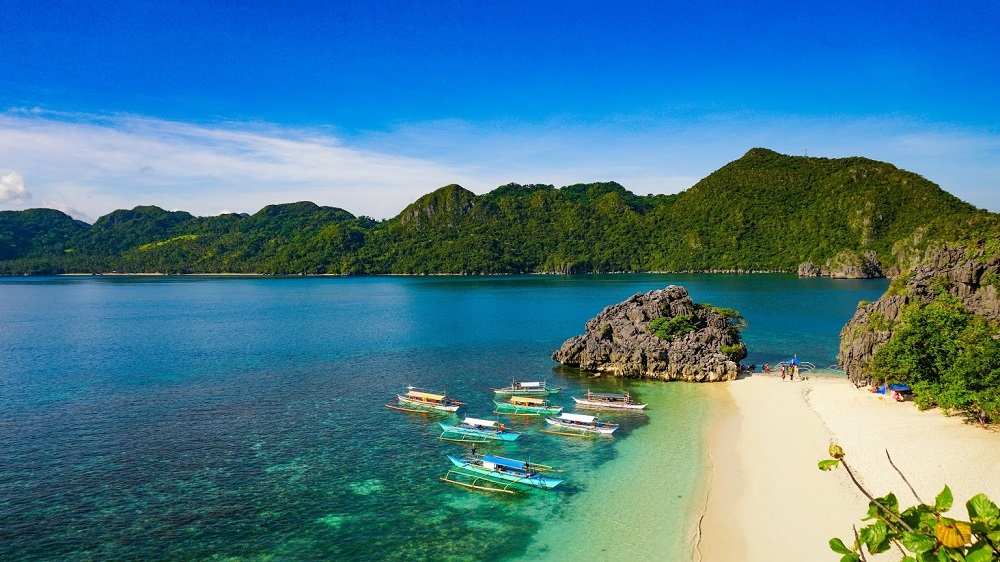 Matukad
Image credit: Rennyl Montuya
The Caramoan Islands, where Matukad Island is located, were one of the shooting locations for Survivor: Caramoan, a season of the popular reality show where contestants are left to survive in the midst of team and individual challenges. Quite the honor since the show only features beautiful islands, such as Samoa in Polynesia or Borneo.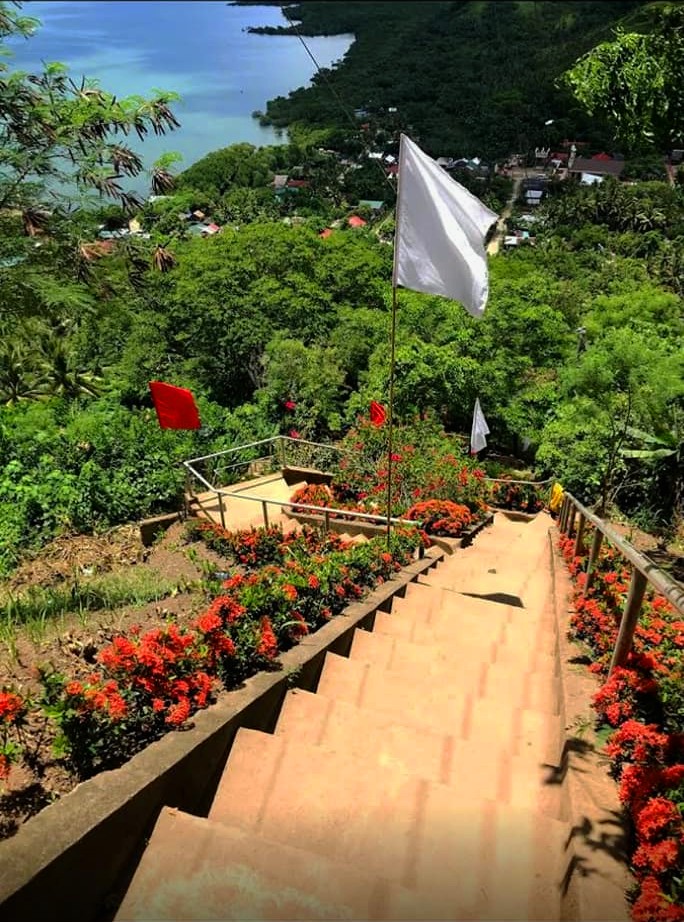 The path up Mount Caglago
Image adapted from Sparks C Basiño
Despite the attention it gained from Survivor, it still remains largely unexplored, still teeming with trees and greenery and pure white sand beaches with blue waters. You can also go spelunking in the nearby Cuyapnit Cave, or hike Mount Caglago and its 500 steps to see a gorgeous 360-degree view of the Caramoan Islands.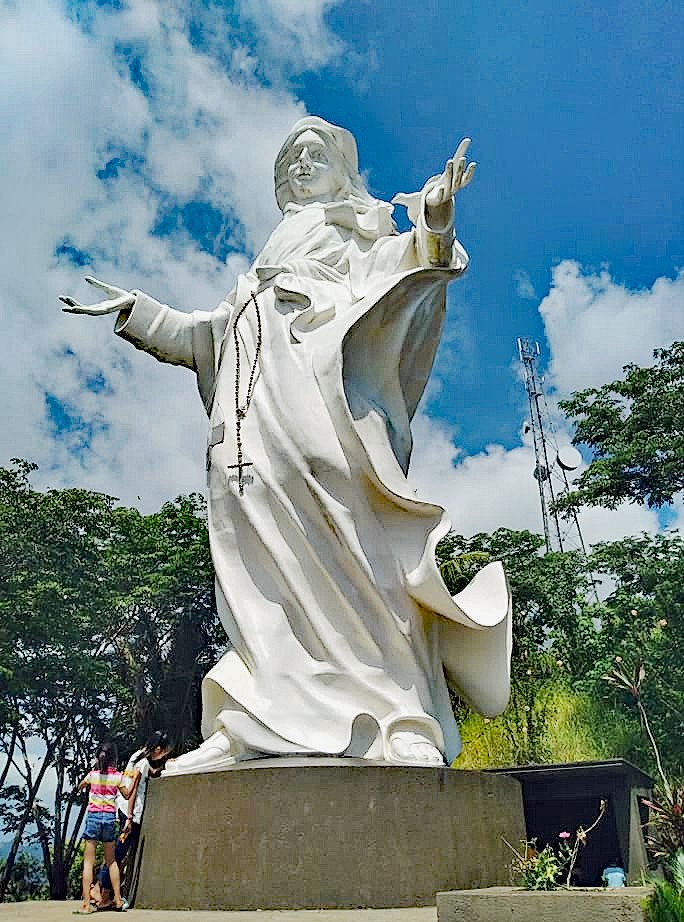 A 26-foot image of the Virgin Mary at Our Lady Of Peace Grotto on Mount Caglago
Image adapted from Jude Bonite
How to get there: From Naga City airport, hitch a van to Caramoan. Alternatively, from Sabang Port, take a boat to Caramoan. At Caramoan's Bikal Boat Terminal, book a boat from P2,000 (~USD41.85) that can take you to Matukad Island or on an island-hopping tour.
Address: Matukad Island, off Caramoan, Camarines Sur
---
5. Kalanggaman Island, Leyte – sandbar accidentally discovered in 2013
---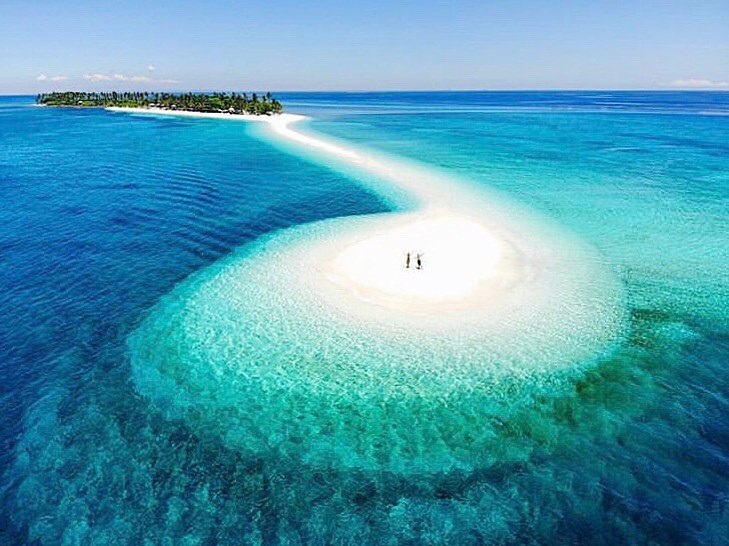 Drone owners should prepare to snap Kalanggaman Island's sandbar
Image credit: @seamorgens/@traceourtravels
Kalanggaman Island was just relatively recently discovered, back in 2013, when a cruise ship named MV Europa Cruise Line stopped over to let their guests rest on the fine white sand and under the palm trees of this island. Ever since then, word spread around.
Though it's popular among locals, it's still unknown nationwide because of the bigger hype around other islands in bigger cities such as Cebu and Bohol.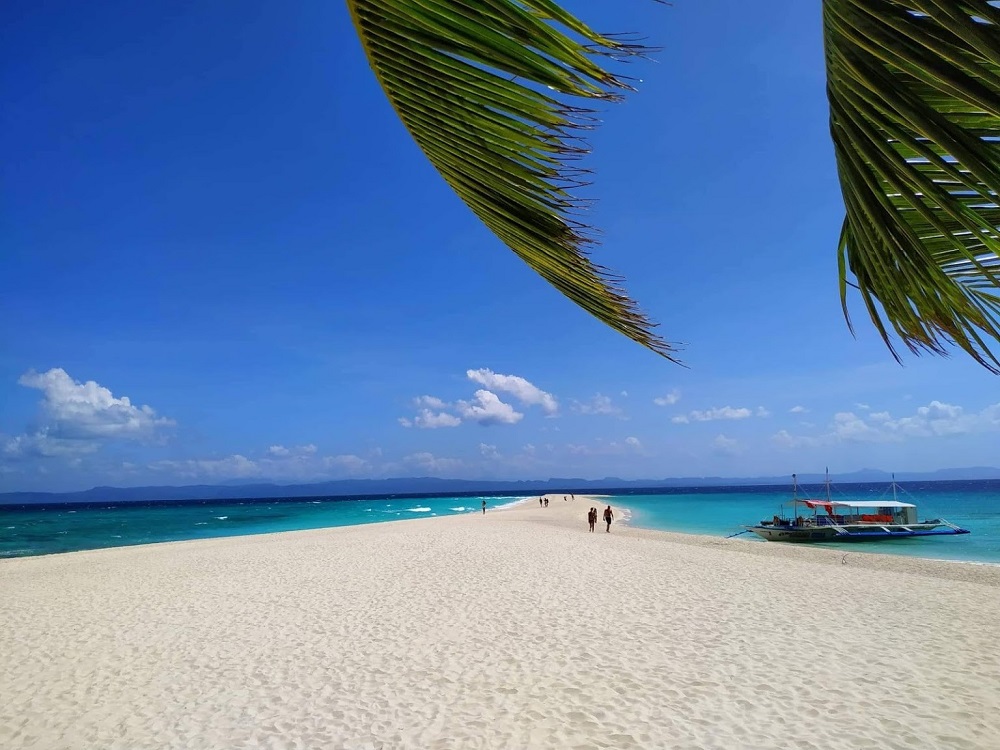 Image credit: madz pepito
If you're wondering how such a beautiful island can stay unspoiled despite the visitors who come here, that's because local authorities limit visitors at 500 tourists a day. Though 500 tourists seem like a lot, the large 753-meter long space of the island – longer than 6 football fields – and its sandbar shape lets you enjoy your beach experience comfortably.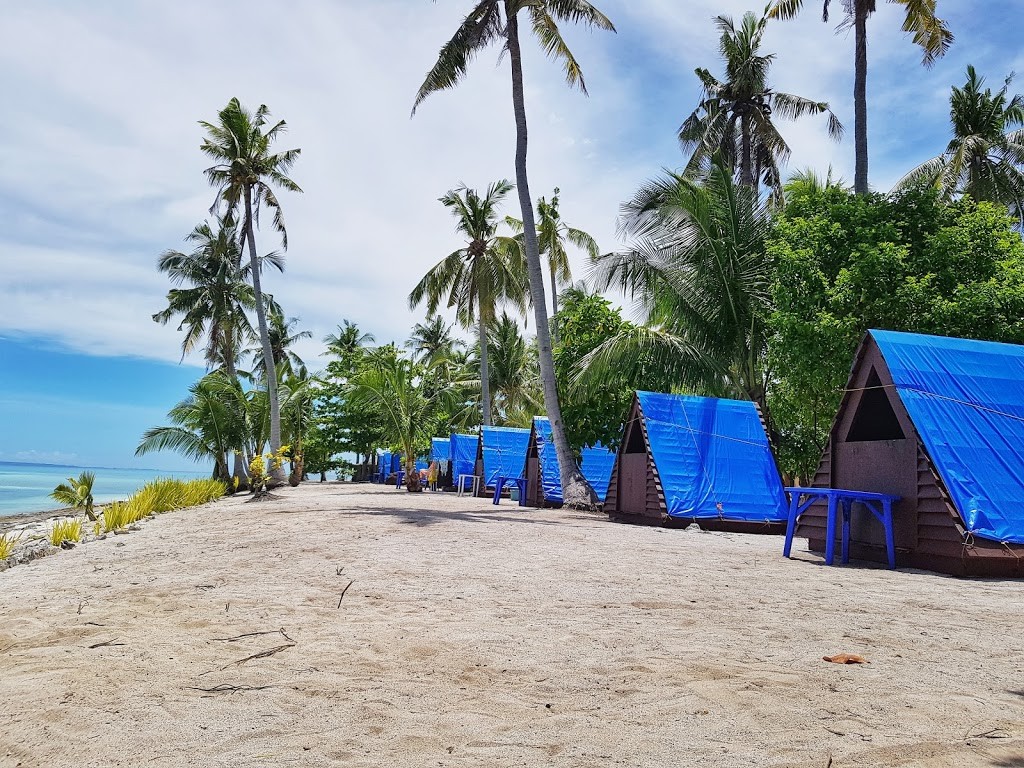 Jeter Resort's beachfront tipi huts where you can spend the night
Image credit: Miss D
Overnight camping is also allowed on the island. There are no big resorts, which is great for protecting the environment, but a small resort, Jeter Resort, provides tipi huts where you can stay.
How to get there: From Ormoc Airport in Leyte, take a 1.5h van or bus ride (from P110, ~USD2.30) to Palompon. From the Palompon Tourism Office, where you can register as a visitor, arrange for a boat ride and pay for your Kalanggaman Island admission fees (from P150, ~USD3.14 for local adult tourists).
Address: Kalanggaman Island, off Palompon, Leyte
---
6. Danjugan Island, Negros Occidental – a protected nature reserve
---

Image credit: @danjuganisland
Local caretakers want to make it clear – Danjugan Island is not a resort. It's a wildlife sanctuary protected by the Philippine Reef and Rainforest Conservation Foundation, and filled with different species of birds, bats, and butterflies, and of course various fish, clams, and corals.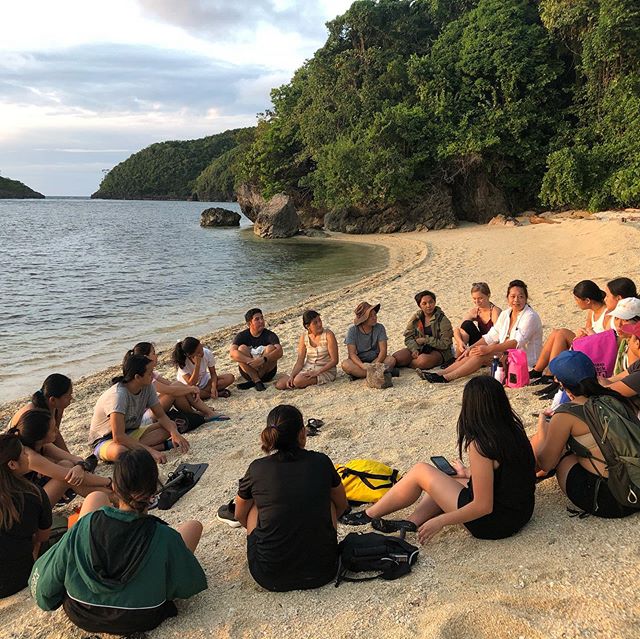 Image credit: @sefyrrr
This place has become a learning experience for many, since it's become an outdoor classroom for students and a haven for researchers who want to learn more about wildlife, making it a great place to go snorkeling.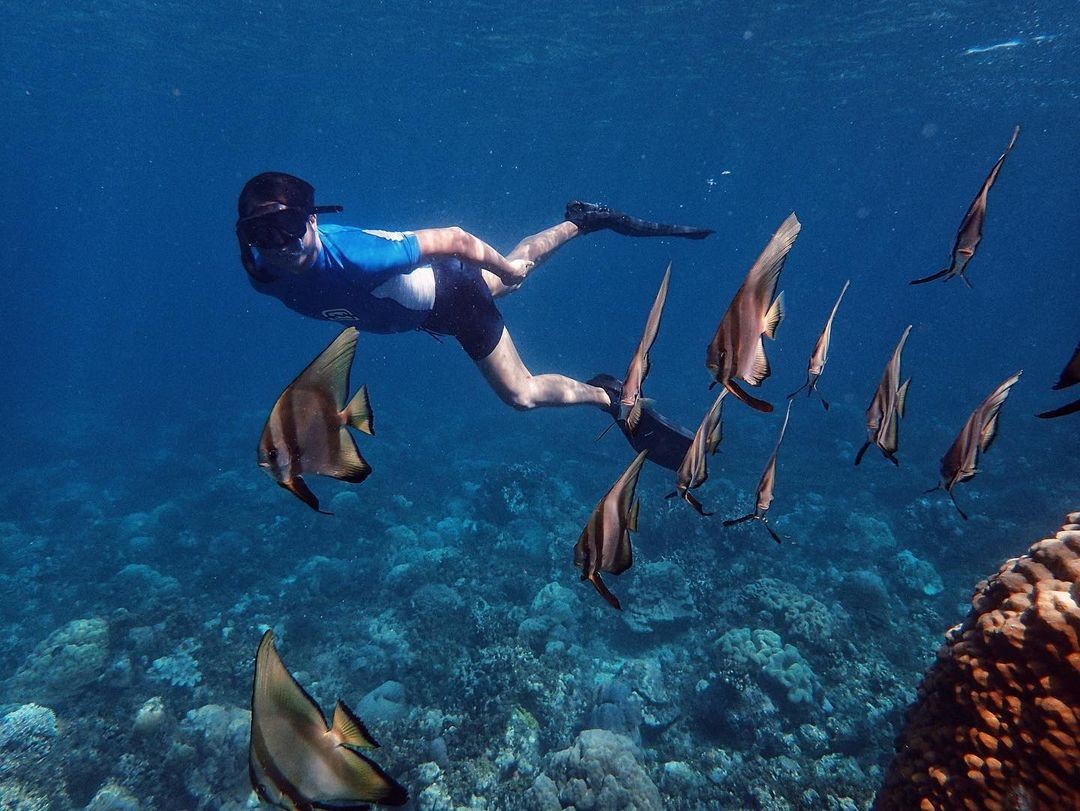 Snorkeling with fish off the island
Image credit: @roginliza
Other activities here include kayaking, sailing, scuba diving, turtle-spotting on the beach, and even family camps for kids and adults to learn more about nature and conserving it.
How to get there: From the South Ceres Bus Terminal in Bacolod, take a bus to Hinoba-an and alight at Crossing Remollos-Quadro de King in Barangay Bulata. Walk to the beach and take a boat to Danjugan Island.
Address: Danjugan Island, Cauayan, Negros Occidental
---
7. Bulubadiangan Island, Iloilo – simple hut living on the beach
---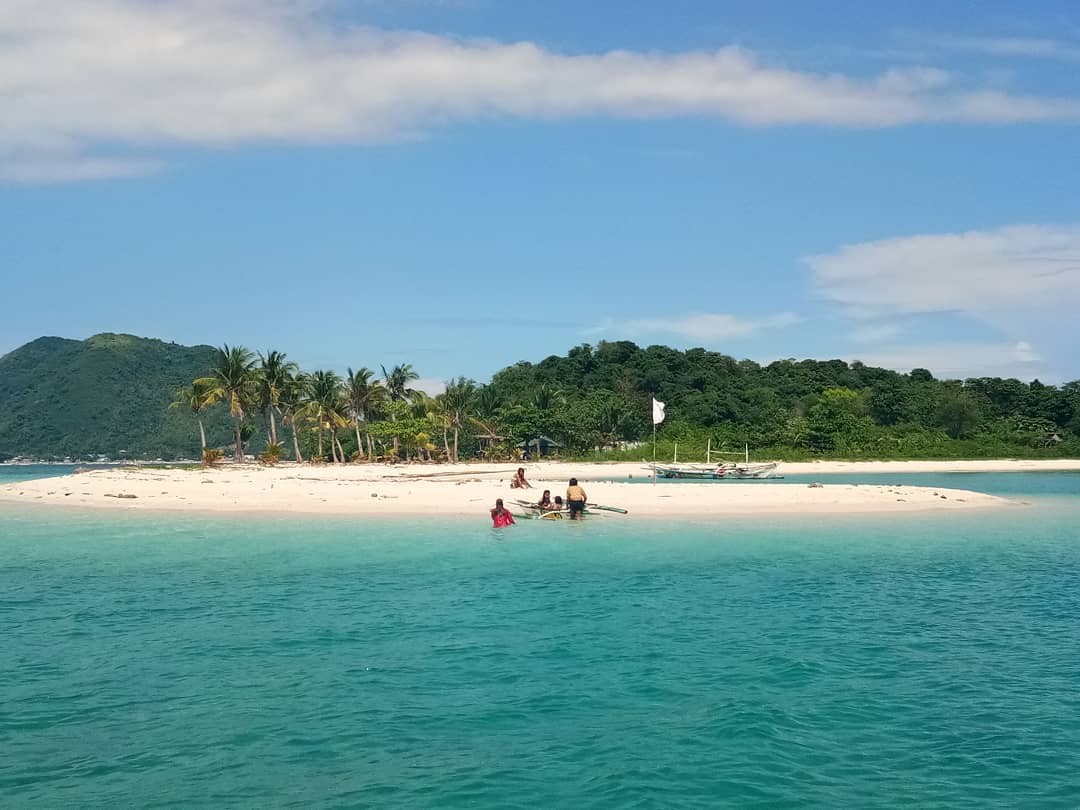 Image credit: @jajamble
No commercialization, no frenzy – just you and the pure white sand beach and blue waters of underrated Bulubadiangan Island. Still pretty much untouched by tourism, its only establishments you'll see are simple bamboo huts where you can stay overnight or rent for the day so you can take breaks in between swims.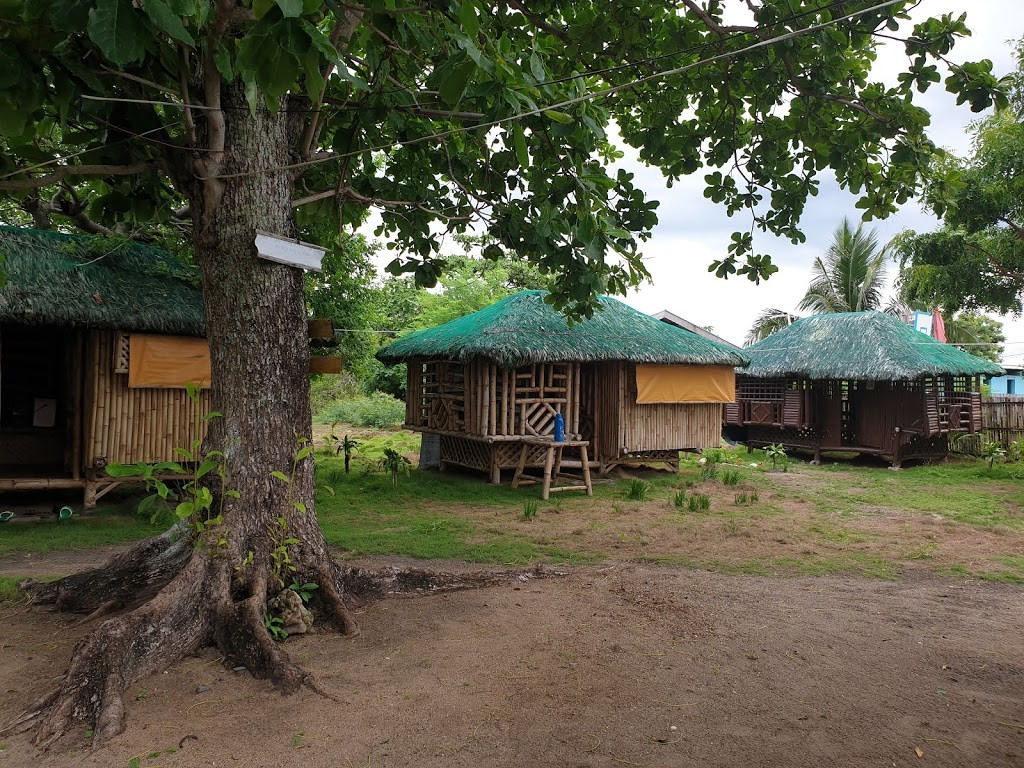 The humble Sandbar Island Beach Resort
Image credit: Hercharme Demegillo
Though there aren't any restaurants on the island, grills are available at Sandbar Island Beach Resort, so bring your own food to cook and plenty of water if you happen to be staying there. Agho Island – also with glistening white sands – is also accessible via boat from the local tourism office. Entrance to each island is P25 (~USD0.52) per adult, including an additional P25 (~USD0.52) environment fee.
How to get there: From Iloilo City's Tagbak Terminal, take a Ceres Liner bus to Concepcion town for P110 (~USD2.30) and hitch a tricycle to the Concepcion Iloilo Tourism Office to arrange for a boat rental from P1,500, (~USD31.35). A 30-minute boat ride will bring you to the Sand Bar Beach Resort on the island.
Address: Bulubadiangan Island, Barangay Polopińa, Concepcion, Iloilo
---
8. Bucas Grande, Surigao del Norte – near a lagoon and cave
---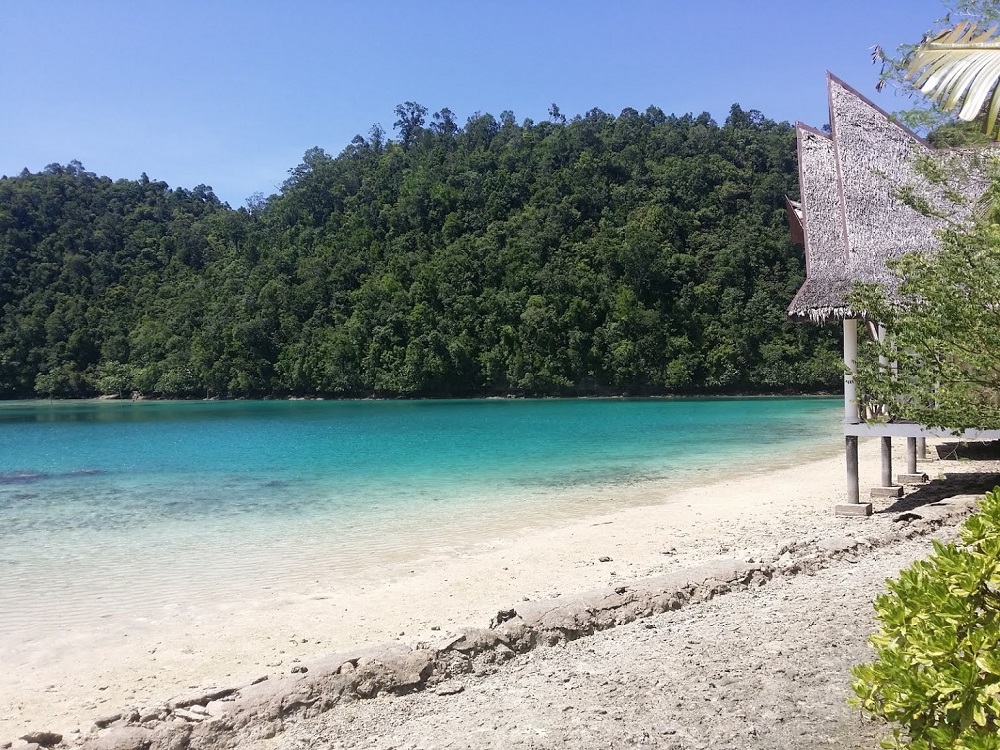 Image credit: Ruben Espinosa
With the island of Bucas Grande away from the city and undisturbed, you'll feel as if you're worlds away from all your problems. As it's also home to thick foliage, you'll only be hearing the sounds of nature during your trip.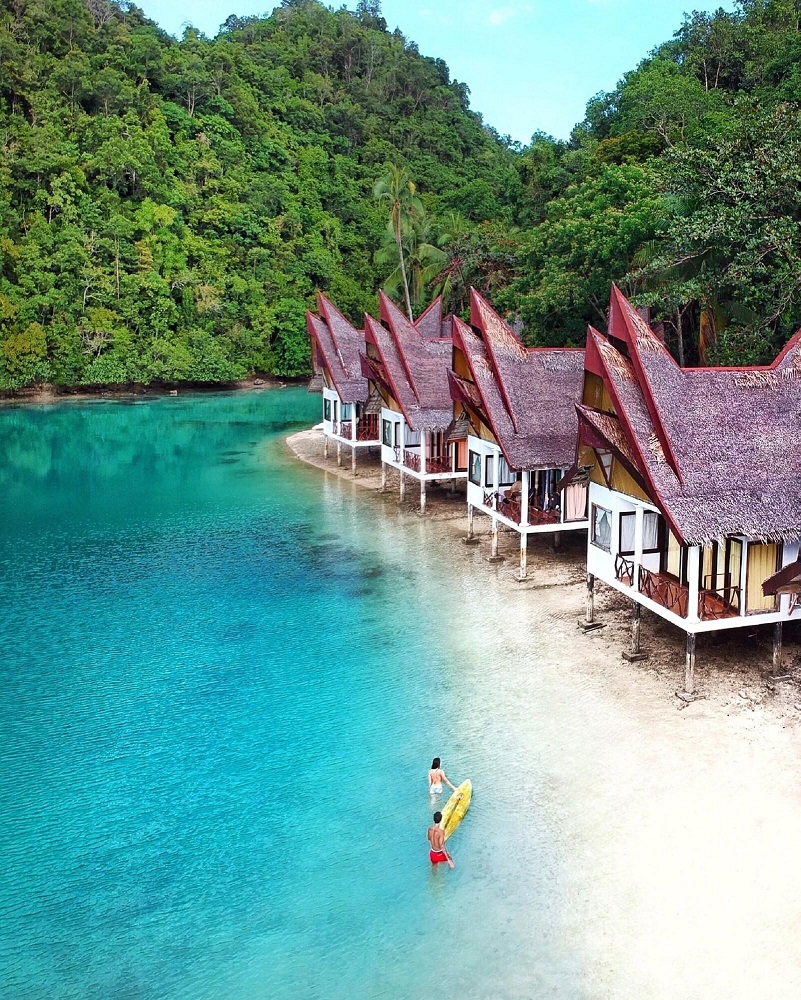 Club Tara
Image credit: Club Tara Resort/Hotelbeds
You can also stay at Club Tara, with pretty cottages that have easy access to the beach. With floating cottages with private jacuzzi tubs and terraces, on-site dining, and boat rides arranged by the staff, this could be your base from which to explore the surrounding attractions.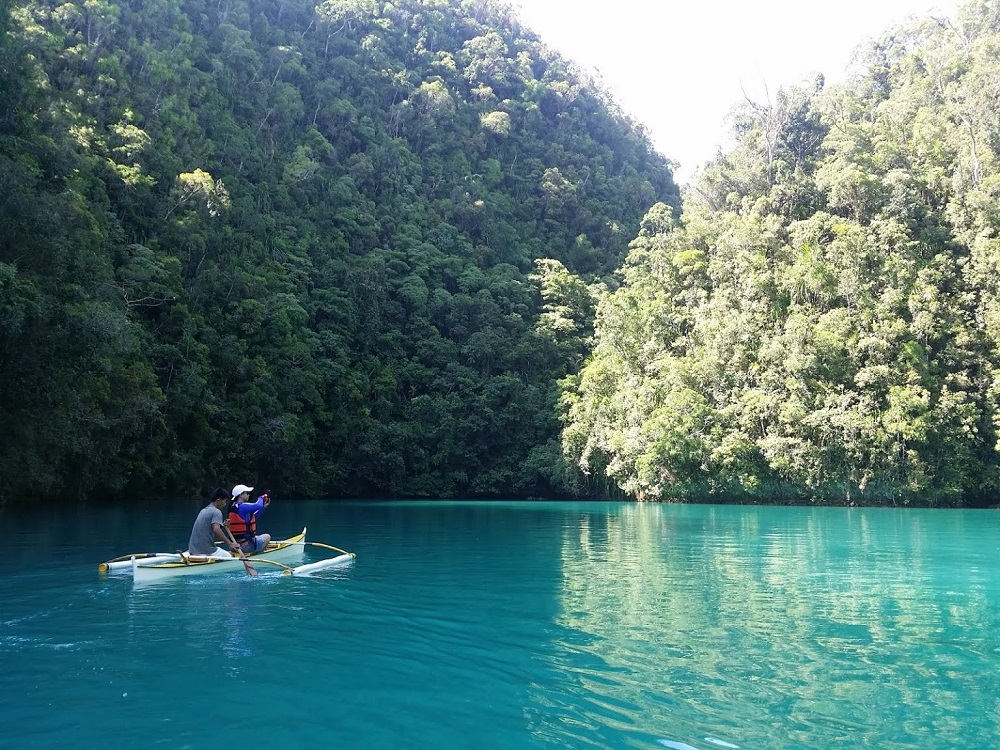 Sohoton Cove is a haven for diving, snorkeling, and boating
Image credit: Sohoton Cove
From here, you can boat to nearby lakes, cliff dive into the Blue Lagoon with limestone outcrops, and snorkel in the Sohoton Cove with stingless jellyfish, all apart from the island's pristine beach.
How to get there: To get there from Surigao City's port, take a boat to Socorro, then transfer to another boat to Bucas Grande.
Address: Bucas Grande, Surigao del Norte
---
9. Buenavista Island, Davao del Norte – book an entire island to yourself
---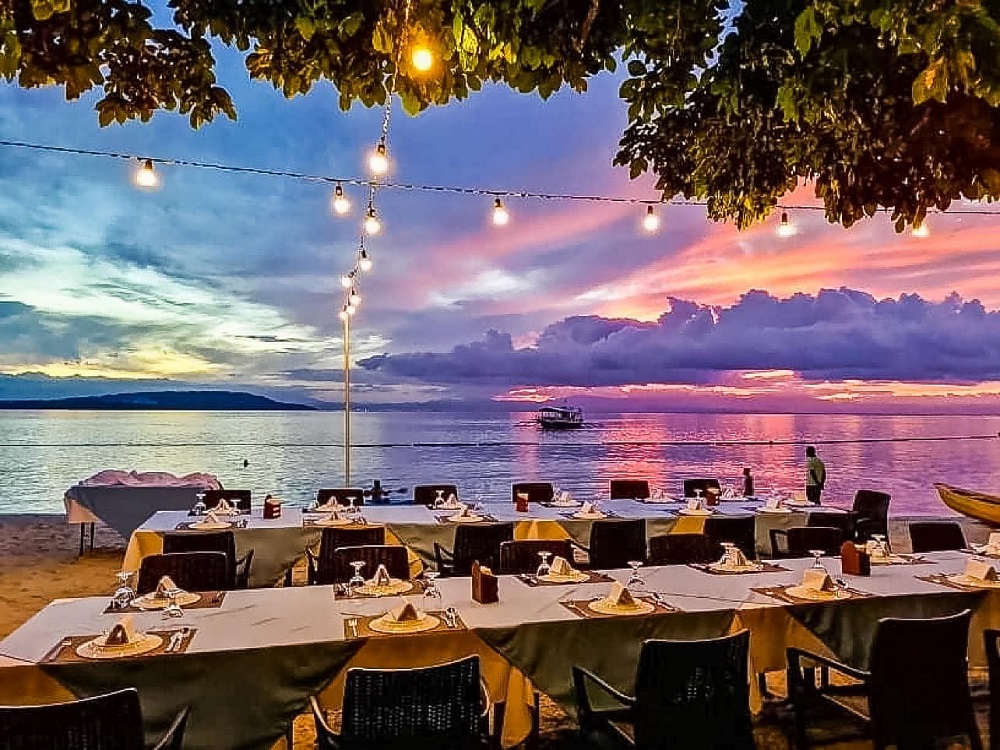 Private dining for you and your crew
Image credit: The Island Buenavista
If it's been a dream of yours to rent out a whole island, Buenavista Island makes this possible. For P115,000 (~USD2,399.45), you can rent out the island for the night and stay on The Island Buenavista resort. Yes – this means no one will be allowed to stay overnight on the island except for you and whoever else you want, with a maximum of 30 people.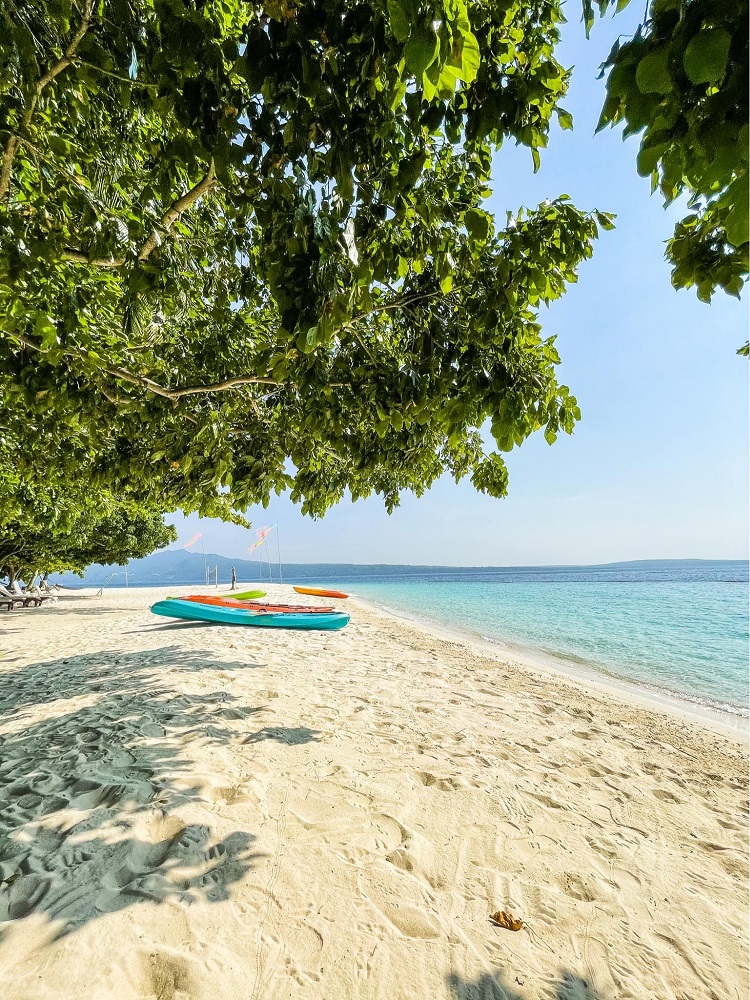 Image credit: The Island Buenavista
This sounds quite lavish, but the local government in Samal, Davao chose this unique way of catering to visitors while protecting the nature and privacy of the island. However, they do allow tourists who just want to see the island for the day, with 7.30AM to 3PM day tours from P2,800 (~USD58.45) per person.
How to get there: To get you to Buenavista Island from Davao City and back, the resort will arrange for your two-way boat transfers, an hour per trip, from Waterfront Insular Hotel.
Address: Babak Samal Katpunan Street, Buenavista Island, Island Garden City of Samal, 8119 Davao del Norte
---
Underrated white sand beaches in the Philippines
---
When it comes to beaches in the Philippines, It's more a decision of where to go than where you can go. There are plenty of other beaches around the Philippines, but it would take days to list all of them – and that's neither a joke nor an exaggeration.
Apart from the beautiful and popular beaches of Cebu, Palawan, Boracay, and Bohol, these are the ones that are hidden in the crevices of our islands where you can have a more relaxing, peaceful beach getaway.
---
Cover image adapted from: Jeff Crisostomo, Rennyl Montuya, @seamorgens/@traceourtravels, and @danjuganisland 
This article was originally published by Hazel Lumbre. Updated by Xin Tian K. on 20 May 2021.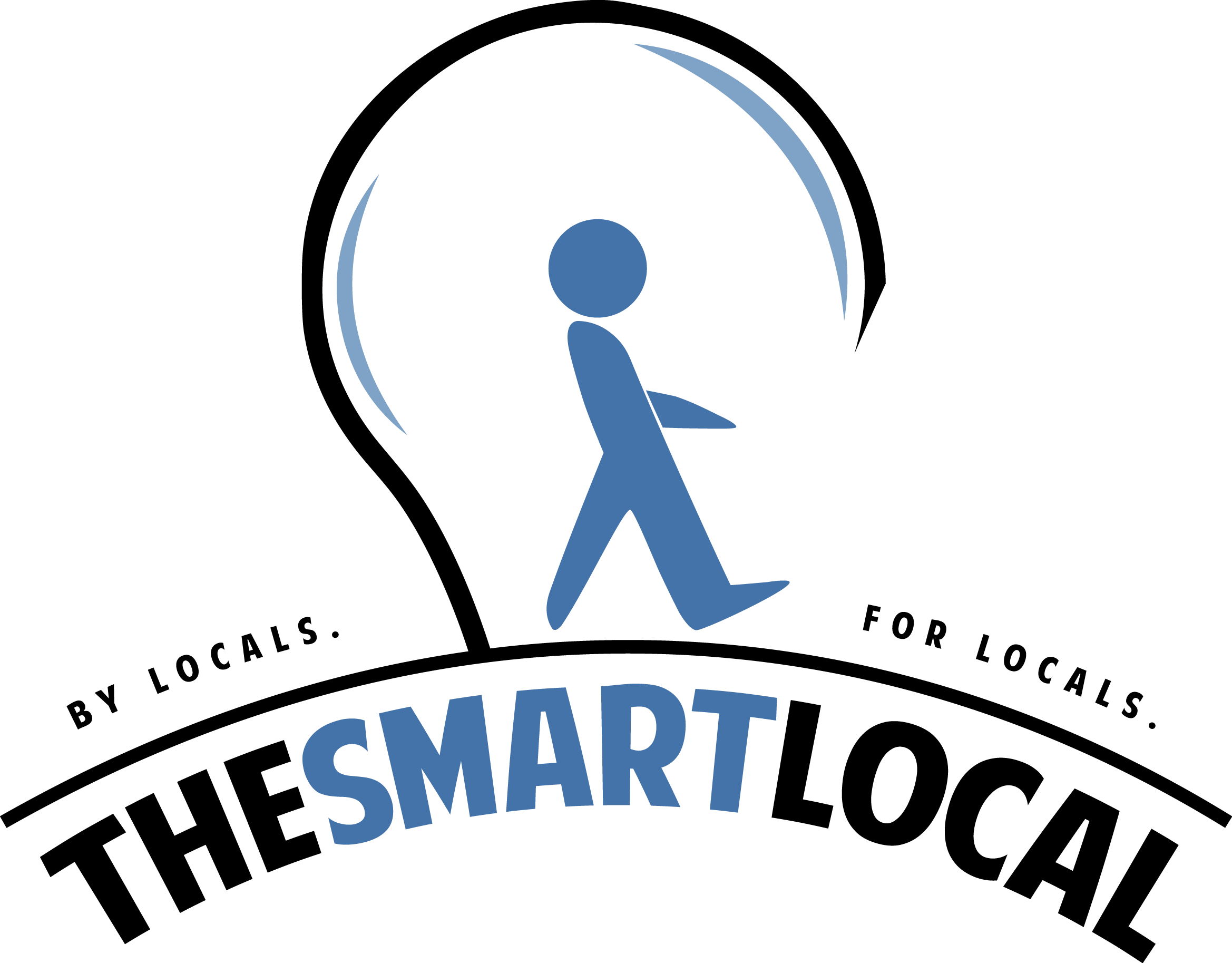 Drop us your email so you won't miss the latest news.