Small Philippine islands
---
You've probably been to the Philippines' most popular beaches, but there's more to our archipelago of over 7,000 islands that you haven't seen. From the northernmost province of Batanes down to the southernmost island of Mindanao, Philippine islands are brimming with landscapes lined with panoramic views and thriving with wildlife. 
So if you've been aching for some outdoor escapades away from city life, you'll never run out of natural wonders to explore. Here are 20 small islands – from Batan Island in Batanes to Siargao Island in Surigao del Norte –  scattered across our vast archipelago.
---
– Islands in Luzon –
---
---
1. Batan Island, Batanes – known for its rolling hills
---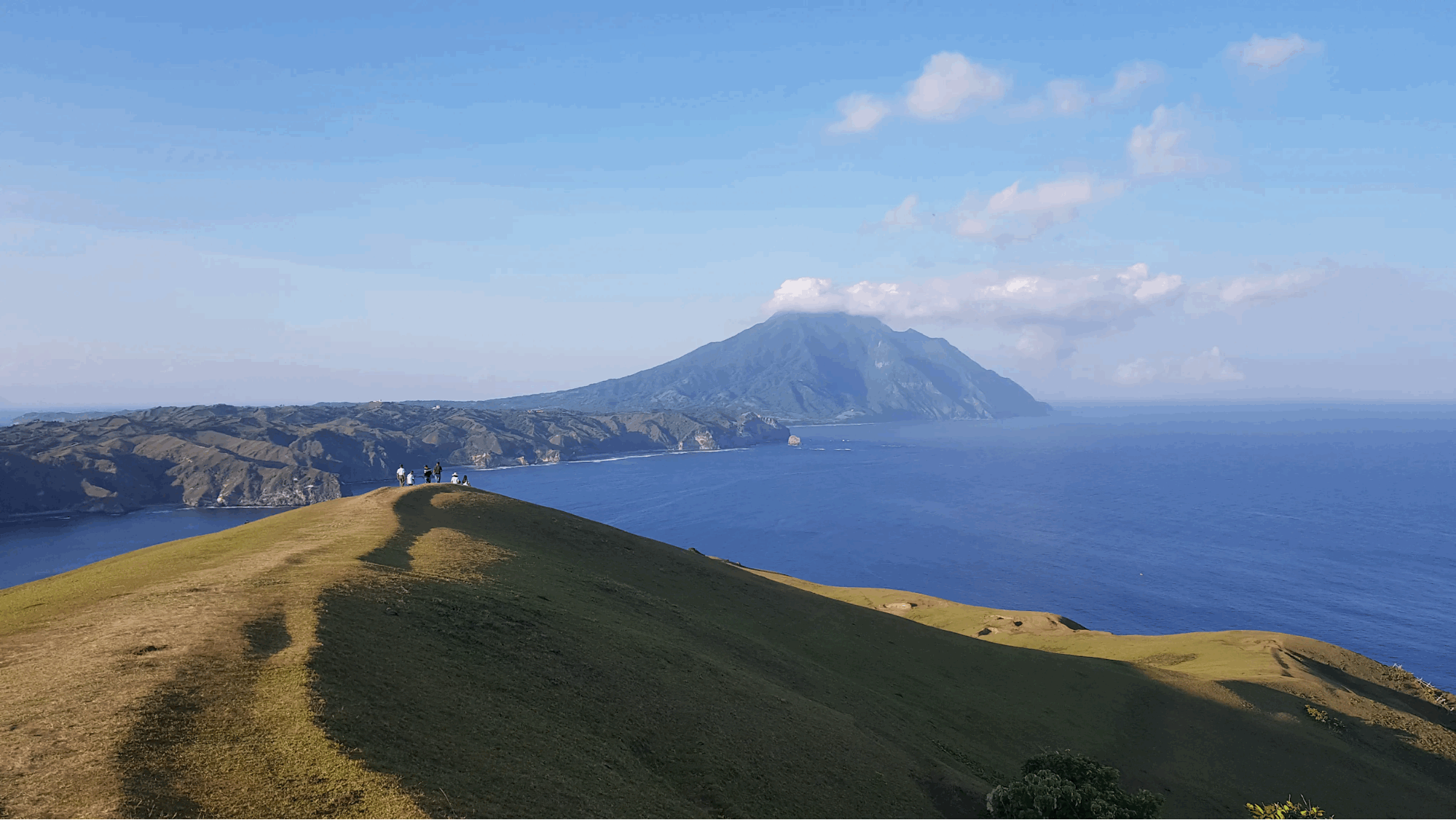 Lush hills of Batan Island
Image credit: Guide to the Philippines 
On the northernmost tip of the Philippines lies Batan Island, the second largest of the three inhabited islands among the 10 islands that make up the province of Batanes. 
It's a must-visit island in Batanes when you're visiting the province. Home to Basco, Batanes's capital, it's rich with various natural attractions such as the Vayang Rolling Hills, often compared to the hills of New Zealand, and the Valugan Boulder Beach, where you can relax and meditate.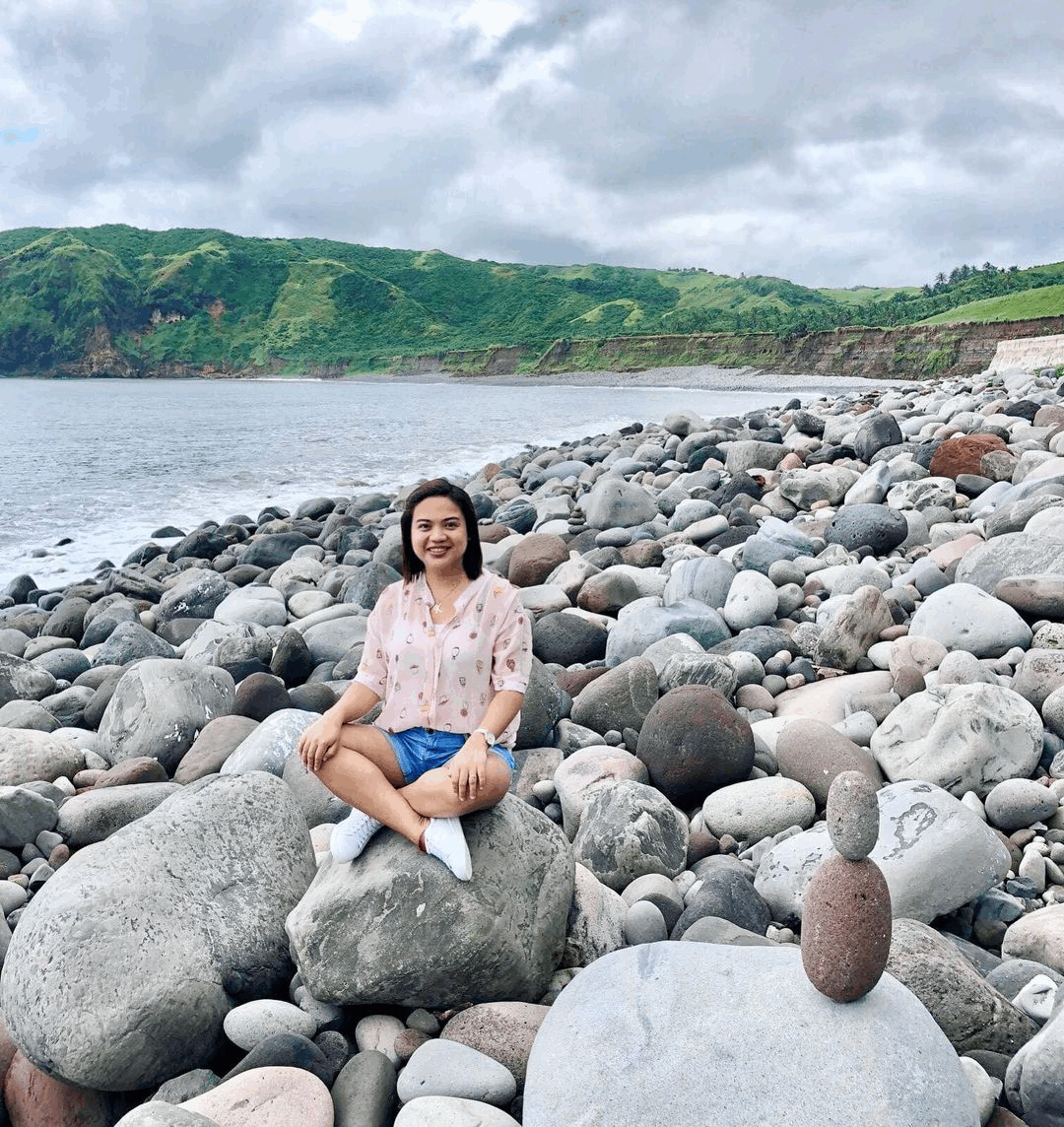 Valugan Boulder Beach
Image credit: @mbkriz
To catch up on your history and geography, you can also stop by the Naidi Lighthouse and the Alapad Rock Formations, dotted with natural rocks in unique shapes. 

Stone Lodge Jisked
Image credit: Agoda
There are lots of hotels and homestays on the island you can check out, such as the Stone Lodge Jisked. It's a traditional-looking stonewalled house situated on a hill in Chanarian, Basco. 
How to get there: From Manila, catch a plane going to Basco, Batanes. 
---
2. Palaui Island, Cagayan – lined with sandy beaches and glorious rock formations
---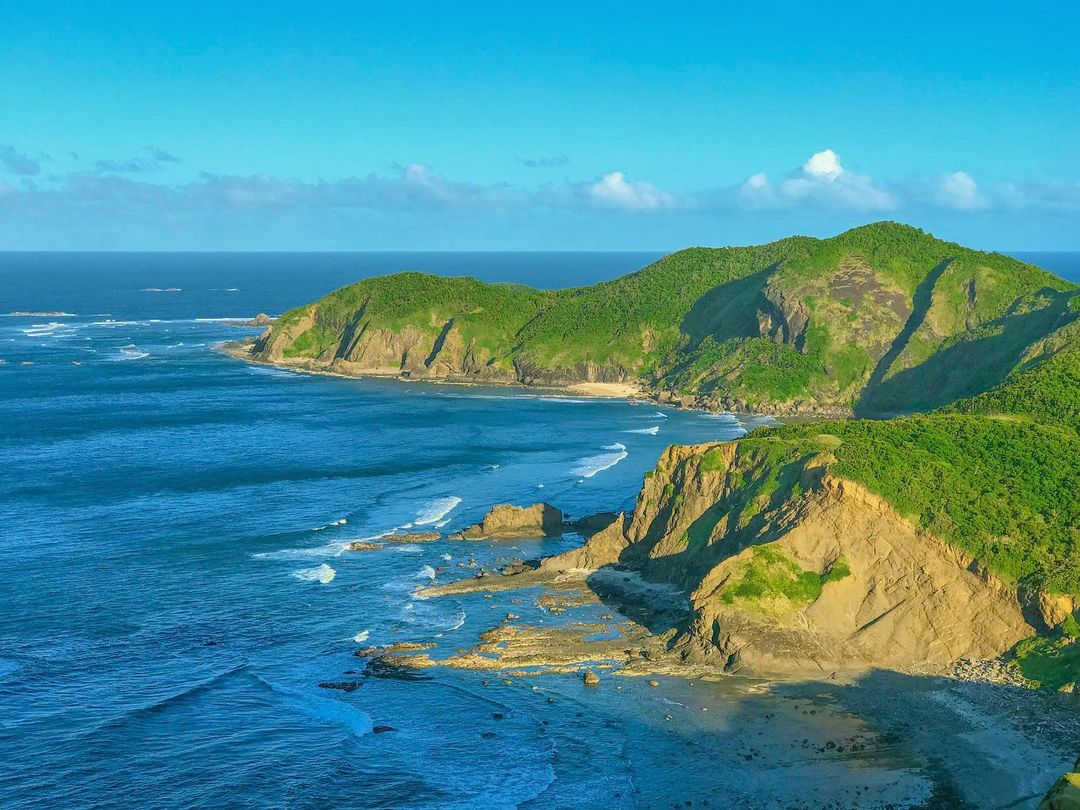 Lush hills of Palaui Island
Image credit: @geloo24 
A secluded island in the north of Sta. Ana, Cagayan, Palaui Island is lined with sandy beaches, such as Anguib Beach, that are surrounded by glorious hills. Coves and waterfalls are also abundant, so that when you want a change of scenery, there's a variety of natural attractions on the island to spoil your senses.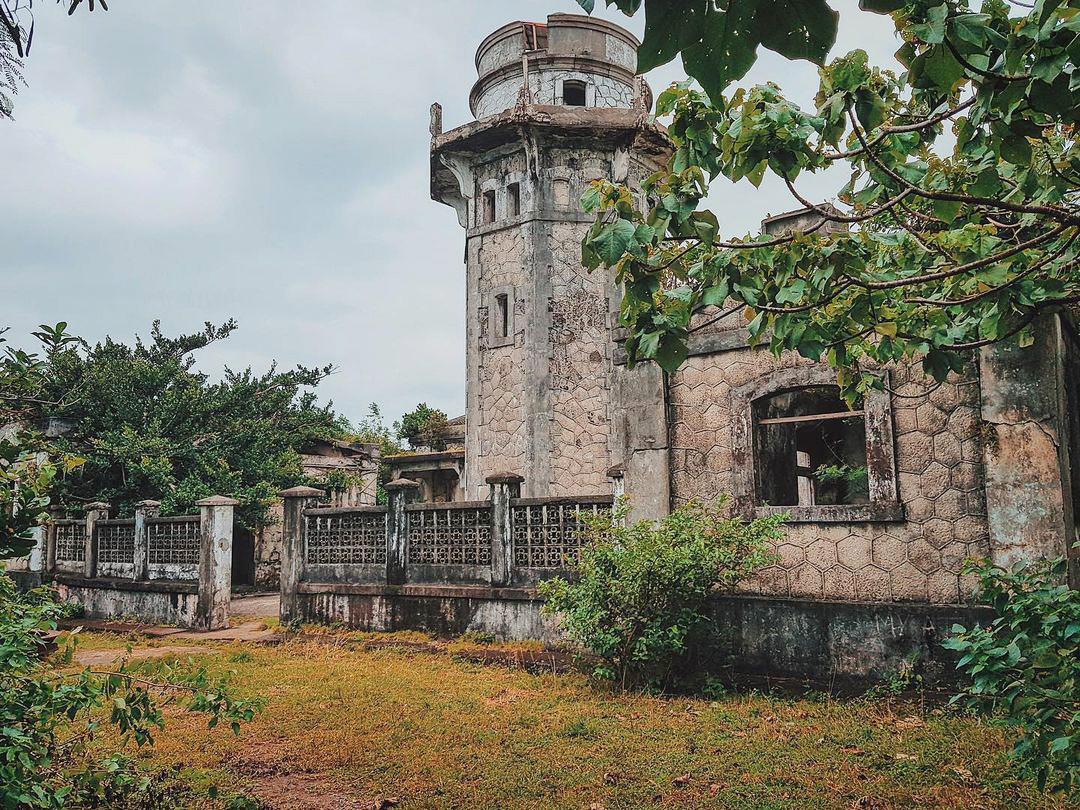 Farol de Cabo Engaño
Image credit: @iam_jorand
But aside from natural attractions, historic buildings can also be found here. An 18th century lighthouse called Farol de Cabo Engaño, built by the Spaniards to guard ships leaving and entering Sta. Ana, overlooks the island's waters. It's no wonder then that Palaui was part of CNN Travel's 2017 100 best beaches in the world and was the filming location of Survivor's Season 27, Survivor: Blood vs. Water.
Due to the small population, accommodation choices are limited to homestays, such as Francis Lodge.

How to get there: From Manila, take a bus or an airplane going to Tuguegarao.
---
3. Pamalican Island, Palawan – home to the exclusive Amanpulo Resort
---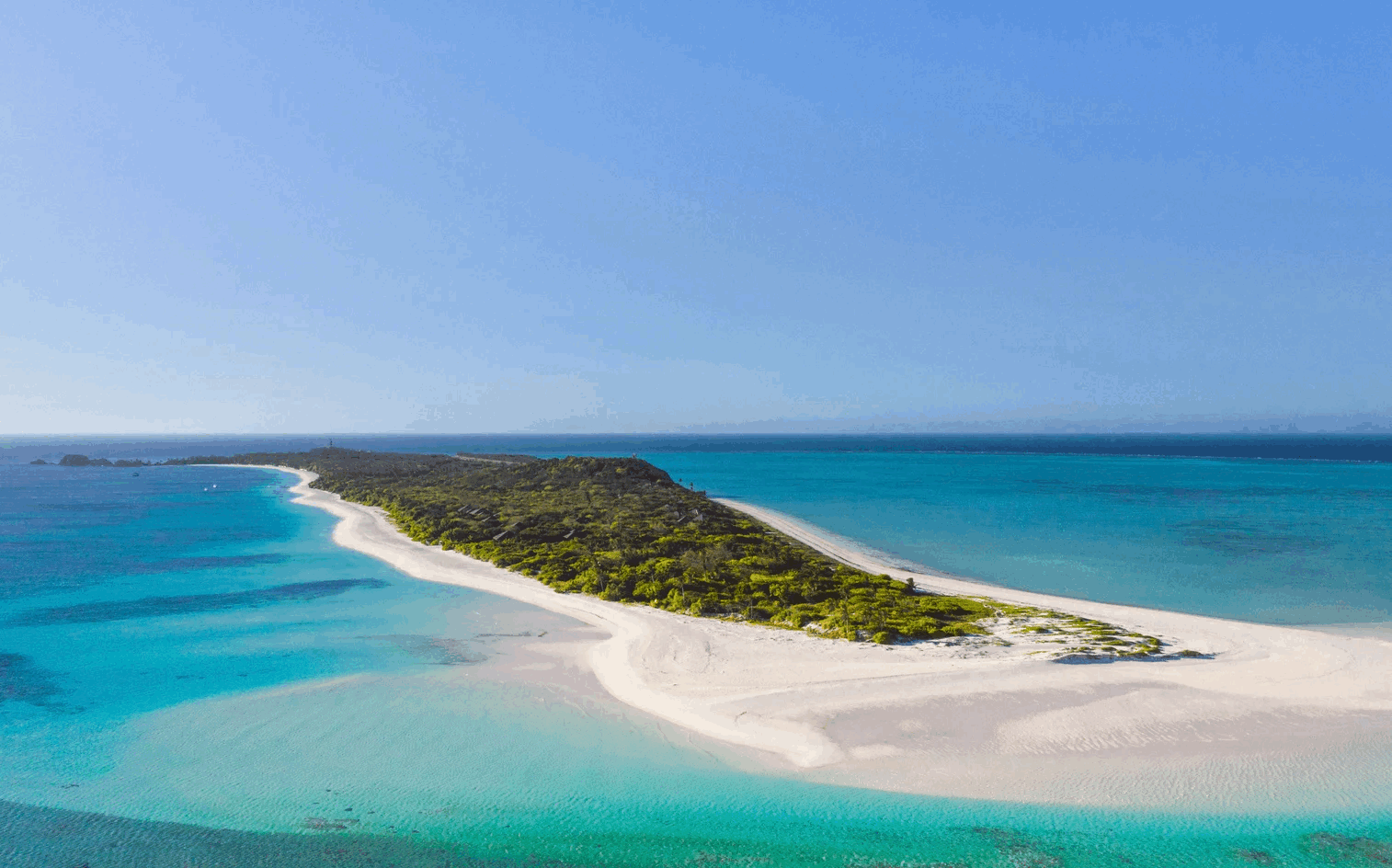 Pamalican Island
Image credit: Amanpulo
Nestled between Palawan and Panay, Pamalican Island is only accessible via private plane. It's home to the exclusive Amanpulo Resort where several local and international A-list celebrities have been spotted such as Heart Evangelista, Brad Pitt, and Beyonce.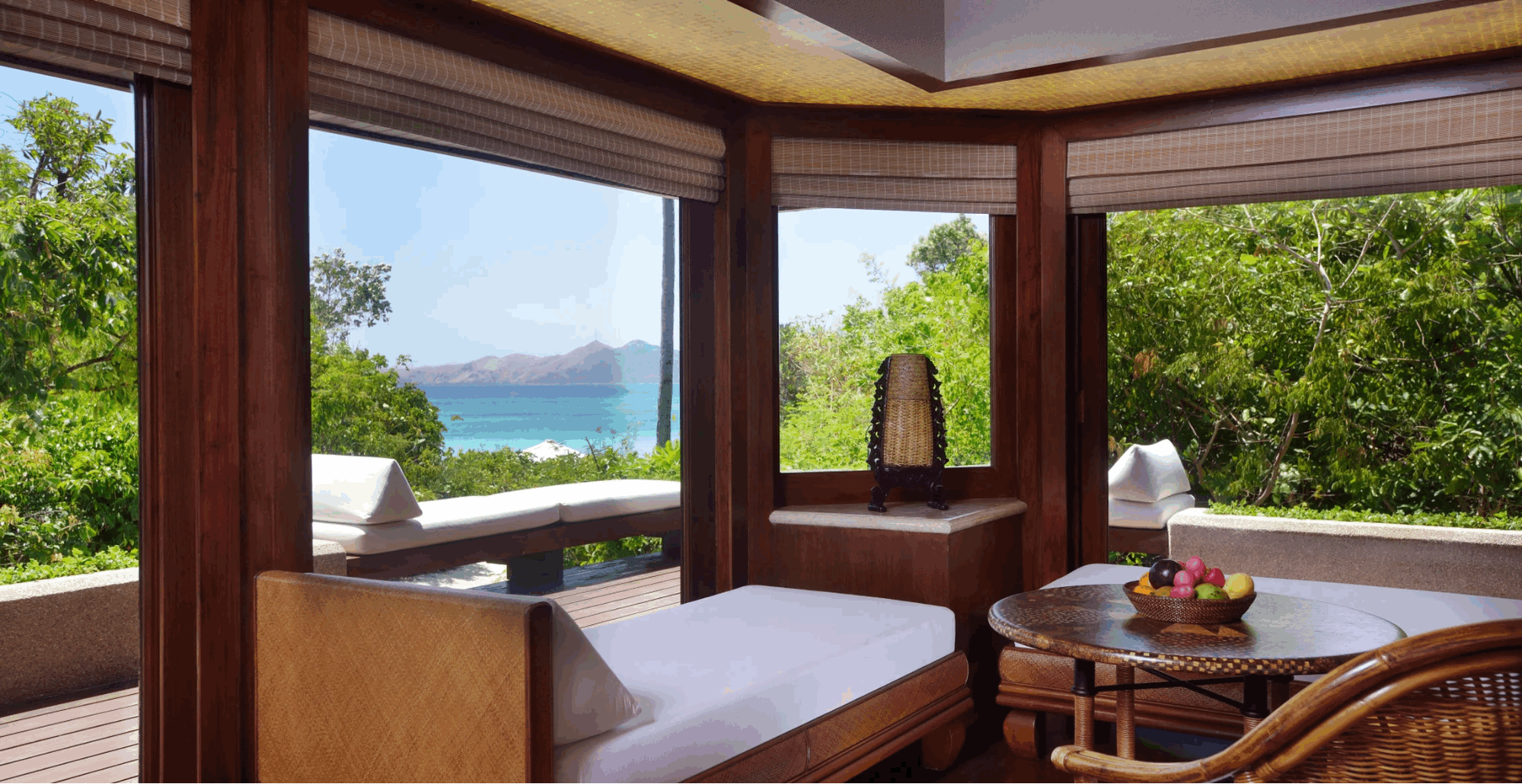 The view of the island from a Beach Casita at Amanpulo
Image credit: Amanpulo
Surrounded by white sand and turquoise waters, the island resort, with its villas and casitas, is an epitome of tranquil paradise. But you can also find adventurous activities such as snorkelling, kayaking, and kite surfing in the resort. 
Expect to bump into green and hawksbill turtles on the surrounding beaches, as the beaches are nesting sites for these aquatic creatures.
---
4. Calauit Island, Palawan – safari island of the Philippines
---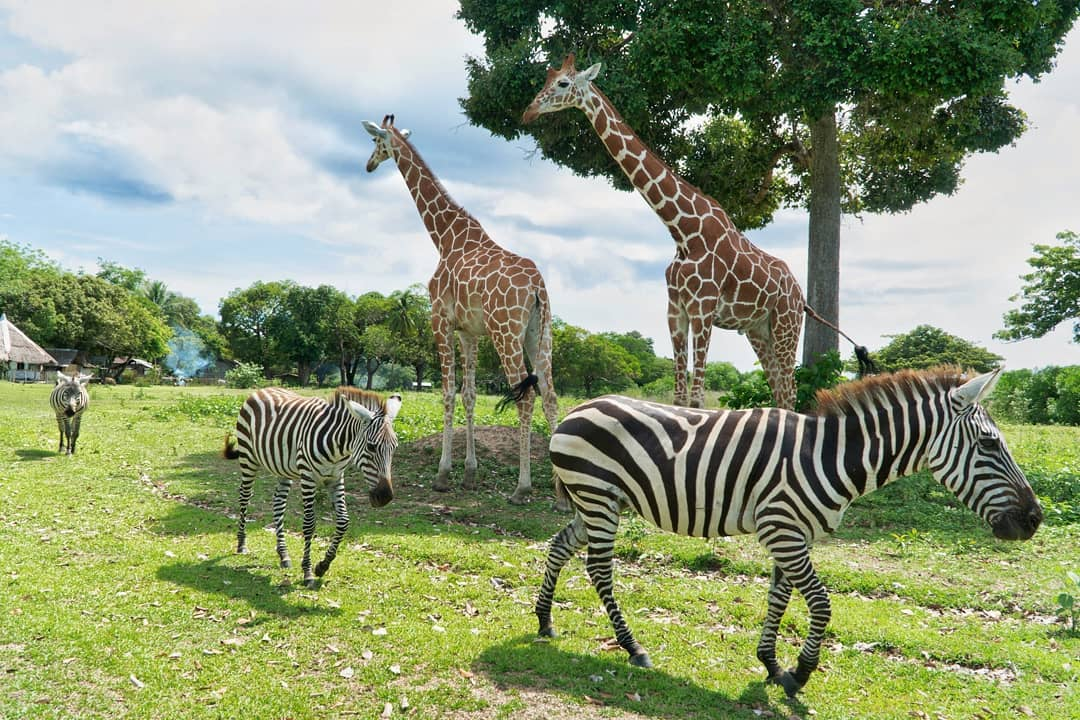 Zebras (front) and giraffes (back) of Calauit Island
Image credit: @the.travelnauts 
If you've always been fascinated by the animals you see featured on documentaries about Africa's wildlife, you may want to visit Calauit Island. Located on the northwestern coast of Busuanga Island in Palawan, and declared as a wildlife sanctuary in 1977, the island is home to Calauit Safari Park where animals such as zebras, giraffes, Calamian deer, and monkeys can be found.

Busuanga Bay Lodge
Image adapted from: Booking
After visiting the animals, you can take a side trip to nearby islands such as North Cay and Pamalican islands, both known for their white sand beaches. If you're planning an overnight stay, you can check out local accommodation, such as Busuanga Bay Lodge, in Busuanga Island. 
How to get there: From Manila, board a plane going to Busuanga, then hop on a boat going to Calauit Island.
---
5. Matinloc Island, Palawan – beaches surrounded by tall limestone rocks
---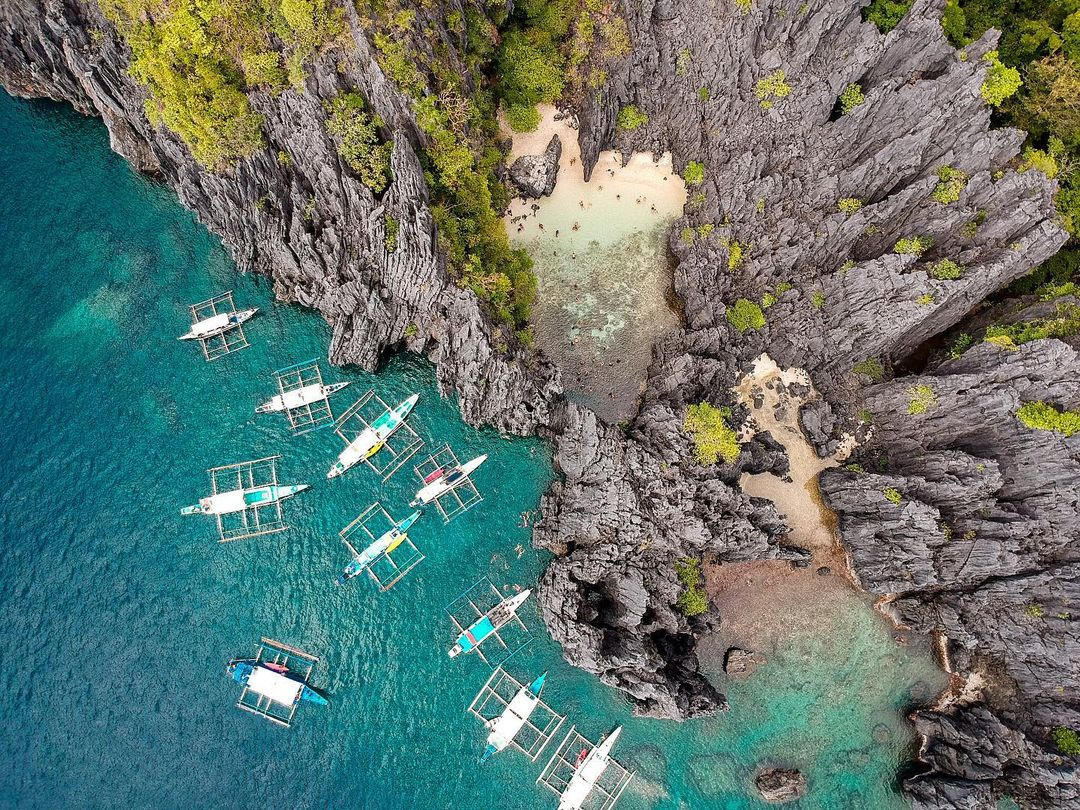 Beaches and tall limestone rocks of Matinloc Island
Image credit: @kent_hey 
Lying northwest of Palawan, Matinloc Island is a must-visit for every tourist planning a trip to the water sports paradise. It's where you can find some of Palawan's iconic beaches, the Hidden Beach and Secret Beach, that are surrounded by tall limestone rocks.
The beaches themselves are majestic, lined with white sand and beaming with crystal clear waters tucked into coves.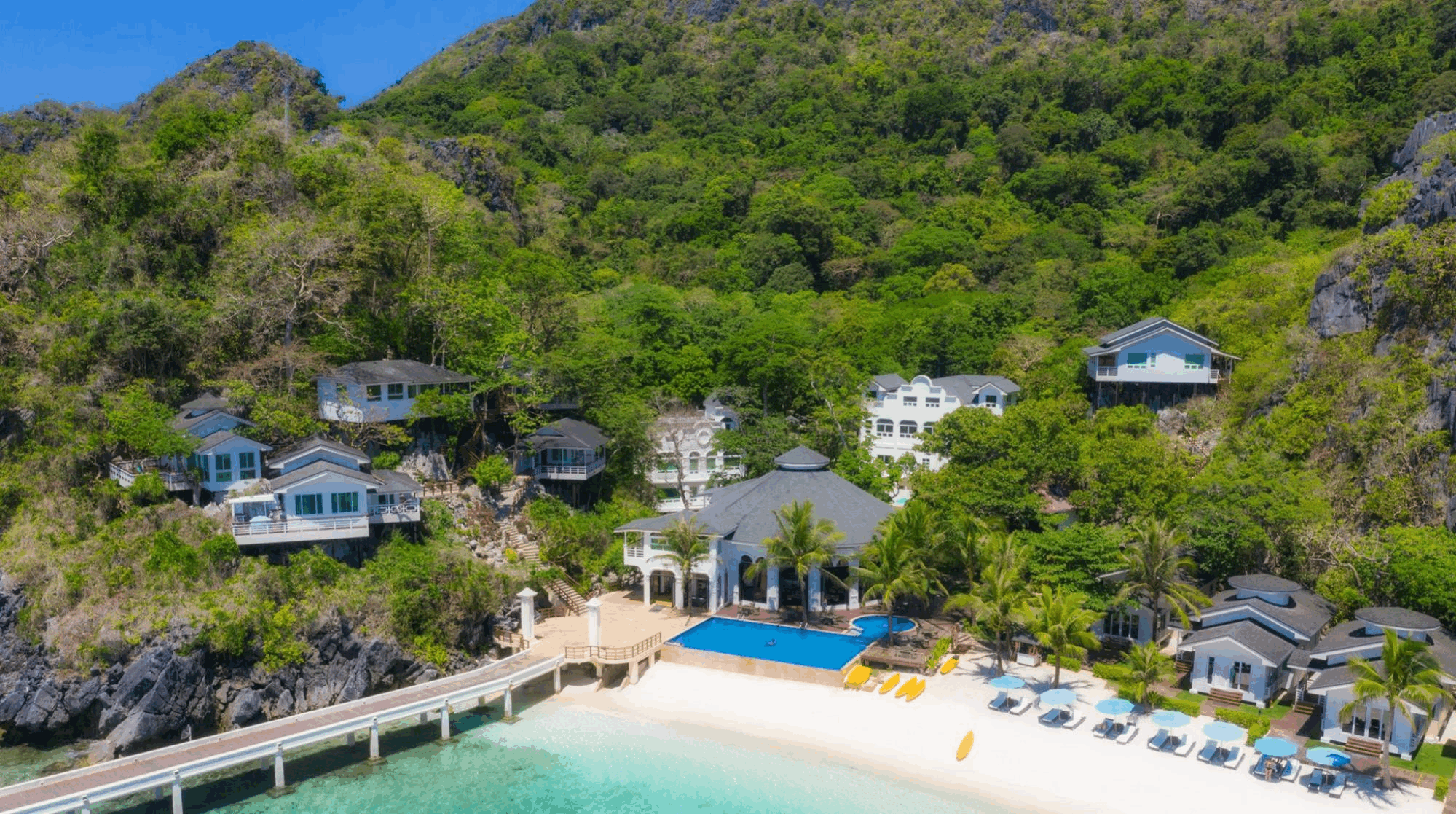 Matinloc Resort
Image adapted from: Matinloc Resort
If you want to take a break from swimming in the beaches, you can visit Matinloc Shrine, a white dome housing a statue of the Virgin Mary. Matinloc Resort overlooks the waters of the island, and is one of the beautiful resorts here you can stay overnight in. 
How to get there: From Manila, fly to El Nido, then hop on a boat going to Matinloc Island.
---
6. Corregidor Island, Cavite – historic fortress island
---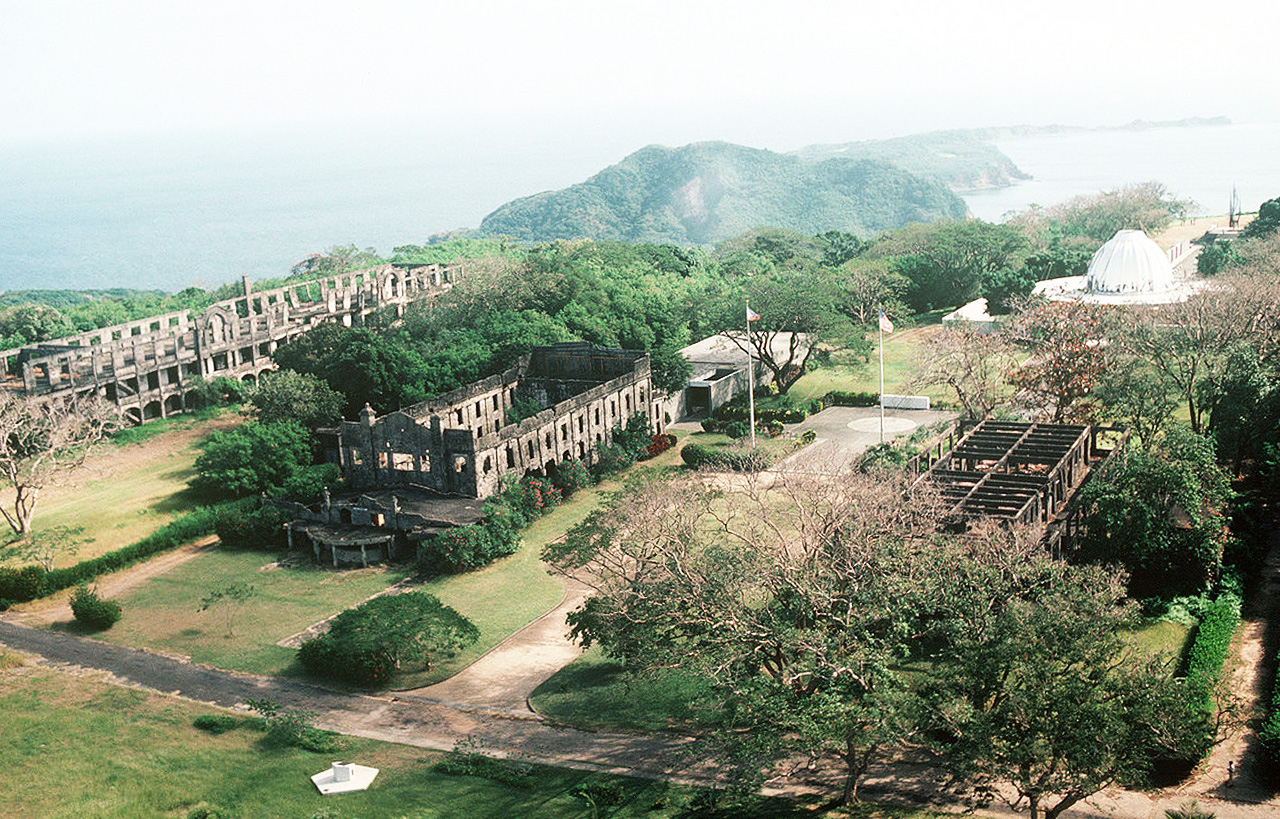 Corregidor Island
Image credit: Wiki Voyage 
For history buffs, Corregidor Island is a must-visit. Southwest of Luzon and a few hours away from Manila, it's a historic fortress island that has seen wars, from the Spanish-American War to World War II. The island was where ships entering Manila during Spanish colonial times would stop for inspection, and today, it has become a national monument frequented by tourists and history buffs alike. 
Many day tours on the island stop by the Pacific War Memorial built by the US government in 1968 to commemorate Filipino and US soldiers' sacrifices, the Spanish Lighthouse built in 1836 that's the oldest building on the island, the Filipino Heroes Memorial and Museum which houses several artifacts and paintings honoring Filipino soldiers, and the Malinta Tunnel, used by US forces during World War II to store weapons.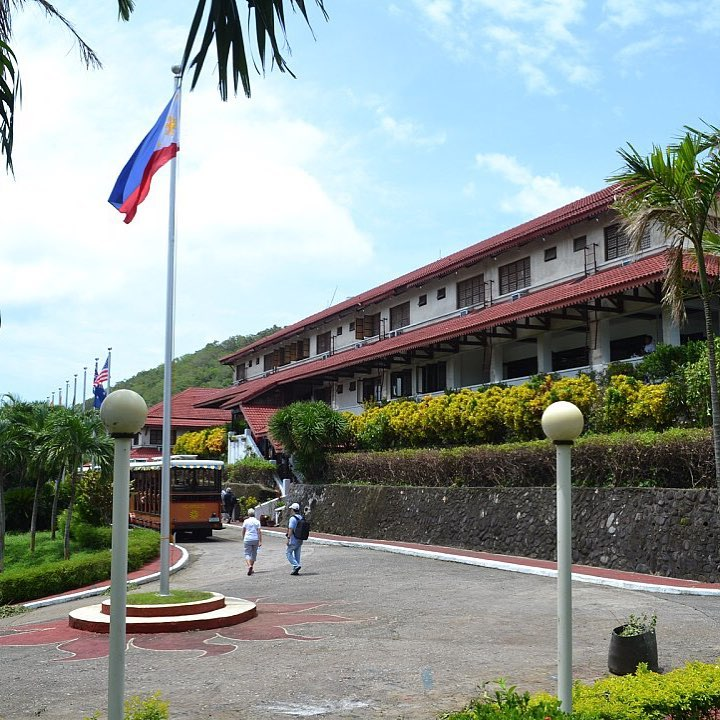 Corregidor Inn
Image credit: @jackambraw

When a day isn't enough to learn about the island's history, check in at Corregidor Inn which offers panoramic views of the fortress. 
How to get there: Hop on a Sun Cruise ferry at Esplanade Seaside Terminal in Pasay City.
---
7. Balesin Island, Quezon – home to the exclusive Balesin Island Club
---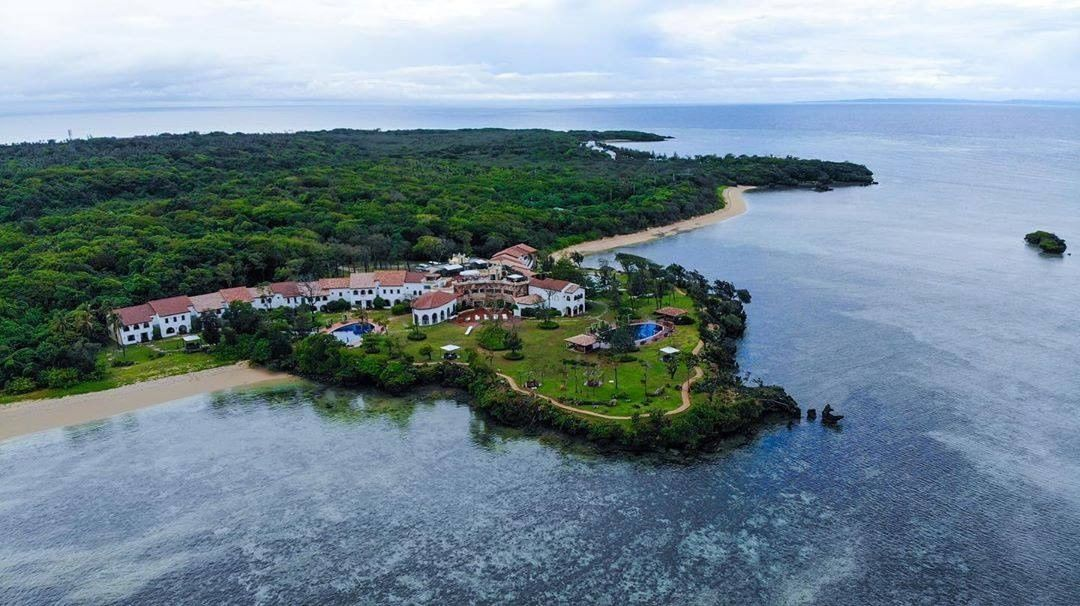 Toscana Village
Image credit: @balesinislandclub
Situated off the northeastern coast of Luzon and a 25-minute private plane ride from Manila, Balesin Island is a secluded 500-hectare island where the exclusive, members-only Balesin Island Club can be found. The club has seven villages – from Balesin to Bali to Phuket to Mykonos to St. Tropez to Costa del Sol to Toscana – to satiate your wanderlust. 
Located right beside a white sand beach, each of the villages is patterned after the aesthetic of the travel destination it's named after. But if you want a local theme, the Balesin Village is dotted with nipa huts displaying traditional Filipino architecture.
---
8. Lubang Island, Occidental Mindoro – known for its untouched beaches
---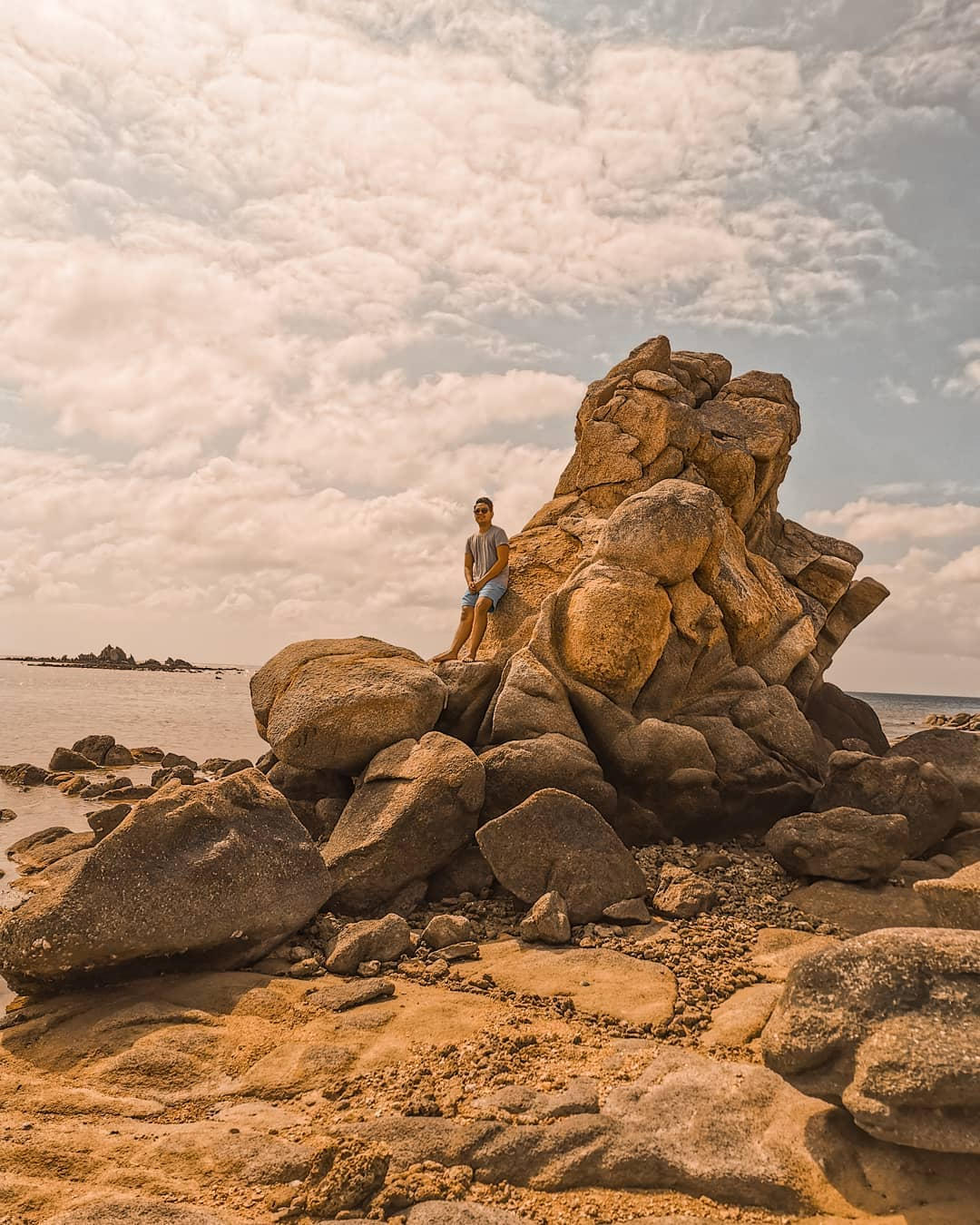 Rock formations on Lubang Island
Image credit: @jccccv
The often unheard-of island of Lubang, southwest of Manila and northwest of Mindoro, has quiet scenery that is relatively undiscovered by tourists.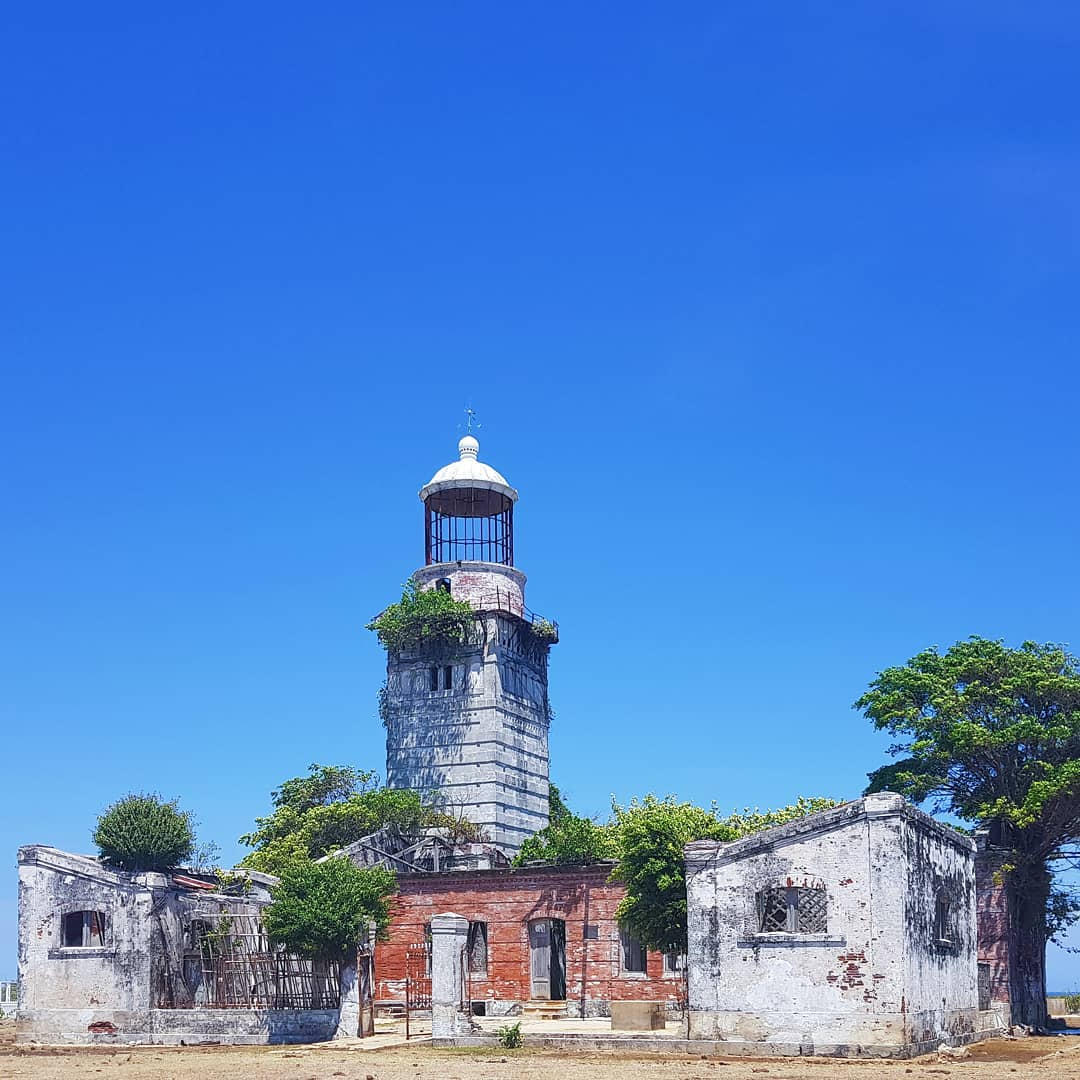 Cabra Island Lighthouse
Image credit: @jheraway

You can find here beaches untouched by commercial development, historic buildings such as Cabra Island Lighthouse, and geographic sights such as farmlands and amazing rock formations. There are guesthouses on the island such as the Kaypalad Guesthouse, where you can stay in bahay kubo-style accommodation. 
How to get there: From Manila, ride a bus going to Nasugbu, Batangas. At Wawa Port in Nasugbu, hop on a boat going to Tilik Port in Lubang Island.
---
9. Sombrero Island, Batangas – hat-shaped island
---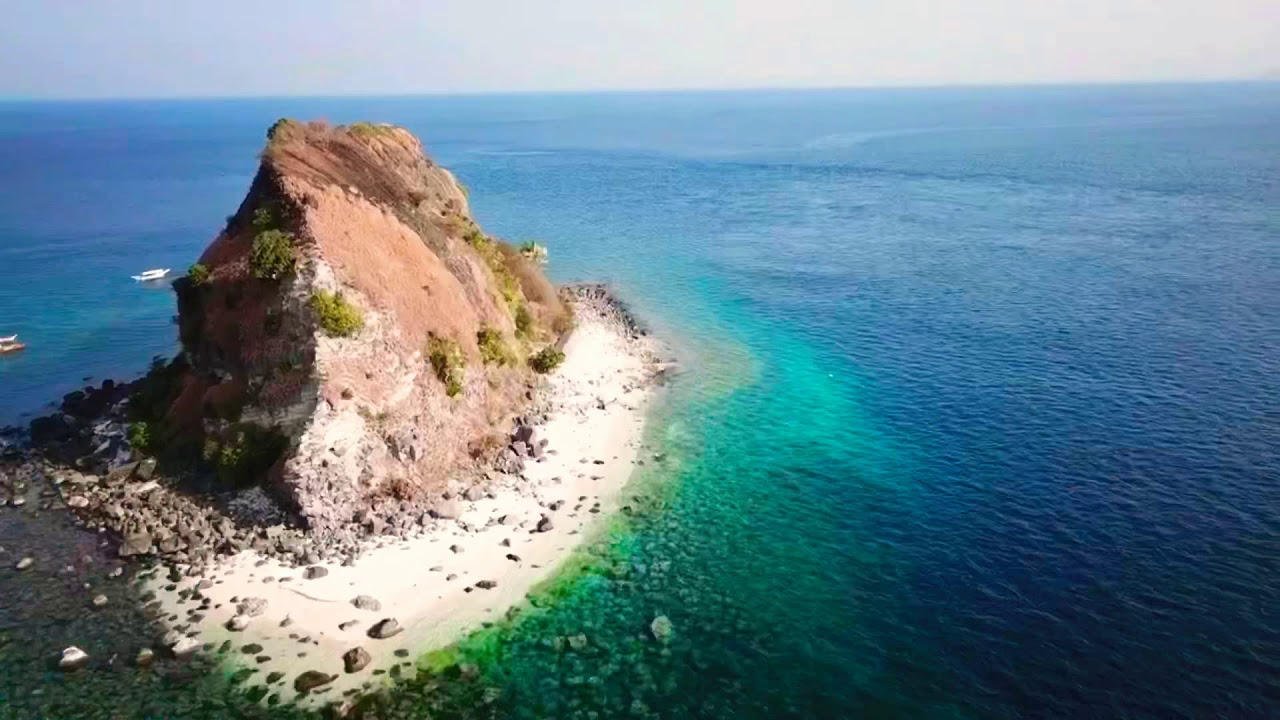 Sombrero Island
Image credit: Carlo Flores 
Aside from beaches, Batangas is also home to unique islands such as Sombrero Island, a hat-shaped island on the easternmost side of Tingloy, Batangas. Named after a Tagalog and Spanish word that means "hat" in English, the island is unique for its hat-shaped rock protruding from the sea.

Sepoc Island
Image credit: @fonsfavis
It's a popular spot for snorkeling, as a coral reef garden can be found on the western side of the island. If you're up for some island-hopping, you can also explore the nearby island of Sepoc. There is no visitor accommodation on Sombrero, unfortunately, but you can stay at nearby resorts in Anilao, Batangas. 
How to get there: From Manila, take a bus going to Batangas. Once you're at Batangas Grand Terminal, ride a jeep going to Anilao or Mabini, then get off at Anilao Port. At the port, rent a boat going to Sombrero Island. 
---
– Islands in the Visayas –
---
---
10. Bantayan Island, Cebu – known for its pristine beaches with white sand
---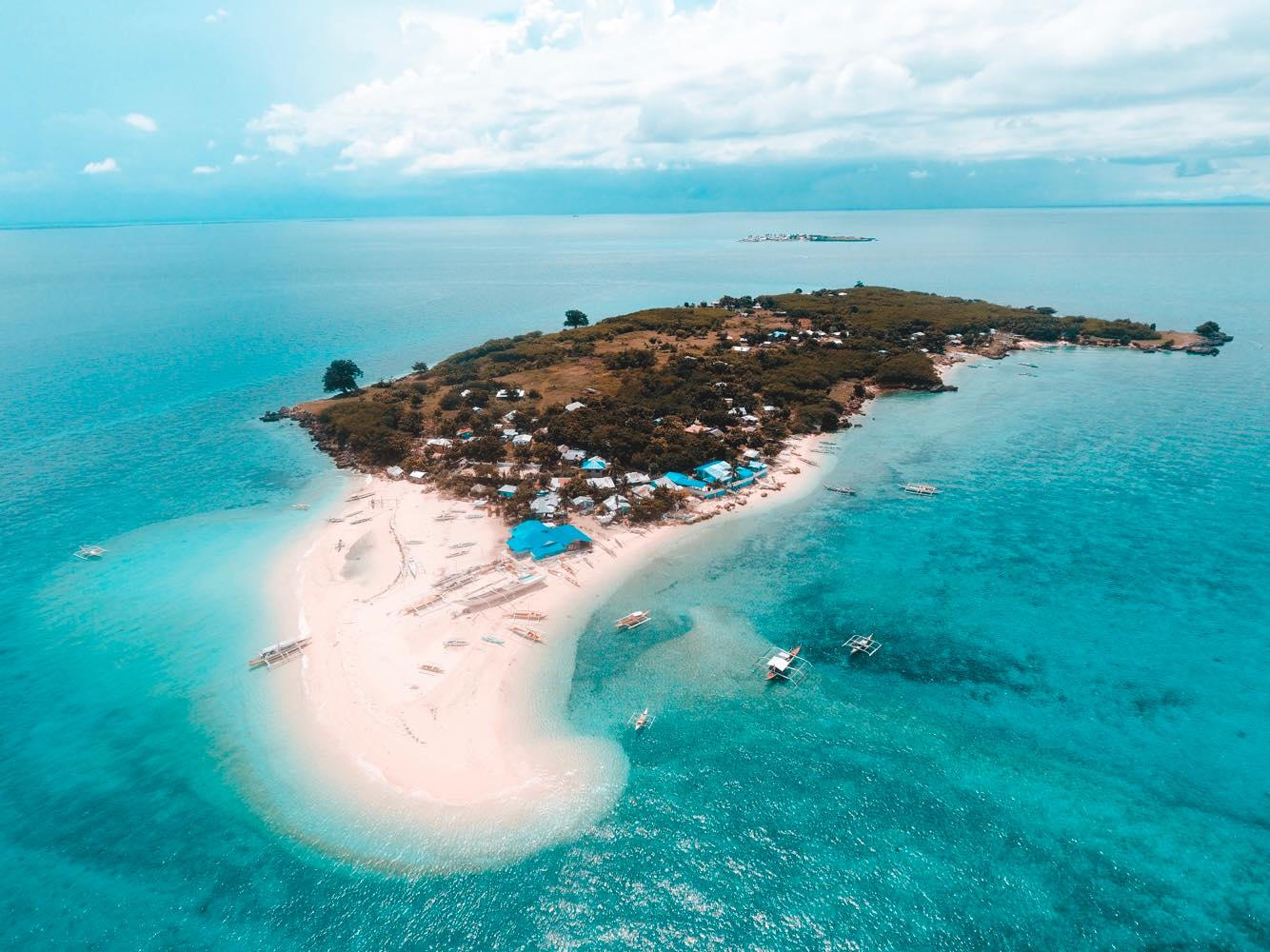 Bantayan Island
Image credit: Queen City Cebu 
Cebu is brimming with tourist attractions, and one of its must-visit natural wonders is Bantayan Island. The island is known for its pristine beaches with white sand, such as secluded Paradise Beach on the southern tip of Bantayan.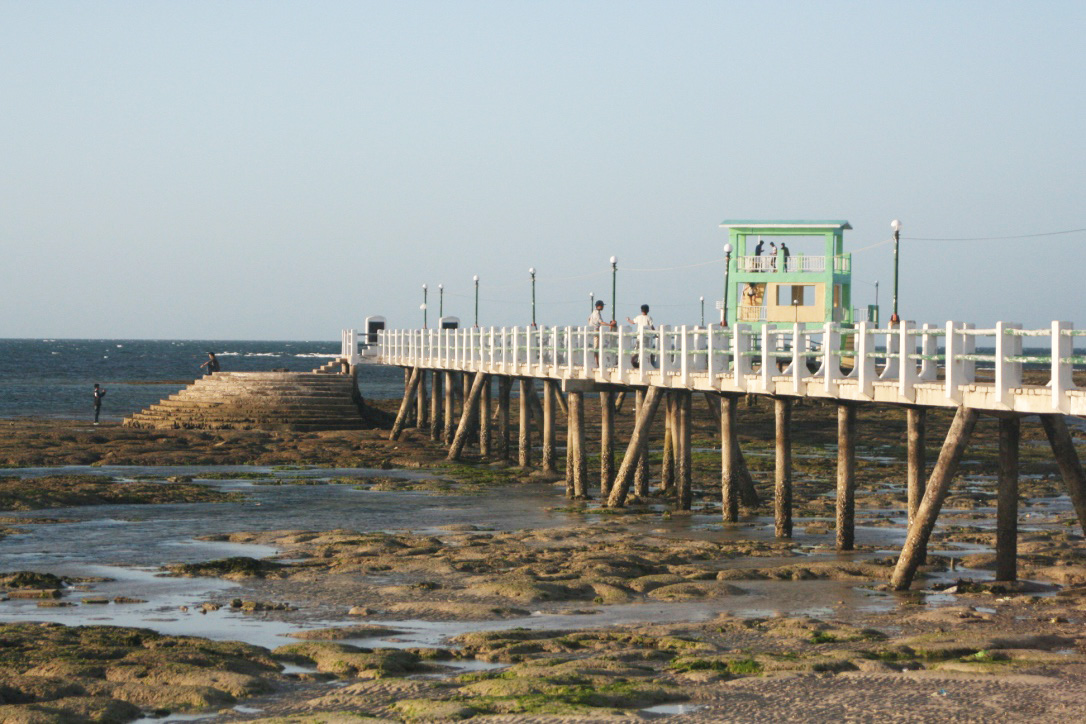 Kota Park
Image credit: Bantayan Island
Aside from enjoying Bantayan's waters, you can also visit historic sites such as Kota Park, with a fort built by the Spaniards in the 1700s, and Saints Peter and Paul Parish, one of the oldest churches in Cebu. Adrenaline junkies can also enjoy skydiving over the beauty of this island – check out the packages offered by Skydive Cebu. 
If you fancy an island-hopping tour, several smaller islands, such as Virgin Island and Hilantagaan Island, are nearby. Various resorts, such as Anika Island Resort, are also scattered across Bantayan.
How to get there: From Manila, fly to Cebu. Take a MyBus bus going to the North Bus Terminal from Mactan airport. At the North Bus Terminal, ride a bus going to Hagnaya Port. Board a ferry bound for Sante Port.
---
11. Islas de Gigantes, Iloilo – group of 10 islands sitting on turquoise waters
---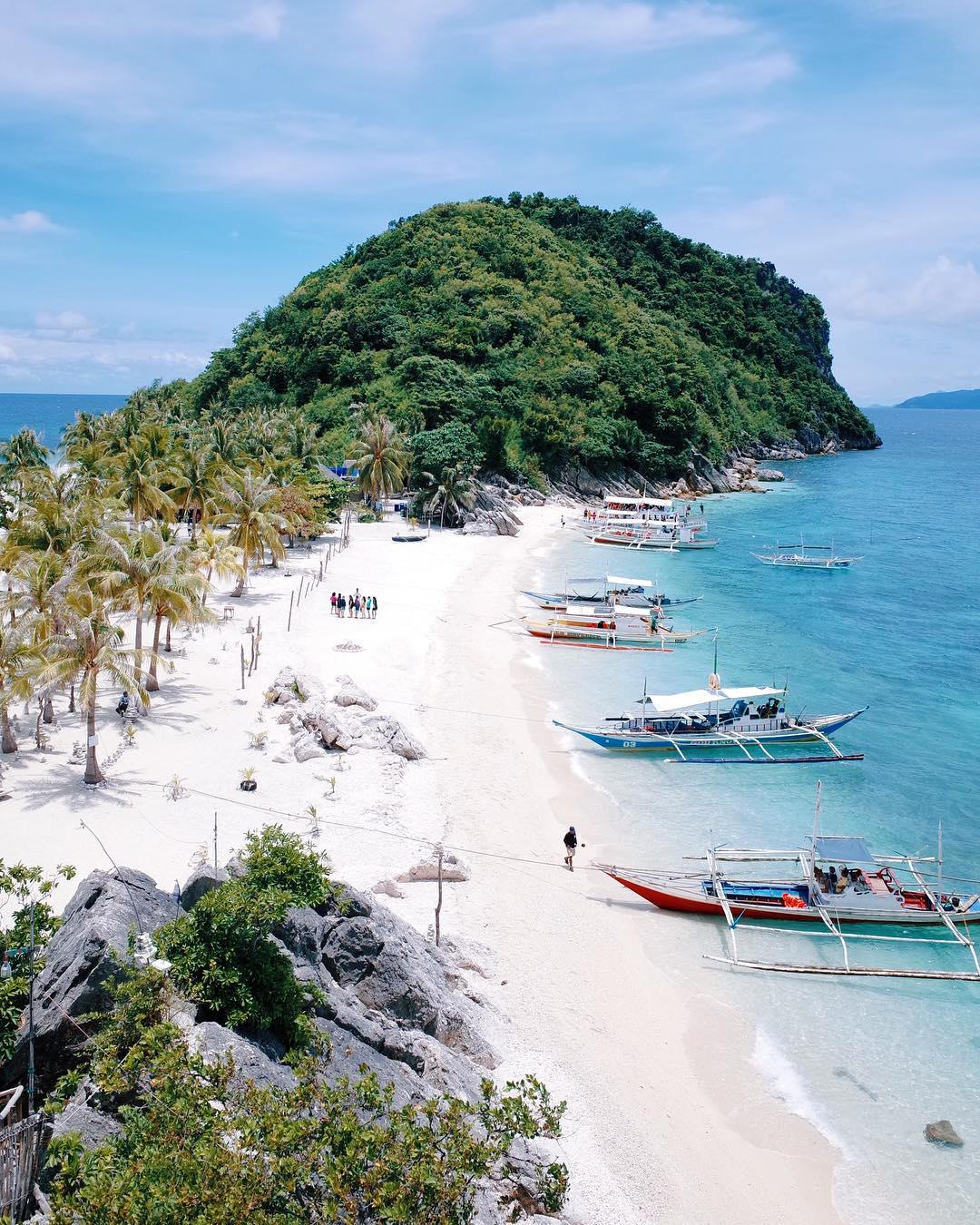 Islas de Gigantes
Image credit: @kelvintagnipez
A hidden paradise situated off the northern coast of Carles, Iloilo, Gigantes Island or Islas de Gigantes is a lesser-known group of 10 islands sitting on turquoise waters.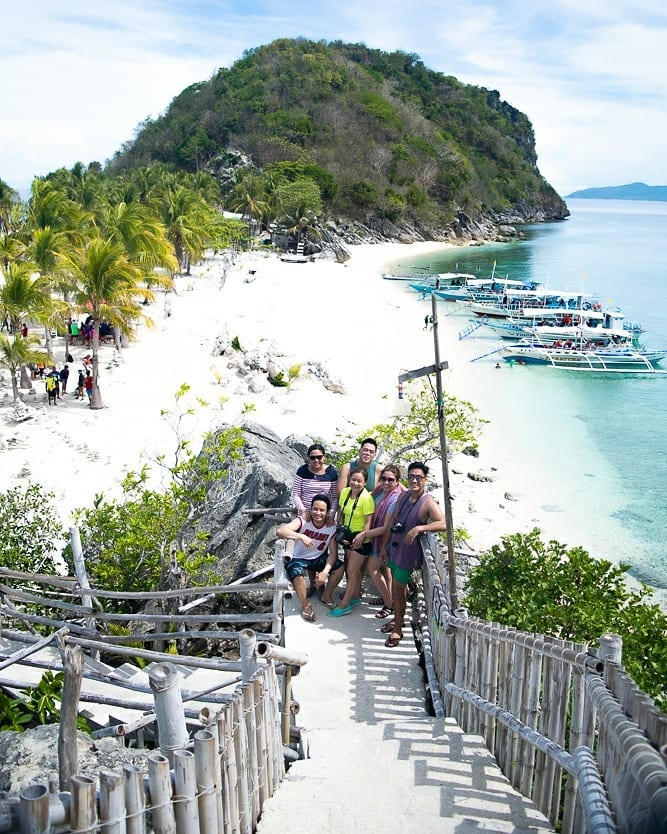 Selfie Island
Image credit: @raiiraia
Gigantes Norte and Gigantes Sur are its two biggest islands. A popular first stopover is the Cabugao Gamay, known as the Selfie Island, where you can take selfies on a stairway to capture a panoramic view of the island covered with lush vegetation. To fill yourself with fresh seafood, head over to Antonia Island where vendors prepare fresh seafood such as crabs, squids, and oysters. 
Aside from exploring islands, you can make the most out of your holiday in this paradise by strolling through white sand beaches, visiting an old lighthouse, and exploring caves. Various seaside accommodation is available on the island too, such as Solina Beach and Nature Resort. 
How to get there: From Manila, board a plane going to Iloilo. At Ceres Bus Terminal in Tagbak, Iloilo, ride a bus bound for Carles and alight at Bancal Port.
---
12. Boracay, Aklan – often named as one of the best beaches in the world
---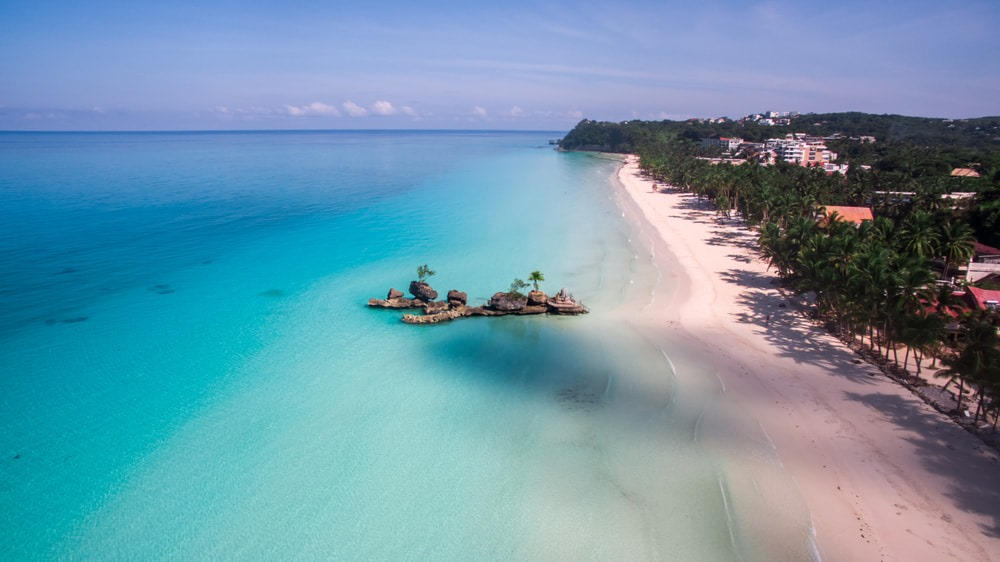 Boracay beach
Image credit: Boracay Island, Philippines
Island-hopping in the Philippines wouldn't be complete without visiting Boracay, located in the province of Aklan. Known for its long stretch of white sand and pristine waters, it's one of the country's most famous islands. 
In fact, it's often recognized as one of the best beaches in the world by international publications such as Conde Nast Traveler and Travel + Leisure. The island has a total of 17 beaches, the most popular including White Beach, the main beach that's also the biggest at 4 km long, Puka Beach, and Bulabog Beach.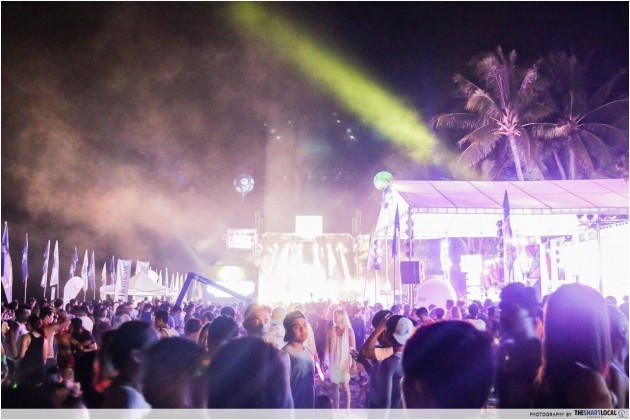 Boracay nightlife
Aside from its natural beauty, it's also a center of events and exciting water activities. Partygoers can revel in its festive nightlife scene, while adventurers can look forward to scuba diving, snorkeling, windsurfing, and kiteboarding. Five-star resorts, such as Shangri-La Boracay Resort & Spa, can be found on the island.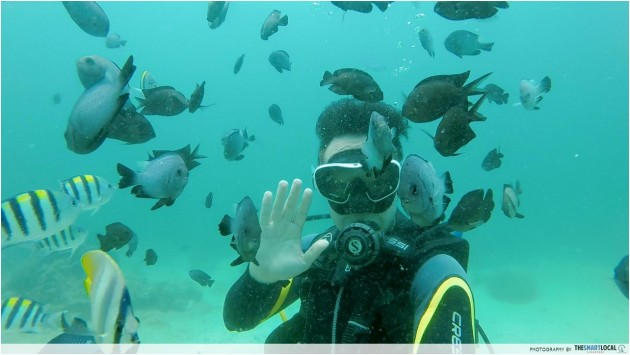 Diving in Boracay
How to get there: From Manila, fly to Caticlan or Kalibo. If you're coming from Kalibo, ride a bus or van going to Caticlan Jetty Port. But if you're coming from Caticlan, you only need to ride a tricycle going to the port.
---
13. Panglao, Bohol – nearby famous attractions in Bohol such as Chocolate Hills
---
Mithi Resort & Spa
Image credit: Mithi Resort & Spa 
Located in the southwest of Bohol and east of Cebu, Panglao Island is a famous tourist attraction in Bohol. It's known for its white sand and diving sites that have been lauded to rival Boracay's. Alona Beach, where you can do underwater activities such as diving and snorkeling, is a popular beach on the island.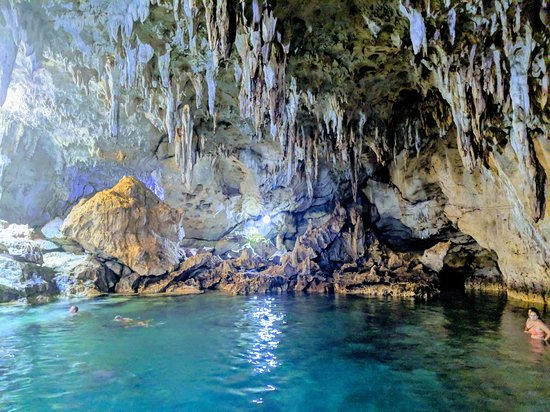 Hinagdanan Cave
Image credit: mmmmmmmmj/TripAdvisor
Aside from the island's beaches, you can also visit Hinagdanan Cave. Made up of unique rock formations, the cave has a lagoon lit by sunlight that passes through the cave's opening. The cave is also said to have been a part of the town's history, as it was once used as a hideout by locals during World War II. 
Chocolate Hills, Loboc River, and Philippine Tarsier Sanctuary are all near the island, so you can make the most of your stay in Panglao by also checking out these famous attractions. You can stay over at Hennan Resort Bohol, one of the biggest beach resorts on the island with on-site restaurants and pools aplenty. 
How to get there: From Manila, fly to Bohol-Panglao International Airport, Bohol's new airport that's replaced Tagbilaran Airport.
---
14. Balicasag Island, Bohol – beginner-friendly spots for diving and snorkeling
---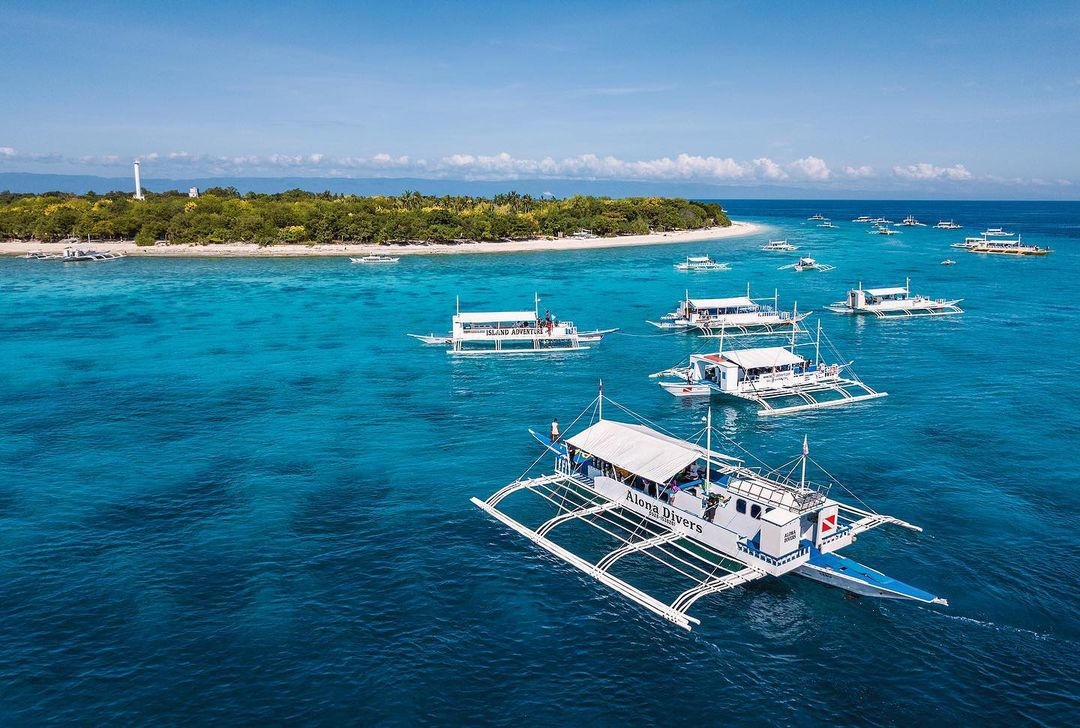 Balicasag Island
Image credit: @jayme.joey 
Swimming in the sea can be scary for those of us who're used to the confines of swimming pools. But when it starts to get boring, the shallow waters of Balicasag Island are beginner-friendly for diving and snorkeling.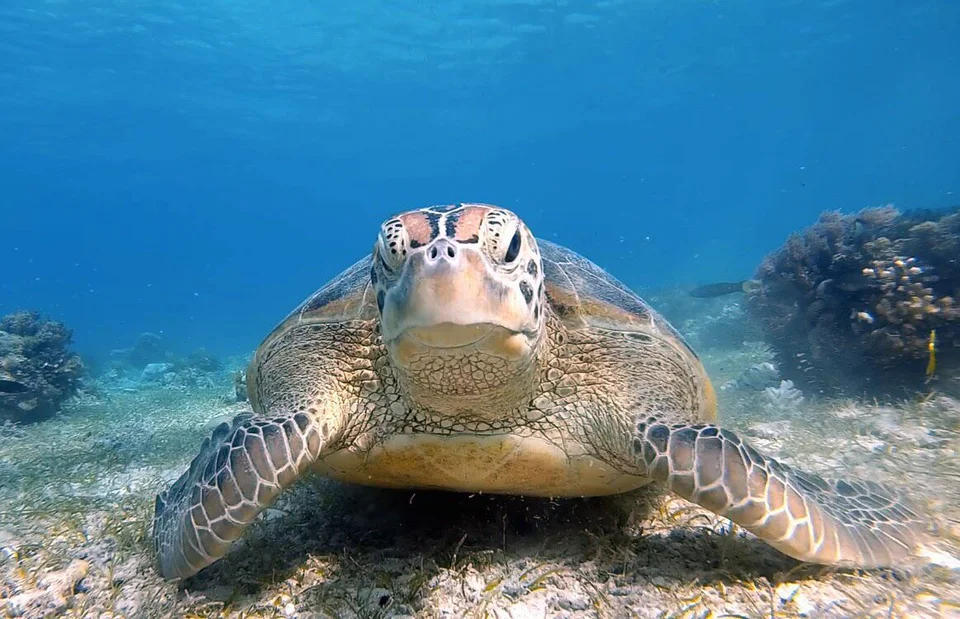 Sea Turtle
Image credit: u/enerees
Southwest of Panglao, Balicasag Island is a small island in Bohol that's a haven for divers and snorkeling enthusiasts. The waters underneath are home to sea creatures such as sea turtles, corals, lionfish, triggerfish, and clownfish, the same fish from the film Finding Nemo. 
When you're staying over, you can check in at Balicasag Island Dive Resort, the sole resort in the island, where you can relax inside traditional-style rooms. 
How to get there: From Manila, fly to Bohol-Panglao International Airport. In Panglao Island, rent a boat going to Balicasag Island.
---
15. Malalison Island, Antique – under-the-radar island in Antique
---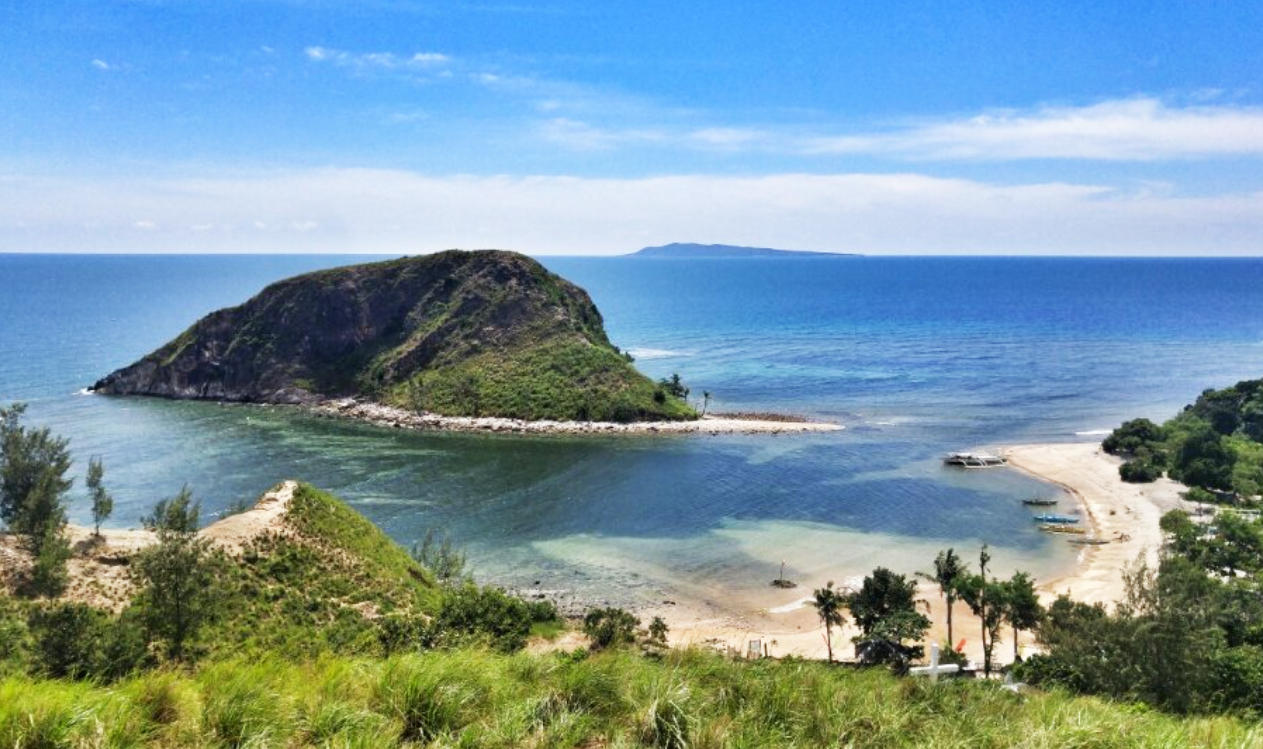 Malalison Island
Image credit: Tripadvisor 
All the way in Antique, there's a small, 54-hectare island west of Culasi, Antique called Malalison Island or Mararison Island. It's one of our under-the-radar islands, brimming with untouched waters, white sand, and lush hills.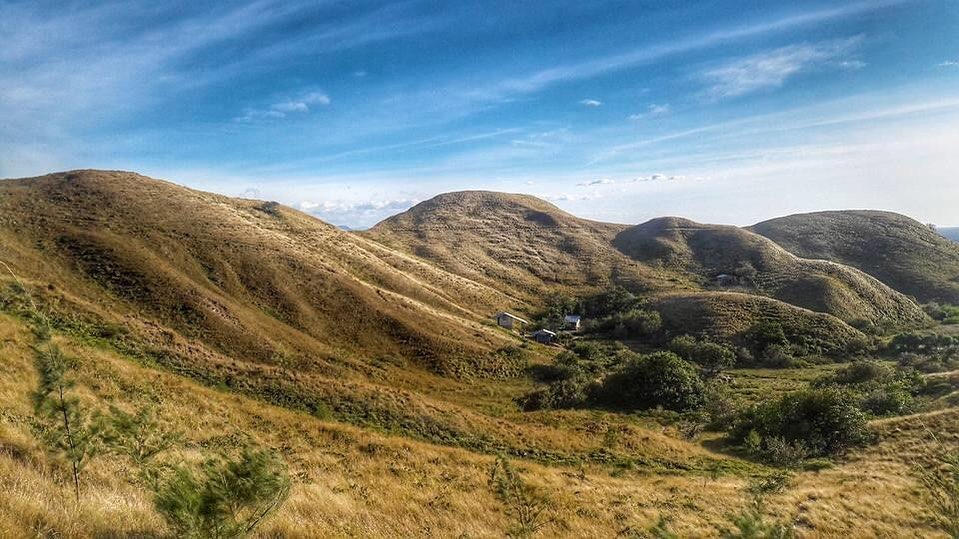 Lush hills of Malalison Island
Image credit: @_wanderingprincess
It had actually been an unknown island until reports about Typhoon Yolanda's destruction on the island in 2013 showed its natural beauty. Snorkeling is a popular activity on the island's beaches, where plenty of marine life such as sea urchins thrive. 
Homestays such as Angelita Macuja Homestay can be found on the island, so you don't need to worry about where to stay here if you're planning a staycation. 
How to get there: From Manila, fly to Iloilo. Once you've arrived in Iloilo, ride a bus going to Culasi or Pandan. 
---
16. Seco Island, Antique – elbow-shaped island
---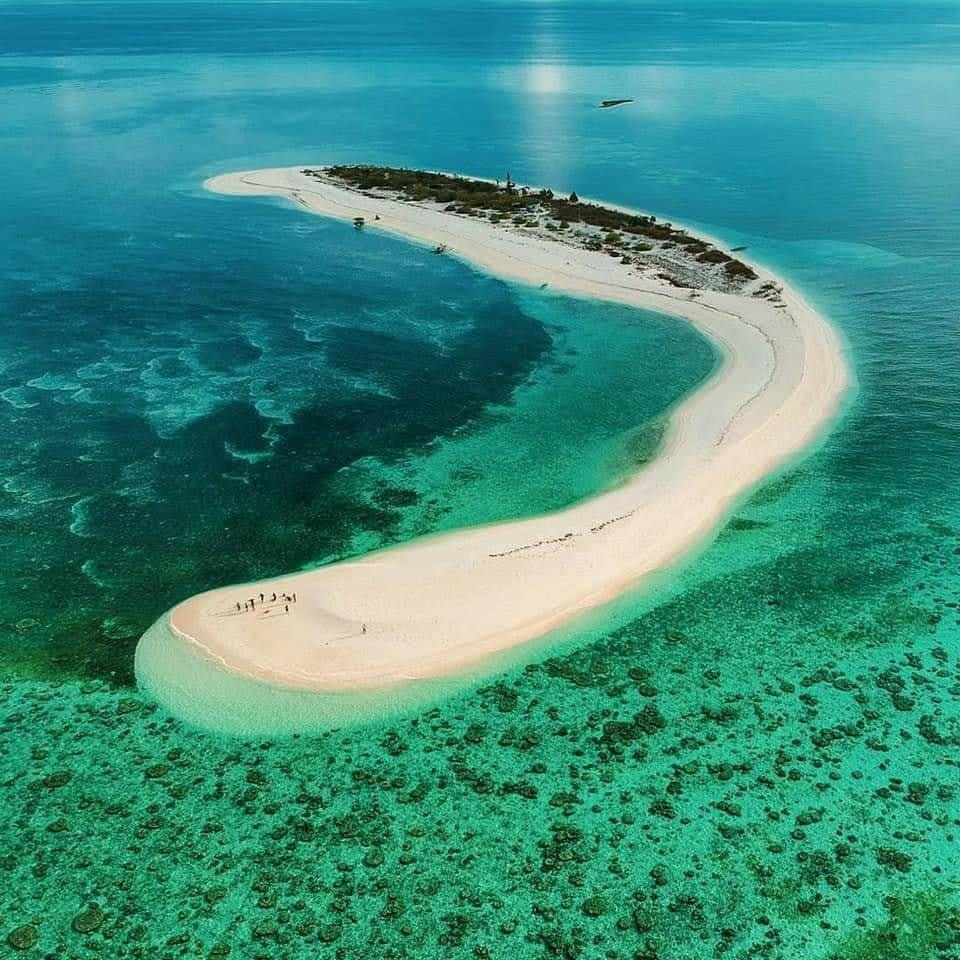 Seco Island
Image credit: Seco Island Tour 
Far away off the northeast of Sulu Sea, Seco Island is an uninhabited island known for its elbow-like shape. It's a paradise for kite surfers due to its strong winds and shallow waters, and the months from December to March are the best times for kite surfing here. 
Snorkeling, camping, and trekking are other activities you can do on the island. And while there is no tourist accommodation around, there are several inns in nearby Tibiao such as Kasa Raya Inn and Blue Wave Tourist Inn, about 2 hours of boat ride away. 
How to get there: From Kalibo Airport, ride a bus going to Iloilo or Culasi, then get off in Malabor, Tibiao. Ride a tricycle going to the Municipal Hall where there are boats going to Seco Island.
---
– Islands in Mindanao –
---
---
17. Camiguin Island, Camiguin – surrounded by volcanoes
---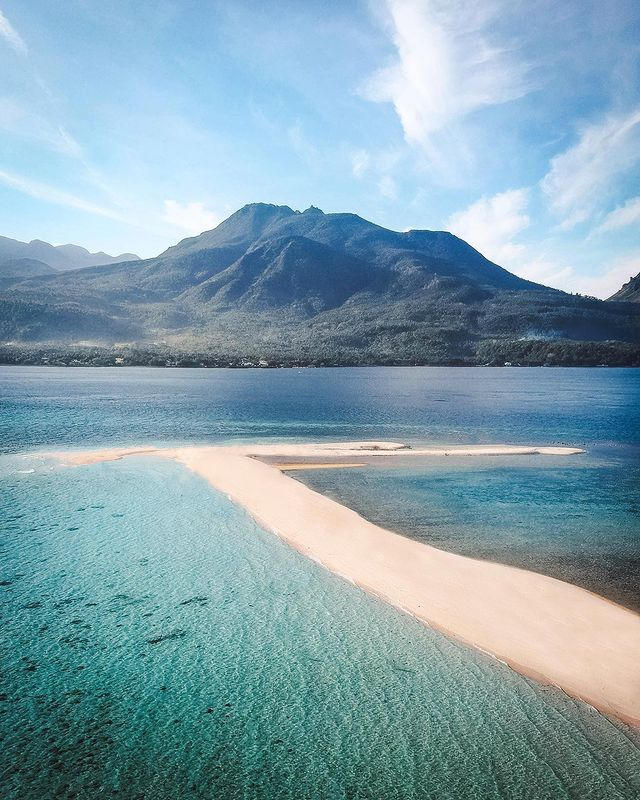 Camiguin Island
Image credit: @clydegadayan 
Located on the northern coast of Mindanao, Camiguin Island has a lot to offer. Because aside from its sandbars and waters, the island is brimming with natural wonders such as volcanoes, waterfalls, hot and cold springs, and the famous Sunken Cemetery, a former community cemetery that sank due to a mountain's eruption.
Dubbed as the Island Born of Fire, Camiguin has seven volcanoes. Mount Hibok-Hibok's Protected Landscape, which houses an interior forest reserve, has even been declared an ASEAN Heritage Park.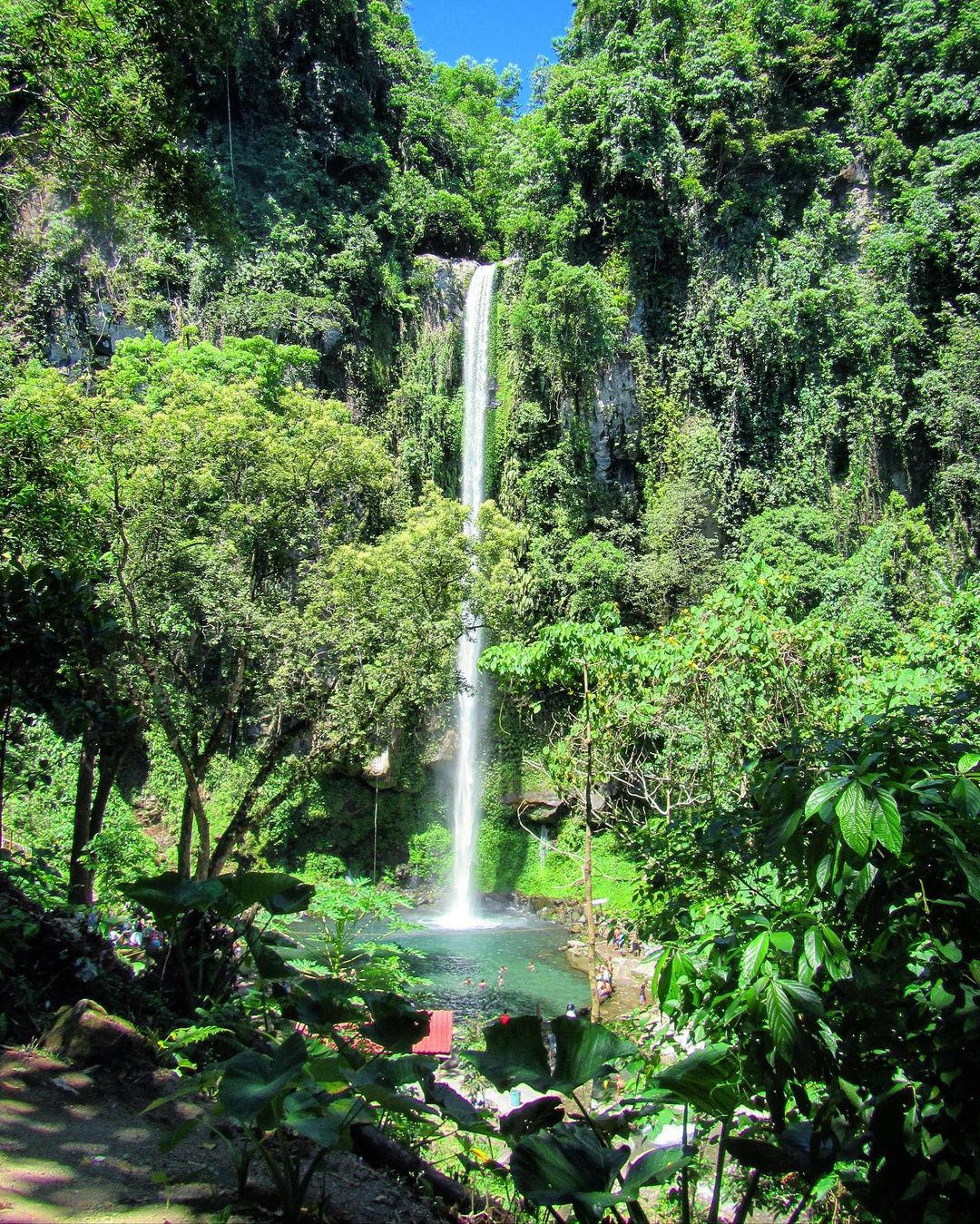 Katibawasan Falls
Image credit: @johnkulot
Katibawasan Falls, the island's 70-meter tall waterfall, is where you can swim in cold waters. For a relaxing, warm bath, head for the Ardent Hot Springs – one of many hot springs on the island – where temperatures can reach about 40°C. From cottages to resorts, there are plenty of places on the island you can stay overnight at, such as Camiguin Blue Lagoon Cottages and Ysla Beach Camp and Eco Resort. 
How to get there: From Manila, fly to Cagayan de Oro. At Laguindingan Airport in Cagayan de Oro, ride a shuttle going to Agora Market. Catch a bus to Balingoan, and from Balingoan Terminal, walk to Balingoan Port. Hop on a ferry going to Benoni Port in Camiguin.
---
18. Great St. Cruz Island, Zamboanga – known for its pink sand
---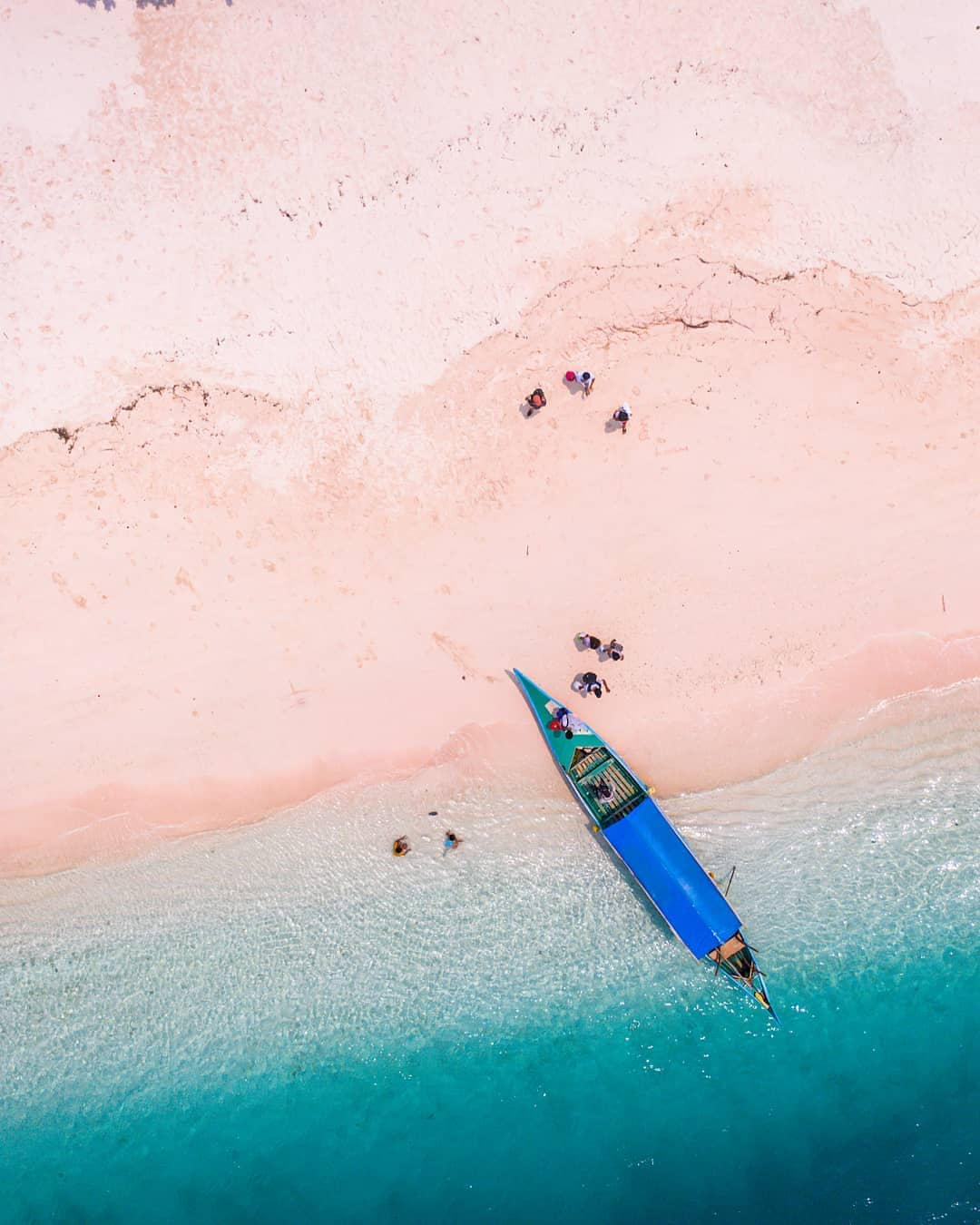 Image credit: @mayzemitra 
While beaches with white sand abound in the Philippines, you can also find beaches with unique pink sand in the country. The beach of Great Santa Cruz Island on the southern part of Zamboanga, for example, is renowned for its pink coralline sand, colored by crushed pieces of red organ-pipe coral. It's no wonder that this feature landed the beach in the list of National Geographic's 2017 Best Beaches in the World.
As the island is home to a small community of Badjaos, an ethnic seafaring group, you can sail on a vinta, a small, decorative sailboat used for short-distance travel among Badjaos, to visit a Badjao cemetery on the beach's eastern side. The island can only be visited by making an appointment with the City Tourism Office of Zamboanga. 
Hotels nearby include the Marcian Business Hotel and Grand Astoria Hotel. 
How to get there: From Paseo del Mar, Zamboanga, take a boat to the island.
---
19. Samal Island, Davao del Norte – a major resort city
---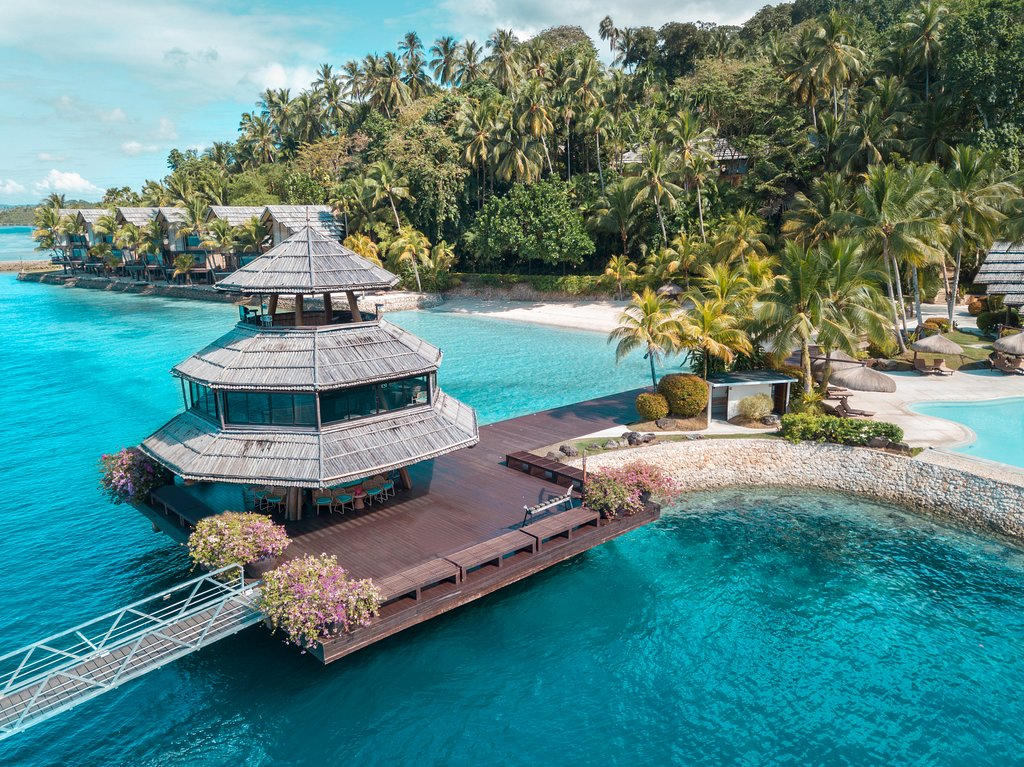 Pearl Farm Beach Resort
Image credit: Tripadvisor 
Samal Island in Davao del Norte is considered the largest resort city in the Philippines, known for its variety of beach resorts such as Pearl Farm Beach Resort, a Filipino-style beach resort. 
The island's variety of activities include swimming in the waterfalls of Hagimit Falls, hiking at Mt. Puting Bato, and visiting Monfort Bat Cave where thousands of fruit-eating bats live.
How to get there: From Manila, fly to Davao. Once in Davao, hop on a ferry bound for Samal at Santa Ana Wharf.
---
20. Siargao, Surigao del Norte – world-renowned surfing island
---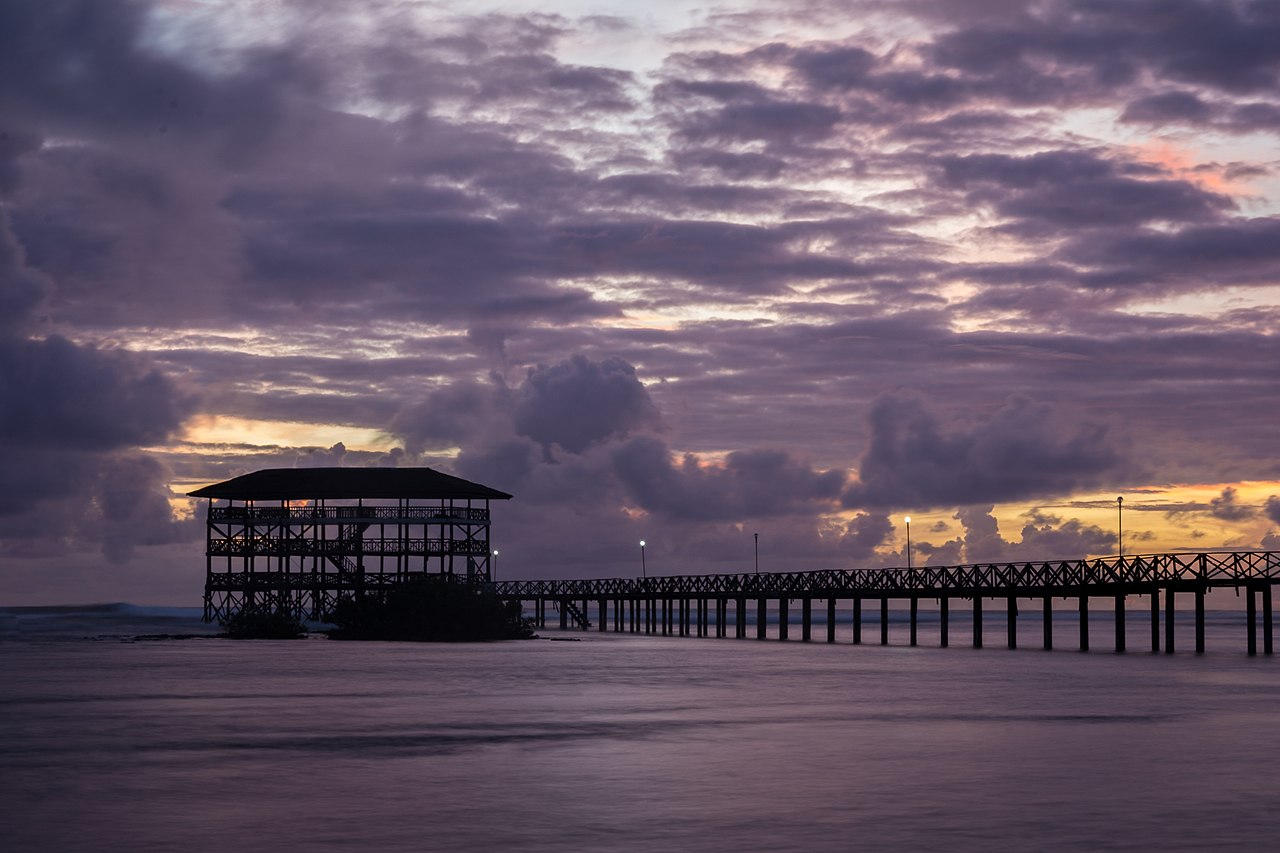 Cloud 9 Boardwalk, Siargao
Image credit: Wikipedia 
Shaped like a teardrop, Siargao is a surfing destination in the Philippines. Like Boracay, the island has attracted visitors from around the world and is often named on lists of the best islands in the world.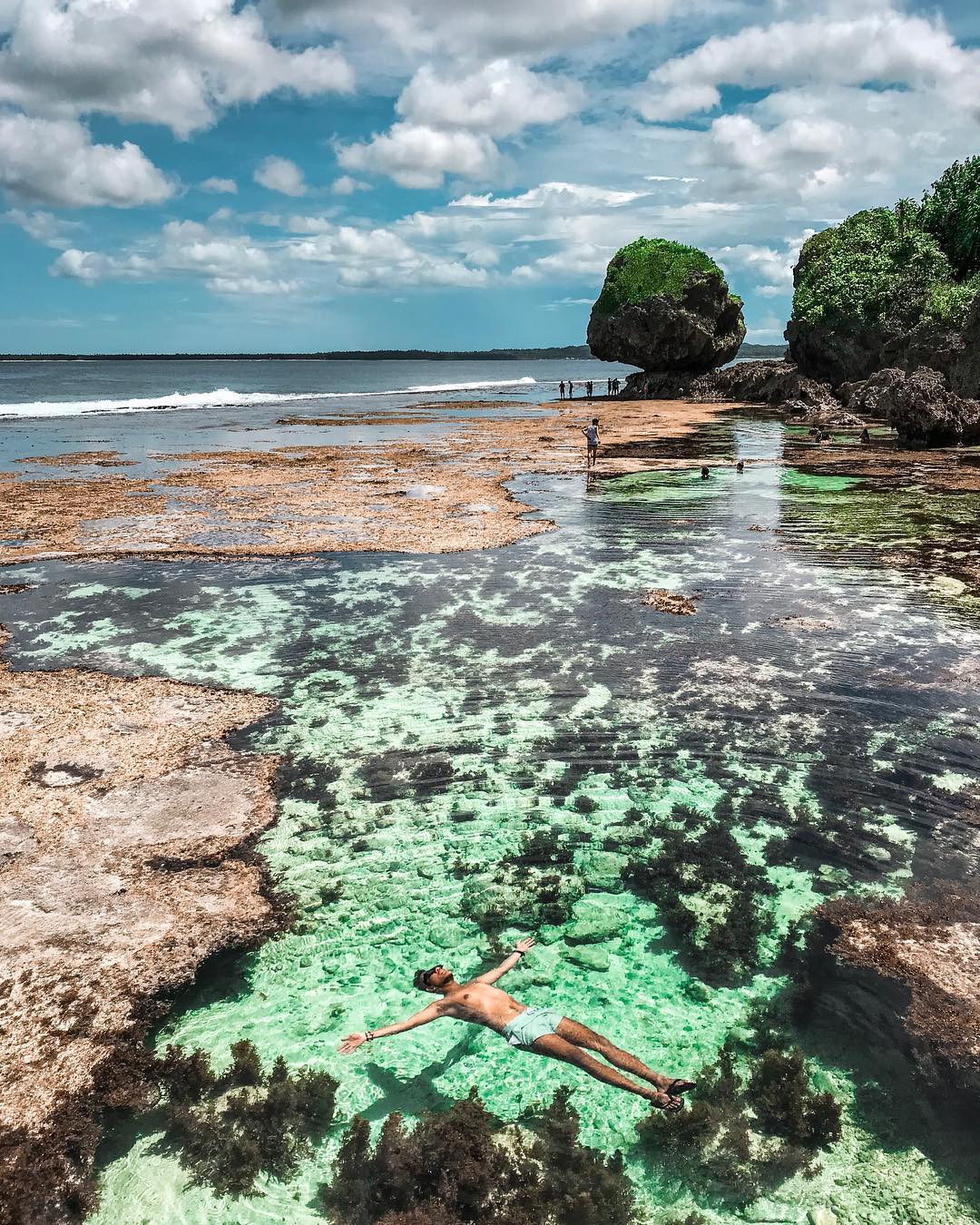 Magpupungko Rock Pools
Image credit: @akadenz
Surfers can catch the waves on Cloud 9, the island's famous surf spot best visited from September to November. For non-thrill-seekers, Siargao still has a lot to offer. You can swim in Magpupungko Beach's rock pools, or marvel at the turquoise waters of Sugba Lagoon in Del Carmen.
If you're serious enough about surfing to compete, you can sign up for the annual Siargao International Surfing Cup held in General Luna – it's a two-week competition that attracts the world's best surfers.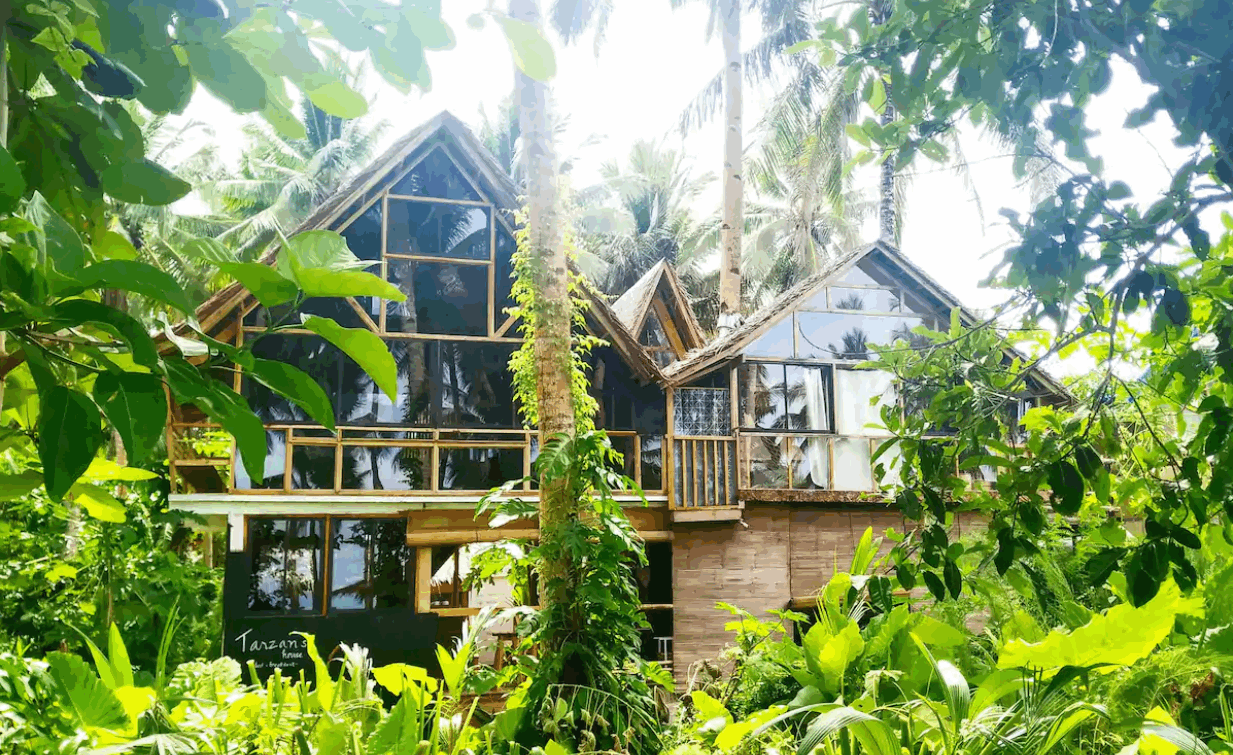 Tarzan's Treehouse
Image credit: Airbnb
Tarzan's Treehouse (P2,000, ~USD41.55 per night), a glass-nipa treehouse in General Luna, is where you can stay over in Siargao to experience laid-back treehouse living. 
How to get there: From Manila, fly to Sayak Airport. At the airport, ride a van going to General Luna. 
---
Philippine islands you need to see
---
You'll indeed never run out of exciting adventures in the Philippines, dotted with over 7,000 islands. 
Aside from their beautiful waters surrounded by rich flora and fauna, the Philippines' islands also feature unique geographical features, from the pink sand of Great St. Cruz Island to the rolling hills of Batan. 
Also check out:
---
Cover image adapted from: Seco Island Tour , @clydegadayan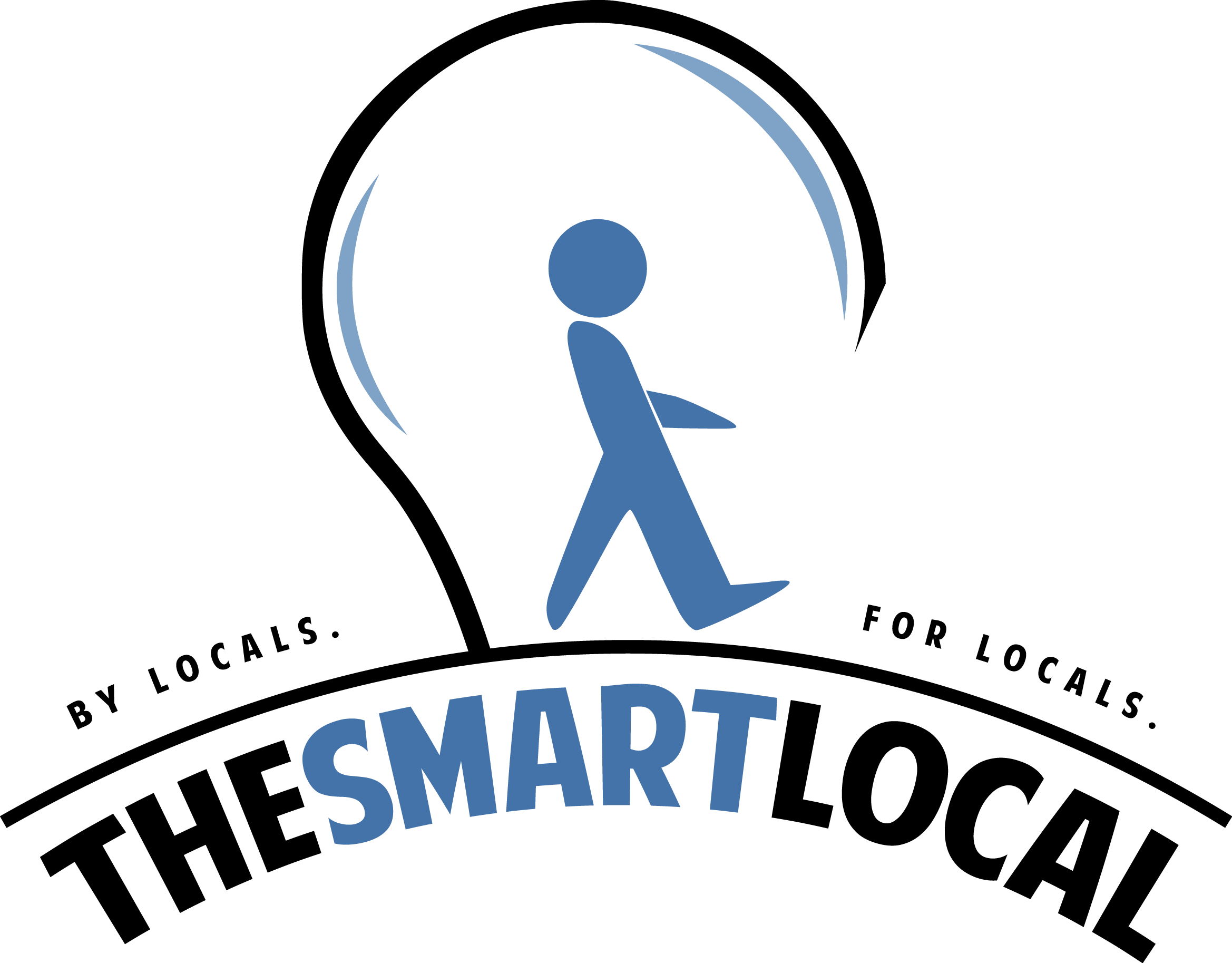 Drop us your email so you won't miss the latest news.