Sunset view spots in the Philippines
---
For many of us, 2020 was the most time we ever spent cooped up at home. As much as our houses' four walls help keep us safe from getting sick, they aren't exactly the best view to marvel at for months on end.
Thankfully, with COVID-19 vaccines soon rolling out nationwide, the hope of finally leaving the house without worrying about the virus is right on the horizon. When the day comes and if watching a sunset is on your post-pandemic bucket list, here are a couple of sunset view spots in the Philippines that you can visit.
---
1. The Oriental Legazpi, Albay – view of the iconic Mayon Volcano
---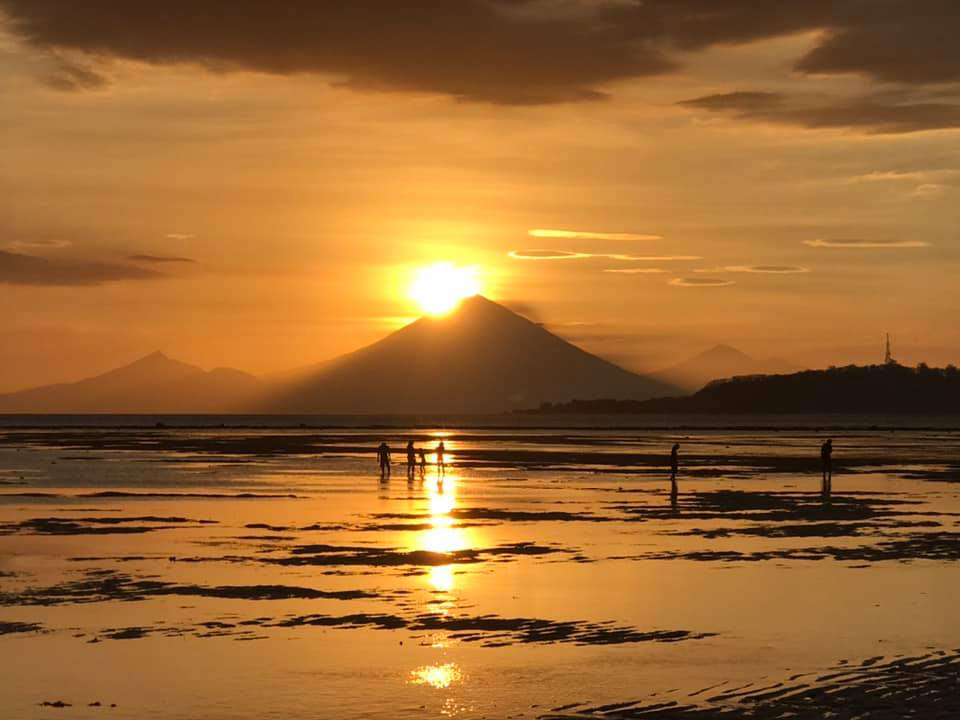 Image credit: Oceans5Dive
The Oriental Legazpi is one of the most well-equipped hotels in Albay that you can stay in. Among its amenities is an infinity pool that has a great view not just of the sunset, but also of the Mayon volcano in all its perfect cone-shaped glory.
As the hotel's perched on top of Taysan Hill, you'll have a great view of this local landmark. This makes it one of the most unique of all the sunset view spots in the Philippines.
Along with the view, you can enjoy other amenities such as a spa, a restaurant that features Asian cuisine, and a fitness center. They're temporarily closed due to the pandemic, but you can keep tabs on their reopening via their Facebook page or website.
Address: Taysan Hill, Sto. Niño Village, Legazpi City, Albay
Opening hours: 24 hours, Daily
Telephone: (052) 480 0383 to 85
---
2. Andi's Talisay, Moalboal – coffee bar by the beach
---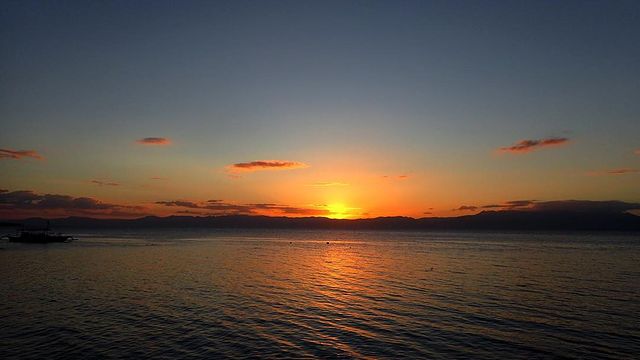 Sunset over Panagsama beach
Image credit: @kirakiraaoi
Beaches are hands down some of the best places to watch the sunset as it disappears into the sealine. At Andi's Talisay seaside coffee bar, you can sit back, catch the view, and even enjoy a cup of joe or something more boozy.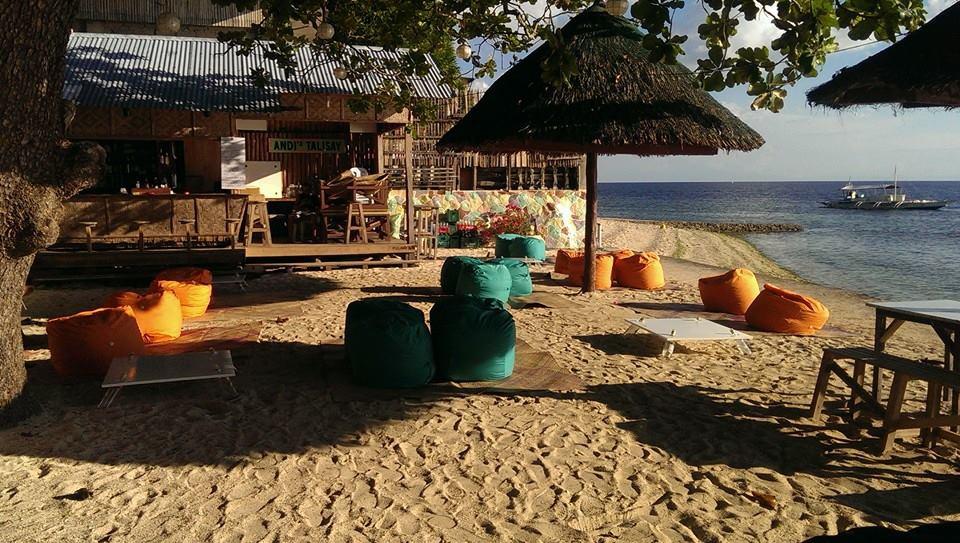 Beach dining at Andi's Talisay
Image credit: @emoksguesthouse
We usually have to sit on plastic chairs or the sand when at the beach, but Andi's Talisay offers extra comfort with an ambiance. The coffee bar's shore is speckled with colorful bean bags and mats for you to lie on as you rest after swimming or watch the sunset. You can even quench your thirst with their alcoholic and non-alcoholic drinks from P30 (~USD0.62).
And if you're one to burst into song in typical Pinoy fashion, you can borrow their guitar, ukulele, and other instruments that they keep around for any guests willing to give an impromptu performance.
Address: Pacita's Beach Resort Basdiot, Moalboal
Opening hours: 8AM-7PM, Daily
Telephone number: (032) 474 3017
---
3. Kingfisher Sand Sea Surf Resort, Ilocos Norte – stand-up paddleboarding spot
---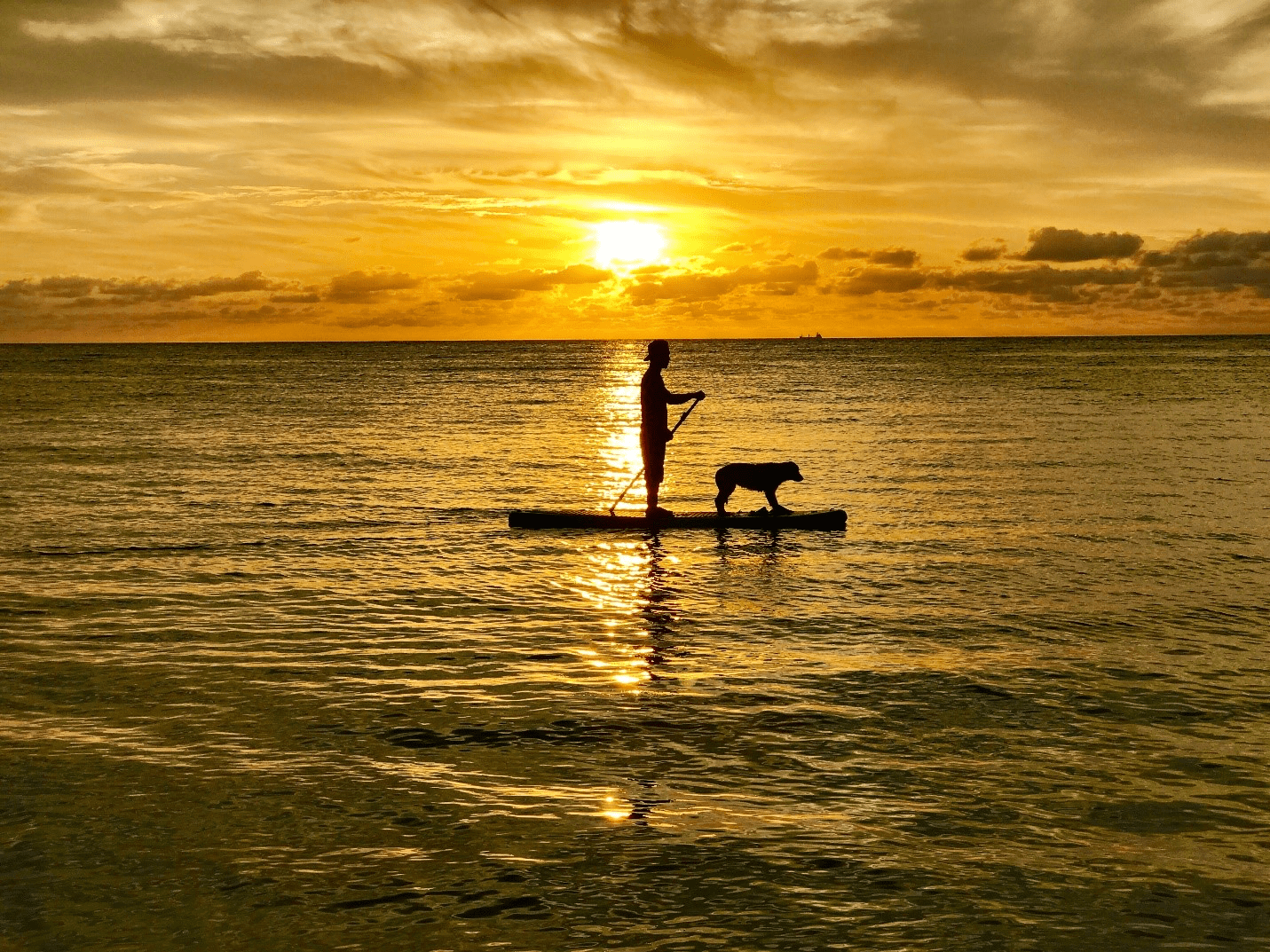 Image credit: Kingfisher.ph
Kingfisher Sand Sea Surf Resort is another place where you can view the sunset by the beach if you live around Ilocos Norte. While waiting for the sunset, you can enjoy the resort's water sports options, from kitesurfing and windsurfing on windy days to kayaking and paddleboarding on days when there isn't much wind.
Just in case a day trip isn't enough, no need to worry – you can stay the night in their accommodations starting at P1,905 (~USD39.62). And since they're a pet-friendly hotel, you can even bring your fur babies along for your trip.
Address: Caparispisan, Pagudpud, Ilocos Norte
Opening hours: 8AM-9PM, Daily
Mobile number: 0927 525 8111
---
4. Mount Samat, Bataan – overlooking Bataan
---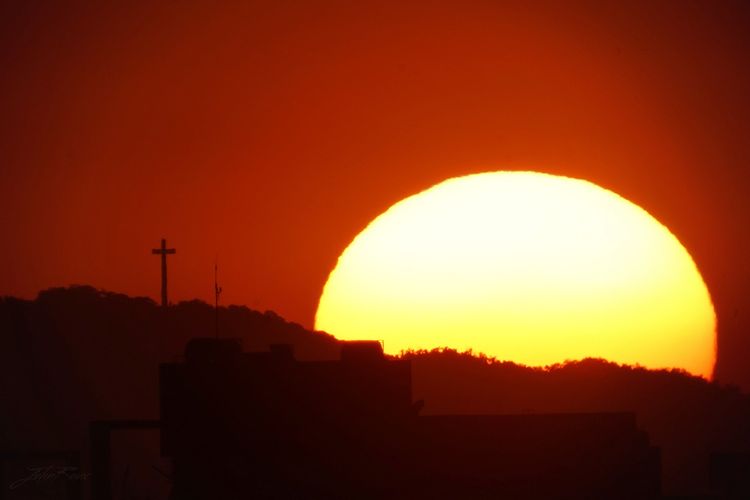 Image credit: @beholdbataan
A sunset is one of the most beautiful views that can greet you after a hike, and you can catch a gorgeous one at the top of Mount Samat in Bataan. The sun sets right over the mountain, making the sunset look enormous.
However if you'd prefer to save your breath instead of hiking, you can get a tricycle to take you to the top – something we don't come across often when it comes to mountains.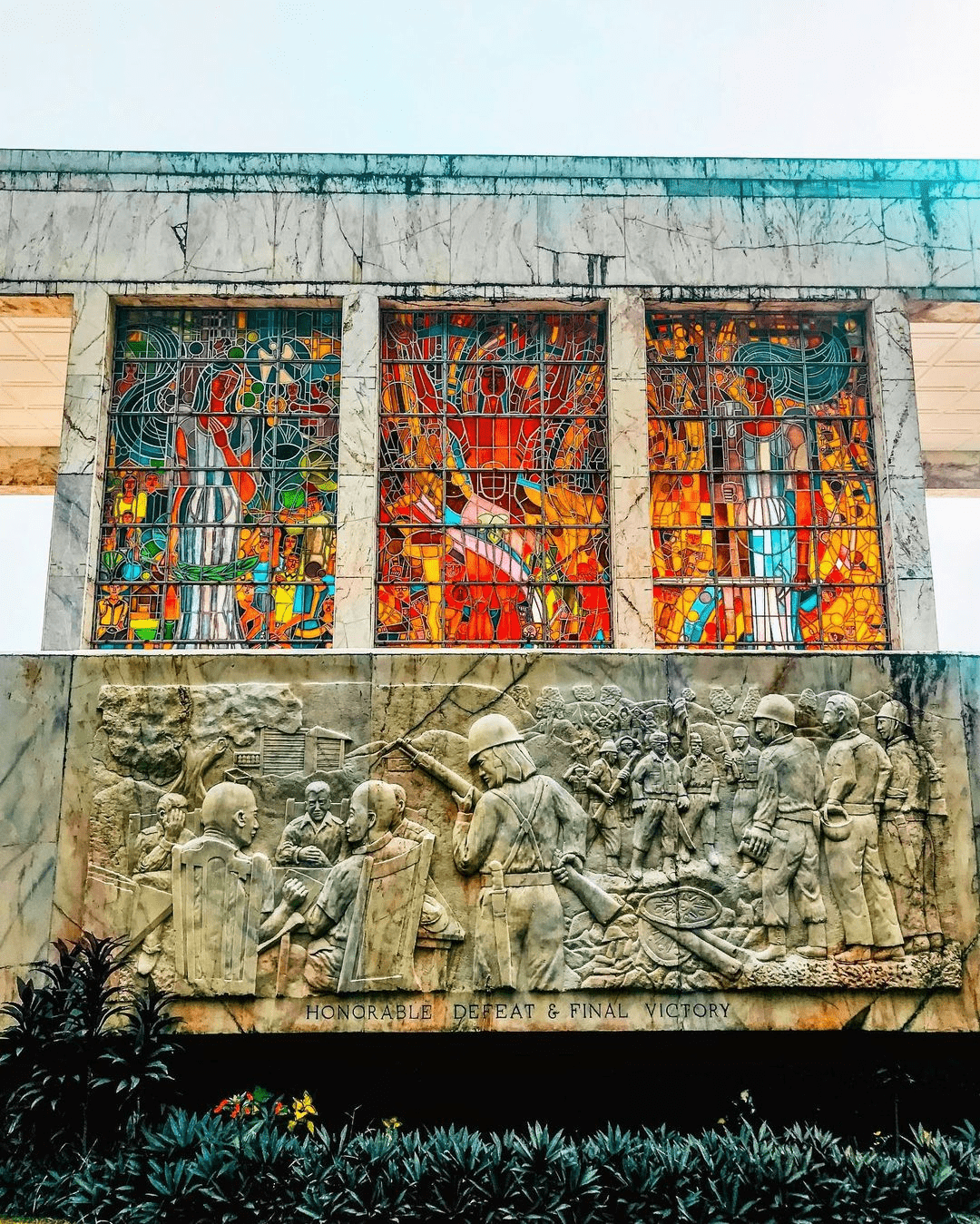 Mount Samat National Shrine
Image credit: @jienggay
Aside from the hike, the mountain is filled with history . The cross and a memorial along with it commemorates fallen Filipino soldiers from World War II, and a museum nearby teaches the locals more about the era.
Address: Barangay Diwa, Pilar, Bataan
Opening hours: 8AM-5PM, Daily
---
5. Bunker Dive Resort, Batangas – a diver's paradise
---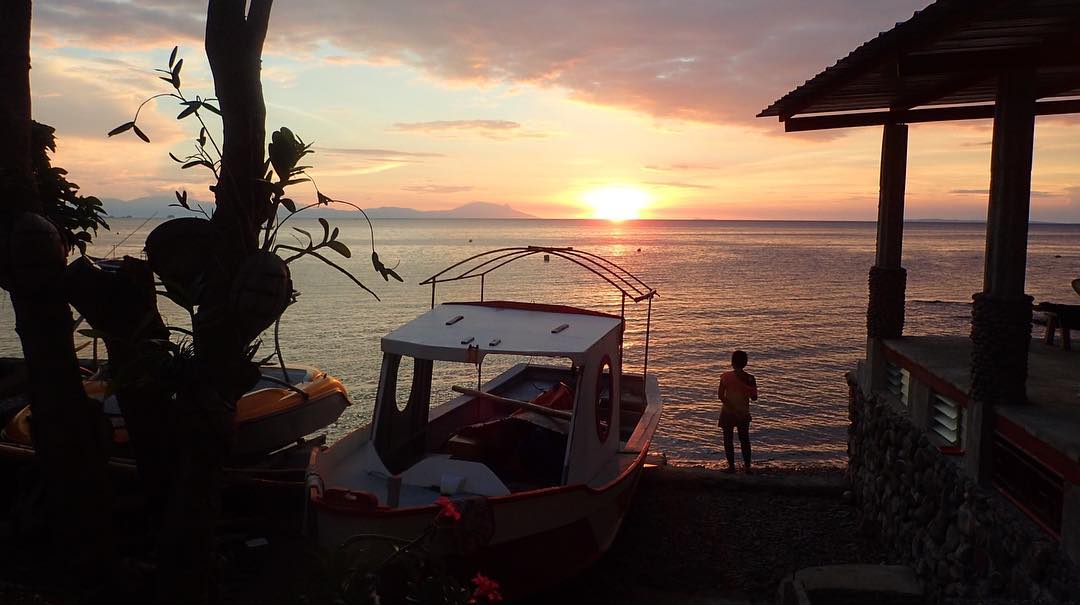 Image credit: @thetraveltagger
For mermaid-wannabes or just those curious about what's under the sea, Bunker Dive Resort is a haven of activities for you. At this resort, you can enjoy sea activities from snorkeling to more adventurous ones like scuba diving and freediving.
A day package that allows you to enjoy all the services they offer costs only P900 (~USD18.72), which already includes a cottage for resting. There's no corkage fee for food and drinks so you can even bring your own without having to worry about paying a fee or buying from overpriced stalls.
Address: San Pablo, Bauan, Batangas
Opening hours: 24 hours, Daily
Mobile number: 0921 602 5994
---
6. Starbucks, Tagaytay – view of the Taal Lake and Volcano
---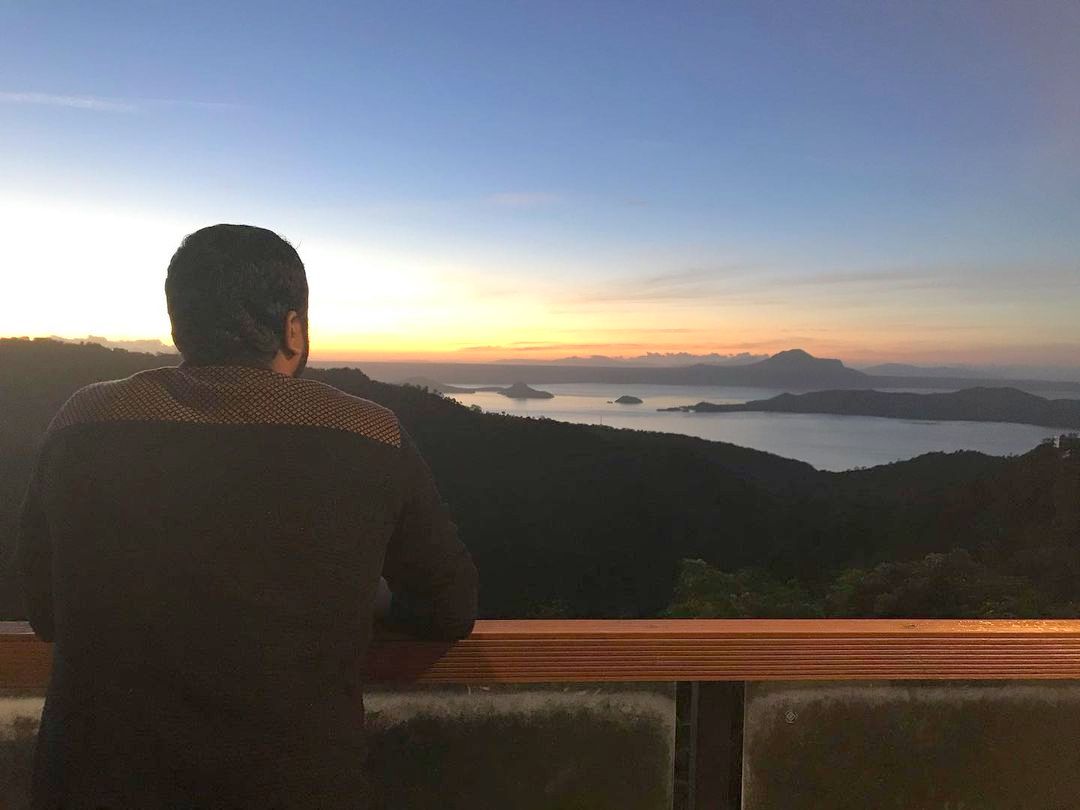 Image adapted from @pash_traveljunkie
Tagaytay is already a popular place for barkadas to visit on road trips since it's only 1-2 hours from the metro, but you'll need a warm cup of coffee to combat the city's significantly cooler weather. If you're looking for a coffee shop with a view, Starbucks Tagaytay, with its location overlooking the Taal Lake and Volcano, is a must-visit.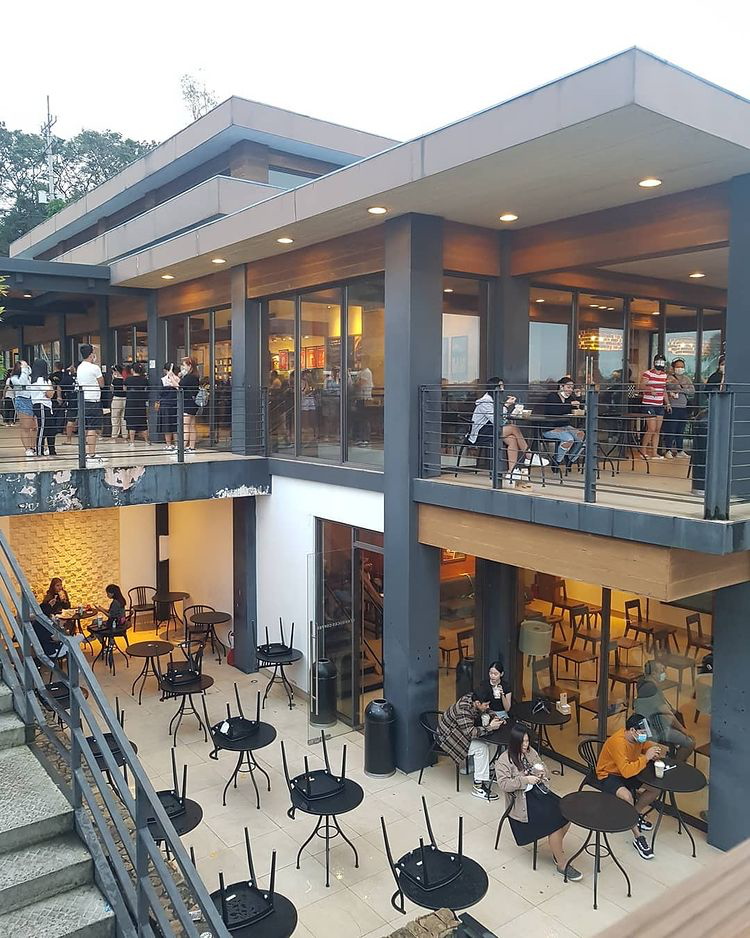 Image credit: @monette.997
This specific Starbucks has a balcony that overlooks the iconic landmark, a sight to see on its own. With or without the sunset, you'll be sure to have a breathtaking view which you can enjoy with one of Starbucks' many drinks ranging from P100-P200 (~USD2.08-USD4.16).
Address: 3, 4, Lot 2 Emilio Aguinaldo Hwy, Tagaytay, Cavite
Opening hours: Mon – Thu 8AM-1AM, Fri 8AM-12AM, Sat 24 hours, Sun 5AM-2AM
Telephone number: (046) 413 0725
---
7. Amorita Resort, Bohol – seaside resort 10 minutes from Bohol-Panglao International Airport
---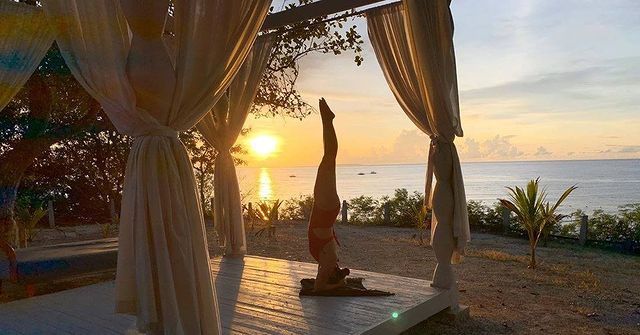 Image credit: @amoritaresortbohol
Saving money and budgeting are important, but sometimes you gotta treat yourself and spend some of that coin on yourself. For those looking to treat themselves to a luxurious trip to the beach, a fine candidate is Amorita Resort in Bohol – just a short, convenient drive away from the Bohol-Panglao International Airport.
Though rates start at P8,250 (~USD171.59) for a room for two, the rate includes plenty of complementary services. These include yoga classes, use of their extensive spa, gym, and infinity pool, and a peaceful cove if you want to get away from other guests. The breathtaking view of the sunrise and sunset over Panglao's crystal clear waters is complementary too, of course.
Address: 1 Ester A. Lim Drive, Barangay Tawala, Panglao, Bohol
Opening hours: 24 hours, Daily
Telephone number: (02) 318 3388
---
8. Sonnen Berg Mountain View, Davao – sunset on a sea of clouds
---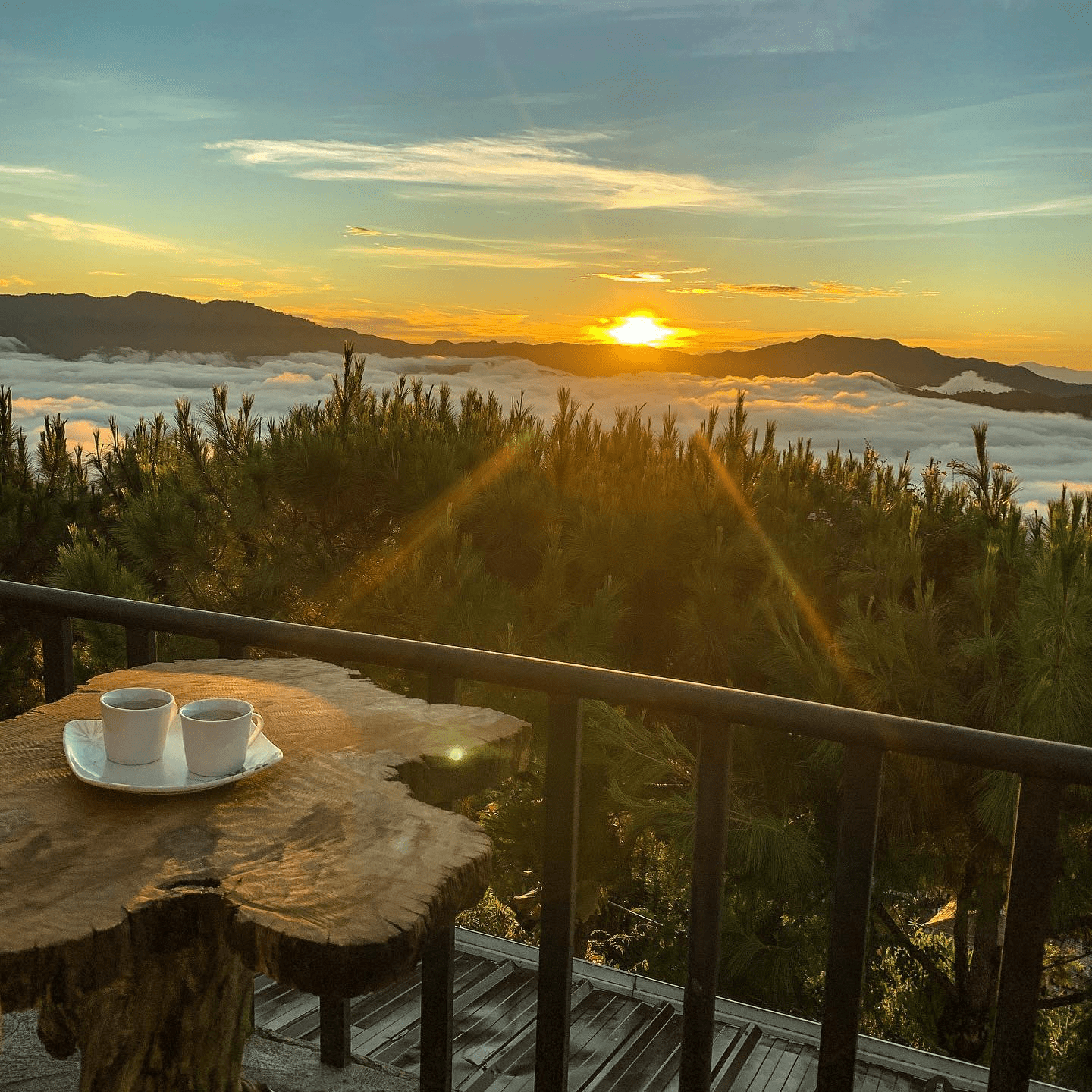 Image credit: Kim Egos
If you're in Davao with P50 in your pocket, and are looking for a really cheap day trip, check out Sonnen Berg Mountain View. Day tours only cost P50 (~USD1.04) at this resort, with full access to an observation deck and tower that's perched on a mountain.
What really has people coming to this spot is the promised sea of clouds. This eye-pleasing addition to the sunset view will make you feel as if you're floating in the sky. However, with the viewing deck being so high, you might need something to warm you up in the cool wind. Good thing you can get yourself a cup of hot chocolate for only P50 (~USD1.04).
Address: Marilog, Marilog District, Davao City, Davao del Sur
Opening hours: Mon – Fri 5AM-5PM, Sat – Sun 4AM-5PM
Mobile number: 0947 761 1689
---
9. Cloud 9 Surfing Tower, Siargao – perfect sunset spot for surfers
---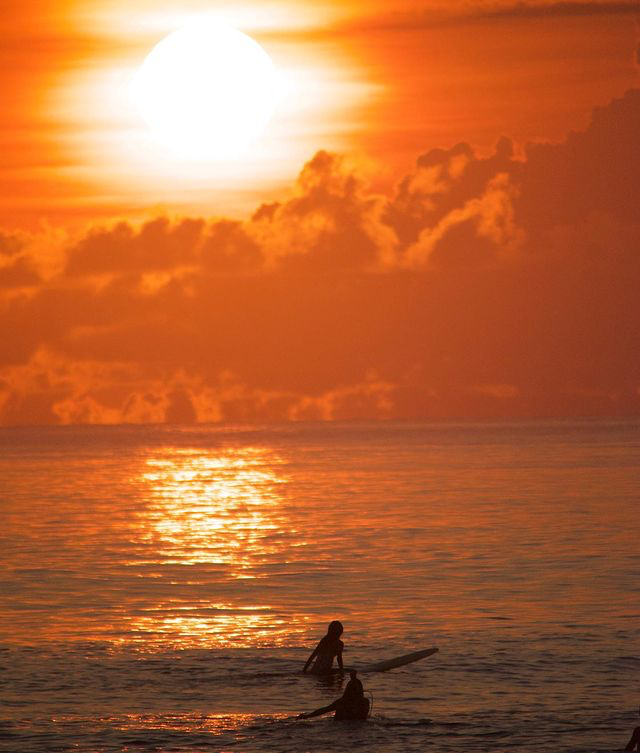 Image credit: @th3photography
Surfers will feel right at home in this surfing point at one of the country's most well-known surfing regions, Siargao. Cloud 9 Surfing Tower is somewhere you can catch the waves and the sunset at the same time, or even just swim around while your surfer friends do their thing.
The good thing is you don't have to already be an experienced surfer to enjoy the waves in this area. If you're an aspiring surfer, you can ask around for an instructor to help you out at P300-P500 per hour (~USD6.24-10.40). If you're not there to surf at all, an affordable entrance fee of P50 (~USD1.04) allows you access to the beach and a visit to the 3-storey viewing tower to get the best view of the sunset.
Address: Catangnan, General Luna, Surigao del Norte
Opening hours: 24 hours, Daily
Mobile number: 0910 989 0725
---
10. Tops Lookout, Cebu – viewing point on top of Cebu
---

Image credit: @mitz1988
No trip to Cebu is complete without a visit to Tops Lookout. This popular tourist spot is at the top of a long winding road uphill. Though the 20-minute uphill drive may feel endless, the view waiting for you at the top is worth it. 
At the top, you'll find yourself seeing most of Cebu from a bird's eye view, including the sunset if you get there in time. For an entrance fee of P100 (~USD2.08) per person, you can catch the view and enjoy the cold air on one of the deck benches. There's also a telescope if you want to spot certain buildings or landmarks, at P5 (~USD0.10) per 2 minutes.
If you're feeling thirsty or famished, you can check out the many restaurants around the area. These vary from quaint cafes to restaurants with classic Filipino dishes.
Address: Busay Hills and Nivel Hills Lahug, Cebu City
Opening hours: 24 hours, Daily
Mobile number: 0909 890 5357
---
Catch the sunset view at these top spots in the Philippines
---
With all the things we plan to do once the pandemic is over, let's not forget to appreciate the little things we've missed out on. In between traveling out of town or going to restaurants with friends, maybe catch a simple sunset or two in one of these sunset view spots in the Philippines and enjoy one of nature's most beautiful scenery.
Also check out:
---
Cover image adapted from: Oceans5Dive, Kingfisher.ph, @amoritaresortbohol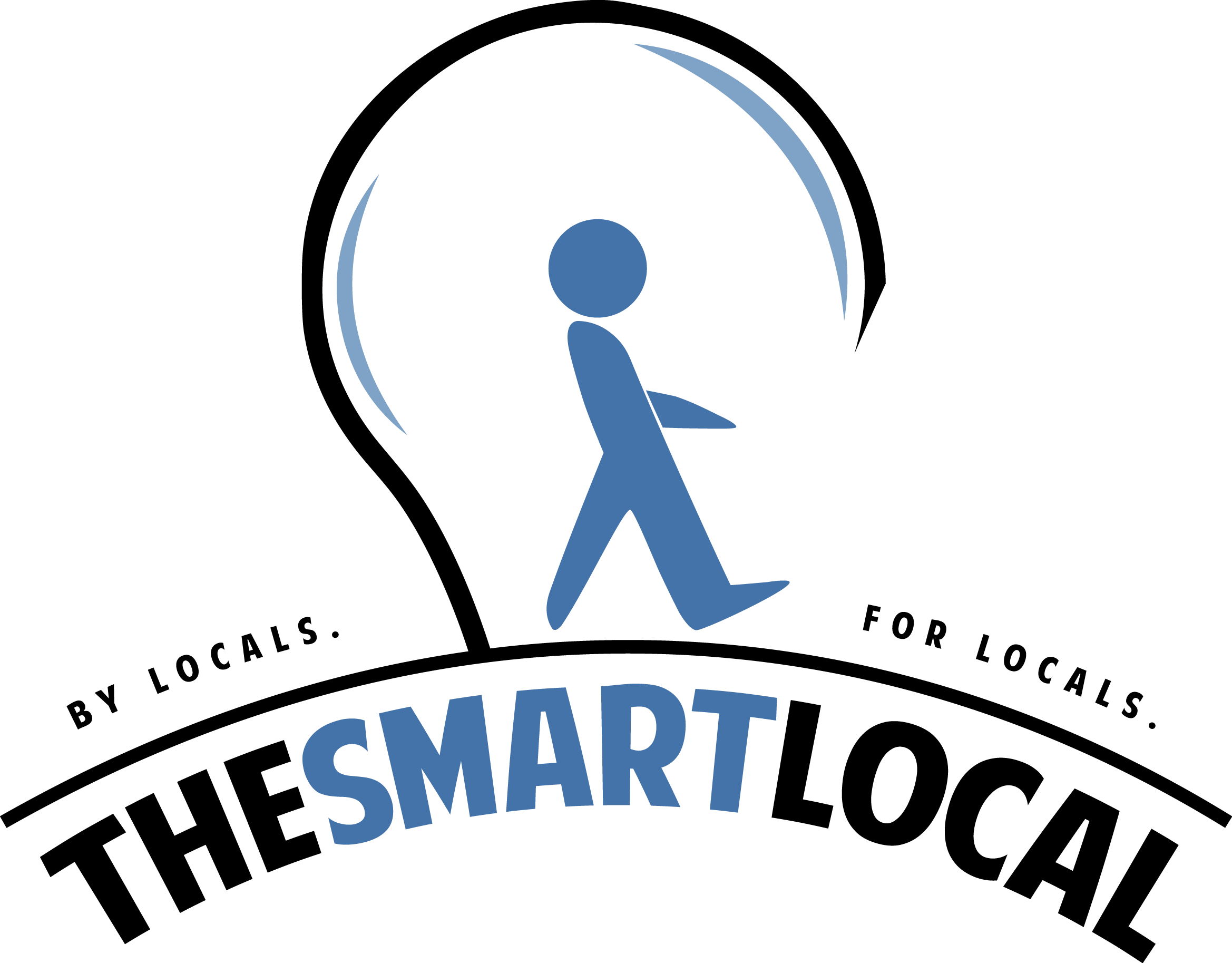 Drop us your email so you won't miss the latest news.