Unique Miss Universe evening gowns
---
The Miss Universe evening gown competition is always a memorable part of the annual pageant. It's where we get to see candidates in their most glamorous selves while wearing sparkling gowns.
But beyond the usual sequins or silhouettes, there are some candidates who have actually managed to captivate audiences not just because of their beauty, but also with their unconventional gown choices. Here are 10 unforgettable Miss Universe evening gowns in recent years, from Catriona Gray's lava gown to Chalita Suansane's black gown inspired by a Thai queen. 
---
1. Bernadette Belle Ong (Singapore) – wore an asymmetrical pink gown
---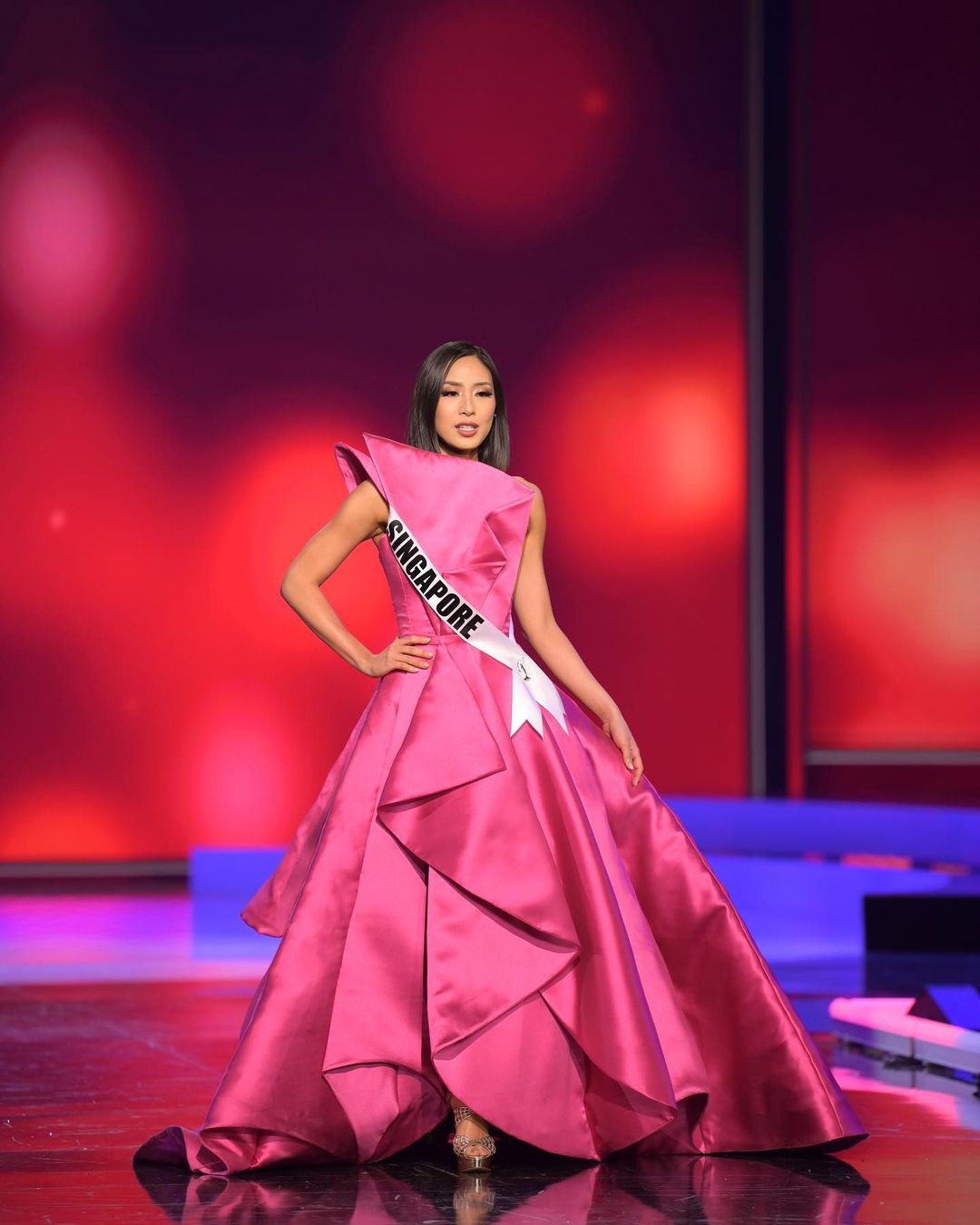 Image credit: @bernadettebelle 
Bernadette Belle Ong, Miss Universe Singapore 2020, was indeed a unique presence at the recently concluded Miss Universe pageant. 
Aside from her statement "Stop Asian Hate" national costume, she also captivated us with her Alejandro Fajardo asymmetrical pink evening gown, shaped with bold and pointed cuts, that she showcased during the 69th Miss Universe preliminary competition.
---
2. Zozibini Tunzi (South Africa) – wowed us in an ombré gown
---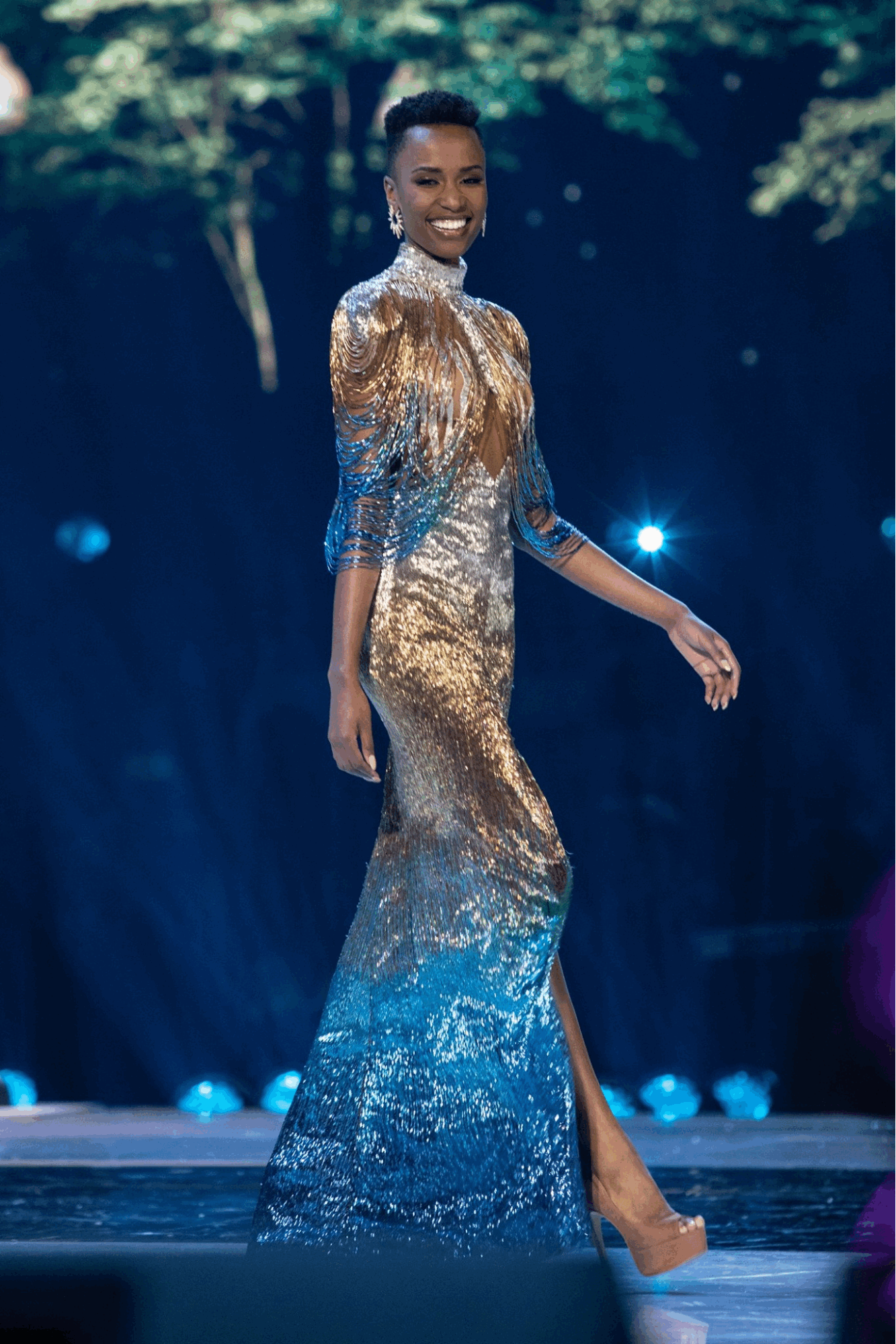 Image credit: Missosology 
Miss Universe 2019 Zozibini Tunzi's win was historic for many reasons – she was one of the few Black women crowned at a pageant won by a majority of lighter-skinned contestants. She was also the first woman with afro-textured hair to win at the pageant, as reported by CNN. 
Her historic win was coupled with no less than an unforgettable Biji La Maison gown designed with an ombré, gradient effect. The gown's metallic shades easily blended together, created using four shades of beads and inspired by South Africa's sand and oceans.
---
3. Olivia Culpo (USA) – looked like a Disney princess in her plunging V-neck gown
---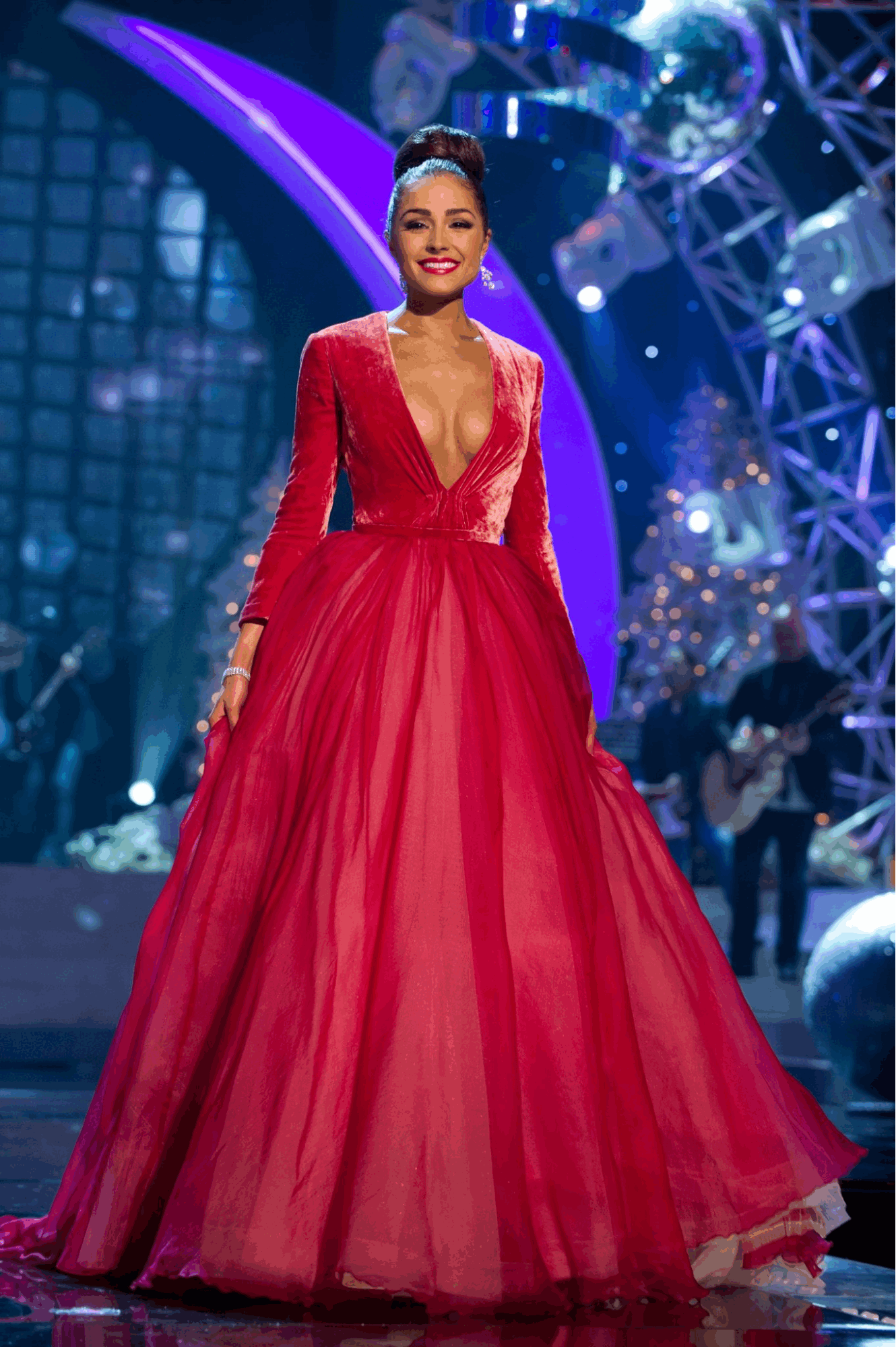 Image credit: Missosology 
She wasn't wearing any sequins or sparkles, but Miss Universe 2012 Olivia Culpo sure knew how to make a statement. Culpo easily looked like a living Disney princess at the 2012 competition in her Georges Hobeika long-sleeved red gown, unique for its velvet plunging V-neck top and ball gown skirt. 
She complemented the gown with her elegant updo, dangling earrings, and a radiant smile truly befitting a confidently beautiful Miss Universe.
---
4. Zuleyka Rivera (Puerto Rico) – wore a body-hugging, see-through silver gown
---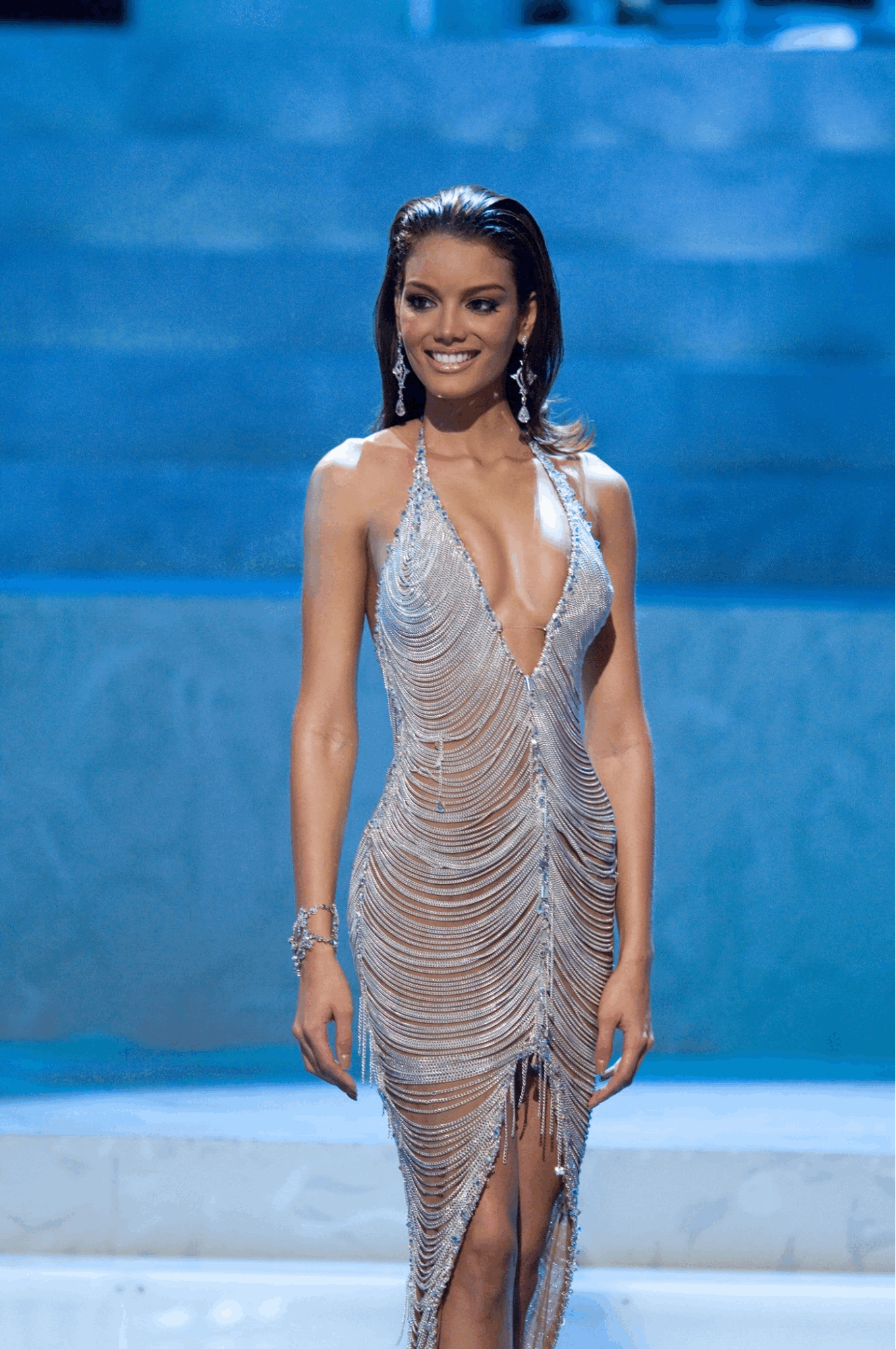 Image credit: Miss Universe 
Zuleyka Rivera, the Miss Universe 2006 from Puerto Rico, was easily a showstopper. While the silver color of her gown is a conventional choice, the Carlos Alberto body-hugging, see-through gown draped with metallic chains definitely brought out the Latina's curvaceous physique and beauty to the next level. 
To complete her look, Rivera balanced her gown with slicked-back hair and a pair of dangling earrings. The resulting overall look was that of a Latina queen who looked like a modern goddess.
---
5. Riyo Mori (Japan) – sashayed in a kimono-inspired, black Gucci dress
---

Image credit: @riyomori_ 
Miss Universe 2007 Riyo Mori turned the pageant into her personal runway while wearing a kimono-inspired, long, black flowy dress from Frida Giannini's Spring/Summer 2007 collection for Gucci.
She was unforgettable in the paisley-patterned, folkloric dress, accentuated with floral patterns and purple and orange lining, that she made iconic with her elegant twirls. 
---
6. Chalita Suansane (Thailand) – donning a black dress inspired by a Thai queen
---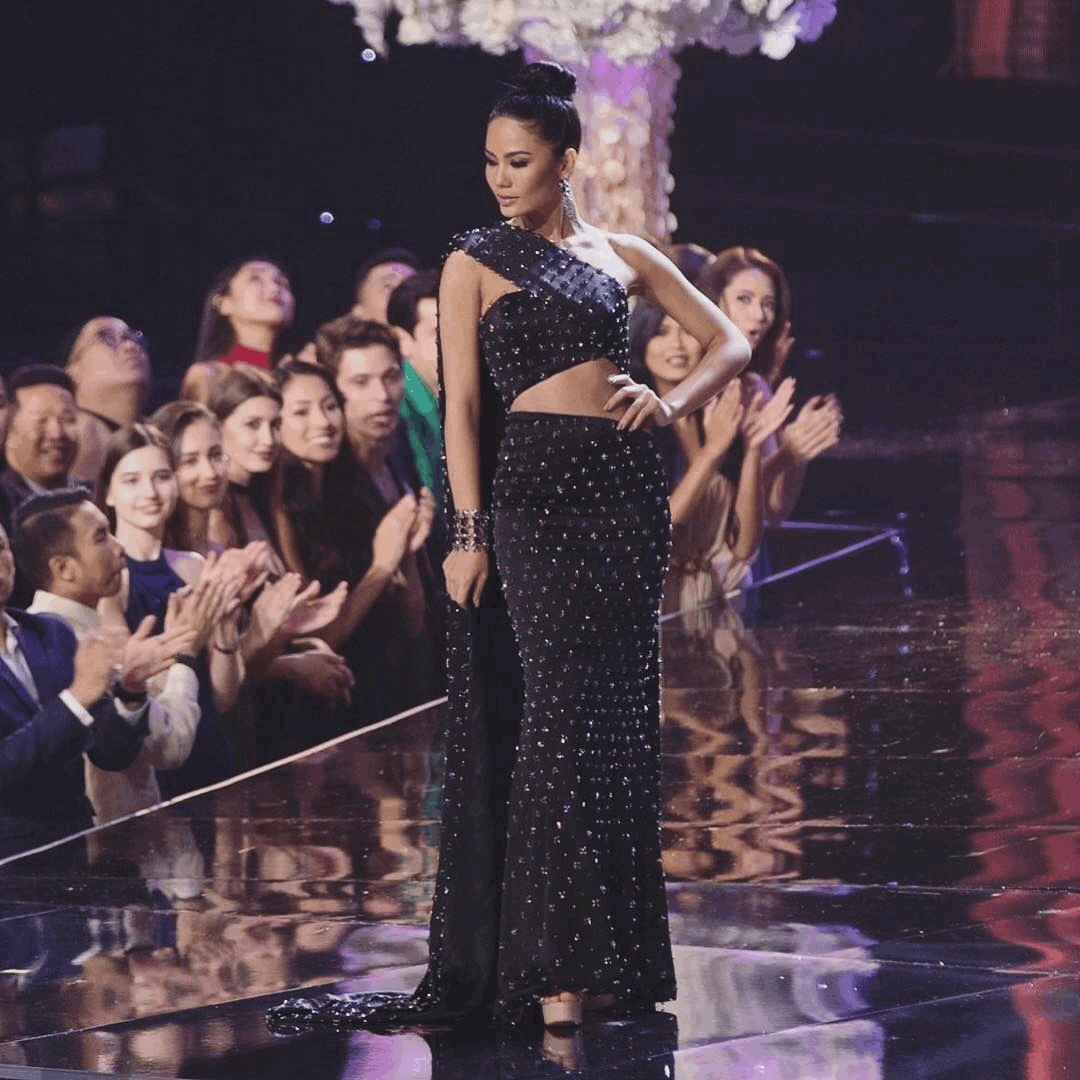 Image credit: @namtanlitaa
Thailand's Chalita Suansane, one of the finalists of Miss Universe 2016, was an elegant force to be reckoned with at the 2016 pageant. She made history as the first contestant from Thailand to have entered the Top 6 since Porntip Nakhirunkanok Simon in 1988, and she did so with a memorable gown.
Far from a conventional tube gown, her outfit was a Polpat Asavaprapha and Asava Group sequined black dress with an attached shoulder drape, inspired by Queen Sirikit's traditional Thai Chakri dress. 
---
7. Catriona Gray (Philippines) – stood out in her fiery "lava" gown
---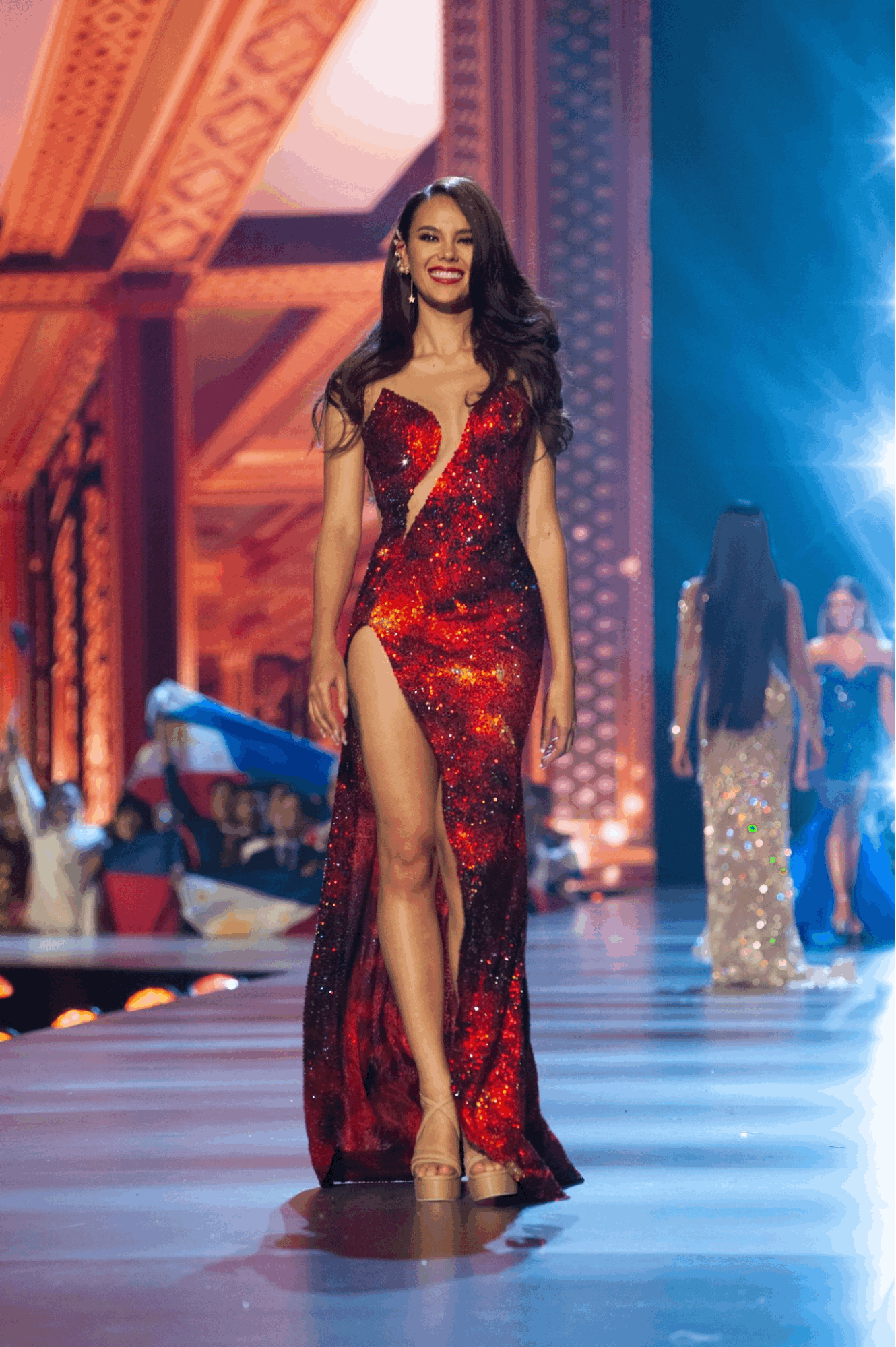 Image credit: Miss Universe 
Beyond her looks and brains, Miss Universe 2018 Catriona Gray was all about promoting the richness of Filipino culture at the 2018 pageant. Everything about her visuals during the competition screamed Filipino, from her "Three Stars and the Sun" earrings to her winning evening gown.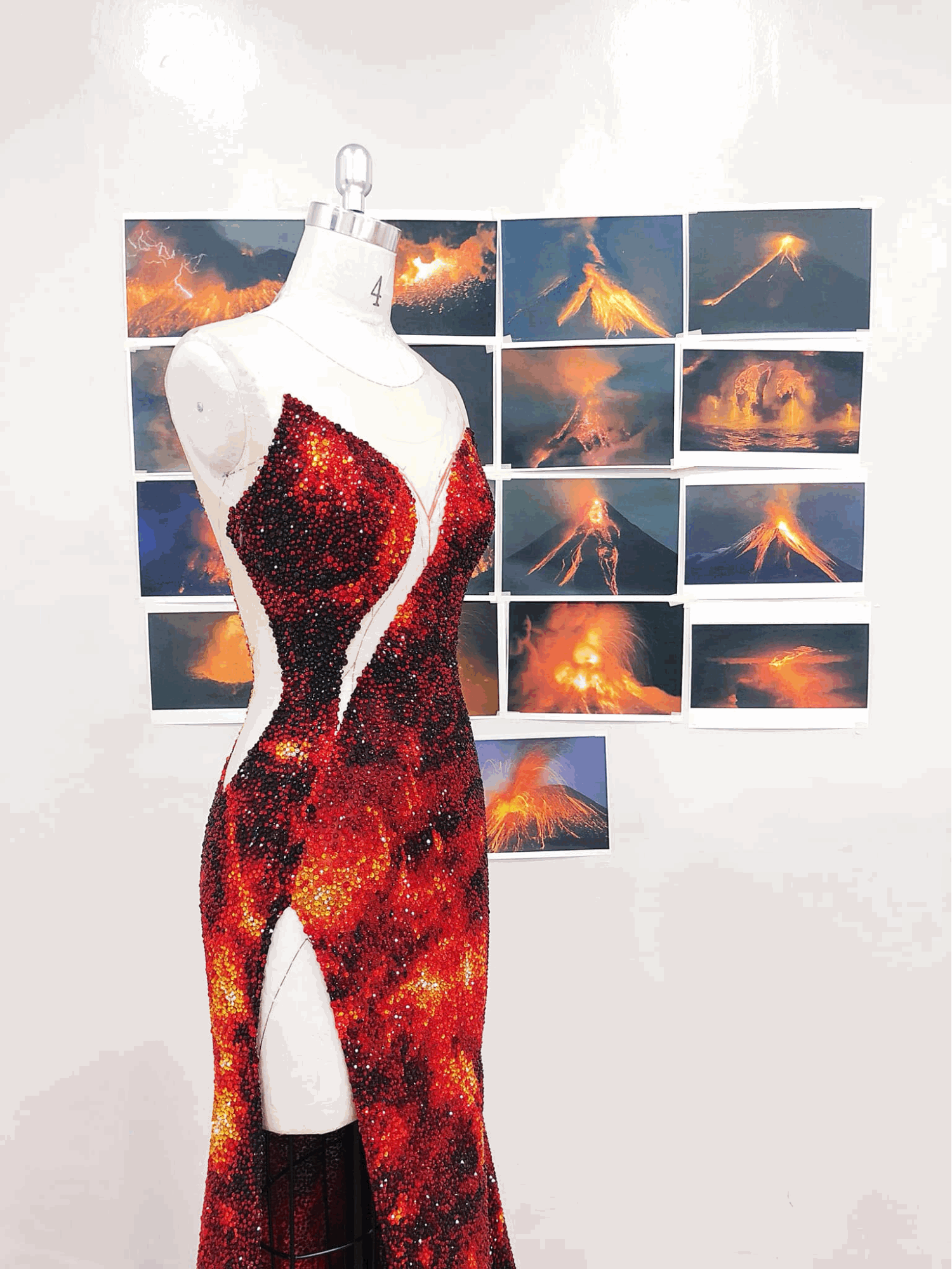 Image credit: Mak Tumang
Gray was on fire during the pageant while rocking her lava walk with designer Mak Tumang's fiery red gown, inspired by her home province Albay's Mayon Volcano. According to Tumang, Gray was meant to embody the volcano's mythical heroine known as the "Daragang Magayon," a mythical princess who's a daughter of a ruling tribal family's chief.
---
8. Oxana Fedorova (Russia) – defined sophisticated simplicity in a strapless, white Gucci bridal gown
---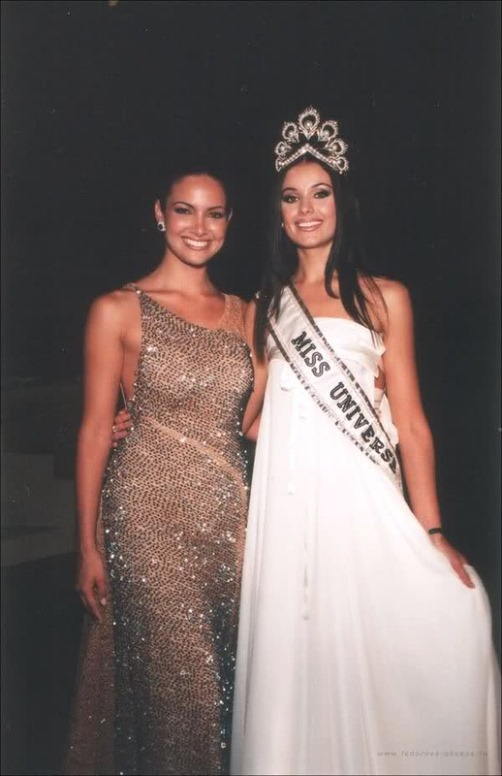 Oxana Fedorova (right)
Image credit: Pageant Mania
Before minimalistic fashion was a thing, Russia's Miss Universe 2002 Oxana Fedorova was already the definition of sophisticated simplicity. Although she was later dethroned because she was said to have been unable to fulfill her duties, no one can deny that she had worn one of the most iconic evening gowns in Miss Universe.
The strapless, long, white bridal gown from Tom Ford's Spring/Summer 2002 Gucci collection accentuated with a ribbon could have easily looked underwhelming if it hadn't been worn well. But Oxana was able to bring out the best in her gown with her simple straight hair and dazzling smile.
---
9. Stefania Fernandez (Venezuela) – made history in her red gown with feather-like fabric
---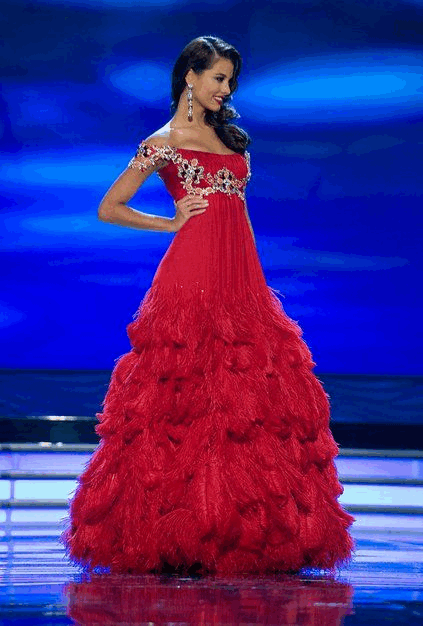 Image credit: Elizabeth Anthony 
Venezuela's Stefania Fernandez made history at the 2009 Miss Universe pageant after she was crowned in a back-to-back win by her fellow Venezuelan, Miss Universe 2008 Dayana Mendoza. 
And she was able to bag the crown in her unique Gionni Straccia strapless red gown, shaped with feather-like fabric at its hem.
---
10. Marta Magdalena Stepien (Canada) – stunned in a Michael Cinco nude gown
---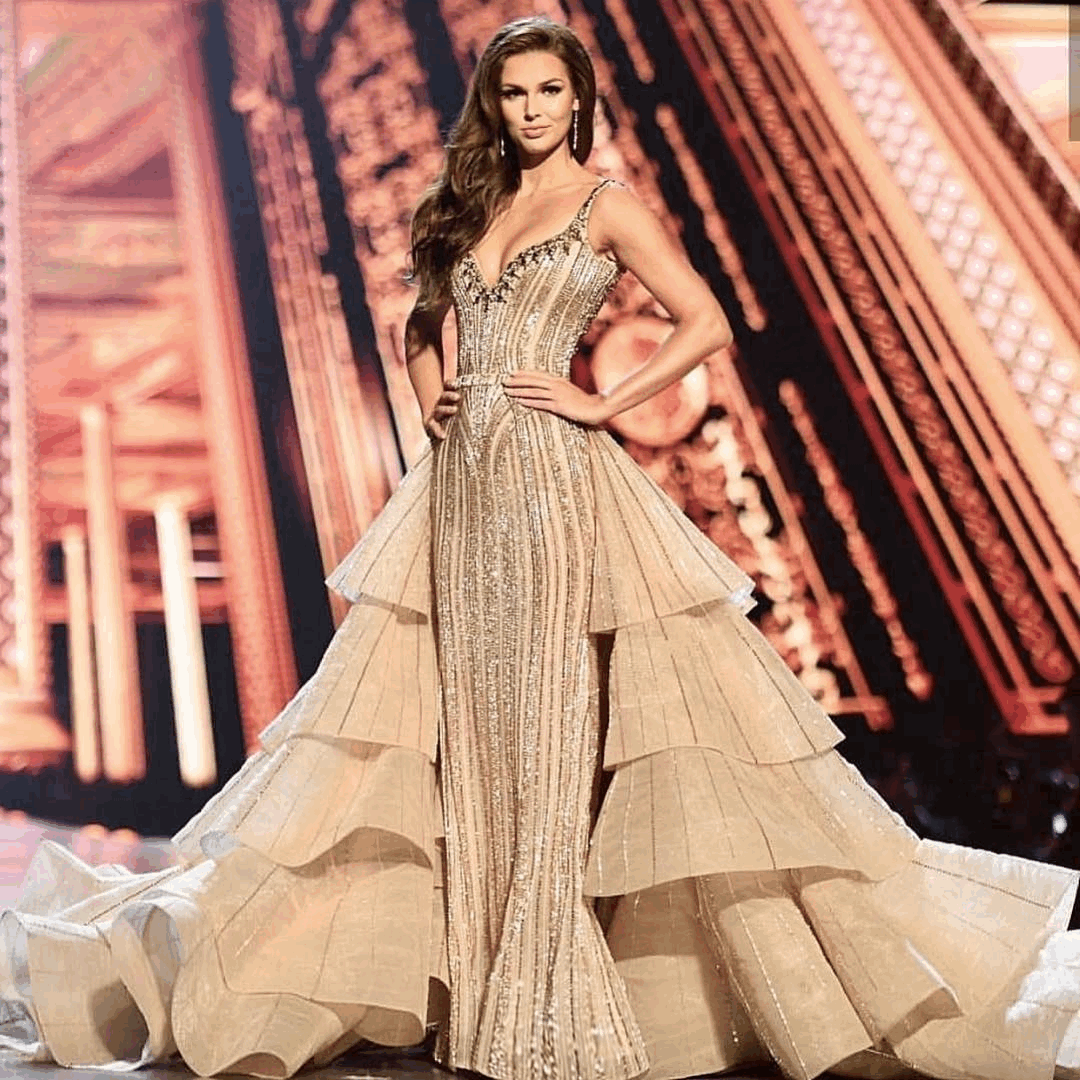 Image credit: @michael5inco 
Canada's Marta Magdalena Stepien was a jaw-dropping presence at the 2018 Miss Universe. Ball gowns aren't the most common evening gowns for Miss Universe, but she certainly owned her Michael Cinco nude couture gown, unique for its dramatic train of tulle layers. 
Adorned with rose gold Swarovski crystals, it's also unapologetically opulent. 
---
Iconic Miss Universe evening gowns
---
Our Miss Universe beauty queens indeed have proven that you can wear something a little bit different, yet still own the uniqueness of your gown without being tacky.
We'll be thrilled to see more creative gowns like these in future Miss Universe pageants!
Also check out:
---
Cover image adapted from: Miss Universe, @namtanlitaa, and @bernadettebelle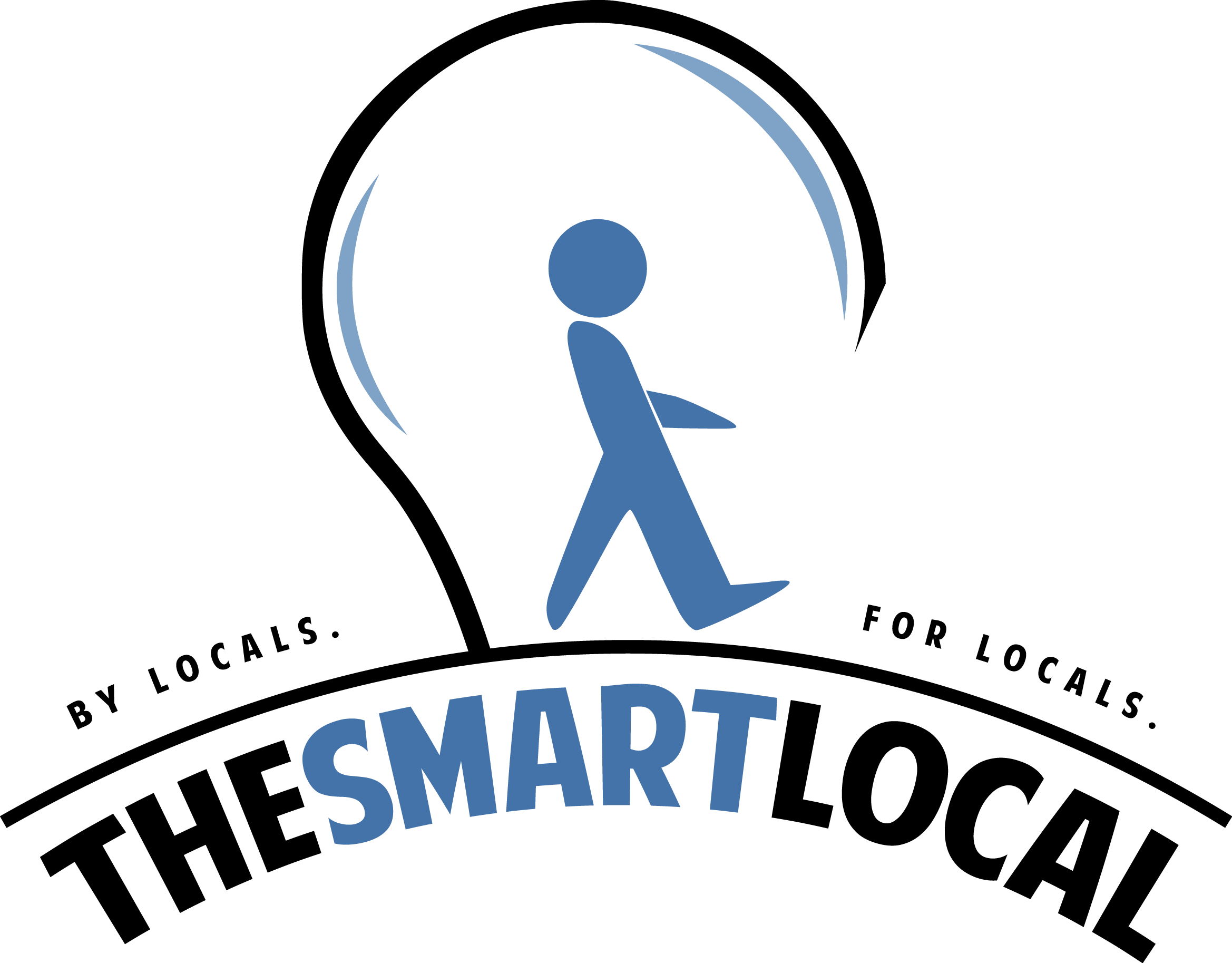 Drop us your email so you won't miss the latest news.