Mountains in the Philippines with can't-miss views
---
Aside from our islands and beaches, mountains abound in every part of the Philippines that there's a mountain for everyone, whether beginner or pro. 
So if you're an outdoorsy person and hiking is your thing, you're in for some epic, panoramic views from high above. Here are 10 mountains in the Philippines, from Mount Ulap in Benguet to Mount Apo in Davao, where everyone can be rewarded with the most spectacular views.
---
– For beginners –
---
---
1. Taal Volcano, Batangas – features a crater lake
---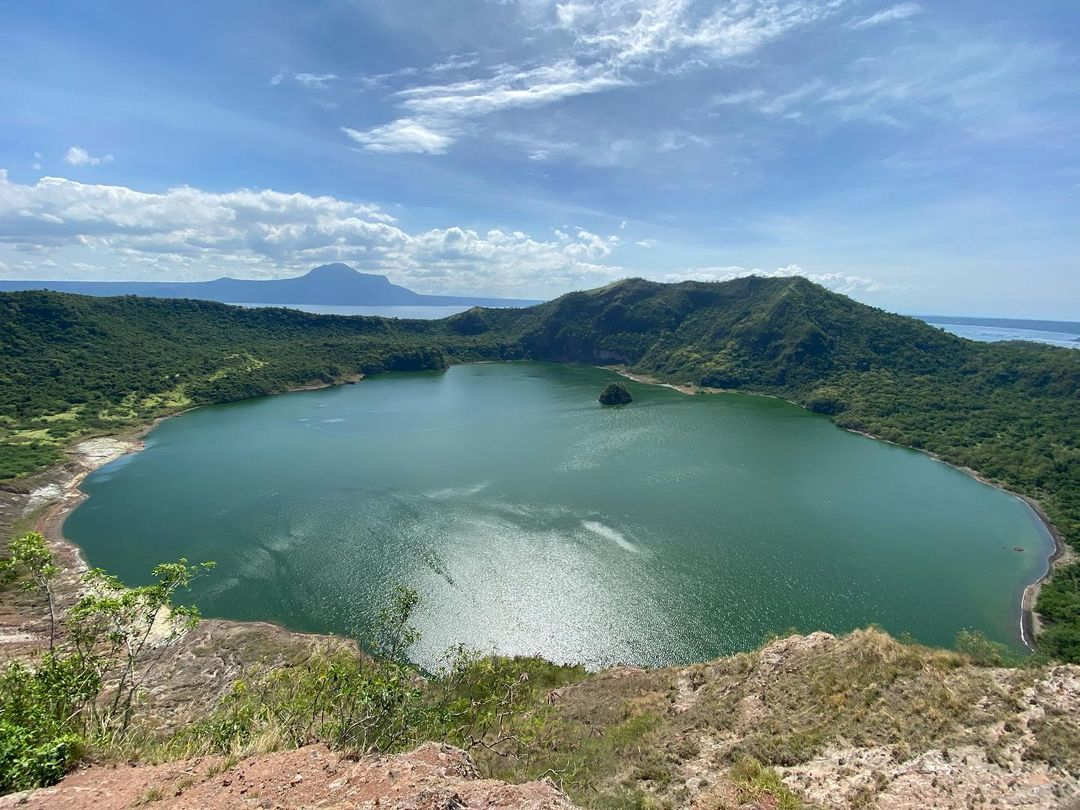 Image credit: @kriskentiya 
For beginners who are not yet keen on climbing challenging terrain, Taal Volcano is the way to go. Located in Batangas and standing out from Taal Lake, it's a small volcano at 311 meters tall. 
Its main crater has a lake, so your climb will be rewarded with this unique geographical view that also makes the volcano a popular tourist attraction.
The Spanish Trail, a popular route among hikers, can be trekked by foot or horseback ride. Hiking via this trail can take about 4 hours. Aside from hiking, you can enjoy the views of the Taal Volcano and its surrounding lake by renting a boat – if you're lucky, you can even catch a glimpse of a school of tawilis (freshwater sardines) in the lake.
While it's a small volcano, it has had several violent eruptions, the most recent of which was in January 2020 and covered nearby areas in the south of Metro Manila with ashes. So when you're planning to go, make sure to check the latest Philippine Institute of Volcanology and Seismology (PHIVOLCS) advisory first. 
How to get there: From Metro Manila, catch a bus going to Balayan or Nasugbu from Pasay. When you get off at Tanuan Bayan, ride a tricycle to Talisay, then hop on a boat to Taal. If you're planning to stay the night after your climb, you can check out nearby accommodation in Tagaytay.
---
2. Mount Gulugud Baboy, Batangas – offers views of bays and islands
---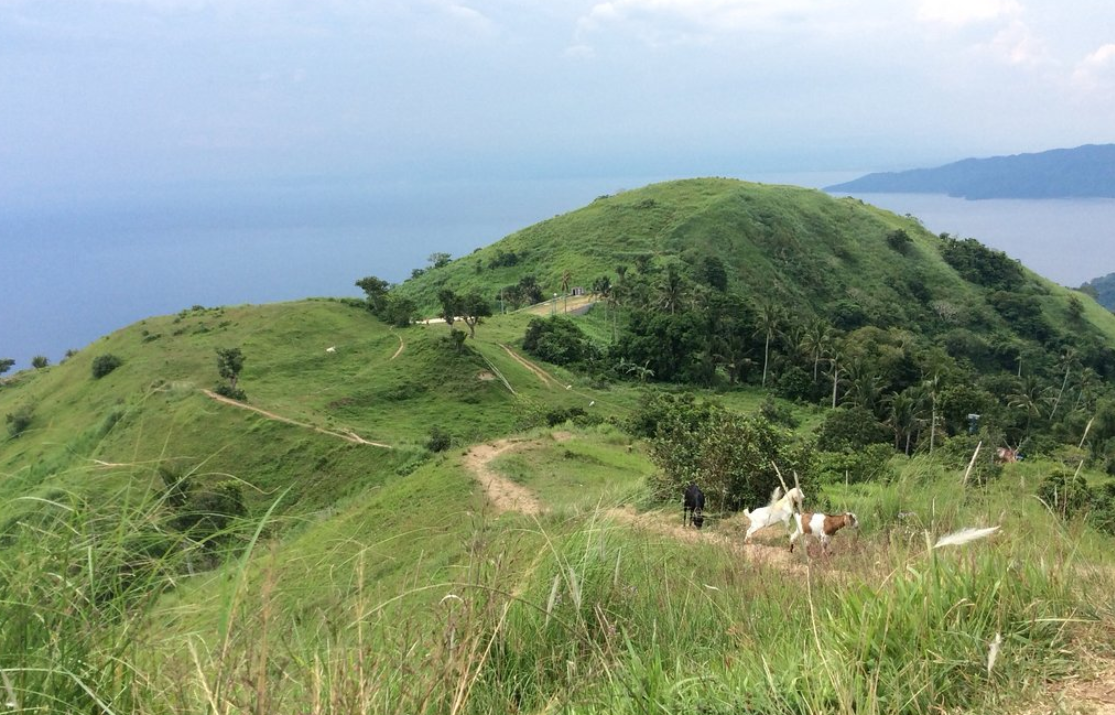 Image credit: Arlyn B 
With a height of 525 meters, Mount Gulugud Baboy in Anilao, Batangas is a perfect destination for hikers wanting to see the scenic views of bays and islands in Batangas. There's plenty to see here, as the mountain is also famous for its lush, rolling landscapes and abundance of animals such as dogs, cows, and goats.
If you are into diving, you can also take side trips to nearby resorts such as Phil Pan Diving Resort and Planet Dive Anilao. Sombrero Island – Batangas's hidden, smallest island – is nearby and offers spectacular views. 
How to get there: Take a bus to Batangas Grand Terminal from Pasay. Once in Batangas, take a jeep to Anilao, then catch a tricycle going to the mountain. If you're planning to camp, there's no designated campsite on the mountain, but you can pitch a tent nearby the peak to get gorgeous evening and sunrise views. 
---
3. Mount Batulao, Batangas – known for its rugged grasslands
---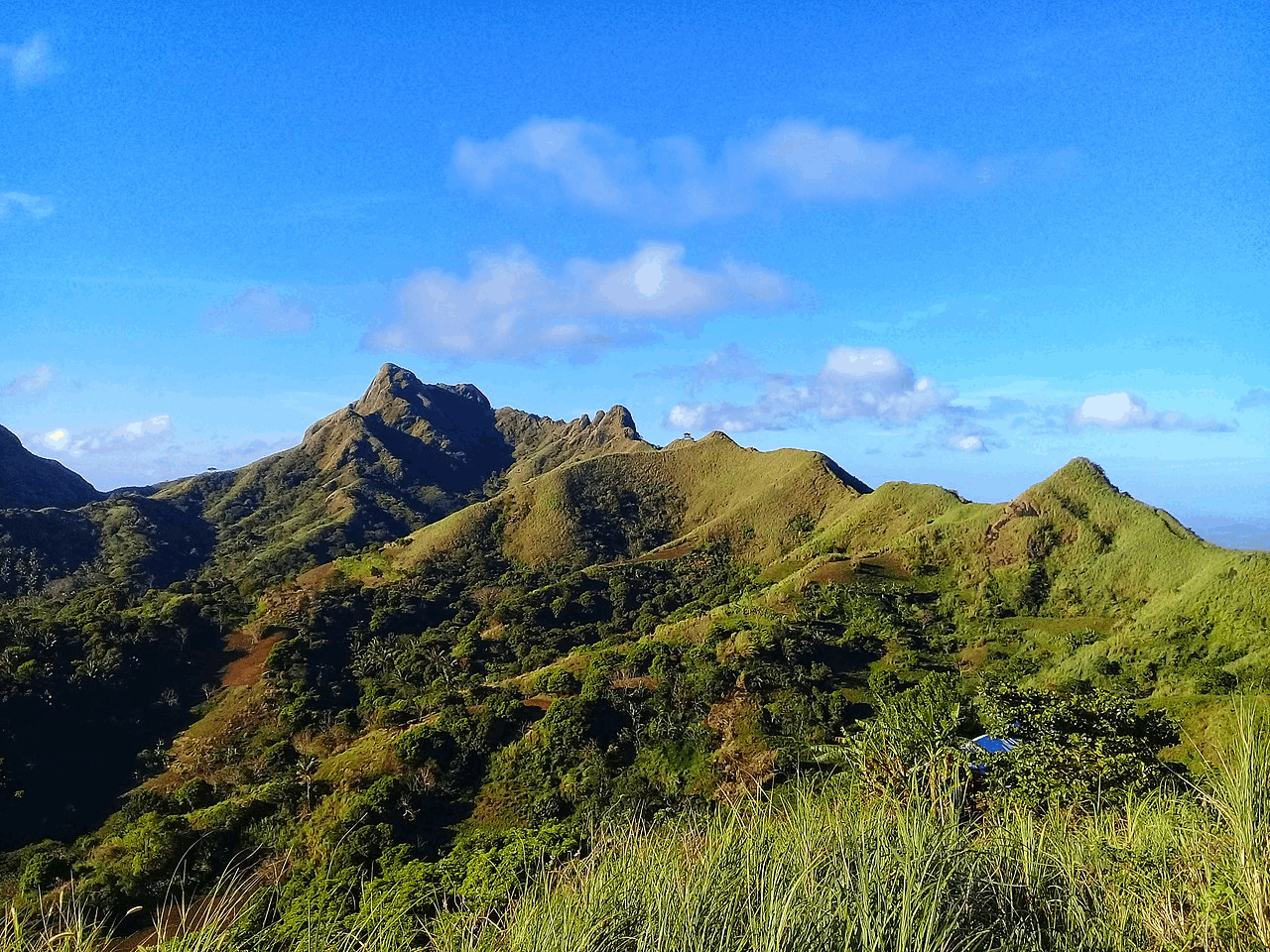 Image credit: Wikipedia 
Batangas is indeed filled with unique geographical landscapes, including a mountain that gives off the vibe of Batanes' rolling hills. At 693 meters, Mount Batulao in Nasugbu, Batangas is known for its stunning views of boulders and rugged grasslands.
Aside from the views, the mountain has beginner-friendly slopes. You can climb the mountain via the Old Trail and the New Trail. It's advisable that you begin with the harder path first, the Old Trail, which features a more challenging route as you'll have to rappel on some paths, while the New Trail has easier terrain. 
How to get there: Mount Batulao is a few hours away from Metro Manila. At Buendia Terminal in Pasay, ride a bus going to Nasugbu, Batangas, then get off at KC Hillcrest Golf Club. There are 10 campsites on the mountain where you can pitch your tent, but staying at the summit is not allowed.
---
4. Mount Makiling, Batangas and Laguna – has mud and hot springs
---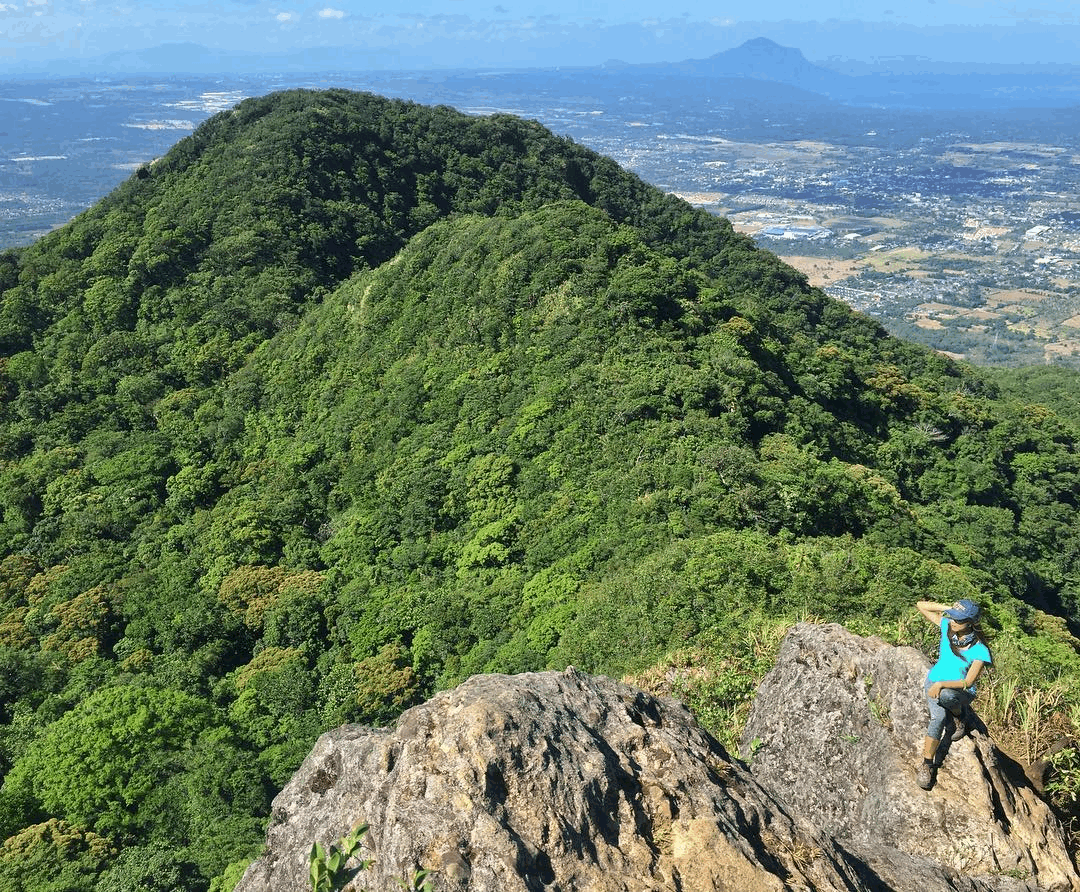 Image credit: @_tnkrbll 
With a height of 1,090 meters, Mount Makiling watches over the towns of Los Baños and Calamba in Laguna and Sto. Tomas in Batangas. The mountain is known for its geothermal areas such as mud and hot springs, so if you're planning an overnight stay in Laguna before climbing this peak, there're a lot of nearby hot spring resorts you can relax in too. 
Its forest has been declared as an ASEAN Heritage Park because it's home to a variety of species, 62 of which are native to the Philippines such as the Philippine eagle owl, Philippine pygmy fruit bat, and the Philippine monkey. Aside from this, in Filipino mythology, the mountain is even believed to be the sanctuary of lady Maria Makiling whose reclining position is said to be akin to the mountain's shape. 
How to get there: You can begin your trip to Mount Makiling by taking a bus going to Sta. Cruz, Laguna from Cubao. Get off at Olivarez Mall in Los Baños, then take a jeep going to UPLB College of Forestry. There are two campsites on the mountain where you can pitch your tent: the Tayabak Campsite and Malaboo Campsite.
---
5. Mount Hibok-Hibok, Camiguin – offers majestic views of White Island
---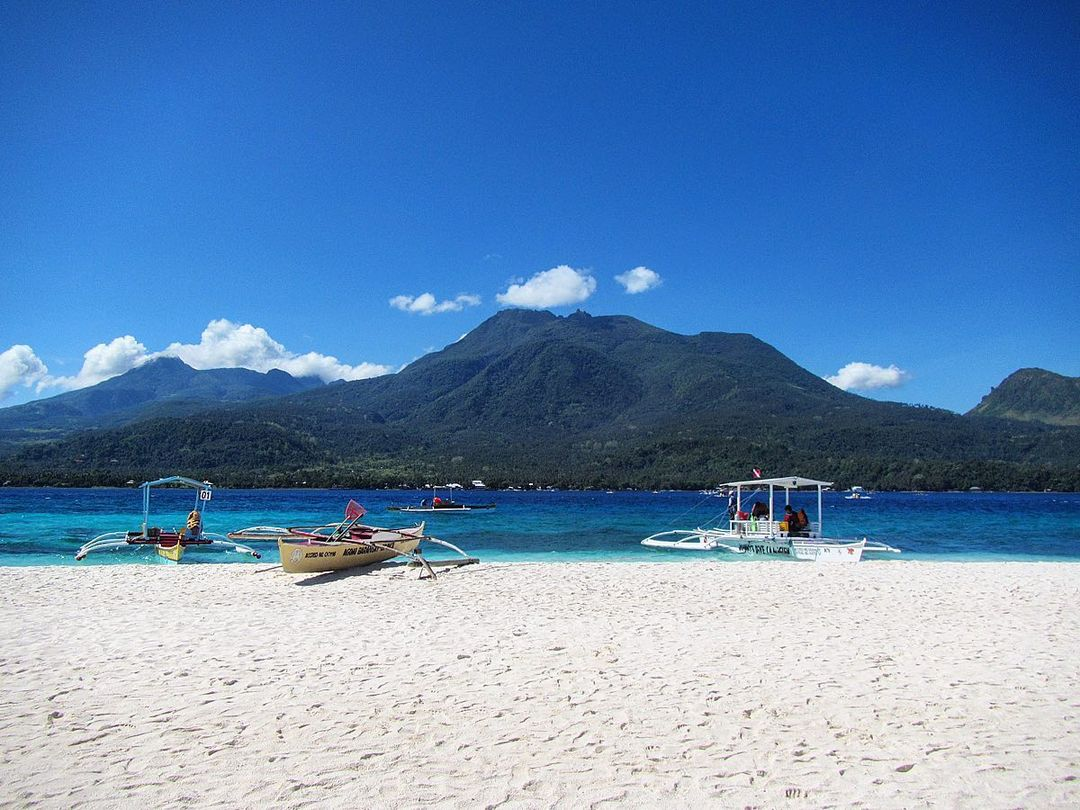 Image credit: @johnkulot
Rising to an elevation of 1,332 meters, Mount Hibok-Hibok guards over Camiguin Island. While every mountain's peak offers great views, Mount Hibok-Hibok's summit is where you can marvel at the majestic White Island, a white sandbar stretching on Camiguin Island.
The Mt. Timpoong-Hibok-Hibok Natural Monument, comprising the forests of Mount Timpoong and Hibok-Hibok, is also one of the ASEAN Heritage Parks in the Philippines. The park is considered a heritage park because of its unique species such as the Camiguin hawk owl, Camiguin narrow-mouthed frog, and medicinal tree Kalingag. 
Nearby hot springs abound, such as the Ardent Hot Springs made up of man-made pools, a popular starting point when climbing the mountain.
How to get there: Take a van going to Agora Terminal from Cagayan de Oro, then catch a van or bus going to Balingoan Port. Once at the port, hop on a boat going to Benoni Port. You can pitch a tent at the mountain's base camp.
---
– For experienced climbers –
---
---
6. Mount Ulap, Benguet – overlooks Cordillera mountain ranges
---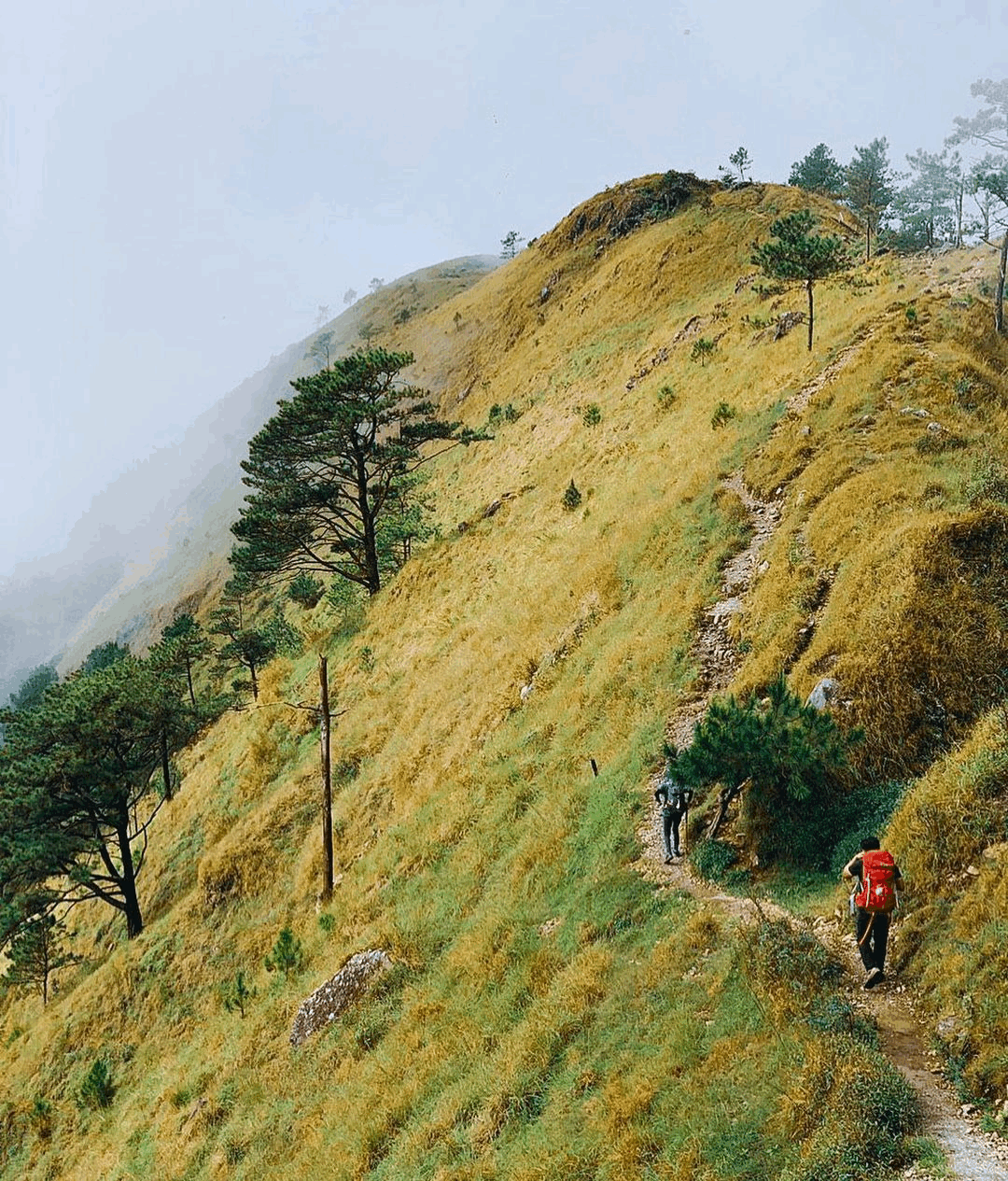 Image credit: @shafiqqzakaria 
Nestled high in Itogon, Benguet, Mt. Ulap stands at 1,846 meters and offers views of the Cordillera mountain ranges. It makes for a perfect day hike for tourists coming from Baguio, as it's only a 40-minute ride from Burnham Park and hiking can be completed from 4-6 hours. 
The stunning landscapes of the mountain, dotted with pine groves and formed by rolling grasslands, indeed represent the region's geographical features.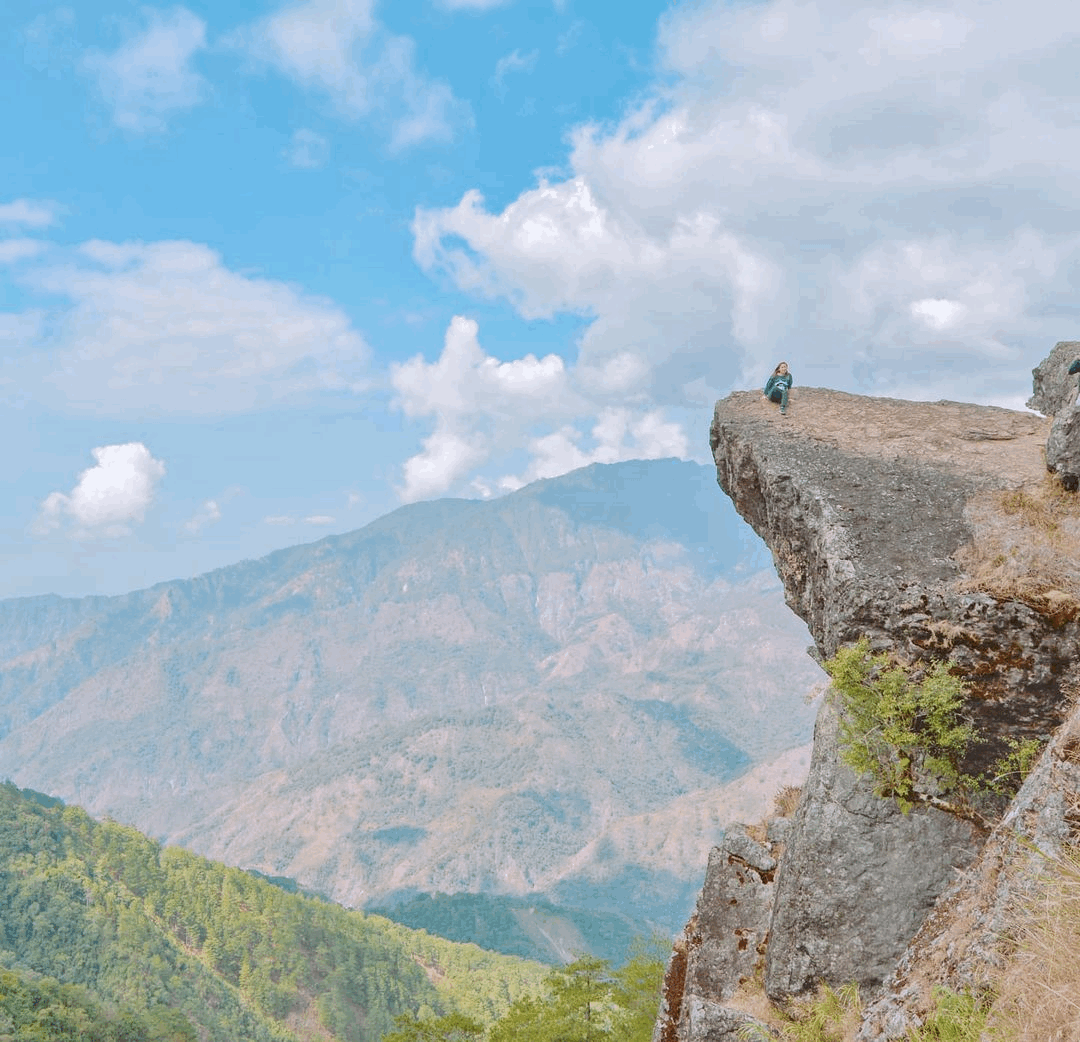 Image credit: @saved.by.g.r.a.c.e
The Gungal Rock, protruding over a steep cliff, is one of the most popular stops on the mountain. It's a perfect spot to take pictures, as it offers you a panoramic view of the surrounding mountainous hills under a sea of clouds. You can also learn a thing or two about ancient traditions while climbing the mountain as you'll pass by ancient burial caves, where you can see skulls and bones. 
Due to its location in the chilly highlands of North Luzon, bring thick jackets with you when climbing the mountain as temperatures can range from 15 to 20°C.
How to get there: When heading to the mountain from Baguio, take a jeep going to Barangay Ampucao in Itogon, then get off at Ampucao Elementary School. There are several campsites on the mountain, but look out for manure from cows grazing on the field.
---
7. Mount Kanlaon, Negros Island – highest point in the Visayas
---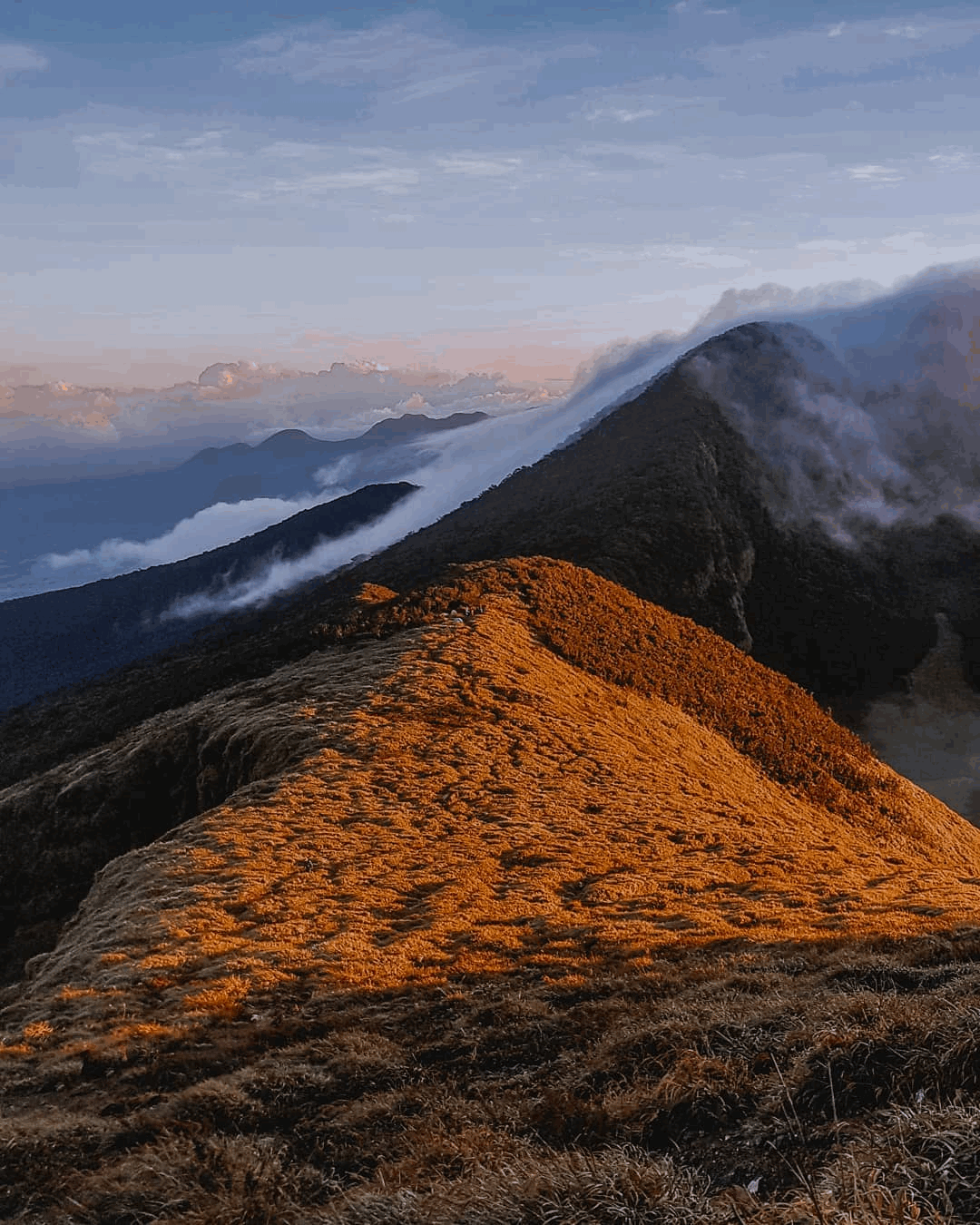 Image credit: @thewonderboyph 
Mount Kanlaon, which stands at 2,435 meters, is the highest point in the Central Visayas and one of the Philippines' active volcanoes. Aside from its diverse flora and fauna, the mountain is brimming with hot springs such as the Mambucal Hot Springs, Bucalan Hot Spring, and Bungol Hot Spring where you can relax and take a warm bath. 
Wasay, Mananawin, Maput and Guintubdan are four trails that reach the mountain's summit. It takes about 2 days to hike the mountain via most of these routes, while the Guintubdan trail can be conquered by experienced hikers in one day. The mountain has two summit cones with craters, and Pagatpat Ridge, an intersection point of all four trails, is where hikers can set up camp overnight. 
How to get there: Take a van from the Bacolod-Silay Airport. Get off at the Ceres South Bus Terminal in Bacolod, then ride a bus bound for Canlaon. 
Once in Canlaon, you can ask the driver to drop you off at the Canlaon City Bus Terminal where habal-habal (motorcycle taxi) drivers wait.
---
8. Mount Mayon, Bicol – famous for its symmetrical cone shape
---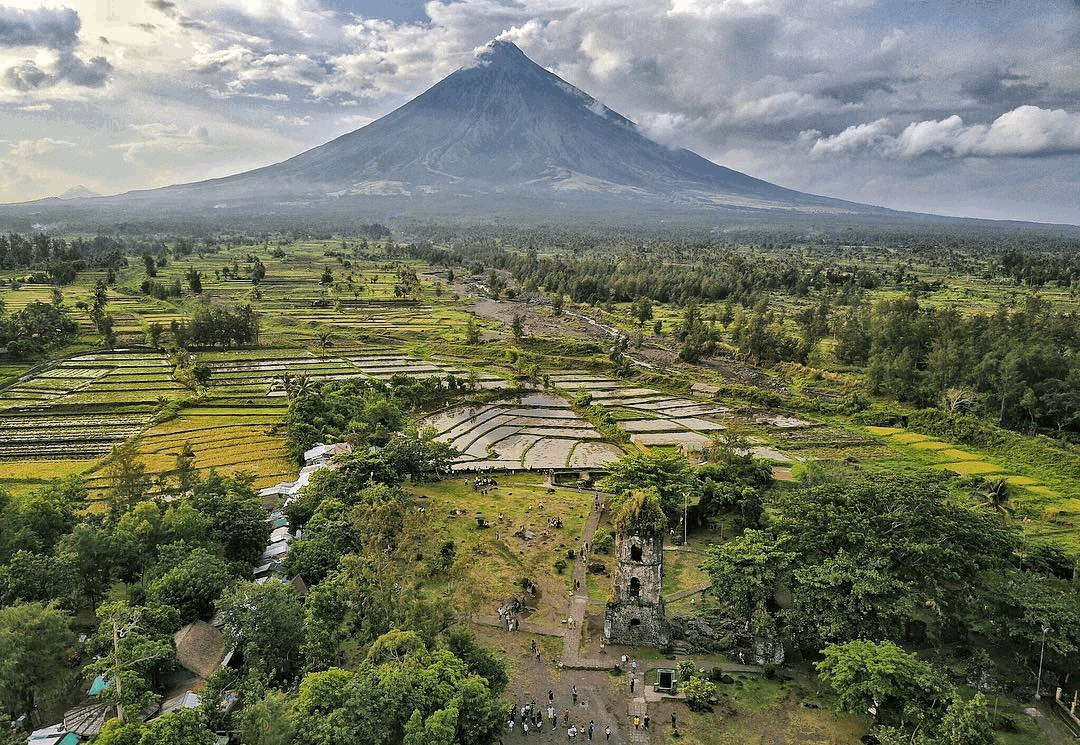 Image credit: @erwintlim 
Mayon Volcano, which rises to 2,462 meters, is world-renowned for its symmetrical cone shape. Its beauty has inspired a popular romantic myth from Bicol about a princess named Magayon and a warrior named Handiong, a prince from a tribe that rivalled against hers.
While it's a natural beauty, it's also one of the Philippines' most active volcanoes. It has erupted several times – the most violent eruption, that claimed thousands of lives, was recorded in 1814. 
The remains of the Cagsawa Church from the 1814 eruption can still be found near the mountain and have been a popular attraction in Albay as well. Do make sure to check the latest safety advisory from the Philippine Institute of Volcanology and Seismology (PHIVOLCS) before you head there. 
When it's open for climbers, the mountain has two trails – the Buyuhan and Buang trails – that you can walk on to reach the summit. There are two camps on the mountain: Camp 1 is at the foot of Mayon, while Camp 2 is located near a waterfall.
How to get there: As traveling by land to Albay from Metro Manila can take a while, booking a flight to Legazpi Airport from Ninoy Aquino International Airport (NAIA) can be more convenient.
---
9. Mount Pulag, Benguet – offers views of a sea of clouds
---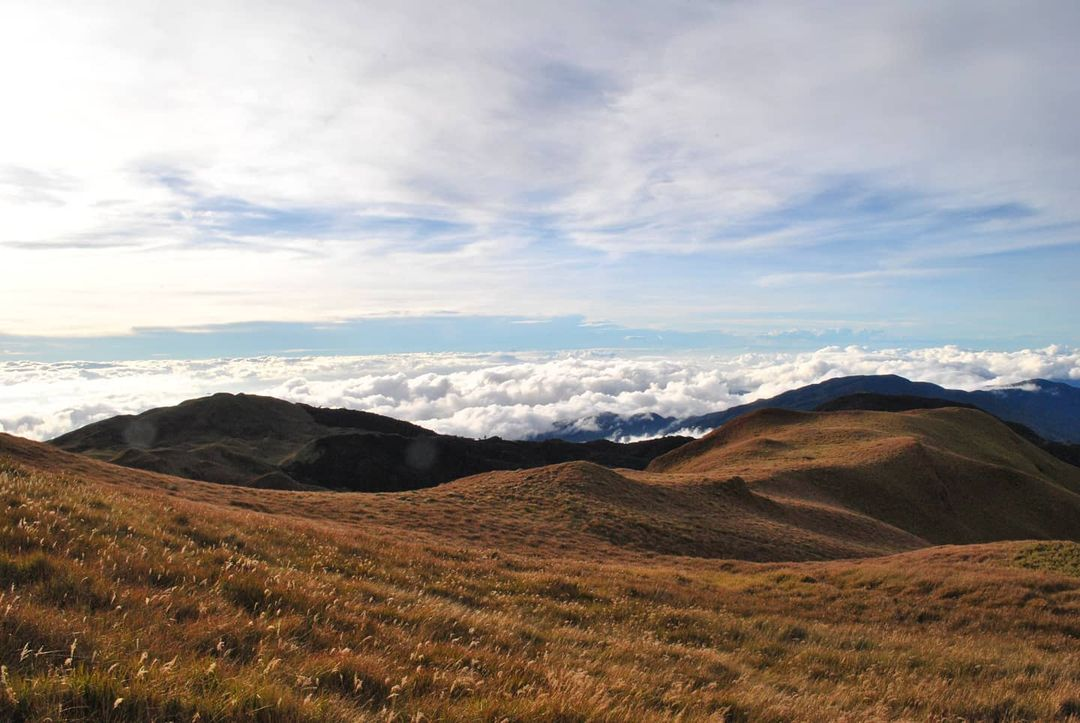 Image credit: @snapjafc 
Elevated 2,926 meters above the ground, Mount Pulag is the third-highest mountain in the Philippines. Aside from Mount Ulap, the mountain is also a perfect stopover when you're in Baguio, as it's within the Cordillera region. Here, you'll be rewarded with views of a sea of clouds as the mountain stretches from Ilocos Norte to the Cordillera provinces. 
A variety of wildlife species, such as the Philippine Brown Deer and Northern Luzon Giant Cloud Rat, thrives here, while its forest is home to the rate pitcher plant and pine trees. It has 4 trails, with varying levels of difficulty. Ambangeg Trail is the easiest, while Ambaguio trail is the most difficult because of its steep inclines. 
Since it's located in the highlands of North Luzon, you should bring a thick jacket when climbing this mountain as temperatures can drop to 1°C.
How to get there: Ride a taxi going to Old Slaughter House from Baguio, then get off at a van terminal in Kabayan. Head to the local Department of Natural Environment and Natural Resources (DENR) station, and from there, ride a habal-habal going to the Ranger Station. 
Do plan your trip dates ahead of time, as during the weekends, you can only camp at Ranger Station, while Camps 1 and 2 are open on weekdays.
---
10. Mount Apo – the Philippines' highest peak
---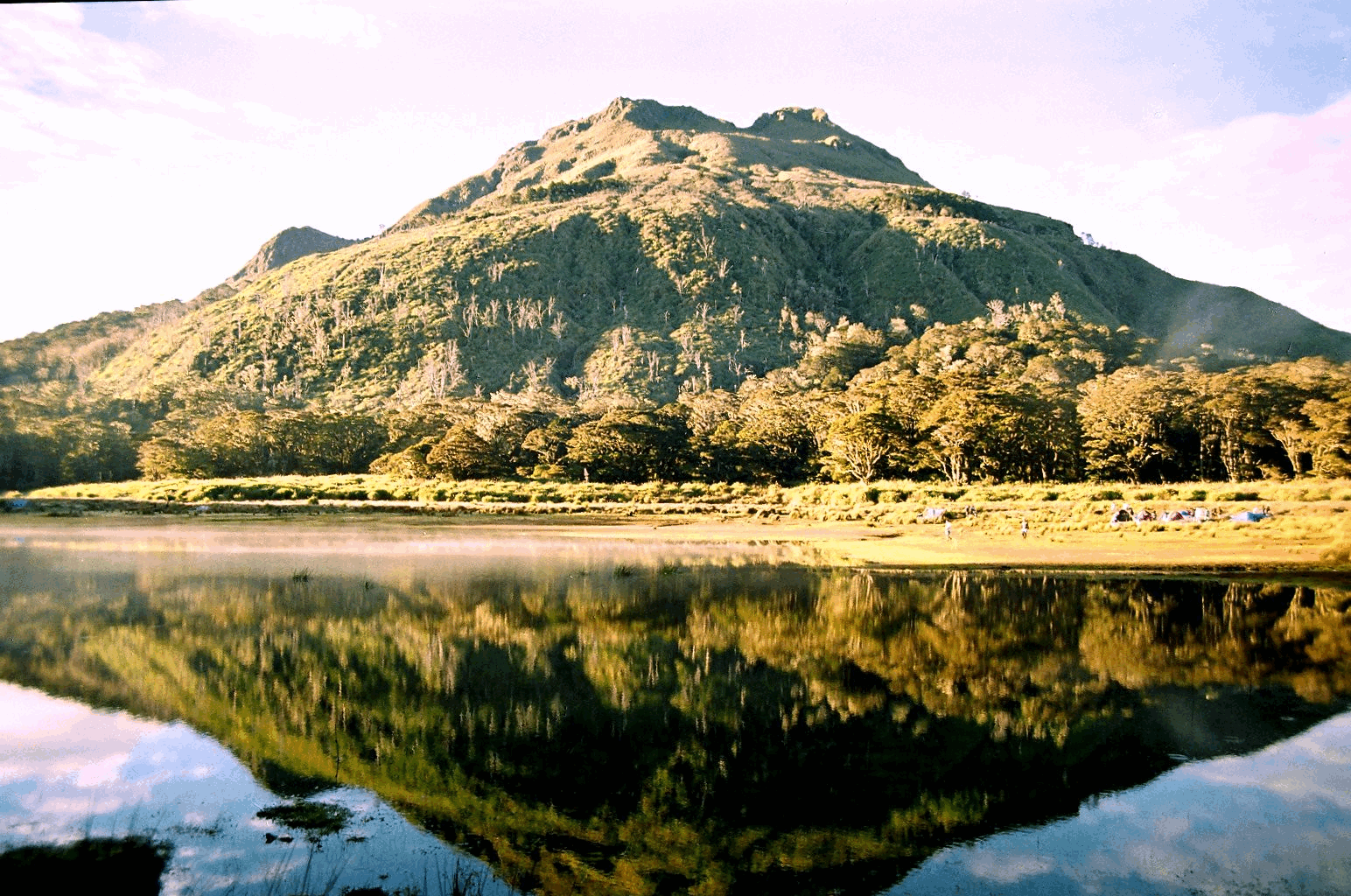 Image credit: lolay 
Standing tall at 2,954 meters, Mount Apo in Davao del Sur is the Philippines' highest peak. Stretching across 64,000 hectares of land, the mountain is home to various geographical wonders, so you'll be rewarded with plenty of things to see here such as lush landscapes, lakes, rivers, and volcanic deposits. It's also home to about 272 bird species such as the Philippine Eagle. 
Reaching this mountain's summit, which takes about 3 to 4 days, is only advisable for experienced mountaineers. There are various trails you can choose to take, but the most popular is the Sibulan – Mt. Apo trail for its easy accessibility from Davao City an hour away, and the beautiful wildlife along the way. 
How to get there: From Davao Airport, you can get to the mountain by hailing a taxi or rent a car going to the mountain's starting point. There are three camps on the mountain – the Sitio Tompis bake camp, Tinikaran Holding Camp 1, and Tinikaran Holding Camp 2, where a tiny dam of still water can be found.
---
Mountains in the Philippines
---
Mountains in the Philippines are truly breathtaking, giving us rewarding, unique natural views.

From crater lakes to islands to a sea of clouds, you'll be spoiled with views of our archipelagic country's natural beauty after each climb. 
Also check out:
---
Cover image adapted from: @johnkulot, @snapjafc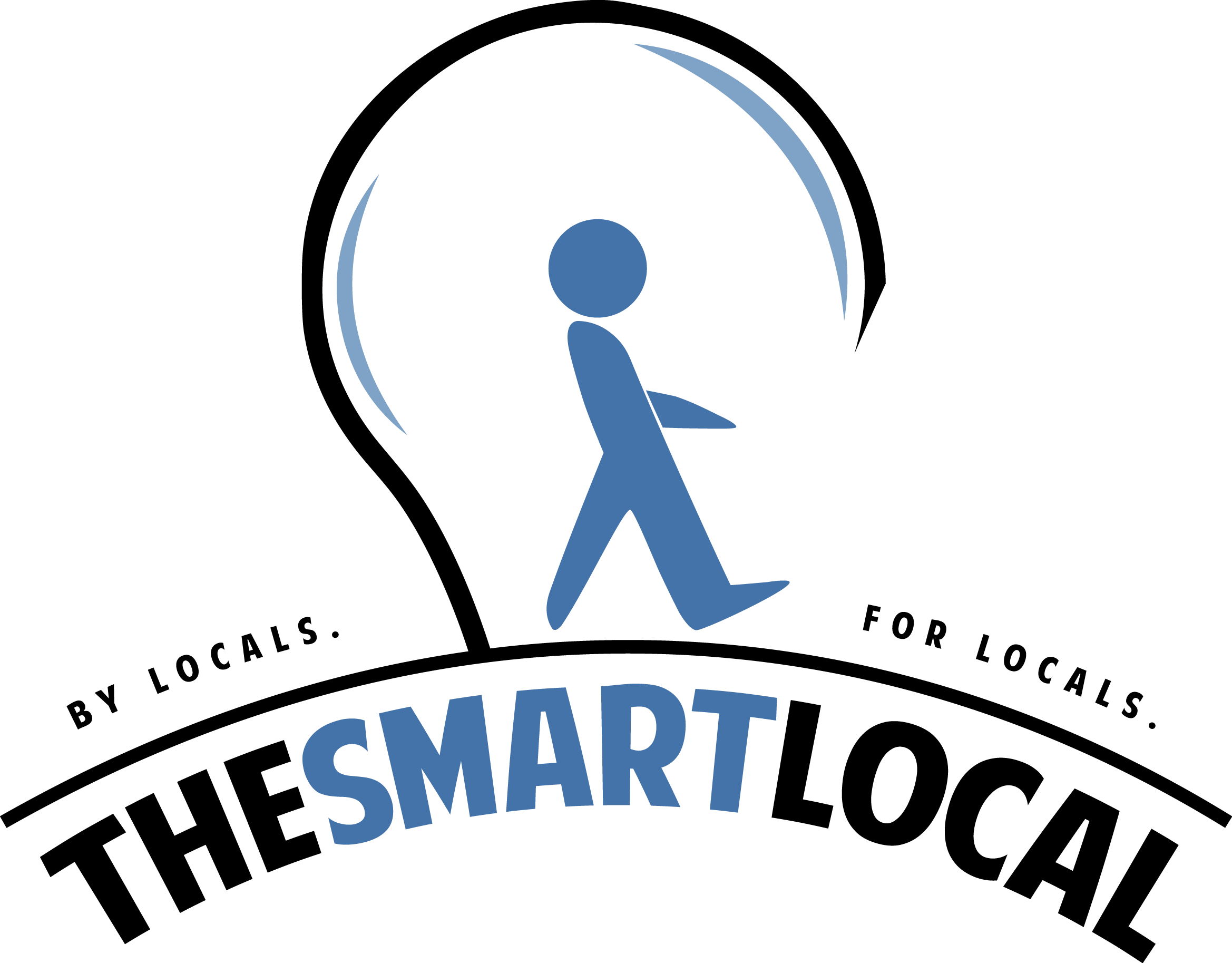 Drop us your email so you won't miss the latest news.