Treehouse hotels & Airbnbs in the Philippines
---
While hotels make for convenient accommodation, there's nothing like the holiday experience you get by staying in treehouse hotels. Situated above the grounds and usually inspired by traditional architecture, treehouses offer an immersive retreat where you can forget all your worries while being surrounded by trees and scenic views.
That's why we've listed down these 9 Philippine treehouse hotels and Airbnbs, from Shangri-La's Boracay Resort and Spa to The Birdhouse El Nido, where you can fully bask in nature while taking your well-deserved vacation. 
---
1. Shangri-La's Boracay Resort and Spa – has treehouse villas overlooking Punta Bunga beach
---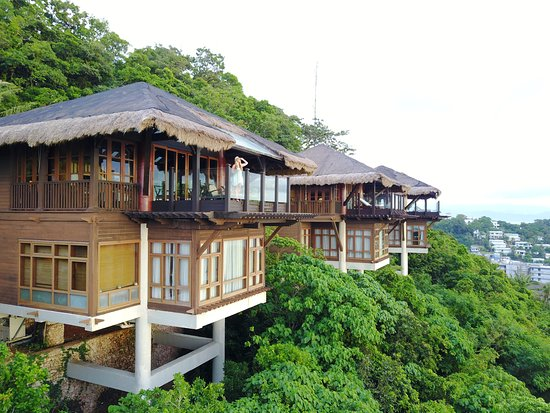 Image credit: Sam Chow
Nestled on a hillside in Boracay island, the Treehouse Villas in Shangri-La Boracay Resort and Spa (P26,500, ~USD551 per night) will give you an immersive experience with nature. The two-storey, 216-sq m treehouse villas overlook the Punta Bunga beach, for starters, and each west-facing treehouse has a balcony where you can relax and take in the views of the sea and sunsets.

The bedroom and bathroom with glass windows that let in natural light are situated on the lower floor, while the living area stands on the upper floor.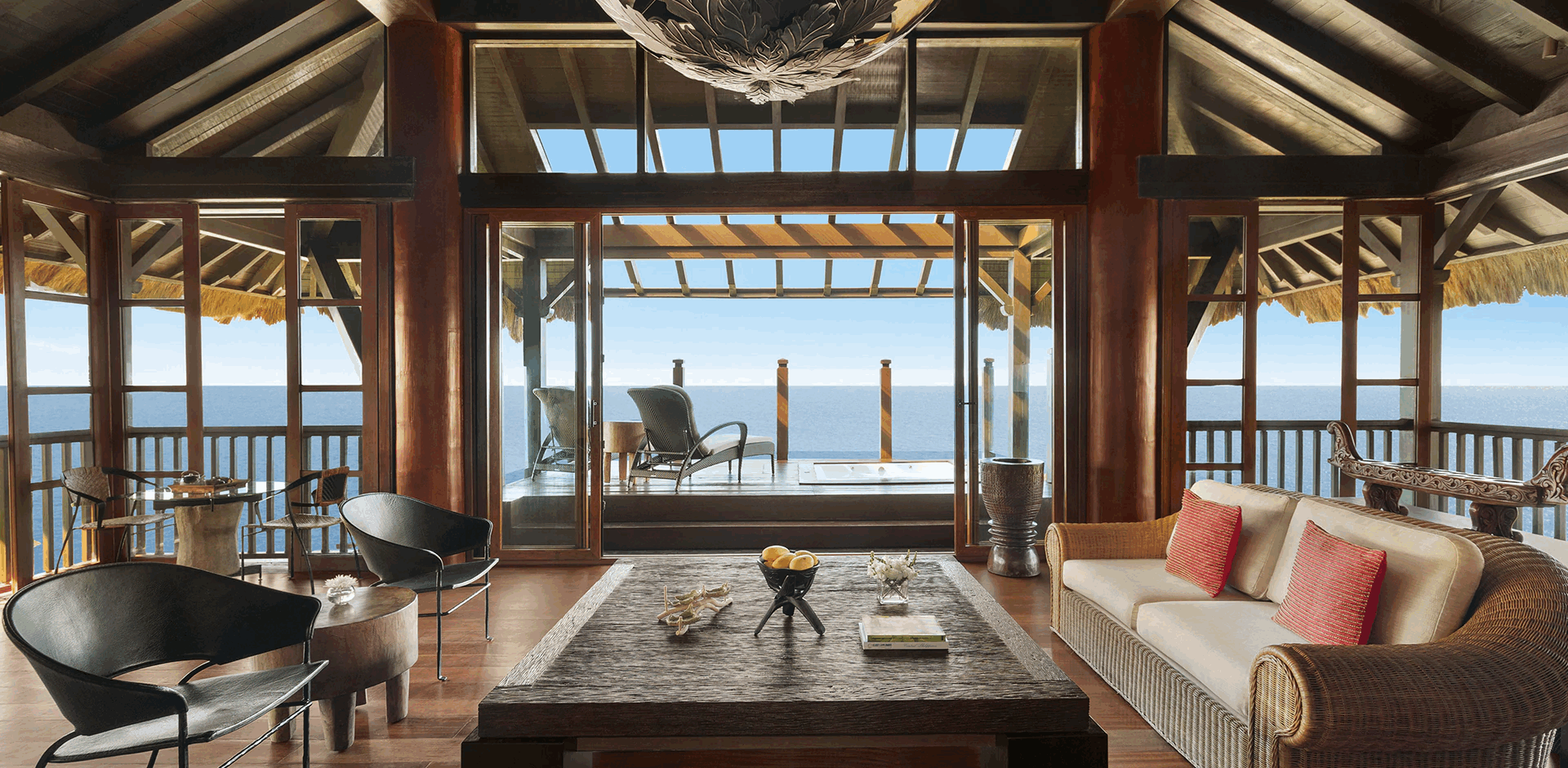 Image credit: Shangri-La 
Furnished with two 47-inch flat-screen cable TVs, an iPod dock, and high-speed internet, Shangri-La's treehouse is also a haven where you can indulge in non-stop entertainment. There's even an outdoor jacuzzi where you can chill if you aren't in the mood to do your swimming laps. 
Address: Barangay Yapak, Boracay Island, Malay, 5608 Aklan
Telephone: 288-4988
Website
---
2. Stilts Calatagan Beach Resort's Serenitree & Eternitree Treehouses in Batangas – near boat adventures & scuba diving
---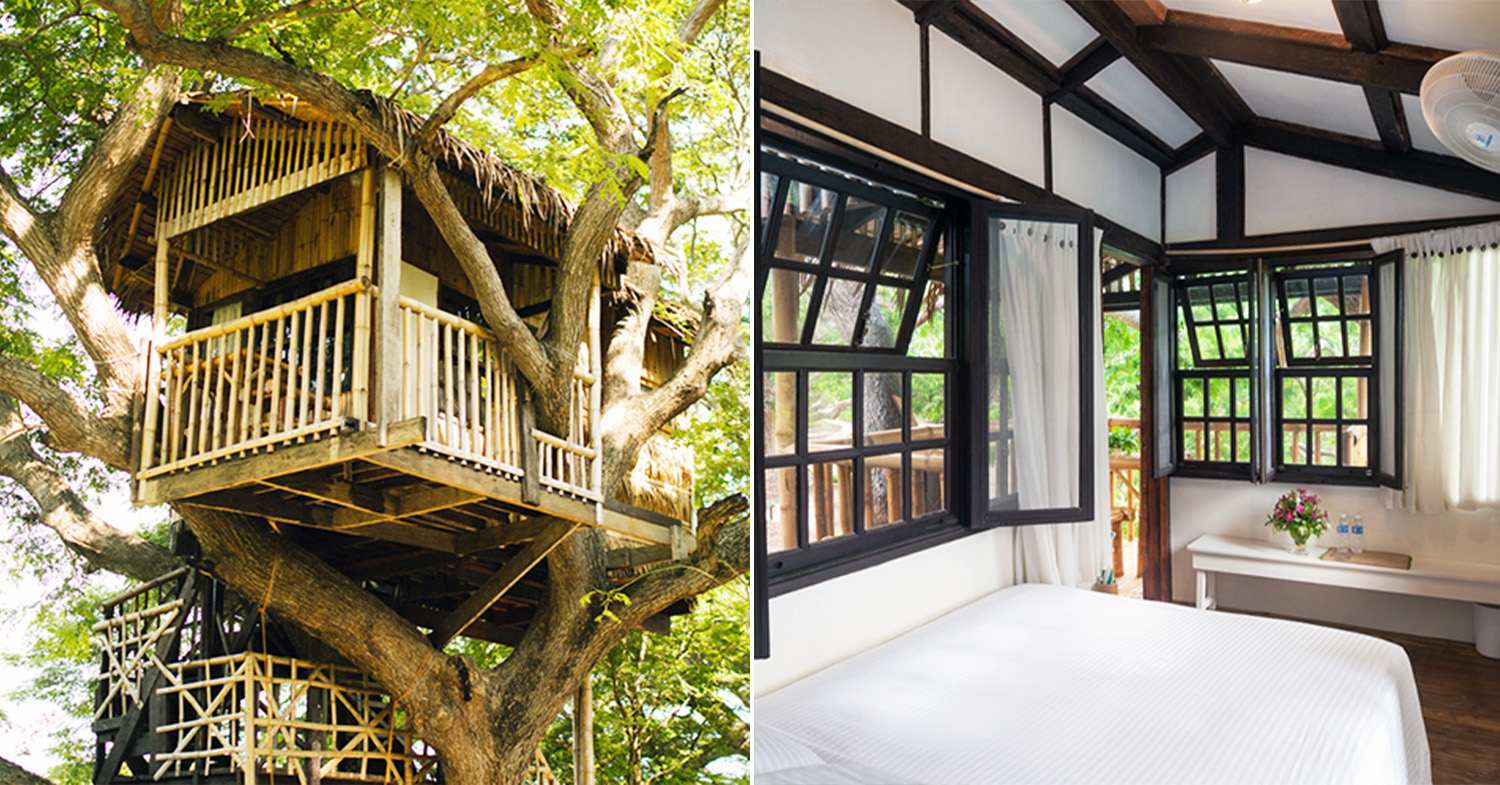 Serenitree Treehouse
Image adapted from: Stilts Calatagan Beach Resort, Stilts Calatagan Beach Resort
The Serenitree and Eternitree treehouses of Stilts Calatagan Beach Resort in Batangas are perfect for couples who want to be tucked away in nature's comforts, but who also don't want to be entirely isolated. 
Overlooking the Serenity Beach, the houses are situated in a resort where floating cottages, beach cottages, and camping spots are also on offer and a variety of activities – from boat adventures to sandbar tours to nature trips to scuba diving – are available too.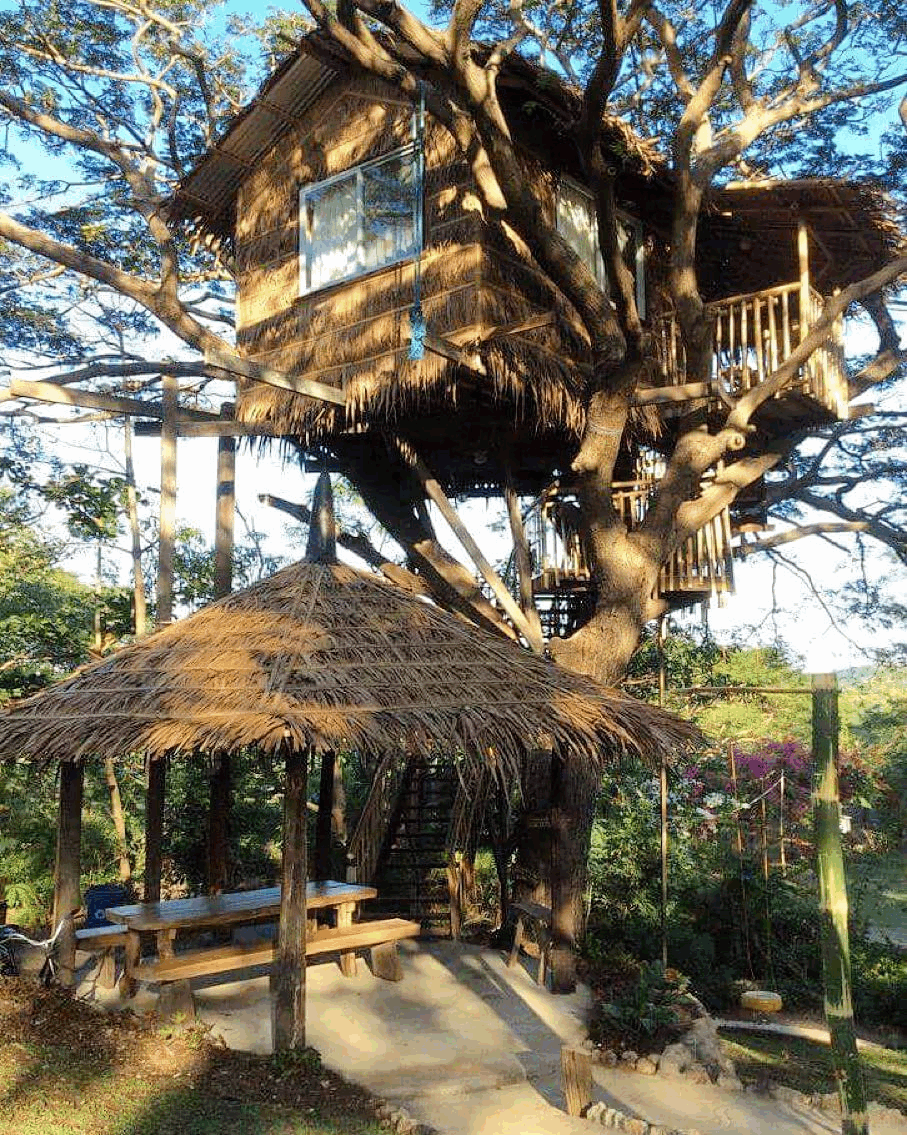 Eternitree Treehouse
Image credit: @stiltscalatagan
Serenitree is an affordable treehouse at only P5,000 (~USD103.91) per night for 2. Aside from the accomm, the fee includes welcome drinks, breakfast, use of the pool, and beach area. The Eternitree, meanwhile, is the second treehouse of the resort, good for 3 at P6,000 (~USD124.69) per night. 
Resort facilities include the Discovery Pavilion that you can book for romantic dinners, The Sweet Spot for dining and drinking, and The Sea Breeze Pavilion where you can dine with a view of the beach. 
Address: Brgy. Santa Ana, Calatagan, 4215 Batangas
Telephone: 967-0820
Website
---
3. Twin Glass Treehouses at Tudor in the Pines – nestled among tall pine trees in Baguio
---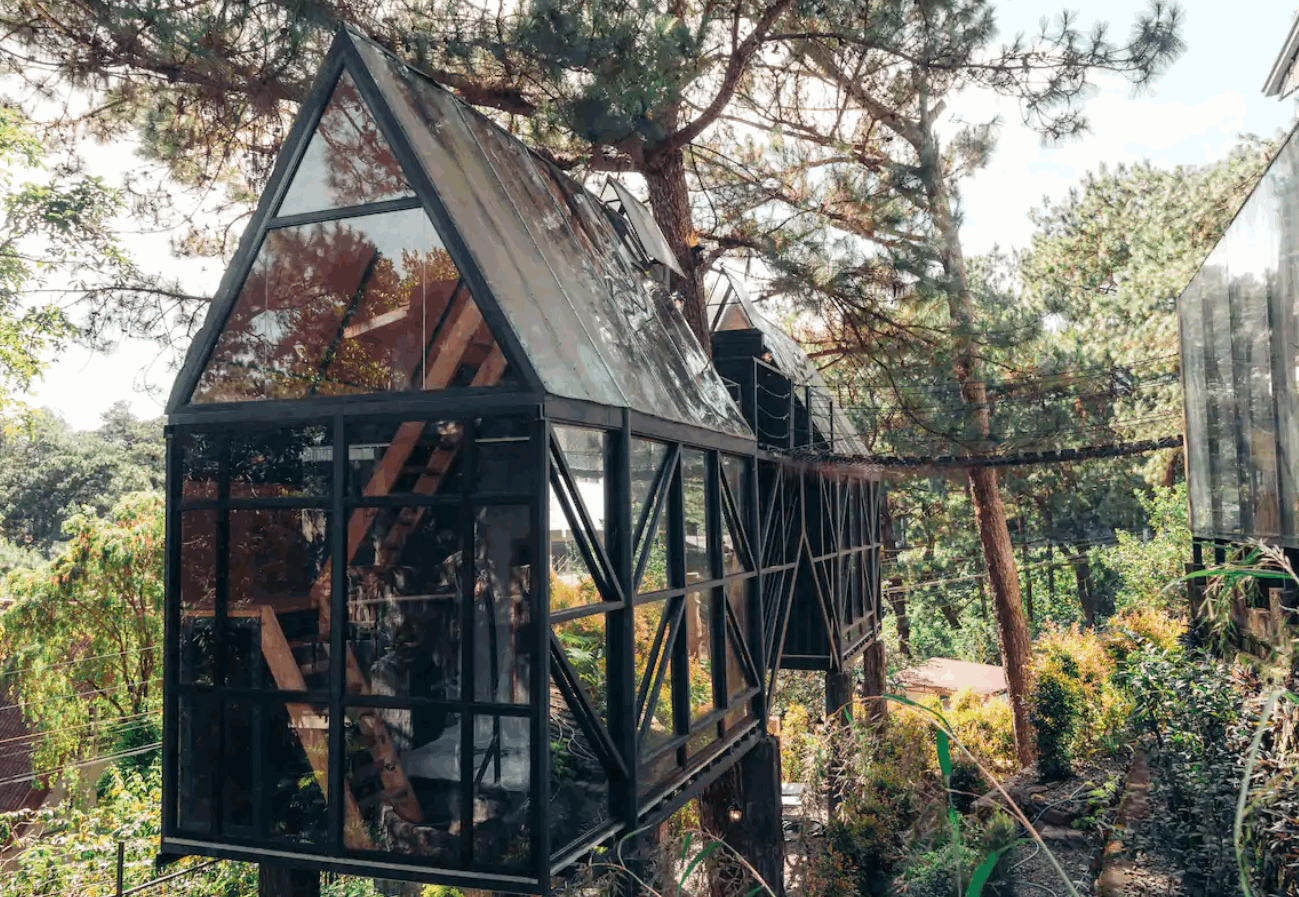 Image credit: Airbnb 
Situated inside an estate where a Tudor-style house stands, Twin Glass Treehouses (from P9,229, ~USD191.83 per night) are modern-looking glass treehouses nestled among tall pine trees in Baguio. 
These treehouses are perfect for an intimate, immersive vacay within Baguio's mountainous hills – the southern treehouse has full views of the pine trees, while the northern treehouse can give you unparalleled views of the estate's private mountain.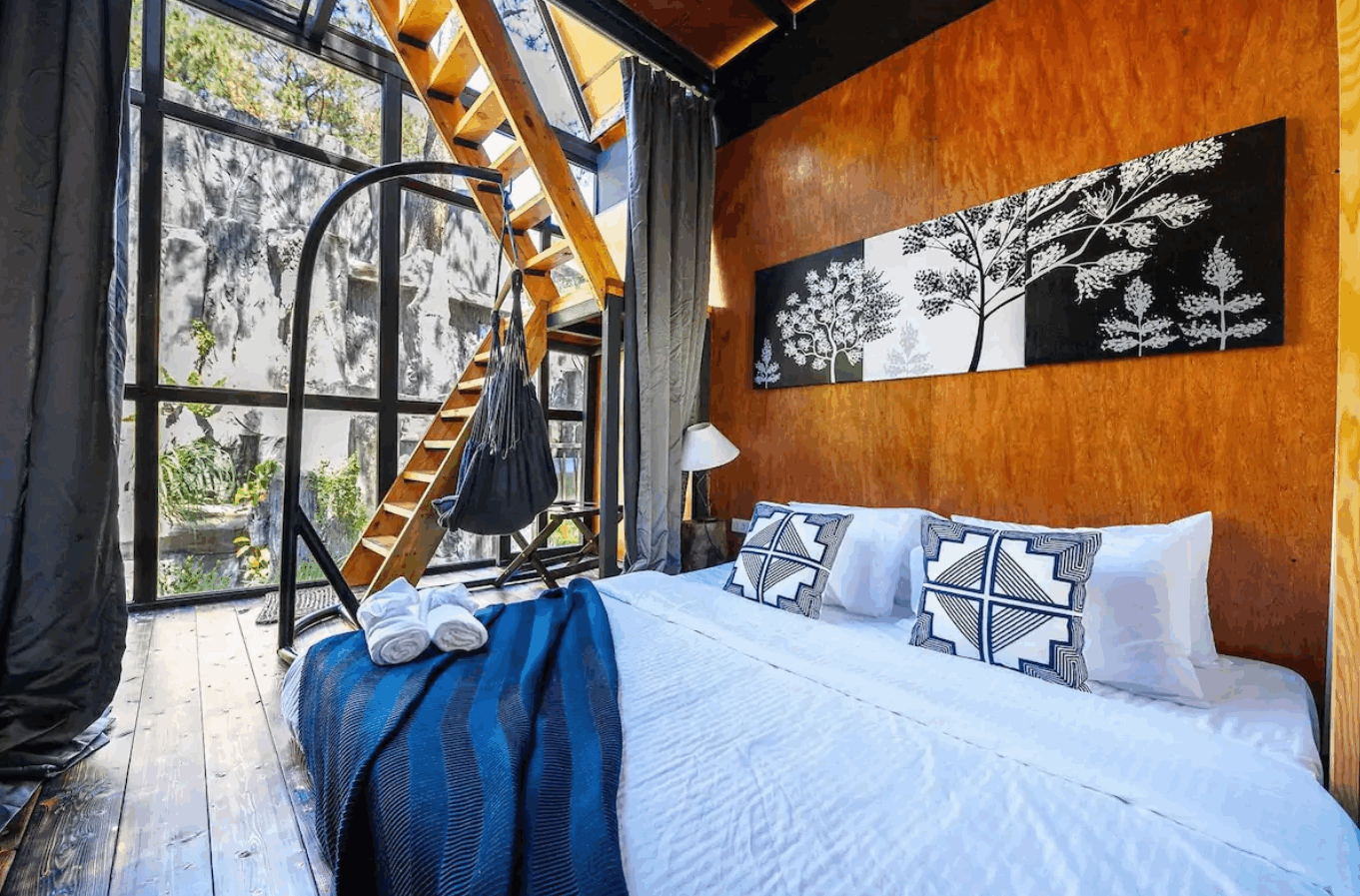 Image credit: Airbnb 
Each house has one king bed on the lower floor, while climbing the ladders inside will lead you to the house's attic.
Address: 17 Lower Balacbac Road, Sto. Tomas, 2600 Baguio
Mobile: 0945 793 2224
Website
---
4. Tarzan's Treehouse – glass-nipa treehouse in Siargao with palm trees inside
---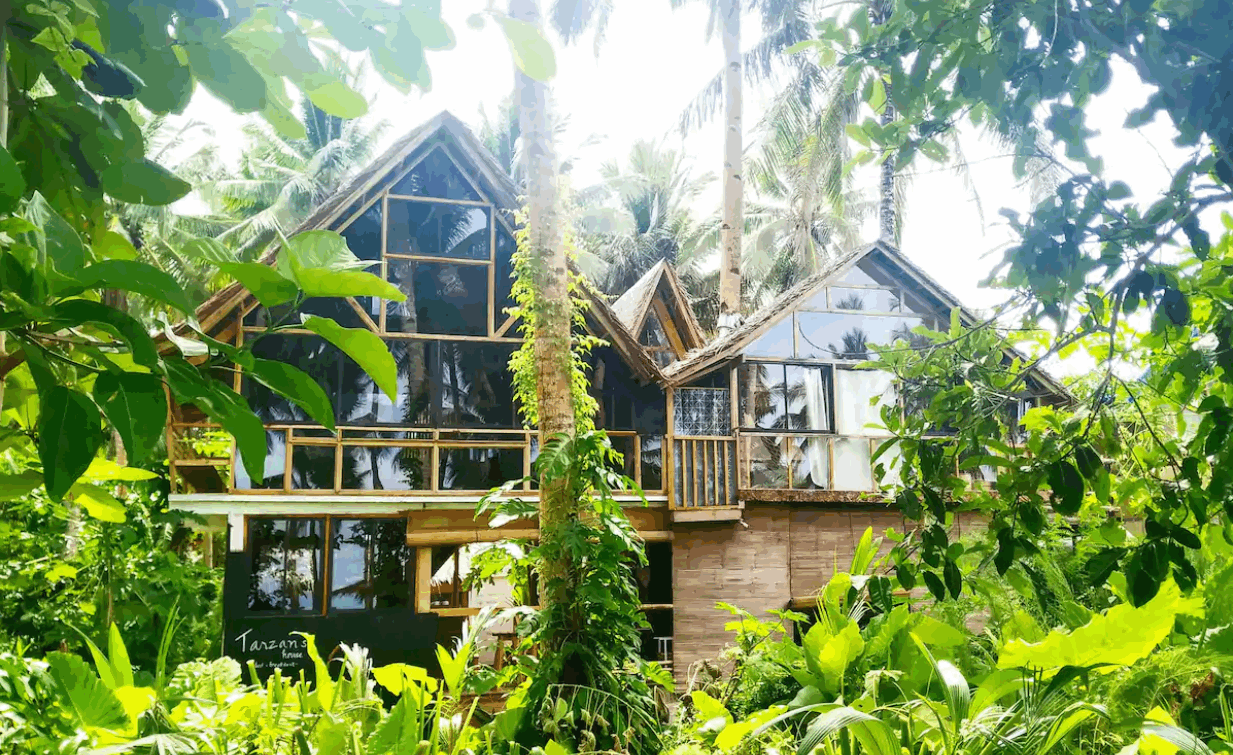 Image credit: Airbnb 
A treehouse made up of glass and nipa, Tarzan's Treehouse (P2,000, ~USD41.55 per night) in Siargao will give you a genuine experience of treehouse living. Two living palm trees are actually part of the house, resembling huts in a Survivor TV show where participants live close to nature – most treehouse hotels are built on trees, not around them!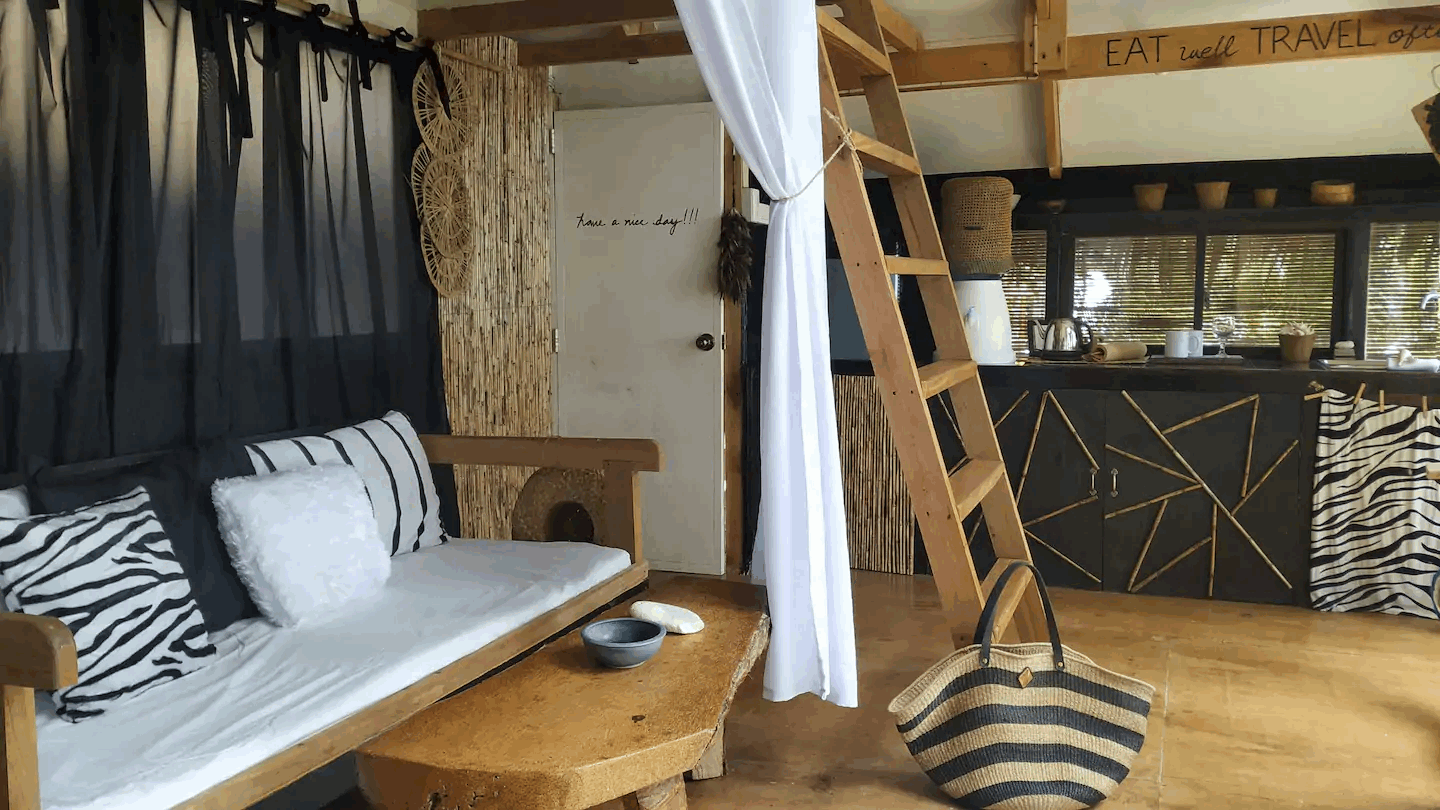 Image adapted from: Airbnb 
The best time to book a space in the house is during the dry season from March to May, as during rainy days, you might experience slight inconveniences inside due to creaking and minimal water leakage. 
But in case of rain, you don't have to worry about getting your good night's sleep as the master bedroom is situated in the attic, away from the area where the stems of the palm trees are.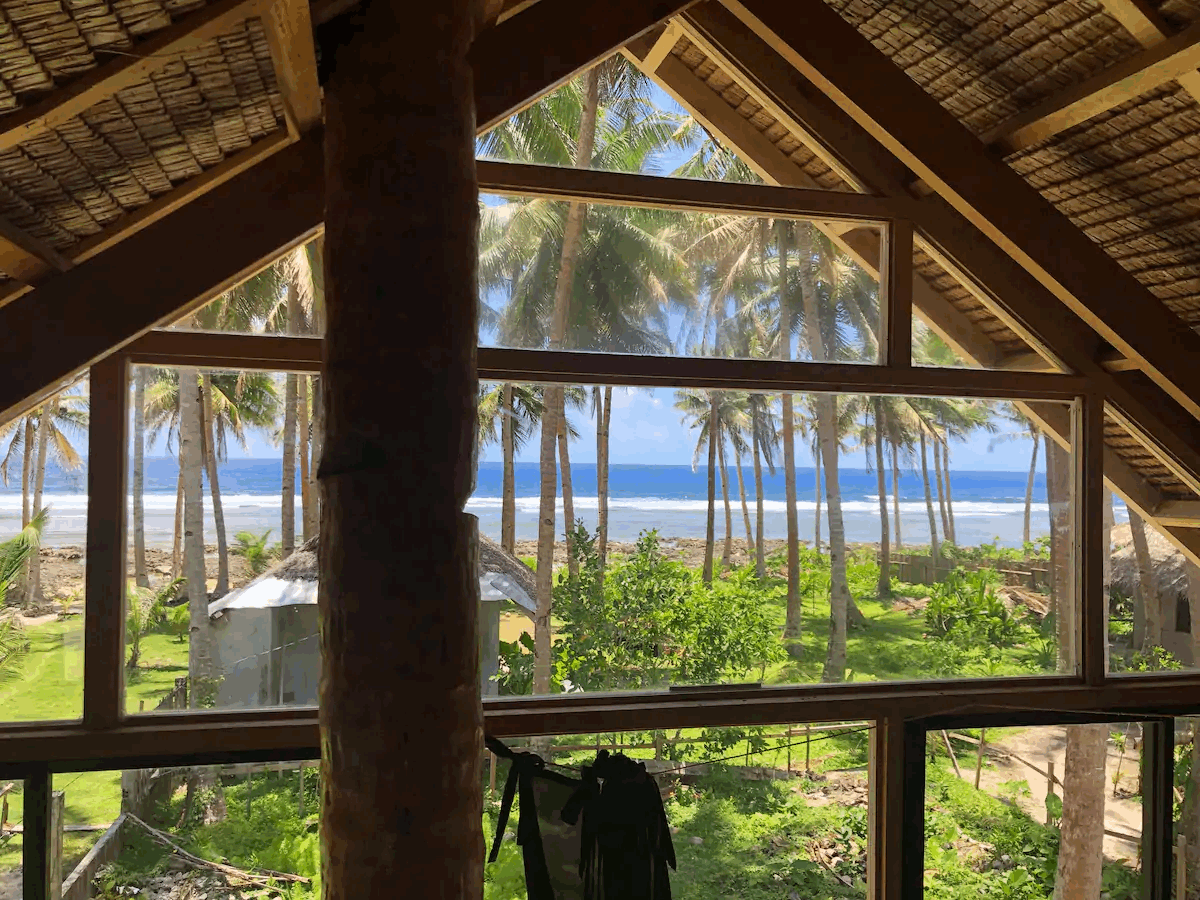 Image adapted from: Airbnb
The living room has one sofa where you can meet and strike a convo or two with your fellow Siargao travelers. A hammock is also available for you to take a quick nap or pause to listen to the waves of the sea nearby. You'll also have a bathroom designed to let in natural light all to yourself.
Address: Tuason Point, General Luna, 8419 Surigao del Norte
Website
---
5. Beso Hilltop Retreat – in the less touristy outskirts of Port Barton in Palawan
---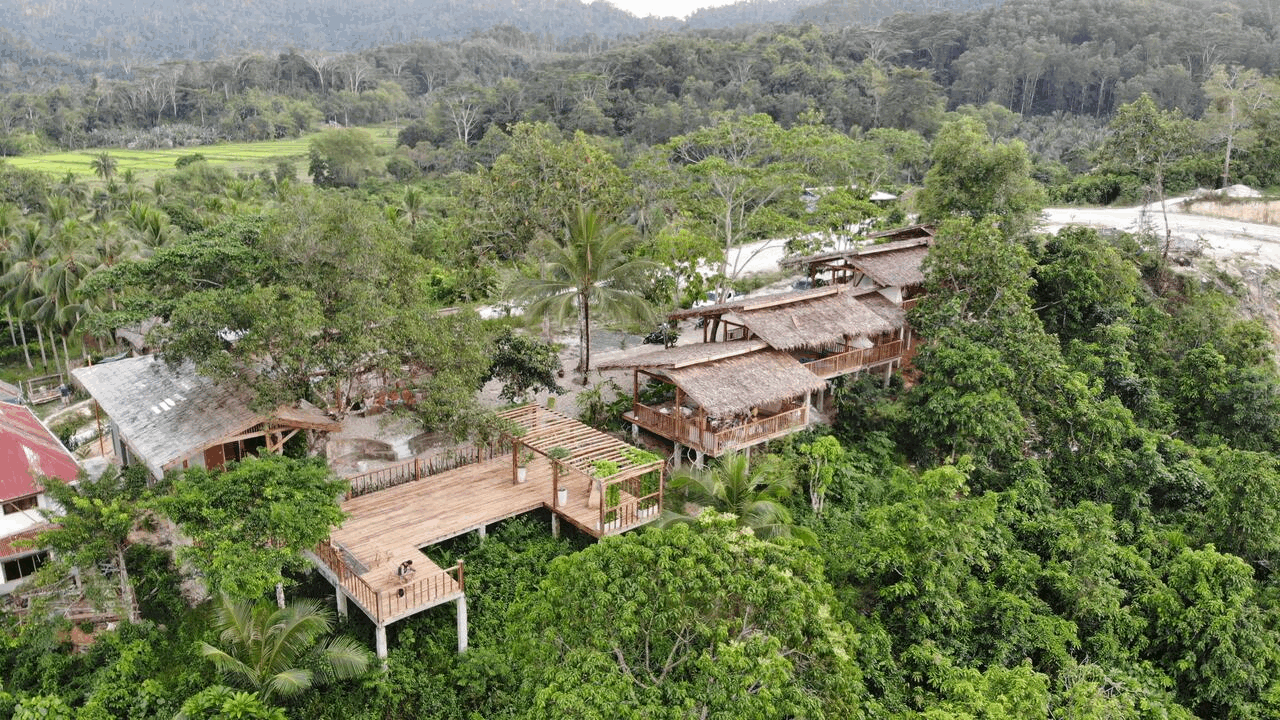 Image credit: Booking.com 
Situated on a hill in the isolated outskirts of Port Barton, San Vicente, Palawan, Beso Hilltop Retreat is perfect for tourists who want to see the hype around treehouse hotels for themselves, but would rather avoid the more touristy sites of El Nido and Puerto Princesa.

They have two types of accommodations on offer: indoor tents (from P420, ~USD8.73 per night) where you can have a glamping experience, or dormitory rooms (from P269, ~USD5.59 per night) that let you save on expenses.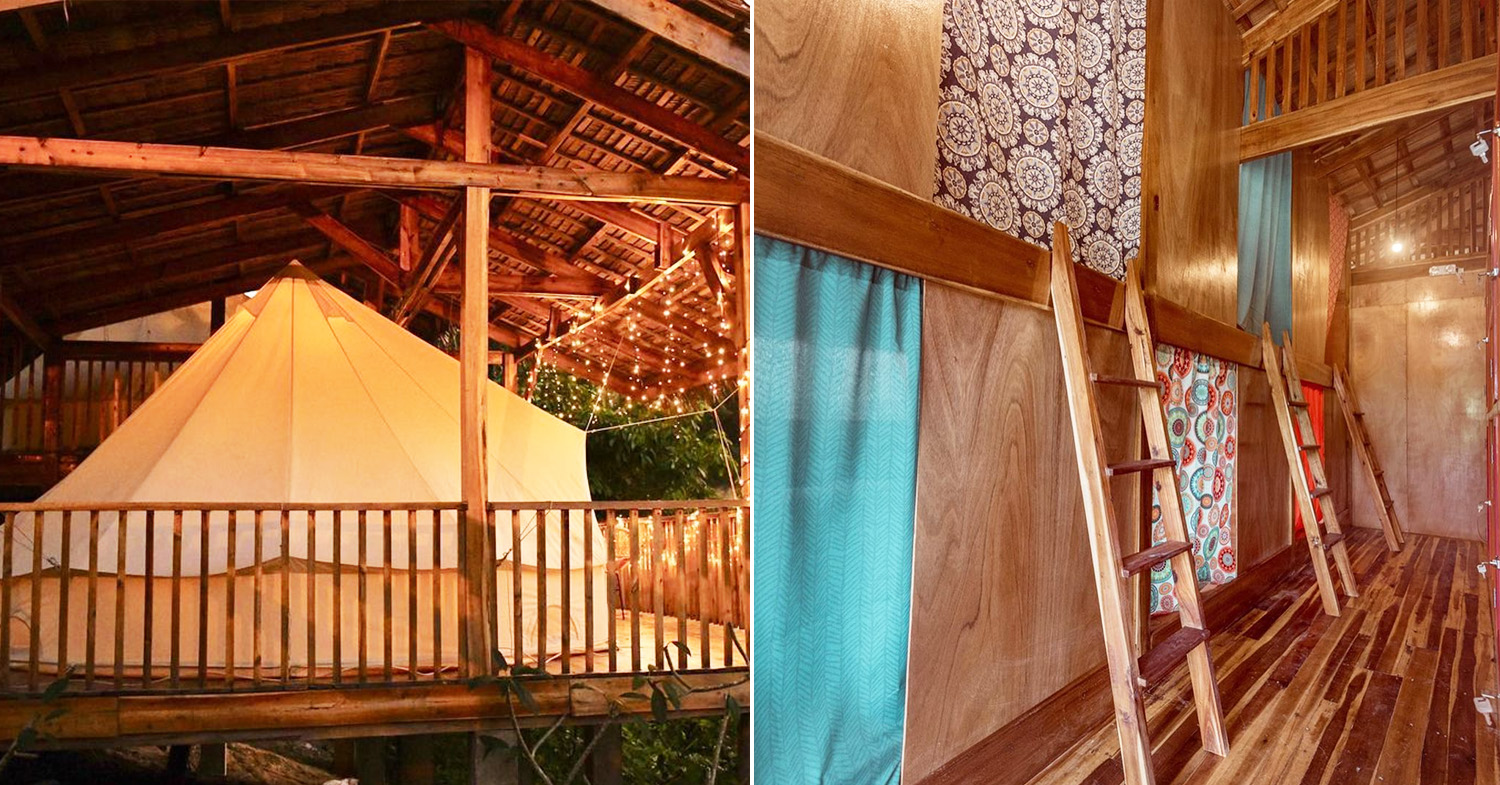 Image adapted from: @besoportbarton, @besoportbarton
The retreat house overlooks mountains, rice fields, and the sea, so you can truly relax in the calming presence of nature. While it's isolated, you don't have to worry about where to get your meals as there are at least two restaurants nearby, namely the Mabuti Eat & Chill (1KM away) which has vegetarian and vegan options, and the Reef Cafe (2KM away) with steak, burgers, and tacos aplenty. 
And if you feel the need to explore the surrounding area, the Parton Beach is also a 5-minute walk away and a bicycle rental service is available. 
Address: Bonifacio Street, Port Barton, San Vicente, 5309 Palawan
Mobile: 0966 483 4610
Website
---
6. Sulu Terraces at The Farm at San Benito – a modern, air-conditioned treehouse experience
---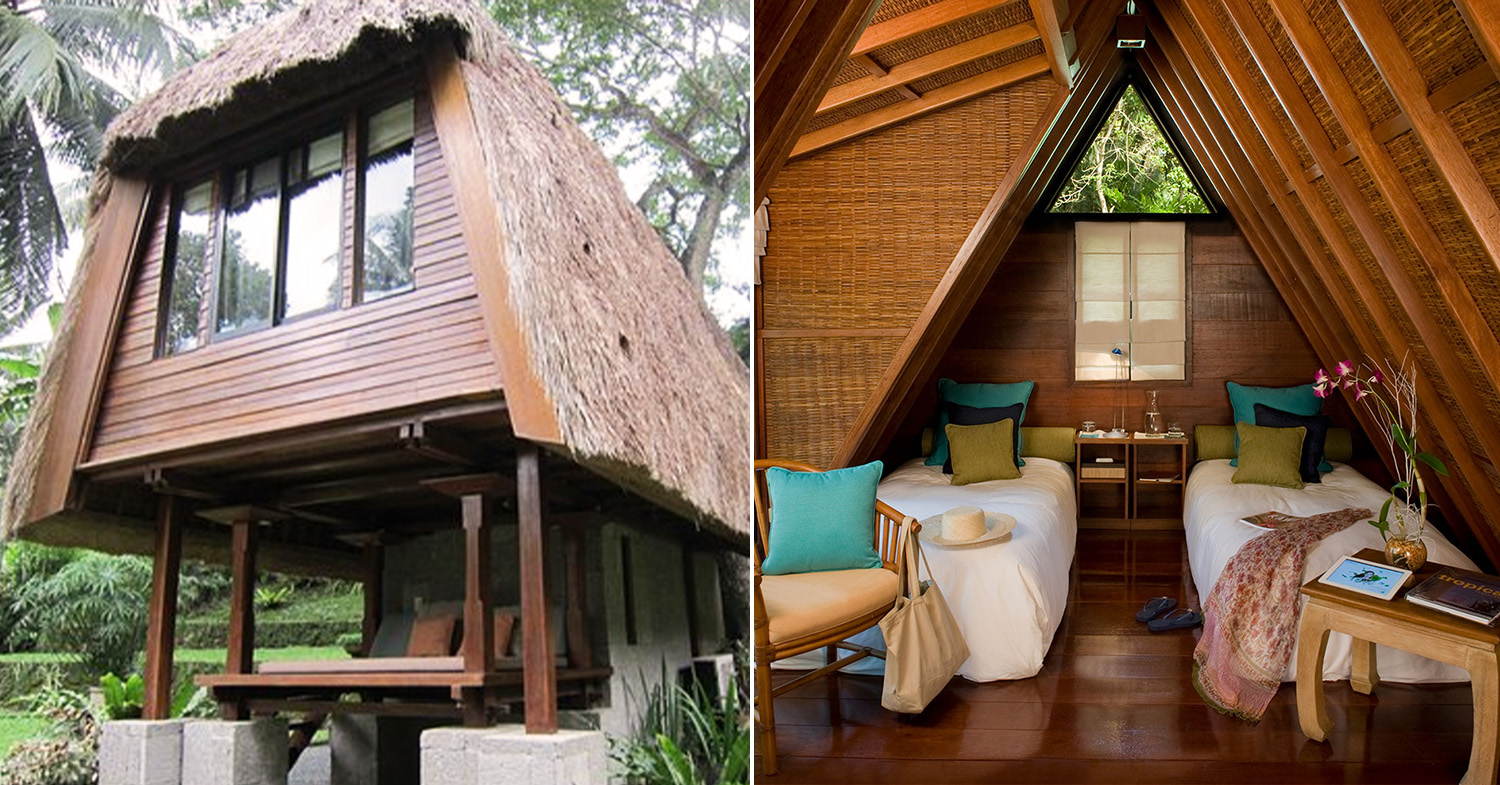 Image adapted from: Trip Advisor, The Farm at San Benito 
The Sulu Terraces at The Farm at San Benito (from P12,200, ~USD253.39 per night) offer air-conditioned, rice barn-style houses with wood-beamed ceilings and thatched roofs so you can experience treehouse living with modern conveniences.
Good for couples, each treehouse that stands on wooden pillars has a bedroom and a sitting area on its upper floor. Underneath the house lies an outdoor lounge area, where you can take your breakfast while surrounded by nature. 
Address: 119 Barangay Tipakan, Lipa, 4217 Batangas
Mobile: 0918 884 8080, 0917 572 2325
Website
---
7. The Birdhouse El Nido – hillside treehouses with yoga classes
---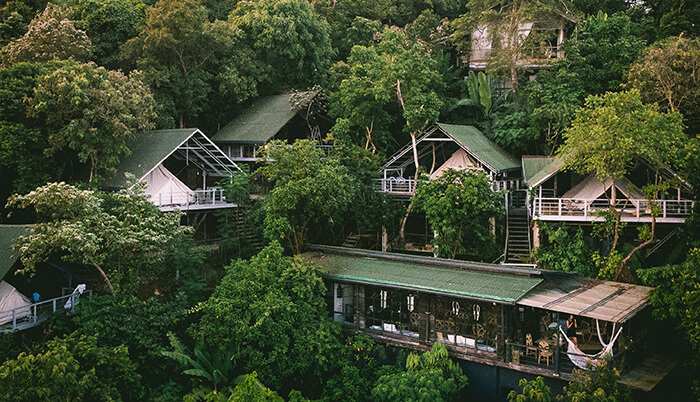 Image credit: The Birdhouse El Nido 
Overlooking the Maremegmeg Beach, The Birdhouse El Nido in Palawan (from P8,000, ~USD166.37/ 2 nights) has treehouses perched on a hillside, and designed to look like birdhouses. Inside the treehouses are tents, that have queen-size beds or single beds, private bathrooms, balconies, and plenty of decorative accessories.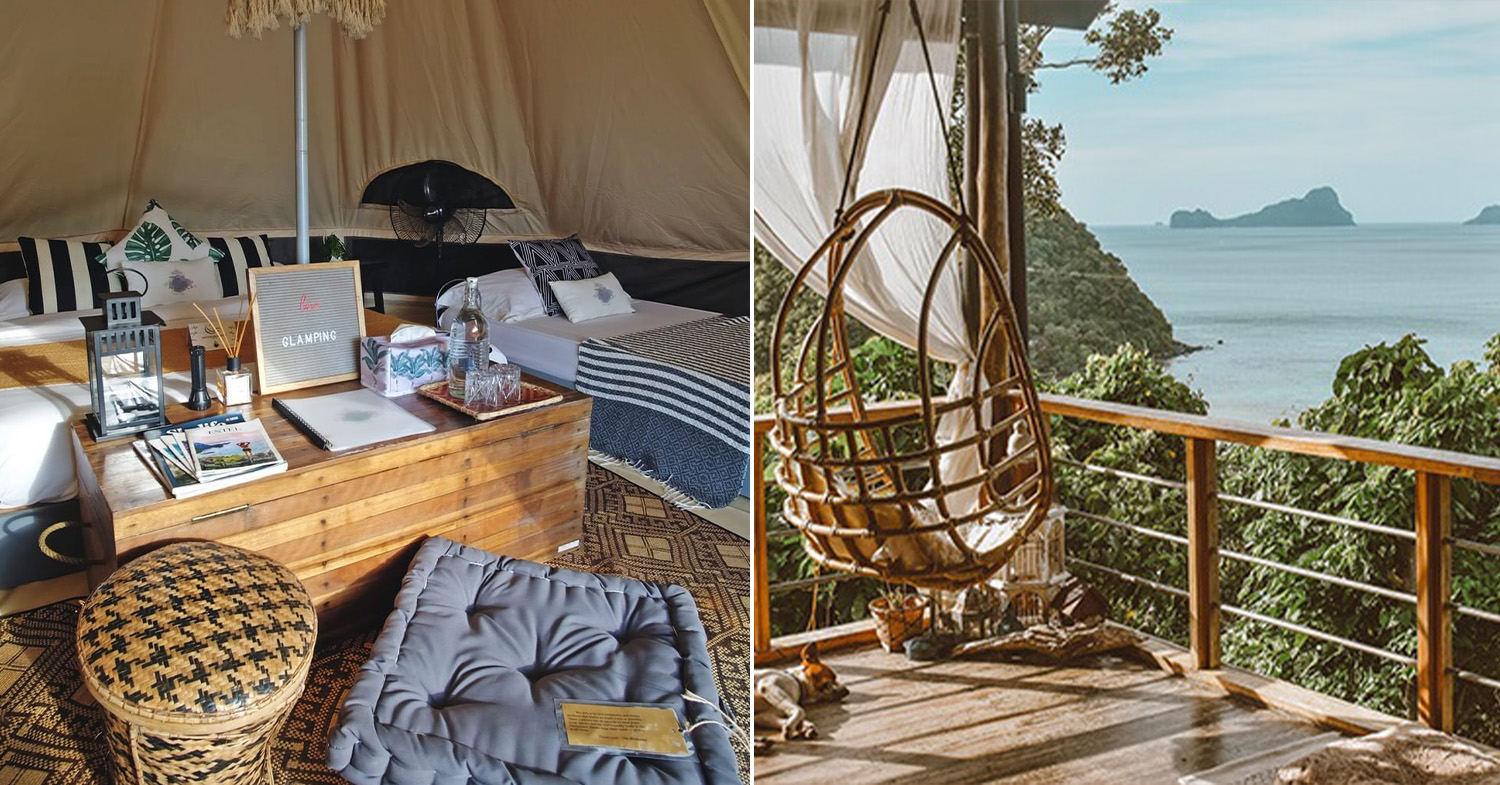 Image adapted from: @thebirdhouseelnido, The Birdhouse El Nido
To complement your vacation with mindful exercise, they have a yoga wooden studio where daily classes are held every 5PM. Getting your meals won't be a hassle as well – there's an in-house restaurant called The Nesting Table that serves a mix of Filipino and Western cuisine.
Address: Sitio Pakalsada, Barangay Corong-Corong, 5313 El Nido
Mobile: 0920 606 1186‬
Website
---
8. Sanctuaria Treehouses – with in-house swimming pool
---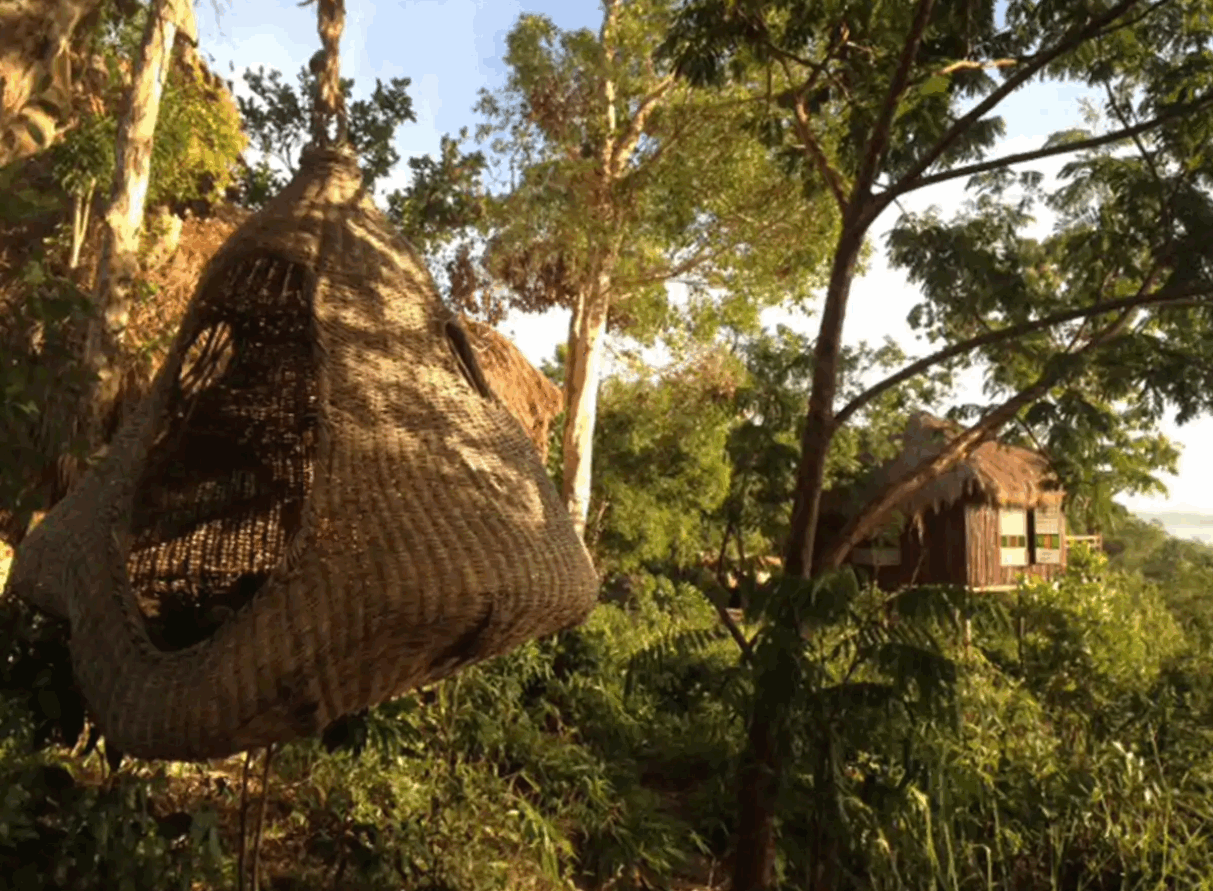 Image credit: Airbnb 
Perched on a hill in a secluded forest in Busuanga island in Palawan, Sanctuaria Treehouses (P1,900, ~USD39.52 per night) offer views of the ocean, river, and forestry. The rooms come with basic amenities such as mosquito nets, electric fans, and thin mattresses, but there are no televisions – so prepare to bring as many gadgets as you'll need to entertain yourself.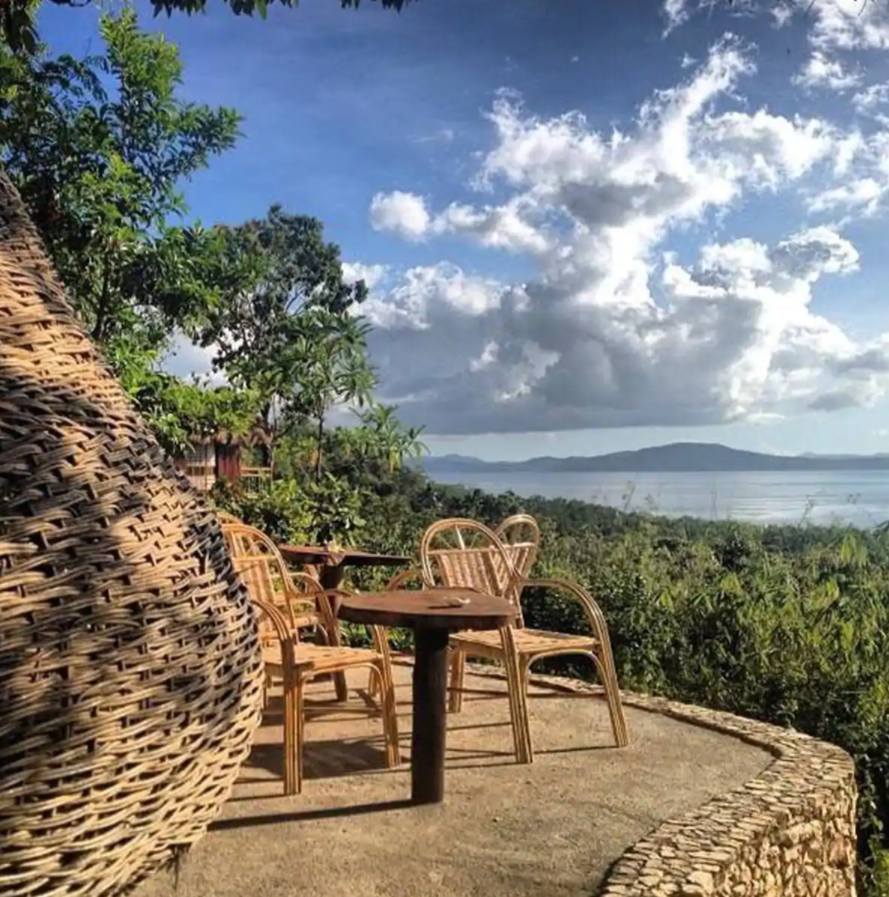 Image credit: Airbnb 
While the rooms have just basic furnishings, the management makes up for it through their other facilities such as an in-house pool with a stonewall bar that cooks local, Western, and Thai dishes, and an open-air library filled with books and board games. 
And when you're in the mood to explore, they have kayaks and paddleboards you can borrow to get adventurous on the nearby waters!
Address: Kilometer 43 Coron – Busuanga Rd, Busuanga, 5317 Palawan
Website
---
9. Treehouse de Valentine – situated next to a river
---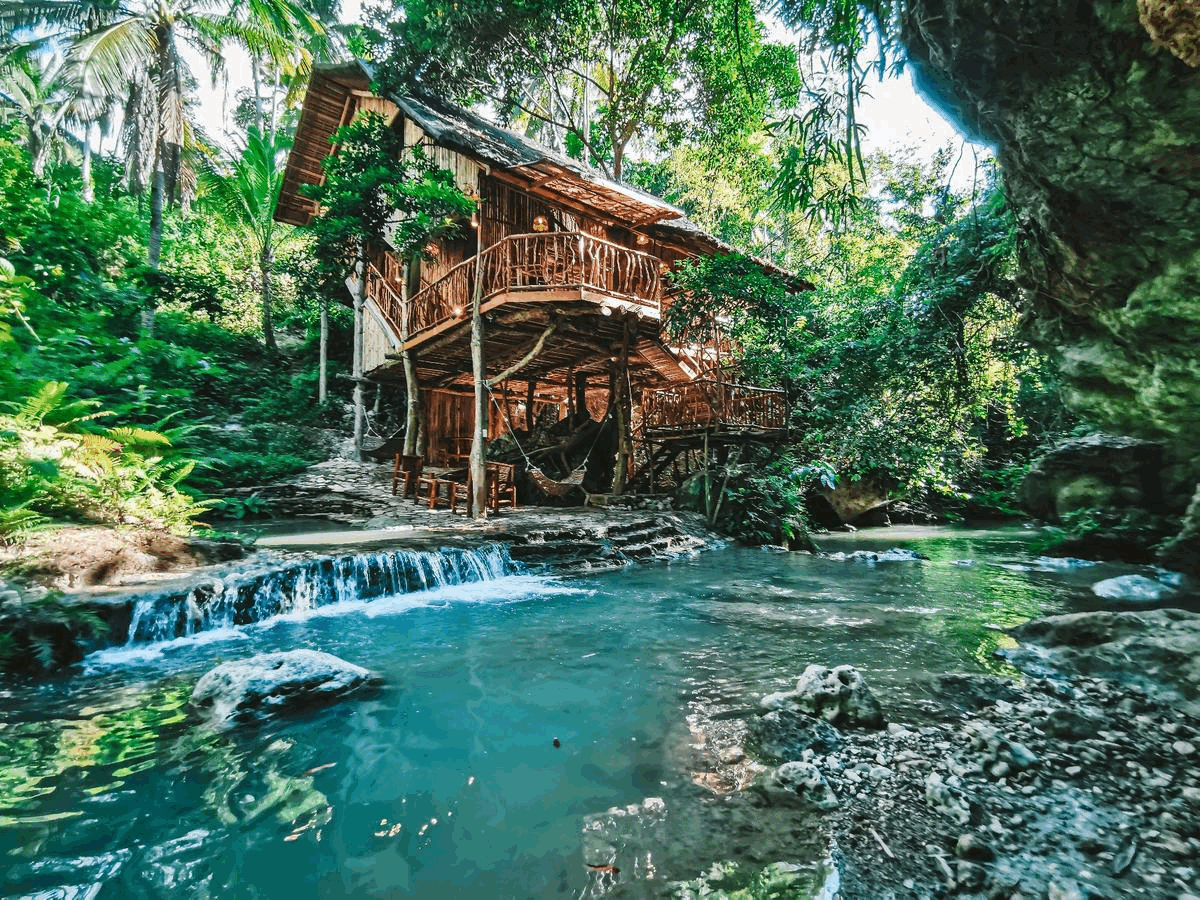 Image credit: Booking.com
Treehouse de Valentine (P15,000, ~USD311.80 per night, whole treehouse) is a single treehouse located in a secluded spot in Barangay Hingatmonan, Balamban, Cebu. It's next to a river where you can relax in, as it's practically a natural swimming pool.
Good for families and large groups, the treehouse has 3 bedrooms that can sleep 8 people, 2 bathrooms, a fully-equipped kitchen, and a balcony overlooking a river. And while you're inside a traditional-looking treehouse, technology is still around with its modern flat-screen TV that will complete your vacation with exciting TV shows and films you can binge.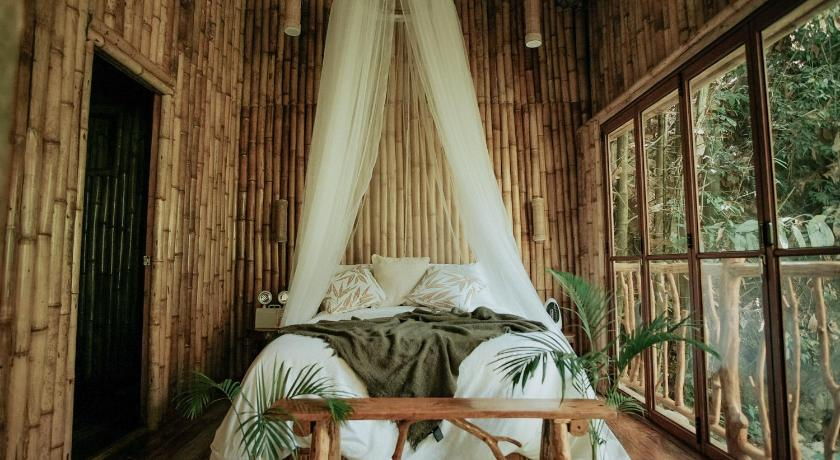 Image credit: Agoda
The bedrooms are equally aesthetic and comfortable, as they are furnished with decorative accessories such as hanging mosquito nets. and surrounded by plants. The smallest details of the treehouse are designed to blend with nature – even the bathtubs and sink are made of wood. 
Address: Barangay Hingatmonan, Balamban, 6041 Cebu
Website
---
Treehouse hotels in the Philippines
---
Life can be so stressful at times that all we need is a holiday tucked in the comforts of treehouse hotels like these. 
Fortunately, these humble, quaint buildings can be found on every major island in the Philippines, so wherever you are, the holiday escape you've been dreaming of is just one booking away.
Also check out:
---
Cover image adapted from: Booking.com, Airbnb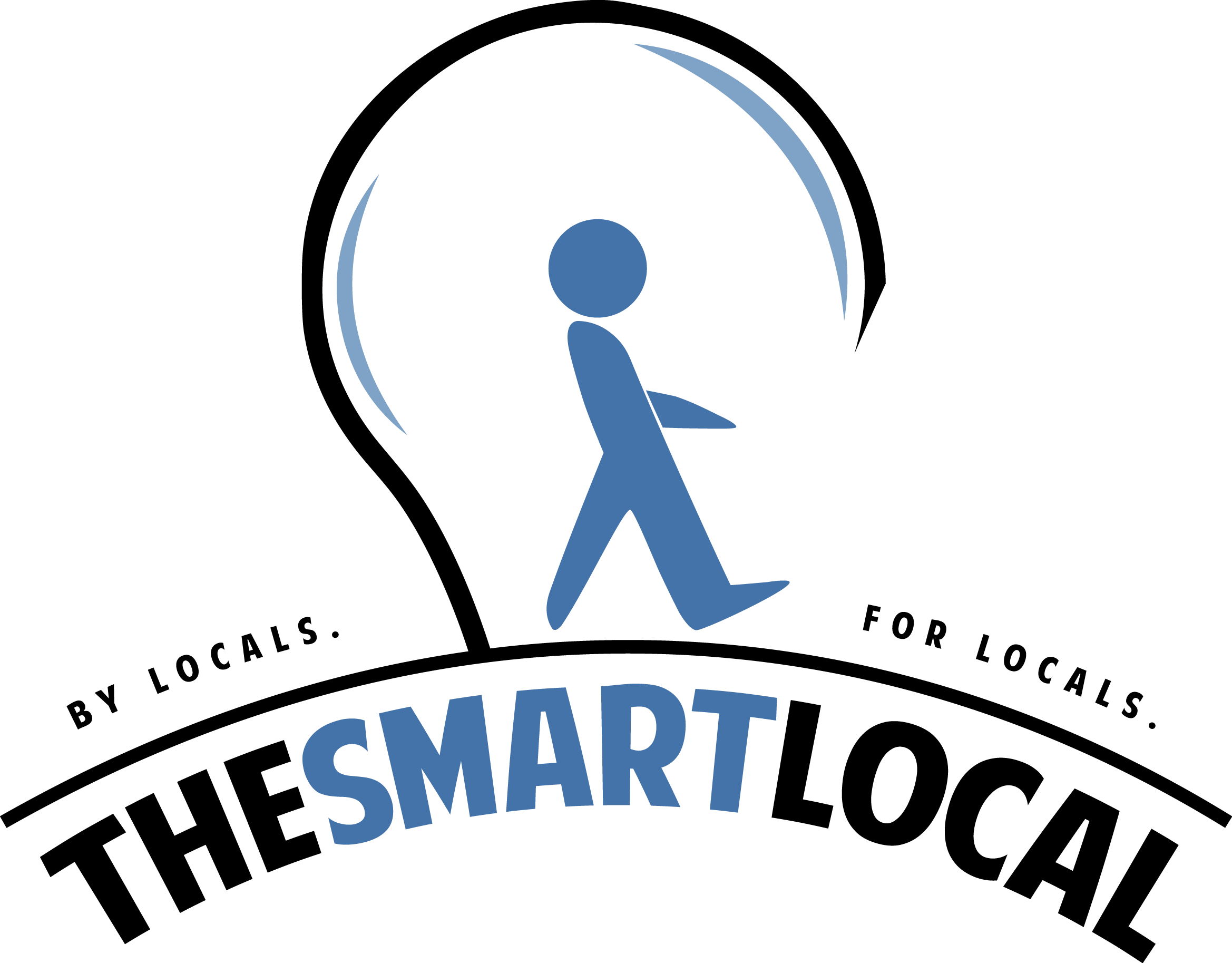 Drop us your email so you won't miss the latest news.