SIM Card Registration Act to turn into a law
---
While the rest of the country is busy weighing their options for the next Philippine president, a potentially dangerous act is on its way to becoming law. The SIM Card Registration Act, which will require people to register their SIM cards, is set to lapse into law on 4 March.
In the Philippines, if the president doesn't veto or reject a proposed law 30 days after it was passed by Congress, the act will automatically become law – as this act potentially will. President Rodrigo Duterte could also sign the bill before the deadline.
---
Created to prevent scams & discourage trolls
---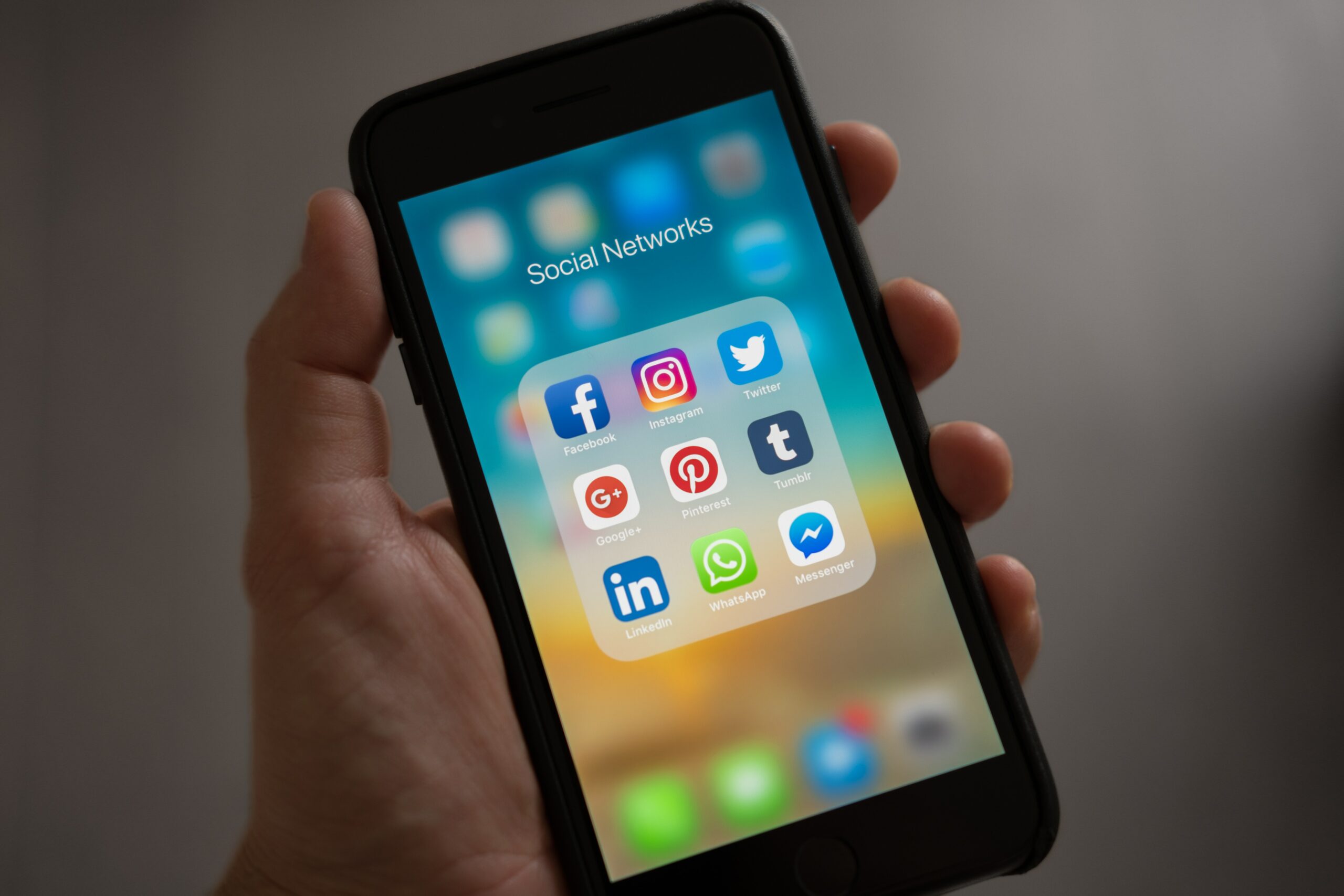 The bill will prohibit the use of fake names on social media platforms
Image credit: Tracy Le Blanc/Creative Commons
The SIM Card Registration Act was created by legislators to prevent online scams, phishing, and identity theft. According to Senate Minority Leader Franklin Drilon, the anonymity that social media allows also enables trolls and bullies.
Besides obligating people to register their SIM cards, the bill also mandates social media platforms, such as Facebook and Twitter, to require the phone numbers, real names, and, potentially, government identification details of anyone creating a new account.
---
Why SIM card registration could be dangerous
---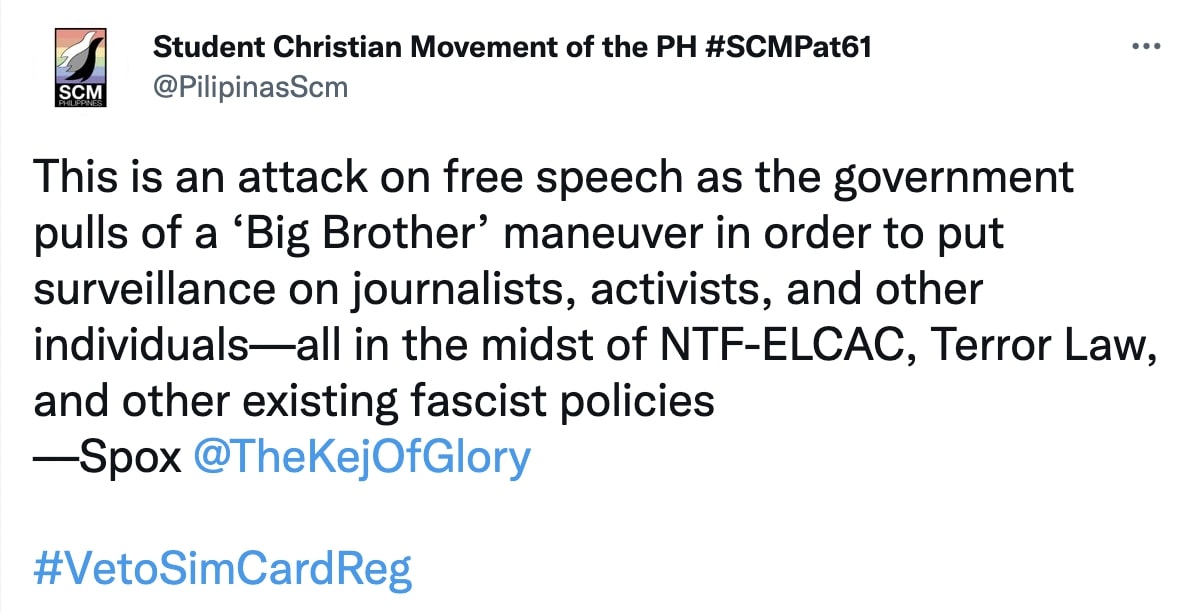 A statement from a Christian political student organization 
Image credit: @PilipinasScm
Many have commented that the provision of the bill that requires individuals to use their real names on social media makes the bill a threat to our privacy and freedom of speech.
According to concerned netizens under #VetoSIMCardReg on Twitter, the proposed law is a means of surveillance on journalists and activists. Victims of abuse and violence, witnesses, and whistleblowers will be put at risk of being identified.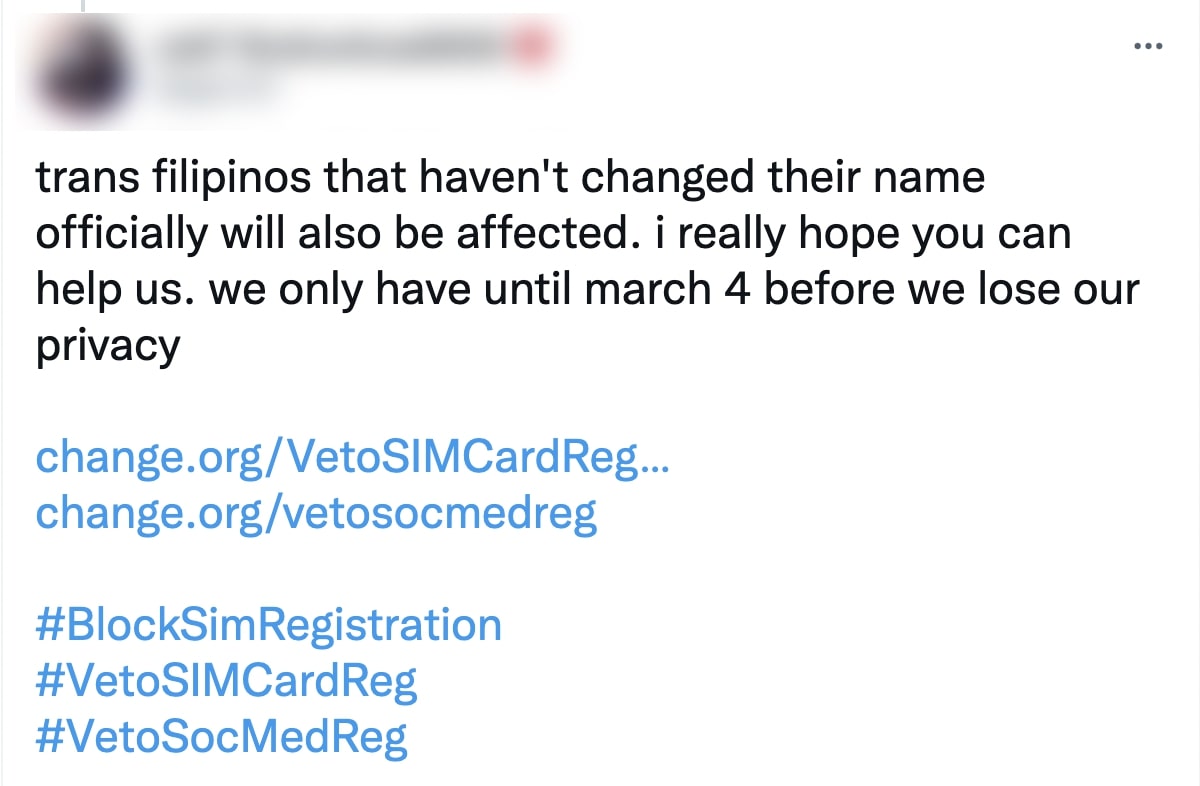 "[T]rans [F]ilipinos [who] haven't changed their name officially will also be affected," wrote a Twitter user.
Transgender Filipinos who have yet to change their names legally will also be forced to use their deadnames, or their names used before transition. Creatives and hobbyists – including individuals on stan Twitter – will no longer be able to use pen names and aliases.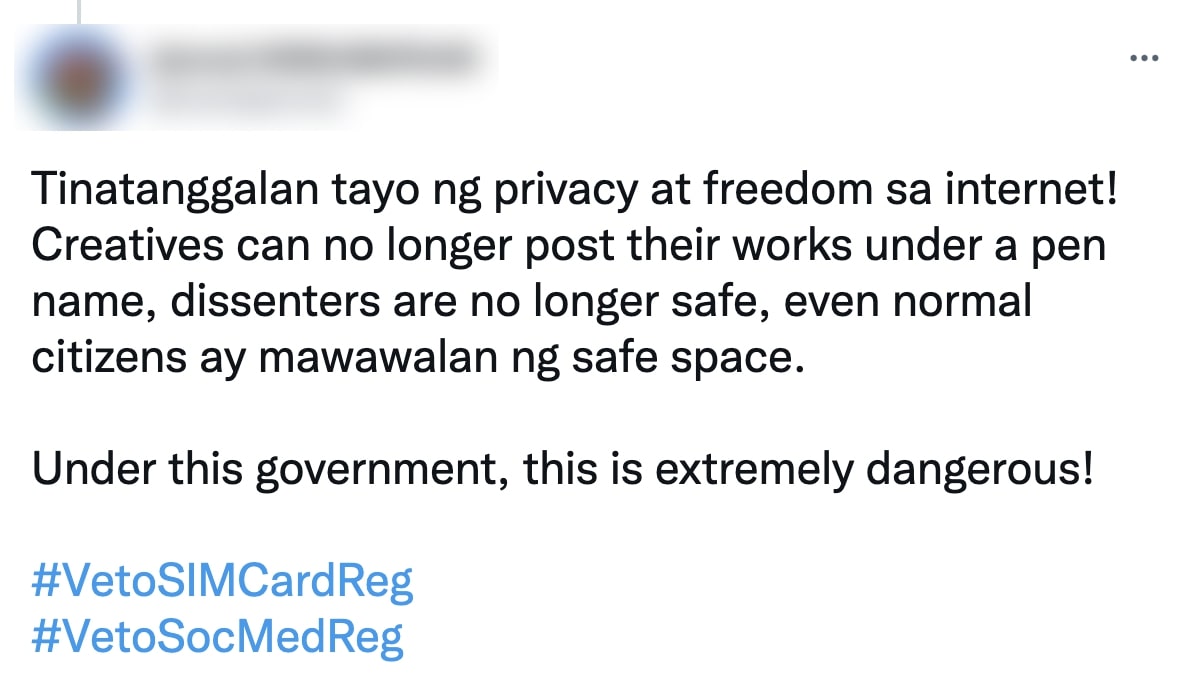 "They are removing our privacy and freedom on the internet! Creatives can no longer post their works under a pen name, dissenters are no longer safe, even normal citizens will lose their safe space," a tweet reads.
Those caught using aliases on social media will be charged with a minimum of six years in prison and a fine of up to P200,000. The SIM Card Registration Act cannot penalize existing social media accounts with fictitious names but everyone will be required to register their active SIM cards within a year of the law's passage.
The Smart Local Philippines has viewed the original tweets.
---
Five days left to veto the SIM Card Registration Act
---
Opposition groups continue to call for the veto of the SIM Card Registration Act, saying it has vague provisions. They say that the bill does not provide a clear definition of social media and criminalizes actions without a legal basis.
As of writing, President Duterte only has five days left to reject the bill, or it will lapse into law on 4 March.
Also check out:
---
Cover image adapted from: Yugatech 
Get more stories like this!
Drop us your email so you won't miss the latest news.