Ilocano foods you have to try
---
If you're a visiting foodie in the Philippines, locals would tell you that you have to start your foodie adventure up in the northern part of the Philippines – the Ilocos region. Ilocano foods, after all, make up one of the most distinct regional cuisines in the country, ranging from tasty appetizers made of a pig's brain and head to desserts with rice and coconut milk.
To complete your foodie adventure up in the north, here's a guide to 15 Ilocano foods you need to try ASAP.
---
– Meat-based Ilocano foods –
---
1. Bagnet – deep fried pork belly cooked for two to three hours
---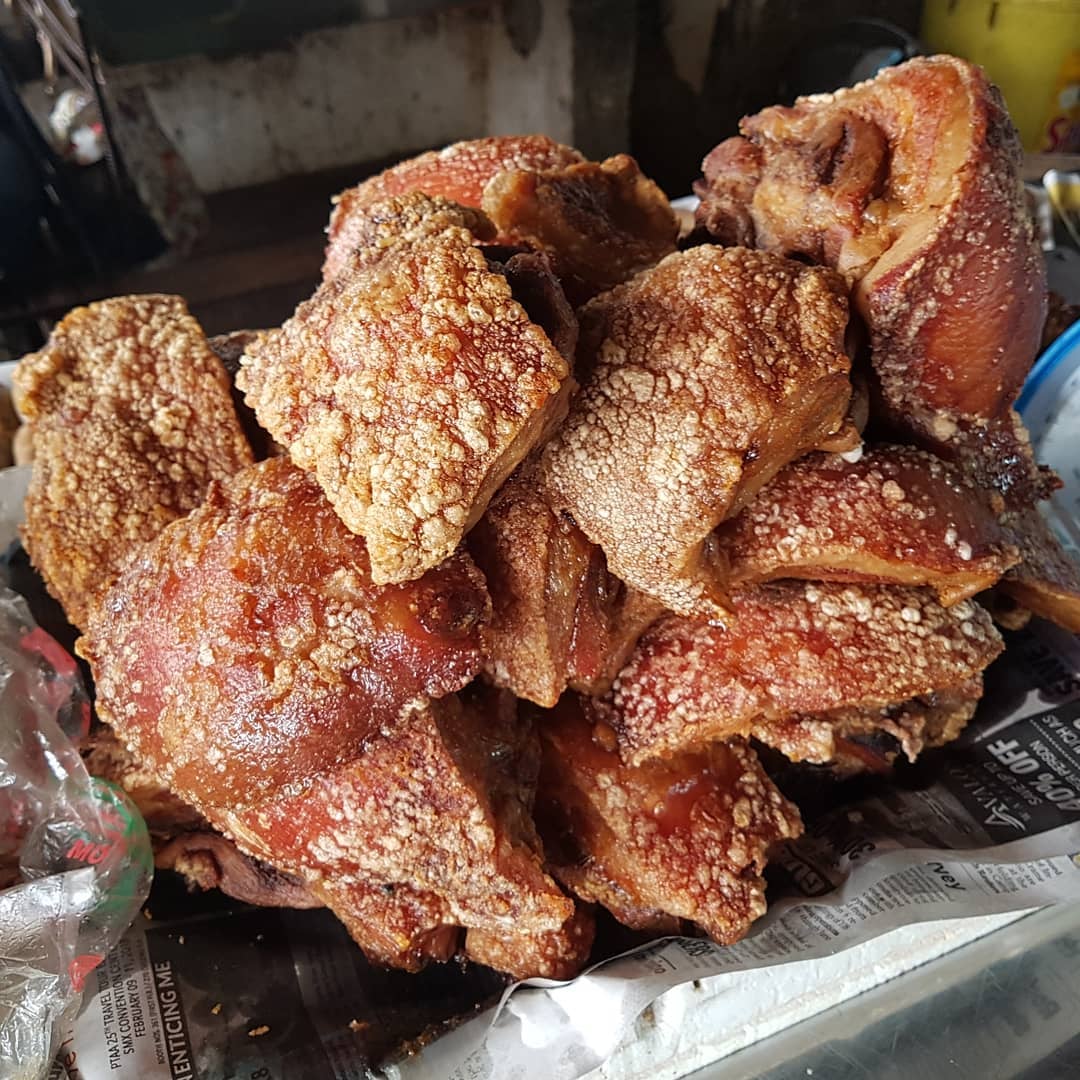 Image credit: @wileyouweresleeping via Instagram
There's a reason why bagnet, a deep-fried slab of pork belly, is so popular not just in Ilocos but throughout the Philippines. For many, it reigns supreme among all fried pork belly variants. It's deep-fried for two to three hours on low fire to achieve an ultimate golden brown crispiness, compared to lechon kawali which is only cooked for a few minutes.
It's best to eat bagnet by dipping it into a sauce of sliced tomatoes (kamatis), Ilocos bagoong (fermented fish or shrimp paste), and onion (lasona) – also known as the acronym KBL.
You can savor this meat in various restaurants in the north, such as Hidden Garden Lilong and Lilang Restaurant in Brgy. Bulala, Vigan City, Ilocos Sur.
---
2. Vigan longganisa- a unique, salty variant of longganisa
---

Image credit: @atropicaltreats via Instagram
Ask a local what the most distinct longganisa variant in the Philippines is- and Vigan's longganisa would probably be on top of his mind. Unlike most longganisa that's sweeter in taste, Vigan longganisa is a stuffed pork meat with an addictive salty and garlicky flavor. The dish is such a point of pride that locals in Vigan even dedicated a festival to the dish- the Longganisa Festival which is usually held in January.
You can find plenty of stalls at the public market selling this native longganisa when you pay a visit to the historic city of Vigan.
---
– Ilocos regional food with unique flavors –
---
3. Papaitan – consisting of the strangest goat or beef parts
---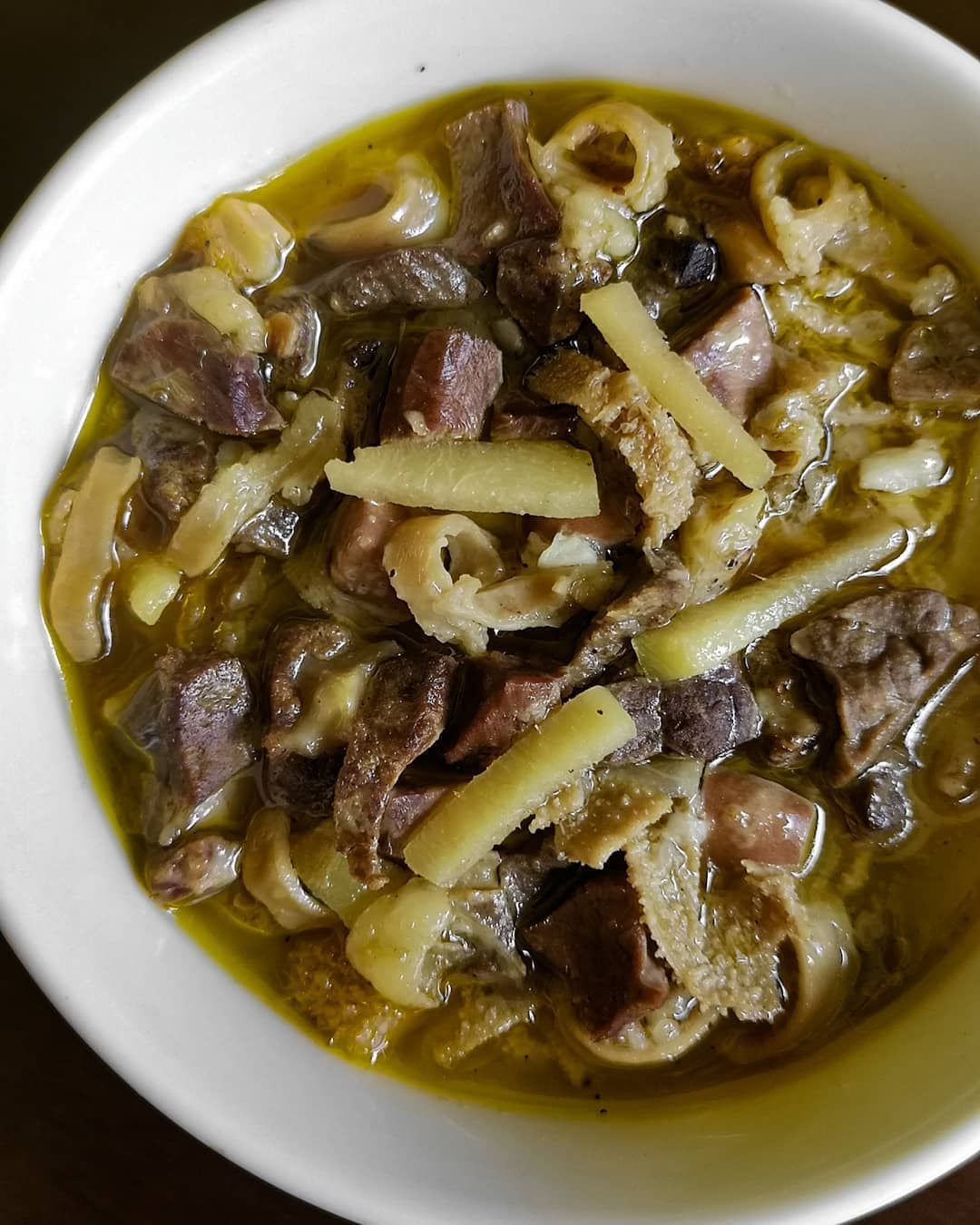 Image credit: @_buzz_lightyear via Instagram
Papaitan may not be easy on a foreign palate, as it consists of the strangest goat or beef parts such as tripe, liver, kidney, and intestine dipped in dark-green-to-yellowish-brown bile soup. Its name came from the word "pait" – which means "bitterness" in English.
But don't be intimidated by the taste of this quintessential Ilocano dish – you can balance out the subtly bitter taste of bile by adding zesty and salty ginger, garlic, and onions, or a squirt of calamansi into your bowl of papaitan.
Papaitan is every man's favorite in the Ilocos region, so you can find it anywhere, in carinderias (small food stalls) or your favorite Ilocano restaurant.
---
4. Dinakdakan – grilled and sliced pig parts in mashed pig brain cream
---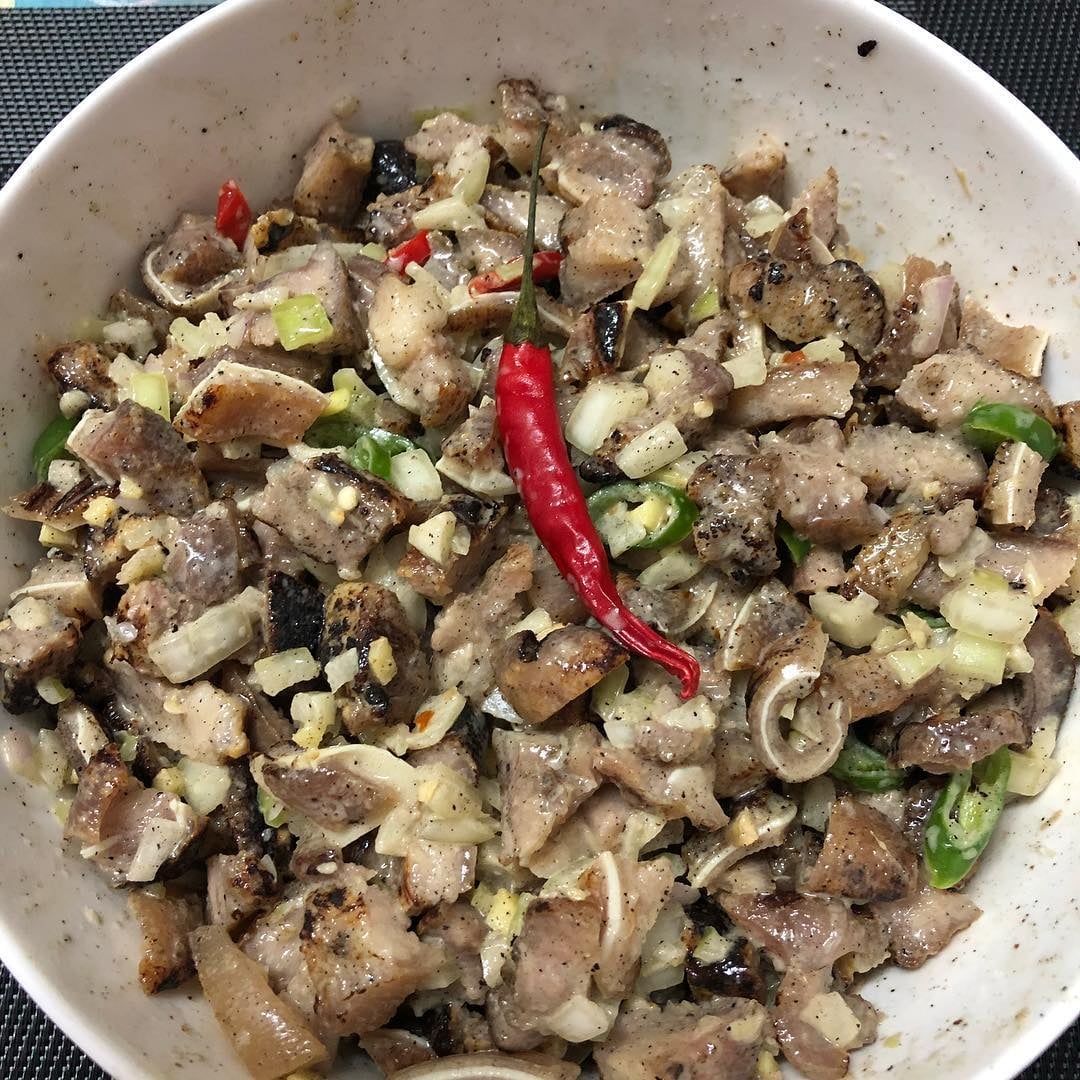 Image credit: @missghrazie via Instagram
Filipinos love their pulutan (snacks to go with drinks), and Ilocanos love to eat dinakdakan. It's the Ilocano version of the Kapampangans' sisig, and comprises a mishmash of grilled and sliced pig parts such as face, ears, liver, and tongue in a sea of calamansi dressing layered with ginger, onions, and chili.
The mashed pig brain used as a sauce completes this dish – and actually hints at how old the recipe of dinakdakan is. Food historians say this combo might actually date back to the Austronesian era in the Philippines.
It's a popular Ilocano staple, so you can easily find it in restaurants in the region such as Tito Bert Farm Restaurant in Santo Domingo, Ilocos Sur.
---
5. Dinardaraan (Dinuguan) – pig parts dipped in blood sauce
---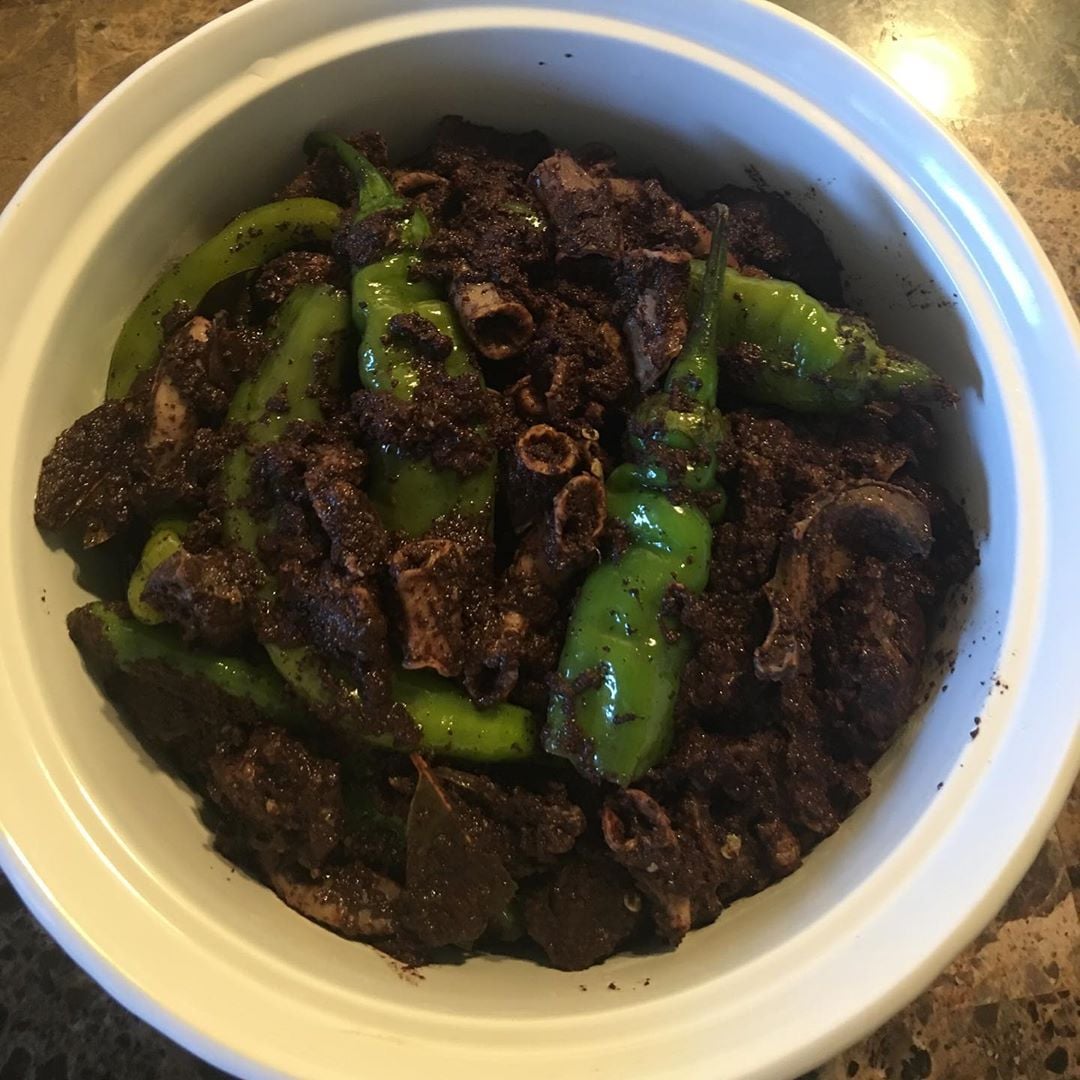 Image credit: @pascuasheryll via Instagram
Dinardaraan – or Ilocanos' version of dinuguan (savory pork meat or organ stew) – might not be for those who cringe at blood, but this dish has less blood sauce, is heavier on pig innard slices, and is actually a creamy mixture similar to meat doused in chocolate.
It's best to pair this dish with rice, to add another layer of texture to your palate's experience. Salmon's Pansitan Pasuquin serves dinardaraan among other Ilocano classics.
---
6. Igado – a mixture of pig innards and tenderloin with liver as the main ingredient
---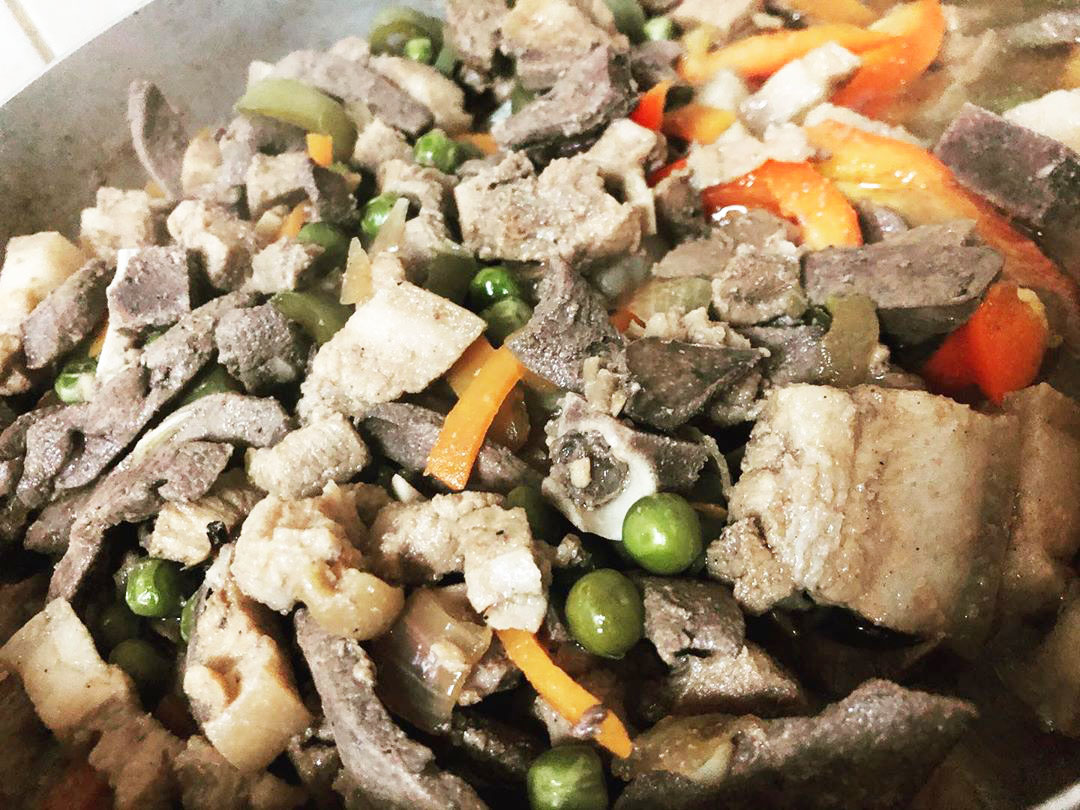 Image credit: @tine1415 via Instagram
Not everyone is a fan of the culinary variants of liver, but for those of us who are, the Ilocanos' igado is a sure treat for our palate. It's a mixture of pig innards and tenderloin with liver slices soaked in a vinegar-soy sauce mixture that gives this dish a unique salty and tangy taste. Green peas and bell pepper add a layer to this dish, making it richer in texture.
After you hit up the Paoay Sand Dunes or La Paz Sand Dunes, you can find igado at Cuisine de Iloco, Laoag City.
---
7. Kilawin – raw or grilled meat seasoned with vinegar and spices
---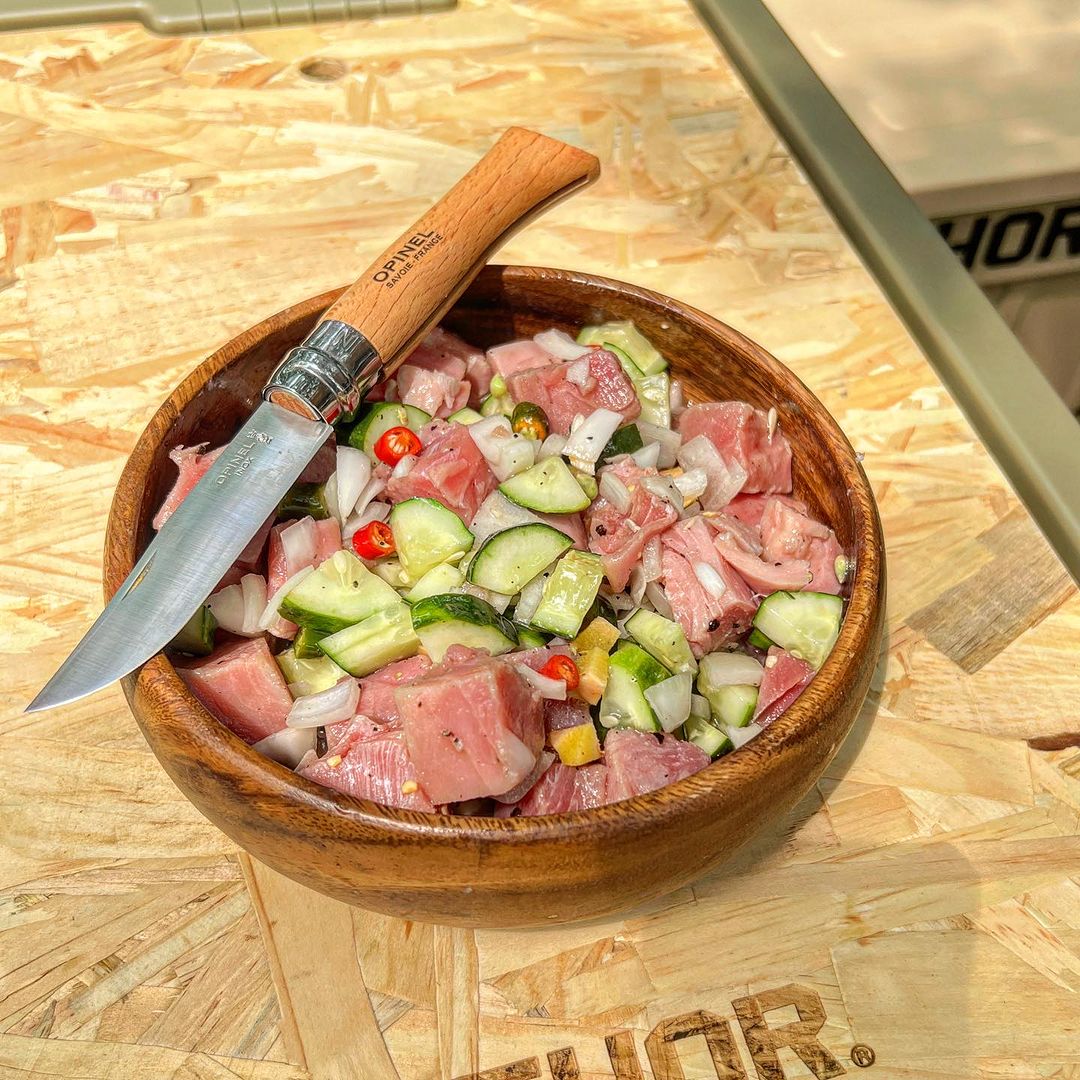 Image credit: @naimbag_nga_aldaw via Instagram
If you're going to Ilocos to attend a celebration, make it a point to taste kilawin. It's a dish best paired with hard alcoholic drinks.
It's raw fish or beef, or slightly grilled pork and goat meat flavored with vinegar, calamansi juice, onion, salt, and pepper, with the option to add chilies. Papaitan or beef bile can also be added to beef kilawin for a bitter kick.
In addition to fish and meat options, there's also a variant of kilawin known as "jumping salad". This one is made with live freshwater shrimp that quite literally leap onto your plate as they're presented.
You may find this Ilocano dish in bars, restaurants, and carinderias. For a scenic beach drinking sesh, try it at Coast Call Kitchen Bar in La Union.
---
– Ilocano dessert foods –
---
8. Tupig – a favorite pasalubong from trips to Ilocos
---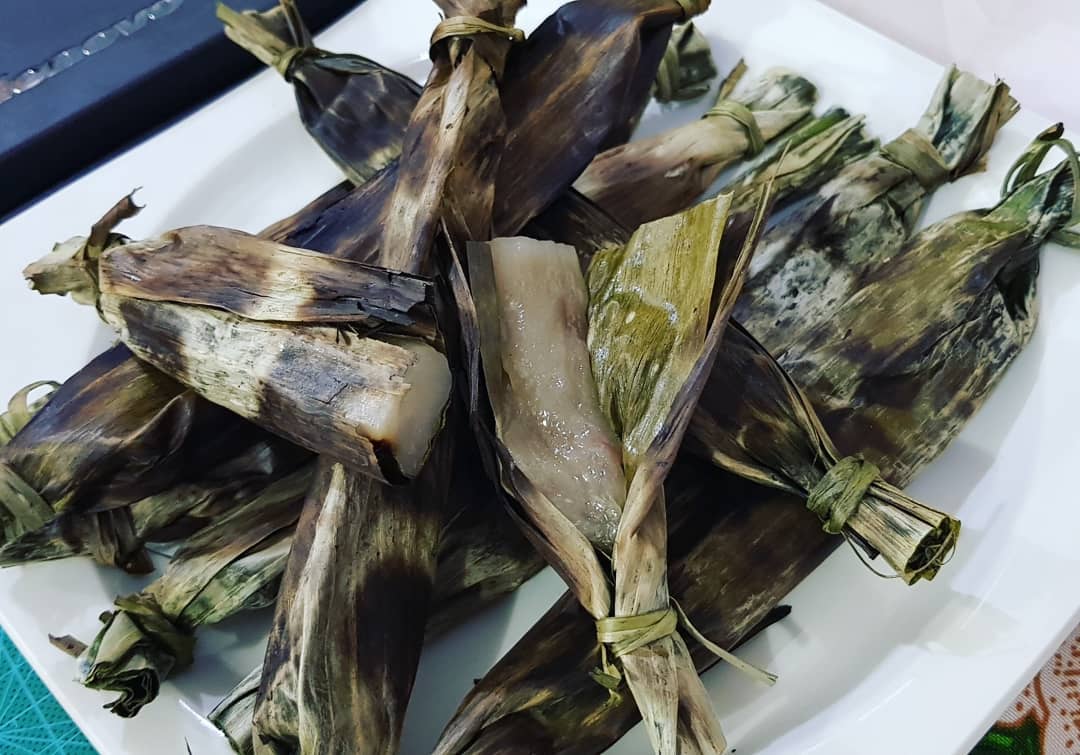 Image credit: @lynsoy1 via Instagram
Filipinos love their sweets during long rides or byahe to and from their provinces. If Laguna has Buko Pie and Davao has their durian desserts, the Ilocanos are proud of their tupig, a mix of wrapped malagkit or glutinous rice and coconut strips cooked over charcoal.
It may not have the opulent appeal of other desserts, but this humble sweet is actually addictive, which explains why Filipinos love to consume it in succession and to give it to their kamag-anaks as pasalubong from their trips in the Ilocos region.
It's usually sold in public streets throughout the Ilocos region by walking vendors – just park alongside a corner of a public market and you're sure to be swarmed by them holding their packs of tupig.
Also check out some of our favorite Vigan dessert places here:
---
9. Puto Calasiao – small, steamed white rice cakes
---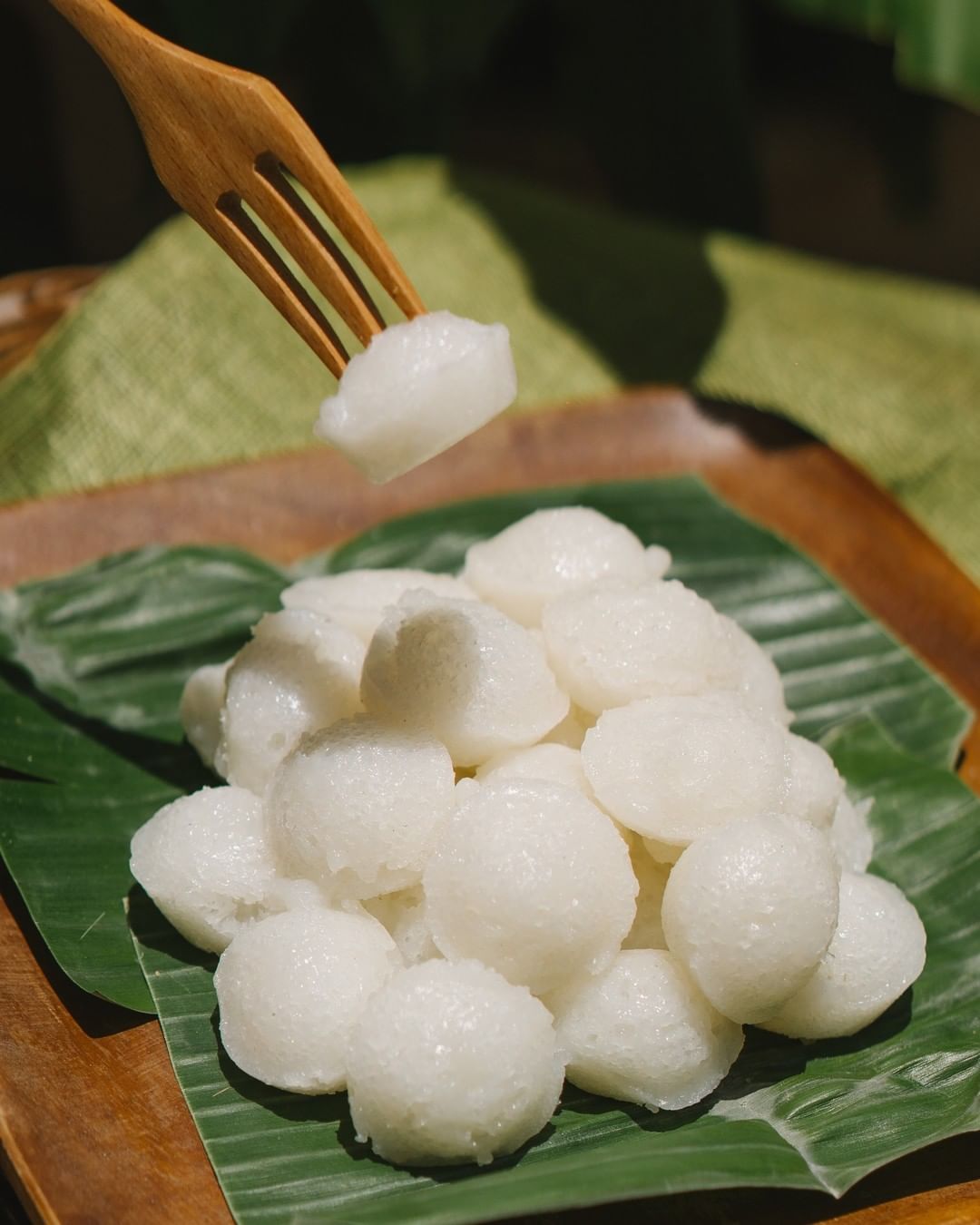 Image credit: @decenaputo via Instagram
For a healthy road trip snack, grab yourself some puto Calasiao.
These are small, steamed white rice cakes which can have different flavors such from classic, ube, and pandan to melon and strawberry. You can also find puto Calasiao topped with a slice of cheese which perfectly balances its delicate sweet flavor.
These goodies are sold in markets within the Ilocos region, but it originates from Calasiao, Pangasinan.
---
10. Tinubong – rice cake inside a piece of bamboo
---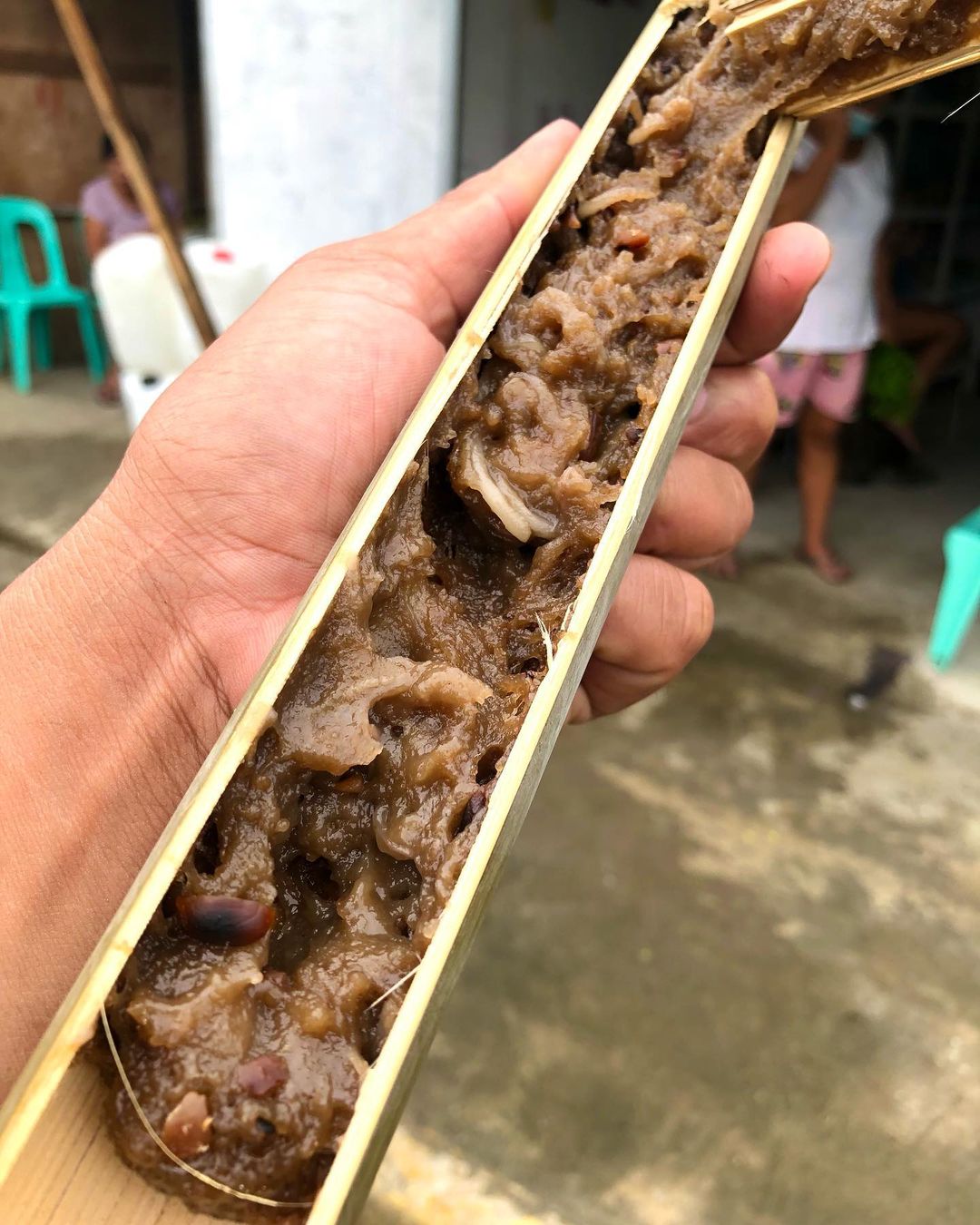 Image credit: @mr.barriotik via Instagram
Tinubong is perhaps the most unique rice cake Ilocos has to offer. It's cooked inside a young bamboo stem, and you need to open the bamboo to enjoy it. Glutinous rice flour, coconut milk, coconut strips, and sugar and mixed and stuffed inside the bamboo which is then grilled.
This unique Ilocano delicacy is usually made in January to give thanks for a good harvest. But you may also find them in markets or pasalubong centers throughout the year.
Every May, the town of Tagudin in Ilocos Sur celebrates tinubong, as well as other delicacies kankanen (sweet, sticky rice cake) and lubi-lubi (mashed cassava with coconut shavings) during their town fiesta.
---
– Vegetable dishes –
---
11. Dinengdeng – fresh vegetables in bagoong-based soup
---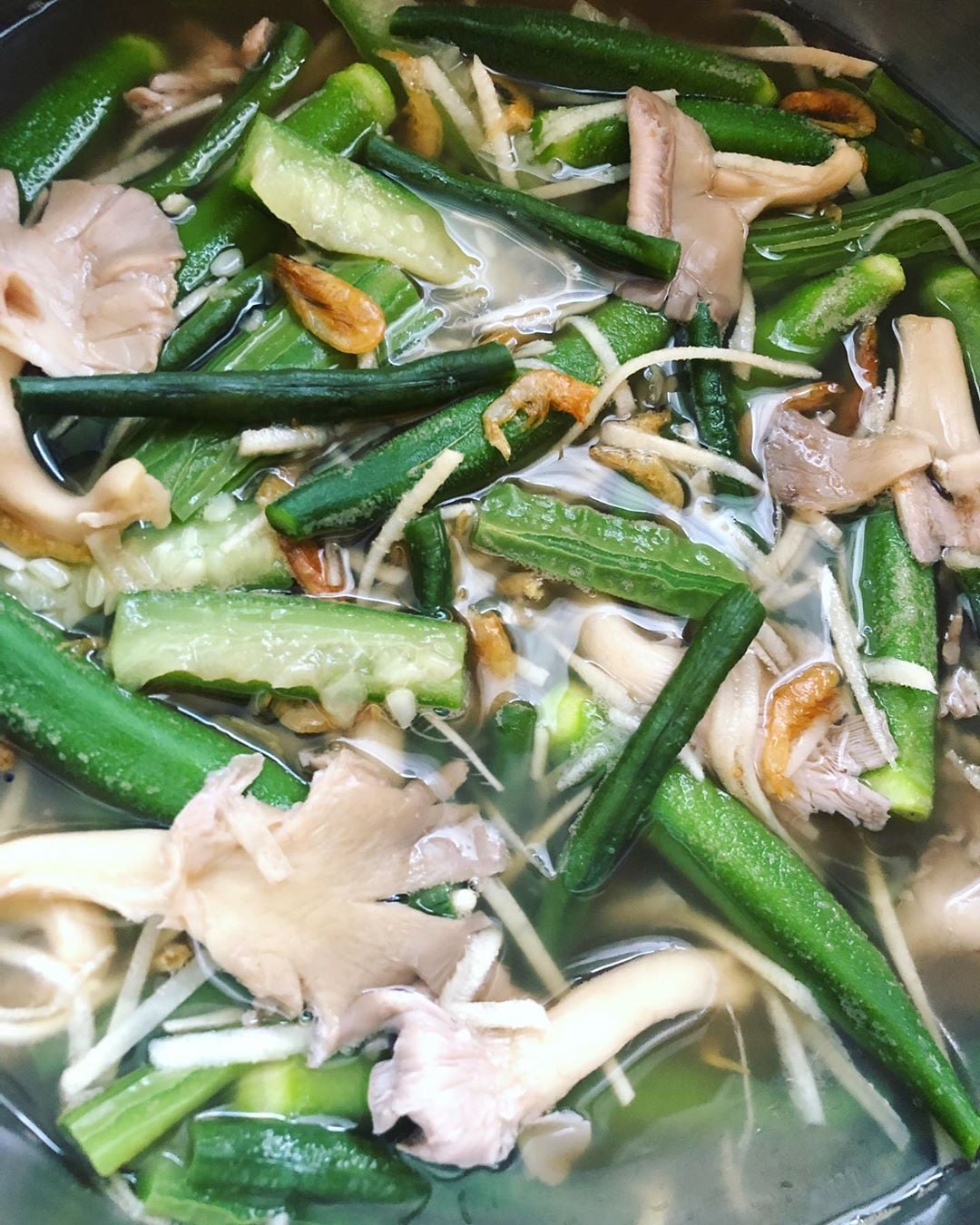 Image credit: @happybellyhappynelly via Instagram
A creative mix of veggies, dinengdeng is a rich mix of greens such as jute leaves, saluyot, eggplant, malunggay, pods, and okra in water boiled with bagoong. No wonder this was a favorite of former Philippine President Ferdinand Marcos, an Ilocano himself, according to Chef Sandy Daza.
Amidst the mountainous landscape of Baguio, you can enjoy the dish at Gudotz Fudhaus known for its wide variety of home-cooked dishes, including dinengdeng.
---
12. Pokpoklo – favorite Ilocano appetizer eaten raw
---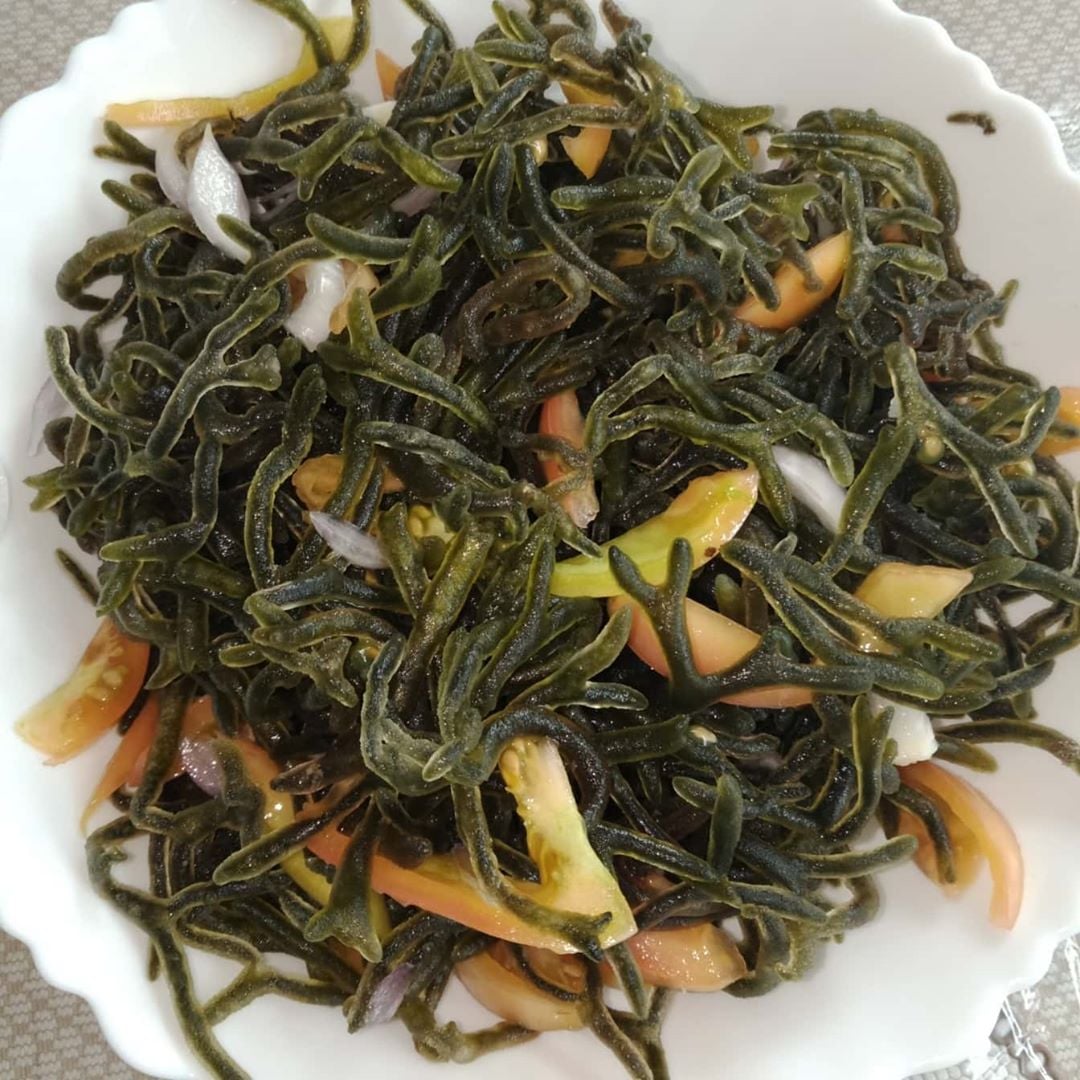 Image credit: @klengfayl via Instagram
A favorite appetizer – pokpoklo or seaweed – reflects how Ilocanos are equally sailors of the sea as they are the farmers of their land. After it is rinsed with water to get rid of any particles of sand clinging onto its slimy morsels, pokpoklo can be eaten raw, fresh from the saltiness of the sea.
Usually, Ilocanos add slices of tomatoes and squirts of calamansi and vinegar to add flavor to this healthy seaweed, known to have anti-cancer benefits.
---
13. Pinakbet – a quintessential Ilocano vegetable dish
---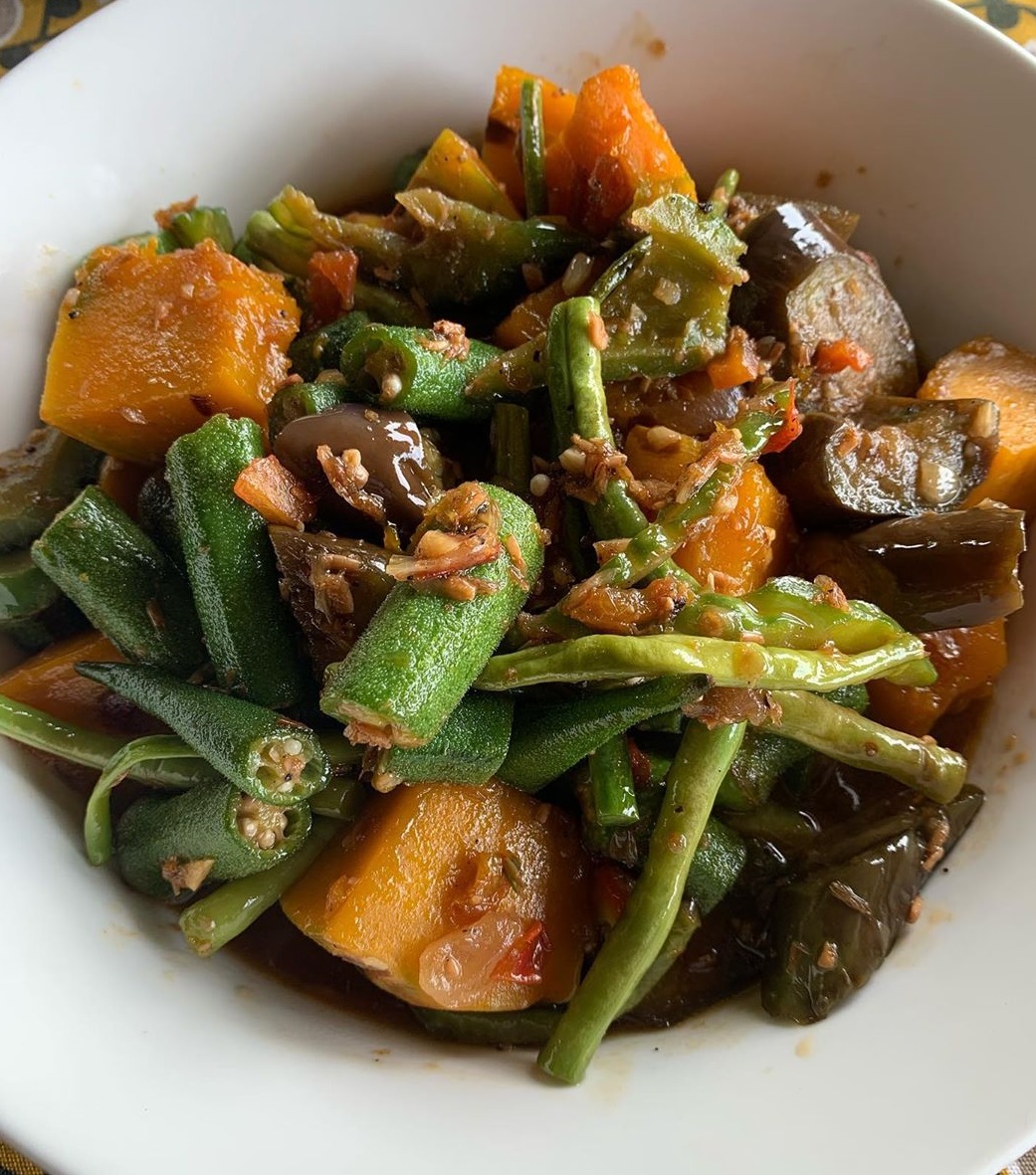 Image credit: @cheloskitchen via Instagram
Perhaps, if there's a quintessential vegetable dish representative of the Ilocos region as well as the Philippines, it'll be pinakbet. Mention a vegetable from the Bahay Kubo rhyme and it's probably included in this dish: sitaw, batawa, patani… anyone?
A combination of vegetables cooked until they are dried, this dish is then seasoned with the Ilocos region's favorite seasoning, bagoong. Sometimes, slices of pork are added to balance the all-green ingredients of this dish.
The result is a note-perfect combination of the bagoong and vegetables, tasting as if the bagoong were part of the vegetables themselves.
Located on a lush, green farm, The Pinakbet Farm in Ilocos Sur is a restaurant you should visit when you're craving the dish.
---
14. Poqui-poqui – tortang talong with a more flavorful twist
---

Image credit: @ephraimmasanque via Instagram
If tortang talong is your ultimate Filipino comfort food, put poqui-poqui on your list of must-try Ilocano foods.
Just like the well-loved Filipino dish, poqui-poqui's base is grilled eggplant. But what makes it different is that it's then mashed and sauteed in onions, garlic, tomatoes, and eggs. And unlike tortang talong, this dish doesn't need ketchup as it's already packed with flavor, but you're welcome to add some to your liking.
The dish's amusing name originated from Hawaii where a lot of Ilocanos migrated in the 80s. It comes from the Hawaiian word "poki" ( to slice), which is also where the Hawaiian dish poke got its name.
You can find poqui-poqui at many restaurants in Ilocos, such as Cuisine de Iloco in Laoag City and Bistro Candon by Chef Nic in Candon City.
---
15. Ilocos empanada – delicious and balanced snack
---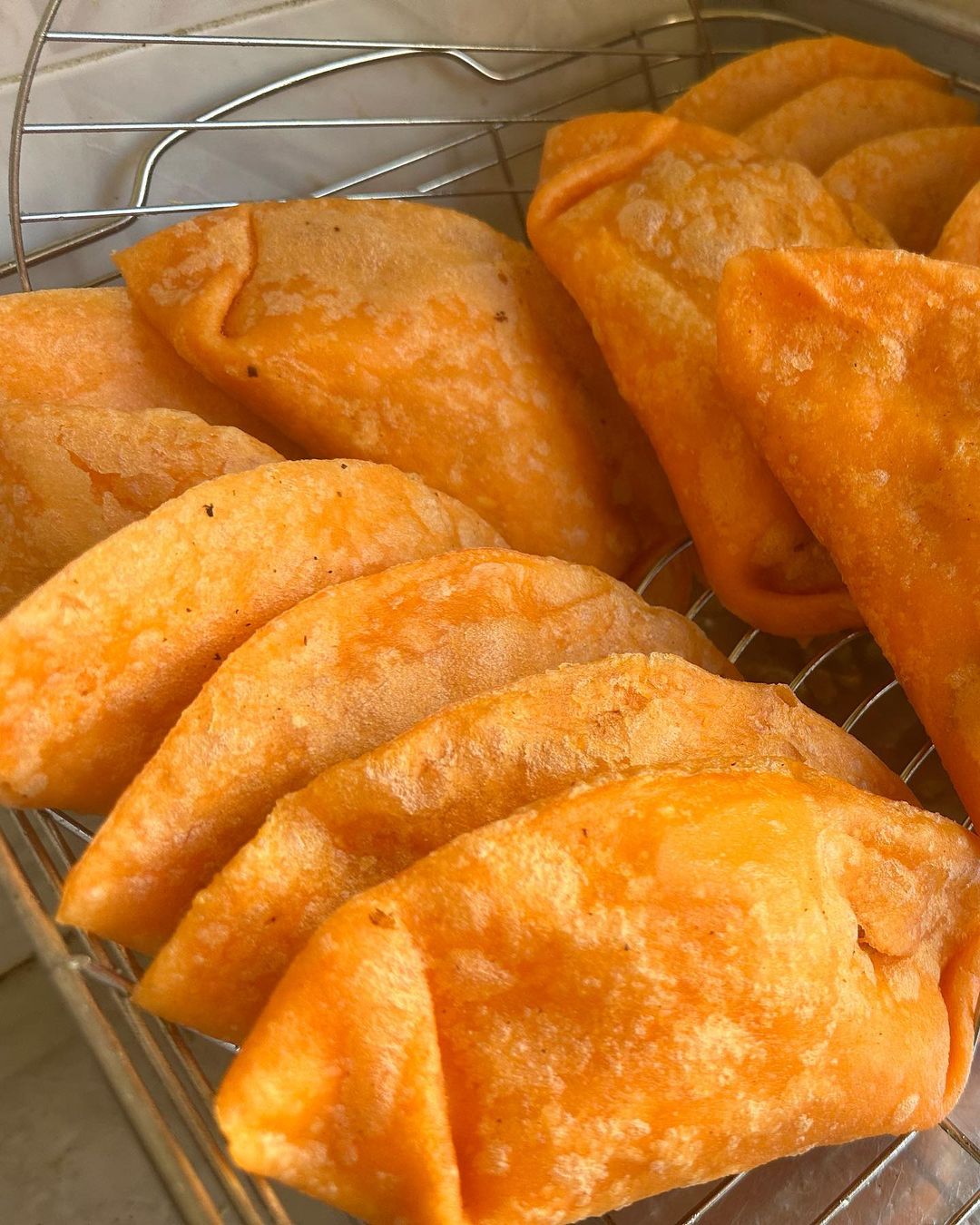 Image credit: @infin8ilocosempanada via Instagram
Ilocos empanada is a Spanish influenced snack. But instead of ground beef in flaky dough, it's made with shredded green papaya, split mung beans, egg, and longganisa enclosed in a crispy orange flour shell.
This savory, vegetable-based snack is best enjoyed with spiced vinegar with chopped onions.
You can find a cluster of Ilocos empanada stalls in Vigan City, Ilocos Sur and in Batac, Ilocos Norte. The empanadas from these spots differ slightly so you'll have to taste for yourself to know if you're Team Vigan or Team Batac.
---
Must-try Ilocano foods
---
Some say that Ilocanos are some of the most frugal people – as shown by their practicality and creativity with their cuisines. But these dishes draw out the culinary potential of every part of a pig and every vegetable mix. Ultimately, they craft some of the most delicious cuisines representative not just of their region, but of the Philippines as well.
Prepare for your Ilocos trip by learning these basic Ilocano phrases. Or if you need a couple more suggestions for your itinerary, check out these attractions in Ilocos Norte and in Vigan City, Ilocos Sur.
---
Cover image adapted from: @_buzz_lightyear via Instagram, @atropicaltreats via Instagram, @cheloskitchen via Instagram
Updated by Kim Shelly Tan in August 2023.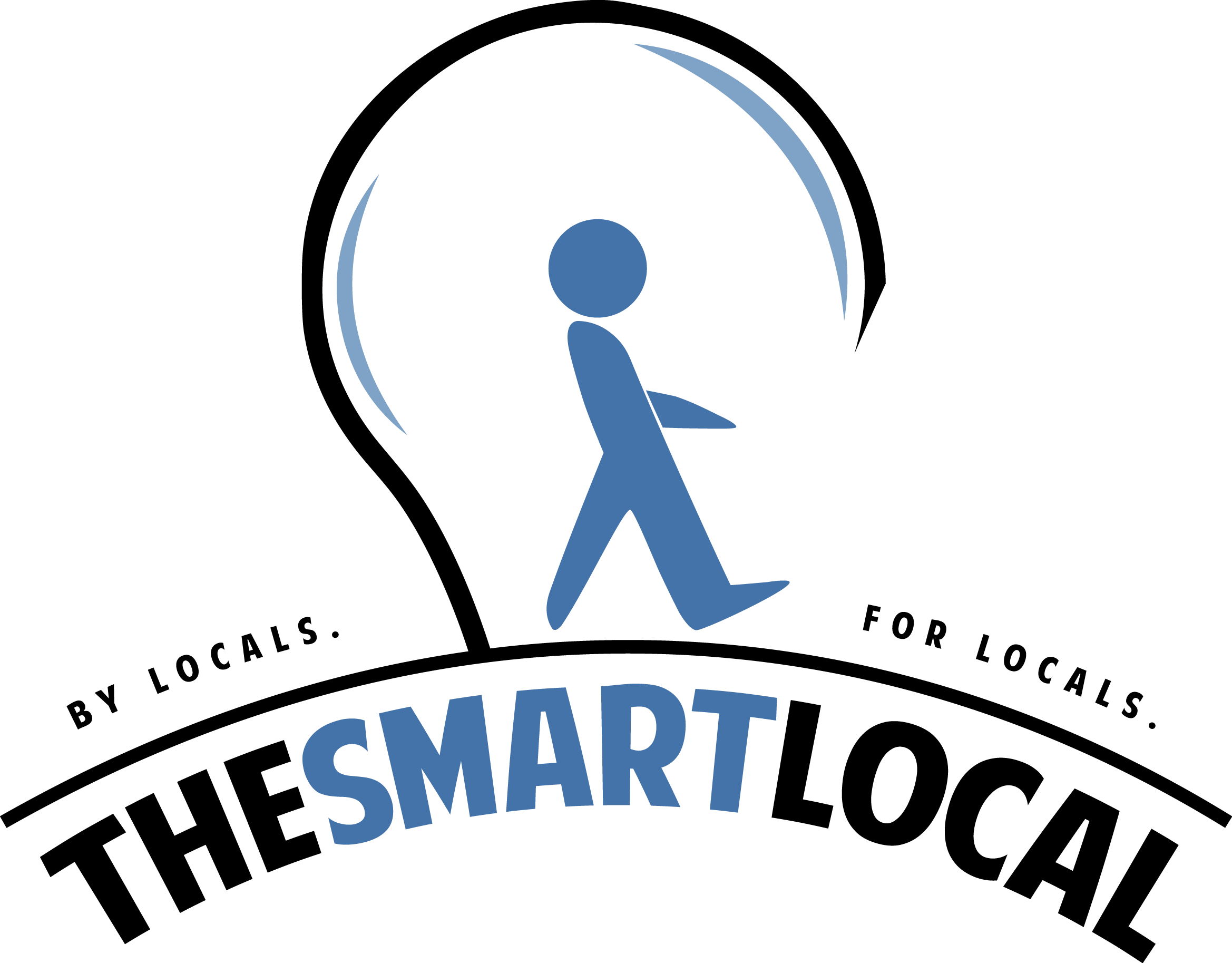 Drop us your email so you won't miss the latest news.