Foam Coffee in Baguio City
---
Baguio City has many iconic gastronomic spots such and food such as Vizco's Cake Shop and its strawberry shortcake. But if you're looking for a new place to go on your next visit, check out Foam Coffee near Burnham Park.
Foam Cafe is a recently opened minimalist cafe serving a variety of beverages – including non-coffee and non-dairy ones – and premium doughnuts that come in flavors that tickle the Filipino palate.
---
Minimalist cafe
---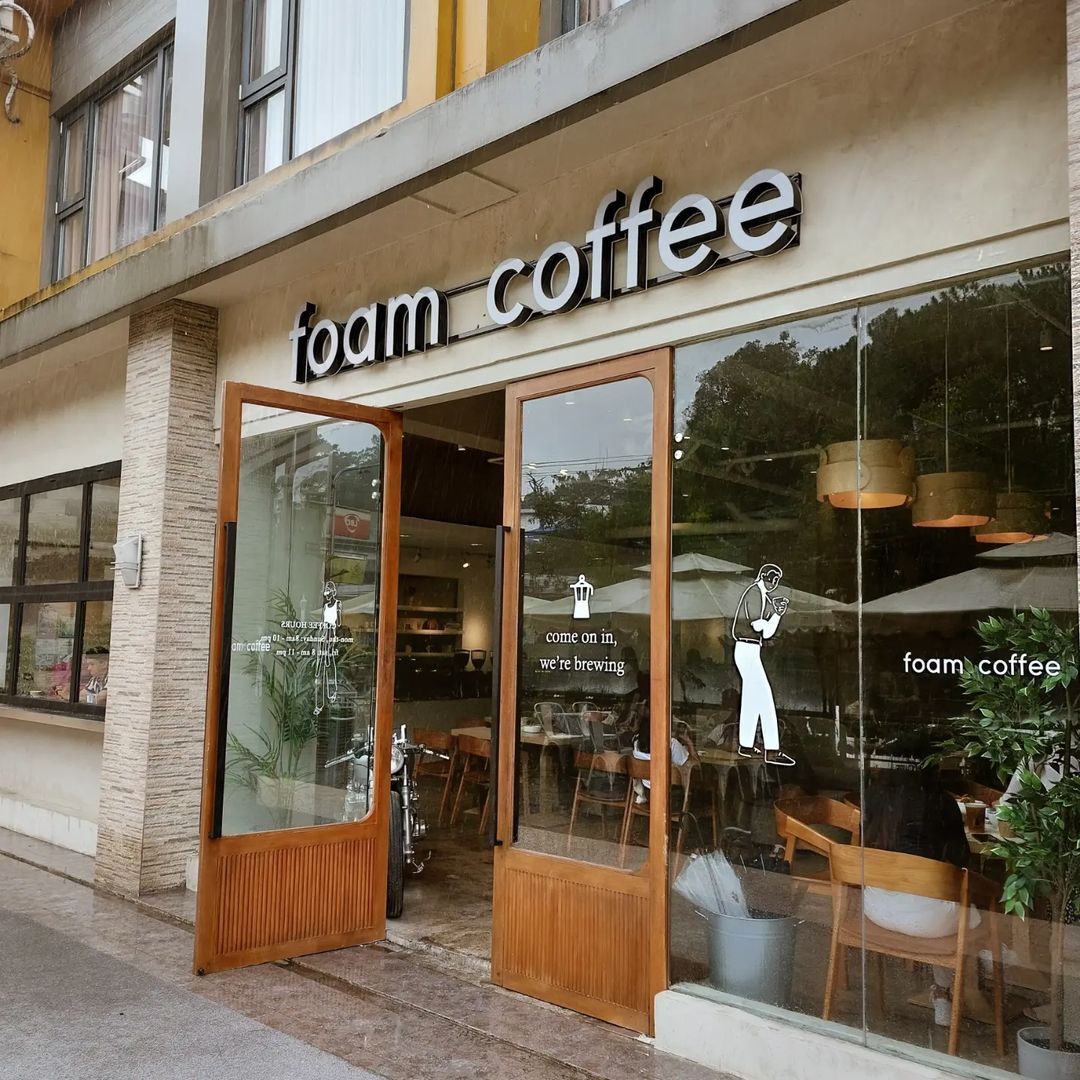 Foam Coffee's storefront.
Image credit: @matcha_2wi
Starting from the outside, you'll find Foam Coffee reminiscent of newer, minimalist East Asian cafes, with vinyl stickers with doodles of people on its huge windows and doors.
Modern industrial designs make up its interiors, with white and cement walls and sleek wooden furniture.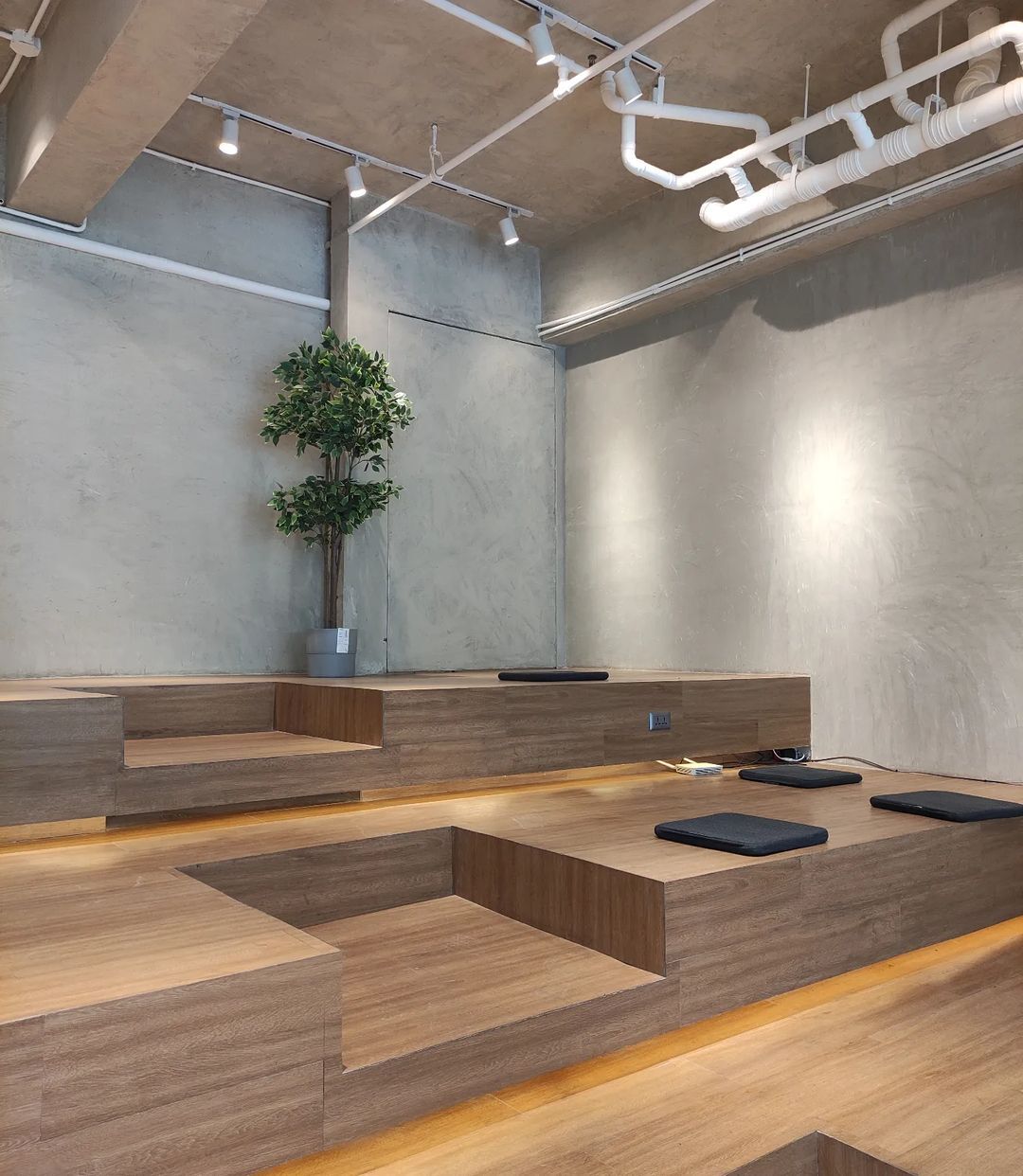 Ampitheater-style seating.
Image credit: @coffeetalks.ph
The cafe also combines modern and traditional interior elements. It has an ampitheater-style and a traditional Japanese seating area. There are also regular tables and al fresco seating available for those who want to focus on enjoying their drinks and food.
---
Non-dairy drinks
---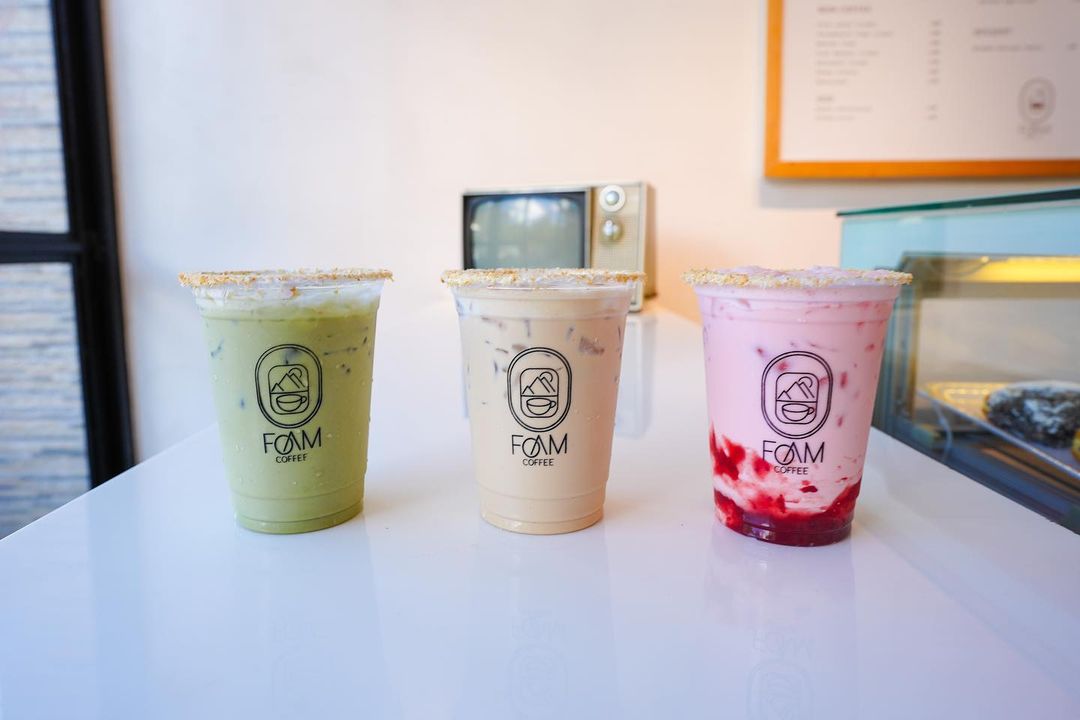 Matcha Coco, coconut latte, and Pink Coco.
Image credit: @foamcoffeeph
While most cafes in the area have limited non-dairy offerings, Foam Coffee offers a variety.
They have coconut milk-based, non-dairy drinks such as coconut latte, Matcha Coco, and Pink Coco (P160, ~USD2.84 each) which has the strawberries Benguet is known for.
For unapologetic dairy drinkers, the cafe also serves flavored coffee such as dirty horchata and dalgona (P150, ~USD2.67 each). There are also the classic coffee offerings including Americano, cappucino, and macchiato drinks (from P90, ~USD1.60).
---
Premium, artisanal doughnuts
---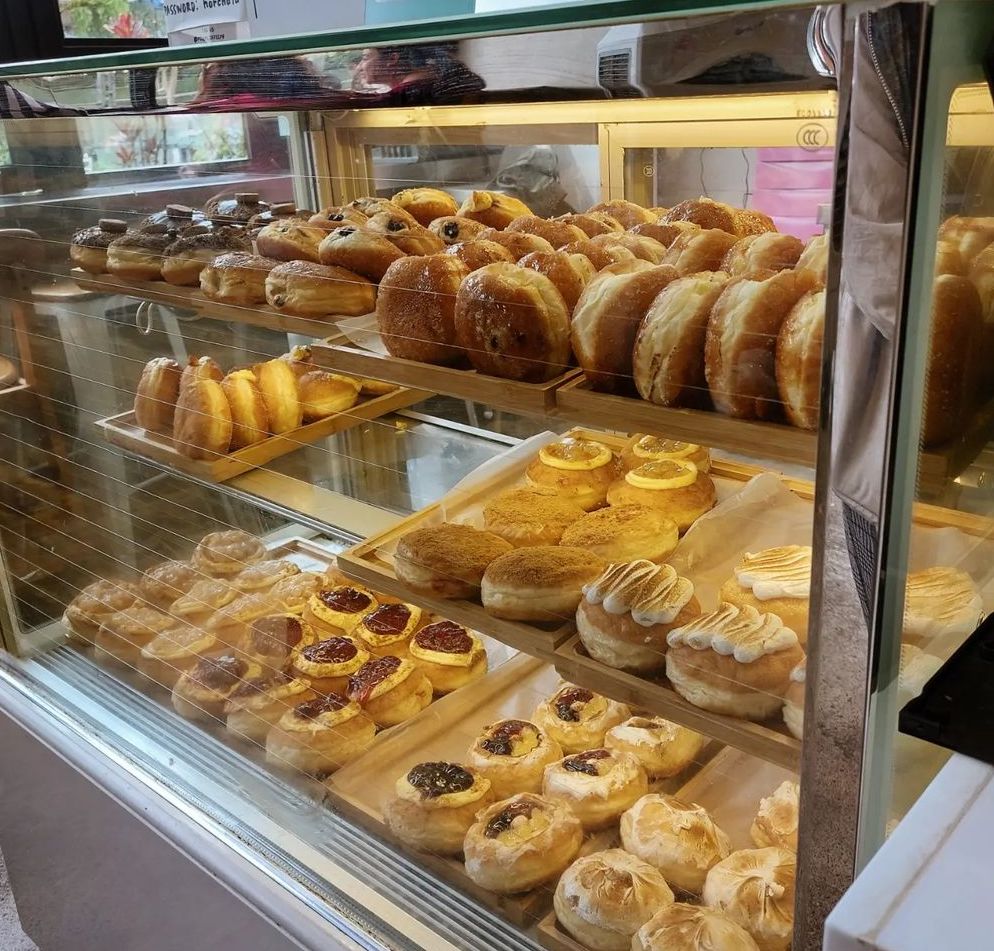 Glazed Artisan doughnuts.
Image adapted from: @matcha_2wi
Foam Coffee also sells premium doughnuts (P60, ~USD1.07) from the local shop Glazed Artisan Doughnuts to pair with your beverage. These come in a wide variety of flavors such as creme brulee, peach mango pie, and milk tea.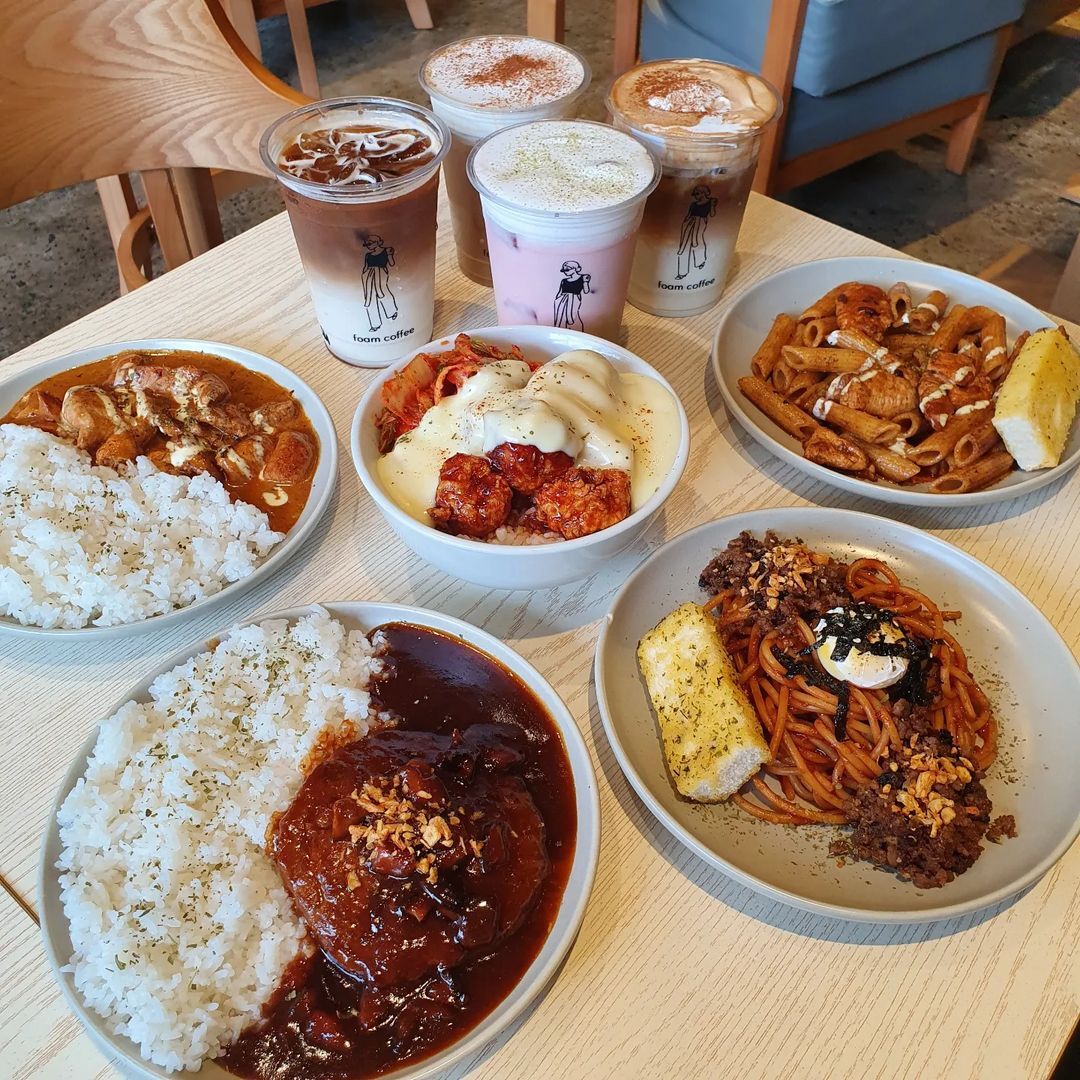 Some of the dishes served at the cafe.
Image credit: @rhoms.noms
Besides doughnuts, the cafe also serves Asian dishes, including bibimbap (Korean mixed rice), orange chicken, and omurice (Japanese omelette rice) (from P180, ~USD3.20). If you particularly love spicy food, get a side of spicy cheese buldak chicken fingers (P180, ~USD3.20).
---
Available for delivery
---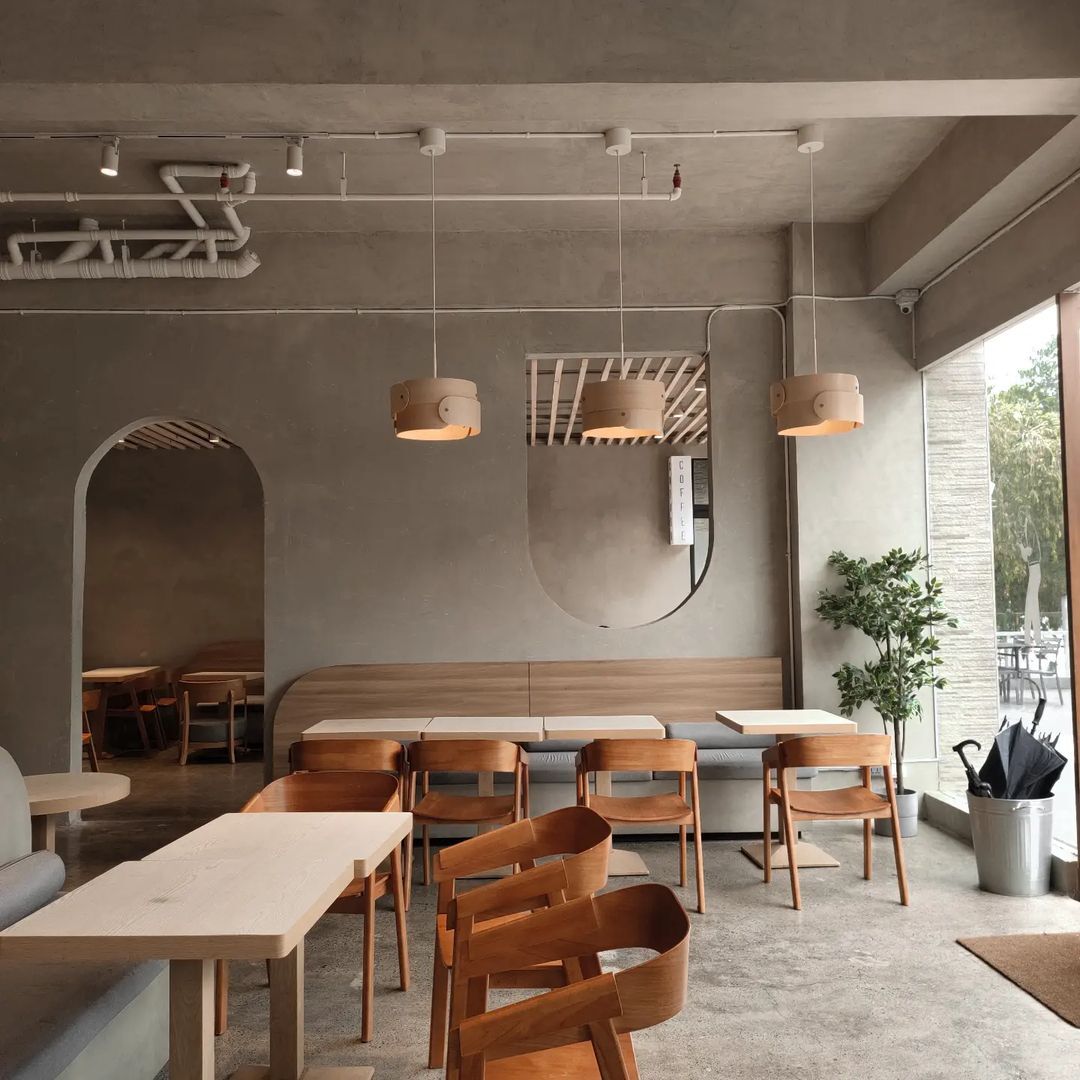 Foam Coffee's interior.
Image credit: @zyvyn_db
If your Baguio itinerary is too packed with activities to drop by the cafe, their offerings are also available for delivery on GrabFood and foodpanda for you to enjoy at your hotel or Airbnb.
However, we recommend that you don't miss going to the cafe to enjoy its interiors.
---
Modern Asian-inspired cafe in Baguio
---
Offering a new cafe experience in Baguio with its modern East Asian-inspired interiors, Foam Coffee is definitely a food spot you should visit.
You're also sure to love its impressive menu of dairy and non-dairy beverages, premium doughnuts, and Asian dishes.
Address: Upper G/F Travelite Hotel, Shuntug Street, Baguio City, Benguet
Opening hours: Sun-Thu 8am-10pm | Fri-Sat 8am-11pm
Contact: 0977 602 3750
Foam Coffee's Facebook | Instagram
Related reads:
---
Cover image adapted from: @matcha_2wi and @rhoms.noms
Get more stories like this!
Drop us your email so you won't miss the latest news.