IG-worthy Baguio hotels and Airbnbs
---
With only a fully-vaccinated status as an entry requirement, Baguio City is almost back to accepting tourists as usual. So if you're looking for a getaway from your day-to-day life anytime soon, consider going to the mountain city.
Make your vacation relaxing and invigorating by booking one of these aesthetic Baguio hotels and Airbnbs. You don't get to go on trips often, so treat yourself by staying at a place that looks pleasing to the eyes and gives you extra photos to post on the 'gram.
---
1. Tudor in the Pines – modern, glass treehouses
---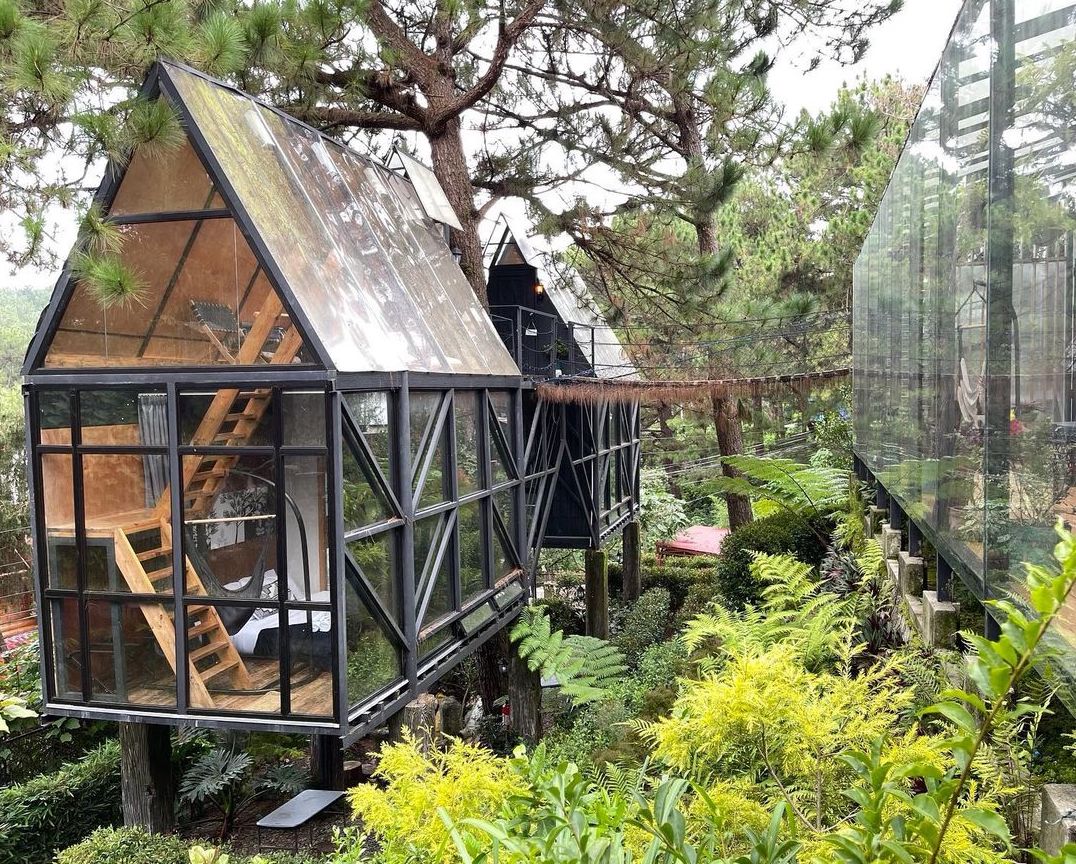 Image adapted from: @princess_chua
Tudor in the Pines has two glass treehouses – Pine Cone and Pine Needle (starting at P6,086/night, ~USD114.08 each) – facing each other. The treehouses are situated 30 feet above the ground and are accessible by a hanging bridge that connects them to the main structure of the homestay.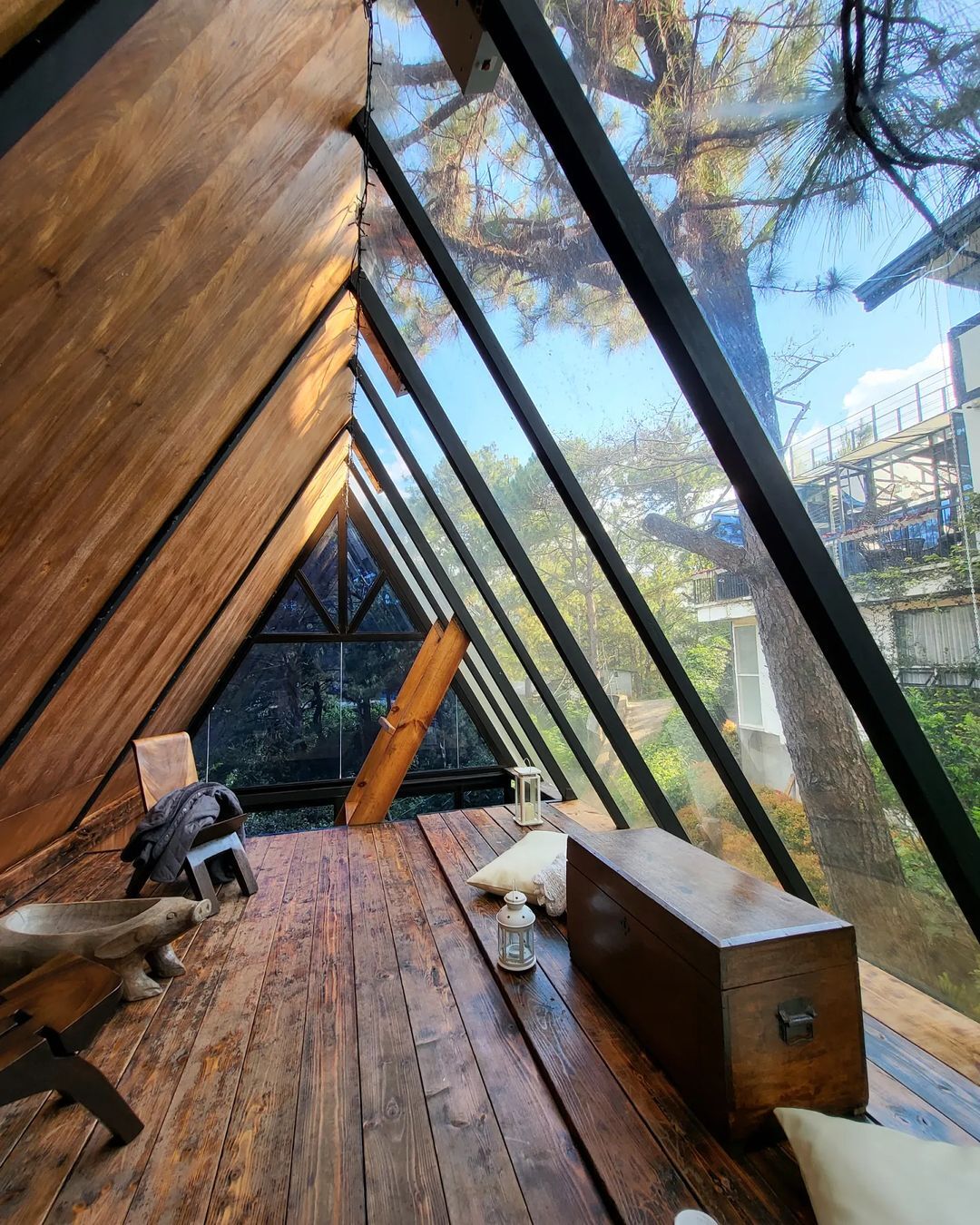 Glass treehouse interior.
Image credit: @its.koolayza
Both of these glamping spaces have modern minimalist interiors with black and brown as their predominant colors. From inside, you get a view of pine trees. The Pine Cone treehouse even has a view of a man-made waterfall.
This place is perfect for those who simply want to rest during their stay in Baguio City. It's quite far from the city proper, with travel time by car taking 15 minutes.

Address: 17 Lower Balacbac Road, Sto. Tomas, Baguio City, Philippines
Telephone: 0939 636 4546
Tudor in the Pines' website | Facebook | Instagram
---
2. Kamiseta Hotel – French mansion-like interiors
---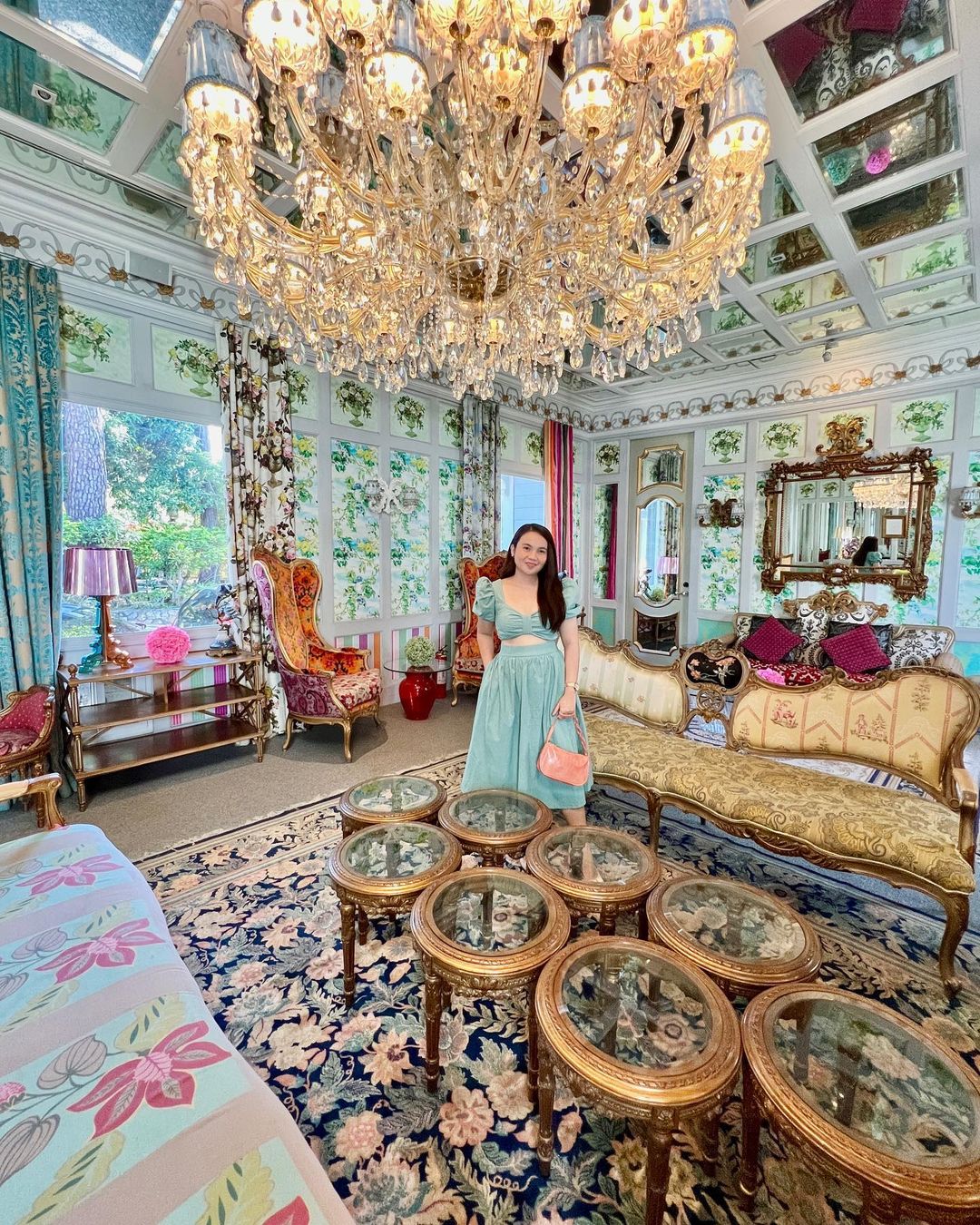 Image credit: @rachelsantos8
Kamiseta Hotel is a magical place in the middle of Baguio City that transports visitors to an avant-garde French country mansion. The interior feels like 18th-century Versailles meets Alice in Wonderland.
Rooms at this boutique hotel start at P3,920 (~USD73.53) a night. But if you can't check in, you can still experience its unique aesthetic by sitting down and having tea at their Vanilla Cafe.

If you want to explore Baguio, Kamiseta Hotel is also close to attractions such as The Mansion and Wright Park and restaurants such as Lemon and Olives Greek Taverna.
Address: 20 Villamor Street., Barangay. Lualhati, Baguio City 
Telephone: (074) 442 4613
Kamiseta Hotel's website | Facebook | Instagram

---
3. Summer Valley Homestay – Bohemian-themed condo unit rental
---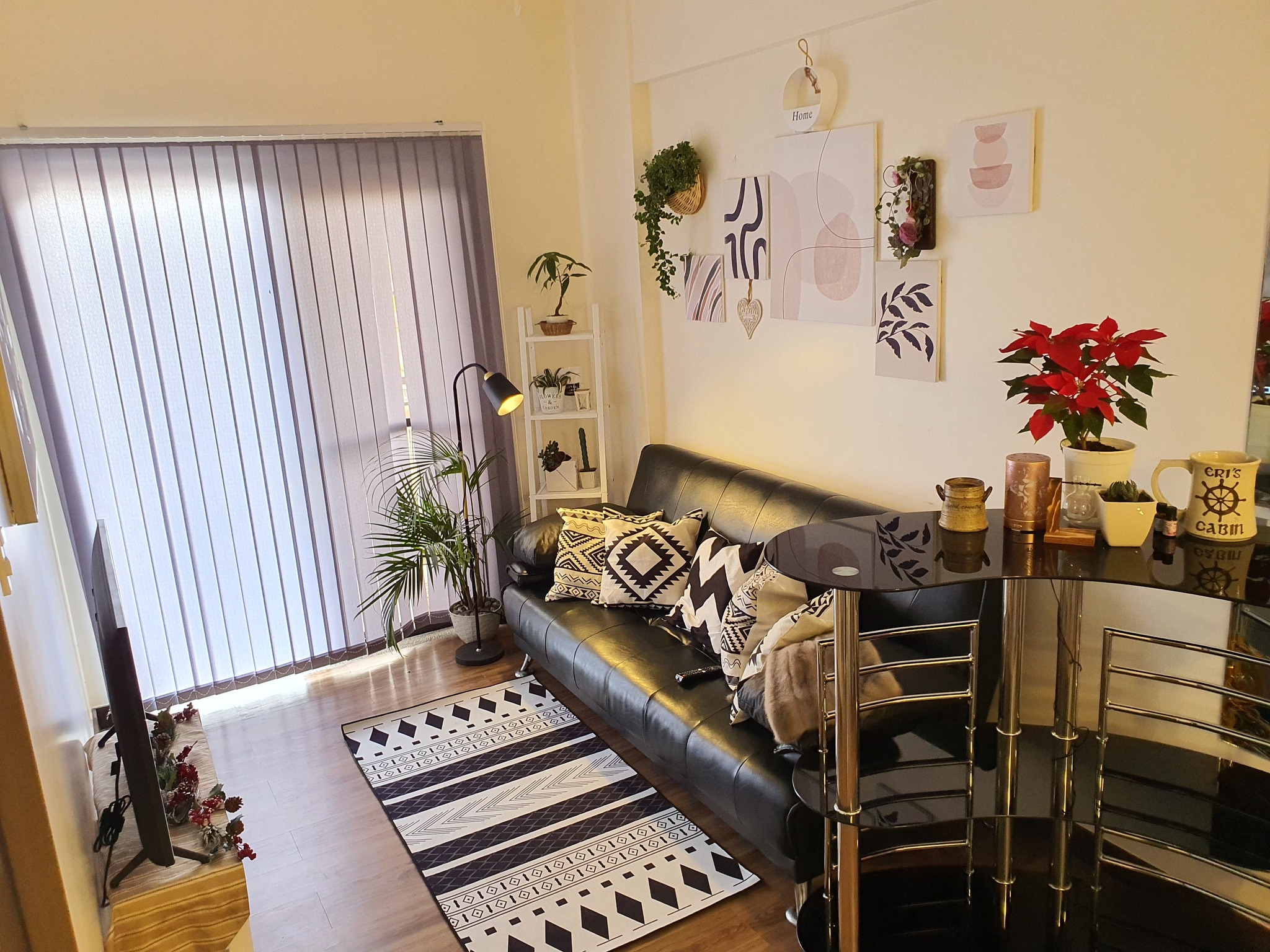 Image credit: Summer Valley Homestay

The condo unit rental Summer Valley Homestay (starting at P2,754, ~USD51.63/night) has a subtle Bohemian design similar to modern California homes. Plantitas will also love this accommodation in Baguio for its many indoor plants.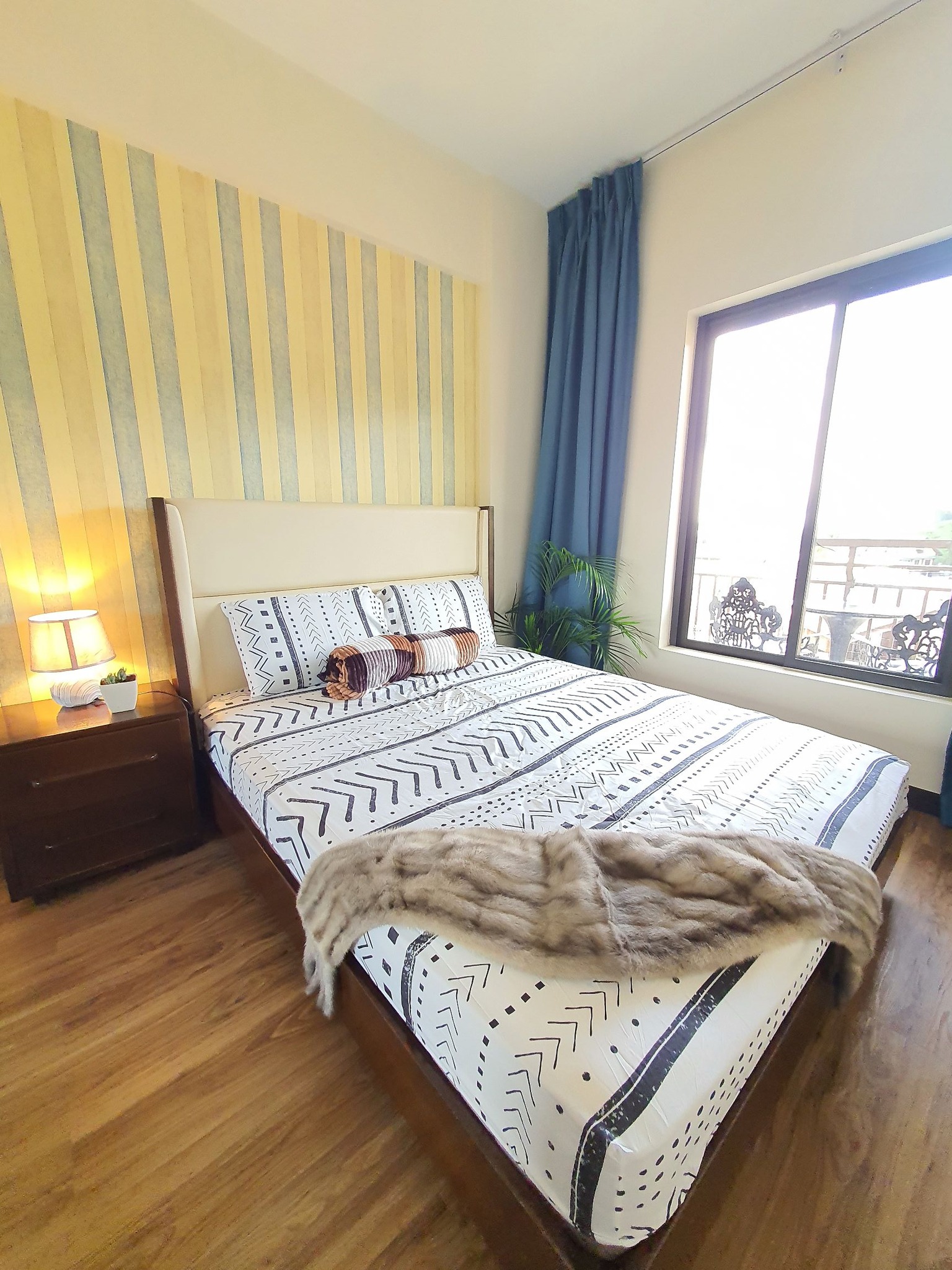 Image credit: Summer Valley Homestay
With 1 queen-sized bed, 2 single beds, and 1 sofa bed, it can house up to 6 people. The rental also comes with a free parking space, but don't worry if you're not bringing a car as it's in close proximity to a jeepney terminal.

Travel time from the condo to the business district takes 12 minutes. However, it's only a couple of minutes away from tourist attractions such as ​​Baguio Botanical Garden, The Mansion, Wright Park, and Camp John Hay.
Address: Summer Pines Residence, Marcos Highway, Baguio City
Summer Valley Homestay's Facebook
---
4. Good Morning Baguio Potting Shed South Drive – modern European farmhouse
---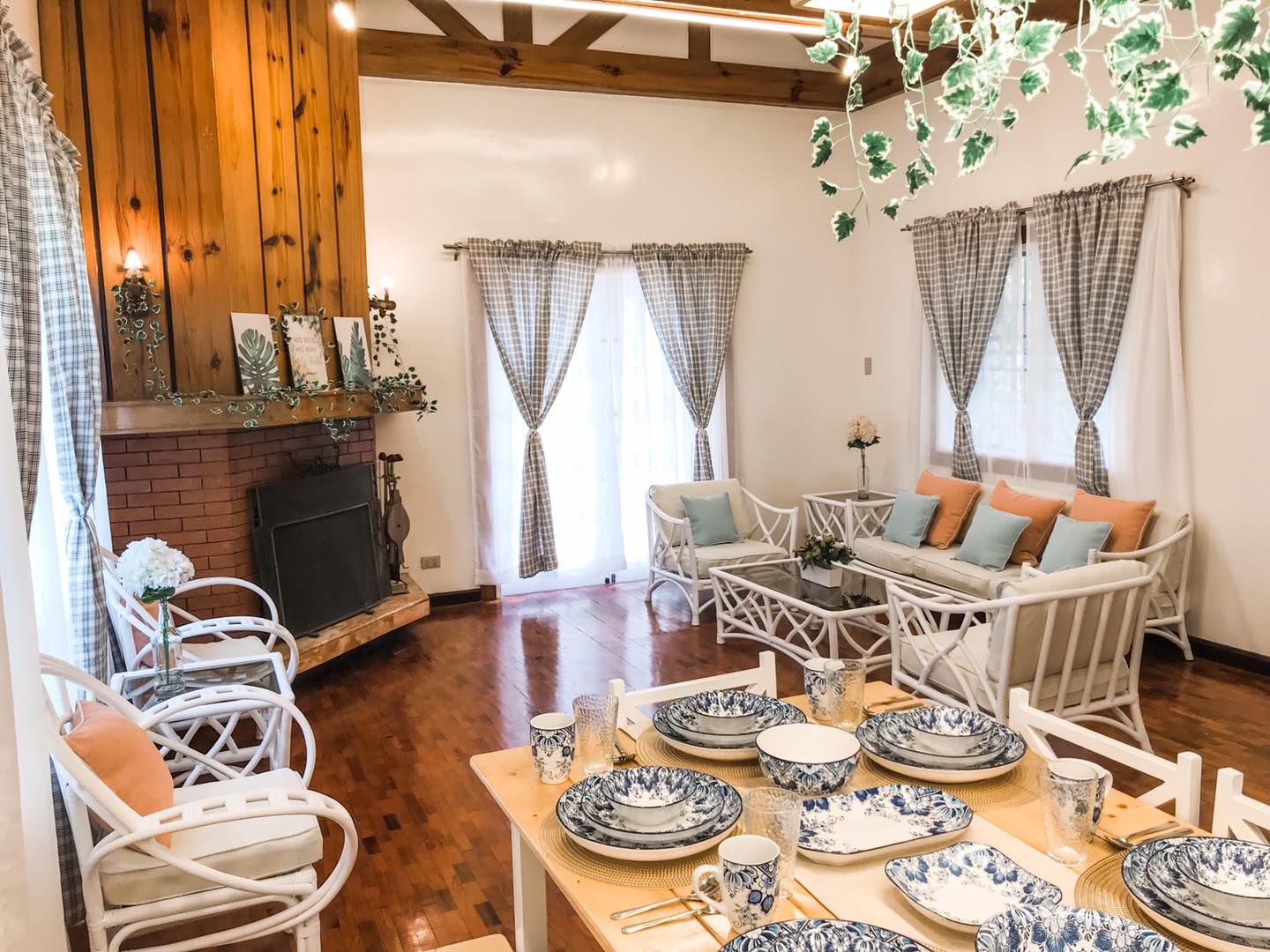 Image credit: Good Morning Baguio PottingShed
For modern European farmhouse-style accommodation, book your stay at Good Morning Baguio Potting Shed in South Drive. The space's interior is mostly white and wood, with pastel accents and plants to make it look vibrant.
The whole property can accommodate up to 25 guests, but a small group or even just one person can stay here. Rent starts at P8,000/night (~USD149.44) for 1-6 people, with a P800 (~USD14.94) fee per additional person.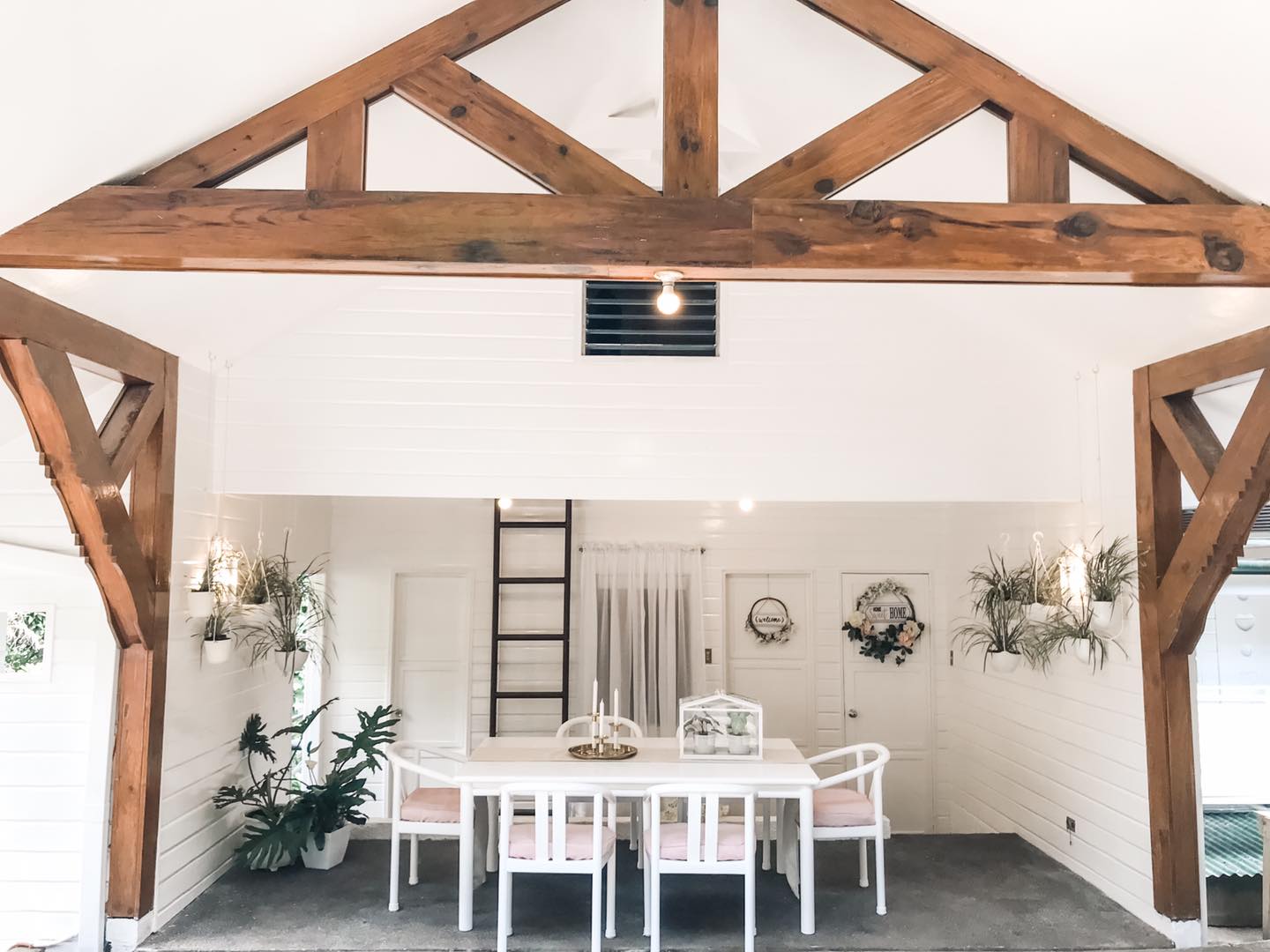 Image credit: Good Morning Baguio PottingShed
As it can accommodate a large number of guests, there are plenty of sitting and dining areas at Good Morning Baguio Potting Shed. There's even a dining area on the balcony with a calming view of pine trees and lush greenery.

Address: 46 G. Singian Street, South Drive, Baguio City
Good Morning Baguio Potting Shed's Facebook
---
5. American Heritage House – modern country-style home with a porch
---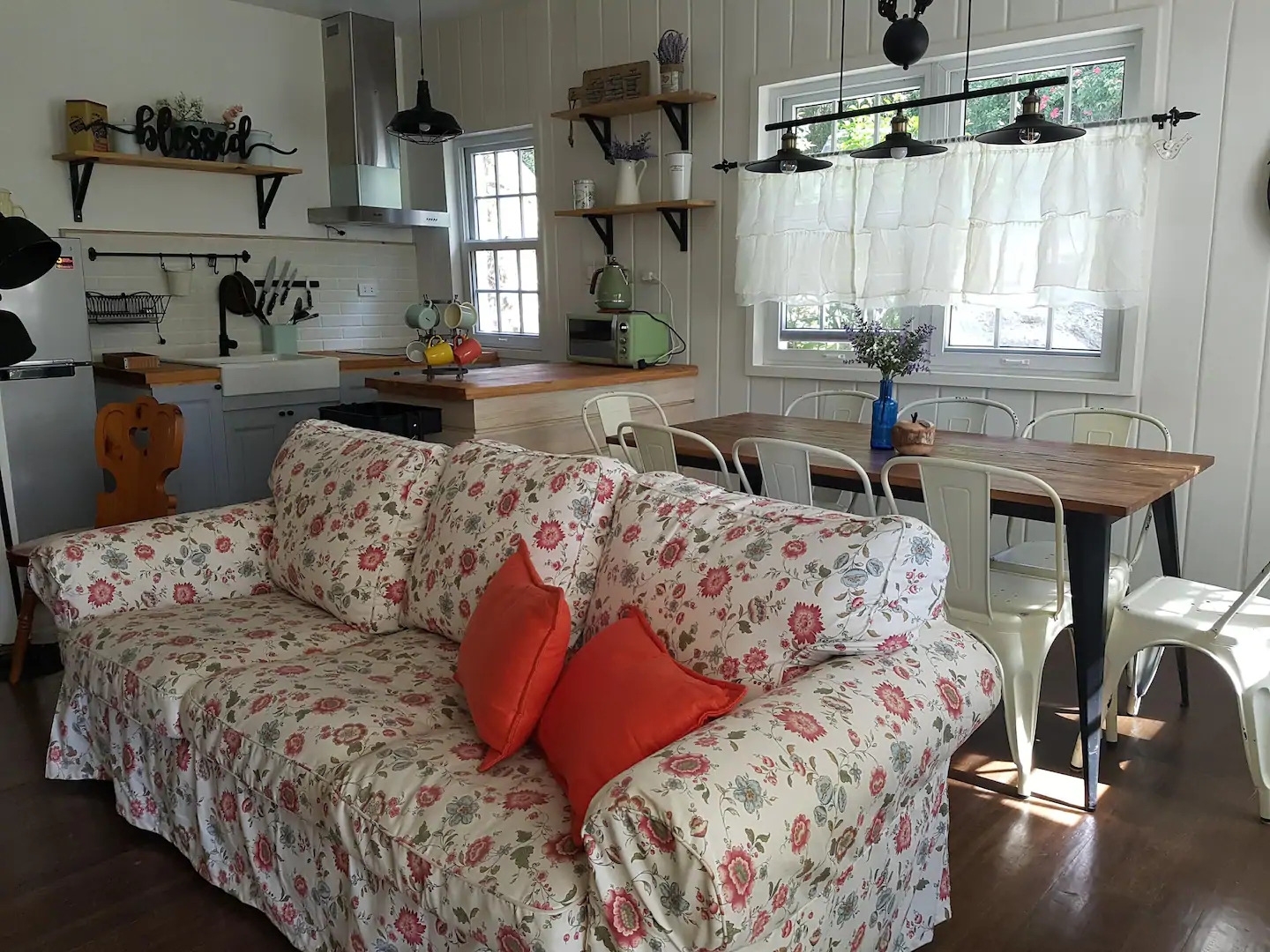 Image credit: Airbnb
Baguio has a strong US influence due to the country's occupation of the Philippines. Today, you can see traces of their presence in the city through US-style heritage houses.
Staying at American Heritage House (from P5,600/night, ~USD105.03) will make you feel like you're in a completely different place, particularly the US countryside.
The house can accommodate a maximum of 8 people, with a queen bed in 1 bedroom, and 2 double beds and 2 single loft beds in another. The rental house also has 2 baths, a kitchen, and a porch where you can enjoy Baguio's chilly climate with a cup of hot coffee.

What's more, the rental's next-door private main house is an attraction. It was a shooting location for acclaimed Filipino movies, namely Honor Thy Father (2015), Citizen Jake (2018), and Glorious (2018). But if you want to explore more of Baguio City, it's also just 12 minutes away from the city proper.

Address: 7 C.M. Recto Street, St. Joseph Village, Baguio City
American Heritage House's Facebook

---
6. Le Coq Bleu – maximalist French-themed homestay
---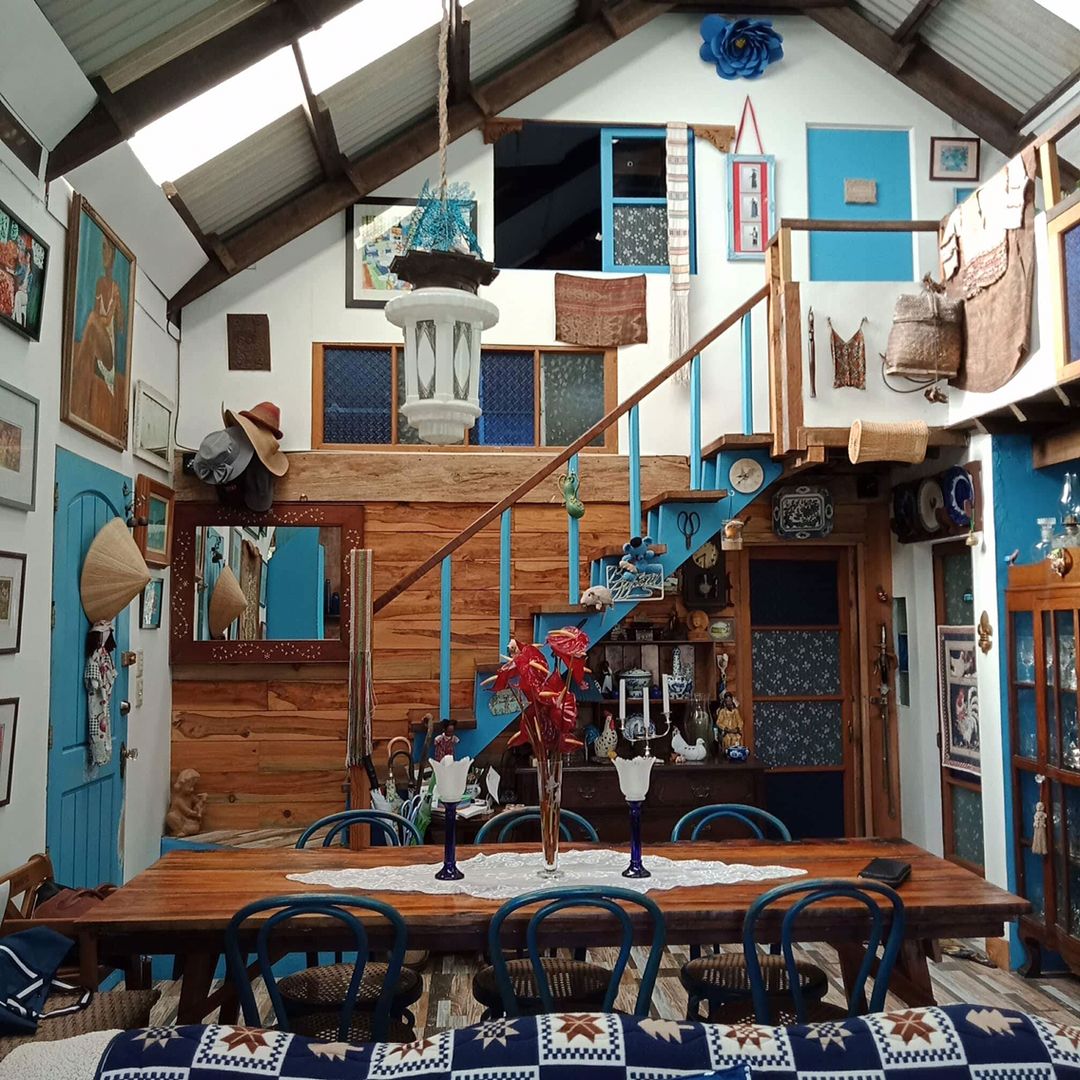 Image credit: @buttered_lemon
Le Coq Blue is a homestay owned by a French native known for its maximalist French interior and lots of blue furniture and decor.
Guests have two options to rent – the loft and the suite (starting at P2,800, ~USD52.51 a night) – which are both inside the host's home. The loft can fit up to 4 people while the suite can accommodate a maximum of 5. 
The hosts serve guests a hearty, European-style breakfast from 8am to 10am, giving you one less thing to worry about and spend on during your stay in Baguio as its 15 minutes from the business district. 
However, since you'll be staying in the same house as the host family, you'll have a 10pm curfew. The owners also ask that guests do not bring young children who could be rowdy, although babies and toddlers are welcome to stay. 
Address: Suello Village, Baguio City
Telephone: 0917 501 7355
Le Coq Bleu's Facebook
---
7. Lafaayette Luxury Suites – lavish, European-style boutique hotel
---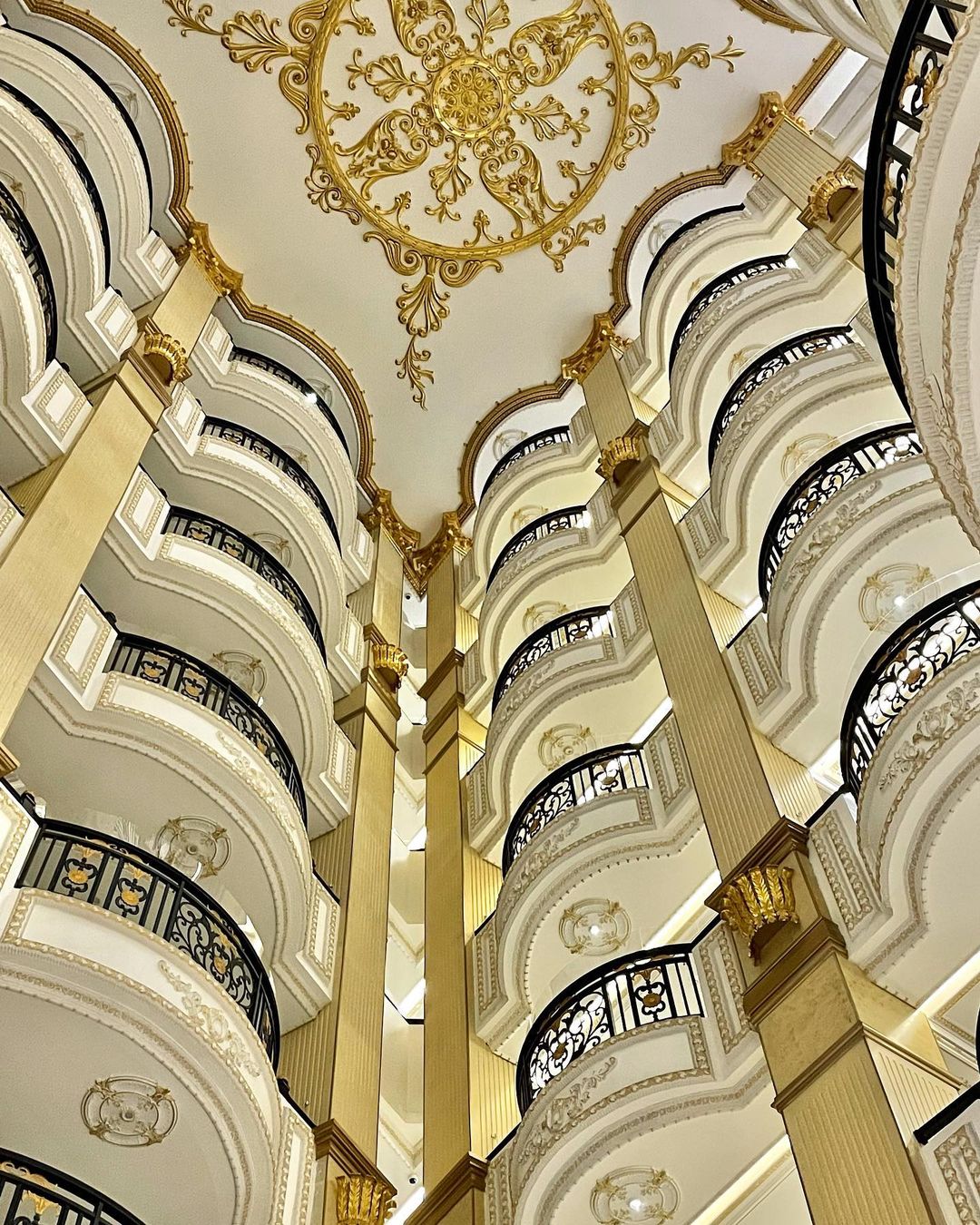 Image credit: @itsmequeenpee
Lafaayette Luxury Suites is a European-inspired boutique hotel, with 55 rooms spanning 11 stories, that opened in 2021. It's one of the most luxurious Baguio hotels, decked with gold accents that'll make you feel like a VIP.
Despite this, booking a stay here doesn't come with a hefty price. Their King's Deluxe City View room starts at P5,002 (~USD93.59) during off-season. Each room has a bed with a memory foam mattress to make sure you're well-rested and a huge Smart TV for your entertainment.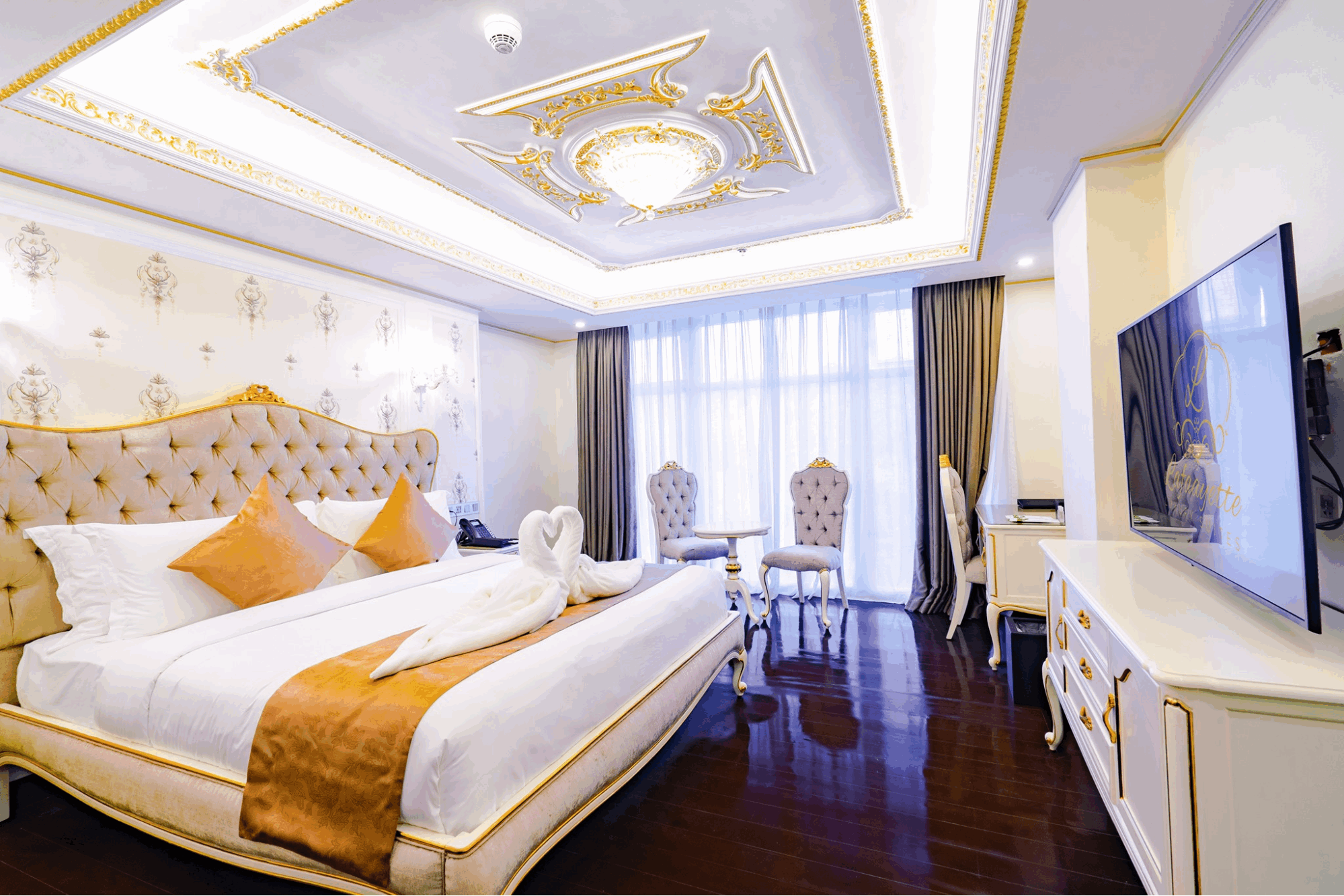 King's Deluxe room.
Image credit: Lafaayette Luxury Suites Baguio

For your convenience, there are luxurious restaurants and a cafe inside the hotel. Plus, there's a roof deck where you can enjoy an outdoor activity or simply enjoy your view of the city.

If you want to go out, Lafaayette Luxury Suites is also surrounded by food spots and is just 5 minutes away from the business district.
Address: #1 Military Cut-off corner Loakan Road, Baguio City
Telephone: (074) 619 9945
Lafaayette Luxury Suites' Facebook
---
8. El Retiro – US-style ancestral home-turned-hotel
---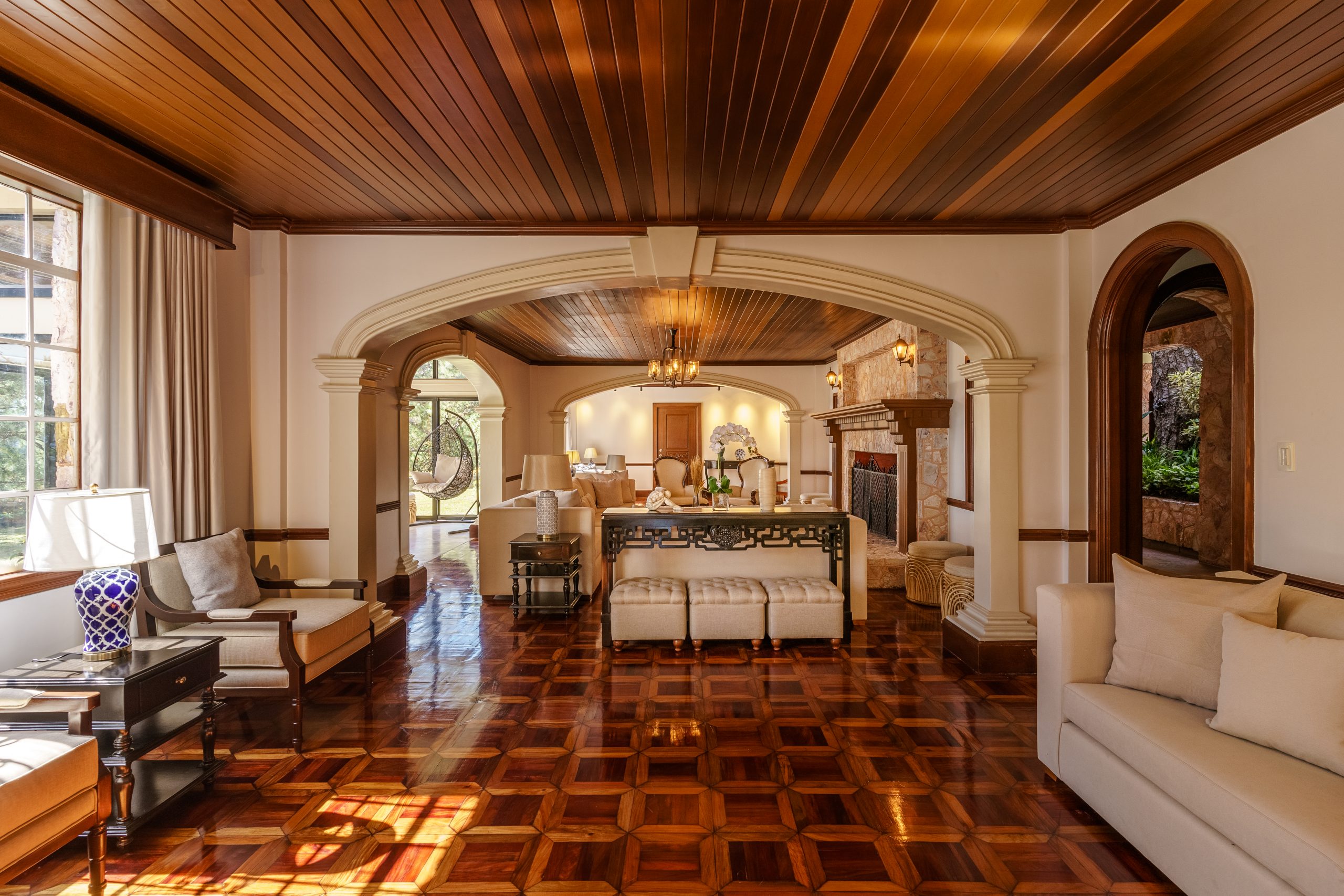 Image credit: El Retiro

El Retiro looks just like an US-style heritage home from the outside but it has luxurious, modern interiors that'll make you feel as if you're in an old Hollywood movie.

You'll see a lot of polished dark wood incorporated to its interiors, particularly on the ceiling. The living area even has a grand fireplace you can sip wine or whiskey in front of. The property is also surrounded by pine trees, a view that you'll get to enjoy from inside the house with its floor-to-ceiling windows.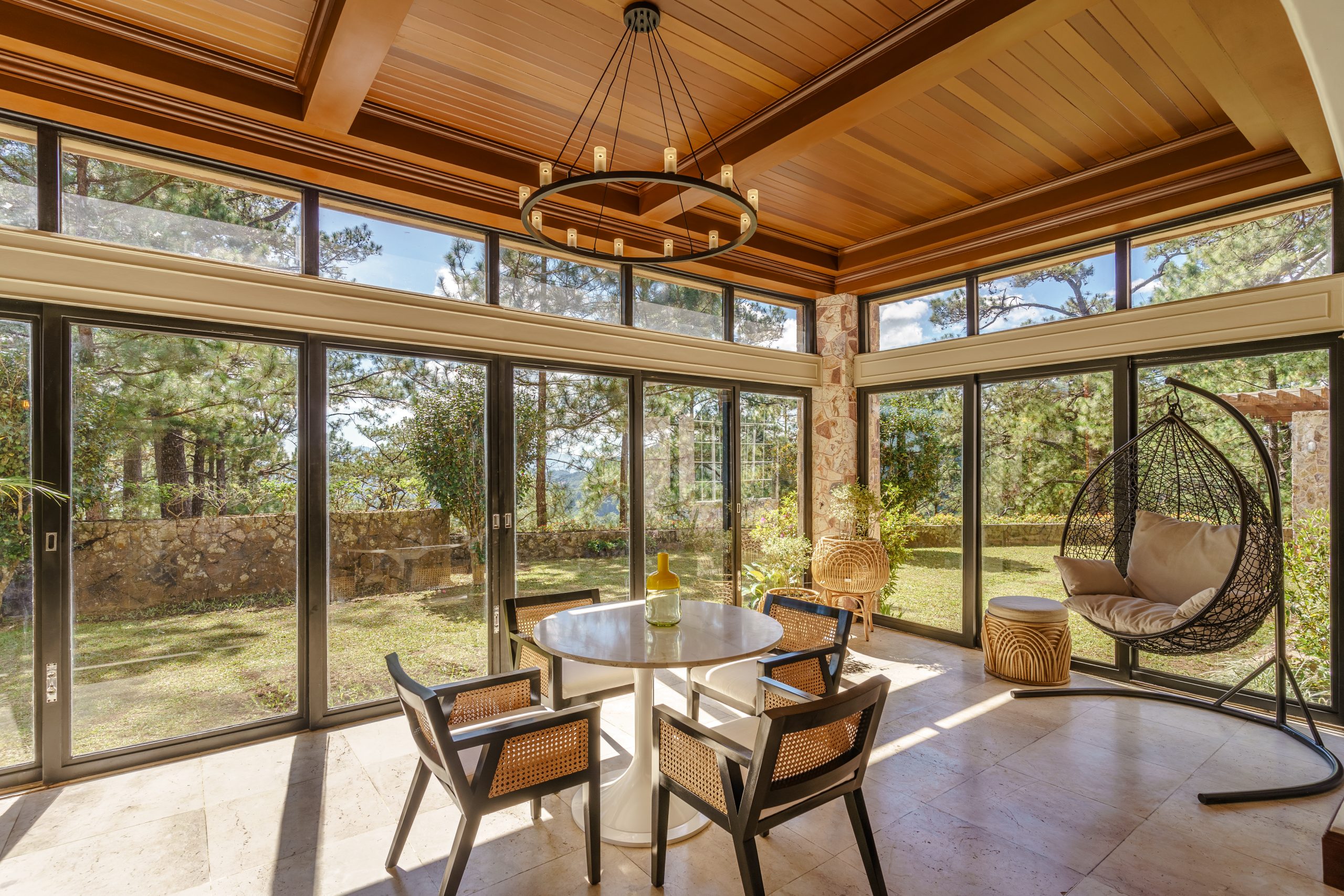 Image credit: El Retiro
Renting the whole property costs P100,000 (~USD1,870.40) a night, so gather all of your friends for an extravagant staycation. The property has 7 rooms – each with an en-suite bathroom – and can fit a total of 20 people.
El Retiro is about 10 minutes away from the city proper and is close to restaurants such as Lemon and Olives Greek Taverna.

Address: 20 Outlook Drive, Baguio City
Telephone: 0917 108 1429
El Retiro's website | Facebook | Instagram
---
Aesthetic accommodations in Baguio City
---
Many people from the lowlands visit Baguio for its tourist attractions and cold climate, which we can all agree are relaxing and takes us away from our daily lives.
However, you can take your vacation a step further by booking one of the Instagrammable Baguio hotels and Airbnbs above.
Related reads:
---
Kathlene Masilongan contributed to this article.
Cover image adapted from: @@its.koolayza,@rachelsantos8, and @Good Morning Baguio PottingShed
Get more stories like this!
Drop us your email so you won't miss the latest news.