Sweet treats from various dessert places in Baguio City
---
Baguio City is a go-to vacation spot for its cold climate, good food, and famous desserts. However, new tourists may not know that there's more to the place than lengua de gato (local cookies) while frequent tourists may be familiar with Vizco's and Tea House but want to venture out of their usual dessert spots.
So that you can explore more dessert places in Baguio City on your next visit, we've compiled a list of spots below as well as their best-selling desserts we think you would enjoy.
---
1. Arca's Yard – naturally sweet, crumbly kamote pie
---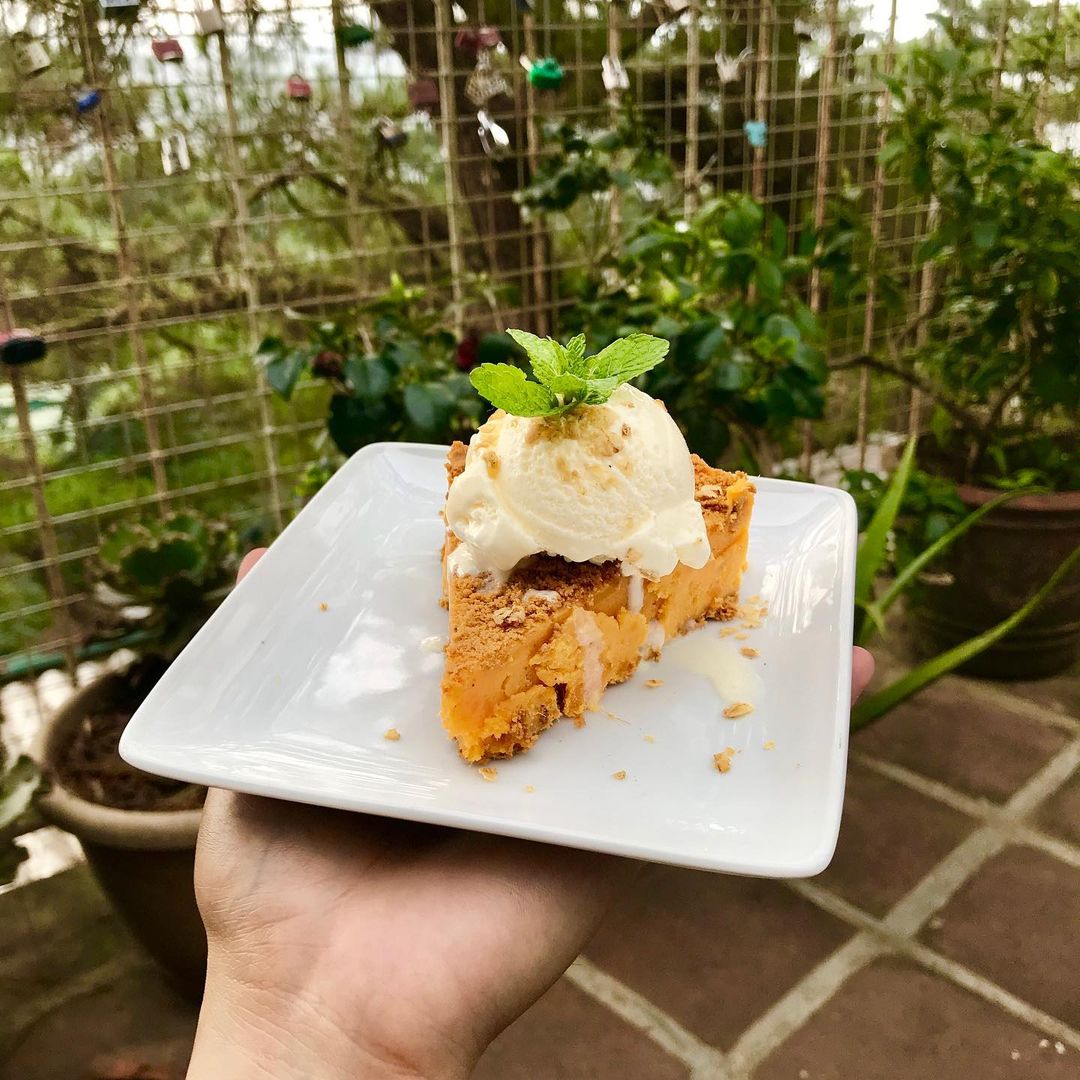 Image credit: @deeyawn13
If you prefer natural, native flavors for your desserts, Arca's Yard's kamote (sweet potato) pie, or Docto Pie a la mode on their menu, is a must-try. Its starchy texture and naturally sweet taste compliment the creamy vanilla ice cream on top. 
Don't be surprised if you get a purple-colored pie instead of orange as seen in most photographs of the dessert, though. When the orange kamote is not in season, the restaurant substitutes it with the purple variant which is just as good. 
Aside from the kamote pie, their dessert menu also includes carrot pie and seasonal rhubarb pie topped with ice cream as well as baked blueberry cheesecake.
The cafe is also worth checking out as it also has a museum and a library with an impressive display of books and indigenous artworks.
Price: P105/slice (~USD2.10)
Address: #777, Tiptop City Limits, Ambuklao Road, Baguio City
---
2. House of Yolo Yogurt (HOY) – naturally-cultured yogurt you can customize
---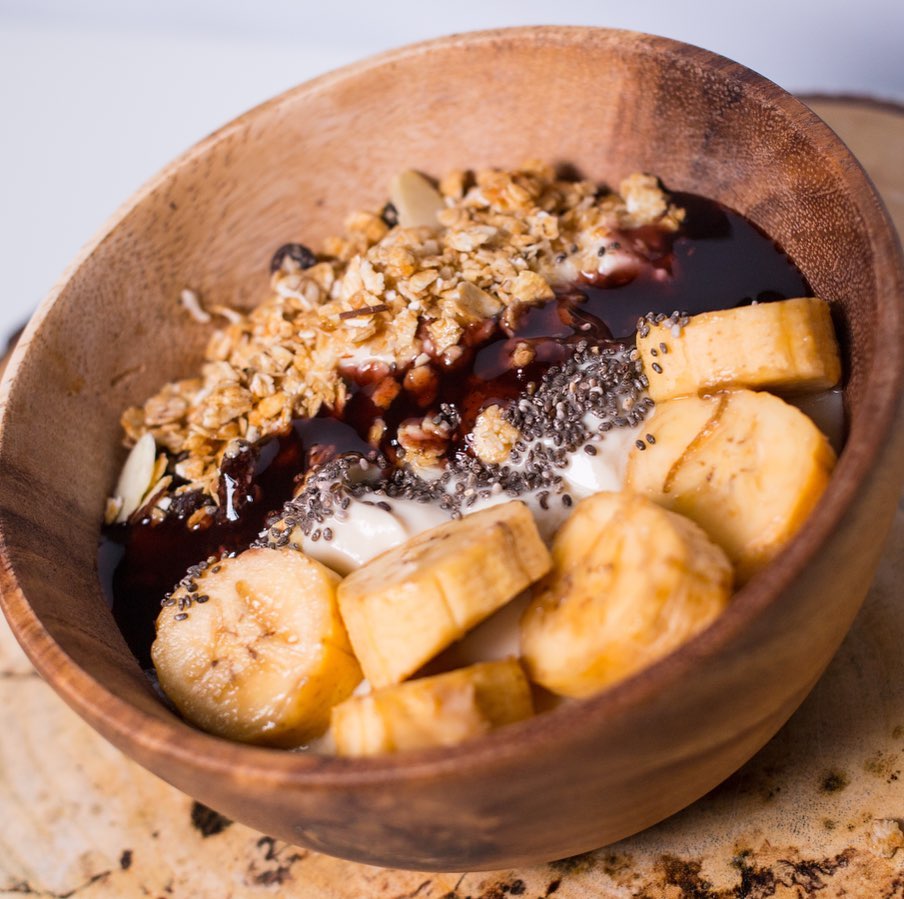 Image credit: @houseofyoloyogurt
House of YOLO Yogurt is a yogurt shop in Baguio that is also a pasalubong (souvenir) center, selling a variety of food items you can easily take home, such as jams, roasted peanuts, and gourmet tuyo (smoked fish).
However, this dessert place in Baguio is frequented for its namesake – home-blend, naturally cultured yogurt which you can customize with your choice of fruits, syrups, and granola at their yogurt bar.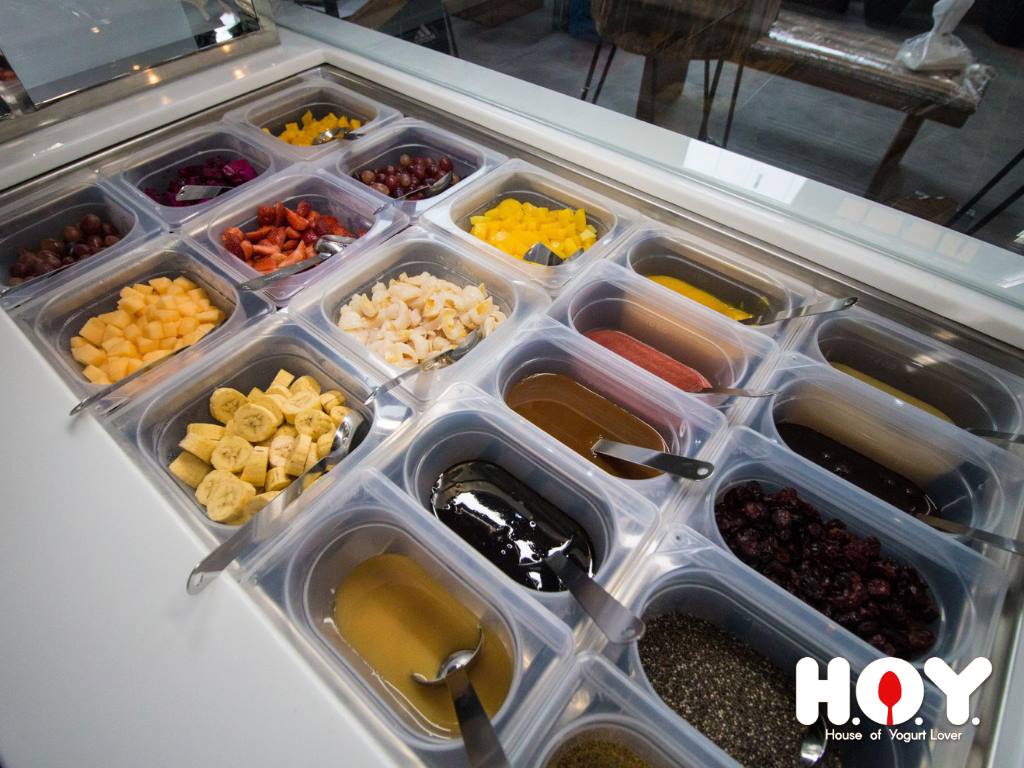 Image credit: House of Yolo Yogurt
Your yogurt creations can be eaten in the shop's adjacent restaurant or taken home in pints and tubs so you can have it as a breakfast, dessert, or snack at home.
It makes a great dessert or snack choice especially when you're trying to be healthy, as fruits provide you with fiber and the good bacteria in yogurt helps with digestion.
Price: P130 to P235 (~USD2.60 to USD4.69)
Address: #39 Marcos Highway, Baguio City
North Terrace, Lower Ground Floor, SM Baguio, Upper Session Road, Baguio City
House of YOLO Yogurt's Facebook page
---
3. Victoria Bakery – cream puffs in different variants
---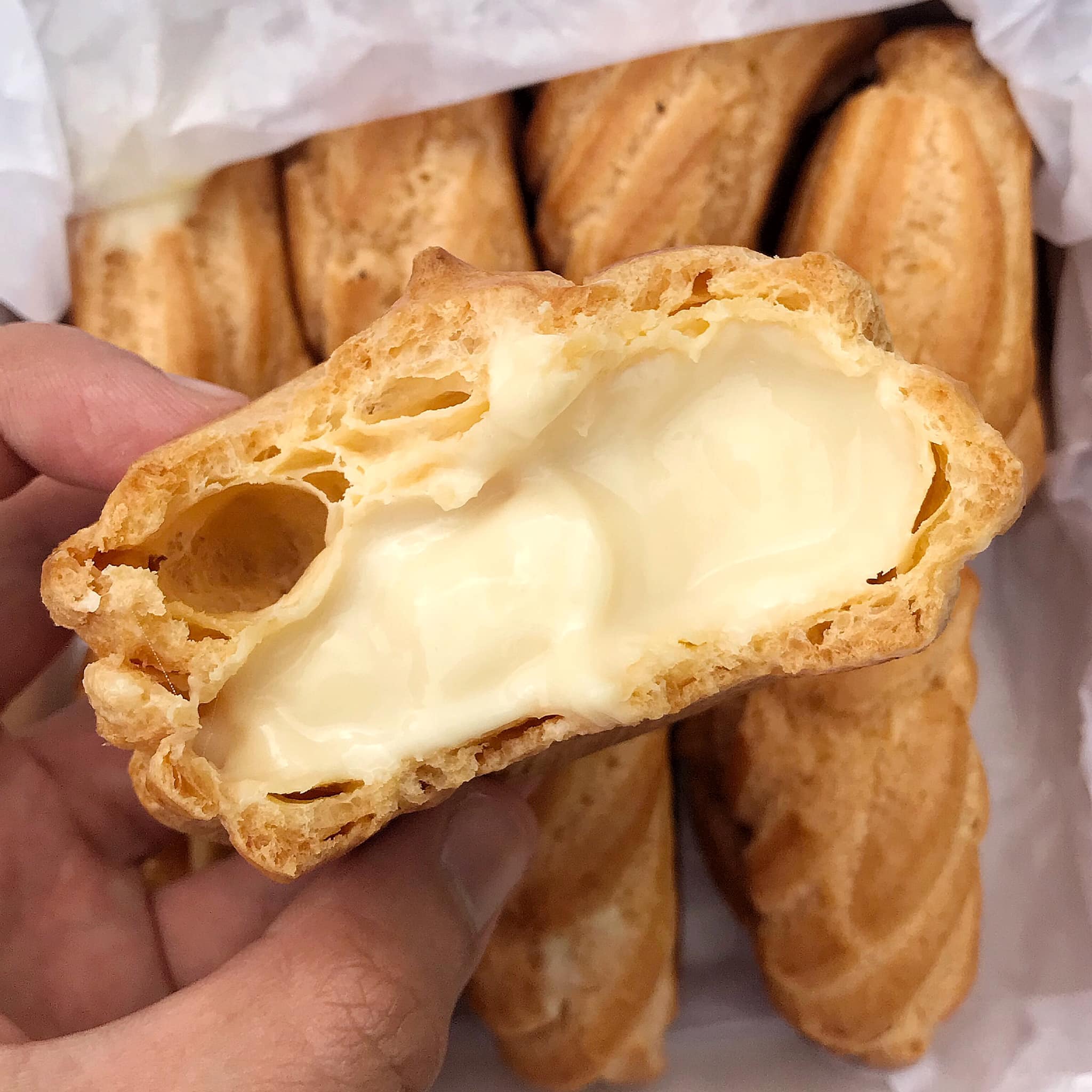 Image credit: Joshua Tiru Bondoc
Victoria Bakery is unlike other bakeries in Baguio City. It has a signature pastry that both locals and tourists always get whenever they are around the area – their well-loved cream puffs.
These are flaky puffed pastries filled with custard in original, chocolate, ube, buko (coconut) pandan, matcha, cookies and cream, and even milk tea flavors.
While their cream puffs can be bought in boxes of 8, 12, and 20, you can also buy one or a couple if you just want to try it out.
This dessert place in Baguio also sells a wide array of sweet or savory breads and pastries as well as drinks such as coffees and frappes.
As their cream puffs are on-demand in many places in the country, you can also find many Victoria Bakery cream puff resellers online.
Price: P20 to P25 (~USD0.40 to USD0.50)
Address: 26 A, Mabini Street, Baguio City
Ground Floor, Center Mall, Magsaysay Avenue, Baguio City
Ground Floor, Pilando Building, Magsaysay Avenue, Baguio City

Victoria Bakery's Facebook page
---
4. Pizza Volante – bittersweet Choco-Vanilla Affair
---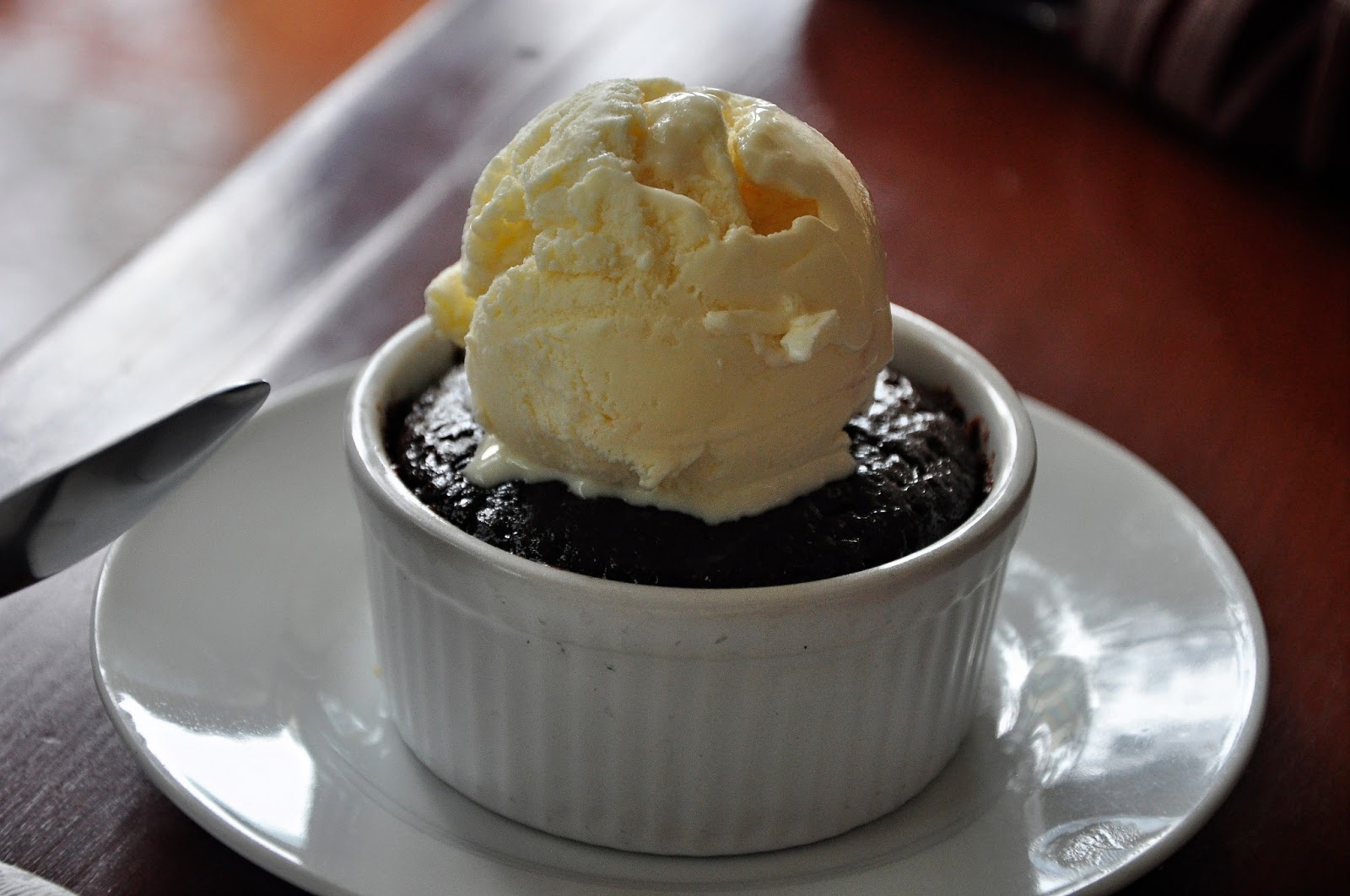 Image credit: Criselda Kay
Pizza Volante is a homegrown restaurant that specializes in pizza but also has well-loved desserts, the most popular being Choco-Vanilla Affair. 
This dessert is actually simple, but the contrast between the warm, bittersweet chocolate cake and its cold vanilla ice cream topping will intensify the burst of flavor in your mouth.
For other dessert offerings, the restaurant also has a variety of pies, including Mama Lou's Apple Pie, Banana Cream Pie, and Chocolate Pie.
Price: P114 (~USD2.28)
Address: Session Theater Building, Session Road, Baguio City
Ordonio Drive, Baguio-AyalaLand Technohub, Camp John Hay, Baguio City
Wright Park, Romulo Drive, Baguio City

Pizza Volante's Facebook page
---
5. Tea House Restaurant and Bakeshop – moist Chona's Delight ref cake
---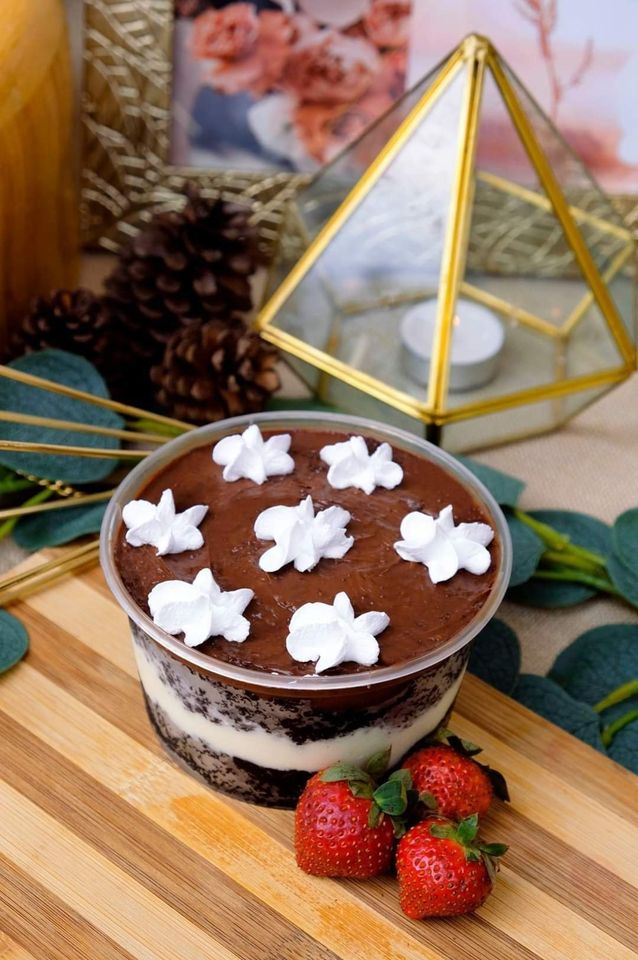 Image credit: Juvelyn Navarro
 To put it simply, Tea House Restaurant and Bakeshop's Chona's Delight is a refrigerated cake in a tub. 
But to give you more information about this famous Baguio dessert, its melt-in-your-mouth, moist chocolate cake trimmings with custard filling and topped with whipped cream, the restaurant's spin on tiramisu.
The shop sells a wide variety of this ref cake, such as Carisha's Alcapone, Cheryl's Tiramisu, and Gil's Strawberry Cake. They also have a new flavor, the Berry Matcha, which is matcha cake with strawberry slices, but Chona's Delight remains their best-seller. 
If you're buying a cake for a big group of people and don't want to spend on tubs of Chona's Delight, they also sell some of their cake delights as full-sized cakes.
There are also online resellers of Chona's Delight if you are unable to go to Baguio but want to try this famous Baguio dessert.
Price: P160 to P255 (~USD3.20 to USD5.09)
Address: Session Road, Baguio City

Tea House Restaurant and Bakeshop's Facebook page
---
6. Le Bloom Mobile Cafe – strawberry-filled glazed donuts
---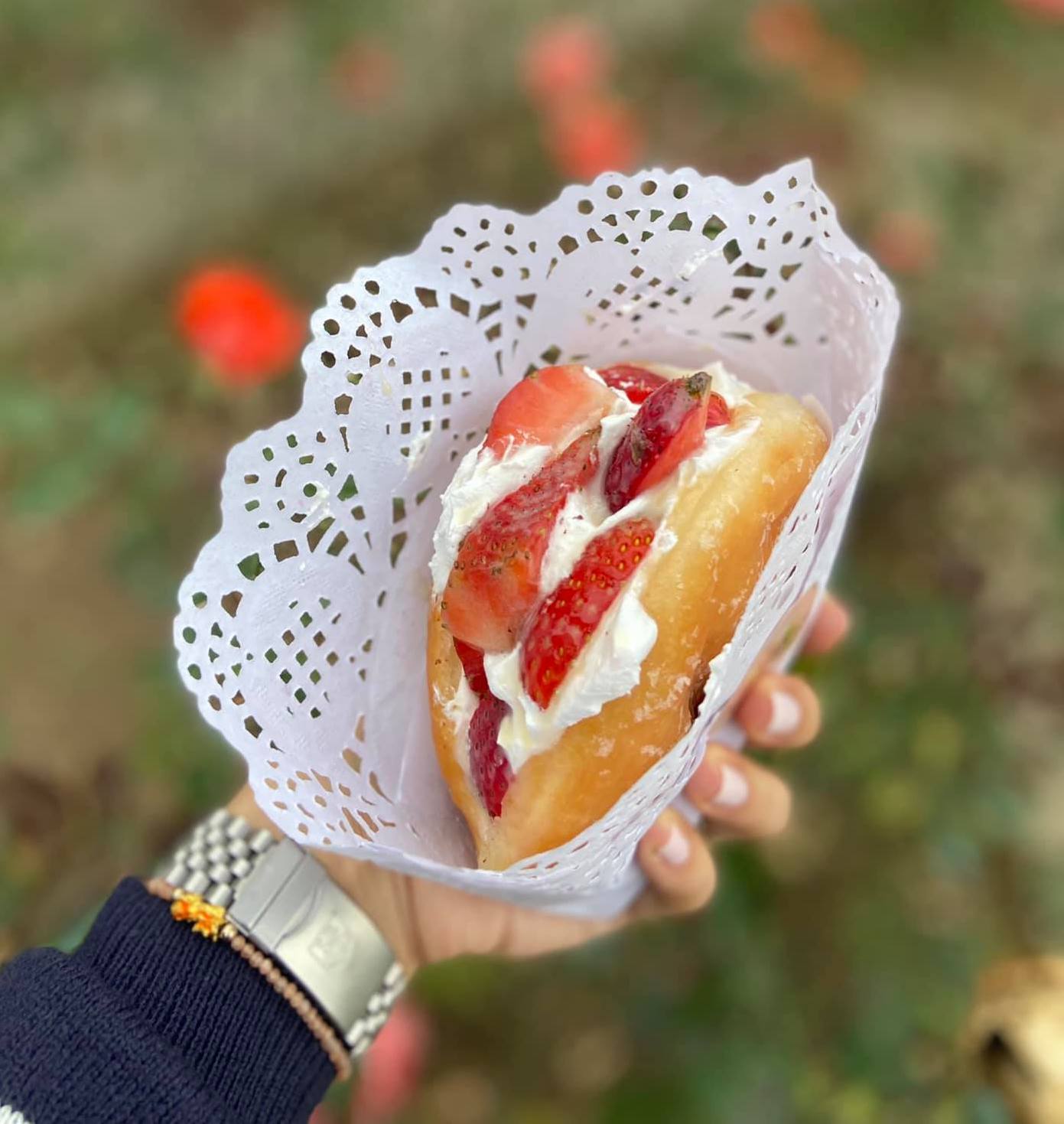 Image adapted from: Cy Quindara
Le Bloom Cafe is a new mobile cafe that can be found in Rose Garden, Burnham Park.
The food truck is known for its strawberry-filled donuts – glazed donuts filled with mascarpone cream and a generous amount of fresh strawberry slices that have just the right amount of sweetness.
You enjoy this sweet treat with a cup of their strawberry drink, pink moon milk (rose tea with milk and dried roses), or their harvest moon milk – earl grey tea with milk and lavender. 
Since this Baguio dessert place is located in a park, you can dine al fresco which is great for social distancing.
Price: P100 (~USD2.00)
Address: Rose Garden, Burnham Park, Baguio City
---
7. Vizco's Restaurant and Bakeshop – Strawberry Shortcake that melts in your mouth
---

Image credit: Vizco's Restaurant and Cake Shop
While the family-owned Visco's Restaurant and Bakeshop serves meals and sells a wide variety of cakes, it is most famous for its Strawberry Shortcake that tourists always buy whenever they visit the city.
It's made of light strawberry chiffon with creamy, semi-sweet icing, layered with fresh strawberry bits and topped with big pieces of fresh strawberries and sweet syrup. The shop sources its strawberries locally in Atok, Benguet, then bakes the cakes at their factory in La Trinidad, a town just a few minutes away from Baguio.
They also have other cake offerings such as Mango, Chocolate, Ube, and Carrot Cake.
Since entry to Baguio is restricted due to the pandemic, people who crave this specialty cake can purchase it from resellers in their area. Good news for people in the metro, though, – Vizco's will soon open branches in SM Megamall Building A in Mandaluyong and SM Annex North Edsa in Quezon City.
Price: P495 to P1,515 (~USD9.88 to USD30.25)
Address: Porta Vaga Mall, Session Road, Baguio City,
Lower Ground Floor, SM Baguio, Baguio City
Baguio-AyalaLand Technohub, Camp John Hay, Baguio City

Visco's Restaurant and Bakeshop's Facebook page
---
8. Hill Station – cloud-like Canonigo with vanilla sauce
---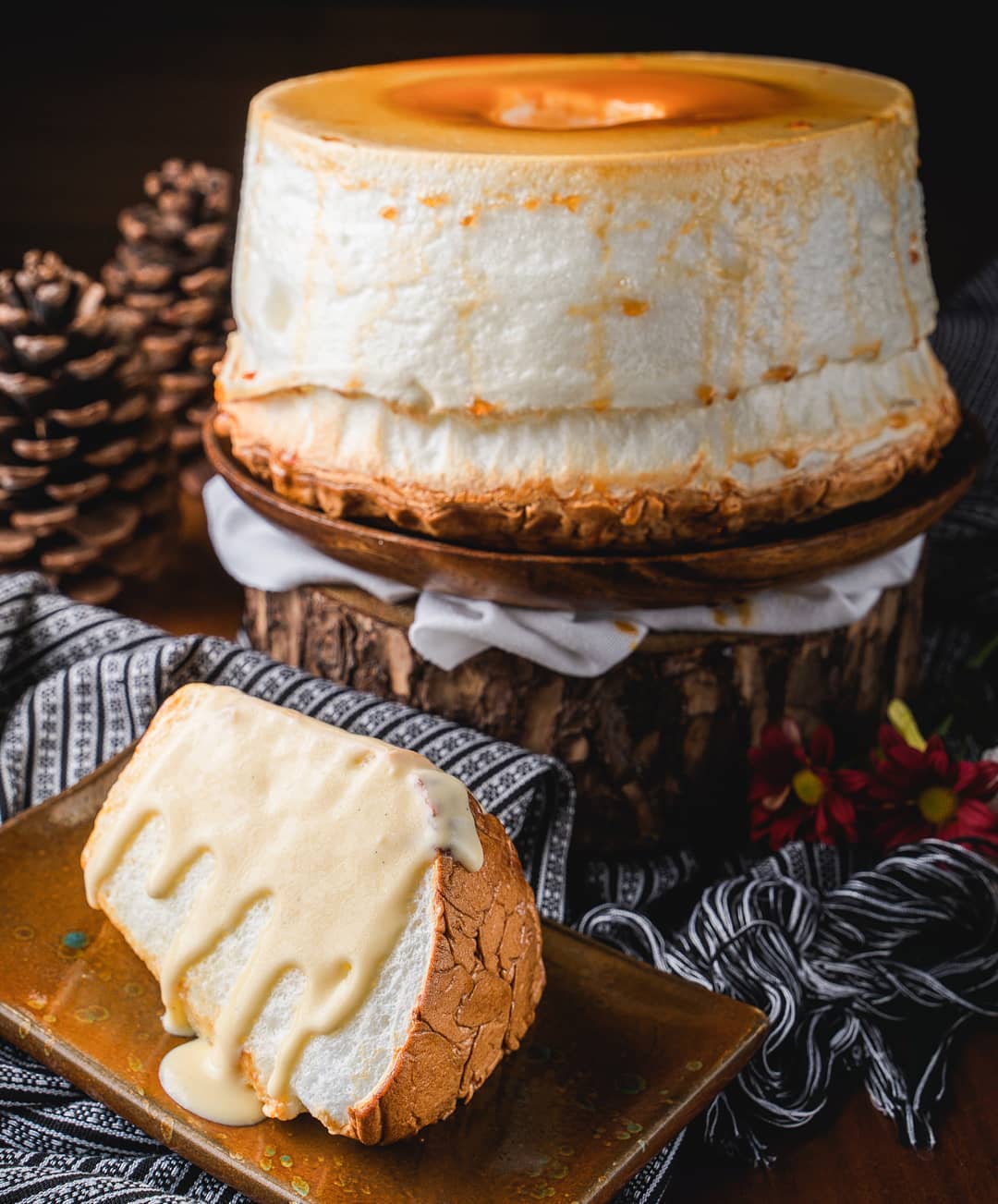 Image credit: @hillstationbaguio
The Canonigo is one of the Asian fusion restaurant Hill Station's famous desserts.
It's caramel meringue that is as soft as clouds and airy as the cool breeze of the city, its texture similar to the Filipino roll cake Brazo de Mercedes.
This cloud-like dessert is also generously drizzled with Cointreau (French orange-flavored liqueur) and vanilla sauce that is almost as thick as custard sauce.
The restaurant also offers other desserts such as apple pie, dark chocolate cake, and lemon meringue which are especially enjoyed during the holidays. 
Price: P120  (~USD2.40)
Address: Casa Vallejo, Upper Session Road, Baguio City

Hill Station's website | Facebook page
---
9. Pedro's Afters – fluffy Japanese cheesecakes in a variety of flavors
---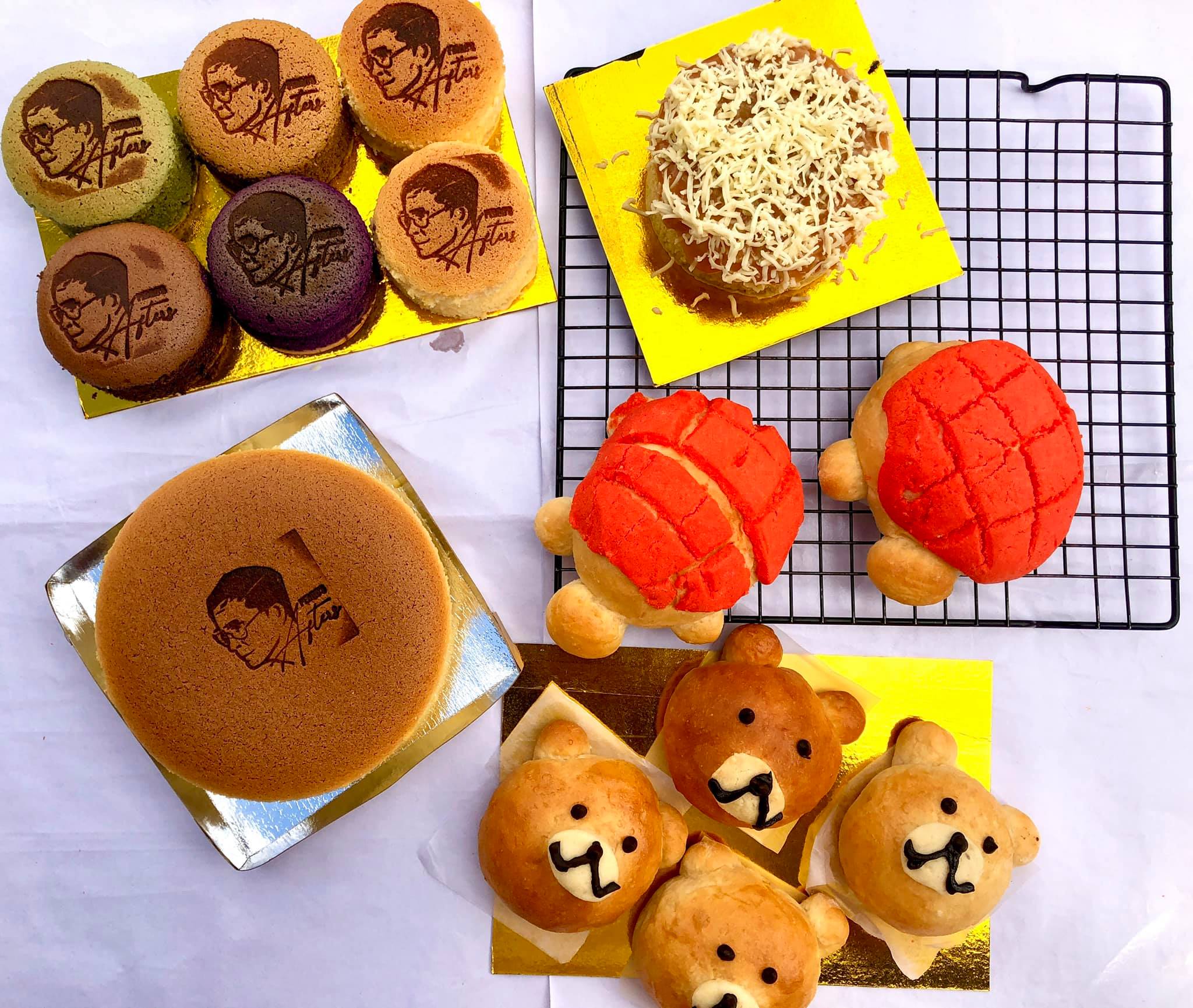 Image credit: Pedro's Afters
What used to be an online bakeshop that frequented bazaars now has a permanent stall in SM Baguio. 
Pedro's Afters is best known for their light and fluffy Japanese cheesecakes that come in your usual classic, chocolate, coffee, and red velvet flavors, as well as newer flavors such as matcha, ginger spice, strawberry, ube (purple yam), and cheesy kamote (sweet potato).
The shop sells 6- and 10-inch Japanese cheesecakes, but you can also get their junior box which contains 3-inch samplers of 6 of their flavor offerings.
Besides Japanese cheesecake, you should also try their Kame Cream Melon Pan – a custard-filled Japanese sweet bun shaped like a turtle – and the Kuma Bun – pastry with custard cheese filling shaped like the San-X character Rilakkuma.
Price: P250 to P1,000 (~USD4.99 to USD19.97)
Address: Sunset Terraces, Lower Ground Floor, SM Baguio, Upper Session Road, Baguio City

Pedro's After's Facebook page
---
Dessert places in Baguio to check out on your next visit
---
You may not have a set date for your trip to Baguio yet, given the changing travel restrictions. With the help of this list of dessert places in Baguio, you can plan your itinerary of food spots as early as now so you'll be ready to go as soon as travel restrictions are lifted.
If your Baguio dessert cravings can't wait, you can also order some of the best-sellers from these dessert places in Baguio from trusted resellers in your area.
Also check out:
---
Cover image adapted from: Cy Quindara and Pedro's Afters
Mintzy Flor is a contributing writer to this article.
Get more stories like this!
Drop us your email so you won't miss the latest news.