Photos of Teresita Sanchez, the first Miss Universe Philippines, go viral
---
Before the time of Senyora Santibañez on our TV screens, there was an original queen who was the first to master the art of giving the side-eye – the first Miss Universe Philippines, Teresita Sanchez. She was our country's representative to the first-ever Miss Universe competition, held in 1952 in Long Beach, California. 
There's also more than meets the eye behind pictures of the star that have recently gone viral for her unimpressed expressions that some call a "resting bitch face" – here's what we've dug up and learned about her life before and after her time in Miss Universe.
---
Miss Universe Philippines 1952 side-eyed other contestants on stage
---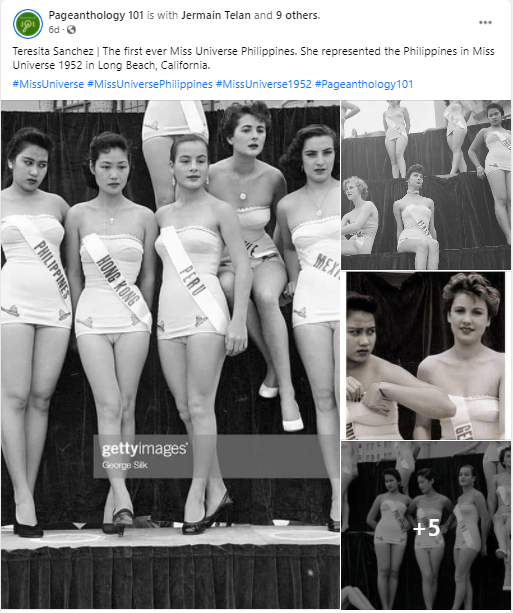 Image credit: Pageanthology 101
In a series of photos shared by the Facebook group of Pageanthology 101, the beauty queen from Malolos, Bulacan seems to not be in the mood for the cameras.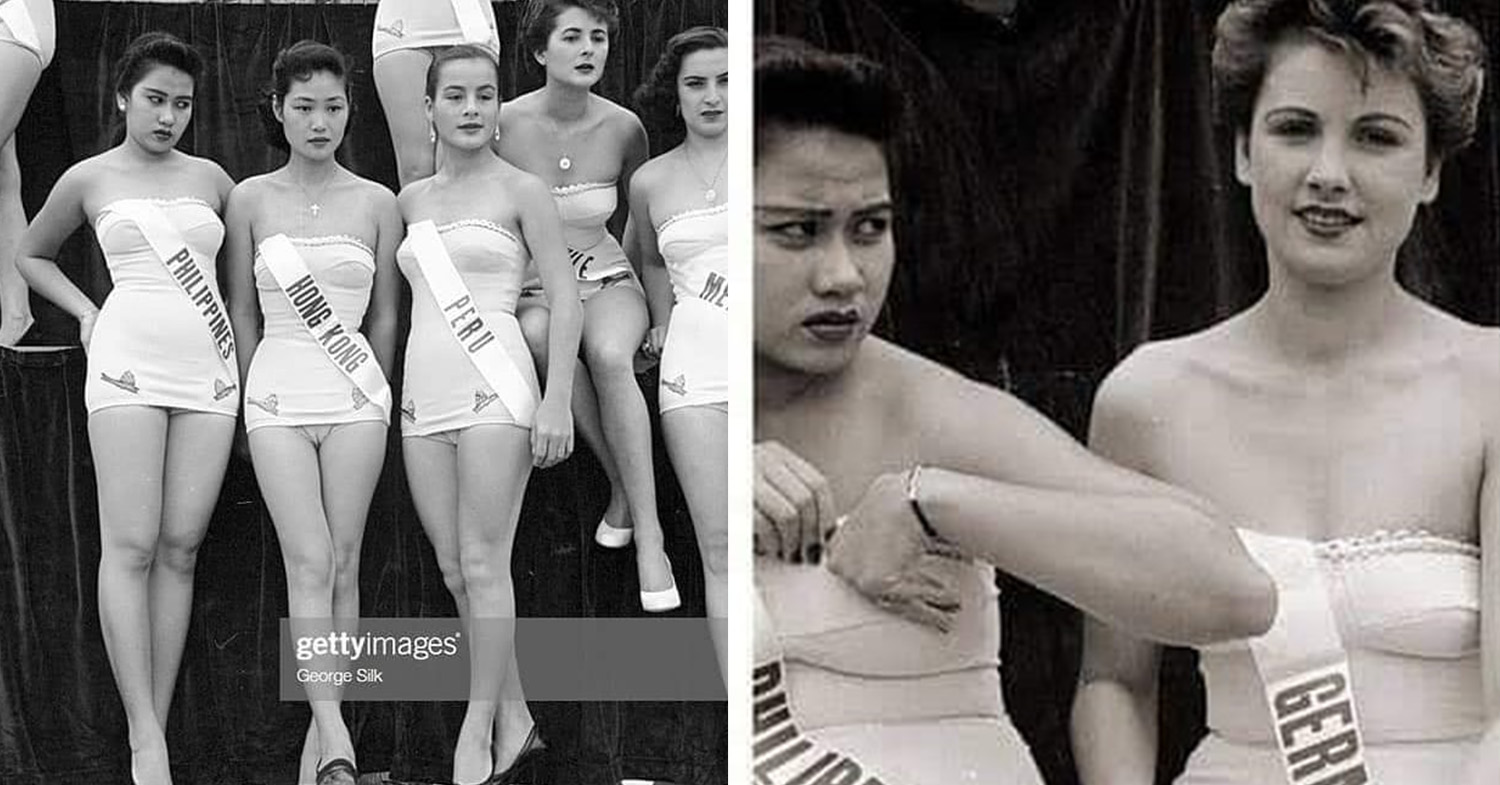 Image credit: Pageanthology 101, Pageanthology 101
She's seen giving a side-eye glance while on stage alongside contestants from other regions and countries, such as Hong Kong, Peru, and Germany.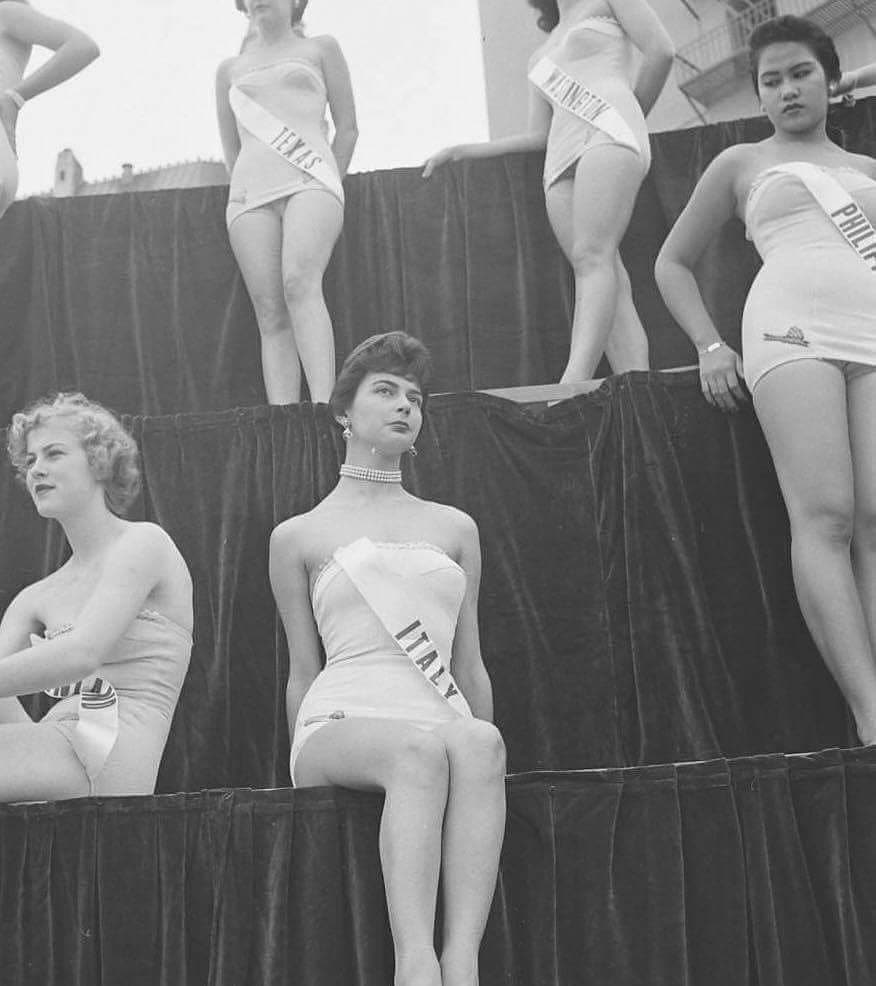 Image credit: Pageanthology 101
But her seeming annoyance is more obvious in one photo, where she seems to be giving a direct side-eye look towards Italy's Giovanna Mazzotti.
---
Netizens find her relatable, calling her the original RBF
---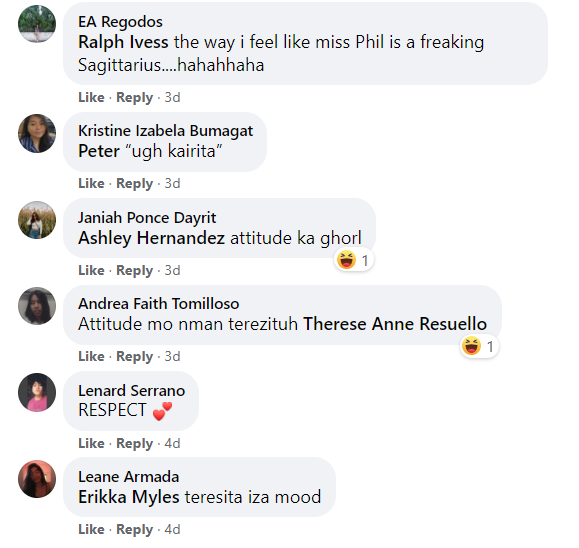 Image credit: Pageanthology 101

Her expressions have been thus the subject of netizens' humorous banter on the Facebook group's post. "[I feel like Miss Philippines] is a freaking Sagittarius," commented user EA Regodos, for example. 
Netizen Andrea Tomilloso also commented, "Attitude mo naman terezituh (Your attitude, Teresita)," while Leane Armada declared that the country's first Miss Universe is a total mood.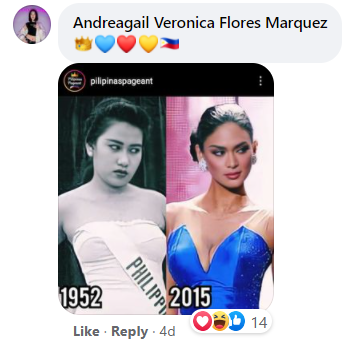 Image credit: Andreagail Marquez
Andreagail Marquez even compared Sanchez's expression to a famous photo of Miss Universe 2015 Pia Wurtbach's famous "smize" expression. The word "smize", coined by Tyra Banks, means to smile with one's eyes.
---
Rumors abounded during Sanchez's time in the competition
---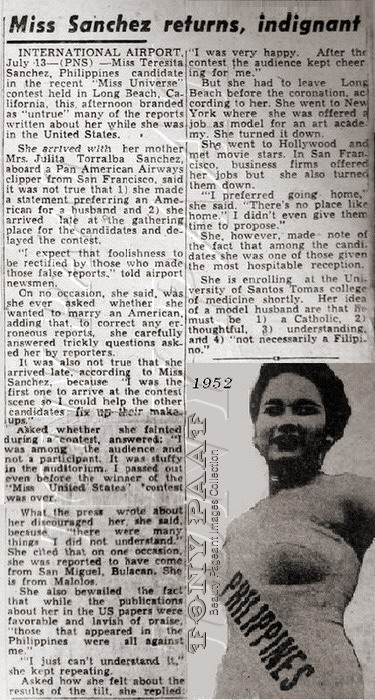 Image credit: Edgar Ebro 
As the original icon of RBF, Sanchez wasn't new to tea either. During Sanchez's time in the 1952 Miss Universe, it was reported that there were rumors that surrounded the beauty queen. 

According to one news article, for example, Sanchez reportedly made a statement that she wanted an American husband and was said to have arrived late at the venue of the competition, resulting in it being delayed.

But Sanchez dismissed the above as mere gossip. She recalled there nobody had asked her about the nationality of the person she wanted to marry, and clarified instead in a newspaper article that her dream husband need not be "necessarily a Filipino," and must be a thoughtful, understanding Catholic.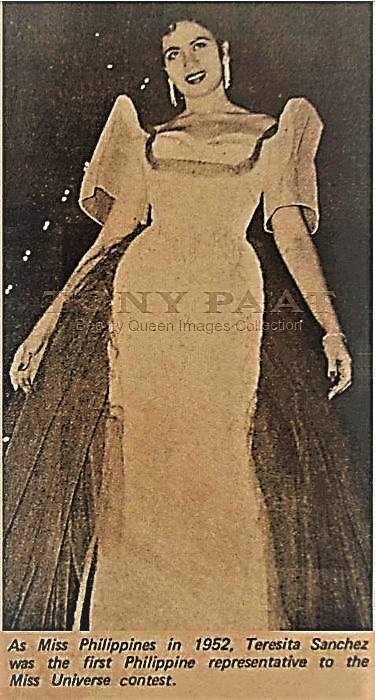 Image credit: VEESTARZ.COM

She also denied that she had arrived late, saying that she was actually the "first one to arrive" to the competition's venue. 
---
After the competition, she chose to pursue medicine instead of modeling
---
After the competition, Sanchez was offered a modeling job in New York and was pursued by business firms in San Francisco. But she declined the jobs offered, as she instead chose to pursue medicine at the University of Santo Tomas. 
---
The first Miss Universe Philippines representative
---
Beauty pageants have become a big deal for Filipinos in recent years, but there was a time when they were new.

Before our queens today, there was a Teresita Sanchez who showed the world the beauty of a Filipina with her memorable, signature side-eye. 
Also check out:
---
Cover image adapted from: Pageanthology 101, Edgar Ebro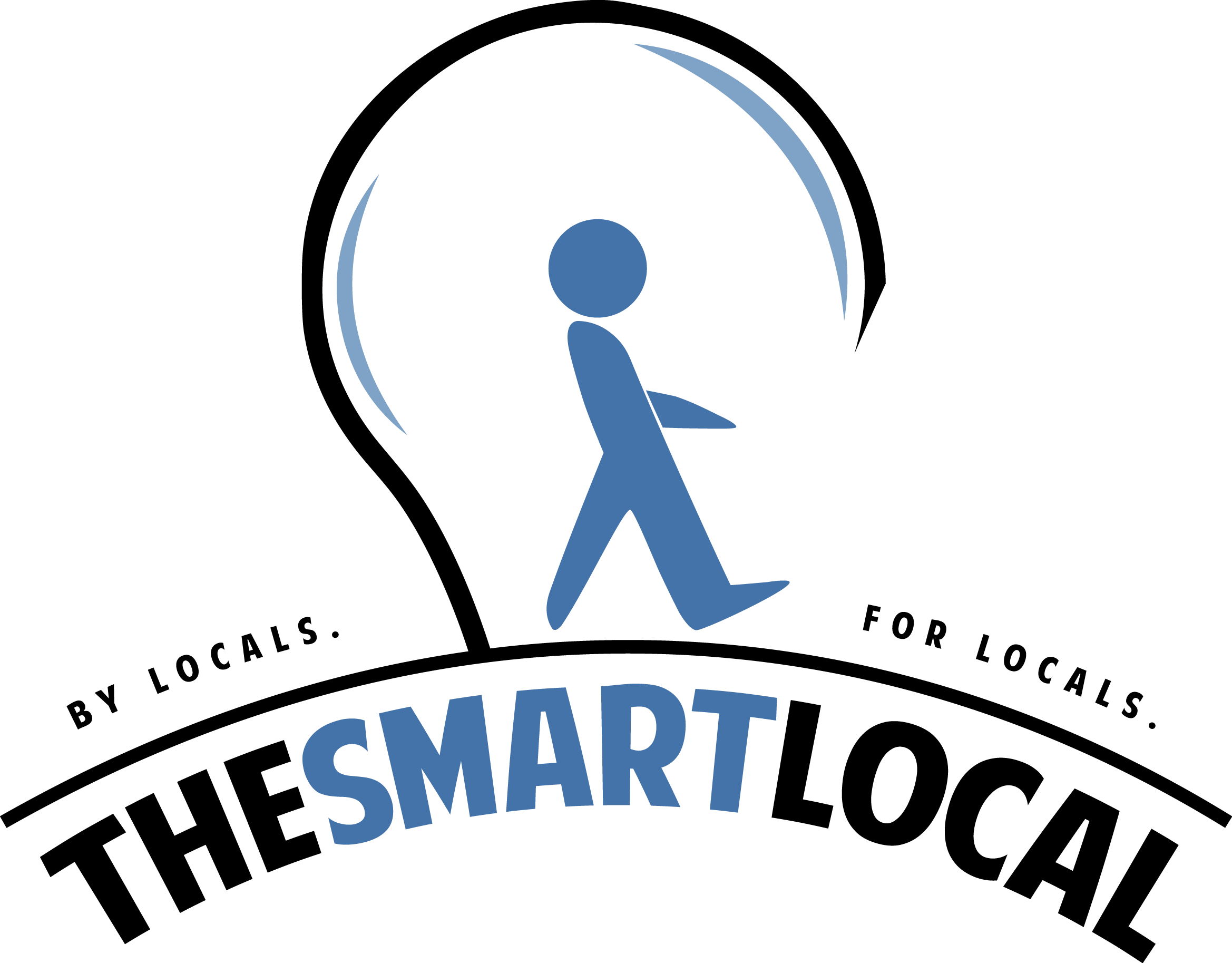 Drop us your email so you won't miss the latest news.