Miss Universe Philippines winners & where they are now
---
Winning a pageant as big as Miss Universe is only the beginning for a beauty queen. Our very own recent Miss Universe winners Catriona Gray and Pia Wurtzbach, for example, went on to spread positivity and forge successful careers in the limelight even after earning their crowns. But before our recent Miss Universe queens came the OG candidates, whose life stories post-win have also been equally admirable. 
For those who've been wondering where these past candidates are now, we've looked into the lives of 10 Miss Universe Philippines winners, from Lalaine Bennett, our 1963 rep who became the first Filipina finalist, to Janine Tugonon, the first runner-up at the 2012 pageant.
---
1. Lalaine Bennett – first Filipina finalist
---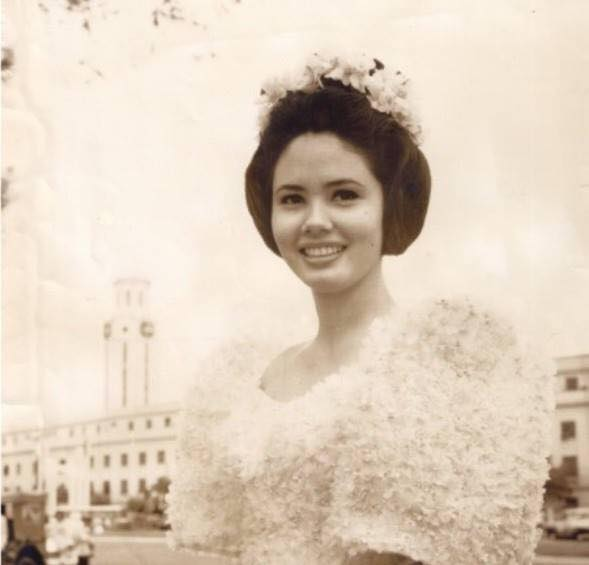 Bennett in Manila
Image credit: Pageanthology 101 
Lalaine Bennett gave the Philippines its first taste of being a part of the Miss Universe finals when she placed 3rd runner-up at the 1963 Miss Universe held in Miami Beach, Florida. The 5-foot-9 Filipina-American is from Nueva Vizcaya, where she also held a Miss Bayombong title.
She has acted in several movies before and after Miss Universe. Ligaw na Daigdig (1962) was her first foray into cinema, and she even depicted her own story in the biographical musical film Lalaine, Mahal Kita (1964).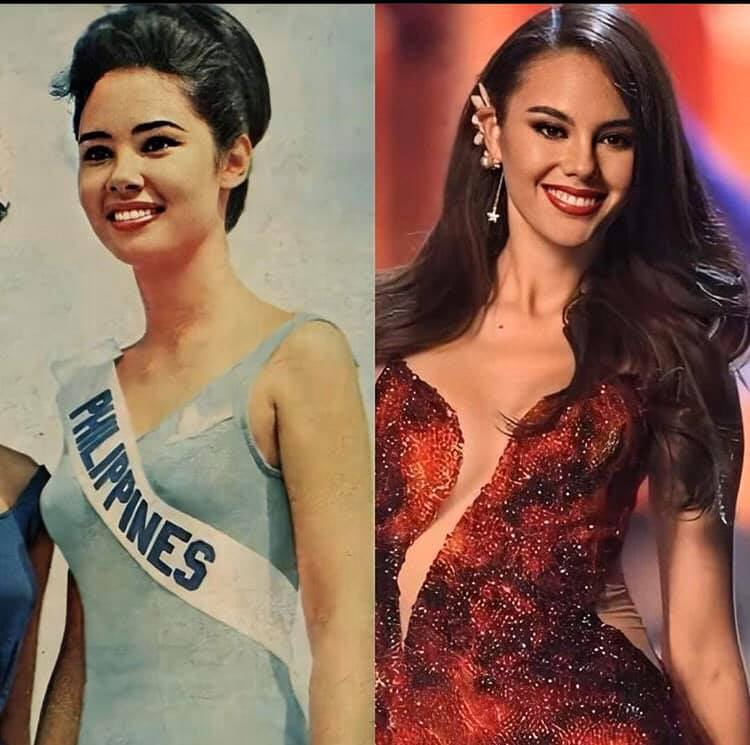 Lalaine Bennett (left) and Catriona Gray (right)
Image credit: Pageant Trend
Bennett left the Philippines when she married Felix Skievasky, a Polish-Filipino officer in the United States Navy, whom she met during the pageant. And today, according to the blog Dear Miss Purdy, she's managing a bed and breakfast in the United States. She's also become a favorite topic among pageant fans because of her resemblance to Miss Universe 2018 Catriona Gray.
---
2. Pilar Pilapil – first Cebuana rep
---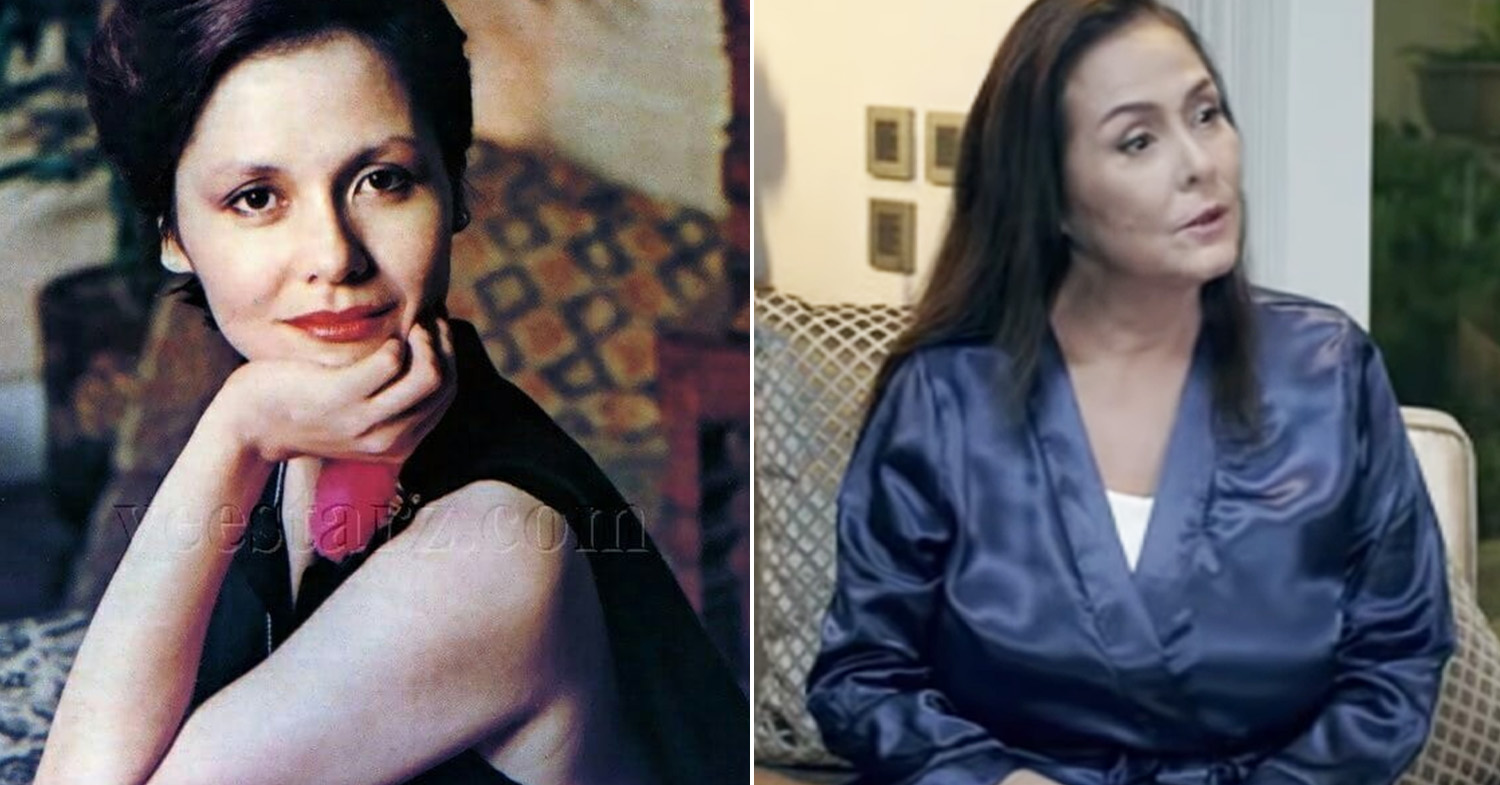 Young Pilapil (left) and Pilapil (right) in the movie Etiquette for Mistresses (2015)
Image adapted from: James Vargas Lagnas, ABS-CBN Star Cinema 
Hailing from Liloan, Cebu, Pilar Pilapil is the first Cebuana who represented the Philippines at the Miss Universe pageant. She took the stage at the 1967 pageant held in Miami Beach, Florida. 
After her pageant stint, she went on to become an award-winning actress, starring in several movies with actors such as Andy Poe and the late comedy king Dolphy, whom she almost married. She has one daughter with Salvador "Doy" Laurel, a former Vice President of the Philippines. 
Today, while still acting, she manages the Pilar Pilapil Foundation, which is dedicated to helping abused women. Her recent works on television and film include The Blood Sisters (2018) and Etiquette for Mistresses (2015).
---
3. Maria Isabel Lopez – was asked to give up her title
---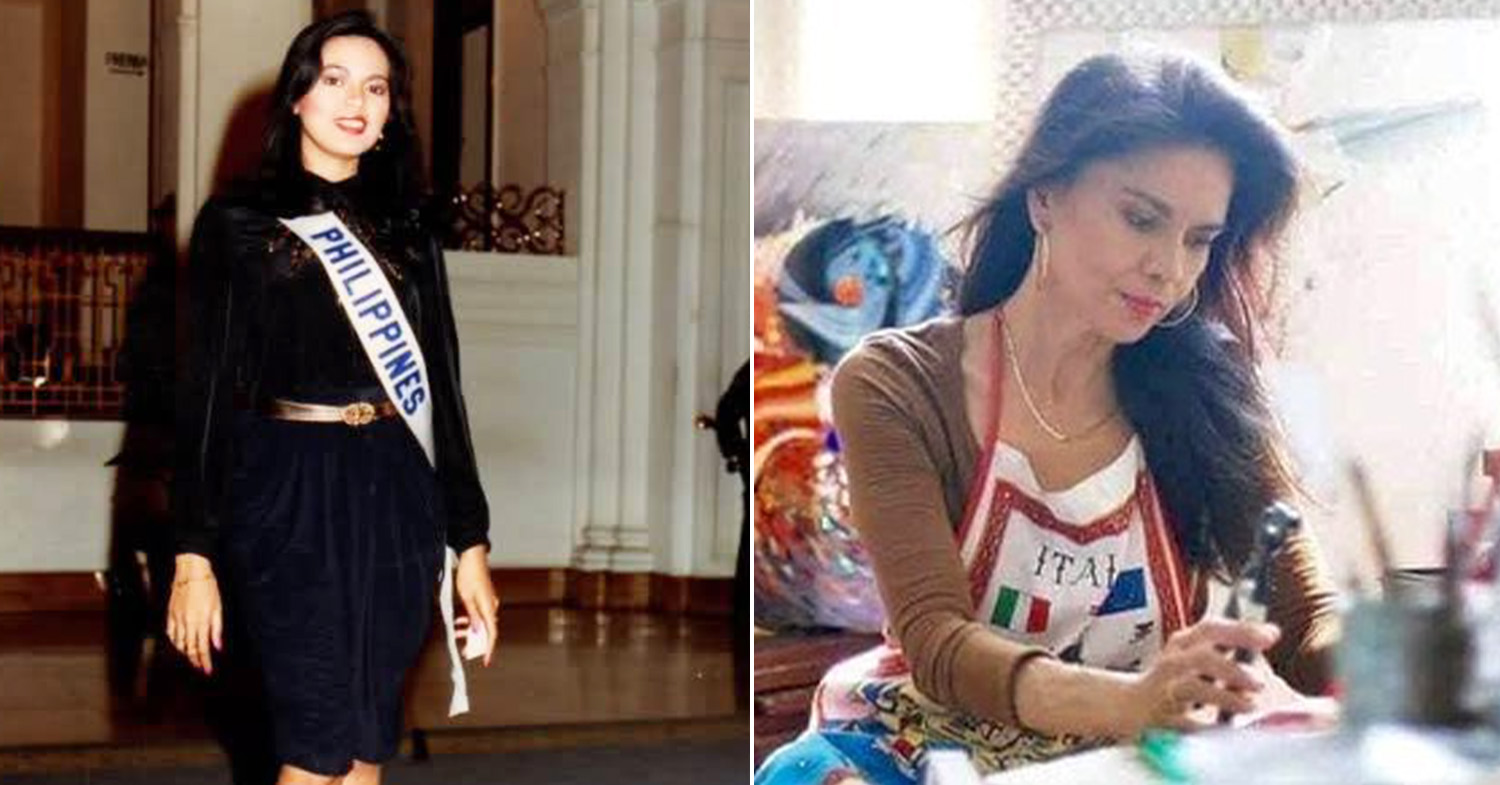 Lopez at the 1982 Miss Universe pageant (left) and Lopez (right) in an art studio in 2020
Image adapted from: Pageant Mania, @beautyqueenmil
The Philippines' bet at the 1982 Miss Universe held in Peru, Maria Isabel Lopez is one of our Miss Universe beauty queens marred with controversy. During her stint, she was asked to give up her title when she was discovered modeling in sexy lingerie at a fashion show – something no one would blink an eye at if a beauty queen did so these days. Still, she managed to keep her title to represent the Philippines. 
After her reign, she starred in various sexy films from Silip (1985) to Dingding Lang ang Pagitan (1986). But more recently, she's starred in indie Filipino films such as Kinatay (2009) and Ma' Rosa (2016), both recognized at the Cannes Film Festival. And aside from her showbiz career, she also pursues her passion in the arts through her mosaic artworks. 
---
4. Geraldine Asis – narrowly missed the 5th spot at the 1987 pageant
---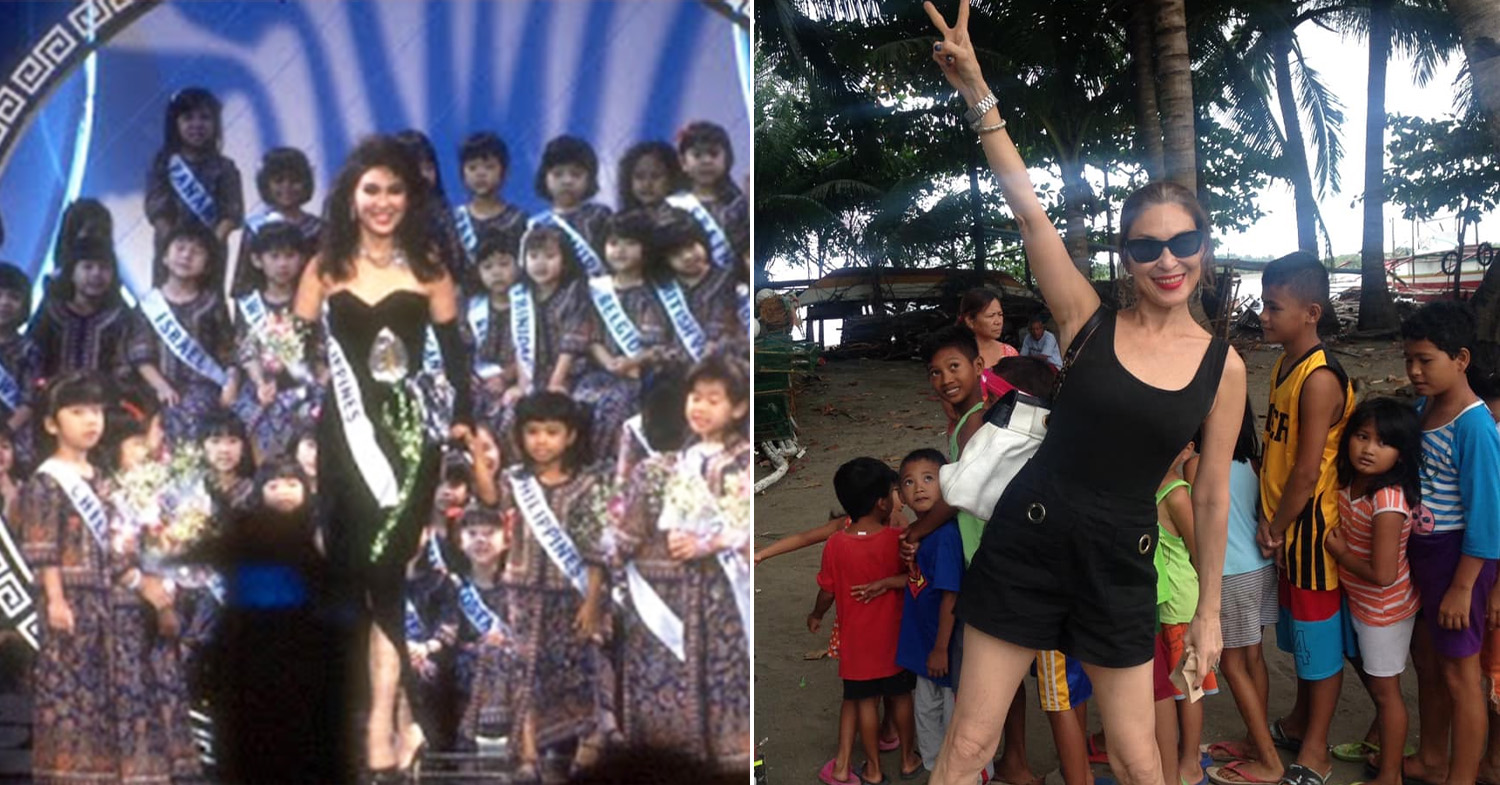 Asis (left) at the 1987 Miss Universe and Asis (right) in her hometown Roxas City, Capiz in 2019
Image adapted from: Norman's Blog, Geraldine Villaruz Asis 
Geraldine "Pebbles" Asis represented the Philippines at the 1987 Miss Universe held in Singapore. She almost made it to the pageant's finals, as she missed the 5th spot by a slim margin. 
After her Miss Universe stint, she starred in a few movies such as Action is Missing, Crack Platoon (1987) with comedy king Dolphy. But through the years, she has still focused on modeling and even plans to open a modeling school in her hometown Roxas City, Capiz. 
And today, while living in Roxas, she's focusing on running a lodging house business and on her apostolic outreach charity work that includes a community feeding program.
---
5. Charlene Gonzales – famous for her 'high tide or low tide' answer
---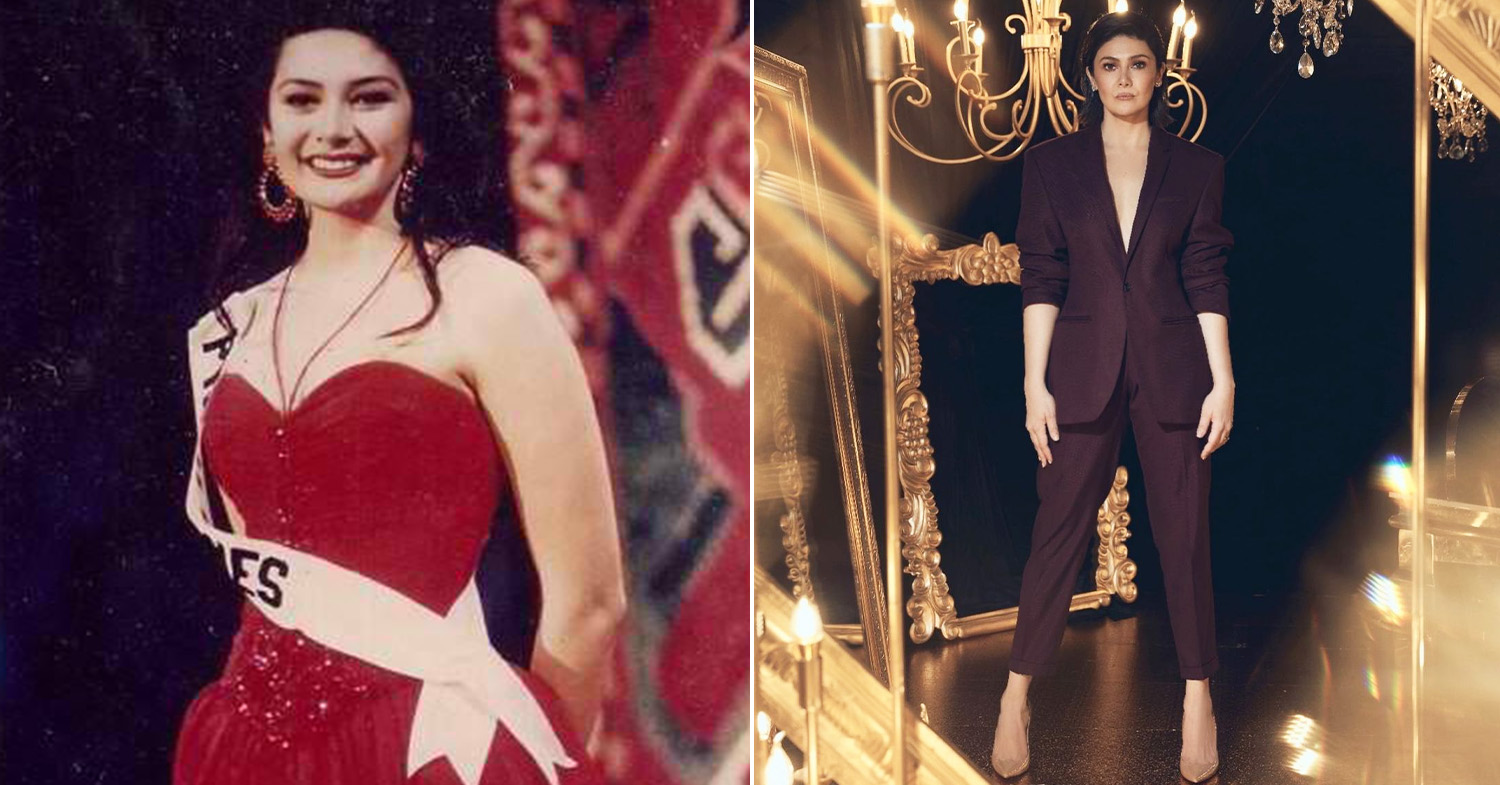 Gonzales (left) at the 1994 Miss Universe and Gonzales (right) modeling for Metro Magazine in 2019
Image adapted from: Sash Factor, @itsmecharleneg
At the 1994 Miss Universe held in the Philippines, Charlene Gonzales was our country's bet. She made it to the Top 10 at the 6th spot, and she also bagged the Best in National Costume honor.

She gave one of the most memorable answers in Miss Universe when Bob Goen, the host of the 1994 pageant, asked her how many islands there are in the Philippines. The witty Gonzales responded to ask Goen whether he meant during "high tide or low tide, " and proceeded to tell him the exact official number of islands in both circumstances – 7,107, and 7,108 at the time.

Today, she has made a successful career in Philippine showbiz as an actress, host, and model. With her husband Aga Muhlach, she is also a supermom of twins Andres and Atasha Muhlach. 
---
6. Miriam Quiambao – 1st runner-up at the 1999 Miss Universe
---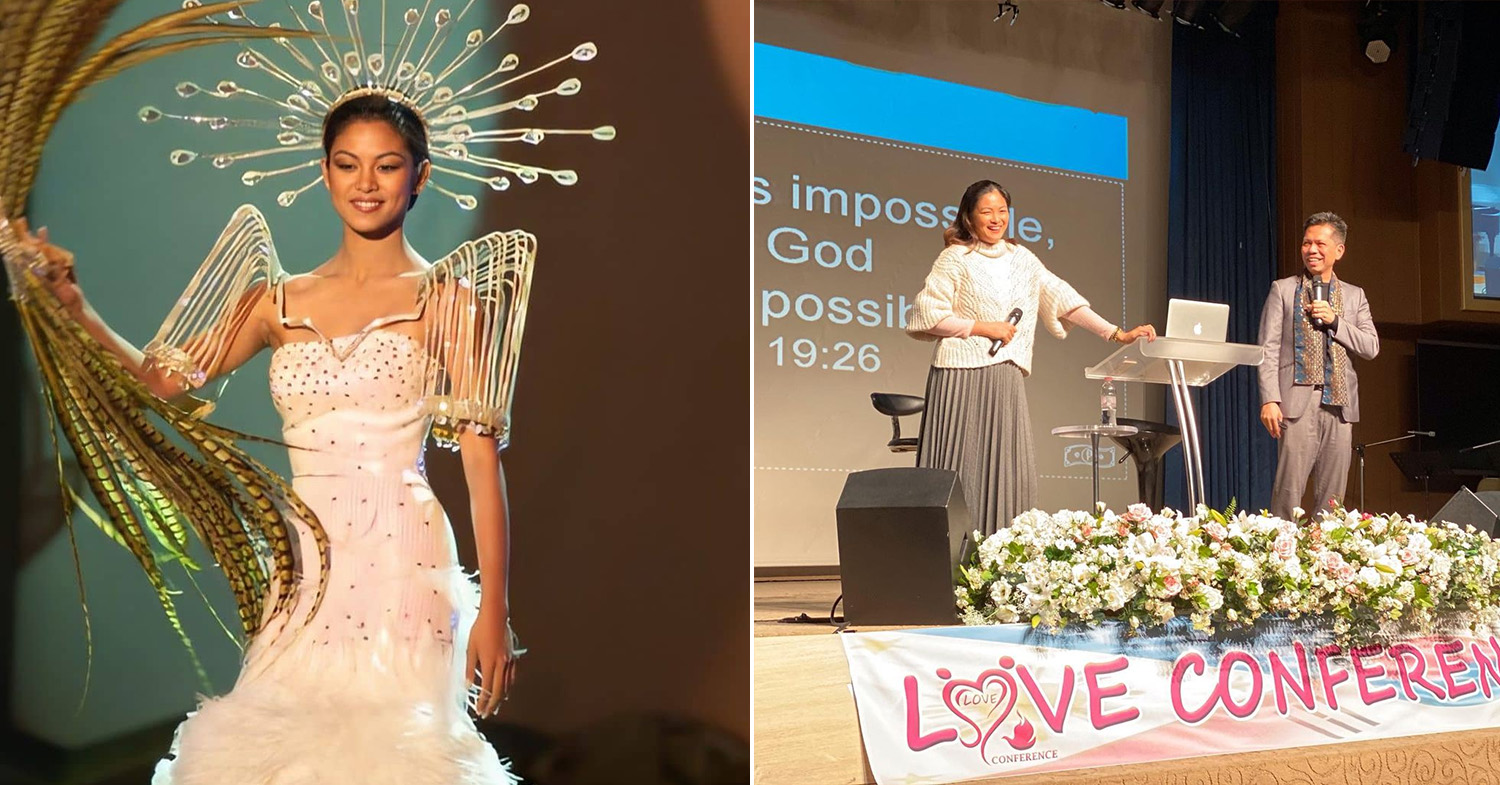 Quiambao (left) at the 1999 Miss Universe and Quiambao (right), with her husband, speaking at a conference in 2020
Image credit: Pageanthology 101, @miriamq888
The Philippines hadn't won a Miss Universe crown in 26 years when Miriam Quiambao inched close to the crown. She came close to winning, earning the 1st runner-up position at the 1999 Miss Universe pageant held in Trinidad and Tobago.
She slipped on stage during the pageant's preliminary competition, but she was able to regain her composure – though this has since become one of the most popular moments among Miss Universe Philippines queens. 
After taking home the 1st runner-up, she went on to become a familiar face on Philippine TV, hosting several TV shows in the early 2000s such as Extra, Extra and Pinoy Meets World, both with Paolo Bediones. 
Recently, Quiambao has been devoting her time to entrepreneurship and inspirational speaking while also raising a family with her second husband, entrepreneur Eduardo Roberto Jr.
---
7. Nina Alagao – Bb. Pilipinas-Universe 2000
---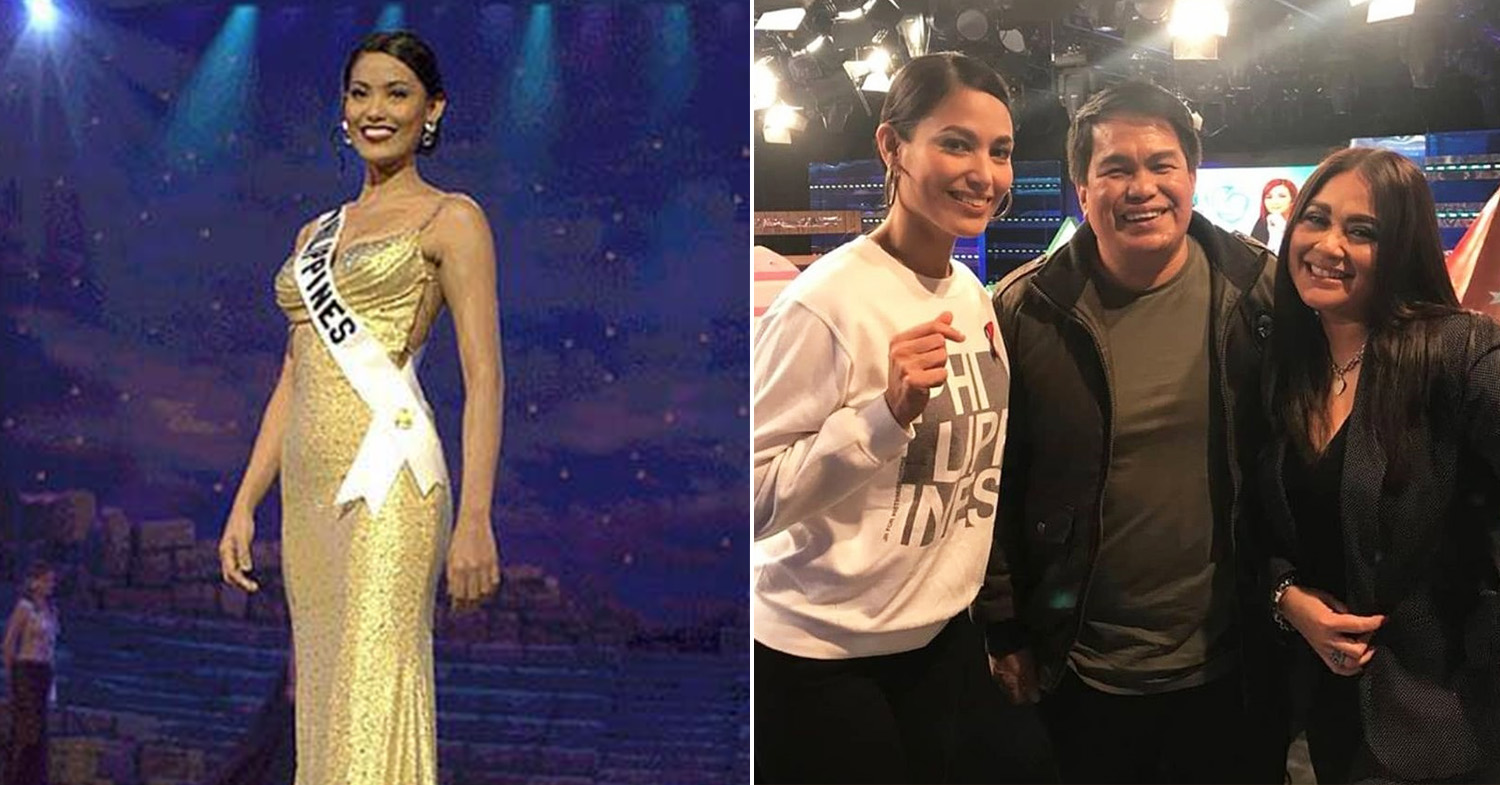 Alagao at the 2000 Miss Universe (left) and Alagao (first from left) with her fellow Showtime judges in 2020
Image adapted from: Miss Philippines' Road to the Miss Universe Crown, @ninaalagao 
Nina Alagao represented the Philippines at the 2000 Miss Universe in Cyprus. She was expected to win the crown that year, as she was a favorite among pageant enthusiasts on betting sites and online forums. 
She was even compared to India's Lara Dutta, who would eventually win the crown. Fans thought Alagao lost because of poor styling and gown choice. 
After her reign, she started a career in showbiz by starring in films such as Got 2 Believe (2002) and TV shows. Up to this day, she is still gracing our TV screens, and her most recent works include her judging stint at the noontime show It's Showtime. She is married to actor and dancer Michael John Flores, with whom she has three kids. 
---
8. Anna Theresa Licaros – known for her beauty and brains
---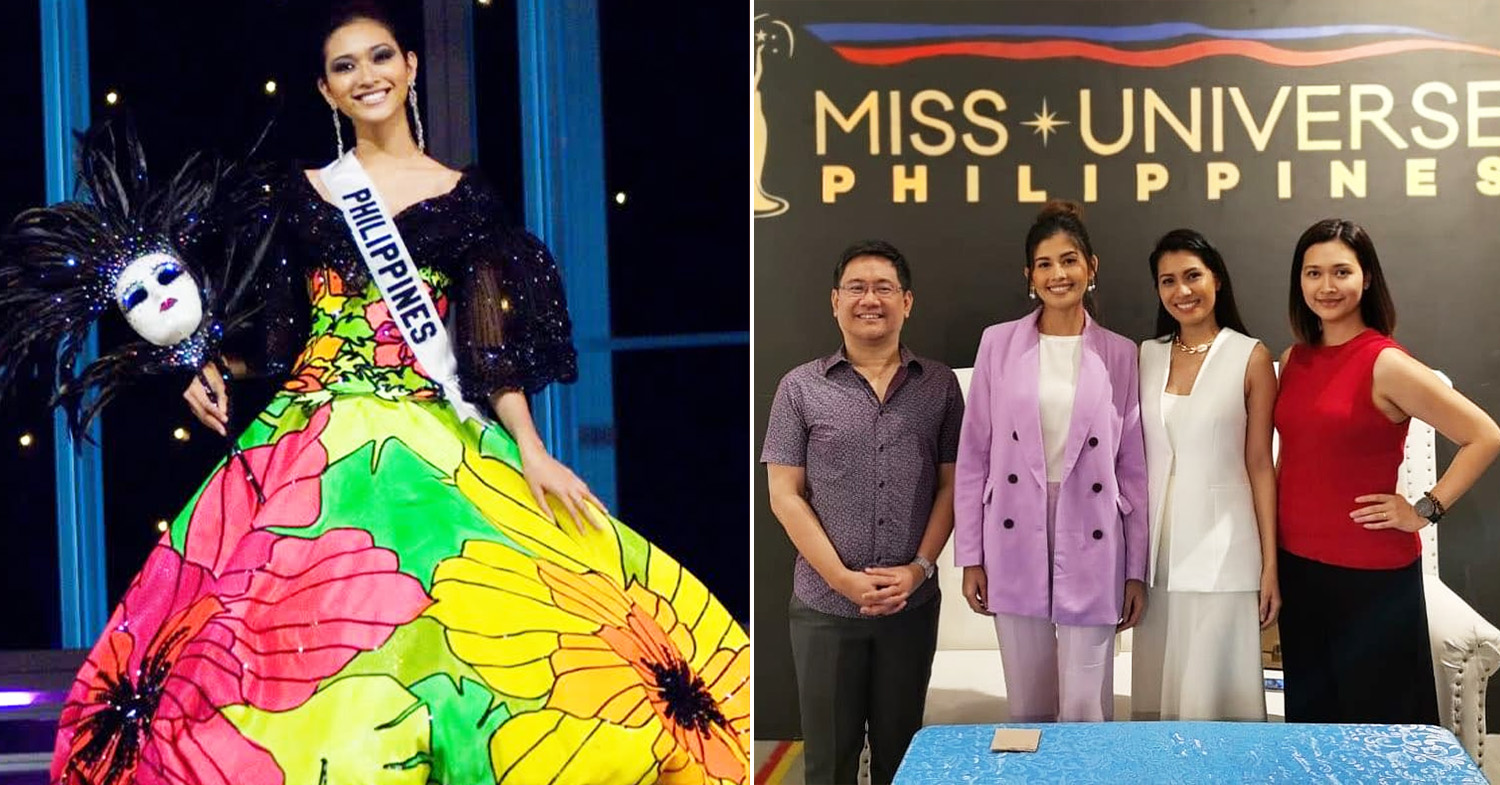 Licaros (left) at the 2007 Miss Universe and Licaros in 2020 (first from right) with fellow former beauty queens
Image adapted from: Missosology Philippines, Pageanthology 101

Anna Theresa Licaros was the Philippines' bet at the 2007 Miss Universe pageant held in Mexico. Known for her beauty and brains, she graduated summa cum laude from her undergraduate class at the University of the Philippines-Diliman and was even studying law at the same university when she joined the Binibining Pilipinas 2007. 
While she didn't make it to the finals of the 2007 pageant, she went home with a Miss Photogenic award. After her stint, she focused on her law studies and became a lawyer in 2010. Today, she's practicing her legal knowledge in the banking industry while living a quiet life with her husband and two kids.
---
9. Venus Raj – 4th runner-up at the 2010 Miss Universe
---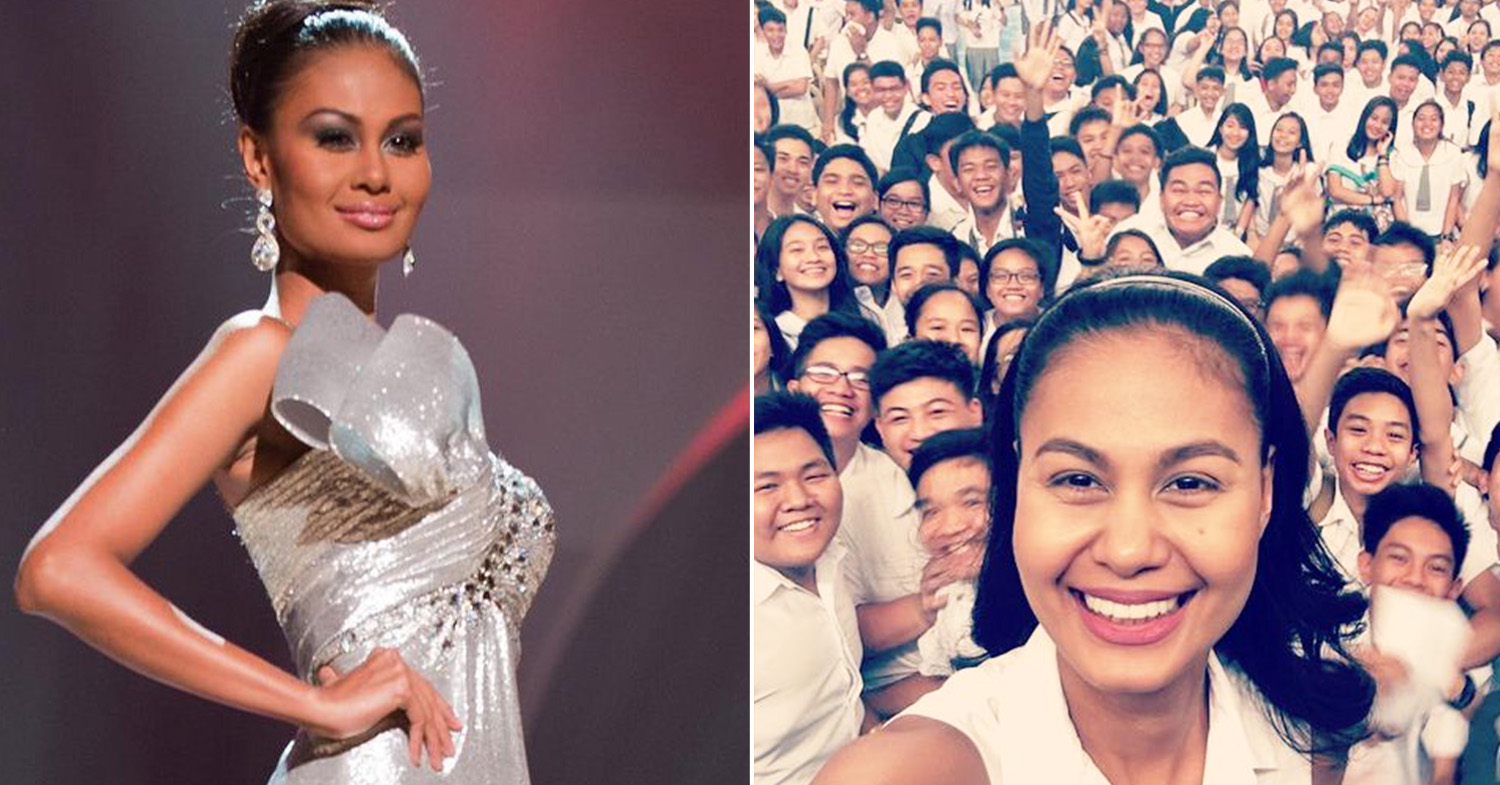 Raj at the 2010 Miss Universe and Raj (right) at a group prayer event in 2018
Image adapted from: @onlyvenusraj, @onlyvenusraj
Venus Raj ended the Philippines' pageant prize drought when she placed 4th runner-up at the 2010 Miss Universe held in Las Vegas, USA. She almost did not make it to the prestigious pageant, because weeks after her Binibining Pilipinas coronation, she was dethroned due to issues surrounding her citizenship. But fortunately, the beauty queen was able to reclaim her throne, as she was recognized as a Filipino citizen by birthright due to her mother being Filipino. 
During the Miss Universe question and answer portion, she was asked by the host, US actor William Baldwin, about the biggest mistake in her life and what she did to make it right. She responded that there's no "major major problem," in her life, and the phrase, which translates to "bonggang bongga" in Tagalog, has since become a popular expression among pageant fans. 
After her comeback win, she hosted various TV shows such as Umagang Kay Ganda while pursuing a master's degree in community development. These days, while doing hosting and modeling side hustles, she's also visiting schools as part of her work as a minister of a Christian youth organization.
---
10. Janine Tugonon – 1st runner-up at the 2012 Miss Universe
---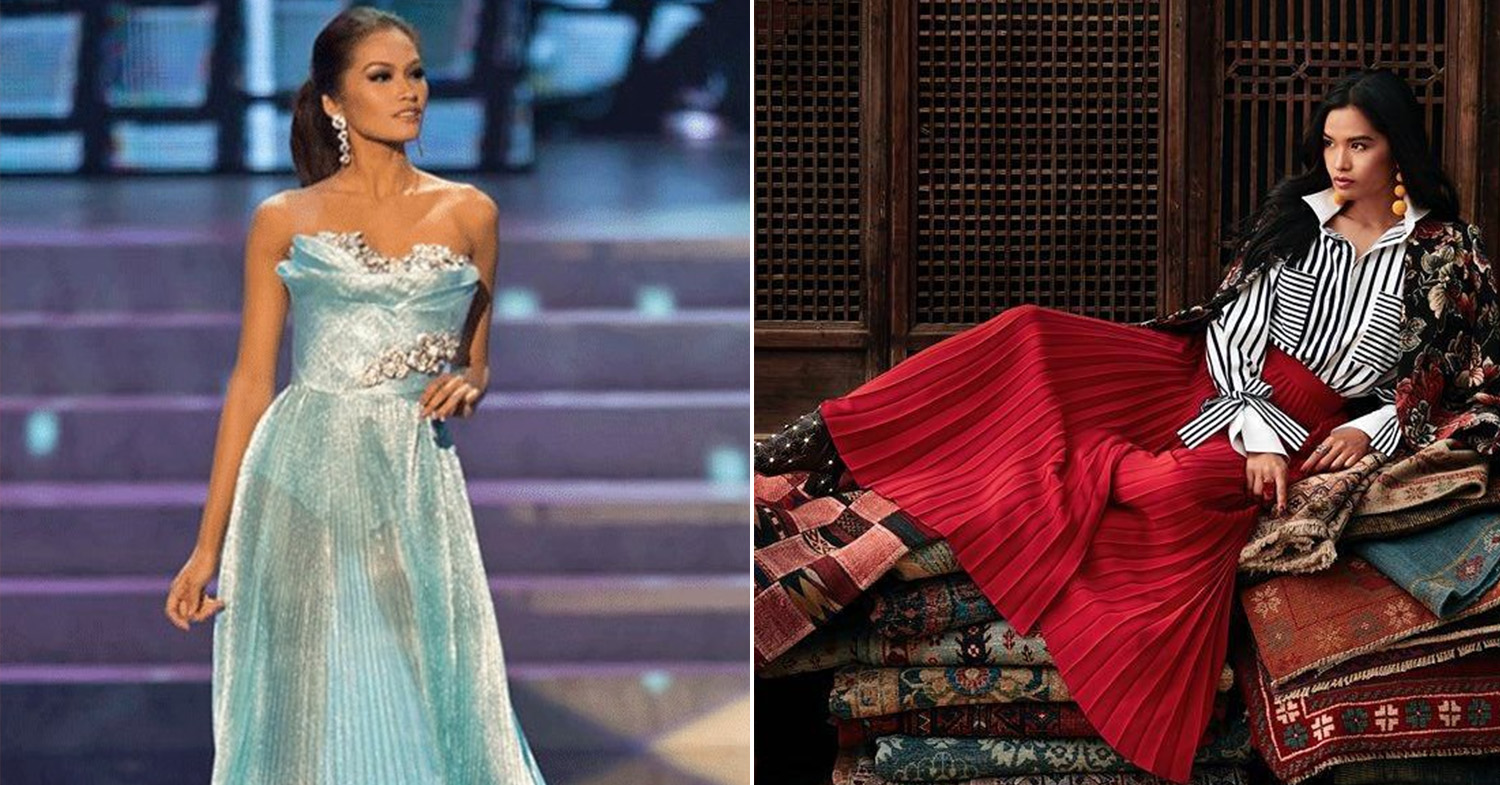 Tugonon (left) at the 2012 Miss Universe and Tugonon (right) modelling for Philadelphia Magazine in 2017
Image adapted from: Adventures of a Beauty Queen, @tugononjanine
Janine Tugonon almost won the Miss Universe crown in 2012, when she placed 1st runner-up after Miss USA Olivia Culpo. Pageant fans thought she gave a solid answer in the Q&A portion of the pageant – when asked by judge Nigel Barker whether proficiency in English should be a requirement for the Miss Universe winner, she responded that being "Miss Universe is not about being able to speak a particular language, it's about being able to influence and inspire other people."
Tugonon pursued modeling in the US after her pageant years. She became the first Filipino to appear on a Victoria's Secret ad in 2016, and in the same year, she was also among the winners of a global model search. She is now a permanent resident in the US, but she sometimes visits the Philippines to attend local pageant events. 
---
Miss Universe Philippines winners through the years
---
Aside from continuing a career in showbiz or modeling, our queens have also continued leading their communities, whether through a foundation or outreach programs, spreading the word about good causes even after their reigns.
We're rooting for a next Miss Universe Philippines beauty queen who can also spread more positivity like the beauty queens in our list. 
Also check out:
---
Cover image adapted from: Norman's Blog, Geraldine Villaruz Asis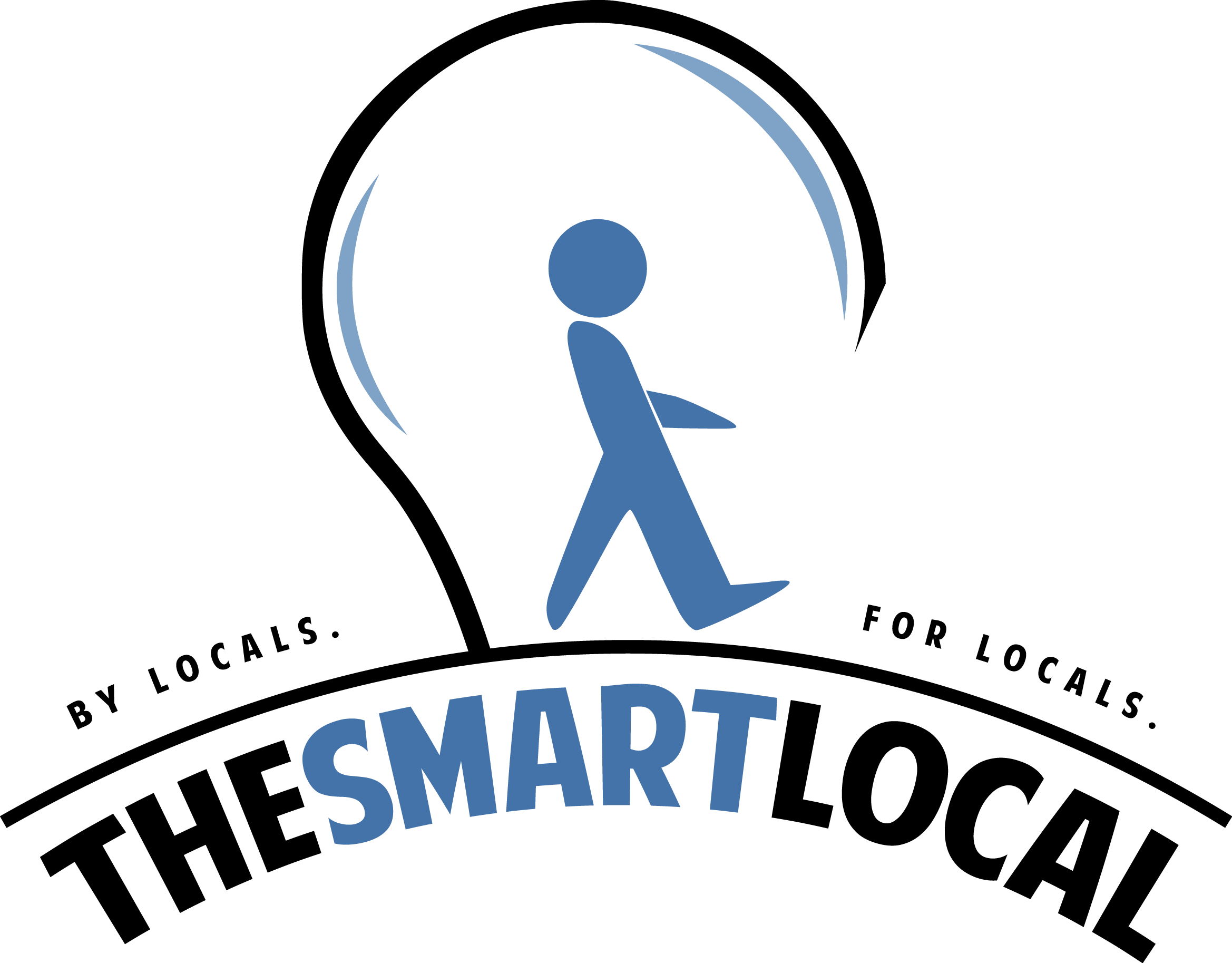 Drop us your email so you won't miss the latest news.