Filipino actors who won international awards
---
Filipinos are in the spotlight again as our very own Dolly de Leon gets nominated as Best Supporting Actress at the upcoming Golden Globes Awards for her performance in Triangle of Sadness. She's the first-ever Filipino to do it!
Whenever our kababayans get recognized in the global scene, we can expect Filipinos to wear that pride like a badge of honor. We rounded up 10 Filipino actors making waves in the international scene by winning these prestigious awards and making history as some become the first Filipinos and Southeast Asians to receive these awards.
---
1. Dolly de Leon – her first English-language stint won her multiple international awards
---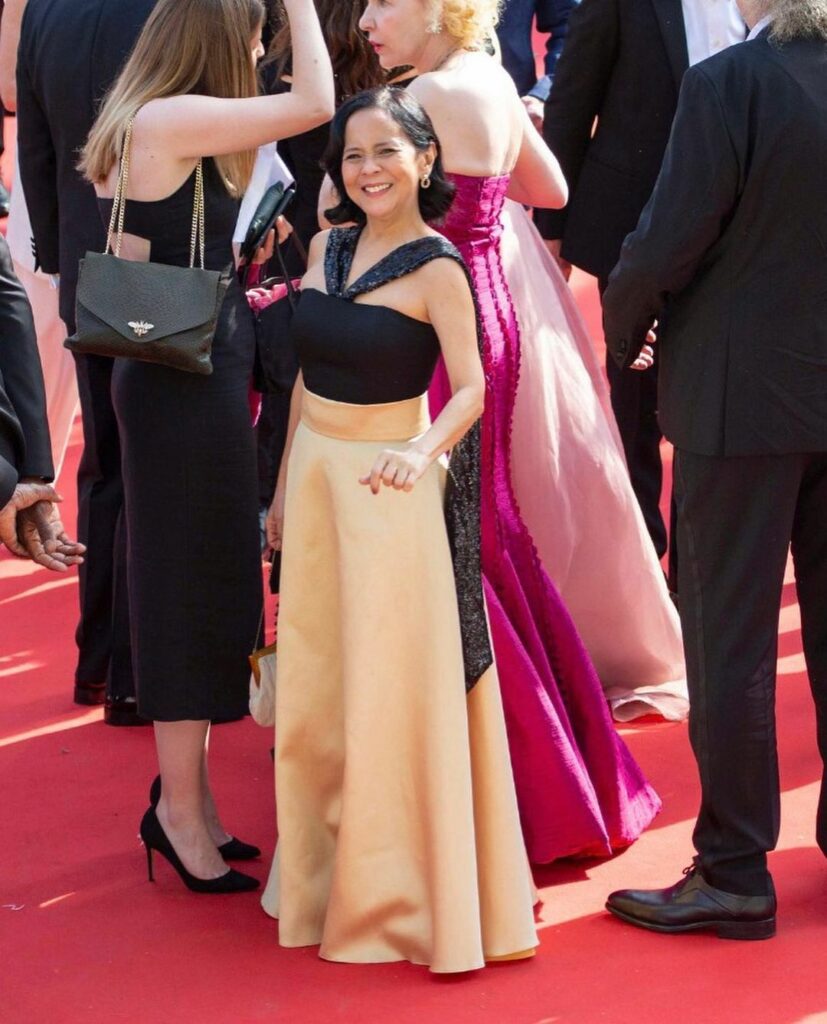 Dolly de Leon at the 75th Cannes Film Festival.
Image credit: @dollyedeleon
You may have seen Dolly de Leon's name, pictures, and videos on social media in the past weeks – and rightfully so. Dolly de Leon has been acting for over three decades, but we didn't see her coming super hot with her breakthrough international role as Abigail in Ruben Östlund's Triangle of Sadness.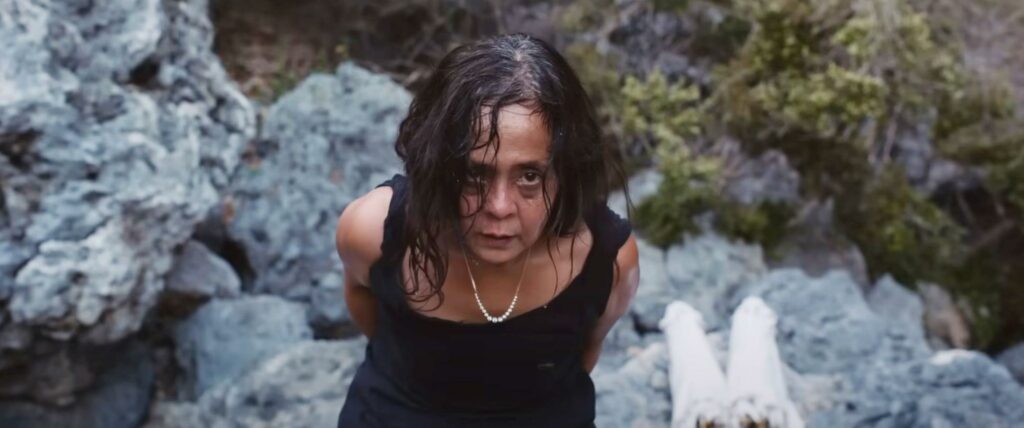 She played Abigail in her breakthrough film.
Image credit: NEON
Her acting was so on point that aside from getting a nomination in the acclaimed Golden Globes, she has previously won Best Supporting Performer at the 48th Los Angeles Film Critics Association Awards and Breakthrough Performance at the 10th Middleburg Film Festival for the same role.
The actress has yet to receive her awards in person. According to her interview with ANC, she received one of her local awards at home via delivery. "Natanggap ko yung award ko doorbell. 'Ms. Dolly, ito na yung award nyo.' (I received my award, someone rang the doorbell. [They said,] 'Ms. Dolly, here's your award.') Thank you. Sa garahe namin. ([I was] At our garage.)" she said, recalling the exchange with the person who had delivered her trophy.
---
2. Jaclyn Jose – first Southeast Asian actress to win Best Actress in Cannes
---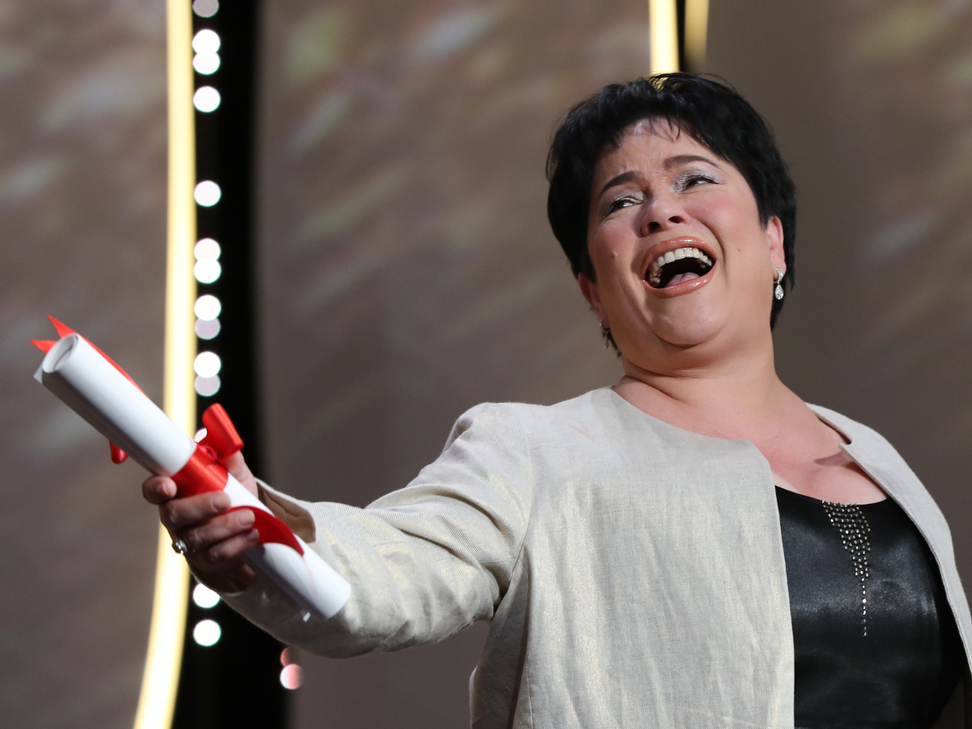 Jaclyn Jose at the 69th Cannes Film Festival awards ceremony.
Image credit: @festivaldecannes
Philippine TV and movie industry veteran, Jaclyn Jose won the highly coveted Best Actress award at the 69th Cannes Film Festival in 2016 for her role in Ma' Rosa. Directed by renowned film director Brillante Mendoza, the film depicts the Philippines' struggle against small-scale illicit drug gangs and the police corruption that propagates it.
She was the first Southeast Asian to bag the Best Actress award at Cannes. Hence beating Hollywood actors, Charlize Theron and Martin Cotillard, and the two-time Cannes awardee, French actress Isabelle Huppert.
---
3. John Arcilla – first Filipino to win a Volpi Cup for Best Actor
---
John Arcilla holding a picture of himself with his Volpi Cup.
Image credit: @johnarcilla
Another industry veteran, John Arcilla won a Volpi Cup for Best Actor in 2022 at the 78th Venice International Film Festival, considered the oldest film festival in the world.
He won the Best Actor award for his role in the HBO television series, On The Job: The Missing 8 – making him the first Southeast Asian actor to do so. Some A-list actors who received the Volpi Cup were Liam Neeson, Sean Penn, and Brad Pitt.
Arcilla wasn't able to accept the award personally at the festival because it was still the height of the pandemic. He instead delivered his heartfelt acceptance speech in a video, respectfully expressing his thanks in Italian. The series' director, Erik Matti, received the award on his behalf.
---
4. Eugene Domingo – 3 best actress awards for 3 different roles
---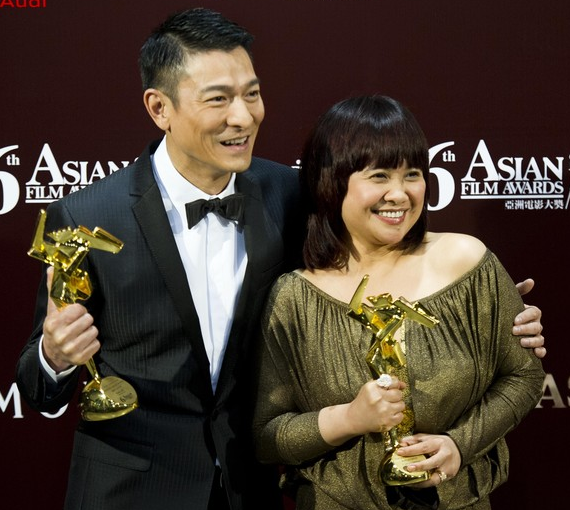 Eugene Domingo won the People's Choice award with Hong Kong actor, Andy Lau, at the 6th Asian Film Awards.
Image credit: The Film Experience
It isn't surprising that Eugene Domingo's charm and natural acting skills have attained international recognition.
In 2012, she not only bagged 3 Best Actress awards for the indie film Ang Babae Sa Septic Tank and theater play Bona in the local awards scene, but she also won Best Actress at the 3rd PAU International Film Festival in France and People's Choice Awards for Best Actress in the 6th Asian Film Awards held in Hong Kong for her role in Ang Babae Sa Septic Tank.
Her streak continued in 2013 as she was awarded Best Actress for her role in Kuwentong Barbero at the 26th Tokyo International Film Festival – one of Asia's most prestigious and competitive film festivals.
---
5. Cherie Gil – a kontrabida's comeback as a bida
---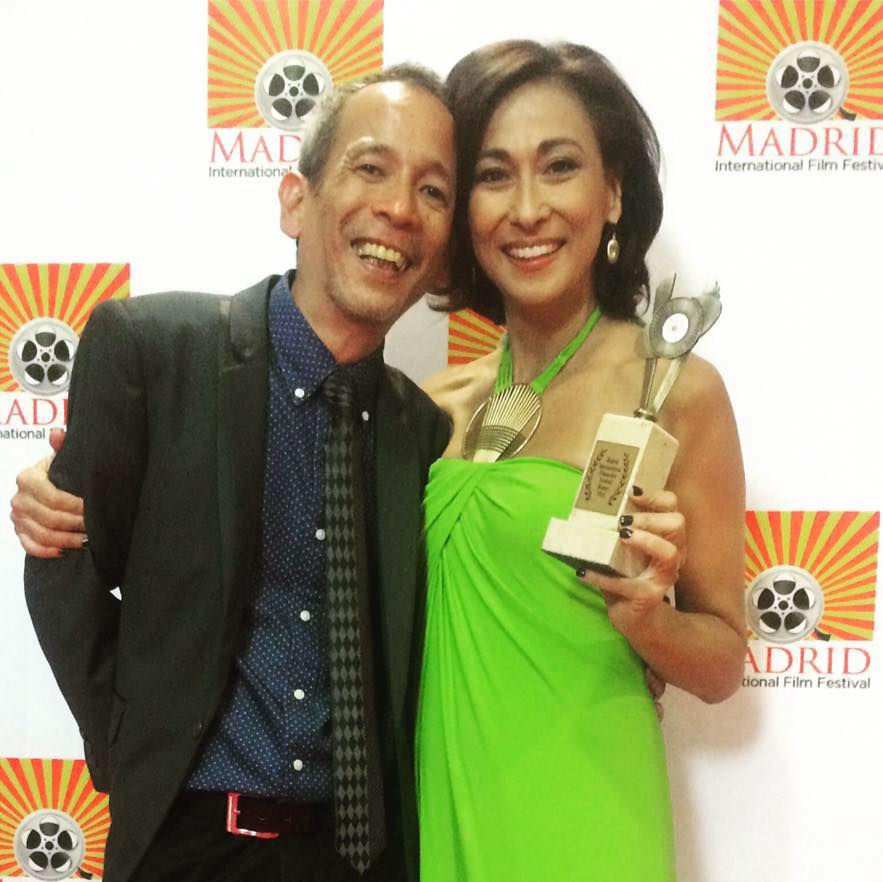 Cherie Gil with her trophy and Mana director, Gabriel Fernandez.
Image credit: Cherie Gil Eigenmann
When we talk about kontrabidas, our villains, the late Cherie Gil will definitely be one of the first names to come up – she's Philippines' La Primera Contravida or The Prime Villain, after all.
A versatile actress, she demonstrated her acting prowess by being the bida, the protagonist, in two internationally renowned films, proving that she could also be the main character. This steered her in the direction of international film festivals.
In 2015, she won 2 Best Actress awards, first as Regina in the indie film Sonata at the ASEAN International Film Festival and Awards and then, as Sandra in Mana at the Madrid International Film Festival.
---
6. John Lloyd Cruz – from box-office leading man to award-winning indie film actor
---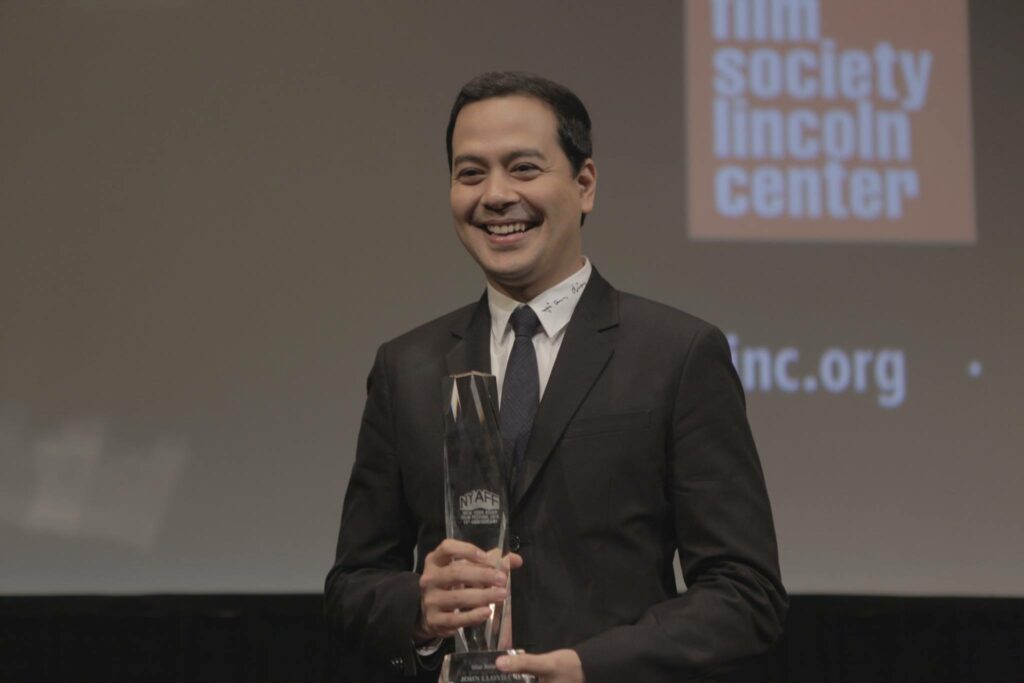 Cruz Holding his trophy at the NYAFF.
Image credit: New York Asian Film Festival (NYAFF)
After starring in A Second Chance in 2015, significantly the 6th highest-grossing Filipino film of all time – John Lloyd Cruz took the risk of stepping out of his comfort zone of mainstream series and movies and led the crime-thriller indie film, Honor Thy Father.
He was consequently honored as the first Southeast Asian actor to win the Star Asia Award at the 15th New York Film Festival in 2016. Along with Korean actor Lee Byung-hun and Hong Kong actress Miriam Yeung.
---
7. Therese Malvar – leading the new generation
---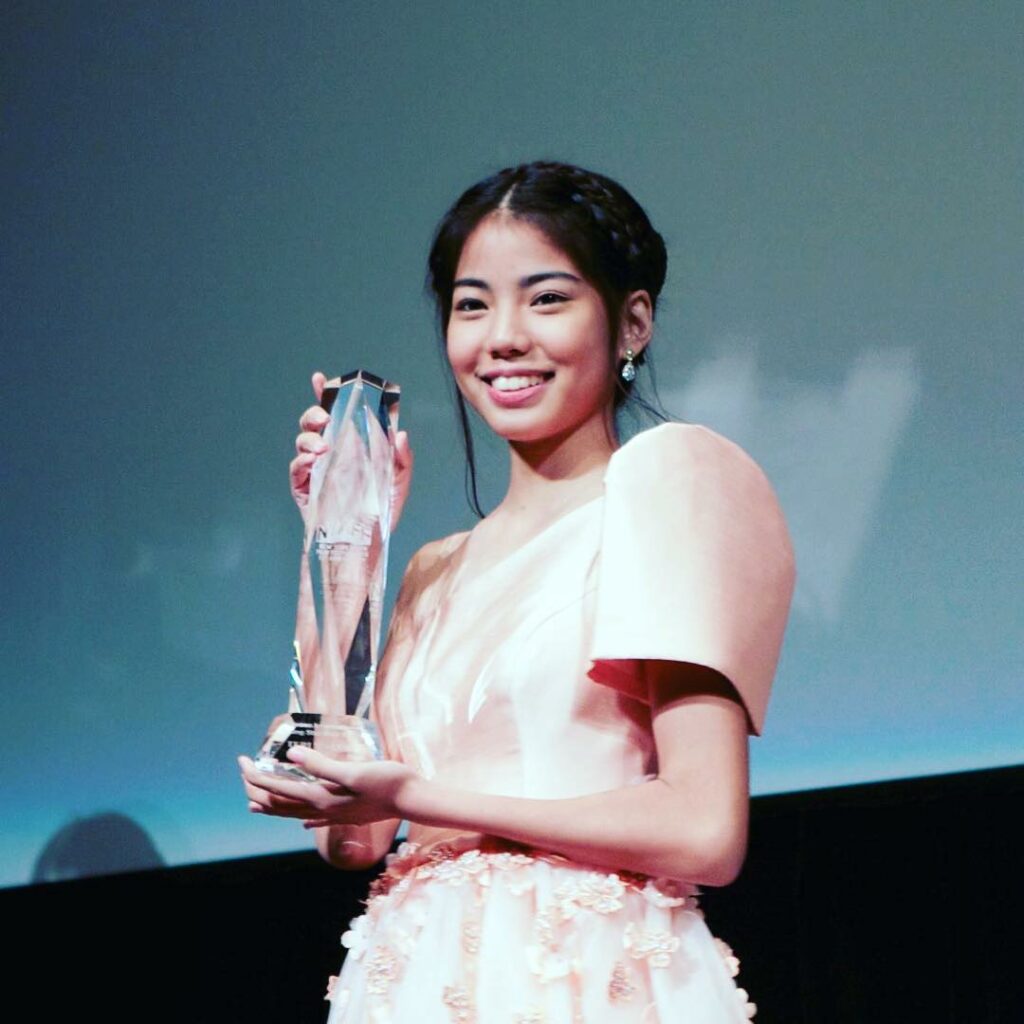 Therese Malvar with her award at the NYAFF.
Image credit: New York Asian Film Festival (NYAFF)
The youngest on the list and already trailblazing with 3 international awards is Therese Malvar.
Therese or Teri's noteworthy portrayal in the crime-drama film, Hamog, won her the Screen International Rising Star Asia Award at the 15th New York Asian Film Festival, the Outstanding Artistic Achievement Golden Goblet Award at the 2016 Shanghai International Festival, and the Silver St. George Best Actress award at the 38th Moscow International Film Festival. All that at just 15 years old.
Teri's director in one of her films, Louie Ignacio, hailed her in his congratulatory post on Facebook as the best actress of the new generation.
---
8. Paolo Ballesteros – he was suspended as Eat Bulaga's host when they shot Die Beautiful
---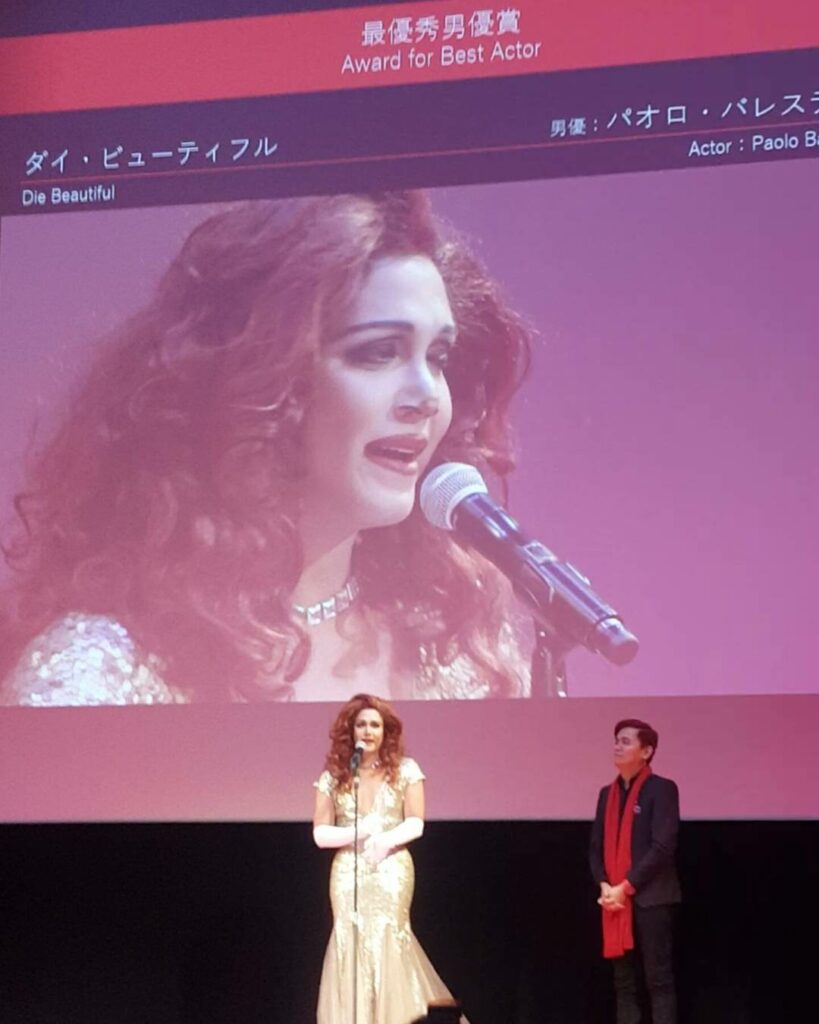 Paolo Ballesteros went as Julia Roberts at The Tokyo International Film Festival.
Image credit: @percinotpercy
Aside from being known as part of Eat Bulaga's comedy trio JoWaPao and Drag Race Philippines' host, Paolo Ballesteros is also an award-winning actor, both here in the country and abroad.
His role as the transwoman Trisha in the comedy-drama Die Beautiful earned him a Best Actor award at the 29th Tokyo International Film Festival and a Special Jury Award for Outstanding Performance at the 21st International Film Festival of Kerala in India, both in 2015.
Paolo accepted one of his awards dressed as Julia Roberts in Roppongi, Tokyo.
---
9. Alden Richards – getting recognitions as an actor and for his trailblazing VR concert
---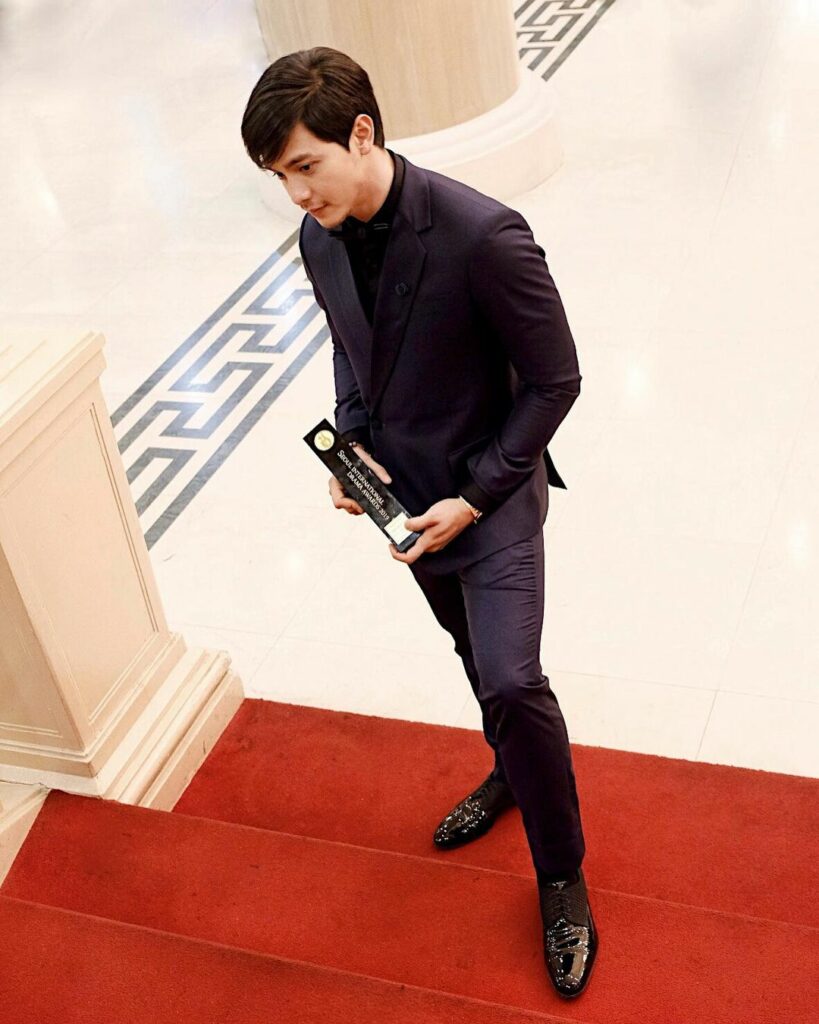 Alden Richards holding his trophy at the Seoul International Drama Awards.
Image credit: @aldenrichards02
The Start-Up PH leading man and Pambansang Bae, Alden Richards isn't a stranger to global recognition. He was given the Star Asia Prize at the 14th Seoul International Drama Awards in 2019.
Alden joined Dennis Trillo and Gabby Concepcion as the awardees of the Asia Star Prize in 2016 and 2017 respectively. It's a non-competition special award that recognizes superior television drama talents across the world.
In addition, Alden's Reality: The Virtual Reality Concert, which marked his 10th anniversary in showbiz, was a finalist at the 2021 New York Festivals TV & Film Awards.
---
10. Belle Mariano – first Filipina to receive the Asia Star Prize
---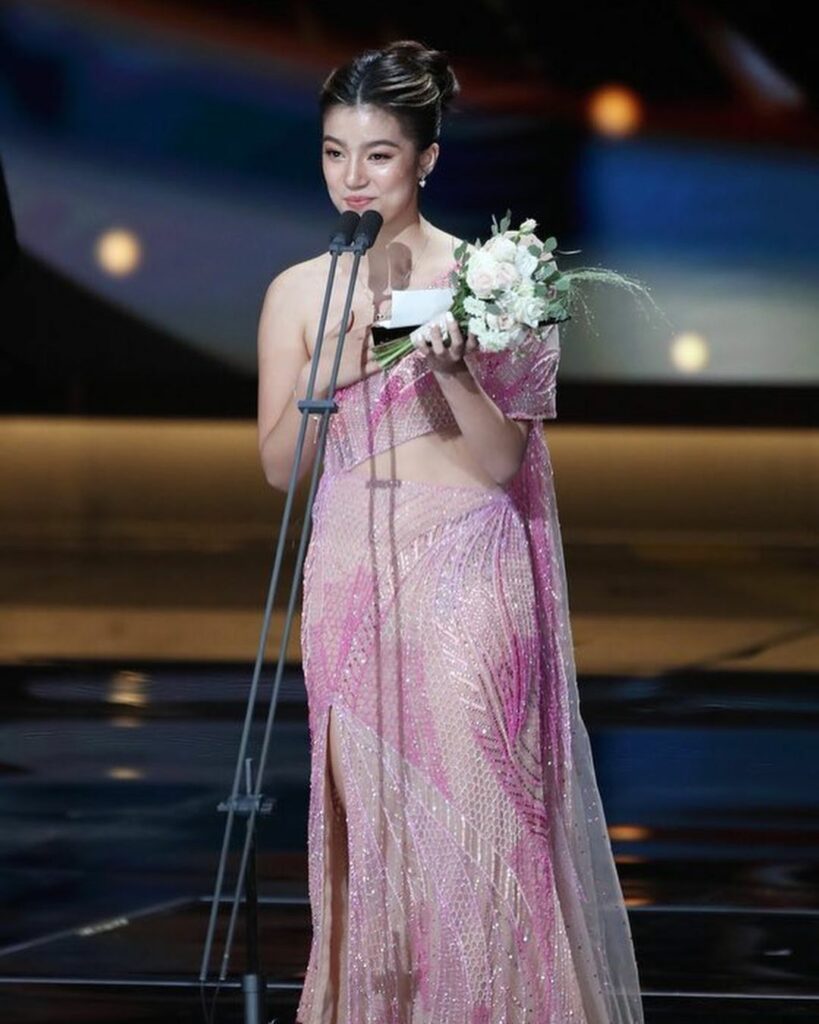 Belle Mariano giving her speech at the Seoul Drama Awards.
Image credit: @belle_mariano
The He's Into Her and Love Is Colorblind actress, Belle Mariano, was minted as an Outstanding Asian Star Prize awardee at the 17th Seoul International Drama Awards in September 2022.
Mariano's talent and passion in her portrayal of Maxpein in He's Into Her shined through, garnering her the title of the first Filipina actress to receive the award. Following the ranks of Dingdong Dantes, Alden Richards, Gabby Concepcion, and Dennis Trillo as Star Asia Prize recipients.
---
World-class Filipino talent
---
This roster of Filipino actors is proving that we have world-class talents. As we watch Dolly de Leon walk the red carpet in the upcoming 80th Golden Globes Awards on 11th January 2023, it will be good to remember that theirs is a craft that takes a lot of grit and passion.
Kudos to them for making us proud and opening new doors for the Philippines as more people see us on the map. It doesn't matter if it's a massive production or an indie film, let's keep supporting our local artists and productions.
For more stories about Filipinos going global, check out:
---
Cover image adapted from: @dollyedeleon, @aldenrichards02, @belle_mariano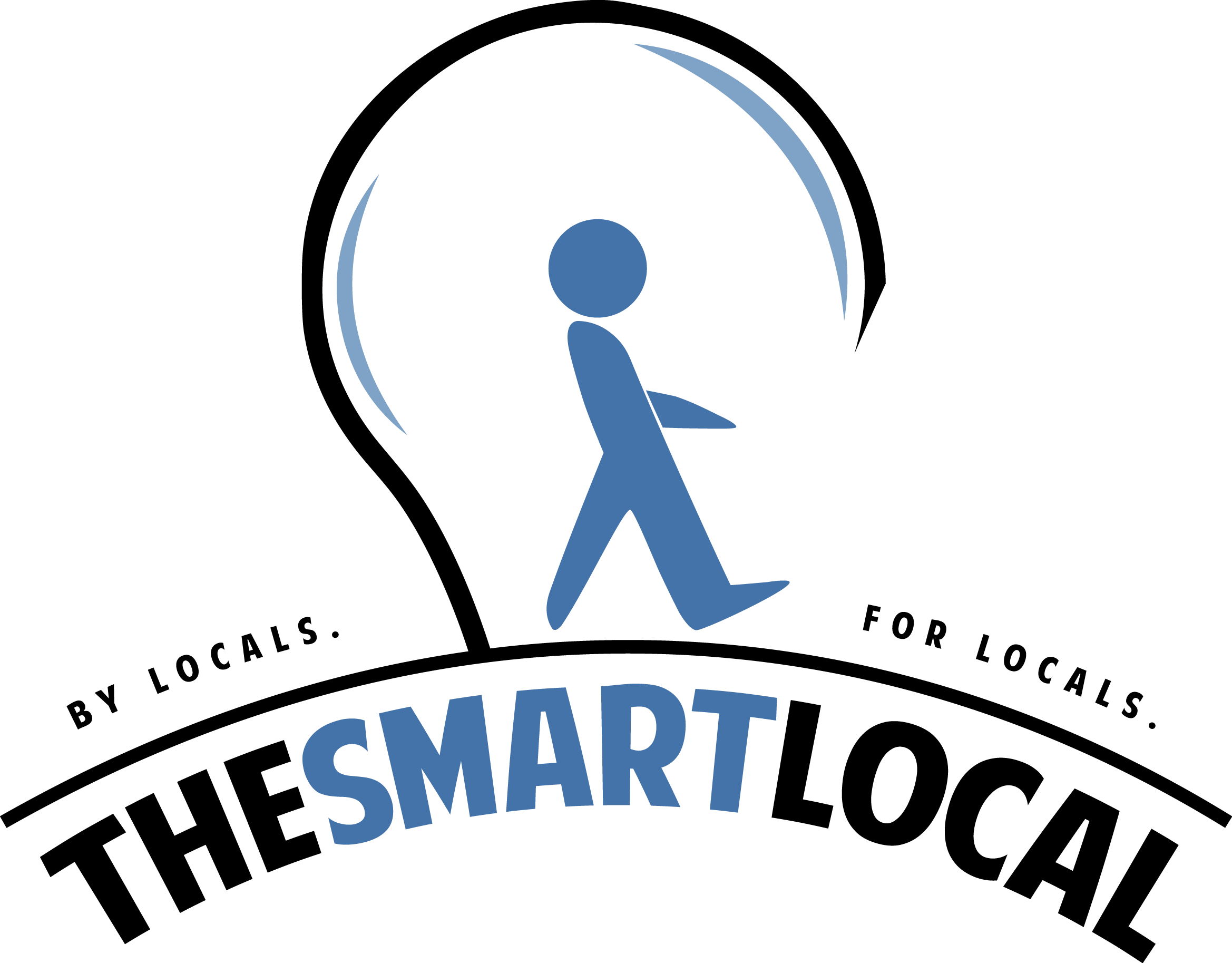 Drop us your email so you won't miss the latest news.