Aircon saves you from the summer heat
---
If you've exclaimed, "Ang init!" (It's so hot!) these past few days, we feel you— and having an aircon (AC) unit in Metro Manila is the only thing that, figuratively, keeps us from melting from the heat.
In fact, for most Filipino households in the cities, having air conditioning has become essential to escape from the extreme heat and humidity. Suppose you're also looking to find an aircon for your home; check out this comprehensive list we made to help you out.
---
– Window-type air conditioners –
---
1. Mabe MEI12VR – low-voltage start for less energy consumption
---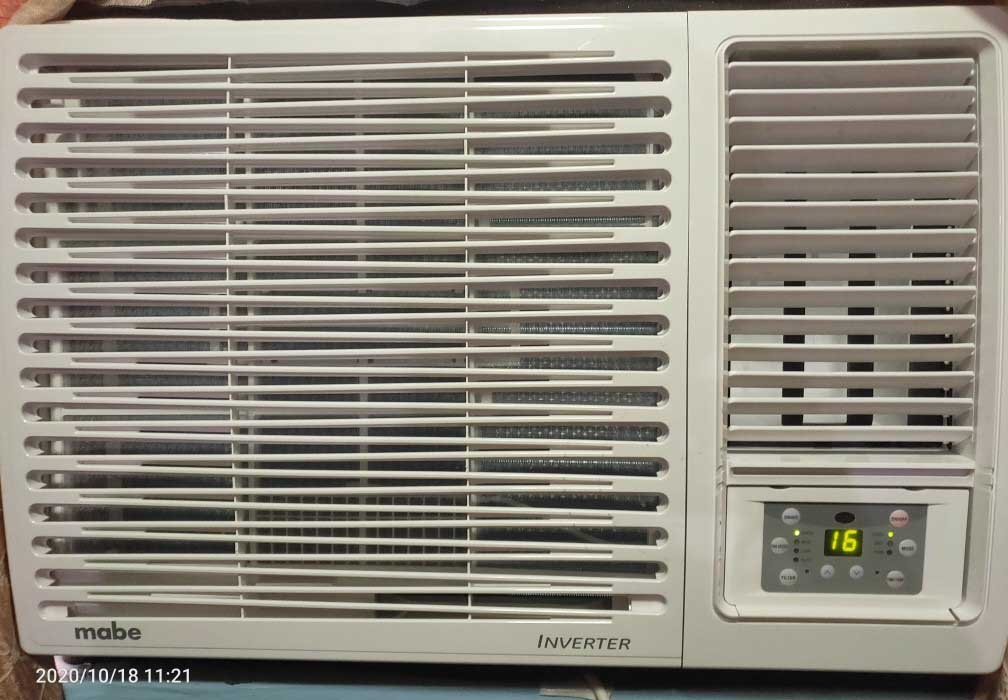 1HP Mabe inverter aircon
Image credit: Western appliances- buyer's review
Most Filipinos assume that using an aircon for hours would immediately hike up their electric bills, but this is no longer the reality thanks to energy-saving technology. The Mabe MEI12VR (P28,381, ~USD541) works with a low voltage requirement, consuming less power.
Let's say you set the thermostat at 16°C – the Mabe MEI12VR will use 100% of the voltage requirement to cool your room at the start. Then once the room reaches 16c, it will only use the minimum electricity requirement to maintain the temperature, so you don't need to worry about your next Meralco bill.
Get the Mabe MEI12VR here.
---
2. LG LA100EC – WiFi-enabled to use LG Smart Home
---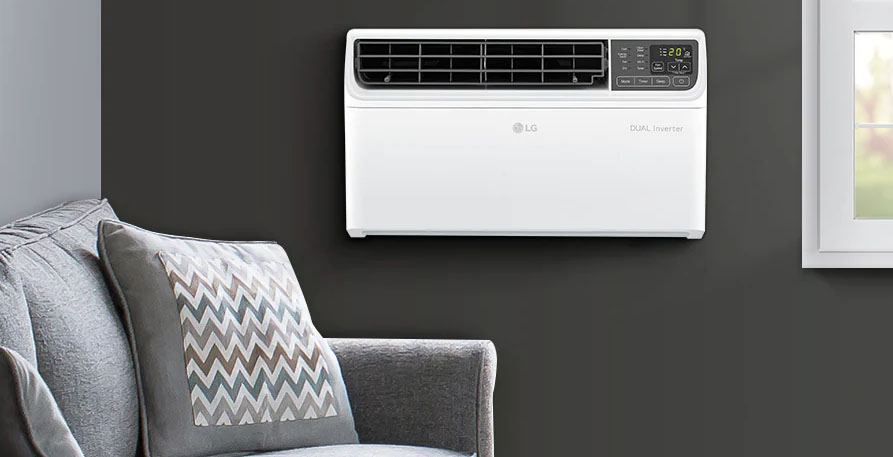 LG LA100EC
Image credit: LG.COM/PH
The LG LA100EC (P30,998 ~USD591) has Wi-Fi connectivity, so you can conveniently control it anywhere with a smartphone. You can turn it on while you're on your way home and be able to rest in your room at the optimal temperature.
This AC unit is also an inverter, which means its cooling features consume less electricity while maintaining the room's temperature.
Get the LG LA100EC here.
---
3. Carrier WCARH009EEV – 8-in-1 filter system removes odors & more
---

Carrier window-type inverter aircon
Image credit: Carrier PH
When using air conditioning, you have to keep doorways and windows closed to avoid warm air coming into the room. However, if you keep the warm air out, it also means you keep the cold air inside, and that can easily mix with the odors inside the room.
Having a unit like the Carrier WCARH009EEV(P37,598, ~USD 717) solves the problem of indoor low-quality air circulation because of its 8-in-1 filter system that cleans the air, preventing mold growth and deodorizing your room in effect.
Get the Carrier WCARH009EEV here.
---
4. Astron TCL60- cooling for rooms under 11 sqm
---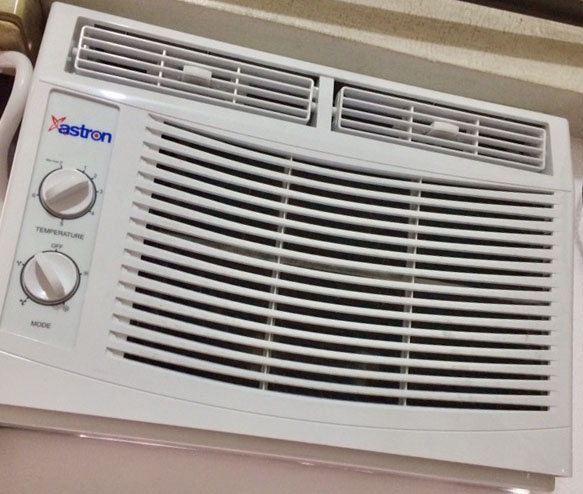 Astron small window-type aircon
Image credit: Astron appliances– buyer's review
For those who have rooms under 11sqm, the Astron TCL60 (P7,199, ~USD137) is powerful enough to cool you this summer.
This 0.6hp aircon has the most affordable price among the units we list, but it is perfect for those looking to survive the summer but don't necessarily want to use an aircon for more than 8 hours at a go.
Get the Astron TCL60 here.
---
– Split type air conditioners –
---
5. Daikin 1HP D-Smart King – low noise level for seamless operation
---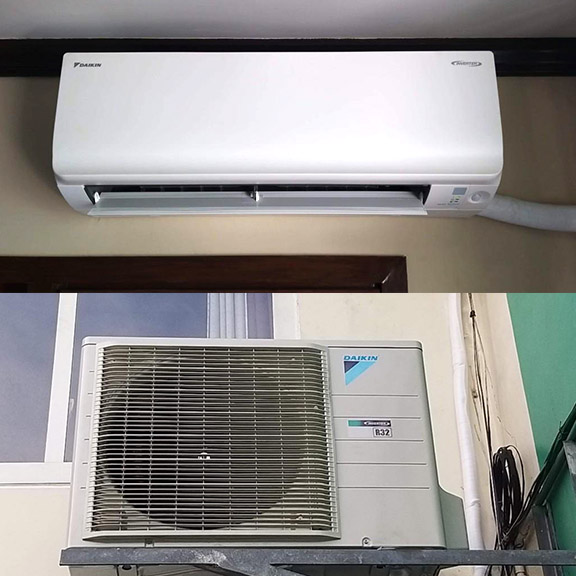 Daikin Split-type aircon
Image credit: Maureen Lahom
The Daikin 1HP D-Smart King (P41,500, ~USD791) has a low noise level, so you can sleep at night or go on meetings without hearing the hum of a cooling compressor.
And with a split-type aircon like this, you can place the indoor unit on internal walls because its outdoor component can be placed anywhere outside your home, granted if you use longer air ducts. It also has an anti-corrosion feature, so you don't have to worry about the outdoor condensing unit breaking down due to rain or sunshine.
Get the Daikin 1HP D-Smart King here.
---
6. Haier HSU10TSV13 – easy to maintain with self-cleaning
---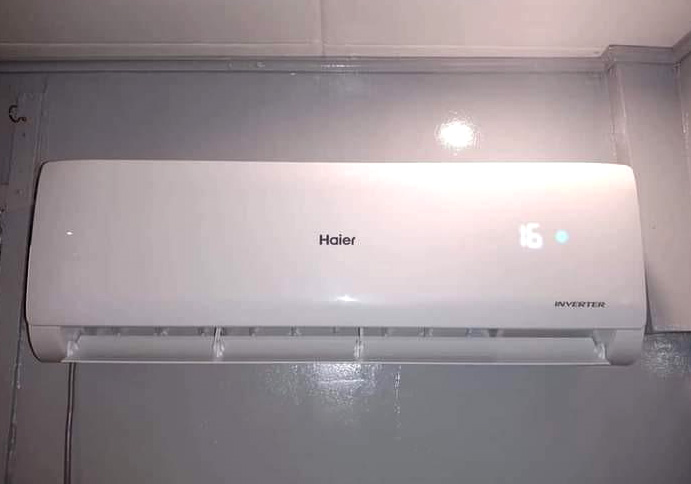 Haier HSU10TSV13
Image credit: Samantha Ygay
One thing that prospective aircon buyers consider is the cost of maintaining an AC unit. Good thing the Haier HSU10TSV13 (P31,498, ~USD601) has a self-clean technology that uses air moisture to freeze the evaporator and get rid of dirt as it melts, saving you the trouble of hiring a cleaner.
It also has a turbo mode that allows you to max out its cooling capacity so that your room reaches your desired temperature quickly.
Get the Haier HSU10TSV13 here.
---
– Portable air conditioners –
---
7. Midea FP-54APT010HENV-N5- bring and use it anywhere
---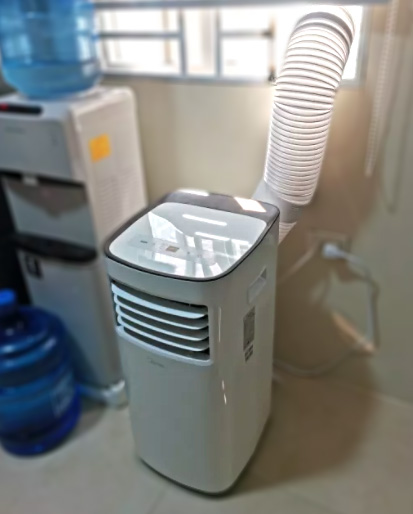 Midea portable AC 1.5hp variant
Image credit: Midea- buyer Kim C.
A portable aircon like the Midea FP-54APT010HENV-N5 (P18,167,~USD346) doesn't require a fixed installation spot; all you need is a window where you can place the end of the intake hose, and you can start using it to escape the heat.
If you live in a rental unit, are someone who constantly moves from one place to another, or want to have cold air anywhere you go inside the house, consider getting a portable aircon because of how easy it is to move around and use.
Get the Midea FP-54APT010HENV-N5 here.
---
Buy an aircon unit appropriate for your space
---
Don't allow yourself to suffer under the unbearable heat of a Philippine summer; it's time to get an aircon unit that will suit your needs.
Also, remember to check the size of your room so you can pick the suitable horsepower capacity for your air conditioner.
Check out other home maintenance recommendations here:
The listed aircon units are available via nationwide delivery from Shopee, Lazada, and Abenson. While, Western Appliances delivers within Metro Manila and selected areas in Batangas, Bulacan, Cavite, Laguna, Pampanga and Rizal; for those outside Luzon, contact Western Appliances for more information. 
---
Cover image adapted from: Carrier PH and LG.COM/PH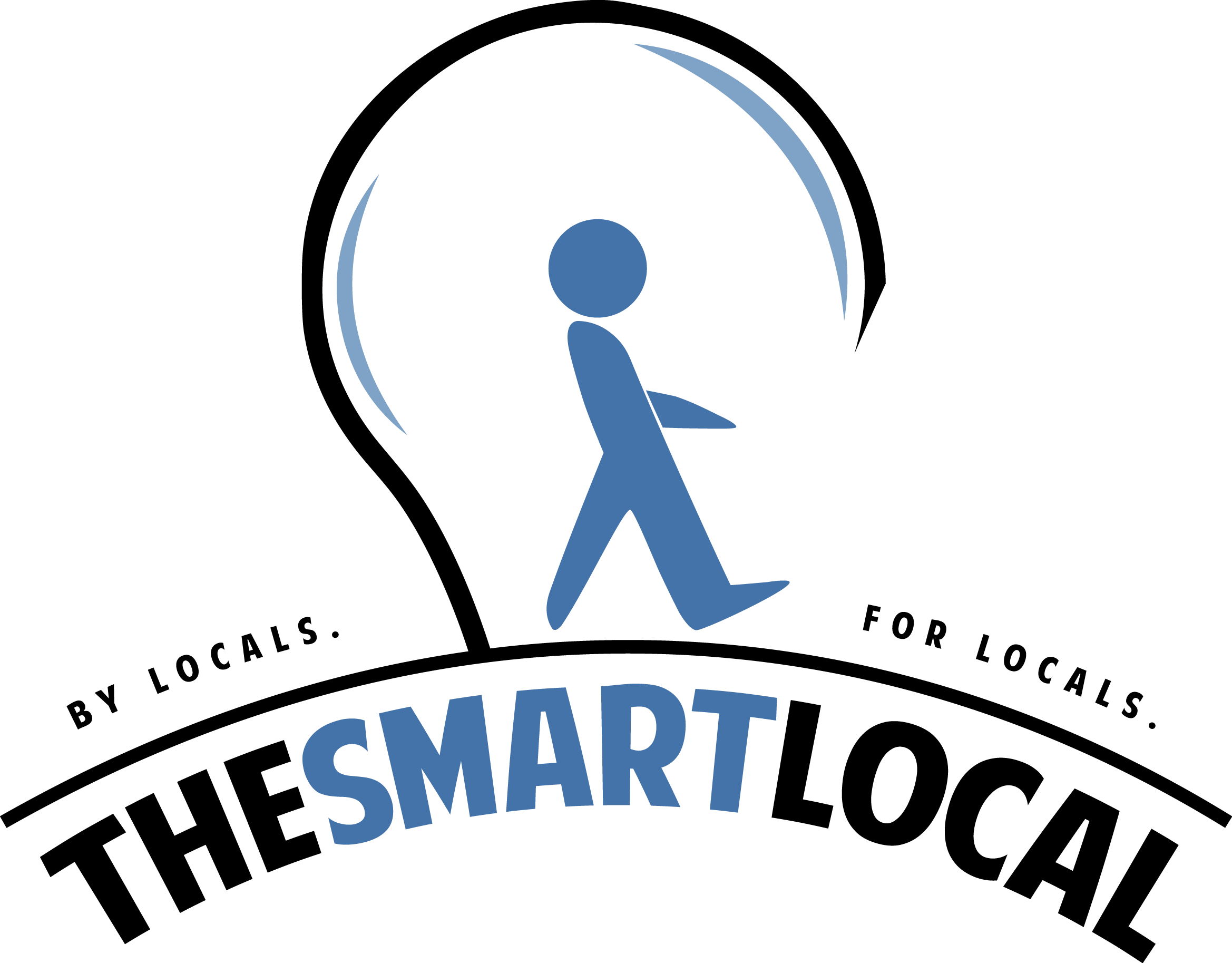 Drop us your email so you won't miss the latest news.