Wetpark Adventure Lagoon, Taguig
---
Not a month has passed since the rainy season began, but surely, those who love being in the water already miss their time at the beach. Thankfully for those living in the metro, the first indoor waterpark in the Philippines recently opened in Taguig.
Wetpark Adventure Lagoon lets you play in the water even when it's not summertime. Its features, such as slides, rope courses, and a mini zipline, will make for a fun time for everyone from toddlers to adults.
---
Waterpark features
---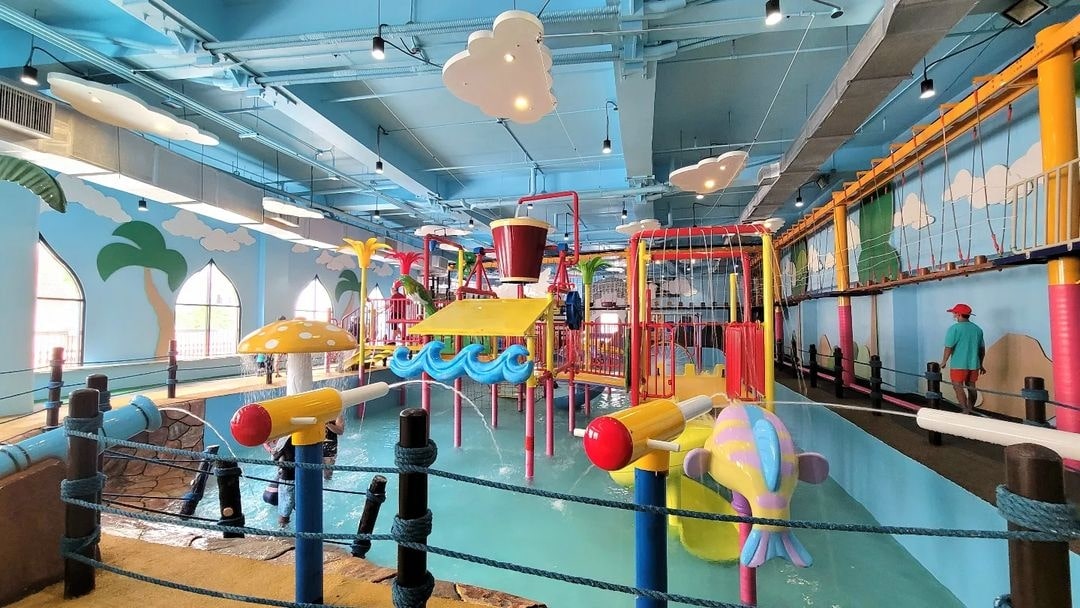 Aqua playground.
Image credit: @emoinkzbailey
As it is an aqua playground, you can go down slides or try out the rope courses at Wetpark Adventure Lagoon. There's also a waterpark bucket to surprise you with a big splash of water.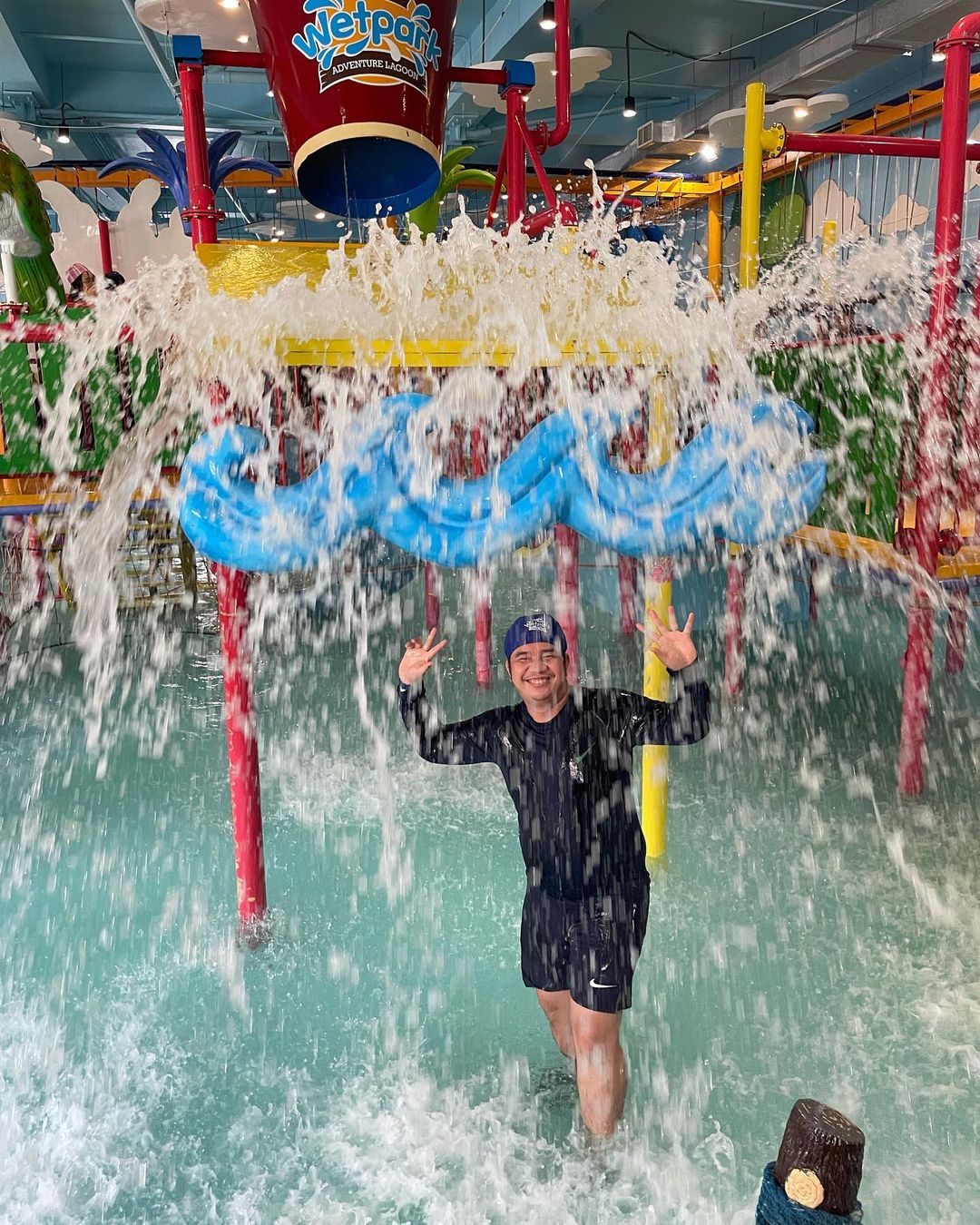 Waterpark bucket.
Image credit: @popoyzero114
If you're coming with toddlers, they can join in the fun and run under multiple spray equipment inside the pool area. Older kids can also enjoy going on the waterpark's mini zipline.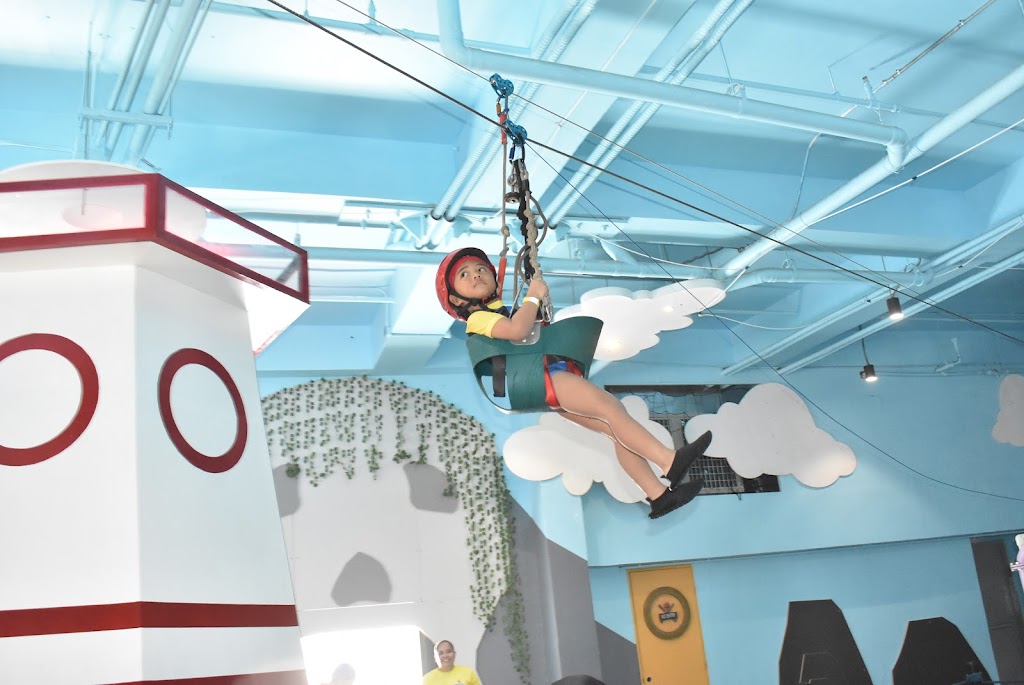 Zipline.
Image credit: Wetpark Adventure Lagoon
---
What to wear
---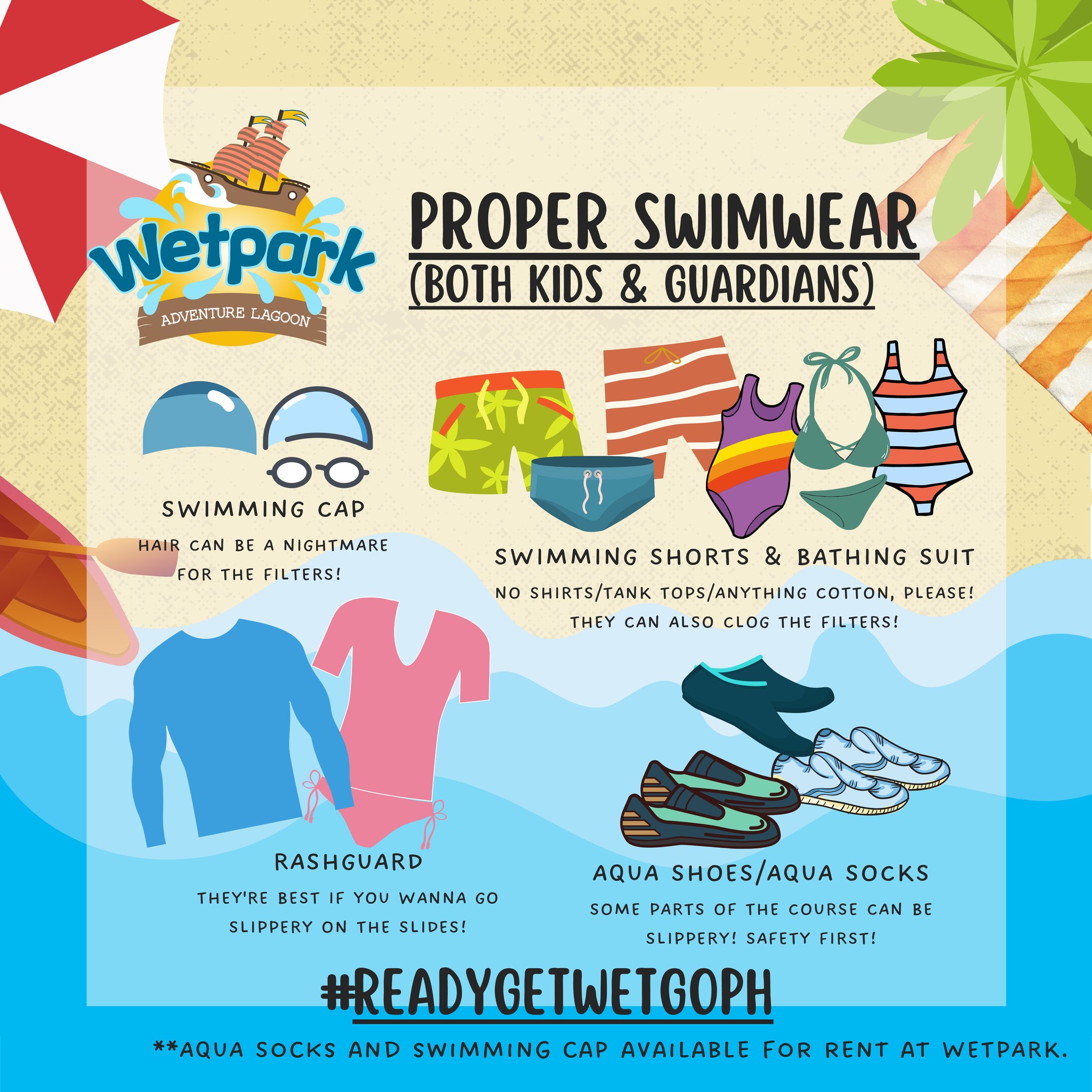 Proper swimming attire.
Image credit: Wetpark Adventure Lagoon
Wearing cotton clothes to play in the water is not allowed at the waterpark. Guests are required to wear bathing suits, rash guards, or swimming trunks to get into the aqua playground.
Swimming caps must also be worn to avoid hair clogging the pool and keep the place sanitary. Additionally, guests must wear aqua socks or shoes to prevent slipping.
If you don't have swimming caps and aqua socks stashed away at home, these are for rent at the waterpark for both adults and kids.
---
What to bring
---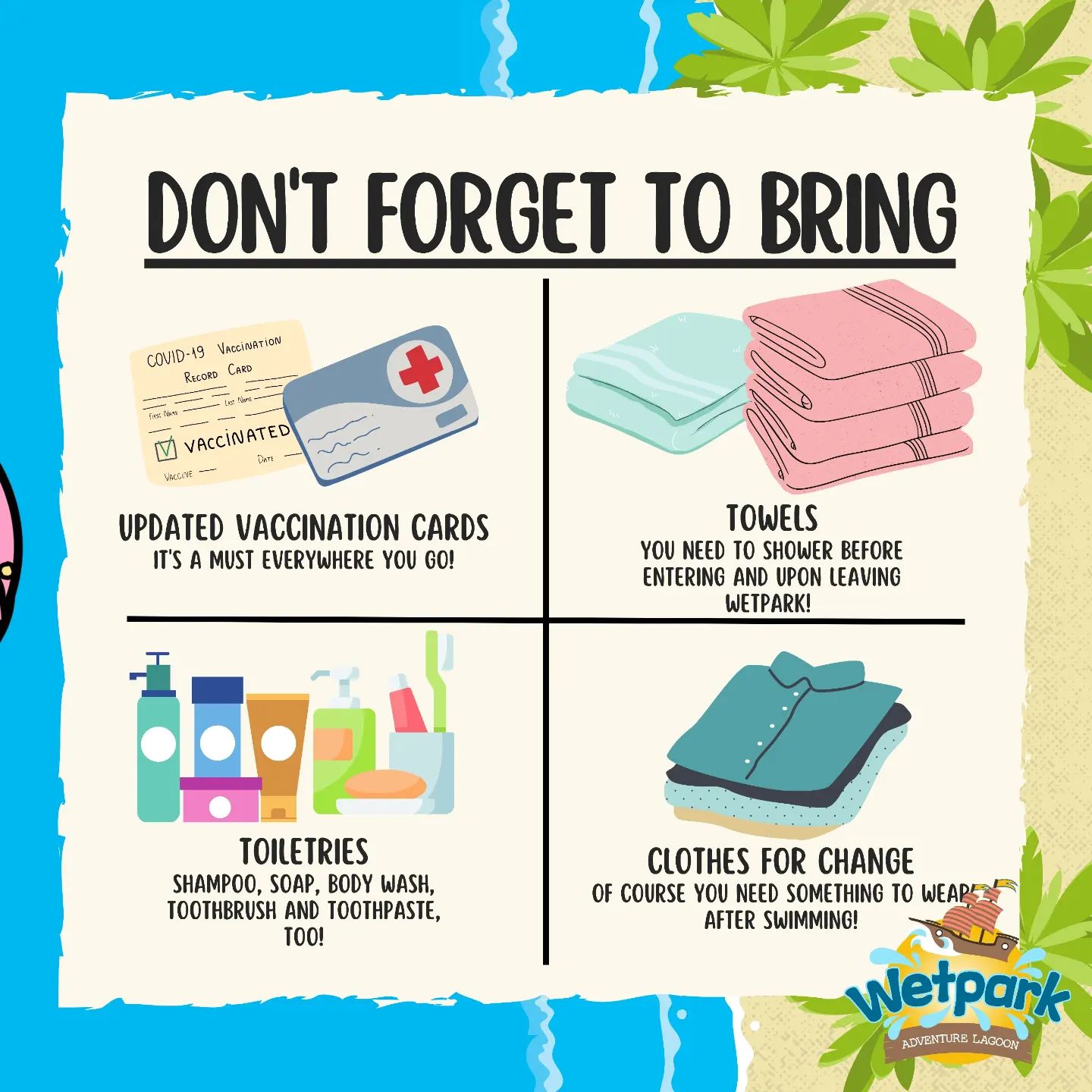 What to bring.
Image credit: Wetpark Adventure Lagoon
There's no need to worry if it's your first time going to a waterpark – we've got you covered on what other things you should pack in your back besides proper swimming attire.
You'll need toiletries and towels to use for showering before and after dipping into the pool. You should also bring an extra set of clothes to change into after your waterpark adventure.
Wetpark Adventure Lagoon requires guests 12 years old and above to be fully vaccinated, so bring your vaccination card and a valid ID with you. You might also need to present your vaccine card when you grab lunch or dinner after coming from the waterpark.
---
Rates & event booking
---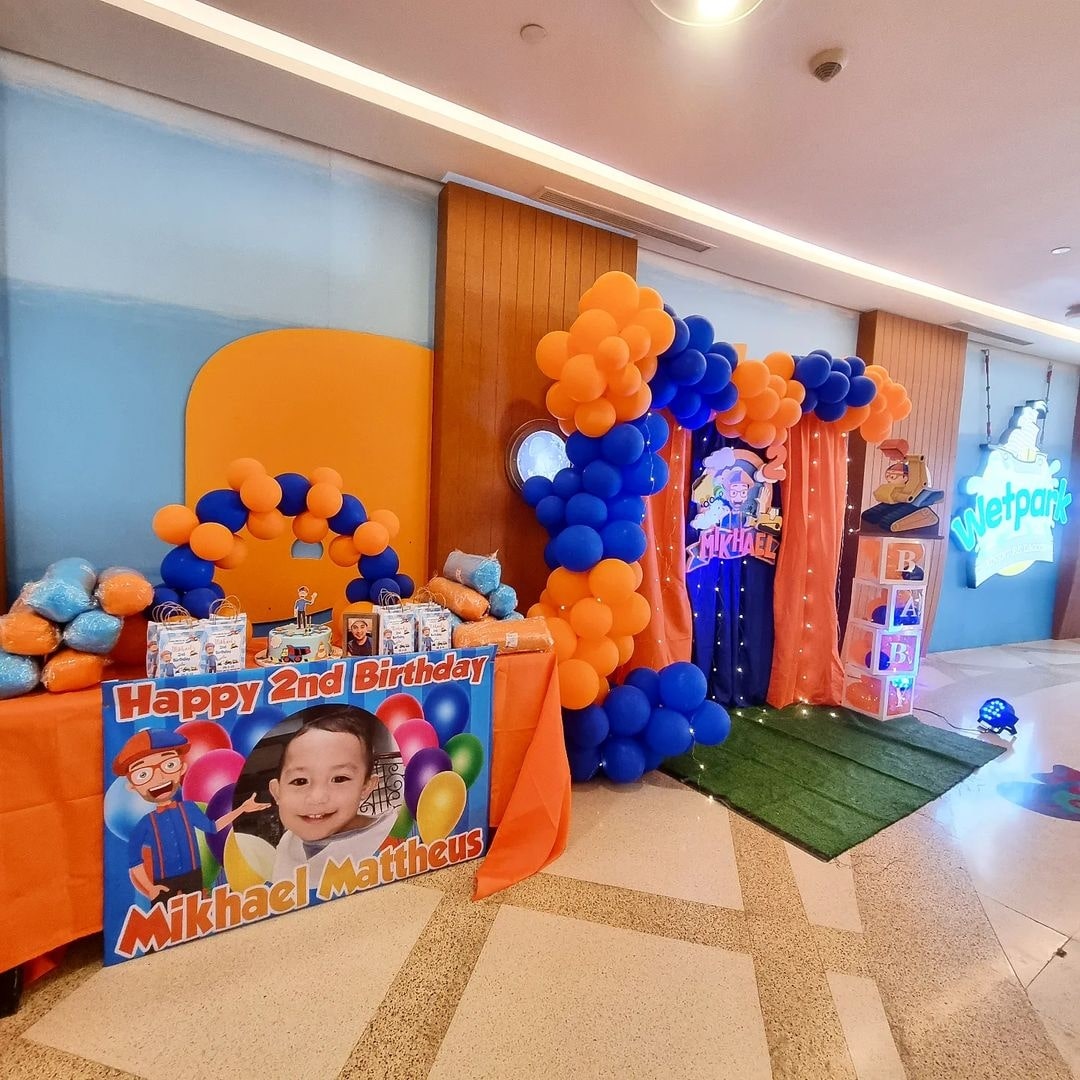 The waterpark can be rented for events such as birthday parties.
Image credit: @wetpark.ph
Wetpark Adventure Lagoon charges a P588 (~USD11.22) online and P688 (~USD13.12) walk-in entrance fee for weekdays, and a P688 (~USD13.12) online and P788 (~USD15.03) walk-in for weekends and holidays. Each ticket is for one individual 17 years and below and one accompanying adult.
Tickets are valid for 3 hours for online visitors and 1 or 2 hours for walk-in visitors, depending on availability.
While walk-ins are allowed, it's best to book a reservation to secure your slot as the place tends to be fully booked at certain hours or days.
Wetpark Adventure Lagoon can be booked for private events such as birthday parties so guests can also follow the waterpark's Facebook page to be updated on when they're closed for an event.
---
First indoor waterpark in the Philippines
---
With the Philippines' first indoor aqua playground Wetpark Adventure Lagoon, there's no need for you to wait until next summer to go have a blast in the water.
You also won't have to search far and wide to find it either, as the waterpark is conveniently located at Venice Grand Canal Mall in Taguig.
Address: 3/F Venice Grand Canal Mall, McKinley Hill Drive, Taguig, Metro Manila
Opening hours: Mon–Thu 11am-9pm | Fri–Sun 7.30am-9pm
Wetpark Adventure Lagoon's Facebook | Instagram
Also check out:
---
Cover image adapted from: @emoinkzbailey and Wetpark Adventure Lagoon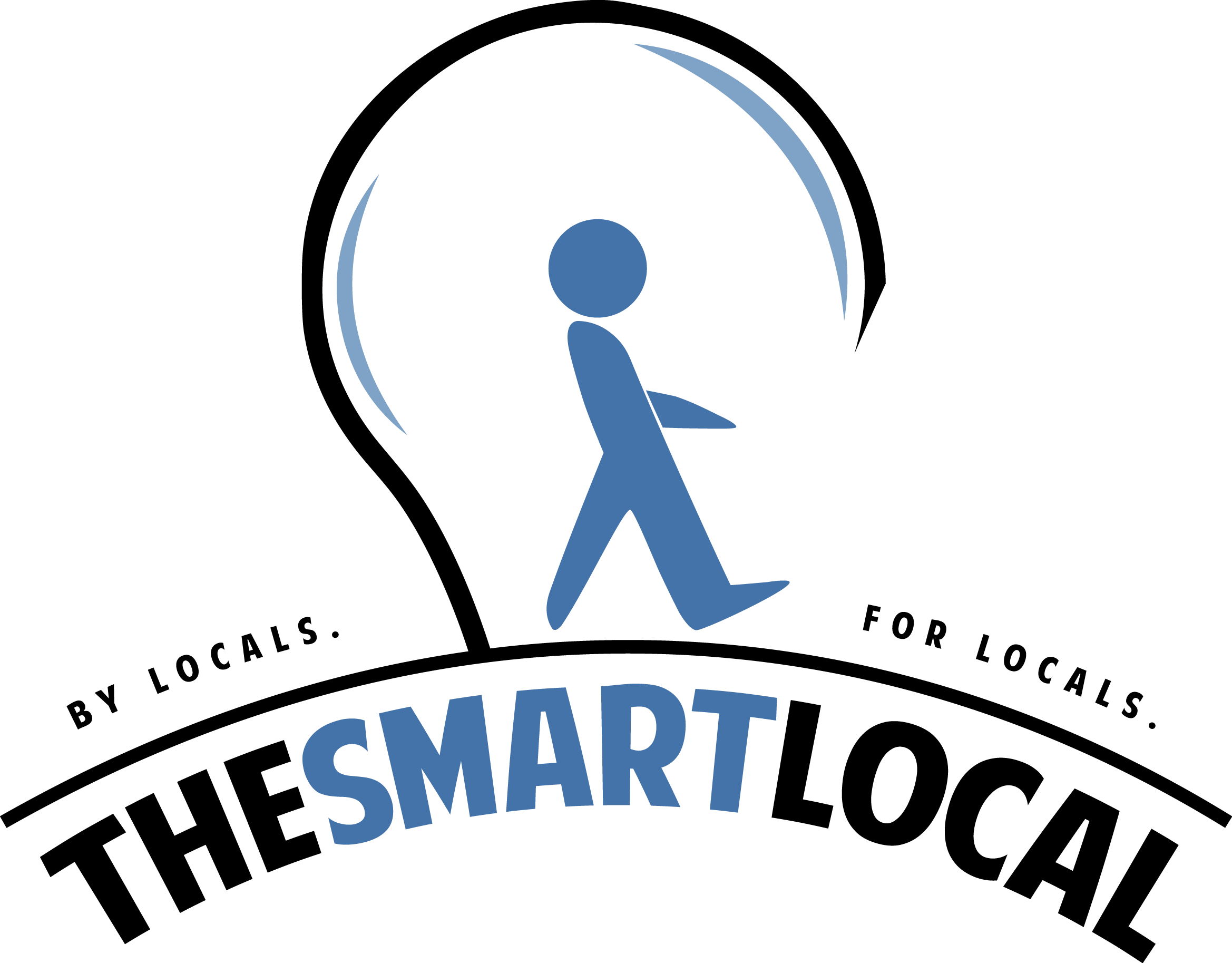 Drop us your email so you won't miss the latest news.