Romantic glamping spots in the Philippines
---
Think comfy beds and pillows, but under the stars of the Milky Way at night. Glamping, short for "glamorous camping," lets you escape the bustle of the city and relax under unblocked night skies in the Philippines – with the many amenities and comforts of a resort. 
Fortunately, our country is abundant with natural landscapes where beautiful glamping sites can be found. From Luzon to Siargao, here are 9 glamping spots for couples to cuddle together under the stars.
---
1. The Glamp Zambales – make-your-own-s'mores kits
---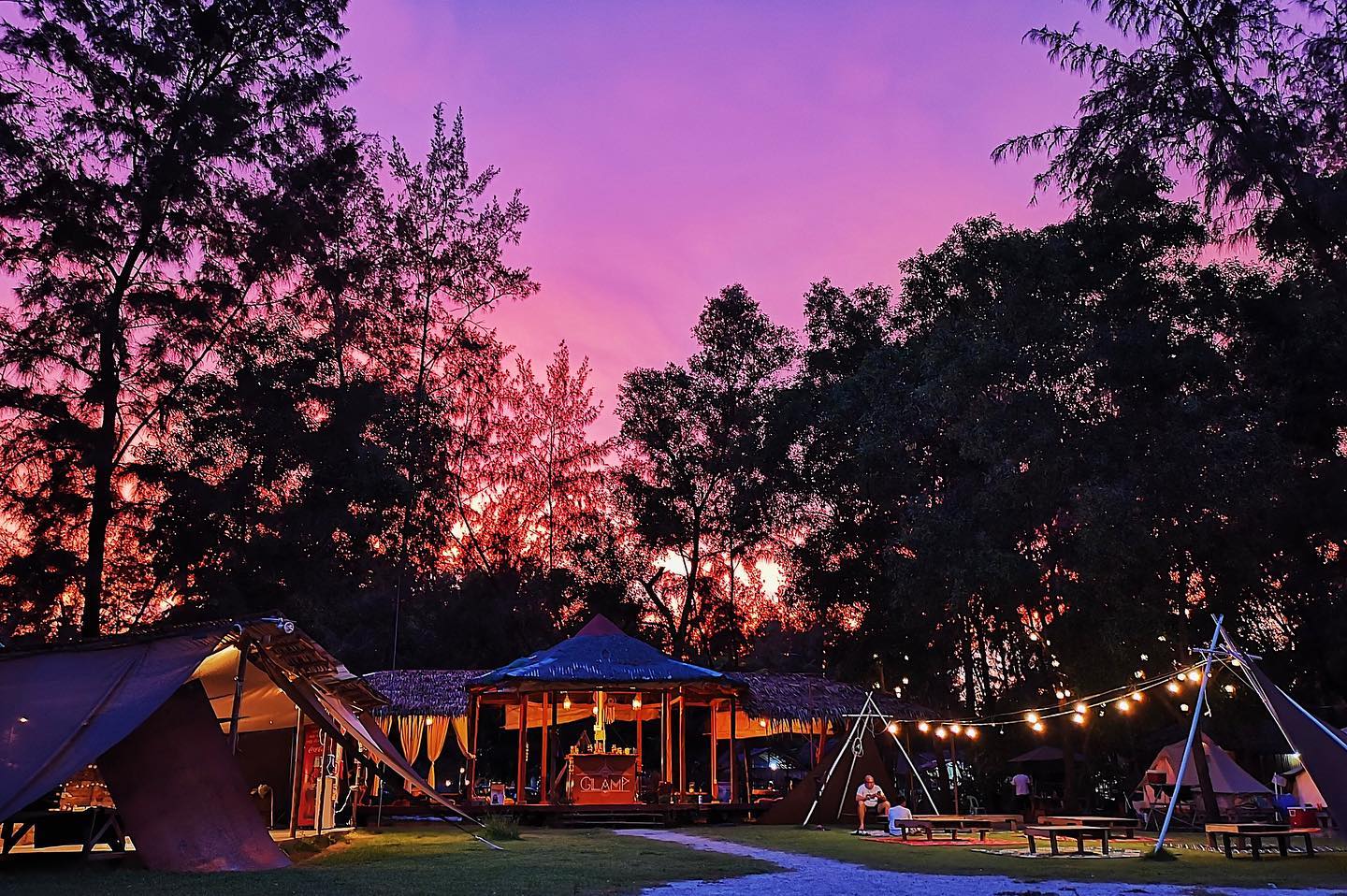 Image credit: The Glamp Zambales Facebook page
For carefree summer camp vibes, come to The Glamp Zambales. It's a four-to-five hour drive from Manila, tucked amidst the beautiful beaches and lush greenery of San Felipe, Zambales.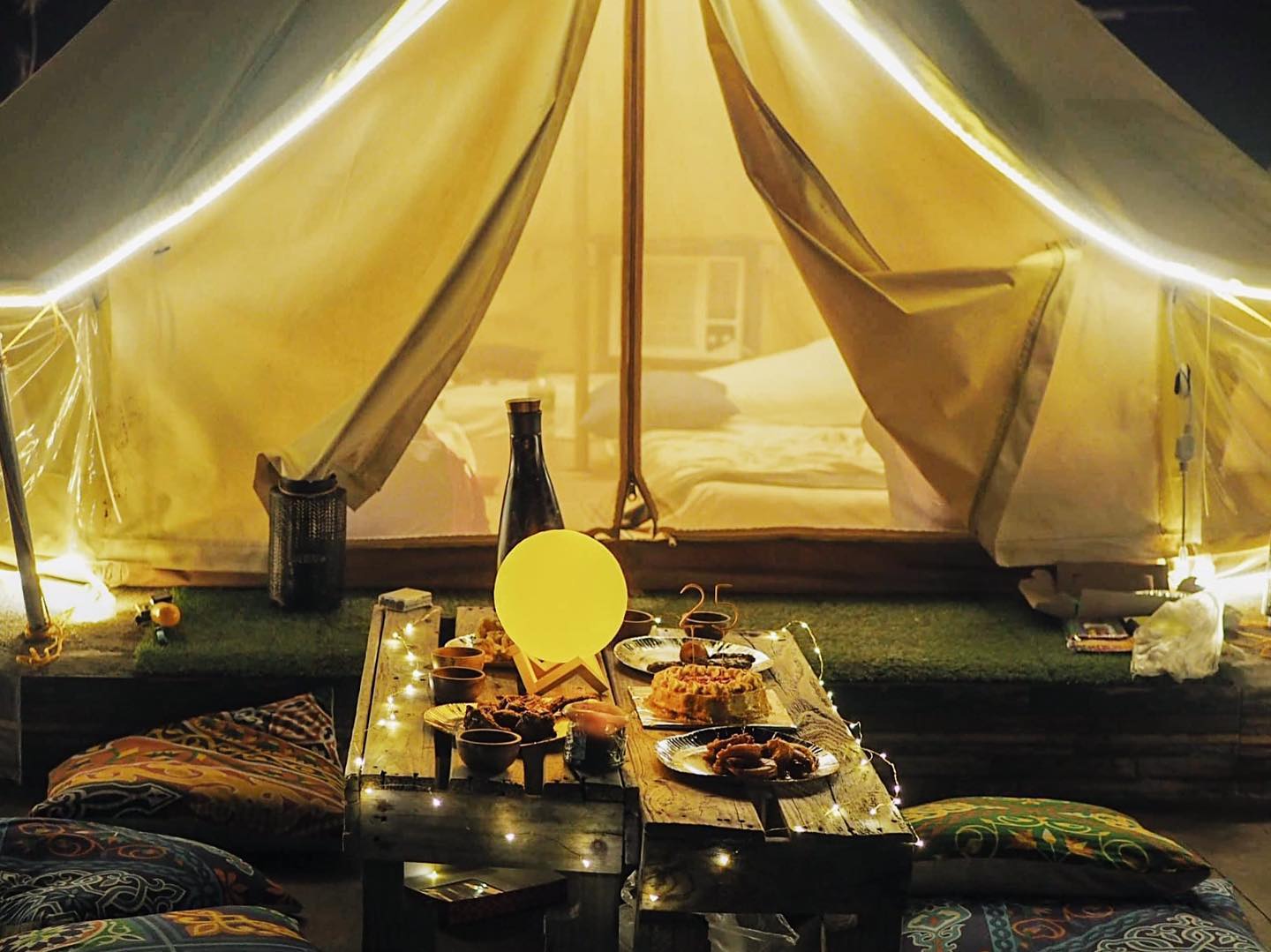 Image credit: The Glamp Zambales Facebook page
Step into a small couple-sized tent for P5,000 (~USD99.04) per night and you'll be greeted with a welcome foot soak, foot massage, and make-your-own-s'mores kits. The kits include chocolate, marshmallows, graham biscuits, and a telescopic stick for roasting, for a nostalgic camp food experience.
You'll still have the conveniences of the modern world — all tents have Wi-Fi, air-conditioning, and your stay comes with complimentary breakfasts.
Address: Sitio Liwliwa, Brgy. Sto. Niño, San Felipe, Zambales
For bookings/inquiries, message their Facebook page.
---
2. Kwentong Dagat – vegan-friendly beach resort
---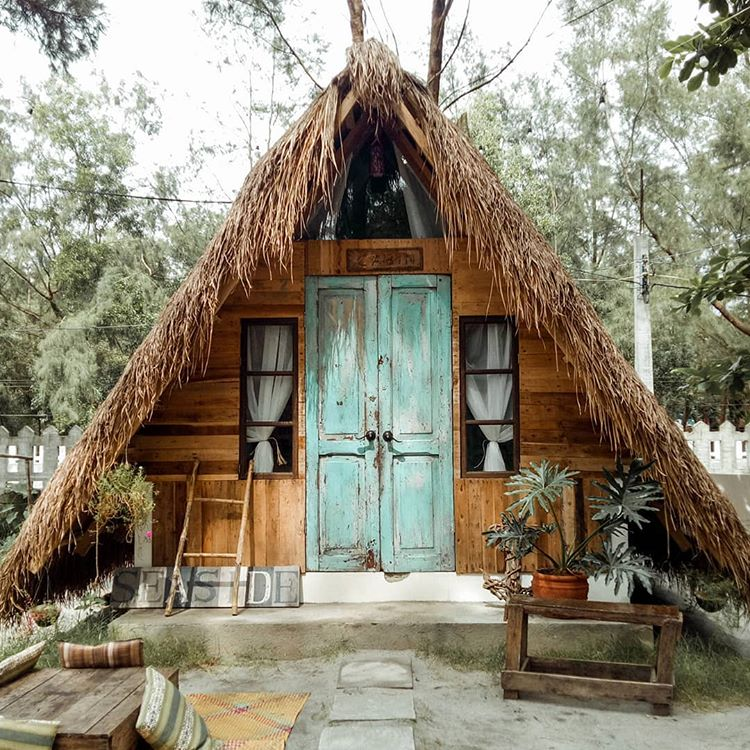 Image credit: @kwentongdagat
Stressed urban escapees seeking a kinder way of life can check into Kwentong Dagat (meaning "Sea Stories"). Also situated in Sitio Liwliwa in Zambales, the resort was founded by vegan friends to promote a lifestyle in harmony with the environment.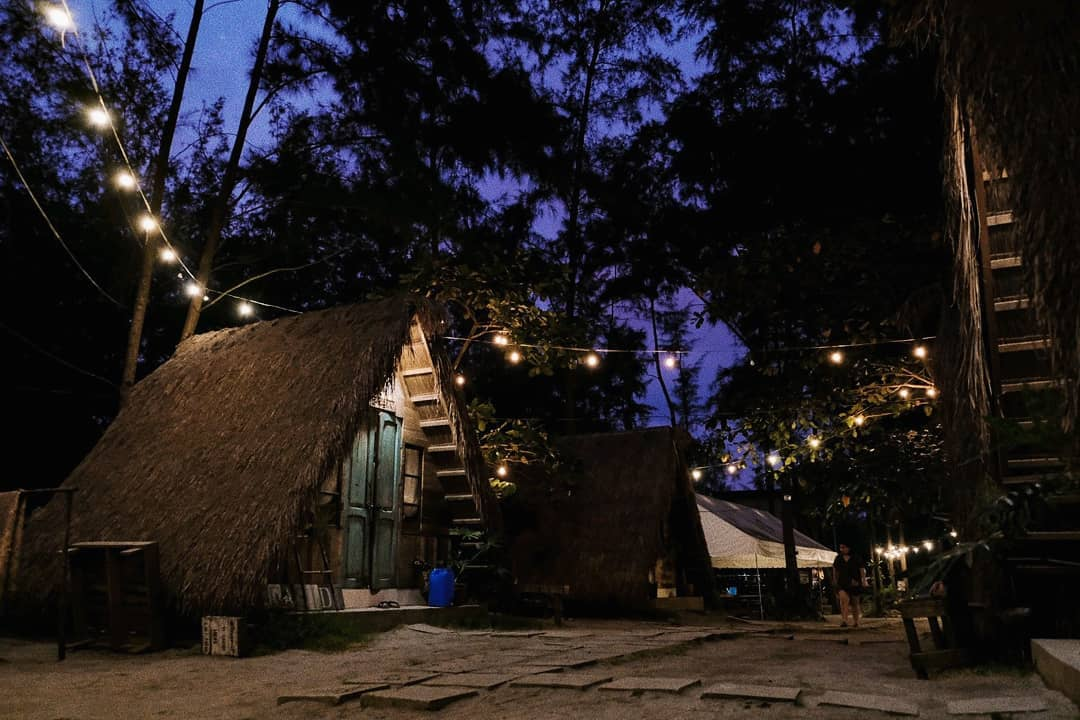 Image credit: @man.you.well
The result is this collection of seaside cottages made from natural materials, where guests dine on healthy vegan versions of home-cooked Pinoy food.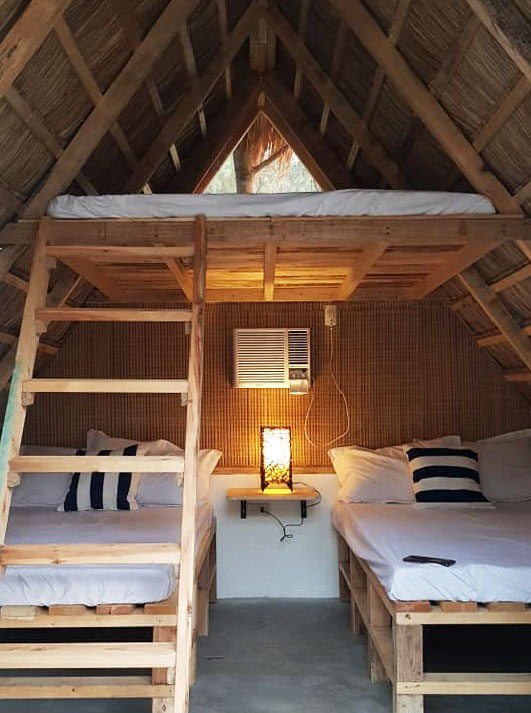 Image adapted from: Kwentong Dagat 
The standard cottage is designed to resemble our Bahay Kubos (Nipa Huts), traditional houses symbolic of the Philippines. Splashed in earthy tones, the comfortably air-conditioned huts house 2 double beds and a loft bed.
Starting at P4,000 (USD79.24) per day on weekdays and P4,800 (~USD95.09) per day on weekends, the rate includes complimentary daily breakfast of coffee and toast. 
Address: Sitio Liwliwa, Brgy. Sto. Niño, San Felipe, Zambales
Mobile: 0917 317 6295
Website
---
3. Cabanas de Nacpan Camping Resort – glamping in a farm
---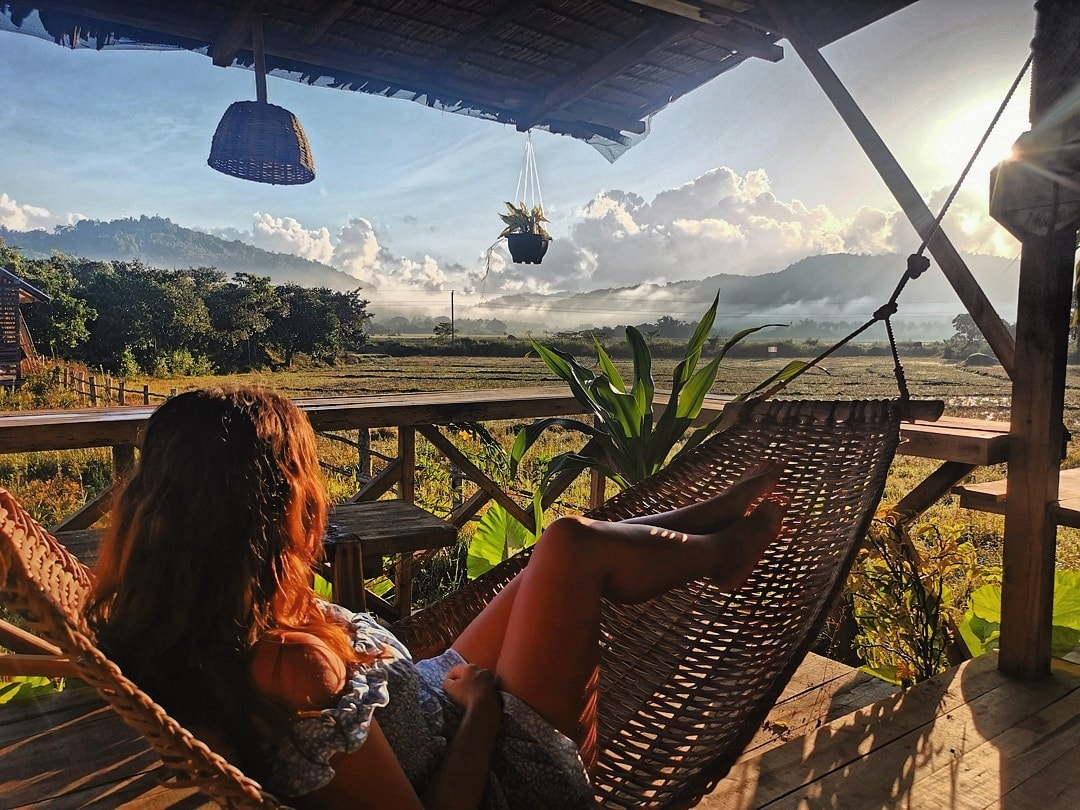 Image credit: Cabanas de Nacpan
While the other lovey-dovey couples head for hotel or resort stays, humble farm living in Cabanas de Nacpan can be your way to find your own space. At this glamping spot in the Philippines, you can wake up to the sound of water buffalo or cockerels on one queen bed at P3,600 (~USD71.32) per night.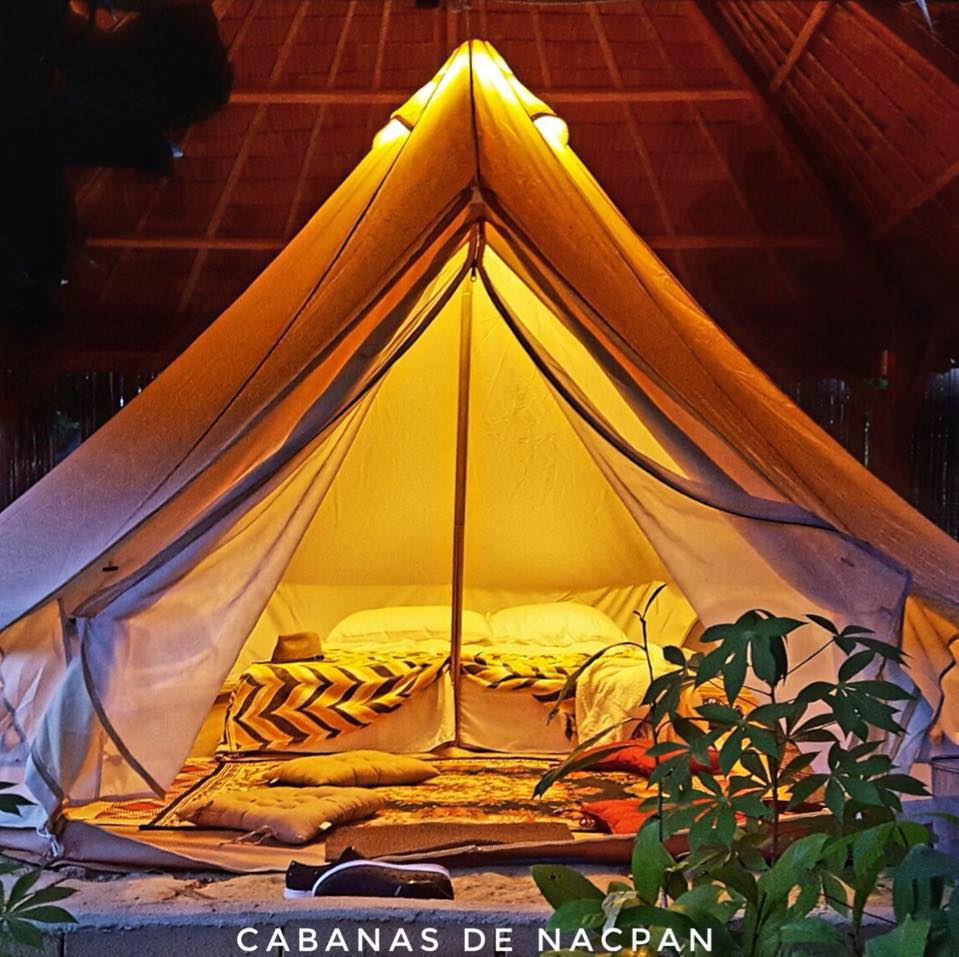 Image credit: Cabanas de Nacpan
This includes free breakfasts, access to toilets with bidets, and even the free use of an automatic motorbike so you can take your lover to explore the nearby beaches of El Nido. Venture out on the bike to Nacpan Beach, a 30-minute ride away, where guides offer snorkeling, diving, canoeing, and fishing classes.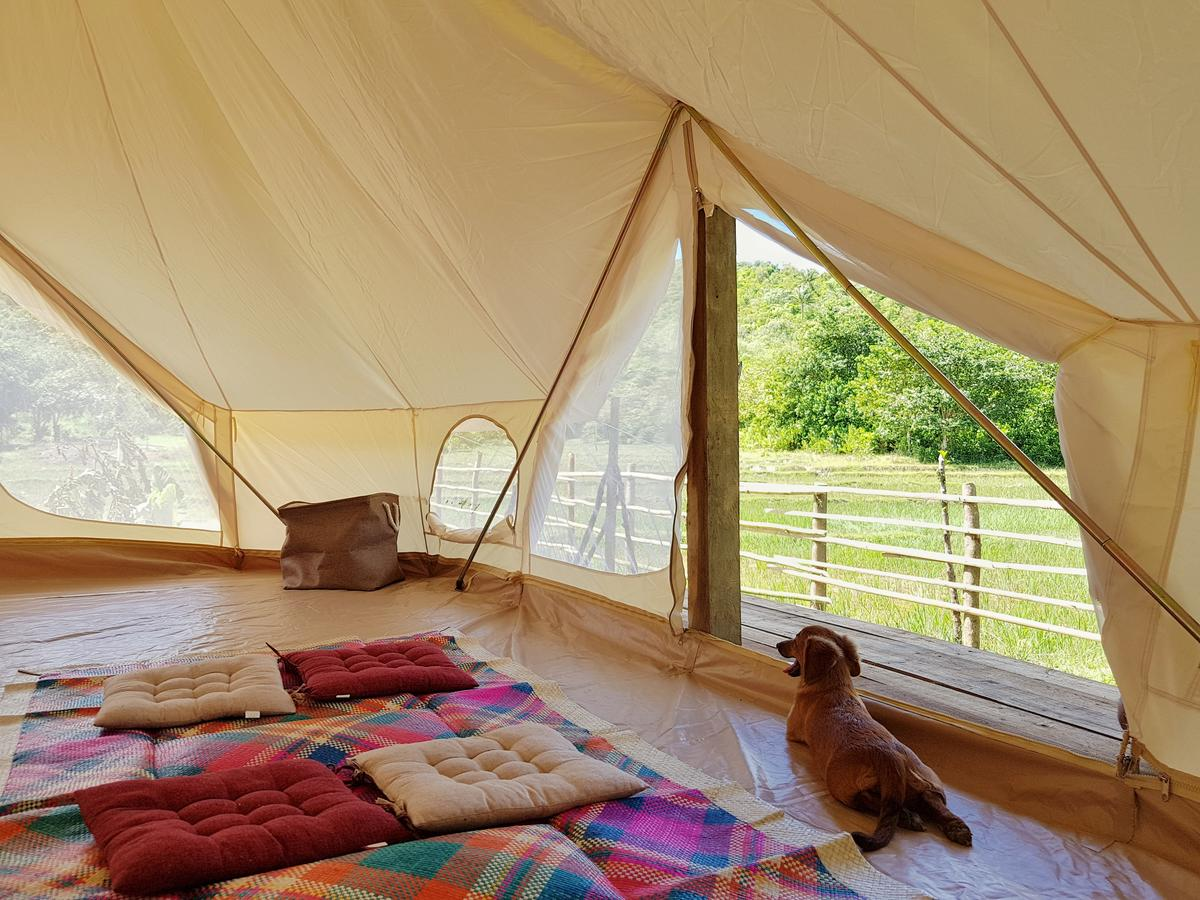 Image credit: Booking.com
For guests who want to bring a fluffy friend along, pets are allowed in the tents for no extra charge. 
Address: KM 18, Sitio Loblob, Barangay Pasadena, El Nido, Palawan
Mobile: 0916 487 2781
Website
---
4. The Birdhouse El Nido – mountain views aplenty

---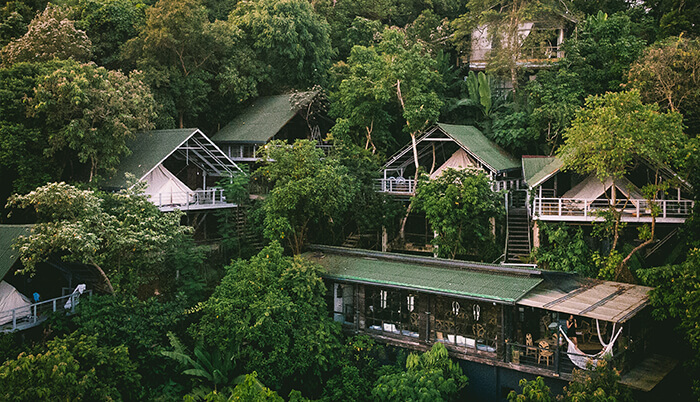 Image credit: The Bird House El Nido
With only three guest tents in the whole The Birdhouse El Nido property, you'll enjoy more privacy compared to a typical touristy Palawan resort. A feast for the senses, these tents perfect for love birds are built on top of a mountain, so you can take in the view of El Nido's landscape and waters during the day, and gaze at the Milky Way by night.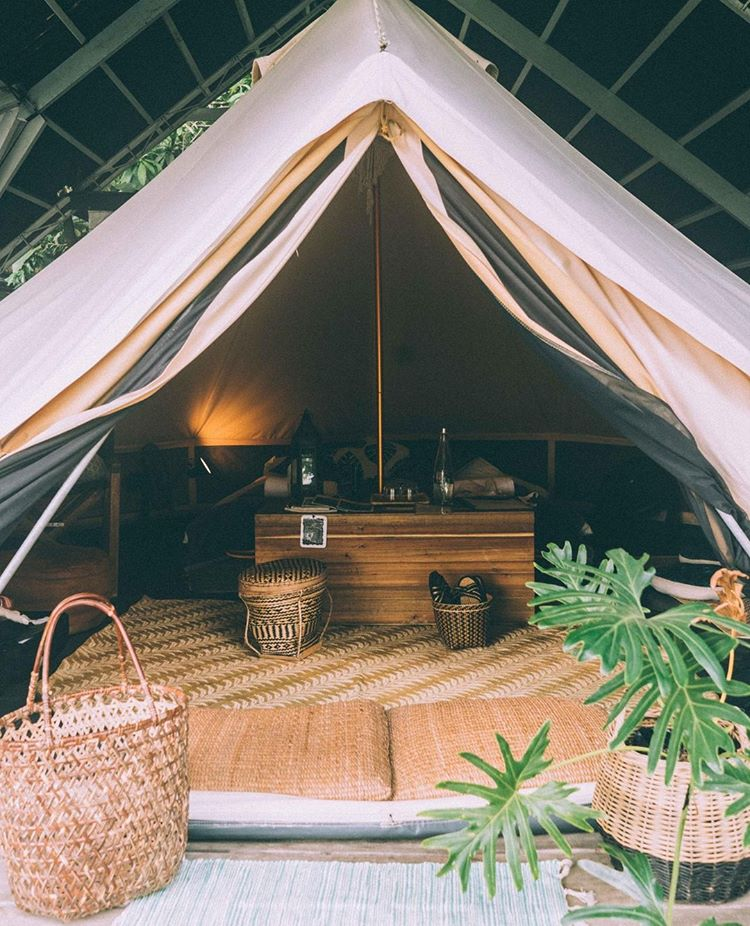 Image credit: @thebirdhouseelnido
Their luxury tent starts at P16,000 (~USD316.93) for the minimum stay length of two nights, and has a queen-size bed and a private bathroom. Outside the tent, there's a balcony with a view of the surrounding mountains.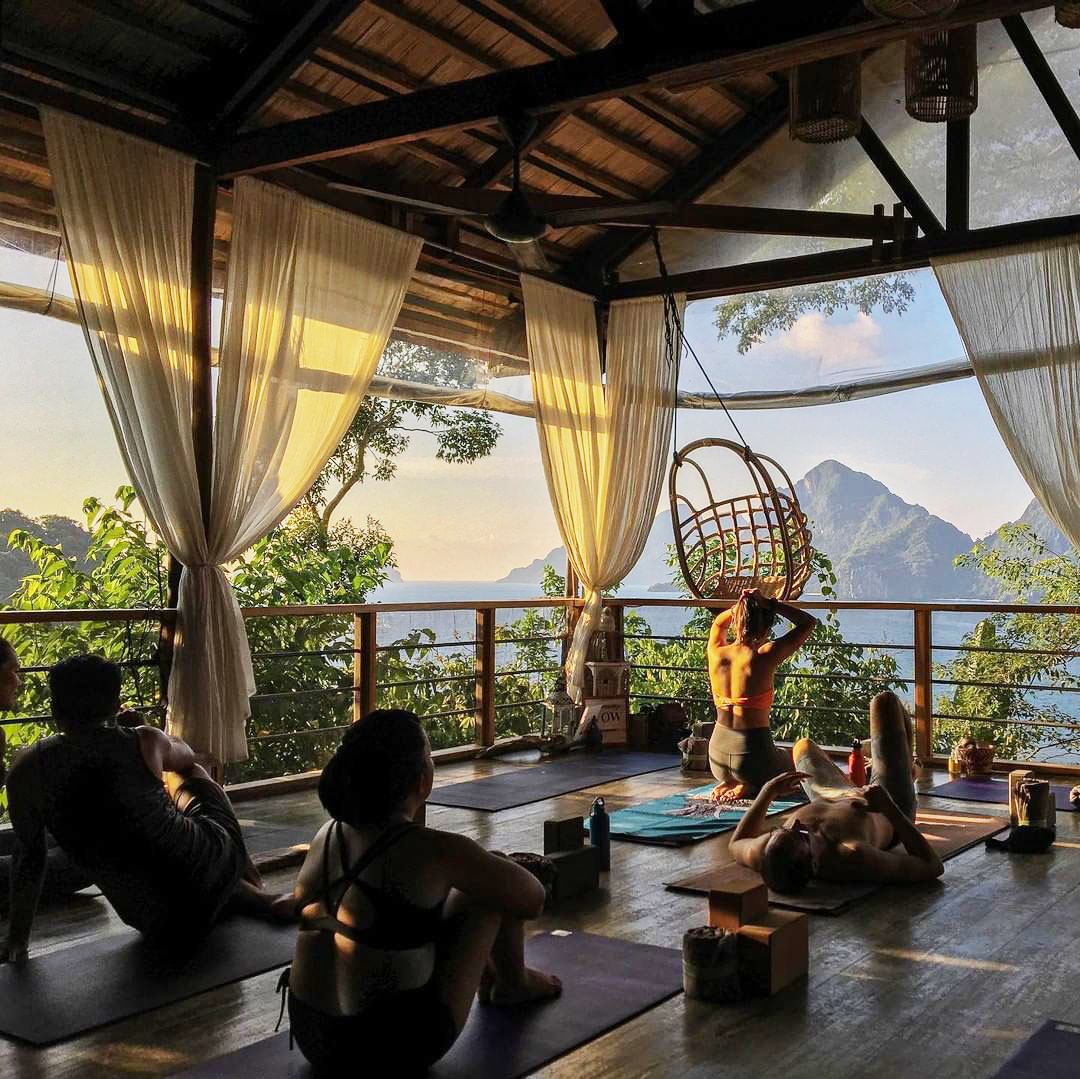 Image adapted from: @thebirdhouseelnido
Breakfast is not a problem even for couples with different taste buds, because they offer Asian and international cuisines. Even though Wi-Fi is limited, you'll have plenty to do here, including the complimentary yoga class and diving activities on El Nido's Maremegmeg Beach.
Address: Sitio Pakalsada, Barangay Corong-Corong, 5313 El Nido
Mobile: 0920 606 1186‬
Website
---
5. Dryft Darocotan Island – solar-powered camping
---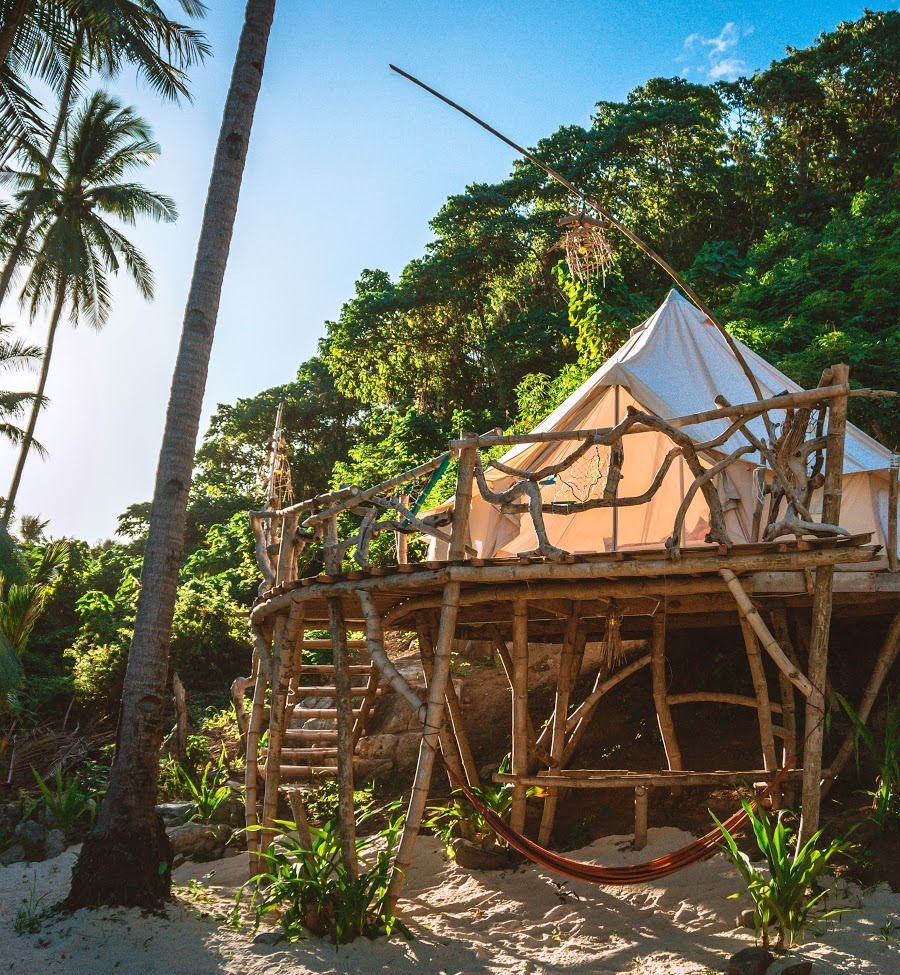 Image credit: Dryft Darocotan Island
In the true spirit of glamping in the Philippines in nature, DRYFT Camp runs on a solar power system to keep its carbon footprint small. Each tent has only one light and one electric fan to conserve energy, but it's plenty for a cozy space and you'll be doing your bit to keep our planet green.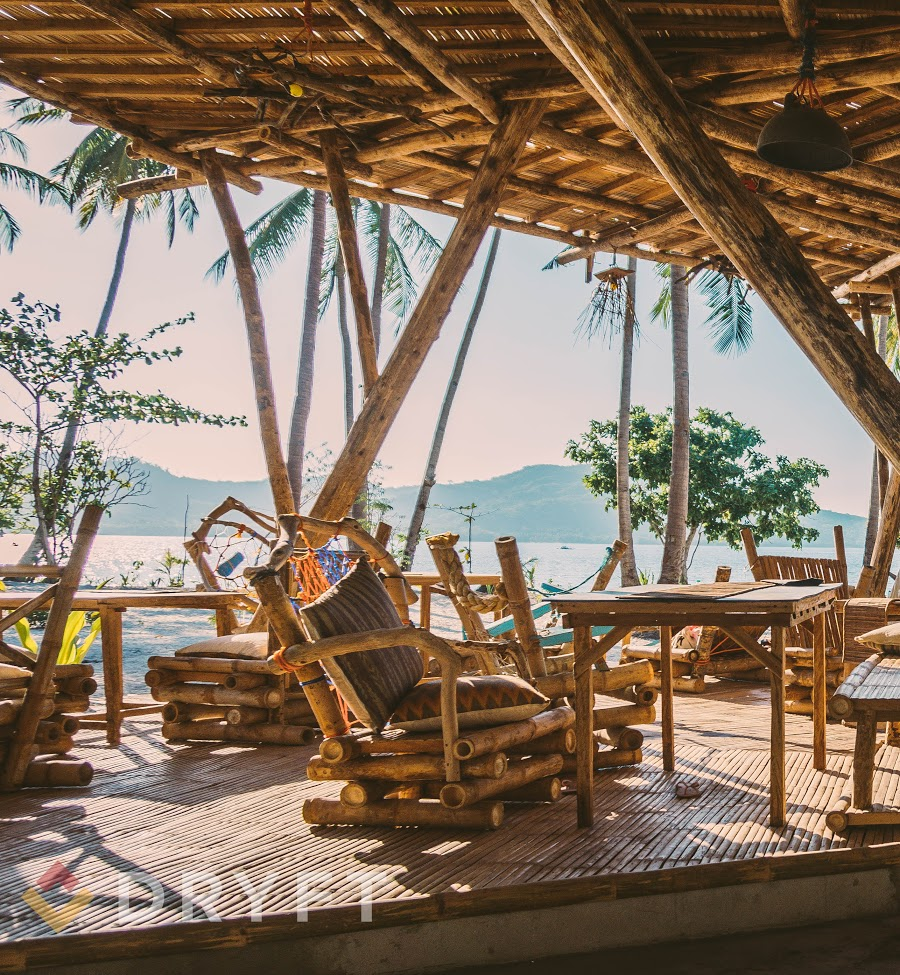 Image credit: Dryft Darocotan Island
When you're this close to the beach, you'll want to unplug and dive into the water. Take advantage of the beachfront location's free snorkeling activities or enjoy other water sports such as diving, surfing, and fishing for an additional charge.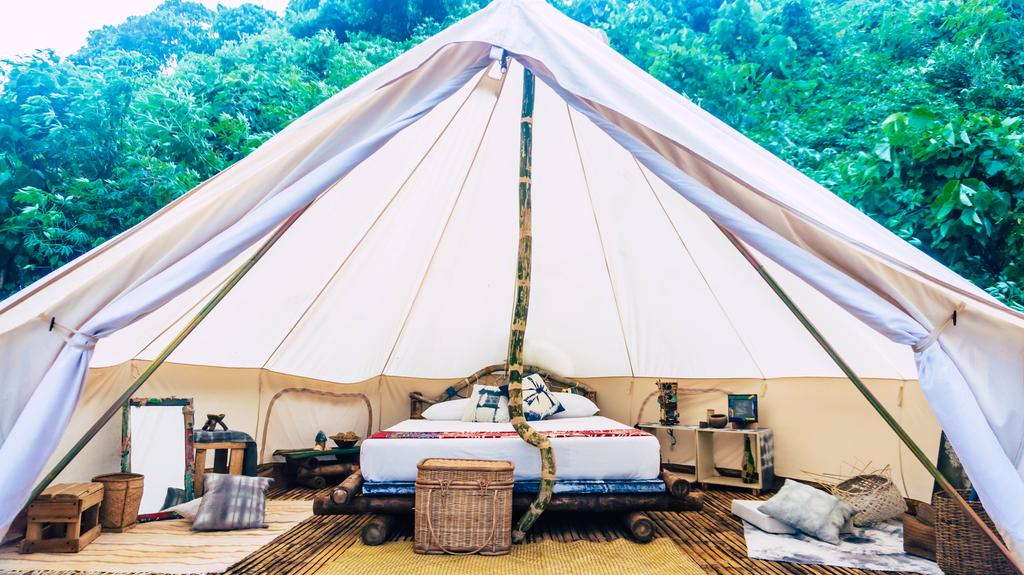 Image credit: Booking
Your Elevated Glamping Tent, at P9,000 (~USD178.29) a night, is large, with a patio where you can view the mountains and the sea of El Nido. Inside, there's a single large double bed on sturdy hardwood parquet flooring.
Address: Brgy. Teneguiban, El Nido
Mobile: 0939 772 4154
Website
---
6. Nacpan Beach Glamping – Mongolian yurt-inspired tents
---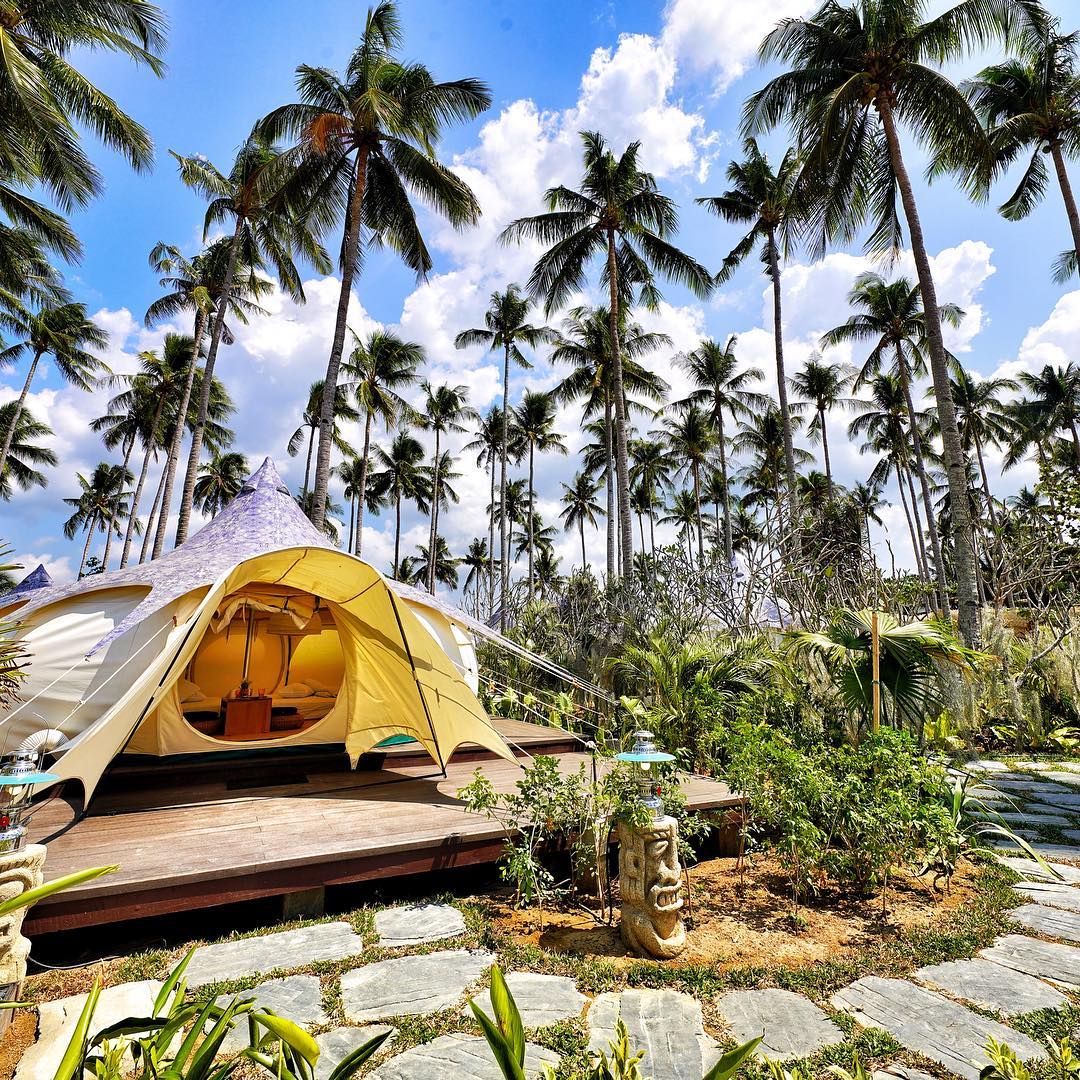 Image credit: @nacpanbeachglamping
The tents at Nacpan Beach Glamping are so spacious, they're as big as most hotels' standard double rooms. They're high too – you won't need to crouch down inside even if you're six feet tall. 16 of these charming tents stand across Nacpan Beach, inspired by Mongolian yurts that traditionally house nomadic families.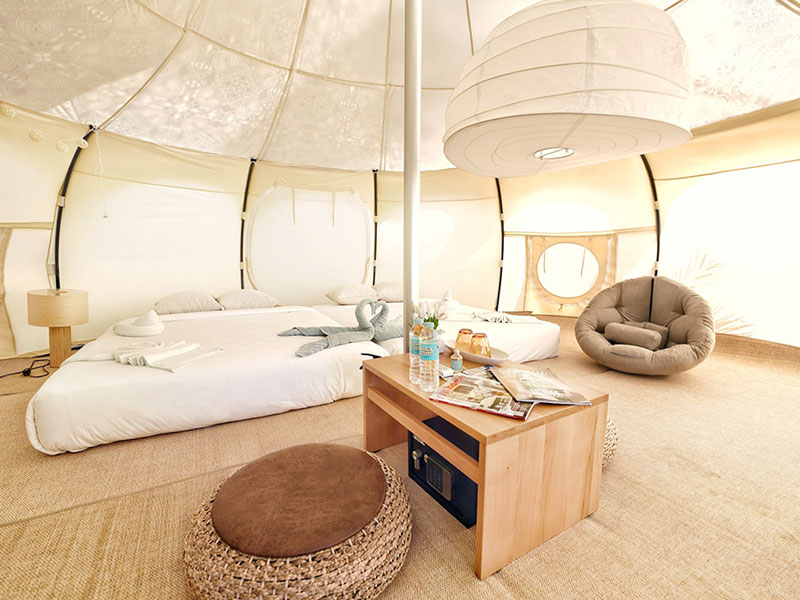 Image credit: Nacpan Beach Glamping
The Beachfront Deluxe Glamping Tent, available for P11,000 (~USD217.92) a night, is equipped with air-conditioning, two cozy twin sized beds, and a mini-fridge. It's adorned with one designer seat, two pouffe stools, and a Japanese paper pendant light. 

Image credit: Nacpan Beach Glamping
Every evening at 5PM, there's a complimentary sunset sailing trip for you and your better half to enjoy. Other free activities for guests include traditional coconut leaf origami classes and island-hopping tours.
While you're out of your tent, you won't need to scramble for places to safekeep your valuables – simply store them in the small safe inside your tent or the lockers at the front office.
Address: Nacpan, El Nido
Mobile: 0977 742 2869
Website
---
7. Archery-Asia Nipa Huts & Camping Moalboal – affordable hut glamping
---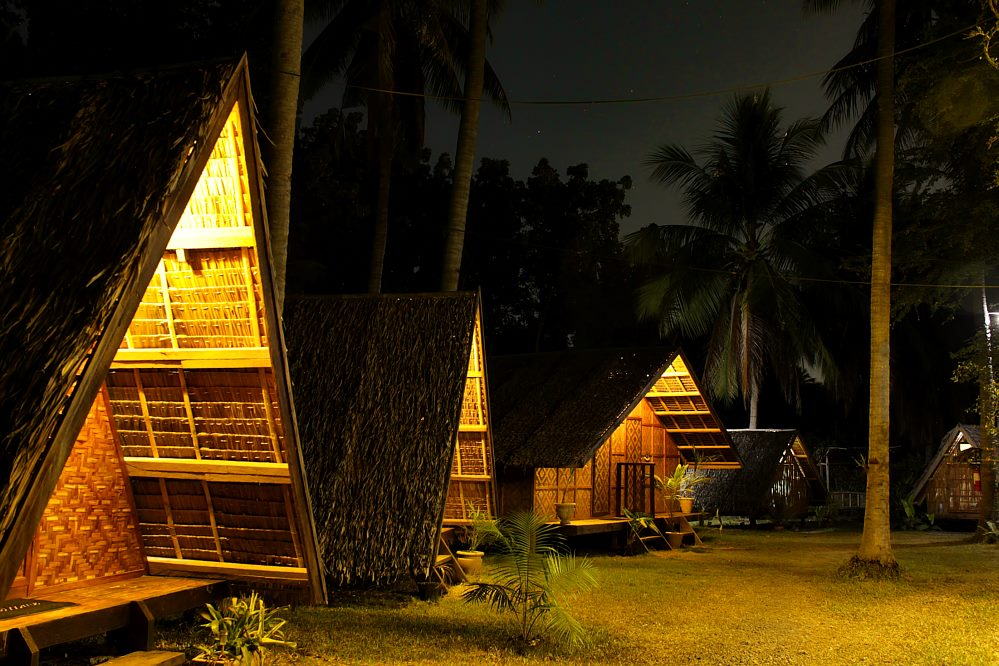 Image credit: Archery-Asia Nipa Huts Moalboal – Philippines Facebook page
While Moalboal in Cebu is known for its beaches, they can get crowded. Little do many know that there's a hidden camping ground called Archery-Asia Nipa Huts and Camping Moalboal, where you can sleep in rustic huts without breaking the bank. 
From only P1,390 (~USD27.55) per night, you can experience traditional Filipino living in their Bungalow Nipa huts with a garden view and air-conditioning, and grill your own barbecue dinner in their outdoor pit too.
Couples escaping the city for the open spaces of Cebu will enjoy the archery activities from P350 (~USD6.94) an hour on the field with six shooting ranges, surrounded by a 400-meter long bamboo fence for safety. 
Address: Archery-Asia, Barangay Tuble, Cebu, 6032 Moalboal, Philippines
Telephone: 32 350 1745
Website
---
8. Glamping Siquijor – away-from-it-all island living
---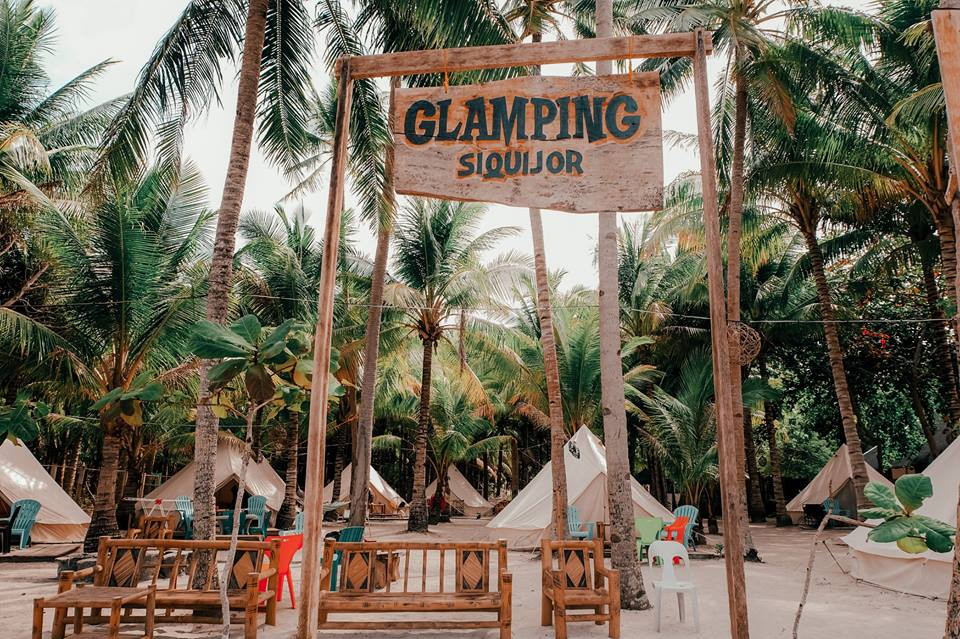 Image credit: Glamping Siquijor Facebook page 
For an immersive glamping experience in the Philippines, the journey to Siquijor is worth it. There's no direct flight to and from the small island, which means it's not packed with tourists. Take a ferry to the humble island from the ports of Tagbilaran Bohol from P560 (~USD11.10), or Dumaguete, Negros Oriental from P120 (~USD2.38), then hop on an EZ-ride cab to Glamping Siquijor.

Image credit: @glamping_siquijor 

The Deluxe Suite with Sea View (P3,000, ~USD59.47 per night) offers the most romantic spot fronting the beach, and comes with one large bed, barbecue, bar, and Wi-Fi. 
Address: Solangon, San Juan, Siquijor
Contact: 0927 611 7303, 0908 531 9763, 0943 396 3243
Website
---
9. Soultribe Beach Retreat – for ocean lovers
---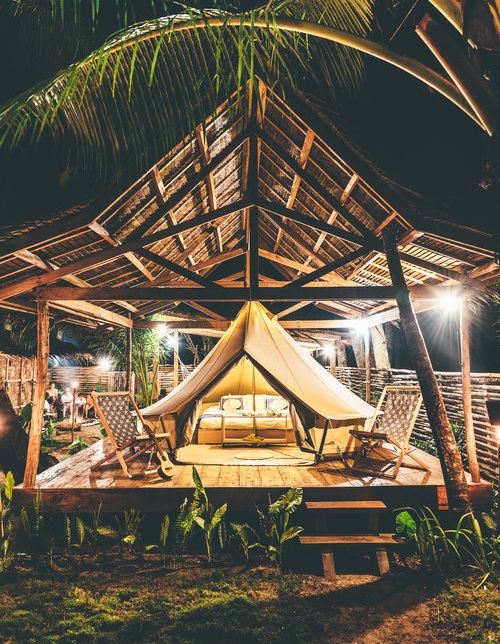 Image credit: Soultribe Beach Retreat
Known as the Surf Capital of the Philippines, Siargao is the best place to go when you want to roll straight out of your tent and surf straight onto the sea a few steps away.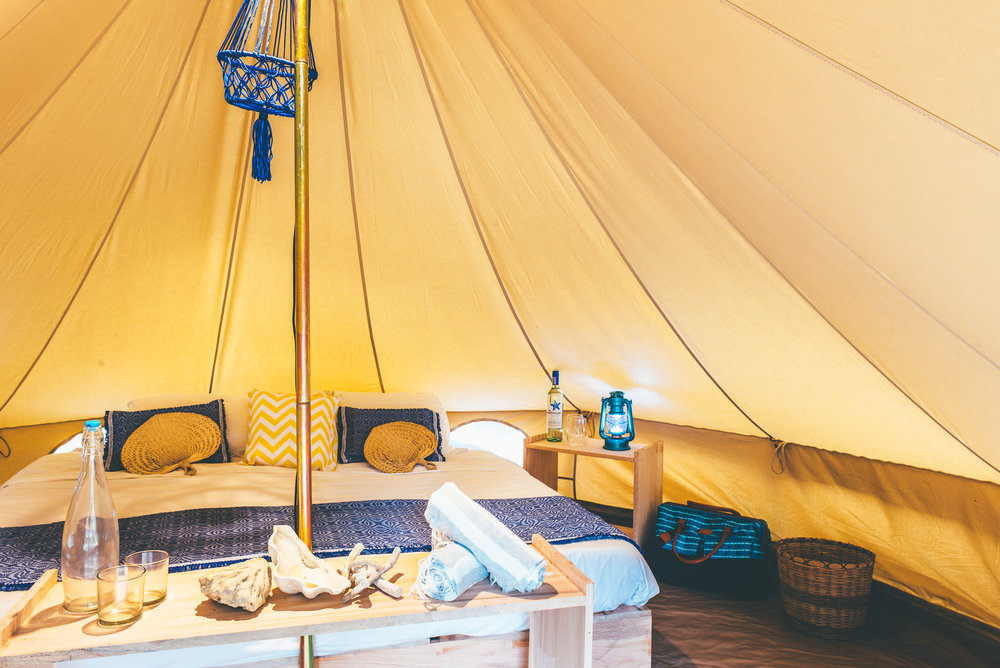 Image credit: Soultribe Beach Retreat
Soultribe Beach Retreat is nestled among the aesthetic coconut trees of Siargao, directly in front of the Pacific Ocean. They have Luxury Tents (P3,550, ~USD70.37 per night) that sleep two, come with Wi-Fi, and access to Soultribe's oceanfront yoga halls and cafe.
Address: Malinao Road, Siargao, 8419 General Luna, Surigao del Norte
Mobile: 0999 645 3324
Website
---
Glamping in the Philippines for a romantic getaway
---
For your next getaway with your better half, glamping is a perfect way to take a slow holiday away from the stresses of the city in nature's embrace. And with the Philippines being a wonder of natural resources, there's an abundance of choices to stay in.
Also check out:
---
Cover image adapted from: @nacpanbeachglamping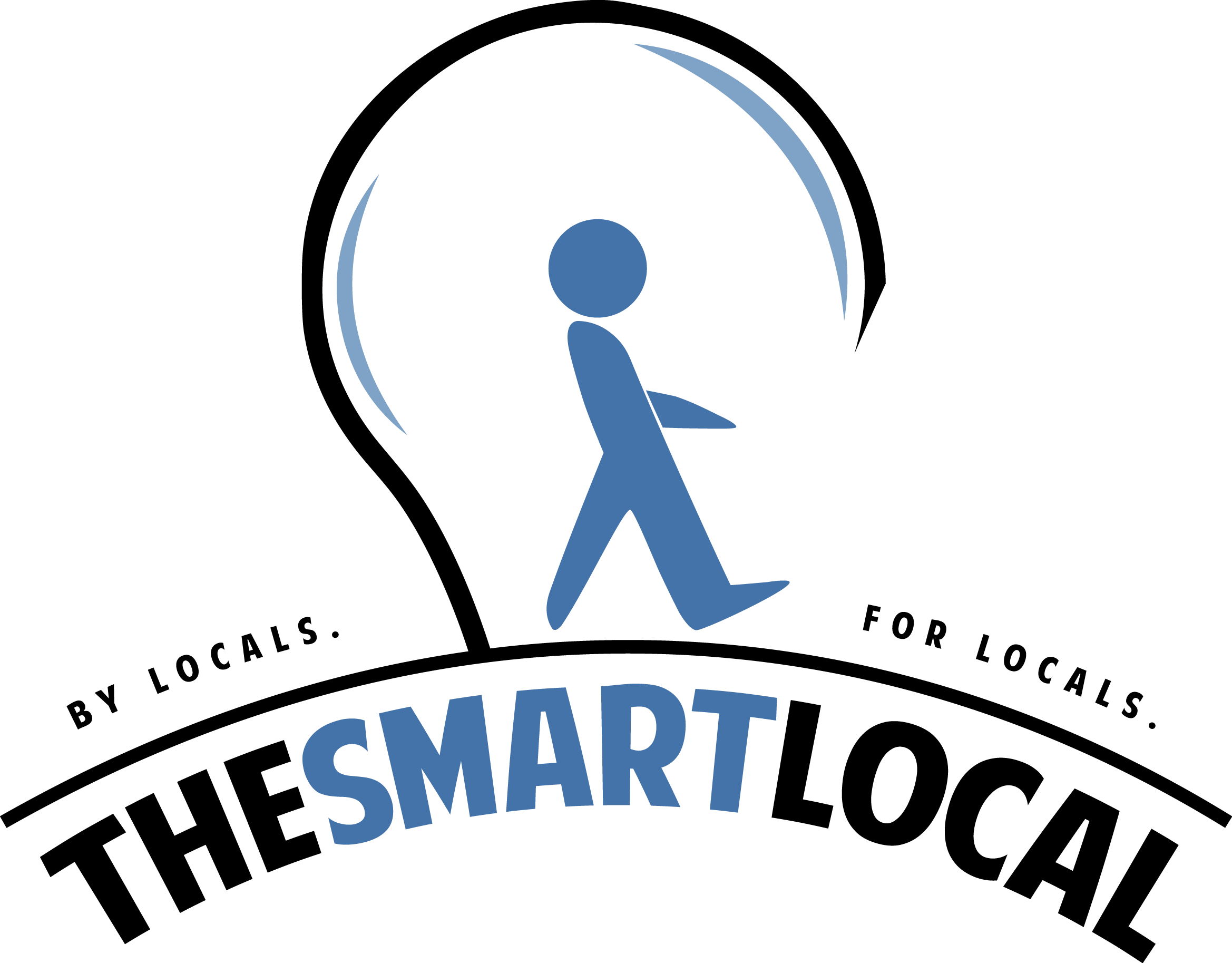 Drop us your email so you won't miss the latest news.