Things to do in Tawi-Tawi
---
Far off the southernmost tip of the Philippines lies Tawi-Tawi, a tropical paradise bustling with centuries-old cultural traditions untouched by the metro and home to the longest sandbar and the oldest mosque in the country. 
So if these haven't convinced you to add Tawi-Tawi to your travel list, discover what else it has to offer in this listicle of 10 things you can do in the underrated province. 
---
1. Climb the famous Bud Bongao, Tawi-Tawi's sacred mountain
---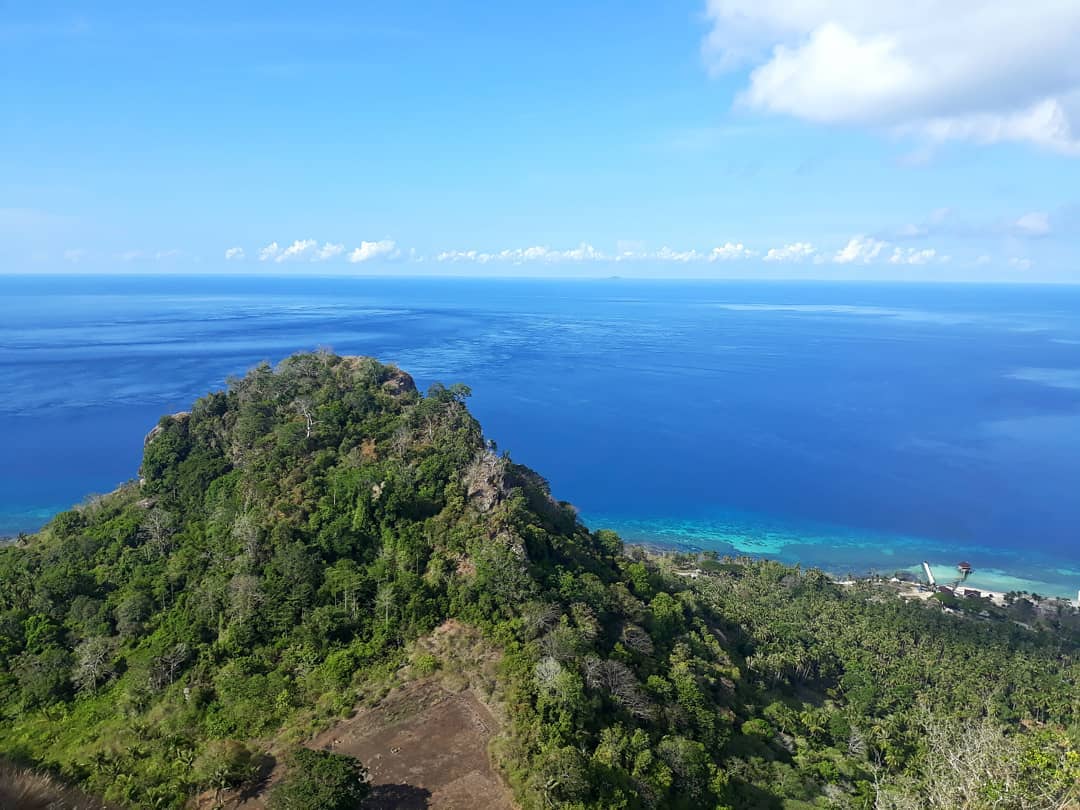 Image credit: @brynebrills
For a panoramic view of Tawi-Tawi accentuated by its surrounding turquoise waters, climb one of the peaks of Bud Bongao. It has six peaks you can choose from, depending on your mountain-climbing skills: Bongao at 230 meters above sea level, Pajar at 260, Tinondakan at 309, Tambisan at 317, Simunil at 328, and the tallest is Sibutu at 342 meters. 

Image credit: @dustinthewind.1993
Aside from the unparalleled views it offers, the mountain is also home to species you might remember reading from your elementary school books. Pugad Lawin, spreading club moss, the forest rat, and the red-bellied pitta, to name a few, are some of the flora and fauna to be found here.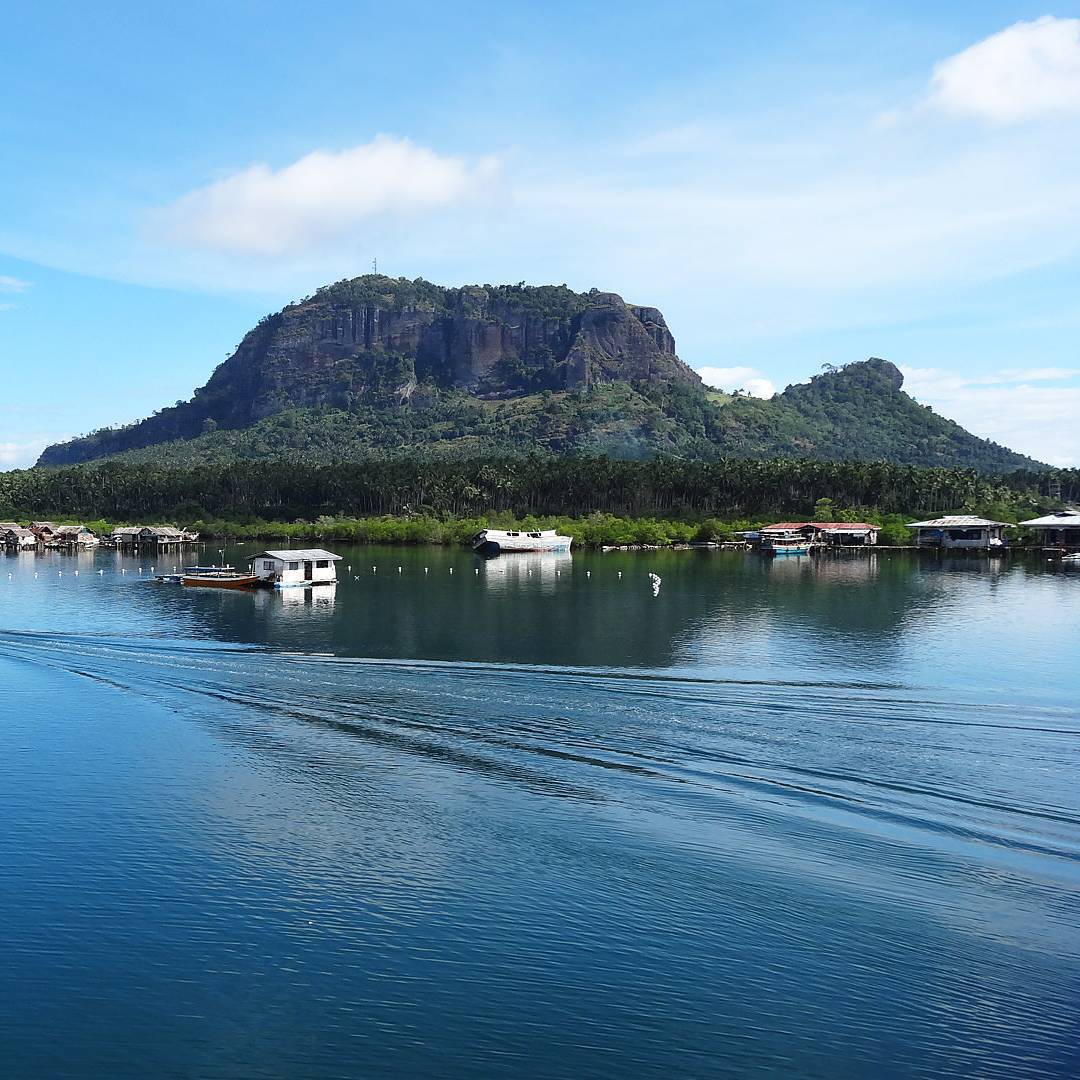 Image credit: @cebupacificair
It is also a sacred mountain for Muslim locals who climb the mountain to pray at its burial shrines. Legend even has it that one of the followers of Sheik Makdum, the Arab missionary who introduced Islam to the Philippines in 1380, is buried here. 
Entrance fee: P10 (~USD0.20, locals), P20 (~USD0.39, visitors)
---
2. Marvel at the White Mosque's pared-down Islamic architecture
---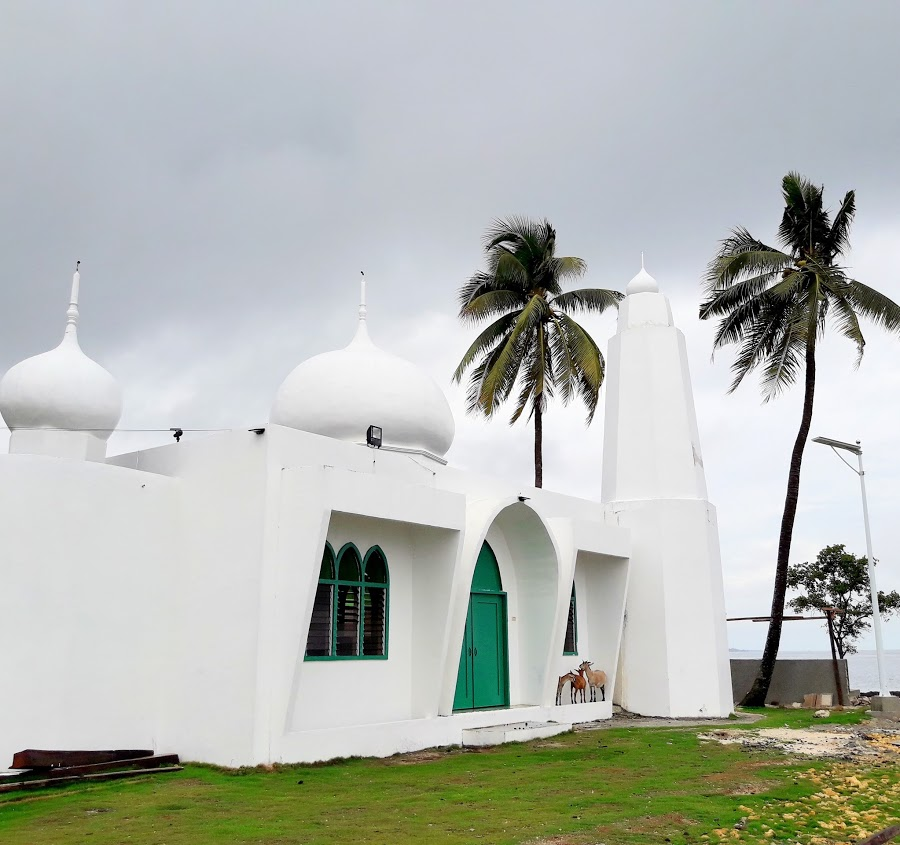 Image credit: Trip to Fernando 
We often conjure an image of a mosque as grand and big, but there's this tiny mosque by the sea amidst the small fishing village of Barangay Tubig Tanah in Bongao.
Unofficially called the White Mosque, it sits humbly on a carpet of grass alongside coconut trees. A quaint sight indeed, and testament to the humble way of life in Tawi-Tawi. 
Address: Bongao, Tawi-Tawi
---
3. Get lost in the maze of Badjao Village
---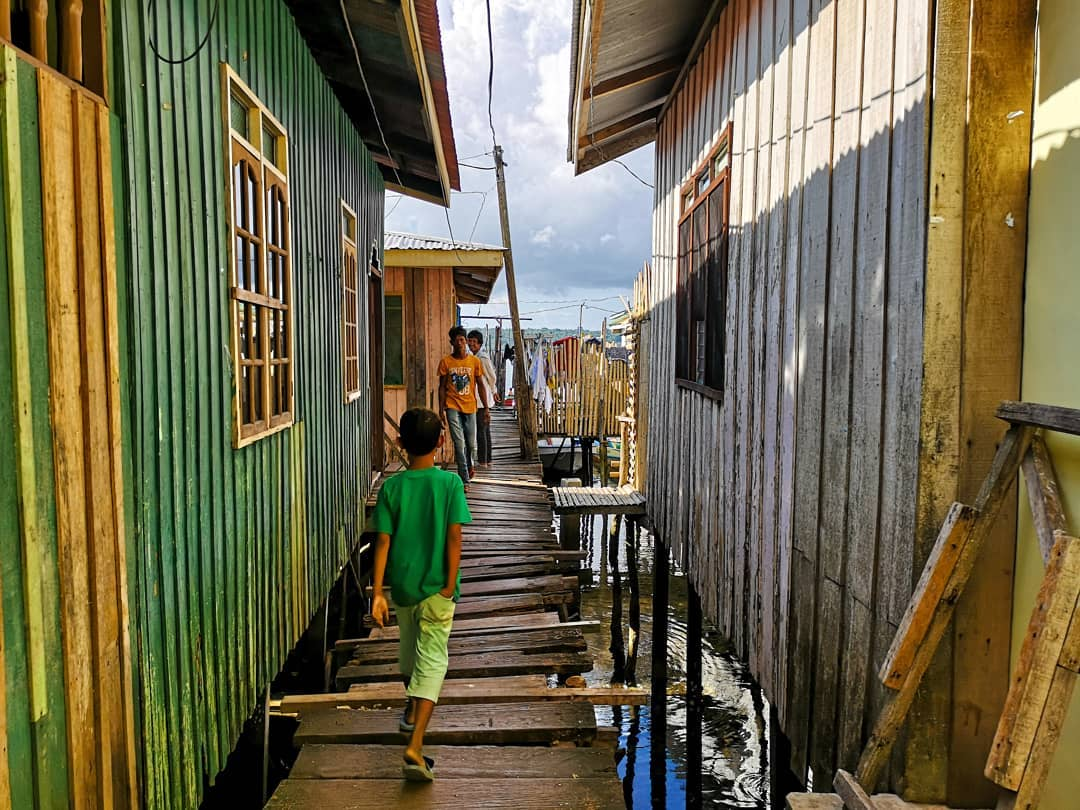 Image credit: @raphcocson 
A colorful maze of stilts will greet you in the Badjao Village in Bongao. The village is home to the indigenous tribe of Badjao people, also known as "sea nomads" due to their close ties to the sea.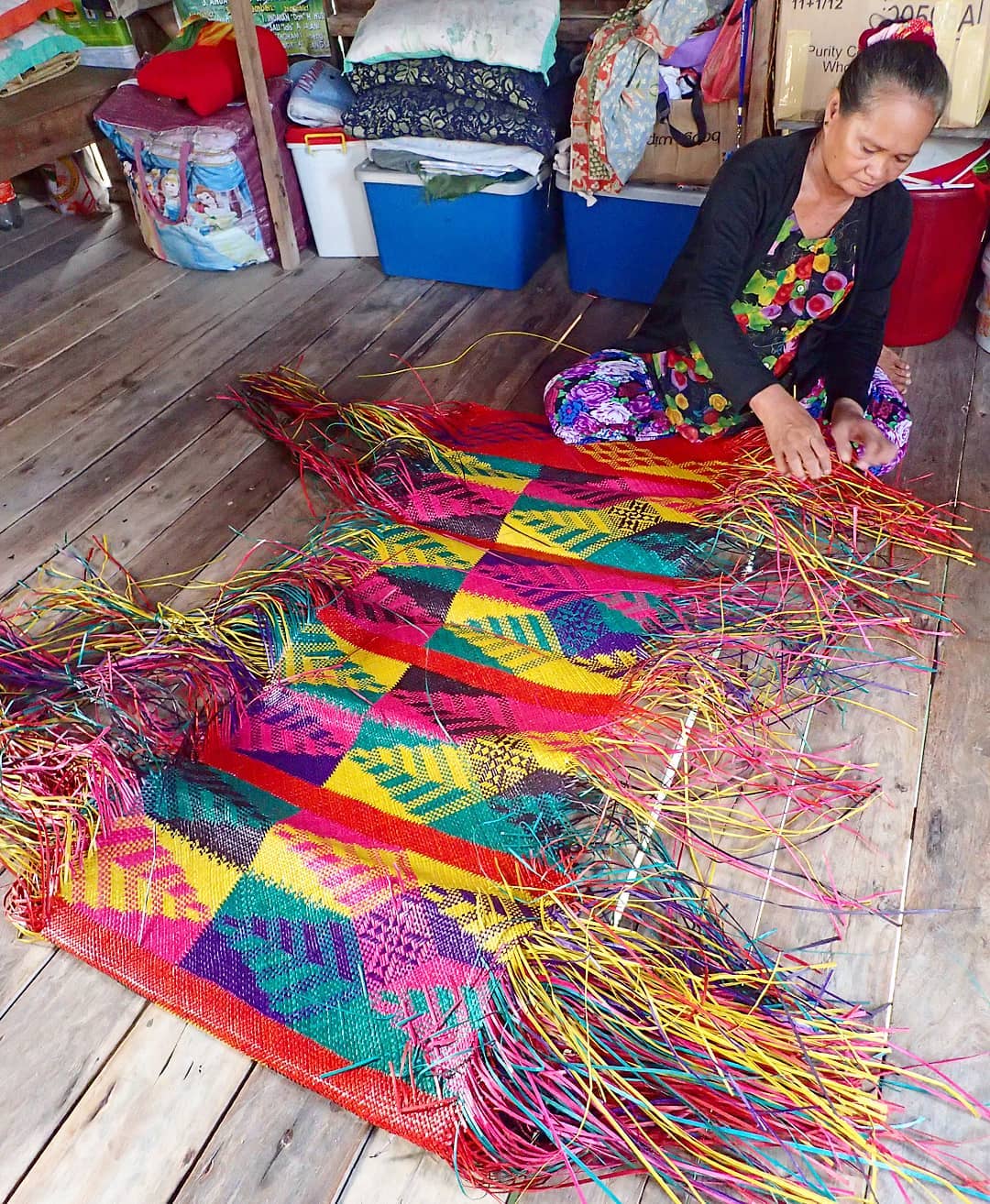 Image credit: @cesbenitez
If you're lucky, you may also witness their magbabaluy (banig weavers) cutting dried pandan leaves into tiny strips before they are woven into traditional mats.
Address: Bongao, Tawi-Tawi
---
4. Feast your senses with Bongao Public Market's swirl of colors and movement in
---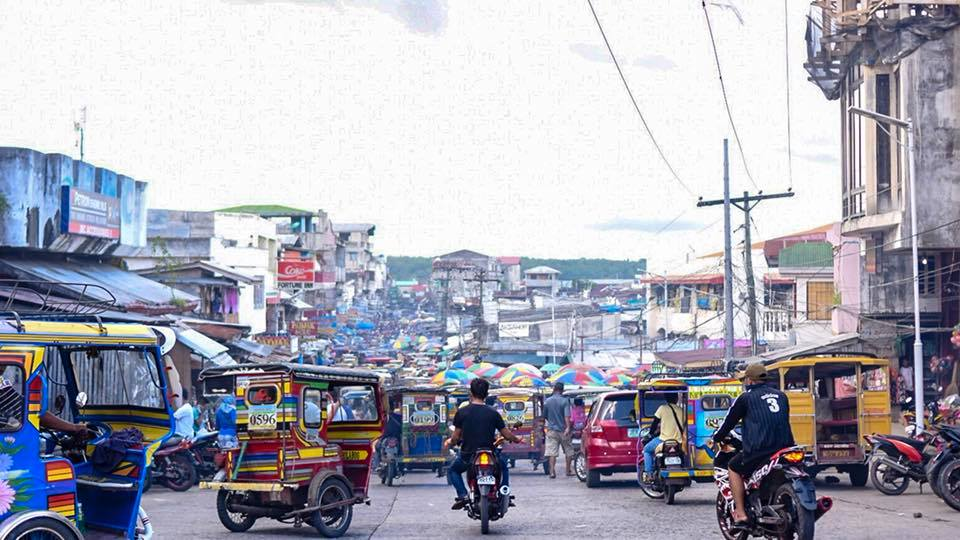 Image credit: Johnny R. Lee 
The public market, while a fixture of every town, is a must-visit in Bongao. Bongao Public Market is where the different livelihoods of locals collide.
Colorful tricycles ring past with their loud honks, while merchants here and there try their best to outsell their neighboring vendors with their catches from the sea.
Address: Bongao, Tawi-Tawi
---
5. Discover the vibrant seafood scene with local market vendors
---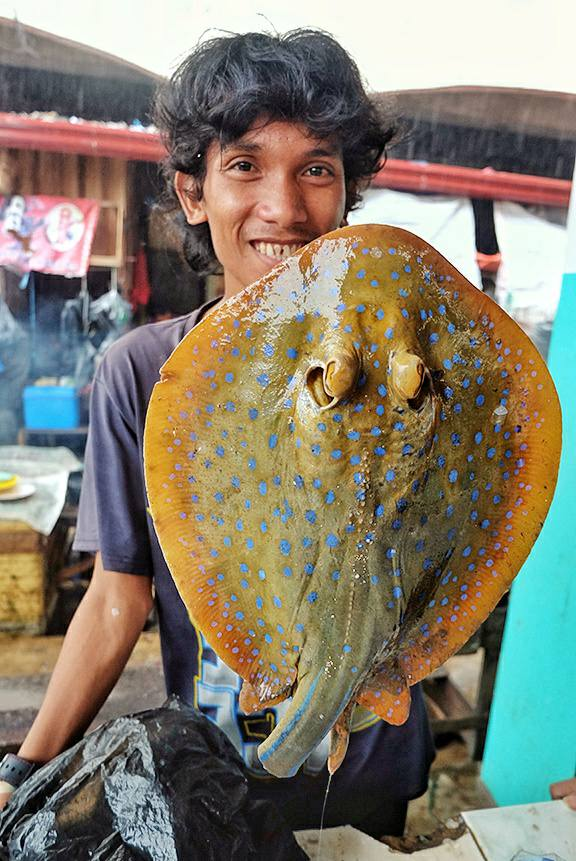 Image credit: Ian Ray Garcia 
And while you're in the market, discover the rich seafood culture of the locals. The surrounding seas of Tawi-Tawi are home to an array of creatures, from the Blue Spotted Ribbontail Ray (above) to the Titan triggerfish (below).
The Ribbontail Ray may not look like something we can eat, but it's actually edible. Locals love to eat the stingray with leaves of malunggay. The creature also roams the waters of the Indian Ocean from South Africa to northern Australia, and through Southeast Asia.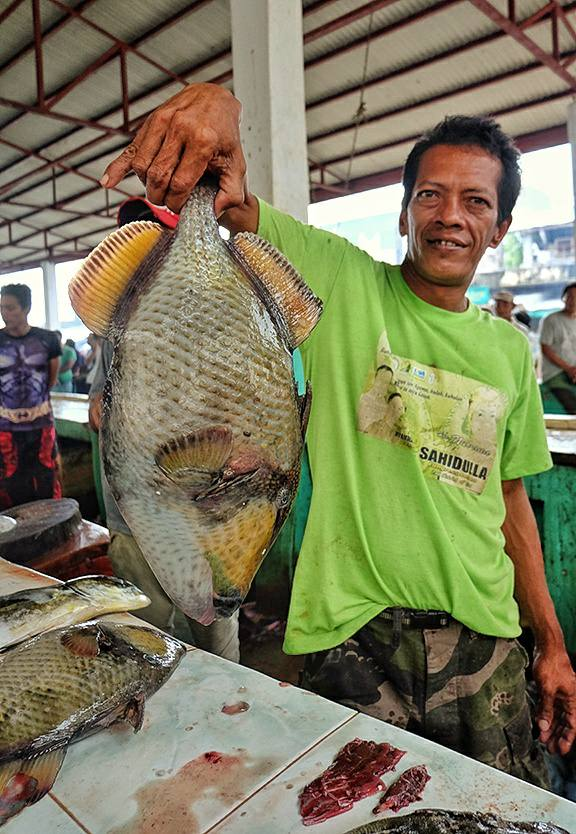 Titan triggerfish
Image credit: Ian Ray Garcia 
The Titan triggerfish also lives up to its name, as it's known to attack divers and snorkellers. But while it may not be the most polite sea creature, it's a beloved seafood delicacy among locals who call it pugot.
Address: Bongao, Tawi-Tawi
---
6. Take drone shots of the stilt houses on Simunul island
---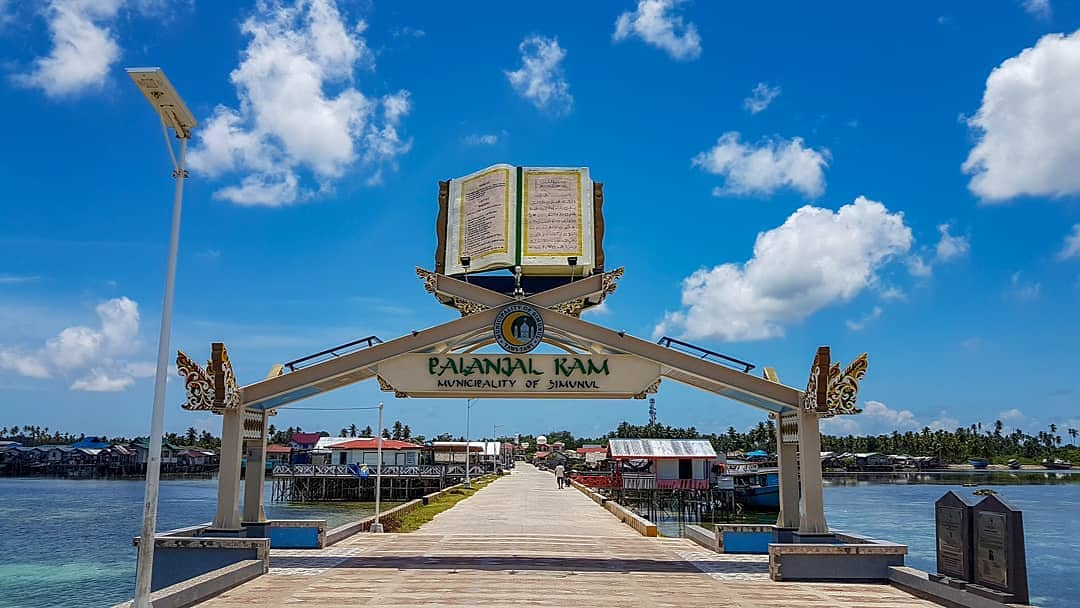 Image credit: @jmsontillanosa 
Southeast of Bongao is Simunul, where you can take panoramic shots – or why not drone shots if you own a flying camera – of the colorful stilt houses dotting the waters. The island's archway is a sight to behold too, sporting a big replica of the Koran on top. 
How to get there: Take a passenger boat from the port of Bongao, which has ferries going to various islands of Tawi-Tawi, Simunul included: Sibutu, Sitangkai, Sipangkot, and Liyaburan.

GPS coordinates: 4°53'35.9″N 119°49'20.3″E
---
7. Pay your respects at the Sheik Karimol Makhdum Mosque, said to be the Philippines' oldest mosque
---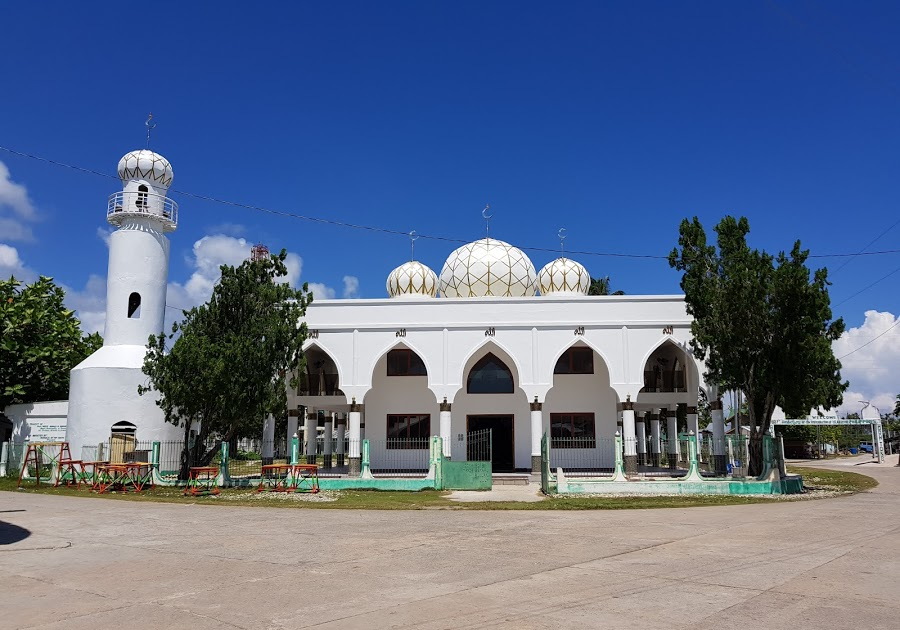 Image credit: edmon canoy

You won't want to miss the first mosque in the country, which still stands today in Simunul. Dating back to 1380, the Sheik Karimol Makhdum Mosque is said to be the oldest mosque, older than any of our Catholic churches.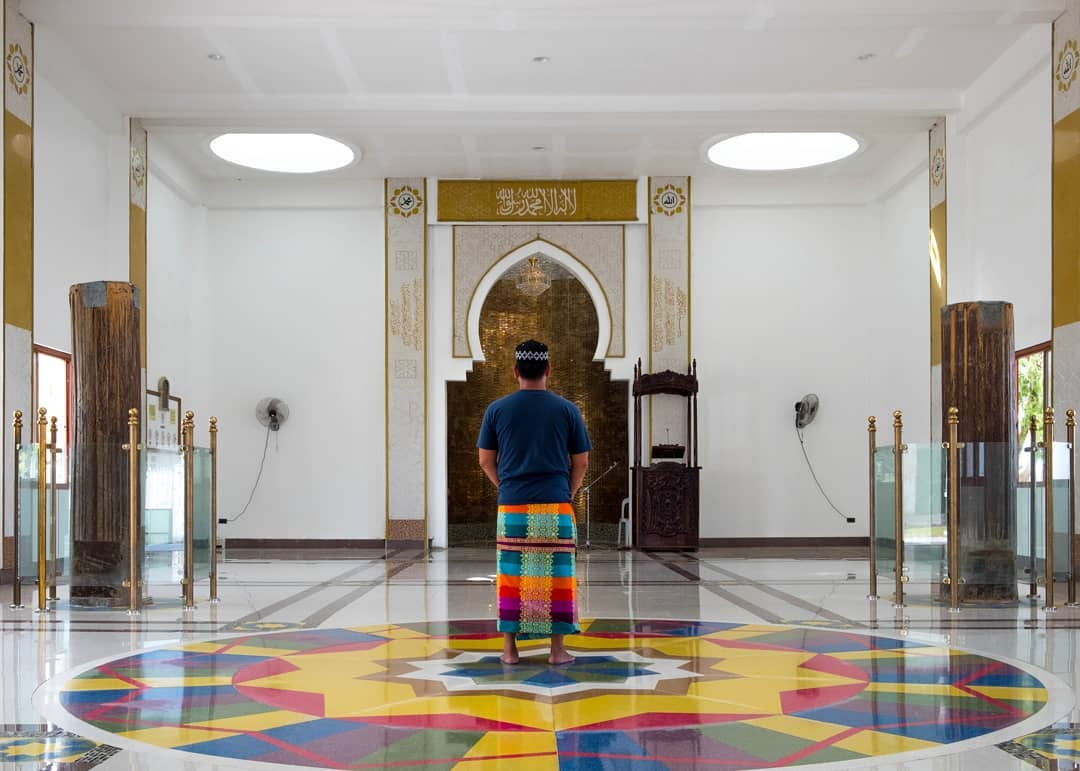 Two of the mosque's four original wooden pillars
Image adapted from: @magnus.exurcismus
It is named after Arabian missionary Sheik Makdum who introduced Islam to our shores and also oversaw the mosque's construction. While the original structure is, of course, already gone, two of the original pillars remain – and even the remains of Sheik Makdum himself are buried in the mosque's compound.
Address: Simunul, Tawi-Tawi
To learn more about ancient historical buildings in the Philippines, click here!
---
8. Find your inner peace in the longest sandbar in the country
---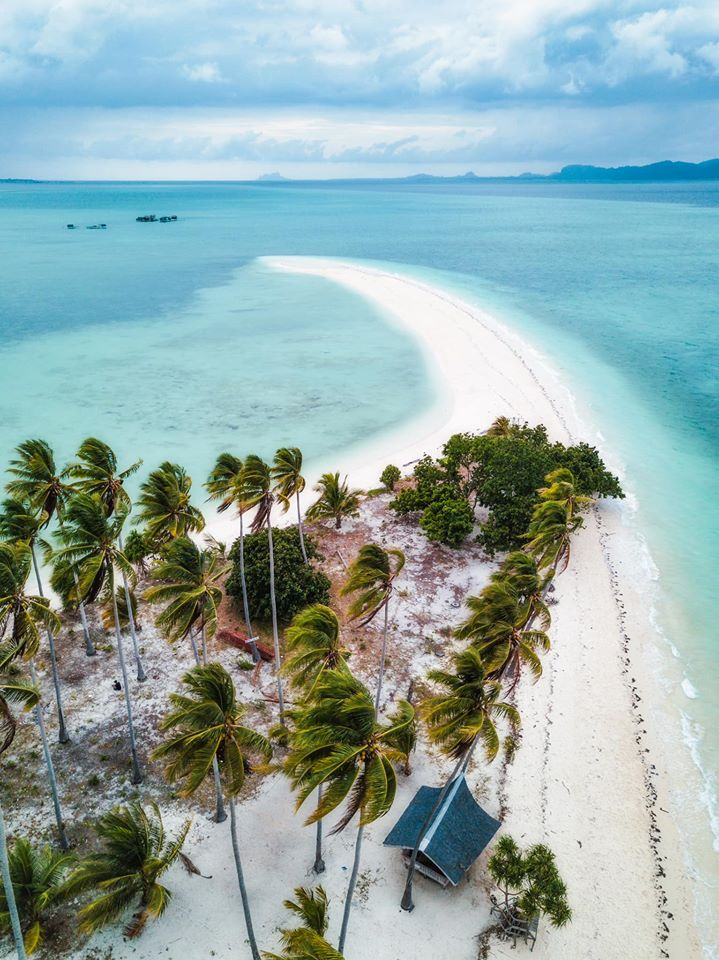 Image credit: Jasper Ivan Iturriaga 
It might look like somewhere from a distant part of the world, but this sandbar can only be found on Panampangan Island of Sapa-Sapa, Tawi-Tawi. During low tide, it becomes the Philippines' longest sandbar, accentuated by turquoise waters, that can stretch up to 3 kilometers! 
This is the perfect place to go when you really want to be away from it all, immersed in the otherworldly tranquility of the island. 
How to get there: Going to the island can be quite expensive, as boat rentals can cost up to a few thousands. You can coordinate with the Tawi-Tawi Provincial Tourism Office first – they might know some boatmen who can offer affordable rates. 
GPS coordinates: 5°03'38.0″N 120°04'23.9″E
---
9. Take a boat trip in Sitangkai, dubbed 'The Venice of the South'
---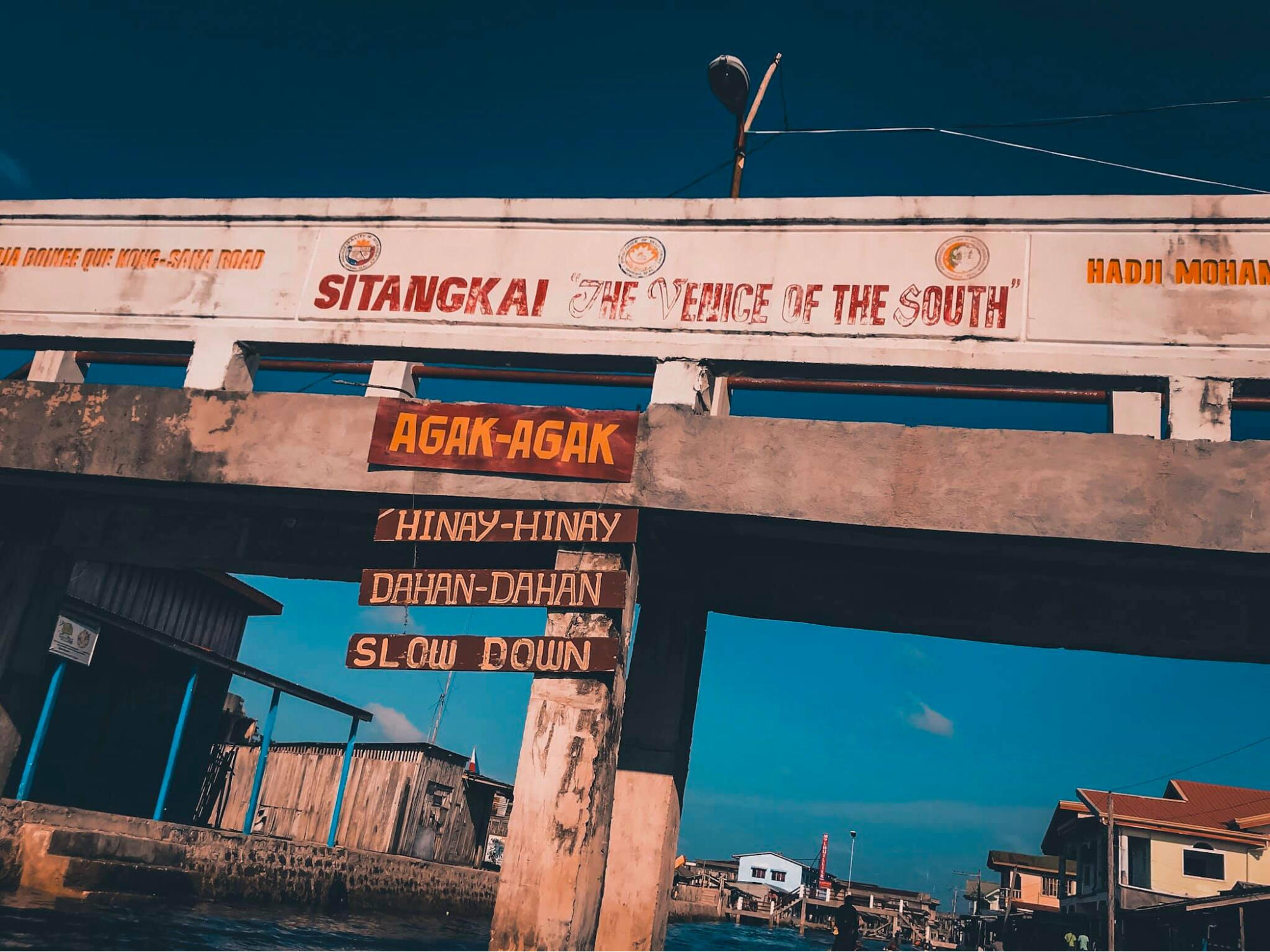 Image credit: Vam Edwardin 
There's a lowkey Venice on Sitangkai Island, where a wide canal serves as a major thoroughfare and boats are only the mode of transportation. The canal is surrounded by market vendors, and will make you feel as if you're in Thailand's floating markets.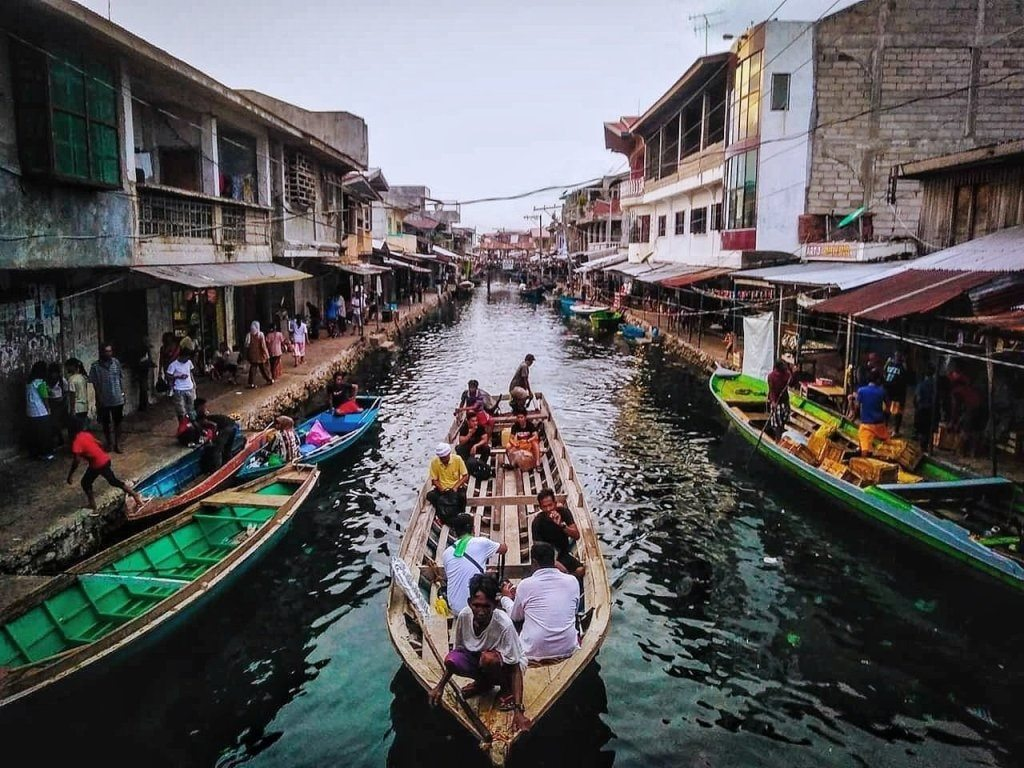 Image credit: Laagsparkles
GPS coordinates: 4°45'15.7″N 119°24'45.8″E
---
10. Learn about the province's festivals for your culture fix
---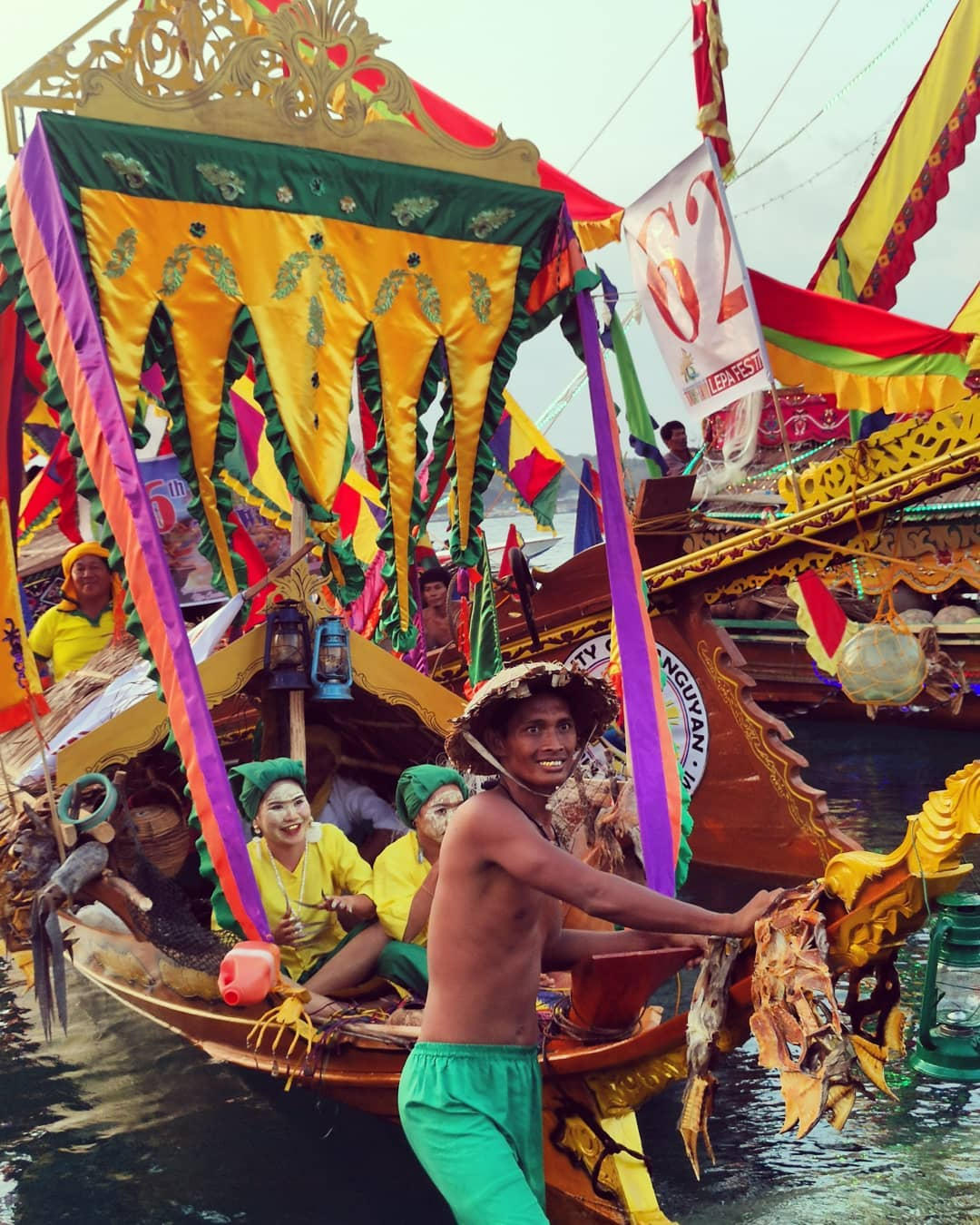 The Lepa Festival featuring traditional houseboats
Image credit: @aeiyn_nie.meowsranger
In Tawi-Tawi, the traditional houseboat is called a lepa. These houseboats were once the floating homes of the Badjao tribe before they settled in stilt houses to adapt to the changes of the sea.
The lepa is honored during the Lepa Festival, which was celebrated for the first time on 24th September 2019 in Bongao Wharf.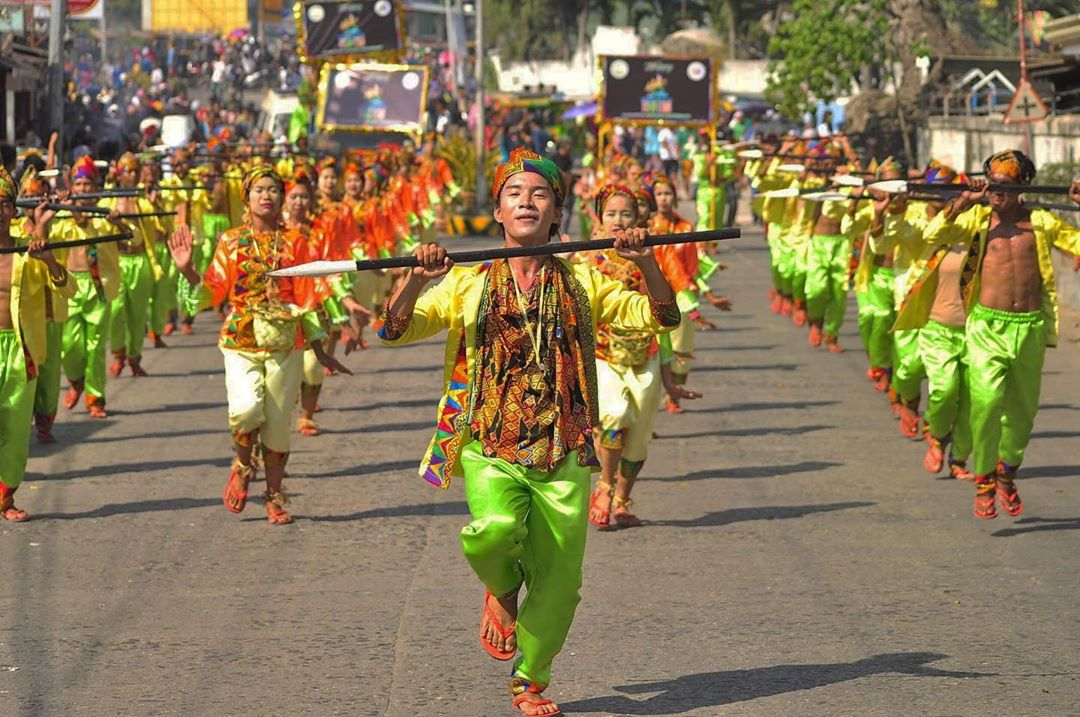 Image credit: @kapampangan_traveller 
Along with this, there are many more festivals celebrated in Tawi-Tawi that showcase the province's rich traditions. The Agal-Agal Festival, held every 25th of September, is a tribute to the significance of agal-agal (local term for seaweed) in the livelihood of the locals. 
---
– Getting to Tawi-Tawi –
---
By air
---
From Manila, take a flight to Sanga-Sanga (Tawi-Tawi) Airport via Cebu Pacific or Philippine Airlines. There will be a connecting flight, as you'll have to land first in Zamboanga International Airport before you take another flight to Sanga-Sanga Airport. 
---
By land and sea
---
From Zamboanga City, take a ferry ride to Bongao via Aleson Shipping Line. Travel time usually takes 15-18 hours and the fare costs P950 (~USD25.17).
---
Things to do in Tawi-Tawi
---
The southernmost tip of the Philippines is indeed a mysterious beauty from afar, deserving of every traveler's bucket list. 
From natural to architectural wonders, Tawi-Tawi is bustling with life – and will let you appreciate the cultural diversity across our thousands of islands.
Do check out the Tawi-Tawi Provincial Tourism Office's Facebook page for travellers' updates to plan your future trips with.
Also check out:
---
Cover image adapted from (clockwise from top left): @arielleluis, Trip to Fernando, @kapampangan_traveller, and @raphcocson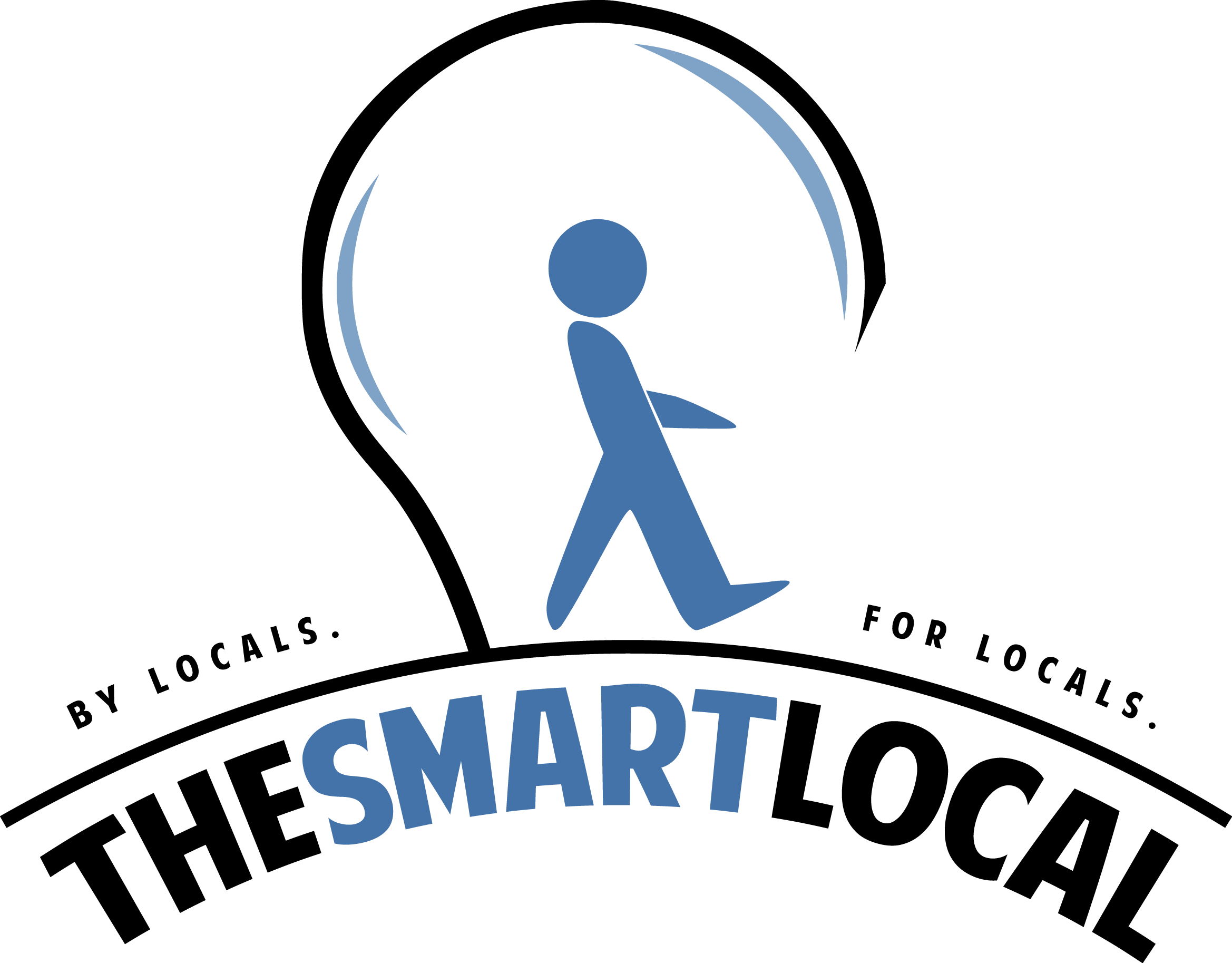 Drop us your email so you won't miss the latest news.