Ride-hailing apps in the Philippines
---
Cities in the Philippines are infamous for their traffic conditions; that's why many residents within the metros prefer ride-hailing apps as a mode of transportation.
Even though the costs are higher than public buses, jeepneys, or trains— booking a ride through apps saves you time and effort from queuing under the sweltering heat or pouring rain. These are the ride-booking apps in the Philippines that locals often use:
---
1. JoyRide – motorcycle and car-hailing in one
---

JoyRide driver during training.
Image credit: Public Employment Service Office – City of Manila
Although relatively new in the market, having launched only in December 2019, JoyRide has now expanded to offer car and motorcycle (MC) hailing services. They have four- and six-seater car options if you'd like to book a 4-wheel vehicle, and of course, only one passenger is allowed on an MC taxi.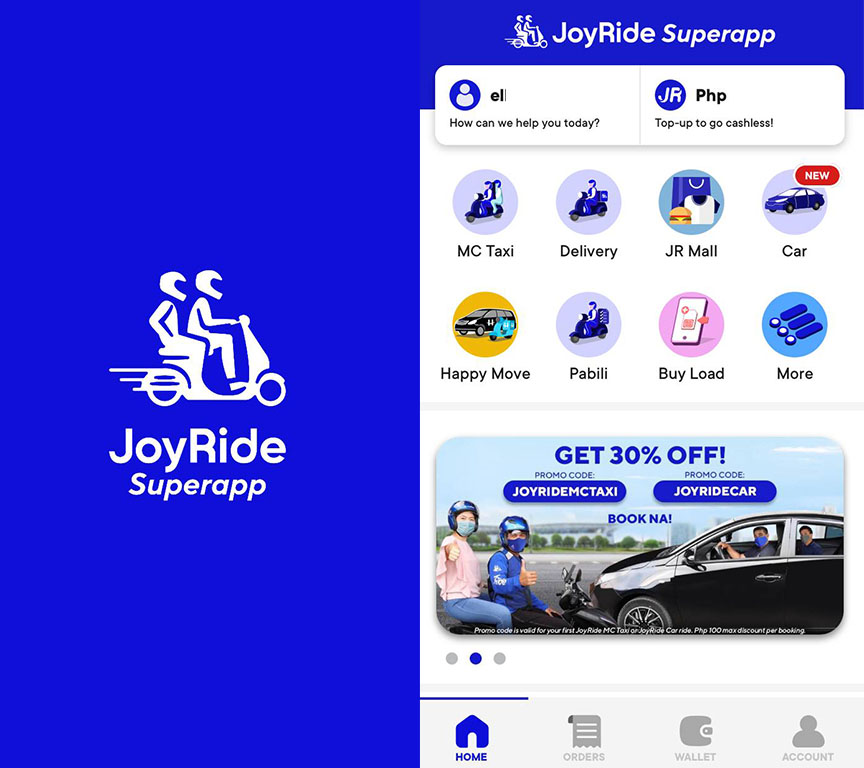 JoyRide app's user interface.
Although there are no ways to schedule a booking in advance, it's unnecessary because there are plenty of JoyRide drivers around the metro anyway. You can pay with cash or through online banking, including Maya and GCash, or use the in-app wallet called JR Pay.
This app services cities across Metro Manila and Metro Cebu, also including parts of Rizal, Bulacan, Cavite, Laguna, and Baguio.
Download JoyRide on iOS or Android.
---
2. Angkas – numerous riders available at any time
---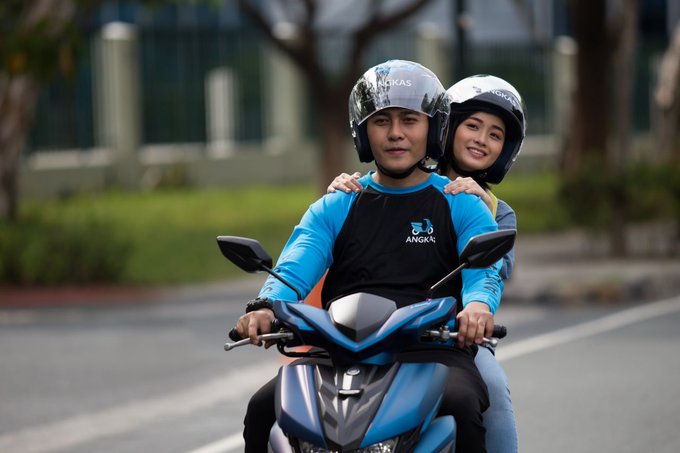 Pre-pandemic Angkas rider and passenger.
Image credit: @Angkas
Since Angkas started operations in 2016, it's been a reliable motorcycle taxi service that many Filipino commuters rely on since it's relatively affordable and easy to book. They also paved the way for other motor taxi services since they were the first to deal with the government to legalize this mode of transportation.
University students and young office workers often use this app, so aside from having responsive social media accounts and witty adverts, they make sure to enlist countless drivers to be available at any time of the day. Based on our experience, you can easily book Angkas even at 2am.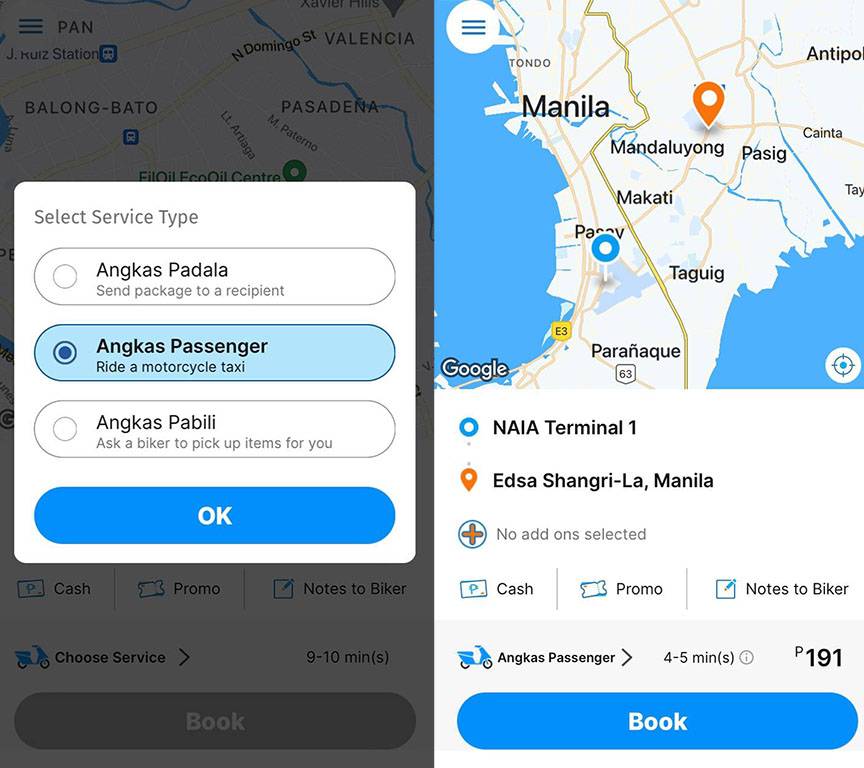 Angkas user interface and a sample ride from the Ninoy Aquino International Airport in Pasay City to a well-known hotel in Mandaluyong. 
The user experience within the app itself is also commendable; the icons are well-designed and easy to understand, plus loading everything on the screen is seamless and quick.
Initially, they provided free face masks and head covers, but due to Covid-19, passengers are encouraged to bring their helmets and are always required to wear face masks. Aside from offering passenger rides, Angkas is also known for its purchasing and delivery services.
You can book this app if you're in Metro Manila and Metro Cebu only. Currently, they only accept cashless payments through in-app load and online banking.
Download Angkas on iOS or Android.
---
3. Grab – tried and tested on Philippine roads
---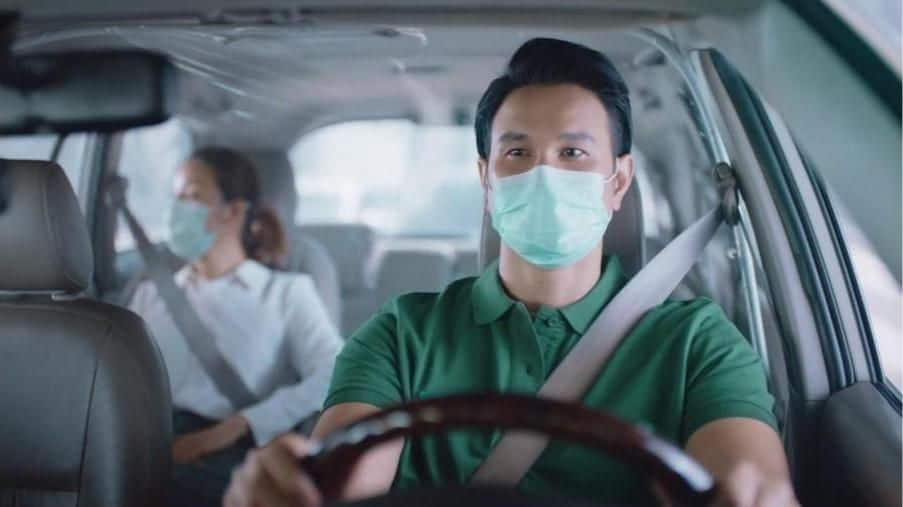 A Grab car ride.
Image credit: Grab.com/ph
Since Uber's exit in 2018, Grab has become the country's number one go-to app-based ride service. The minimum fare for a four-seater car is P80 (~USD1.44) and fare goes up by P15 (~USD0.27) per kilometer. Meanwhile, a six-seater will cost a minimum of P120 (~USD2.16) plus P18 (~USD0.32) per kilometer. They also have surge fees during rush hour, so it's good that they are always transparent with the fares, as you'll know how much you'll be spending on a ride.
You can also try out GrabTaxi to book traditional taxi cabs with lower fares. And since they're on the Grab app, you'll have all their information and be able to report any misconduct via customer service.
Aside from the passenger transport services, Grab is also a proven grocery, food delivery, and courier service provider. Their services cover Metro Manila, Metro Cebu, Davao City, Iloilo City, Bacolod City, and Baguio City. You can pay through any online bank or in-app using GrabPay.
Download Grab on iOS or Android.
---
Travel with ride-hailing apps in the metro
---
If you've ever been in the cities of the Philippines during rush hour, you definitely appreciate these ride-hailing apps that make all our lives easier during commutes.
And even though the fare prices get steeper than regular public utility vehicles, you wouldn't have to worry about queuing for hours just to get on the bus or train.
Check out our other stories:
---
Cover image adapted from: grab.com and gadgetpilipinas.net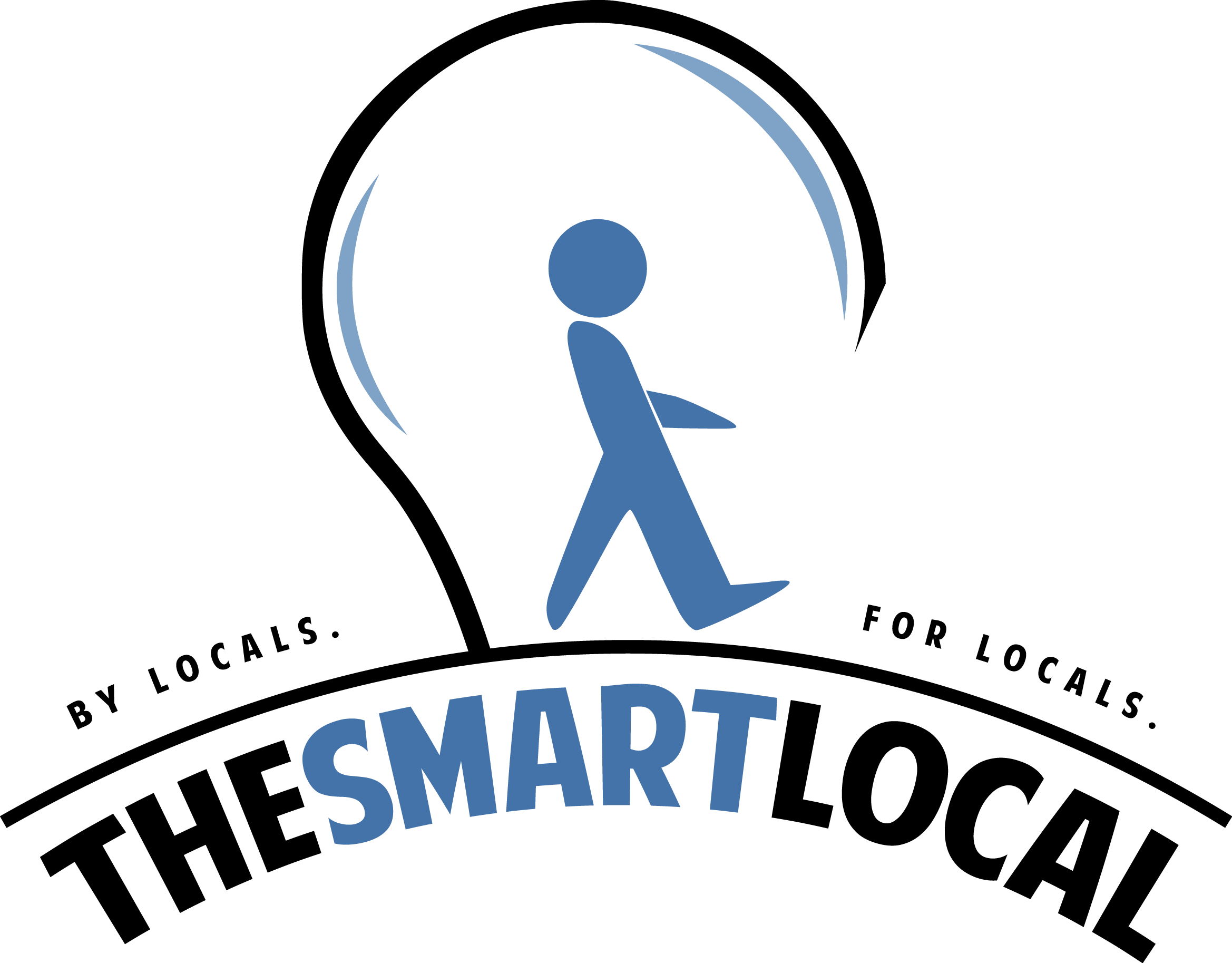 Drop us your email so you won't miss the latest news.