E-wallets and digital banks in the Philippines
---
These days, everything can be done digitally – even payments. E-wallets and digital banks make your money accessible without having to carry a lot of cash.
With the sheer number of apps offering convenient payment services, it's easy to be overwhelmed. To help you choose, here are the 9 most used e-wallets and digital banks in the Philippines for quick and convenient payments, money transfers, and more.
---
1. GCash – widely used, powerful e-wallet
---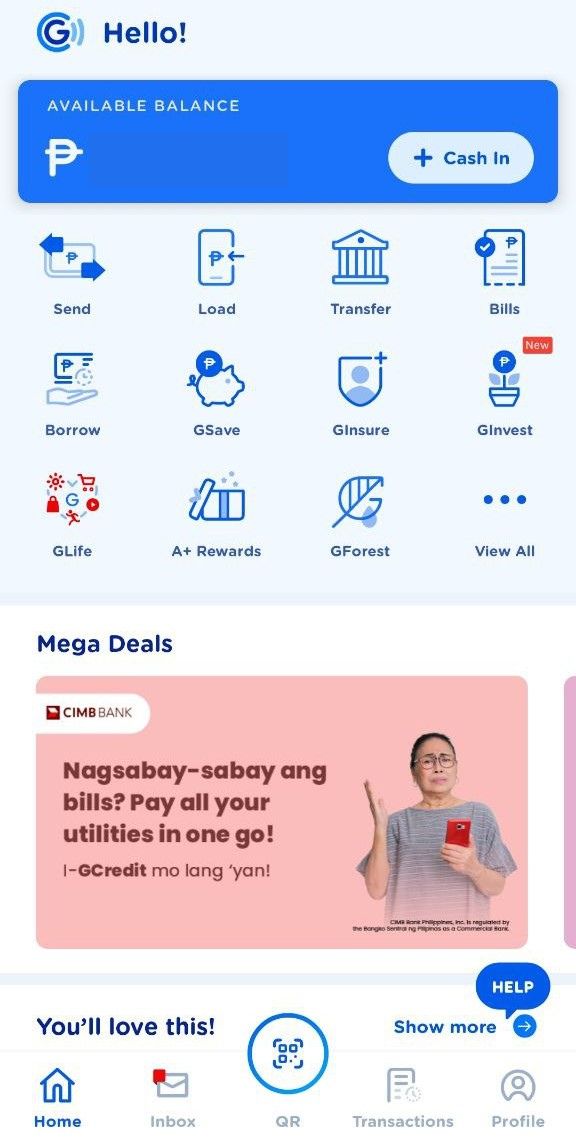 GCash is a powerful e-wallet that's widely used in the Philippines, making it a convenient app for transferring money to other users. But the app also allows you to send money to non-techy people, such as older family members, through remittance.
This app is convenient to have as many businesses accept GCash. You can pay using QR code and even split bills with your friends via KKB.
You can also pay your electricity, water, internet, credit card bills, government dues, and more through GCash.
GCash is not just for spending money either. It can also be used as a savings account with 2.6% interest rate. Plus, you can get a physical GCash Mastercard if you need to withdraw often.
GCash's website | Facebook | Instagram

---
2. ShopeePay – online shopping app and digital wallet in one
---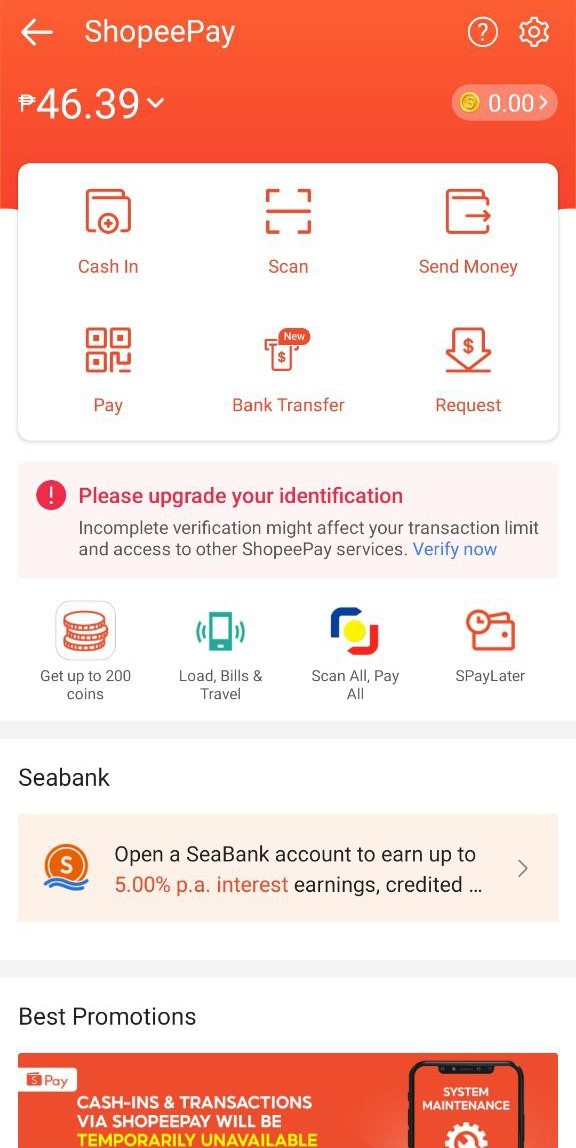 Most of us know ShopeePay as a payment option for Shopee. But more than paying for your online shopping, there are also many physical stores that accept ShopeePay payments via QR. You can even pay your bills through the app.
You can also buy items through SPayLater if you're a little short on cash. Just remember to use your credit wisely.
Since a lot of Filipinos use Shopee, you can conveniently send money to your friends and family through their ShopeePay accounts. Transfers to bank accounts and other e-wallets are also available for a P15 InstaPay fee.
Your ShopeePay account can be linked to a Seabank savings account with a 5% p.a. interest rate so you can conveniently use your interest earnings as extra shopping money.
ShopeePay's Facebook | Instagram

---
3. Seabank – high interest rate and free transfers
---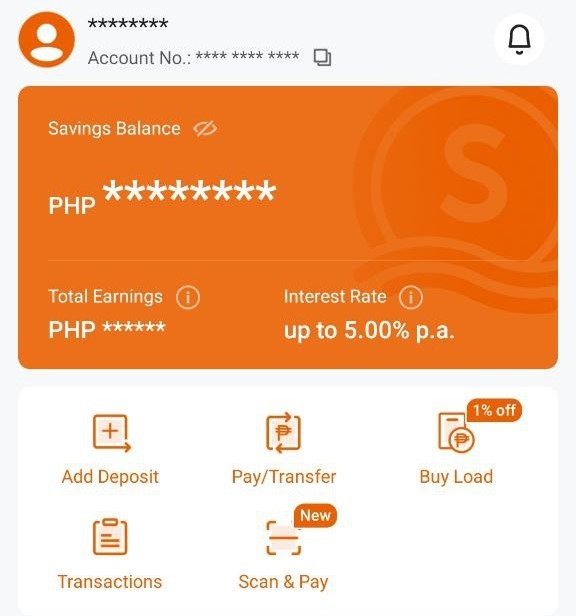 Seabank is a digital bank owned by Sea Limited, the same company that runs Shopee. It has one of the highest interest rates in the country at 5% per annum for up to P250,000 saved in your account. Any excess of that gets 3% interest, which is still higher than traditional banks.
Besides its generous interest rate, Seabank is also known for free bank transfers. It allows 15 free transfers per week to digital and traditional banks as well as other e-wallets.
You can also use Seabank to buy load in-app or pay via QR as long as the retailer has a QRPh-supported QR code.
Seabank's website | Facebook | Instagram

---
4. Lazada Wallet – great deals via LazPayLater
---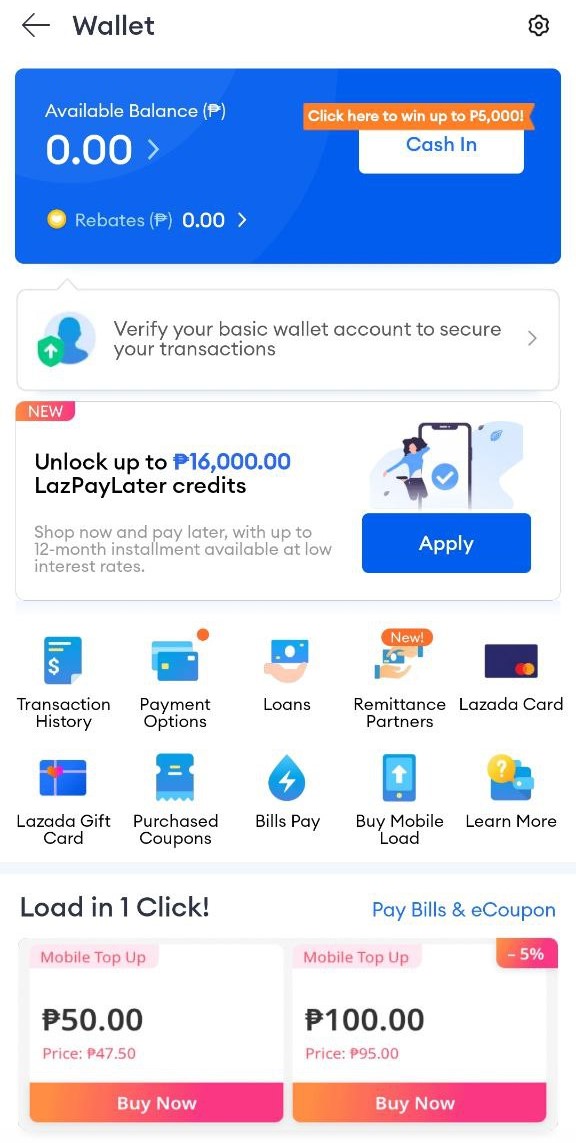 If you prefer to shop online on Lazada, you can take advantage of its e-wallet feature, Lazada Wallet. You can use it to pay for your Lazada orders and bills conveniently, and receive instant refunds if needed.
For big-ticket purchases such as gadgets, you can opt to pay in installments through LazPayLater. If you use this payment option, Lazada offers a variety discounts so you can definitely make the most of your money if you use it strategically.
You can also get loans for even bigger purchases via Lazada's partners, Billease and Home Credit.
Lazada's website | Facebook | Instagram

---
5. Maya – both an e-wallet and a digital bank
---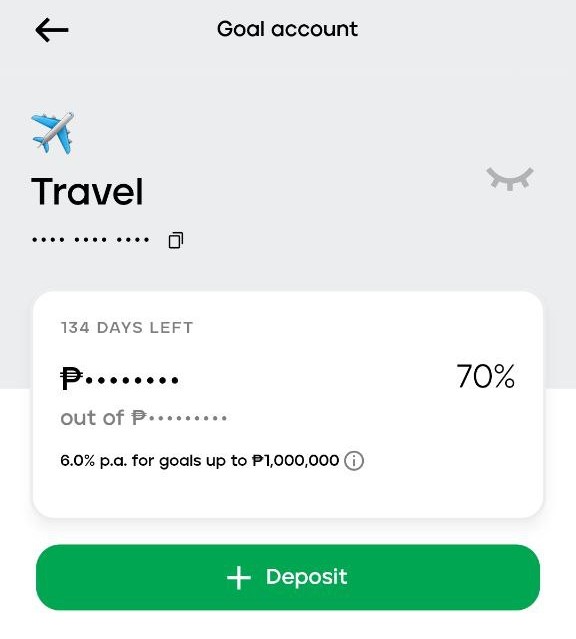 Maya's savings goal feature.

If you want a powerful e-wallet and a high-interest digital bank in one, go for Maya. It lets you send money to other Maya accounts, e-wallets, and banks, as well as save money with a 4.5% p.a. base interest rate. You can even set up to 5 savings goals and get 6% p.a. interest for each of them.
A powerful app, you can get credit and apply for loans through Maya. You can also dip your toes into crypto as the app lets you buy and trade a number of cryptocurrencies.
For non-digital transactions, you can get a physical card from Maya and choose between Visa or Mastercard.
Maya gives away plenty of rewards such as cashback promos for transactions, gameifying your banking experience.
Maya's website | Facebook | Instagram

---
6. GrabPay – pay for car rides, food orders, and more
---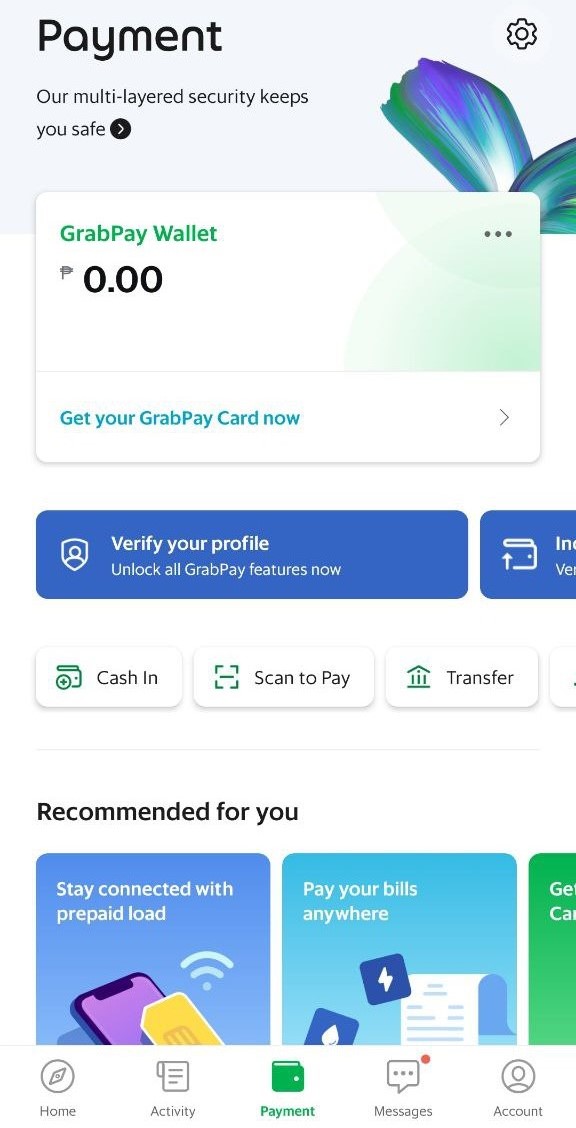 Those who like ordering food deliveries should already be familiar with GrabPay. It's an e-wallet you can use to pay for your GrabFood and GrabMart orders and Grab rides.
But the app has added a lot of features since it was first launched. Now, you can make QR and bills payments, send money, or make a bank transfer. You can even book hotels and experiences via the Grab app.
You earn points each time you use the app which you can use to get discounts.
If you put a lot of money on GrabPay to use for GrabFood and Grab rides, consider getting a GrabPay Mastercard, which you can use to pay in stores locally and overseas.
Grab's website | Facebook | Instagram

---
7. GoTyme – earn rewards points for free flights
---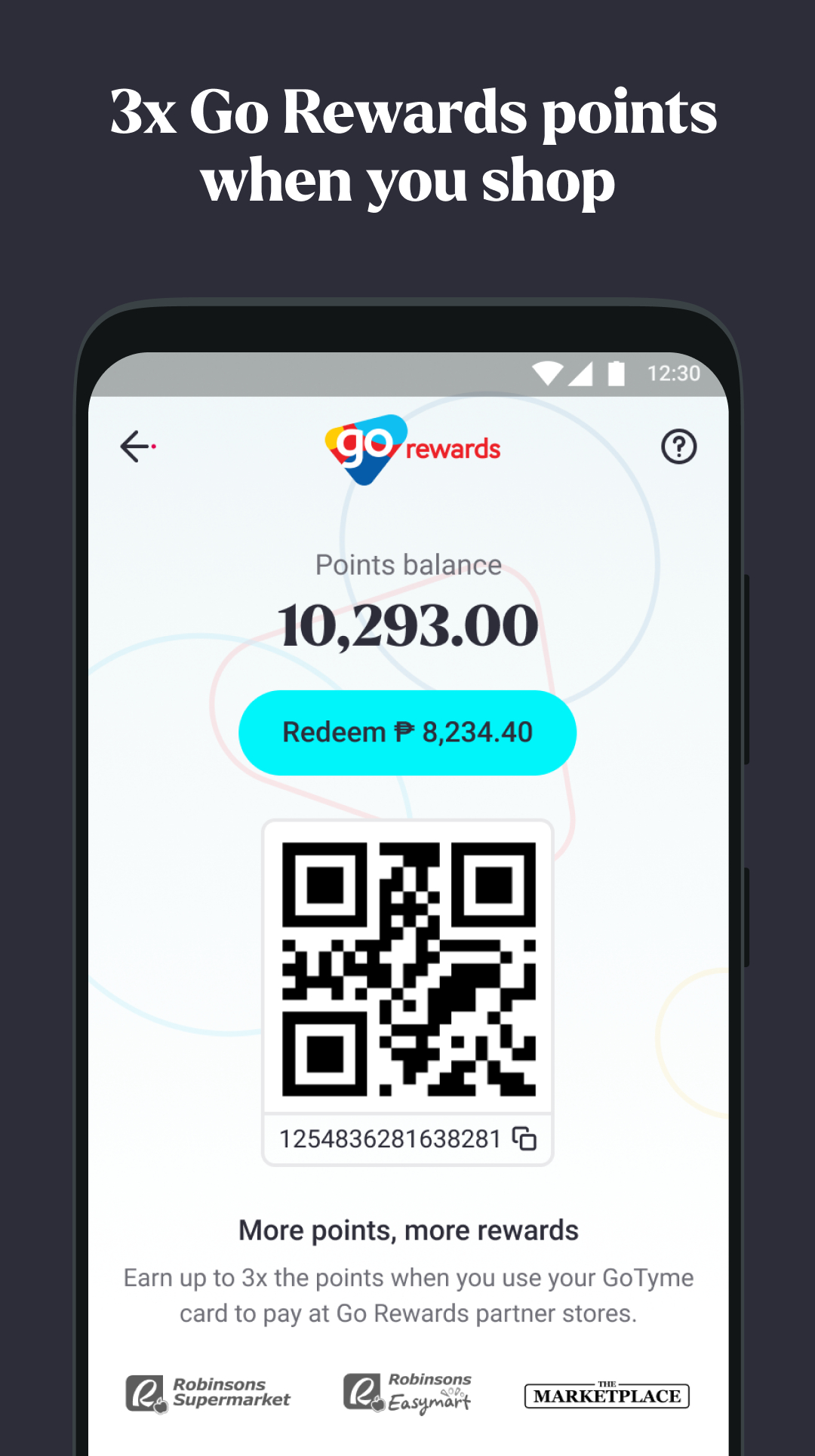 Image credit: Google Play
If you want to get free flights from your shopping transactions, check out GoTyme, the newest digital bank in the country.
With GoTyme, you get 3x Go Rewards points for every transaction with Go Rewards partner stores, including Robinsons Supermarkets. You can use your points to claim exclusive perks such as Petron fuel discounts and free Cebu Pacific flights.
This digital bank also offers a high interest rate of 3% p.a. and 3 free transfers to other banks per week.
If you want a physical GoTyme Visa debit card, you can get it conveniently from a machine at select Robinson's Supermarkets.
GoTyme's website | Facebook | Instagram
---
8. Komo – free withdrawals at EastWest ATMS
---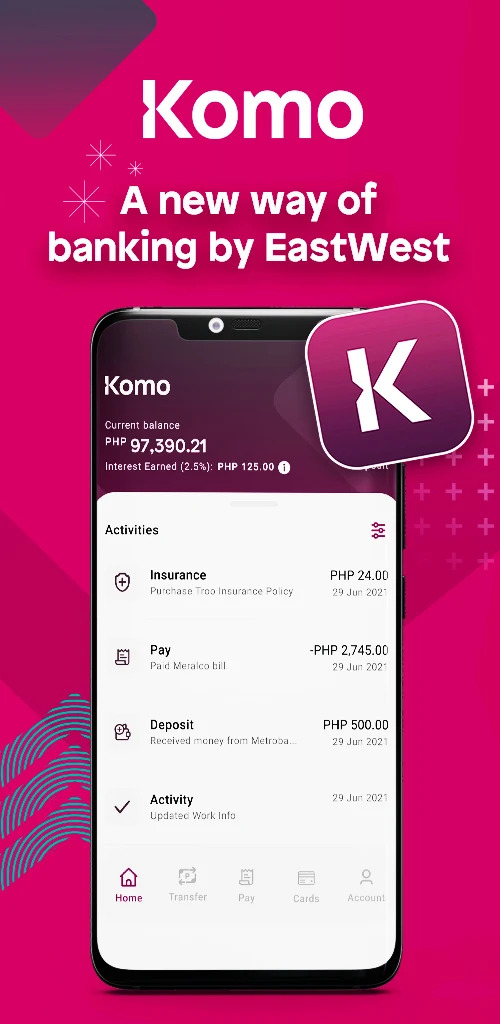 Image credit: Google Play
EastWest users should check out the bank's digital counterpart Komo for convenient and free transfers to other banks via PESONet.
You get the perks of using a traditional bank, with free withdrawals at EastWest ATM machines and 4 free withdrawals per month from any BancNet ATM.
Komo also offers an interest rate of 2.5% p.a. To encourage you to keep your finances in check, the app has savings goals and budget tracker features. There's also a bills payment feature so you can conveniently pay your bills on time and avoid extra fees.
Komo's website | Facebook | Instagram
---
9. Tonik – 4.5% p.a. interest group savings feature
---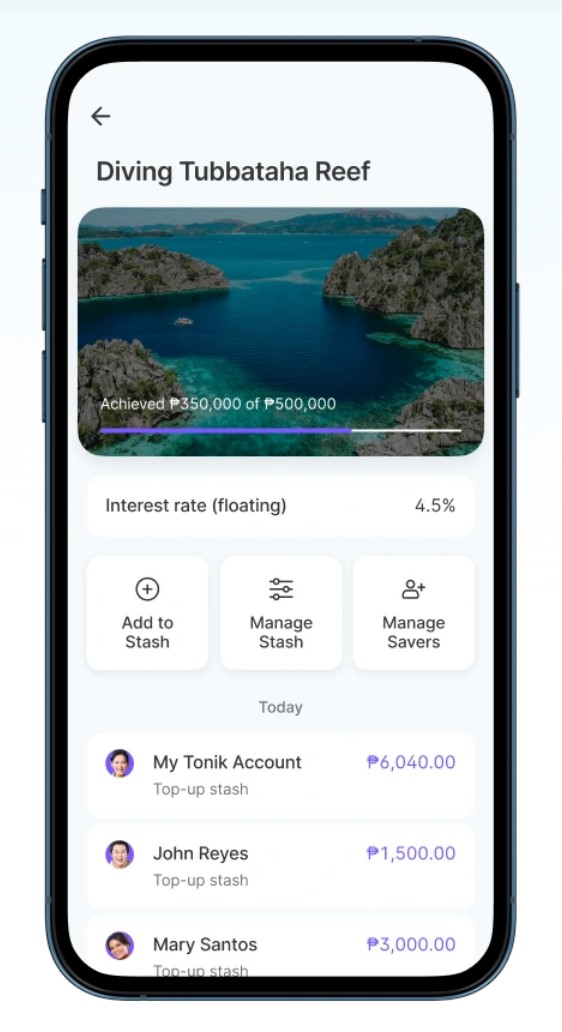 Image adapted from: tonikbank.com
If traveling with friends is your priority, use the digital bank Tonik for its group stash feature. This lets you and your friends put your travel fund in one place and get 4.5% pa interest for it.
You and your friends can also send money to each other for free via InstaPay and PESONet.
Besides this, you can also work on your personal goals. You can make up to 5 solo stashes and get 4% p.a. interest for each of them. Alternatively, if you're not saving for anything specific, Tonik lets you create up to 5 time deposits with a whopping 6% p.a. interest.
For physical transactions, you can also get a Tonik Mastercard.
Tonik's website | Facebook | Instagram
---
Check out these e-wallets and digital banks in the Philippines
---
Payments and money transfers have never been easier with these e-wallets and digital banks. And with high interest rates and rewards, it's hard to resist putting our money into these apps.
But since we have to be extra smart when it comes to finances, it's best to compare e-wallets and digital banks to find one that works best for your lifestyle.
Also check out:
---
Cover image adapted from: Google Play, The Smart Local Philippines, tonikbank.com, The Smart Local Philippines
Photography by The Smart Local Philippines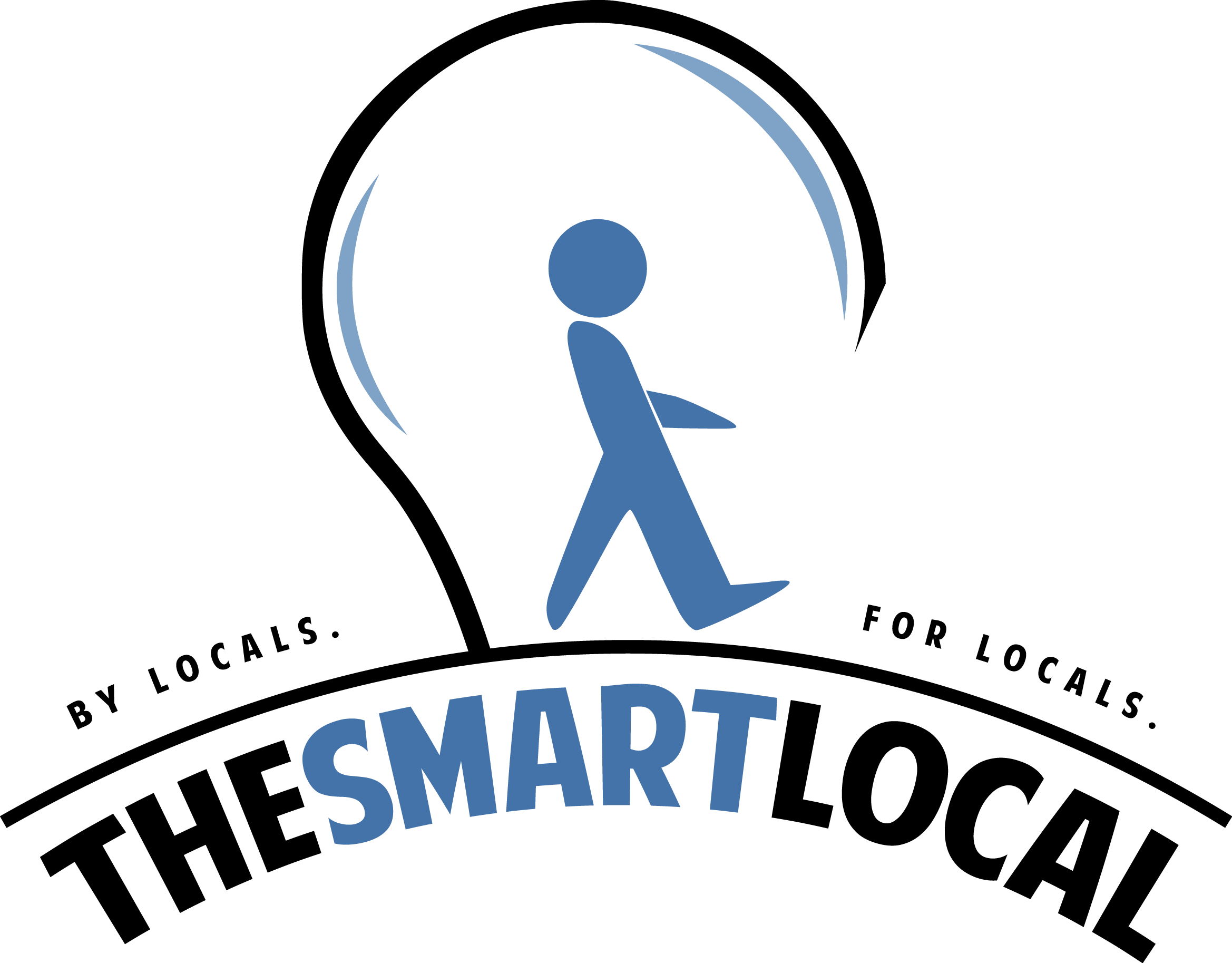 Drop us your email so you won't miss the latest news.