Ready-to-cook meals from Filipino fast food chains
---
Many of us have discovered our love for the kitchen during this quarantine period, often cooking up something new for lunch or dinner. However, sometimes it's good to give your creative juices a rest, and cook something a little more familiar.
These Filipino fast food chains now offer dishes that we used to enjoy often in their restaurants as ready-to-cook meals so we can cook these familiar meals ourselves and enjoy them hot and fresh from home.
---
1. Jollibee – ready-to-cook Chickenjoy
---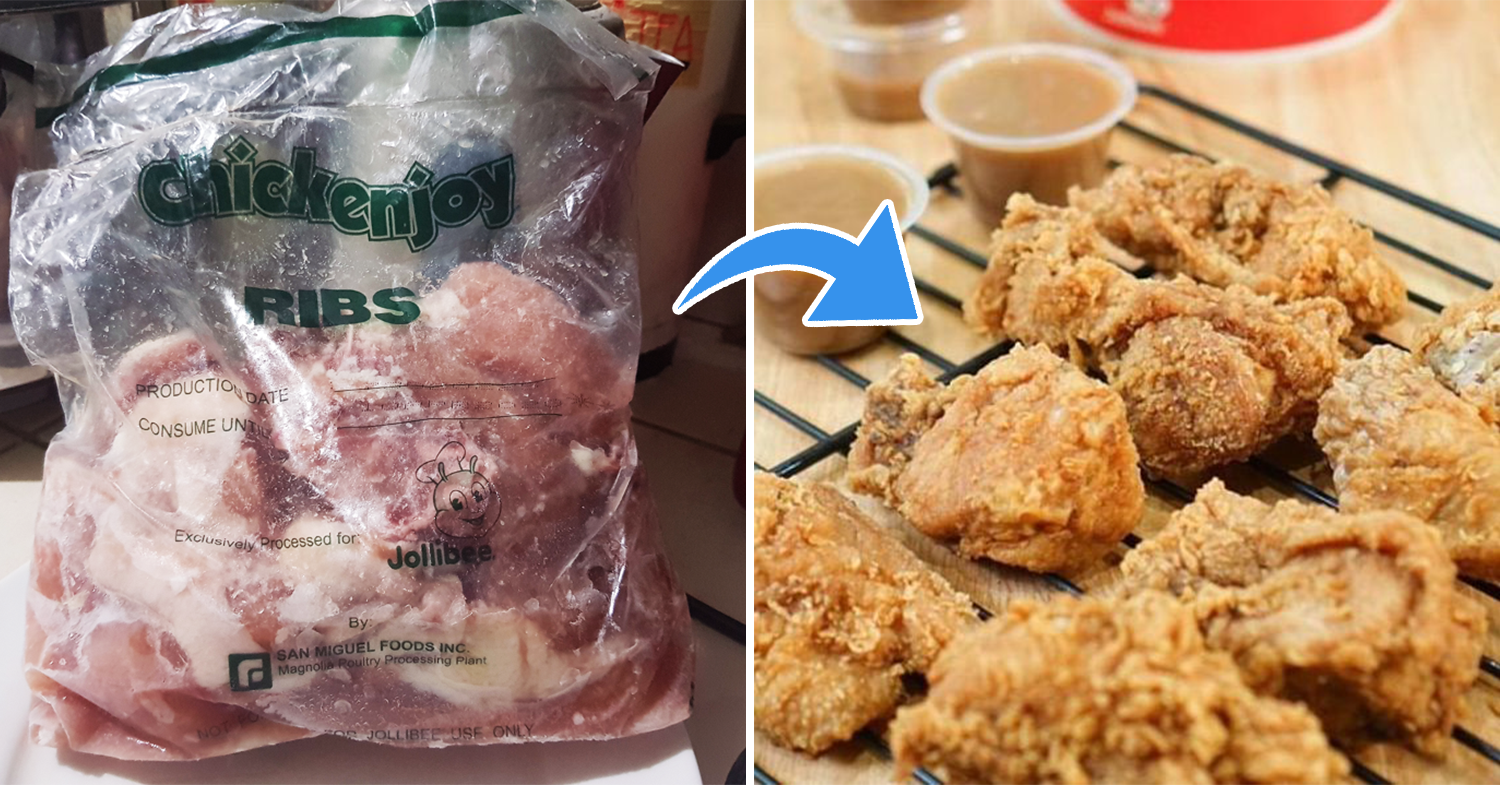 Images adapted from: Addie Pobre, @jollibee
We've all had instances of wanting a bucket of Chickenjoy all to ourselves, and now we can do so without the chicken going stale after a day or two. Jollibee has wheeled out ready-to-cook versions of our favorite Jollibee dishes – Chickenjoy included.
Each pack that contains 8 pieces costs P219 (~USD4.30), cheaper than the P549 (~USD10.77) bucket, so you can get your own stash of Chickenjoy and cook just the right amount per sitting.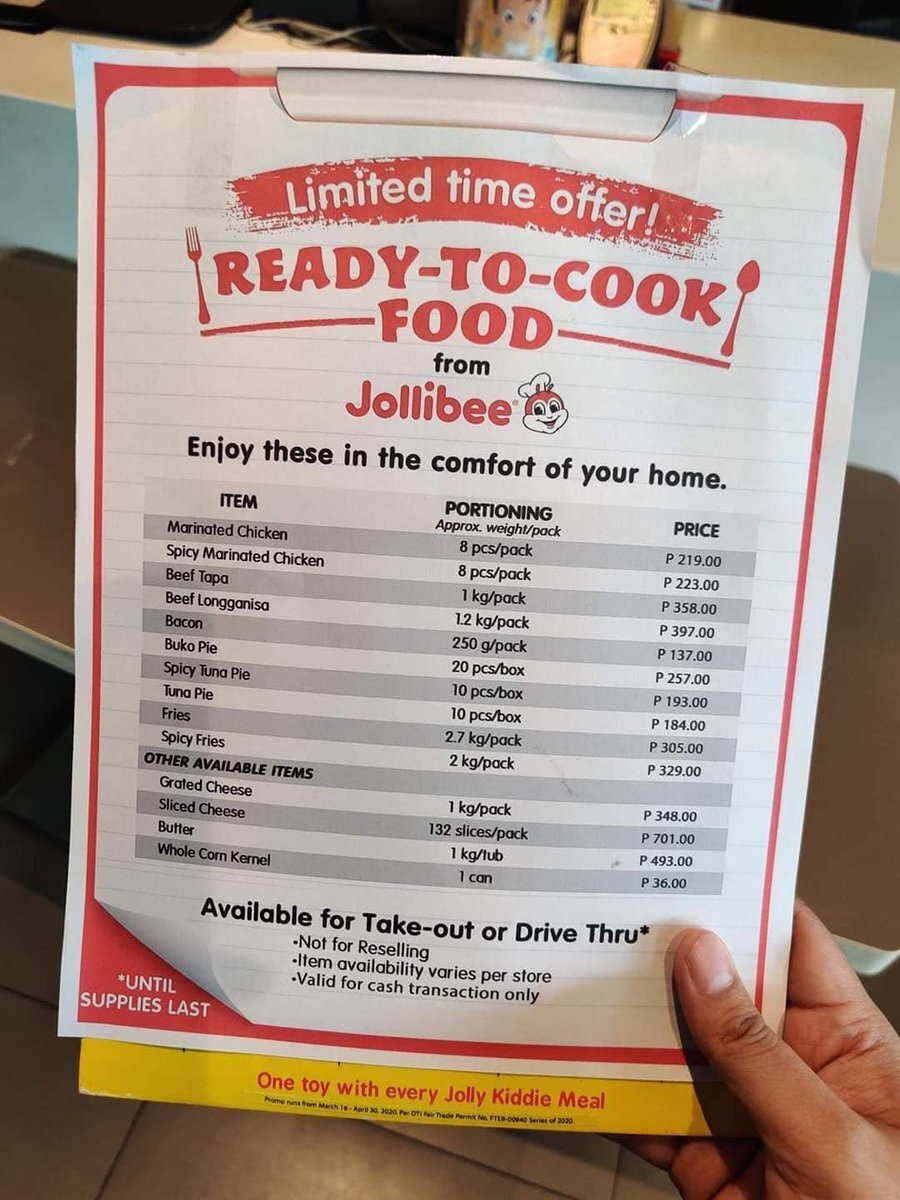 Image credit: @MartPonsy
They have also made ready-to-cook Tuna Pie, Beef Tapa, and Jolly Fries available from P137 (~USD2.69).
You can find a list of their open branches here.
---
2. Chowking – frozen Chinese dishes
---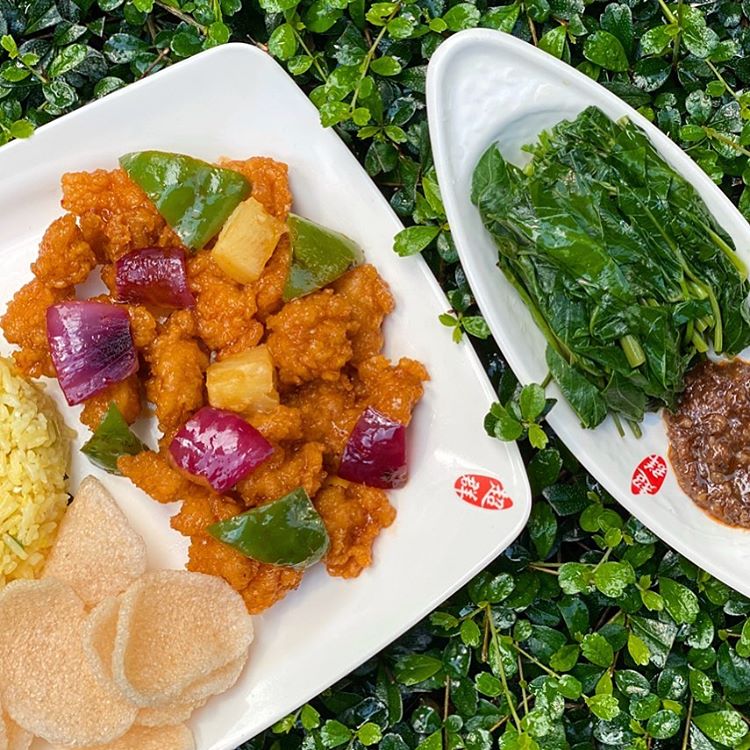 Image credit: @alwayshungryph
Chowking has become our go-to for cheap and yummy Chinese food, and now we can make these dishes right at home. Their ready-to-cook meals from P70 (~USD1.37) a pack include frozen deli products such as meats and seafood that you can incorporate into your dishes, and frozen dimsum and siopao for a snack any time of day.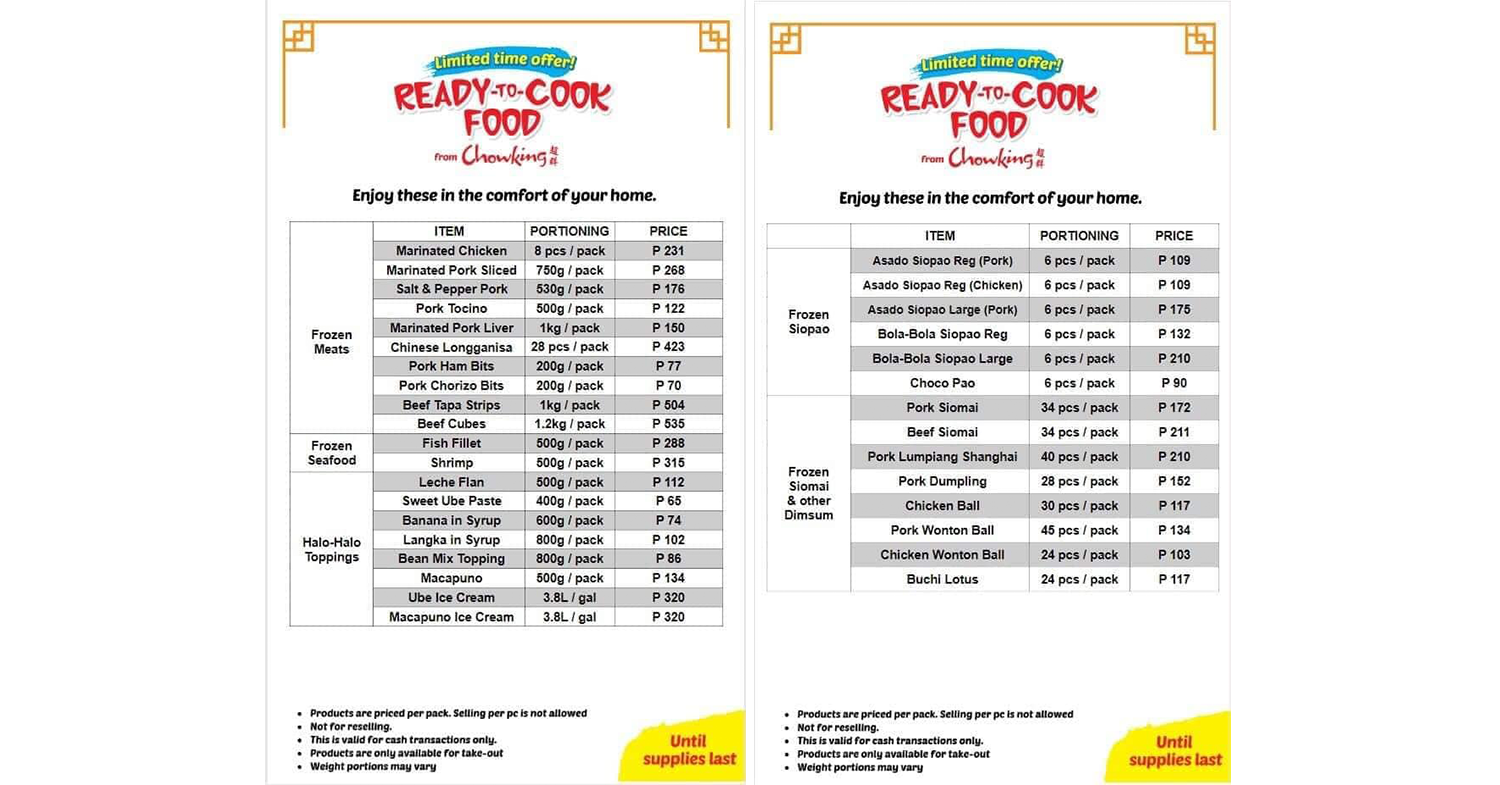 Image credit: Makkan Magaldan
Halo-halo toppings are also available for those who want cold relief in this hot weather. 
Toppings you can get include ube ice cream, leche flan, and bean mix from P65 (~USD1.28) a pack.
You can find a list of their open branches here.
---
3. Mang Inasal – ready-to-grill chicken inasal
---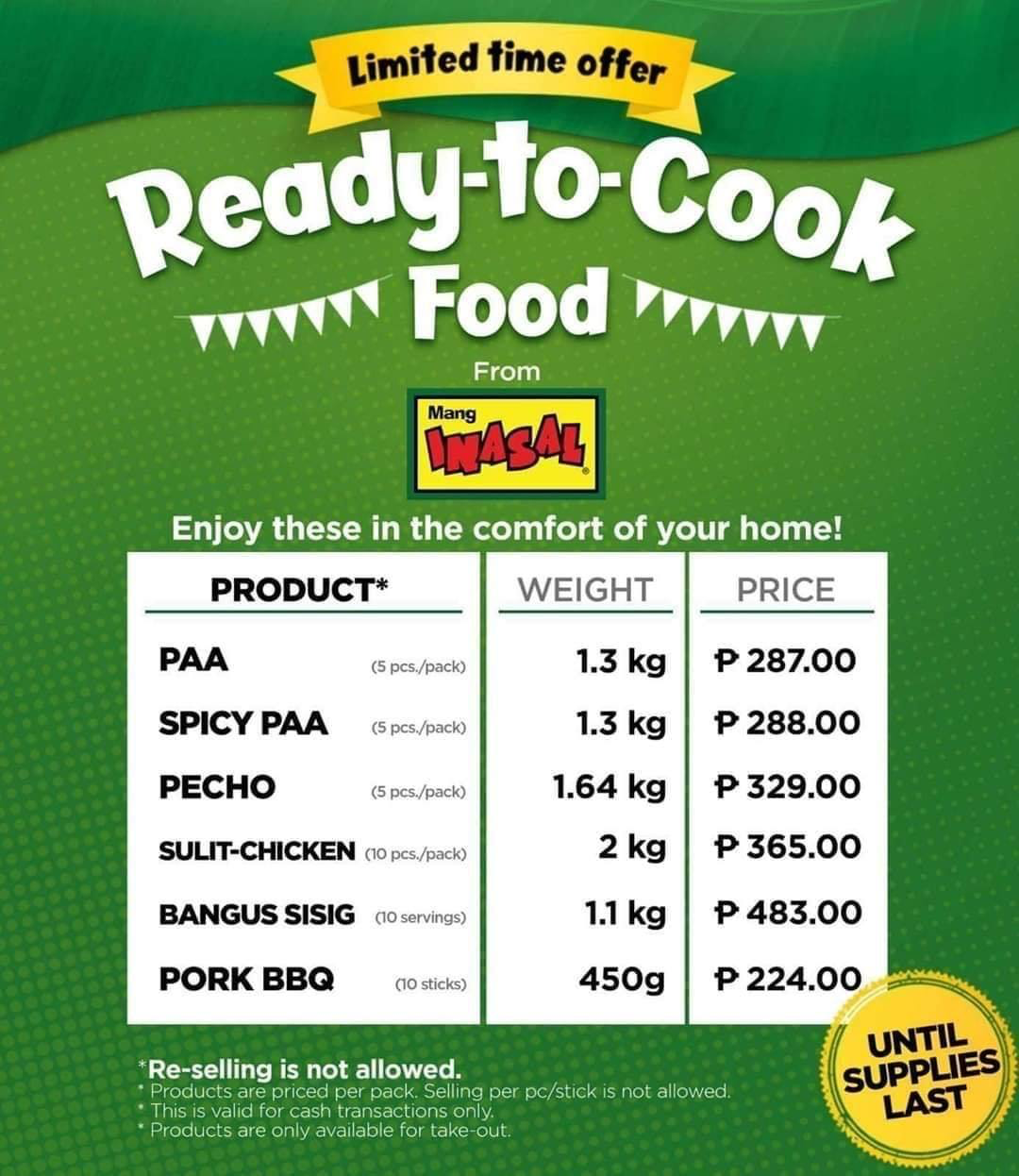 Image credit: Budget Deals
There's no need to travel to Bacolod to get inasal (chargrilled chicken). Mang Inasal can satisfy your cravings by delivering ready-to-cook chicken inasal right to your doorstep.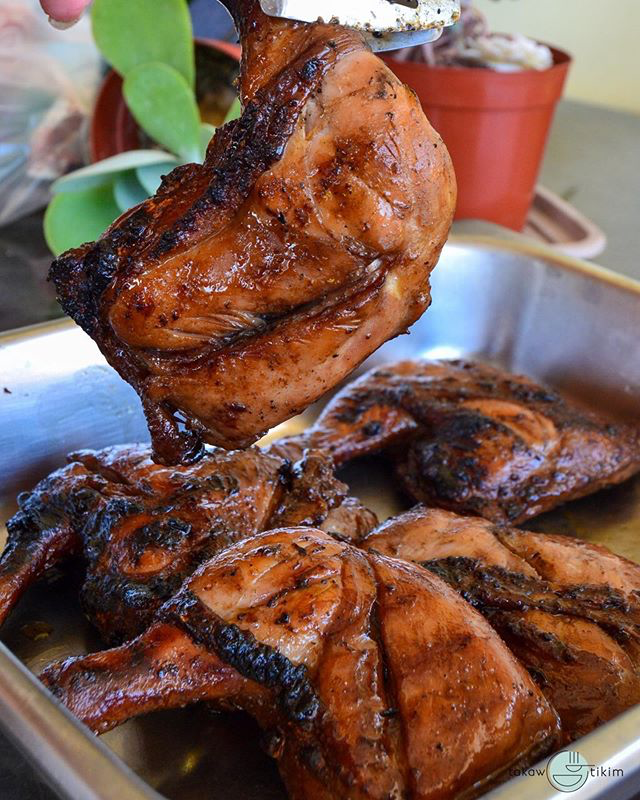 Image credit: @takawtikim
Have your own home barbecue party with the different types of ready-to-grill dishes – from chicken parts, such as paa (drumstick) to pecho (breast) from P287 (~USD5.63) for 5-10 pieces. Pork barbecue and bangus sisig (milkfish) good for 10 people are also available from P224 (~USD4.40).
You can find a list of their open branches here.
---
4. McDonald's – cook-it-yourself meals and ingredients
---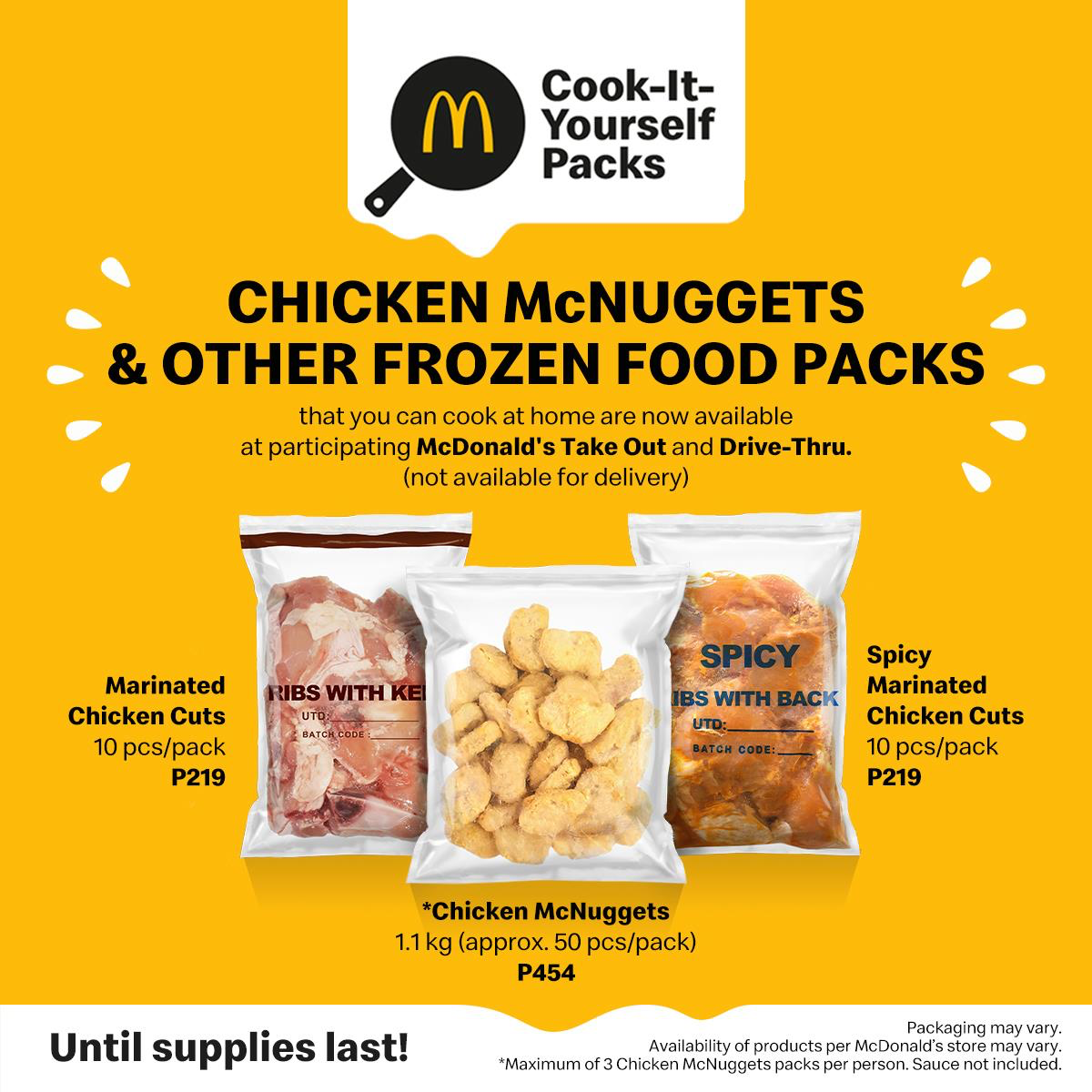 Image credit: McDonald's
If a 20-piece box of McDonald's chicken nuggets isn't enough for you, maybe this 50-piece pack will be. McDonald's has made several of their iconic dishes available ready-to-cook, and these include their Chicken McNuggets at P454 (~USD8.91) in packs of 50, with sweet and sour sauce packs.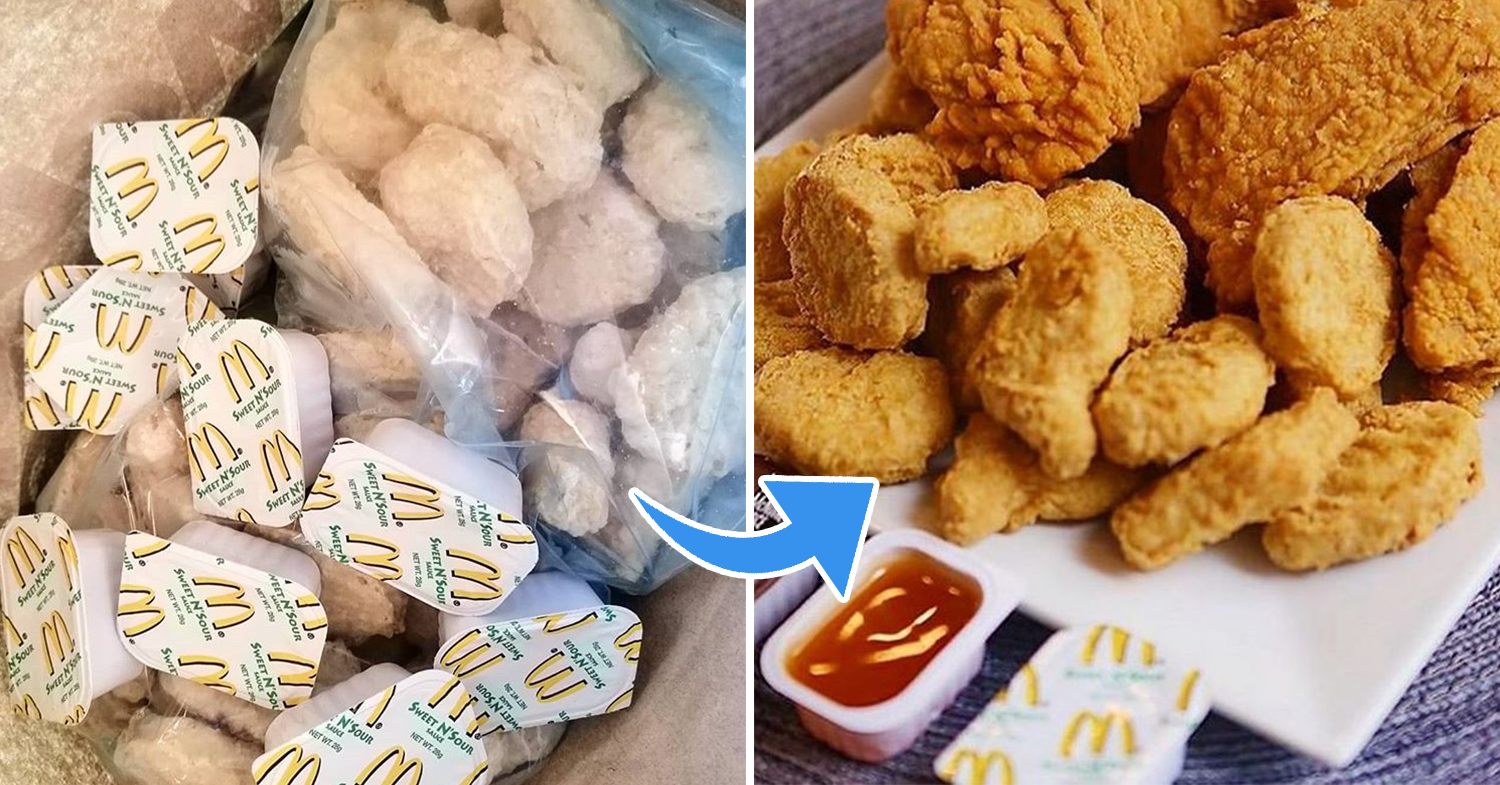 Images adapted from: @gabrielsc07, @sanlorenzoplacemall
You can also make your own McCrispy Chicken Fillet, whether spicy or original, with their marinated chicken cuts at P219 (~USD4.30) for 10 pieces.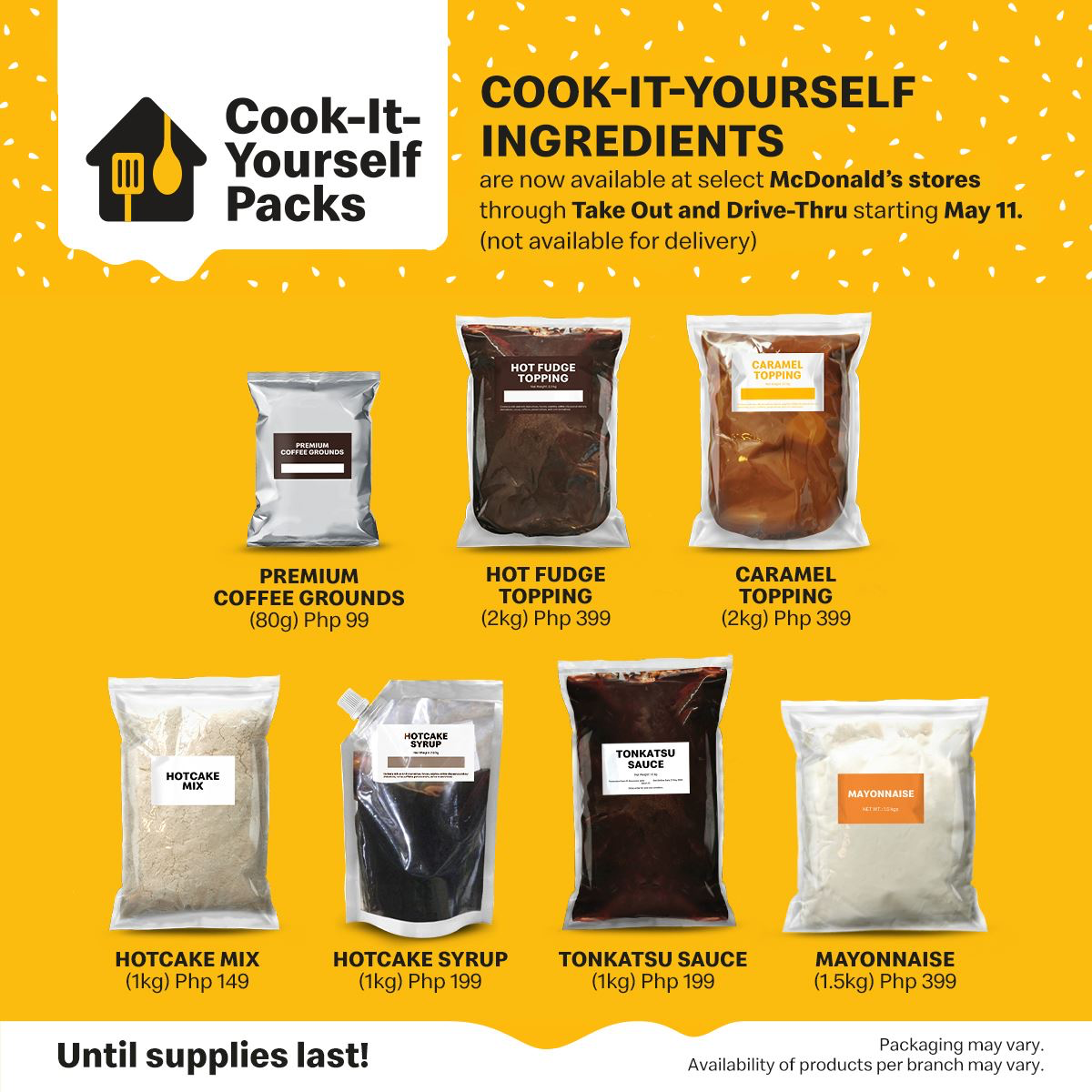 Image credit: McDonald's
They also recently came out with Cook-It-Yourself Packs from P99 (~USD1.94). These packs of ingredients give a McDonald's twist to your breakfasts, such as hotcake mix and syrup, hot fudge and caramel for your homemade sundaes, and even coffee grounds from which you can brew their famous coffee.
You can find a list of their open branches here.
---
5. Subway – make-your-own-sandwich sets
---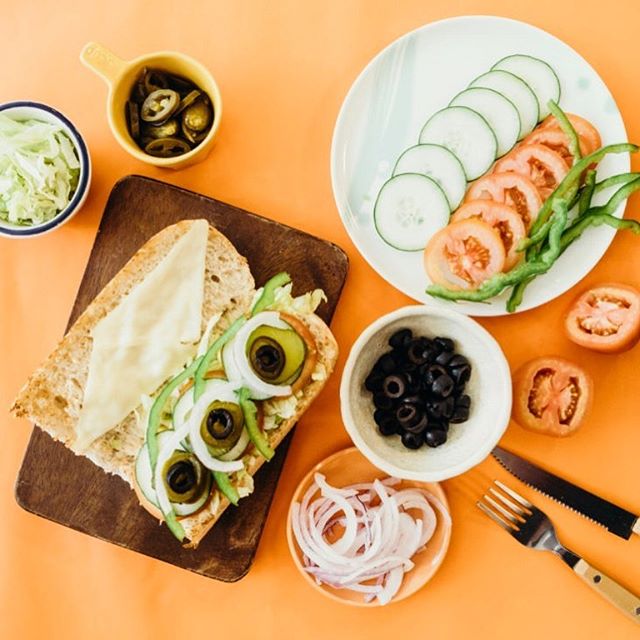 Image credit: @tablesandstyle
Subway sandwiches have always been a good pick for an easy-to-eat snack that you can personalize, and you can still have them even while stuck at home. They've introduced the Subway Mart, their version of an online grocery store where you can shop for their special ingredients to assemble your own sandwiches.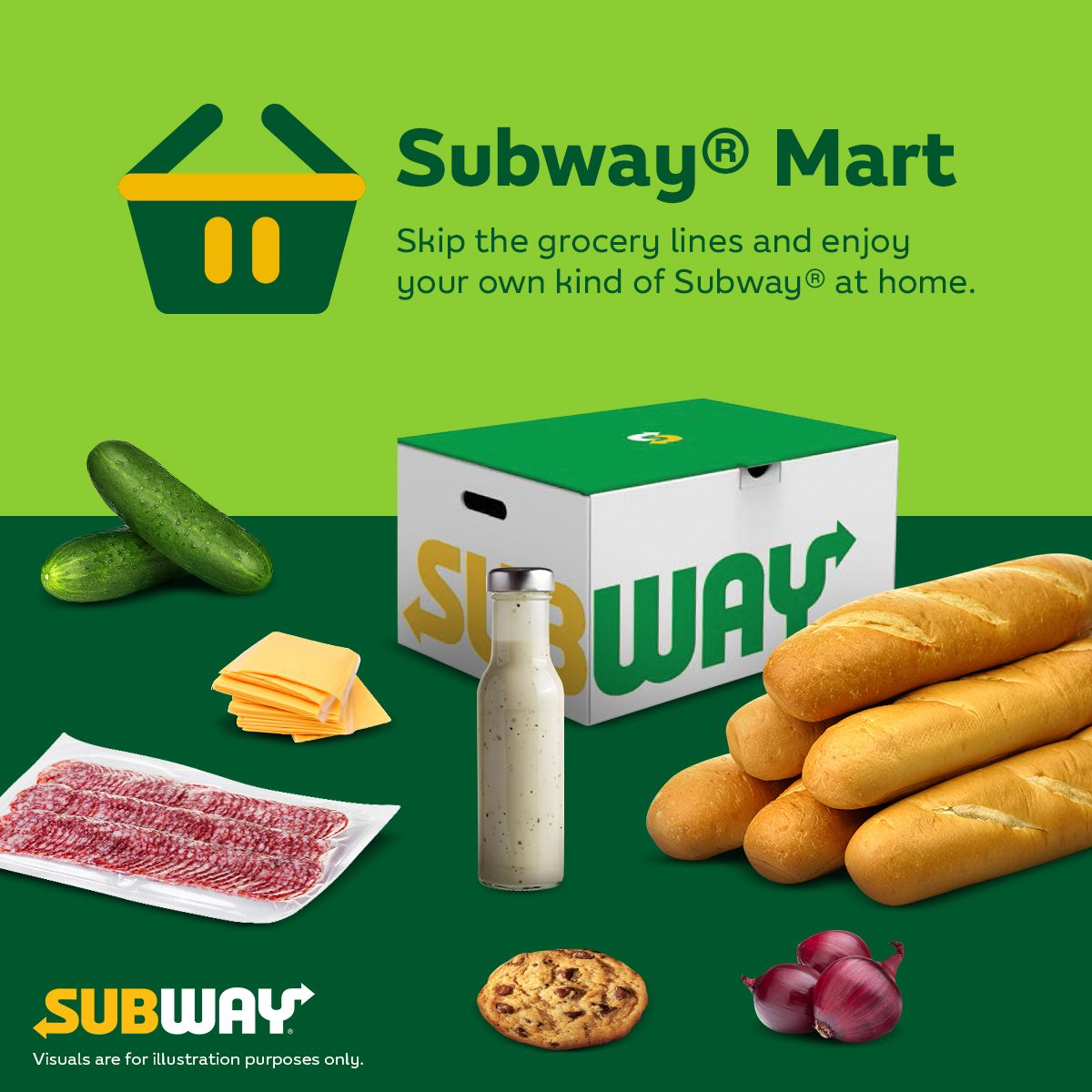 Image credit: @subwayphilippines
The Subway Mart Menu includes their breads from P413 (~USD8.16) per 10 pieces, American cheese at P354 (~USD6.99) for 30 slices, meats at P177 (~USD3.50) per pack, vegetables from P53 (~USD1.05) a serving, and their signature sauces from P248 (~USD4.90) a container.
Aspiring sandwich artists can find a complete list of their open branches here.
---
6. Greenwich – pizza toppings for your homemade pizzas
---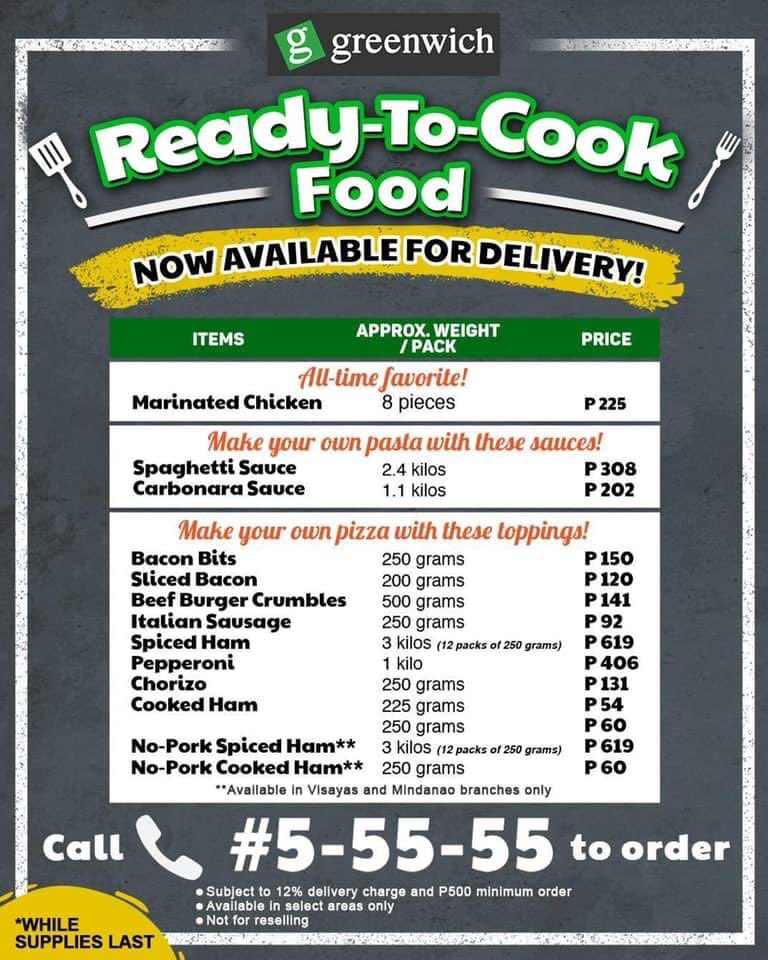 Image credit: @tinaarceodumlao
For those who don't want to go through the hassle of prepping their own pizza toppings, you're in luck. Greenwich is selling already prepped toppings that you just need to add to your homemade pizzas.
These toppings include those that they put in their own pizzas, such as Beef Burger Crumbles, Italian Sausage, No-Pork Ham, and Bacon Bits from P54 (~USD1.06) a pack.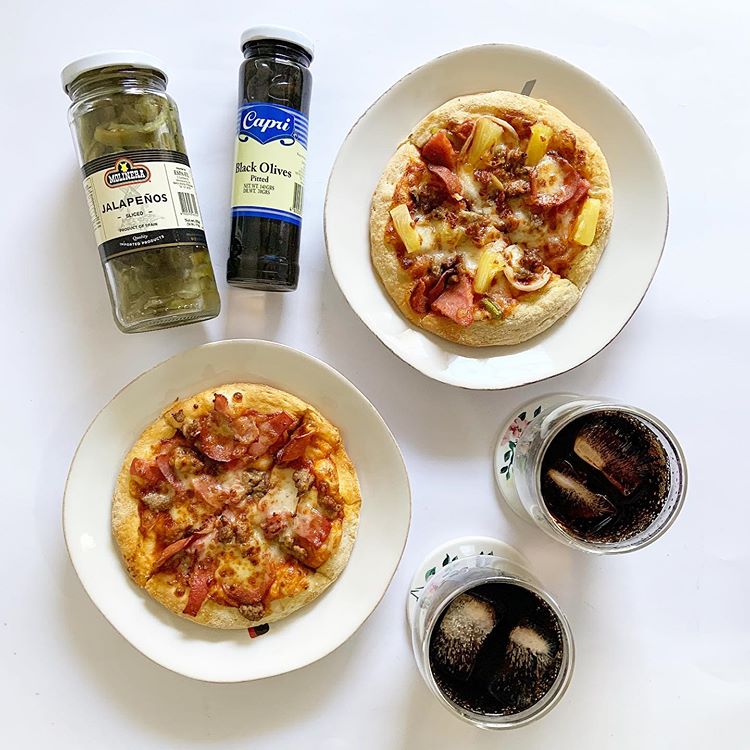 Image credit: @ria_litybites
Aside from pizza toppings, other ingredients available include marinated chicken at P225 (~USD4.42) for 8 pieces, and spaghetti and carbonara sauces that you can put in your pasta from P202 (~USD3.96).
You can find a complete list of their open branches here.
---
7. Taters – movie snacks for Netflix marathons
---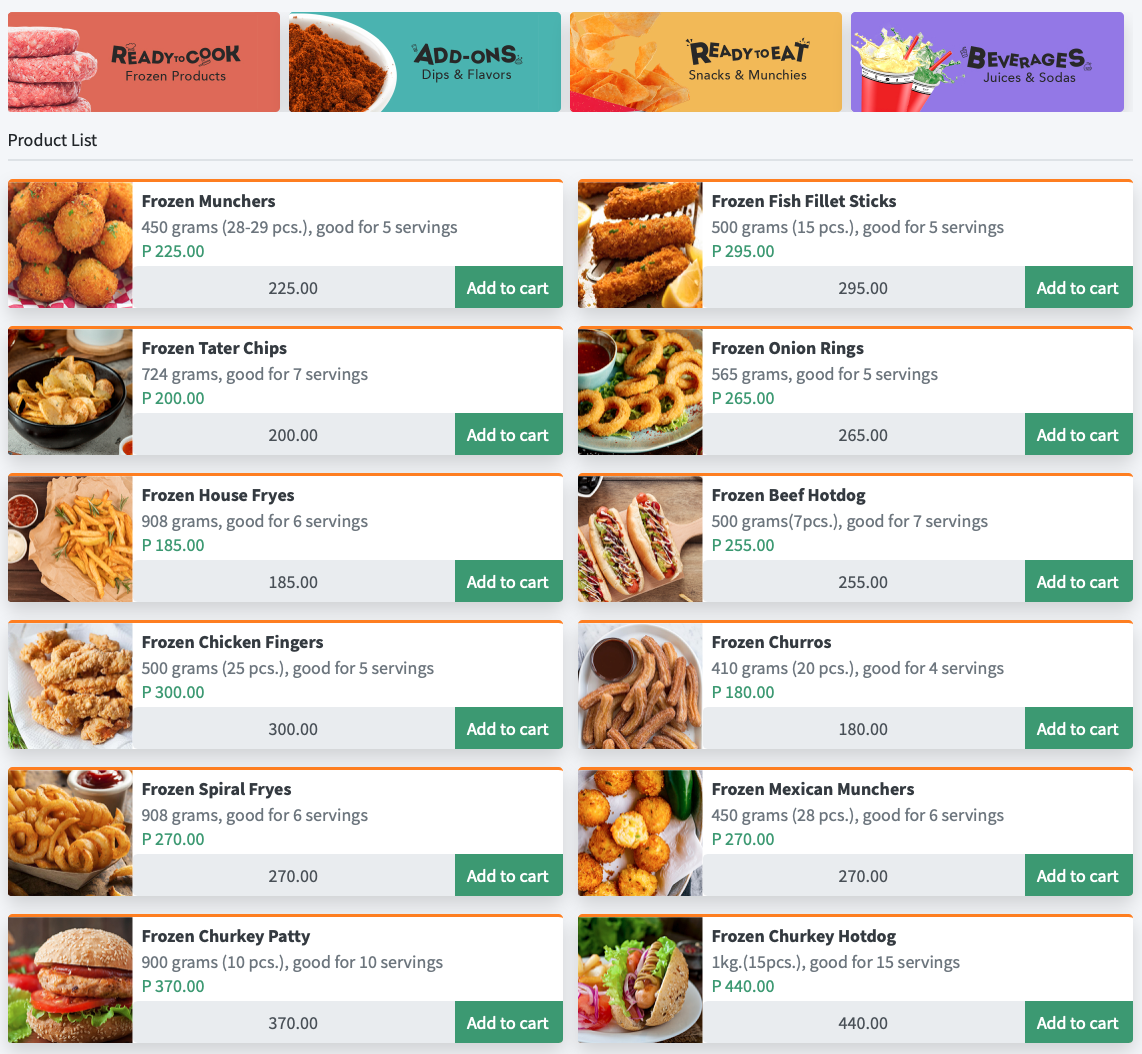 Image credit: Taters
We all miss the days of being able to go to the cinemas and munching on movie snacks while catching the latest films – which is why Taters has made sure that we can still enjoy our Netflix marathons with their food. They've made movie snacks ready for easy cooking, such as chips, onion rings, and hot dogs from P180 (~USD3.53) a pack.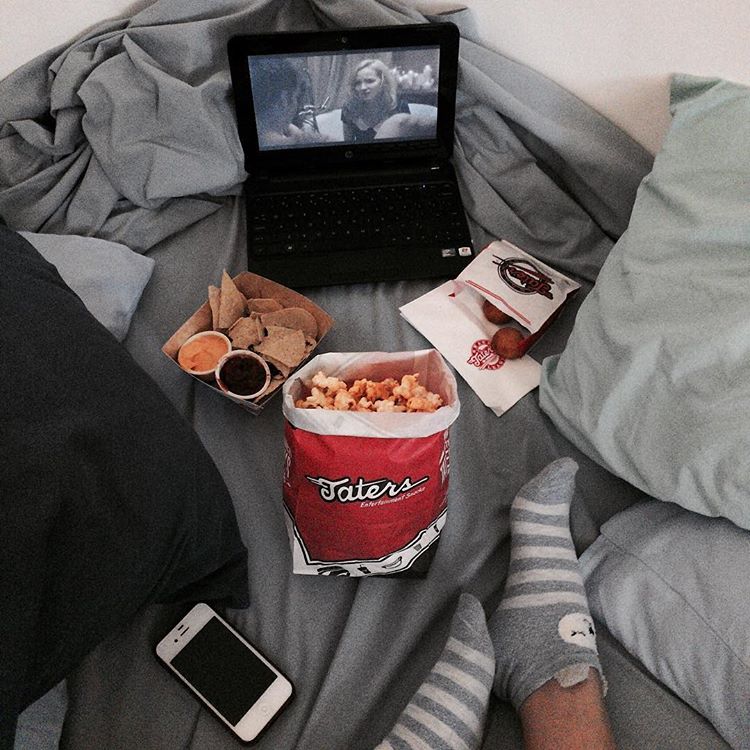 Image credit: @kjquevedo
You can also get ready-to-eat snacks such as popcorn, cornachos, and candy bars from P170 (~USD3.34), along with taco shells so that you can make your own tacos for P85 (~USD1.67).
You can find a complete list of their open branches here.
---
8. 7-Eleven – ulam to-go
---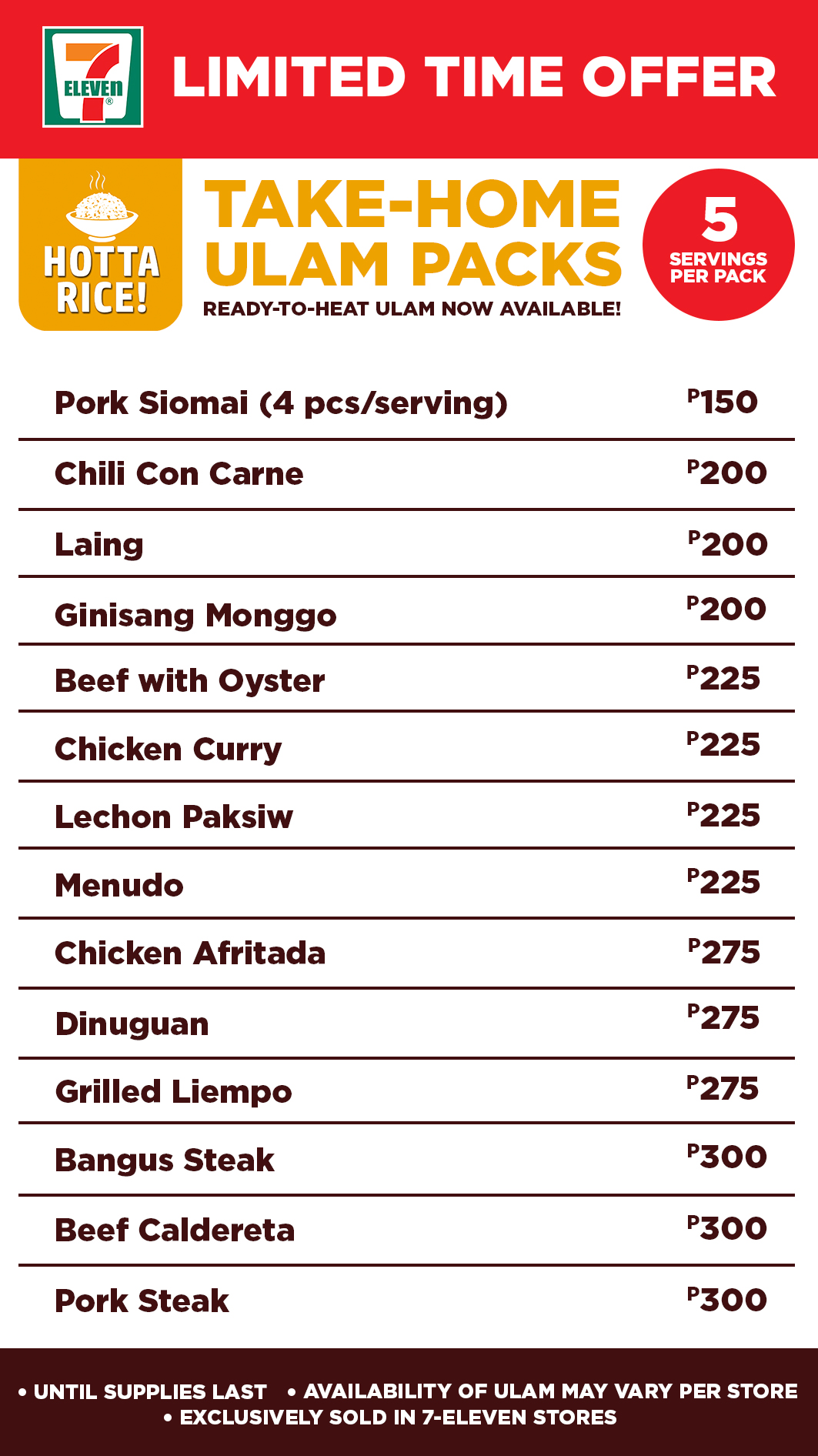 Image credit: 7-Eleven Philippines via Yummy.ph
Students and early jobbers who want to save up on their food budget by buying affordable meals from the convenience store can take advantage of 7-Eleven's Ulam To-Go, or take-home ulam (viand) packs. Filipino dishes such as beef caldereta (stew) are available for easy cooking or heating from P200 (~USD3.92) per pack, which contains 5 servings.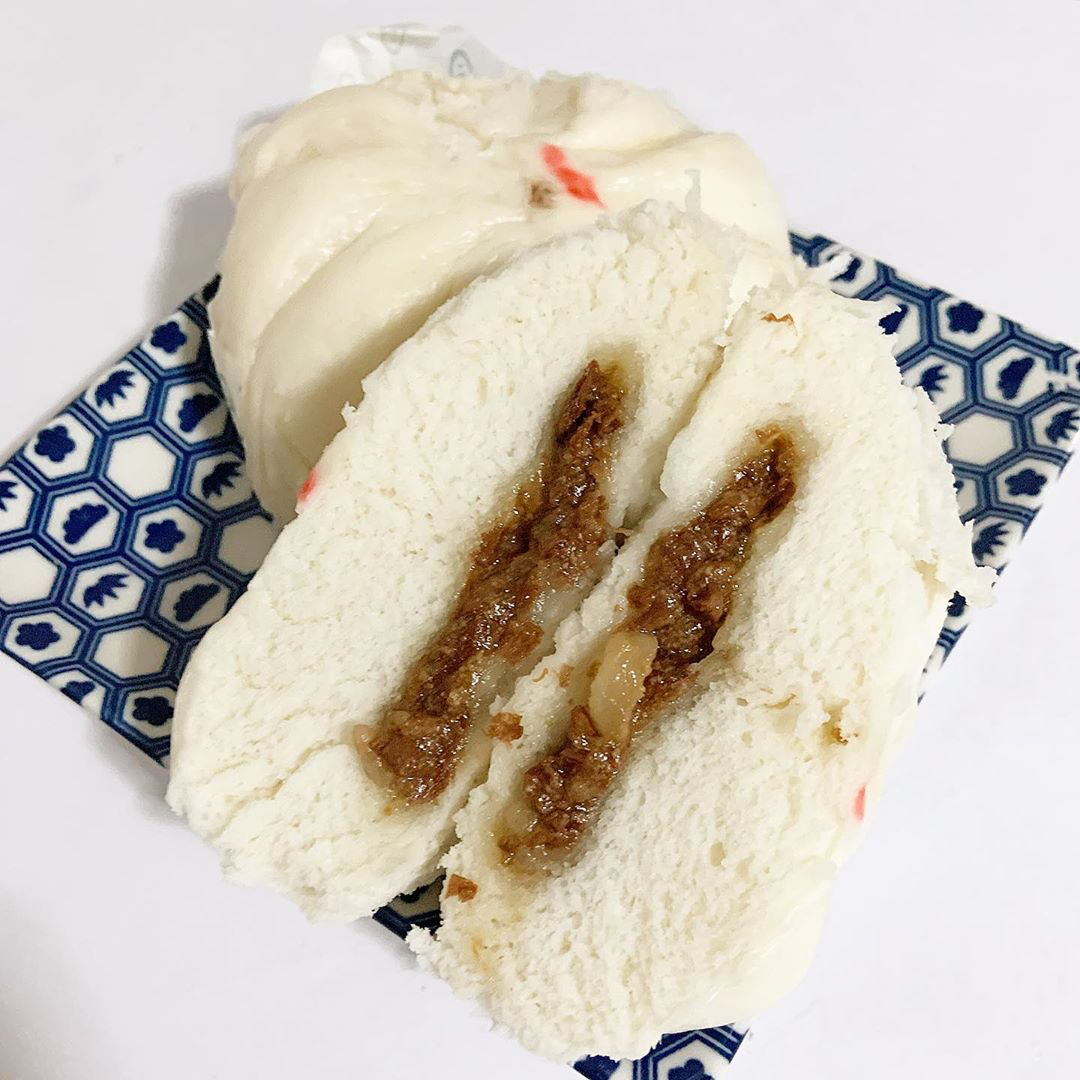 Image credit: @ria_litybites
If you also miss going on runs to get your favorite 7-Eleven snacks such as their hotdogs and siopaos, you can now get them in big, take-home packs from P45 (~USD0.88).
You can find a complete list of their open branches here.
---
9. Bonchon – ready-to-cook Korean dishes
---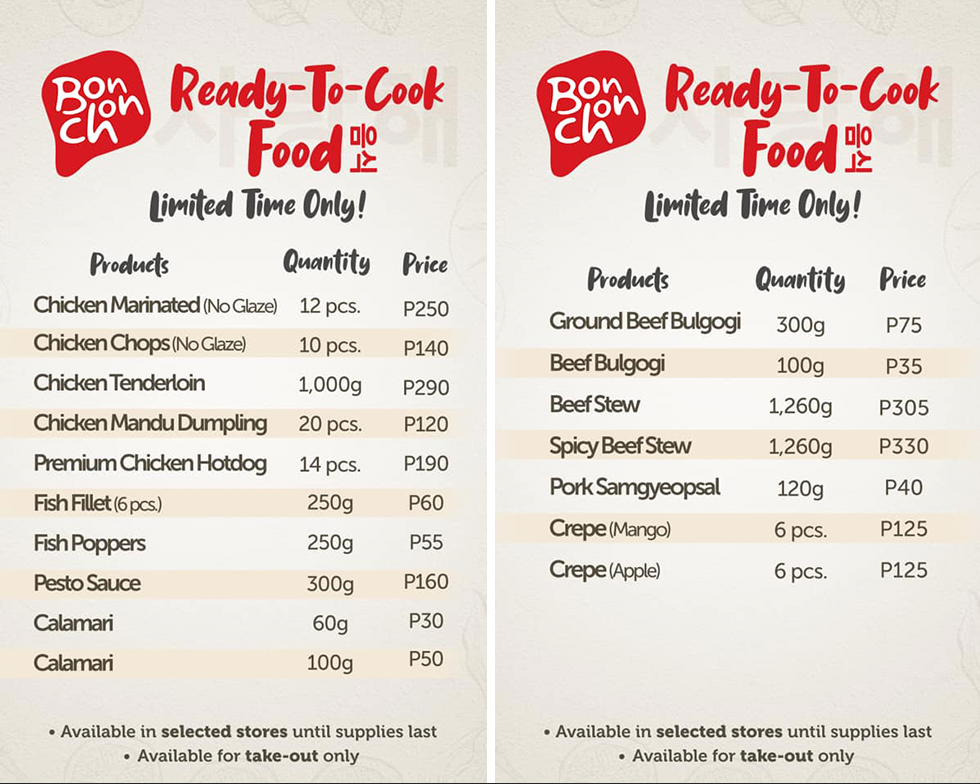 Image credit: Bonchon Chicken Philippines
Some of us have taken to catching up on Korean dramas during this quarantine period. Aside from the "sana all", heart-fluttering love stories, the onscreen Korean dishes also make us want to take the next flight to Seoul. Unfortunately, that's not happening soon, but you can enjoy Bonchon's ready-to-cook Korean food in the meantime.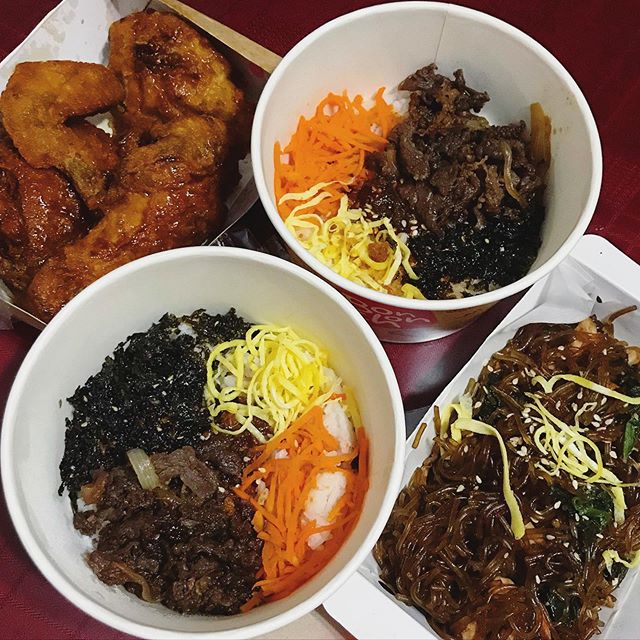 Image credit: @royaldomesticity
Their Korean-style fried chicken comes in parts and in chops from P140 (~USD2.75) for 10-12 pieces. You can also get other Korean dishes such as bulgogi, chicken mandu, and samgyupsal for P35 (~USD0.69) per serving. 
You can find a complete list of their open branches here.
---
10. KFC – original chicken and fries
---

Image credit: KFC 
KFC's fried chicken and fries has been a favorite among Filipinos for being seasoned with an original, secret recipe that you'll be hard-pressed to find elsewhere. Now you can enjoy these classic food items at home.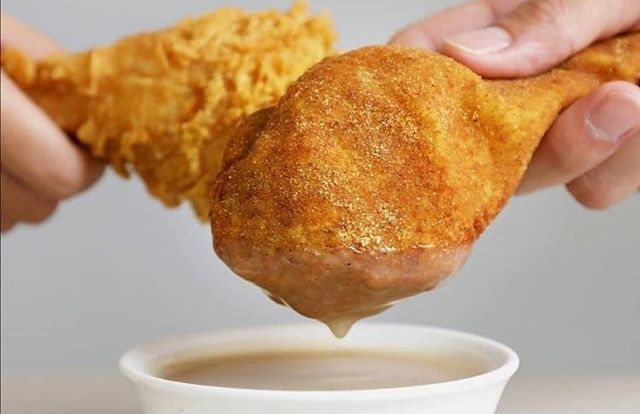 Image credit: @eastwoodmall_ 
They have made their original recipe chicken nuggets available ready to cook at P400 (~USD7.85) per pack of 40. You can enjoy them with a side of their crispy fries, also available for easy frying, at P300 (~USD5.89) per pack of 2.2KG.
You can find a complete list of their open branches here.
---
11. Ministop – Uncle John's fried chicken
---

Image credit: @hawkgaze1030 
Many Filipinos like to vouch for Ministop's Uncle John's fried chicken. Its butter and batter coating and herb flavor puts it at the top of many people's list of good, affordable fried chicken. Now you can now cook it yourself with Uncle John's marinated chicken packs at P380 (~USD7.46) with 8 pieces.
 Aside from fried chicken, different types of ready-to-cook hot dogs are also available, from spicy chicken to cheesy franks, at P240 (~USD4.71) per pack of 8 or 14 pieces.
You can find a complete list of their open branches here.
---
12. Shakey's – DIY mojos
---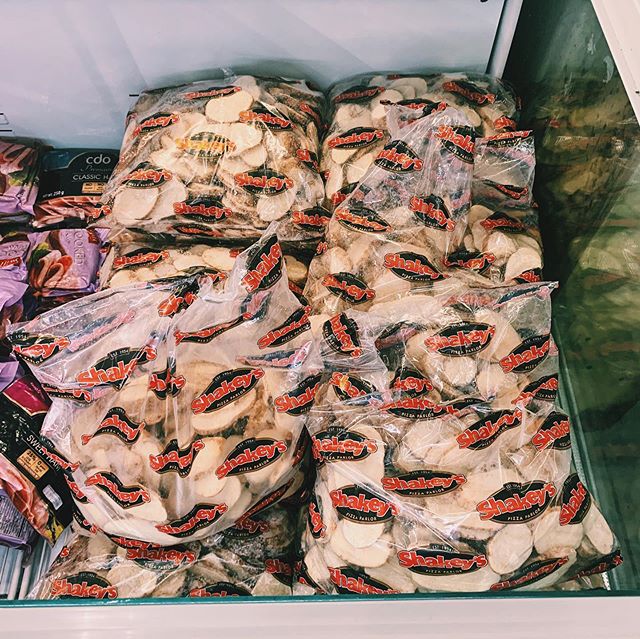 Image credit: @tagatagaytay
Tater fans who've wanted to stuff themselves full with Shakey's mojos, but for whom buying a bucket was too heavy on the wallet, can now buy a whole bag of Cook-at-Home Mojos for only P375 (~USD7.36). You can fry or bake these perfectly sized ready-to-cook potato slices.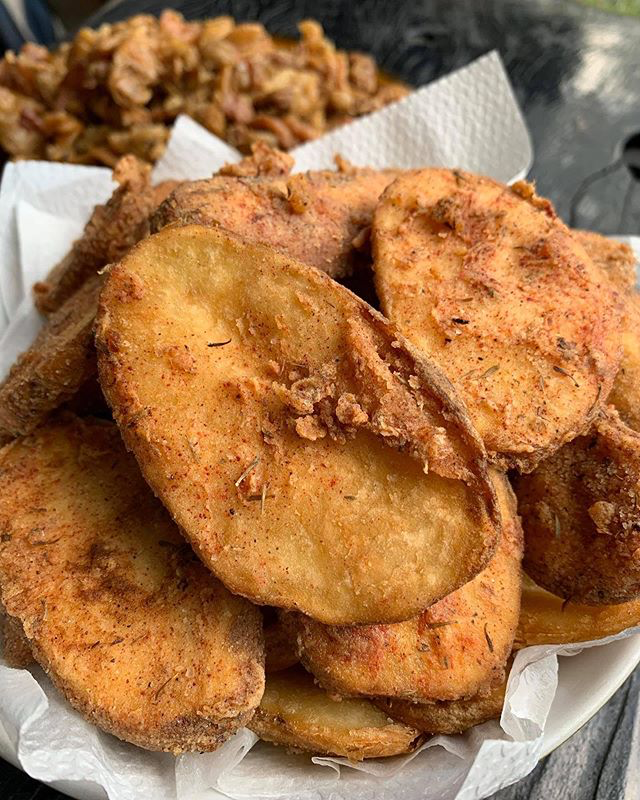 Image credit: @vherizavmorales
Though the pack doesn't come with the breading, Shakey's let us in on a Mojos Hack – a recipe for breading mix with includes specific instructions on how to cook the mojos at home.
---
13. Tokyo Tokyo – easy-cook Japanese food
---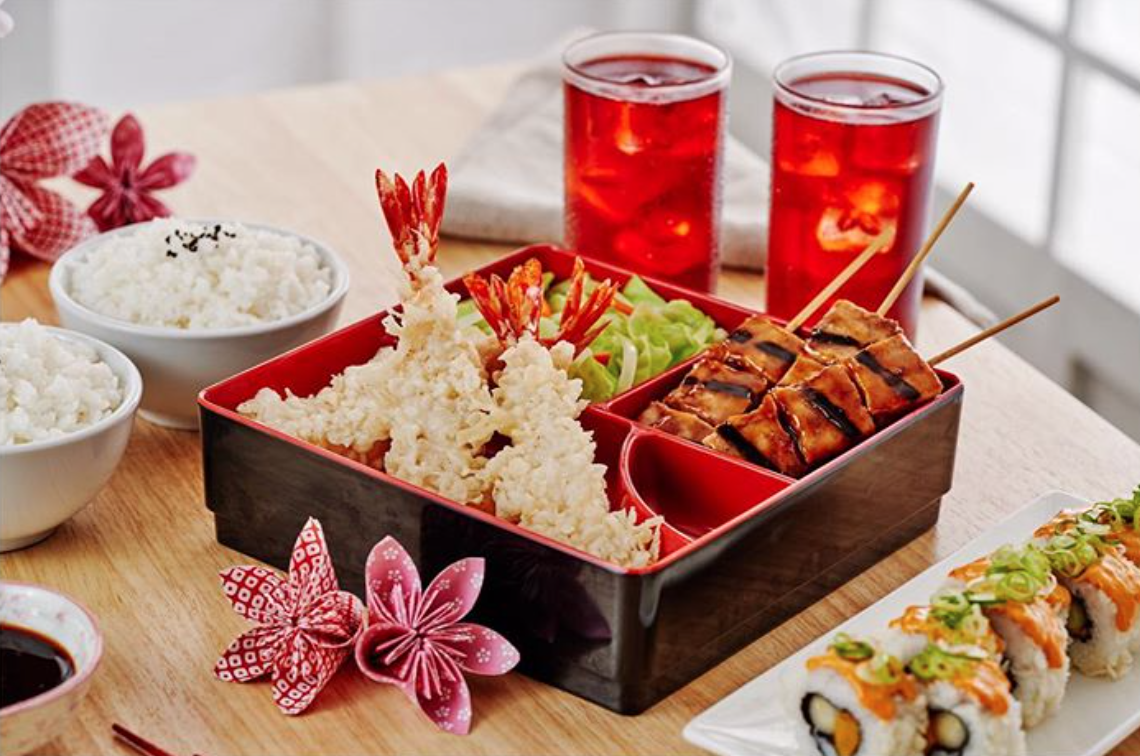 Image credit: @gabbycantero_
Besides watching Korean dramas, many of us have been using this time at home to catch up on Japanese anime we've missed out on. Pair up your marathon with a good Japanese meal such as Tokyo Tokyo's ready-to-cook Japanese dishes.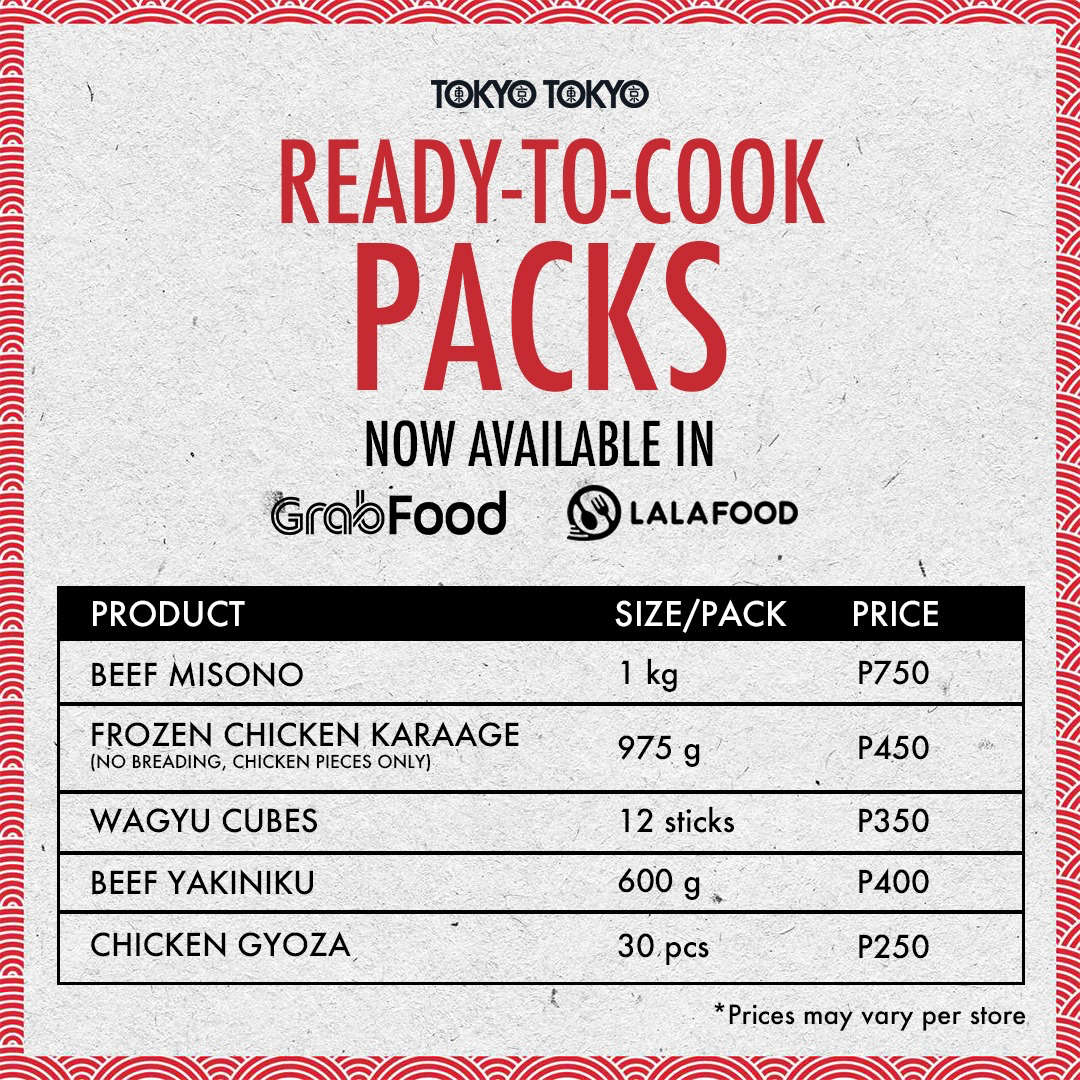 Image credit: Tokyo Tokyo
With these packs, you can easily cook Japanese dishes such as wagyu cubes, chicken gyoza, and beef misono from P250 (~USD4.91) a pack.
---
14. Potato Corner – ready-to-fry fries
---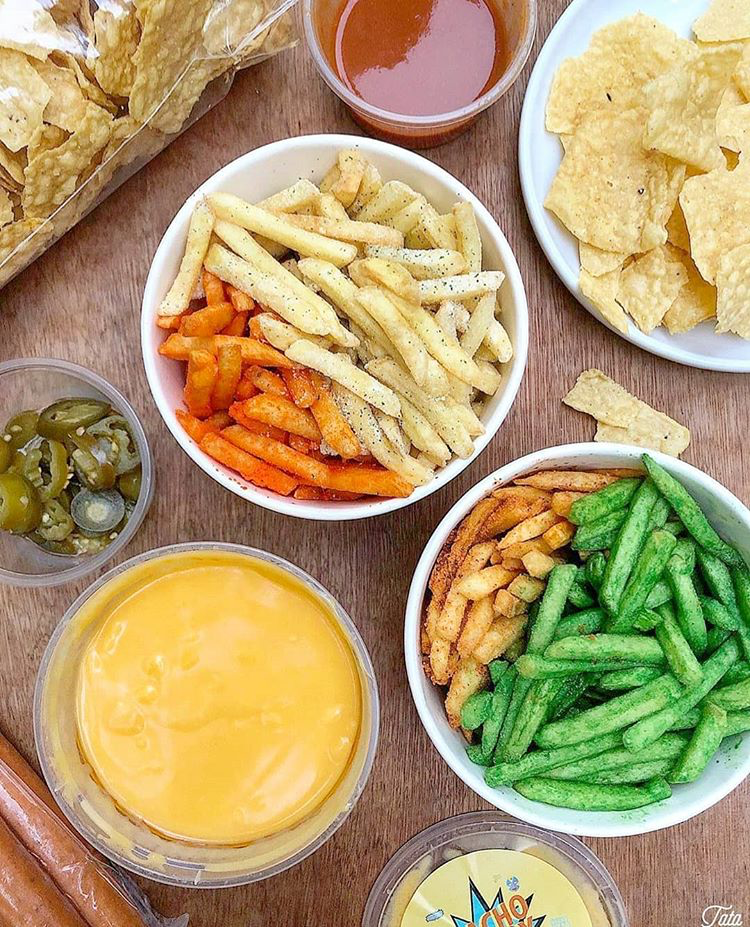 Image credit: @eastwoodmall_
Potato Corner's french fries are a classic snack on most people's list of favorite Filipino snacks because of how it's been around for a long time, and doesn't fail to deliver crispy, fresh-out-the-fryer, and flavorful fries. However, getting the fries delivered to your home might take away some of the crispiness and freshness. Good thing Potato Corner came up with Potato Corner At Home.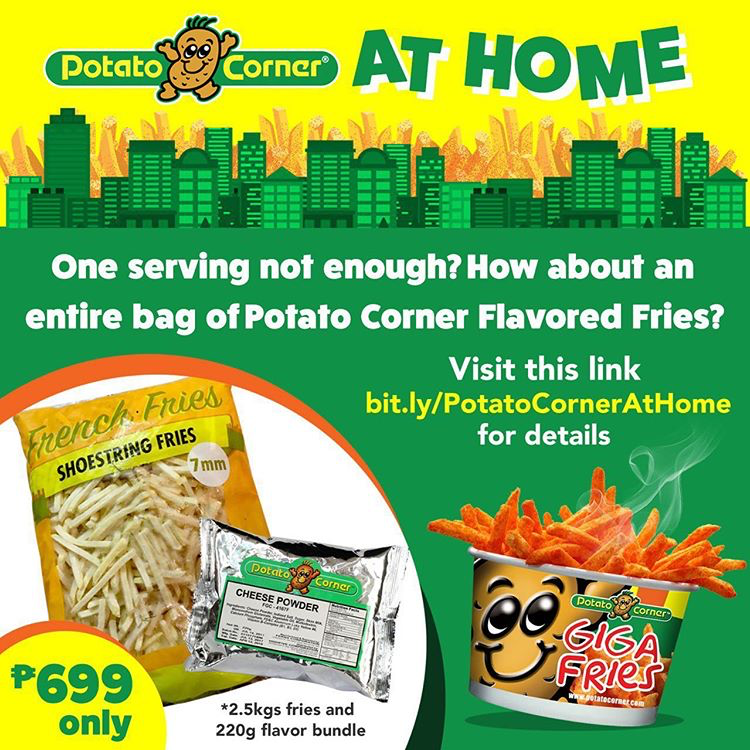 Image credit: @potatocornerph
You can now get a 2.5KG pack of uncooked fries, with a 220G flavor pack of any flavor – such as cheese, sour cream, wasabi, and barbecue – for only P699 (~USD13.72). This way, you can make sure your fries are hot and fresh.
---
Ready-to-cook fast food
---
Thanks to these fast food chains, you can take a break from thinking up new recipes to cook in the kitchen, and feast on familiar dishes you've missed from some of your favorite restaurants.
Hopefully, these ready-to-cook dishes will tide us over until it's finally safe enough to head outside and enjoy these dishes in their respective restaurants again.
Also check out:
---
Cover image adapted from: Robinsons Supermarket, KFC, @eastwoodmall_, and @ria_litybites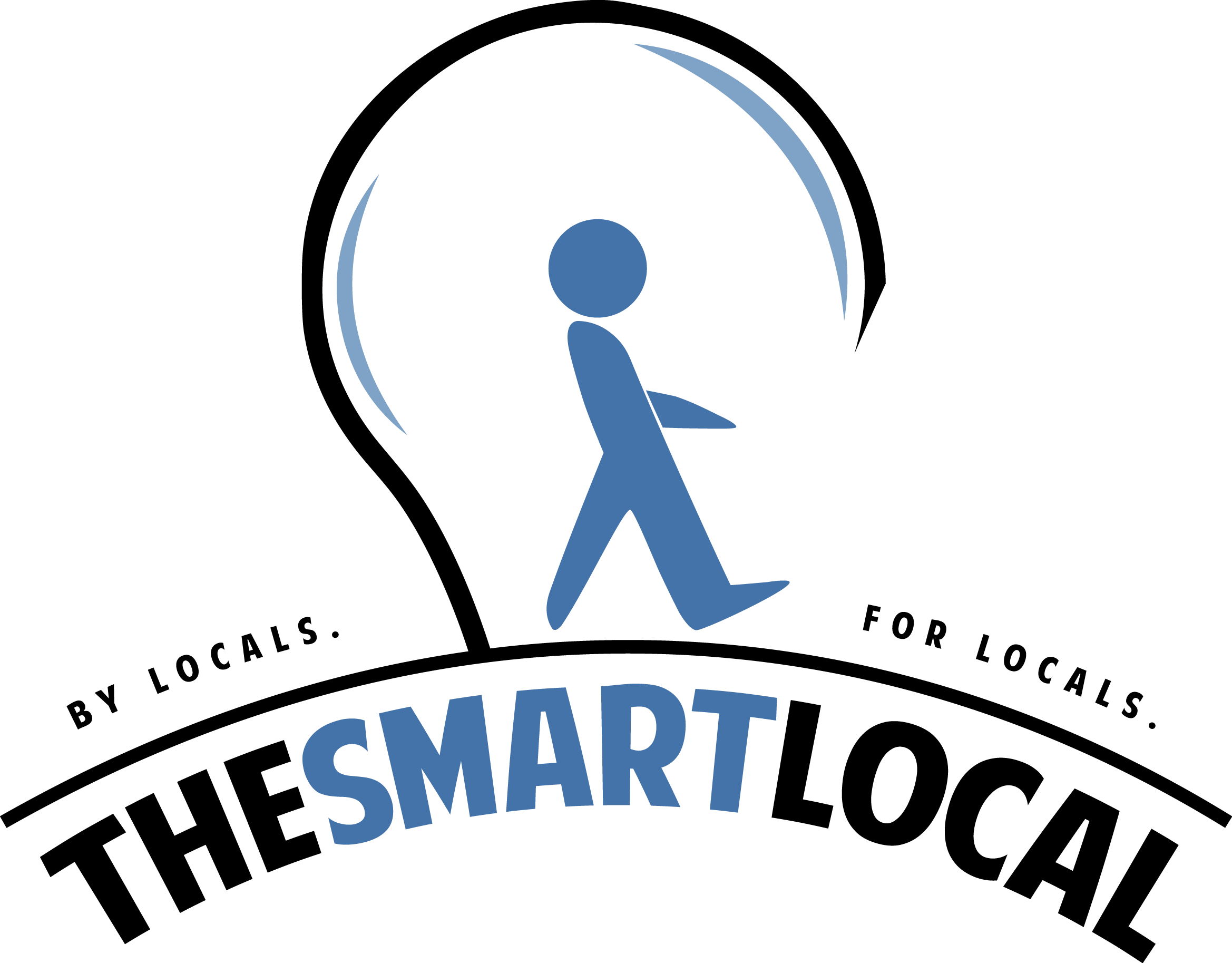 Drop us your email so you won't miss the latest news.