Coffee delivery in Metro Manila
---
Coffee shops are familiar haunts for coffee lovers. But in the light of the COVID-19 pandemic, many of us have had to forgo the comforting sights and sounds of the cafes we frequent for our caffeine fix, and instead settle for our daily cup of coffee at home.
But this doesn't mean we have to settle for bad coffee. As Metro Manila eases into the Modified Enhanced Community Quarantine (MECQ), restaurants – including our local coffee shops – are reopening for delivery and pick-up. 
So in case you need your fancy coffee fix ASAP after months of being stuck at home, here are 10 local coffee shops open for delivery in Metro Manila to buy your coffee from. You'll get to support our small businesses too, so it's a win-win for everyone. 
---
1. Commune – beans from Benguet, Sagada, and other Philippine regions
---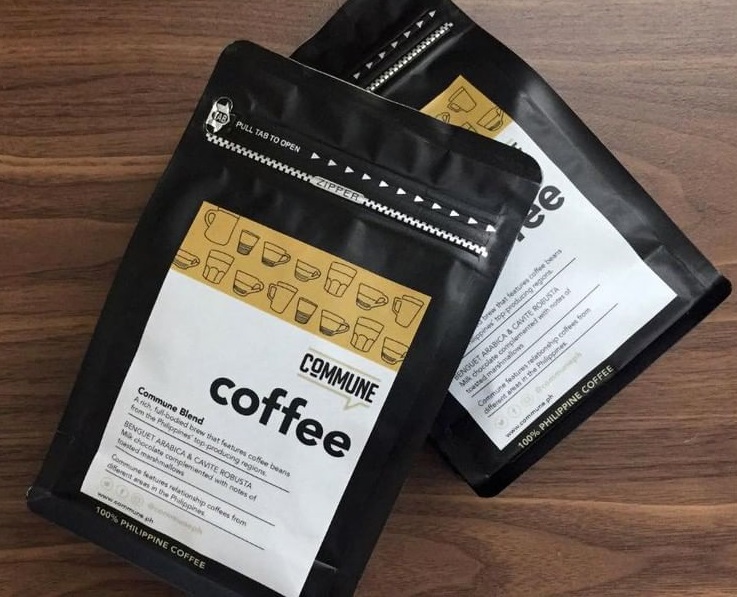 Commune Blend
Image credit: @communeph
Folks in and around Makati can now get bags of coffee beans from Commune, the hub in Poblacion for locally brewed coffee beans, delivered straight to your doorsteps with just a few clicks.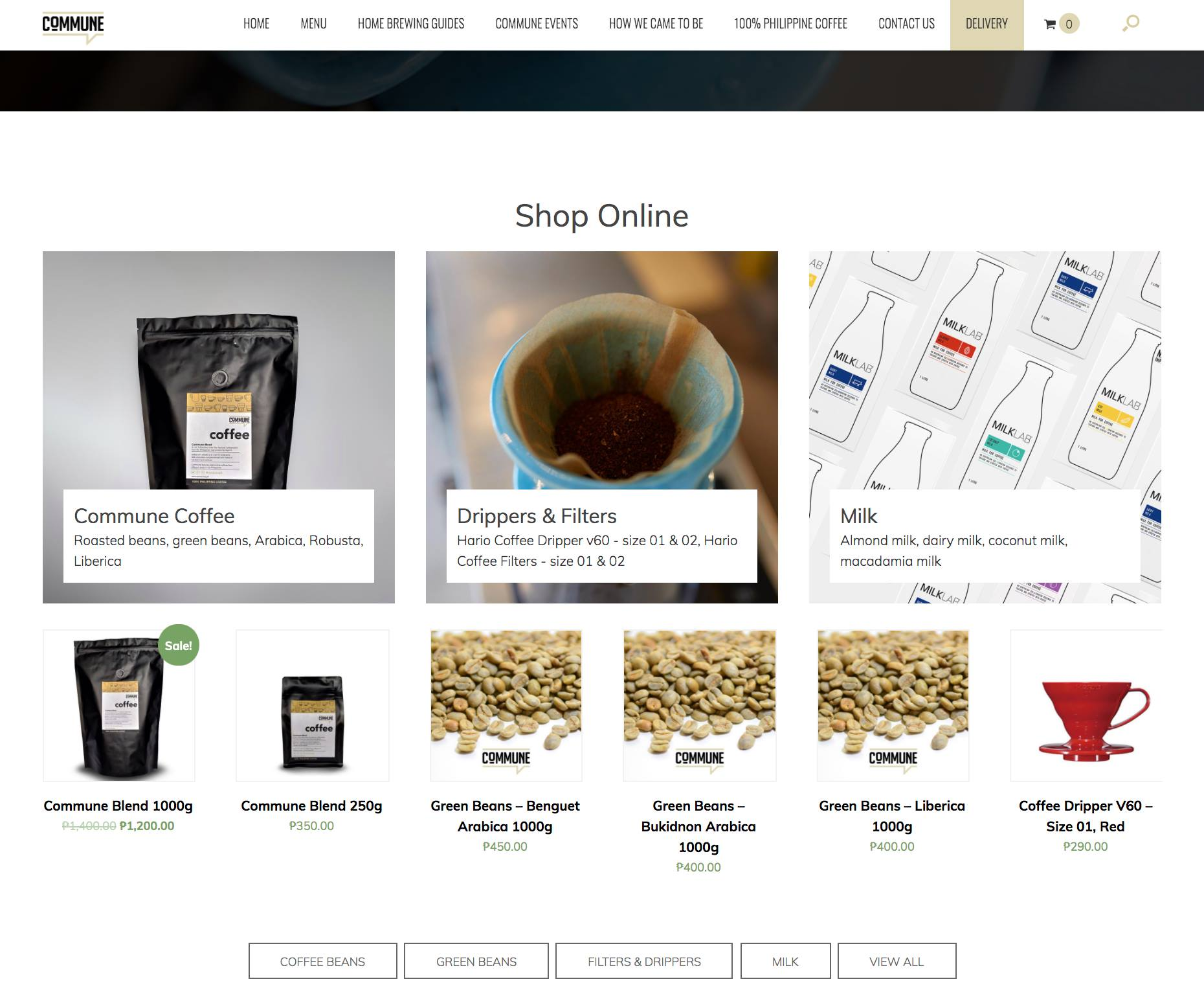 Image credit: Rosario Juan 
Commune is known for their various types of beans – Single Origin, Arabica, Peaberry, and Robusta. They have recently just launched an online store from which you can order their signature blend, Commune (starts at P350, 250g), a mix of Benguet Arabica and Cavite Robusta as well as drippers and various types of milk you might need to go along with your cup of brew. 
Pay them either via a bank transfer or Cash on Delivery (COD). You can pick your orders up at their cafe in Poblacion or pay an additional fee of P340 if you want your packs delivered straight to your doorstep. Delivery takes 2 to 3 business days. You can also book your own courier if you want to handle the delivery on your own. 
Available for delivery via: GrabExpress, Lalamove

Website
---
2. EDSA Beverage Design Group – specialty coffee from the Philippines, Africa, and the Americas
---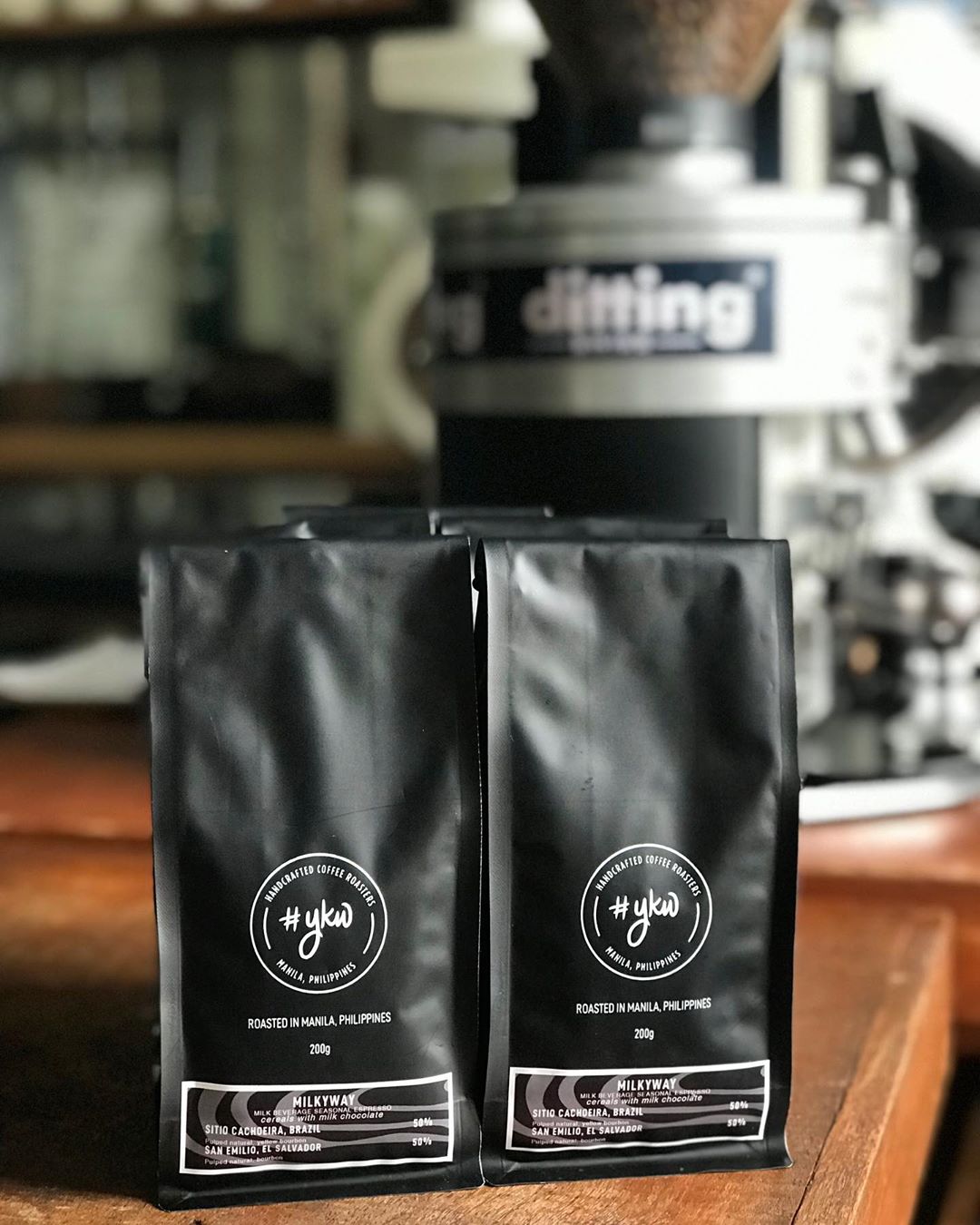 Milky Way
Image credit: @edsabdg
Specialty coffee fans with more discerning palates will be glad to know that EDSA Beverage Design Group has now opened their doors for your fancy coffee fix. They have limited flavors available, so check in often to see if your favourite blend is available. At the time of writing, Silver Haze (starts at P300, 200g), a coffee blend from Ifugao and Colombia's Planadas is available for delivery.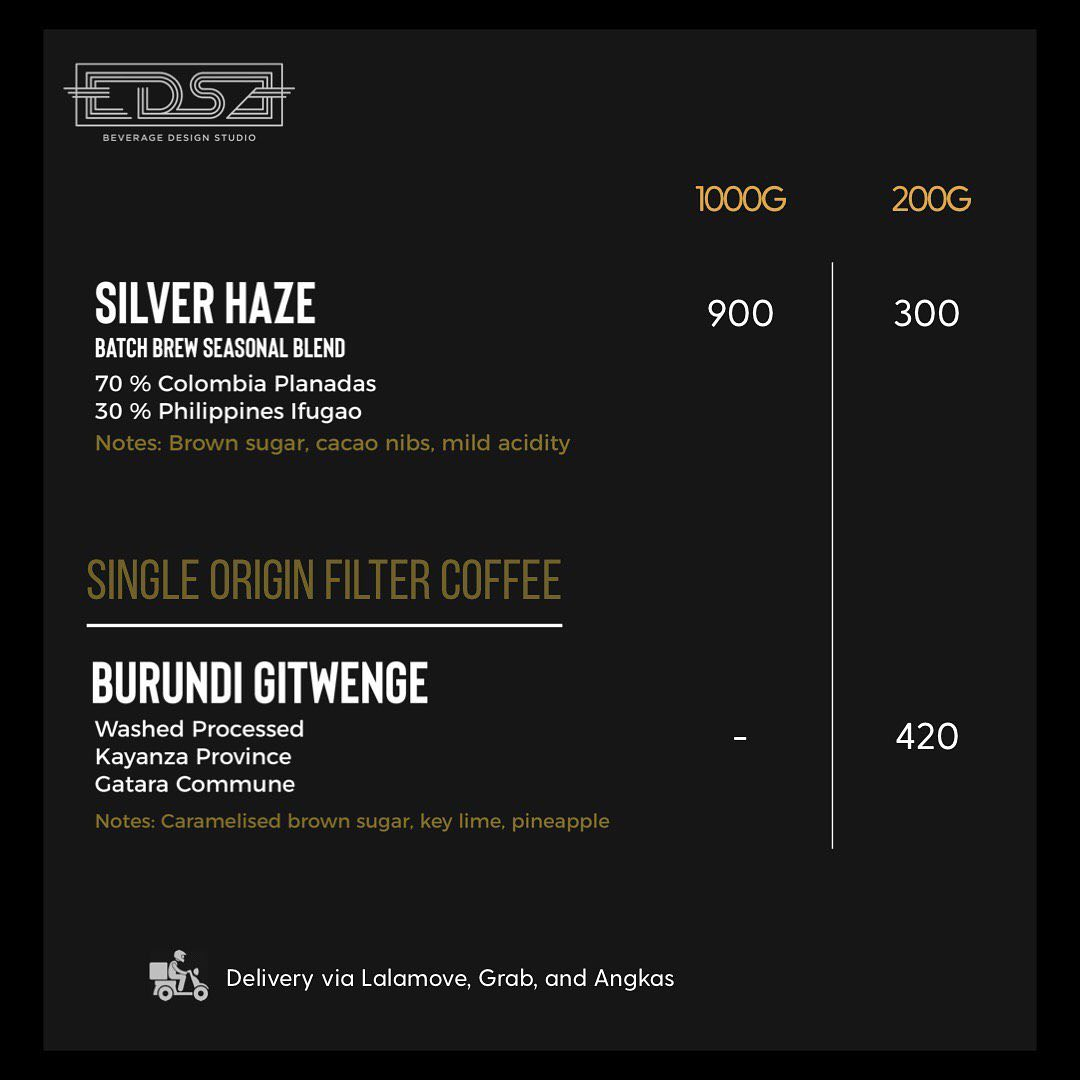 Image credit: EDSA Beverage Design Group
They also have blends imported from Africa and the Americas, such as Milky Way (starts at P360, 200g), which comprises beans harvested from farms in El Salvador and Brazil.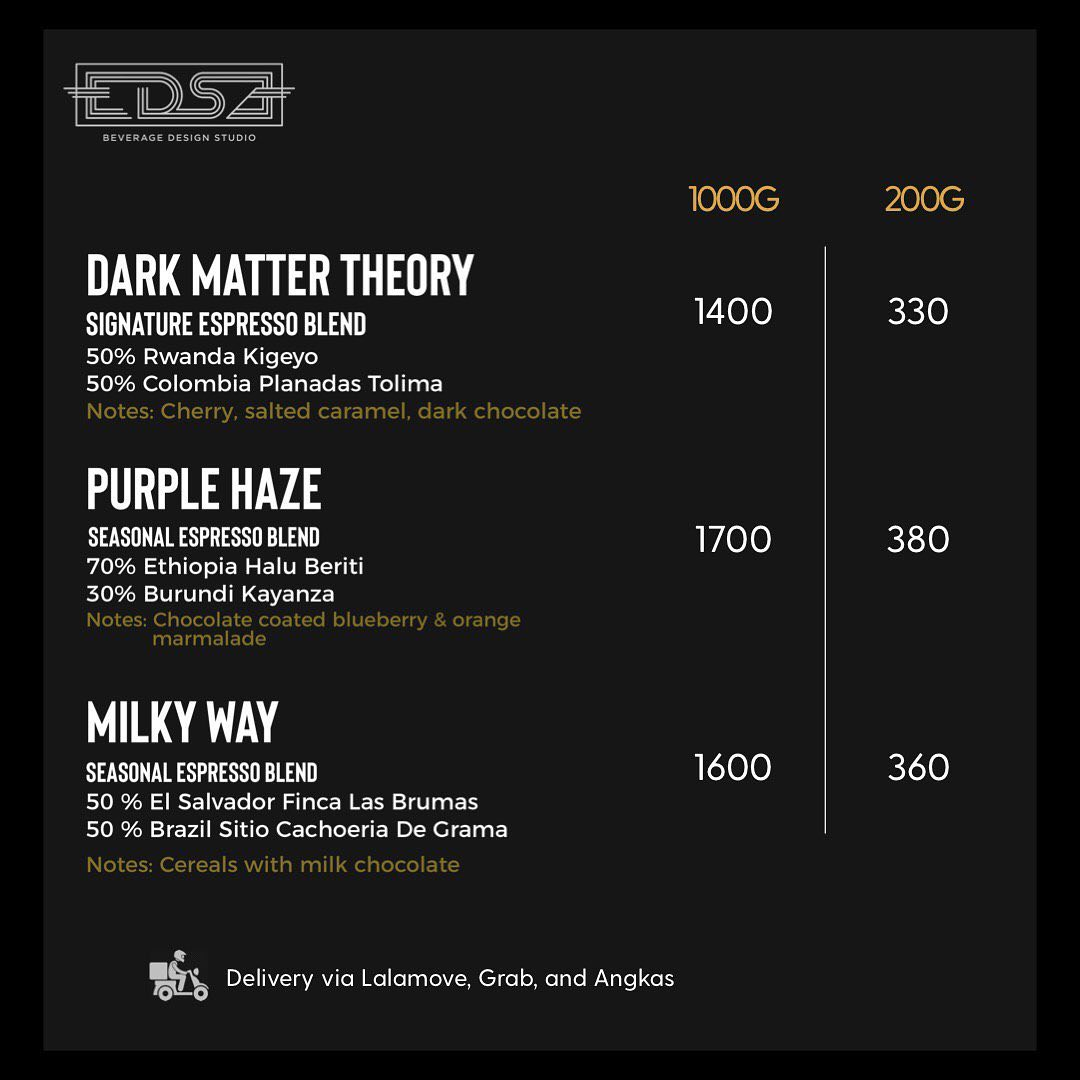 Image credit: EDSA Beverage Design Group
EDSA only accepts payment via their BDO and Metrobank accounts. You can pick up your order in their outlets in Quezon City and Parañaque or book your own courier for delivery.
Available for delivery via: Angkas, Grab, Lalamove

Website
---
3. Coffeellera – single origin Arabica & Robusta
---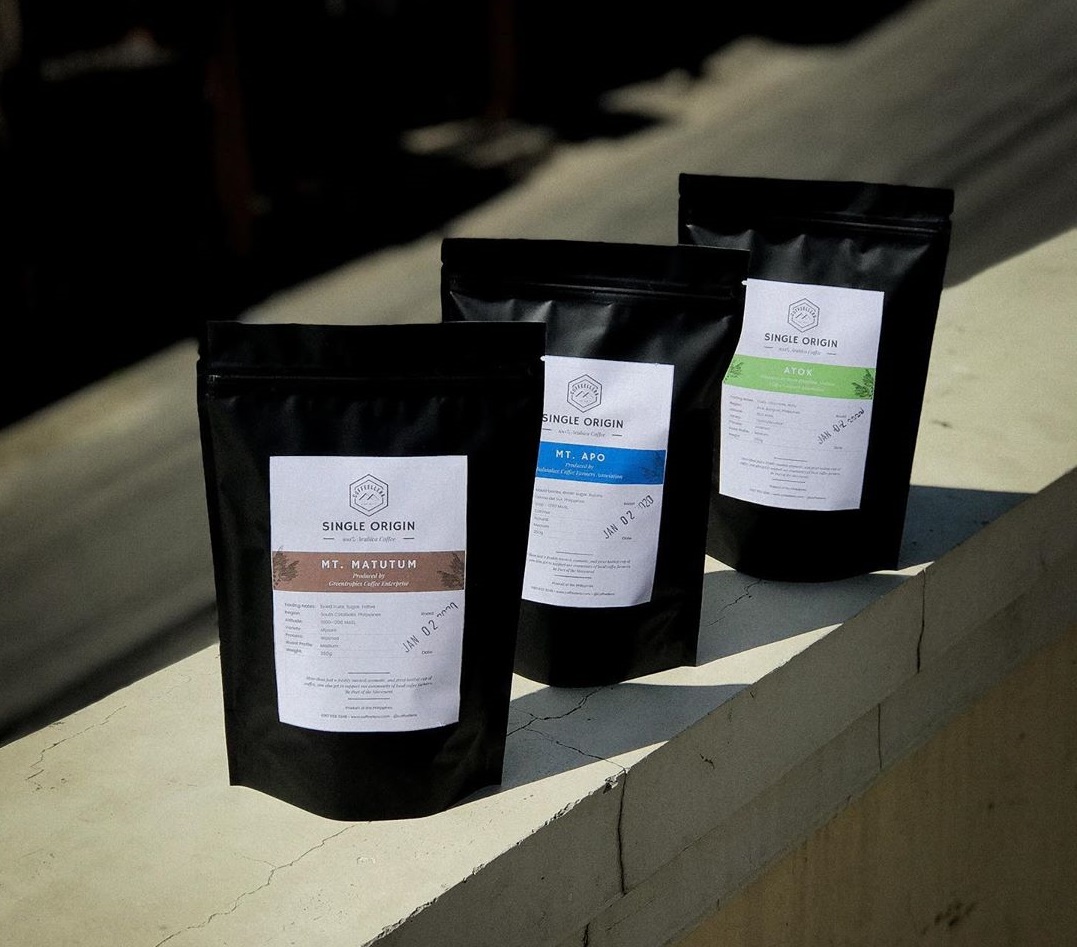 Image adapted from: @coffeellera
Coffeellera takes pride in its locally sourced coffee beans, specializing in single origin Arabica & Robusta variants. As they only roast the beans in small batches to maintain the quality, you'll have to keep checking their website to see if your favorite beans are available.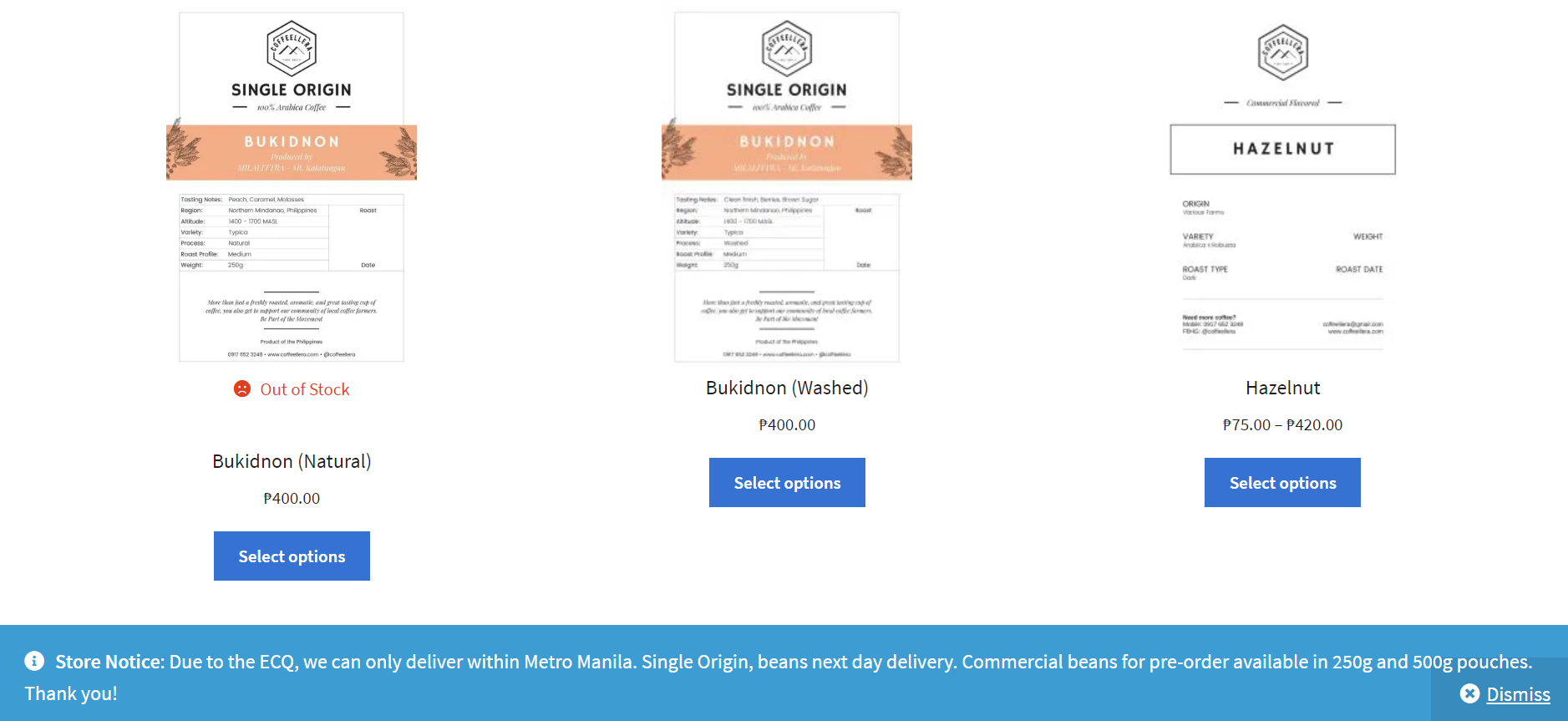 Image credit: Coffeellera
As of writing, the Single Origin Arabica – washed with notes of cherries and brown sugar – from Bukidnon (P400, 250g) is available.  Another type available was the Single Origin Robusta from Kalinga (starts at P135, 250g) – beans which are processed naturally and have the flavor notes of cashew nuts, orange, and chocolate. 
Payments can be made through bank deposit or PayPal. They will handle your delivery within Metro Manila. 
---
4. SGD Coffee – award-winning beans from the farmers of Sagada
---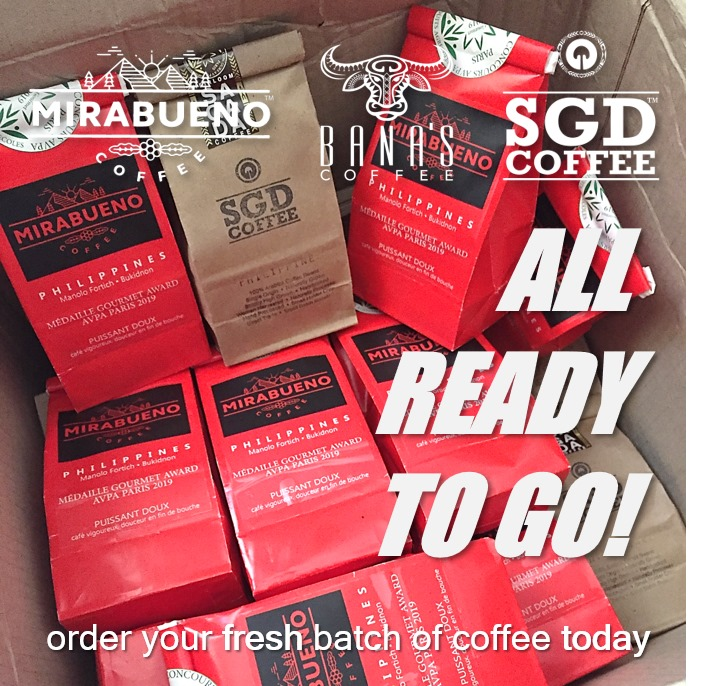 Image credit: SGD Coffee 
SGD Coffee only processes what they deem as the best beans picked from the farms of Sagada by working hand in hand with the farmers to support local sustainability. They've earned various awards, most recent of which is the Bronze award from Milan in the 5th International Contest of Locally Roasted Coffees held November 2019. 
Besides offering coffee delivery services in Metro Manila, they also deliver to Laguna, Cebu, Cagayan de Oro, Davao, and even down to Palawan.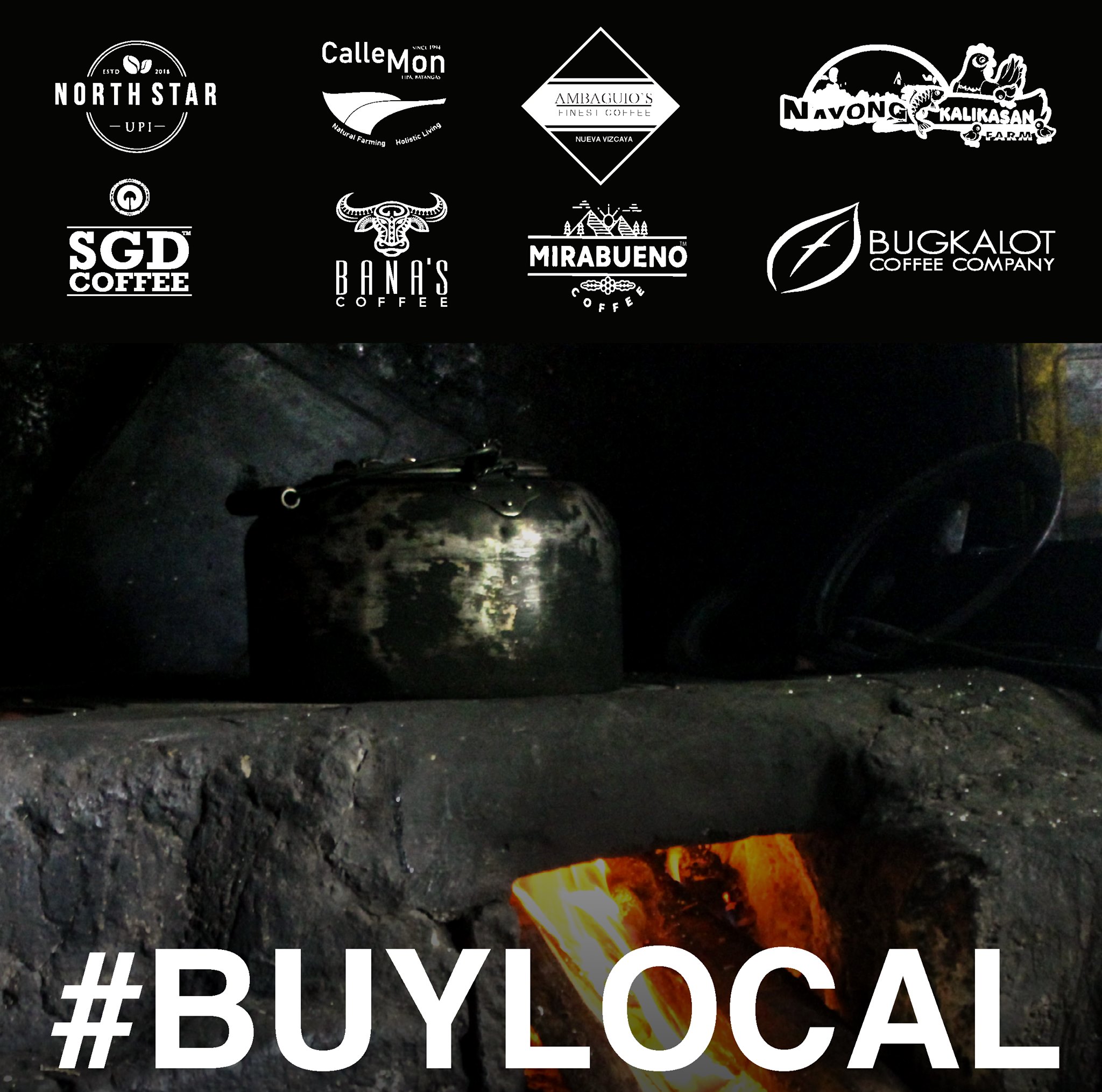 Image credit: SGD Coffee 
Aside from their own coffee, they also advertise other brands that source beans from our very own farms. 
Mobile: 0917 826 9537
---
5. Latitude Bean + Bar – for your latte fix
---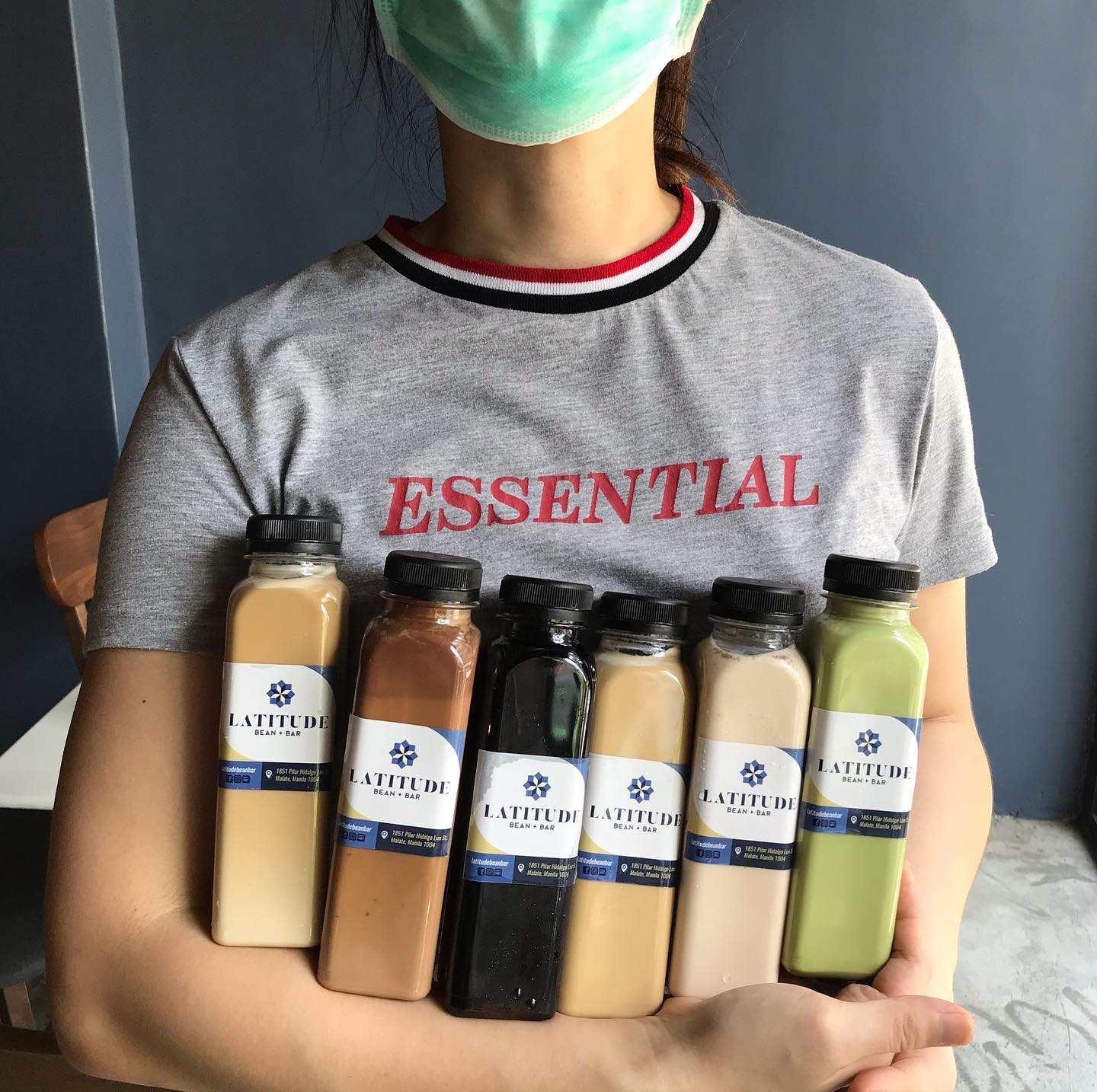 Image credit: Latitude Bean + Bar 
Situated in the Malate area, Latitude Bean + Bar is a new coffee spot in town that's known for its unique deep blue, minimalist Scandinavian look. Currently, most of the beverages available for delivery are their lattes: classic Latte (P165), Malate or the Spanish Latte (P165), and Vanilla Bean Latte (P180). 
If you want a latte but without the caffeine, their Matcha (P165) and Chai Latte (P165) might be your cup of tea. 
You can pay via BDO or GCash and pick up your orders at their branch in Malate. You'll have to pay for the shipping fee of a third party courier if you opt for delivery instead. 
To order, fill in their Google document here.
Available for delivery via: Angkas, GrabExpress, Lalamove

Website
---
6. Yardstick Coffee – coffee beans, capsules, and ready-to-drink brew
---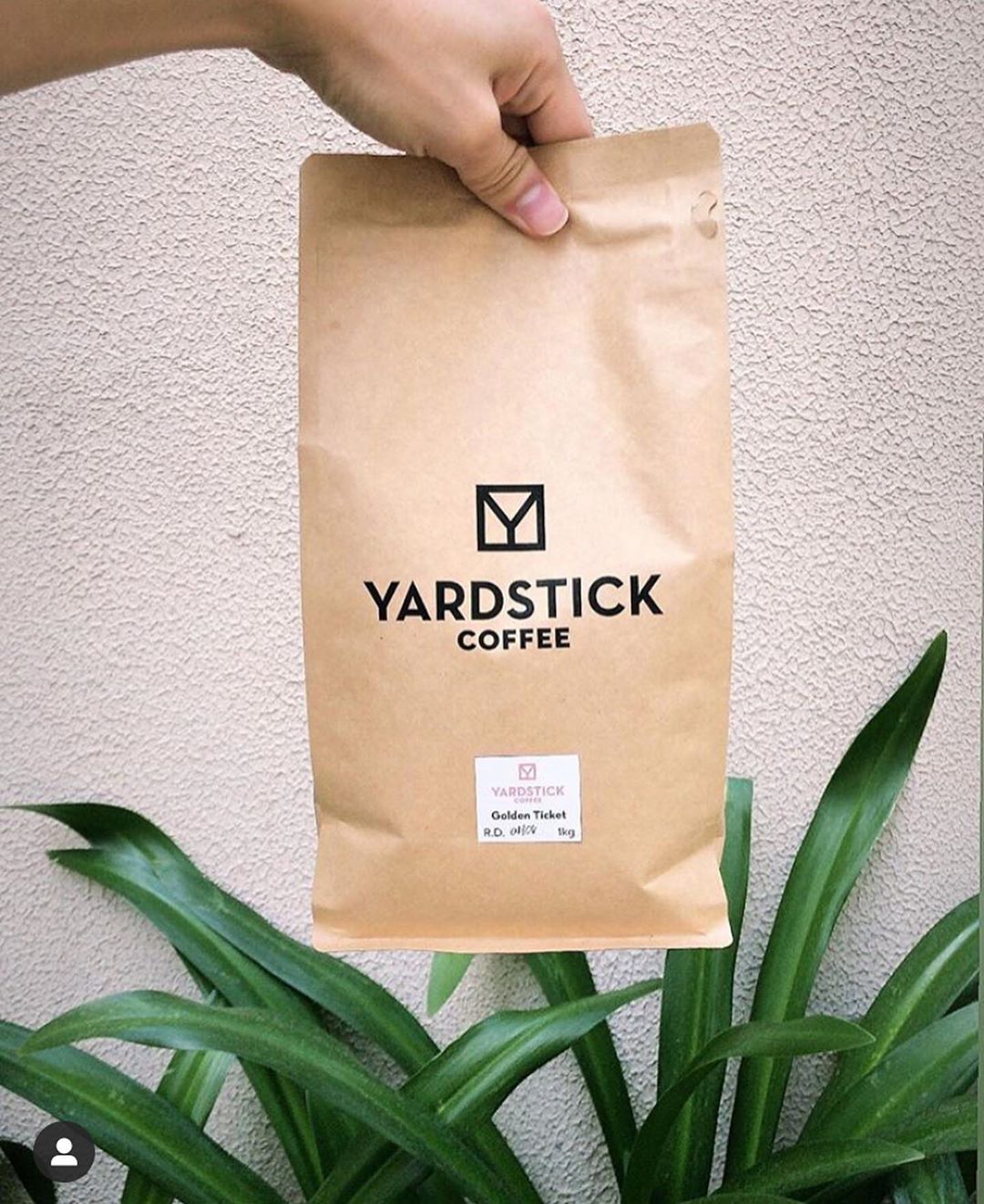 Image credit: @yardstickcoffee
Part restaurant, part roastery, and part training space, Yardstick in Makati has got all you need for your caffeine needs at home – from single origin packs to coffee bean blends, and capsules to ready-to-drink brew available for delivery.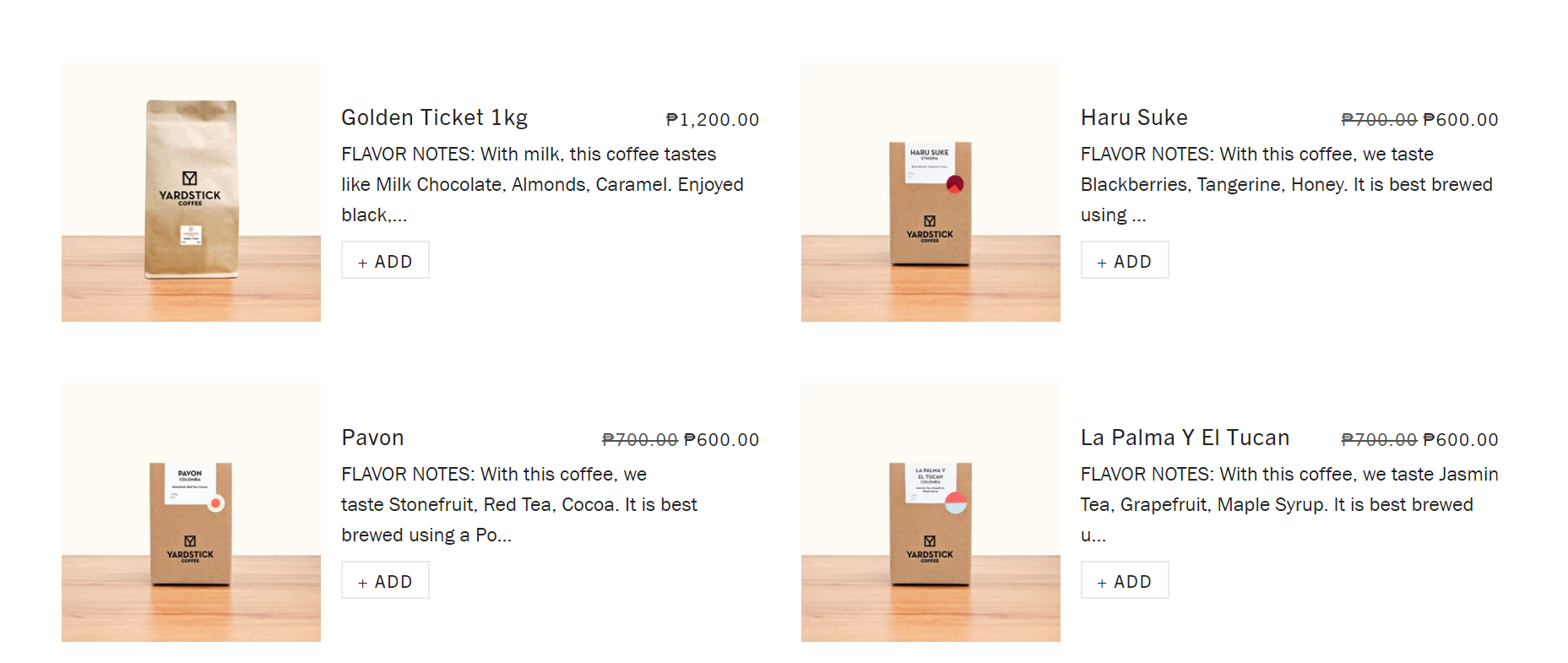 Image credit: Yardstick Coffee
Their Golden Ticket blend (P1,200, 1kg) is one of their most famous, and comprises beans harvested from Brazil and Colombia. This blend is known for its distinct notes of milk chocolate, almonds, and caramel. If you're not in the mood to brew your own coffee, opt for their ready-to-drink Cold Brew Coffee (P1,000, 350 ml) instead. 
Pay via BDO bank transfer and arrange for self pick-up. If you want your order delivered, you'll have to manage your own bookings. 
Mobile: 0977 801 1352
Available for delivery via: Grab, Lalamove

Website
---
7. Kape Sur – single origin beans from Mindanao
---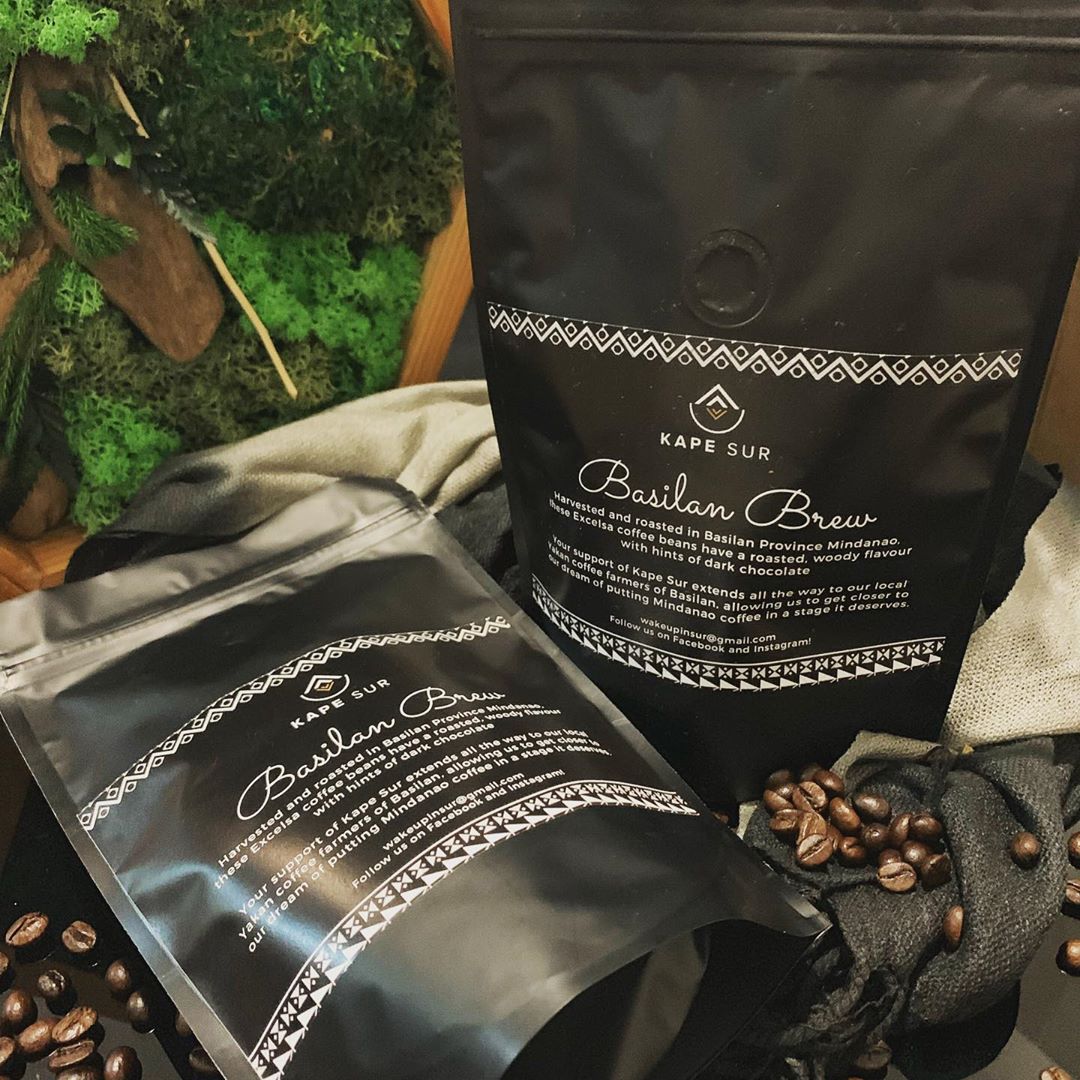 Image credit: @kape_sur 
Putting the limelight down south, Kape Sur harvests beans from the sprawling farms of Mindanao. Their bestseller, the Basilan Brew (starts at P250, 250g), is the product of the hard work of Yakan coffee farmers – Excelsa beans ooze with aromatic woody and dark chocolate undertones. 
Pay via BPI, BDO, or GCash. They will handle your delivery via a third-party courier, but you have to take care of the shipping fee. Orders received after 4PM will be delivered the following day. 
To order, message them on Facebook or Instagram.
Available for delivery via: Grab, Lalamove

Website
---
8. Layag – coffee for a good cause
---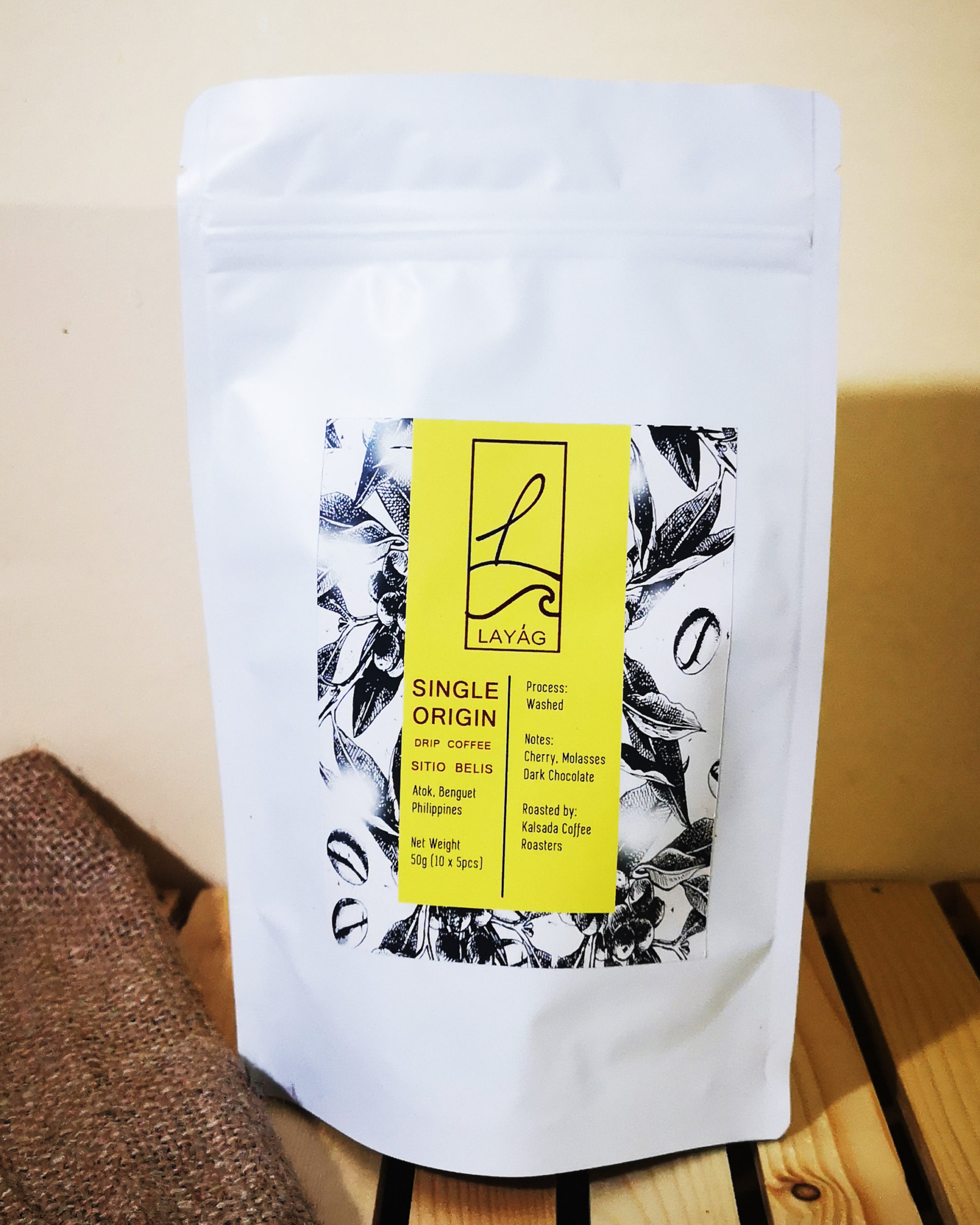 Image credit: Layag
Perhaps there's no other better time to support Layag's cause than today – as this local coffee shop advocates for building health resilience among vulnerable communities in the Philippines through their workshops. Recently, they have been offering free coffees to our frontliners besides knocking on our doors to ask people to support their cause amidst this pandemic. 
One of their single origin variants is the Sitio Belis drip coffee (P299), washed from Atok, Benguet and tasty with notes of cherry, molasses, and dark chocolate.
Be sure to have a PayPal account though, as you can only pay through this online payment method. You don't need to handle your bookings for delivery as they'll arrange it for you.
To order, click here.
---
9. MA+ D Manila – single origin coffees from Kalinga down to Sultan Kudarat
---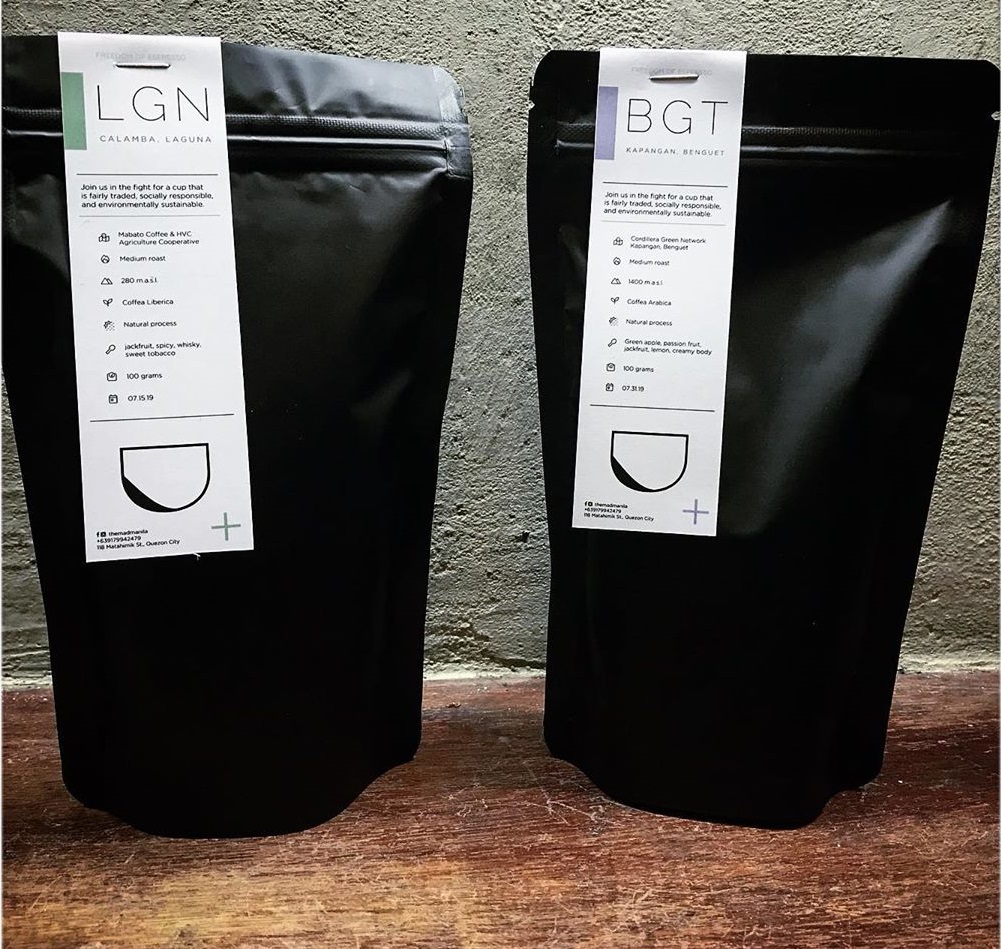 Image adapted from: @themadmanila
MA+D stands for Make, Advocate, and Delight, because for the shop, coffee is as much a beverage as it is an avenue for advocacy. For MA+D, coffee should be made with a sustainable model that supports local communities in mind. Therefore, MA+D serves all kinds of single origin coffees from Kalinga down to Sultan Kudarat.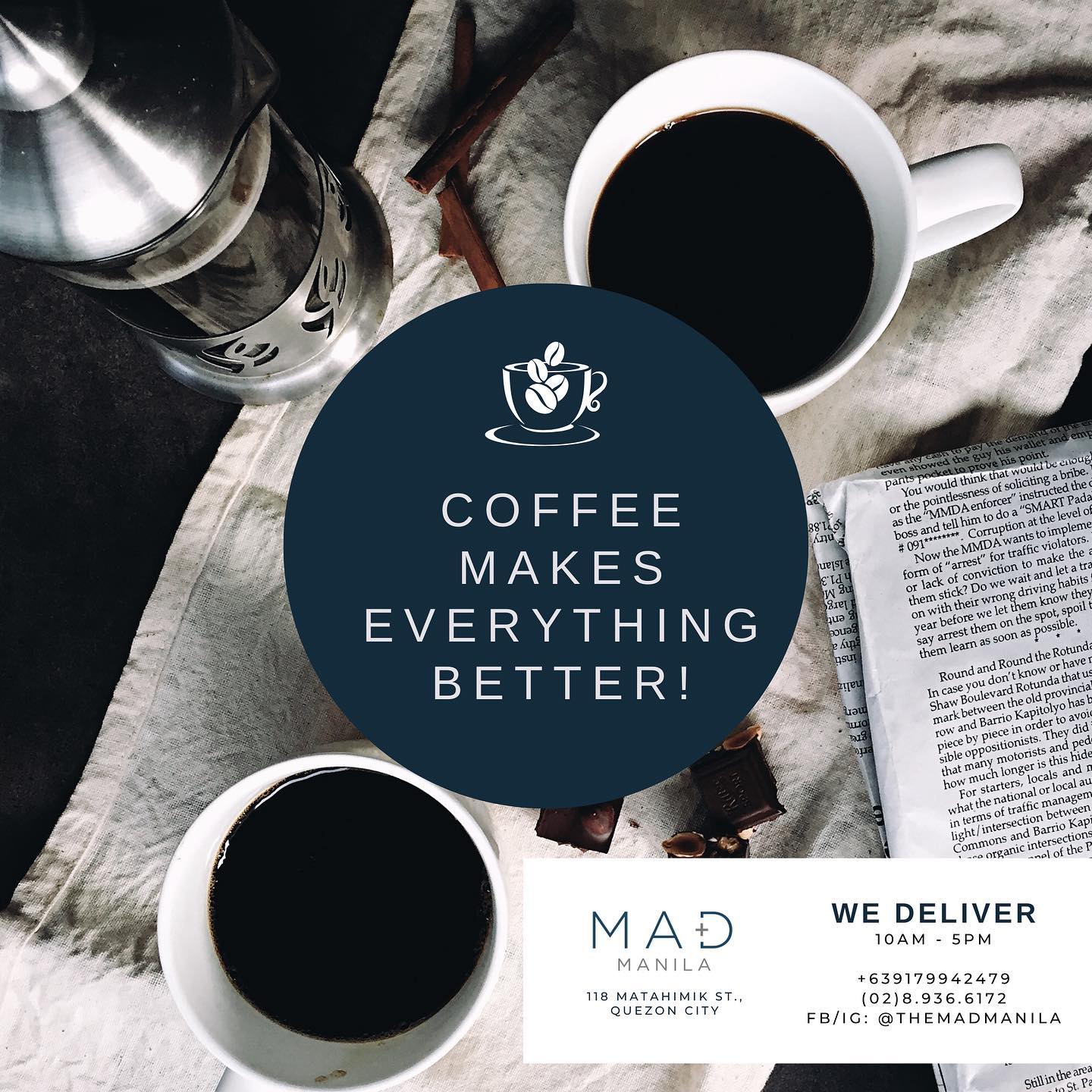 Image credit: MA+D Manila 
For QC folks missing their cup of MA+D amidst the pandemic, they've got you covered. Drop them a message on Facebook, Instagram, or through their mobile number to order their coffee packs and get them delivered to your dorms or homes. 
Mobile: 0917 994 2479
Available for delivery via: Grab, Lalamove, Mr. Speedy

---
10. Pedal Coffee – ready-to-drink coffee
---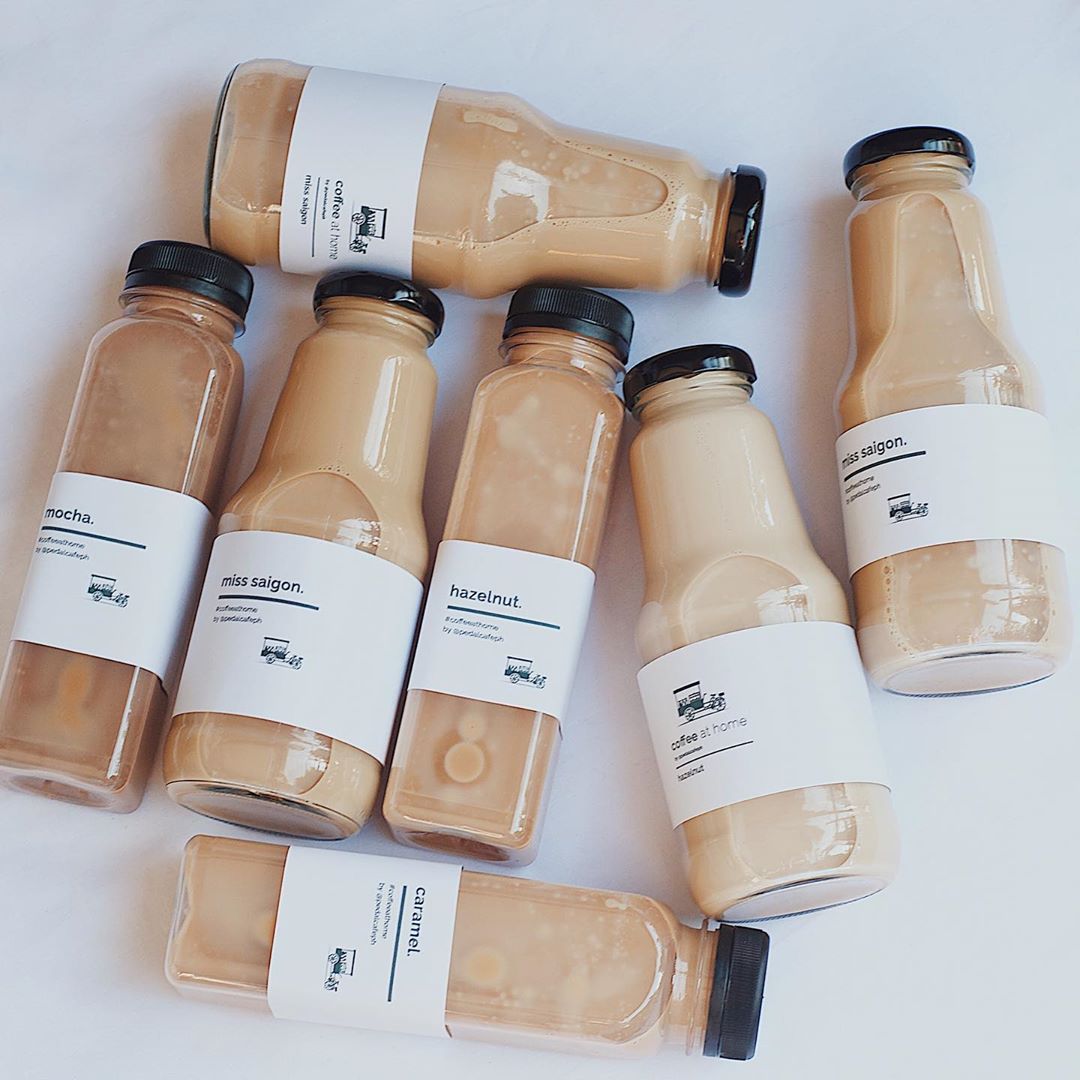 Image credit: @pedalcafeph  
Pedal Coffee is your coffee-on-the-go around Metro Manila, brewing Arabica beans harvested and roasted from Mt. Apo. During this health crisis, they can deliver your caffeine fix right to your doorstep. 
Their bestseller, Miss Saigon (P130) is their own version of Vietnamese Latte, known for their stronger taste, paired with their boxes of cookies. 
Pay through BDO/ BPI; arrange your delivery.
To order, message them on Facebook or Instagram.
Available for delivery via: Grab, Lalamove
---
Bonus – International coffee chains that also deliver
---
It's not just our local coffee shops that are delivering. Our go-to international coffee chains are here to stay as well, to satisfy our cravings for our classic favorites we've probably been missing so bad. 
---
Tim Hortons – coffee and hot chocolate packs
---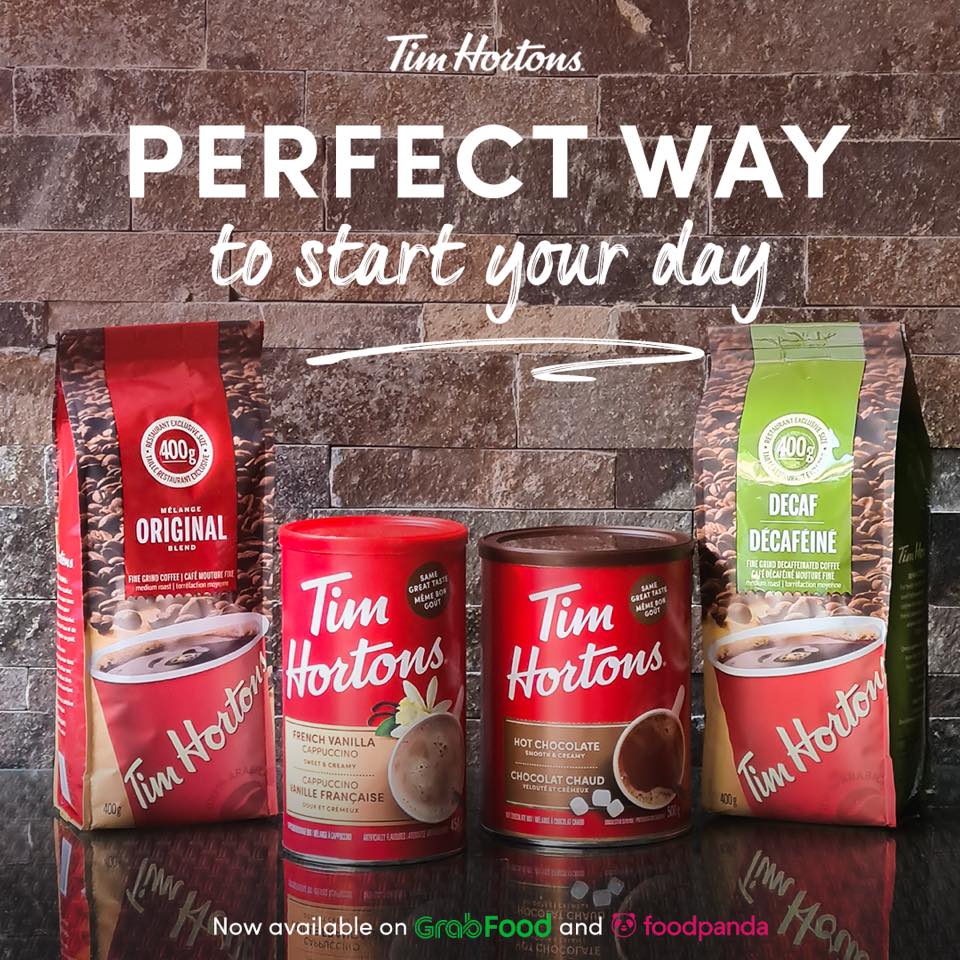 Image credit: Tim Hortons 
Aside from your favorite Tim Hortons iced coffees, you can now spoil yourself at home with their coffee packs in decaf, blends, mixes, and hot chocolate powder. Prices start from P630 for the medium-roast Original Blend (400g), and P425 for the French Vanilla Cappuccino mix in a can. 
Available for delivery via: Foodpanda, GrabFood

Website
---
Starbucks – delivery, take-out, drive-thru

---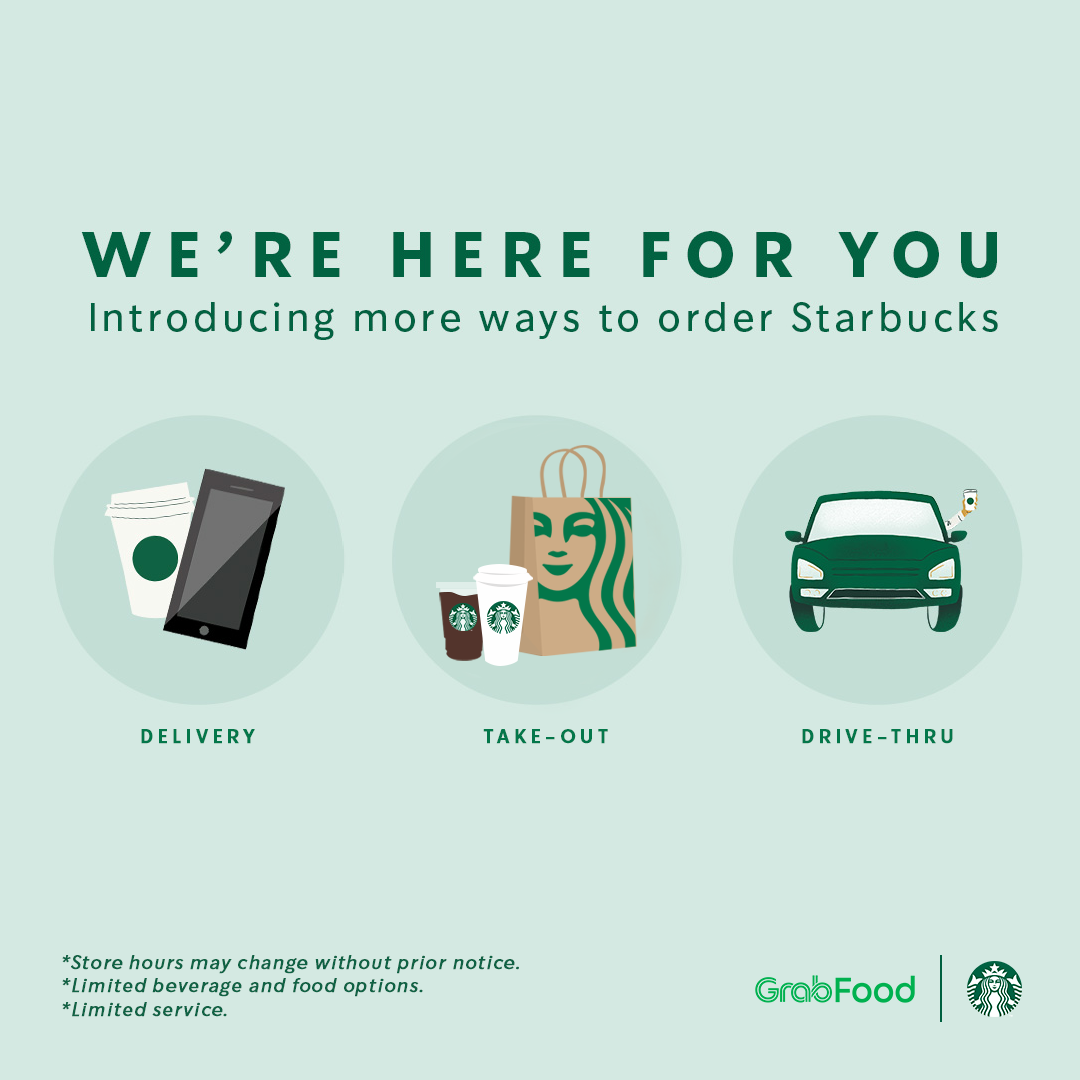 Image credit: Starbucks Philippines 
We were sad to see Starbucks stores closed during the beginning of the lockdown in March, but as we ease into the MECQ, more of their stores are now open for delivery, takeout, and drive-thru. 
Your favorite drinks should be up for grabs, but in case you're wondering what are the  new offers from Starbucks, you'll be pleased to know that they have 5 new Tea-ology flavors such as Tropical Triple Citrus, Peach Cloud with Jelly, that help you cool down in the summer heat. These drinks also come in cute, reusable cups, and are available via delivery, drive-thru and take-out in selected Starbucks stores.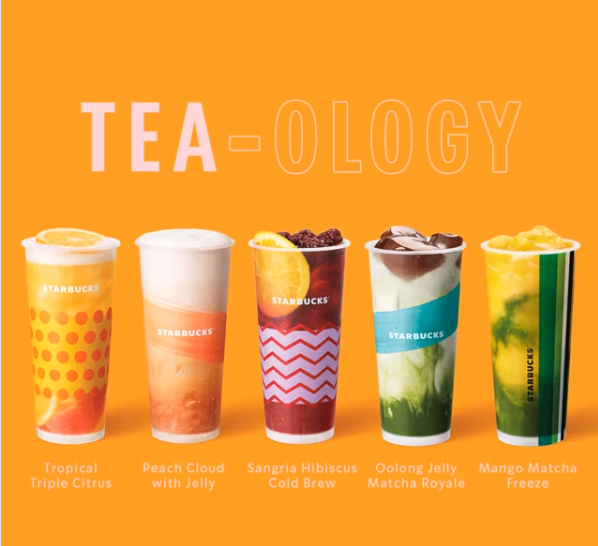 Image credit: Starbucks Philippines
Available for delivery via: GrabFood

Website
---
Metro Manila coffee delivery services during COVID-19
---
It's sad that we have to give up our habit of gathering in our favorite coffee shops for now to observe social distancing measures. While this is the case, we're lucky that we can still bring the spirit of coffee culture into our homes through our delivery men who are braving the roads amidst this pandemic. 
Also check out: 
---
Cover image adapted from: @kape_sur, @pedalcafeph and @edsabdg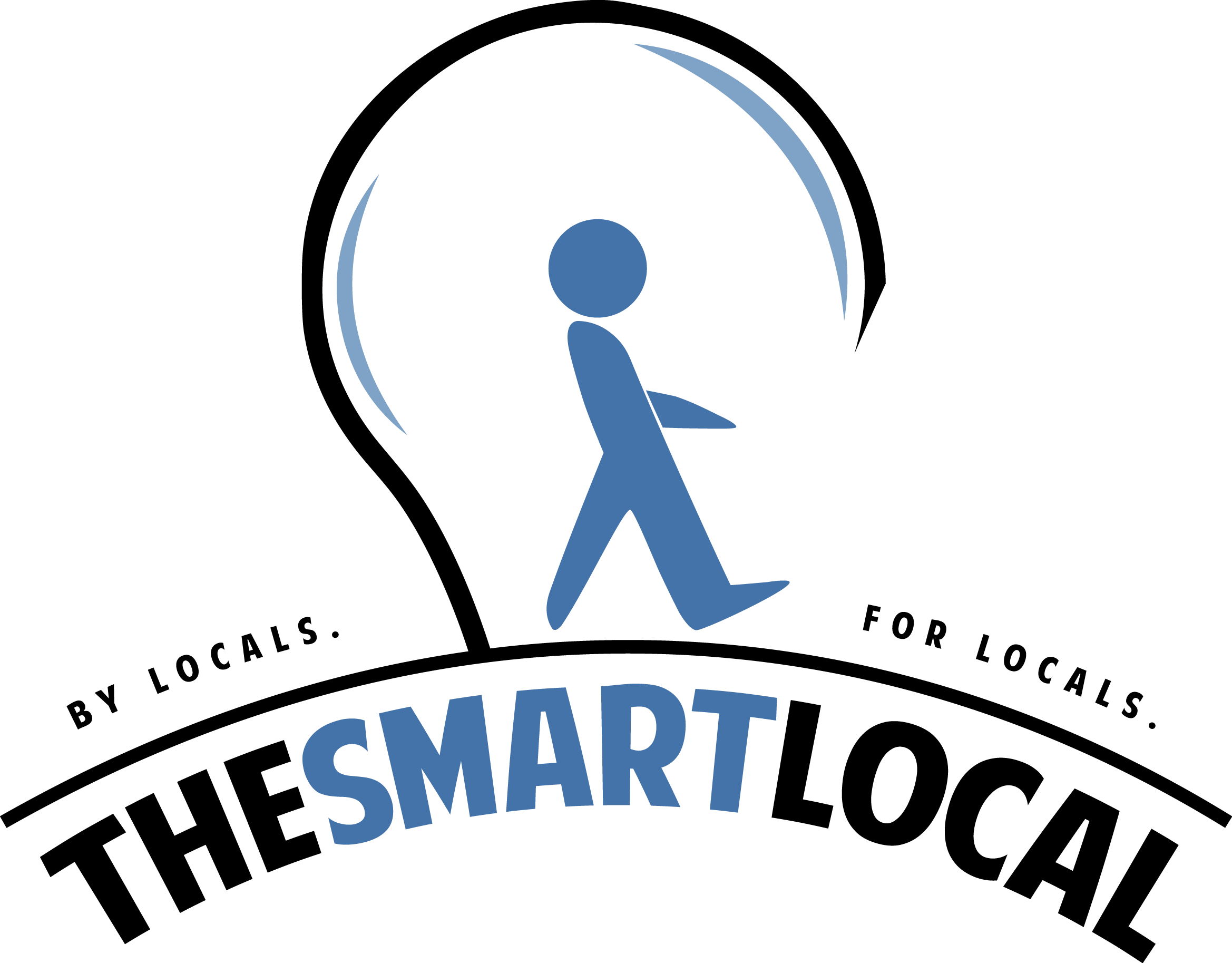 Drop us your email so you won't miss the latest news.