Benigno 'Noynoy' Aquino III passes away
---
Today, 24th June, we woke up to the news that former president Benigno "Noynoy" "PNoy" Aquino III, 61, has passed away, 5 years after he stepped down from office.
His presidency saw the Philippines across the early part of the 2010s, and while it wasn't perfect, our country has indeed overall seen significant achievements throughout his administration. Below, we list down 7 facts about the former president that we'll fondly remember, including how he helped our economy grow and how he fought for the West Philippine Sea.
---
1.  He started his political career as a representative of Tarlac, his hometown
---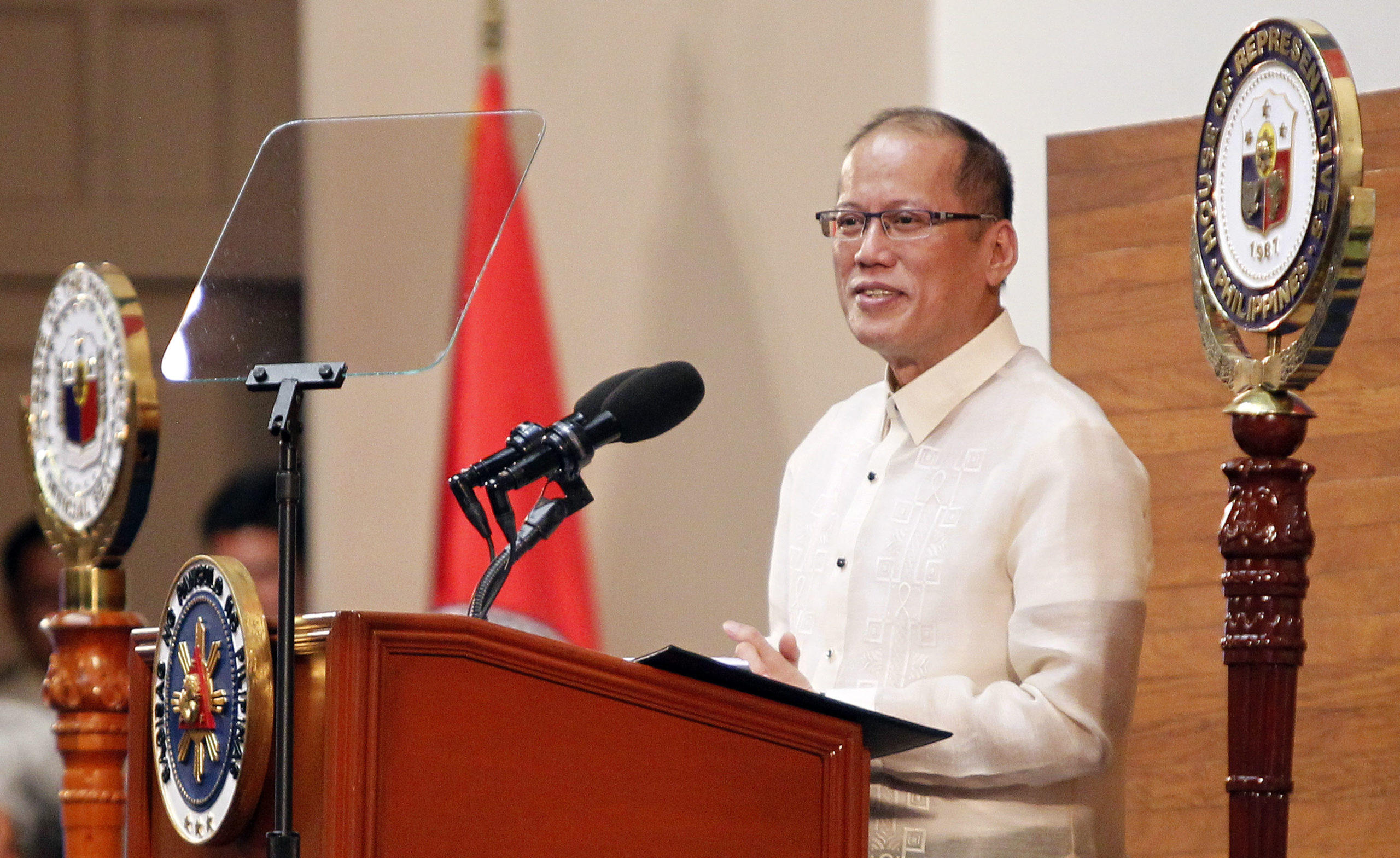 Image credit: Official Gazette
The 15th President of the Philippines started his political career by first serving as a Congressman for the 2nd district of Tarlac, his hometown, from 1998 to 2007.
During his years at the House of Representatives, he was notable for being an active part of discussions concerning fiscal policies. He became a senator in 2007, leading the Senate Committee on Local Government and the Committee on Justice and Human Rights.
---
2. He was elected as president in 2010 by over 15 million Filipinos
---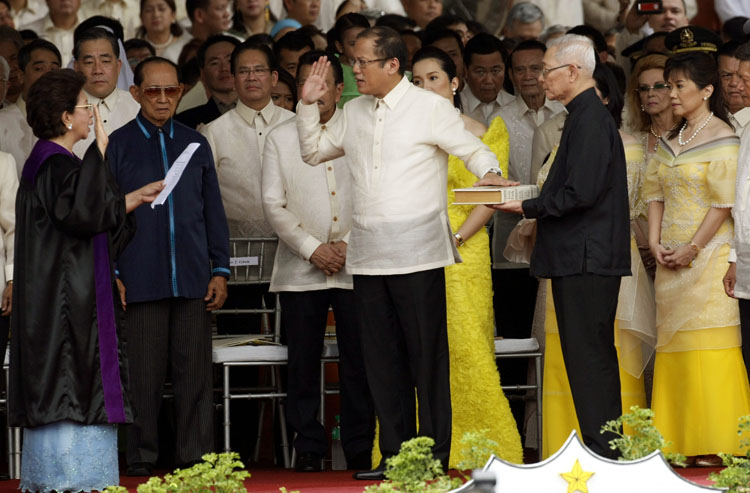 Image credit: Rey S. Baniquet/Wikimedia Commons
While he had been initially reluctant to run as president, he eventually took on the legacy of his parents by choosing to compete for the highest post in the Philippine government in 2010 after the death of his mother, former president Cory Aquino, in 2009.
And he won in a decisive victory, with over 15 million Filipinos casting their votes for him compared to his nearest rival, former president Joseph Estrada, who garnered over five-and-a-half million fewer votes at over 9 million votes.
---
3.  He helped catapult the Philippine economy towards growth
---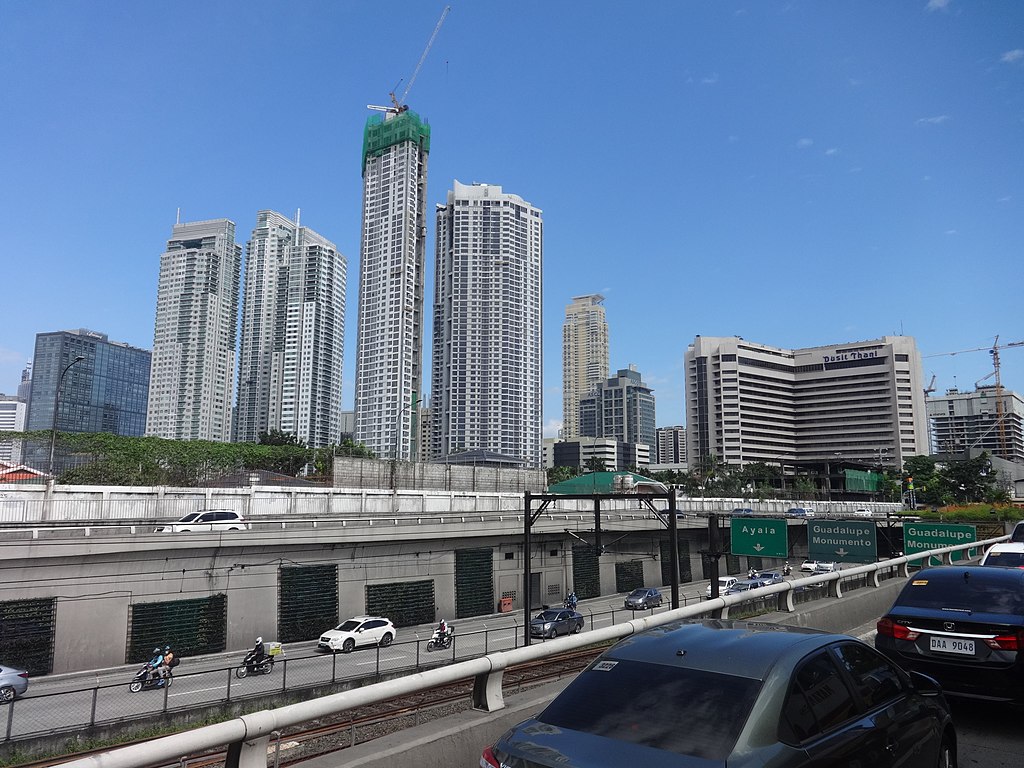 View of Makati Central Business District from EDSA
Image credit: patrickroque01/Wikimedia Commons
Throughout his six years in power, he helped the Philippine economy grow significantly in many aspects. For one, our GDP growth averaged at 6.3 percent, and in the first nine months of 2016, our country even performed better than China.
Our financial profile also gained more credibility in the international community under Aquino's term, as his administration lowered the global risk perception of the Philippines.
Major credit rating agencies gave the country various credit upgrades, that have, in turn, helped decrease our interest rates compared to the rates in the years before Aquino.
---
4. He introduced the K-12 program to reform our education system
---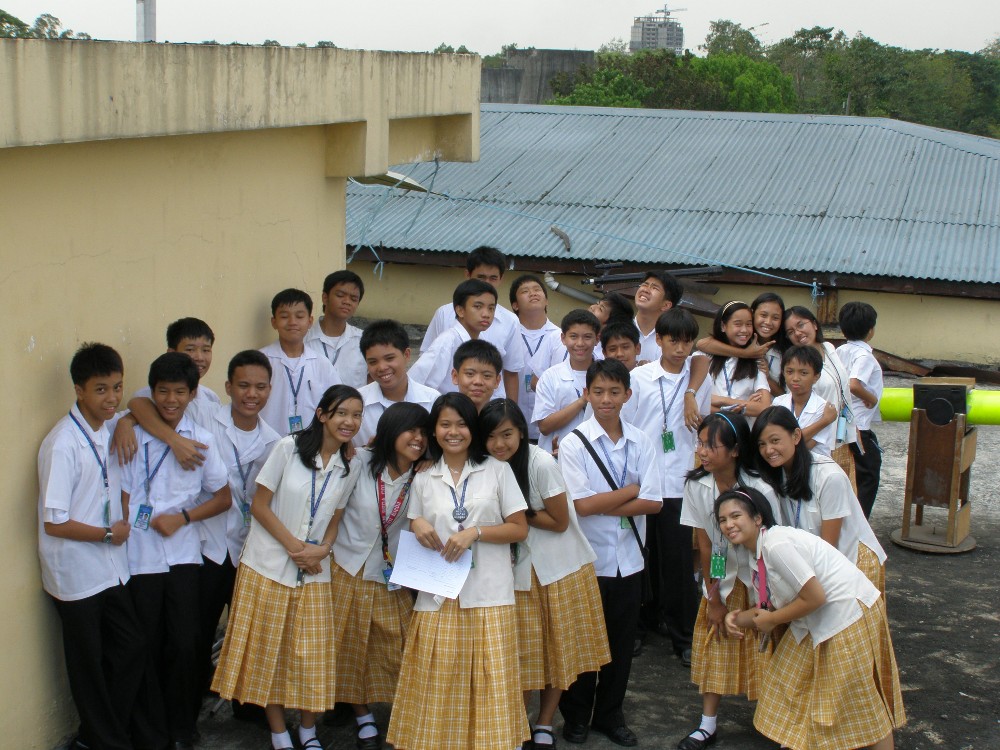 Image credit: PSHS2012/Wikimedia Commons
Many critics had questioned the K-12 program which Aquino signed into law in 2013, but for others, it was also a "game-changing" reform in our basic education system that would help Filipinos be at par with students abroad. Under the program, students will have to study for two more years as senior high school students before heading into higher education.
According to Aquino, the additional senior high school years would be an avenue for students to choose specialized tracks. "Sa pagkakaroon naman ng senior high school kung saan makakapili ang kabataang Pilipino ng specialized tracks para sa akademya, technical education, at sports and arts, ginagarantiya nating talagang handa silang humakbang para abutin ang kanilang mga mithiin, he said when he signed the program into law.
This can be translated as "Having senior high school years, where the Philippine youth can choose specialized tracks in academics, technical education, and sports and arts, guarantees that they are ready to move forward to reach for their dreams."
---
5. He asserted our sovereignty over the West Philippines Sea
---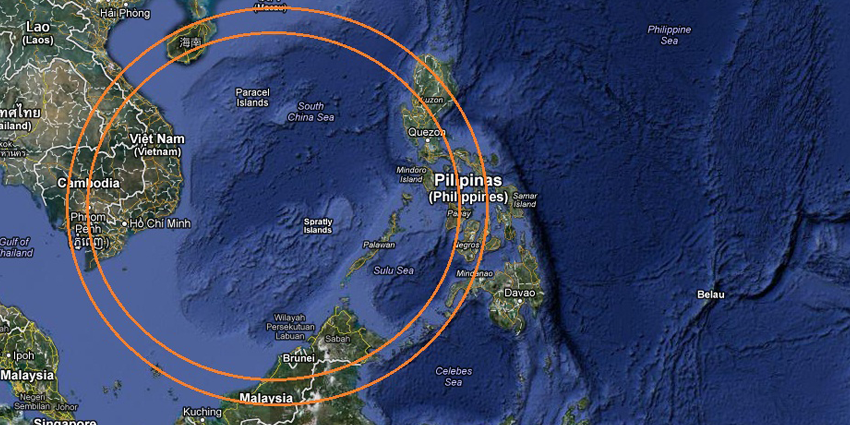 Image credit: Philippine Embassy
During the height of the Philippines' maritime territorial dispute against China, Aquino's administration went the extra mile to assert our sovereignty by bringing the case to an international court in 2013.
In what was considered a historic win, an arbitral tribunal in The Hague, Netherlands on 12 July 2016 ruled in favor of the Philippines after it had found that "there was no legal basis for China to claim historic rights to resources, in excess of the rights provided for by the Convention, within the sea areas falling within the '9-dash line'," according to the New York Times.
---
6. He was a loving uncle
---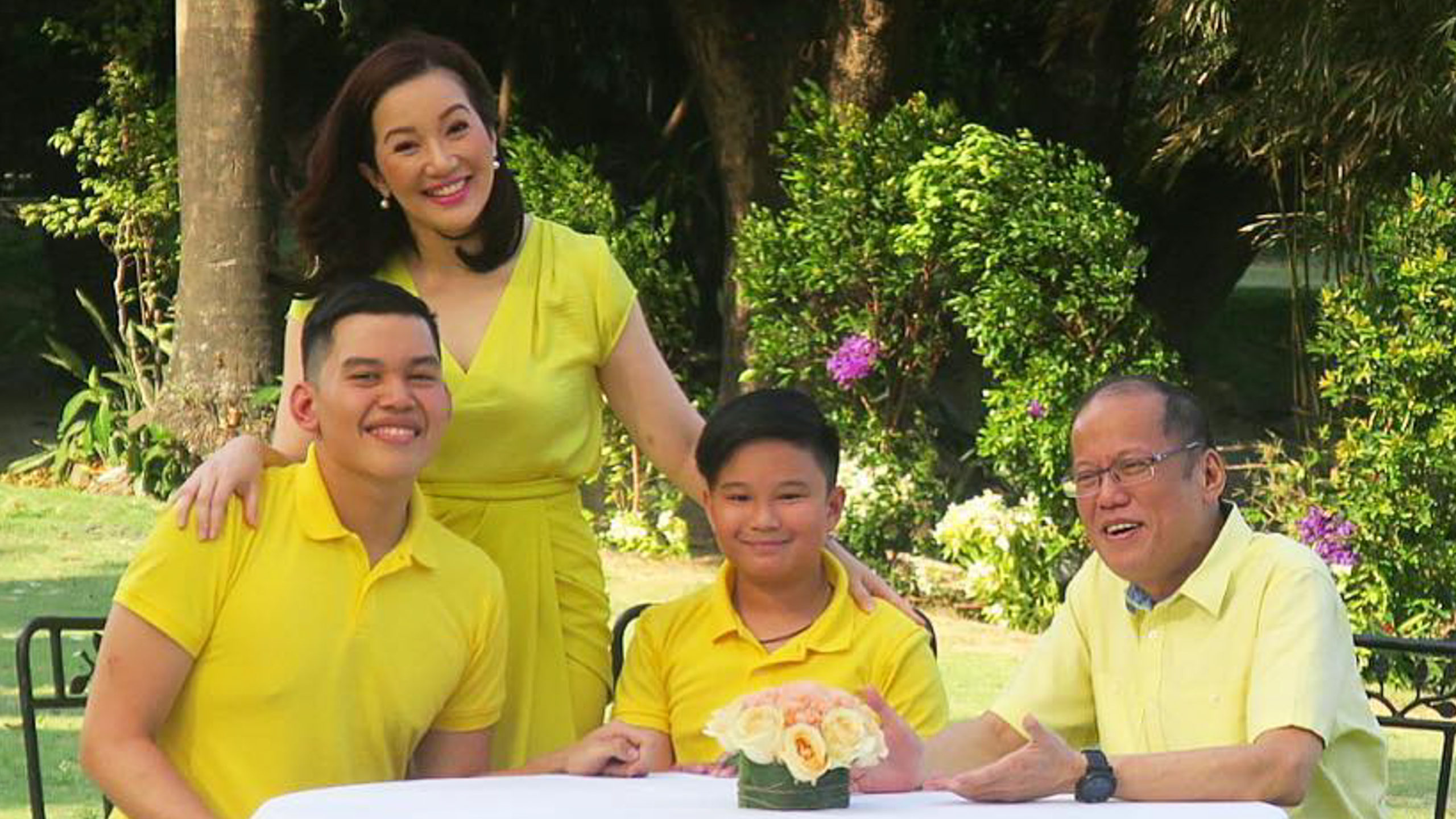 Kris Aquino and her sons on a photo with former president Noynoy Aquino
Image adapted from: @kriscaquino
While he was a bachelor throughout his life, Aquino has been known for his loving relationship with his nephews and nieces. For instance, he would mention them in some of his public speeches and even noted in a 2013 speech that there are times the problems of the country might seem insurmountable, but he was lucky to have his nephews and nieces by his side.
"May mga araw po, aaminin ko sa inyo, talagang ang bibigat ng mga problema. Napansin ko nga ho 'yung litrato ko noong ako'y ininaugurate, medyo di hamak na mas makapal ang buhok ko noon….Pero napapagod ka 'pag ang bigat ng problemang humaharap sa iyo. Talagang parang kung minsan natapos ka na ring magdasal. Talagang kung minsan, saan ka ba talagang bubunot ng lakas? Mapapalingon ka. Suwerte ko may mga pamangkin [ako]," he said at a Department of Health event in Malacañang in 2013.
This can be translated as "I have to admit, there are days when the problems are really very heavy. I noticed that in my inauguration pictures, I had thicker hair then…You get really exhausted with the weight of your problems. There are times when you're done praying. There are really times when you ask yourself, where can you draw strength? Then you turn around. I'm lucky I have nephews and nieces."
---
7.  He hoped that he had presented the "best face" of the country to the world
---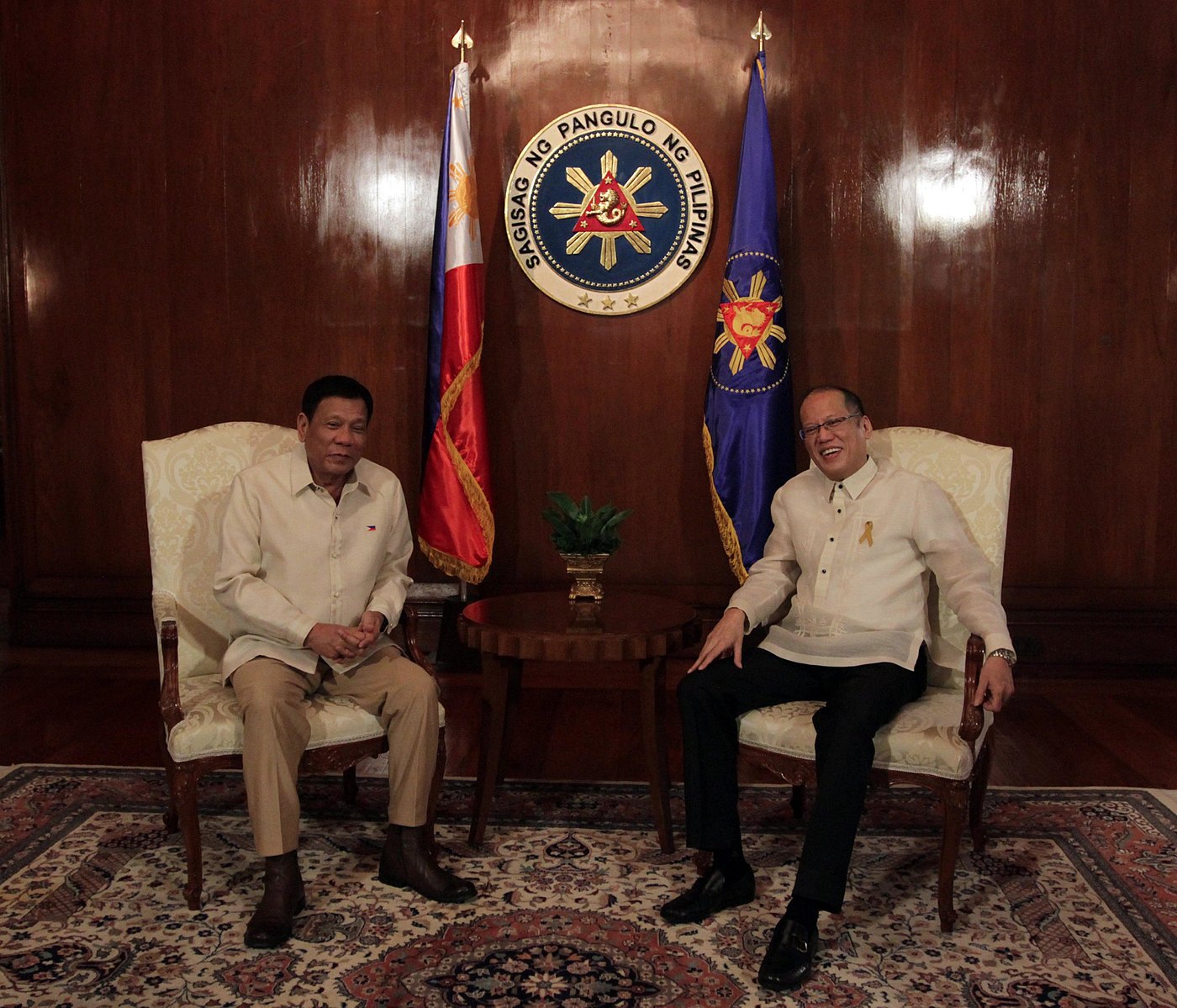 President-elect Rodrigo Roa Duterte sitting beside outgoing President Benigno Aquino III at the President's Hall Sala in Malacañang before Duterte's inaugural ceremony on 30th June 2016
Image credit: Howhontanozaz/Wikimedia Commons
During his last days as the Philippine president, he reflected on his leadership and hoped that he had represented the "best face" of the Philippines to the rest of the world.
In an interview with Maria Ressa in June 2016, he said: "I think I've grown as a person. I hope I've presented the best face of the Philippines. And made the case that our causes our legitimate and we are a worthwhile partner, we really are sincere when we say that when we look at growth, we want growth not on a one-sided basis but on a multidimensional basis for all parties concerned."
---
Benigno 'Noynoy' Aquino III and his legacy
---
Former president Benigno Aquino III's death came to us in the blink of an eye, but his legacies will now be permanently etched onto our national memory.
His administration wasn't perfect, but he did what he could, empowered by the ideals of democracy, to sail through the challenges of the times with us.
Rest in peace to our 15th president, and deepest condolences to the Aquino family.
Also check out:
---
Cover image adapted from: Official Gazette, Rey S. Baniquet/Wikimedia Commons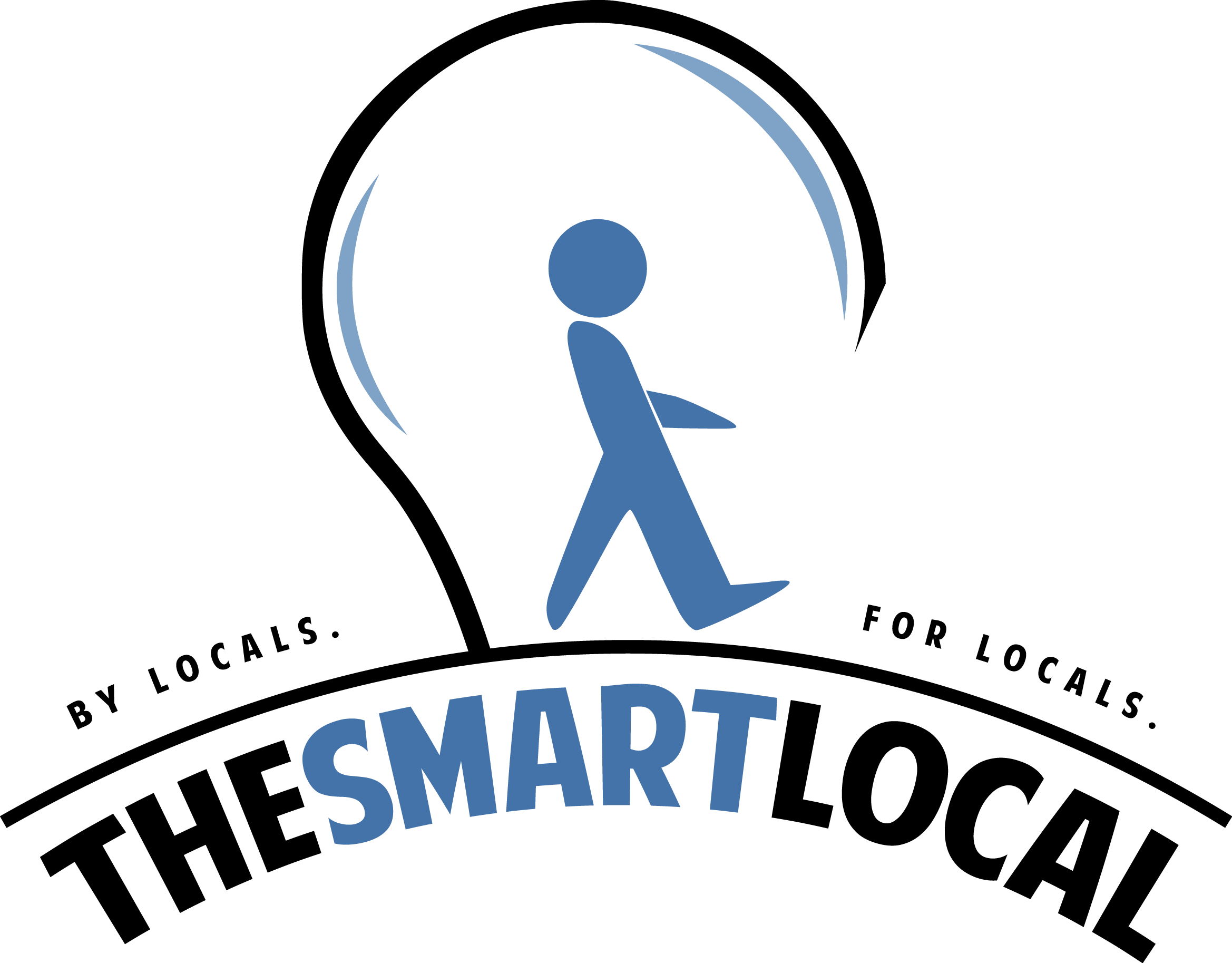 Drop us your email so you won't miss the latest news.