New pandesal flavors
---
Different quarantine food trends have become popular in the past months while everyone's been stuck at home and venturing into their kitchens. From reinventing existing dishes such as sushi bake, to creating new recipes such as dalgona, there's been no shortage of food experiments in the country.
Filipinos have also been coming up with new takes on classic Filipino dishes, such as Pancit Canton, and the OG Pinoy 3 o'clock snack, pandesal. Many different and new pandesal flavors have been born out of Filipinos' kitchens this quarantine period, and you can order and try them yourself.
---
1. Strawberry cream cheese pandesal – from Purple Dough
---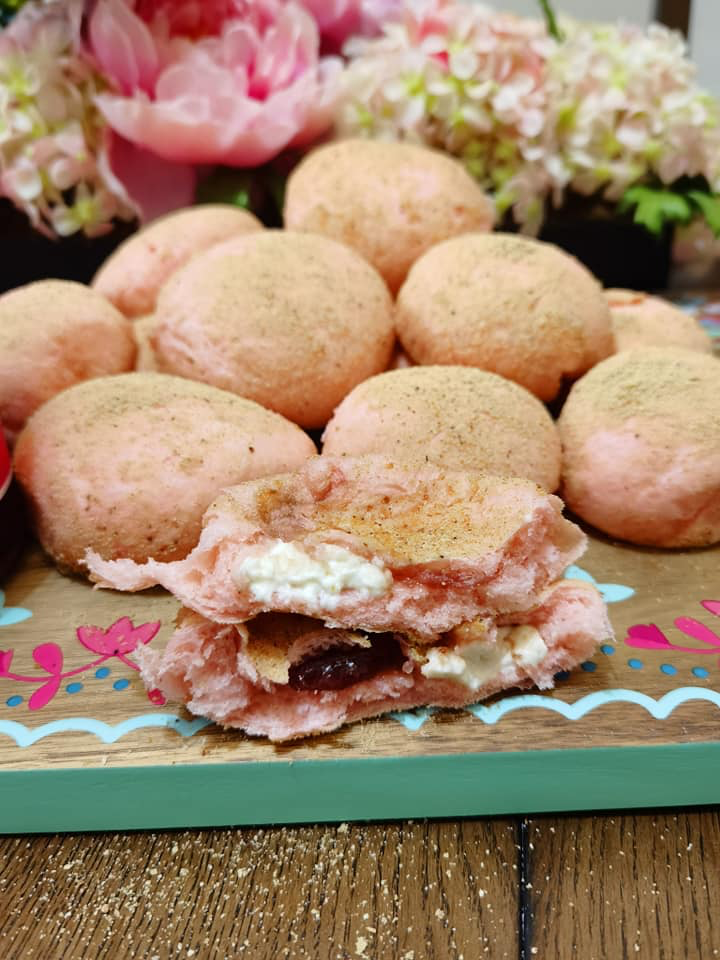 Image credit: Purple Dough
Strawberry shortcake doesn't just come in cake or cupcake form anymore – it's now in a pandesal flavor too. This pandesal is filled with strawberry jam and cream cheese, similar to what you'd find in a strawberry shortcake. 
The best difference is that you won't need a fork and plate to eat this – you can have this snack mess-free and on the go.
Strawberry-lovers can order this flavor from Purple Dough at P250 (~USD5) a dozen.
---
2. Ube and cheese pandesal – from LaViestdale
---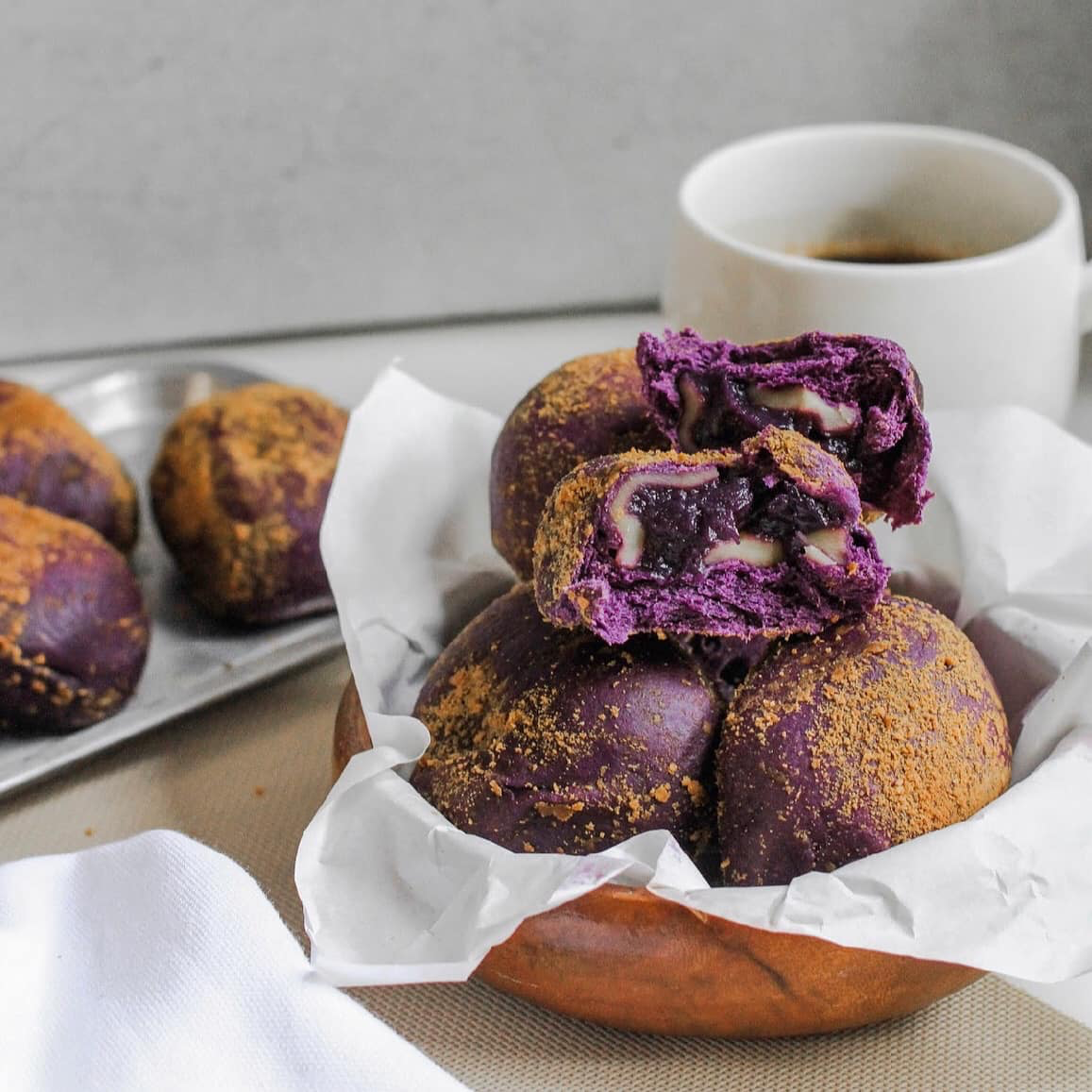 Image credit: LaViestdale
Though ube pandesal already existed before the quarantine period, its popularity shot up in the past few months, and variations of the ube pandesal also started to pop up.
These ube cheese pandesals from LaViestdale come with a generous filling of ube halaya or jam, and two different types of cheese you can choose from: cheddar cheese or cream cheese. Prices start from P225 (~USD4.50) for a box of 10.
---
3. Matcha pandesal – Miss B's Infused Honey
---

Image credit: Amidala Lizares
We all remember a time when matcha was a new flavor – this trend peaked in the 2010s. Over the years, however, the flavor has become less of a craze and more of a classic, becoming a flavor you can find everywhere.
That's why it only makes sense that matcha pandesal would eventually become a thing. You can get your matcha cream cheese-filled buns from Miss B's Infused Honey, starting at P200 (~USD4) a dozen. You can also choose to mix the dozen up with their other flavors – chocolate, caramel, ube, and cheese.
---
4. Red velvet pandesal – from Baker 'n Better
---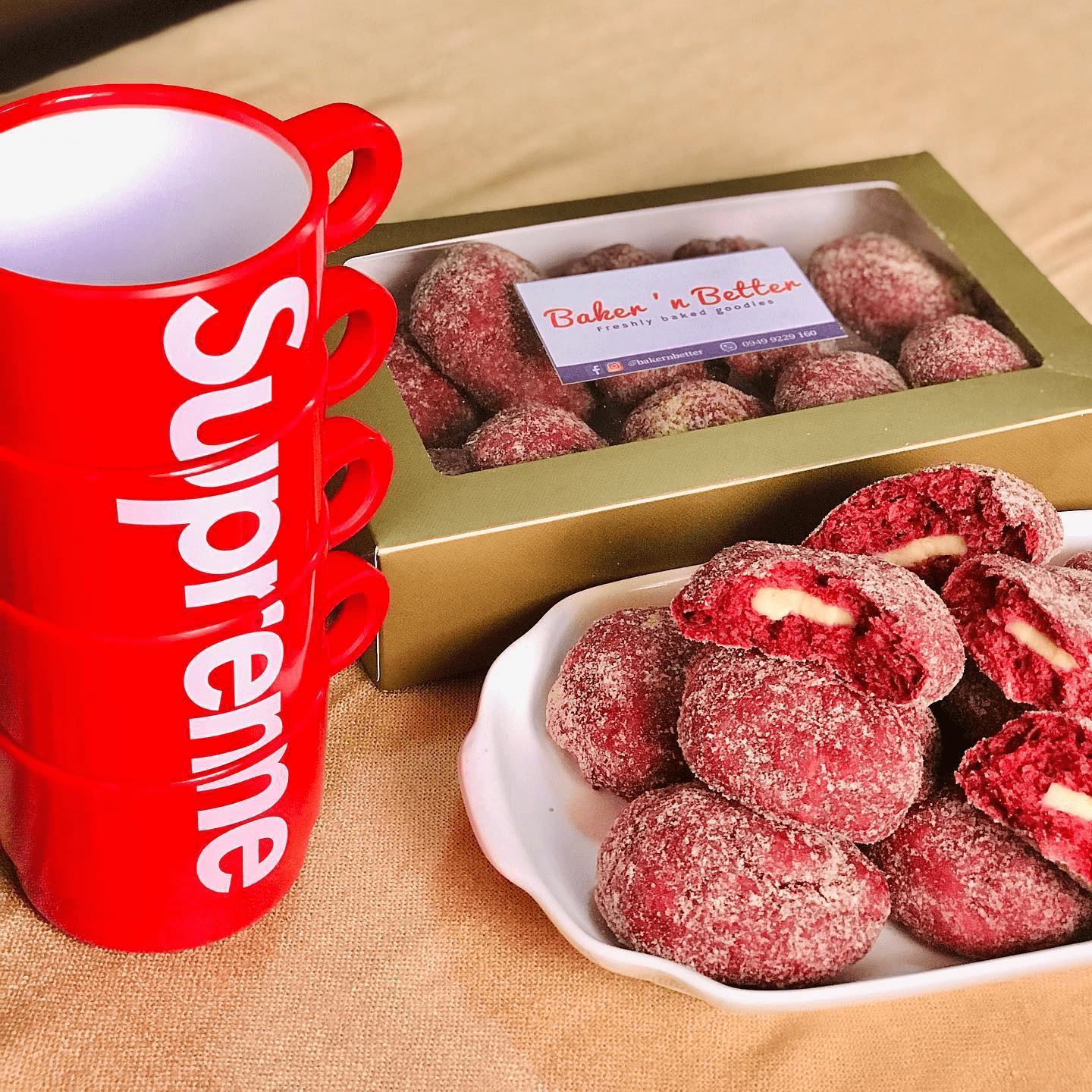 Image credit: Baker 'n Better
Red velvet is a flavor for any dessert you can think of – cake, milkshakes, and even those crinkle cookies that you've probably come across during a bazaar or a university's fund-raising event. Now you can get your pandesal in the popular flavor too. 
You can get bright red, cream cheese-filled red velvet pandesal from Baker 'n Better at P150 (~USD3) for 10 pieces.
---
5. Mango pandesal – from Bread Crumbs Bread Shop
---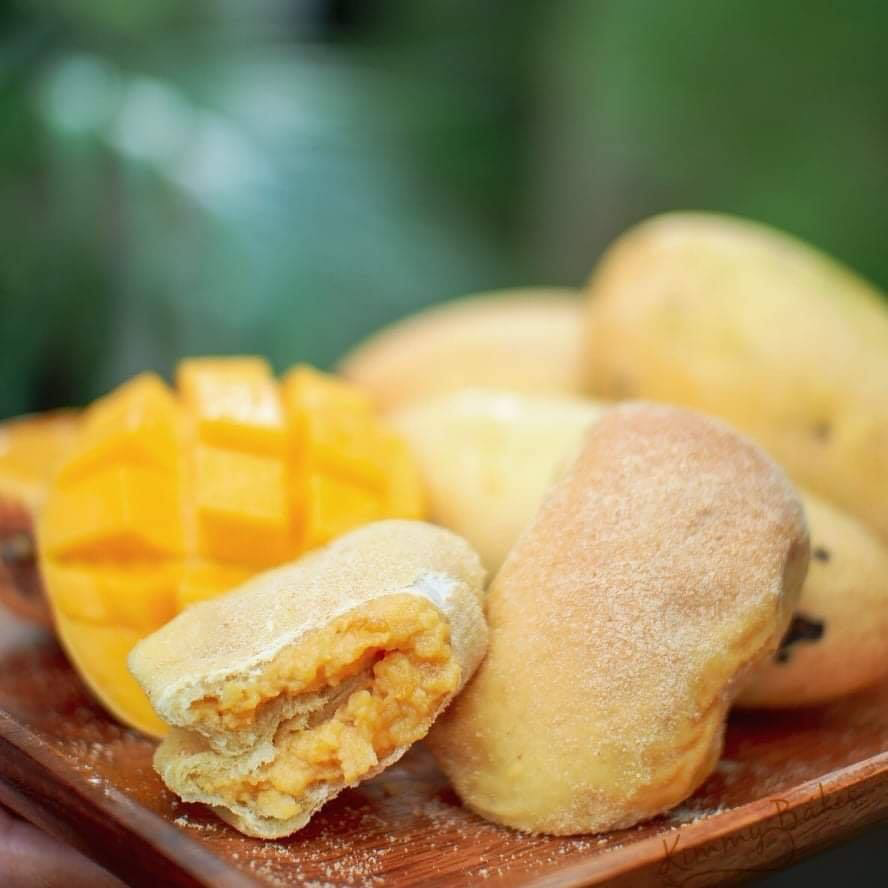 Image credit: Kimmy Bakes
Mango might just be every Filipino's favorite fruit, considering it's our unofficial national fruit. Which is why the combination of mango and pandesal is such a Pinoy combination that we shouldn't miss out on.
At P20 (~USD0.40) a piece, you can get these pandesals filled with mango jam from Bread Crumbs Bake Shop.
---
6. Chocolate pandesal – from VCCI Bakeshop and Kimmy Bakes
---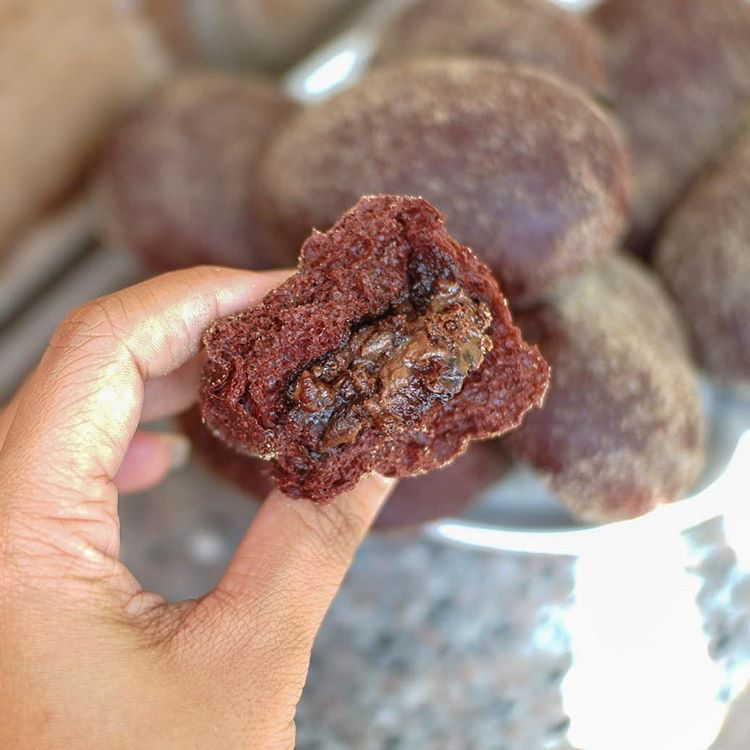 Image credit: @thelowkeyhubadera
There're so many different types of chocolate, which means that there are many ways to make chocolate pandesal for the most discerning of sweet tooths.
For example, VCCI Bakeshop's chocolate pandesal is filled with chocolate fudge, and you can get them for P185 (~USD3.75) a dozen. On the other hand, Kimmy Bakes' version is filled with hazelnut chocolate, just like Nutella, available for P200 (~USD4.00) per 10 pieces.
---
7. Bavarian pandesal – from AMBOS Panaderia
---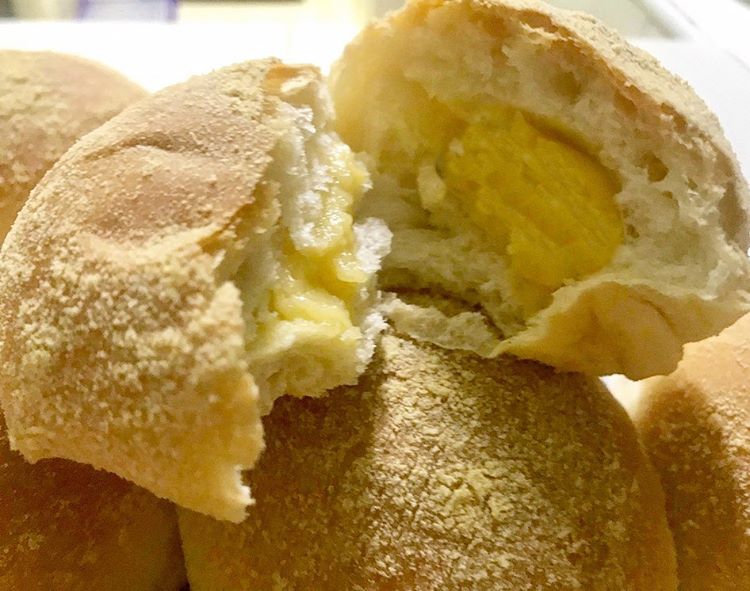 Image credit: @ambos.x
Most of us are familiar with the Bavarian flavor from the assorted boxes of doughnuts our parents would bring home from work. AMBOS Panaderia brings us the familiar flavor in their Bavarian pandesal. They fill their bread with Bavarian cream, which is made of milk, eggs, gelatin, and whipped cream.
These bavarian cream-filled pandesals go for P75 (~USD1.50) for 6 pieces and P145 (~USD1.90) for a dozen, and you can order via Facebook or Instagram messaging.
---
8. Caramel pandesal – from Miss B's Infused Honey
---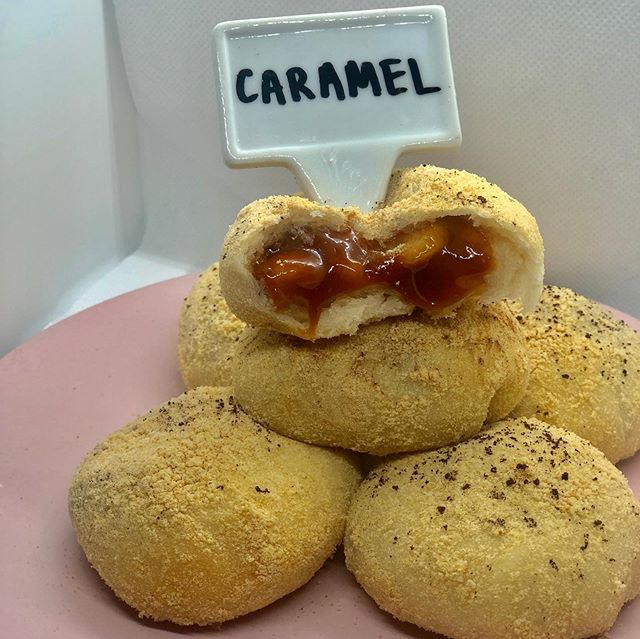 Image credit: @missb_infusedhoney
A lot of Filipinos are fans of sweets, which is why caramel-based desserts such as turon (banana egg roll) and leche flan (custard flan) are such a big hit. Now, the classic pandesal joins the roster of Filipino caramel delights.
The caramel pandesal is filled with sticky and sweet caramel sauce, which is a perfect flavor paired with the otherwise plain dough. For only P180 (~USD3.80), you can satisfy your sweet tooth with a dozen of these from Miss B's Infused Honey.
---
9. Malunggay pandesal – from Echague Bakery
---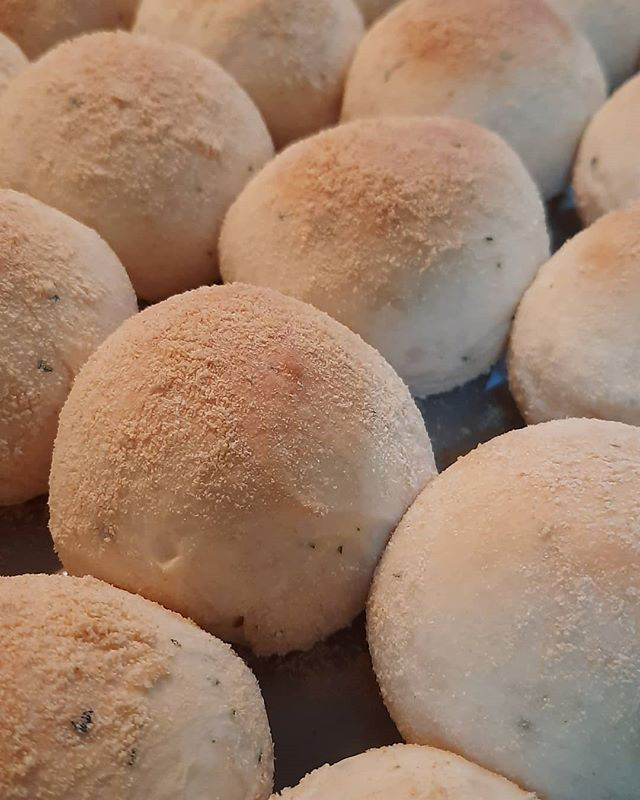 Image credit: @doughjuanph
For those who are health-conscious but still want their pandesal a little different than the usual kind, the malunggay (moringa) pandesal is just the right bread for you. It puts a twist on the pandesal that won't spike your sugar level up, because they're infused with malunggay, a green, leafy vegetable that Filipinos enjoy.
These buns go for P58 (~USD1.16) per pack of 10 from Echague Bakery.
---
10. Pandan pandesal – from Pan de Marino and Mrs. Pandesalan
---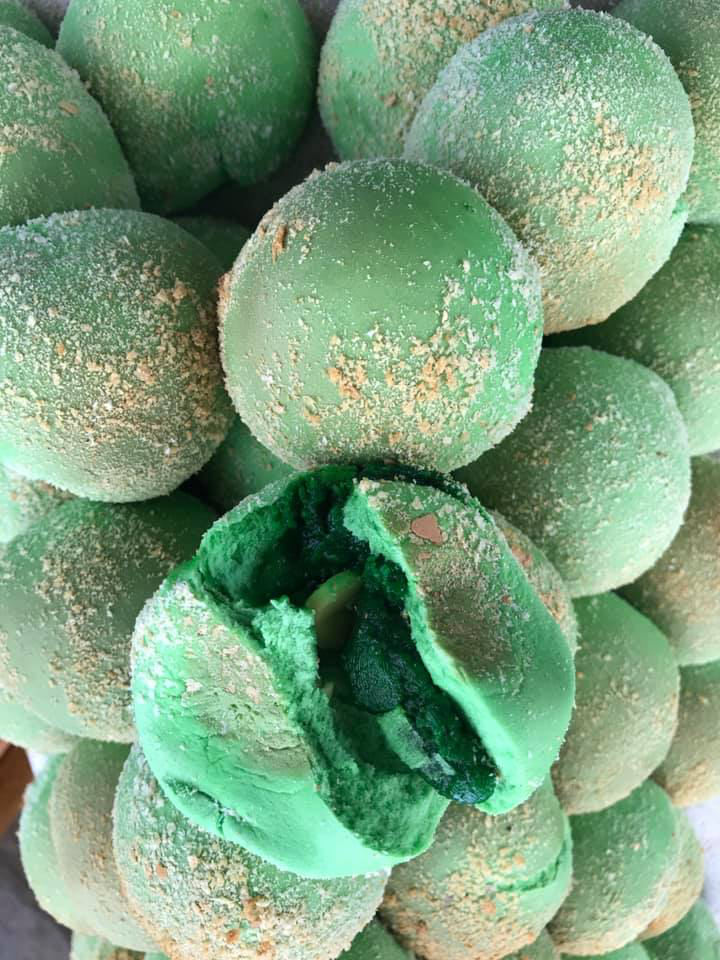 Image credit: Pan de Marino
For those who love those huge bowls of buko (coconut) pandan present at almost every Filipino occasion, the new pandan pandesal might just become your new favorite bread. This pandan-flavored dough is also filled with cheese, and you can get these from Mrs. Pandesalan for P12 (~USD 0.24) a piece.
As for those who live in Albay, you can get your pandan pandesal, which is filled with pandan jam and cheese, for only P5 (~USD0.10) a piece from Pan de Marino.
---
11. Blueberry cream cheese pandesal – from Flavours by Yna
---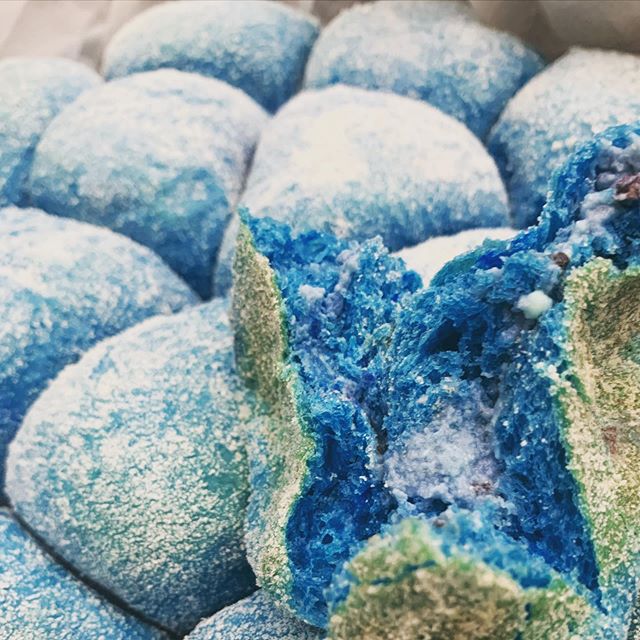 Image credit: @flavoursbyyna
The blueberry pandesal might just be the prettiest type of pandesal you'll come across. The blue dough alone is probably enough reason to get these, especially for those who love the color.
But apart from being super Instagrammable, these buns are also infused with a blueberry and cream cheese filling that you won't find anywhere else as of writing. You can only get the unique flavor from Flavours by Yna for P240 (~USD4.80) a dozen.
---
12. Peanut butter pandesal – from Flavours by Yna
---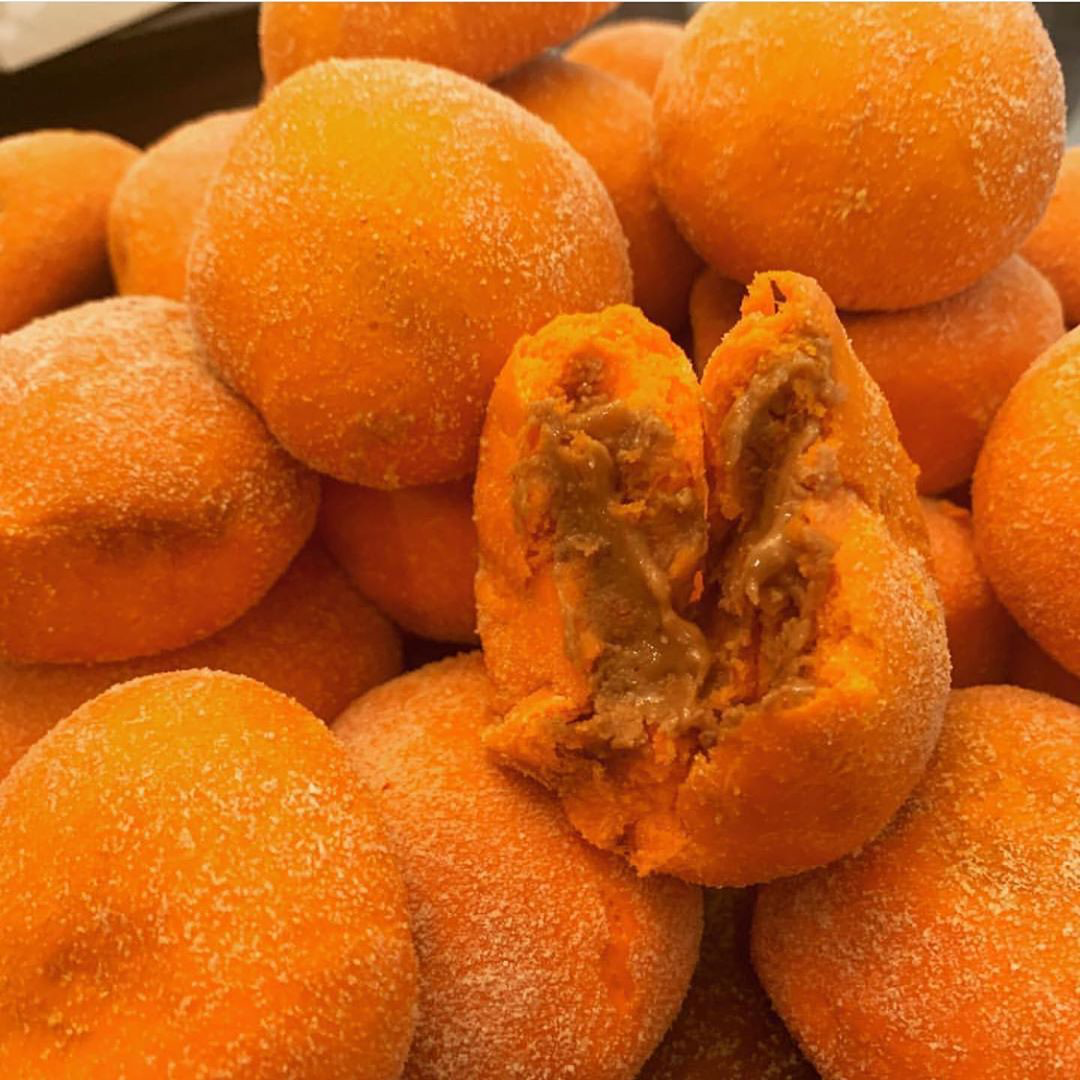 Image credit: @flavoursbyyna
Another unique flavor from Flavours by Yna is the peanut butter pandesal. The cream in these pandesal are likened to those in Reese's peanut butter cups, and if that doesn't convince peanut butter lovers to buy them yet, we don't know what will.
These buns also come in bright orange, similar to the orange wrappers of Reese's peanut butter cups too. You can get the pandesal for P240 (~USD4.80) a dozen.
---
Twists on the classic pandesal
---
Even before the quarantine, pandesal was already a diverse snack – a bread that you could enjoy with either a sweet or savory spread, or sandwich meat, noodles, or even ice cream with. The possibilities were endless, and these new pandesal flavors only prove that even further.
Also check out:
---
Cover image adapted from: Flavours by Yna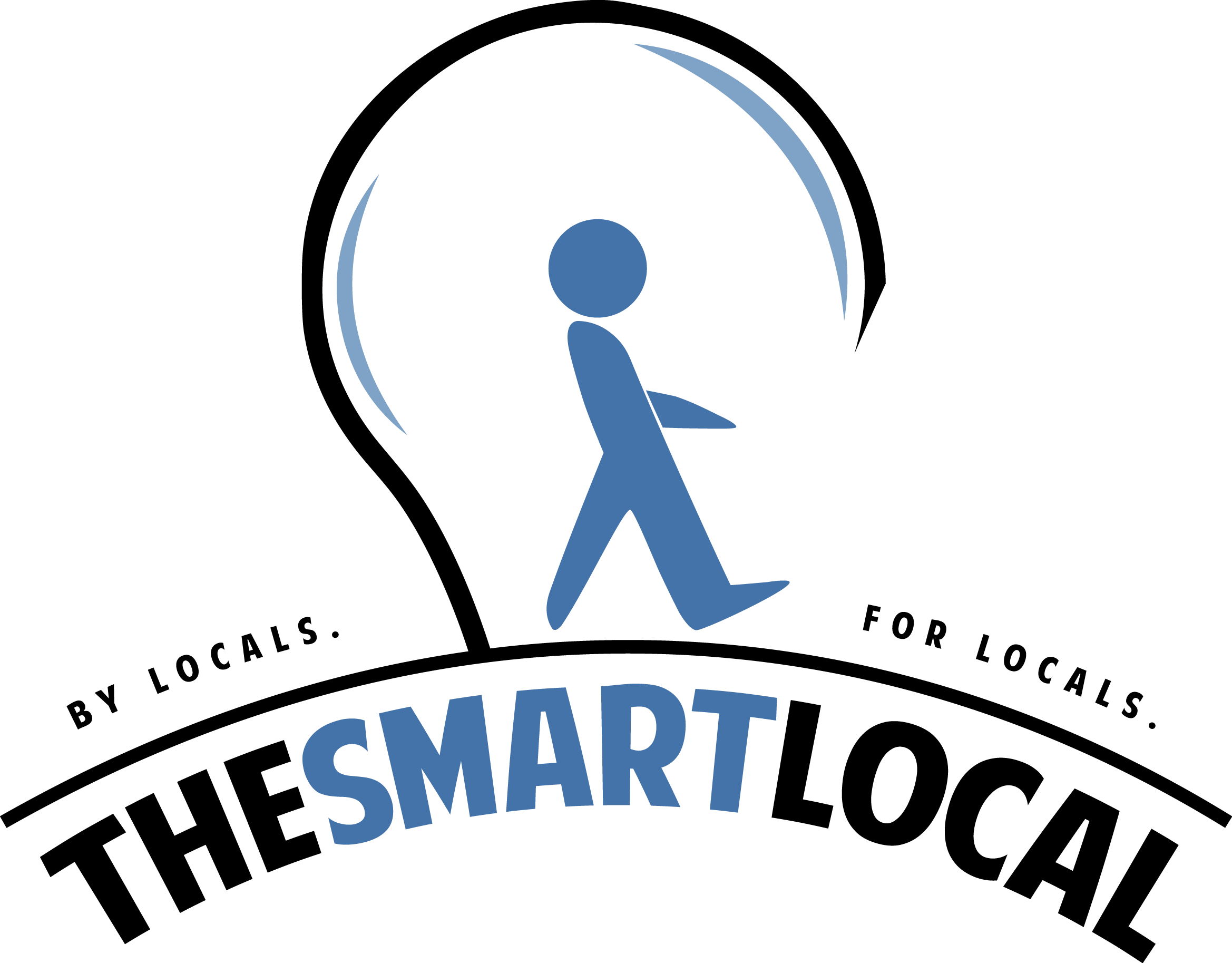 Drop us your email so you won't miss the latest news.