2024 planners in the Philippines
---
Whether you have big plans to make positive changes in your lifestyle for 2024 or simply want to jot down your daily activities, a planner can help you stay productive and make concrete efforts towards your goals.
If you haven't bought your planner for next year, here's a list of different 2024 planners you can buy in the Philippines based on your priorities.
---
1. Where To Next – for travelers to plan seamless and meaningful trips
---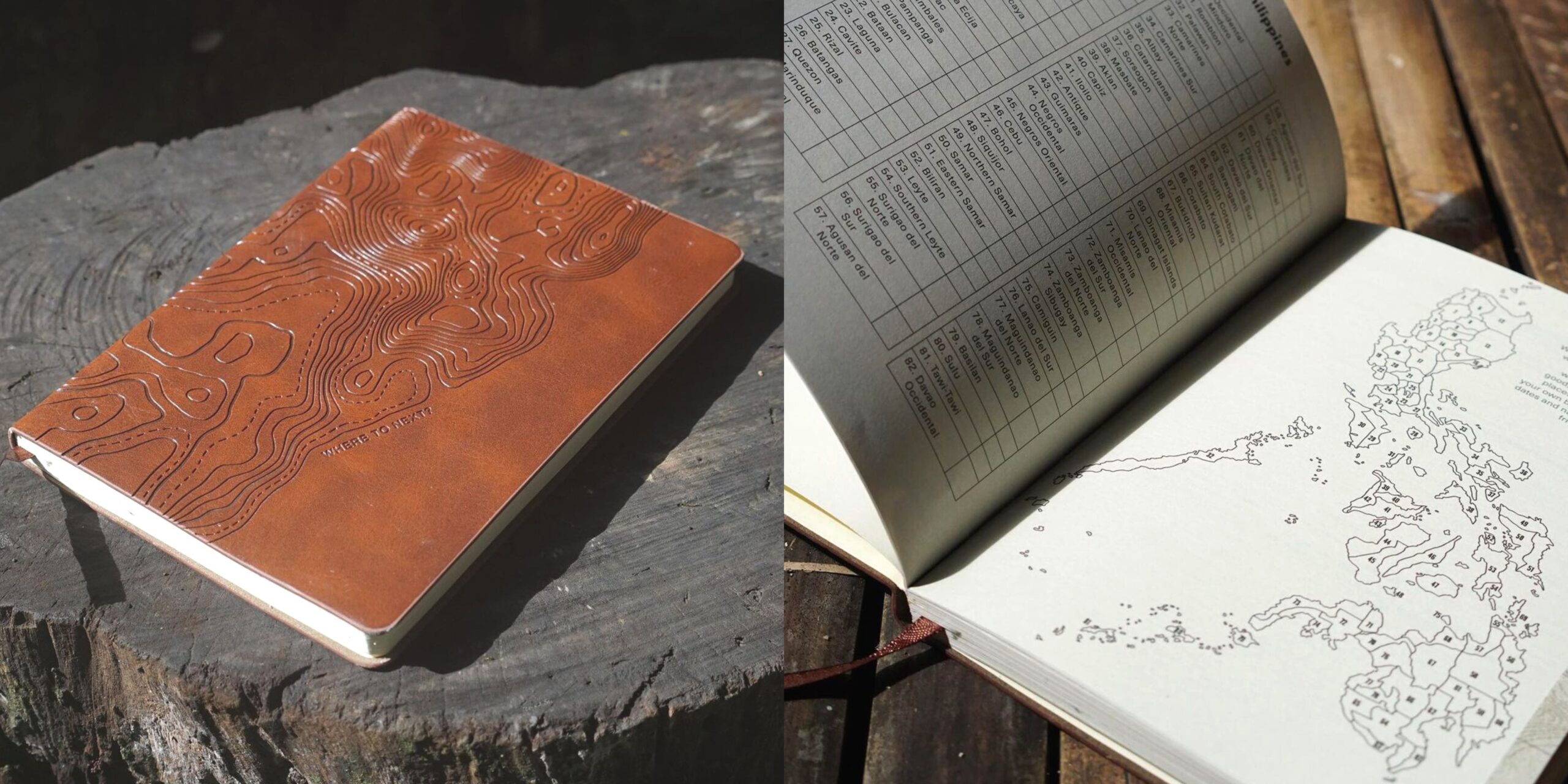 Image credit: @wtn_wheretonext via Instagram
For effortless and purposeful travels in 2024, check out the On Endings and Beginnings Planner by Where To Next (P900, ~USD16.13).
Beyond the usual calendar and undated monthly and weekly spreads, it includes a Philippine provinces checklist, a world map, and more. Meant to inspire meaningful journeys, it contains 11 stories of endings and beginnings and an interactive page for crafting your story.
The planner has a sophisticated leatherette cover featuring a topography-inspired design and a Smythe-sewn binding, making it both elegant and durable so you can bring it on your travels. Plus, it even has a convenient back pocket for storing your travel tickets.
You won't only be keeping your travels organized when you purchase this planner. You'll also help fund livelihood programs for Aeta communities in Yangil and Botolan, Zambales.
Get the Where to Next Planner here.
---
2. Muji Philippines – minimalist, monthly planners that come in different sizes
---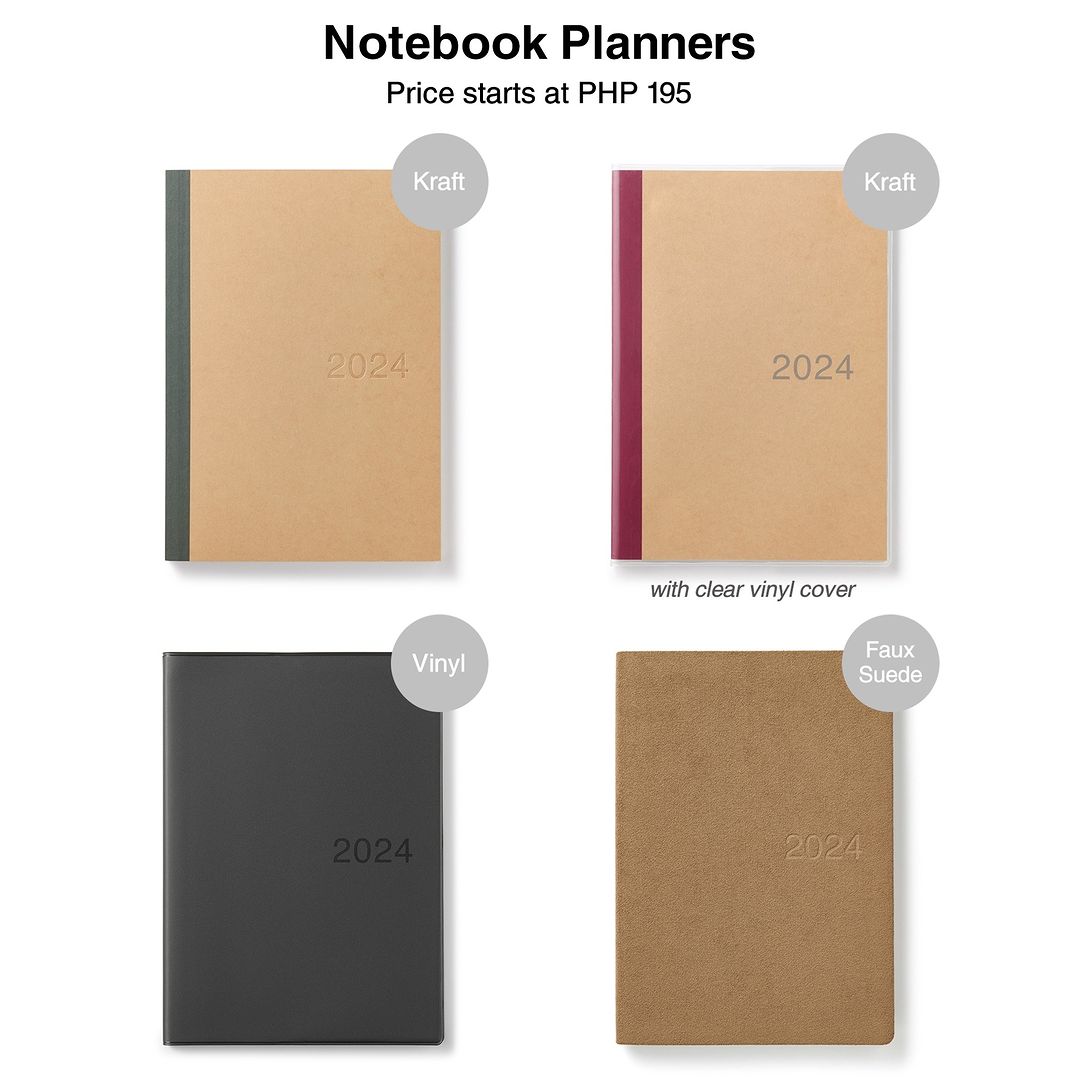 Image credit: @muji_ph via Instagram
If you want a straighforward planner that won't break the bank, check out Muji Philippines' 2024 planners from P195 (~USD3.49).
These minimalist planners offer a monthly calendar spread, a weekly layout, and grid pages for your notes. And with pages spanning from December 2023 to January 2025, so you can conveniently plan your year ahead.
Muji's minimalist monthly planners c0me in various cover options, namely craft, vinyl, polypropylene, and faux suede. They also come in a range of sizes from B7 to A5 to suit different preferences and needs.
You can even customize any stationery purchase at Muji at the free-for-all stamp booths located at their stores.
Get Muji Philippines' 2024 planners at any of their outlets nationwide or on their website here.
---
3. Belle de Jour – helps you destress by giving you access to healing vibrations
---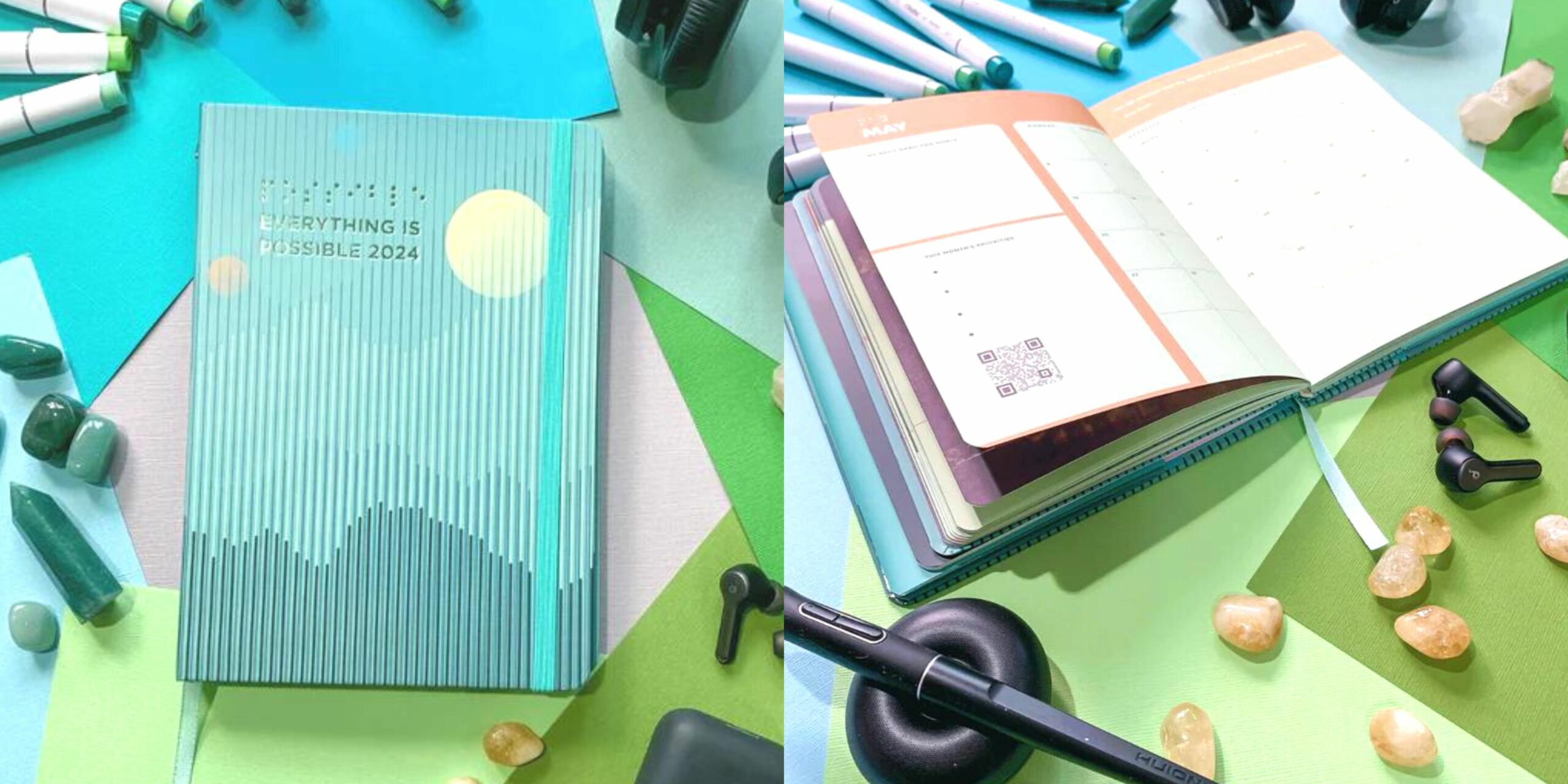 Image adapted from: ilovebdj.com
Belle de Jour's 2024 Everything is Possible Planner (P749, ~USD13.42) won't just help you achieve a well-balanced life by keeping track of your schedules. It aids relaxation with scannable QR codes leading to calming nature sounds tuned to 417hz, like a relaxation hack.
To help you enrich your life in 2024, the planner also includes Vision Setting, Journaling Prompts, and Goal Setting pages. It even comes with a 24-page lined or dotted notebook, making it a one-stop spot for all your planning and journaling needs.
The planner boasts a simple yet unique cover that uses cardstock wrapped in art paper in refreshing shades of green. Its 100GSM pages are perfect for using fountain pens or watercolors, making it ideal for creative journaling.
Get the 2024 Everything is Possible Planner here.
---
4. Art Capitol – minimalist planner for students
---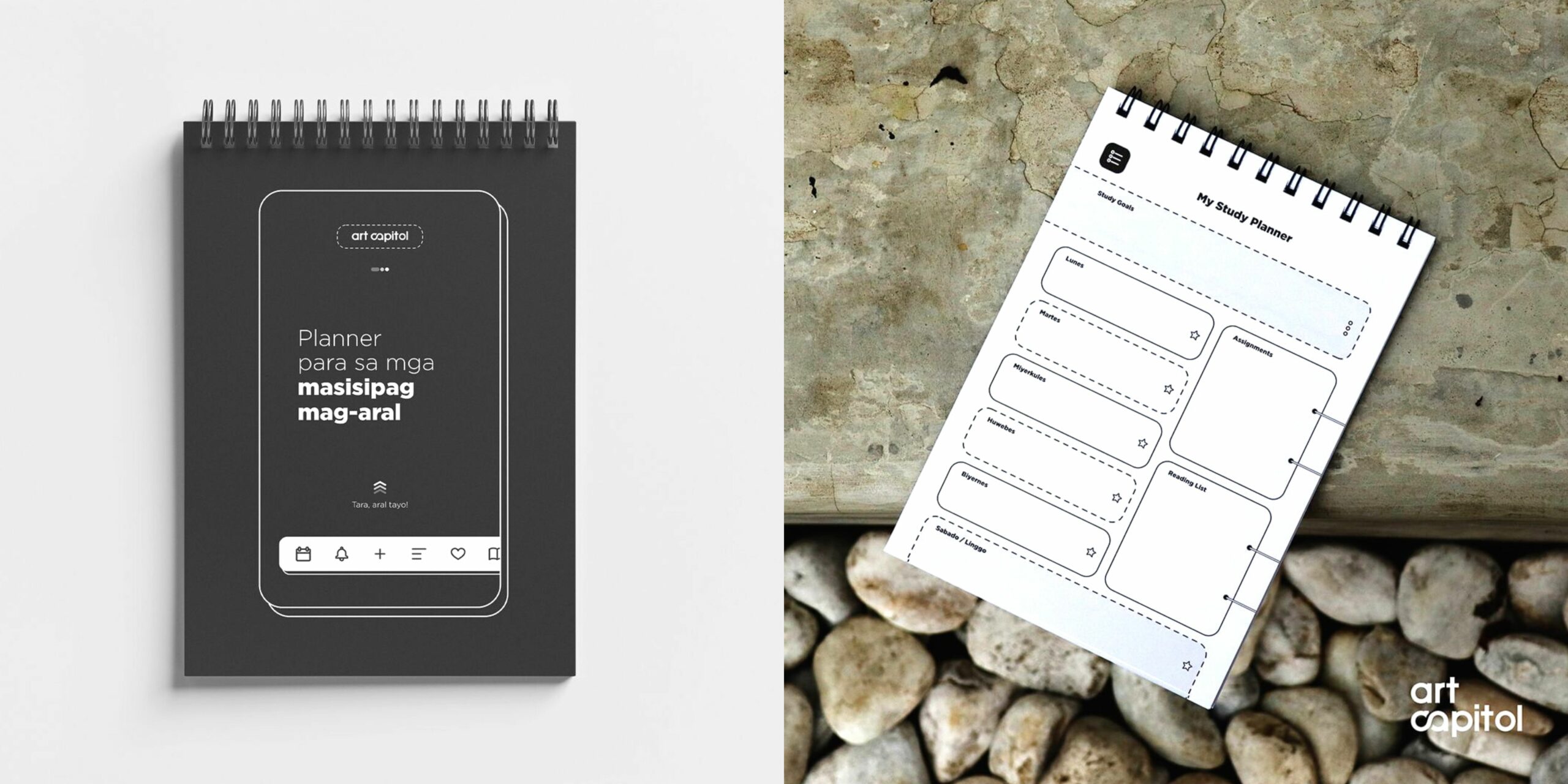 Image adapted from: @artcapitolofficial via Instagram
Students looking for an affordable yet functional planner should consider Art Capitol's Planner Para Sa Mga Masisipag Mag-Aral (P299, ~USD5.36).
It's a 6-month study planner with monthly and weekly timeline spreads, personal trackers, as well as sections for notes and to-dos. It's designed to help you plan your days, keep track of your tasks, and develop a study habit that works for you.
This spring-bound planner will blend right in with your notebooks. It has a sleek black cardboard cover with a matte finish and even its pages are minimalist to keep you focused on your study goals.
Get the Planner Para Sa Mga Masisipag Mag-Aral here.
---
5. Piso Planner by Chinkee Tan – undated financial planner
---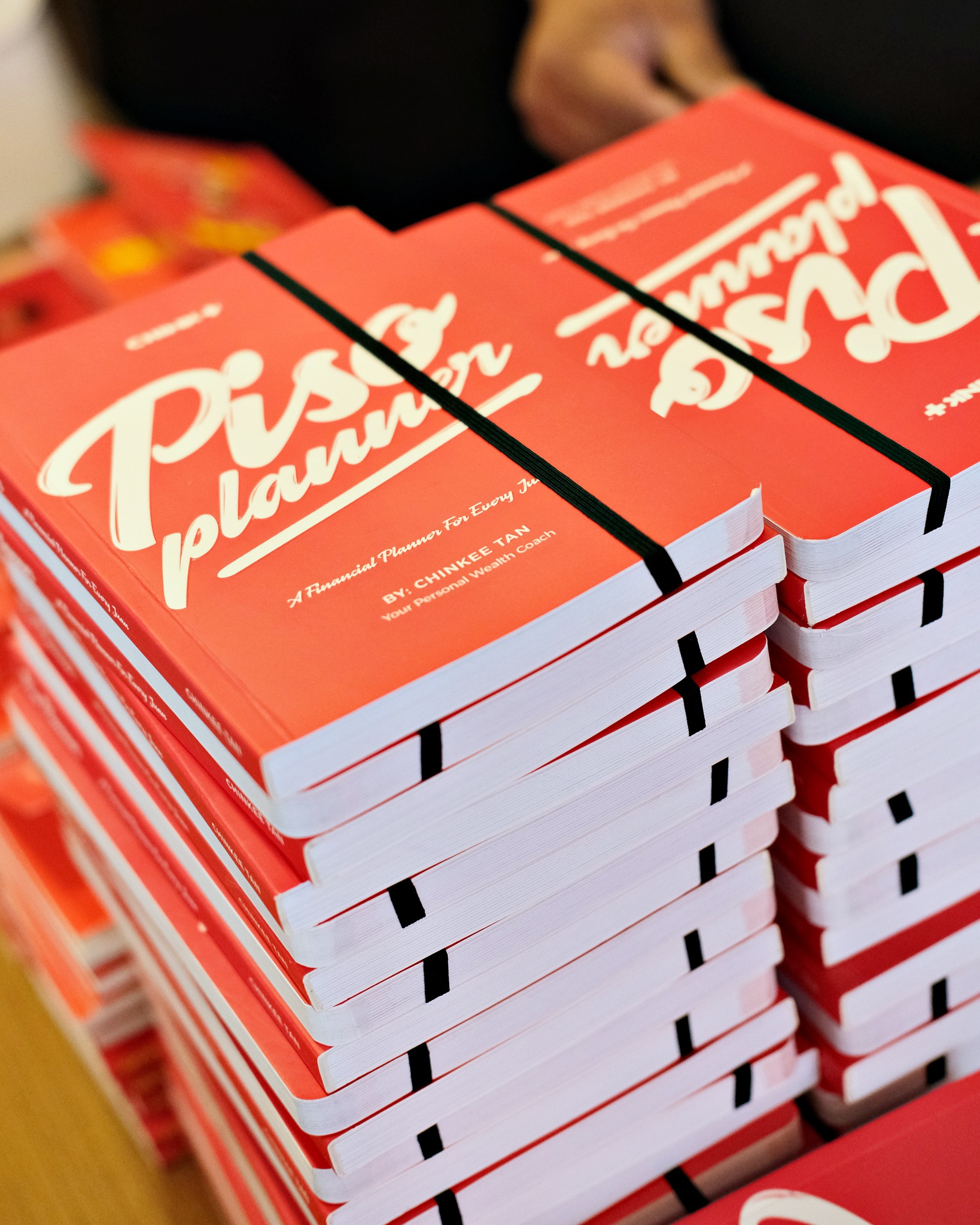 Image credit: Chinkee Tan via Facebook
If your New Year's Resolution is to make more conscious financial decisions, check out the Piso Planner (P335, ~USD6.00) from financial guru, business mentor, and best-selling author, Chinkee Tan.
This planner is your go-to for mastering your money game. It's designed to help you manage your finances, with weekly expense and savings tracking tools, a bill due date checklist, and a nifty "ipon challenge shade chart" to keep you on target for your savings goals.
This specialized planner comes in 2 colors – classic red and sleek white.
Get the Piso Planner at any National Bookstore outlet nationwide or on their website here.
---
6. Moleskine – classic, corporate-friendly planner
---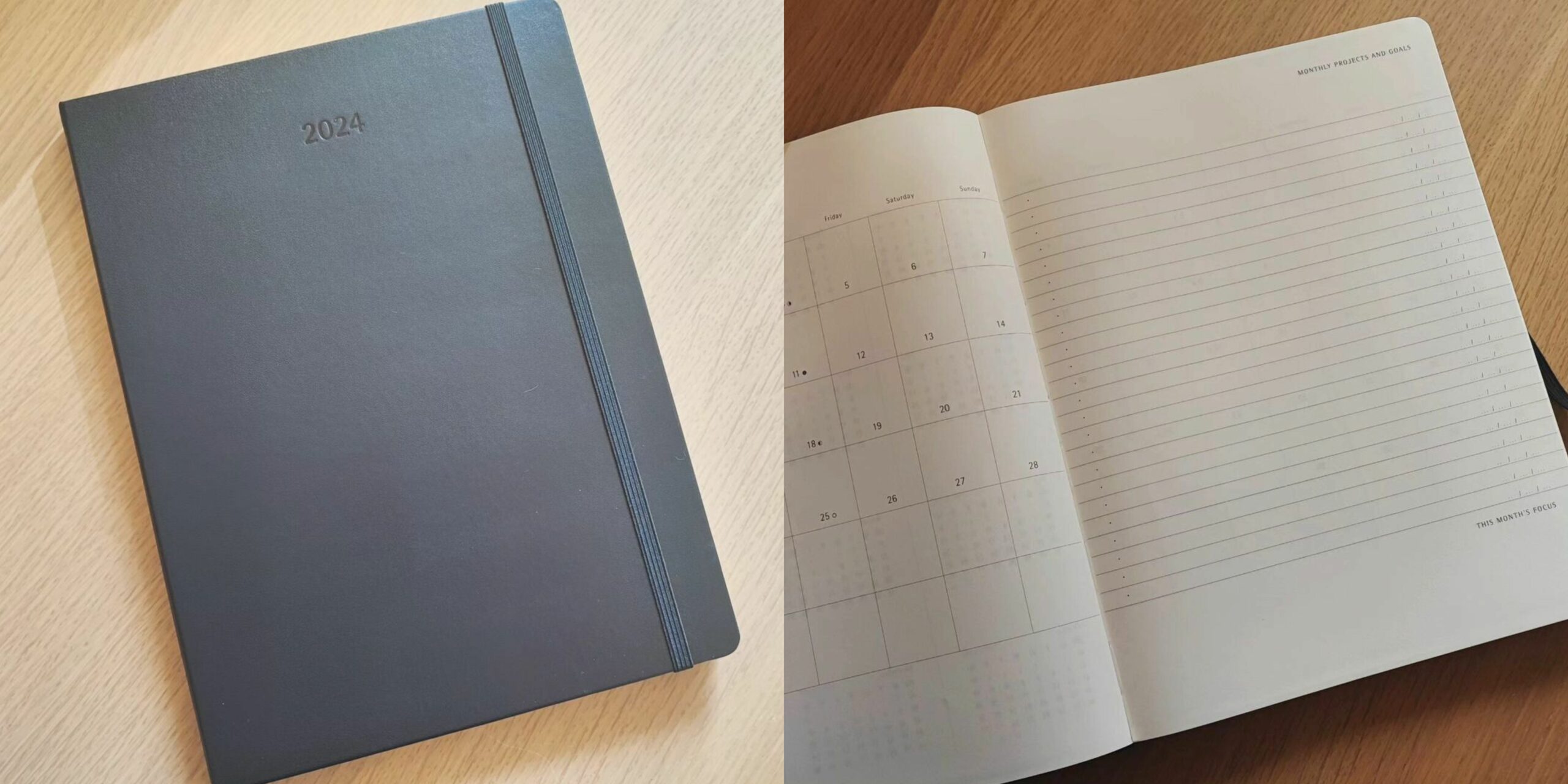 Image adapted from: @mariellessmith via Instagram
For those who love timeless, time-tested designs, go for Moleskine (starts at P1,590, ~USD28.50). This long-trusted stationery brand offers many variations of its planners to suit your preference.
Choose between daily or weekly, large or small, and hard or soft cover Moleskine planners. You also have different, corporate-friendly colors to choose from.
On top of these, Moleskine's 2024 planners look chic, with rounded corners and ivory pages that lay flat as you write on them. Inside, their planners are packed with calendar, travel planning, ideas and goals, and ruled pages for jotting down notes.
Get the Moleskine Planner at any Fullybooked outlet nationwide or on their website here.
---
4. The Purple Press – subtle and functional BTS merch
---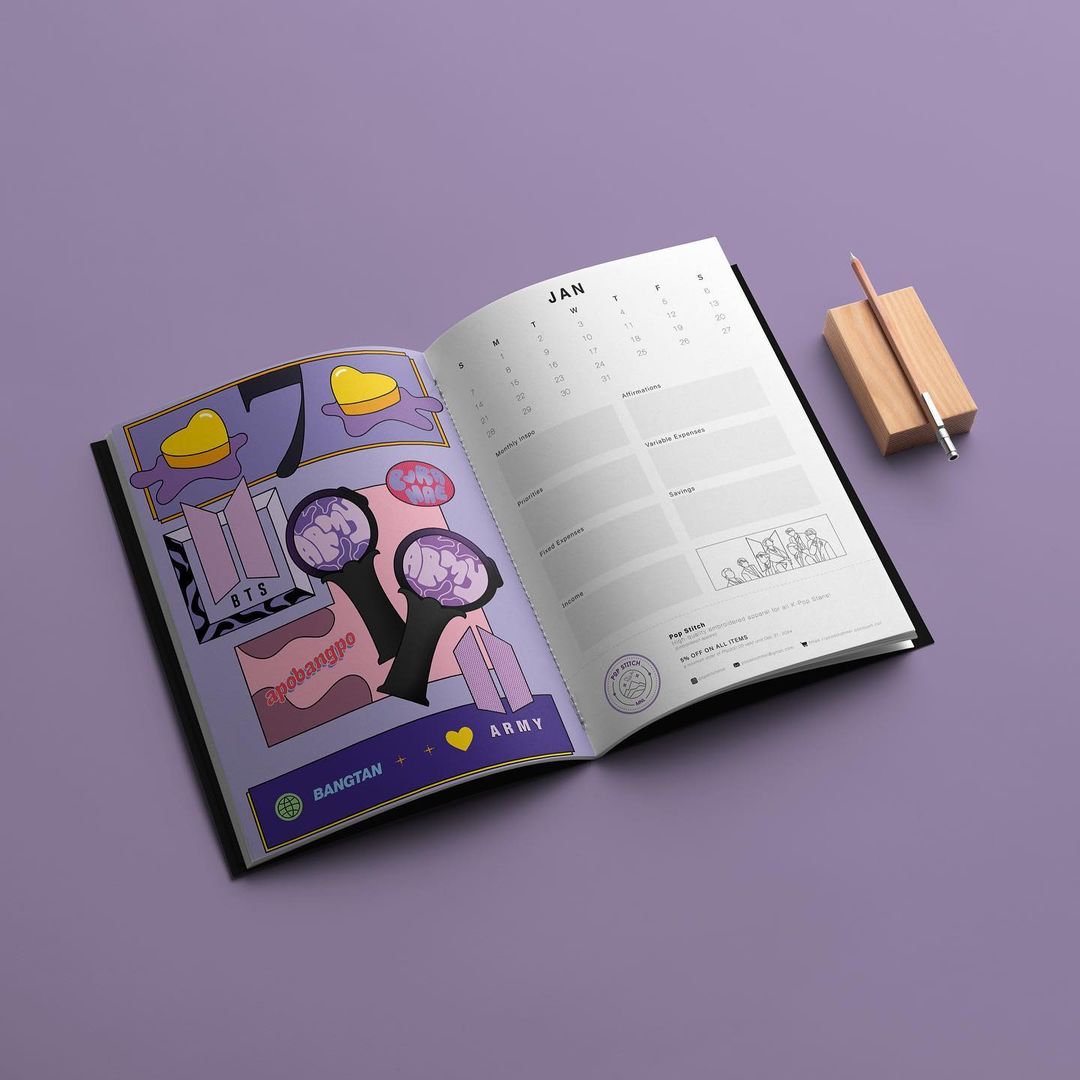 Image credit: @thepurple.press via Instagram
If you and your ARMY friends love subtle BTS merch, get yourselves 2024 planners from The Purple Press (P1,299, ~USD23.28).
Its subtle black hardcover embossed with the lyric "not 7 with you" will only be detected by your fellow ARMY. But inside, its monthly spreads and daily planners are sandwiched between BTS-inspired art.
Moreover, this BTS-themed planner promises a premium writing experience, with an open-spine cover for easy, flat writing and fountain pen-friendly ivory pages.
It also includes a minimalist calendar accordion featuring photos of BTS members, adding inspiration to your work or study routine.
Get The Purple Press' 2024 planner here.
---
8. C&S Designs – mix and match covers and refills
---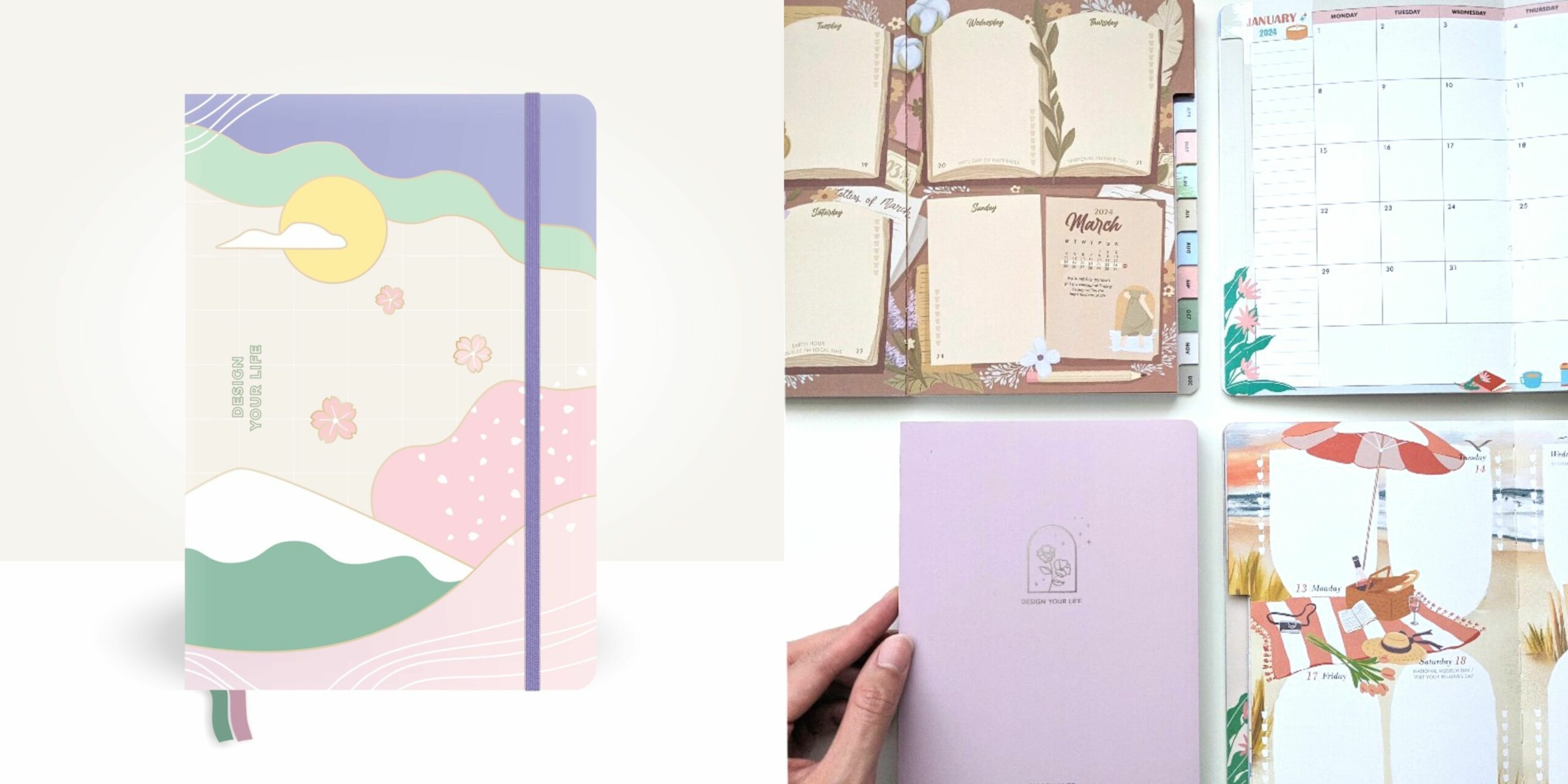 The Cherry Blossoms cover with the Design Your Life 2024 refill.
Image credit: C&S Designs via Shopee
C&S Designs offers separate planner covers and refills so you can personalize your planner according to your preferences. This doesn't only give you the freedom to customize but also encourages sustainability, allowing you to reuse your cover each year.
They have 5 covers (P329, ~USD5.89) to choose from – from sleek black and cream options to beautifully crafted pastel designs.
In terms of refills (P649, ~USD11.61), there are 3 choices available. 'Back to Basics' is a minimalistic weekly and monthly planner, 'Design Your Life' offers themed monthly layouts, and 'Limitless' provides an undated 53-week spread with hourly scheduling, available in horizontal or vertical formats.
Beyond scheduling, their planners include lifestyle, organization, and finance tools, along with sections for personal and social reflections.
With an open-thread binding, their planners also open flat for easier note-taking.
Get the C&S Design planners here.
---
2024 planners to keep you on track
---
Local and international brands have gotten creative with their planners in recent years, and it's progress we love to see. These 2024 planners will not only help you become organized but also motivate you to become a better version of yourself.
If you're looking for items to give friends and family for the upcoming holidays, check out these Christmas gift ideas. Or if you're still on the hunt for festive decor, check out these online Christmas decor shops.
---
Cover image adapted from:
This article was originally published on 16 December 2022 by Kim Shelly Tan. Last updated on 10 November 2023.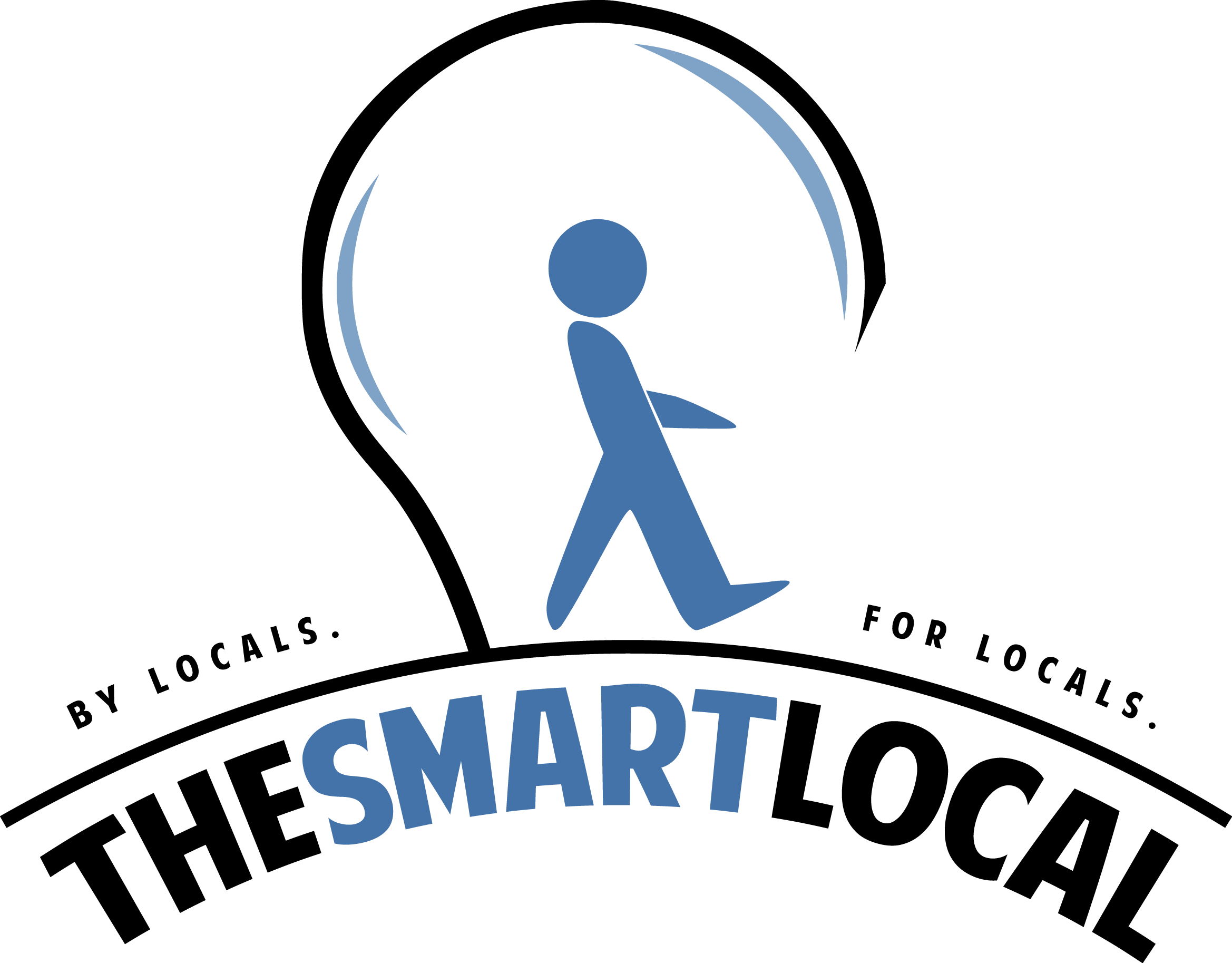 Drop us your email so you won't miss the latest news.