HORI7ON facts
---
If you're a fan of both P-pop and K-pop, you'd be delighted to know about the new boy group HORI7ON, which just debuted on 24 July 2023. It's an all-Filipino boy group based in South Korea, and they're positioned to be a global pop act.
To be one of the group's first fans, dive into this list of HORI7ON facts – from their survival show beginnings to their exciting debut activities.
---
1. HORI7ON consists of 7 members.
---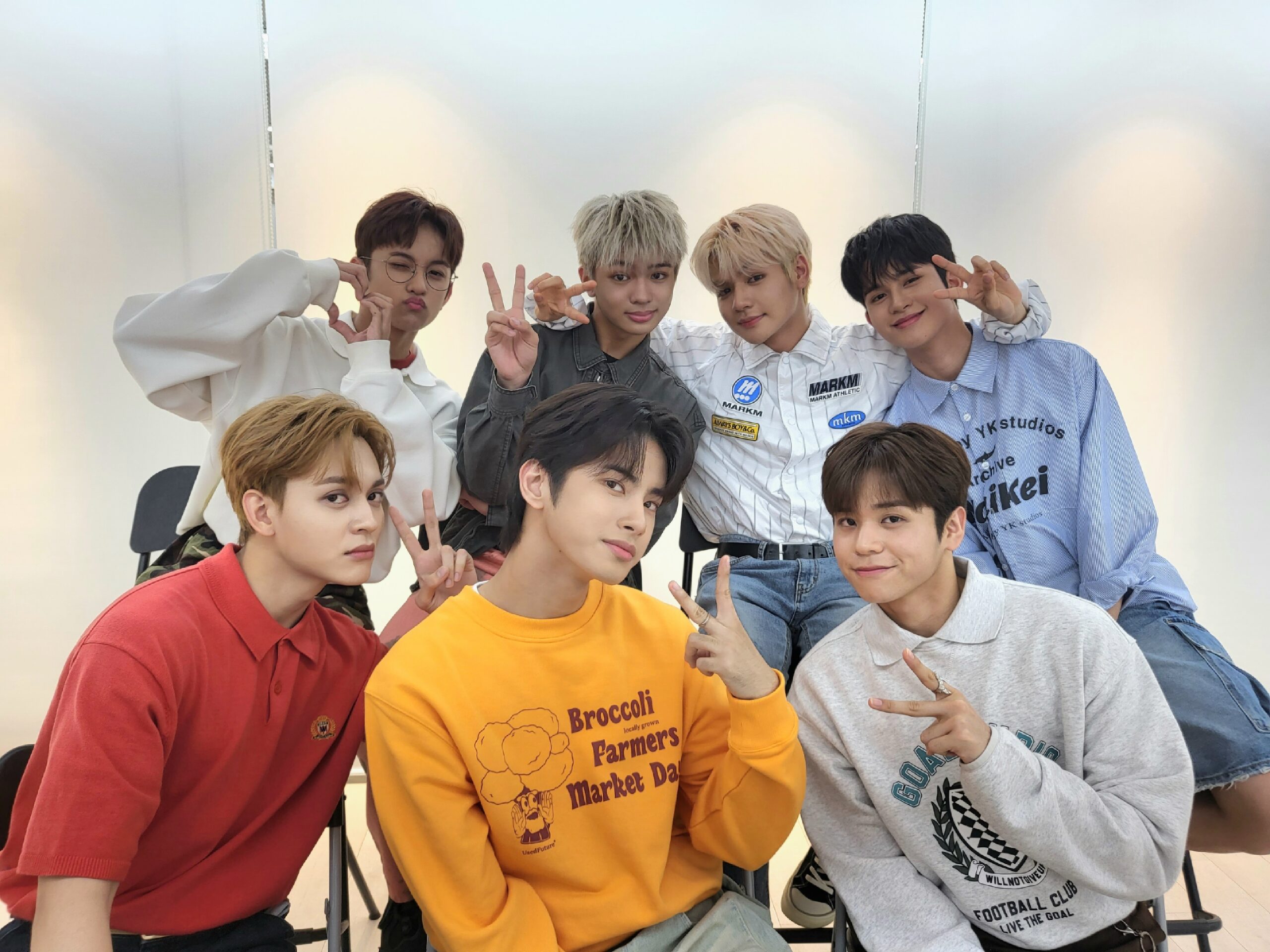 Image credit: @HORI7ONofficial via Twitter
If the group's name doesn't give it away, HORI7ON has 7 members – Vinci, Kim, Kyler, Reyster, Winston, Jeromy, and Marcus.
The oldest member and leader, Vinci, was born in 2000 and is 23 at debut. Meanwhile, the youngest member, Marcus, was born in 2009 and is just 13!
The member's official positions – or roles in the group – were released before their debut. The HORI7ON members' official positions are as follows:
Vinci- Main Vocal and Leader
Kim- Vocal
Kyle – Vocal and Main Visual
Reyster- Main Rapper
Winston- Vocal
Jeromy- Main Dancer
Marcus- Vocal and Maknae (youngest member)
---
2. The group was formed through the survival reality show Dream Maker.
---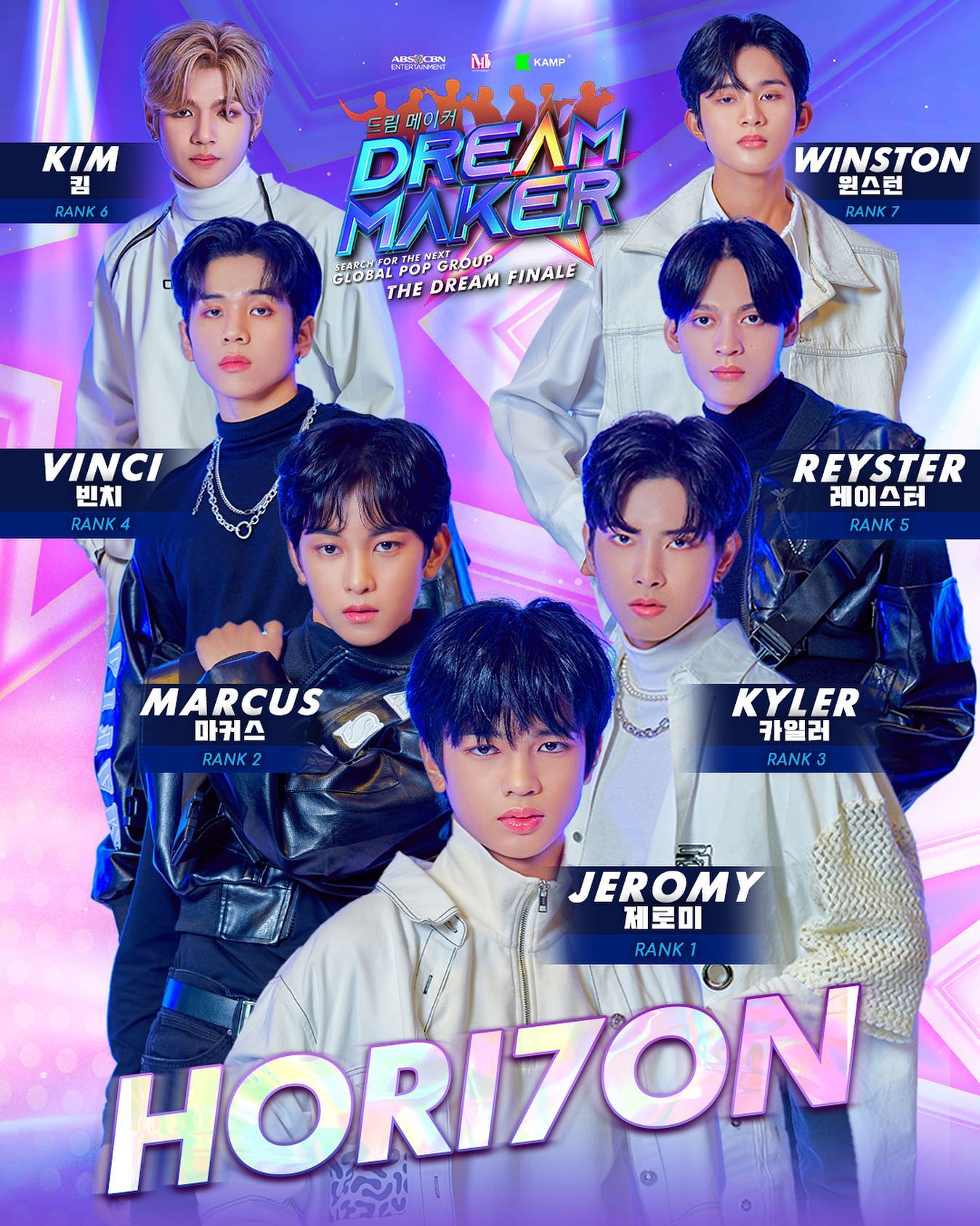 Dream Maker's final rankings.
Image credit: Dream Maker via Facebook
HORI7ON was formed through the survival reality show Dream Maker, which was aired on ABS-CBN.  The program is similar to South Korea's Produce 101, I-Land, and Girls Planet 999.
Dream Maker started with 62 contestants – or Dream Chasers – on 19 November 2022. Korean and Filipino artists including K-pop idols Thunder and JeA, Angeline Quinto, and Maymay Entrata served as their mentors.
After several rounds of elimination, the 7 members of HORI7ON were revealed in the final episode aired on 12 February 2023.
---
3. They are managed by MLD Entertainment & ABS-CBN.
---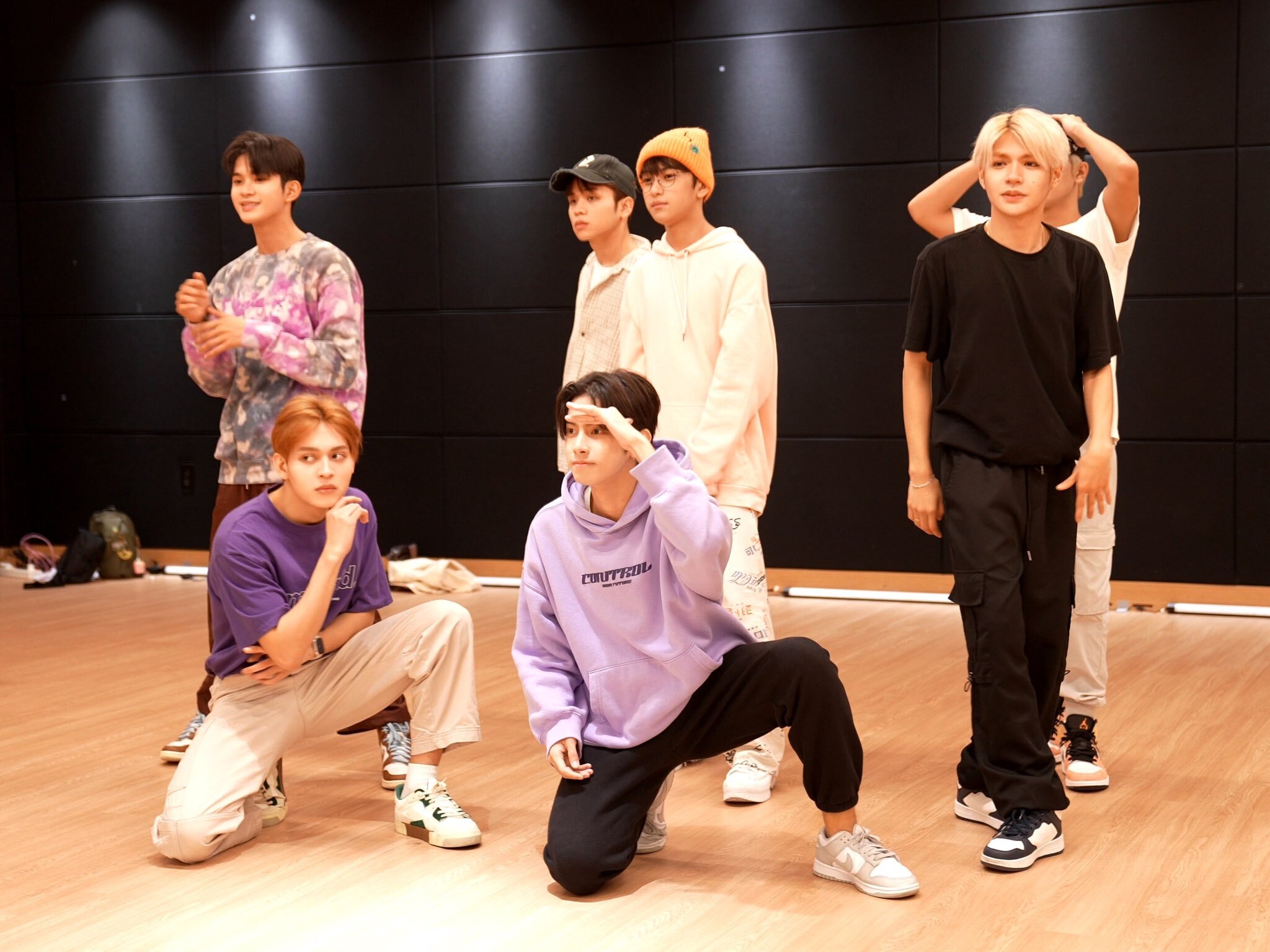 Image credit: @HORI7ONofficial via Twitter
The Philippine TV network ABS-CBN and the South Korean entertainment agency MLD Entertainment co-manage HORI7ON. If you think MLD Entertainment sounds familiar, that's because they're the same company that handles Lapillus, a girl group that includes the Filipino-Argentinian K-pop idol Chanty.
After winning Dream Maker, the HORI7ON members flew to South Korea on 30 April 2023 to start their Korean idol training with MLD Entertainment.
Besides the HORI7ON members, 5 other Dream Maker contestants are also set to debut in South Korea under MLD Entertainment.
---
4. They've just recently debuted.
---
Video credit: MLD Entertainment via YouTube
HORI7ON is perhaps the newest idol group to debut in South Korea as of writing. The septet officially kicked off their K-pop career on 24 July 2023 with the album Friend-SHIP.
The album consists of 21 songs, including their pre-debut releases Dash, Salamat, and Lovey Dovey, plus their debut title track, SIX7EEN.
In true K-pop album fashion, HORI7ON's first physical release has several versions and comes with a photobook, poster, photocards, and more inclusions.
---
5. They will be joining music shows.
---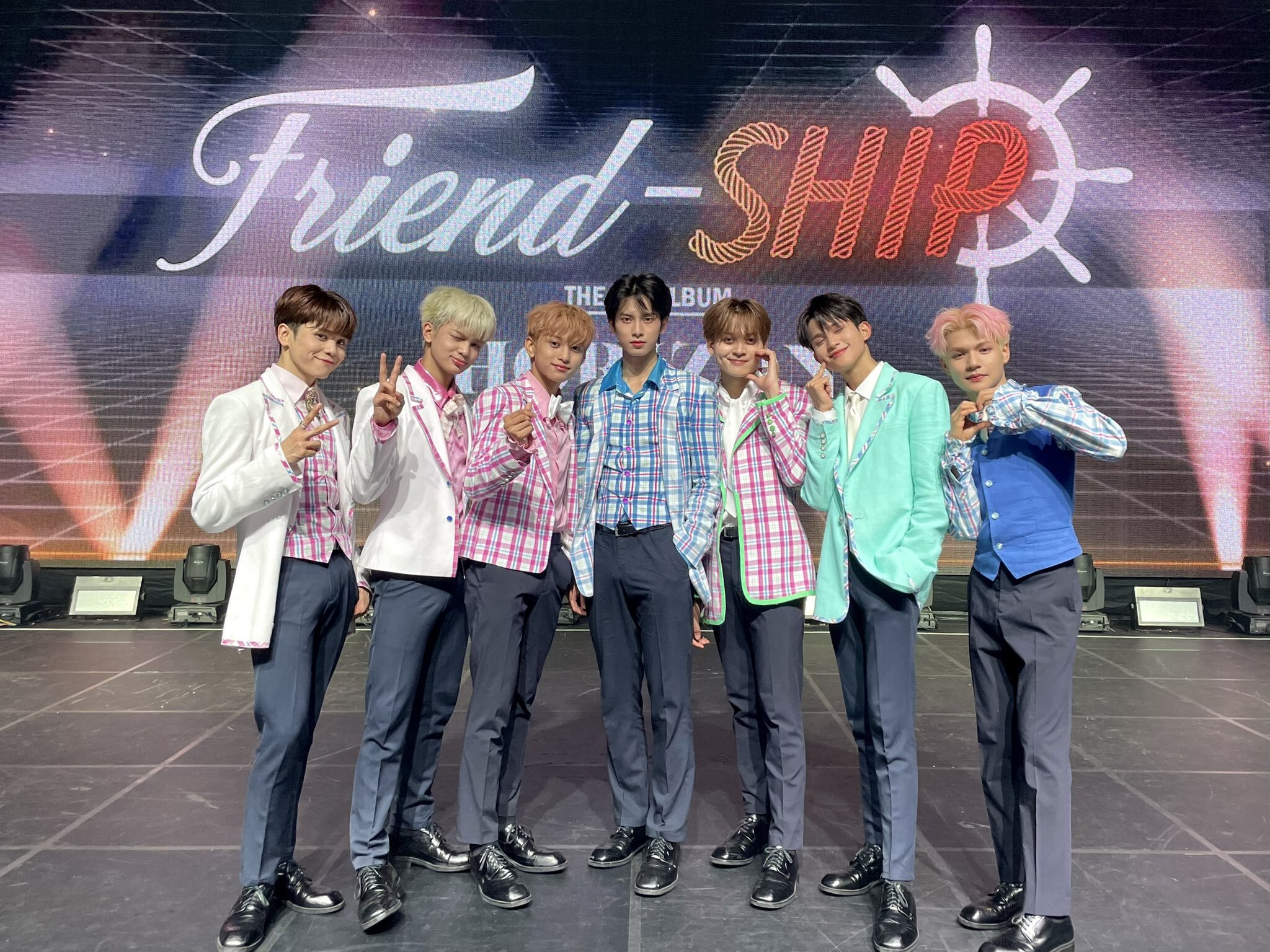 Image credit: @HORI7ONofficial via Twitter
Following the K-pop industry's style of introducing new groups, HORI7ON had its debut showcase at Olympic Hall in Seoul.
During a debut showcase, the group usually introduces themselves, performs a couple of songs, and engages in conversations with their fans and the media.
HORI7ON's showcase was held on the same day as their debut and was hosted by their half-Filipino labelmate, Chanty.
The group will also be promoting on South Korean music shows alongside other K-pop groups with new releases. On their first week as a debuted group, they are confirmed to appear on Mnet Countdown, Music Bank, Show! Music Core, and SBS Inkigayo.
Similar to Lapillus, which has appeared in Filipino shows such as It's Showtime and ASAP Natin 'To, HORI7ON is expected to promote their releases both in South Korea and the Philippines.
---
6. They sing in Filipino, English, and Korean.
---
Video credit: MLD Entertainment via YouTube
HORI7ON sings in 3 languages – Filipino, English, and Korean.
They're not the only group with all-foreign members to promote in South Korea with songs in a language other than Korean. XG is an all-Japanese girl group promoting in South Korea with English songs.
---
7. ANCHOR is their fandom name.
---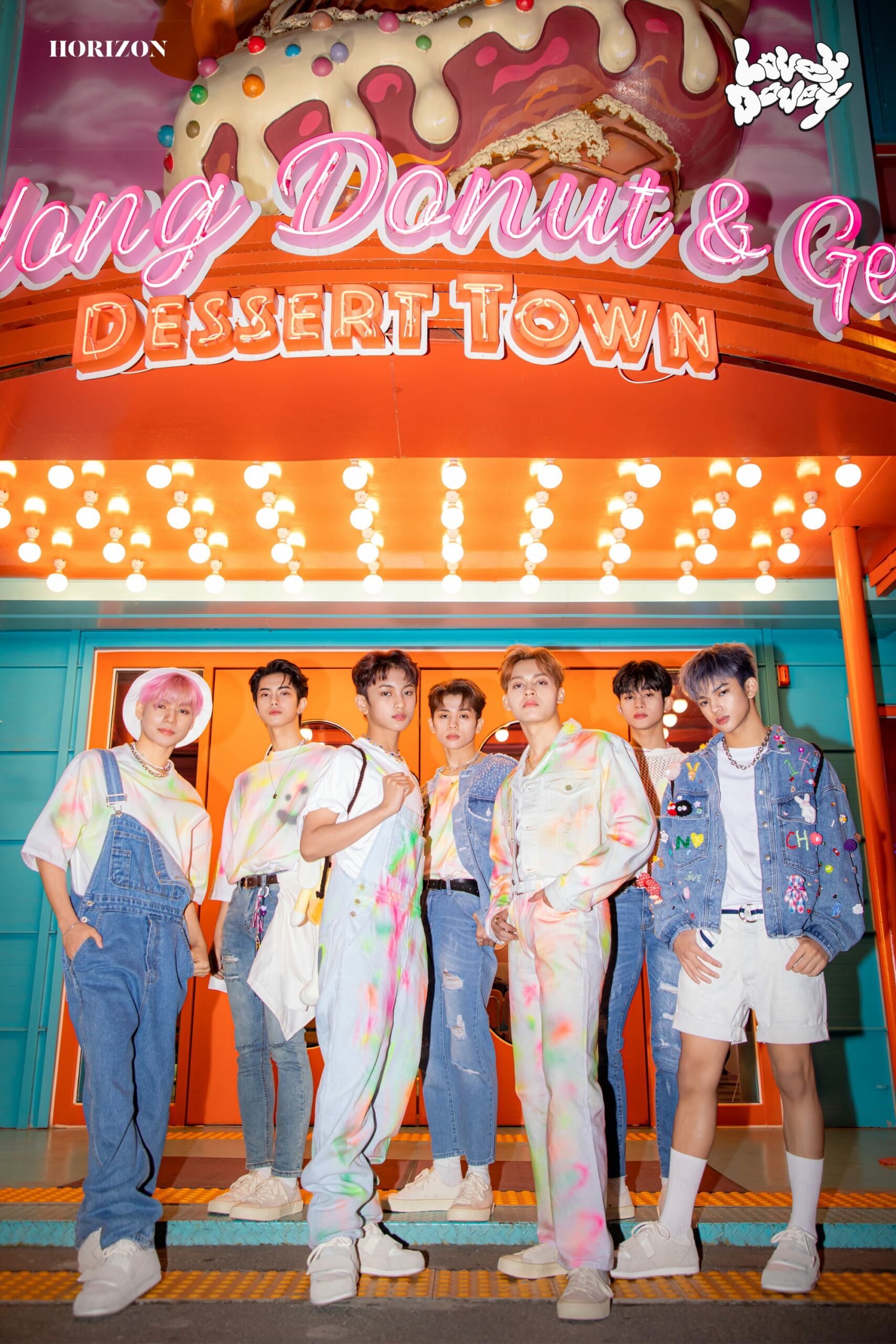 Image credit: @HORI7ONofficial via Twitter
HORI7ON's concept seems to incorporate a nautical theme, with a debut album fittingly named Friend-SHIP and a fandom called ANCHOR.
The group revealed their fandom name during their first fan meeting at the New Frontier Theater, Quezon City, on 22 April 2023 – just a few days before they flew to SK.
However, as of writing, the group has yet to announce its official representative color.
---
Facts about HORI7ON
---
It's only been a few days since HORI7ON debuted, so there's so much for fans to look forward to in the group's career. We'd love to see them thrive in the Korean music industry!
If you want to be prepared for HORI7ON's future concert in the Philippines, here are some concert tips. Or get to know more about Filipino music groups with this list of up-and-coming P-pop groups.
---
Cover image adapted from: @HORI7ONofficial via Twitter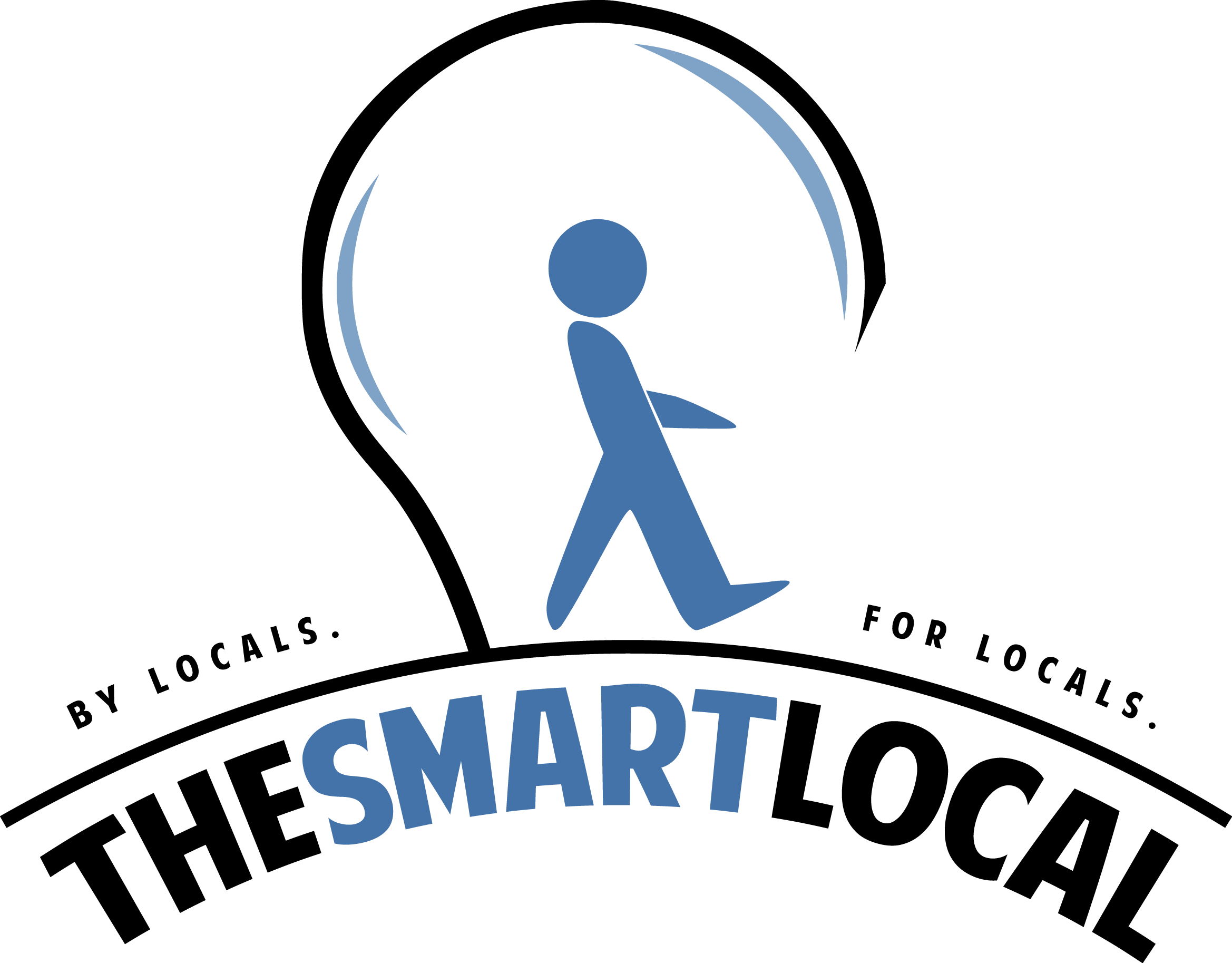 Drop us your email so you won't miss the latest news.