Concert tips in the Philippines
---
One after the other, artists are having their concerts in the Philippines. If your favorite group or soloist is poised to have a concert soon, you need to be prepared to snag your desired tickets and have the best concert experience of your life.
For first-time concertgoers or those who just want a refresher, we've prepared a list of concert tips to guarantee a positive concert experience – from purchasing tickets to getting home safely.
---
1. Be prepared for ticketing day
---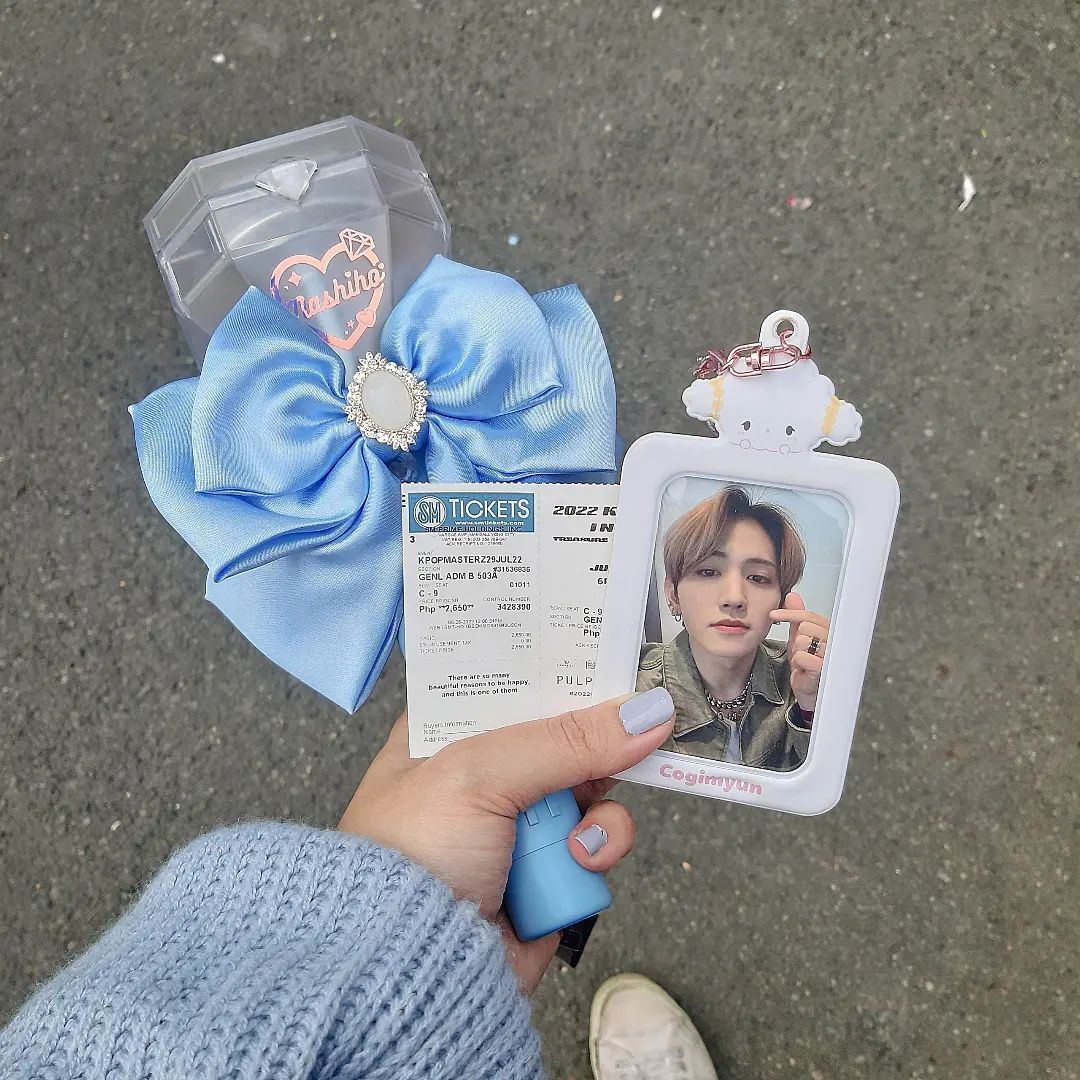 K-Pop Masterz concert ticket.
Image credit: @mashifluffy
If you're a new music fan and a deer in the headlights when it comes to concerts, make sure to follow concert organizers on social media to get updates on ticket selling.
For starters, you'll want to know when a concert is going to happen and where, how much you need to prepare, and how you can pay.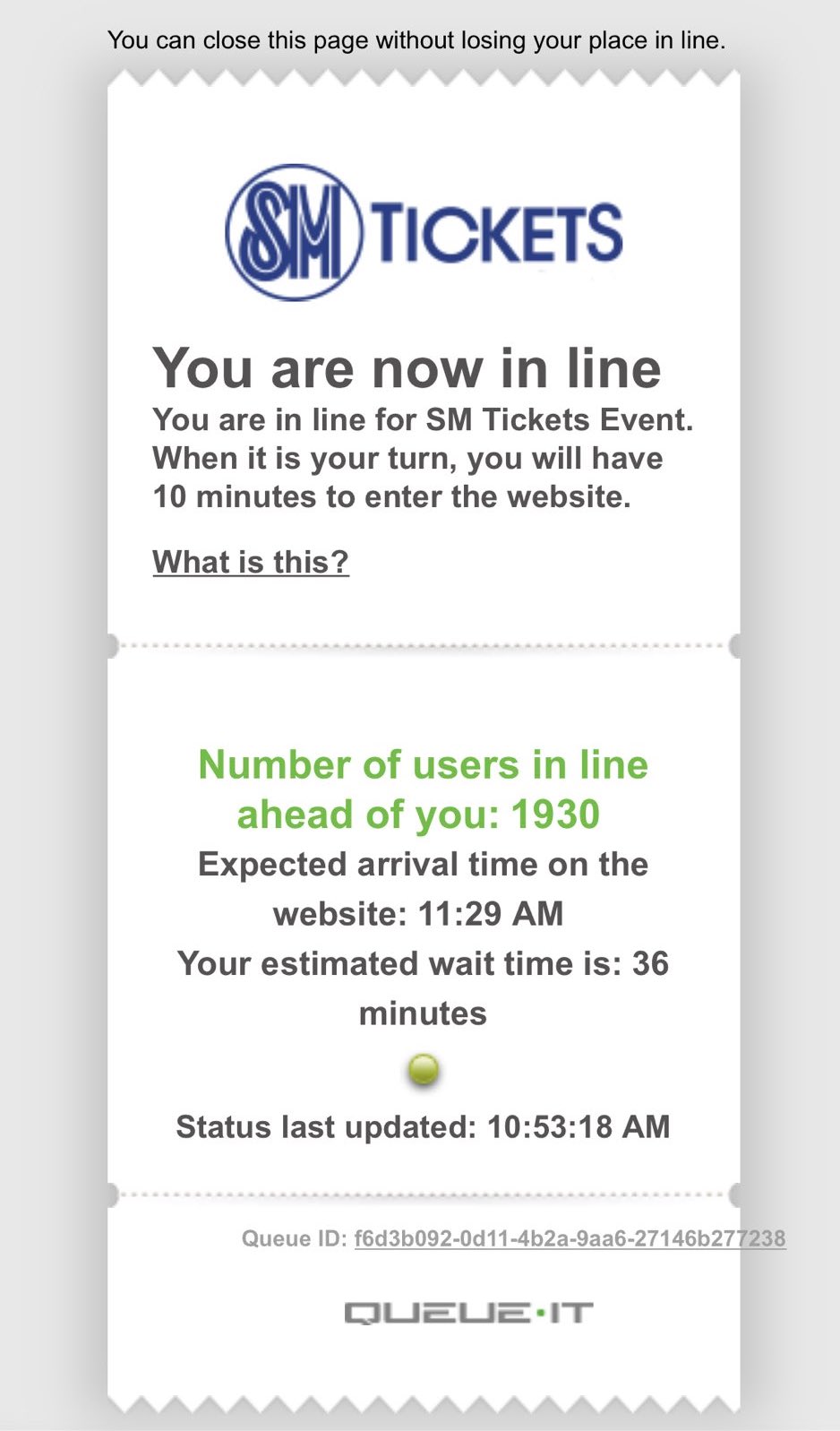 A fan's queue number for SEVENTEEN's Be The Sun concert in Manila.
Image adapted from: @KGyu08
You can usually buy tickets online or in-person at a certain booth inside select malls. If you're seeing an artist with a huge fanbase in the country, you'll need to act fast or your desired ticket will be sold out before you can get your hands on one.
If you're buying your ticket online, make sure to have a strong Wi-Fi connection. It also helps to be logged into the ticket selling website from two or more devices in advance. If you're getting your ticket in-person, line up as early as you can outside the ticketing outlet.
---
2. Don't buy a ticket from a scalper
---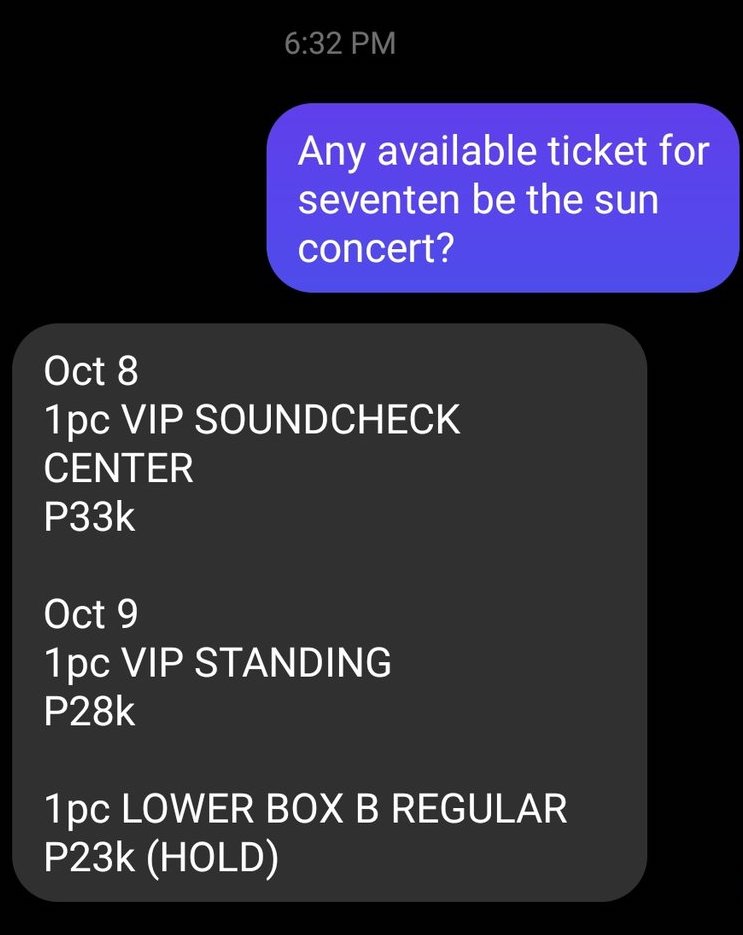 A scalper sells concert tickets for twice their actual price.
Image adapted from: @eweecqt
In case you aren't able to get a ticket during the selling period, don't buy from scalpers no matter how tempting it is.
A scalper is someone who bought tickets with the intention of selling them at an inflated price. These are often people with connections with the ticketing staff who withheld some tickets to sell at a higher price once they're sold out. Buying from scalpers will only encourage them to hoard more tickets in the future.
Depending on the concert organizer, a concert ticket can also be voided once it's found to have been bought from a scalper. So, keep your hard-earned money secure and avoid such sketchy transactions completely.
You'll have a better chance of buying a ticket from fellow fans, but you still need to do background checks. Make sure the ticket isn't sold at a ridiculous price and ask for identification. Once you've ensured these, meet up with the seller at a safe place and with plenty of time before the concert.
---
3. Watch out for additional tickets on the day of the concert
---


PULP Live World producer Happee Sy's tweet regarding additional tickets for NCT 127's The Link concert.
Image credit: @happeehour
There's a safer way to get tickets after the selling period but you'll have to wait until the concert day itself. Sometimes, seats open at the last minute, right when your fellow fans are lining up to get inside the concert venue.
To know when this happens, follow the concert organizer on social media. Once there's an announcement, you can buy a ticket from the ticket booth at the venue for the same price as it was during the selling period.
However, additional seats aren't always guaranteed, so go to the venue at your own risk.
---
4. Research all possible modes of transportation
---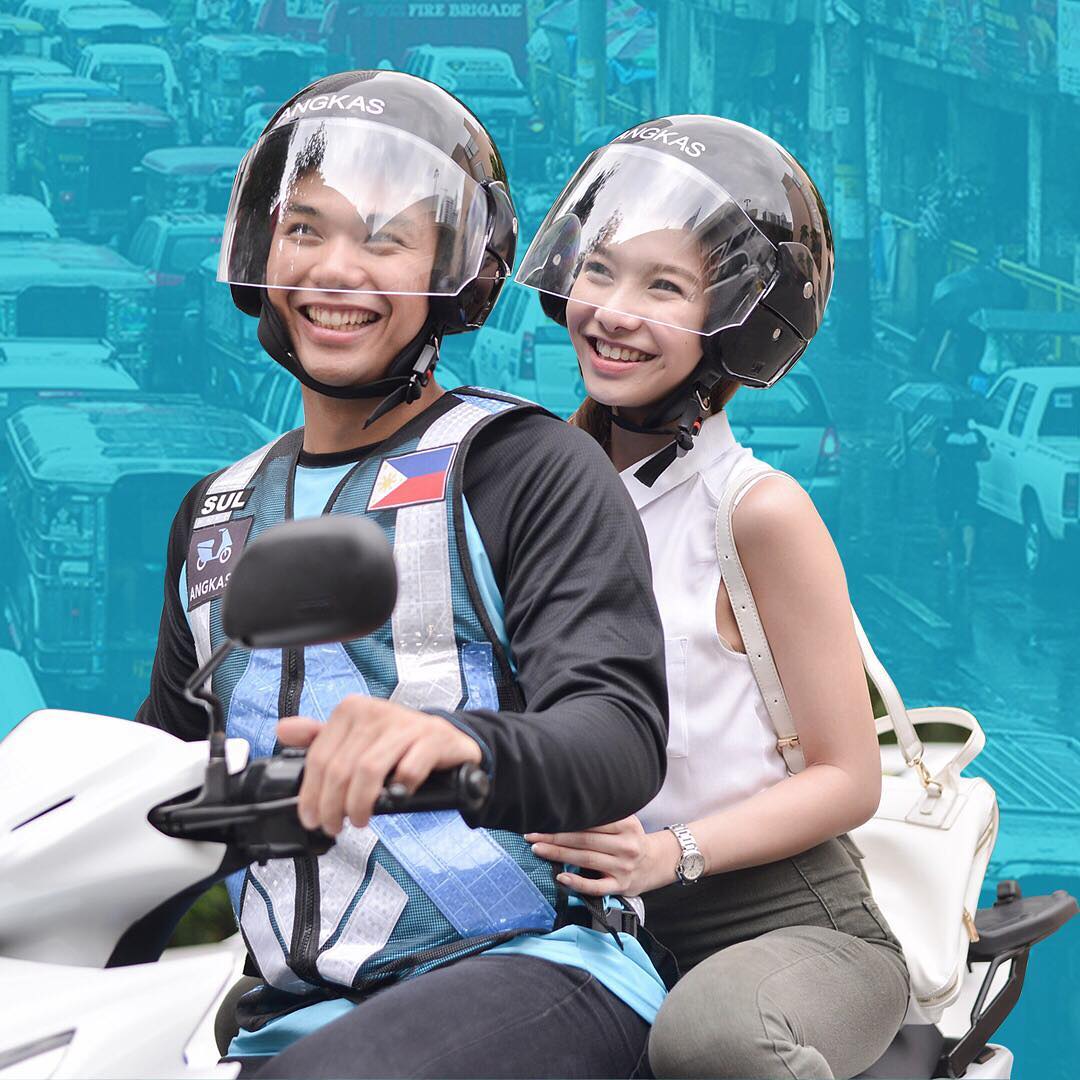 Angkas is 1 of 2 motorcycle taxi-hailing apps in the country.
Image credit: @angkasph
Many public utility vehicles (PUVs) will have usually ended their operations by the time concerts finish. So, it's helpful to research all your alternative modes of transportation days before the concert.
Check out ride-hailing services such as Angkas, Joyride, and Grab. You can put in the concert location and your home address on ride-hailing apps to get an estimate of the fare, too.
However, you might still have a hard time booking a ride from these service providers, especially with thousands of other fans going home at the same time.
---
5. Organize a carpool home
---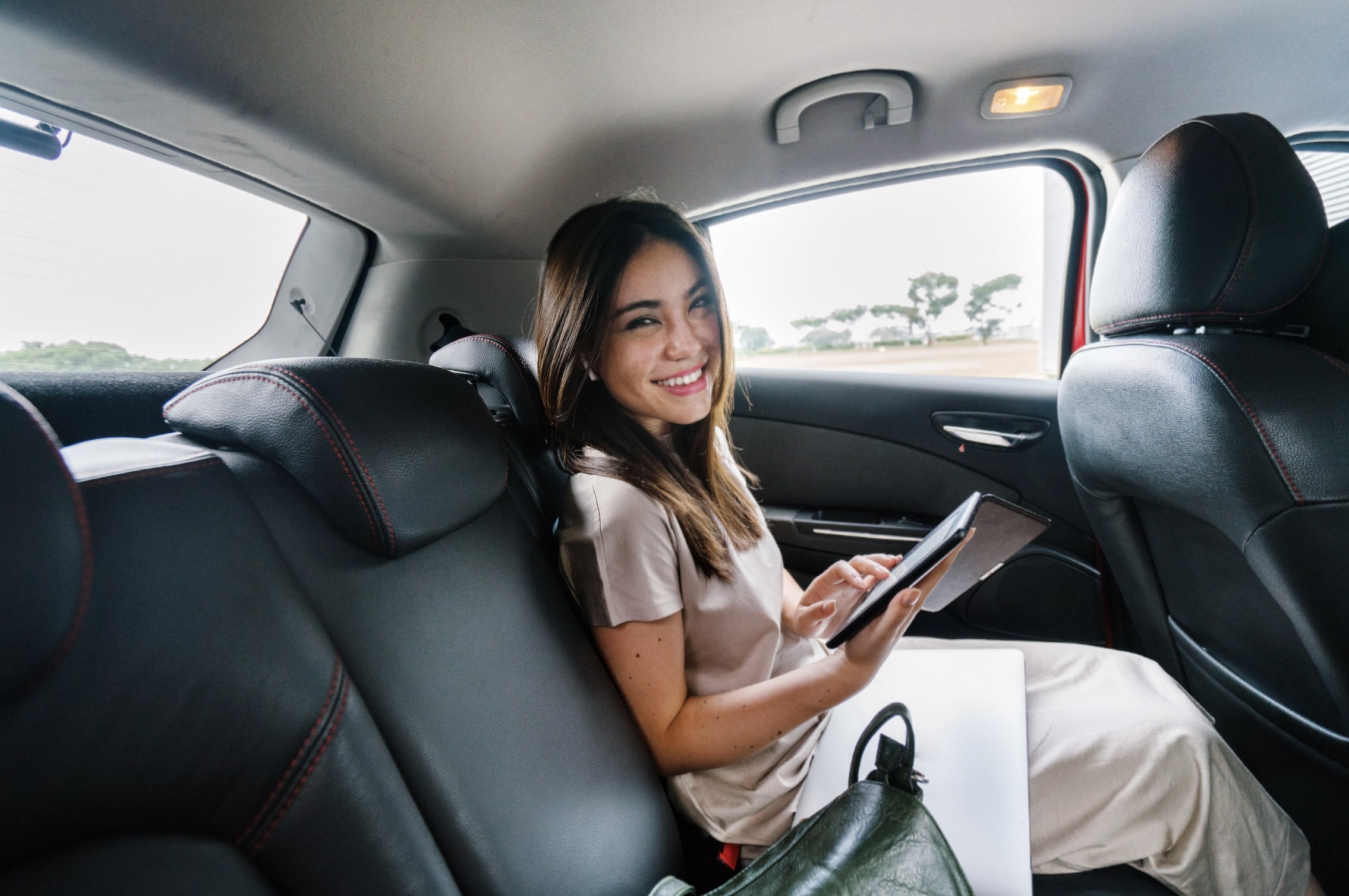 Carpooling can get you home from a concert safely and conveniently.
Image credit: @mentatdgt/Pexels
Another option to get home safely and conveniently after the concert is renting a vehicle with fellow fans within your city or area.
Do this as soon as you get a ticket to get the number of people you need onboard. Or, join an existing carpool if there's any. 
It's advisable to look for one before you start organizing your own, so everyone in the pool pays a reasonable price because there'll be an appropriate number of riders per car. You can look for or start concert carpools on Twitter.
If you find public transportation, ride-hailing services, or carpooling a hassle, consider booking accommodation near the concert venue.
---
6. Check the venue's bag size limit
---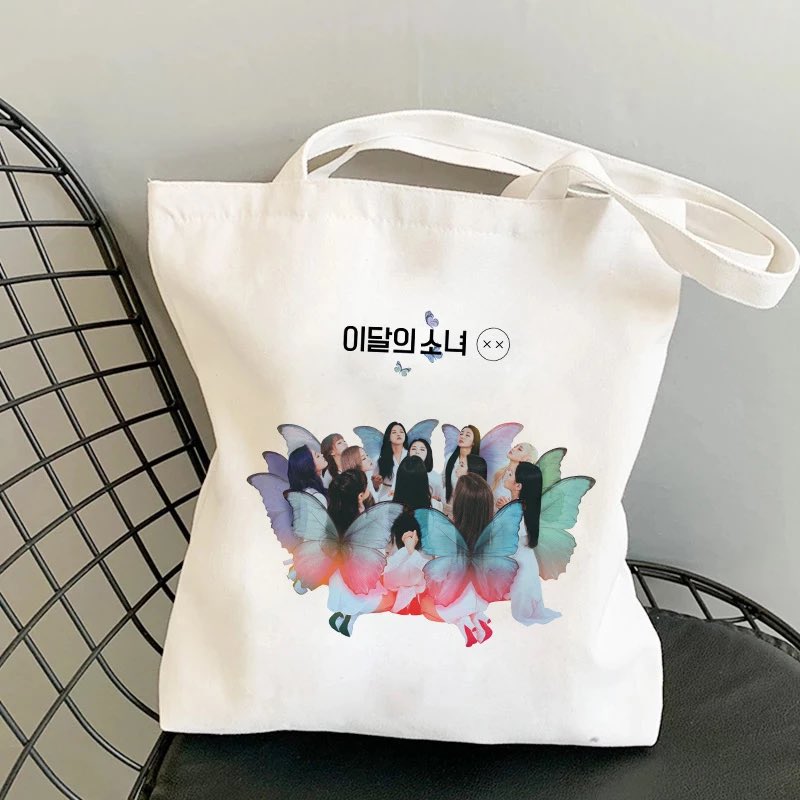 A4 tote bag.
Image credit: @orbitelris
Venues usually limit the bag size they allow to at most A4 size for the safety of the artist and the audience. It's also best to avoid using a backpack and use a sling bag or a tote, as a backpack can be used to hide harmful objects.
While you may want to be a Boy or Girl Scout and have everything you could possibly need, you'll thank yourself for having a smaller, lighter bag later during the concert, especially when you're in a standing section.
You'll also want to leave your bottle of perfume at home or you might never see it again. Some venues do not allow bringing any kind of bottle, just in case the crowd goes wild and people start throwing things at each other.
---
---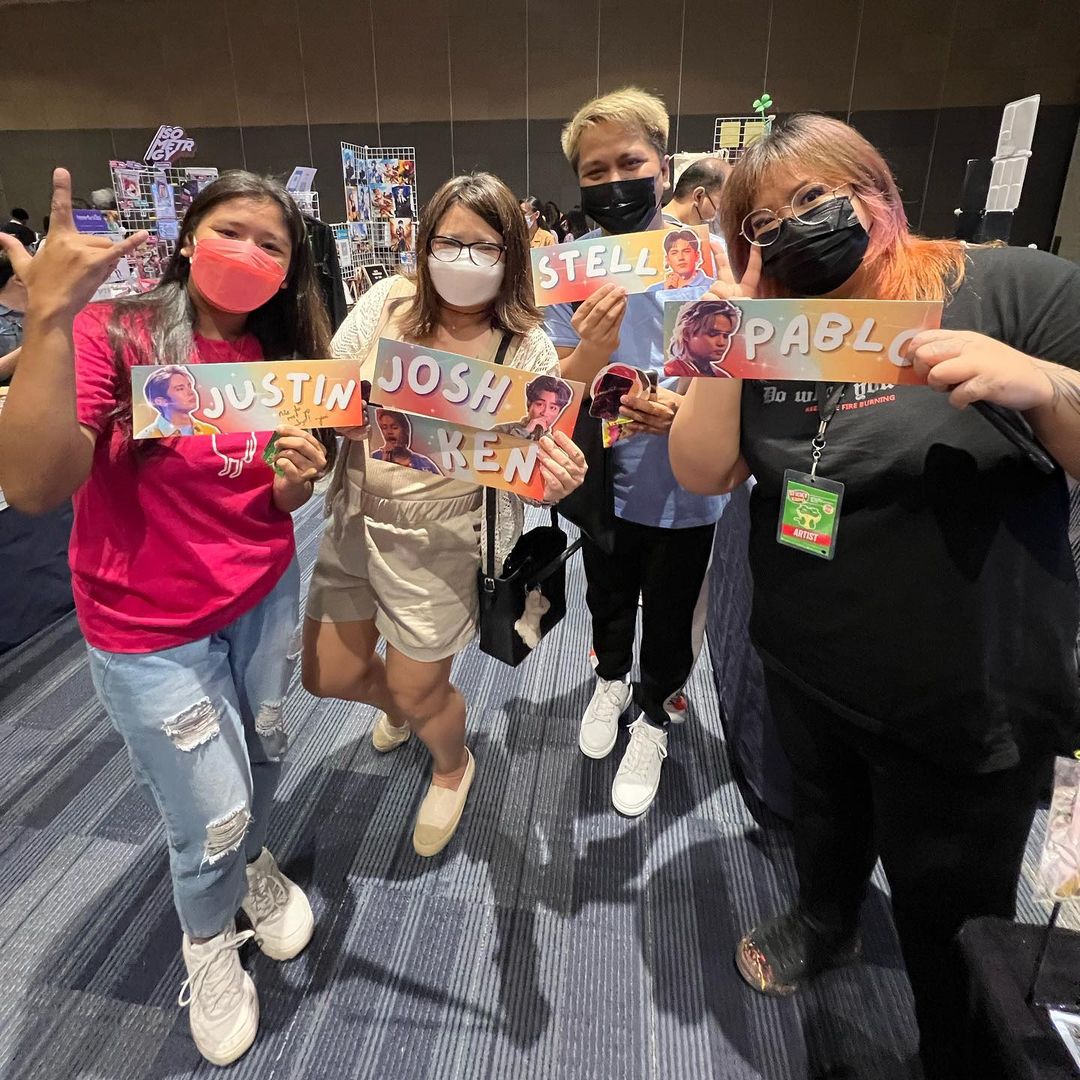 SB19 fans holding hand banners.
Image credit: @paperstar.art
Sure, you want your message of love to reach Justin Bieber or SEVENTEEN's Kim Mingyu, but you might not be able to do that if you make a cartolina-sized poster. Concert venues usually put limits on banner sizes so everyone in the audience will be able to see the artist and not a sea of huge banners.
Mall of Asia Arena and Smart Araneta Coliseum limit banner sizes to A4. On the other hand, New Frontier Theater allows up to 11"x17". Banners on sticks are also not allowed at most concert venues as these can cause harm.
If you're going to a K-pop or a P-pop concert for the first time, fans usually give away hand banners outside the venue, so you don't need to DIY.
---
8. Check the venue's rules on bringing water or food
---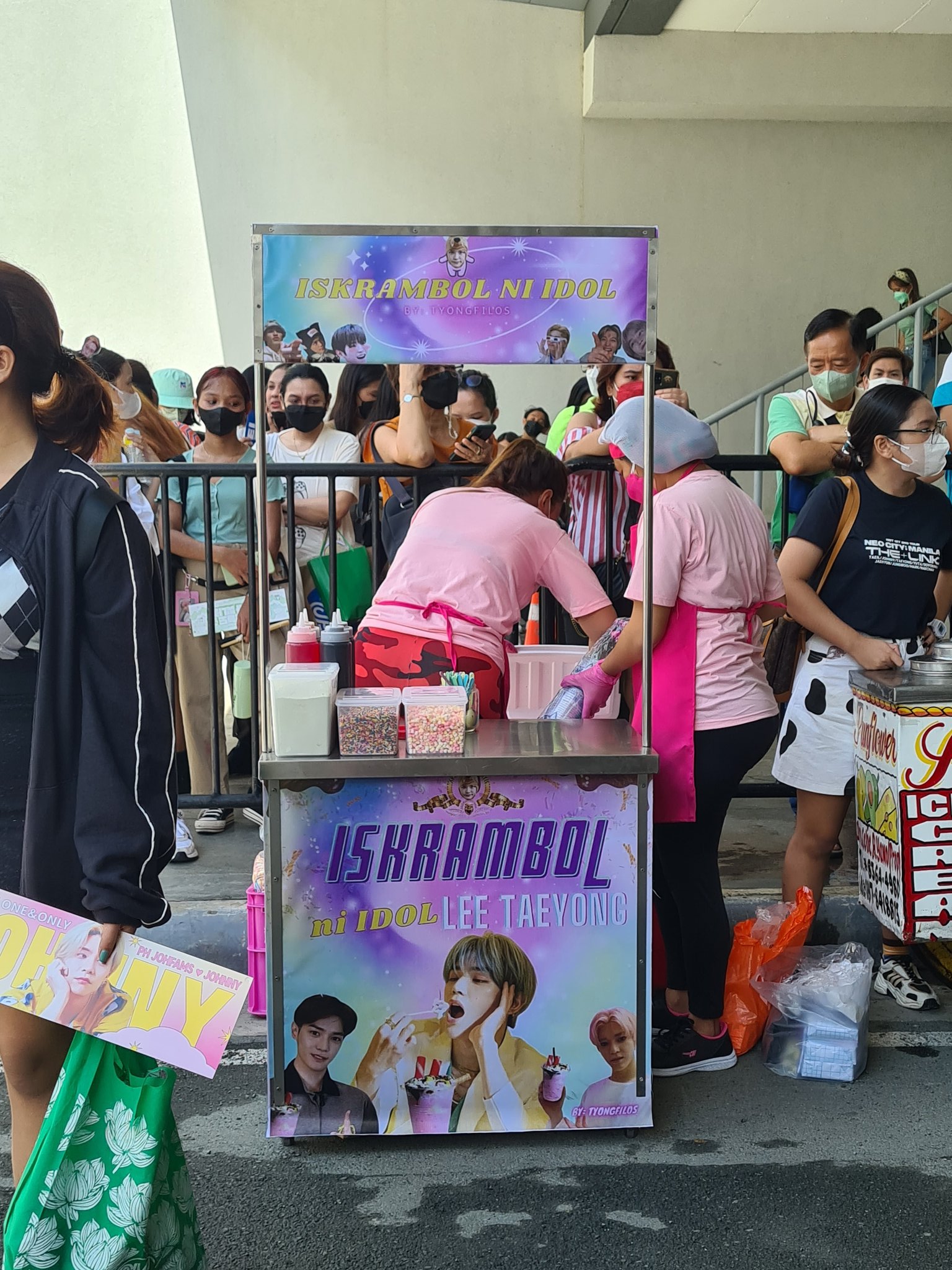 Some fanbases give away free food outside the venue.
Image credit: @yourethestorm
Water and food are usually not allowed inside most concert venues and are confiscated at the entrance. There's food sold inside some venues such as the Mall of Asia Arena but they are not allowed in the concert hall itself.
But this doesn't mean you shouldn't keep yourself hydrated. You can still do this by buying just enough bottled water for you to finish before you enter the venue. 
Remember to eat a full meal before the concert, too. You'll need the energy to sing and dance along to your favorite artist's songs. You can also enjoy the free food that fanbases often give away outside the venue.
---
9. Don't bring a professional camera
---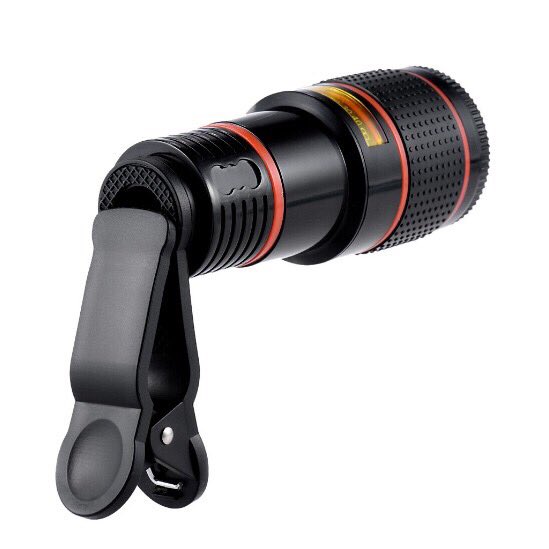 A clip-on zoom lens.
Image credit: @adorable_jiwon
Don't bring a professional camera and risk being kicked out of the venue.
This is because some people bring their cameras with the intention of selling the artists' photos. And since they mean business, these people also tend to be aggressive to get the best spot in the venue.
If you really want photos or fancams, you can invest in a phone with a professional-quality camera. You can also just buy a small phone lens attachment that lets you take high-quality, zoomed-in photos.
---
10. Wear comfortable clothes.
---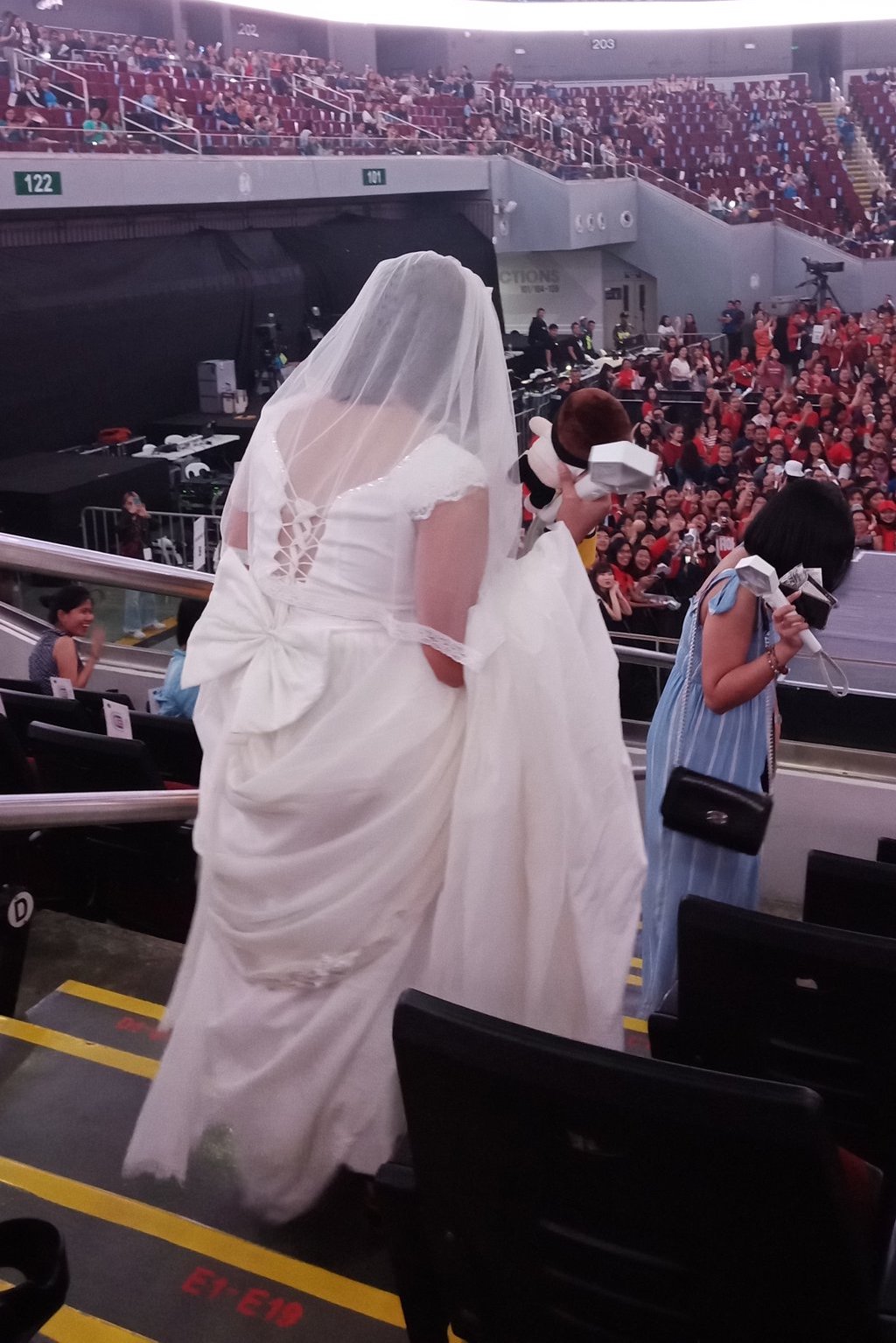 A fan wearing a wedding dress at EXO's concert in Manila.
Image credit: @Llovelyyyyy
If you're tempted to wear high-heeled shoes for the extra height during the concert, you might want to reconsider.
You don't want to wear yourself out before the concert ends, or before it even starts. You'll line up and stand for a long time on the day of the event, especially if you're in one of the standing sections.
This also applies to those who plan to wear a wedding dress or anything over-the-top to catch their favorite artist's attention. Even if the concert venue is air-conditioned, you'll surely get hot in the line.
---
11. Bring your vaccination card
---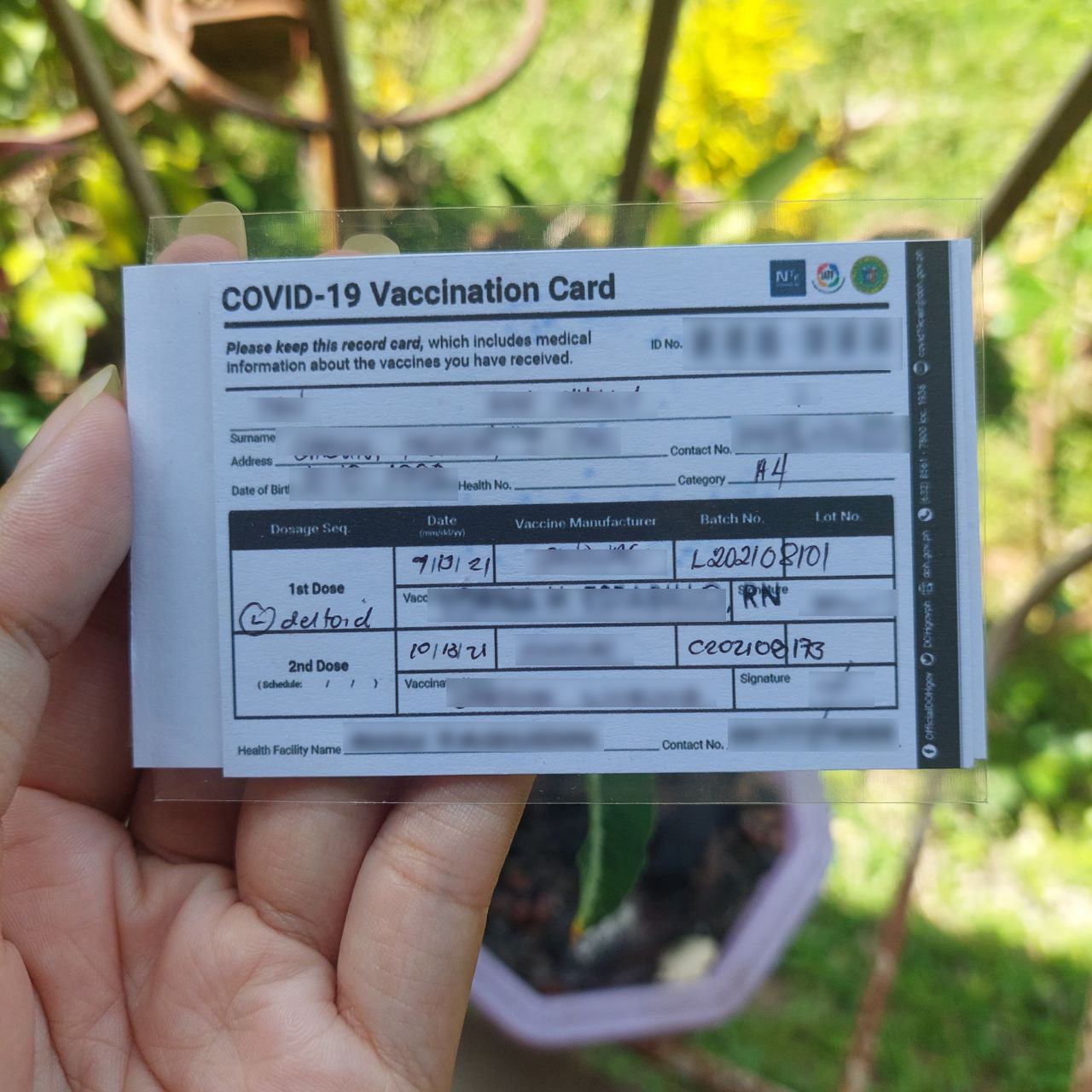 Vaccine card.
Image credit: The Smart Local Philippines
Among all of these concert tips, be sure to remember this one. Most concert venues only allow entry to fully vaccinated individuals, so bring your vaccination card and an ID so they can verify your status.
Since you're going to a crowded event, it's also best to check for symptoms up to two weeks after and get tested, if necessary. If you test positive, you can inform your friends and fellow fans via social media so they can take measures, too.
Similarly, be on the lookout on social media for tweets from other fans who tested positive and check if they were in your area during the concert.
---
 Concert tips for a smooth concert experience
---
Getting concert tickets and having to figure out some logistics can be a bit stressful, but these are all worth it once you see your favorite artist.
To make your experience smooth like butter, take note of these concert tips above!
Related reads:
---
Cover image adapted from: @mashifluffy, @paperstar.art, and @yourethestorm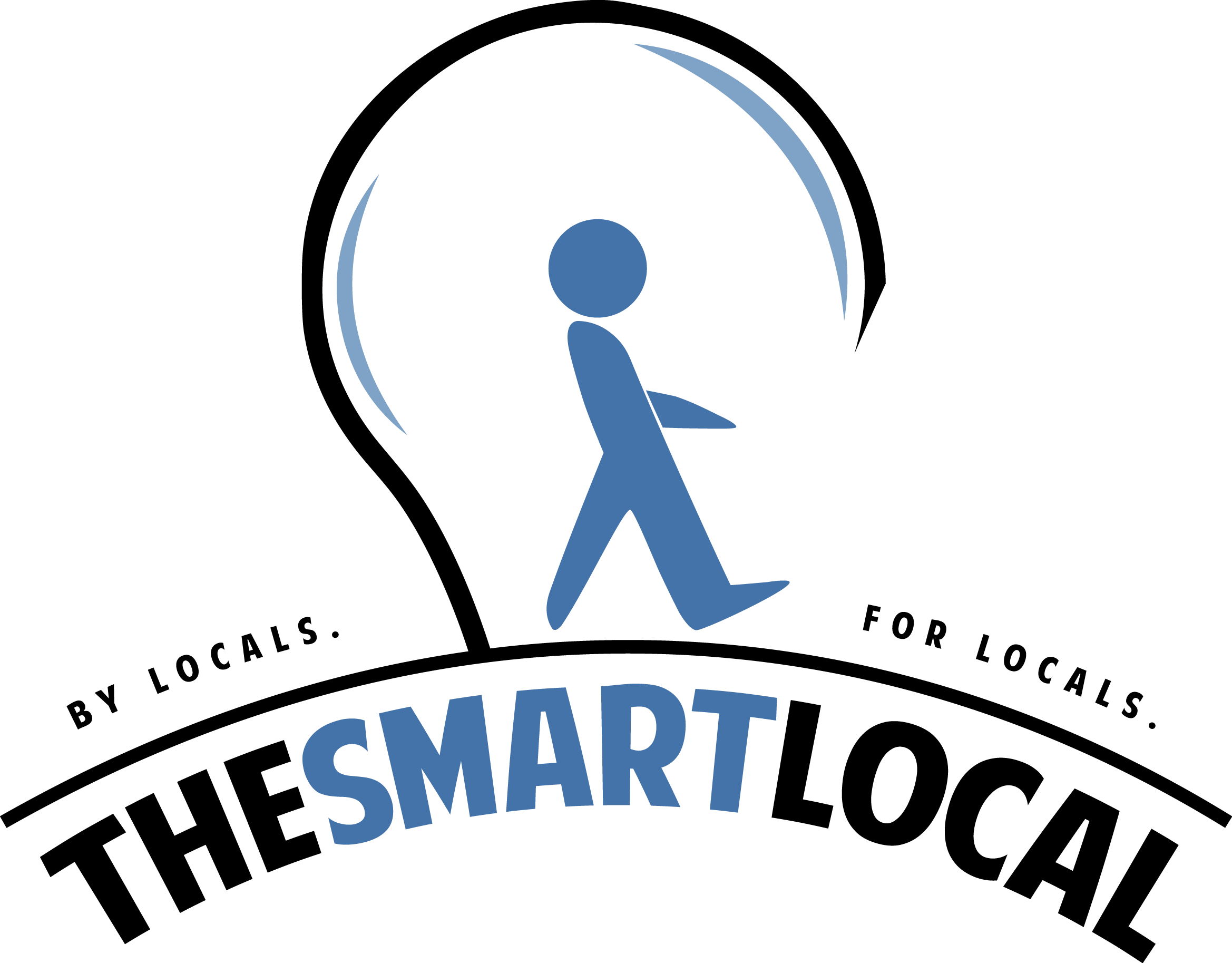 Drop us your email so you won't miss the latest news.