GMA's Voltes V: Legacy
---
Let's volt in because GMA's Voltes V: Legacy is almost here! The network dropped the full trailer, dubbed the mega trailer, right as the clock struck midnight during the new year.
The Japanese animation Voltes V was a cultural phenomenon that took over the country during the 1980s. Now it's back with a vengeance. With a star-studded cast and cutting-edge visual effects, here are 10 facts about the live-action Voltes V adaptation as we wait for its pilot episode.
---
1. The mega trailer now has collectively over 7 million views
---
The mega trailer is over 5-min long and hailed in the New Year.
Video credit:
GMANetwork
The Voltes V: Legacy: The world is under attack mega trailer has garnered 7 million views across all social media platforms in just five days since its release. As of writing, the trailer has garnered 4.5 million Facebook views, 1.2 million TikTok views, and 2 million YouTube views.
The trailer induced a wave of nostalgia among the 70s to 90s kids, not just in the Philippines and Japan, but worldwide. This momentum can potentially bring in new fans from the current generation.
---
2. GMA partnered with the original creators of Voltes V
---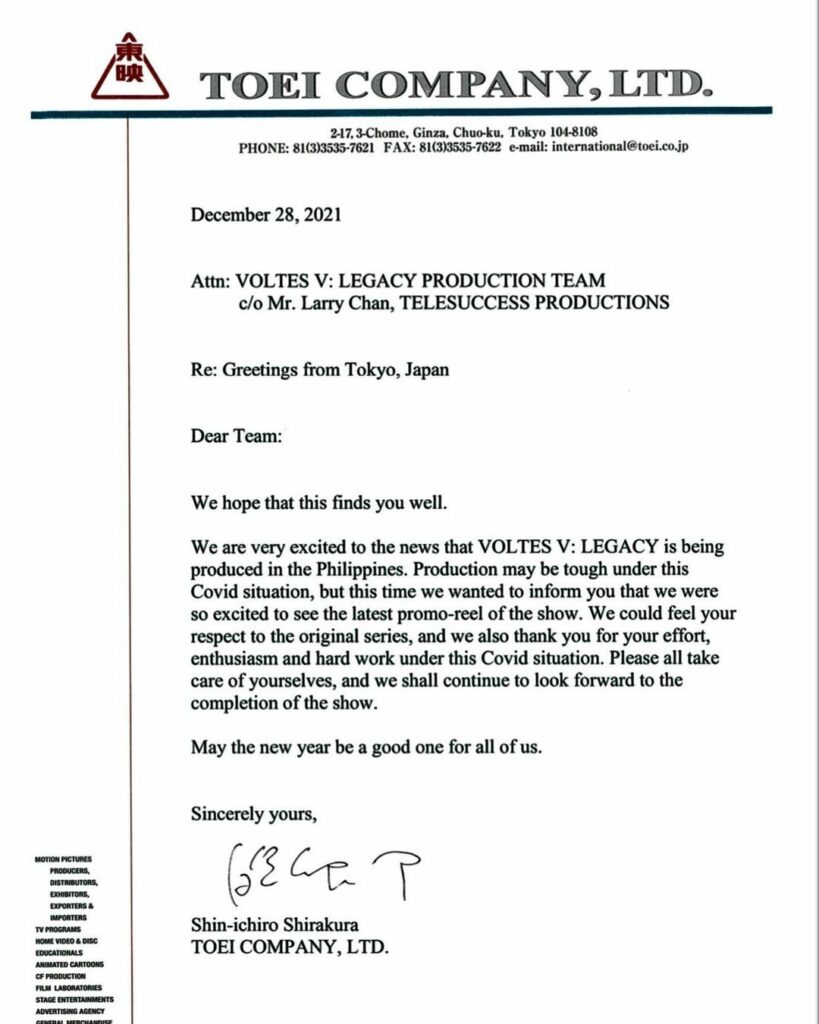 A letter of support from Voltes V's creator company.
Image credit: @direkmark
To set in motion a live-action adaptation as big as this, the production needs to get the approval of three governing bodies: the GMA management, Telesuccess Productions, and Toei Company.
GMA Network managed to acquire the rights from the franchise owner of Voltes V in the Philippines, Telesuccess Productions.
Toei Company, the creator of the much-beloved anime, is also reportedly involved in every decision-making of the production. So fans are rest assured that the show will stay true to the original.
---
3. The show took eight years in the making
---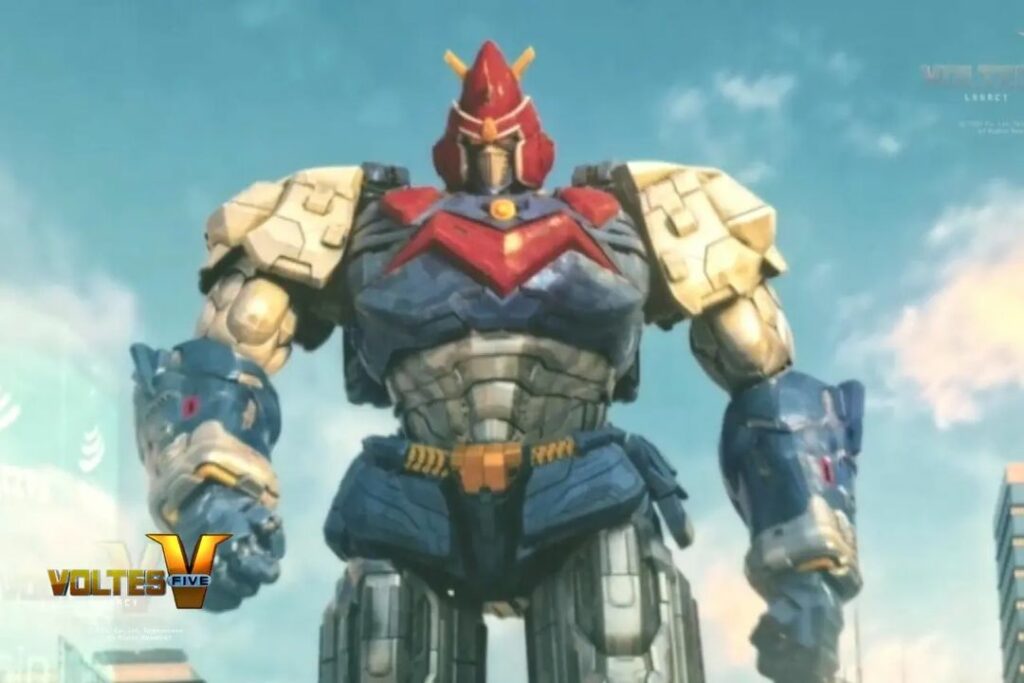 Voltes V in its full glory.
Image credit: @voltesvlegacy
In an interview with Direk Mark Reyes on The Howie Severino Podcast, he shared that they got the green light from Toei and GMA to start production of the Voltes V series in 2016.
In 2018, they started holding auditions. But before filming even started, they halted the production because of Covid-19.
The approval process was extremely detailed and long. Everything had to be approved by Toei, from the script to the set design to the costumes – down to the helmets. They went through five or more revisions to get everything right.
Finally in 2023, the show is ready to present the fruits of its labor.
---
4. Directed by Mark Reyes and written by Suzette Doctolero
---

The director of many successful GMA teleseryes and movies, Mark Reyes.
Image credit: Voltes V: Legacy
Teaming up in this much-awaited adaptation are Direk Mark Reyes and writer Suzette Doctolero who are no strangers to big-hit fantaseryes themselves. One of their most notable works together is the award-winning Encantadia, both the original in 2005 and the remake in 2016.
Direk Mark Reyes is a writer and director. He has done a lot of shows with GMA such as T.G.I.S., Mulawin, Philippine Idol, and My Korean Jagiya.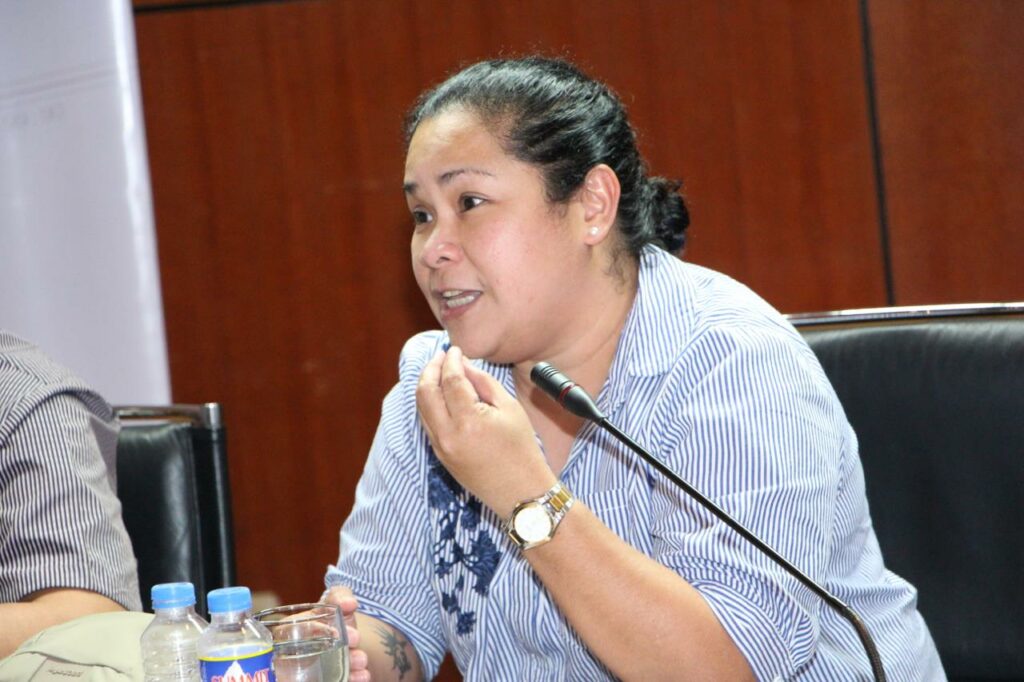 Writer Suzette Doctolero at the Filipino Young Leaders program for GMA Pinoy TV.
Image credit: GMA Pinoy TV
Suzette Doctolero has been a screenwriter, a creative consultant, and a series creator at GMA for almost two decades. She is the head writer for GMA's Voltes V: Legacy.
She's known to create shows that push Philippine TV's boundaries, all while getting high ratings. Some of them are My Husband's Lover, Legal Wives, and the ongoing Maria Clara at Ibarra, which has been trending almost every night on Twitter and TikTok since it aired in October 2022.
---
5. Lead by Kapuso actors who will bring the Voltes V characters to life
---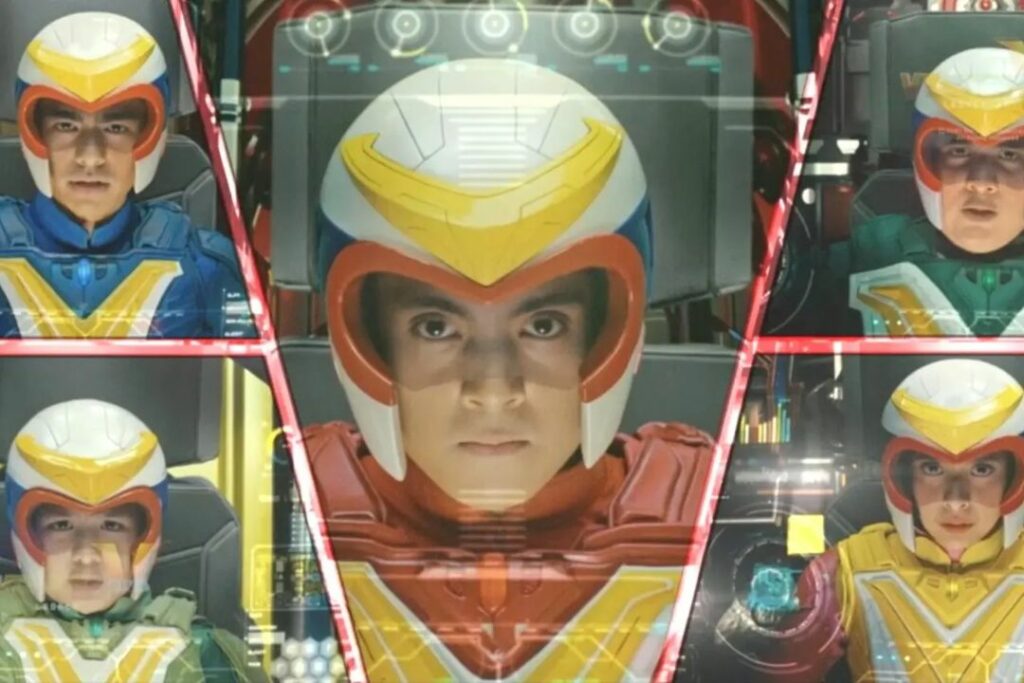 The 5 heroes who will fight the Boazanians.
Image credit: @voltesvlegacy
A new generation of Kapuso actors leads GMA's Voltes V: Legacy.
Miguel Tanfelix as Steve, Matt Lozano as Robert or Big Bert, and Raphael Landicho as Little Jon will play the Armstrong brothers. Radson Flores as Mark Gordon and Ysabel Ortega as Jamie Robinson will join them to complete the Voltes V.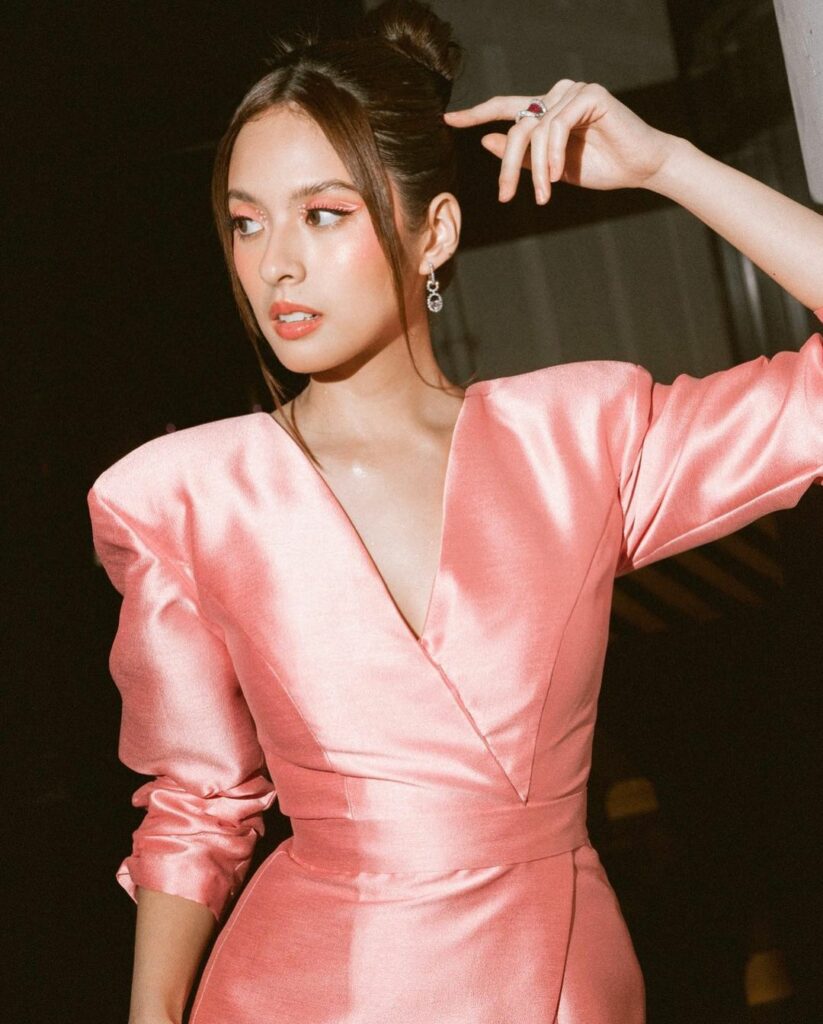 Ysabel Ortega dressed in pink at the Preview Ball.
Image credit: @ysabel_ortega
GMA hand-picked Ysabel Ortega for the role of Jamie Robinson. In a never-before-seen audition featured on GMA's YouTube account, it explained why they chose her for this role.
On the other hand, they held an open call for Big Bert's character. Aspirants flocked to the audition, which was eventually nabbed by Matt Lozano.
---
6. Visual effects and post-production by Riot, Inc.
---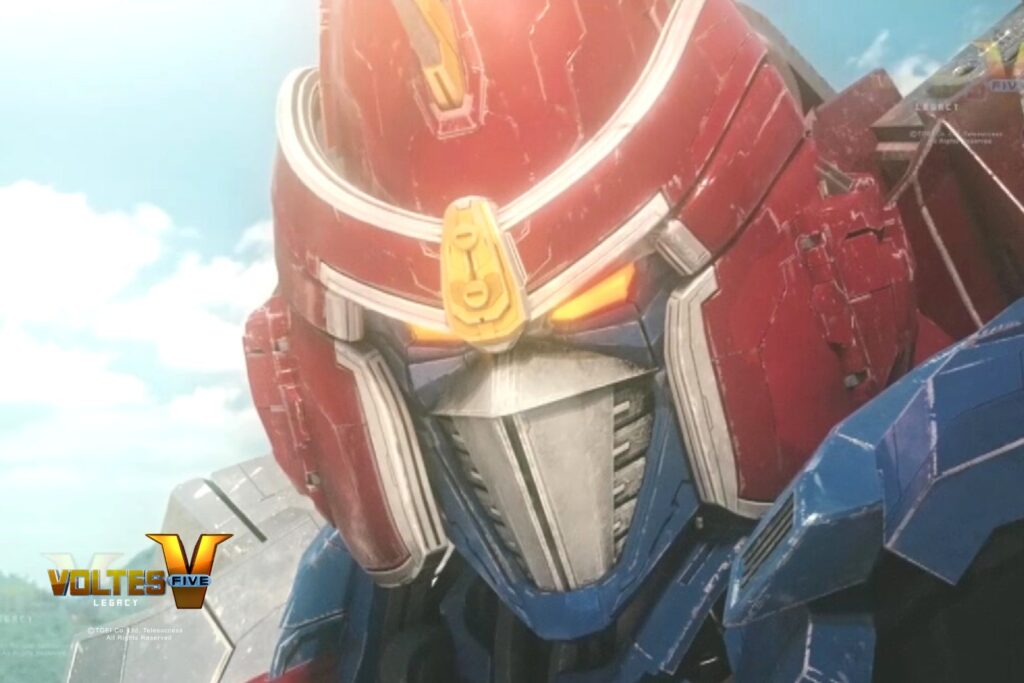 A close-up of Voltes V's finely detailed animation.
Image credit: Voltes V: Legacy
Another exciting fact about the highly anticipated show is they tapped Riot, Inc. to do the show's visual effects and post-production, along with GMA Post Production.
Riot is an all-Filipino production house that specializes in visual effects and CGI for tv shows, films, and commercials.
It's not their first time working with GMA. One of their first projects together was Mulawin, another high-rated fantaserye in 2004.

A featurette released a year ago titled
Voltes V: Legacy – One epic ride
.
Video credit:
@GMANetwork
After watching the teasers and the full trailer, fans were amazed that the CGI and visual effects were at par with internationally-released films and tv shows.
Filipino pride filled the comment sections after knowing the show's entirely locally-made.
---
7. Considered GMA's most expensive production to date
---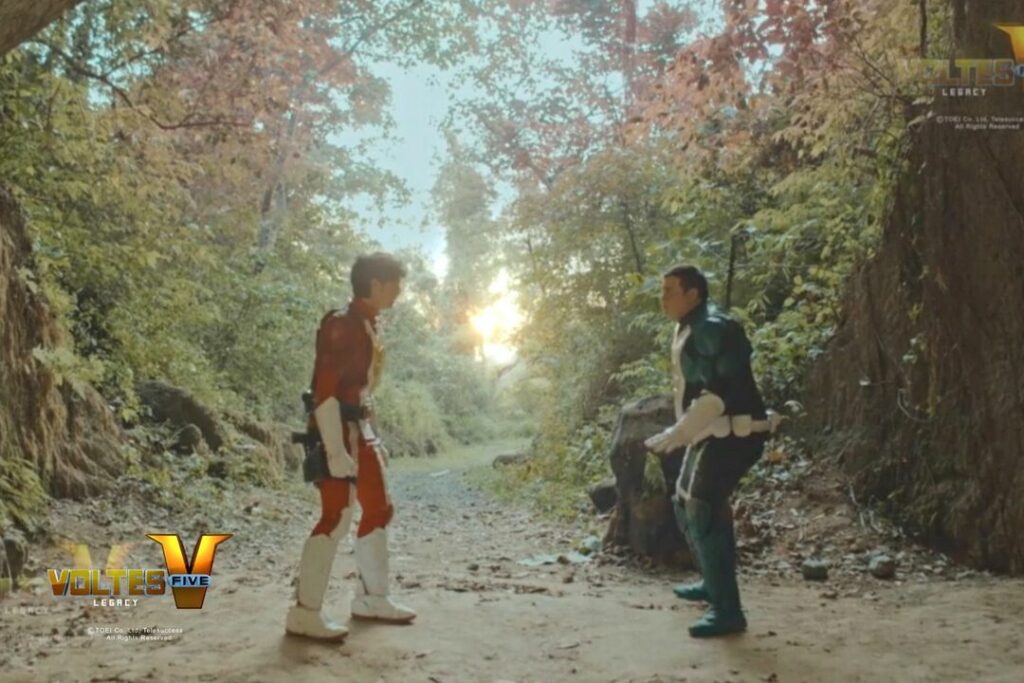 Miguel Tanfelix and Matt Lozano recreate one of the anime's most famous scenes which features the butterfly return technique.
Image credit: @voltesvlegacy
It's no secret that GMA's Voltes V: Legacy is a massive production.
The network's chairman and CEO, Felipe Gozon, admitted during their annual stockholders' meeting on May 2021 that it was a very hard and complicated program to complete. With plenty of cutting-edge graphics and visual effects, it's turning to be GMA's most expensive production.
He has high hopes that this big-budget effort will bring high ratings to the media giant.
---
8. The cast went through combat training for their roles
---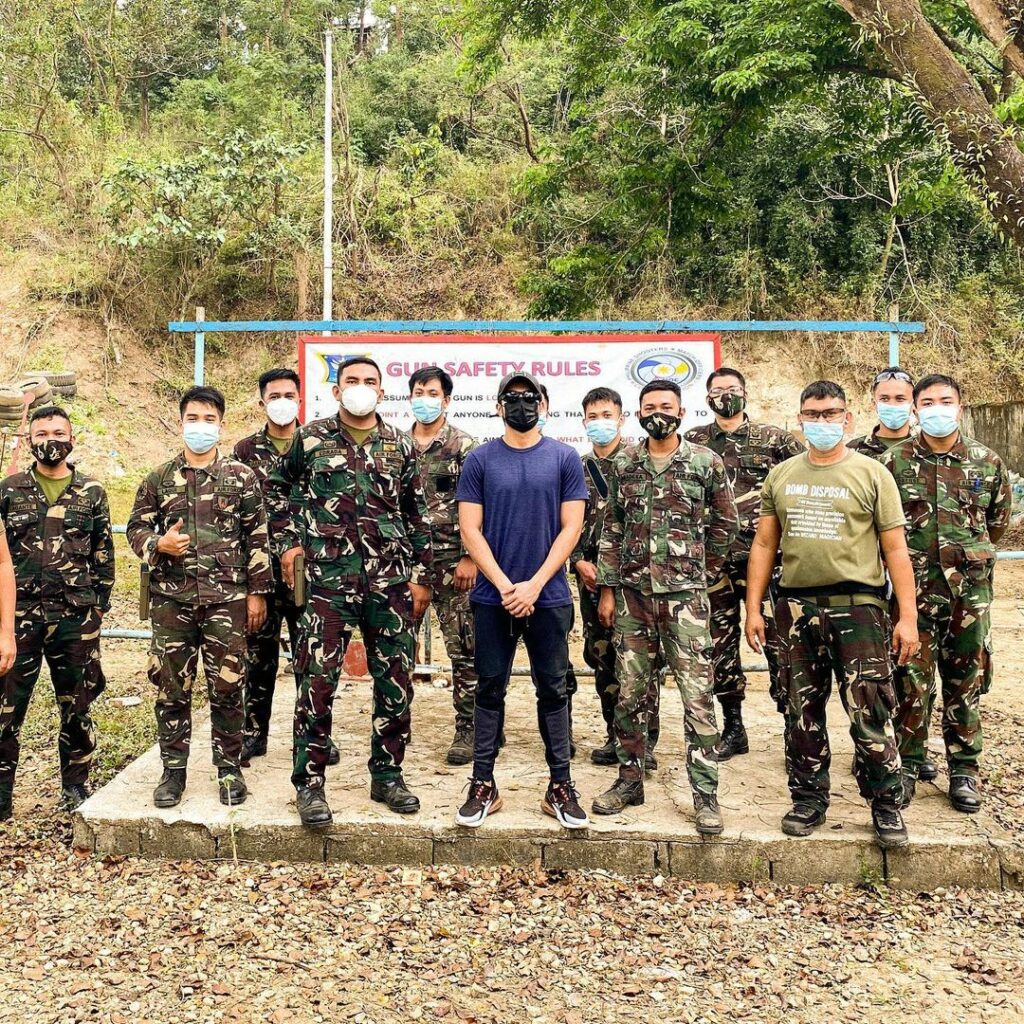 Miguel Tanfelix with the Philippine Airforce in Nasugbu, Batangas.
Image credit: @migueltanfelix_
Aside from the genius kid Jon Armstrong, who pilots the Volt Frigate AKA the legs, the Voltes V crew is known to be strong and skilled in fighting.
As Steve Armstrong, Miguel Tanfelix had to go through various training to play the team leader, who is both an ace pilot of the Volt Cruiser and a motocross champion. He did firearms training with the Philippine Air Force and with Jethro Dionisio, an Olympian shooter in the Philippines.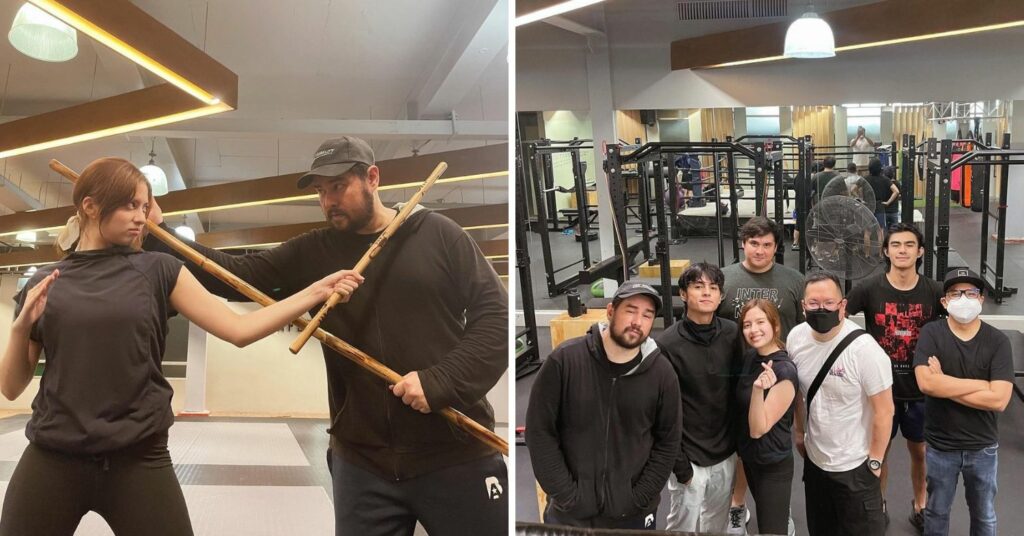 The main cast with Director Mark Reyes and their martial arts trainer.
Image adapted from: @ysabel_ortega
Each Voltes V team member has a combat specialty, so every cast member received a specially curated set of training.
As Big Bert, Matt Lozano is the chest of Voltes V or the Volt Panzer and a master of martial arts. Radson Flores plays Mark Gordon who is a skilled rodeo champion and serves as the arms or the Volt Bomber. Lastly, Ysabel Ortega had to learn martial arts and combat as Jamie Robinson, who is a ninja and the feet of Voltes V or the Volt Lander.
Combat training served not only to prep these artists for their roles but also as a way for them to bond as a team.
---
9. The filming started during the height of the pandemic
---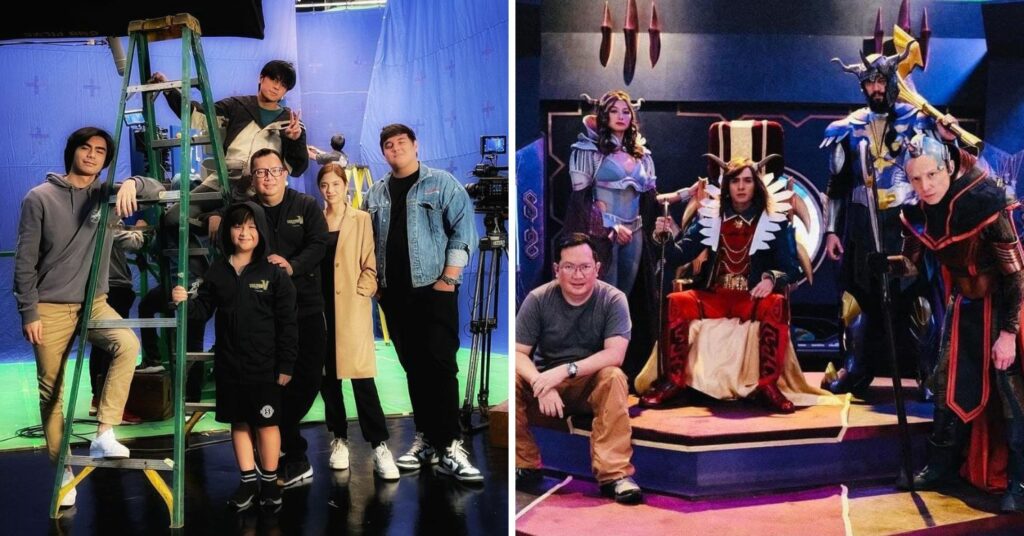 The protagonists are on the left and the villains on the right, with director Mark Reyes.
Image adapted from: @direkmark, Voltes V: Legacy
Due to the delay caused by the pandemic, the production and cast only began their lock-in taping in May 2021. Everyone had to follow a strict protocol to keep everyone safe in their bubble.
Raphael Landicho, who plays Little Jon, was thrilled when he finally got to the set because he didn't get to film until early 2022. As a ten-year-old, he wasn't allowed vaccinations during the first and second rounds of lock-in taping and wasn't able to join the rest of the cast for taping in 2021.
---
10. Slated to be released as a television series
---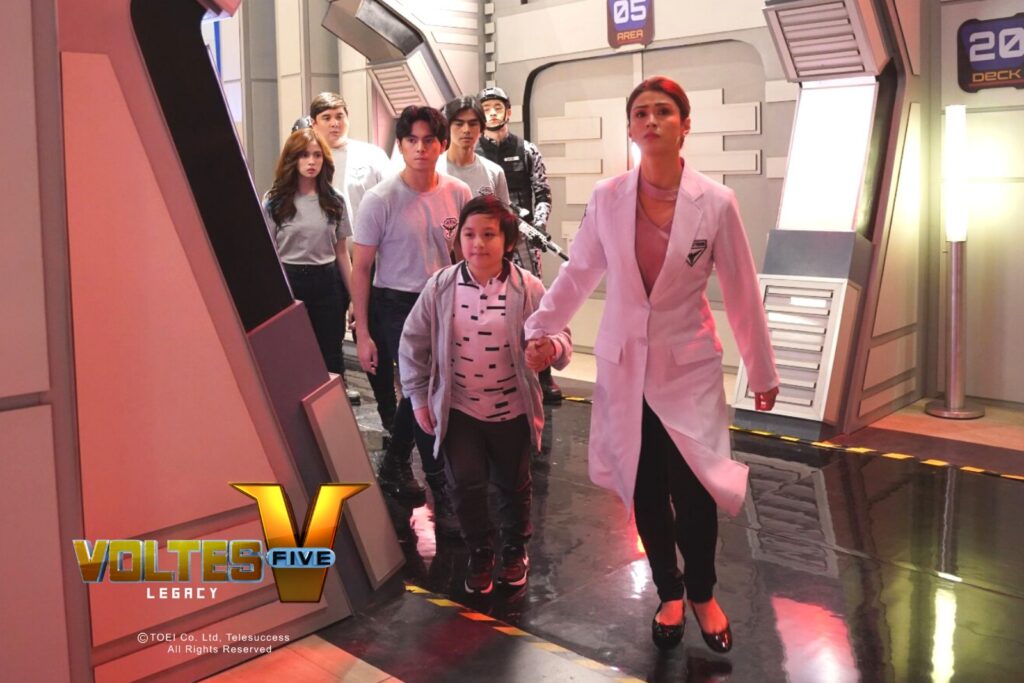 Carla Abellana as Mary Ann Armstrong leading the Voltes V team.
Image credit: Voltes V: Legacy
According to Miguel Tanfelix on ATM, the series is 80% done.
Post-production is currently underway and they plan to finish all the episodes before the premiere.
There is no definite premiere date yet, but the show is set to air in the second quarter of 2023 on the primetime block.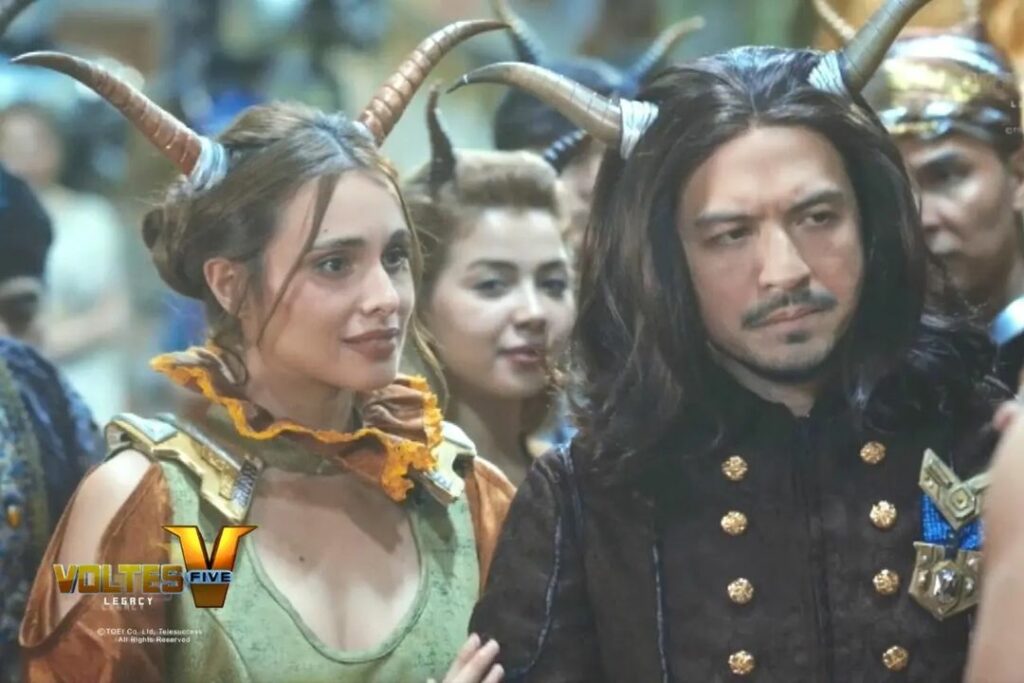 Max Collins as Rosalia and Dennis Trillo as Hrothgar/Dr. Ned Armstrong.
Image credit: @voltesvlegacy
Some YouTube reactors from other countries thought that GMA's Voltes V: Legacy was a movie because of how grand the trailer was. In fact, Direk Mark Reyes and Riot, Inc. originally pitched it as a movie, but GMA wanted it to air on TV.
---
Let's volt in with GMA's Voltes V: Legacy!
---
The years it took to get here shows how much of a big-scale project GMA's Voltes V: Legacy is. Teaser after teaser, the anticipation and curiosity only grow.
Finally, in just a few months from now, long-time and brand-new fans will get to volt in!
For more stories about animes, check out:
---
Cover image adapted from: @direkmark, Voltes V: Legacy, @voltesvlegacy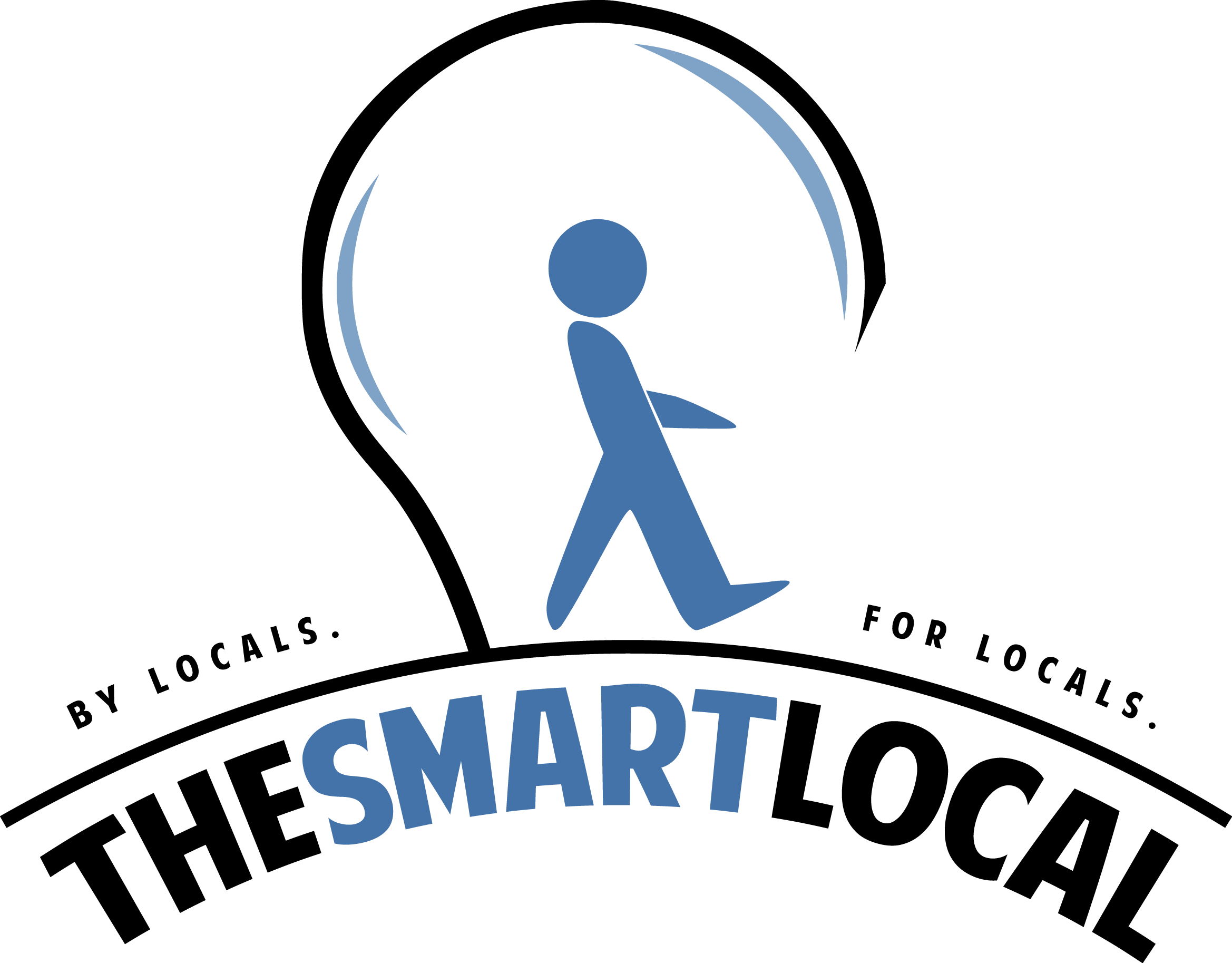 Drop us your email so you won't miss the latest news.