Philippine politics enter K-pop stan Twitter
---
Like any other K-pop fan, I hang out on stan Twitter in my spare time. It's where I look out for the latest content from my favorite K-pop groups. When I'm not looking for accurate English translations of BTS' latest Instagram stories, I spend my time there engaging with fellow fans, some of which have become my friends in real life.
Just like how K-pop Twitter casually spills into my daily life, other aspects of real life also permeate the stan Twitterphere, political issues included. But instead of being frustrated that my fangirling spaces are no longer all sunshine and butterflies, I feel proud of K-pop fans discussing politics and being involved in it.
---
What people think when they hear "K-pop fan"
---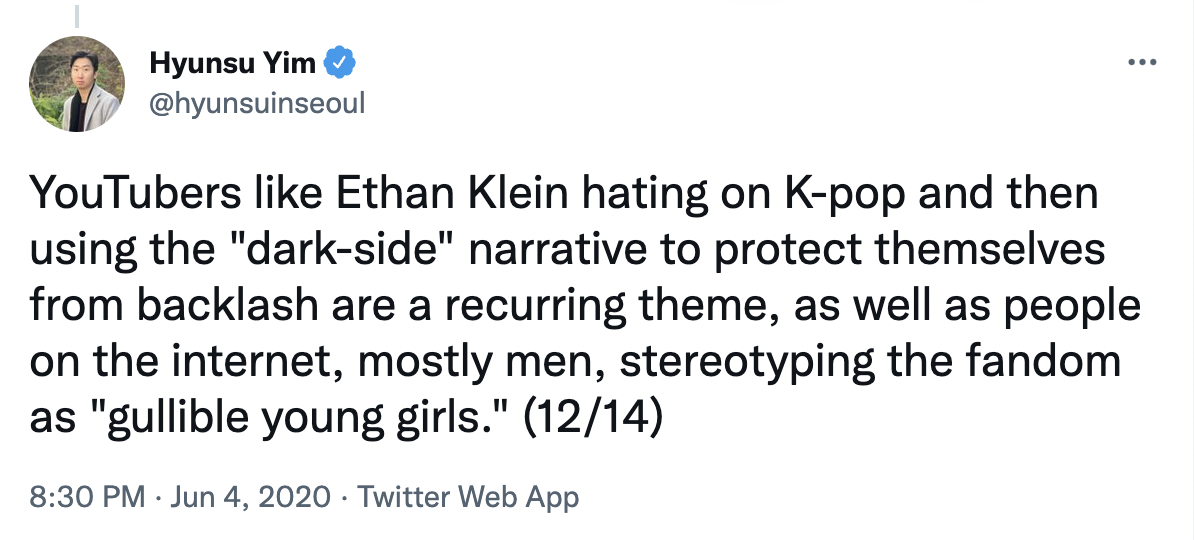 A tweet from The Korea Herald journalist Hyunsu Kim's thread on K-pop stans' involvement in politics
Image adapted from: @hyunsuinseoul
Some "locals" – internet slang for people who don't belong to a particular interest group – often think of us K-pop fans as immature people. They assume that we refuse to grow up just because we follow a particular group and spend money on things such as fan merchandise and concerts. 
Some people might even think we spend every second of our days giving dramatic reactions to videos of BTS' Jungkook's abs. To these people, we have no other thoughts inside our heads besides K-pop.
K-pop fandoms aren't the only groups that experience this stereotyping either. Interests that have a predominantly young and female fan base are also often thought as shallow. In the Philippines, these include fans of other popular music genres, anime, and love teams. 


A K-pop fan questions the double standard between perceptions of Pokemon and basketball card collectors and K-pop photocard collectors
This problematic image of female-dominated pop culture fandoms is deeply rooted in gender stereotypes and gender inequality. Society is fine with men collecting basketball cards and buying signed sports paraphernalia, but women are regarded as obsessive for doing the same things with K-pop merchandise. In a capitalist world, having hobbies that do not earn you money is also considered frivolous.
The immature image some "locals" have of pop culture fans is also wrong as fans have lives outside their hobby, just like everyone else. Some of us are even highly respected professionals in our respective fields. But even simply being a pop culture fan can mean being actively involved in making society better. "Locals" just refuse to believe it.
---
K-pop fans are actually engaged in politics too
---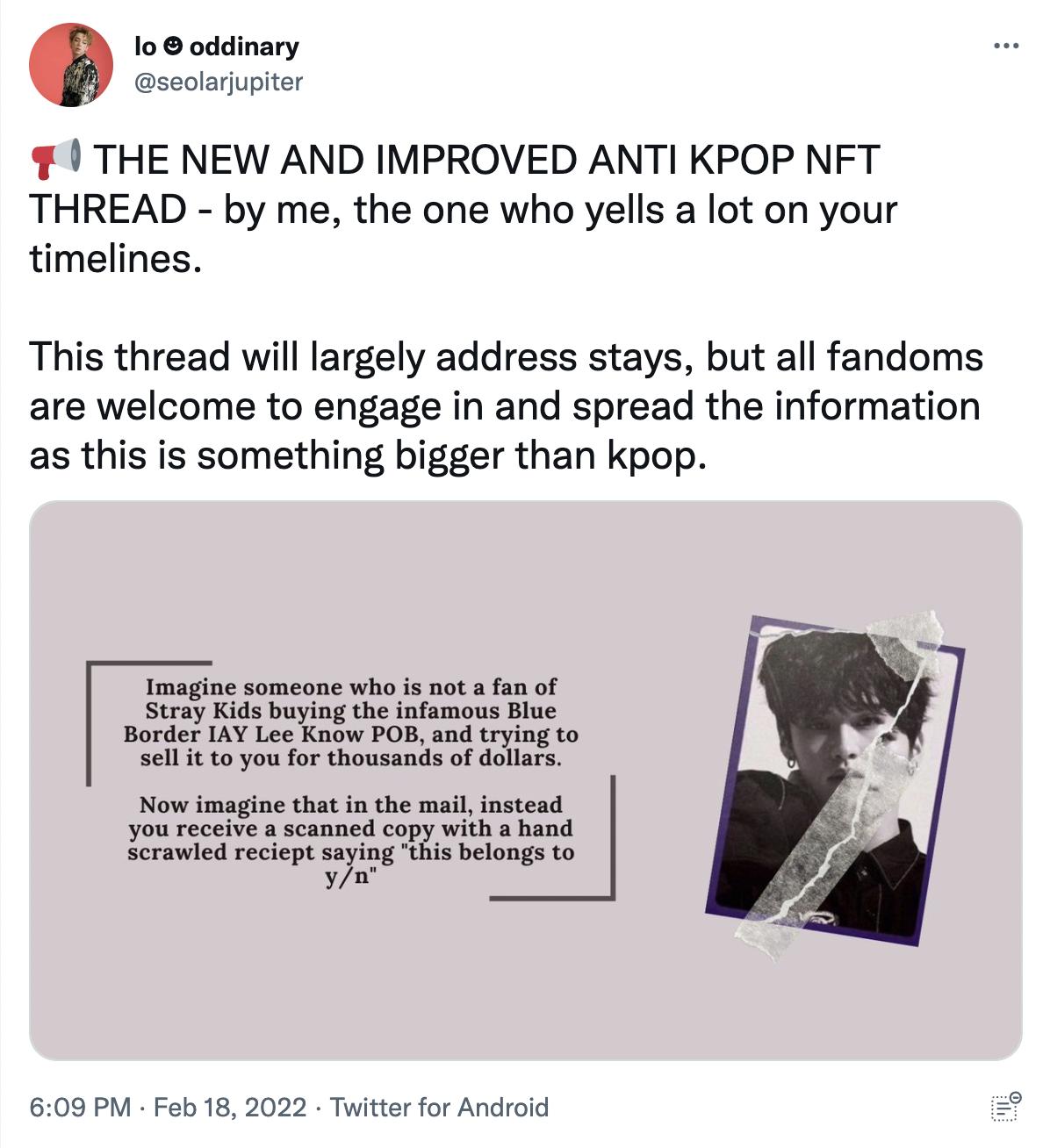 A Day6 fan's thread explaining NFTs
Image adapted from: @seolarjupiter
Not many people – even on social media – may know this given we all like to keep in our own spaces on the internet. But between voting for our favorite groups for awards and streaming their music videos, K-pop fans spark insightful conversations on Twitter about social and political concerns.
For others to easily understand current issues, K-pop fans make informative threads about them, including the dark side of NFTs. We also spread the word about issues such as discrimination, surveillance, and conflict in countries where it's hard for citizens to speak up.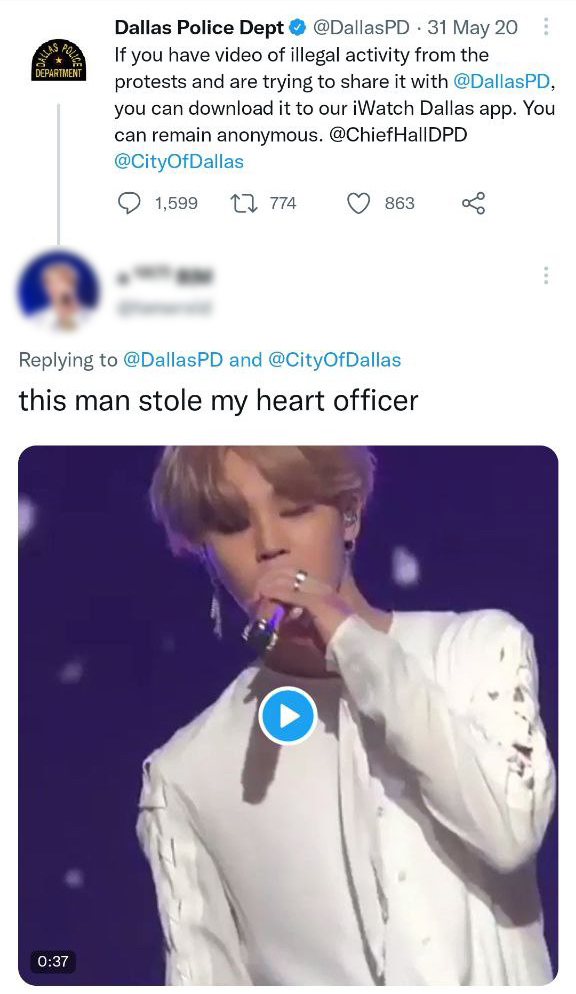 A reply to the Dallas Police Department's tweet containing a fan cam of BTS' Jimin
Our participation in politics isn't limited to engaging in conversations either. We also make online actions to combat harmful views, such as #WhiteLivesMatter which took attention away from the discrimination that black people face. K-pop fans hijacked this hashtag so tweets that disregard black people's experiences get buried and people who share the same mindset can't engage with each other. 
More impressively, K-pop fans globally spammed the US' Dallas Police Department's app with fan cams – videos of K-pop idols dancing – when the police asked for reports that could expose the identities of Black Lives Matter protesters during a wave of protests triggered by George Floyd's death in police custody.
---
We just do it with K-pop culture & Philippine politics crossovers
---

Filipino K-pop fans held a cupsleeve event for presidential candidate Leni Robredo
Images adapted from: Jaie/@KPOPSTANS4LENI
You might have also seen Filipino K-pop fans engage in political discourse in the Philippines, more so in the ongoing national election campaigns. What distinguishes us from other political supporters is our use of K-pop fan culture to forward our messages and encourage others to support who we think are the right candidates.
Leveling up from the usual campaign materials, we hold cupsleeve events where other supporters can get hand banners, cup sleeves, and photocards of our chosen candidate. We attend campaign rallies as if we're going to concerts, wearing K-pop merch, bringing lightsticks, and carrying witty signs.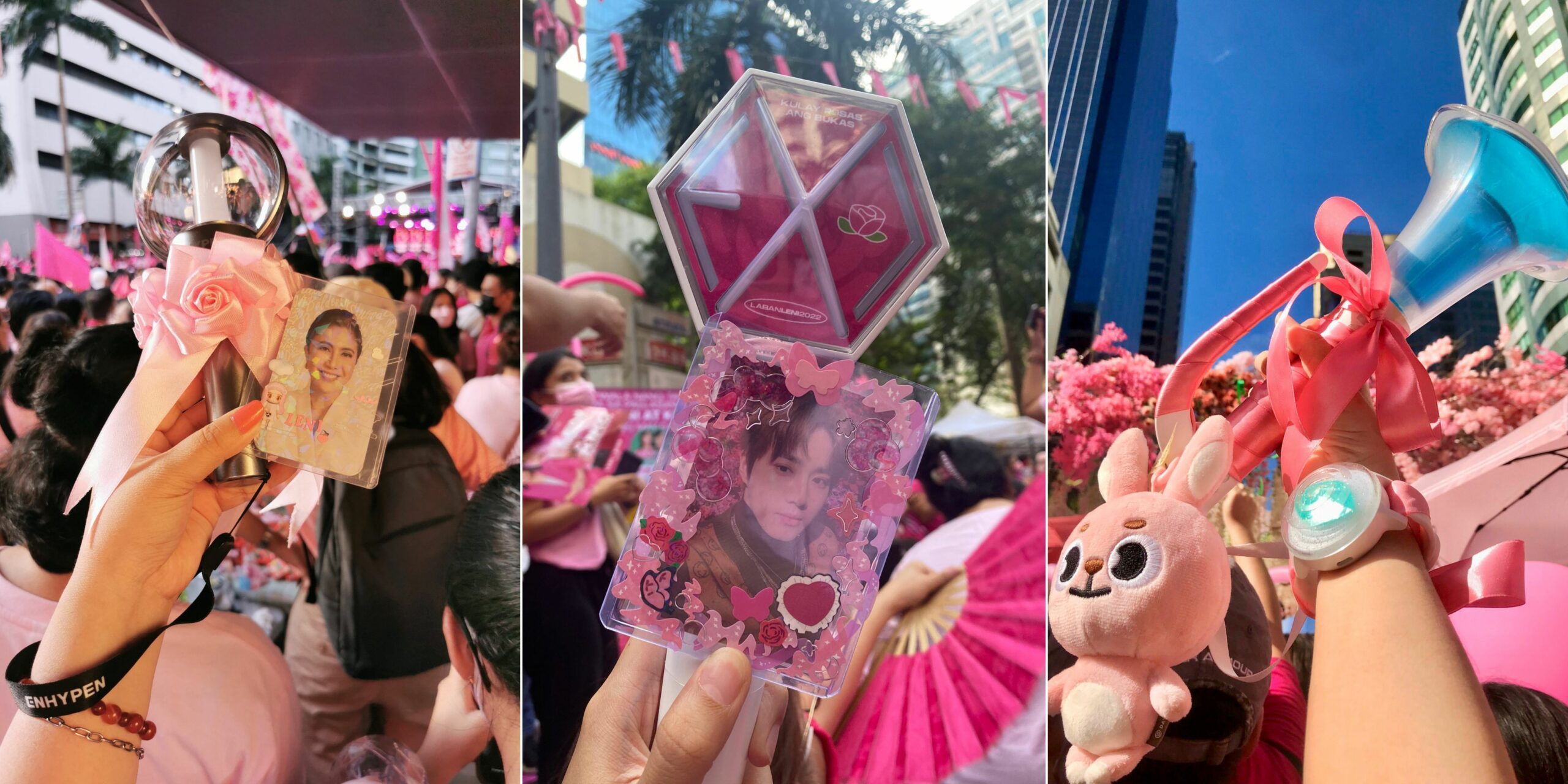 Lightsticks at the Leni-Kiko Campaign Rally in Pasig
Images adapted from: @DiosaNiNamjoon, @myeoncups, and @RchlM1004_
There are also K-pop references in our slogans such as the TikTok viral "Leni sunbae-nim" which refers to presidential candidate Leni Robredo as if she were a seasoned K-pop idol. Instead of simply saying they want her to win, K-pop fans say they're rooting for her "first win" like an idol at a music competition.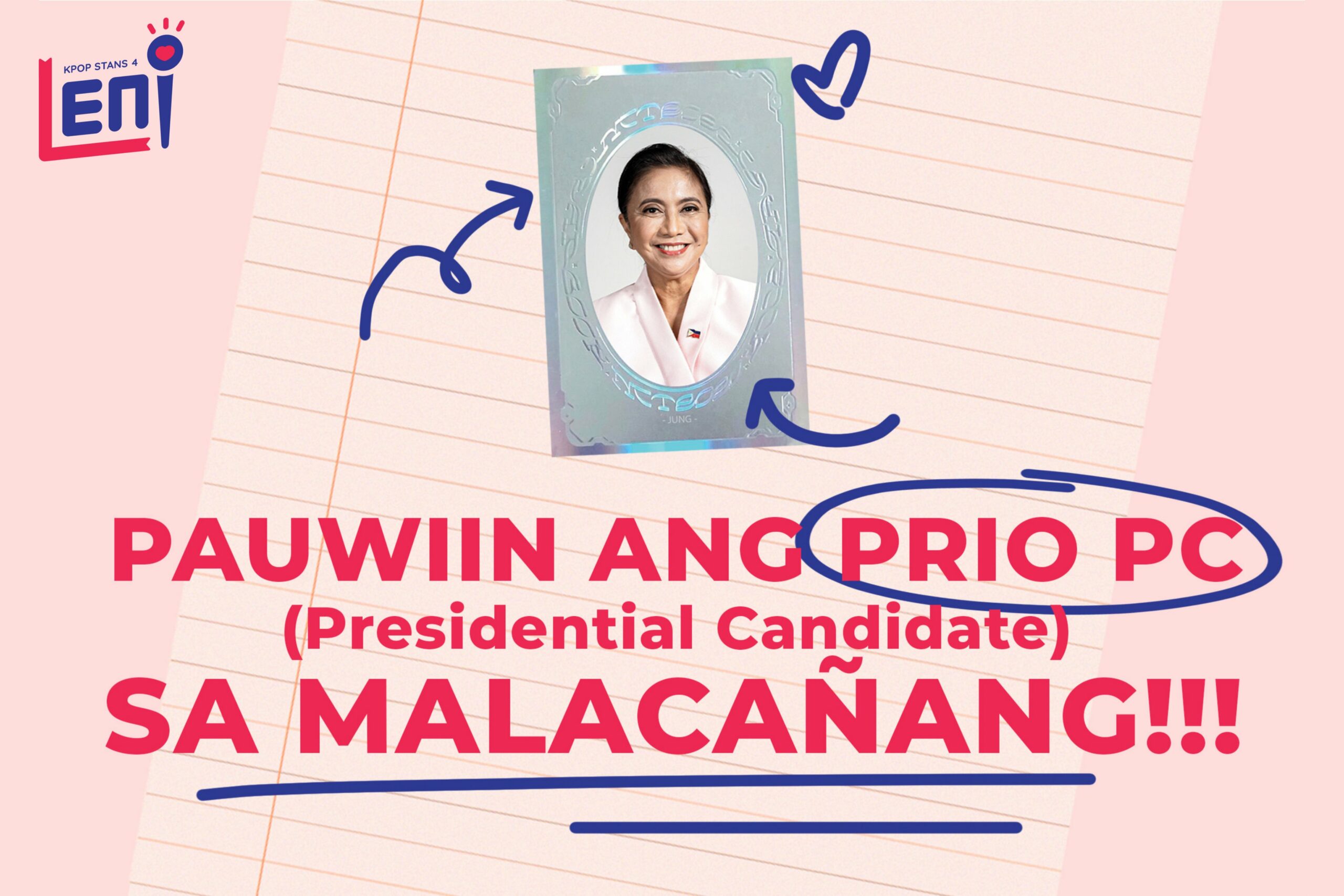 One of Kpop Stans 4 Leni's slogans
Image credit: @KPOPSTANS4LENI
There's even the statement "Pauwiin ang prio PC sa Malacañang" ("Bring the prio PC home to Malacañang"), popularized by the group Kpop Stans 4 Leni, a campaign group made up of fans of different K-pop artists. In K-pop stan Twitter, "prio PC" stands for priority photocard – an idol's photo that you really want to get.
Kpop Stans 4 Leni gave it a whole new meaning by using PC to allude to the priority presidential candidate, thus PC, the person we believe is the best choice for our country.
---
We do this for K-pop idols on the regular too
---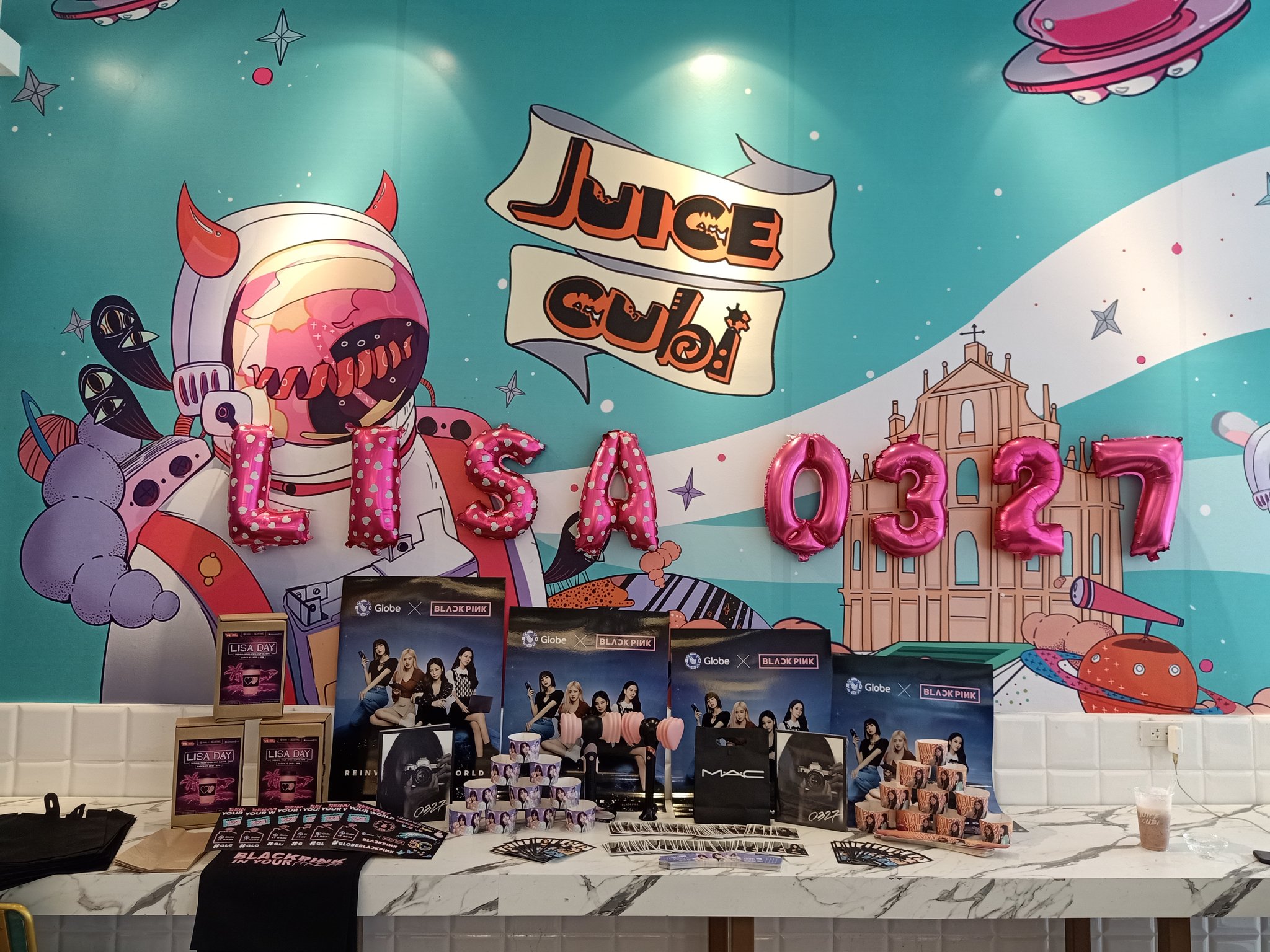 A cupsleeve event for BLACKPINK's Lisa's birthday
Image credit: @pizazzyninja
In case there are people who want to accuse Filipino K-pop fans of being paid to do these – as vote-buying is common during election season in the Philippines – fans regularly do these for K-pop idols for free, often even having to spend our own money. In fact, what Filipino K-pop stans do for their electoral candidates is inspired by what we do for our idols.
Even when there are no concerts, we gather with our co-fans and celebrate our favorite idols' and groups' birthdays and anniversaries and print out fanmade items to give out during these events. Instead of giving idols gifts, we donate huge amounts of money in their names to causes we believe in.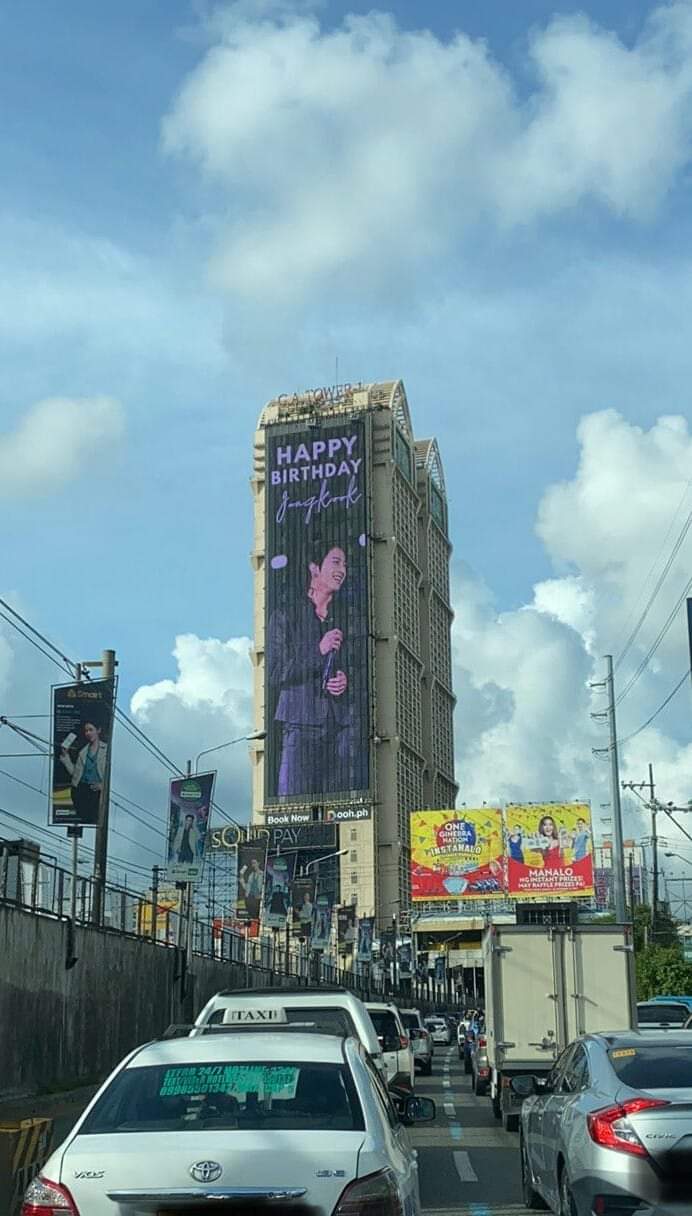 A birthday ad in EDSA for BTS' Jungkook's birthday
Image credit: @dumplingvmin
Rich K-pop fans even rent expensive digital billboards across the country – including the most popular billboard spot, the Mall of Asia Globe – to greet our favorite idols and promote them to non-fans at the same time.
We do these just because we're passionate about it and because K-pop idols have helped us more than people think. We do these without expecting recognition. If we can do these for idols in another country, we certainly can do these for the country and for a candidate we believe in.
---
Engaging in politics not only to campaign for candidates
---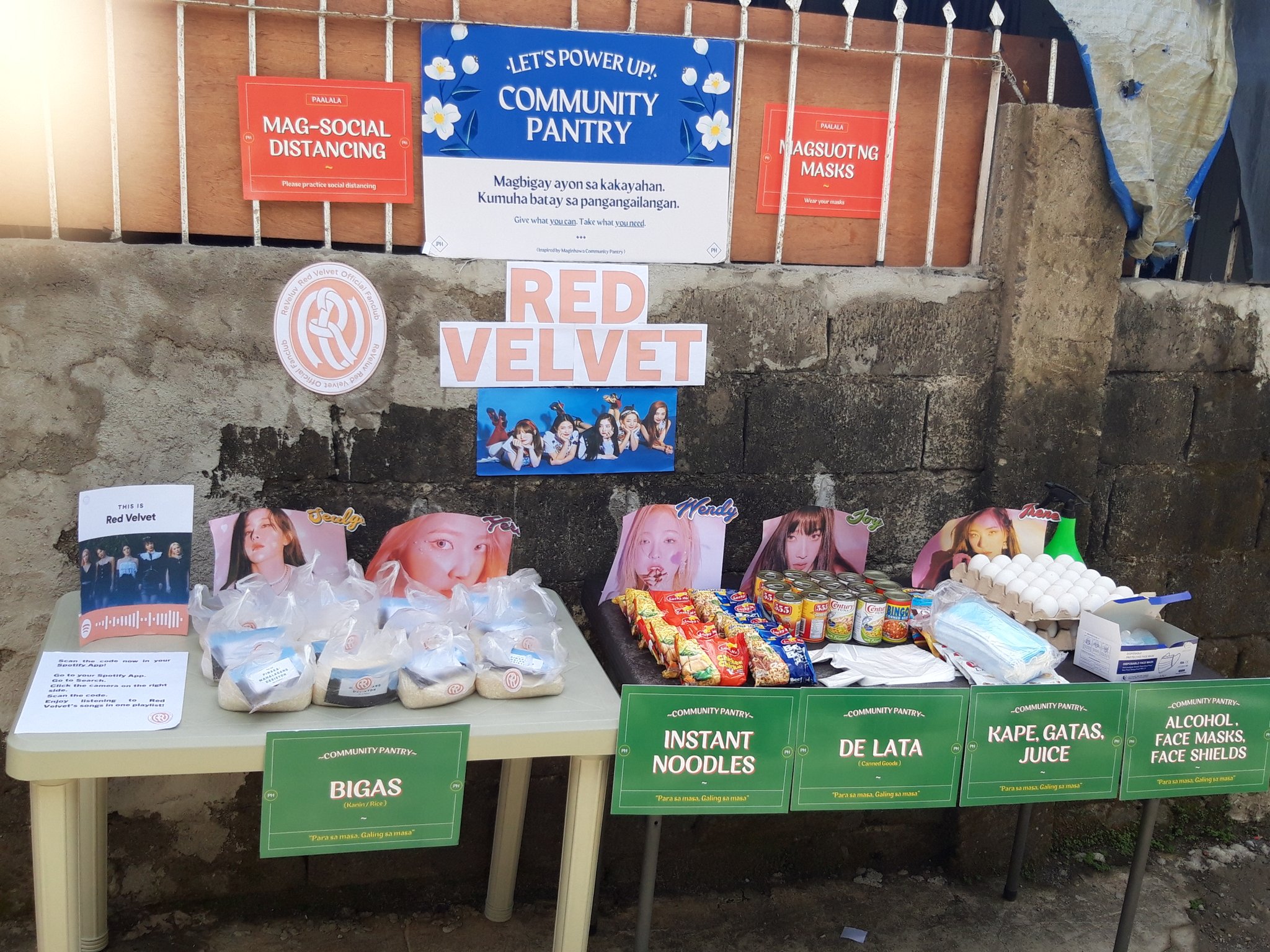 A community pantry created by Filipino Reveluvs, or Red Velvet fans
Image credit: @dnbnfc_
Memes help make political messages approachable to people who don't normally engage in the topic. However, Filipino K-pop fans' involvement in politics goes deeper than trend- and meme-worthy materials and is not just exclusive to campaigning for candidates. 
During the start of the pandemic in 2020, K-pop fanbases in the Philippines created community pantries amid other community pantry organizers being red-tagged, accused of being subversives. 
We also show our solidarity with marginalized groups whose safety is compromised in favor of capitalists so they can continue to be safe. For instance, fans of EXO and Red Velvet donated to Save Arboretum Network, an alliance that protects the urban rainforest Pook Arboretum and its residents who face threats of displacement due to commercial expansion.
To provide voter education and inform other people about political issues, a group of Girls Generation fans on Twitter also started #Eleksyonisms – talks done on the Twitter live audio feature Spaces.
---
Proving the "locals" wrong
---
These initiatives prove that K-pop fans are not detached from society. K-pop is just a culture and a community we enjoy to take a break from our daily lives. Outside of K-pop, we are workers and students, too, responsible for complying with laws and affected by price surges, which is why we feel the need to speak up about politics.
Of course, there are also apolitical fans. But "locals" aren't all outspoken about political issues either.
The base line is that any group of people shouldn't be othered by the rest of society just because of their hobbies. Whatever things we like to enjoy, we're all responsible for making conscious decisions when it involves the future of our country.
Also check out:
---
Cover image adapted from: Alex/KPOP STANS 4 LENI and @dnbnfc_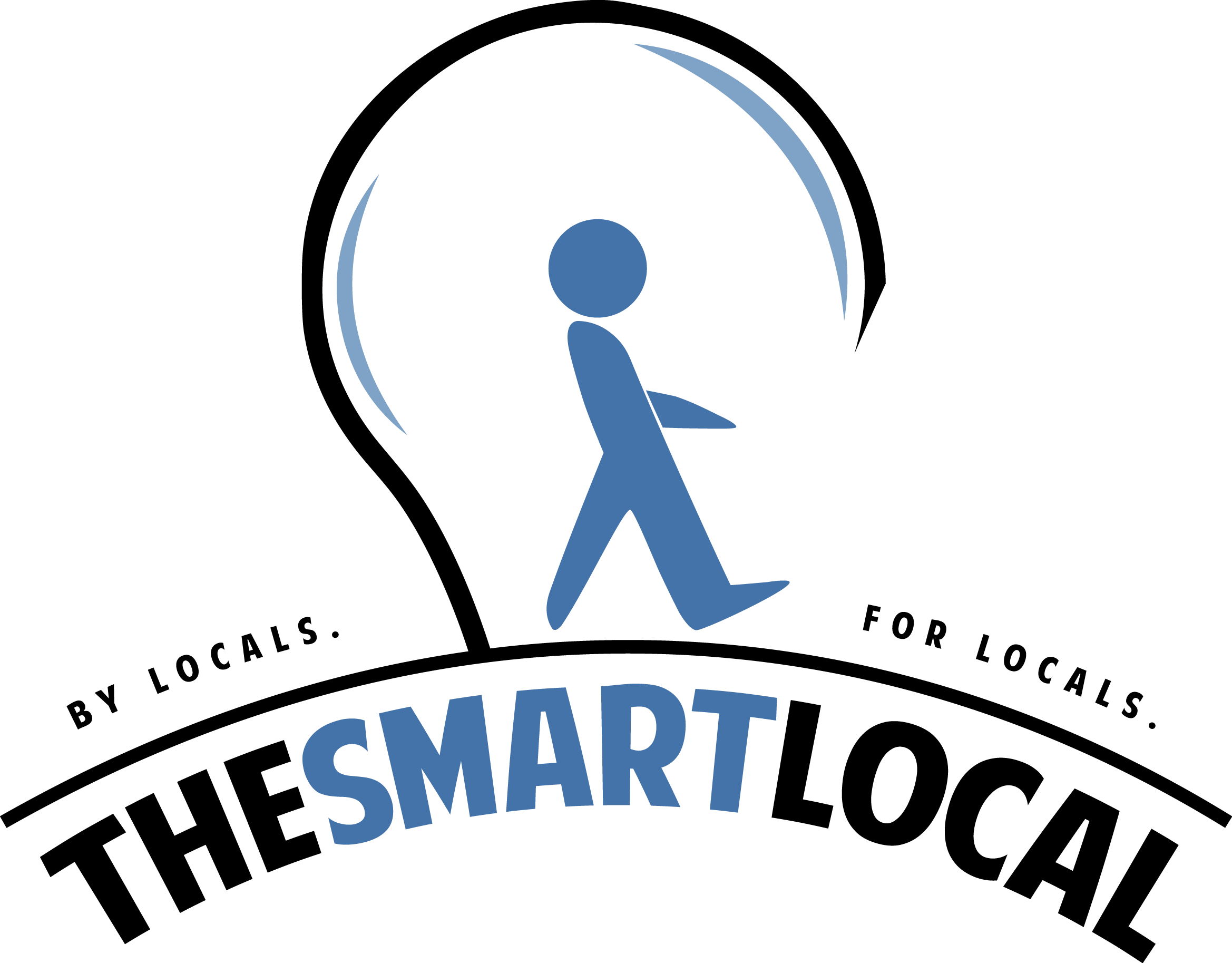 Drop us your email so you won't miss the latest news.