Christmas season food in the Philippines
---
There are two things Filipinos love the most – food and Christmas. So when it's Christmas season, we go all out and prepare dishes we don't usually get at any other time of the year.
If you're interested in Filipino culture or you're a Filipino who wants to see what traditional Christmas food you haven't had, we've listed some traditional Filipino Christmas foods, from snacks to appetizers to main dishes to desserts.
---
1. Puto bumbong – purple rice cakes steamed in thin bamboo tubes
---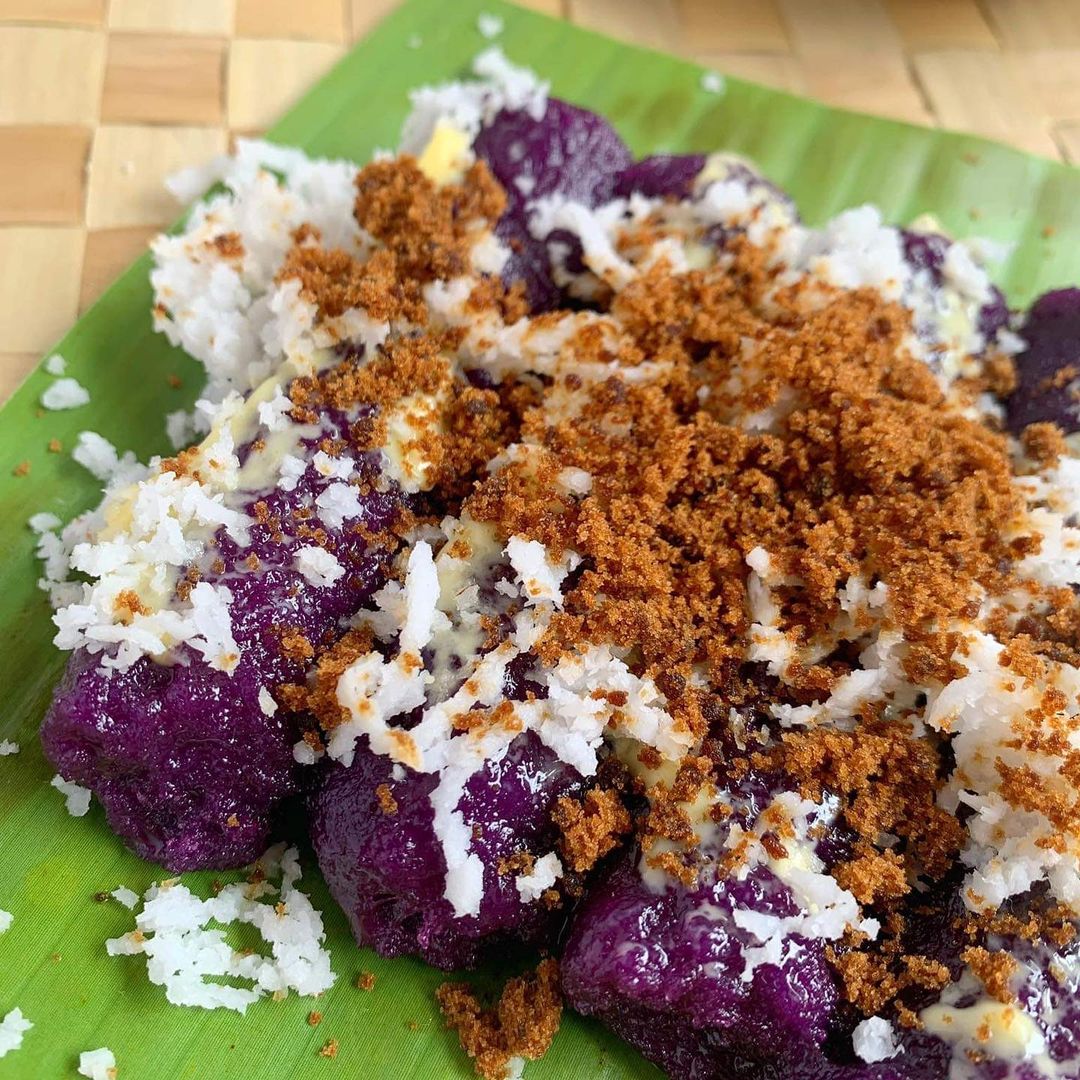 Image credit: @lisabibingka
The traditional Filipino Christmas food puto bumbong is usually sold near churches during simbang gabi, the series of evening or early morning masses that happens for 9 days before Christmas.
Each of these purple rice cakes steamed in a bumbong, a short, thin bamboo tube. Traditionally, it was made with pirurutong, an heirloom black glutinous rice variant that becomes purple when cooked but is now substituted with regular glutinous rice and purple food coloring.
This sweet snack is usually topped with butter or margarine, coconut shavings, and muscovado sugar and is served in threes on a banana leaf. 
---
2. Bibingka – rice cake topped with coconut strips, salted egg slices, and cheese
---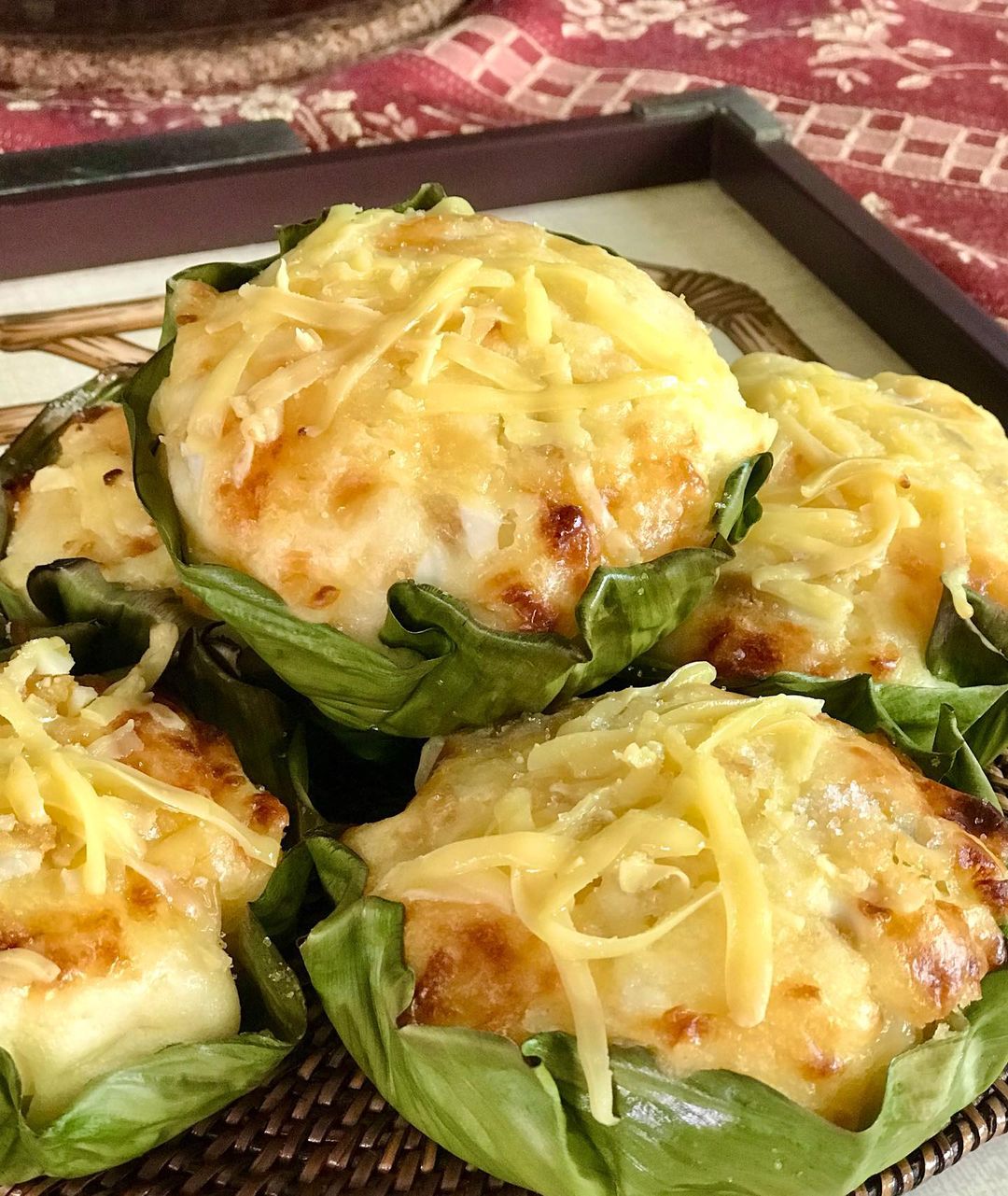 Image credit: @margot31
Like puto bumbong, bibingka is another traditional Filipino rice cake that is commonly sold near the church during simbang gabi. While it can be found in traditional markets and even malls during the rest of the year, it's also a popular Christmas season food. 
Bibingka is made of powdered glutinous rice, coconut milk, eggs, sugar, and margarine. Traditionally, it is cooked on a clay pot lined with banana leaf, with charcoal over and under the pot to cook the contents evenly.
This slightly sweet, filling rice cake is usually topped with coconut strips, salted egg slices, and cheese, giving it a salty-sweet flavor.
---
3. Castañas – wok-roasted chestnuts commonly sold on the streets
---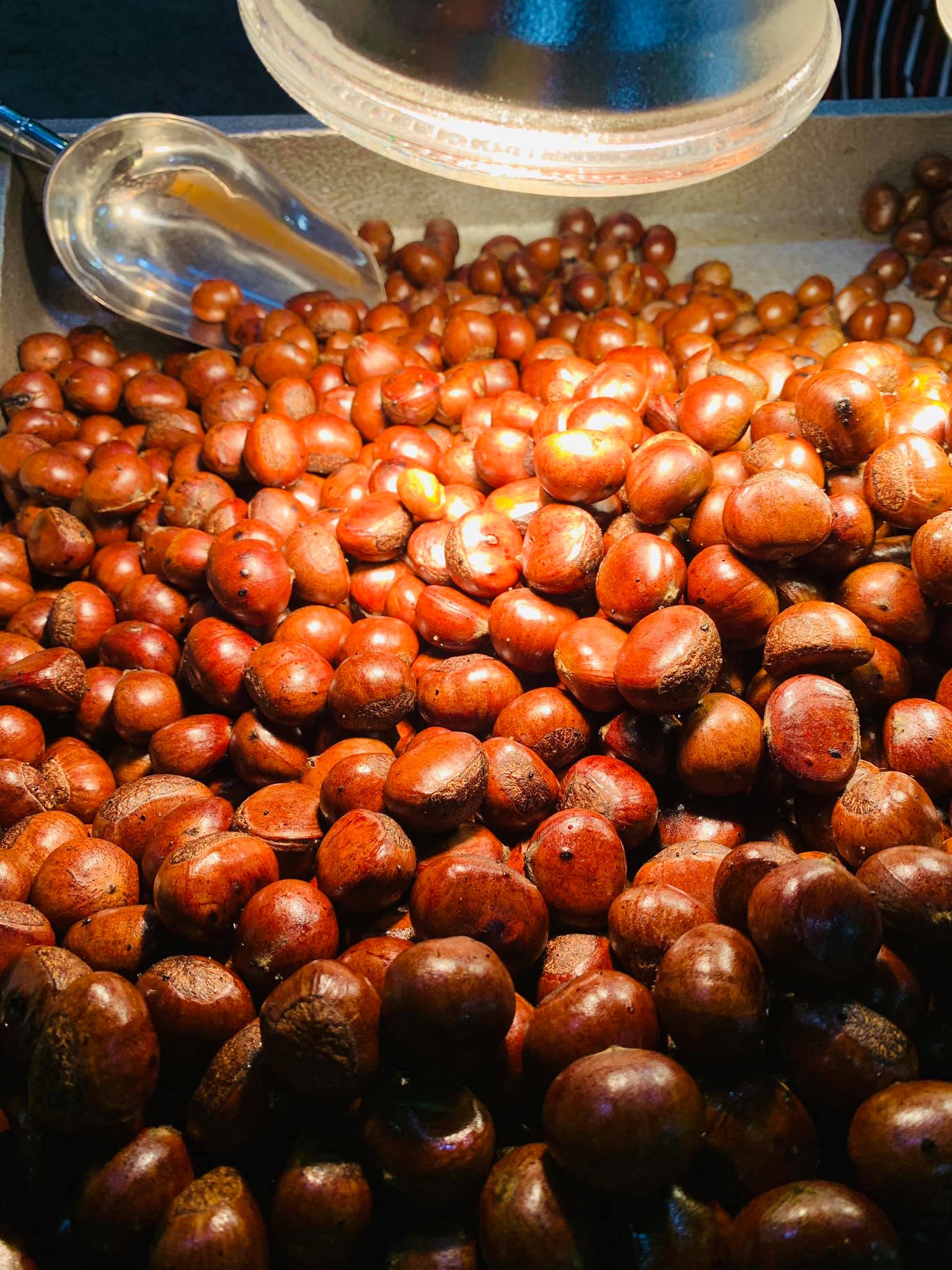 Image credit: Classic Castañas
To many Filipinos, the nutty aroma of castañas or roasted chestnuts signifies that Christmas is fast approaching.
In the Philippines, these are sold on the streets, in markets, or malls, especially around December. Traditionally, they are cooked in huge woks where they are sold, but they can also be oven-roasted.
This Christmas delicacy gives a sweet, smoky, and nutty taste and is best enjoyed warm. However, it can come with a steep but well-worth-it price tag.
---
4. Queso de bola – round Edam cheese coated in red paraffin wax
---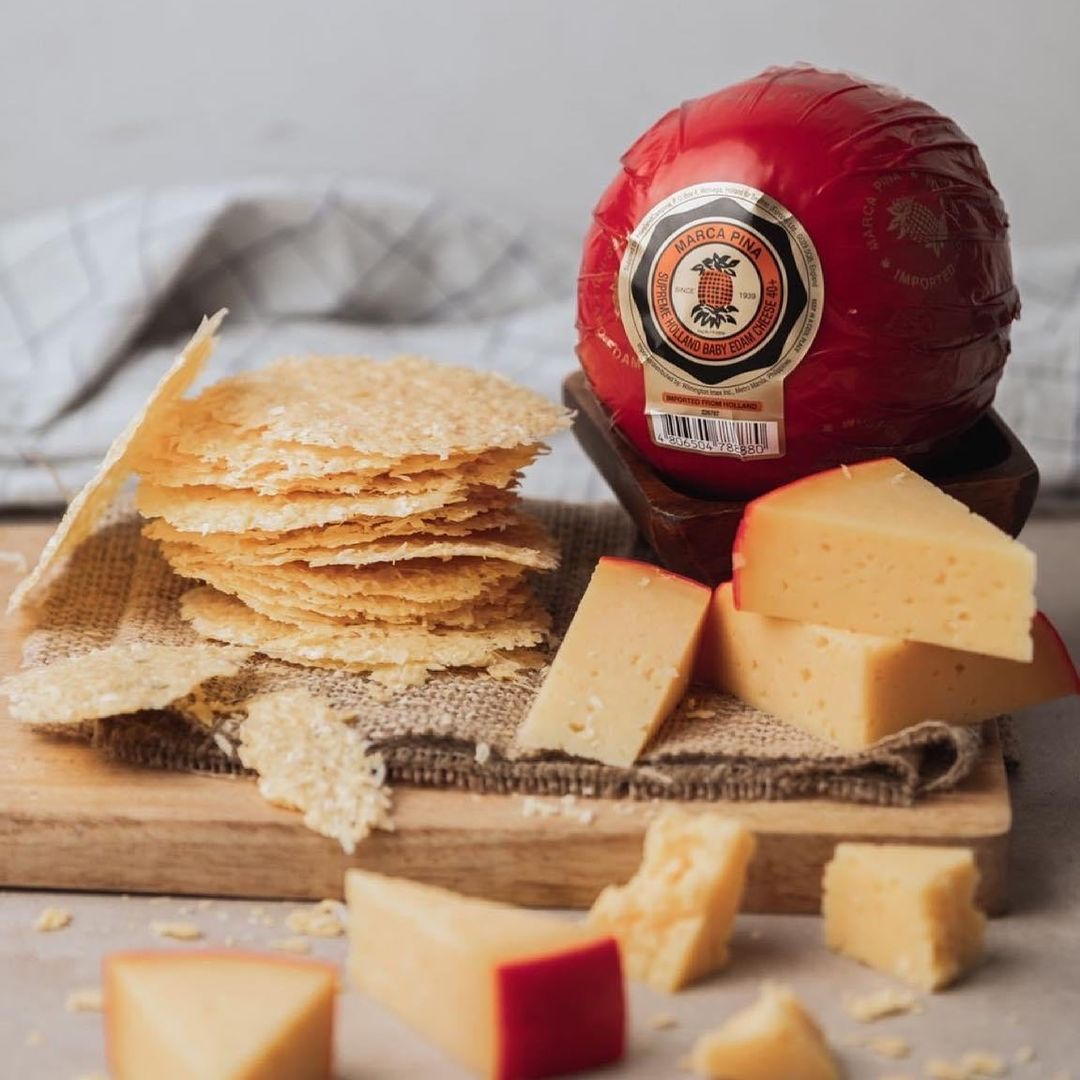 Image credit: @marcapinacheese
Queso de bola literally translates to "ball of cheese" in English. It's a round, semi-hard Edam cheese with a salty and nutty flavor and covered in red paraffin wax.
You can add it to sandwiches with Christmas ham or add it to your pasta dish. If you enjoy eating cheese, you can also eat queso de bola by itself.
This cheese is available in grocery stores mostly around Christmastime but you may also be able to find it at the mall during the off-season.
---
5. Christmas ham – cured, smoked pork with pineapple glaze
---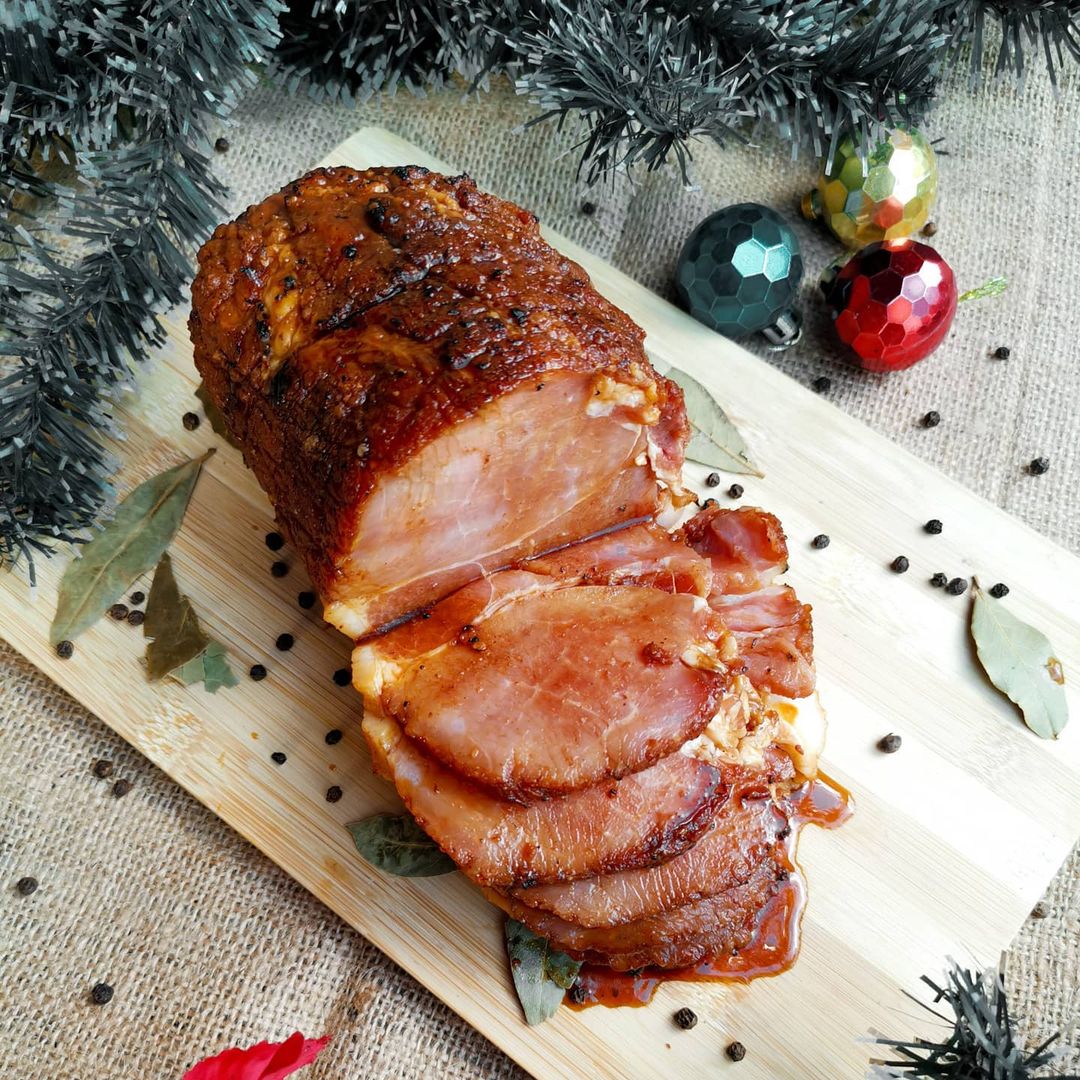 Image credit: @blehtot
Christmas ham in the Philippines is cured, smoked pork leg with a fruity glaze – usually pineapple – that gives it a smoky-sweet taste.
It can be eaten with queso de bola as an appetizer or in a sandwich. Of course, no one can stop you from enjoying Christmas ham as it is.
If it has already been cured and smoked, it's ready to eat. But be sure to check the label. Even if your Christmas ham is ready-to-eat, though, you can still cook it as you wish.
This traditional Filipino Christmas food is sold in grocery stores and is only available during the Christmas season.
---
6. Pancit – a Filipino celebration staple that symbolizes long life
---

Pancit bihon
Image credit: @sharlenewhitaker
Pancit, or stir-fried rice or egg noodles, is a Filipino celebration staple. Its main ingredient, long noodles, is said to bless people with long life.
There are plenty of types of pancit in the Philippines, such as canton and sotanghon. But the most popular pancit for celebrations would be pancit bihon, thin rice noodles stir-fried with carrots, cabbage, green beans, and meat.
Some families also prefer substituting the usual pancit variants with pancit Malabon which is thicker rice noodles in orange palabok sauce topped with shrimp, cuttlefish, sliced hard-boiled eggs, and crushed chicharon (deep-fried pork rinds).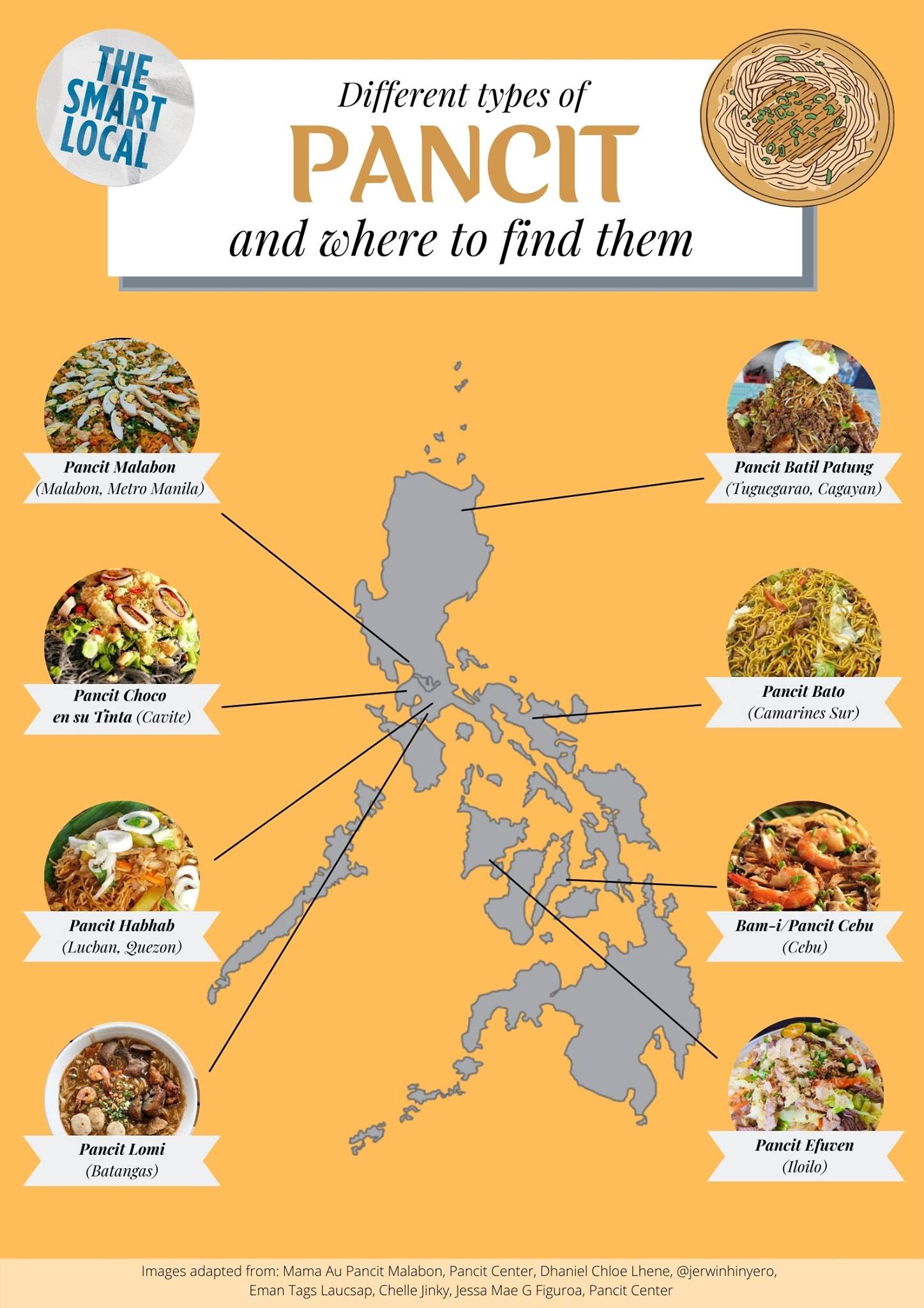 ---
7. Lumpiang Shanghai – crowd-favorite ground pork egg rolls
---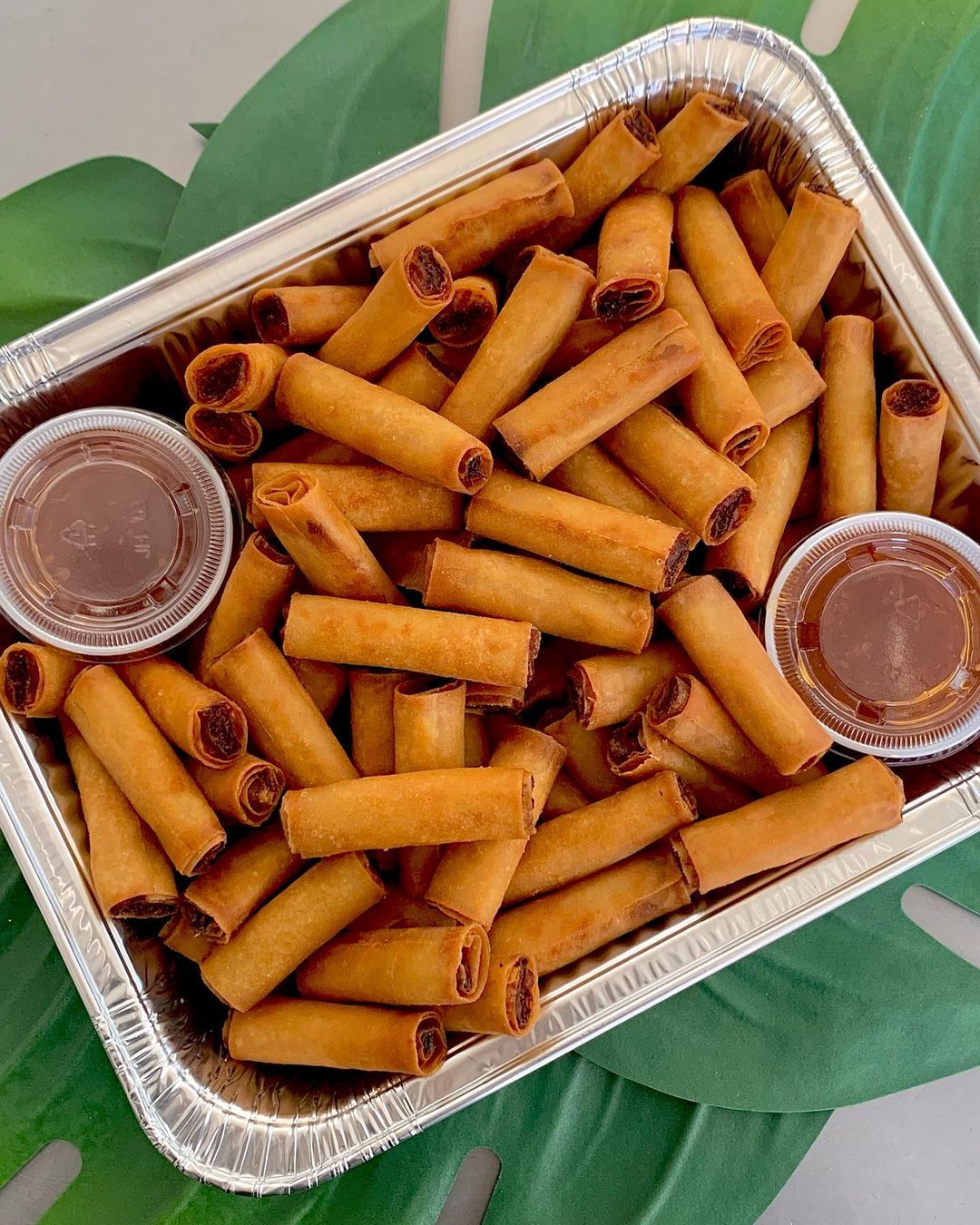 Image credit: @mamas_lumpia
Like pancit, lumpiang Shanghai is also a Filipino celebration staple. In fact, it's a running joke in the Philippines that you shouldn't bother throwing a party if you don't have lumpiang Shanghai.
This popular dish has simple ingredients – ground pork with minced carrots and garlic and seasoned with salt and pepper. This is then wrapped in store-bought egg white crepes and deep-fried until golden brown and crispy.
Lumpiang shanghai's meaty taste makes it the perfect vessel for different types of sauces. It can be dipped in sweet banana ketchup, sweet chili sauce, or lechon sauce.
As this traditional Filipino Christmas food is a crowd-favorite finger food, it usually runs out first during celebrations.
---
8. Barbecue – different parts of pork and chicken grilled in skewers
---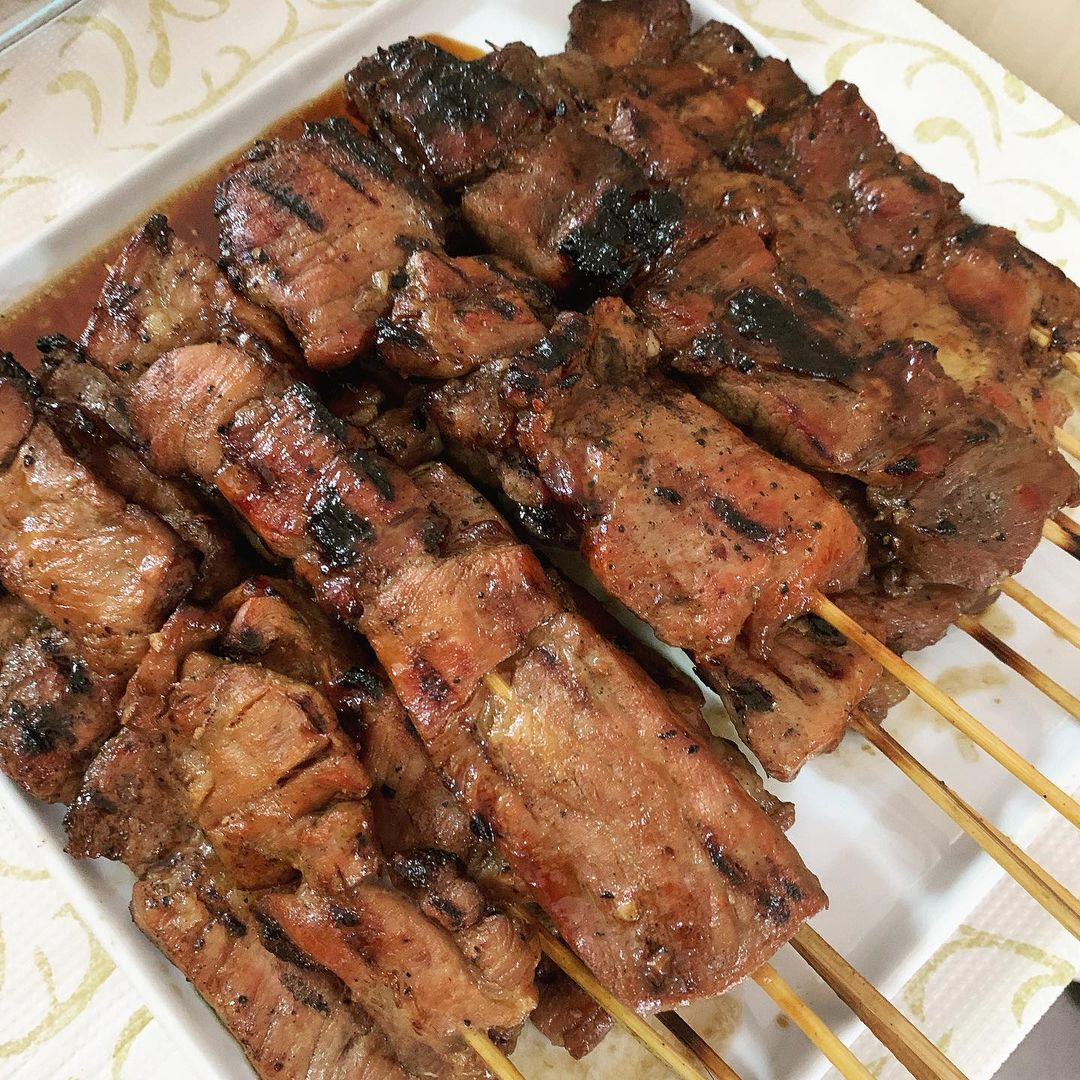 Pork barbecue
Image credit: @madcravingsdiary
Barbecue in the Philippines is unlike barbecue in the rest of the world and not only because it's in skewers.
Besides pork meat, it can include parts of the pig such as the large intestines, lungs, ears, and solidified blood. Chicken feet, head, neck, and intestines can also be barbecued. These are usually marinated in a homemade sauce made of soy sauce, banana ketchup, calamansi (Philippine lime) juice, garlic, brown sugar, and black pepper. 
Family members usually bond while preparing the skewers and grilling the meat over charcoal on Christmas Eve. However, you can also find Pinoy barbecue on the streets on regular days.
This traditional Filipino Christmas food can be enjoyed by itself or with a dipping sauce which is typically made with vinegar and onions.
---
9. Leche flan – custard dessert with a clear caramel glaze
---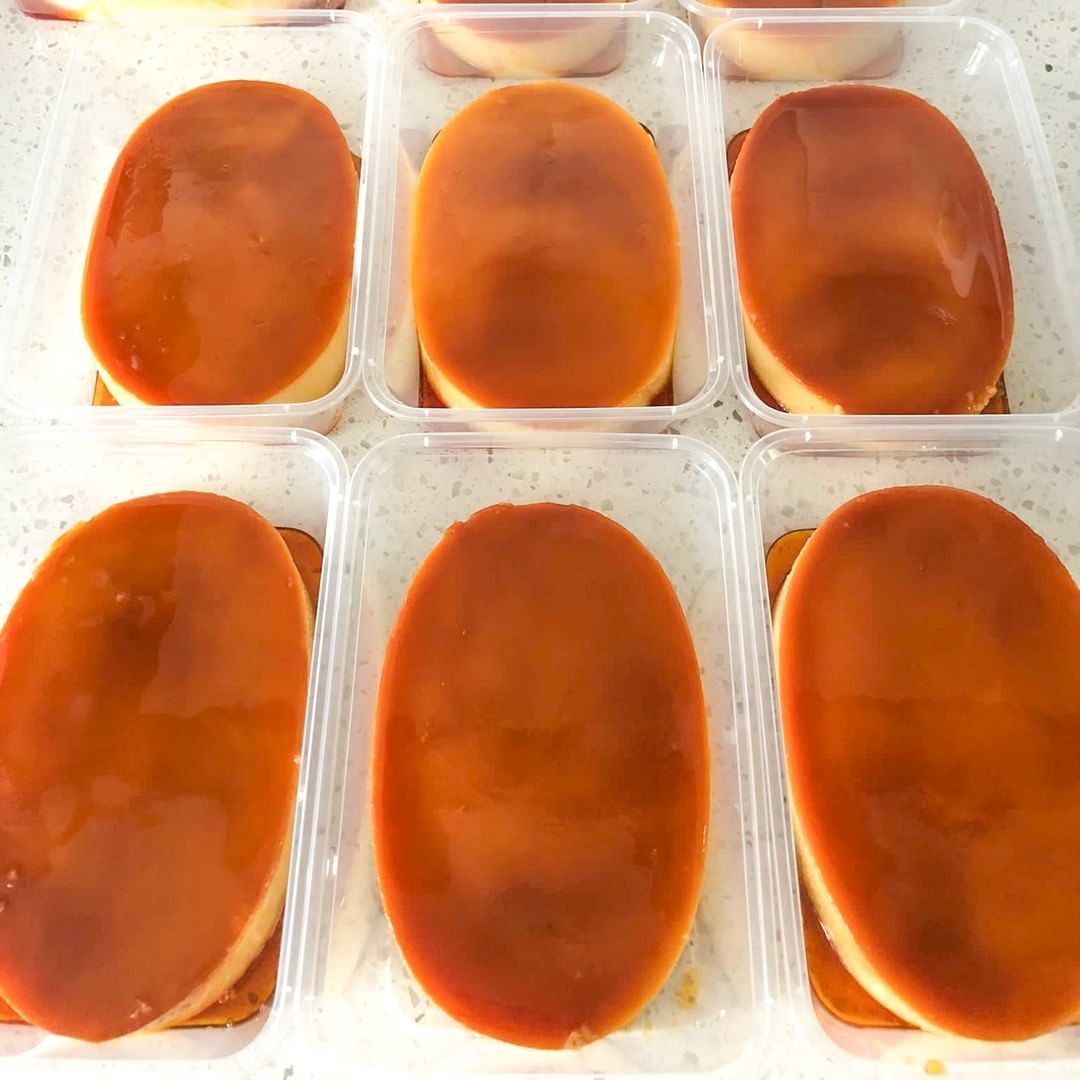 Image credit: @azucarbakery.m
The traditional Filipino Christmas food leche flan is quite difficult to prepare, which is why it's usually reserved for celebrations like Christmas. 
It's sweet and creamy custard made with egg yolks, condensed milk, and evaporated milk topped with caramel syrup made with white sugar. Lemon zest is also added to make it more aromatic.
While it has simple ingredients, the process of steaming and making the glaze is easy to mess up for beginners.
Fortunately, it can also be bought from Filipino restaurants and small food businesses for those who want to skip all the trouble of preparing this custard dessert but still find it hard to resist.
---
10. Salad – sweet, fruity, and cool dessert of different types
---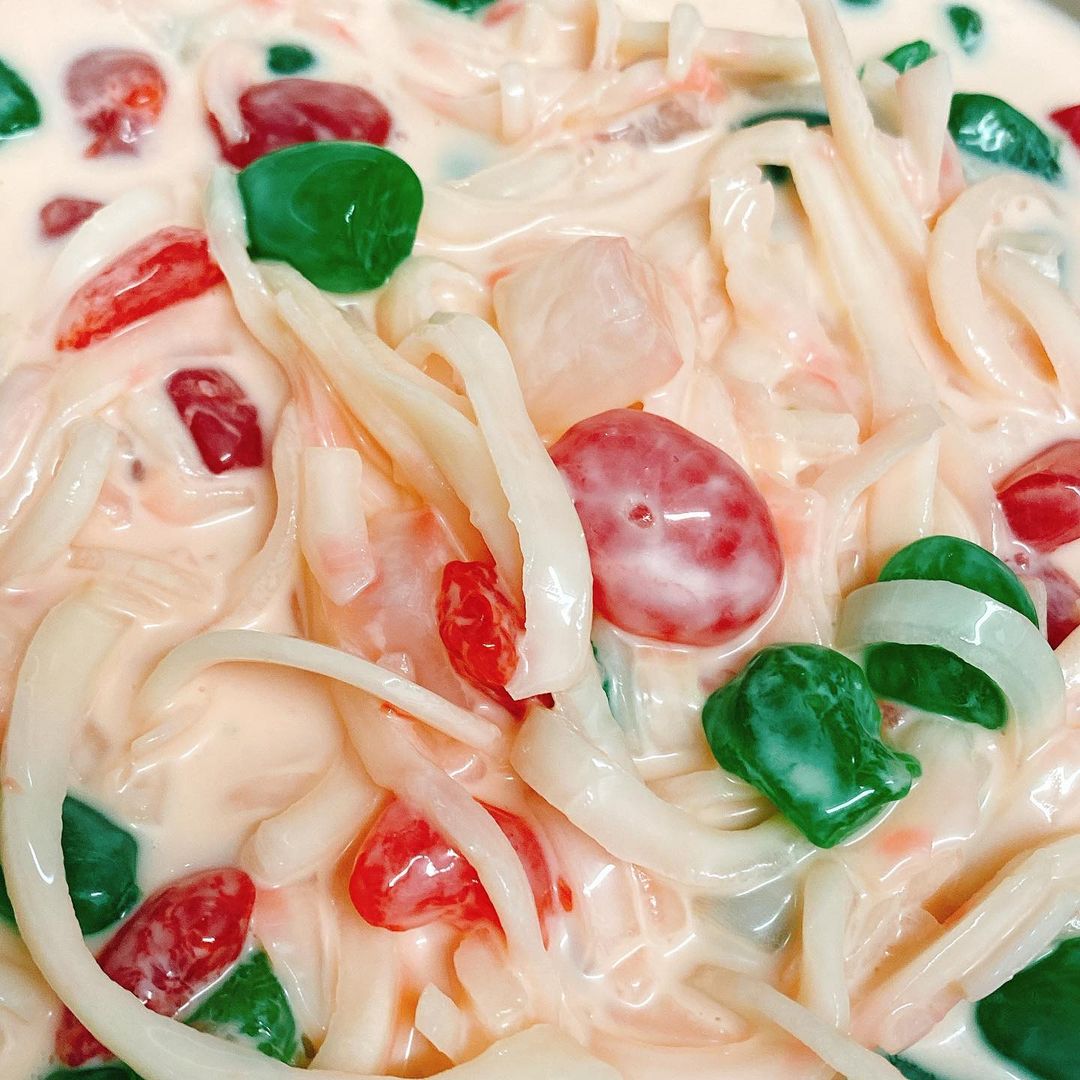 Buko salad with kaong and nata de coco
Image credit: @ryukenphajed
Salad in the Philippines usually refers to a sweet dessert instead of leafy greens with a savory dressing. There are different types such as fruit salad, buko (coconut) salad, and macaroni salad. 
These sweet salads' common ingredients are all-purpose cream, condensed milk, sago (tapioca pearls), nata de coco (chewy coconut jelly), kaong (cooked sugar palm fruit in syrup), and fruit cocktail – canned preserved fruits, usually pineapple, papaya, and cherries.
Once the ingredients are mixed, the salad is then refrigerated to make a cool, refreshing dessert.
---
Traditional Filipino Christmas foods
---
So you and your friends or family can easily check if you've tried all of these traditional Filipino Christmas foods, we've prepared a downloadable poster for you below.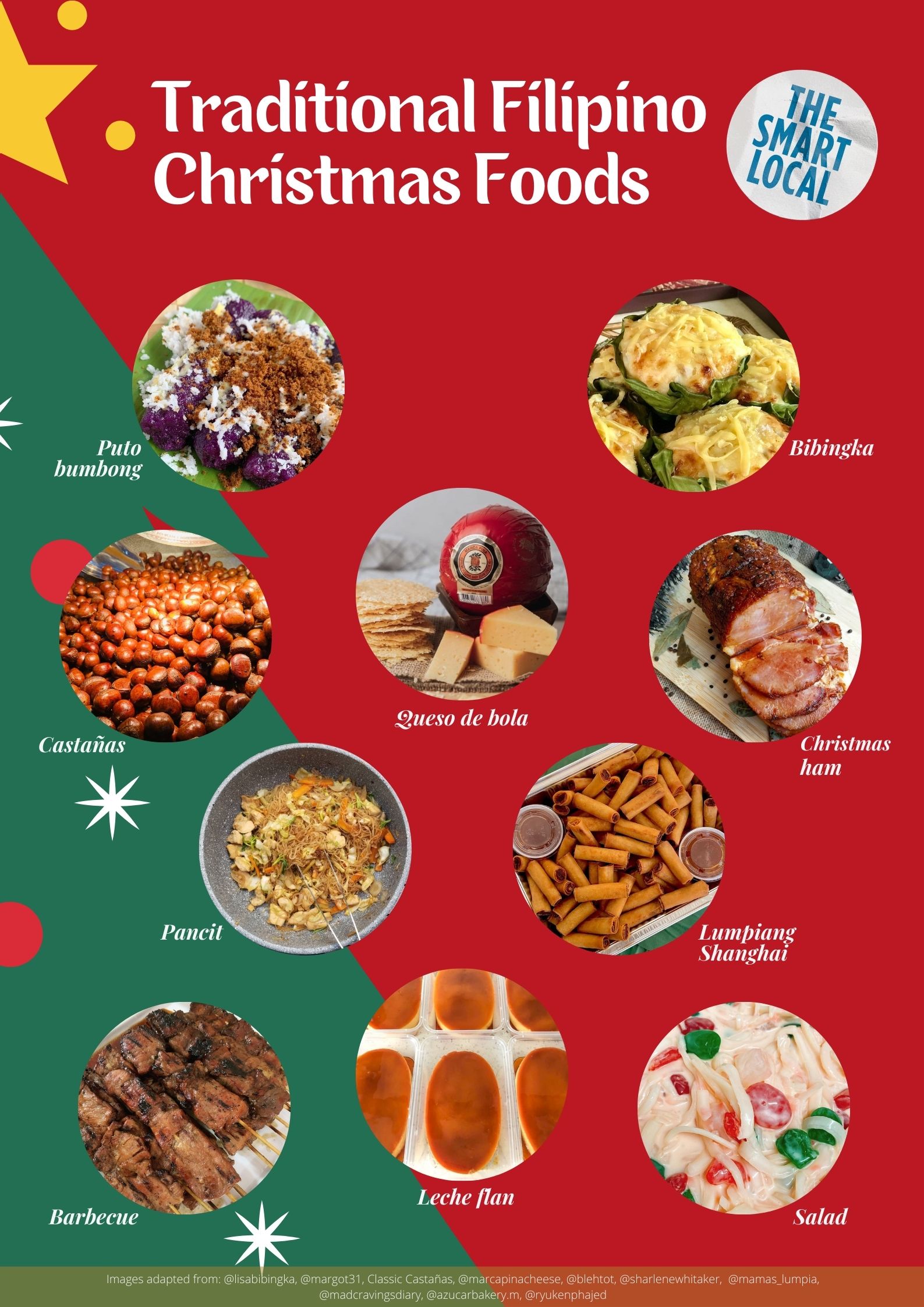 Restaurants and food businesses that offer different cuisines for takeout and delivery have definitely given noche buena – Christmas Eve dinner – a bit of variation as well as made it more convenient.
However, traditional Filipino Christmas foods remain the best during Christmas celebrations, especially when prepared and enjoyed with our loved ones.
Also check out:
---
Cover image adapted from: @marcapinacheese, @blehtot, and @madcravingsdiary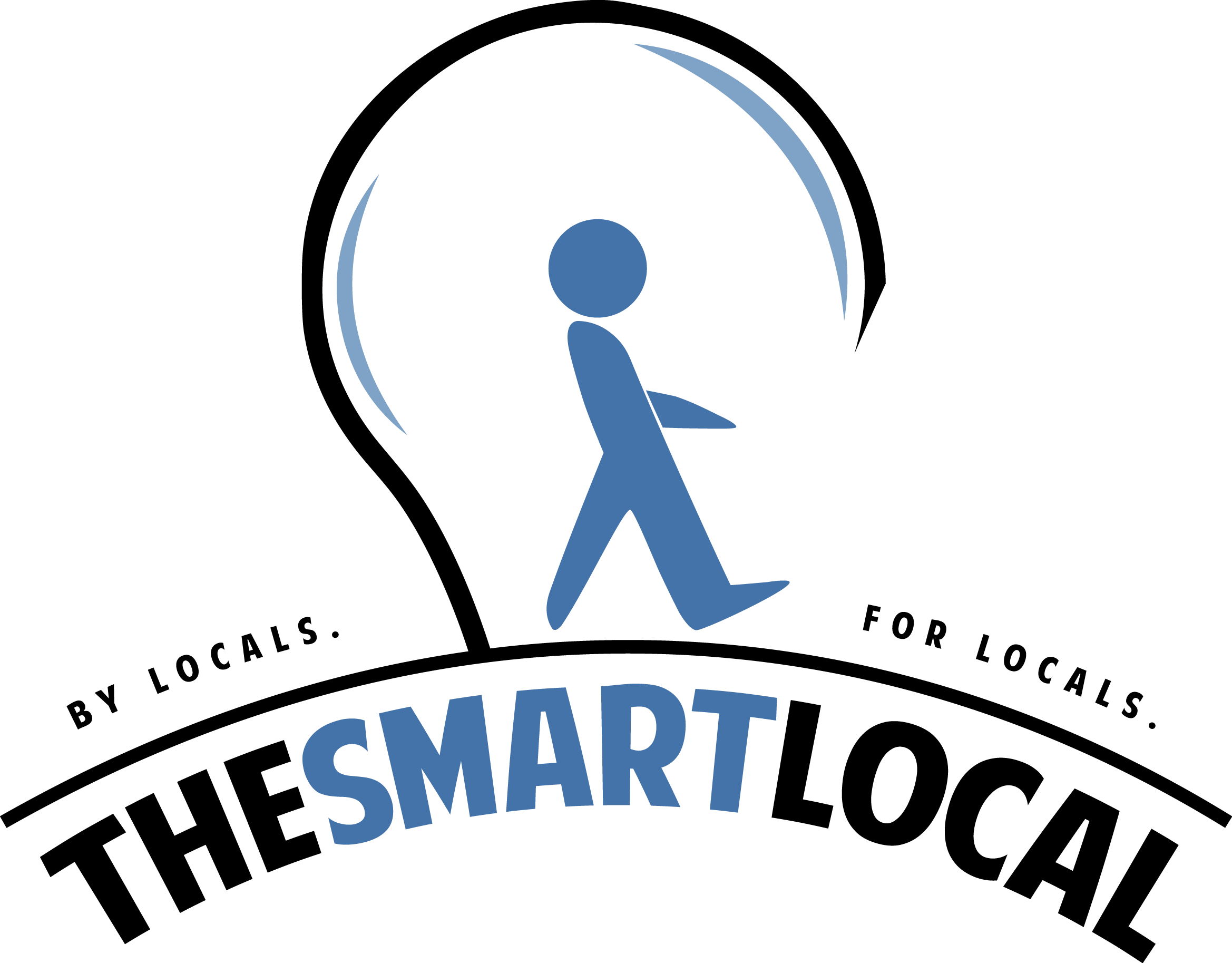 Drop us your email so you won't miss the latest news.