Yogurt shops in Manila
---
For those of us looking for a lighter dessert choice, yogurt desserts are straight from heaven. With less fat, fewer calories, and more healthy bacteria compared to, say, a cup of ice cream, it's no wonder that they have gained a following recently.
Fortunately, Metro Manila is dotted with shops selling creative renditions on fro-yo or yogurt-based drinks. Here's a list of 7 yogurt shops in Manila to serve as your guide whenever you're craving the dessert.
---
1. Koomi – extra healthy drinks such as purple rice packed with antioxidants
---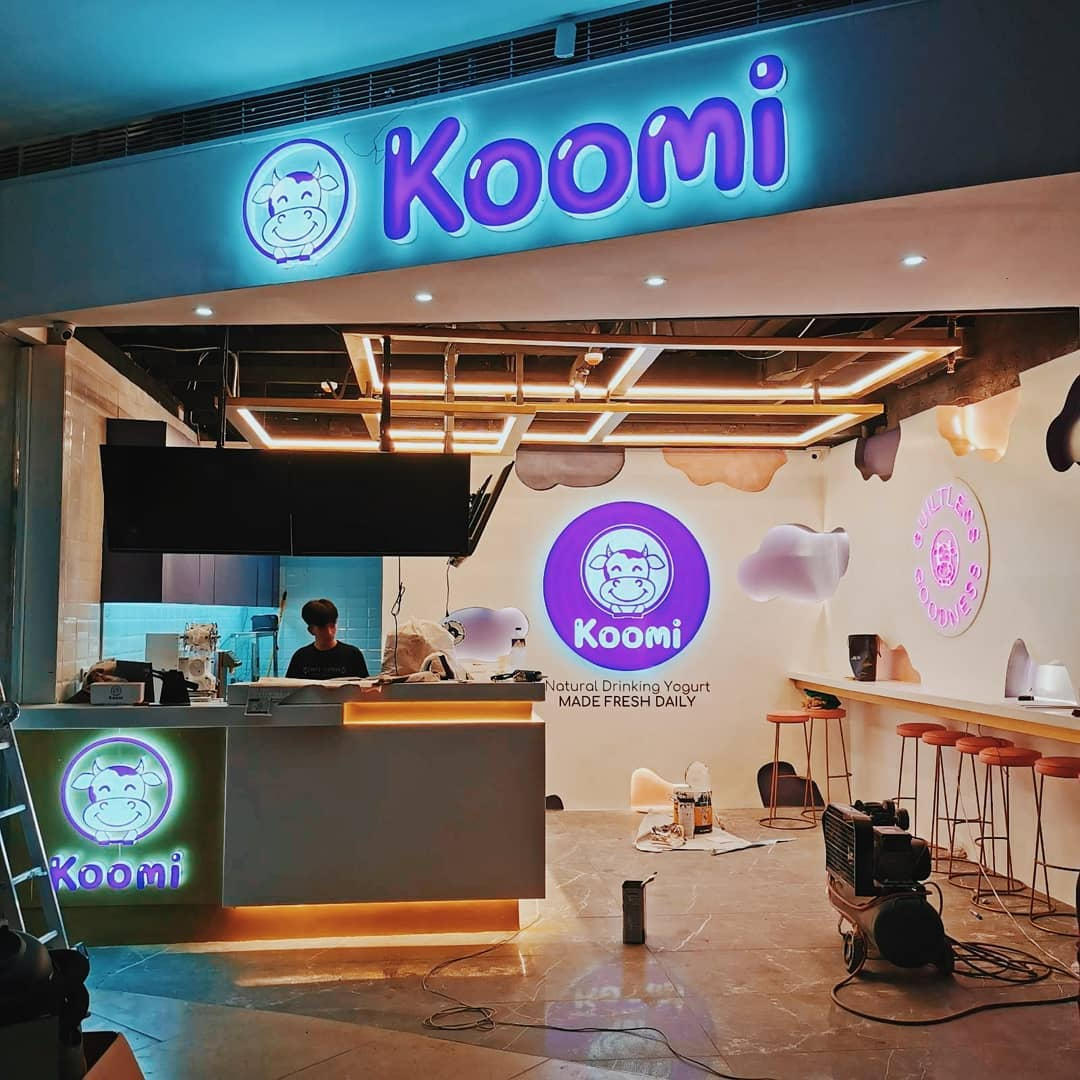 Image credit: @christinangoluan
Fresh from the land down under, Koomi is the cutest cow-themed yogurt drink shop we didn't know we needed. Their drinks are probiotic-yogurt based and dripped with fruit honey, a natural sweetener and to spoil us further, they offer a variety of flavors to suit our local tastes.
If you're a purple yam person there's a drink for you from Koomi in Will Ube Mine (P187, ~USD3.67), a combination of ube and yogurt topped with cheese foam. Buko-loving palates are also taken care of with Why Not, Coconut (P149, ~USD2.91) mixed with activated charcoal.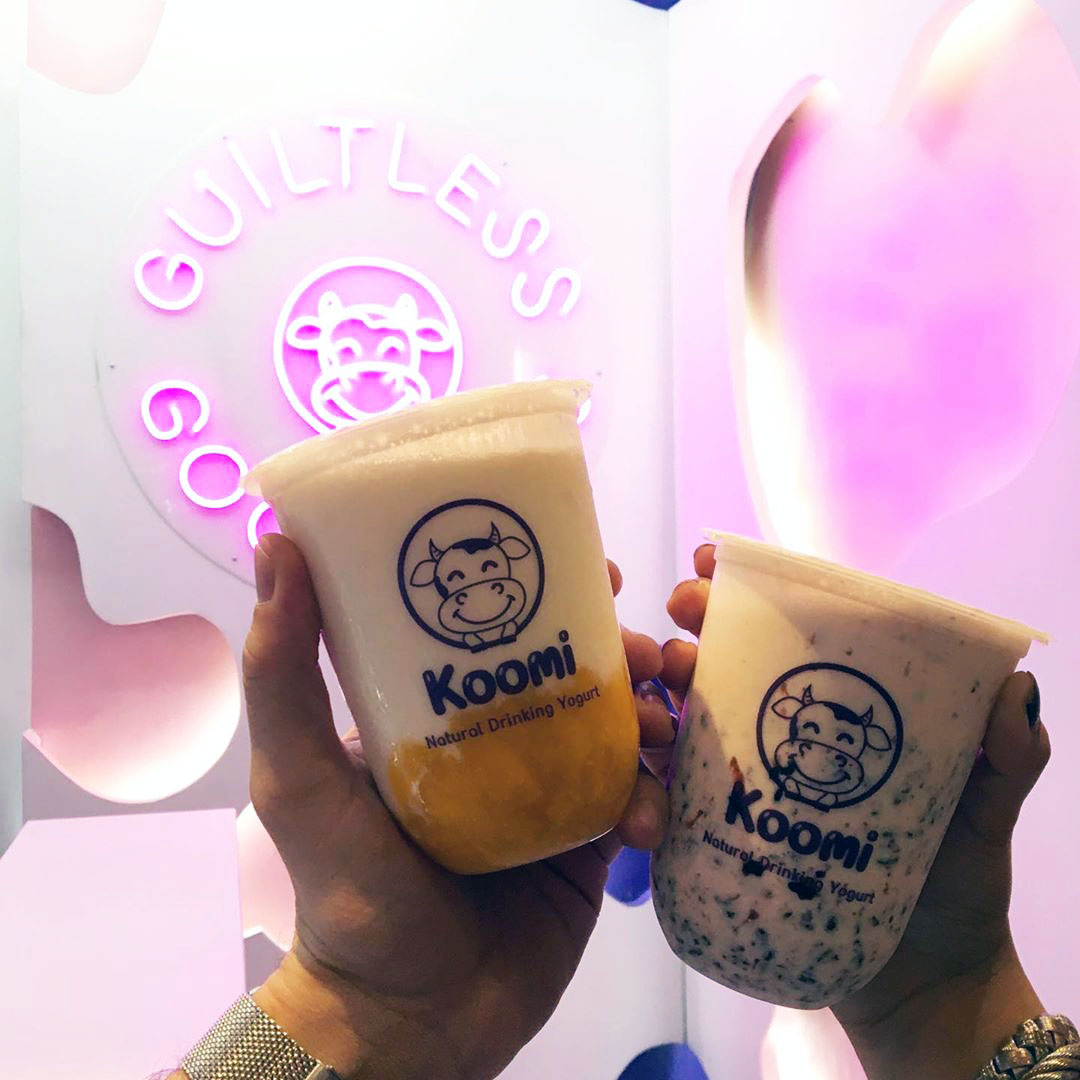 Image adapted from: @eastwoodmall_  
But perhaps the limelight should go to one of Koomi's bestsellers – the Stick-On-Me Purple Rice (P138, ~USD2.70 pictured above). You get the extra health benefits of purple rice aside from yogurt, because compared to white rice, purple rice packs a ton of nutritional benefits that can keep our hearts happy and aid with digestion, among others. 
For a list of branches, click here.
Koomi's website
---
2. llaollao – fruits and toppings with thick layers of fro-yo
---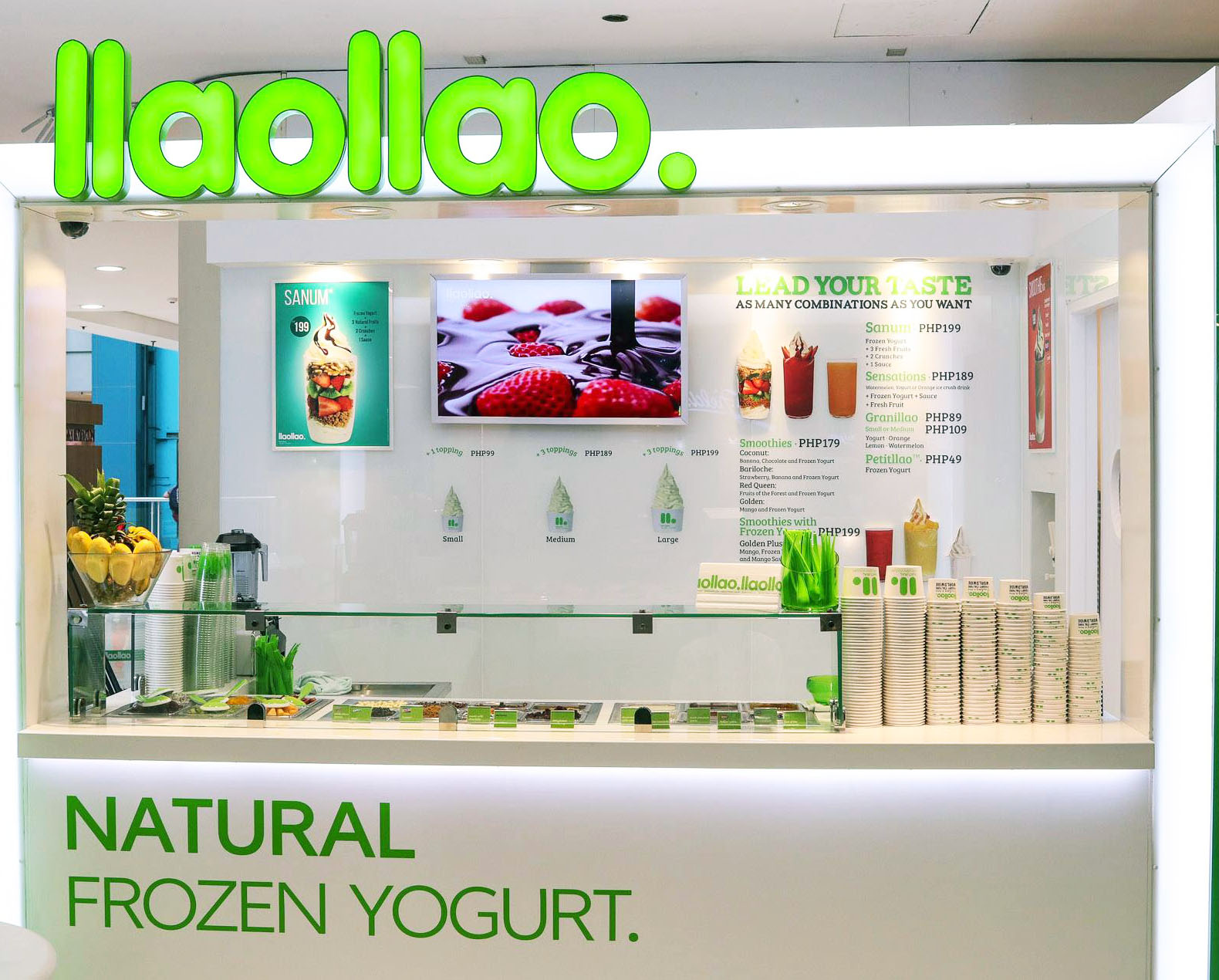 Image credit: llaollao Philippines
As cute as its name suggests, llaollao Philippines' fro-yos are a wholesome mix of yogurt, the shop's own skimmed milk, and quality toppings of real fruits, cereals, crunch, and colorful toppings. So whether you're a strict diet buff or want something sweet other than ice cream, you can always have something to choose from at llaollao.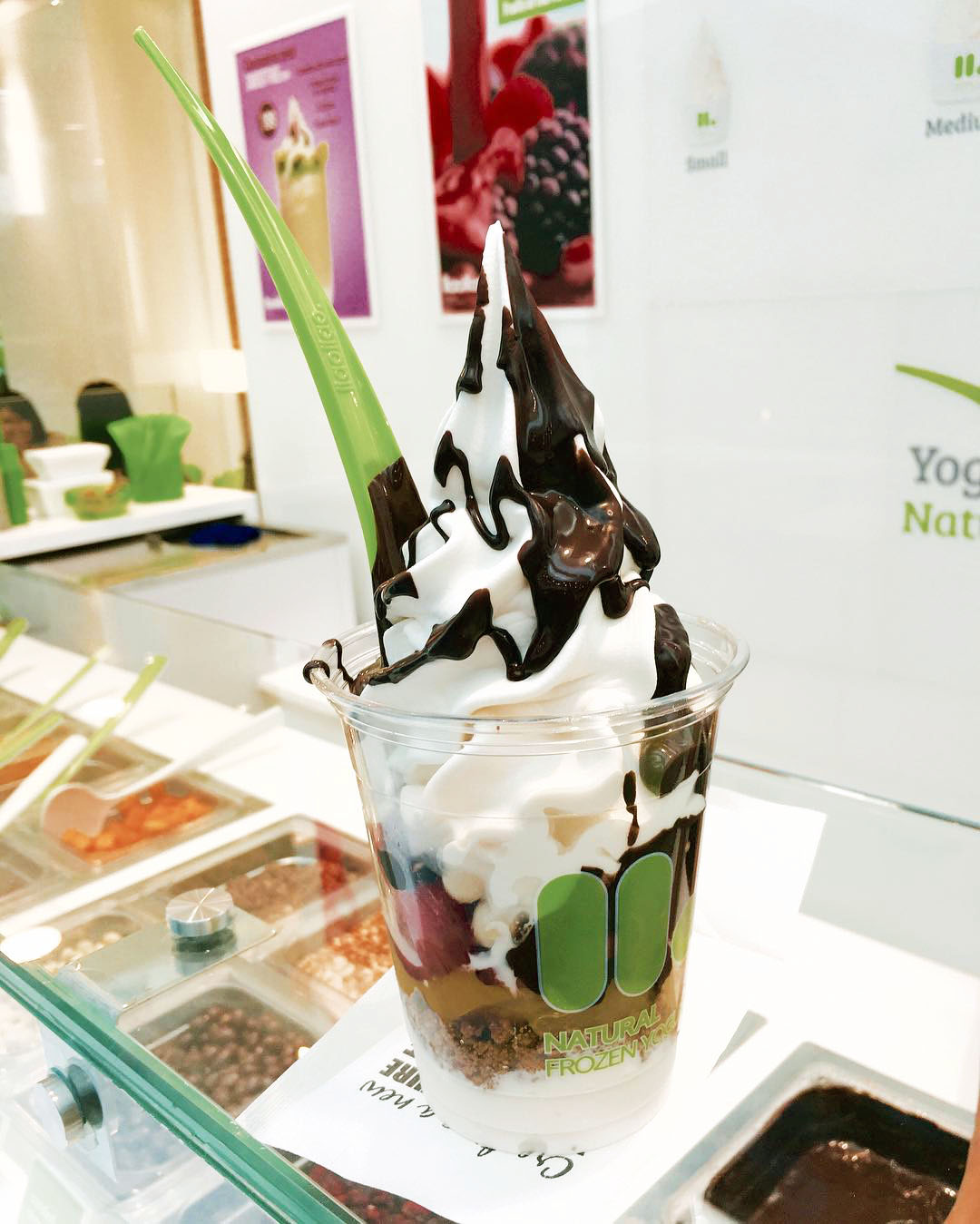 Image credit: @heyitspram
You can opt for their small fro-yo (P100, ~USD1.95) with one topping or indulge in the Sanum (P199, ~USD3.89), fruits and crunches sandwiched between thick layers of fro-yo dipped in sweet sauces. If you just want a sip of yogurt goodness, llaollao has a regular smoothie (P180, ~USD3.52), a blended frozen yogurt drink with two blended toppings. 
For a list of branches, click here.
Facebook | Instagram
---
3. Pinkberry – go-to tart fro-yo in sunny LA
---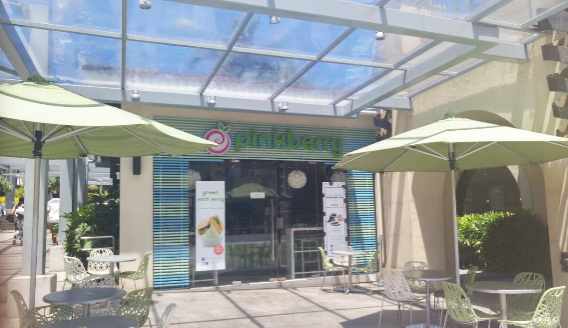 Image credit: Angeline de Jesus
Representing pastel goodness from dessert down to its lime-green and teal color palette, Pinkberry easily gives off a sunny Los Angeles vibe. And it's no wonder, because it has long been an established alternative dessert shop in LA since 2005.

Image credit: @my_fernweh_soul 
They offer tart frozen yogurt – a mix of fro-yo, milk, and sugar just enough for both our diet and need of sugar – that they have also gained the following of big celebrities such as Oprah Winfrey and David Beckham, according to Taste. The medium-sized tart fro-yo with toppings (P235, ~USD4.59) should find your perfect balance, and you can choose your flavors from original to matcha. 
For a list of branches, click here.
Facebook | Instagram 
---
4. Mahalo Acai – vegan-friendly yogurt
---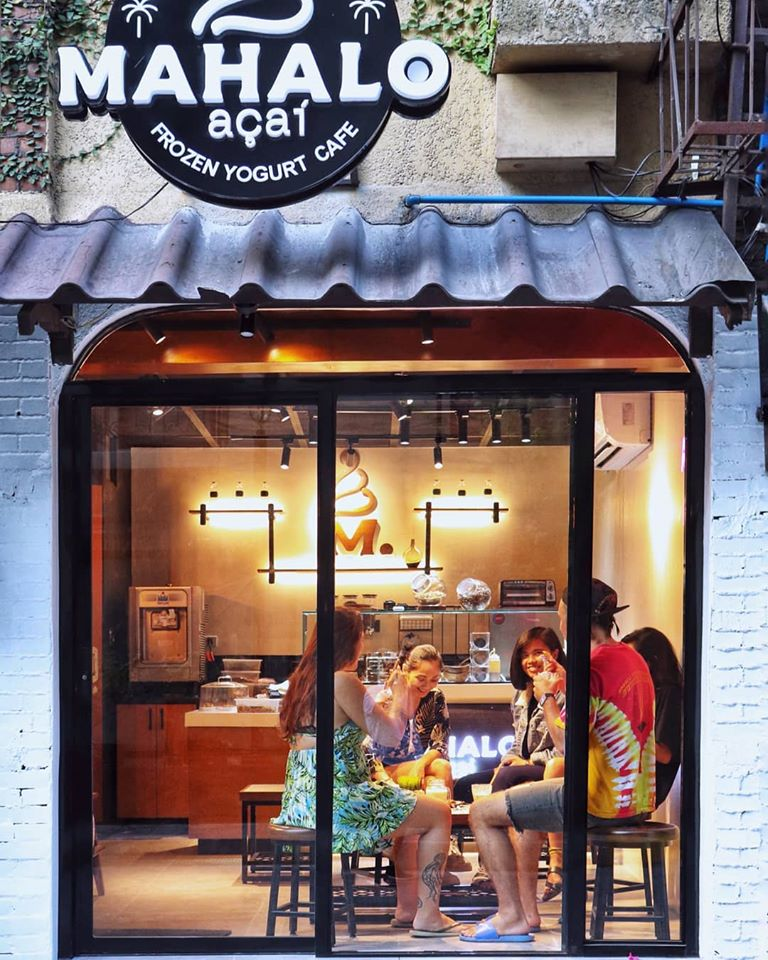 Image credit: Mahalo Acai 
Unique for its acai berry, Mahalo Acai fro-yos are yogurt's vegan counterpart, almond milk-based and infused with the tanginess of acai berry. Acai berry, a cult favorite in Brazil, is said to contain a high amount of antioxidants, and is low-GI which helps our bodies stabilize their glucose levels.

Image credit: @mahaloacai 
Fuel up with vitamins from their real fruit toppings such as kiwi, mango, and strawberry, add crunch with the variety of toppings to choose from such as granola. You can top off your fro-yo with drips of caramel. All these can come together in a cup of their loaded fro-yo (P220, ~USD4.30) consisting of one fruit, one crunch, and one sauce of your choice.

Address: 5663 Don Pedro Street, Poblacion, Makati City 1209, Metro Manila
Opening hours: Tues – Sun 1PM-8PM
Mobile: 0915 769 5269
---
5. BLK 513 – cleansing activated charcoal froyo
---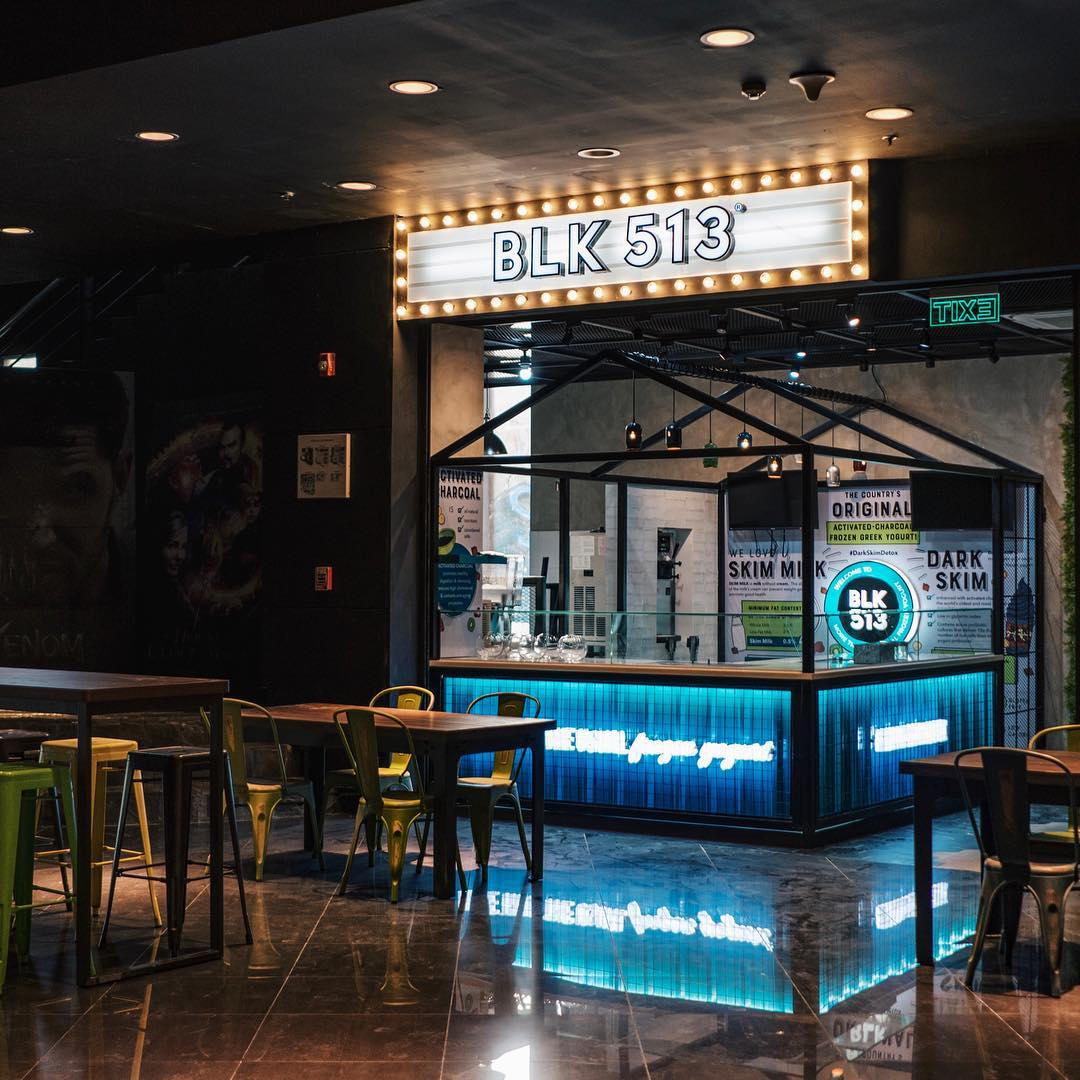 Image credit: @blk513ph 
BLK 513 is unique for their charcoal-enhanced, greek froyo served with bold-colored sauces, toppings, and crunches. Charcoal is said to be a detoxifying agent that comes with a ton of health benefits, such as promoting a healthy digestive system.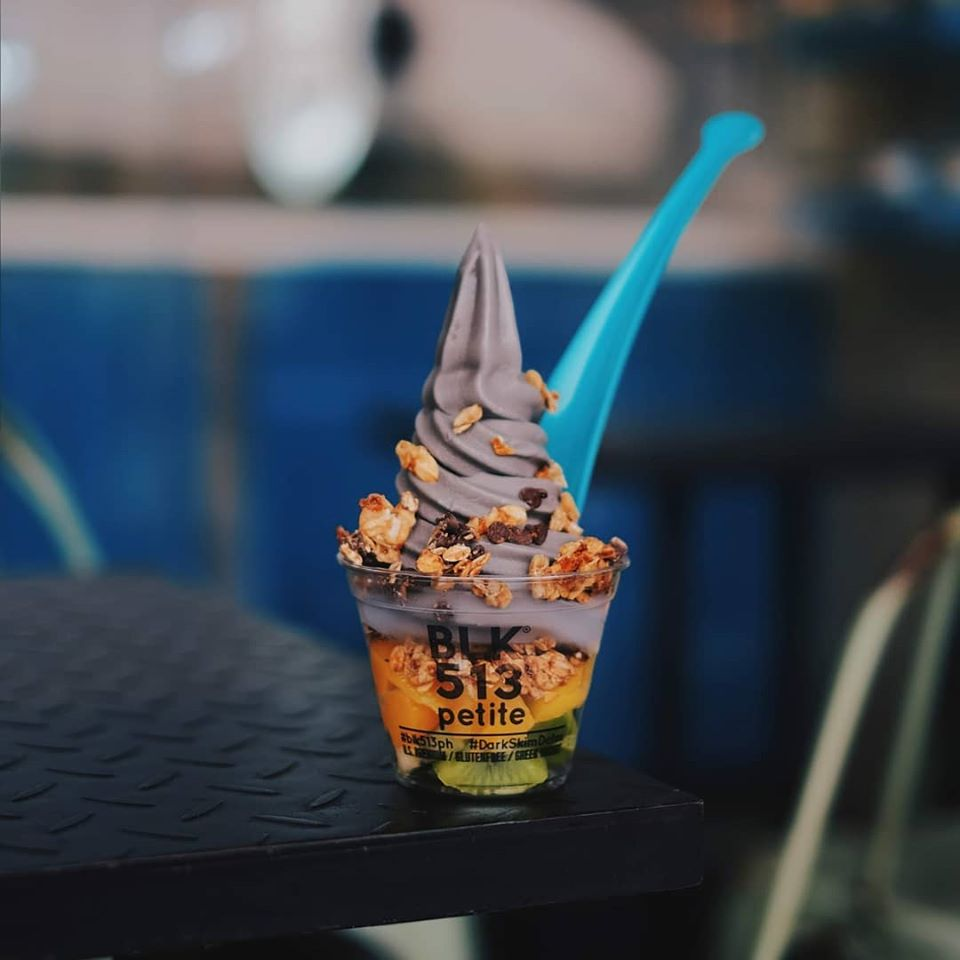 Image credit: BLK 513 
Start with their classic Dark Skim Cup (P199, ~USD3.89) adorned with crunch, two fruits, and their signature colorful sauces from black chocolate to wild ube purple. 
For a list of branches, click here.
BLK 513's website
---
6. Red Mango – South Korean tart fro-yo favorite
---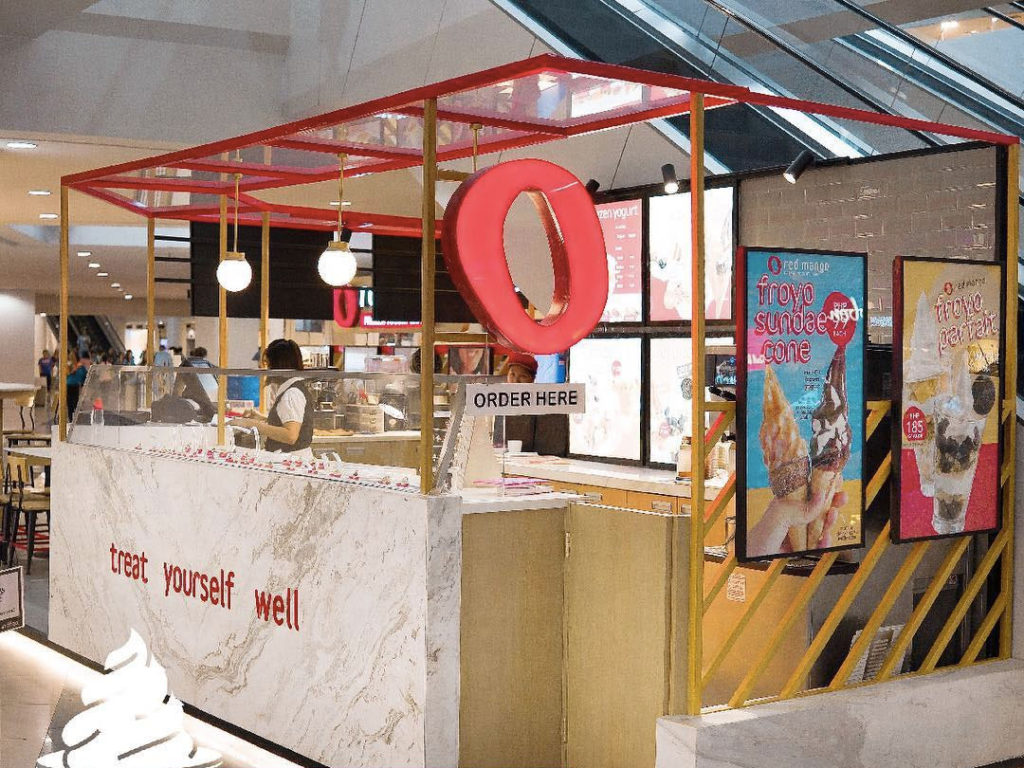 Image credit: Red Mango 
Repping South Korea since 2002 and first opened in Trinoma way back in 2009, Red Mango has been a classic stop for tart fro-yo combining sour and sweet flavors.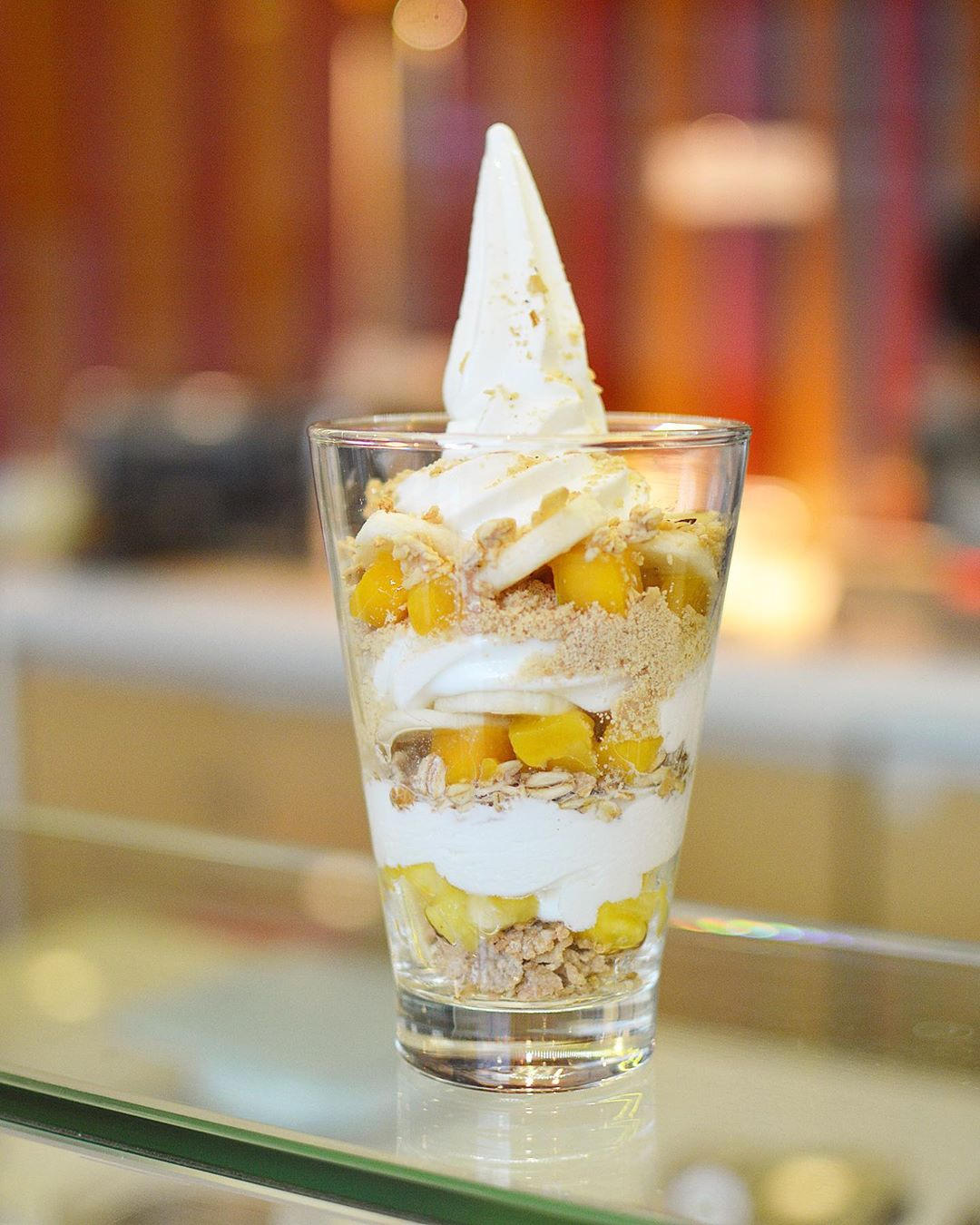 Original parfait
Image credit: @redmangoph 
Start with their original fro-yo (P130, ~USD2.54 medium) to introduce yourself to their fro-yo with a cult following. Or upgrade to their fro-yo parfait, which has a range of interesting flavors such as matcha-flavored parfait (P185, ~USD3.62 grande), for instance, with toppings sandwiched in between the creamy layers of matcha goodness. 
If you want to keep things simple, their original parfait (P185, ~USD3.62 grande) has slices of mango, bearing the fruit in the brand's name.
For a list of branches, click here.
Red Mango's website
---
7. Yogorino – extremely low-fat yogurt
---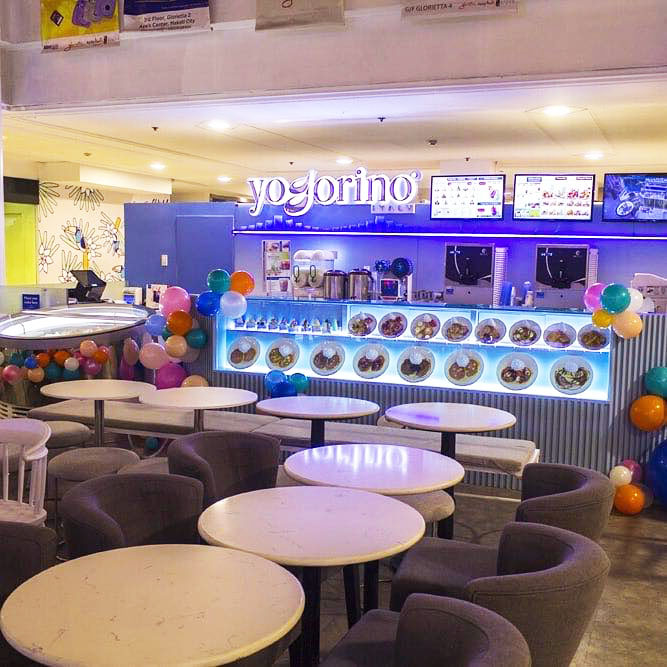 Image adapted from: Yogorino PH
Bringing Italian goodness to Philippine shores, Yogorino is a low-fat fro-yo with just 131 kcal and 1.18 g of fat present for every 100g of yogurt goodness.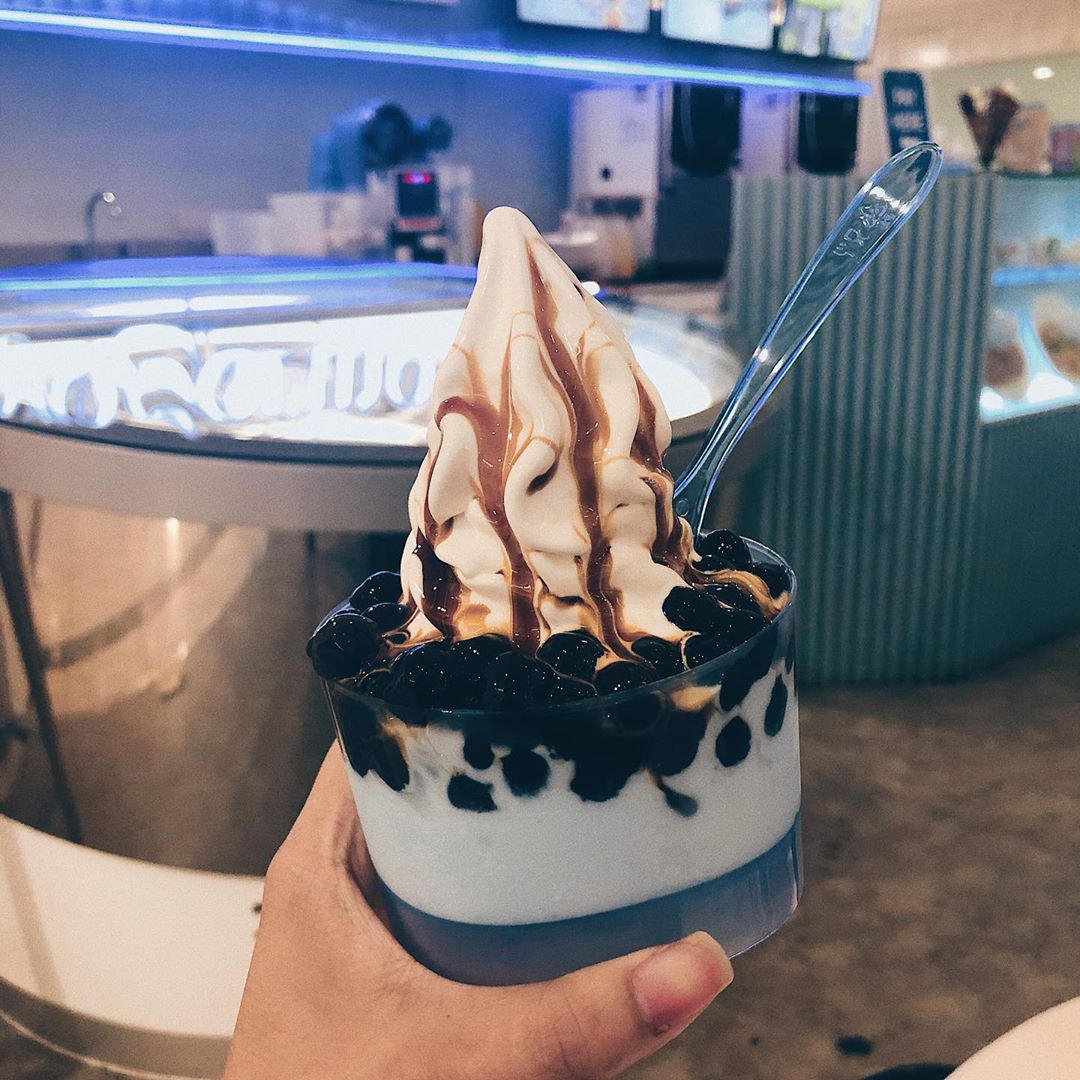 Image credit: @dinnerfortwo.mnl
Yogorino is also popular for its wide range of toppings. You can choose from their 32 offerings, from strawberry confit to chocolate torrone, but their must-try is the Brown Sugar Milk Tea Fro-Yo with chewy pearls at P149 (~USD2.91). 
Address: GF, Glorietta 3, Makati City 1223, Metro Manila
Opening hours: Sun–Thu 10AM-9PM | Fri–Sat 10AM-10PM

Yogorino's Facebook | Instagram
---
Yogurt shops in Metro Manila for our cravings
---
We won't be surprised if the trend shifts back to yogurt after the milk tea hype, with established fro-yo shops still around the corner and promising, new names popping here and there. 
After all, a cup of yogurt isn't just friendly to our palates, it also packs a ton of healthy benefits for the fitness-conscious.
Check out other shops serving tasty desserts:
---
Cover image adapted from: @christinangoluan and Mahalo Acai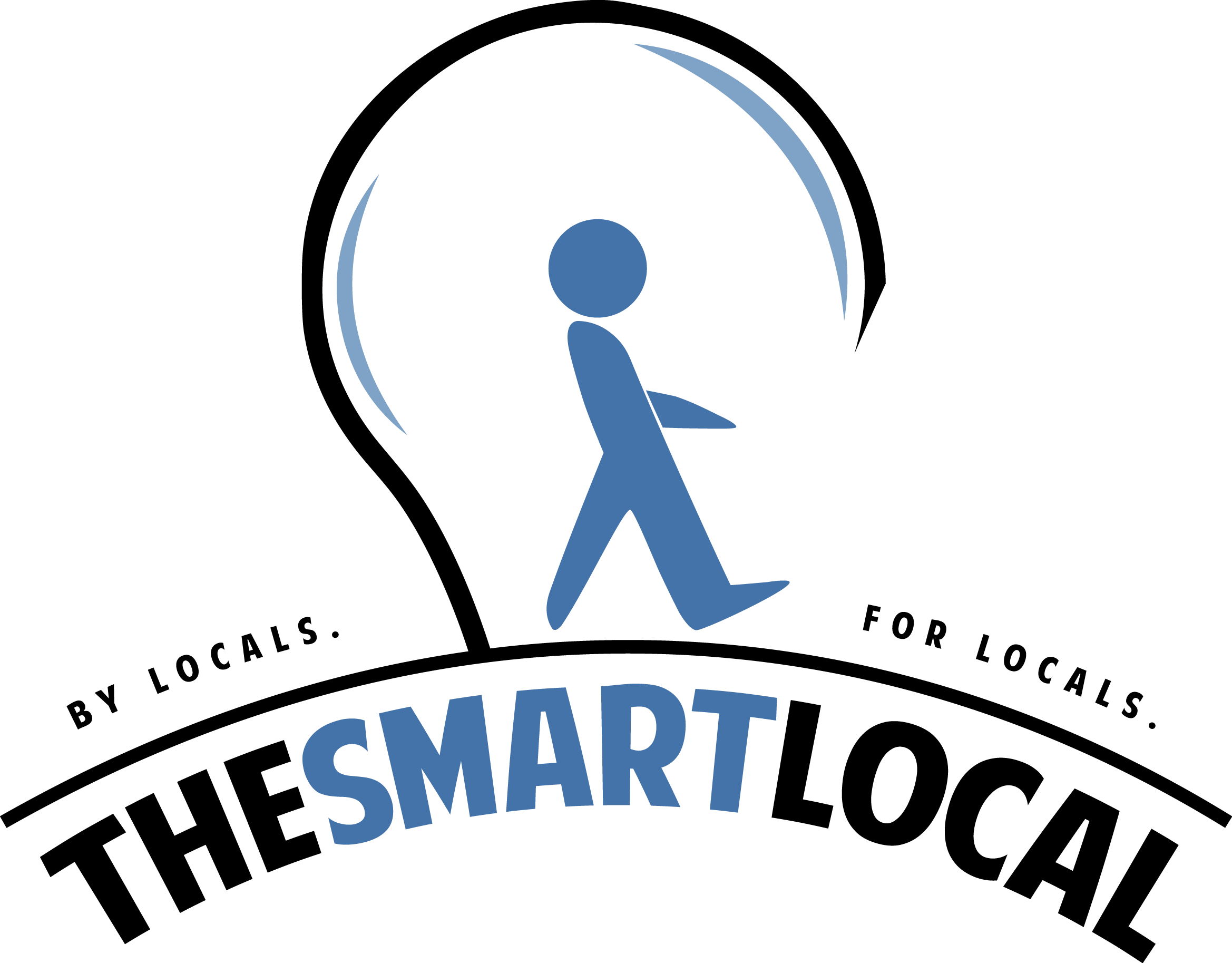 Drop us your email so you won't miss the latest news.