Filipino dessert recipes to cook at home
---
In every handaan or even on normal days, desserts are more often than not the star of the dining table even if these sweets are traditionally served after the main course. It's no wonder why – the broad range of Filipino desserts – from a simple ube halaya to the medley that's the halo-halo – speak to something, our palates have always been craving for the sweetness of local dessert flavors.
So whenever there's a party or a craving kicks in, try these 10 Filipino dessert recipes you can master at home so you can emerge a certified tito or tita of the kitchen. 
---
1. Halo-Halo – crushed ice mixed with various layers of sweets
---

Image credit: @fullhousebbqlv 
On any hot afternoon, there's nothing like a tall cup of crushed ice mixed with a variety of sweets to take the sweat away. 

Halo-halo, which translates to "mix-mix," is the ultimate dessert of Filipinos during the hottest months of March to May. It's a rich medley of crushed or shaved ice and layers of beans, sago pearls, gulaman (dried agar), and sliced and sweetened saba bananas, among other sweets. It's topped with a slice of leche flan and a scoop of ube (purple yam) ice cream. 
Serves 1
Ingredients:
1 tsp sweetened

saba

or plantain bananas

1 tsp sweetened

kamote

(sweet potatoes)

1 tsp sweetened red

munggo

(mongo beans)

1 tsp sweetened garbanzos (chickpeas) or beans

1 tsp fresh of sweetened

langka

(jackfruit)

1 tsp sweetened

macapuno

(coconut balls)

1 tsp

nata de coco

(coconut gel)

1 tsp sago pearls

1 tsp

gulaman

(dried agar)

1 tsp sugar (optional)

1 cup crushed or shaved ice

1/4 cup milk, fresh or evaporated

1 tbsp

leche flan

1 scoop of

ube

ice cream
Steps: 
In a tall glass, add a teaspoon of sweetened

saba, kamote

,

red

munggo

, beans, langka, macapuno,

nata de coco,

sago pearls, and

gulaman

. Add sugar to taste.

On top of the layers of sweets, add the crushed or shaved ice until it fills the top of the glass.

Drizzle the mixture with milk. 

Place the toppings – leche flan and

ube

ice cream – on top of the ice. Serve. 
Recipe adapted from: Foxy Folksy
---
2. Puto Cheese – fluffy, steamed rice cake
---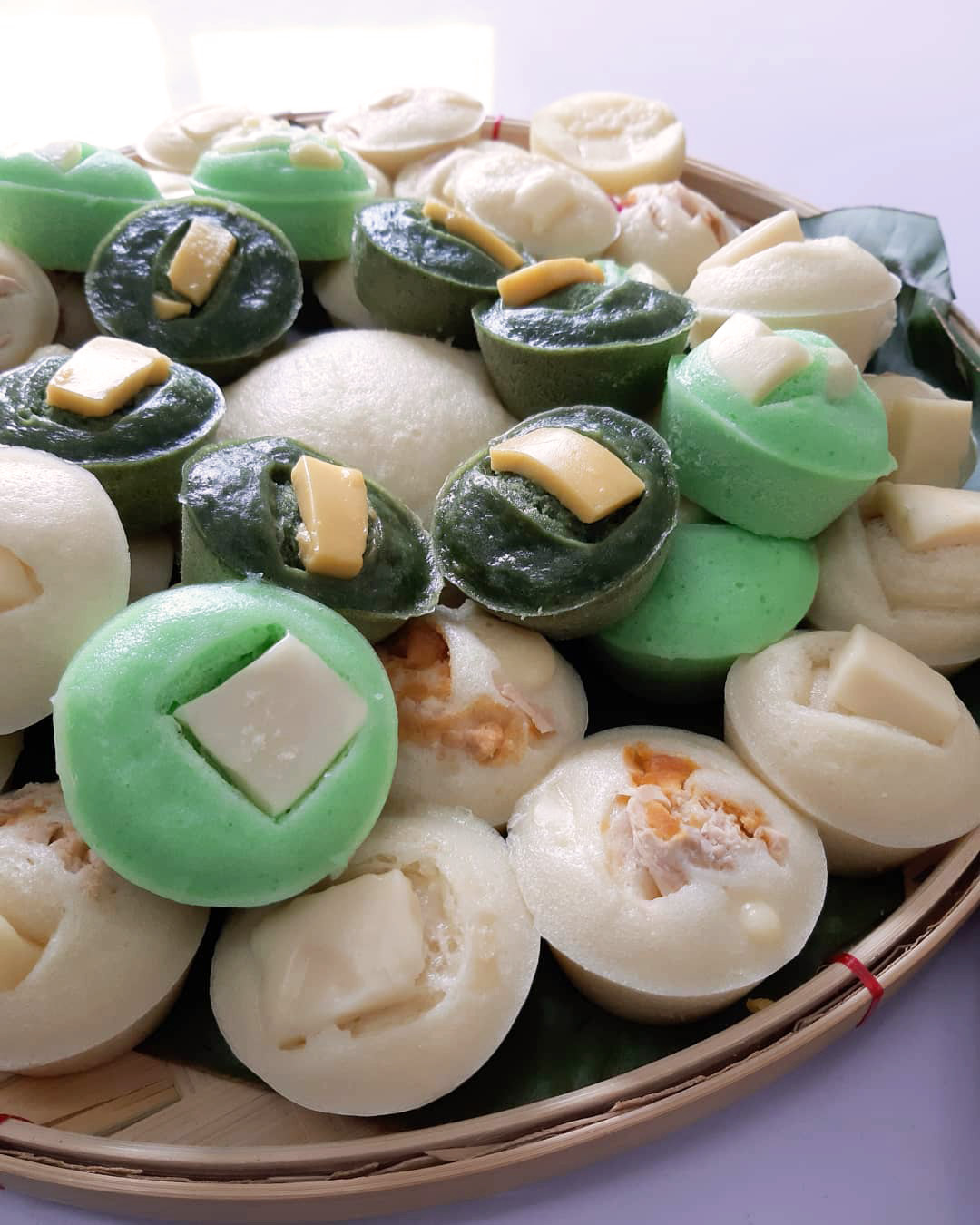 Image credit: @nanayidasputoatbp 
A comfort food during meriendas, puto is a fluffy, steamed circular cake traditionally made up of rice as the main ingredient. It's often yellow, but also comes in other colors such as green, pink, and purple during celebrations. 
The rice can be substituted with rice flour or an all-purpose flour, and the plain, steamed cake is usually topped with big chunks of chewy cheese. You'll need puto molds that you can get at most baking shops or online. 
Serves 10
Ingredients:
1 cup flour

1/2 cup sugar

2 tsp

baking powder

1/2 cup milk, evaporated or fresh

1 large egg

1/4 cup water

1 tbsp butter, melted

1 tsp

vanilla extract

1/4 cup grated cheese

Strips of cheese 
Steps:
In a bowl, mix flour, sugar and baking powder.

Add the milk and egg. Using a whisk, mix the two until the batter is smooth.

Add the water, butter, and vanilla extract. Mix them gently for two minutes, then add and mix the grated cheese.

Grease each circular plastic mold with butter. Fill ¾ of each with batter. 

Pour water into the steamer. Simmer over very low heat. Place the steamer basket, and put the plastic molds with the batter into the basket. Steam for 10 to 12 minutes or until the toothpick inserted comes out clean of batter. Cover with lid.

Remove the lid and place a chunk of cheese on top of each steamed cake. Steam for another minute or two or until the cheese softens.

Remove the

puto

with cheese and transfer each to a serving plate.
Recipe credit: Foxy Folksy
---
3. Ube Halaya – grated purple yam with milk
---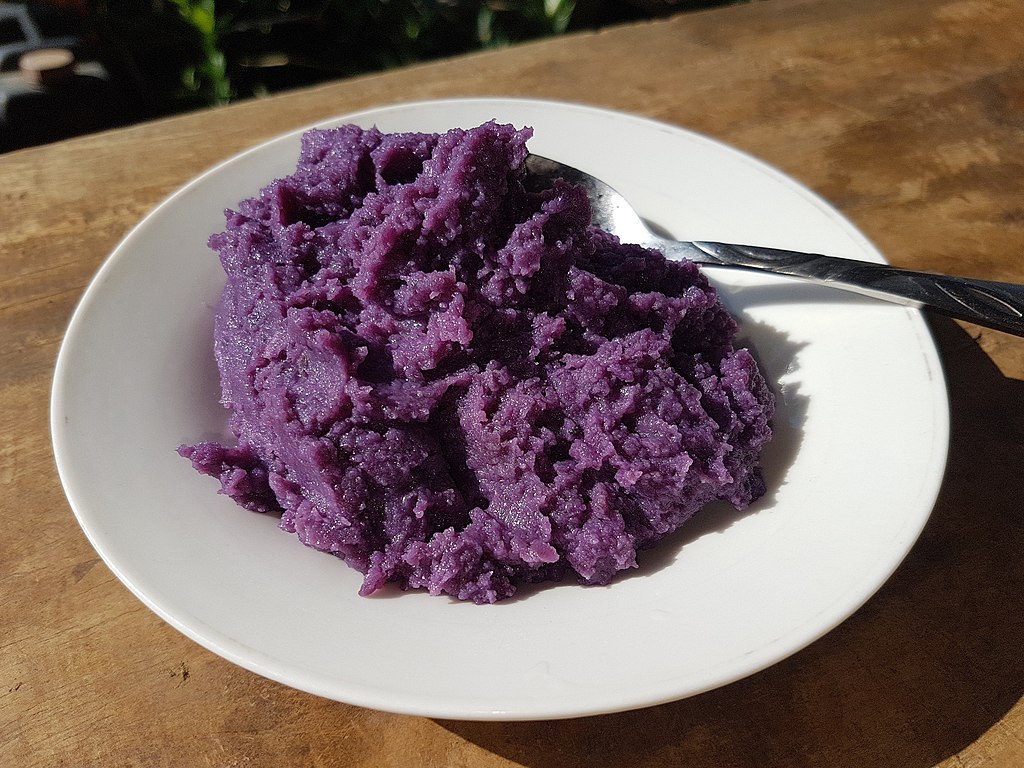 Image credit: Obsidian Soul/Wikimedia Commons 
Ube halaya is a thick mixture of grated purple yam and milk that's usually condensed or coconut milk. Eaten by itself or substituted for the ube ice cream in halo-halo, the dessert is often served during celebrations.
It seems simple to prepare, but achieving the sticky, thick texture of the ube halaya actually requires lots of stirring in a huge pan.  This item is also a key ingredient of different Filipino dessert recipes – from ube pandesal to ube cake.

Serves 4

Ingredients:
2 cups coconut milk

¾ cup regular white sugar

1 lb grated purple yam

1 tsp cooking oil 
Steps:
Pour the coconut milk into a huge pan. 

Once the milk starts boiling, add and mix in the sugar until you can't see the grains any more. 

Add the grated yam. Stir it in with the mix over low to medium heat for about 20 to 30 minutes or until the texture gets thick and sticky. 

Grease the

llaneras

(tin molds) with cooking oil. Fill each

llanera

with

ube halaya

. Serve spoonfuls of

ube halaya

and refrigerate the remaining ube halaya in the

llaneras

. 
Recipe credit: Panlasang Pinoy
---
4. Buko Pie – coconut filling covered with crust
---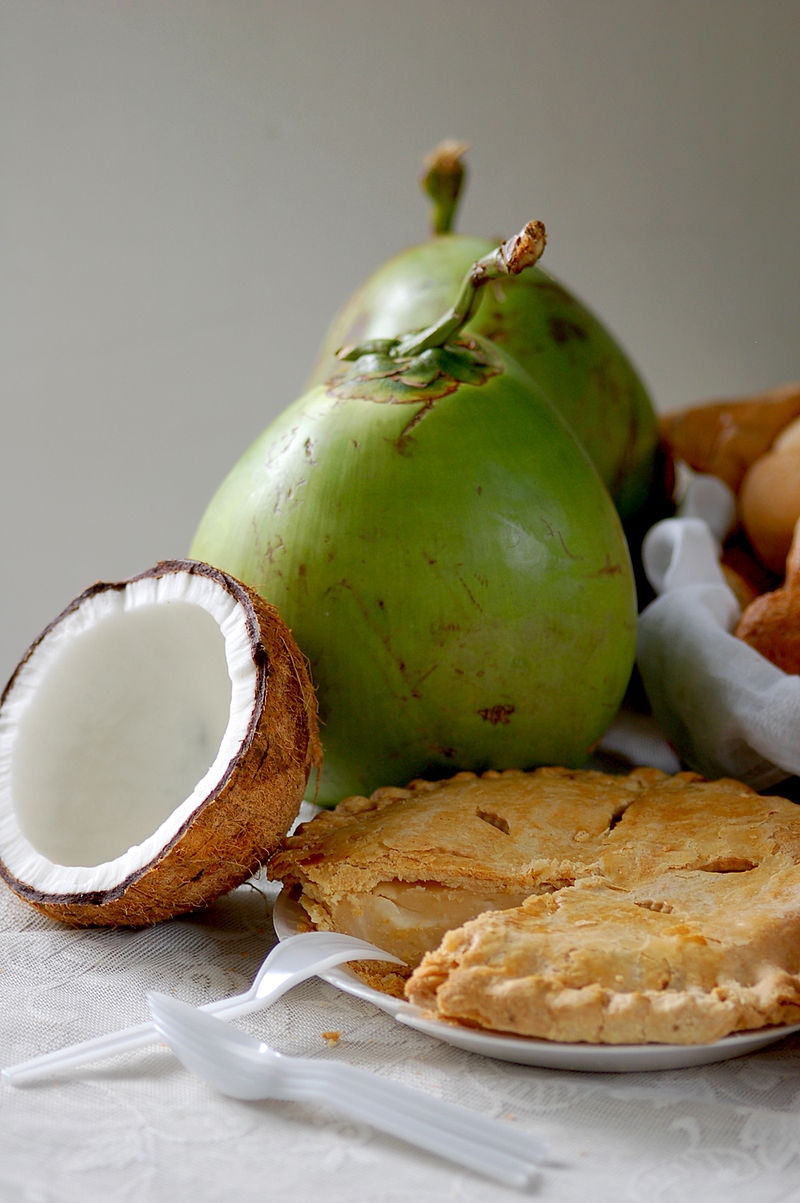 Image credit: Wikipedia
A favorite pasalubong from trips to Laguna, buko pie consists of a crisp crust filled with creamy filling from a young coconut. It's said to be invented by Soledad Pahud of Los Baños, Laguna, and adapted from the US-style apple pie after she had spent some time working in the US. 
Serves 6
Ingredients:
Filling
½ cup sugar

⅓ cup cornstarch

1 cup evaporated milk

1 cup

buko

juice 

1 tsp vanilla extract

2 cups grated

buko

flesh
Crust
1 tsp sugar

2 cups all-purpose flour

1/2 tsp salt

1/2 cup margarine or butter, cut into thin slices

1/4 cup shortening

5-6 tbsp cold water

Eggwash
Steps:
Preheat the oven to 375°F (190°C). 

Prepare the filling by mixing sugar and cornstarch in a bowl. Add evaporated milk and the buko juice. Cook the mixture over medium heat until it thickens.

Add the vanilla and grated

buko

flesh. Cook for another 5 minutes then cool.

Prepare the crust by mixing the sugar, flour, and salt in a bowl. Add the margarine or butter and shortening. Mix until mixture becomes crumbly.

Add the water slowly, tablespoon by tablespoon. Mix the water with a fork until the dough becomes smooth and doesn't stick.

Roll the dough into two balls, one bigger than the other.

Form the bigger dough into a 9-inch circle that's ¼ inch thick. Place this dough into the bottom and sides of the pie plate. Add the

buko

mixture filling and set aside. 

Flatten the smaller dough into a circle big enough to cover the top of the pie. Pinch the top and bottom crusts together to seal the sides of the pie. 

With a fork, make holes in the crust to allow steam to escape while baking. Brush the top crust with egg wash.

Place the pie in the oven and bake for about 30 minutes or until it turns golden brown.
Recipe credit: Filipino Recipe
---
5. Suman – sticky rice cooked with banana leaves
---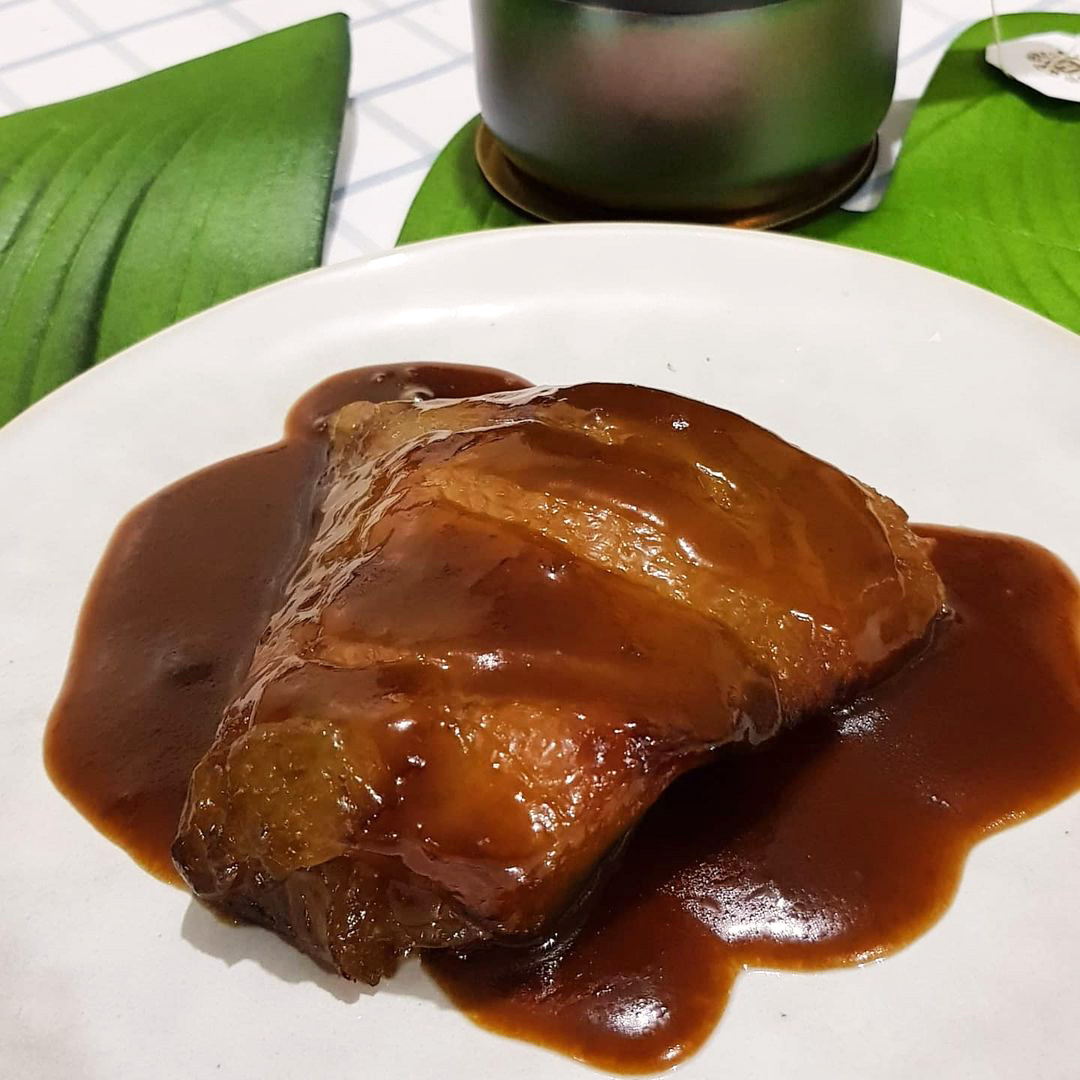 Image credit: @mandingsumanlatik 
A staple dessert usually sold by street vendors, suman is one of the most common rice cakes in the Philippines. Wrapped with banana leaves, it's a sticky or glutinous rice dessert mixed with coconut milk, sugar, and salt. It's often accompanied by a flavored dipping sauce and grated coconut.

Across the country, the basic suman has evolved into different types such as the suman pinipig (pounded rice flakes) of Bulacan made up of green rice, tupig or the grilled suman of the Ilocos region, and suman moron, a mix of plain rice and chocolate-flavored rice from Tacloban, Leyte and the Davao region where chocolate is abundant. 
Serves 9

Ingredients:
1 cup sticky rice

1 cup coconut milk

1 pinch salt

Banana leaves
Steps:
Clean the rice by rinsing and draining it several times, then place it in a bowl and add water. Cover and refrigerate for at least 6 hours.

Drain the water from the rice. Cook the rice with the coconut milk and salt in a rice cooker.

Trim, rinse, and dry the banana leaves quickly over a gas stove flame. 

Cut a banana leaf into at least 8 pieces, each square measuring 8″x8". Cut another leaf into at least 8 pieces, each square measuring 12″x12″.

Place a smaller banana leaf square on top of a larger banana leaf square, and put 2 to 3 tablespoonfuls of cooked rice in the middle.

Wrap the cooked rice with a smaller leaf piece tightly. Use a larger leaf piece to wrap the parcel. Repeat till all the cooked rice is wrapped. 

Place the parcels in a steamer and steam for about 45 minutes. Let cool for at least 15 minutes before unwrapping.
Recipe credit: Casa Veneracion
---
6. Kutsinta – chewy sticky rice with lye water
---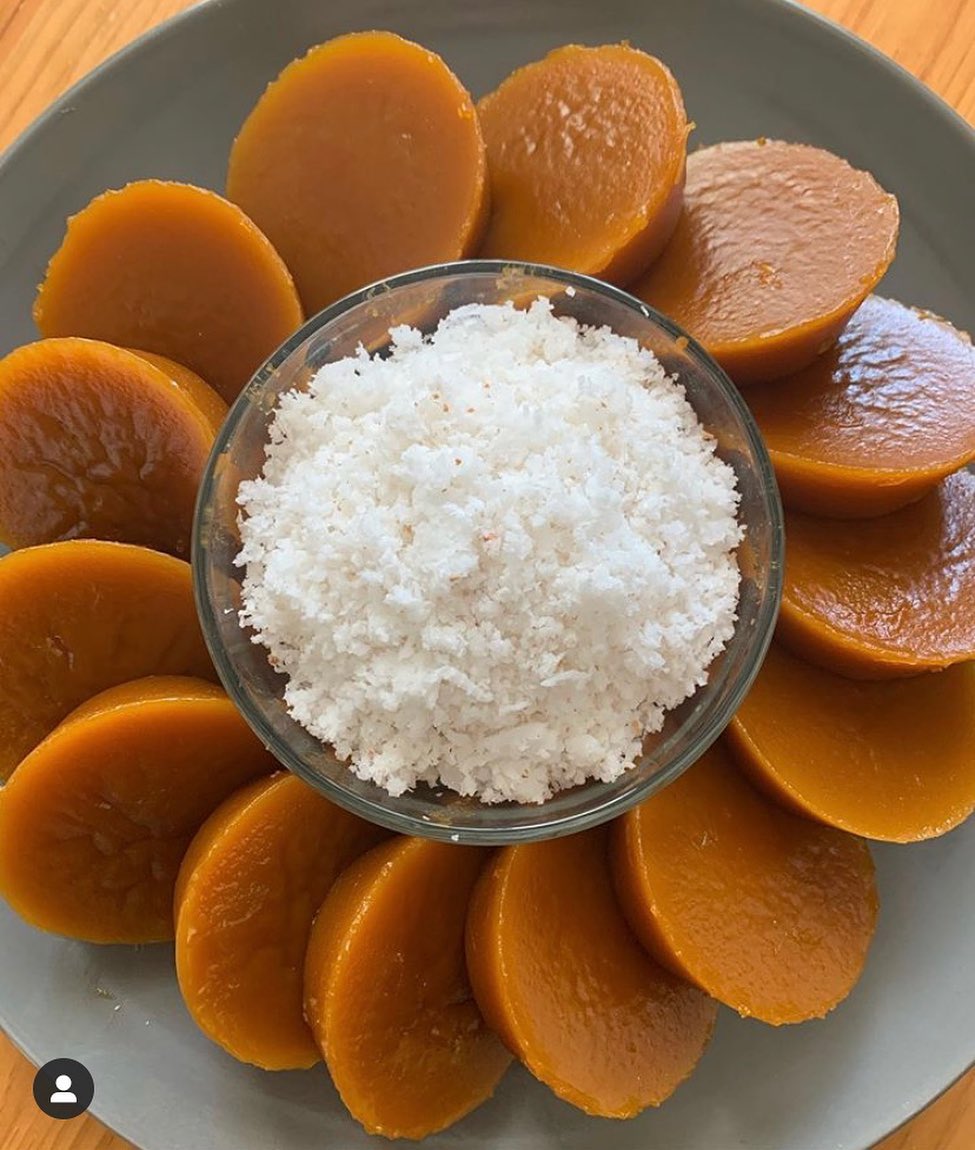 Image credit: @sweetatistics 
Another staple dessert in the streets, kutsinta is a chewy, sticky rice cake with lye water and brown sugar often consumed with grated coconut. Among other rice desserts, it's unique for its elastic texture that is due to the lye water, an alkaline solution used in other Filipino desserts such as pichi-pichi and suman sa lihiya, and brown color deepened by atsuete powder.

There have been various ways of preparing the flour for the dessert. You can mix glutinous rice flour with sweet rice flour, or all-purpose flour with tapioca flour, for example.

Serves 3

Ingredients:
¾ cup all-purpose flour

¼ cup glutinous rice flour

¾ cup brown sugar

1 ½ cups water

2 tsp lye water, dissolved in 2 tsp of remaining water from the 1 ½ cups water 

8½ cups water

Vegetable oil

Grated coconut
Steps:
In a bowl, mix the all-purpose flour, glutinous rice flour, and brown sugar well.

Pour water one spoonful at a time from a half-filled cup while mixing. Mix every time you add water till the mixture smoothens.

Add the lye water and

atsuete

powder. Pour in the remaining 1 cup of water to dissolve the powder. 

In another bowl, strain the mixture till lumps are gone. 

Add 8 cups of water into the steamer. Boil. 

Brush each plastic mold with vegetable oil. Fill the mold with the mixture until ¾ full. 

Steam the molds in a steamer for 45 minutes or until a toothpick inserted comes out clean. 

Remove each kutsinta from the mold, then serve on a plate after sprinkling grated coconut on each piece.

Recipe credit: Today's Delight
---
7. Pastillas de Leche – mix of milk and sugar rolled into little candies
---

Image credit: @iyasjpastillas
A favorite candy pasalubong, the pastillas de leche is a cooked mixture of milk and sugar. The mixture is often rolled into little log-shaped candies, hence the Spanish name pastillas that means pills or tablets and leche that translates as milk. 
In traditional Filipino dessert recipes, the sugar is usually cooked with carabao milk, but you can actually skip the cooking by using powdered milk instead.
40 pieces, serves 5-10

Ingredients:
4 cups carabao milk

6 tbsp caster sugar

1 tbsp butter

½-¾ cup powdered milk

Caster sugar for rolling
Steps:

On a deep pan, place the carabao milk and simmer it for 15 minutes over medium-high heat. Stir regularly. 

Add the sugar and mix it until it dissolves. 

Continue cooking until the mix thickens. Turn off the heat, remove the pan, add butter and mix. 

Add the powdered milk and mix it until sticky. Put the resulting milk dough to a plate to cool. 

Roll the dough into a cylinder to flatten it out, then divide it into four equal parts. Roll each portion into a thinner log, then divide it into 10 smaller pieces. Roll each smaller piece to about 1 ½-inches long.

Sprinkle sugar on each piece to taste. 

Wrap each piece in cellophane or paper. 
Recipe credit: Foxy Folksy
---
8. Bibingka – milled rice with coconut milk and margarine
---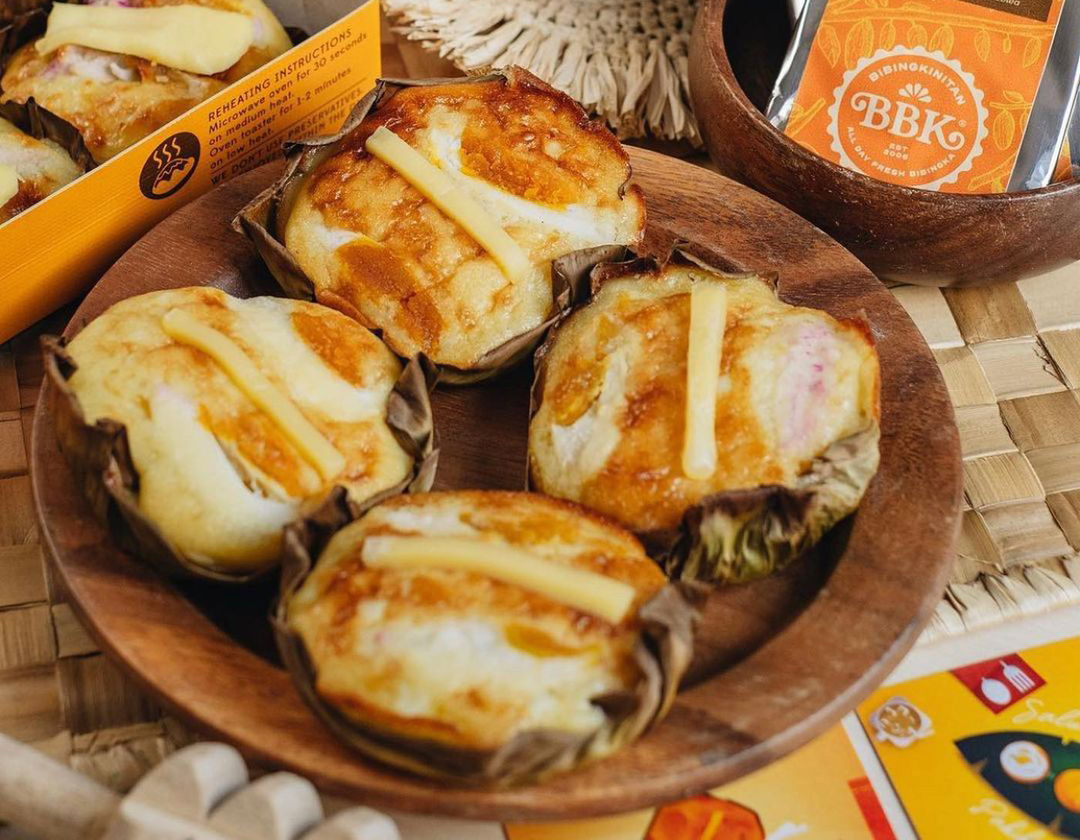 Image adapted from: @bibingkinitan
A favorite dessert along with the puto bumbong that's sold in the streets during Christmas season, Filipino dessert recipes for bibingka traditionally include milled glutinous rice (galapong), coconut milk, margarine, and sugar cooked over a clay pot with banana leaves.

Milled glutinous rice can be hard to find, so you can use rice flour as an alternative. And if you don't have a clay pot at home, you can also cook bibingka in an oven. 
Serves 3

Ingredients: 
1 cup rice flour

2 ½ tsp baking powder

⅛ tsp salt

3 tbsp butter

1 cup granulated sugar

3 pcs raw eggs

1 cup coconut milk

¼ cup fresh milk

Pre-cut banana leaf

1 pc salted duck egg, sliced

½ cup cheese, grated
Steps:
Preheat the oven to 375

°F. 

Mix in rice flour, baking powder, and salt, then set aside. 

Stir the butter till creamy. Sprinkle sugar gradually while whisking. 

Add the eggs to the butter and sugar. Mix.

Add the rice flour, salt, and baking powder one at a time then continue mixing.

Add coconut milk and fresh milk. Whisk for 2 minutes. 

Place the banana leaf on a baking pan.

Place the mixture on the leaf on the pan. Bake for 15 minutes.

Remove from the oven (but don't turn it off yet) then top it with the sliced salted egg and grated cheese.

Put it back in the oven. Bake for 15 to 20 minutes or till medium brown.

Brush the baked

bibingka

with butter and layer with sugar to taste. 
Recipe credit: Panlasang Pinoy
---
9. Maja Blanca – coconut milk pudding
---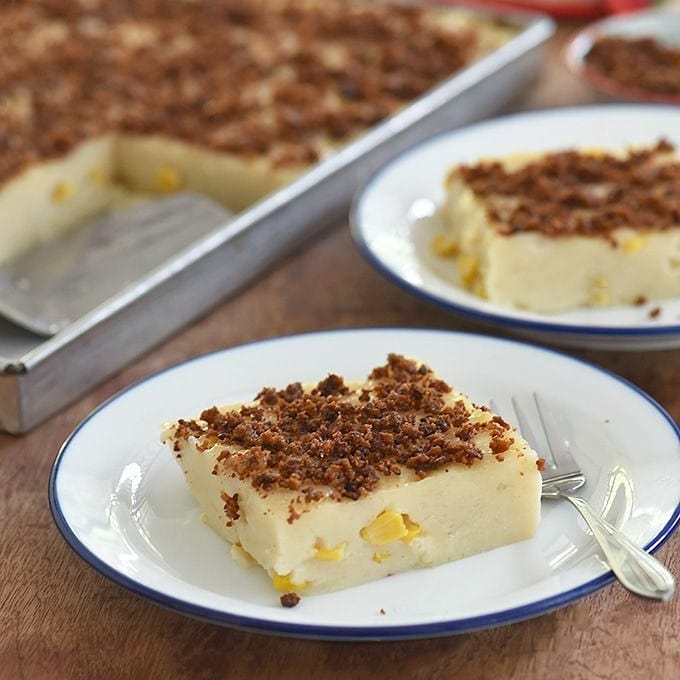 Image credit: @thegreatstuff.ph 
Topped with latik or simmered pieces of coconut milk, maja blanca is a coconut pudding that includes coconut milk, milk, cornstarch, sweetener, and corn kernels.
It's the Filipino adaptation of the manjar blanco, a dessert made with milk and eaten in many Spanish-speaking countries. 
Serves 8
Ingredients:
1 can of 13.5 oz coconut cream

2 cans coconut milk, 13.5 oz each
1 can of 12 oz evaporated milk
1 can of 14 oz condensed milk
¾ cup sugar
1 can of 15 oz sweet kernel corn, drained
½ cup water
1 cup cornstarch
Steps:

In a pan over medium heat, boil coconut cream. Stir until the liquid starts to thicken.

Reduce heat to a simmer. When the cream becomes more solid, scrape sides and stir contents of the pan to prevent burning till the curds turn golden brown.

Drain

latik

from oil in a sieve.

Brush a 13"x9" baking dish with coconut oil. Set aside.

In a large pot, mix evaporated milk, coconut milk, condensed milk, and sugar.

Boil over medium heat. Stir gently till sugar dissolves.

Add corn kernels. Cook for another 2 to 3 minutes.

In a small bowl, stir water with cornstarch till cornstarch dissolves. Add this into the milk mixture then whisk until mixture thickens to a paste.

Pour mixture into a dish. Flatten the top with a lightly oiled spatula. Refrigerate for 1 to 2 hours. 

Brush top with coconut oil, sprinkle with

latik

, and cut the

maja blanca

to serve.
Recipe credit: Kawaling Pinoy
---
10. Biko – sticky rice sprinkled with coconut milk toppings
---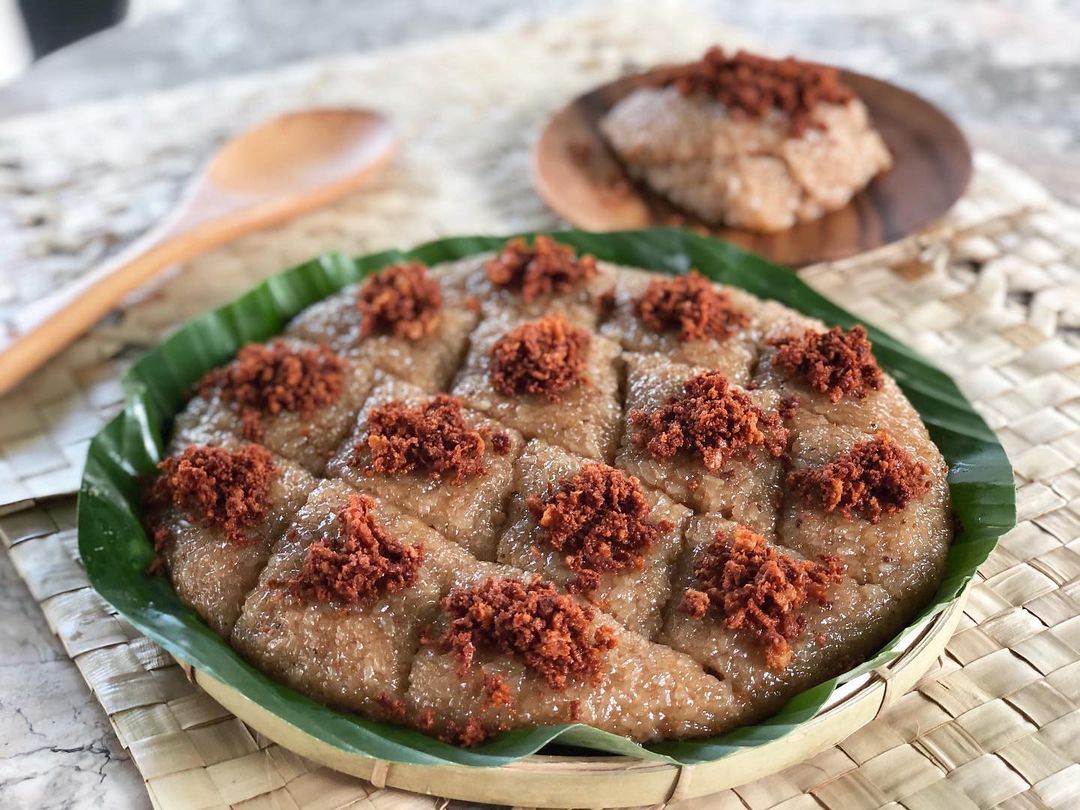 Image credit: @delishbiko 
Also topped with latik, biko is a combination of sticky rice, coconut milk, and brown sugar. Traditionally served over a banana leaf on a bilao or a round, woven piece of wood, you can often find this dessert in celebrations, fiestas, and town markets. 
Serves 12

Ingredients:
1 cup coconut cream

2 cups glutinous rice

1 ½ cups water

3 cups coconut milk

1 cup dark brown sugar

½ teaspoon salt
Steps: 
In a pan, add the coconut cream. Boil it over medium heat until the liquid starts to condense. 

Reduce heat to a simmer. When oil begins to separate and the cream becomes more solid, stir regularly and scrape the pan to avoid burning.

Cook and stir until curds turn golden brown.

Clear the water from the

latik

in a sieve. 

Line all sides of a 5"x8" baking dish with coconut oil. Set aside.

Wash and drain the glutinous rice 2 to 3 times.

Mix the rice with water in a pot. Boil over medium heat. Lower heat, cover, and cook until liquid is absorbed by the rice. 

Cool and stir the rice. 

In a big non-stick pan, stir coconut milk, brown sugar, and salt thoroughly, then boil. 

Lower heat. Continue cooking the mixture until it gets thicker.

Distribute rice over the mix. Cook and stir occasionally for about 1 hour or until the mixture becomes thick enough to remove from the pan. 

Even out the

biko

with a lightly greased spatula.

Brush top with coconut oil and cut the

biko

into squares. Sprinkle the

latik

. 
Recipe credit: Kawaling Pinoy
---
Filipino dessert recipes for any celebration
---
No celebration and meal is indeed complete without Filipino dessert recipes that add not only sweetness, but also sweet local flavors to your occasion.

Whether you crave for something as simple as pastillas de leche, ube halaya, or for more variety such as halo-halo and maja blanca, you'll never run out of colorful and varied Filipino dessert recipes to choose from now.

For mains to go with your Filipino dessert recipes, also check out:
---
Cover image adapted from: @iyasjpastillas, @sweetatistics, Wikipedia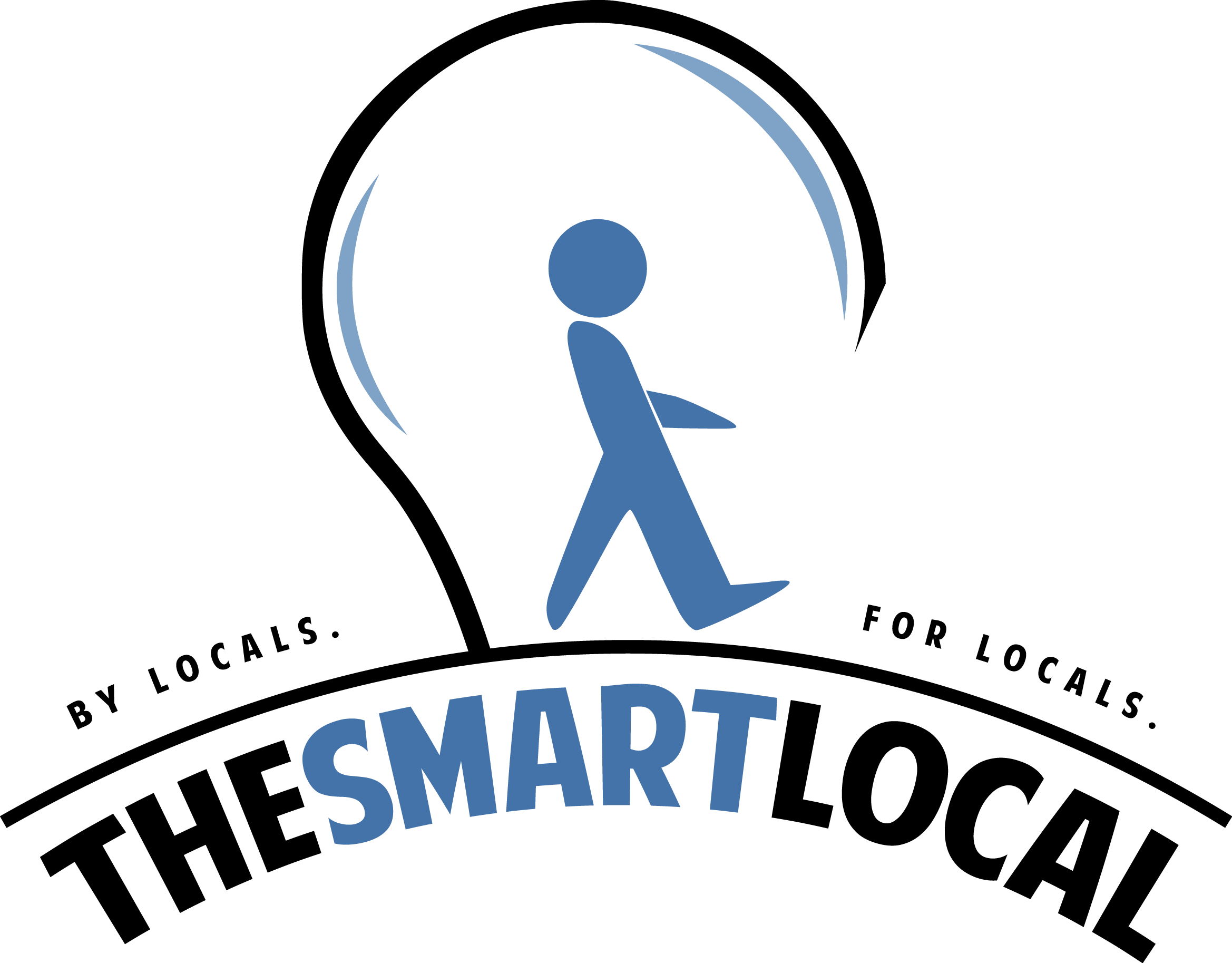 Drop us your email so you won't miss the latest news.