Milk tea desserts from cakes to doughnuts
---
The milk tea wave has been around for a decade now, and it's not showing any signs of stopping. Since milk tea shops started popping up in 2010 and milk tea started becoming a popular drink, it has become a comfort drink for many.
However, it's not just a drink anymore. As the years passed, more and more milk tea dessert creations were introduced to the world. With creative chefs and foodies incorporating milk tea into different foods, there's no shortage of milk tea desserts that you can try around Metro Manila.
---
1. Milk tea soft serve – Black Scoop Café
---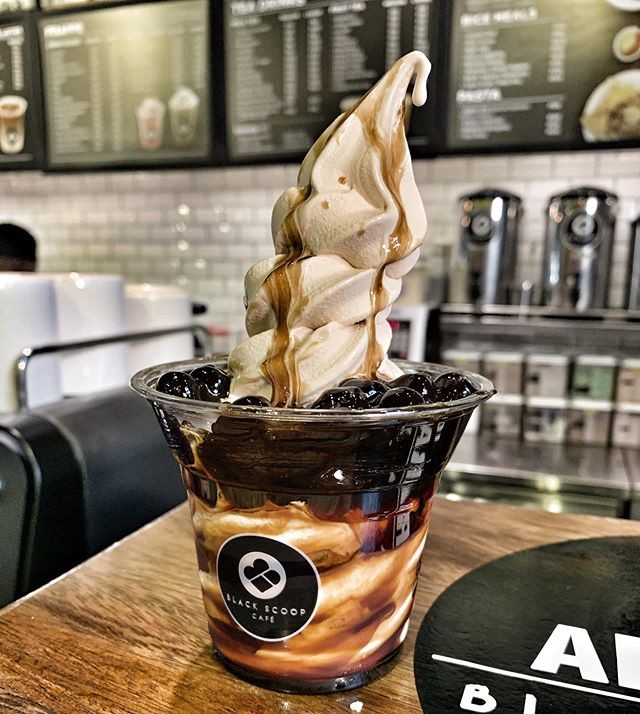 Image credit: @blackscoopcafeph
No more will you have to hold up the queue while deliberating between getting milk tea or ice cream for dessert. Fortunately, the great minds at Black Scoop Cafè have come up with the Milk Tea Swirl (from P120, ~USD2.48), a milk tea-flavored soft serve, that lets you enjoy the 2 desserts in 1.
The cup of milk tea goodness even comes with tapioca pearls the same way milk tea drinks do. And since we all have our milk tea flavor preferences, the café offers four different flavors, namely Wintermelon, Caramel, Okinawa, or Chocolate. Takeaway and delivery via GrabFood and FoodPanda are available from its many branches.
Address (main branch): 101 Maginhawa St, Diliman, Quezon City, Metro Manila (main branch). Refer to the website for more branch addresses.
Opening hours: 10AM-11PM, Daily
Mobile number: 0917 522 2256
---
2. Milk tea cakes – Flour en Dough by NBC School of Baking and Cake Decorating
---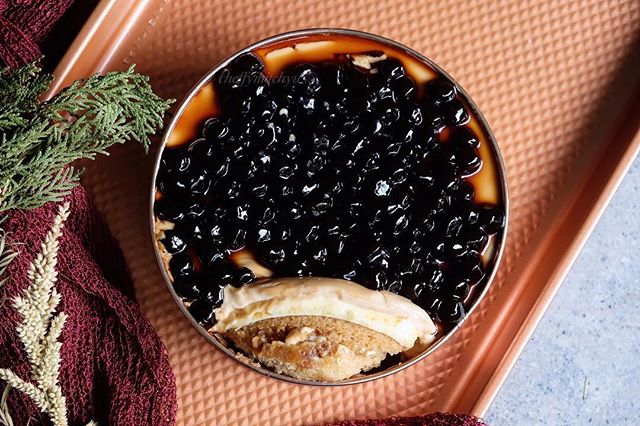 Image credit: @cheffymitchyu
With cakes being a classic dessert, it's a no-brainer for a milk tea innovation to incorporate it. Flour en Dough by NBC School of Baking and Cake Decorating has every milk tea lover's gratitude for coming up with their Bubble Tea Cake, made of 4 layers of milk tea-related elements.
The 4 layers in this milk tea cake are inspired by some of the best things in milk tea: a winter melon cake, a layer of rocksalt and cheese filling, a milk tea float, all topped with tapioca pearls. Along with a Taro variant of the cake inspired by taro milk tea, their Bubble Tea Cake is available through pre-order from only P500 (~USD10.34).
Address: 10 M.H. del Pilar St. corner M.A. Roxas St. Calumpang, Marikina City
Opening hours: Mon–Sat 8AM-5PM
Mobile number: 0915 598 3050
---
3. Milk tea egg tarts – bitenmelt.ph
---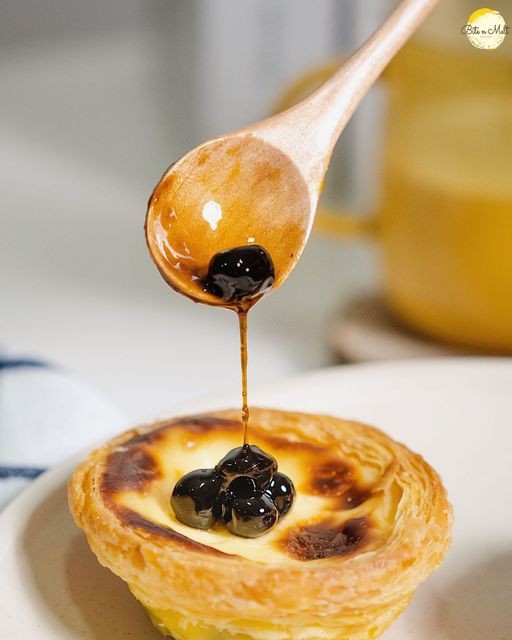 Image credit: bitenmelt.ph
As delicious as egg tarts are, they're not a dessert we see often around our local bakeries. However, bitenmelt.ph offers them with the addition of a milk tea twist.
This online store bakes up flaky, custard-filled egg tarts and offers them topped with tapioca pearls for those who want a chewy addition to their pastry. The pearl egg tarts go for P300 (~USD6.20) per half dozen. However, you can also get pearls on any of their egg tart flavors such as bacon, taro, and cheese, for only P50 (~USD1.03).
They bake their egg tarts fresh every day, and though they don't have a physical store, they do deliveries and pickups that can be booked via DM. You can get your pearl egg tart fix and not even have to get up for it!
Opening hours: 10AM-5PM, Daily
Mobile number: 0927 812 2288
---
4. Milk tea donuts – Bobba Donuts MNL
---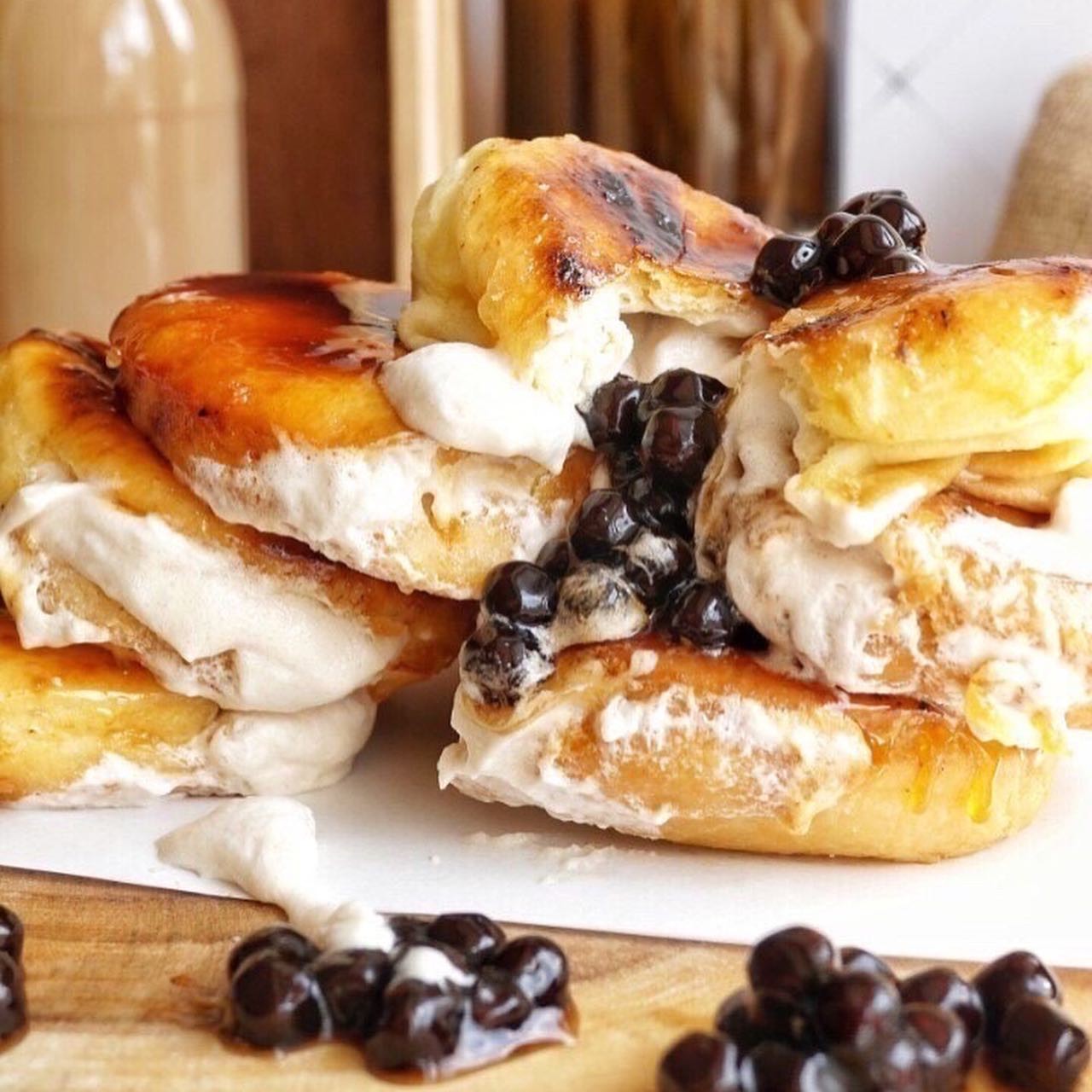 Image credit: Bobba Donuts MNL
It's time to put down your usual glazed doughnuts and explore newer donut flavors. And if you're a milk tea enthusiast, Bobba Donuts MNL's milk tea bobba donuts are something you can't pass up.
Imagine a crème brûlée donut, but instead of just plain cream, it's got a milk tea-infused filling and a generous amount of tapioca pearls. That's exactly what this donut is – an explosion of both flavor and texture in your mouth, what with the donut being coated in a crunchy caramel, a smooth warm filling, with chewy pearls to finish it off.
Each box of 4 freshly made donuts is P180 (~USD3.72), and can be ordered from their Facebook page.
Opening hours: Tue–Sun 9AM-6PM
Mobile number: 0905 234 8652
---
5. Milk tea affogato – Dohtonbori
---

Image credit: @dohtonbori_ph
While affogato, or a cup of coffee with a dollop of vanilla ice cream, is a favorite amongst caffeine lovers, sometimes we just want the affogato experience without the potential palpitations. However, if you're not fond of the bitter drink, this On the Rocks milk tea affogato from Dohtonbori might be more up your alley.
You'll get a shot of lungo coffee, meaning a short black with slightly more water than usual, bathed in cheese cream, with a dash of cinnamon, and Boba Pearls. The result: a tasty dessert that's affogato, but not really.
Giving you that same Instagrammable coffee-to-ice-cream ratio but with milk tea instead, this dessert will satisfy your sweet tooth and still let you sleep at night.
Address: 587, 1006 Quintin Paredes Rd, Binondo, Manila, Metro Manila
Other locations at Megamall, SM North EDSA, Alabang, UPTC, and SM Fairview
Opening hours: Mon–Sat 8.30AM-6.30PM
Mobile number: 0999 845 2339
---
6. Milk tea cheesecake – T.G.I Friday's and El Quezo
---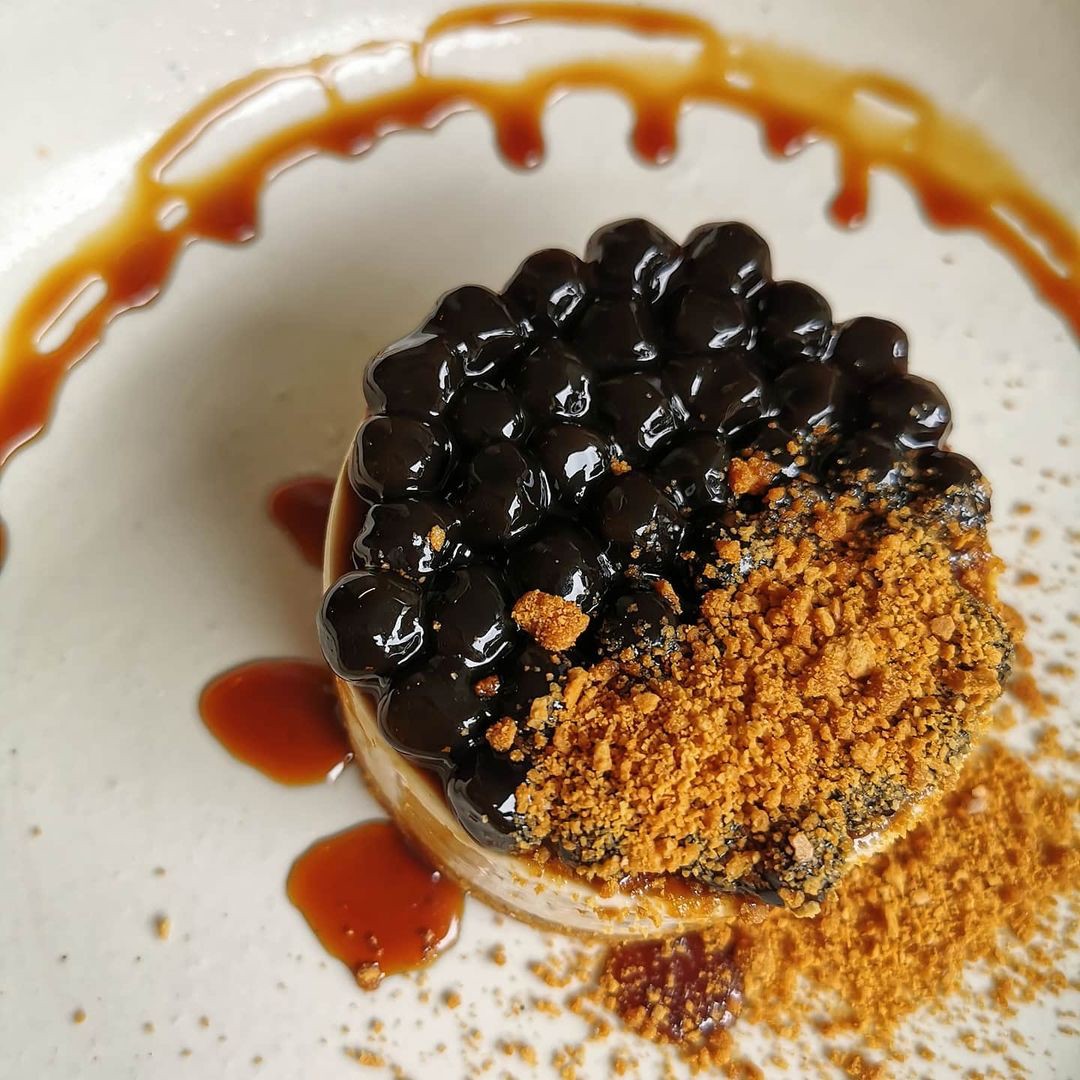 T.G.I Friday's boba cheesecake
Image credit: @magsfrancisco
Cheesecakes have always been a go-to dessert, but even classics can be improved upon. Both T.G.I Friday's and El Quezo have given us a new reason to love cheesecake (P290, ~USD6.03) , and that's by infusing it with milk tea and showering it with tapioca pearls.
With a cheesecake base, pearls, and liquid brown sugar drizzle, T.G.I Friday's version is a crowd-pleaser.

Image credit: El Quezo
For those whose favorite milk tea orders usually involve some added flavor, El Quezo serves up burnt basque cheesecakes in different versions from classic to kaya jam to earl grey – all with pearl topping options from P15 (~USD0.31) per mini cheesecake (that comes in boxes of 4 costing P350, ~USD7.28 each) to P30 (~USD0.62) on 5-8 inch cakes that cost P699 (~USD14.54) each.
To get El Quezo's cheesecakes via delivery or pick-up, fill up their Google Form on their Instagram page.
T.G.I. Friday's
Address: Pedro Gil St, Ermita, Manila, Metro Manila (main branch)
Refer to website for more branch addresses.
Opening hours: 10AM-9PM, Daily
Telephone number: (02) 8353 2427
Website | Facebook | Instagram | GrabFood
El Quezo Manila
Instagram
---
7. Milk tea ice cream cone – Cornetto
---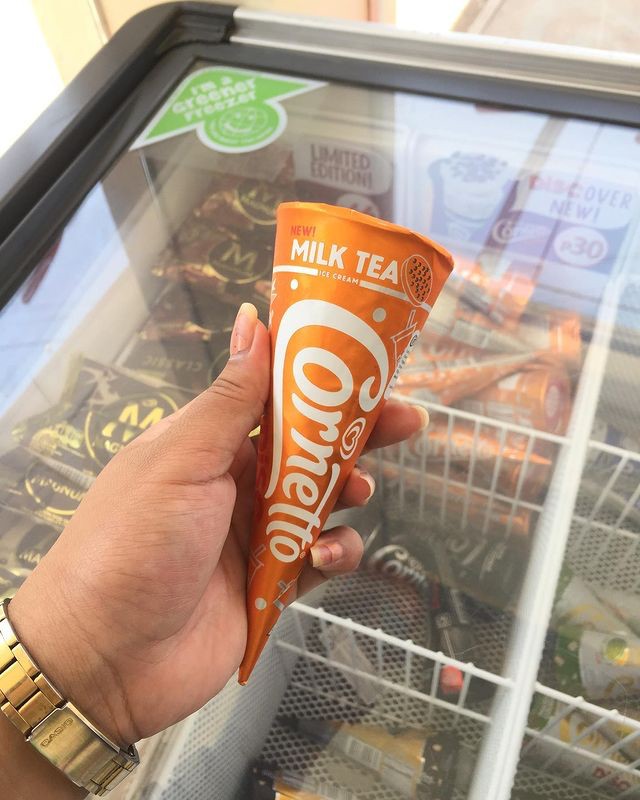 Image credit: @jewelczarinugh
Saan aabot ang 25 pesos mo? Instant milk tea gratification. We love milk tea, along with the other milk tea desserts on this list, but sometimes we just want a craving satisfied ASAP, waiting be damned.
With its wintermelon ice cream and boba disc, this milk tea-flavored Cornetto is a quick and easy craving fix available at supermarkets and convenience stores.
---
8. Milk tea fries – The Pearl Fajardo
---

Image credit: The Pearl Fajardo
We don't know if this is a dessert, snack, or a whole food category of its own. Milk tea stall The Pearl Fajardo recently came up with this mind-boggling creation they dubbed the Triple Treat, which is a serving of fresh and crispy french fries topped with chewy tapioca pearls.
An odd combination, but according to the store owner, customers who've tried it ended up surprisingly satisfied. As they say, don't knock it 'til you've tried it.
Address: 1666 J Fajardo St. Sampaloc, Manila
Opening hours: 11AM–10PM, Daily
Facebook | GrabFood | FoodPanda 
---
9. Milk tea bingsu – La + Tearia
---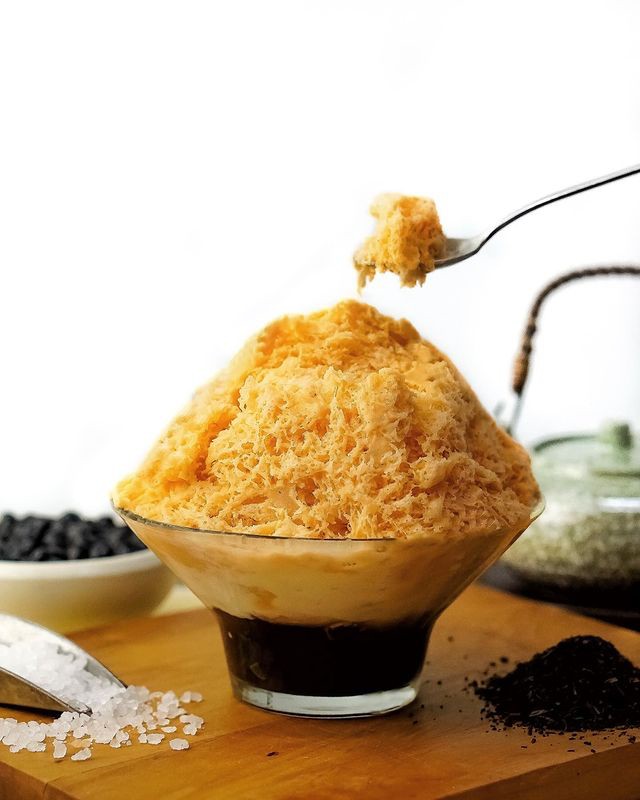 Image credit: @lateariaph
Thai milk tea usually hits the spot when paired with spicy Thai fare, but La + Tearia takes it up a notch with shaved Thai milk tea (from P110, ~USD2.29) made from imported Thai tea leaves, no less.
This also comes in strawberry milk tea, dark chocolate milk tea, matcha milk tea, and signature milk tea versions, all with rock salt and cheese, and is available via GrabFood or FoodPanda takeout or delivery.
---
10. Milk tea pancakes – Puffy's Soufflé Pancake Café
---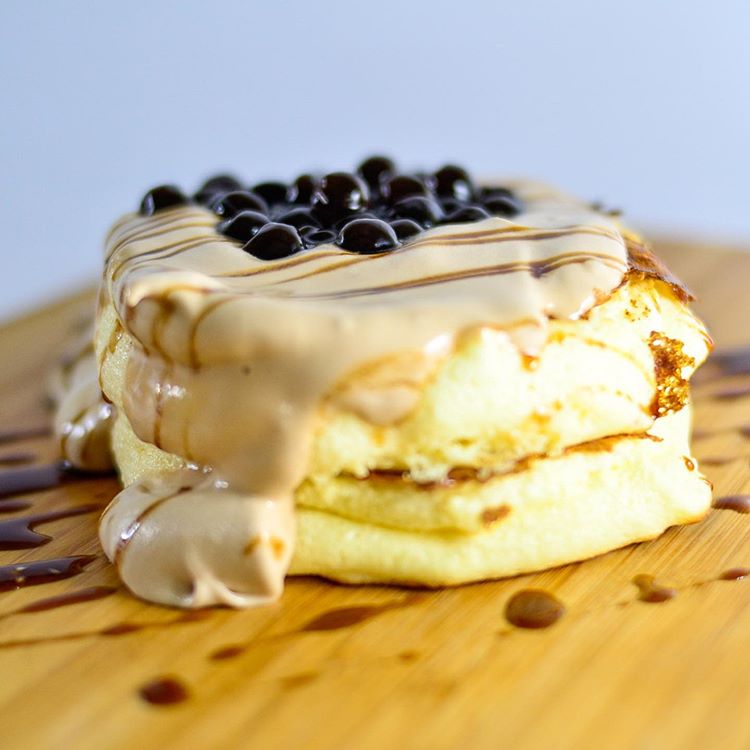 Image credit: @puffyscafeph
Soufflé pancakes (from P140, ~USD2.91), the famous innovation from Japan, are finally in the Philippines. By way of Taiwan, Puffy's Soufflé Pancake Café has brought this innovation to Manila in December 2019 so you don't have to wait for your next Japan trip to get them anymore.
The best part – they come in milk tea flavors, and are available in takeaway packages unlike the usual idea of pancakes as a sit-down, fork-and-knife meal. GrabFood and FoodPanda delivery are also both available.
Address (EDSA): 4th floor, The Block, SM City North EDSA, Epifanio de los Santos Ave
Opening hours: 9AM-9PM, Daily
Address (Robinsons Magnolia): Robinsons Magnolia, Aurora Blvd, Doña Hemady St, New Manila, Quezon City, Metro Manila
Opening hours: 10AM-8PM, Daily
---
Milk tea desserts in Metro Manila
---
Whatever your preferred milk tea order is, chances are there is now a corresponding milk tea dessert in solid form for your next merienda in the city.
All the above treats are available via GrabFood, FoodPanda, or online pre-order, so you won't have to venture beyond your front gate to get your next fix.
---
Cover image adapted from: @blackscoopcafeph,  The Pearl Fajardo, and bitenmelt.ph 
This article was originally published by Hazel Lumbre in March 2021. Updated by Xin Tian K. on 24 May 2021.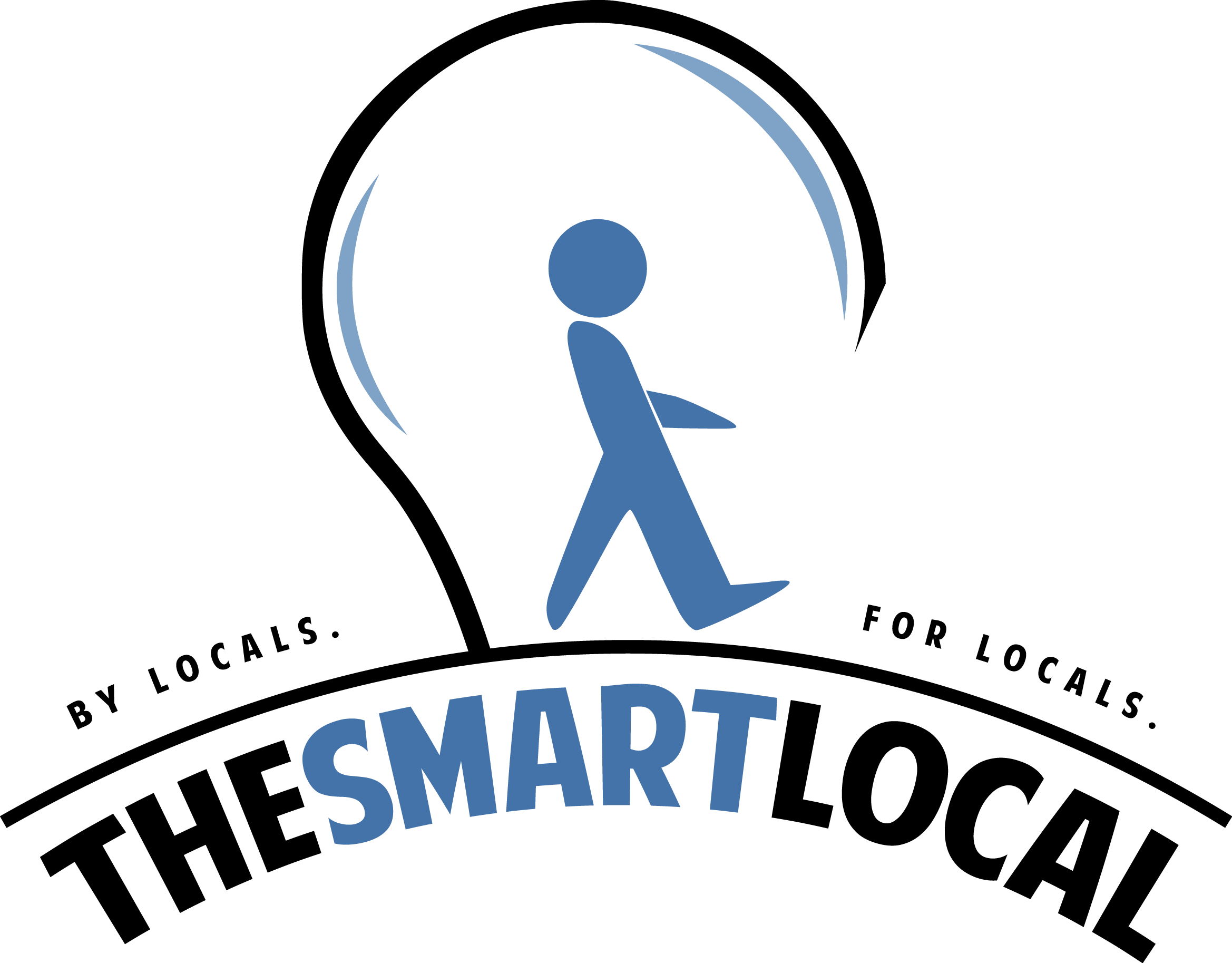 Drop us your email so you won't miss the latest news.