Things to do in Bukidnon
---
Somewhere in Northern Mindanao lies a landlocked province called Bukidnon, one of the lesser-known provinces of the Philippines. The mountainous terrain and beautiful green surroundings of Bukidnon will make you wonder why people don't give the province attention.
If you're curious about this gem, here're 12 things to do in Bukidnon when you need to reset and just leave the city.
---
What and where is Bukidnon?
---
A former hill station and resort area, Bukidnon is also a major producer of pineapple, corn, banana, sugarcane, and rice, but also a nature and history hub in north-central Mindanao. so travelers can get to see the origins of some of our pantry staples.
Some of Bukidnon's major towns include its capital, Malaybalay, which takes the title "Little Baguio" and "South Summer Capital of the Philippines" from its comfortably cool climate. Numerous US-style houses and buildings from the 1930s are still standing here today.
There's also the neighboring city of Valencia, the area's commercial hub. Major malls, fast food outlets, banks, and public markets can be found here.
North of Malaybalay is Manolo Fortich, most famous for its Del Monte plantation. It's also home to wartime landmarks such as the General McArthur landmark where the US military leader left the country for the last time, the Mangima Heroes Shrine honoring locals' sacrifices in WW2, and a Japanese stone marker noting the deaths of a high-ranking Japanese army chief.
In Bukidnon, one of the telltale signs that you're far from the big cities is when the air gets noticeably fresher, and temperatures dip. Bundle up with a light jacket, and you'll be good to go!
---
How to get to Bukidnon from Metro Manila
---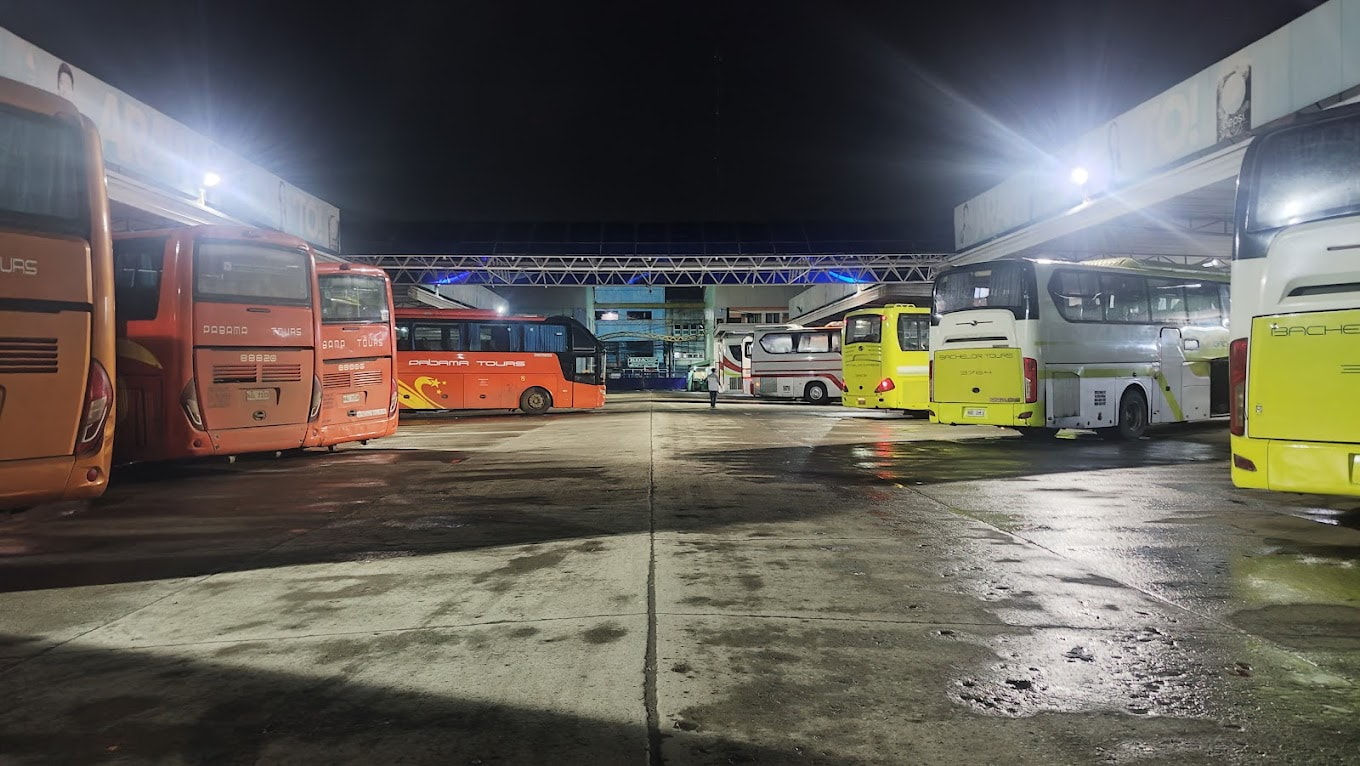 Agora Integrated Bus Terminal, Cagayan de Oro City
Image credit: John Carlo Bandong

To reach Bukidnon, take a 1h 45 min flight from the metro to Cagayan de Oro, where the nearest airport and seaport is, then travel 2 hours by land from Agora Integrated Bus Terminal to reach Bukidnon. Hop on a bus to Malaybalay City, and fare should start at P250 (~USD4.60). Taxis and vans for groups to hire are also available.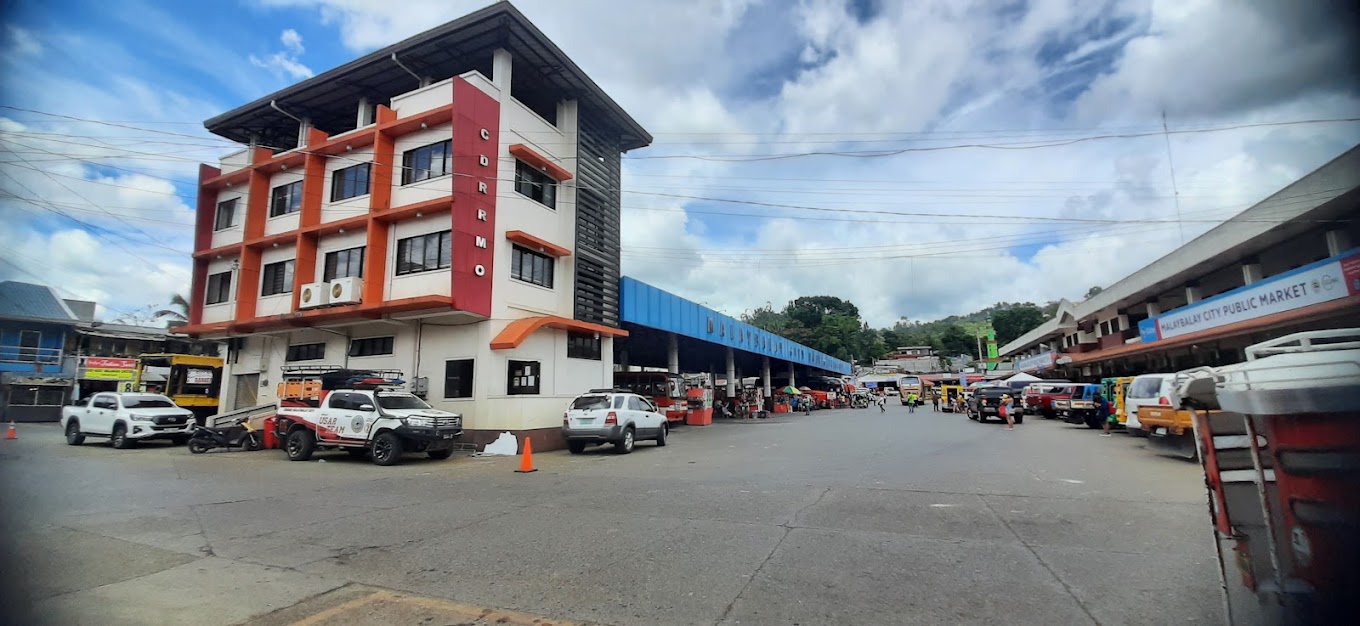 Malaybalay City Bus Terminal.
Image credit: BUKIDNON HIGHLANDER ADVENTURES
If you're planning to hike in Mount Kitanglad Range National Park, stop by the Office of Protected Area & Management Bureau, under the Department of Environment and Natural Resources (DENR), at Malaybalay City to get your permit (P85, ~USD1.56 per mountain). You should send them a request for a permit at least 10 days before visiting.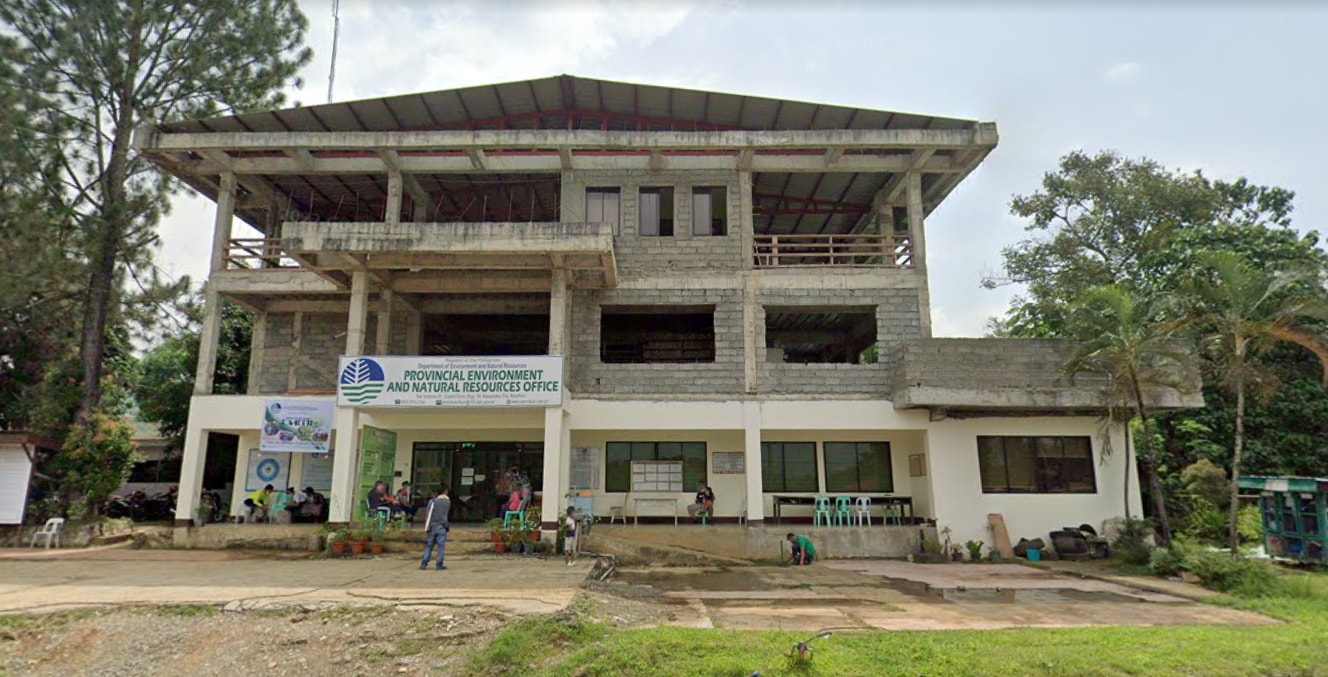 The Malaybalay City DENR Office.
Image credit: Google Maps
You'll get to enjoy the province from all angles without battling for space with other tourists or having hordes of passers-by photo-bombing your shots.
---
– Visit natural attractions in Bukidnon –
---
1. Mt. Kitanglad Range National Park – scale the 2nd and 4th highest peaks in the Philippines
---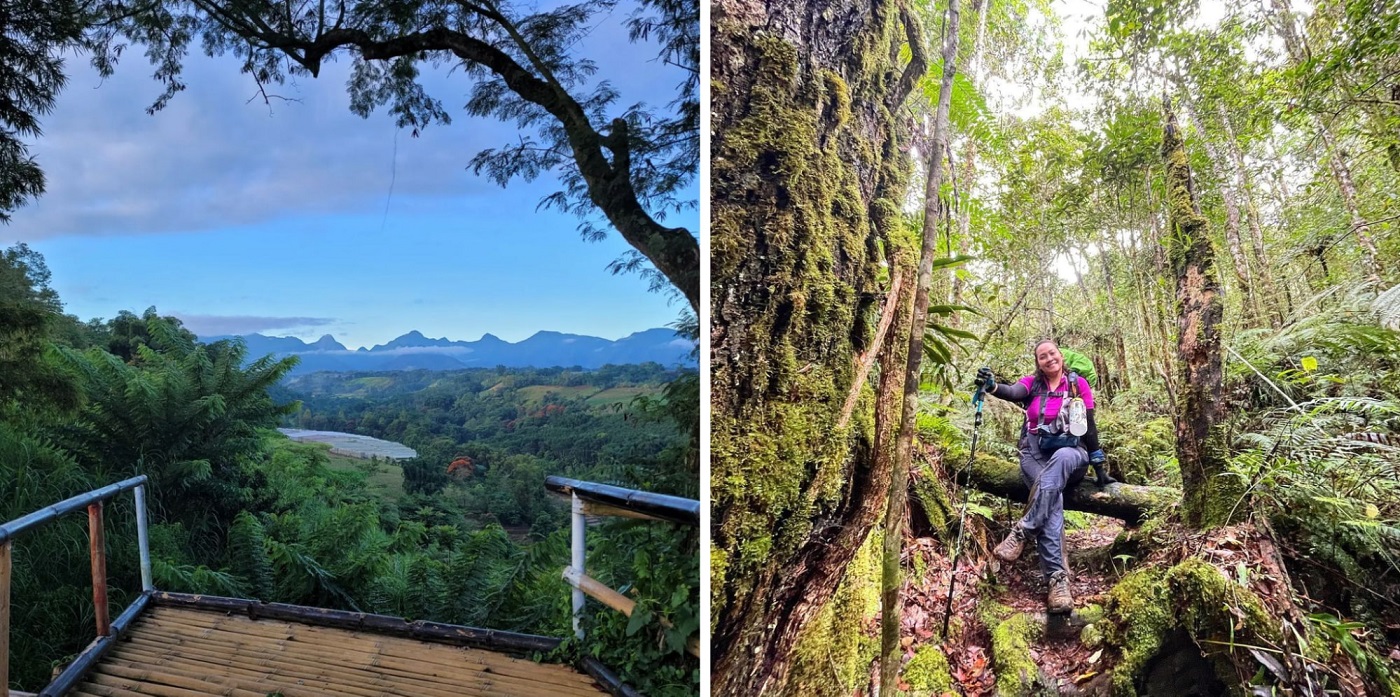 The Mount Kitanglad range (left) and Mount Dulang-Dulang (right).
Image adapted from @surefootedjing and @chibmacy

Home to 47,270 hectares of rainforest, inactive volcano and fourth-highest Philippine peak Mount Kitanglad and second-highest peak Mount Dulang-Dulang, Mount Kitanglad Range National Park is a star among Bukidnon's natural attractions.
With numerous mountain peaks, the nationally protected area and ASEAN Heritage Park is home to the endangered Philippine eagle and Philippine tarsier, plus lots of scenic biodiversity.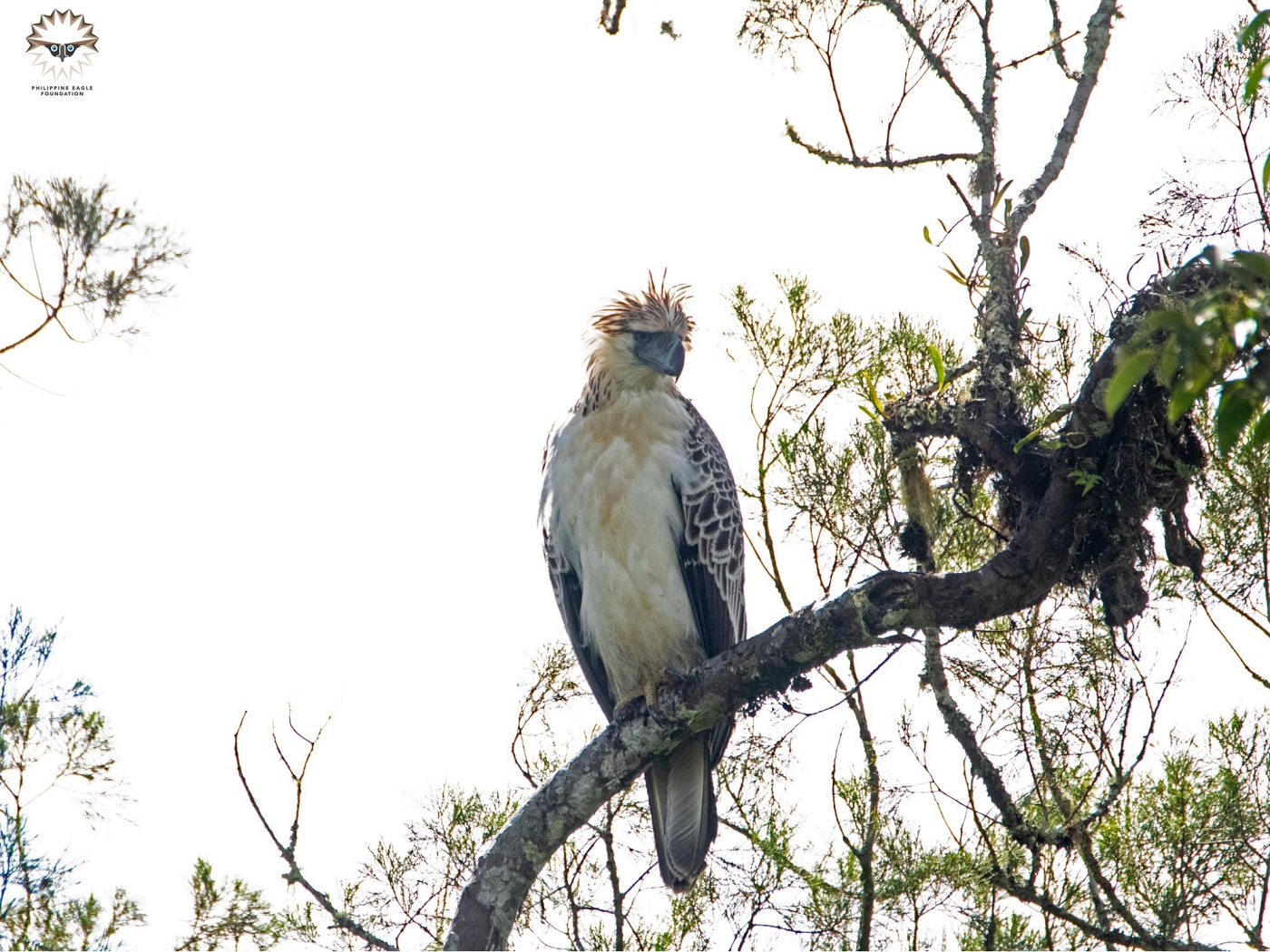 A young Philippine eagle spotted at the Cinchona Forest Reserve at Mt Kitanglad, Bukidnon.
Image credit: Philippine Eagle Foundation

Hikers planning to scale the Mount Kitanglad peak at 2,899 m above sea level can spend the night at the TV and radio operators' lodge, where bunk beds, electricity, water, and a cooking area are provided. Simply book a spot well ahead of time with the DENR office.
Wake up early in the morning to scale the peak and catch the sunrise. Bring cold-weather gear, wear thick pants and socks in case of leeches, and be prepared for foggy climbs as well.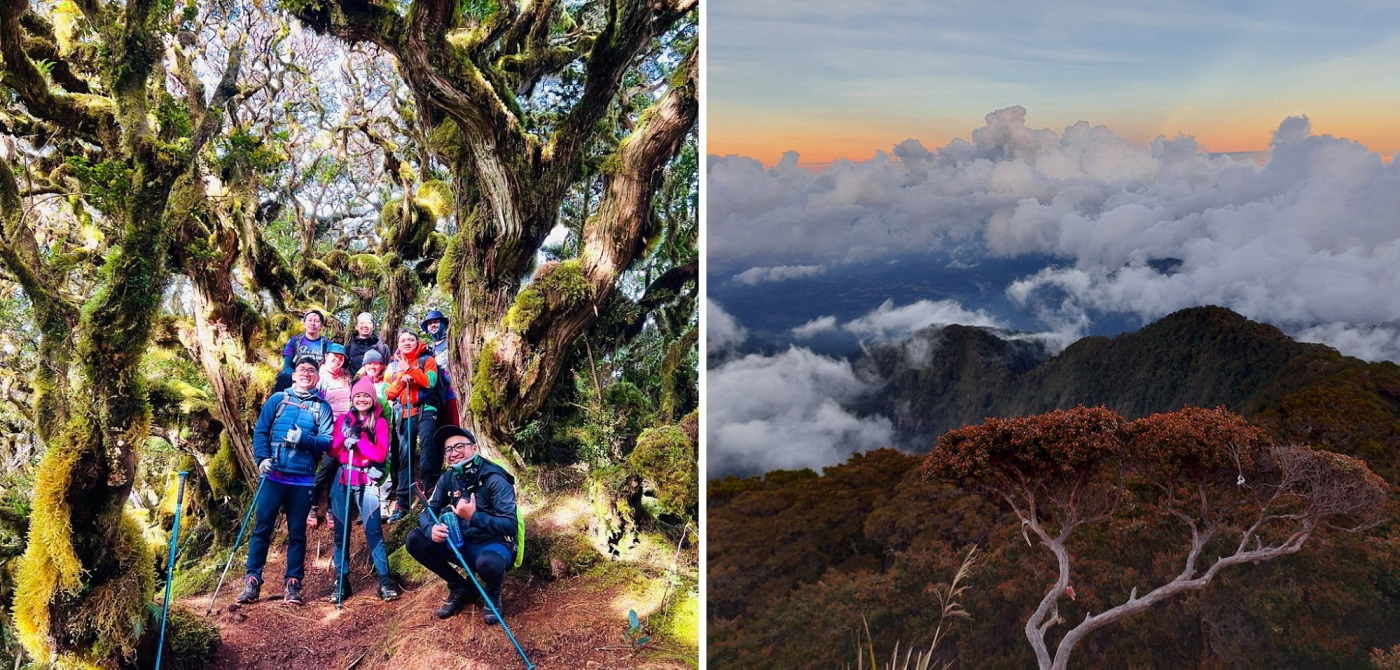 Mount Dulang-Dulang.
Image adapted from @charless_veranotwo and Athan Codilla
Mount Dulang-Dulang's draw is its mossy forest that looks like a scene straight out of a fairy tale, and its summit, also called D2, that's 2,938m above sea level. Some even traverse from the Mount Kitanglad peak to the Mount Dulang-Dulang peak before descending. You'll find a number of falls, caves, and hot springs in the park along the way.
We strongly recommend newbies to the area to engage a tour guide, and to book accommodations at Malaybalay City in advance too.
Address: Mt. Kitanglad Range National Park, Baungon, Bukidnon
Register at: DENR-PENRO Bukidnon Compound, San Victores Street, Barangay 9, Malaybalay, Bukidnon
GPS coordinates: 8° 7′ 30.076"N 124° 49′ 0.175"E
Contact: Mt. Kitanglad Range National Park's Facebook page | City Government of Malaybalay's Facebook page 
---
2. Lake Apo, Valencia, Bukidnon – chill and dine at a laid-back crater lake
---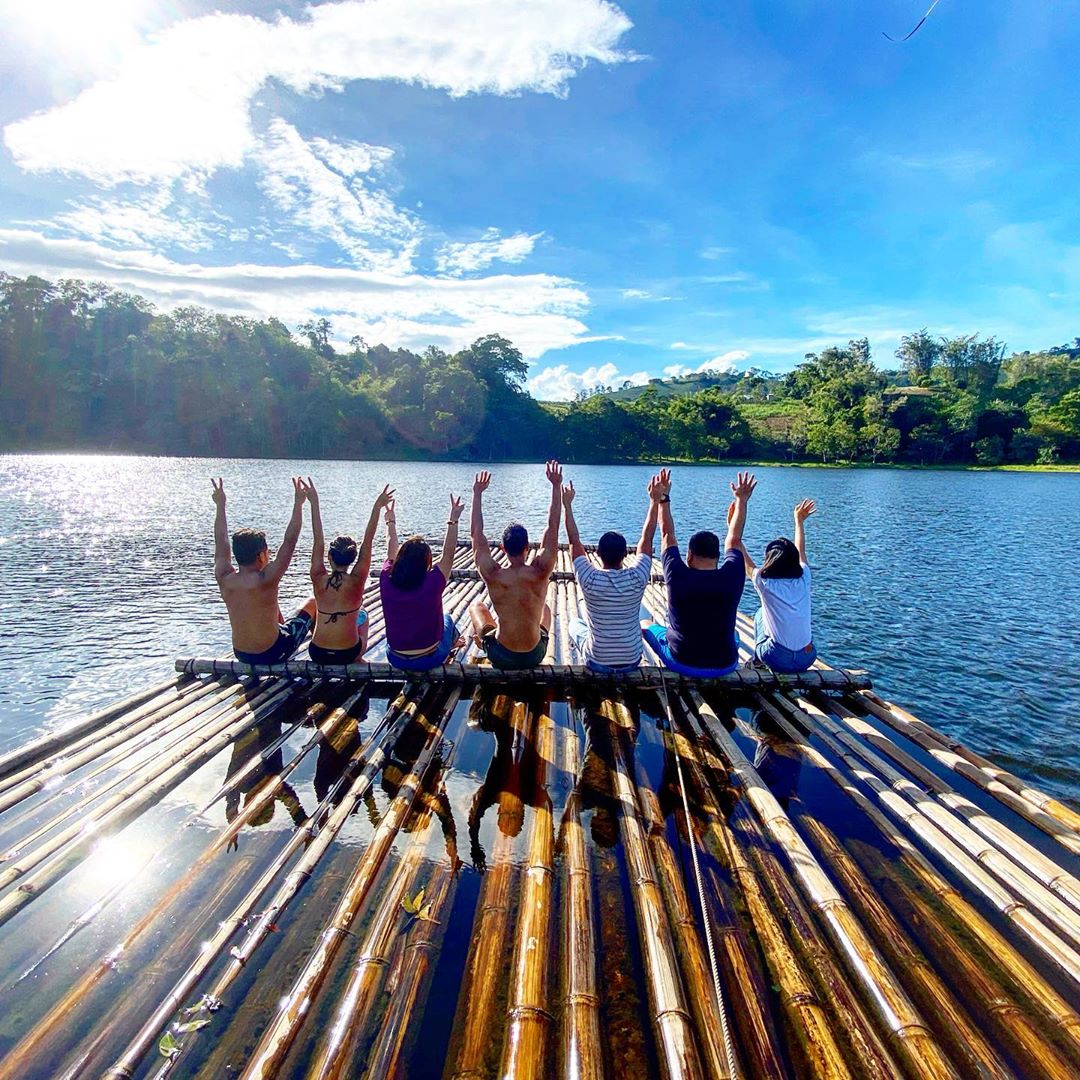 Image credit: @law_pelaez
Lake Apo, just 20 minutes' drive from downtown Valencia, is a placid crater lake surrounded by green, rolling hills. While bamboo rafting, fishing, and swimming are good ways to relax here, you can also go for a jet ski ride or paddle a kayak to enjoy its waters.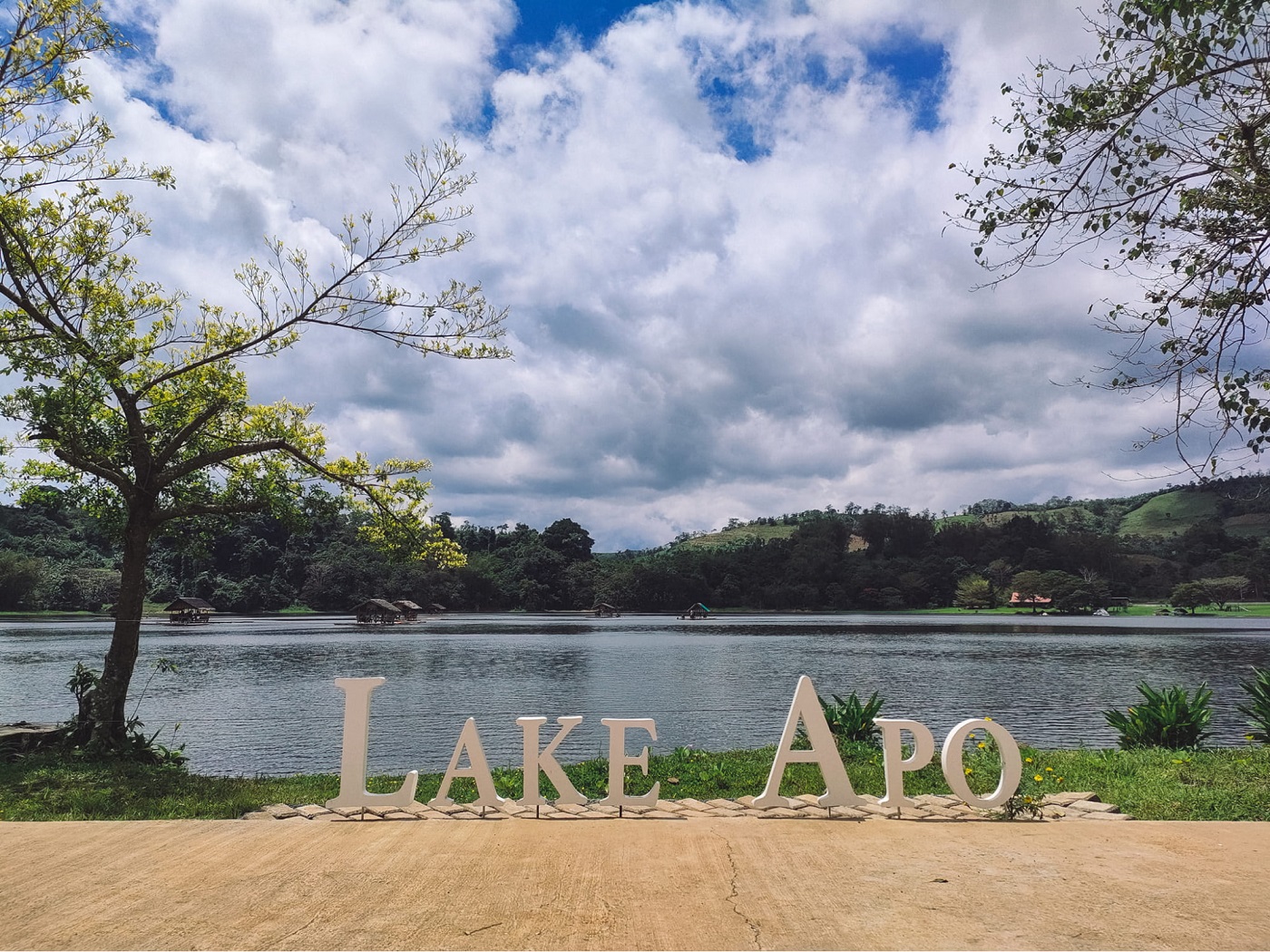 Image credit: Kenney Von Dalida
Fishers can even rent 3 fishing poles for P100 here and try their hand at catching tilapia, or order food from the neighborhood stalls.
Entrance fee: P70 (~USD1.29)
Table booking fee: P100 (~USD1.83)
Floating cottage booking fee: From P300 (~USD5.50)
Address: Brgy. Guinoyuran, Valencia City, Bukidnon
GPS coordinates: 7° 52′ 48.809"N 125° 0′ 29.683"E
Contact: Valencia City Public Information and Assistance Division Facebook page | City Government of Valencia, Bukidnon Facebook page
---
3. Sumalsag Cave – explore a 1km-long cave
---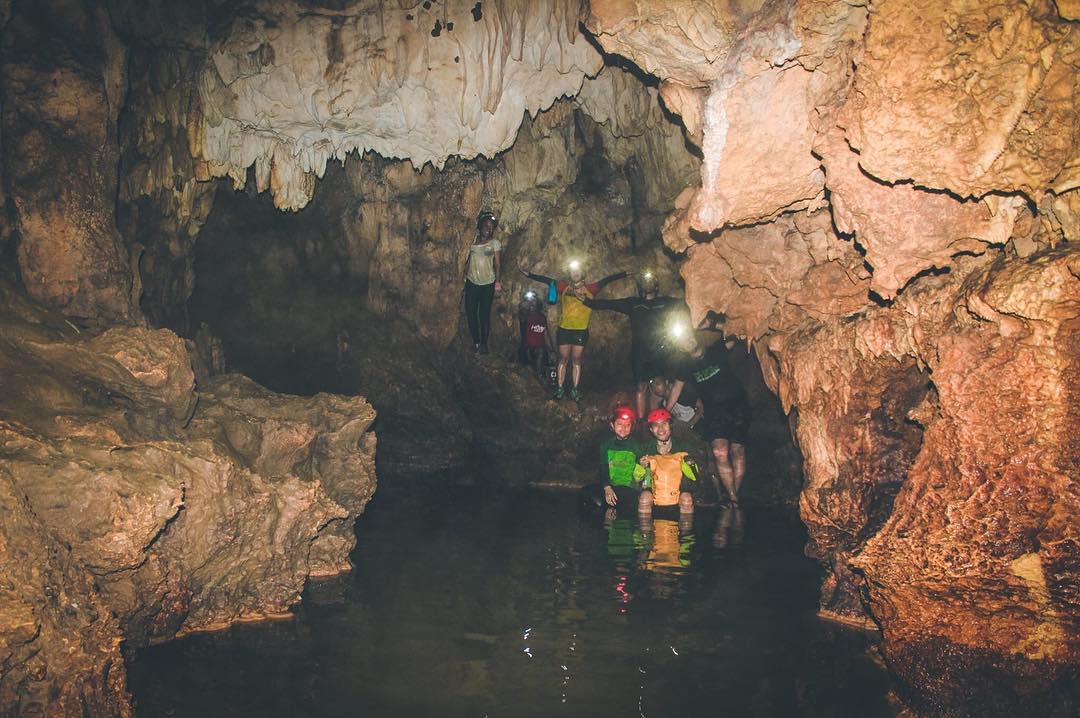 Image credit: @popoy.the.bisaya.traveler
One of five known caves in the Palaopao range, the Sumalsag Cave is over a kilometer long and has underground rivers and rock formations you can explore. Come with a guide and arrange in advance to get appropriate helmets, headlamps, waterproof bags, and other gear, show you how to traverse the more challenging narrow or wet parts of the cave. Swimming skills are recommended too.
To get to the cave, get a bus to Valencia town from the Agora Market bus terminal, and alight at the Darilig junction. The journey is over an hour long. From the arrival point, flag down a motorcycle taxi to the Sitio Kilabong start point which will be 15 minutes away, and start your spelunking adventure.
Entrance fee: P20 (~USD0.37)
Address: Sumalsag Cave, Manolo Fortich, Bukidnon
GPS coordinates: 8° 21′ 20.844"N 124° 55′ 6.104"E
Contact: LGU Manolo Fortich Facebook page
---
4. Nasuli Cold Spring – natural fish spa pool with BBQ facilities
---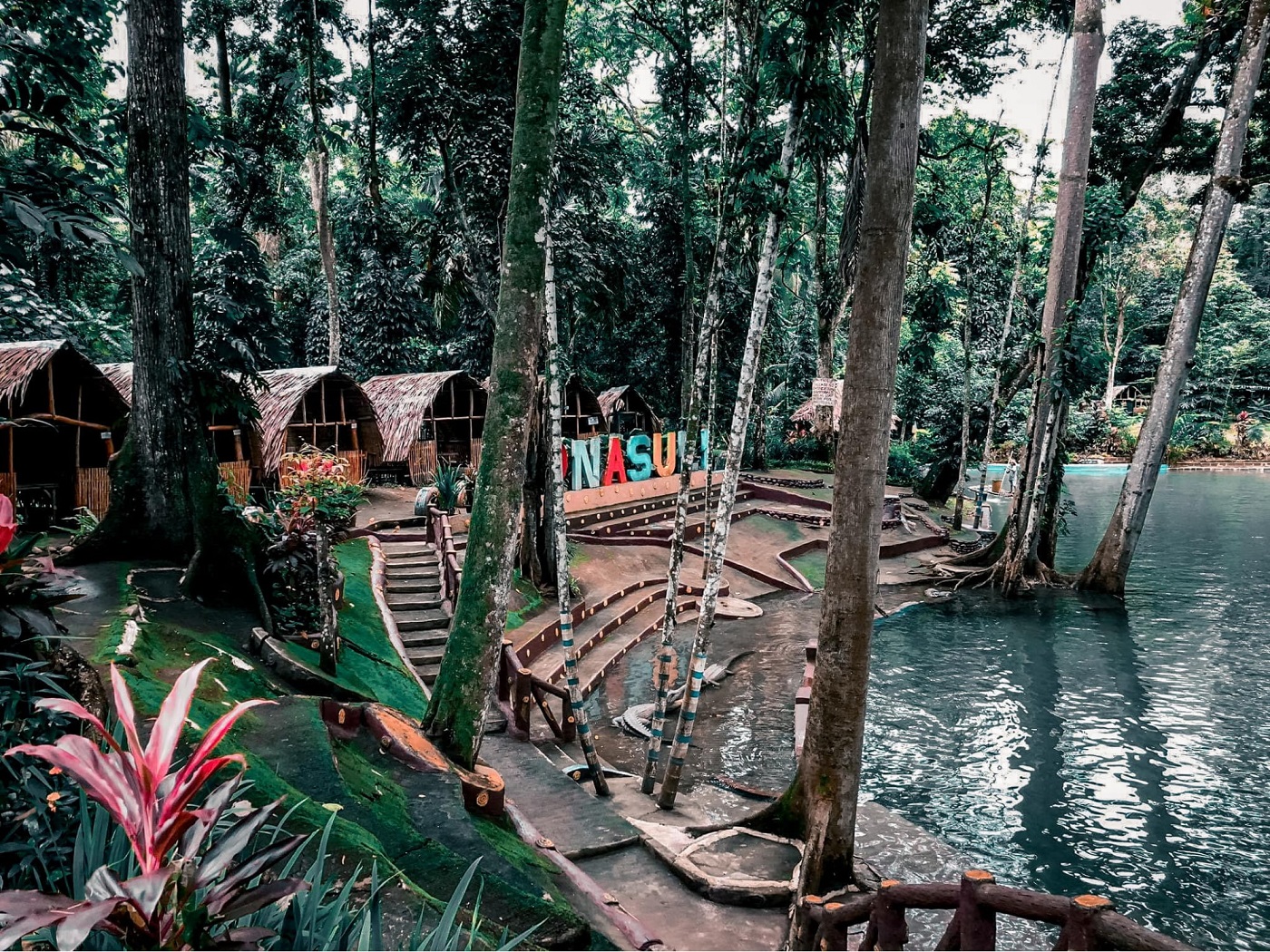 Image credit: Nasuli Spring Resort
Not far from Mt. Capistrano – which we'll share more about below – is Nasuli Cold Spring. The natural, turquoise spring is set under the shade of trees, making it a nice spot to cool off after a tiring trek.
The Nasuli Spring Resort facing the fish-filled spring offers humble cottages from P300-P700 (~USD5.50-USD12.84) that you can book for the day to store your items while visiting, though overnight stays are not allowed. You're welcome to bring and cook your own meals here too.
Entrance fee: P50 (~USD0.92)
Address: Malaybalay, 8700 Bukidnon
Opening hours: Mon-Fri 8am-4pm | Sat-Sun 8am-5pm
GPS coordinates: 8° 0′ 3.559" N 125° 7′ 35.561" E
Contact: Nasuli Spring Resort Facebook page 
---
5. Camp Phillips – enjoy fresh pineapples & a year-round cool climate
---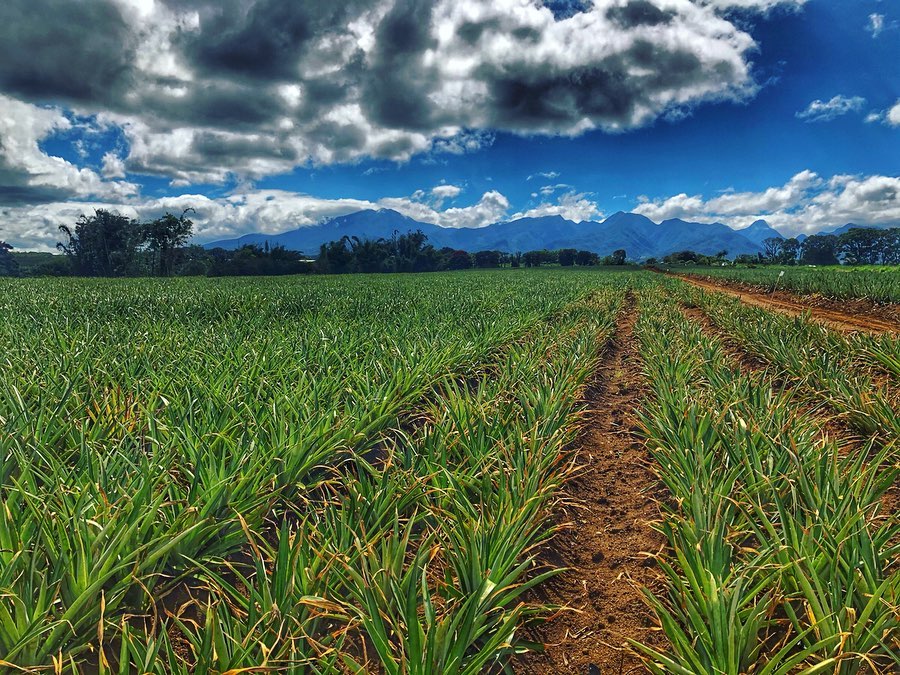 Image credit: @joycedancel
When visiting Camp Phillips, Del Monte's pineapple plantation in Manolo Fortich, you'll see 9,000 hectares of pineapples in open fields free for all to explore – no entrance fee needed.
Drone fans should take this chance to fly their drones to capture iconic views that scream Bukidnon.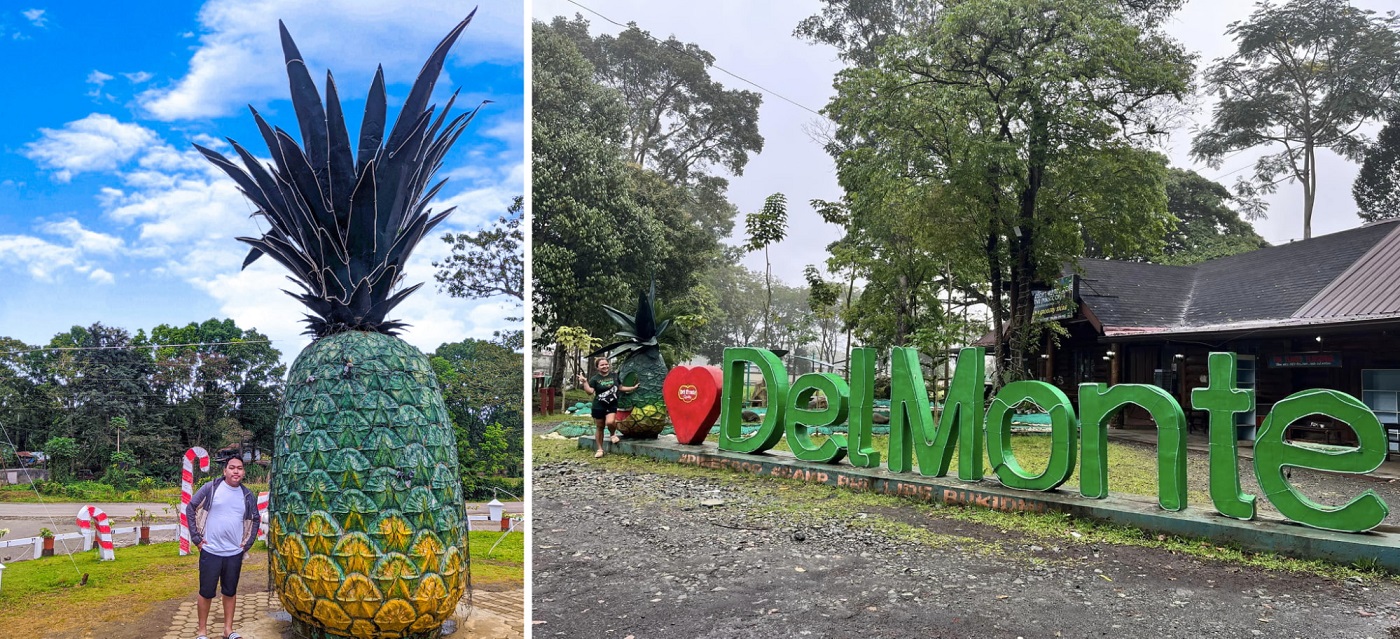 Image adapted from Mark Bacomo Baldon and Kei Afludor
On the camp grounds, you'll also spot Del Monte employees' colorful houses. Before leaving, drop by the souvenir shop for fresh pineapples, pineapple jam, pineapple yema, bananas, and coffee.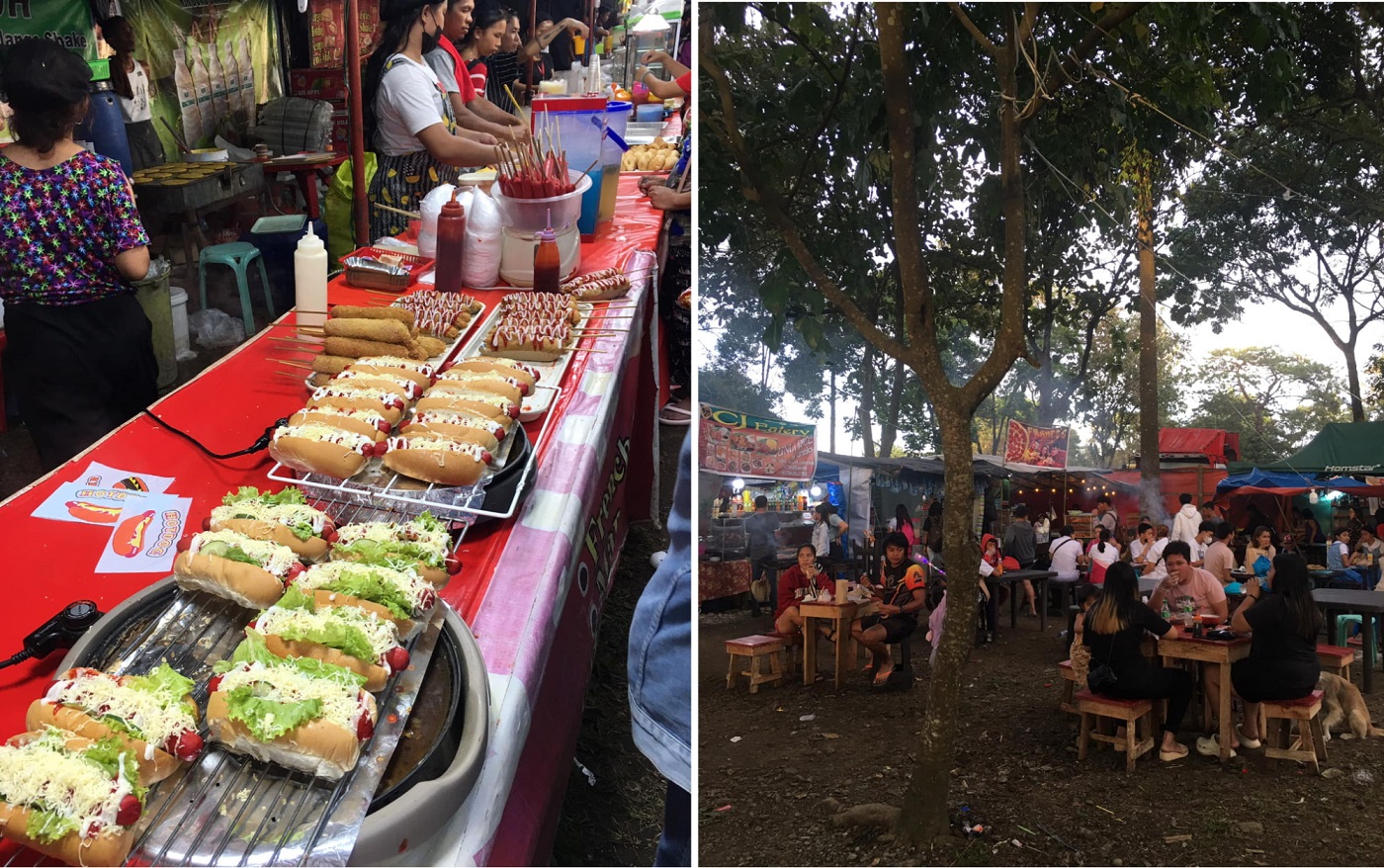 A bazaar at Camp Phillips.
Image adapted from Crsymy
And don't forget to shop at the open-air bazaar where street food is served into the night. There's also a playground, kids' obstacle course, amusement park rides, and ukay shopping zone with clothes, shoes, and accessories.
Entrance fee: Free
Address: Laturan, Manolo Fortich, Bukidnon
GPS coordinates: 8° 19′ 34.777" N 124° 48′ 49.009" E 
---
6. Dahilayan Forest and Adventure Park – dual zipline through the forest
---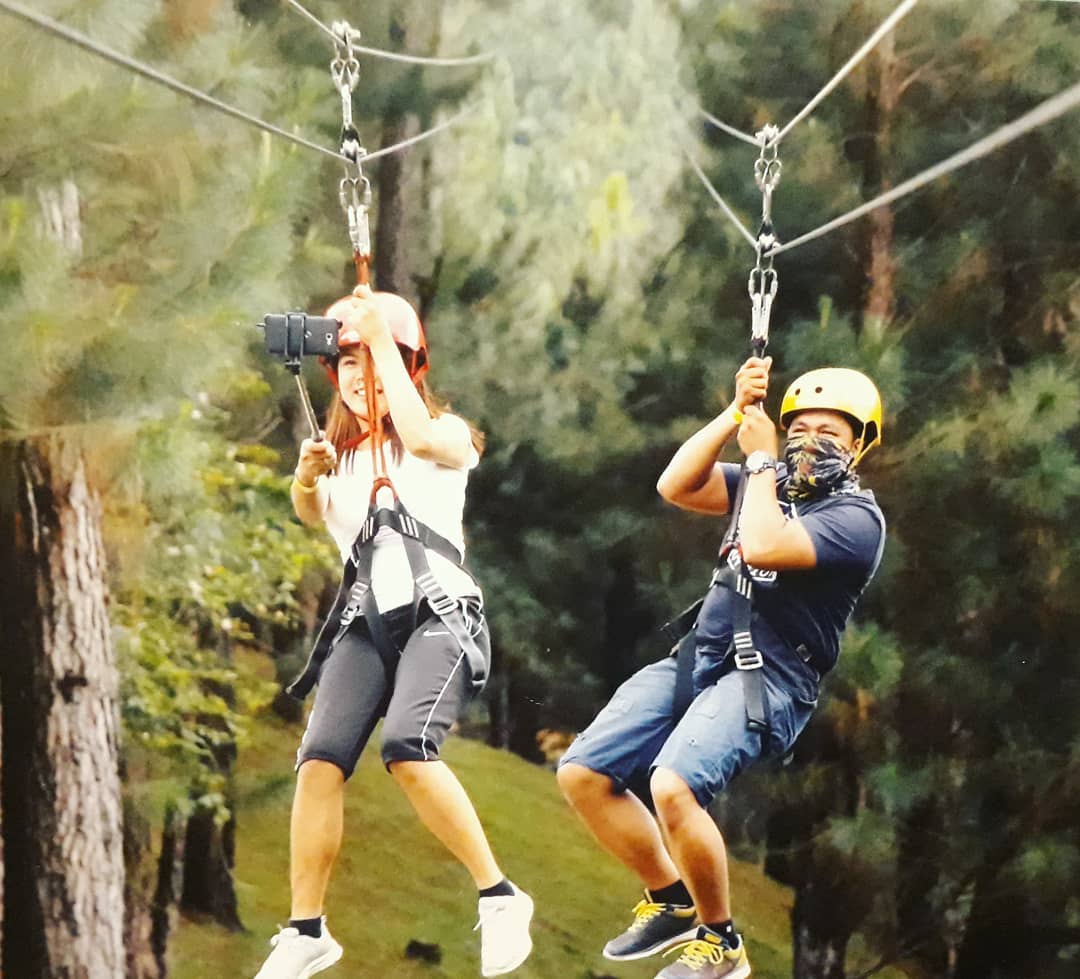 Image credit: @manay_joan
Asia's first and longest dual zipline – meaning a zipline that lets you ride through the air, suspended from a cable with safety gear – can be found at Dahilayan Adventure Park. Be mesmerized by Bukidnon's mountainous terrain as you glide over an 840-meter distance, 100 meters above ground in the cool weather.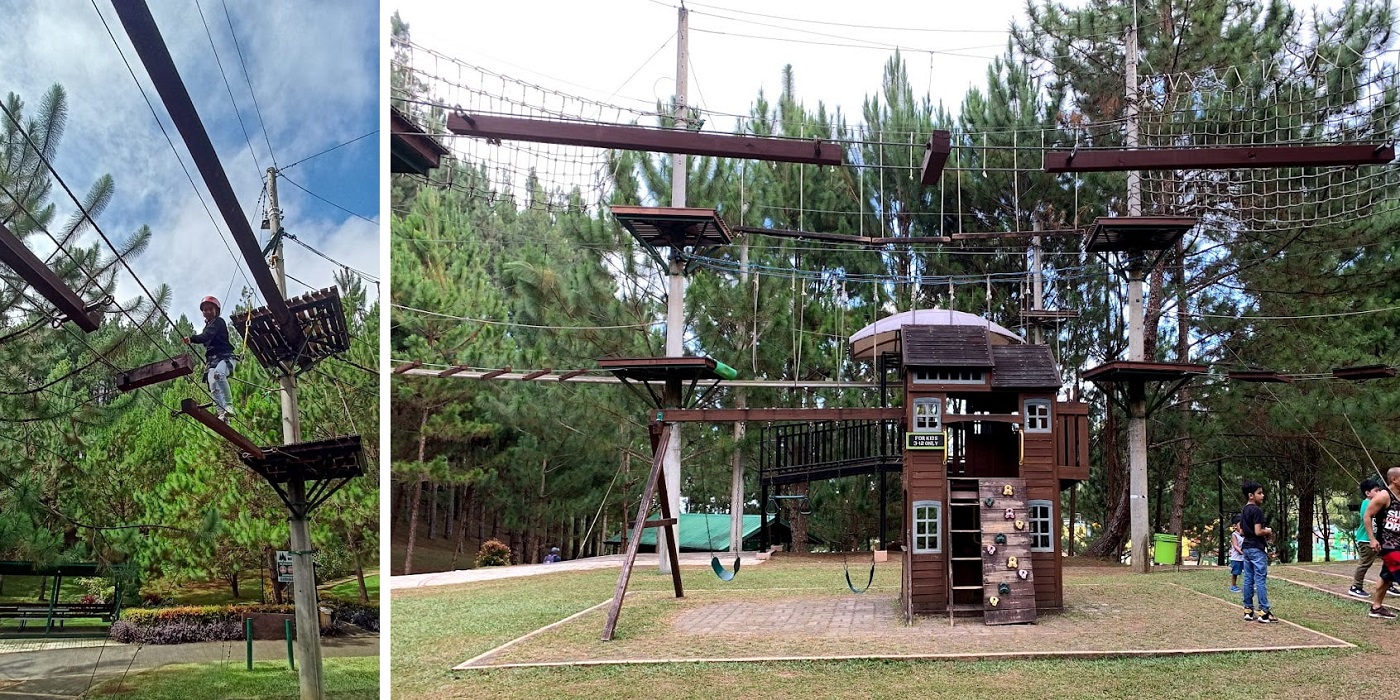 A high elements obstacle course.
Image adapted from Mae Mae and Lawrence
Other activities offered at the park include a luge ride, a zorb ball game zone, a skytower base jump that resembles a bungee jump onto a trampoline area, all-terrain vehicle (ATV) rides on forest mud tracks, and a 120-foot drop zone free fall ride which lets you experience the thrill of falling and swinging safely over a body of water.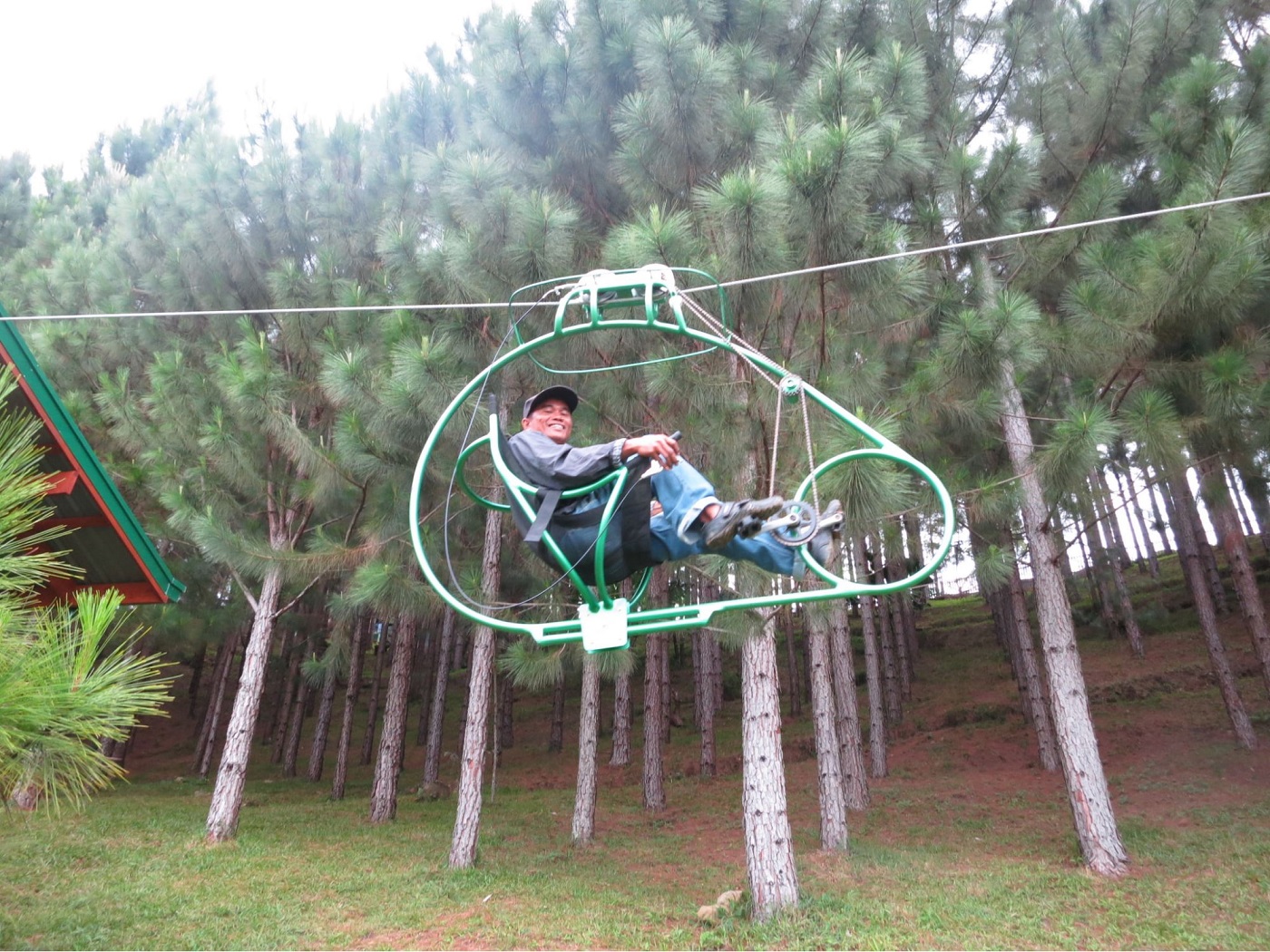 The Flying Lizard Canopy Glider.
Image credit: Dahilayan Adventure Park
Those looking to try out unique rides that don't require high fitness or bravery levels can go for the Flying Lizard Canopy Glider – where you cycle through the air at your desired speed, supported by a 600-meter high-strength rope.


Image adapted from Dahilayan Forest Park Resort and Dahilayan Forest Park Resort
Consider staying the night if you're here with your friends and loved ones, because entry and access to all attractions for resort guests is free. Plus, you'll have the convenience of dining at the Forest Park Café and ample time to experience the park's lesser-known attractions from mini-golf to a mini-train.
Entrance fee: P150 (~USD2.76) adults, P100 (~USD1.84) children 10 years old and under
Free for overnight resort guests
Rides and attractions such as suspension bridges start at P50/person, and multi-attraction packages from P800 (~USD14.72) for a 5-ride package are also available. View all rates here.
Address: Brgy. Dahilayan, Manolo Fortich, Bukidnon
GPS coordinates: 8° 12′ 21.415" N 124° 51′ 27.706" E
Contact: 915 601 8476 | 917 715 4399 | [email protected] | Dahilayan Forest Park Resort website | Facebook page | Instagram
---
7. Kampo Juan – ancestral house with a resort and anicycling
---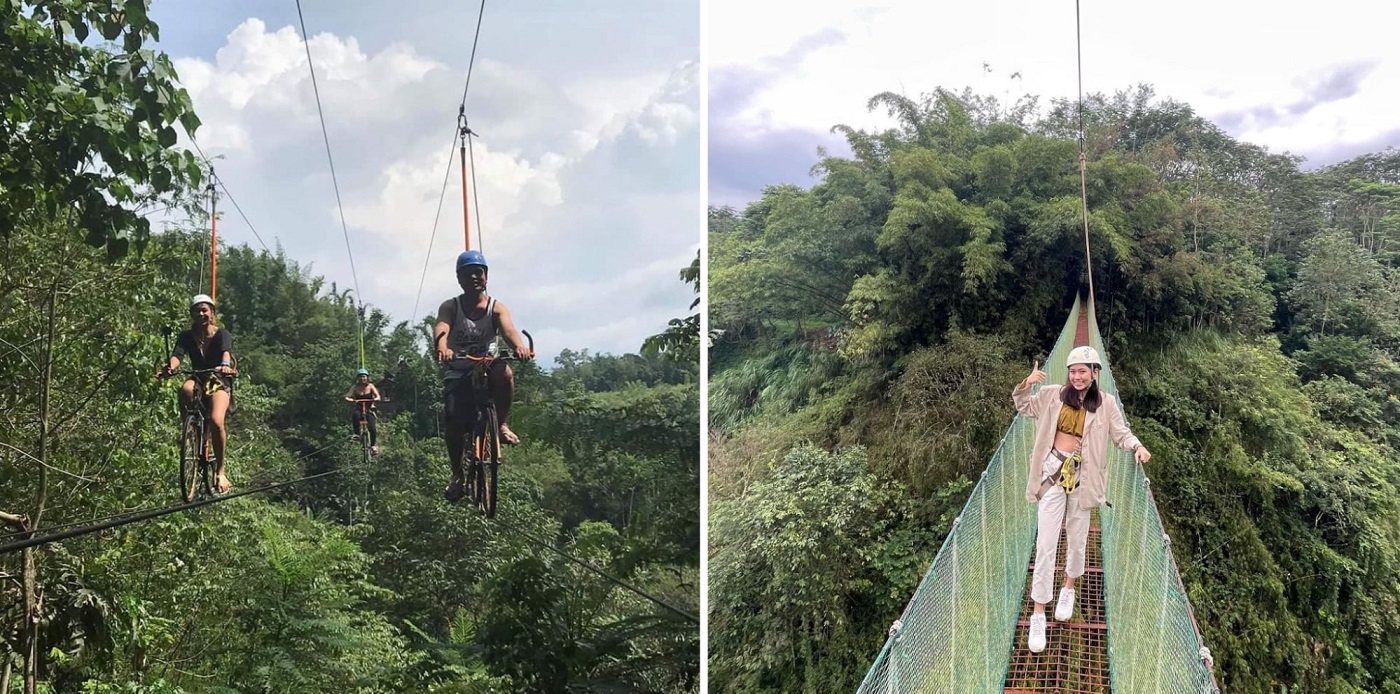 Image adapted from @rjrestudillo and @dianaaarys
Kampo Juan is a resort with an ancestral house, eco-farmland, seven guest rooms, and an adventure park. Dr. Juan Acosta created this getaway that opened in 2011, and his family manages it till this day.


The exterior and interior of the heritage house.
Image adapted from hazel galleto and Marick I.
Not only can you escape into nature in the pineapple and crop farms here, but also pretend you're in the early 20th century as you explore a 120-year-old heritage house that was transported and rebuilt here from Pangasinan. With cultural and historical items to browse, it tells the story of the Acosta family and Philippine history. You'll spot historical memorabilia and antiques here, including an original copy of Jose Rizal's Noli Me Tangere in Filipino!
Combining all that heritage with adventure may be unusual, but there is plenty to offer the outdoor thrill-seeker here. Start with anicycling, where you get to ride a bicycle up in the air along at 600-foot cable strung across a ravine 100 feet above the ground. Other activities offered at Kampo Juan include ziplining, hanging bridge-crossing, and rappelling, costing P200-P350 (~USD3.69-USD6.45) per participant.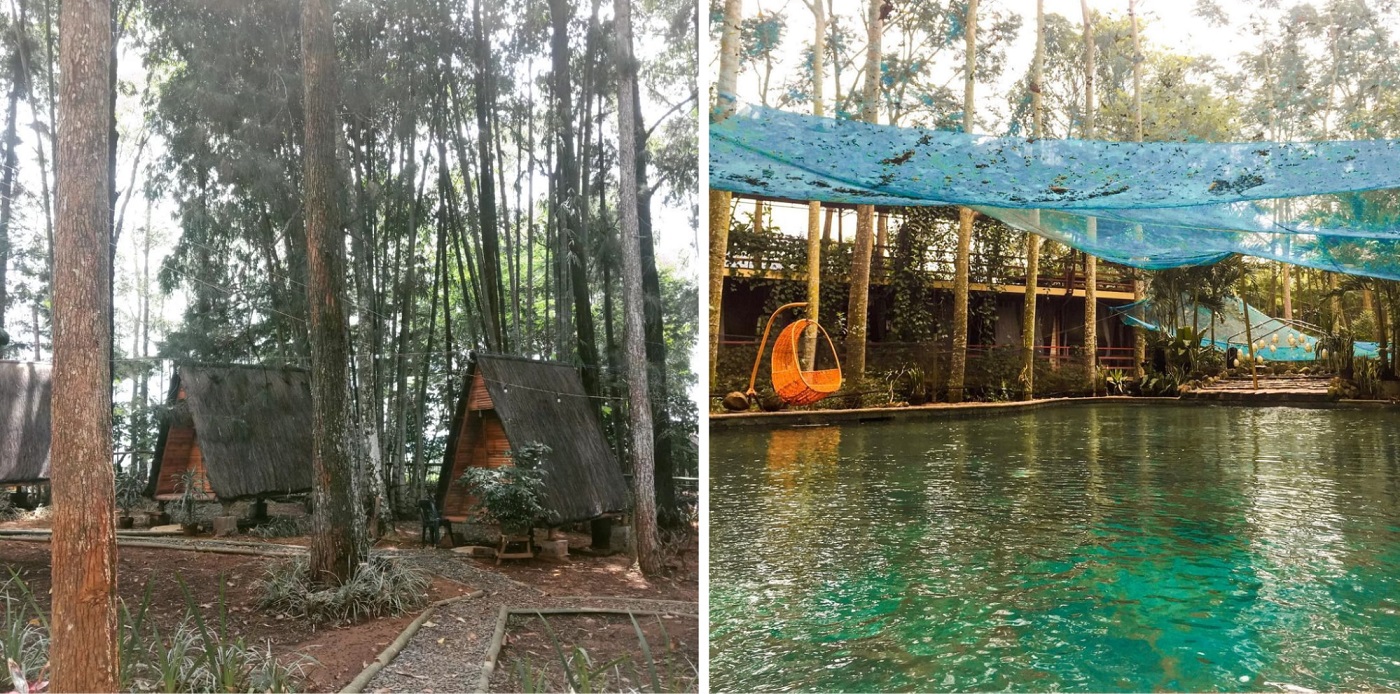 Image adapted from @angelajolie.v and @arkishalai
Stay the night in a bamboo cottage at the new extension, Kampo Juan 2 – The ACOSTA Woodlands, from P600 (~USD11.04) and you'll get more time to enjoy the activities and even take a dip into the pool. You can even stay overnight at the heritage house's rooms and play its piano – we'd dress up in traditional gear for period-inspired photoshoots there!
Entrance fee (heritage house): P50 (~USD0.92) adults, P30 (~USD0.55) children, P40 (~USD0.74) seniors, P1,000 (~USD18.47) additional fee for cameras.
Entrance fee (rides): From P200 (~USD3.69)
Address: Brgy. Sto Nino, Dicklum, Manolo Fortich Bukidnon, 8703
GPS coordinates: 7° 48′ 25.212" N 125° 0′ 57.157" E
Contact: 0926-352-4214 | Kampo Juan's website | Facebook page
---
8. M. Montesclaros Ranch – meet horses on a functioning ranch
---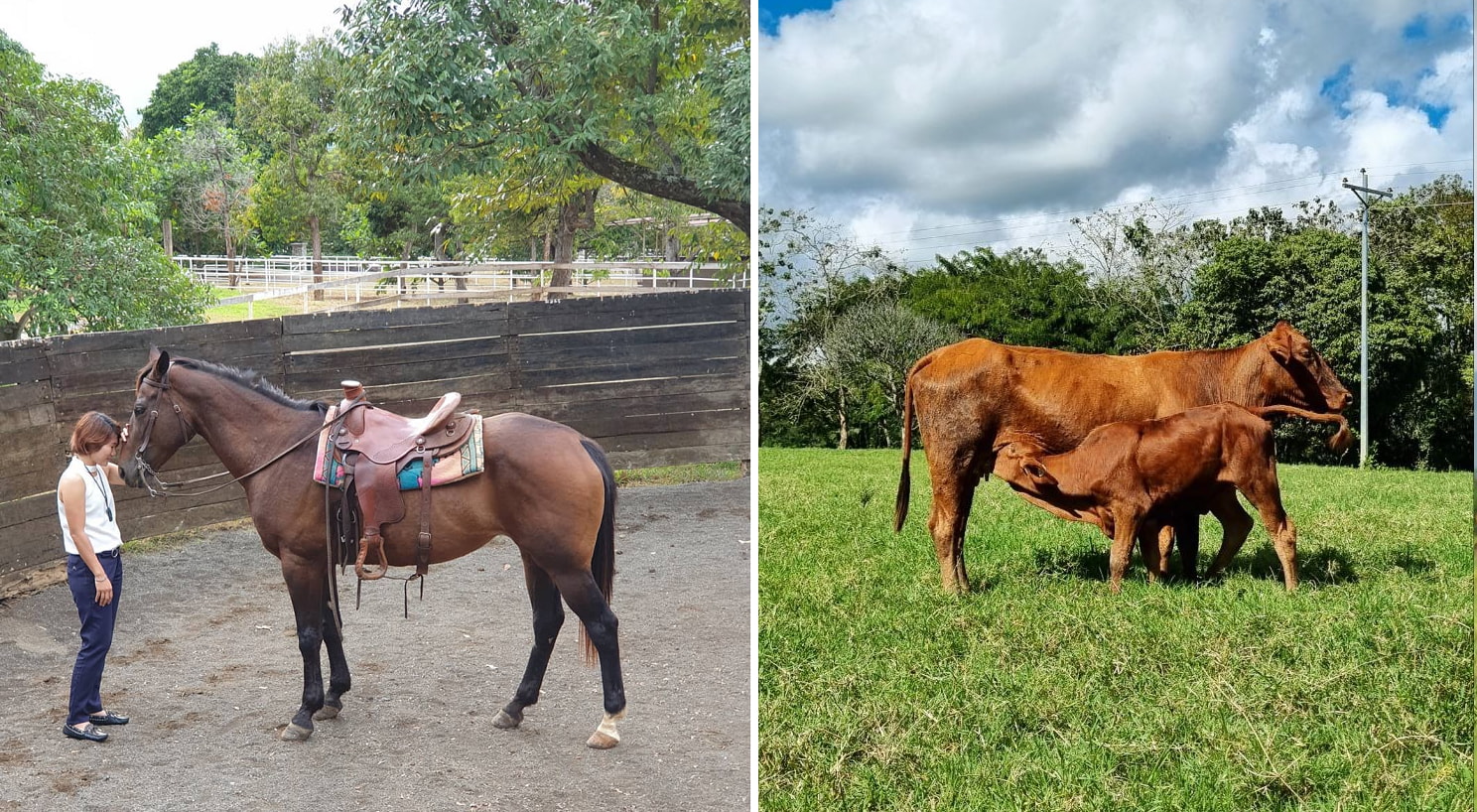 Image adapted from @wonderful_life_of_mice and Bionova Livestock
Away from the noise of the city is M. Montesclaros Ranch where you'll be surrounded by lush trees and a laid-back atmosphere. Here, you can experience farm life, interact with horses, go glamping, and get some fresh air.
The Montesclaros family, who owns and runs the farm in Valencia, Bukidnon, is the same name behind Roadhouse Cafe and Double M Hotel in downtown Valencia City. They source the meat they use in their restaurants' kitchens directly from the farm.
Address: Patag, Bagontaas, Valencia, Bukidnon, Valencia City
GPS coordinates: 7° 48′ 25.212"N 125° 0′ 57.157" E
Contact: 917 170 0065 | M. Montesclaros Farms' Facebook page 
---
9. The Overview Park – scenic views of mountains
---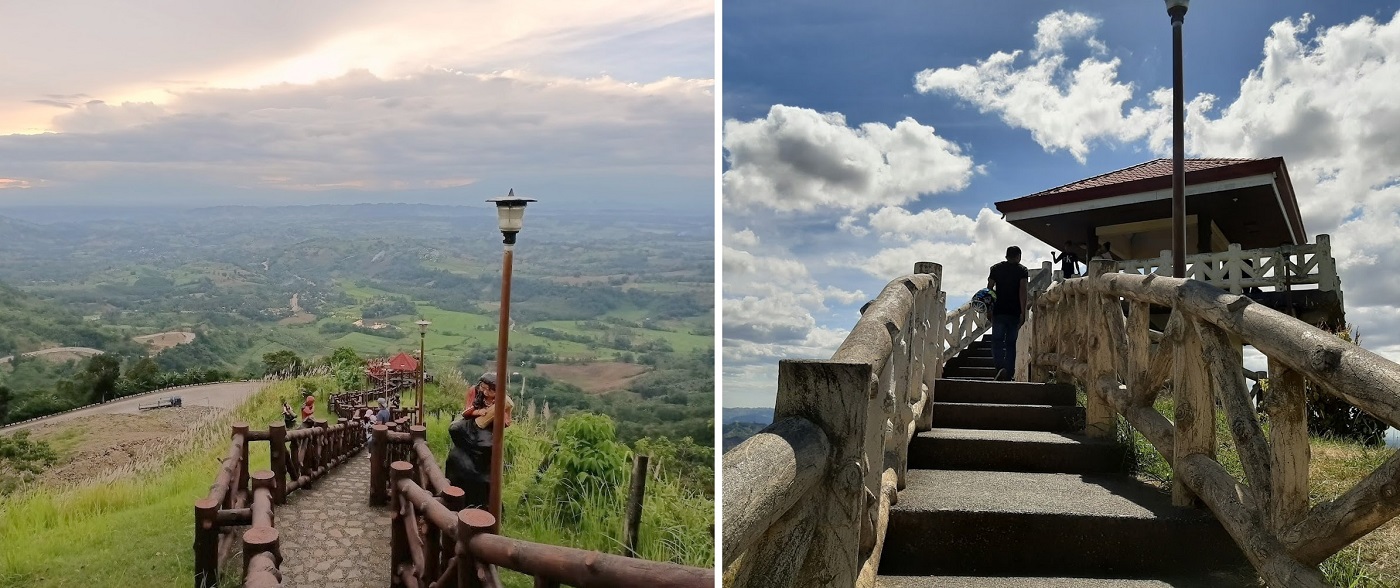 Image adapted from Danica Muaña and Thalia 21
A mountain road stopover, The Overview Park is free for all with a parking space, humble food vendors' shops, and a gift shop for you to browse and stretch your legs. If you're planning to drive from Bukidnon to Davao City, add this to your itinerary as the scenic views of mountains are worth it.
There are basic restrooms on site too – always a must for those on a long drive.
Address: Patag, Bagontaas, Valencia, Bukidnon, Valencia City
GPS coordinates: 7° 36′ 10.183" N 125° 8′ 54.622" E
Contact: 917 170 0065 | M. Montesclaros Farms' Facebook page 
---
– Visit cultural and spiritual events and sites in Bukidnon –
---
10. Monastery of the Transfiguration – enjoy some solitude and reflection
---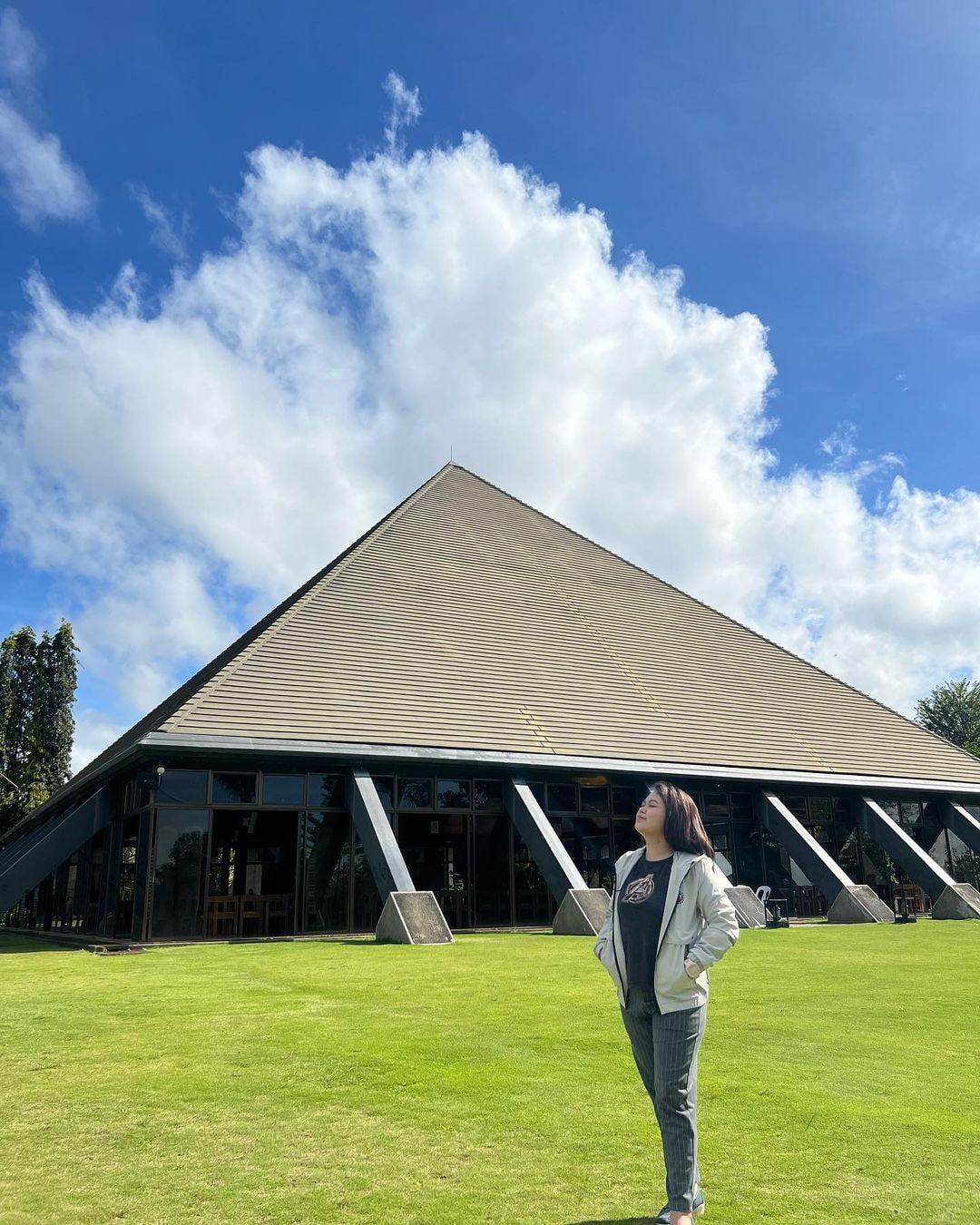 The Monastery of the Transfiguration.
Image credit: @justdanica
Built by National Artist for Architecture, Leandro Locsin, the Monastery of the Transfiguration in Malaybalay features a unique facade and a solemn atmosphere that'll surely give you the calm you're seeking. Come on Sundays at 8am if you want to catch Mass, and enjoy the view of Mount Kitanglad visible from the grounds.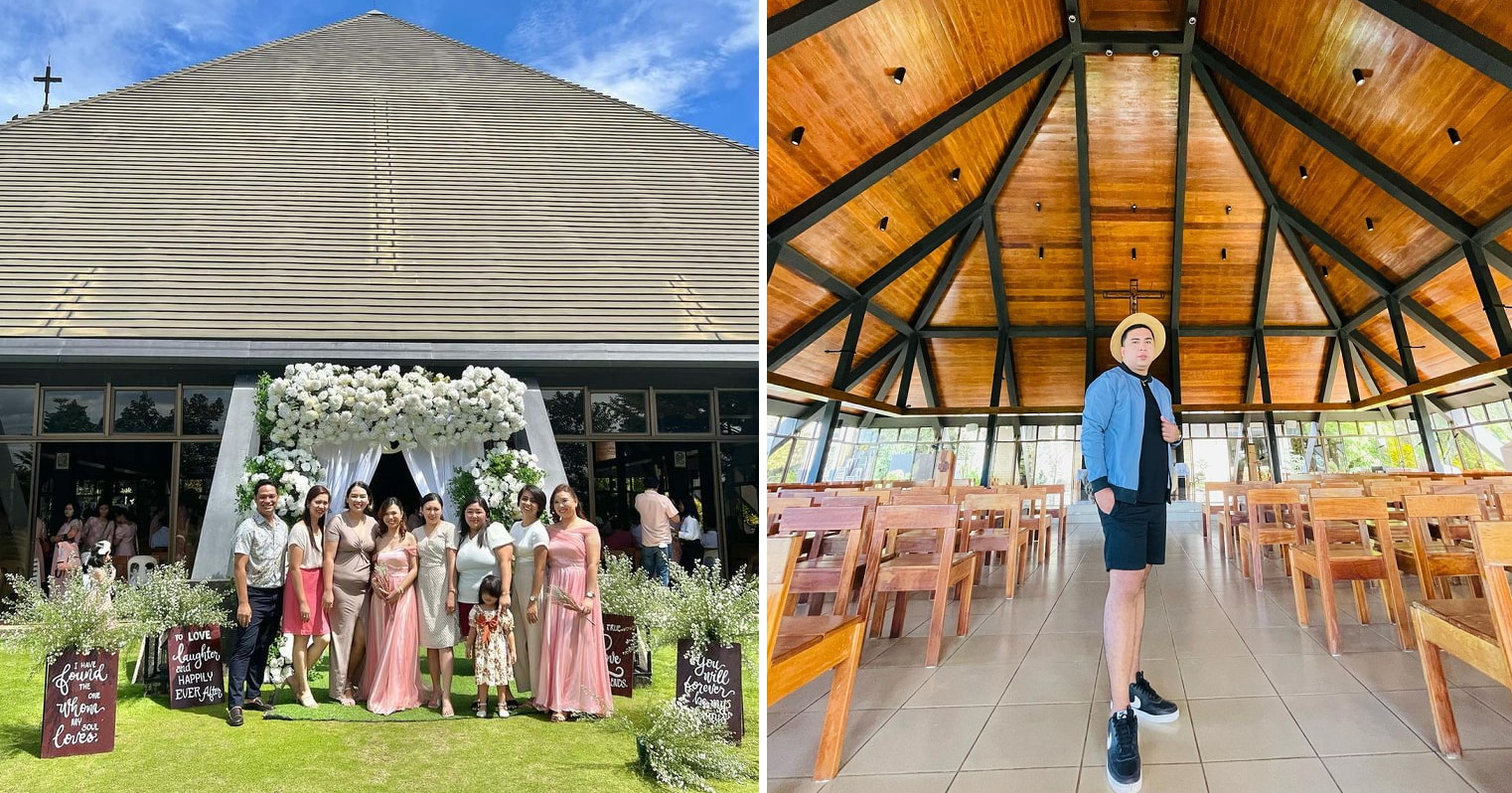 Image adapted from @zelah90 and @iamsirjessie
There's even a museum showing locally handmade clothing items worn by clergy and made from piña and abaca sourced from all over the nation.
Stop by the gift shop to bring home souvenirs from coffee to bread made by monks and nuns to spiritual items, and you'll be supporting the monastery's work as well. And if you like the place enough, you can even book it for a future wedding ceremony.
Address: Malaybalay, Bukidnon
GPS coordinates: 8° 6′ 50.746"N 125° 8′ 8.065" E 
---
11. Carmelite Monastery – walk around scenic, tranquil grounds
---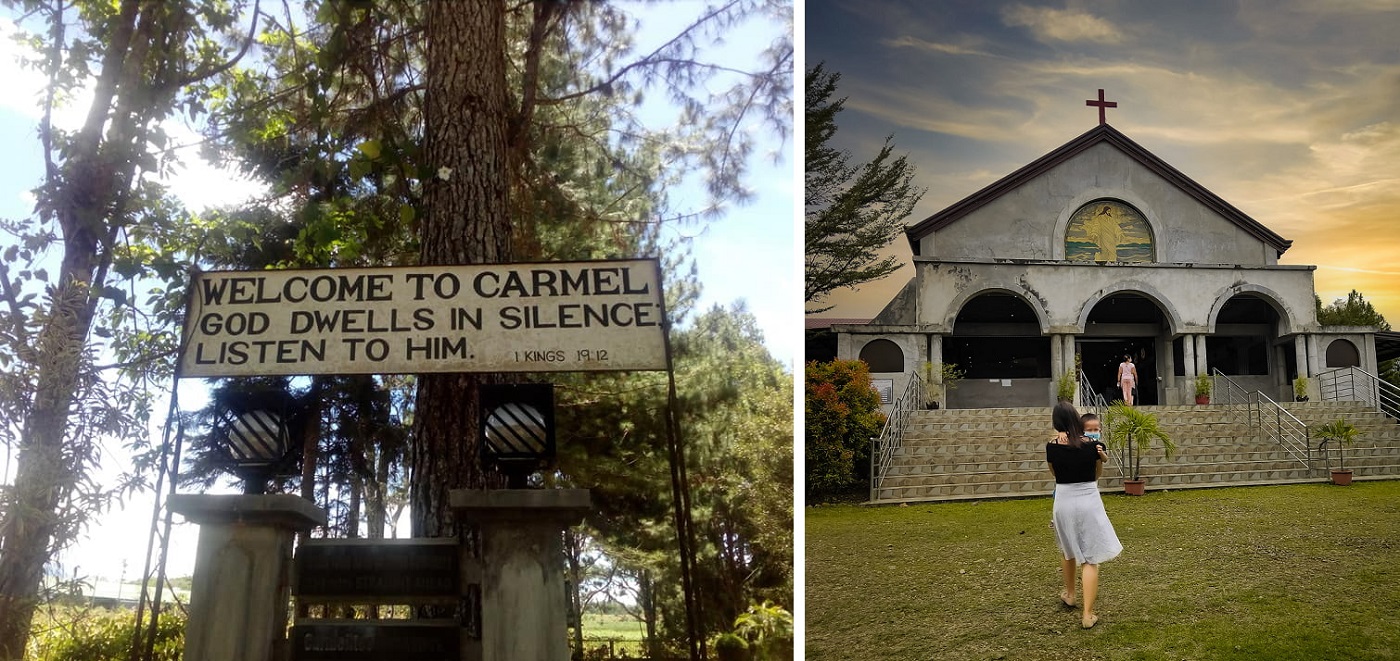 Image adapted from Lanie Valmoria Bendijo and Biboy Adorable
Add the Carmelite Monastery, home to the Carmelite Sisters of Bukidnon, to your list of road trip stops for a quiet space to meditate, relax, or just observe nature.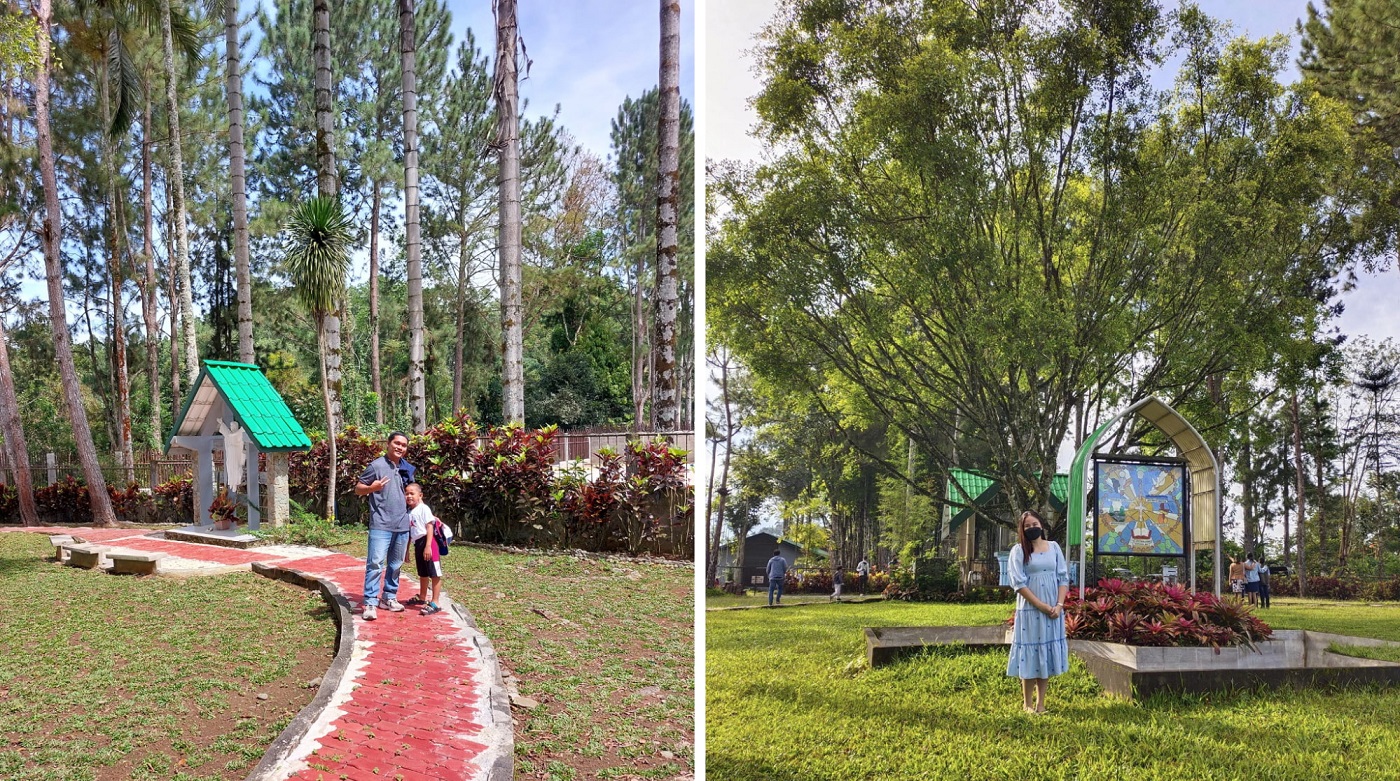 Image adapted from Aayen Dullen Tadlip and Carlo C. Borromeo
Known for hosting group retreats, its chapel and grounds host many religious events that you can feel free to join if you're in the area.
Address: Purok 6b Panadtalan Maramag Bukidnon, Maramag
GPS coordinates: 7° 48′ 25.212′ N 125° 0′ 57.157" E
Contact: 997 518 3564 | Carmelite Monastery of Jesus of Nazareth's Facebook page 
---
12. Kaamulan Festival – see why Bukidnon is Northern Mindanao's cultural hub
---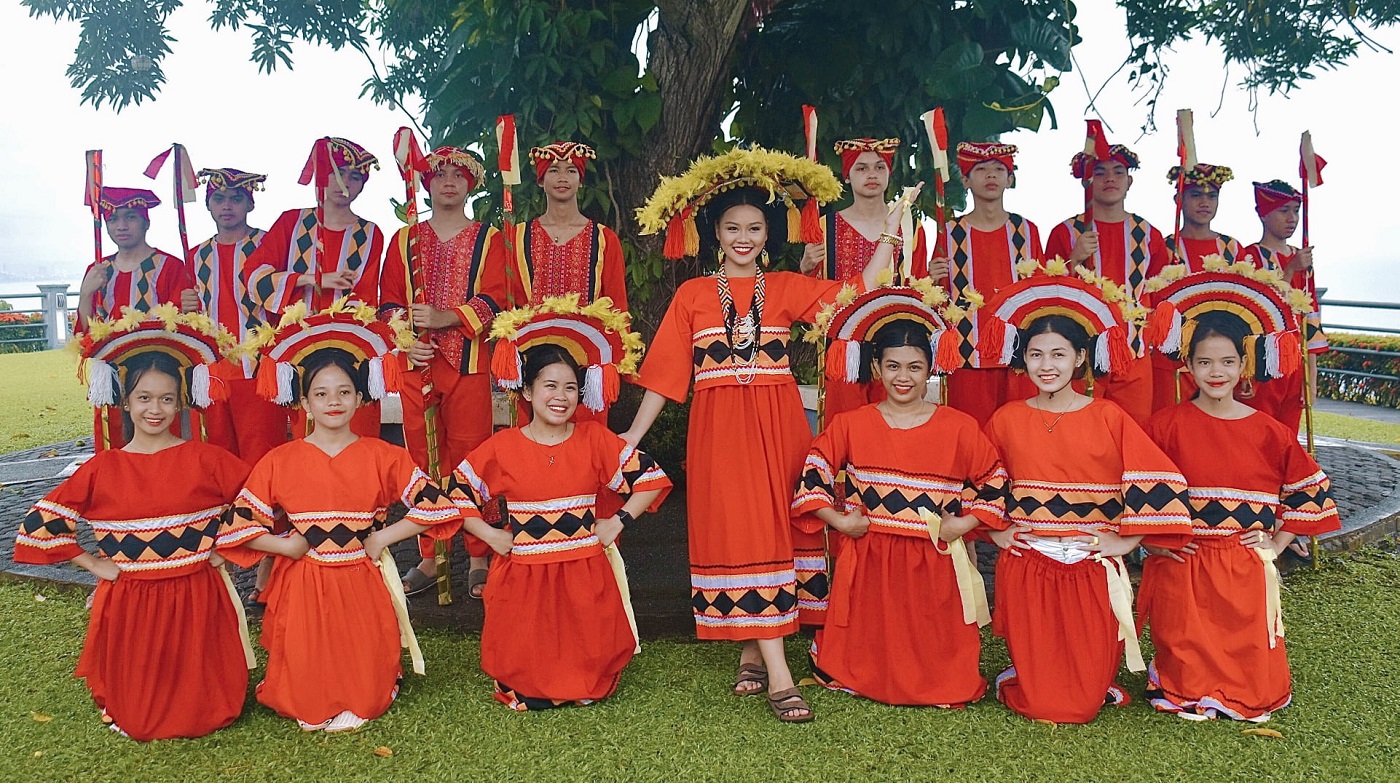 A team of Kaamulan Festival dancers.
Image credit: SHA MAPEH

Come to Bukidnon in late March to time your visit for the opening of the Kaamulan Festival, when the seven tribal groups in Bukidnon, in traditional garb, gather to showcase their dances and parade in the streets of Malaybalay.
This is where you can see Bukidnon's rich living culture through the people of the Bukidnon, the Higaonon, the Talaandig, the Manobo, the Matigsalug, the Tigwahanon, and the Umayamnon communities as they perform traditional chants, rites, and competing in heritage sports.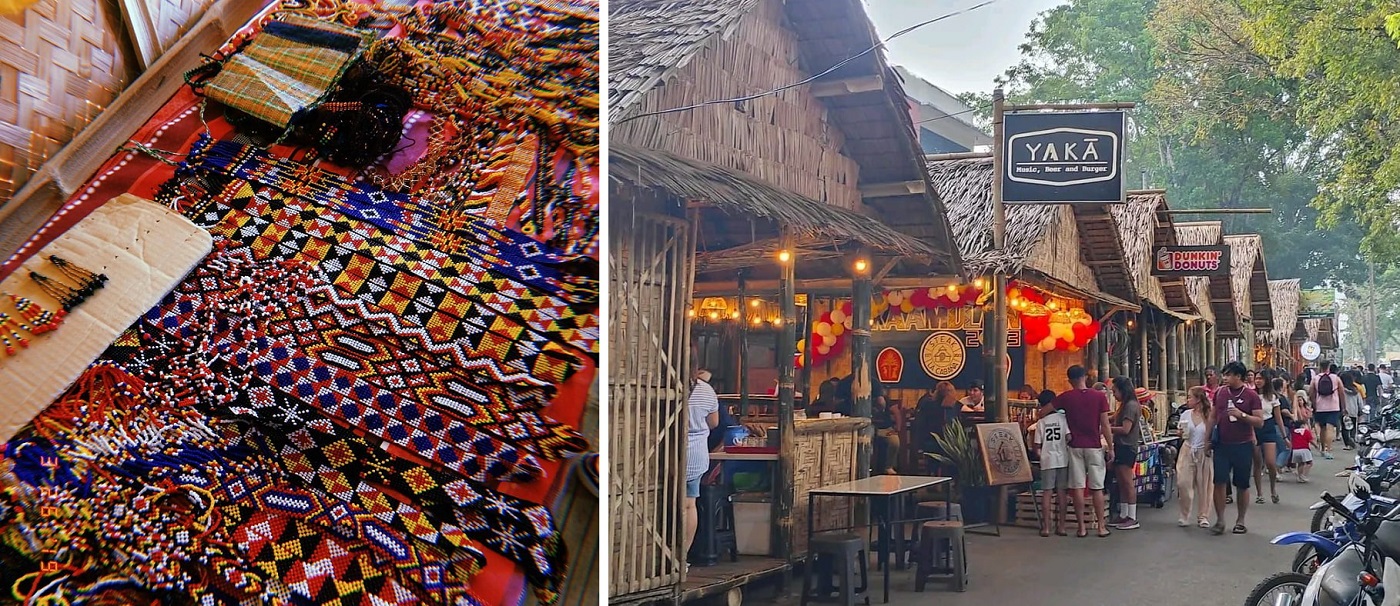 Image adapted from: @rvndhnz and @jay_guiroy
No worries if you arrive later, as the 55 events of the festival this 2023 stretch till the end of April. They include ethnic rituals, arts and cultural exhibits, a garden show, sports and dance showcases, food, music, and more – see the full Kaamulan activity schedule for more info.
Address: Capitol Grounds, Centennial Stage, Sports Complex and other spots in Malaybalay City
Contact: Kaamulan Festival's website | Facebook page | 2023 schedule
---
Things to do in Bukidnon
---
Whether you're in need of respite from your busy schedule or looking for a destination where there're few to no crowds, or wish to explore Mindanao via road, Bukidnon is a place to add to your trip.
Hike up a mountain, visit a ranch, take a dip in rivers and springs, and go home feeling refreshed.
Also check out:
---
Cover image adapted from @jesle_emano, @joycedancel, @strwbrryck__, and MM Farms Incorporated
Eunisse Raymundo contributed to this article.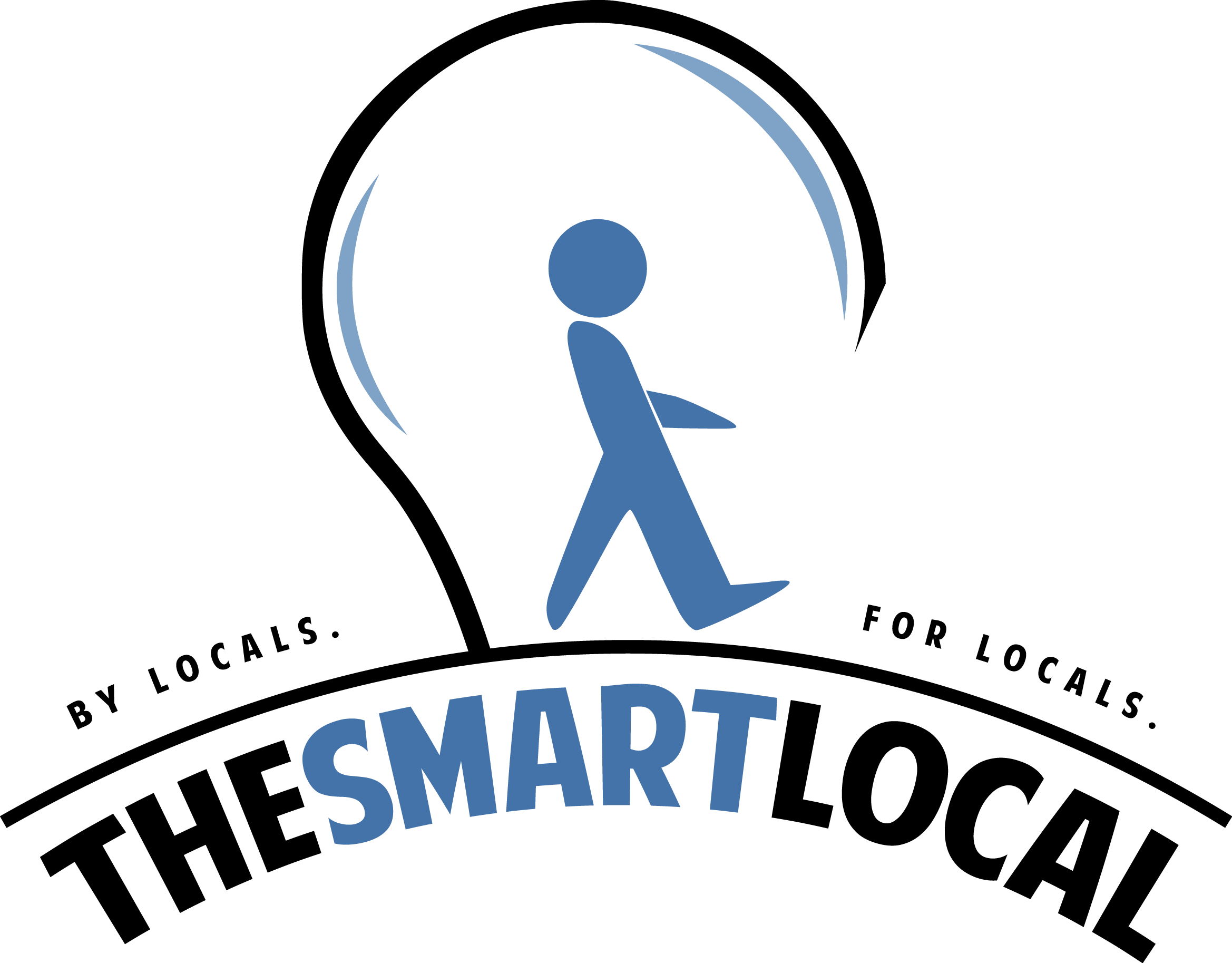 Drop us your email so you won't miss the latest news.