Tagaytay cafes
---
Because it's only about a 2-hour drive away from the metro, Tagaytay makes an excellent place for a quick getaway. It also has a chilly climate that's starkly different from Metro Manila.
For a trip you can immortalize on your IG feed, here are Tagaytay cafes with different aesthetics you can check out while you're in the mountain city.
---
1. Hello Cafe – Muji-inspired cafe
---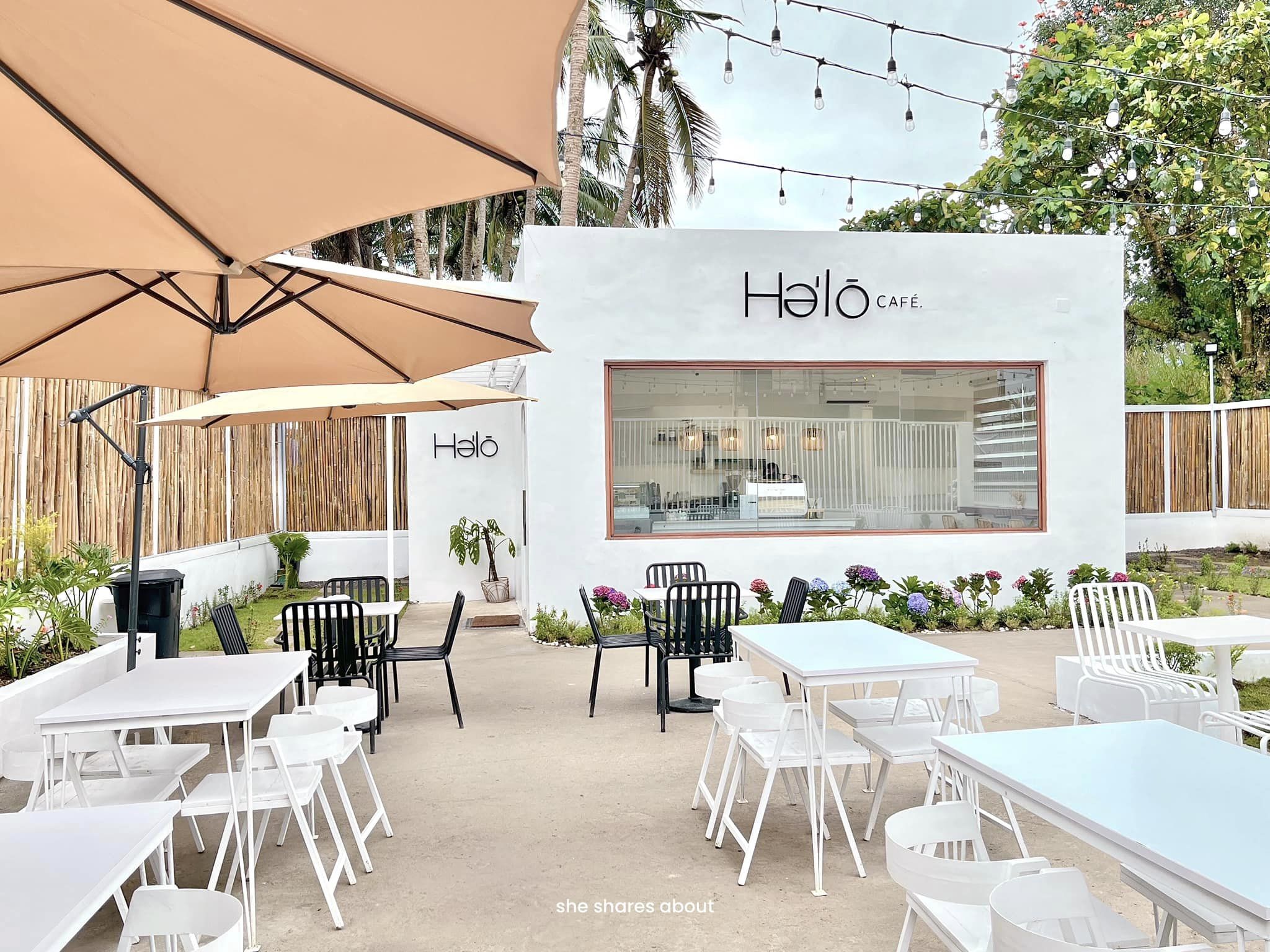 Hello Cafe.
Image credit: She Shares About
If you're into all things minimalist, dine at Hello Cafe when you're in Tagaytay. The cafe counter, as well as some seats, are in a minimalist, white structure that's reminiscent of the Japanese lifestyle brand Muji.
There may be limited indoor seating but there are plenty of seats in the al fresco area.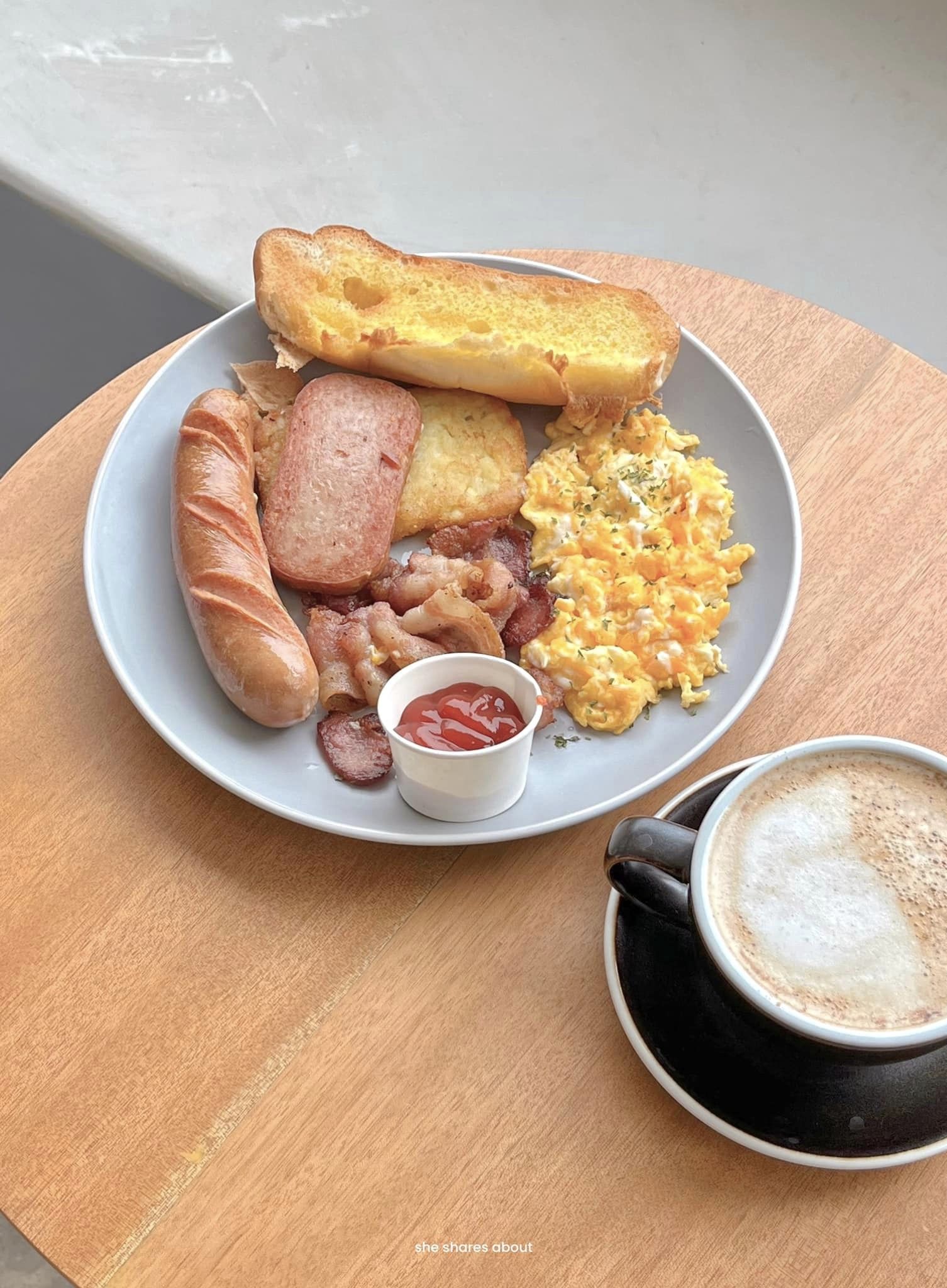 Hello Big Breakfast.
Image credit: She Shares About
While the cafe's style is minimal, they offer big servings of their dishes. Get their Hello Big Breakfast (P400, ~USD7.14) – scrambled eggs, bacon, ham, sausage, hashbrown, and buttered toast – to prepare for a day of adventure in Tagaytay.
For a caffeine boost, pair this with the Hello Signature latte (P235, ~USD4.20). It's an iced latte with salted cream and a dash of cinnamon.
Address: Lot 2F-8, Polivel Subdivision, Maitim Second East, Tagaytay City, Cavite
Opening hours: 9am-9pm, Daily
Hello Cafe's Facebook | Instagram

---
2. Marj's Cafe – floral- and pastel-themed cafe
---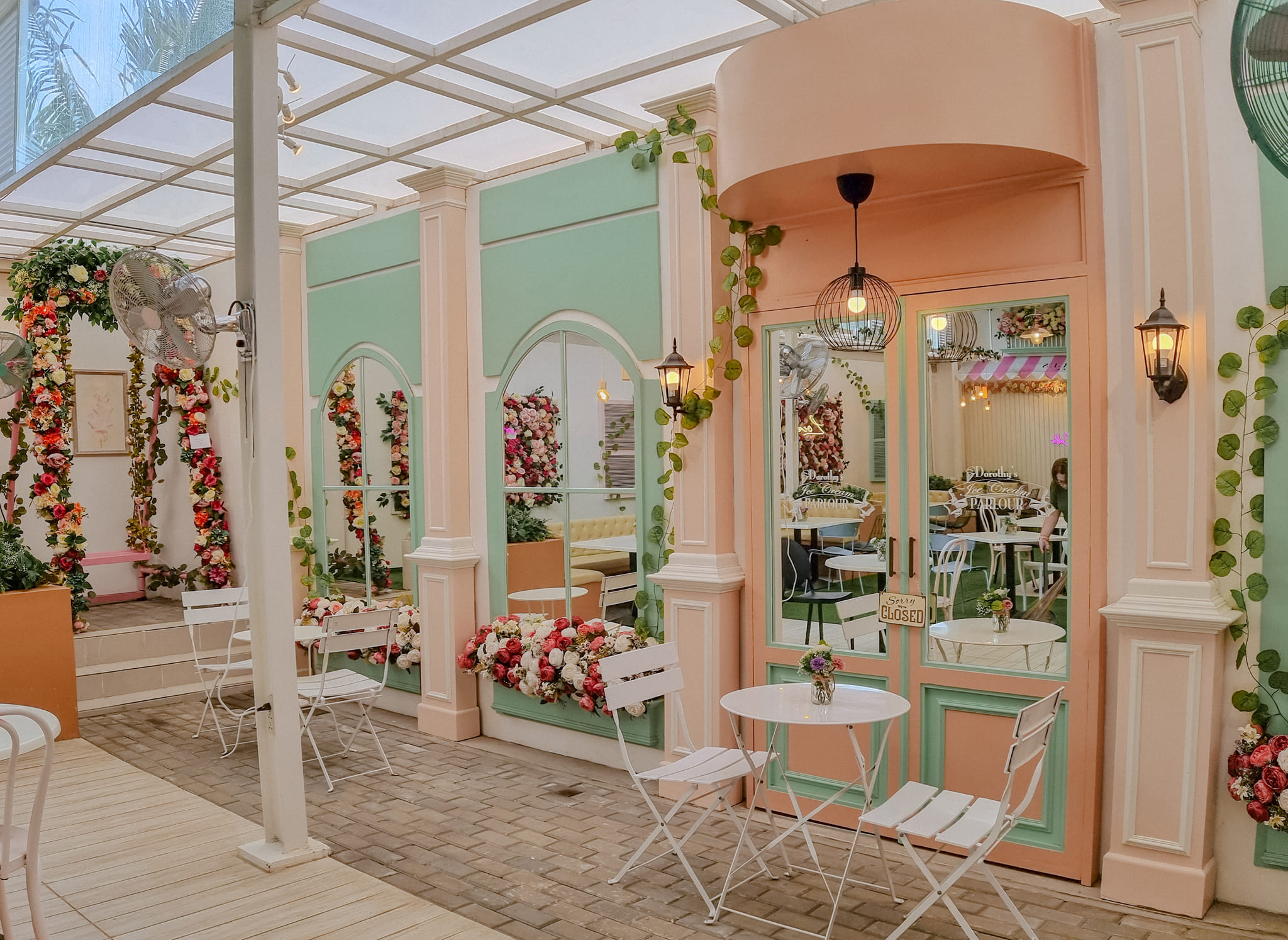 Interiors inspired by Parisian streets.
Image credit: Vy Travels
Marj's Cafe will make you feel as if you're dining along the streets of Paris with its floral and pastel theme. It has plenty of IG-worthy spots you'll have no trouble finding.
This Tagaytay cafe offers coffee, pastries, pizza, and pasta, giving you a more European vibe. But their Frozen Cheesecake (P200, ~USD3.57) is something you shouldn't miss. It comes in blueberry, Oreo, strawberry, and mango flavors.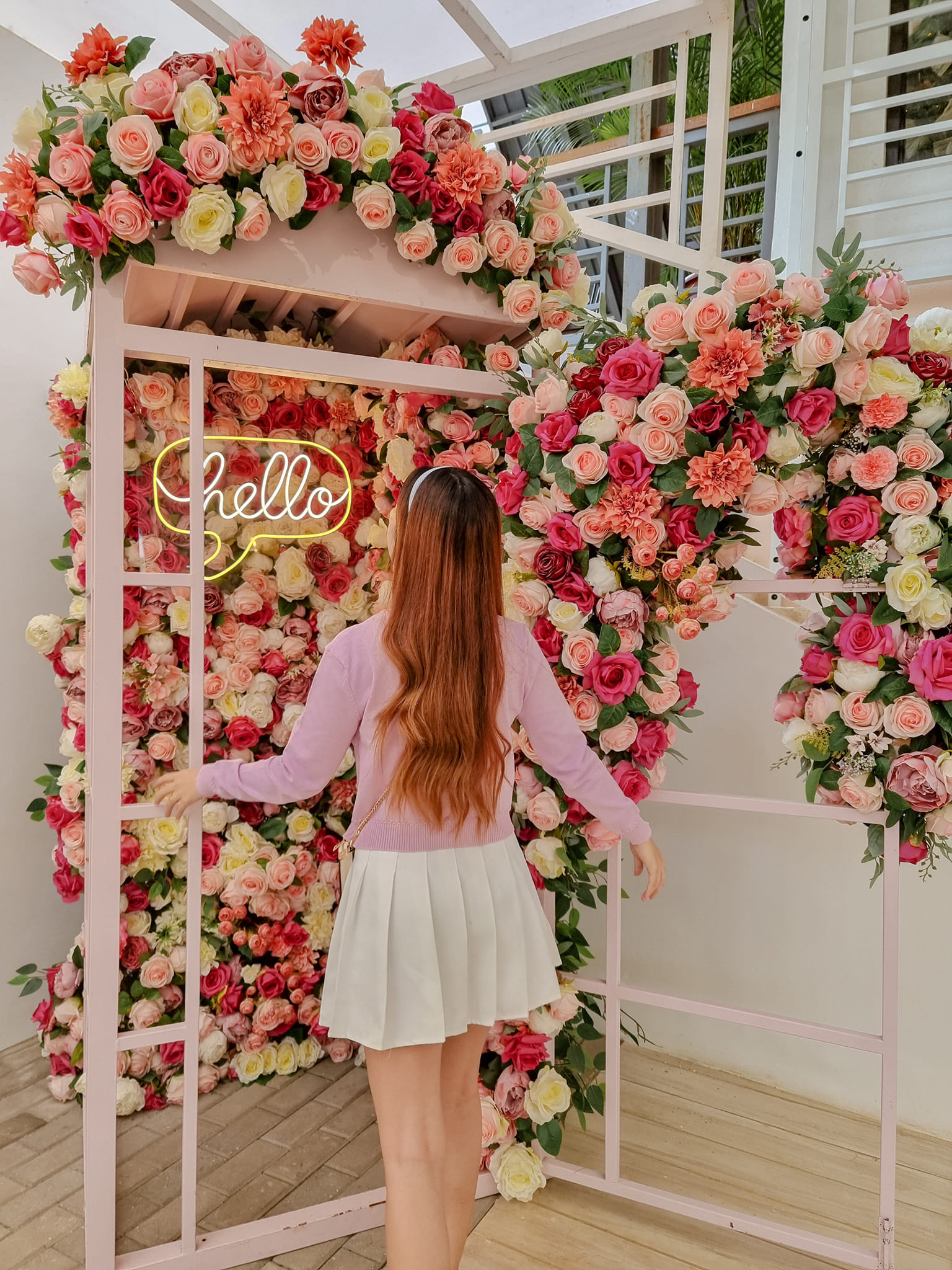 A booth in the cafe decorated with flowers.
Image credit: Vy Travels
For a Filipino touch, Marj's Cafe also serves all-day Filipino breakfast meals for P320 (~USD5.72).
Address: Aguinaldo Highway, Kaybagal South, Tagaytay City, Cavite
Opening hours: Mon-Fri 11am-9pm | Sat-Sun 7am-12am
Contact: 0917 184 6275
Marj's Cafe's Facebook | Instagram

---
3. Ruined Project – an upscale branch of the Filipino chain Coffee Project
---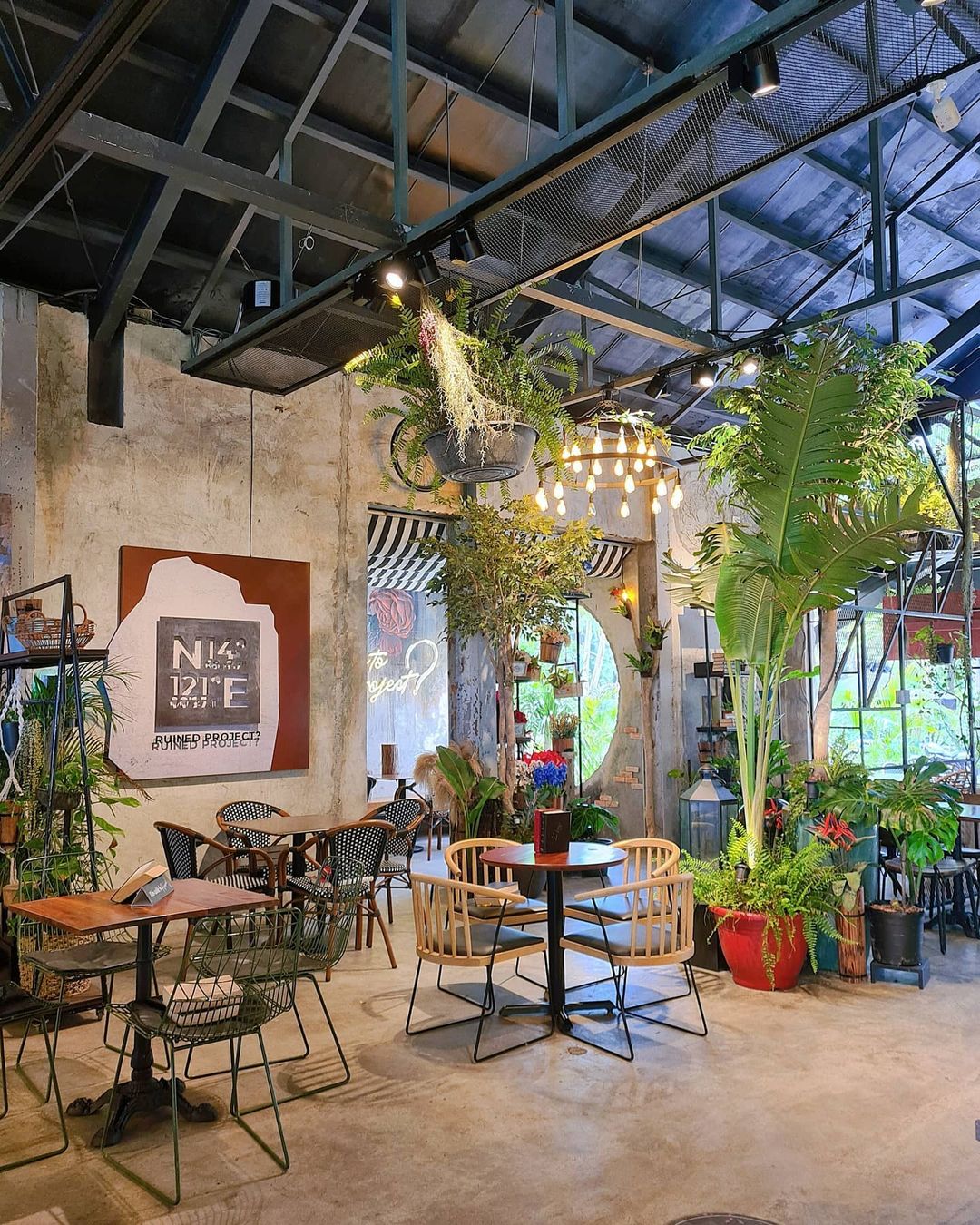 Rustic interior.
Image credit: @kei.reshv
Ruined Project in Crosswinds Tagaytay is the 50th branch of the Filipino coffee chain Coffee Project. It's a bit more upscale than their usual stores, so prepare your wallets when you go.
Its interior is spacious and rustic-style and is even peppered with plants.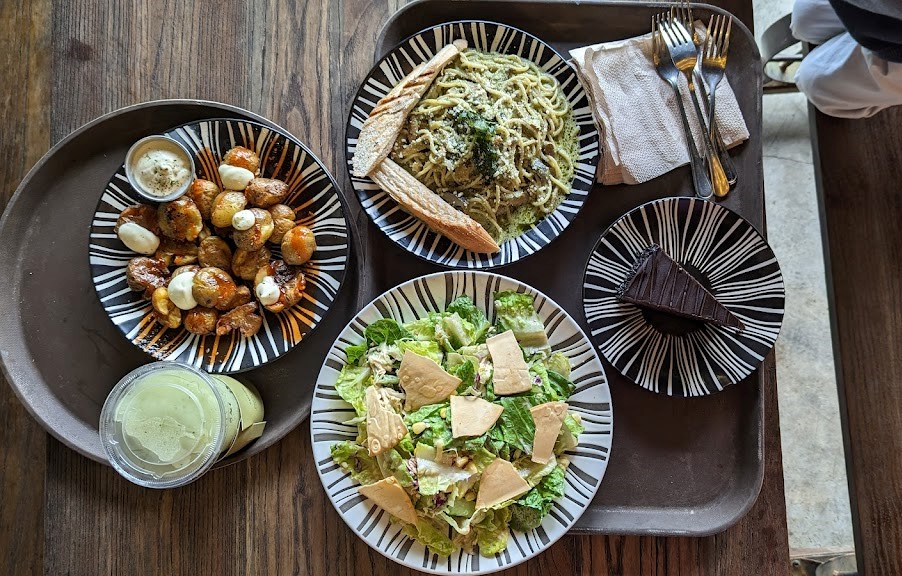 Creamy Pesto Pasta, Buffalo Mashed Potatoes, and Tortilla Ranch Salad.
Image adapted from: Nishank Vora
Besides coffee offerings, the cafe has great vegetarian options. These include the Creamy Pesto Pasta (P385, ~USD6.88), Buffalo Smashed Potatoes (P300, ~USD5.36), and Tortilla Ranch Salad (P370, ~USD6.61).
The place is also pet-friendly for travelers who are bringing their pets on vacation.
Address: Crosswinds, Calamba Road, Iruhin Central, Tagaytay City, Cavite
Opening hours: Mon-Fri 7am-8pm | Sat-Sun 8am-9pm
Ruined Project's website | Facebook | Instagram

---
4. Miara Cafe – glasshouse cafe near a free-admission art gallery
---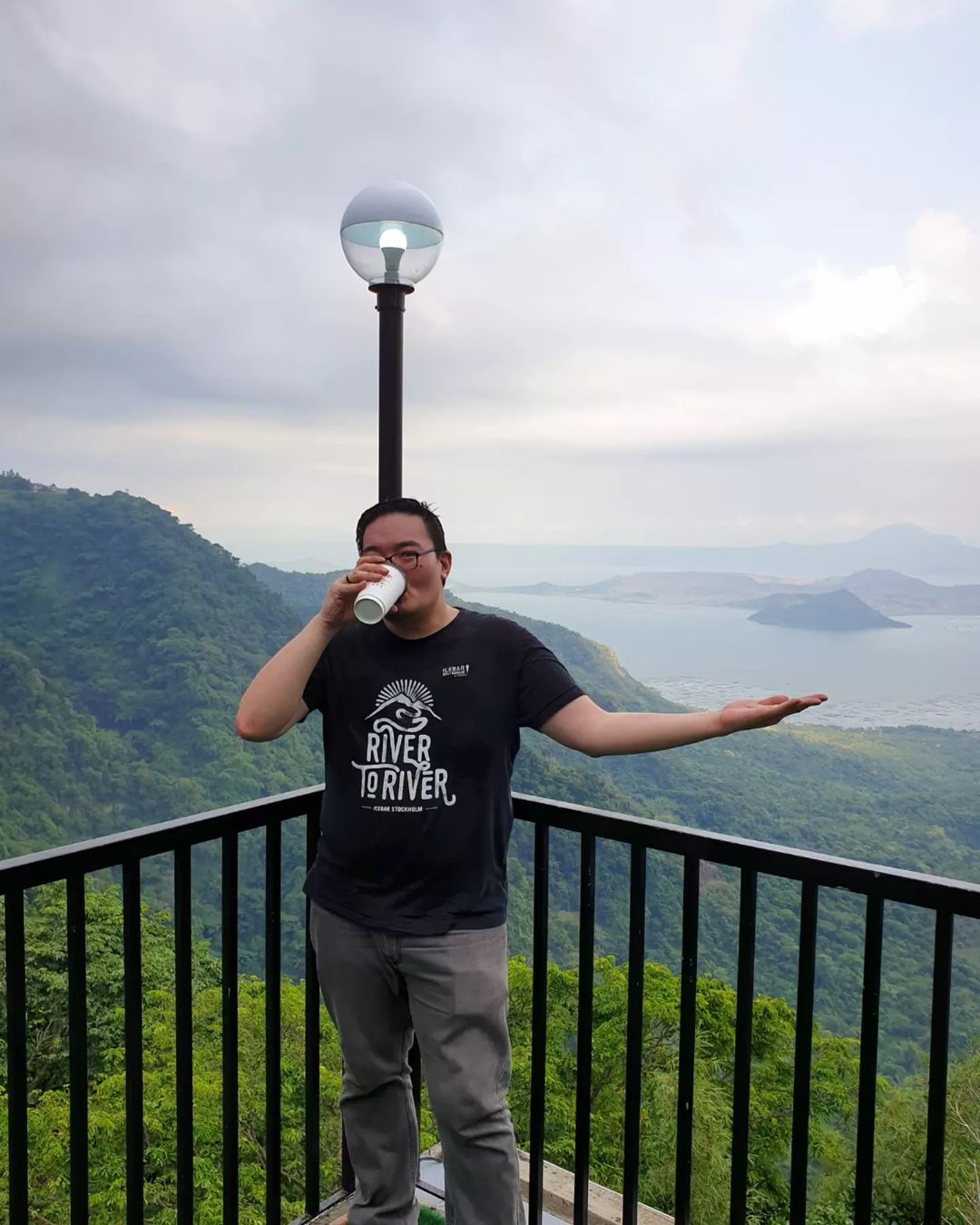 A view of the Taal Volcano from the cafe's al fresco dining area.
Image credit: @pvwenceslao
Miara Cafe's cliffside structure with floor-to-ceiling glass windows lets you enjoy spectacular Taal Volcano views. There's also outdoor seating if you want to bask in the cool Tagaytay air. It's even pet-friendly so you can enjoy the views with your fur babies.
The cafe serves a wide variety of food and drinks but definitely try one of their cheesecake milk tea variants (from P105, ~USD1.88).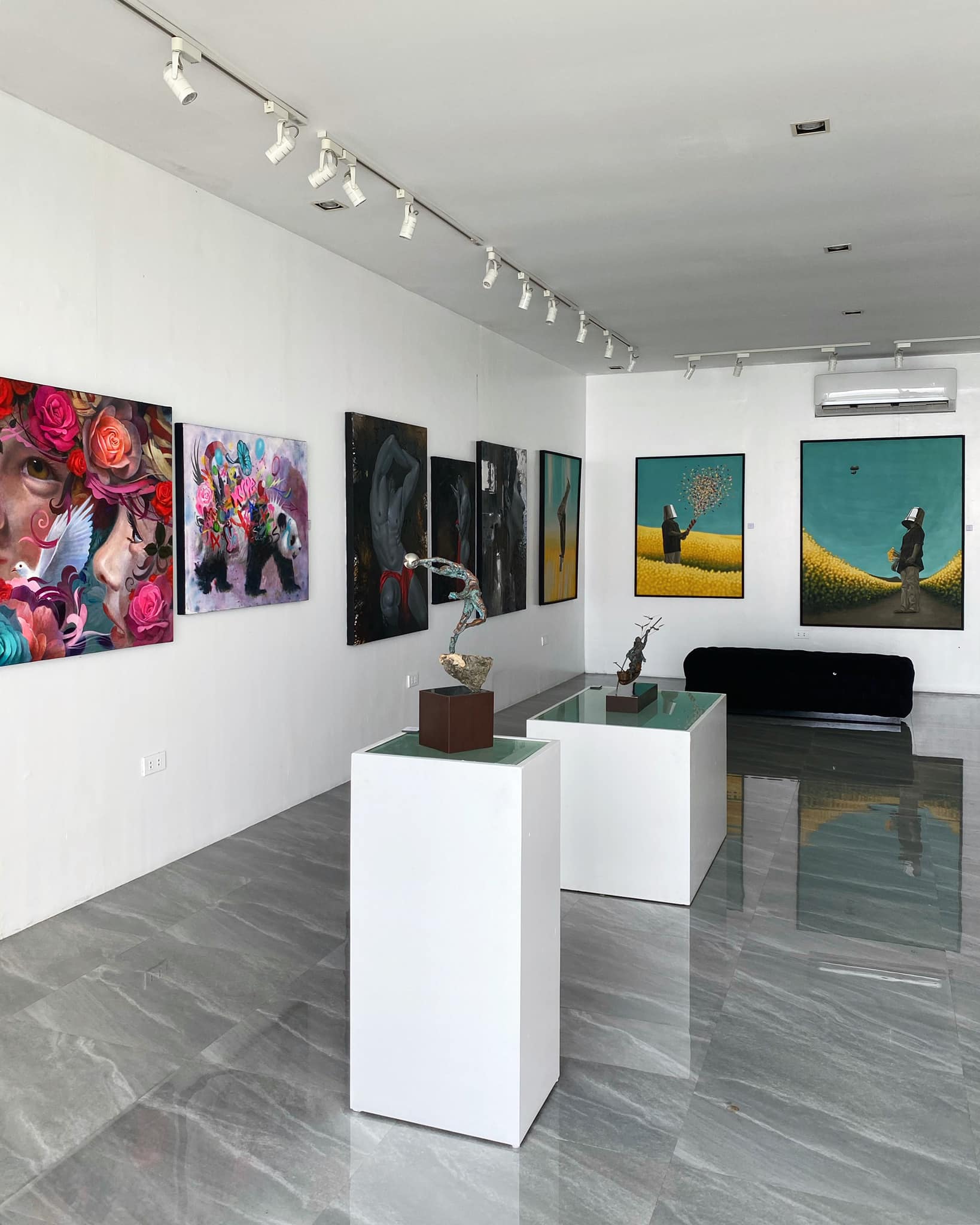 Artworks at Nuzen Gallery.
Image credit: Misato Jotie Tolentino
The cafe is also in the same area as the free-admission Nuzen Art Gallery, a small art gallery that features the works of local artists – great for a quick side trip.
Address: Mendez Crossing West, Tagaytay City, Cavite
Opening hours: Mon-Fri 9am-10pm | Sat-Sun 8am-10pm
Contact: 0917 193 0700
Miara Cafe's Facebook | Instagram

---
5. Greenhouse Cafe – must-visit cafe for plantitas and plantitos
---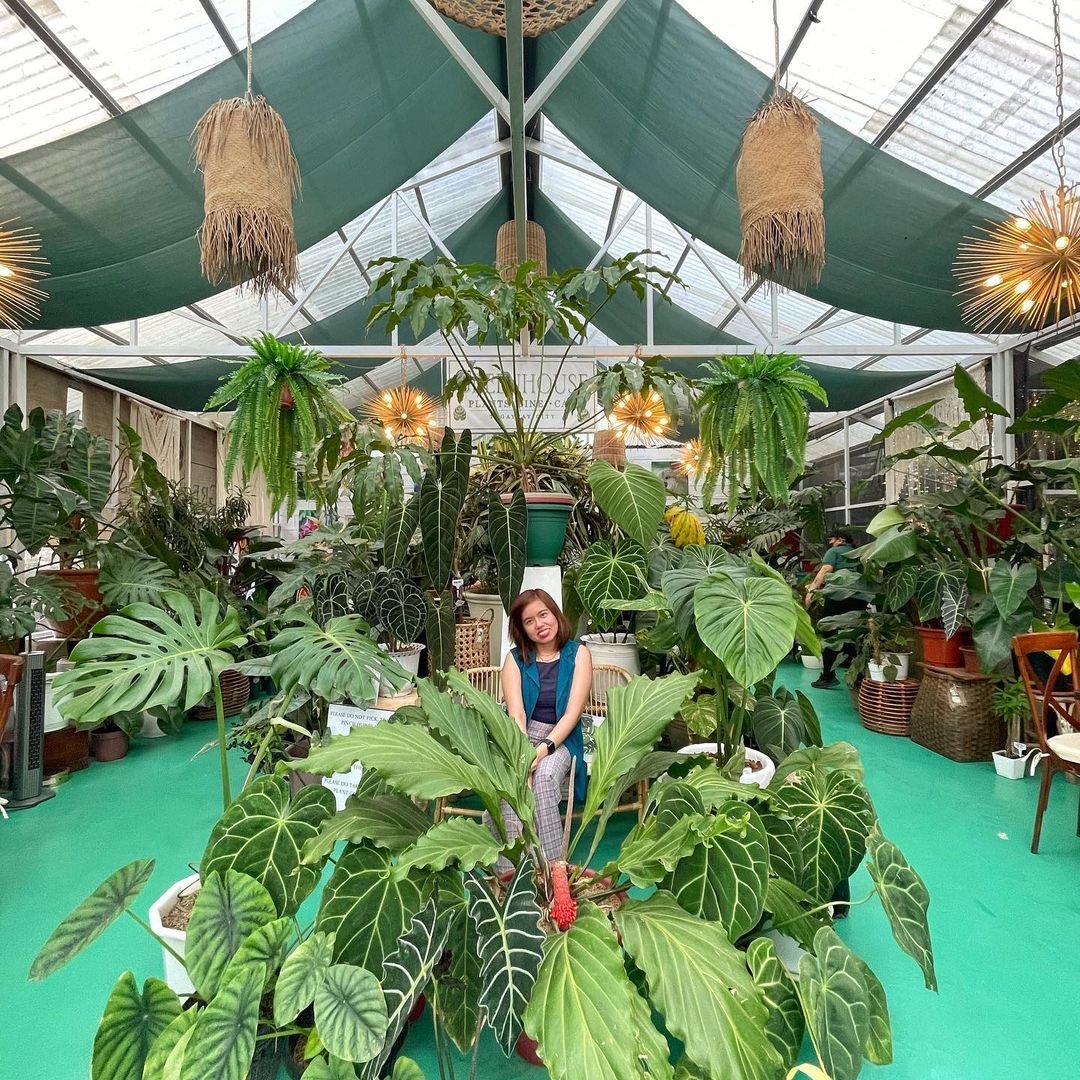 Dine surrounded by plants at Greenhouse Cafe.
Image credit: @elladeniseguevarra
If being among plants makes you the happiest, drop by Greenhouse Cafe during your trip to Tagaytay.
This cafe lets you dine surrounded by plants, including those of the popular Monstera variety. They also have plants for sale so you can bring your favorite ones from the cafe to your home.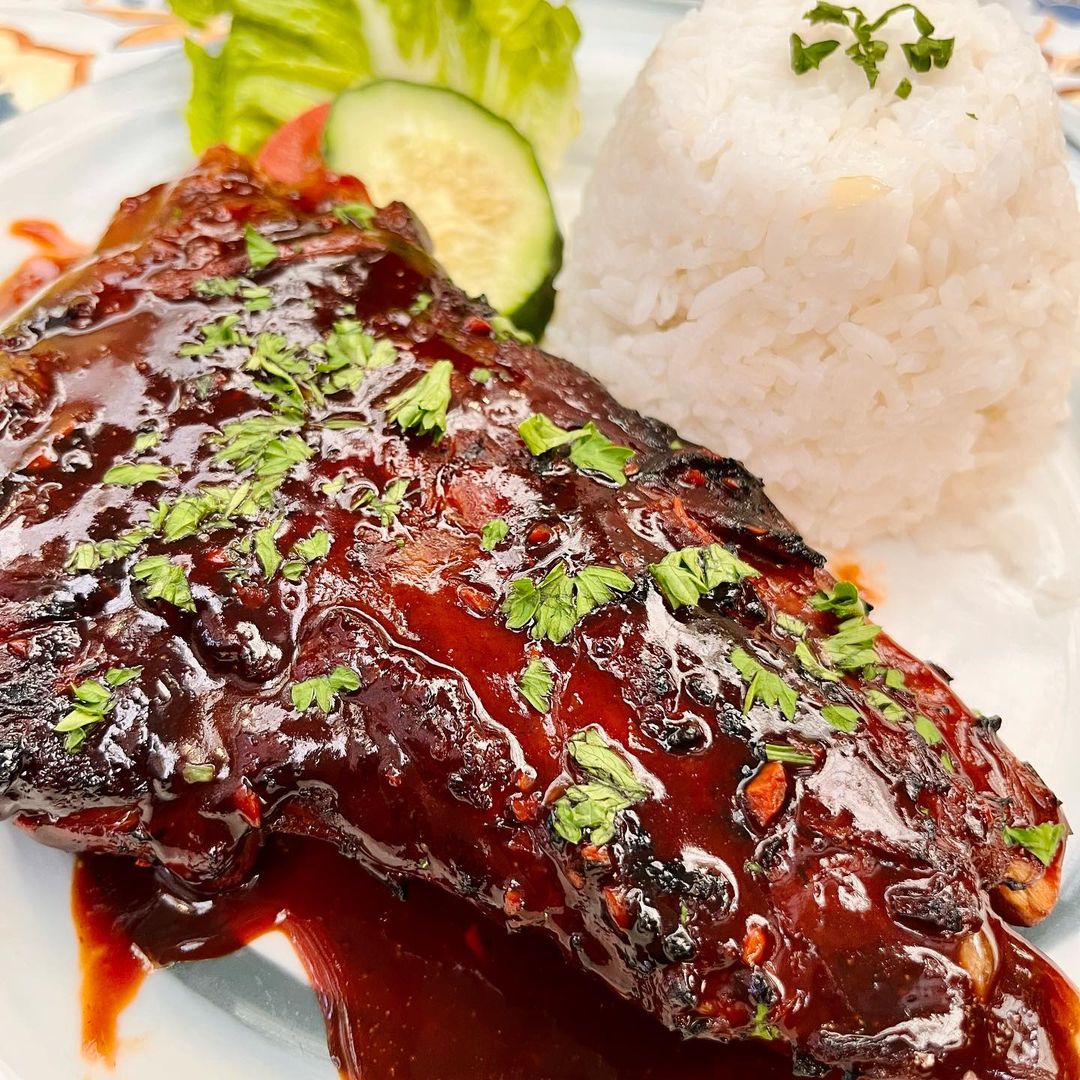 Hickory Baby Back Ribs.
Image credit: @graceyjimenez_
Previous diners have spoken highly of many of their food offerings, including their Hickory Baby Back Ribs (P410, ~USD7.32). And don't miss out on their Mango Cheesecake (P220, ~USD3.93) which pairs well with coffee.
Address: Enrile Street, Tagaytay City, Cavite
Opening hours: 8am-9pm, Daily
Contact: 0961 447 4530
Greenhouse Cafe's Facebook | Instagram

---
6. Kubli Cafe Bistro – dine inside a private nipa hut
---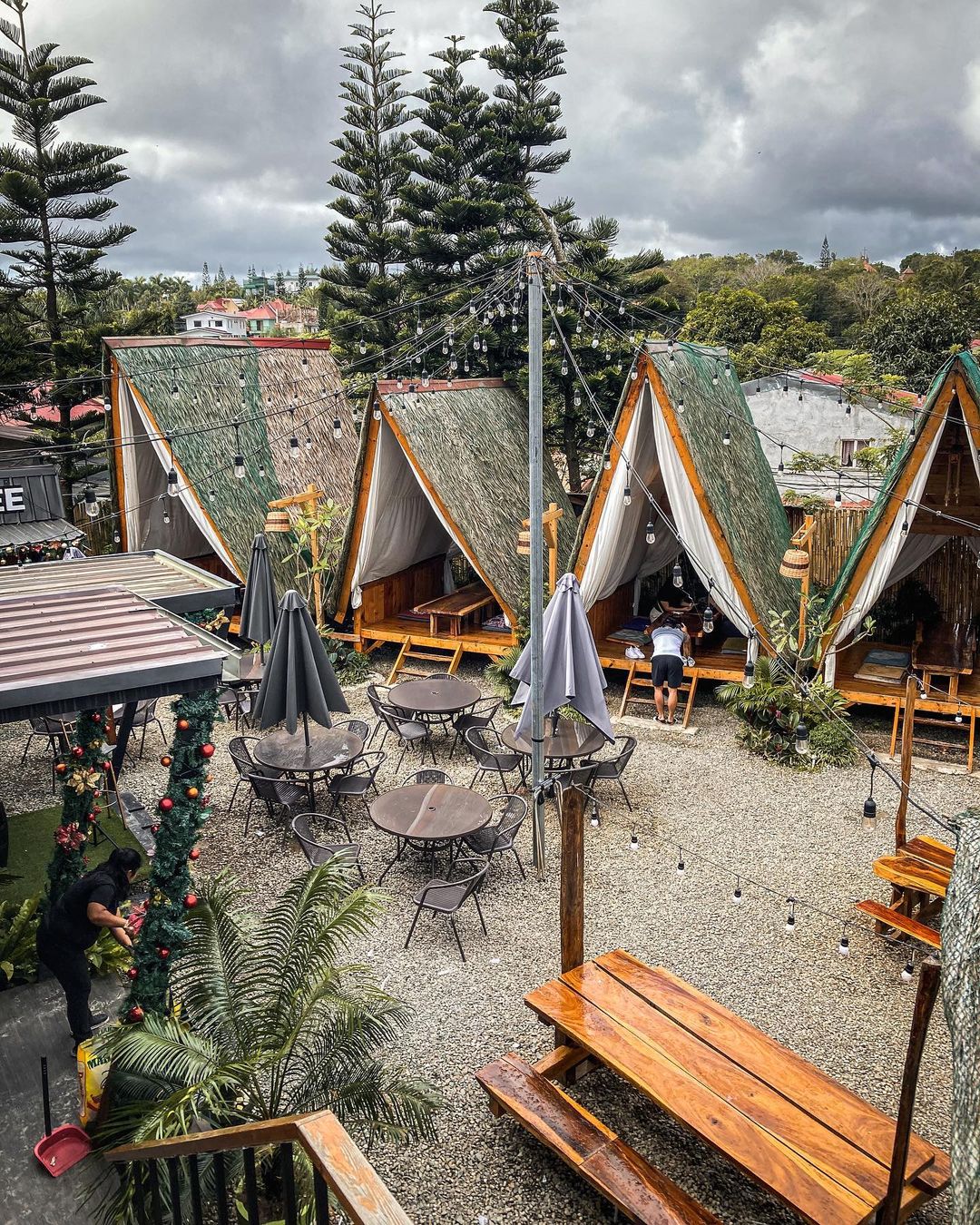 Nipa huts at Kubli Cafe Bistro.
Image credit: @streetsnaps.ph
Tropical-themed Kubli Cafe Bistro has an al fresco area and nipa hut structures where you can dine privately. At night, there are lights that give the place a romantic vibe.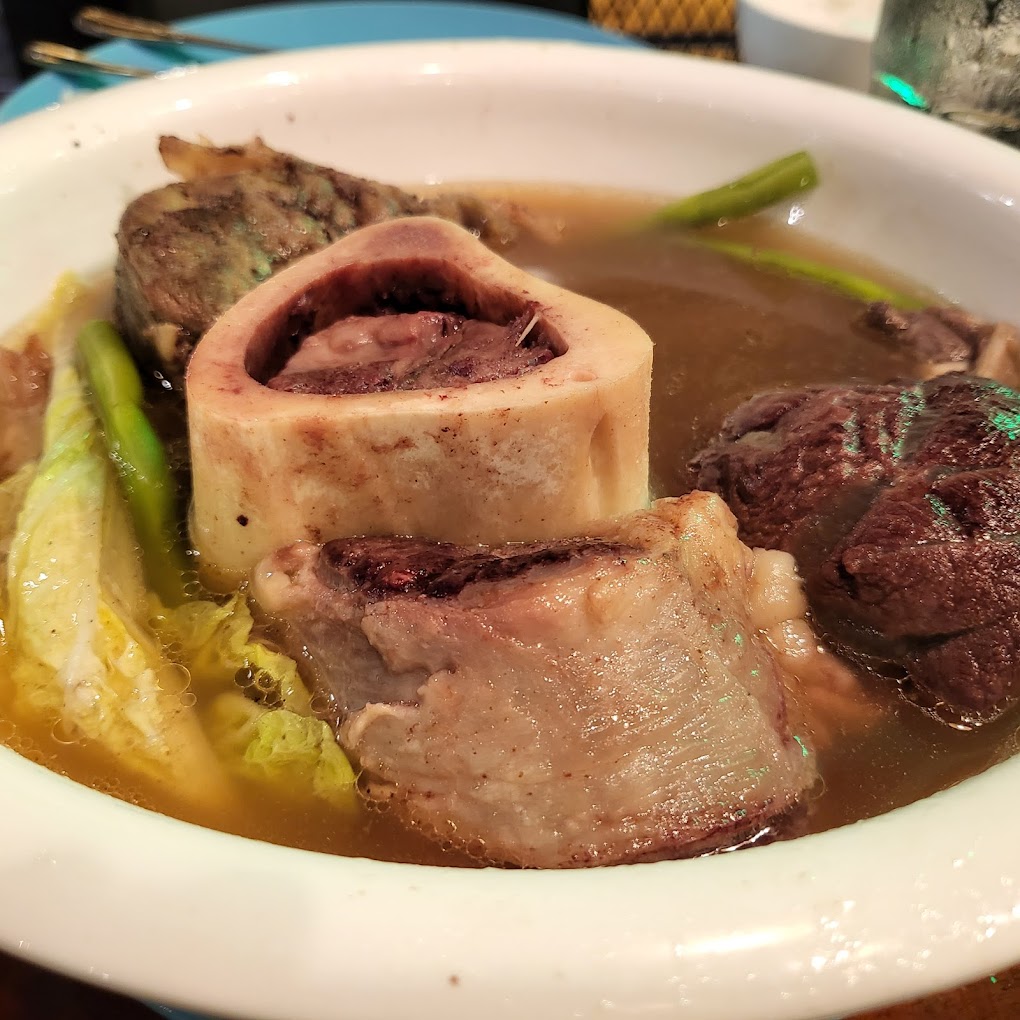 Bulalo.
Image credit: Kaycee Cayao
They offer American, Mexican, and Japanese cuisine but they also have Filipino comfort food. You can even get bulalo (beef shank soup) (P780, ~USD13.93) which is a staple dish to have when you visit Tagaytay.
Address: Tagaytay-Sta. Rosa Road, Barangay Francisco, Tagaytay City, Cavite
Opening hours: 10am-2am, Daily
Contact: 0977 653 8371
Kubli Cafe Bistro's Facebook | Instagram

---
7. Hillbarn Cafe & Restaurant – cafe in a windmill-like structure
---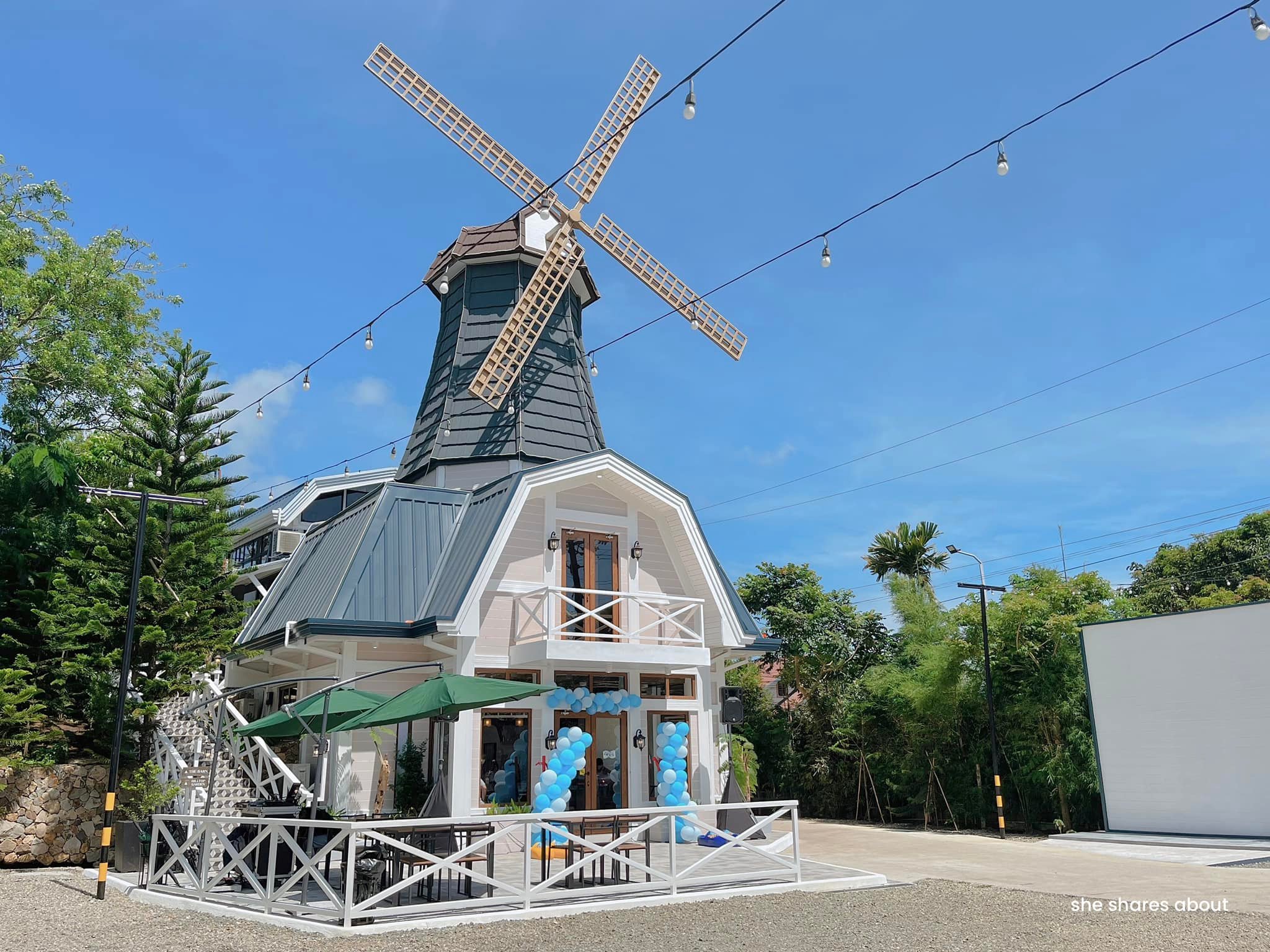 The cafe's Dutch windmill exterior.
Image credit: She Shares About
Pretend as if you're in the Netherlands and dine at Hillbarn Cafe & Restaurant in Tagaytay. This cafe is in a Dutch windmill-like structure with Scandinavian interiors and large windows that let in natural light.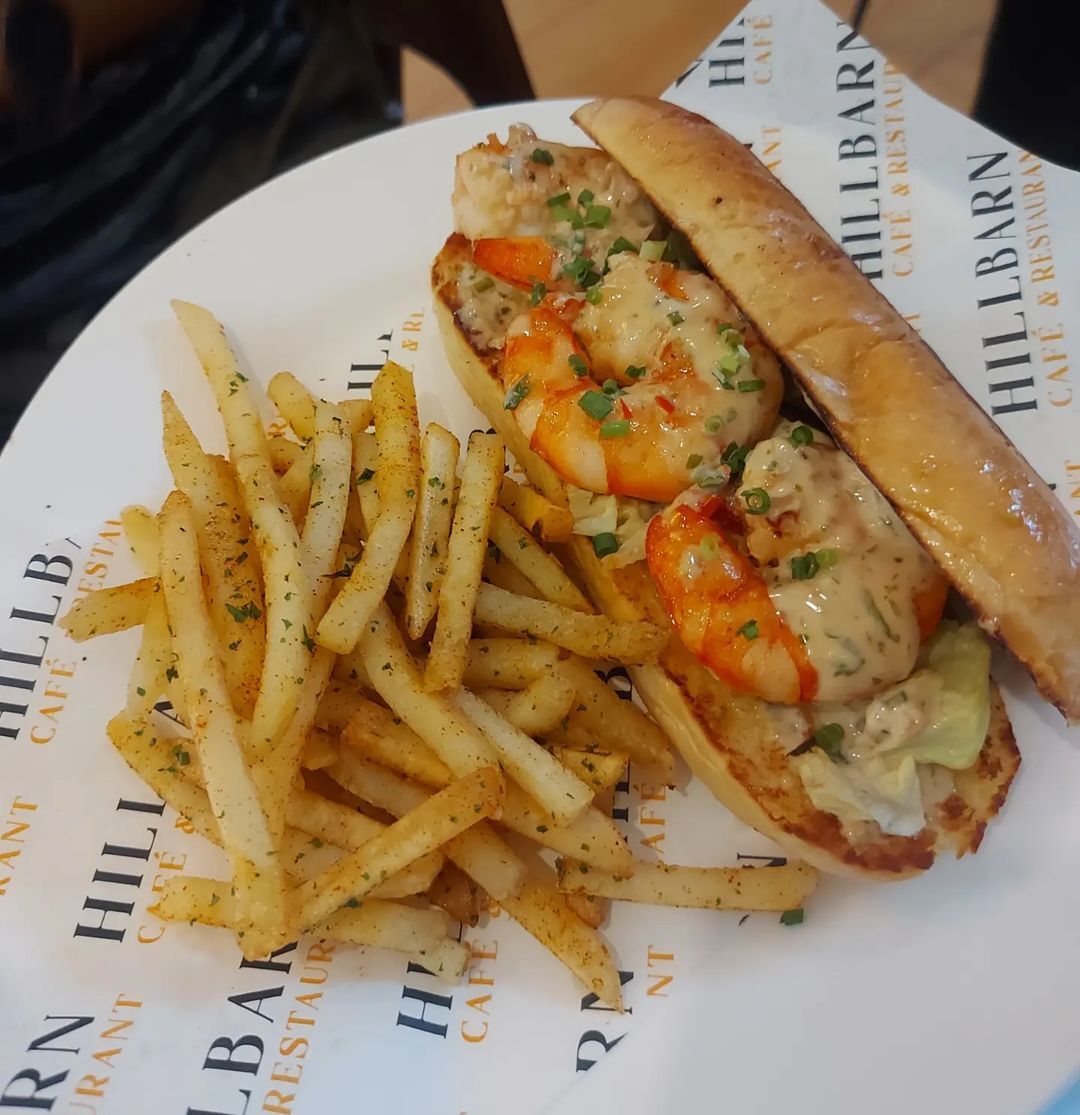 Grilled Jumbo Prawns Sandwich.
Image credit: @cjlanzar
The place is best-know for its Steak Fries (P1,050, ~USD18.76). But for something more wallet-friendly, try their Grilled Jumbo Prawns Sandwich (P450, ~USD8.04). It consists of juicy, jumbo prawns on lettuce, mayo, and brioche toast.
For a drink that's worthy of an Instagram post, get their Sky Latte (P210, ~USD3.75) – an iced latte infused with butterfly pea flowers and topped with salted cream.
Address: Daang Luma Road, Kayabagal North, Tagaytay City, Cavite
Opening hours: Mon-Fri 9am-9pm | Sun-Sat 8am-10pm
Contact: 0917 162 1254
Hillbarn Cafe & Restaurant's Facebook | Instagram

---
Aesthetic Tagaytay cafes
---
We may not be able to travel often due to our schedules. But thanks to Tagaytay being just a couple of hours away, we can enjoy a cooler climate without having to drive far or fly overseas.
With plenty of aesthetic Tagaytay cafes, we can visit the city as many times as we can and still not run out of new things to post on the 'gram!
More Tagaytay reads:
---
Cover image adapted from:  She Shares About, Vy Travels, and @elladeniseguevarra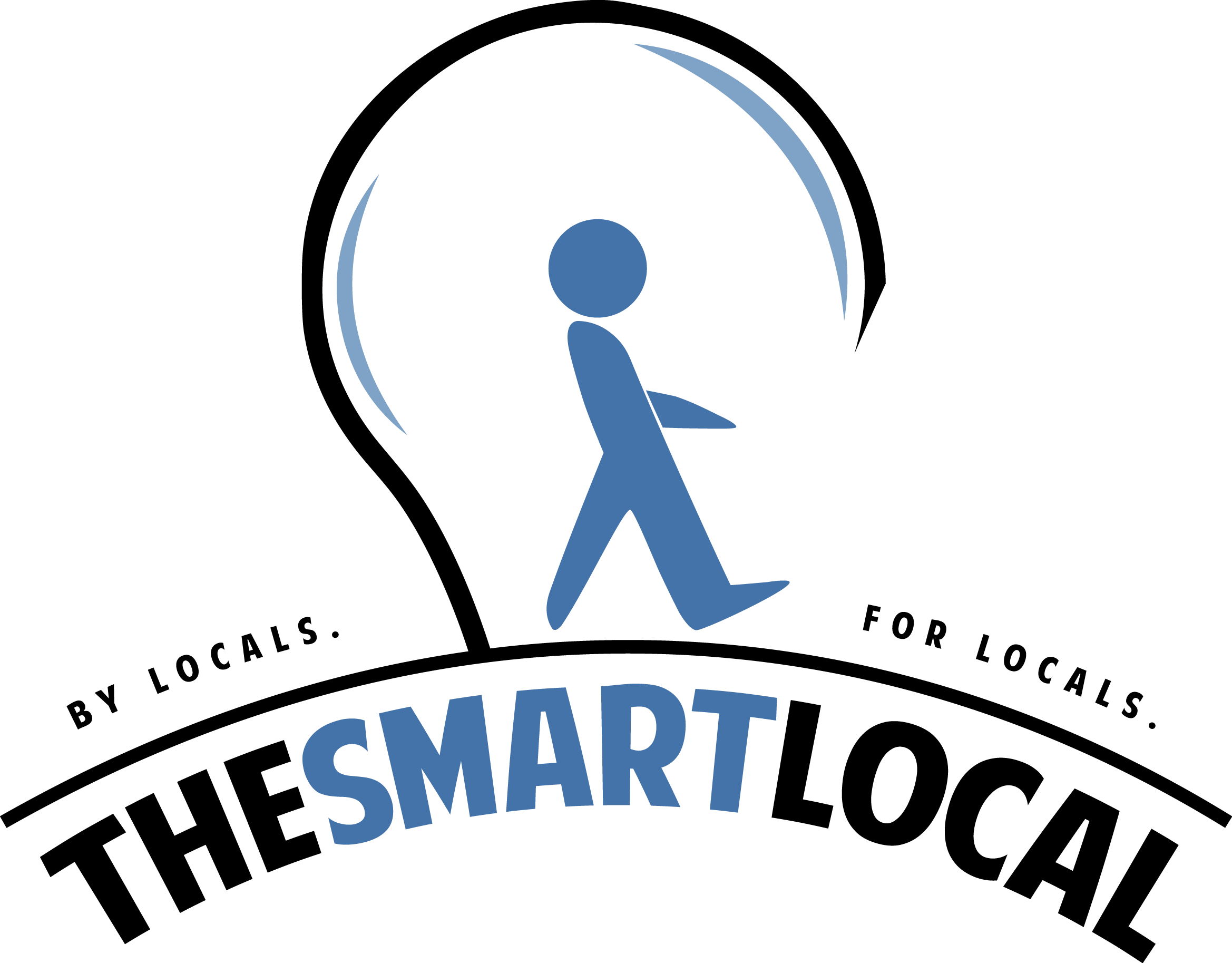 Drop us your email so you won't miss the latest news.