Hillbarn Cafe & Restaurant, Tagaytay
---
With tulip fields and the dreamy city of Amsterdam, the Netherlands is certainly a dream destination for many Filipinos. For those who are still saving up for their trip, Hillbarn Cafe & Restaurant in Tagaytay can give you the vibe of being in the European country.
This newly opened cafe is in a Dutch windmill-like structure and has expensive-looking, minimalist interiors. Its aesthetics and Tagaytay's chilly climate will surely make you feel as if you're on a vacation abroad.
---
Inside a Dutch windmill
---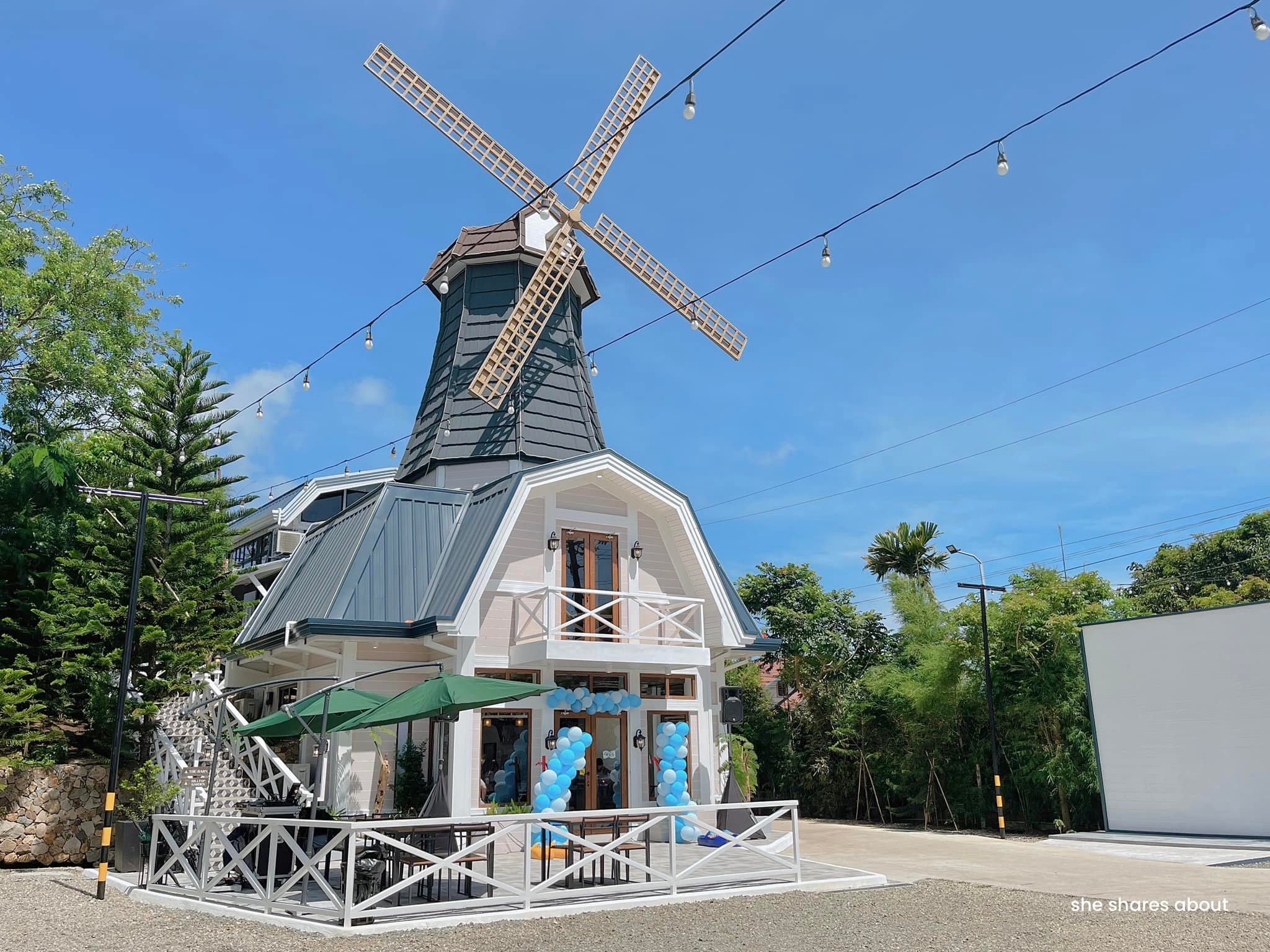 Dutch windmill exterior.
Image credit: She Shares About
Hillbarn Cafe & Restaurant's structure is very similar to a Dutch windmill, only that the "shed" is made much bigger to accommodate more guests. Of course, the turbine doesn't actually spin and is only there for the aesthetic.
Even if you visit the cafe at night, you'll be able to take great pictures of the cafe's beautiful architecture. The facade has ample lighting and the roof and windmill are outlined with fairy lights.
---
Scandinavian interior
---

Booth with white faux leather couch.
Image credit: She Shares About
The cafe's interior takes inspiration from other European countries. It has minimalist, Scandinavian interiors, with white as the predominant color and wood and stone elements.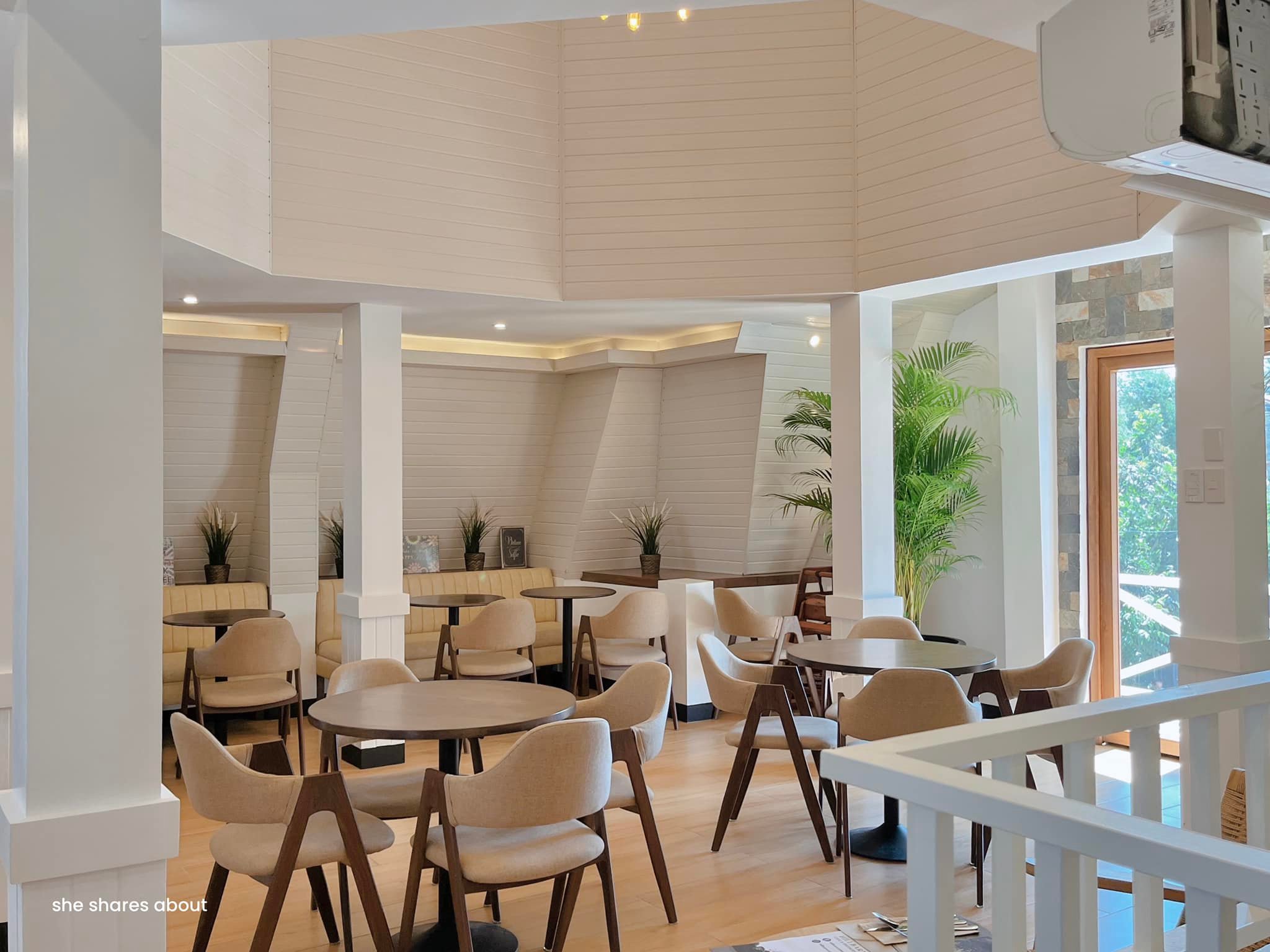 Wooden chairs.
Image credit: She Shares About
Those who love looking at furniture will appreciate their white faux leather couches and chic, wooden chairs.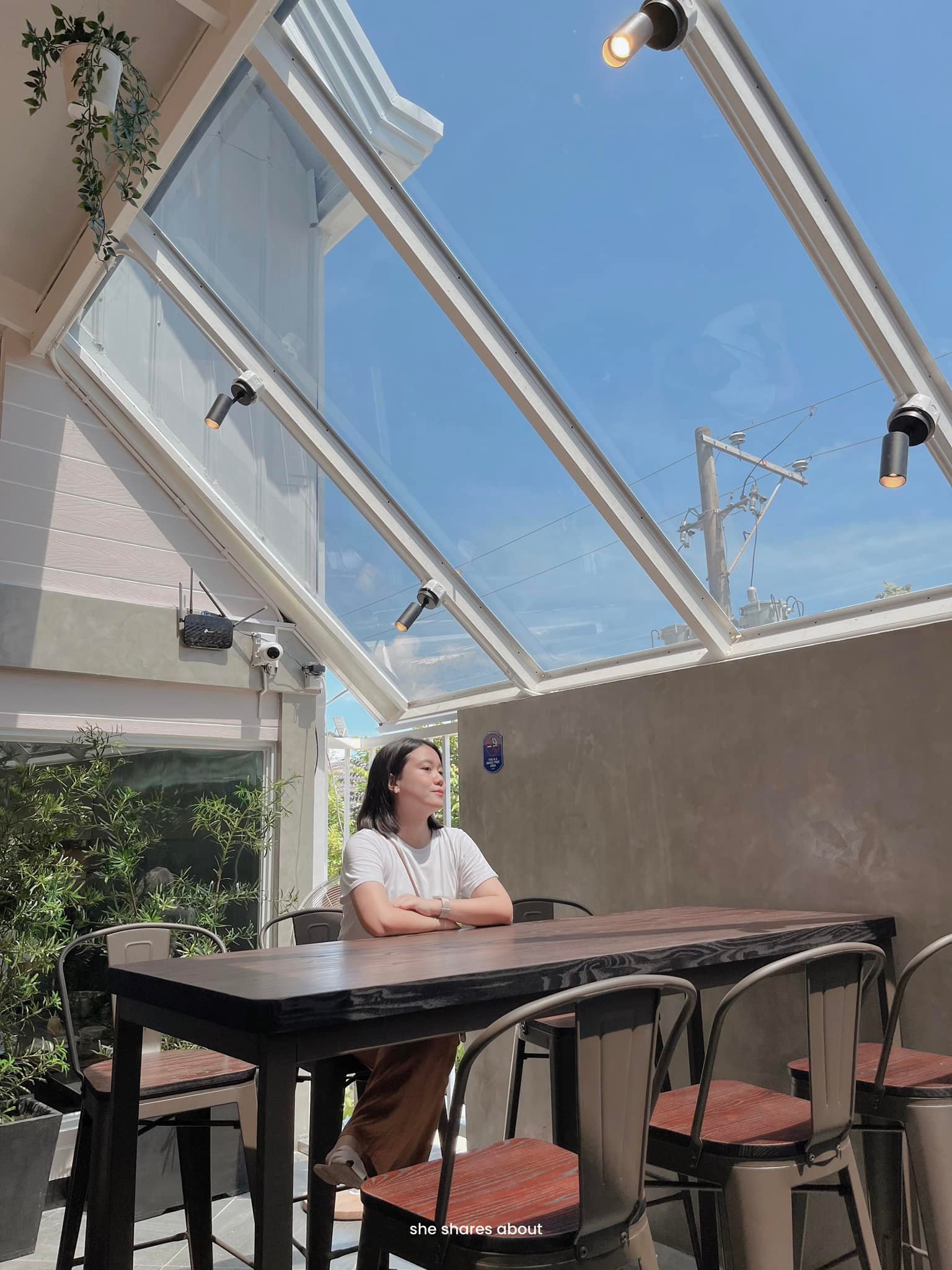 Glass ceiling.
Image credit: She Shares About
If you like to have good lighting, big windows allow natural light into the space. There's also an area at Hillbarn Cafe & Restaurant with a glass ceiling.
---
Serving starters to desserts
---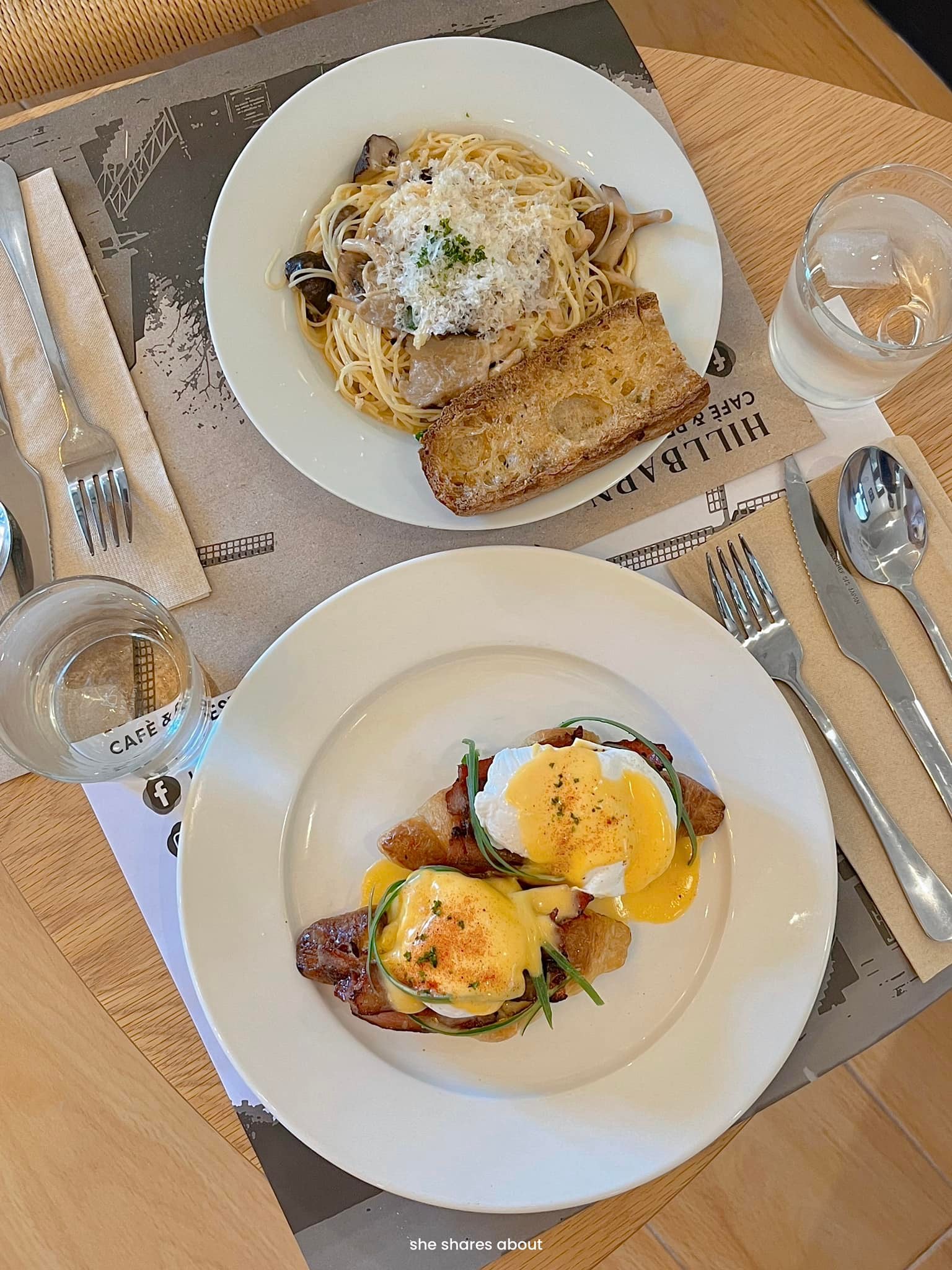 Capellini Mushroom & Spinach and Eggs Benedict.
Image credit: She Shares About
Hillbarn Cafe & Restaurant serves everything from starters to mains to desserts.
However, one of the menu items you should definitely try is their pasta dish, Capellini Mushroom & Spinach (P350, ~USD6.62).
You can also get their best-seller, the Hillbarn Burger (P380, ~USD7.19), made with juicy, black Angus beef patty, lettuce, tomato, onion, pickles, and cheddar cheese.
---
Drinks menu
---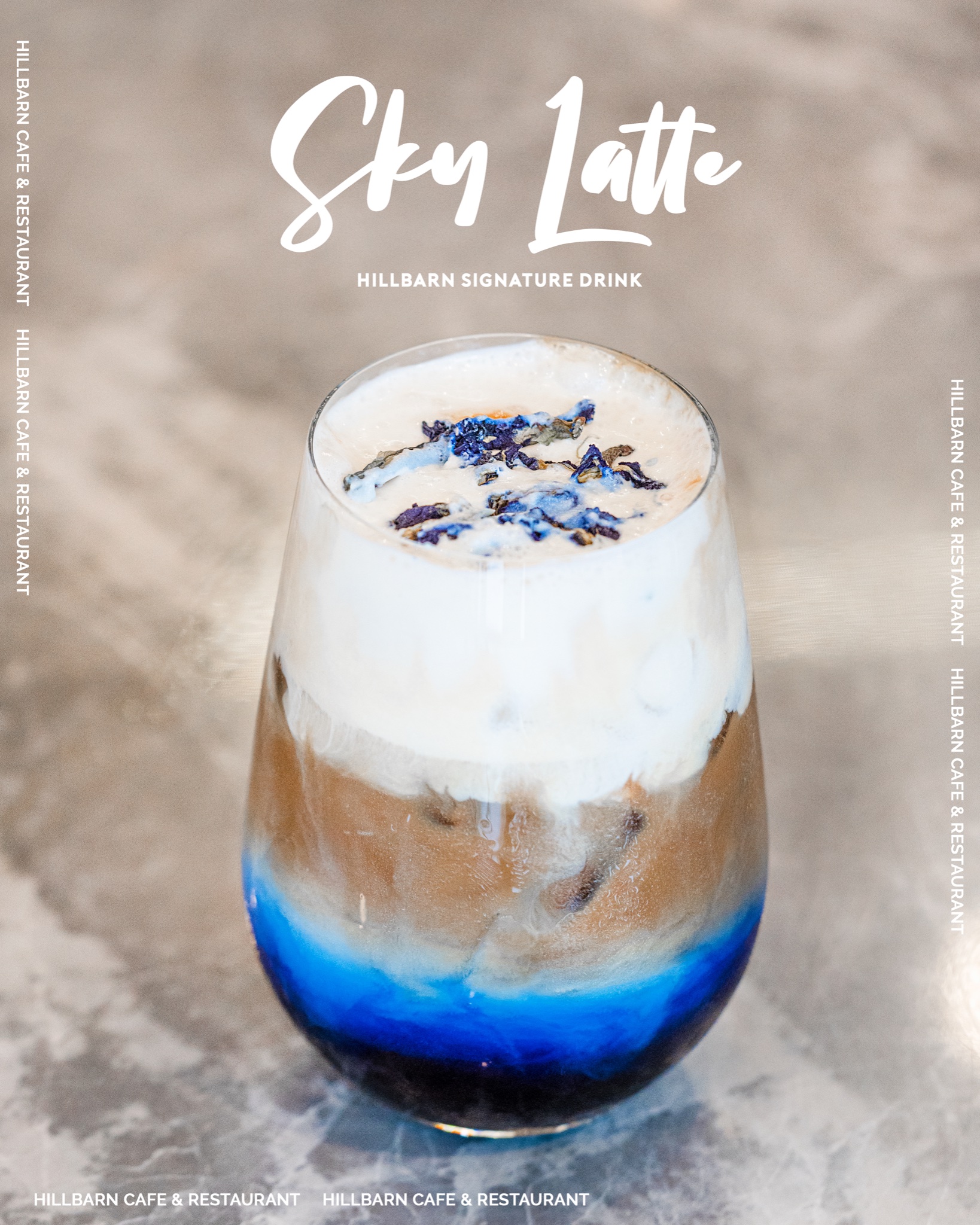 Sky Latte.
Image credit: Hillbarn Cafe & Restaurant
The place has cafe staples such as Americano and cappuccino. But if Tagaytay isn't chilly enough for you, you can also get their over-iced drinks in flavors such as White Choco Mint and Nutella Double Macchiato.
If you want aesthetic drinks, get their gradient Sky Latte with Salted Cream (P210, ~USD3.97) or their S'mores Frappucino (P180, ~USD3.41).
For light refreshments, you can also try their Magic Butterfly mocktail or one of their fruit-flavored soda pops.
---
Aesthetic cafe inside a Dutch windmill in Tagaytay
---
The Netherlands and Europe as a whole are dream vacation destinations for many of us, but these places can be expensive to travel to.
Thankfully, you can experience them in a short while in Tagaytay when you dine at Hillbarn Cafe & Restaurant, with its Dutch windmill architecture and Scandinavian interiors.
Address: Kaybagal North, Tagaytay City, Cavite
Opening hours: Mon-Fri 10am-10pm | Sat-Sun, 8am-10pm
Hillbarn Cafe & Restaurant's Facebook | Instagram
More food spots to check out in Cavite:
---
Cover image adapted from: She Shares About and She Shares About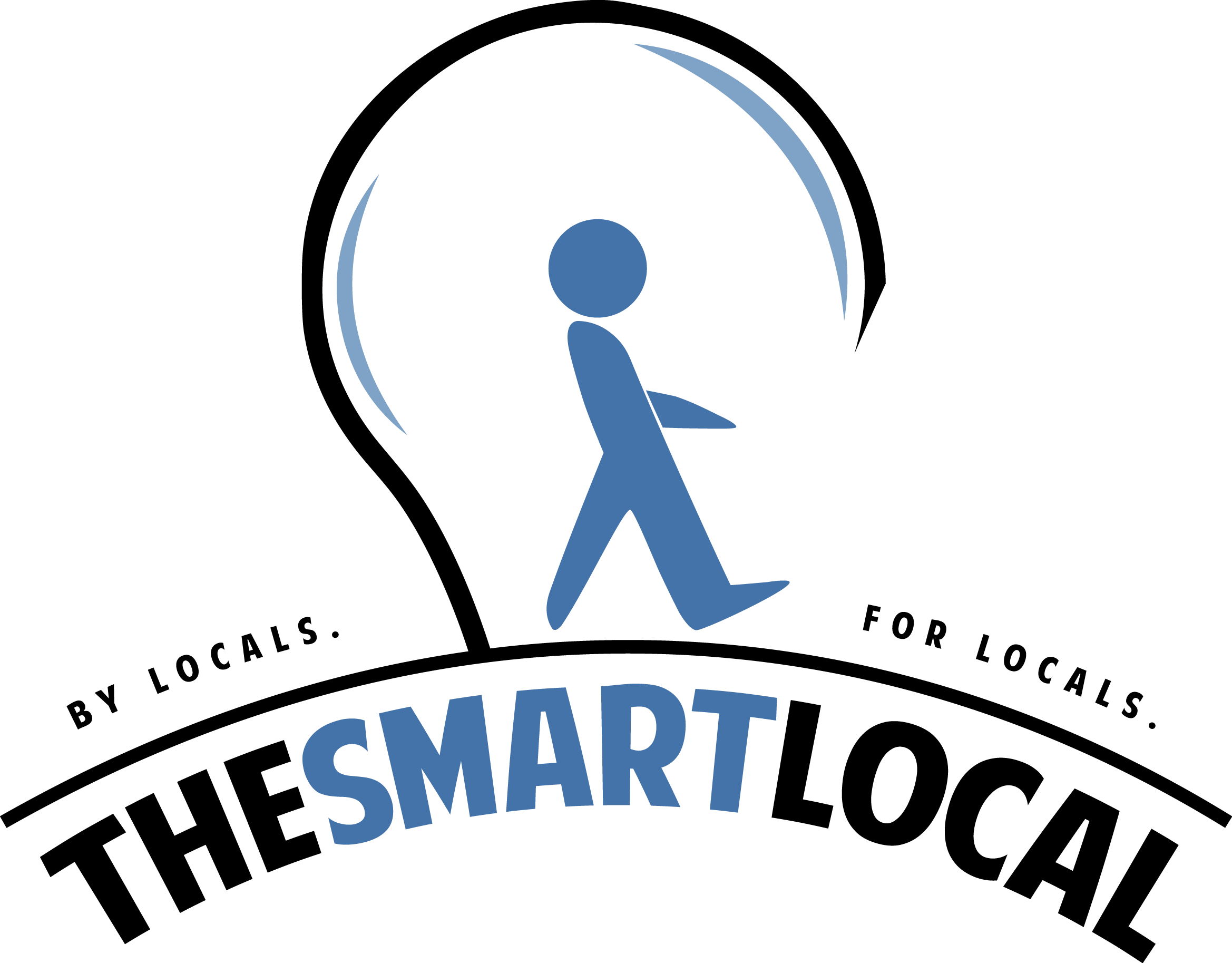 Drop us your email so you won't miss the latest news.