Philippine Festivals
---
With the Philippines having an array of cultures, we also have many festivals to celebrate them. And since we love merrymaking, these festivals are often a sight to see.
To make your vacation exciting and extra-memorable, here are the most popular Philippine festivals. We've included events from Luzon to Mindanao so there's an event you can join at any time of the year.
---
– Luzon festivals –
---
1. Panagbenga Festival – flower festival with a star-studded float parade
---
Panagbenga Festival 2019.
Video credit: Baguio City Guide
Panagbenga Festival is a flower festival in Baguio City held every February. Festivities start on 1st February until the first week of March.
There's a Grand Float Parade where you'll see floats heavily decorated with flowers, which Benguet province is known for. These floats also carry Filipino celebrities and people flock to Session Road to see their favorite stars.
During Panagbenga season, you'll also find a couple of street markets that offer different types of food and handicrafts.
---
2. Philippine International Hot Air Balloon Fiesta – international hot air balloon competition and more
---
The Philippine International Hot Air Balloon Fiesta in 2017.
Video credit: Our Awesome Planet
The Philippine International Hot Air Balloon Fiesta is a 4-day affair held anywhere in the months of January and February. It's a showcase of majestic hot air balloons from countries around the world. It certainly gives Cappadocia, Turkey vibes.
There are also other performances you can watch besides the hot air balloon competition. This includes skydiving, freestyle aerobatics, ultralight flying formation, banner towing, and more.
The event was held at the Clark Freeport Zone in Clark, Pampanga from 1994 to 2019. It returned in Carmona, Cavite as Flying Carnival in 2020 before going on hiatus. However, you can watch out for similar events in Pampanga as there had been one in 2022.
---
3. Moriones Festival – lenten festival inspired by the Passion of Christ
---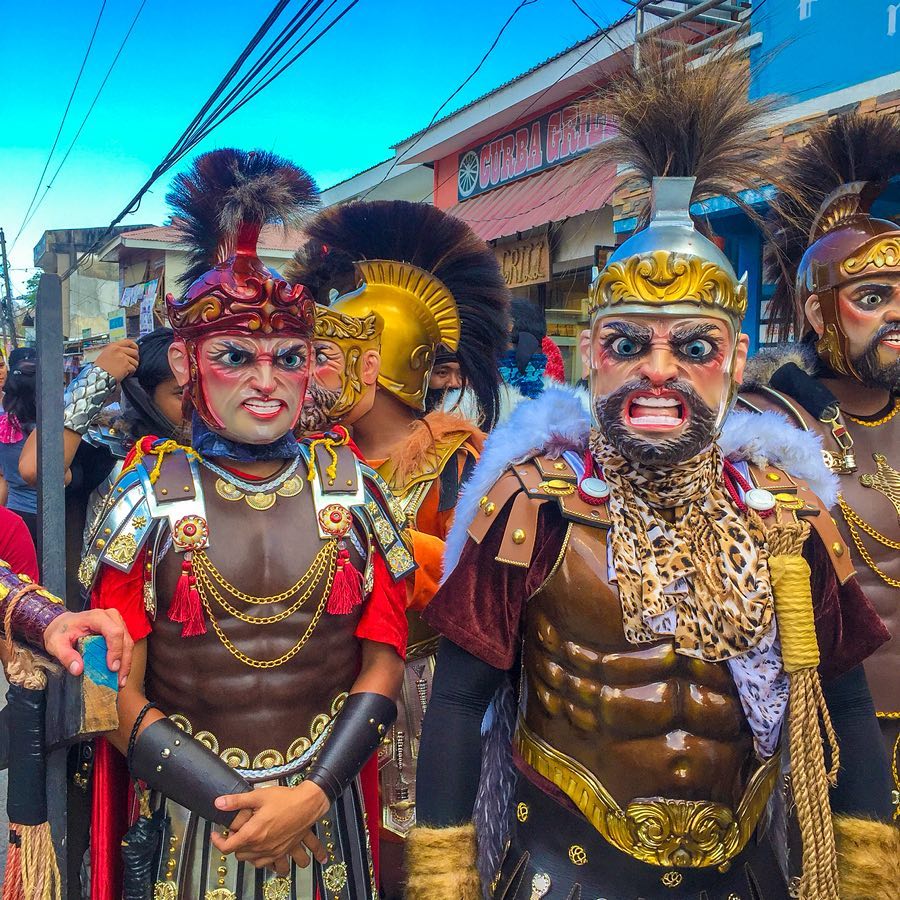 Moriones.
Image credot: @josh_isidera
Being a largely Roman Catholic country, many Philippine festivals stem from Catholic beliefs. But non-Catholic tourists are also welcome to enjoy these events.
One of these religious festivals is Moriones in Marinduque. Inspired by the Passion of Christ, it's held during Holy Week.
Moriones performers wear costumes inspired by Imperial Roman soldiers from the Bible. They march around Marinduque from Holy Monday to Easter Sunday and they search of Longinus, a Roman soldier who converted to Christianity after being healed from blindness by Christ.
If you have the guts, you can also watch the Via Crucis, a lenten practice observed in several parts of the country. It's where men hit themselves with a whip, carry heavy crosses, and even go as far as getting crucified as a form of devotion.
---
4. Pahiyas Festival – features houses decorated with colorful, glutinous rice wafers
---
Pahiyas Festival in 2022.
Video credit: Island Times – PH
To give thanks for a bountiful harvest and honor the patron saint of farmers, Lucban, Quezon celebrates Pahiyas Festival.
Every 15th May, houses are decorated with fruits, vegetables, and kiping – colorful glutinous rice wafers.
There's a parade that includes marching bands and people in colorful outfits. It also features carabaos, pancit habhab (dry noodles eaten by bringing the container to the mouth), and paper mache giants known as higantes.
During Pahiyas, locals would open their houses for people to see the decor inside. Often, there would be a spread of Filipino celebration dishes for the guests.
---
5. Higantes Festival – a parade of paper mache giants
---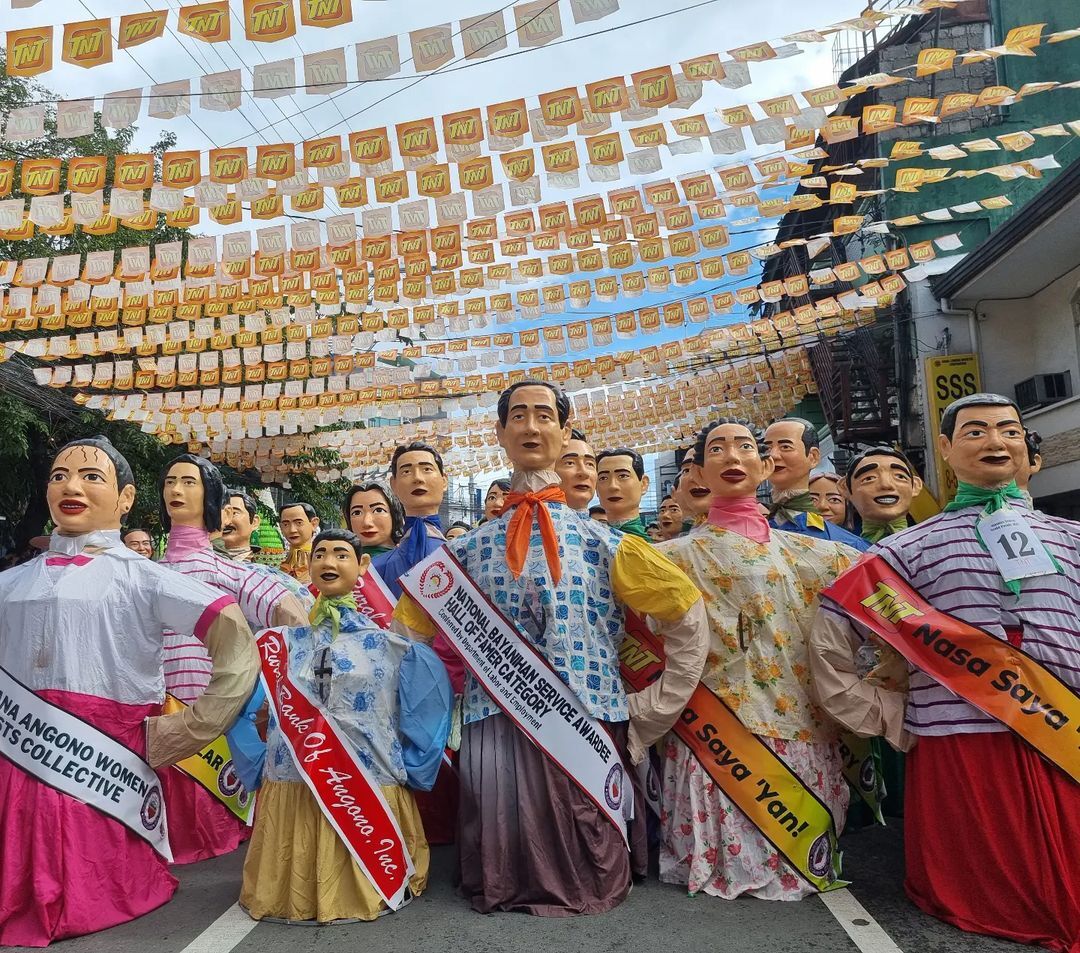 Higantes.
Image credit: @marked_spaces
To see more higantes, check out Higantes Festival where there's a parade of hundreds of giant, paper mache puppets. This happens every 23rd November in Angono, Rizal.
Historically, locals during the Spanish rule held the festival to mock hacienderos (landlords) who prohibited them from celebrating all but one festival. Thus, the higantes are shaped after the landlords, with their hands on their hips as if making commands.
Another highlight of the festival is the basaan where people join a procession to get doused with water. This is done in honor of Saint Clement, the patron saint of fishermen.
---
6. Giant Lantern Festival – Christmas lantern competition
---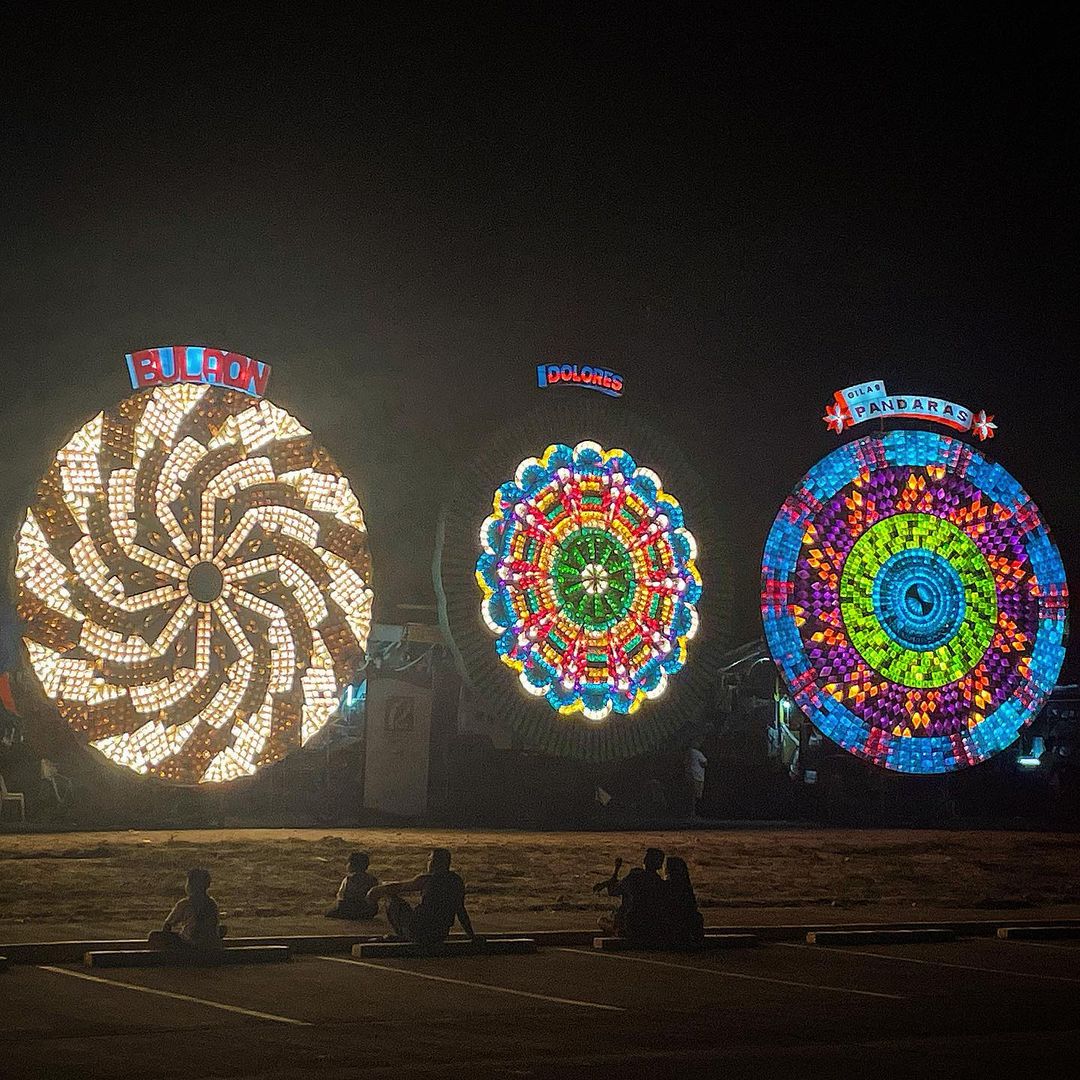 Giant lanterns from 2022.
Image credit: @vincestr3lla
Those who love Christmas should go to San Fernando, Pampanga in December for the Giant Lantern Festival.
It's a competition that features giant parols (Christmas lanterns) handmade by the locals. It's held annually on the Saturday before Christmas Eve, but the lanterns are on display until early January.
San Fernando, Pampanga is known for its many parol makers. As such, the city is dubbed the "Christmas Capital of the Philippines".
---
– Visayas Festivals –
---
7. Sinulog Festival in Cebu – biggest festival in the Philippines
---
Sinulog in 2019.
Video credit: Bisdak Destinations
If there's one festival you should attend, it's Sinulog. Among all Philippine festivals, it's considered the biggest festival in the country, attracting up to 15 million people every year. It happens on the third Sunday in January in Cebu City.
This event's highlight is a street dance parade where performers wear intricate costumes. They dance with statues of Santo Niño or the child Jesus, for whom the festival is held. Filipino celebrities also make appearances during the Grand Parade.
Sinulog 2023 fluvial procession.
Video credit: Rappler
Make sure to time to watch the fluvial procession. It's where a Santo Niño statue is paraded on the Mactan Channel via a boat and it is followed by hundreds of smaller boats carrying brass bands and devotees.
Besides Cebu City's Sinulog, there are also other Sinulog festivals across Visayas and Mindanao.
---
8. Ati-Atihan Festival – street performances that imitate the indigenous Ati people
---
Ati-Atihan.
Video credit: Travel Trilogy
Ati-Atihan Festival is another celebration in honor of the child Jesus, held in January. But this time, it's held in Kalibo, Aklan.
The festival features a street parade with floats, marching bands, and dancers who wear big, colorful costumes. Their bodies and faces are painted black to imitate the indigenous Ati people which the event is named after.
Besides the big festival in Kalibo, other towns in Aklan also hold their own Ati-Atihan celebrations.
---
9. Dinagyang Festival – street dance competition among dance "tribes"
---
The Ati Tribe Dance Competition at Dinagyang Festival 2019.
Video credit: vo2max1
Dinagyang Festival is another festival that celebrates Ati people's culture. It's held in Iloilo on the fourth weekend of January, just after Sinulog and Ati-Atihan.
The highlight of the event is the Ati Tribe Dance Competition. Here, performers are dressed as Ati warriors, with black body and face paint. They use indigenous dances and chants in their performance.
It's a highly competitive street dance competition with modern-day dance "tribes" organized by schools and communities. The groups even receive funding for their performance from private companies.
---
10. MassKara Festival – street dance parade with performers wearing colorful masks
---
40th Ruby MassKara Festival in 2019.
Video credit: Panay News
If you miss the big festivals in Visayas in February, attend the MassKara Festival in Bacolod. It happens much later in the year, on the 4th Sunday of October.
MassKara came from the Filipino word maskara or mask. It's also a portmanteau of mass and cara (face in Spanish) to mean "multitude of faces".
During the street dance competition, performers wear masks with smiling faces, a nod to Bacolod being the "City of Smiles".
Besides the street dance parade, the festival has a month-long roster of activities. These include food fests and sports tournaments.
---
– Mindanao Festivals –
---
11. Balangay Festival – celebrates the city's first settlers from Austronesia
---
Balangay Festival 2018.
Video credit: KR Events Core Marketing and Promotions
For more merrymaking and an even wider perspective of Filipino culture and history, don't miss the Philippine festivals in Mindanao.
Every May, Butuan City, Agusan del Norte celebrates the Balangay Festival. It marks the arrival of the first Austronesian settlers in Butuan who came in balangays or wooden boats.
During Bravo Padayon Balangay, you'll see enthusiastic street dancing and neon-lit, balangay-inspired floats. There are also other boat-related events such as a fluvial parade and a dragon boat competition.
Apart from these, you can also catch trade fairs, performances, and more throughout the month.
---
12. Kadayawan – a celebration of Mindanao indigenous tribes
---
Kadayawan 2019.
Video credit: LouWorks Studio
Kadayawan Festival is arguably the most prominent festival in Mindanao. It's held in the capital, Davao City, on the 3rd week of August.
The festival highlights the indigenous tribes of Mindanao. It features events such as Indak-Indak sa Kadalanan where communities dance on the streets wearing indigenous attires.
There's also Dula Kadayawan. Here, Moro and Lumad tribes come together to play indigenous games, including spear throwing.
There are also other cultural performances that will widen your perspective on Mindanaoan culture. Plus, there's a fluvial parade that showcases Davao's native flora.
---
13. Tuna Festival – free grilled tuna on the streets
---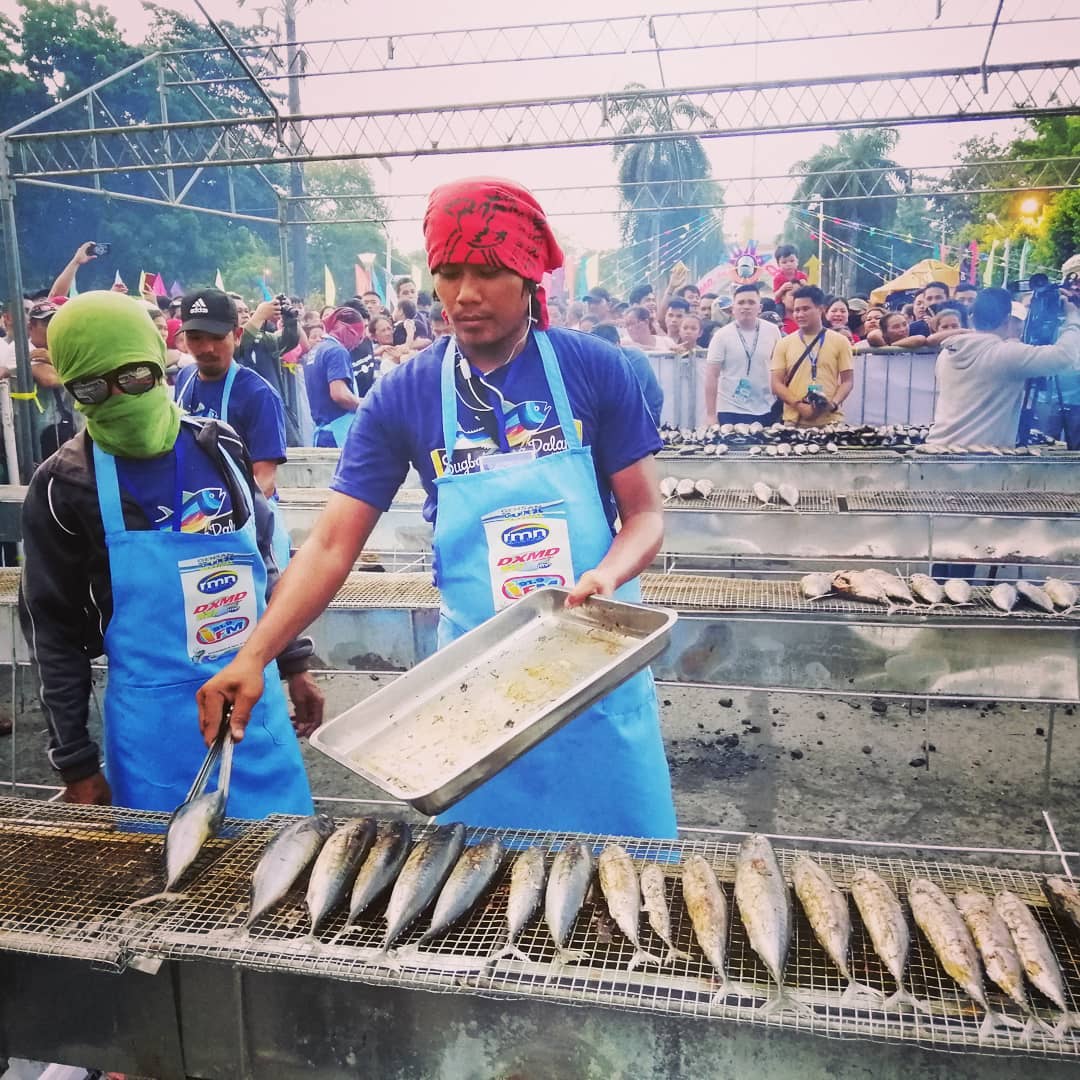 Sugbahan sa Dalan.
Image credit: @whenincdo
Most people may know General Santos City, South Cotabato as the hometown of Manny Pacquiao. But besides its relation to the retired Filipino boxer, the city also holds one of the biggest festivals in Mindanao.
Being the country's leading producer of tuna, GenSan celebrates Tuna Festival every year from August 30 to September 5.
Enjoy Sugbahan sa Dalan, a tuna-grilling event on the streets. Here, everyone is welcome to enjoy grilled tuna for free.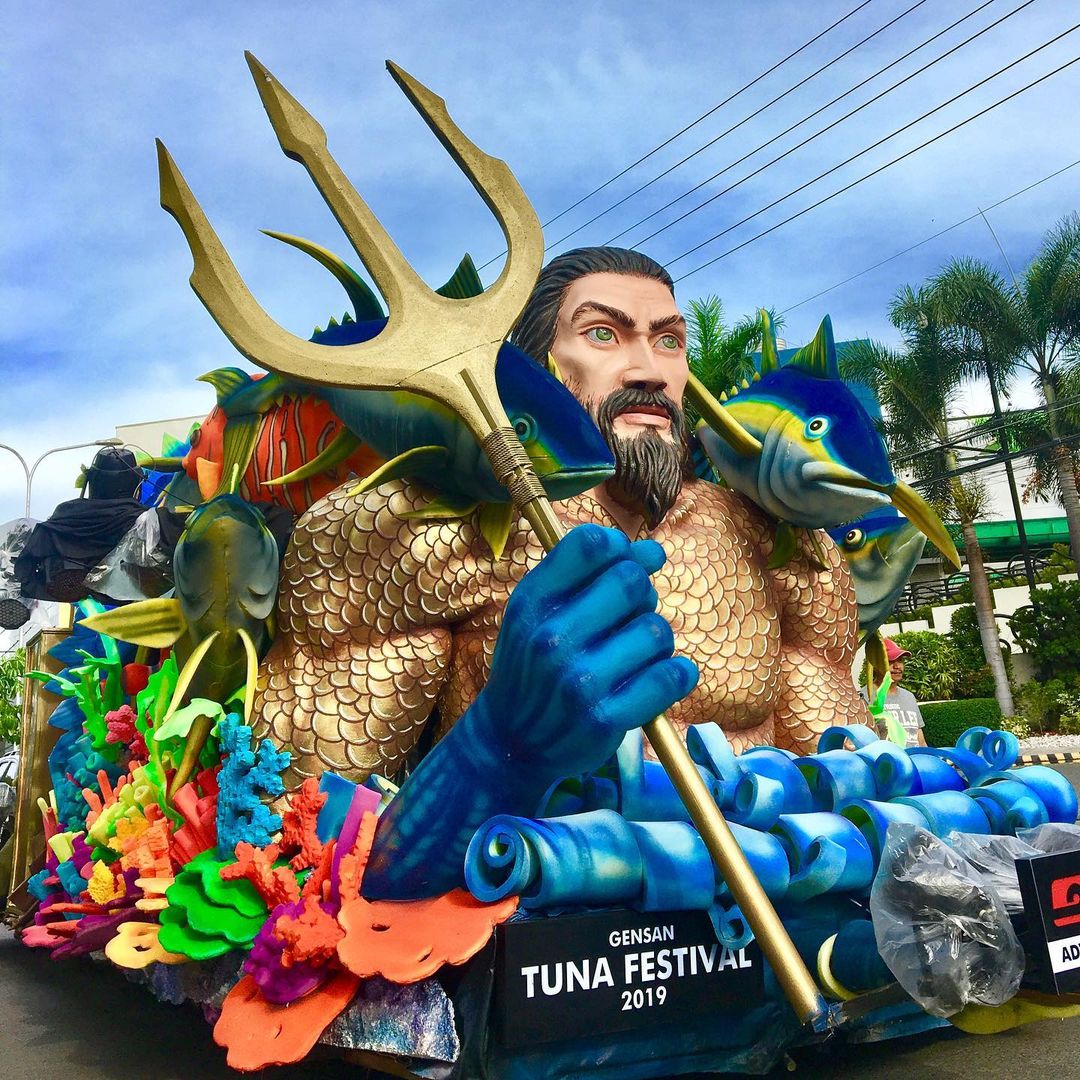 Tuna Festival 2019 float parade.
Image credit: @ryanjayquizon
Of course, there's also a street parade with tuna-themed floats. For an exciting event to watch, check out the Bancarera. It's a race among motorized boats, dragon boats, and jet skis.
---
Philippine festivals to check out from Luzon to Mindanao
---
There is more to the Philippines beyond our beaches and other natural wonders. We also have a colorful history and culture which you can learn through the festivals we celebrate.
With lots of big and small Philippine festivals in the country, you're sure to have a good time whenever you choose to visit.
Related reads:
---
Cover image adapted from: @marked_spaces, @travelwithmyfeelings, @dotdavao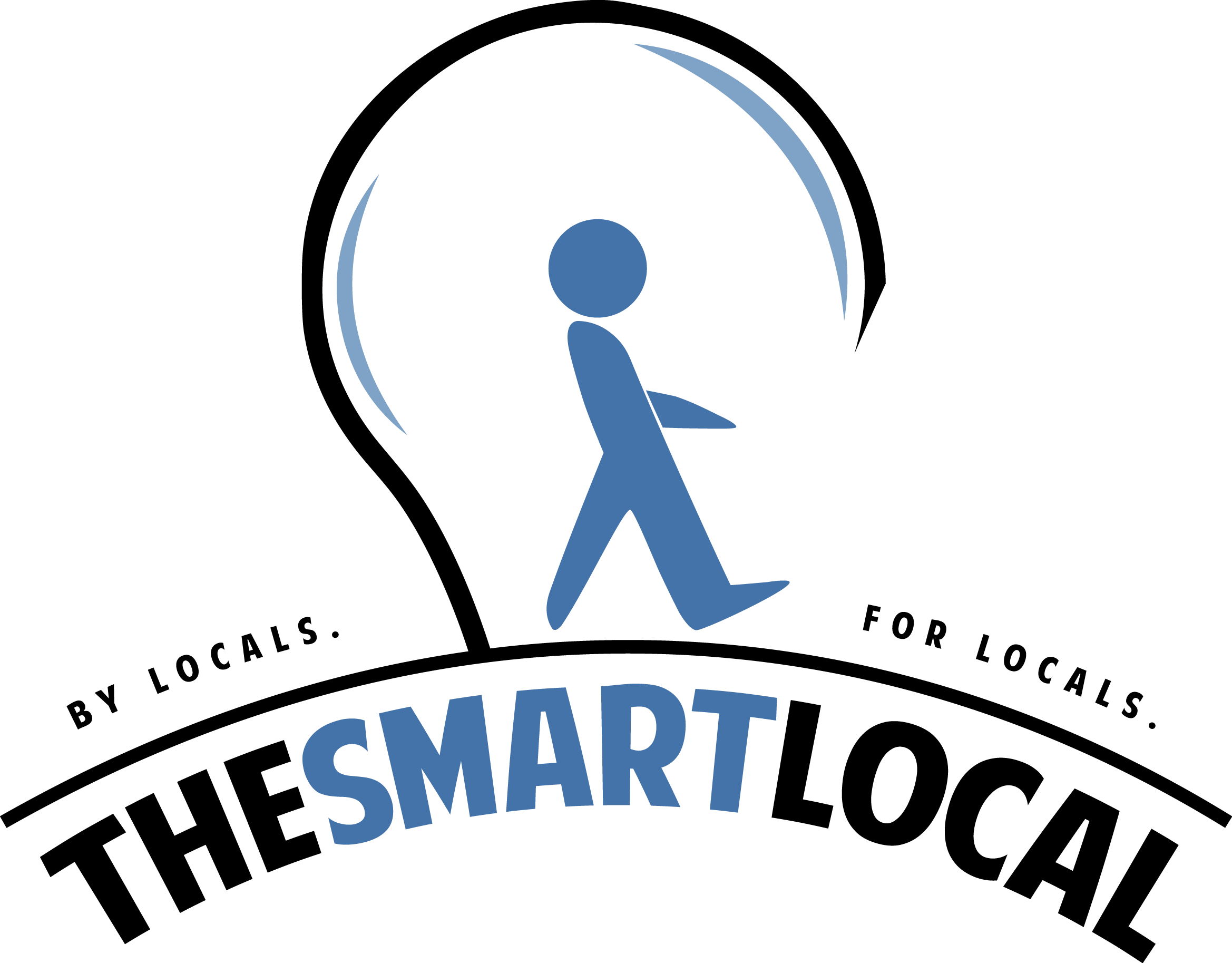 Drop us your email so you won't miss the latest news.