Prettiest Jollibee branches around the world
---
From starting out as an ice cream parlor, Jollibee has indeed gone places. Not only is it the biggest fast-food chain in the Philippines, but it has also captured the hearts of people across the globe who also just want a good piece of fried chicken to give them joy. For instance, around the world, from Asia to Europe, you may just bump into an eye-catching Jollibee branch, as the beloved restaurant has now been expanding across continents.
To get you going on your Jollibee tour, here are 7 prettiest Jollibee branches in and beyond the Philippines that are worth taking Instagram photos for, aside from dining in.
---
– Europe –
---
1. Jollibee Madrid – tropical-themed
---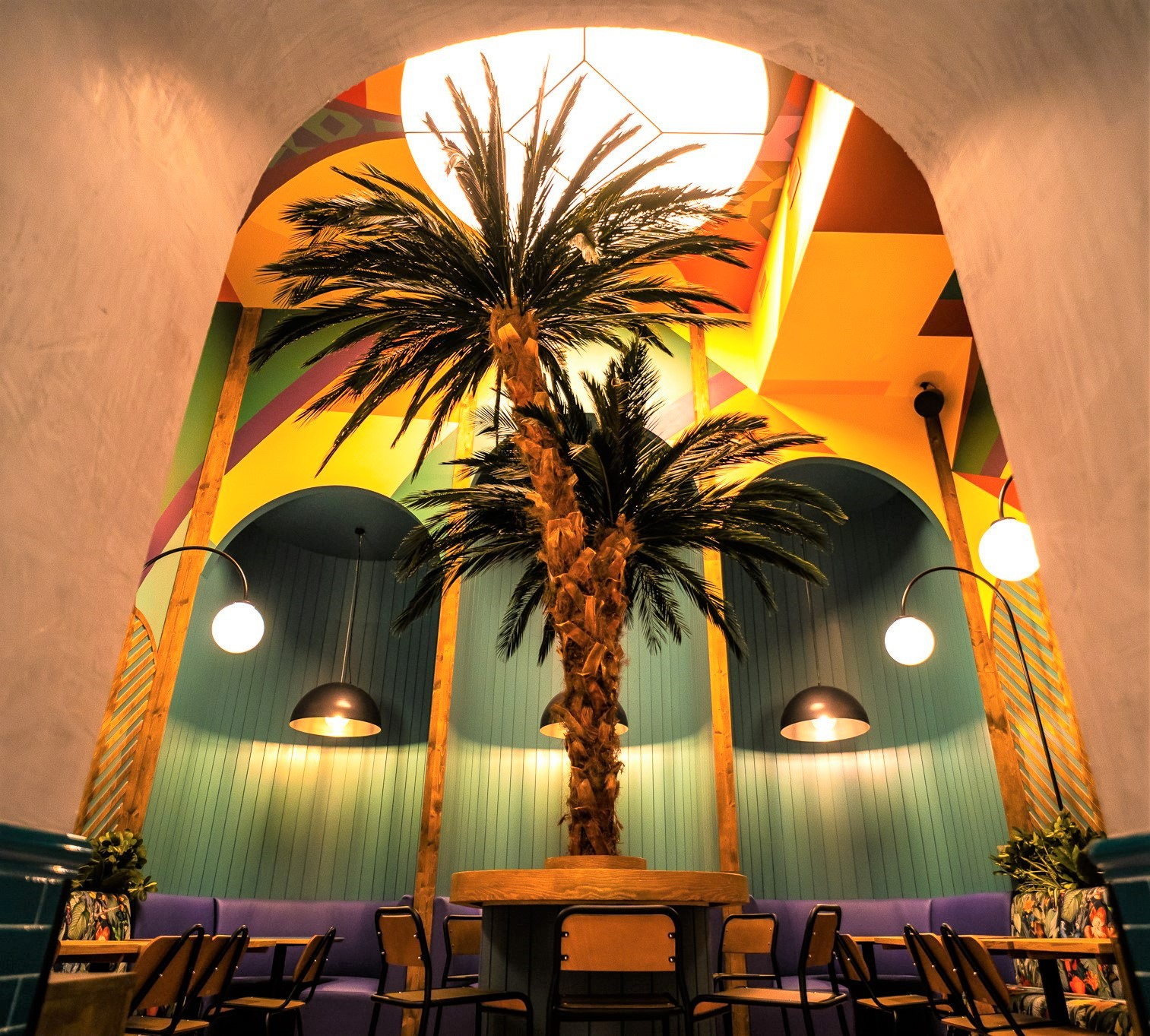 Image credit: Jollibee 
If spending a tropical summer lounging underneath full-size palm trees is your idea of fun right now, then Jollibee's first-ever outlet in Spain, located at Calle del Arenal in Madrid, can come close to turning it into reality.
Moving away from the looks of Jollibee stores we've been used to at home, Jollibee Madrid features tropical-themed interiors accentuated by a high-ceilinged dining hall surrounded by palm trees.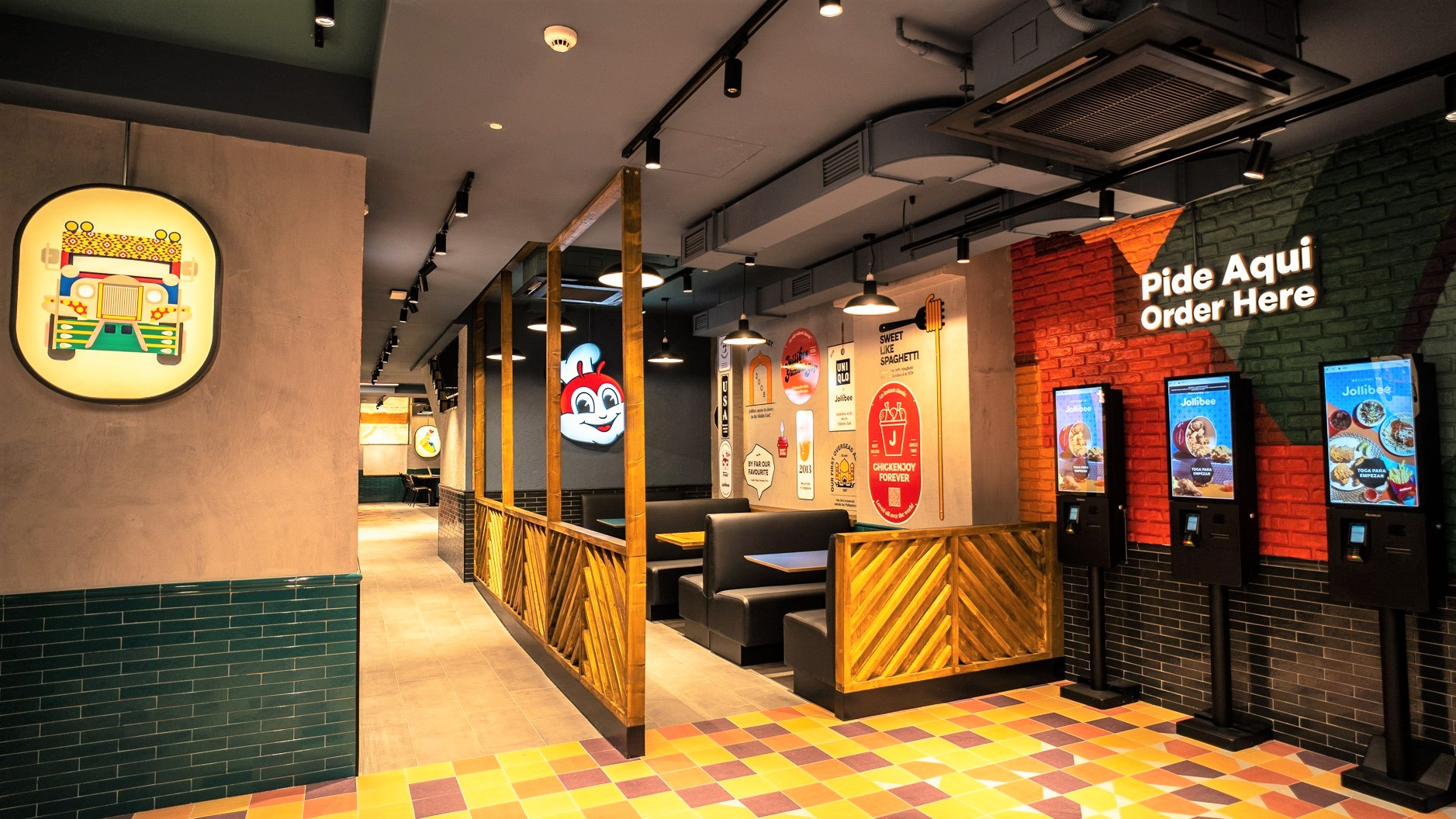 Image credit: Jollibee
Completing the ambiance are the plush, violet couches and fixtures showcasing symbols of Philippine culture, such as the jeepney. The branch can accept 180 guests with its extra outdoor seating, take-out area, and venue for digital kiosks. 
Address: Puerta del Sol, C. del Arenal, 4, 28013 Madrid, Spain
Jollibee España's website

---
2. Jollibee Rome – a few streets away from the Pope's headquarters
---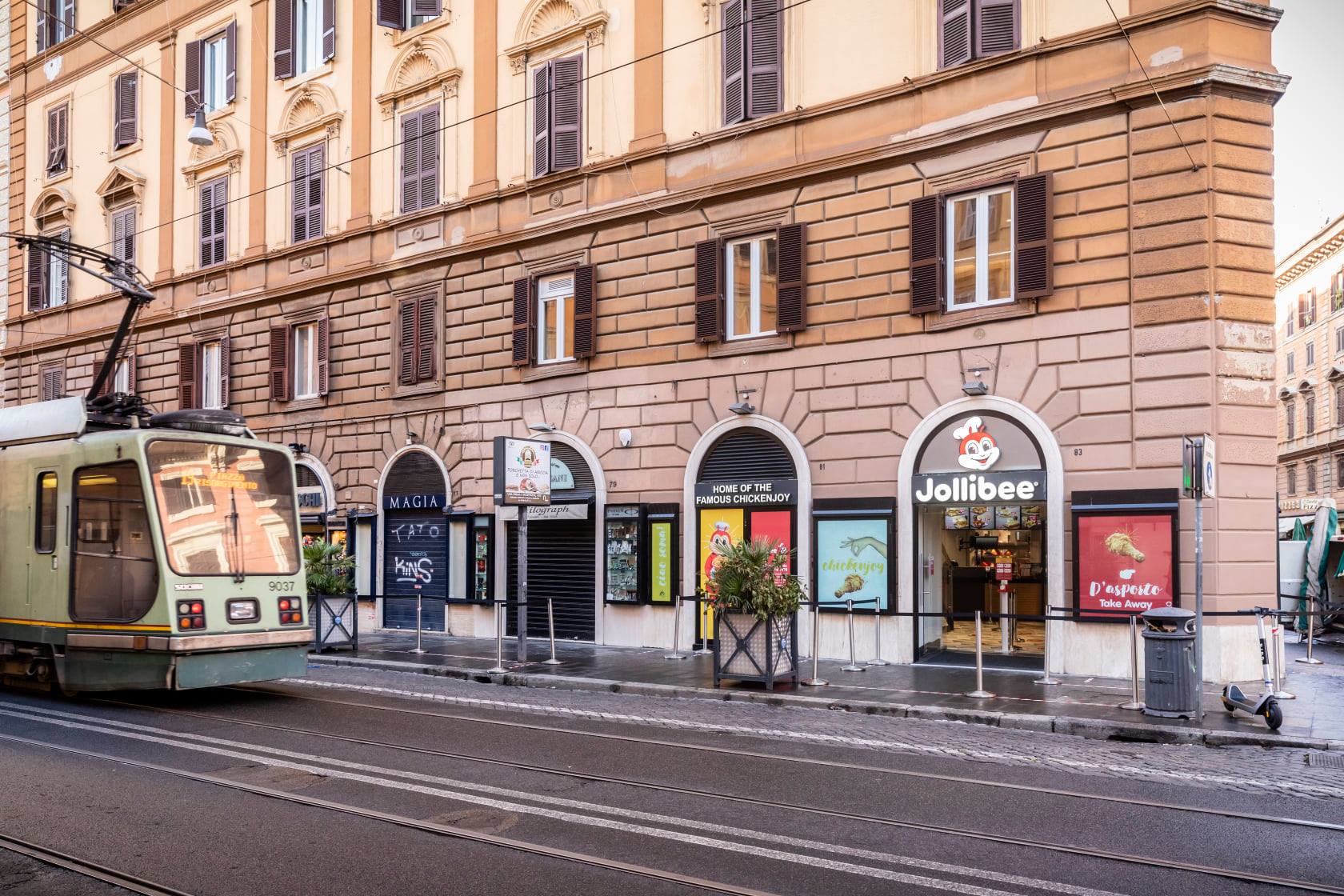 Image credit: Jollibee
In the middle of all the pomp of the vibrant, historical city of Rome lies Jollibee Roma, located just a few walks away from St. Peter's Square, Vatican City.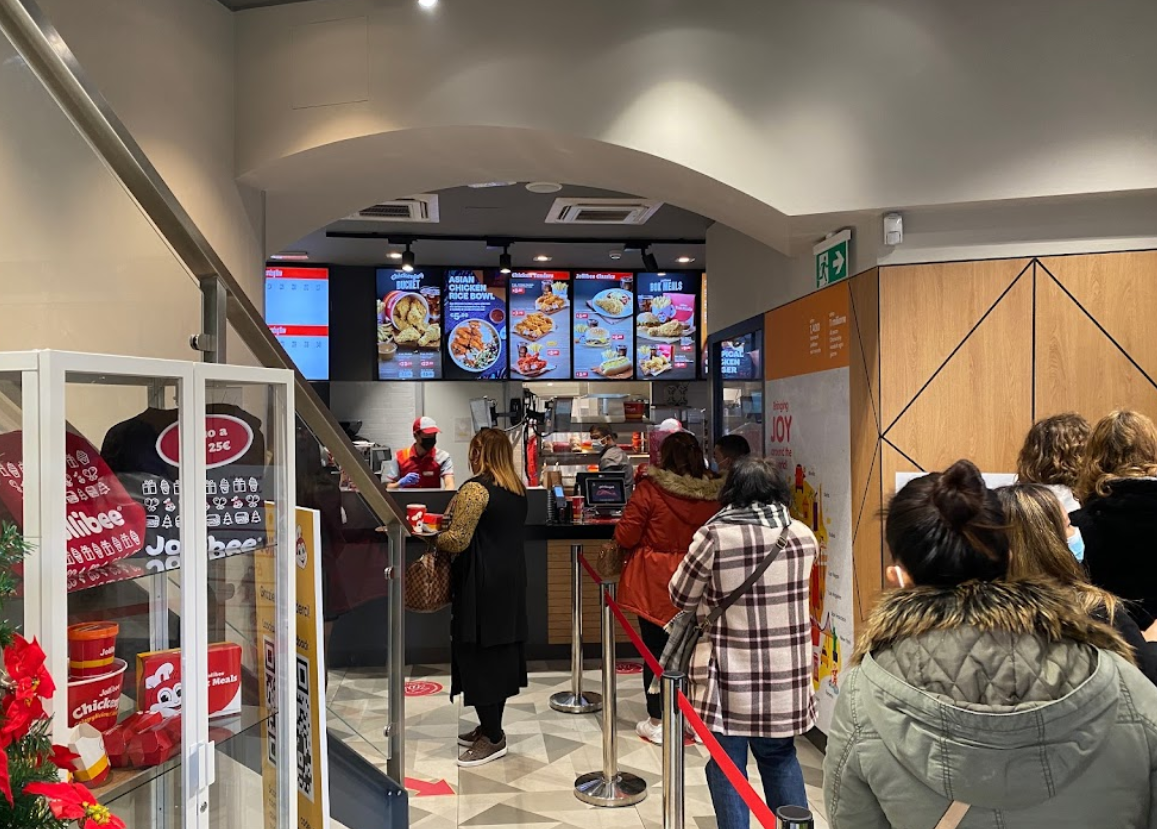 Image credit: Carlo
The first branch of Jollibee in Rome is exactly what you'd expect an Italian Jollibee should look like, built inside a building bearing elements of grand, traditional European architecture. 
Address: Via Ottaviano, 83, 00192 Rome, Italy
Jollibee Italia's website
---
3. Jollibee West End – located in a famous theater district
---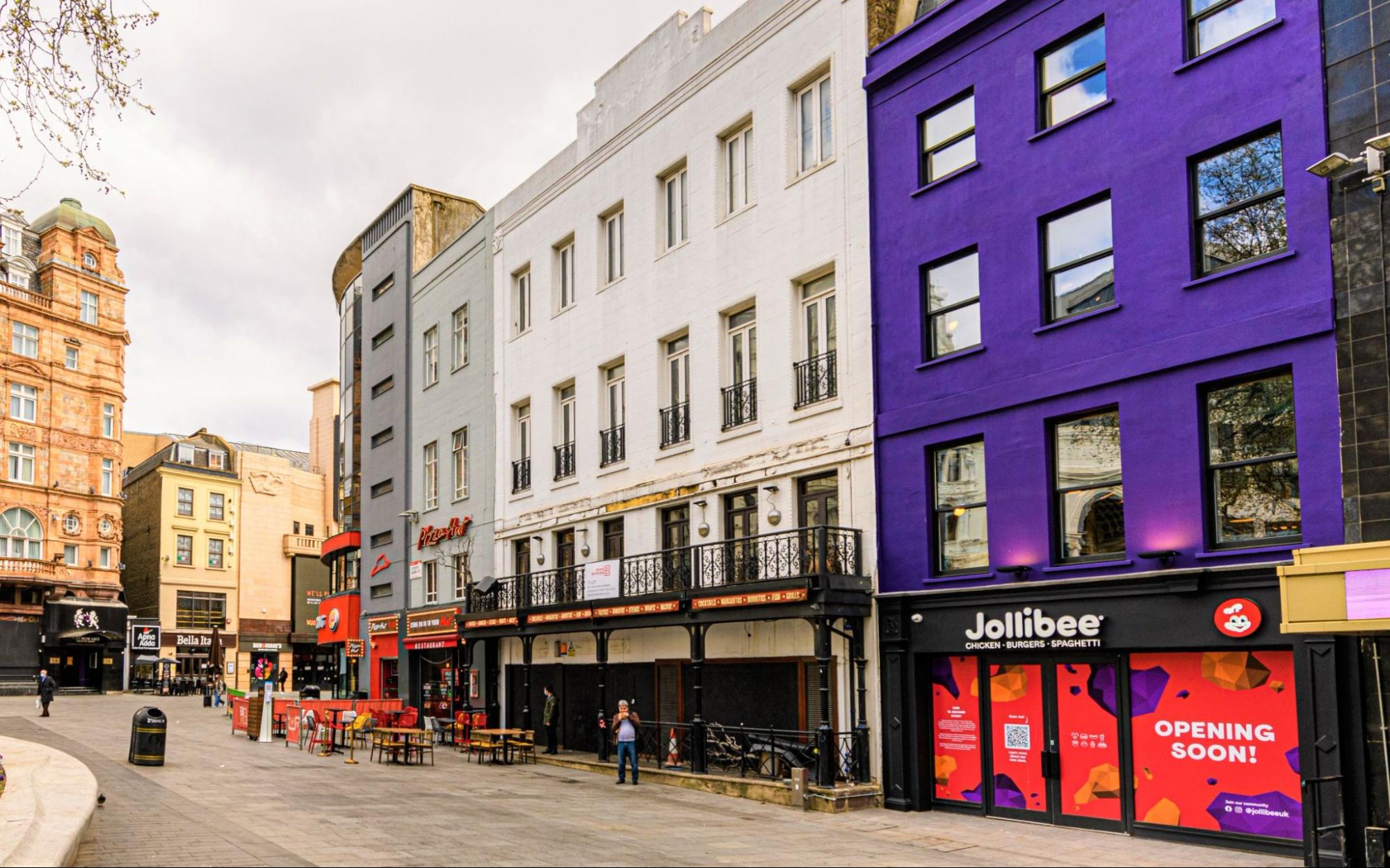 Image credit: Jollibee/Forbes
Filipinos visiting London's West End can now add a Jollibee visit to their itinerary, aside from enjoying the plays being staged in the historic district, home to famous theaters and near popular tourist attractions.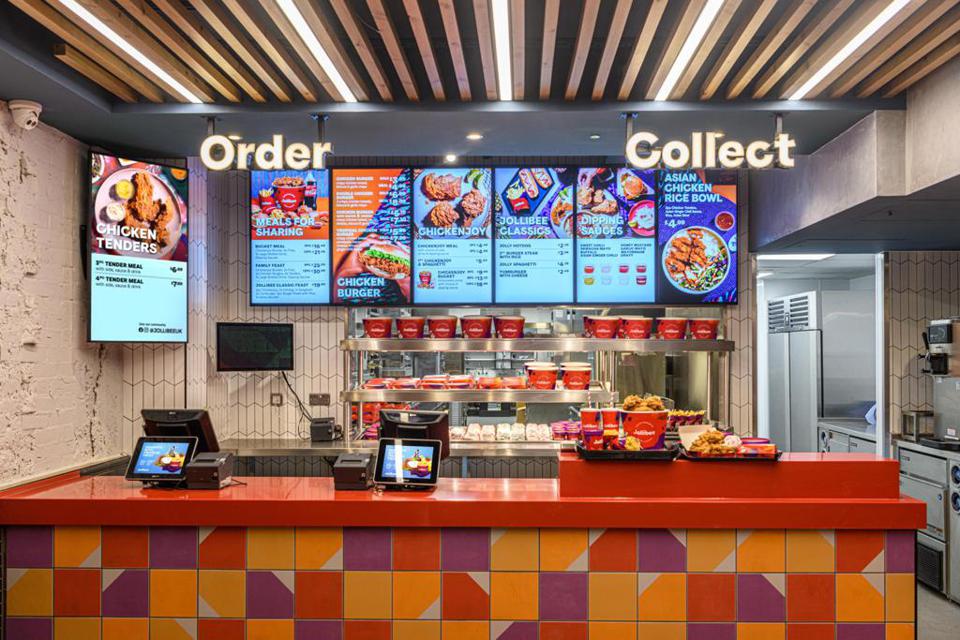 Image credit: Jollibee/Forbes
Jollibee's West End branch, located at the iconic Leicester Square, is one of the newly opened outlets of the fast-food chain in the United Kingdom. 
Address: 22 Leicester Square, London
Jollibee UK's website
---
4. Jollibee Liverpool – built in the birthplace of The Beatles
---

Image credit: Stuart Consultancy
Recognizable through its elegant, grey storefront, the second Jollibee branch in the UK located in Liverpool, the birthplace of English rock band The Beatles, is indeed proof that the UK community loves their buckets of Chickenjoy.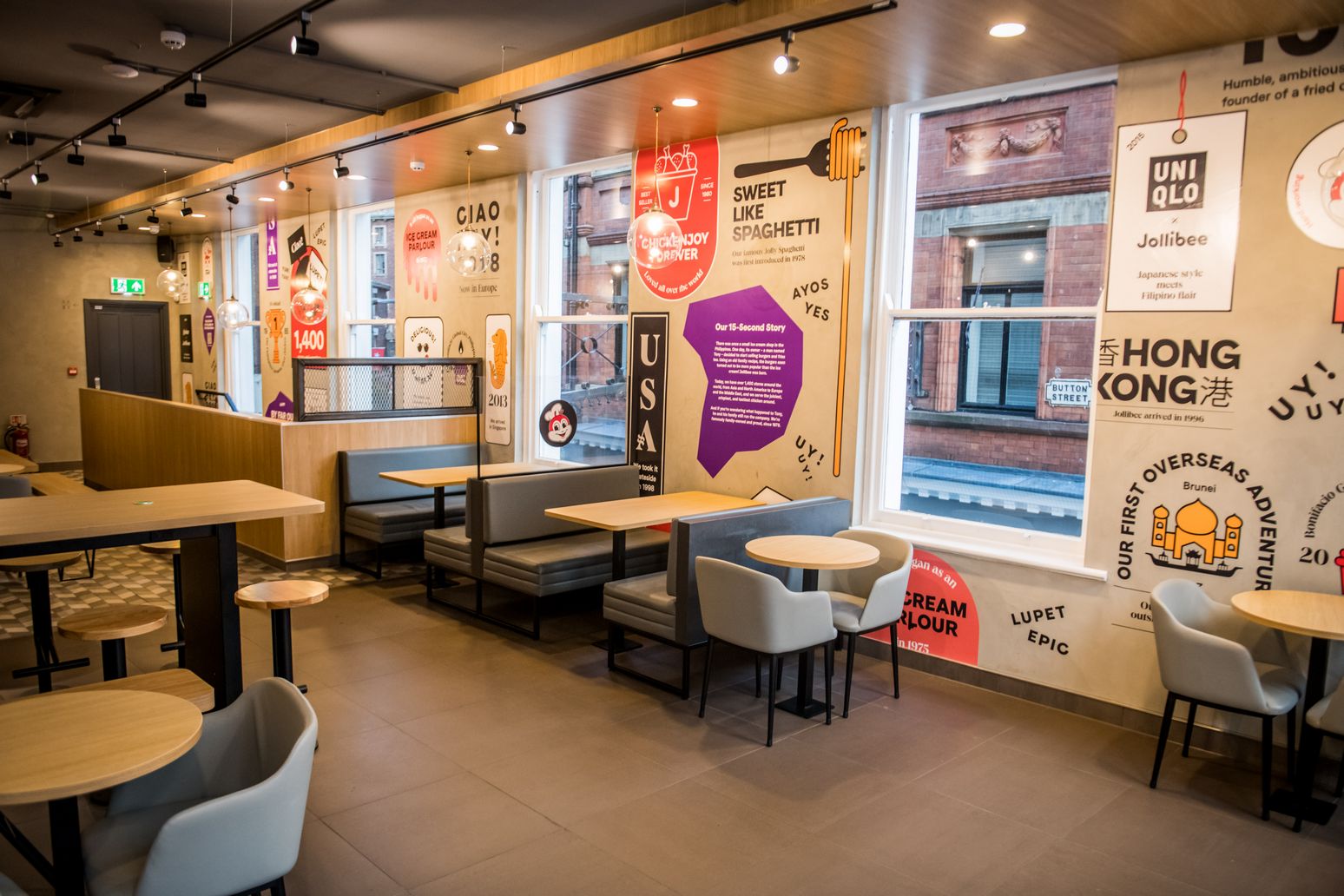 Image credit: Stuart Consultancy
Built in Whitechapel, the branch is a few blocks away from many historical locations, such as Cavern Club, where The Beatles performed in their early years. 
Address: 9-11 Whitechapel, Liverpool
Jollibee UK's website
---
– Philippines –
---
5. Jollibee Burgos Street, Vigan – features elements of traditional Filipino architecture
---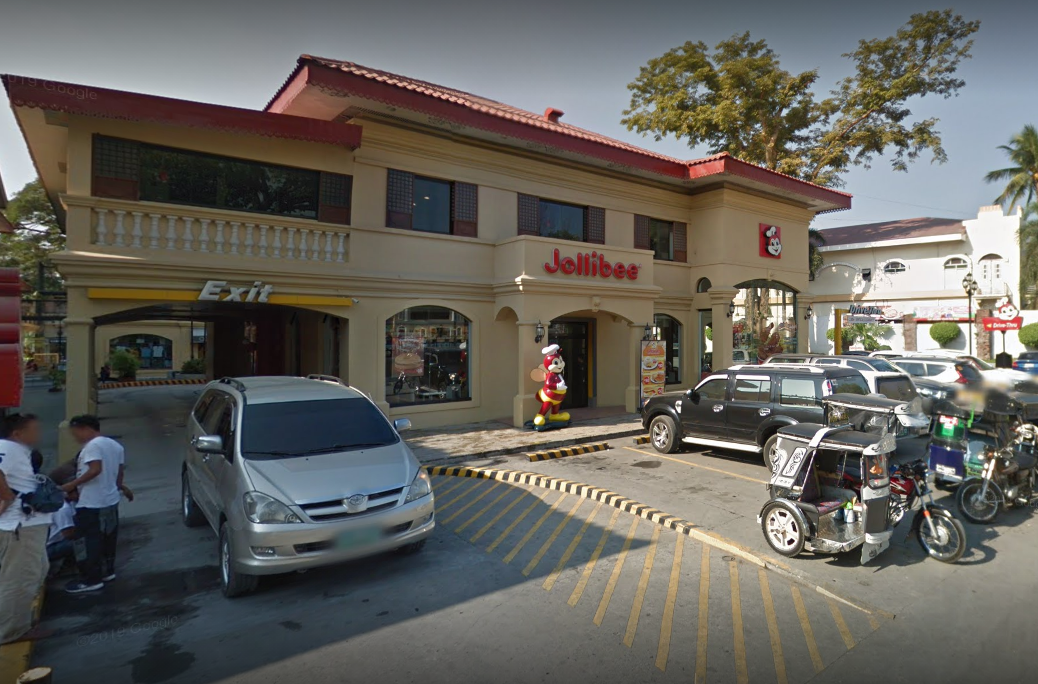 Image credit: Google Maps
Not to be mistaken with the newly opened Jollibee store in Madrid, the Jollibee branch in Vigan is in itself a refreshing take on the fast food's typical architectural design. 
Since it's built right at the heart of the former Spanish colonial town of Vigan, the Jollibee Burgos Street outlet evokes the same romantic interiors typically found in most European destinations. But if you look closely, it's also adorned with elements of a Filipino home, such as wooden windows. 
Address: Burgos Street, Vigan, 2700 Ilocos Sur
Jollibee Vigan's Facebook 
---
6. Jollibee Negros Occidental – located in the "Paris of Negros"
---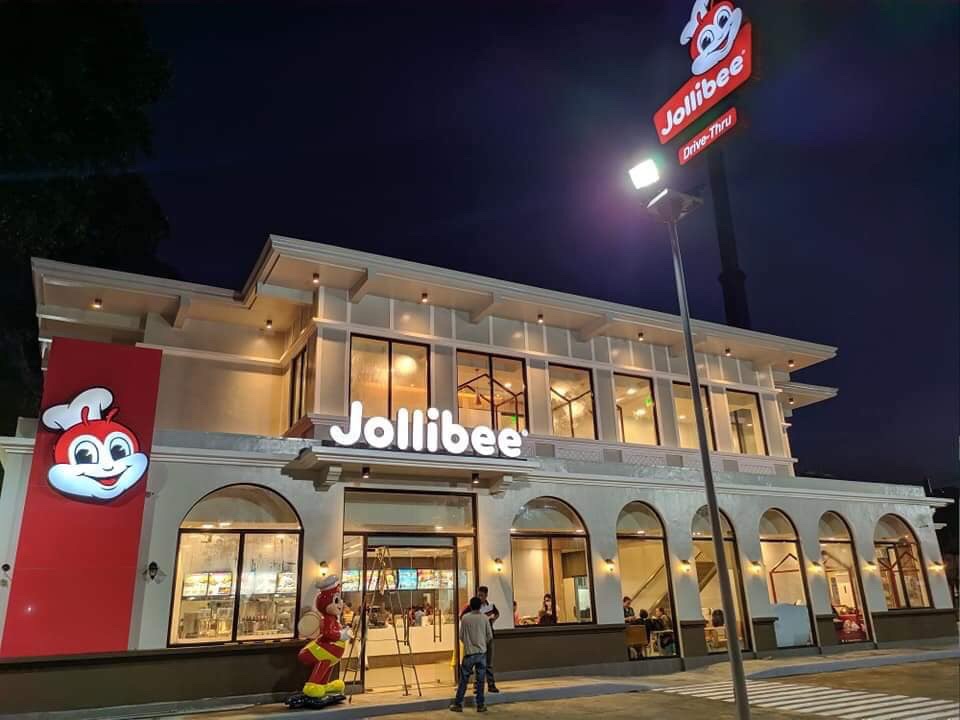 Image credit: Bacolod: City of Smiles
Down south, one of the most beautiful Jollibee branches can be found in the Paris of Negros, also known as Silay, Negros Occidental. 
Known for its heritage houses, the town is indeed a reminder of their old-world beauty, so it's only fitting that Jollibee Silay was designed with art-deco-inspired architecture.
It's even more eye-catching during the night when its windows are lit and you can see the dining area inside through its elegant windows. 
Address: Burgos St, corner Rizal St, Silay City, 6116 Negros Occidental
---
7. Jollibee Kalaw – in the heart of Manila
---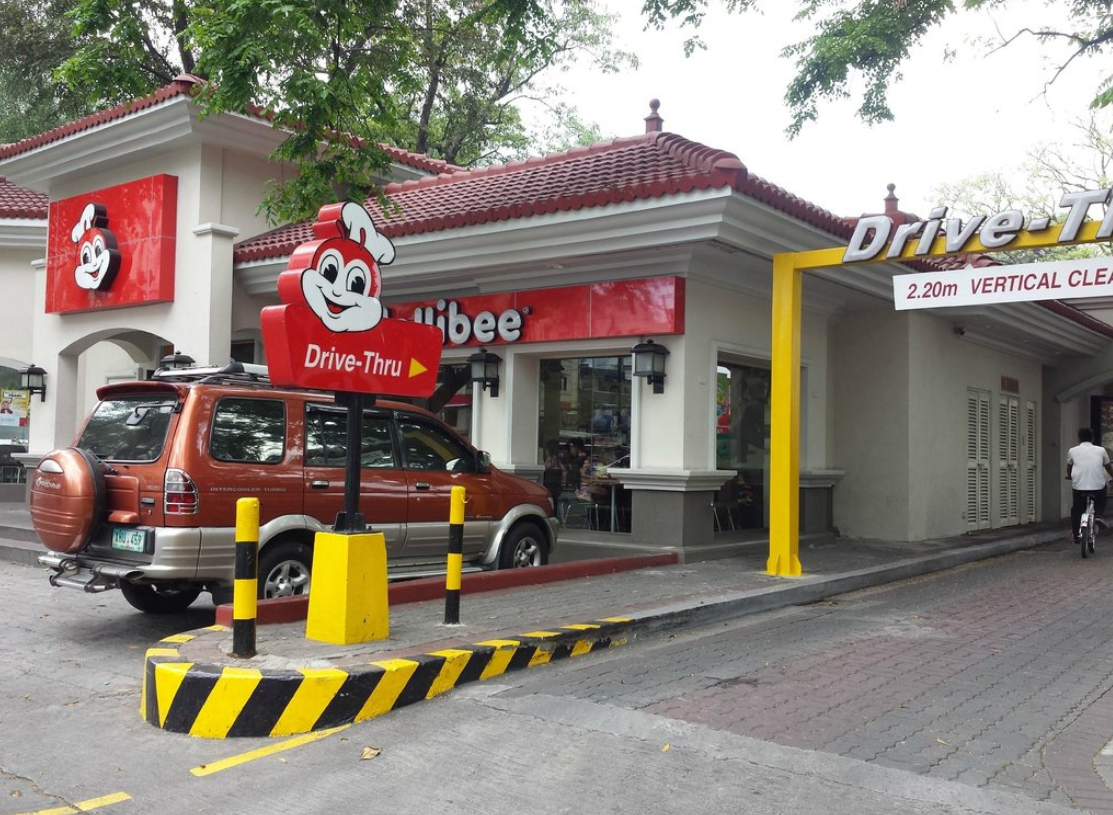 Image credit: Nevyntoo
Nearby Rizal Park, the Jollibee Kalaw's design matches its location within Manila's most historical landmarks.
Built like a house, it's sheltered by red roofs carved with patterns, while lampshades adorn its posts to give off a more romantic vibe than the usual Jollibee branches you may find inside supermalls.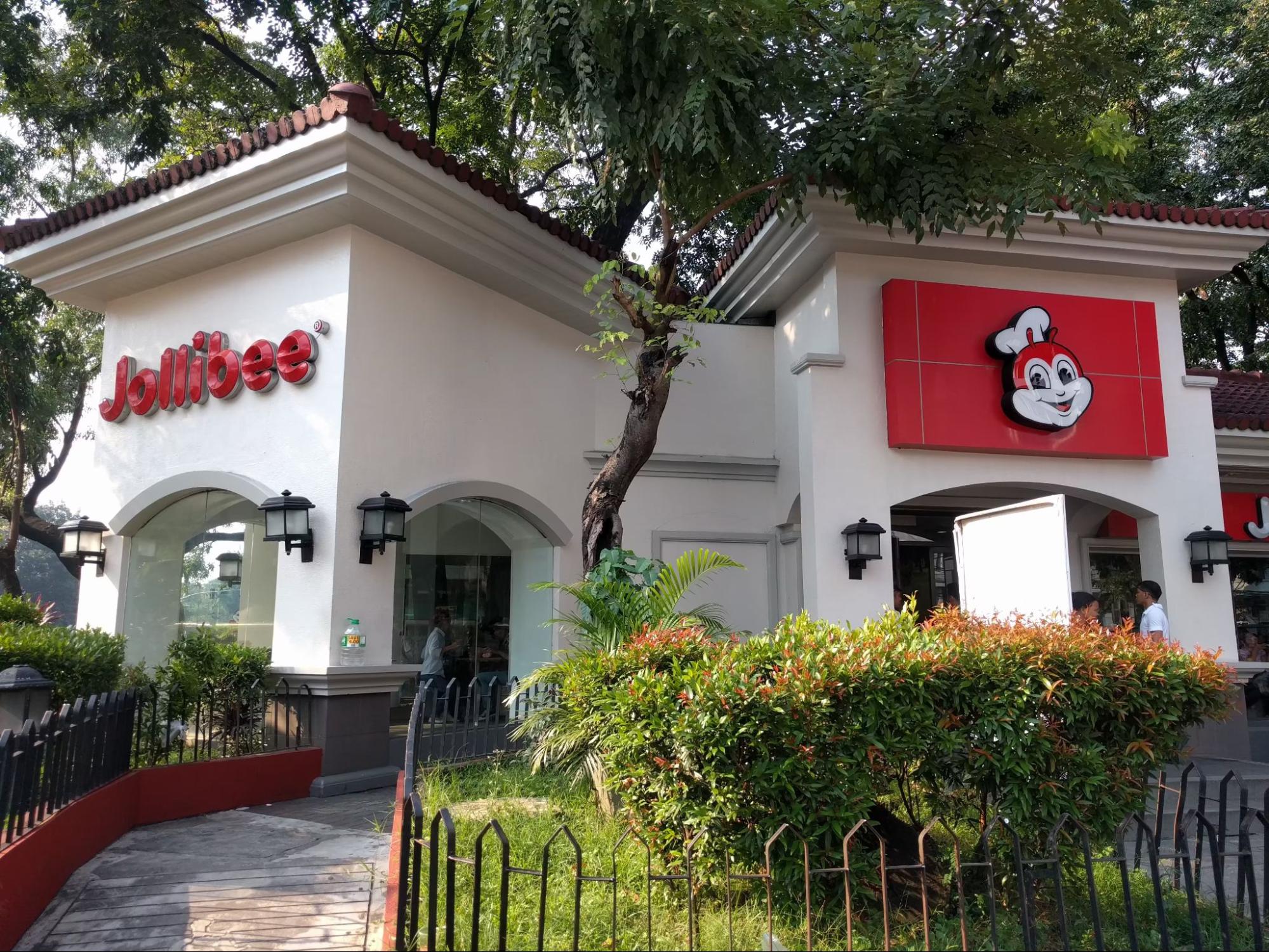 Image credit: Zomato
Address: Rizal Park, TM Kalaw, cor Ma. Orosa St, Ermita, 1000 Manila
---
Jollibee branches in and beyond the Philippines
---
More than being made up of the typical glass and concrete, the prettiest Jollibee branches reflect an architectural style that's unique to their location, whether in Rome or Vigan.
Wherever you are, a Jollibee branch may just be around the corner, where you can dine and take shots for the 'gram.
Also check out:
Cover image adapted from (clockwise from top left): Jollibee, Jollibee, Jollibee/Forbes, and Jollibee/Forbes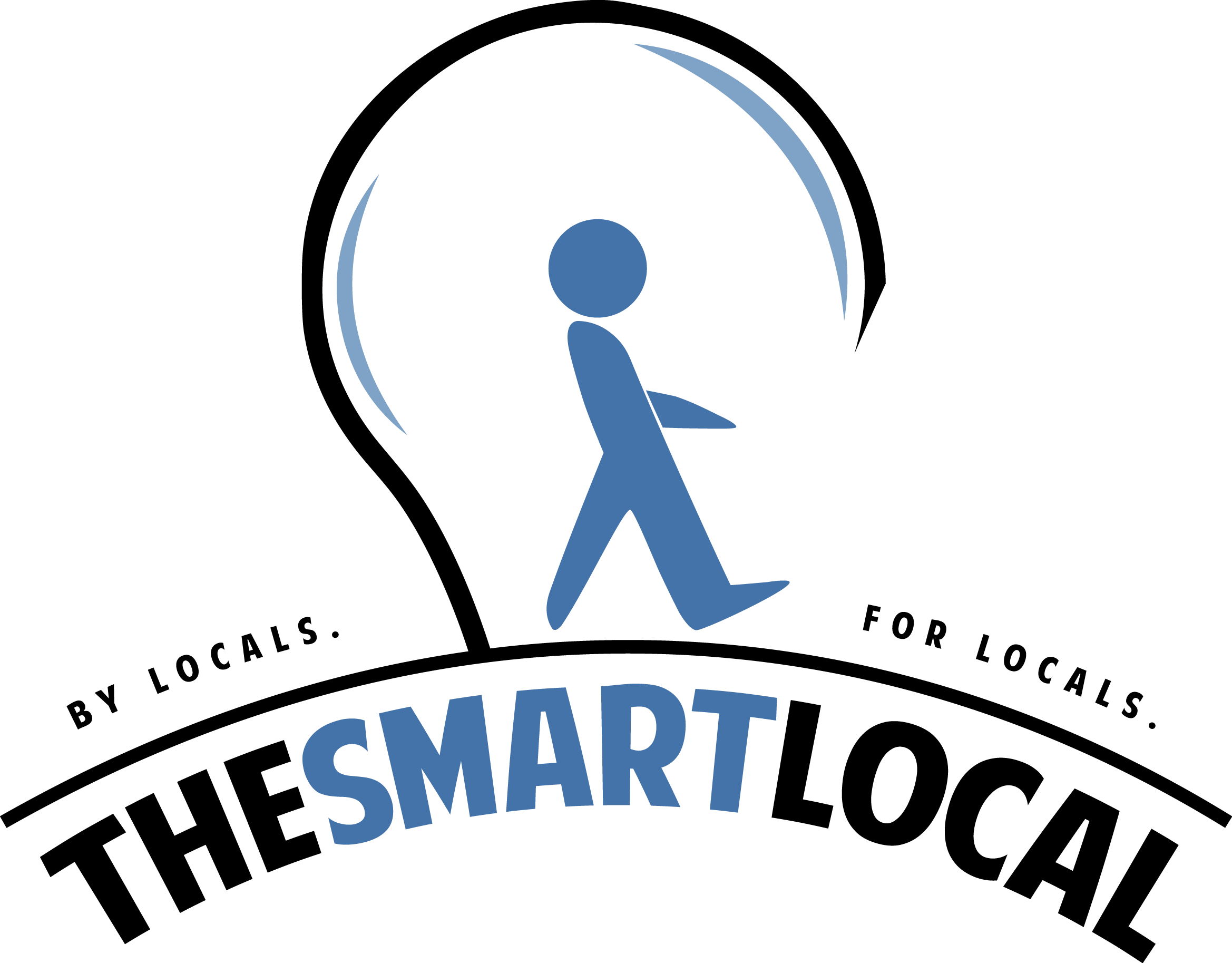 Drop us your email so you won't miss the latest news.