Hummus Elijah in Poblacion, Makati
---
If you're feeling adventurous or just craving filling and nutritious meals, visit Hummus Elijah, a favorite spot among foodies and vegetarians.
They have classic dishes from Arab and eastern Mediterranean countries in Asia, such as hummus, shawarma, falafel, and baklava.
---
Authentic Middle Eastern cuisine
---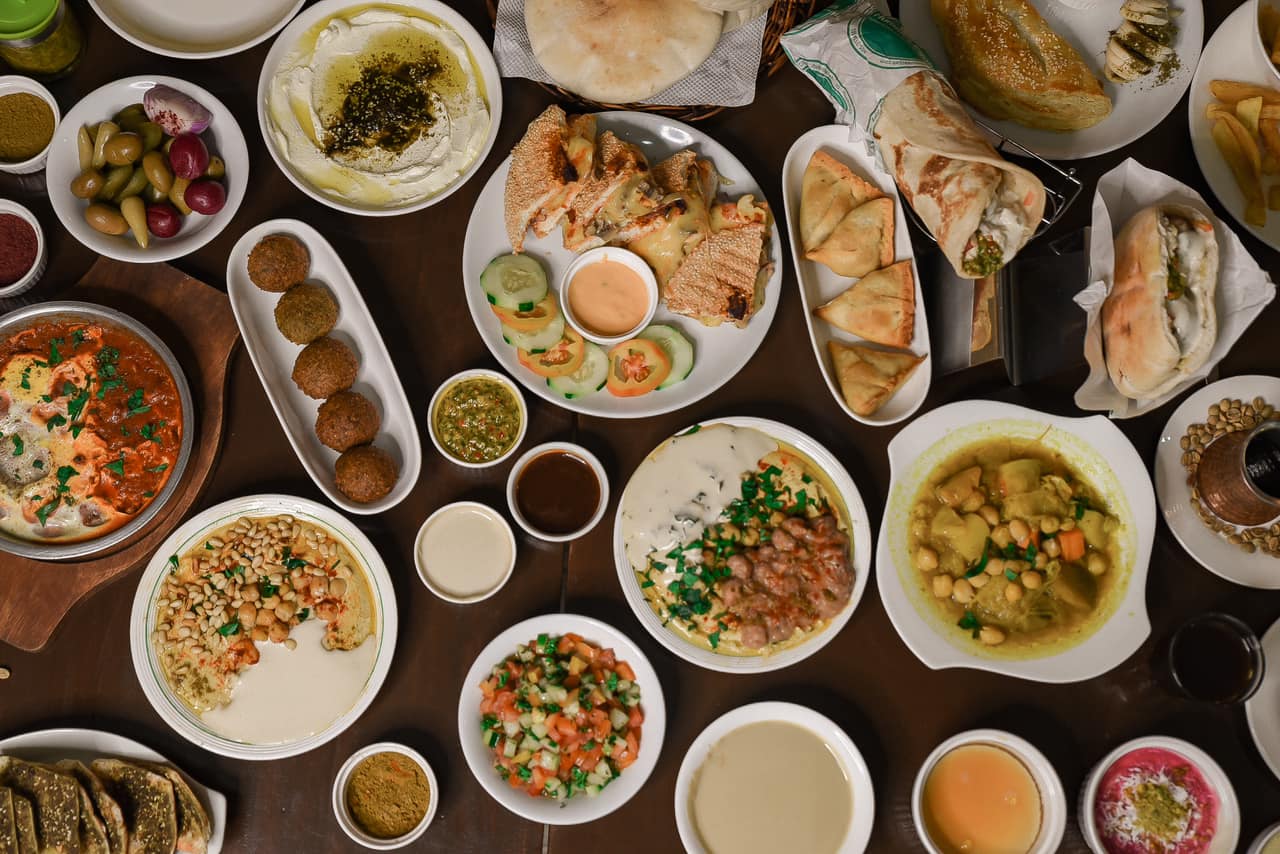 Middle Eastern food spread
Image credit: Hummus Elijah
Those who've been to Arab countries and similar places attest to their uniquely fresh, bright, and savory food. Hummus Elijah accurately captures those exact flavors.
One of the best-sellers is the Falafels (P180, ~USD3.42), which resemble a meatball but are vegetarian and made from the same type of chickpeas they use abroad. The Falafels are perfect with their laffa bread (P200, ~USD3.80) and labane (P210, ~USD3.99), a refreshing sour-cheese dip.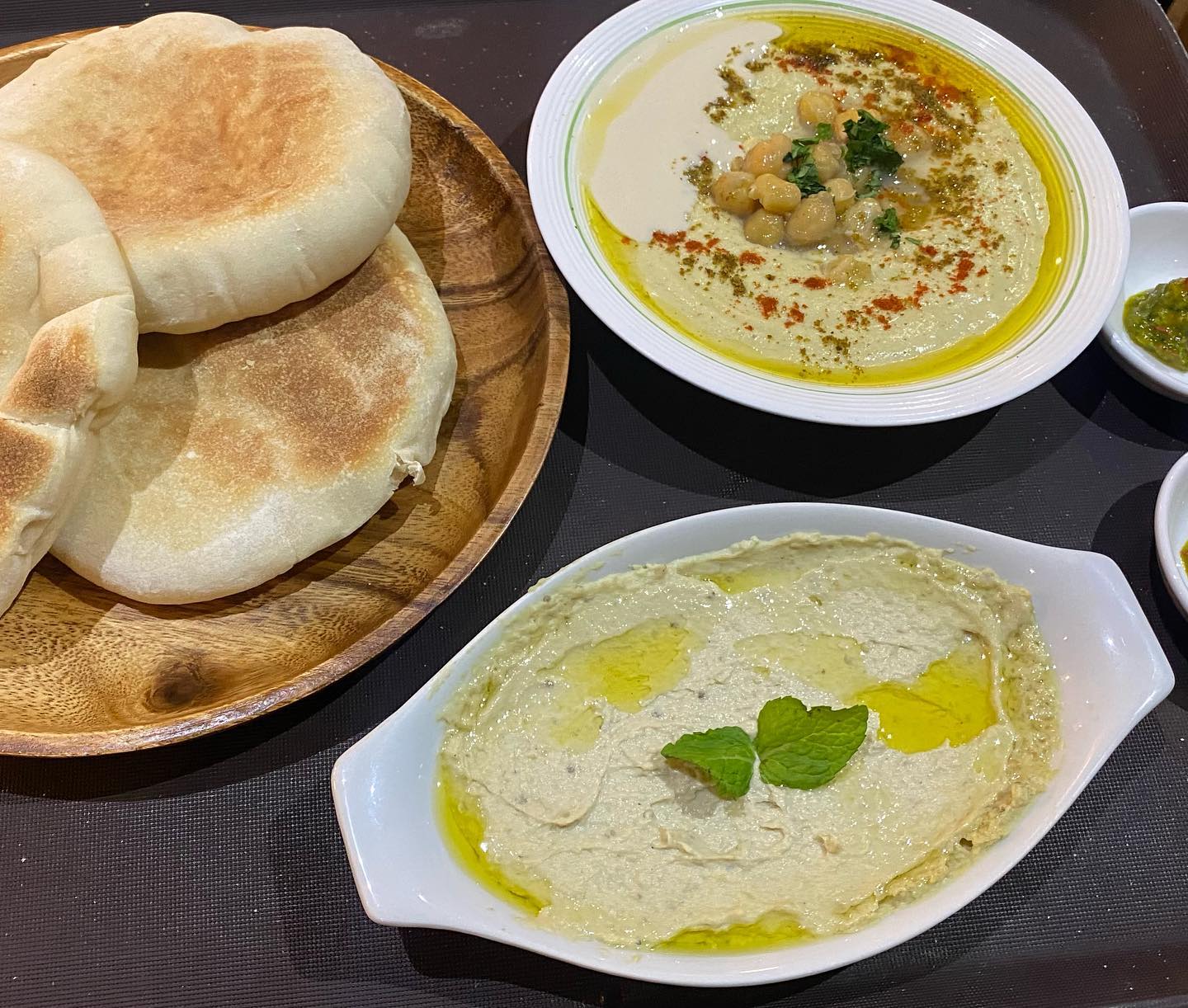 Hummus, babaganush, & laffa
Image credit: Hummus Elijah
Their hummus (P275, ~USD5.23) goes well with every other item on the menu. It has the right amount of tahini and olive oil that creates a nutty and velvety dip.
And due to the consistent request of Filipino patrons, this restaurant added beef and chicken shawarma (P260, ~USD4.94) to their previously all-vegetarian menu.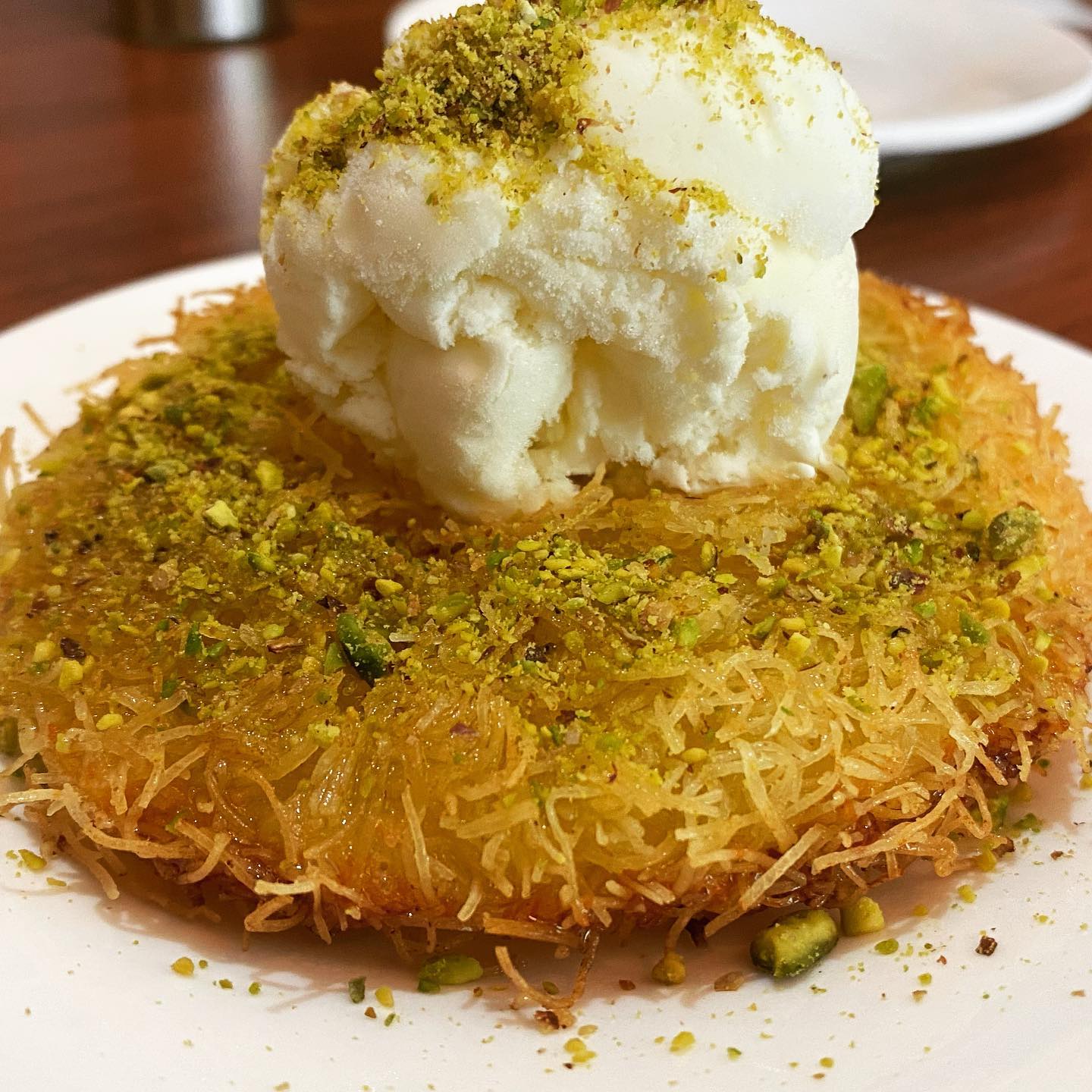 Turkish knafe (sweet fried cheese)
Image credit: Hummus Elijah
For dessert, don't miss out on their sweet and crisp baklava, made from layers of pastry, nuts, and honey. They also serve Knafe—fried mozzarella soaked in sugar syrup (P250, ~USD4.75) topped with vanilla ice cream and pistachios.
---
Restaurant is open 24 hours on weekends
---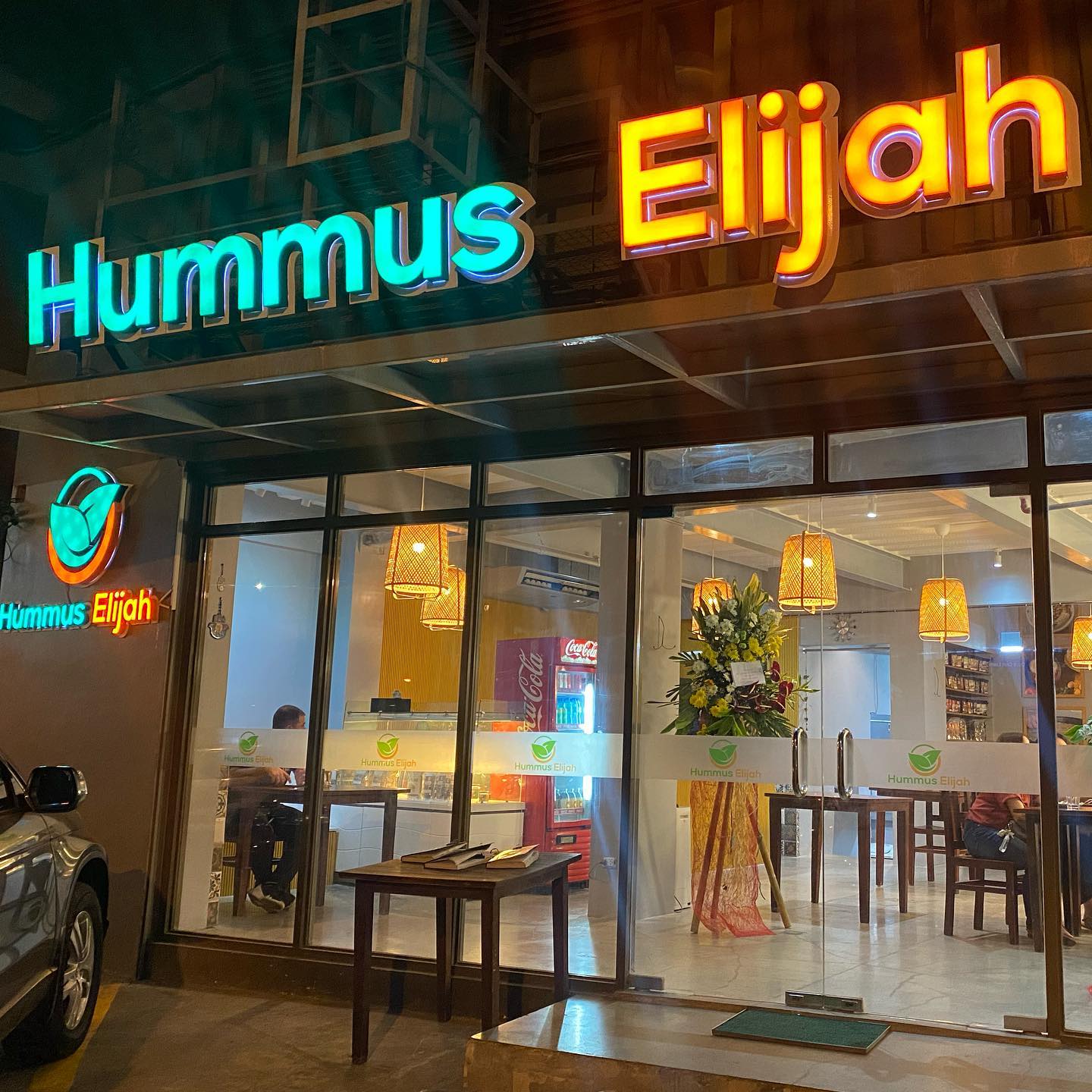 Restaurant exterior at night
Image credit: Hummus Elijah
Being on the streets of Poblacion, Makati, this restaurant gets many party-goers and office workers looking to get food in the late hours. That's why they operate from 9 AM-12 AM from Monday to Thursday.
Meanwhile, you can enjoy their food anytime on Friday, Saturday, and Sunday since they're open 24 hours during the weekends. Their long operating hours are great for those with midnight cravings or those coming home after partying.
---
Ready-to-go spices and spreads
---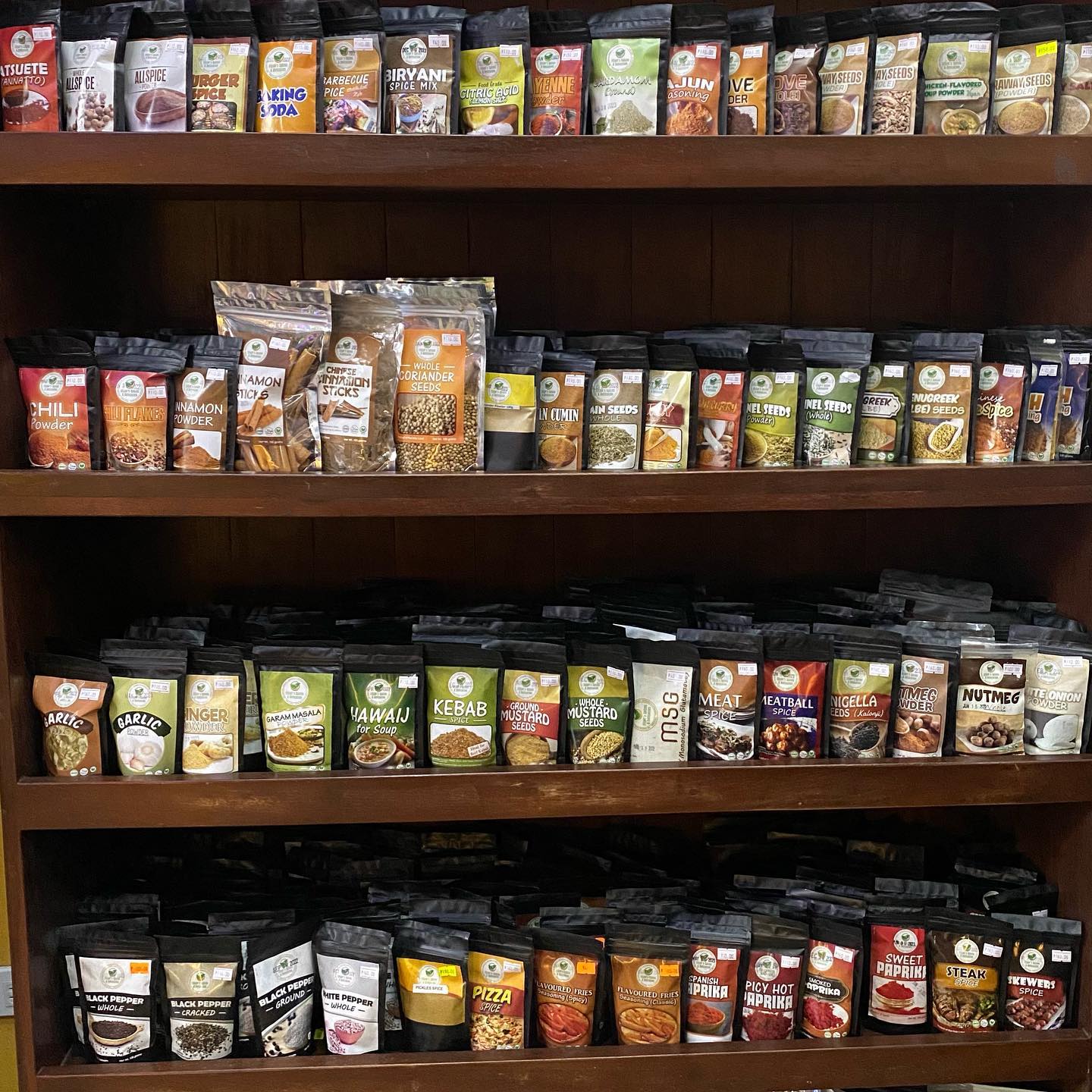 Spices for sale
Image credit: Hummus Elijah
Aside from the food you can order from the establishment; you can also buy some ingredients. You can cook at home with packaged spices from their grocer, such as cumin seed, sumac powder, kebab spice, and many more.
They also have a bottled version of their best-selling hummus, so you can take it home and add it to any dish you'd like.
---
Turkish & Arabic food in Poblacion, Makati
---
Hummus Elijah certainly offers quintessential Mediterranean and Arabic food on par with what you can get from outside the country. And although their food is as authentic as it can get, they remain to have affordable prices.
Try to drop by this charming Middle Eastern restaurant whenever you're around Makati.
Other must-try restaurants in Metro Manila:
---
Cover image adapted from: Hummus Elijah's Facebook Page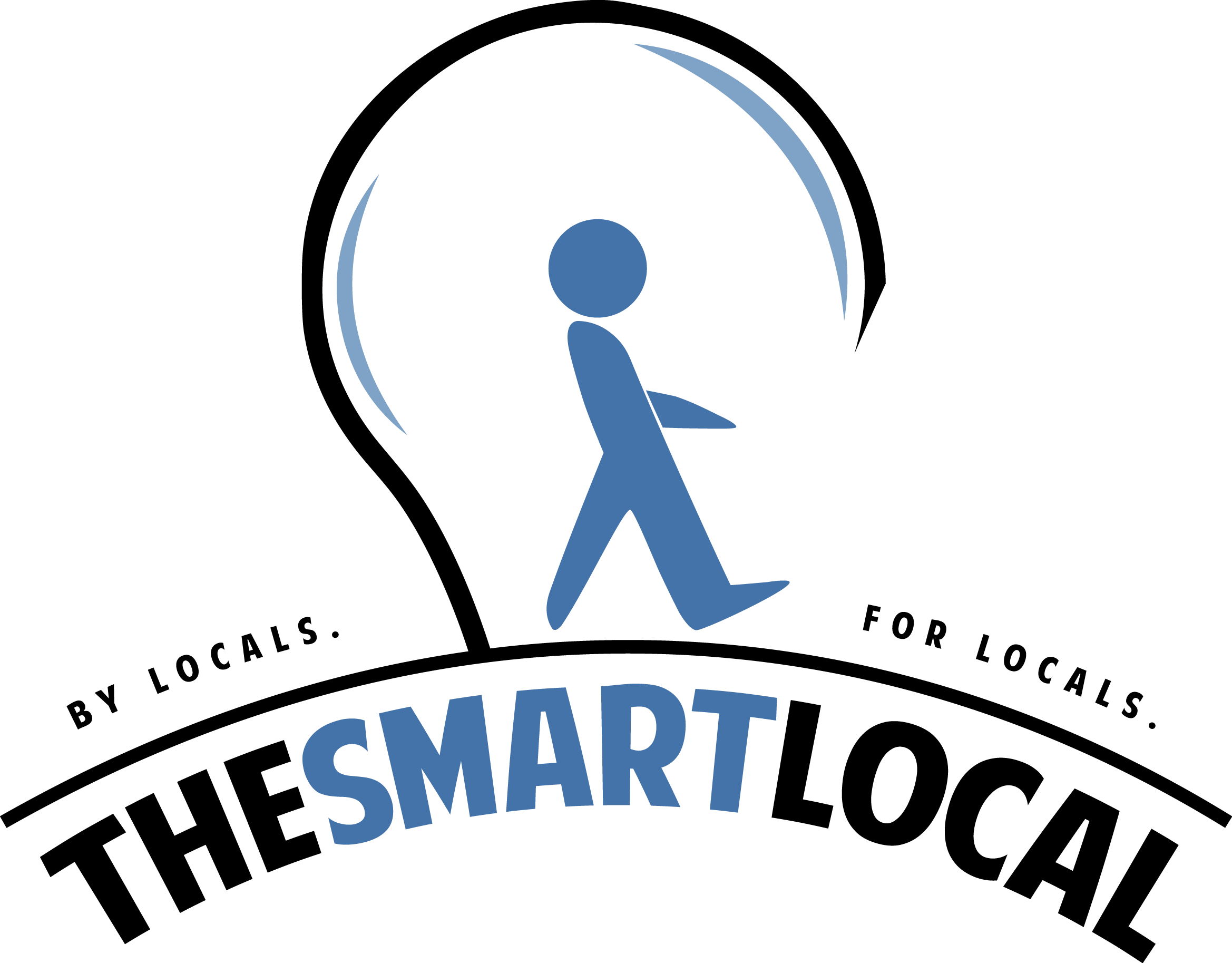 Drop us your email so you won't miss the latest news.